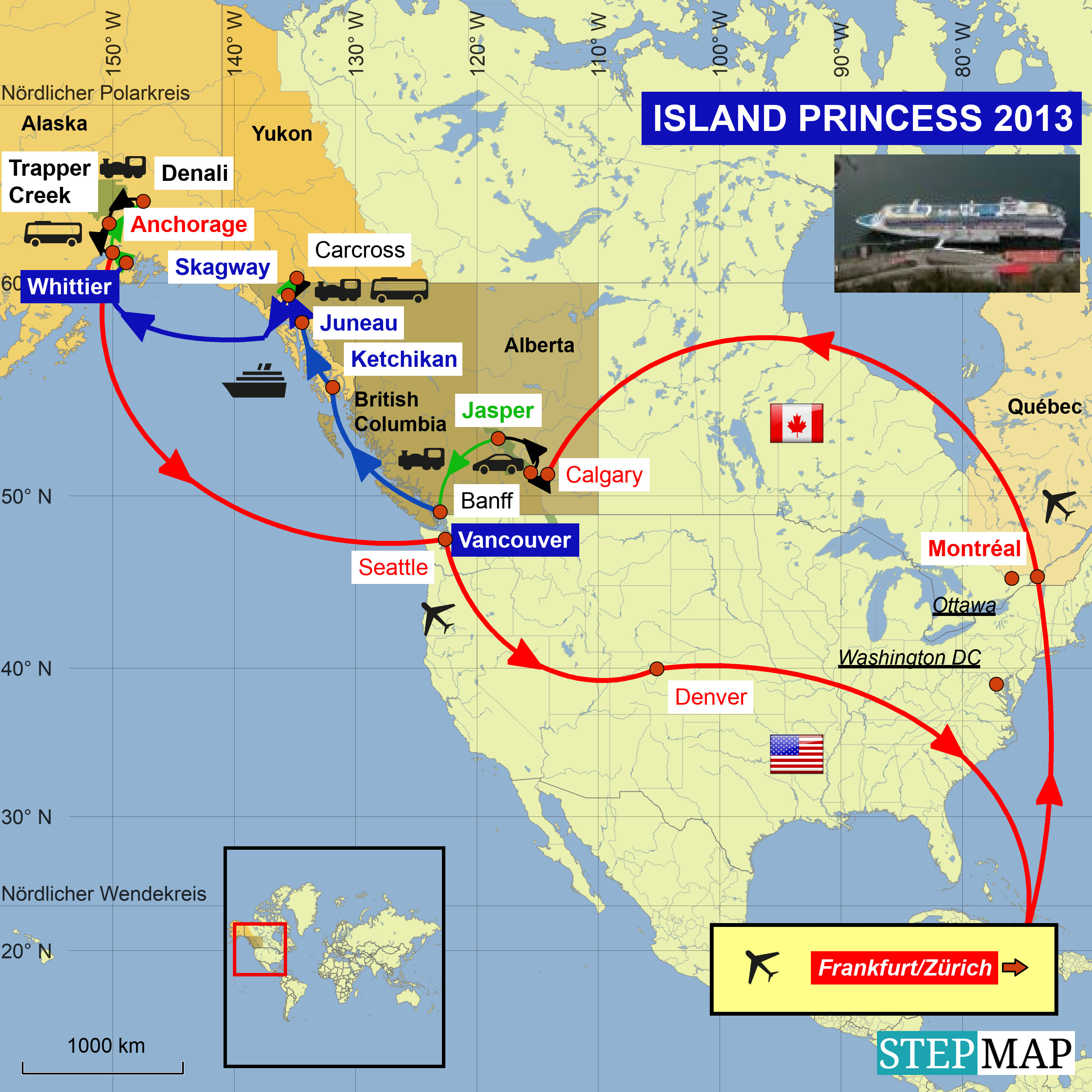 Nachdem nun wirklich nirgendst etwas Essbares aufzutreiben war und ich absolut keine Lust hatte, nochmals drüben in der Lodge zu essen, endete die Suche bei
Prospectors Pizzeria & Alehouse
. Vor dem Restaurant treffen wir ein weiteres Paar aus Belgien, das wir von der Zugfahrt her vom Sehen kennen und mit dem wir uns anfreunden.

As we could not find anything eatable and I did not want to eat in the lodge again our search ended with Prospectors Pizzeria & Alehouse. In front of the restaurant, we met a couple from Belgium whom we knew from the train ride and started to become friends with.

It ended with the usual burgers and sandwiches.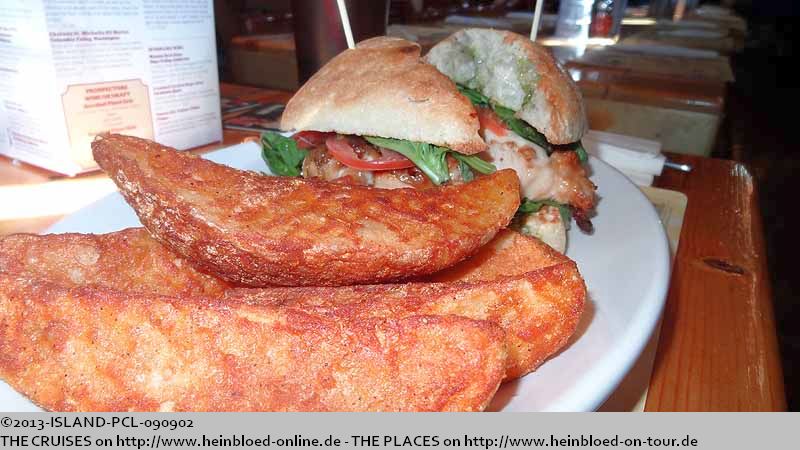 Es endete mit den üblichen Burgern und Sandwiches.
Nur bekam ich mal wieder alles voll mit Käse, obwohl ich ihn eigentlich abbestellt hatte.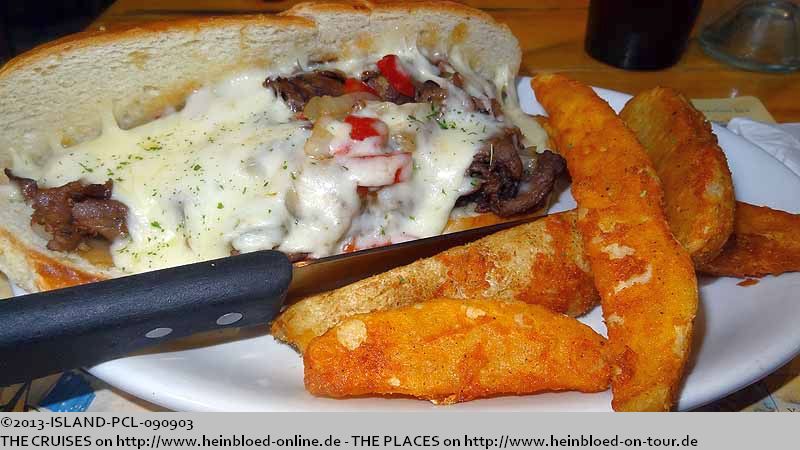 Now I got again full of cheese although I asked them to take it off from the order.

Charming was the set decoration of the restrooms even with mouthwash.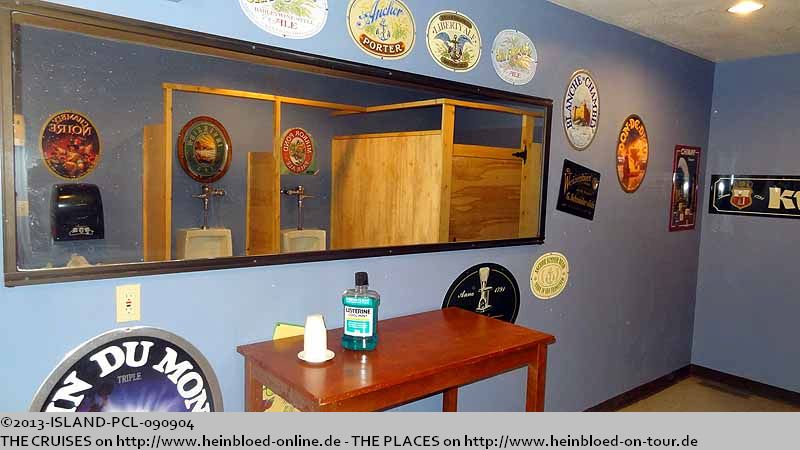 Sehr schön war die Einrichtung der Toilette, sogar mit Mundspülung.
Auch an der Decke gab es immer etwas zum Gucken.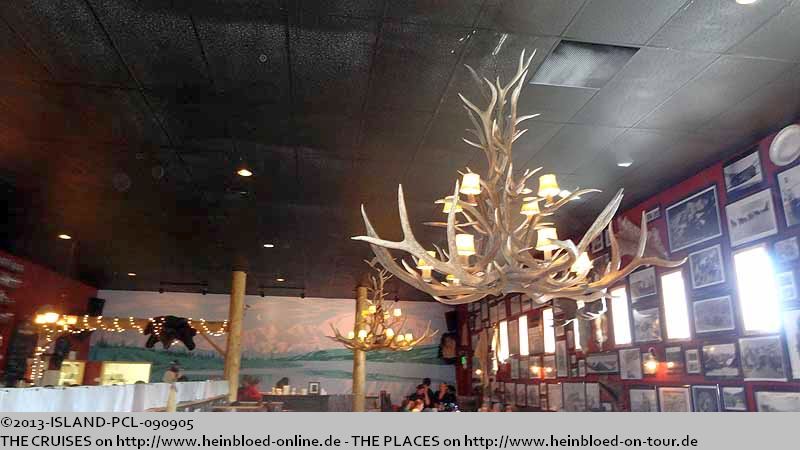 Even on the ceiling you had a lot to discover.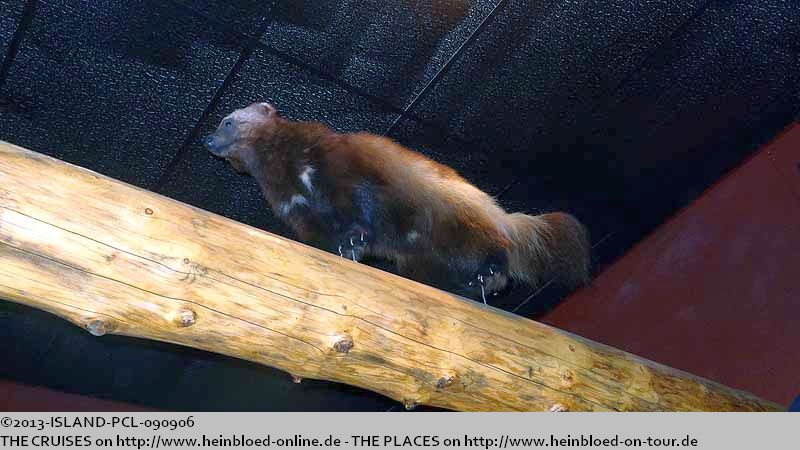 Und so erlebe ich noch ein paar Tiere, die ich heute auf der Tour verpasst habe.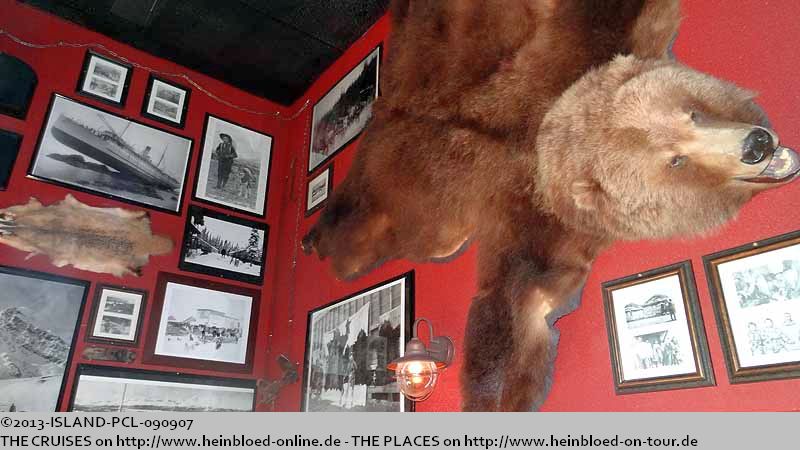 So I experienced few animals which I had not seen so far on this tour.

As there was nobody wash we thanked NCL and HAL for our stock we collected all over the time and we could really have a use for.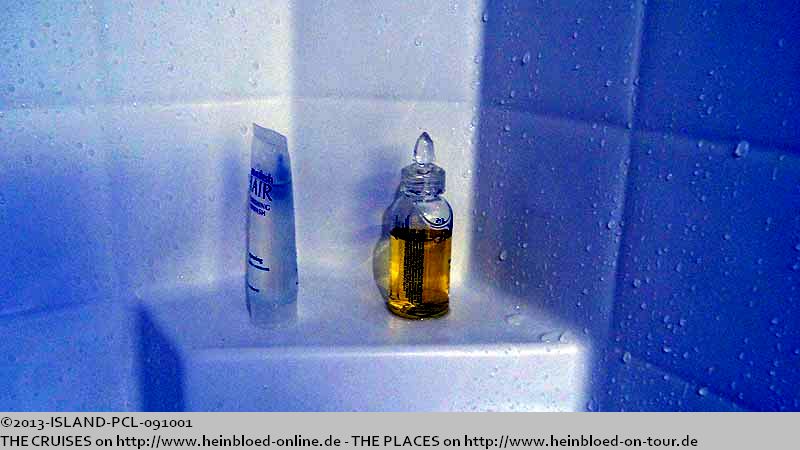 Da es hier kein Duschgel gibt, danken wir NCL und HAL für die Vorräte, die wir zuletzt gebunkert haben und hier sehr gut nutzen können.
Nach der Horrornacht unter zwei unbezogene Decken und auf einer Matratze hatten wir heute Glück, dass wir jemand an der Rezeption erwischten, die sich auskannte und sofort wusste, dass unser Zimmer ein Sofabett hatte und ließ es sofort herrichten. Schade, dass beim Anruf damals keiner sofort Bescheid wusste. Den Rest des Nachmittags verbringen wir hier, weil ja die Schlauchbootfahrt nicht stattfindet und was uns auch mal gut tut. Wir hatten noch wegen der Rundflüge angerufen. Gerne können wir heute auch noch bis 21:00 Uhr kommen und heute fliegen. Es ist tolles Wetter und für morgen sind die Aussichten nicht gut. Aber wir sollten uns nicht von dem Wetterbericht beeindrucken lassen, da der McKinley weder im Internet, im Radio, im Fernsehen oder in der Zeitung verfolgt, wie das Wetter werden soll und sich sein eigenes Wetter macht. Außerdem gäbe es ein kleines Problem: wir liegen nur 70 Meilen Luftlinie entfernt, aber dadurch, dass man außen herum fahren muss, braucht man dafür ca. drei Stunden für einen Weg. Last not least sagt man uns, dass es keine Autovermietung in Denali gibt.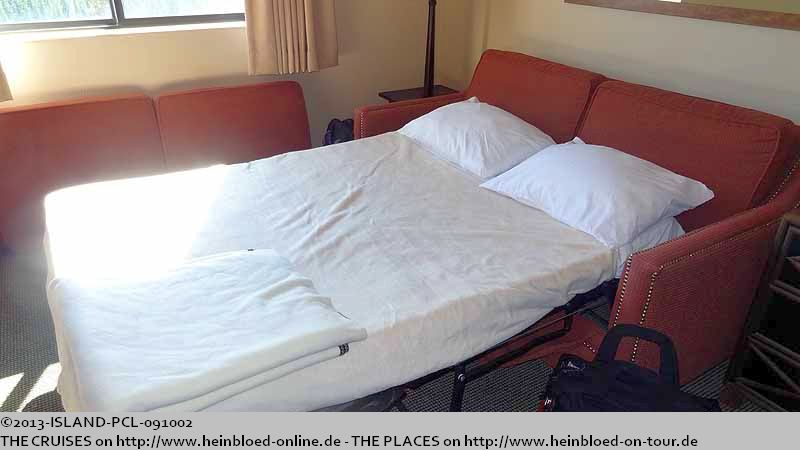 After the horror night under two blankets without sheets on one mattress we had the luck that day that we found someone with experience at the front desk. She knew immediately how to handle our problem and asked the housekeeping to set the sofabed directly. So sad that nobody had the same knowledge the night before. The remainder of the afternoon we stayed there in the room as the rafting tour was canceled and what was right for us. We called because of the flight tour. They allowed us to show up until 21:00 hrs to have a trip on the same day. It was great weather, and for the next day, the forecast was not good so far. We were told that we should not be impressed by the weather report as Mt McKinley would not read any weather reports on the internet, listen to the radio or check the TV or newspaper and create its own weather. We had another problem too: we were 70 miles air distance away but as you had to go outside around you need for one way about 3 hours. And there was no car rental in Denali.

For dinner, we were not interested to see the venues in the lodge again. Opposite was the Salmon-Bake restaurant. It was the sister restaurant of the pizzeria.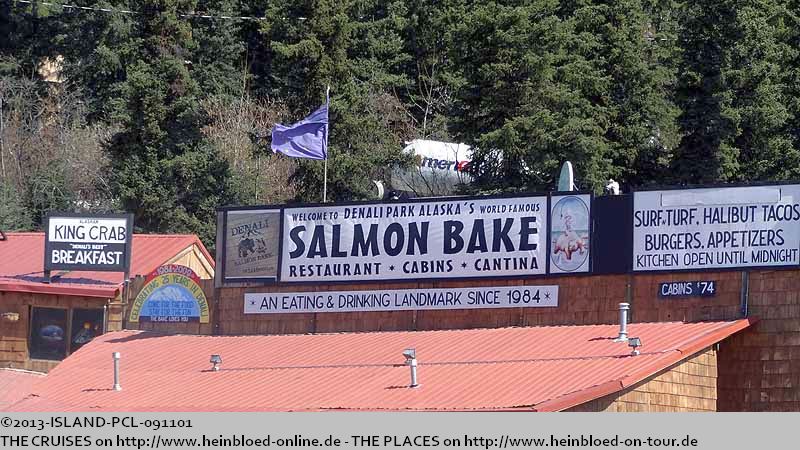 Auch am Abend hatten wir keine Lust in der Lodge zu essen. Gegenüber war das
Salmon Bake
-Restaurant. Es ist das Schwesterrestaurant der Pizzeria.
Wir hatten es vorhin schon mal probiert, aber da war noch alles tagsüber zu.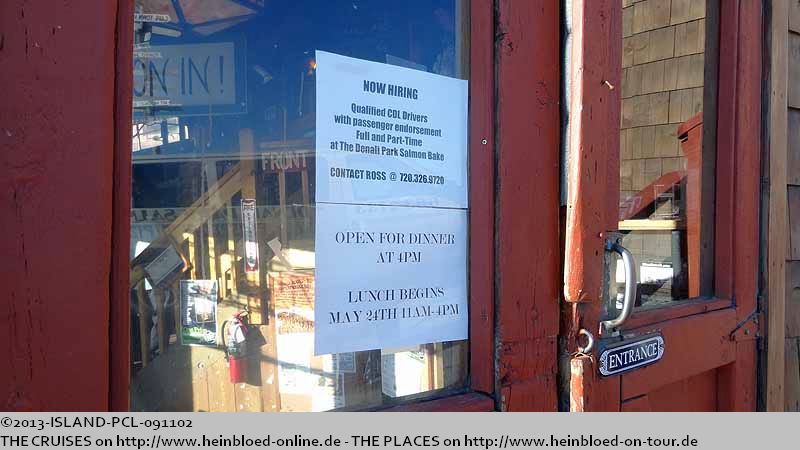 We tried it earlier that day but it was closed during the daytime.

Inside it was like I always imagined how Alaska looked like.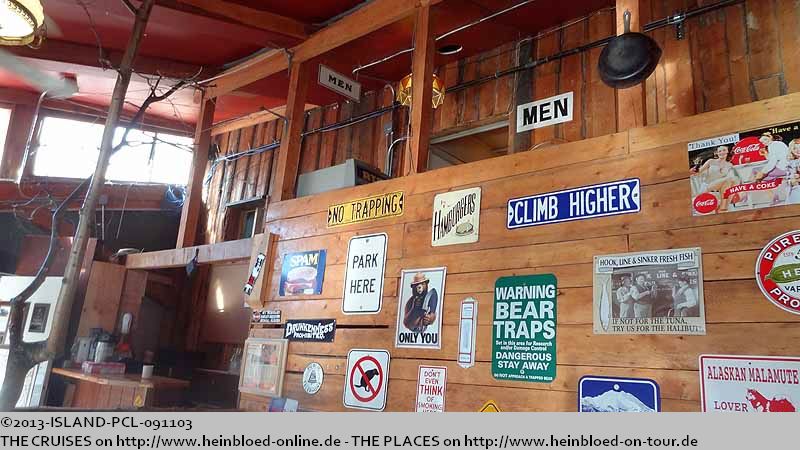 Innen vermutlich mal so, wie man sich Alaska vorstellt.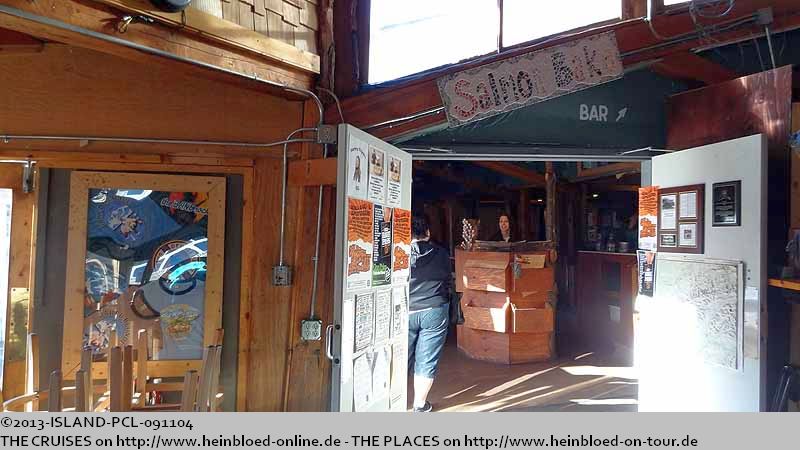 I did not come to Alaska to have Tacos or Burritos... but Alaska King Crab was around 40.00 USD one portion, and I did not want to spend that much money either.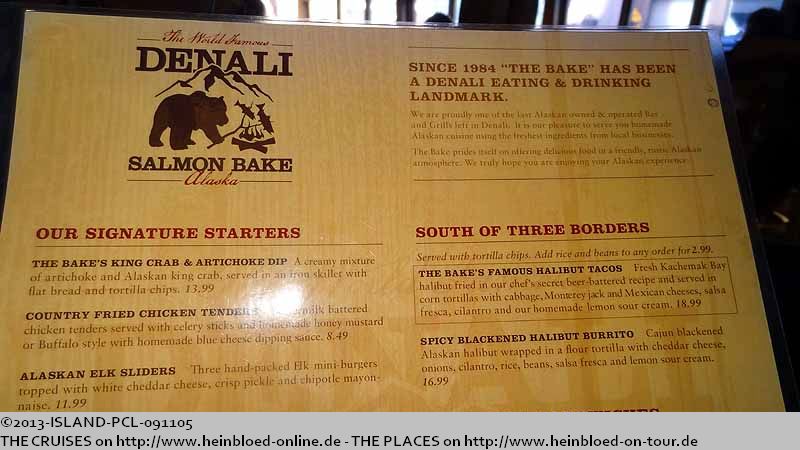 Ich komme doch nicht nach Alaska, um Tacos oder Burritos zu essen... aber Alaska King Crabs kosten um die 40,00 USD die Portion, wozu ich auch keine Lust habe.
So gibt es eine furchtbare Kombi aus einem Sandwich mit etwas Mayonaisen-Salataufstrich mit etwas King Crab drin und einer Meeresfrüchte Suppe, die ich nicht so sonderlich mag, weil ich nun mal die New England Clam Chowder gewöhnt bin.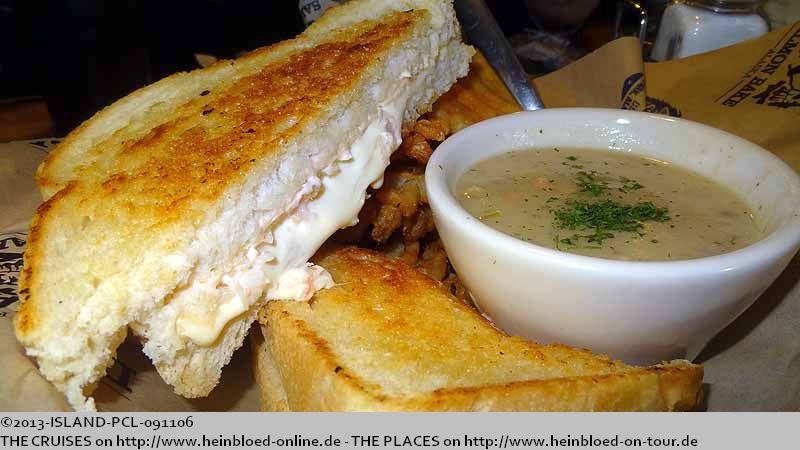 So I had a terrible combo of a mayonnaise-salad-spread sandwich with few pieces of king crabs and a seafood chowder which I did not like so much as I was used to eating the New England Clam Chowder.

At least they had green tea.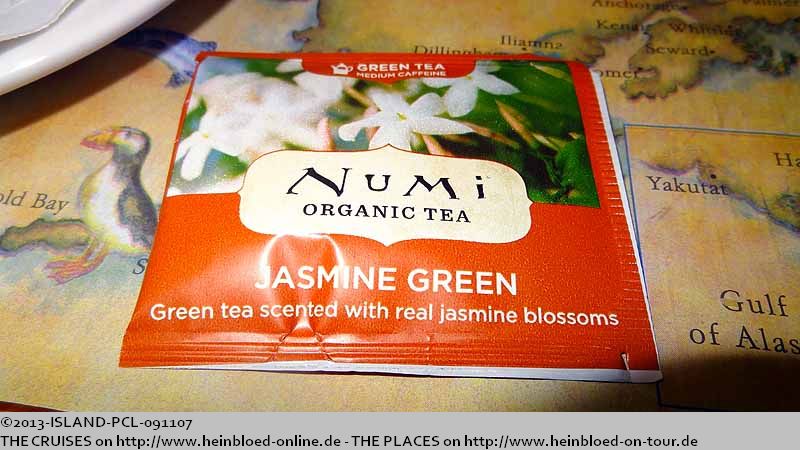 Wenigstens gab es grünen Tee.
Was auffiel, als wir rauslaufen: Die Kraft der Sonne bewirkt, dass alles rundum sehr schnell schmilzt und auf dem Parkplatz überall kleine Rinnsale fließen.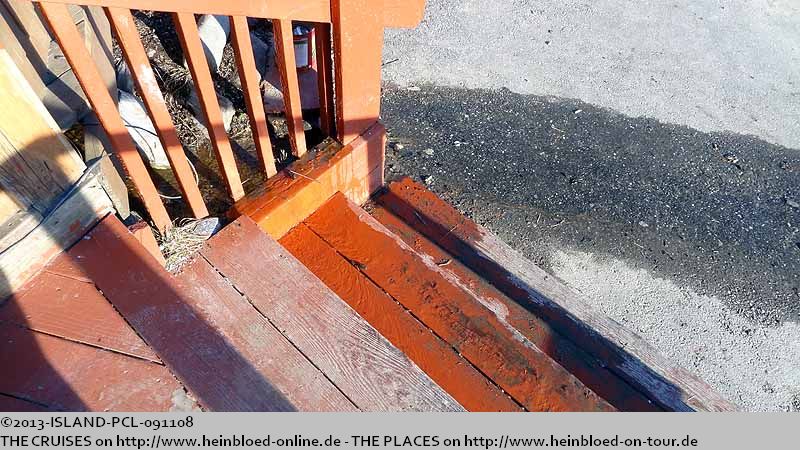 When we walked out we saw that the power of the sun made everything melting quickly and on the parking, you had little creeks.

I was not any more interested to know more sister companies.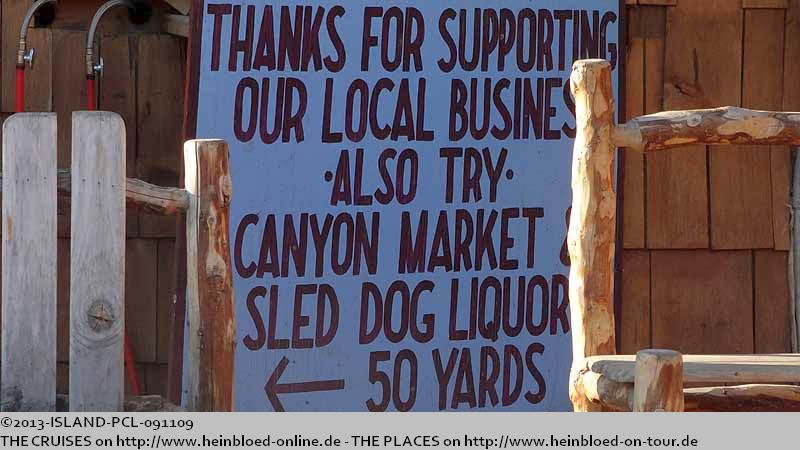 Weitere Schwesterfirmen will ich dann nicht mehr kennenlernen.
Um 22:45 Uhr ist es noch so hell, dass ich nicht schlafen kann. So zwischen Mitternacht und 03:00 Uhr ist etwas etwas "dunkler". Heute Abend bläst jedoch nicht der kalte Wind, so dass man mal auch ohne Jacke mal raus kann.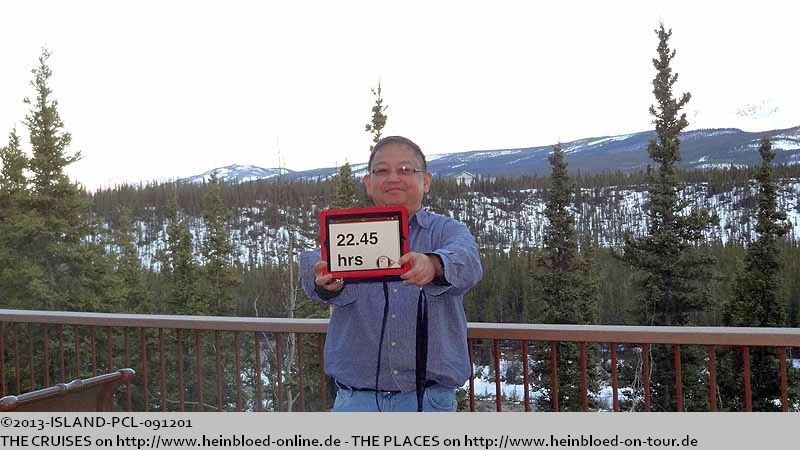 Around 22:45 hrs it was outside so bright that I was unable to sleep. Between midnight and 03:00 hrs, it was little more "dark". That night there was no cold wind blowing so you can walk outside without a jacket.
Die anderen Reisen in diesem Blog/
The other voyages in this blog: