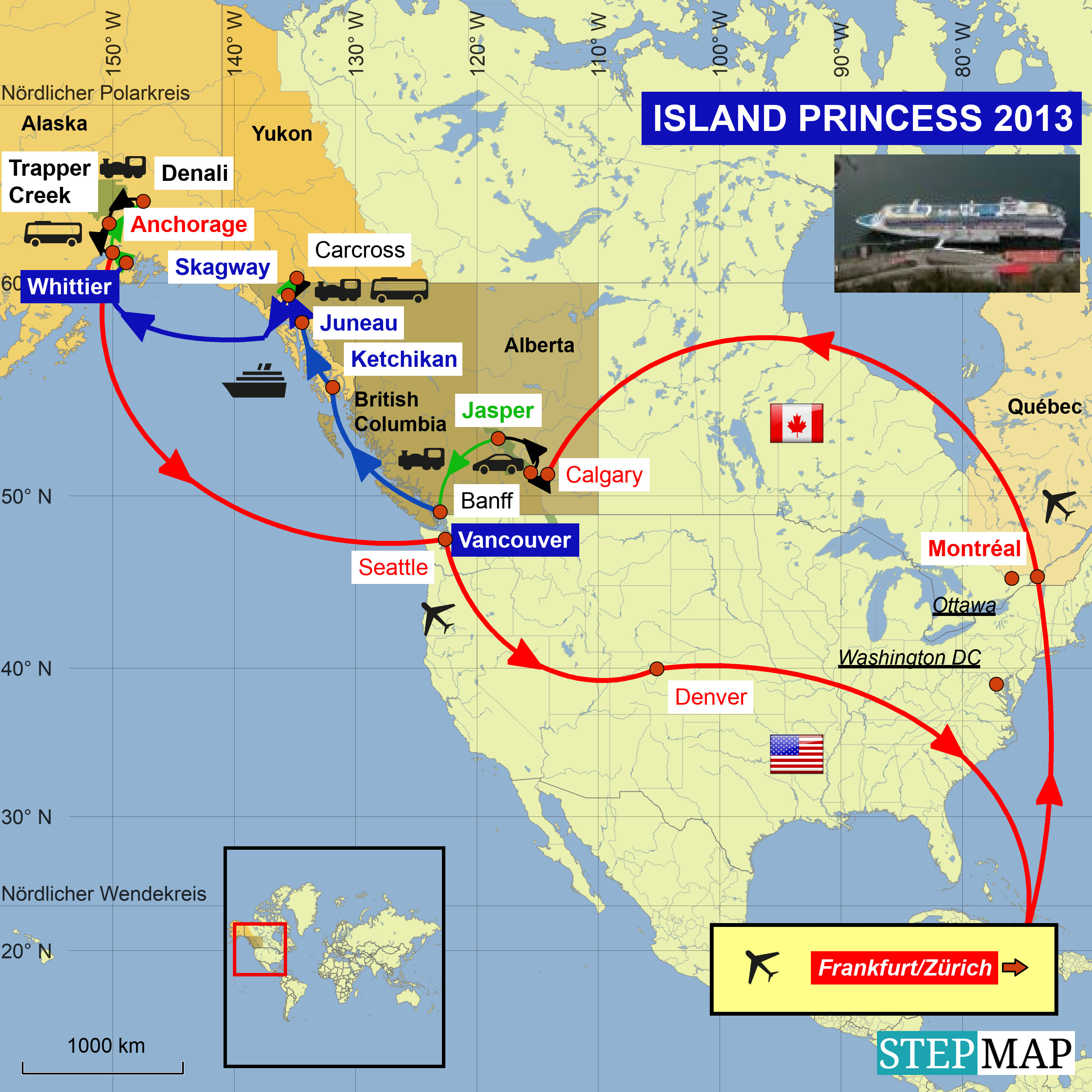 Natürlich muss ich auch endlich Mal Aufnahmen von der ISLAND PRINCESS machen. Das einzige Problem: Am Price Waterhouse Cooper Gebäude wird momentan gebaut, so dass man nicht so einfach reinkommt, um von dort zu fotografieren.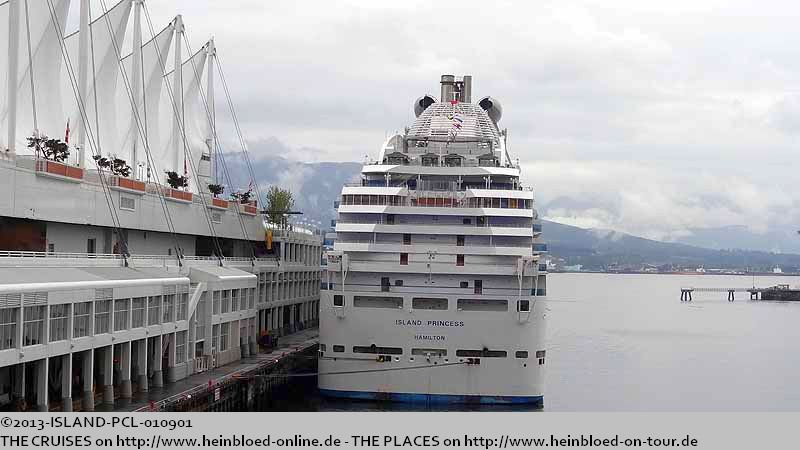 But now I need to take some pictures of ISLAND PRINCESS finally. The only problem: at the Price Waterhouse Cooper Building there was actually a construction site which did not make it so easy to take some pictures.

Our balcony was the lowest at the aft of the starboard side. So we could also see to the aft. That was arranged very well by Dorothy after Princess did not allow us to keep our mini-suite on DIAMOND PRINCESS for the Whittier - Vancouver portion and we had to find an alternative.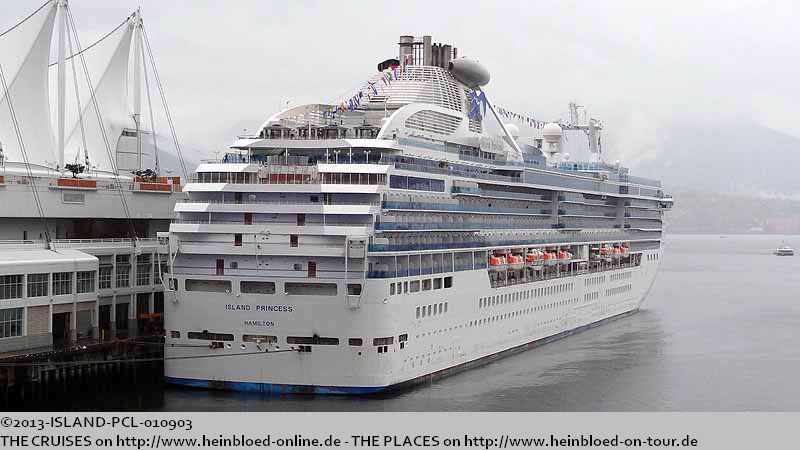 Unser Balkon ist der unterste hinterste auf der Steuerbordseite. So können wir auch nach hinten gucken. Das hat Dorothy super für uns arrangiert, nachdem Princess uns ja die Mini-Suite auf der DIAMOND PRINCESS für Whittier - Vancouver nicht überlassen wollte, mussten wir entsprechend umstellen.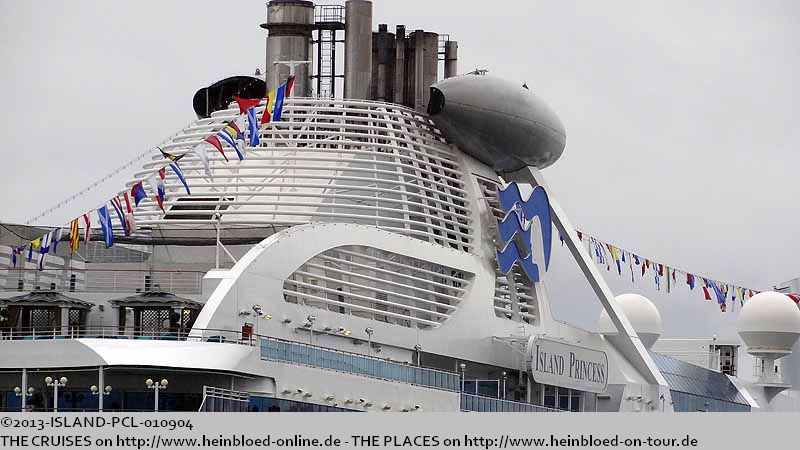 We we checked-in we got this time the platinum-card (our voyages on P&O also counted...) and a mini-guide.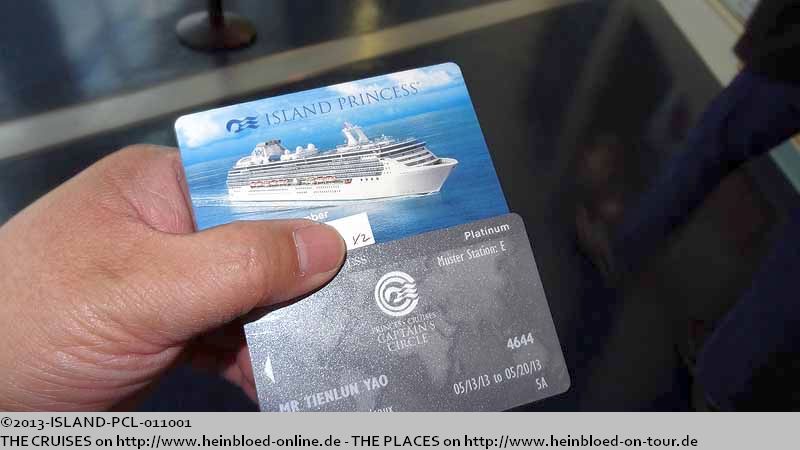 Beim Check-In bekommen wir jeder die Platinum-Karte (unsere Fahrten mit P&O zählten ja auch...) und einen Mini-Führer.
Und dann ging es auch schon rüber.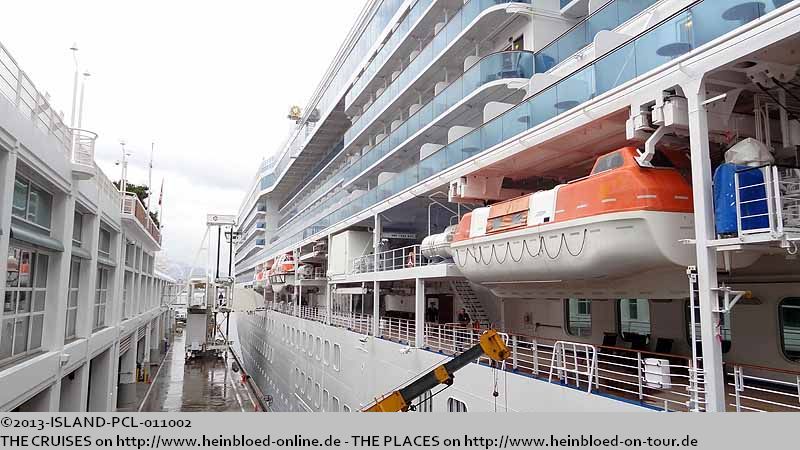 And then we had to move over.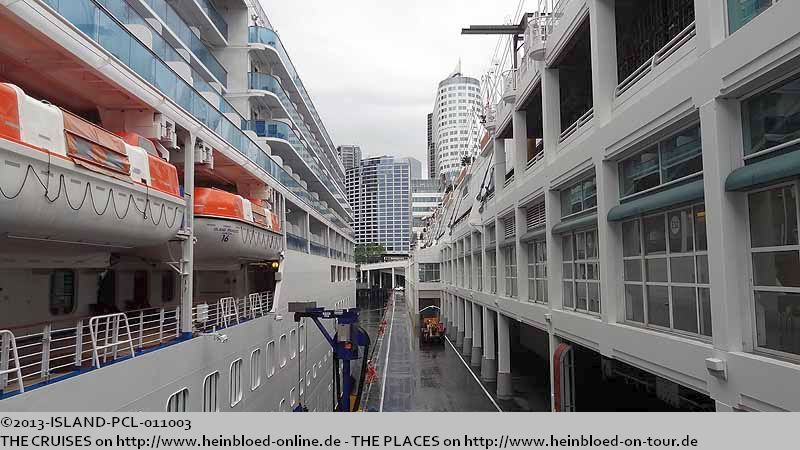 Wenigsten gibt es schöne Liegestühle, wenn es schon keinen herzlichen Empfang gibt...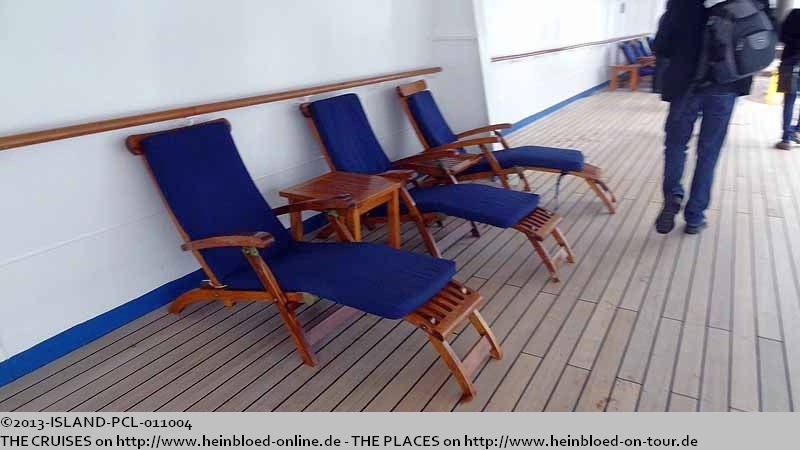 At least they had nice loungers even there was no warm welcome...

To have a better control they worked on that day with lift boys which took you quickly to the decks.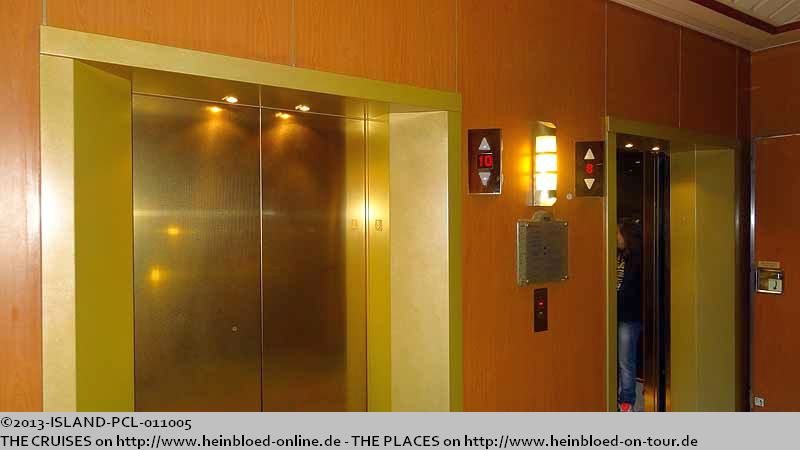 Damit es besser gesteuert wird, gibt es heute Liftboys, die uns schnell eine Etage höher bringen.
Im Gang werden wir schon unserem Kabinensteward Klaynard erwartet, der uns zur Kabine begleitet, sich vorstellt, und uns mit unserem vielen Gepäck hilft.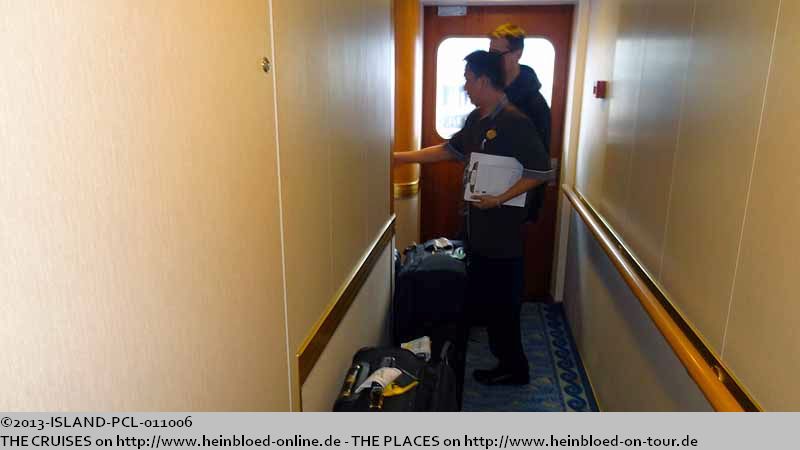 In the hallway we were expected by our cabin steward Klaynard who escorted us to our cabin to introduce himself and who helped us with all our bags.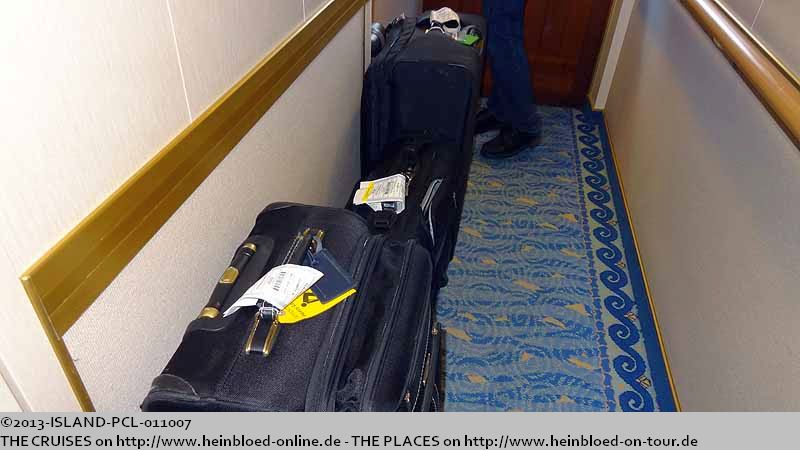 Bei Princess weiss man immer, wer wo wohnt und welchen Status hat...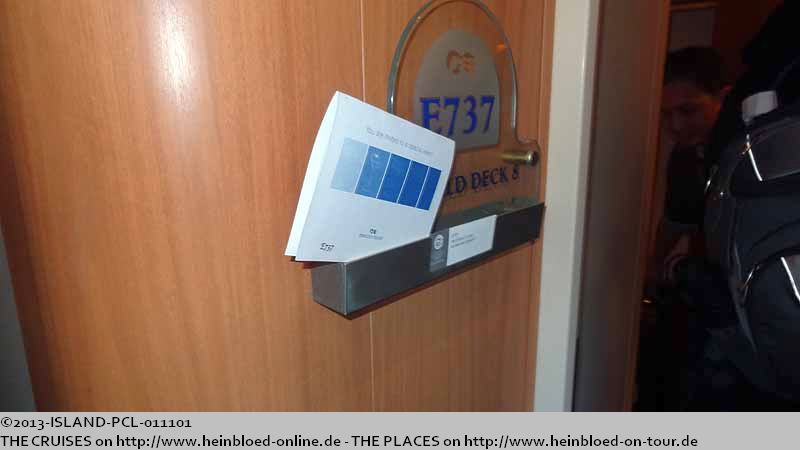 With princess you always know where is staying in which cabin and which tier they had...

Everything was well prepared as we asked for.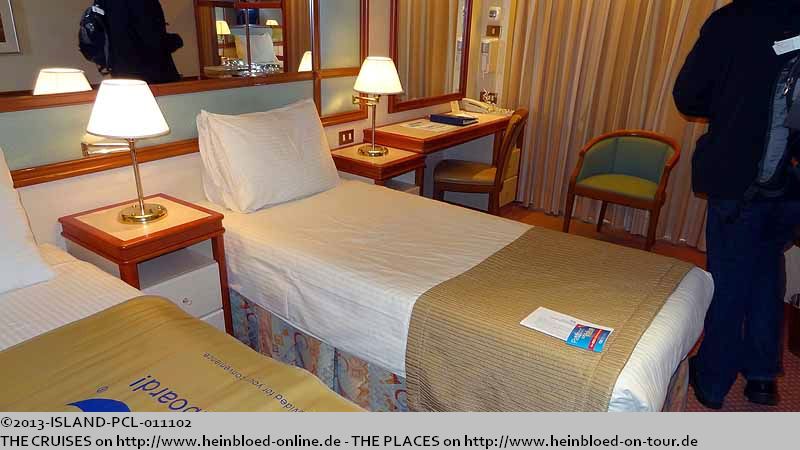 Alles ist bereits nach unseren Wünschen vorbereitet.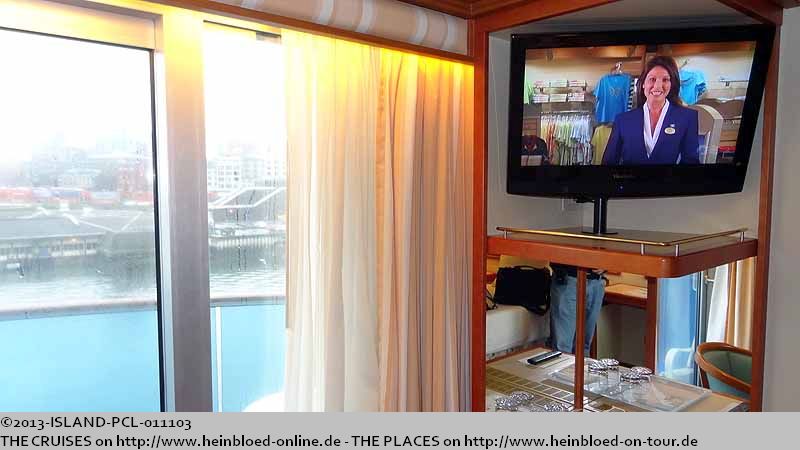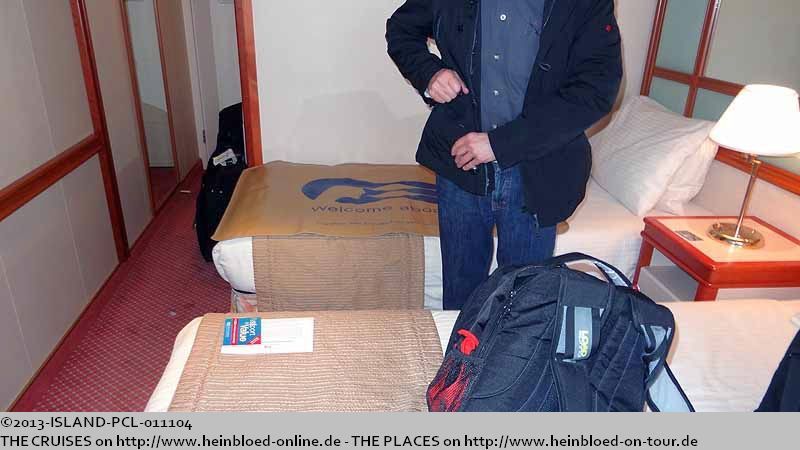 Nur der Balkon ist wegen der Rundung kleiner...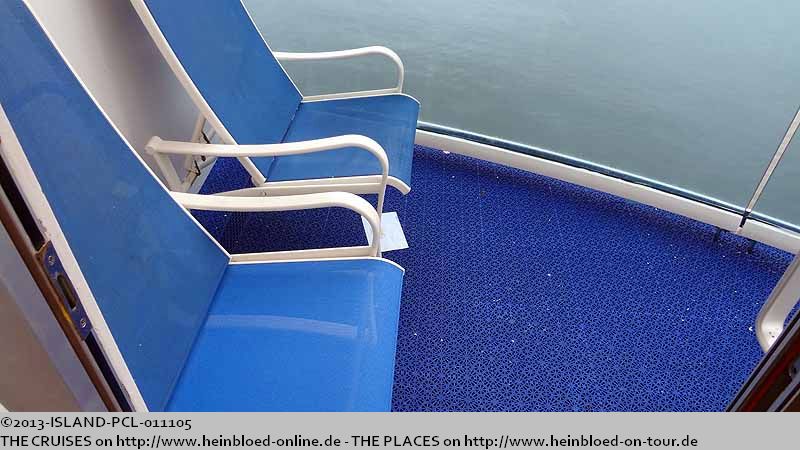 Only the balcony was due to the round shape a little smaller.

But you had an excellent chance to see the aft.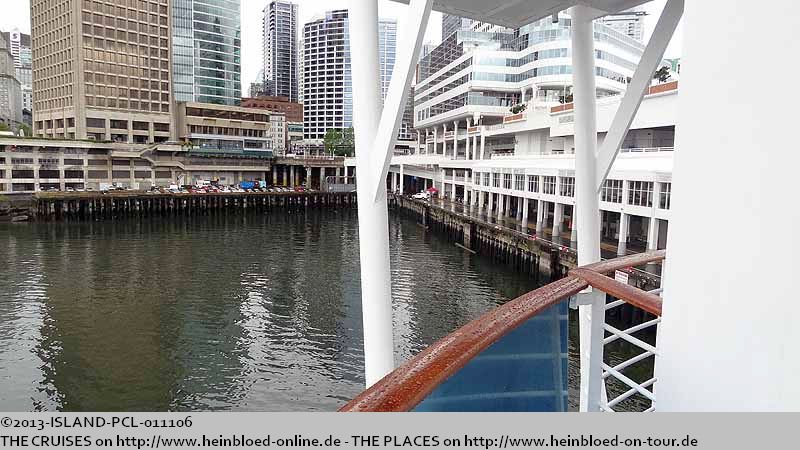 Aber man kann wunderbar nach hinten gucken.
Und Platz für einen echten Tisch für einen Balkon Dinner gibt es auch.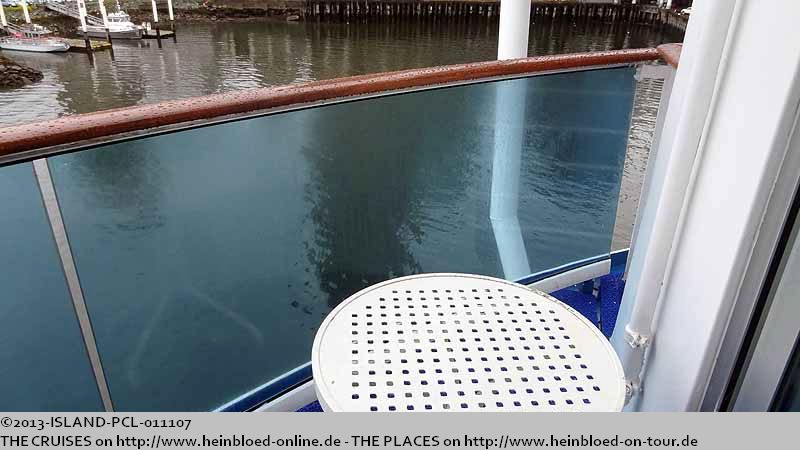 And you had enough space to have a true table to have the balcony dinner.

What we love very much with Princess: the walkable closet.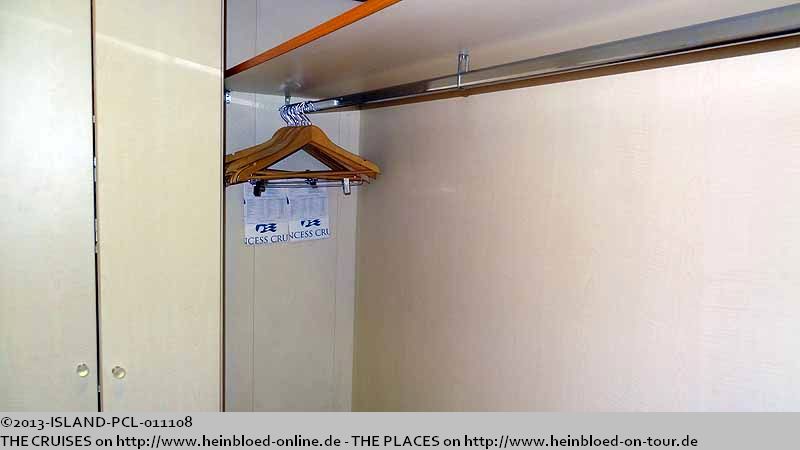 Was wir bei Princess lieben: den begehbaren Kleiderschrank.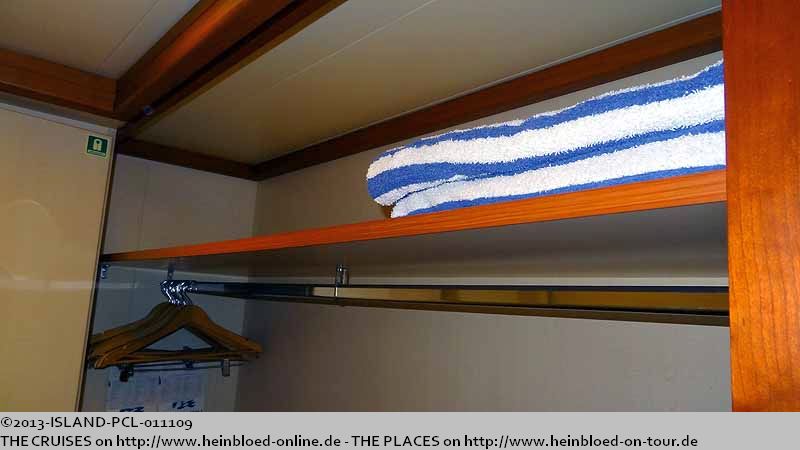 A safe you must not run with a card.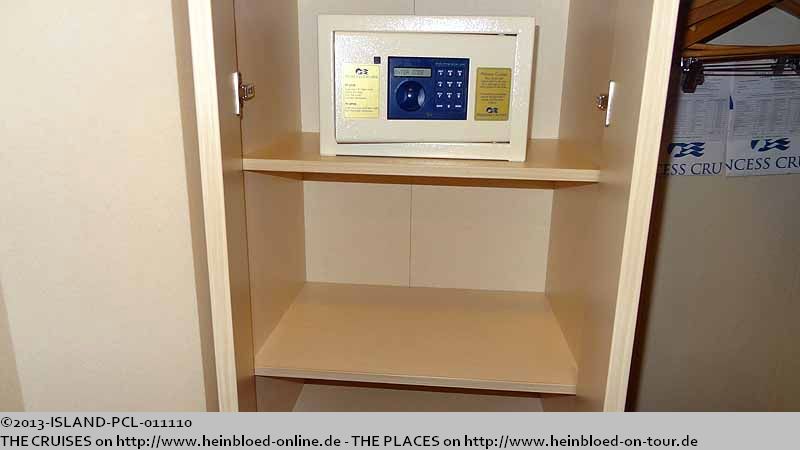 Ein Safe, den man nicht mit einer Karte bedienen muss.
Kleiderbügel wie zu Hause.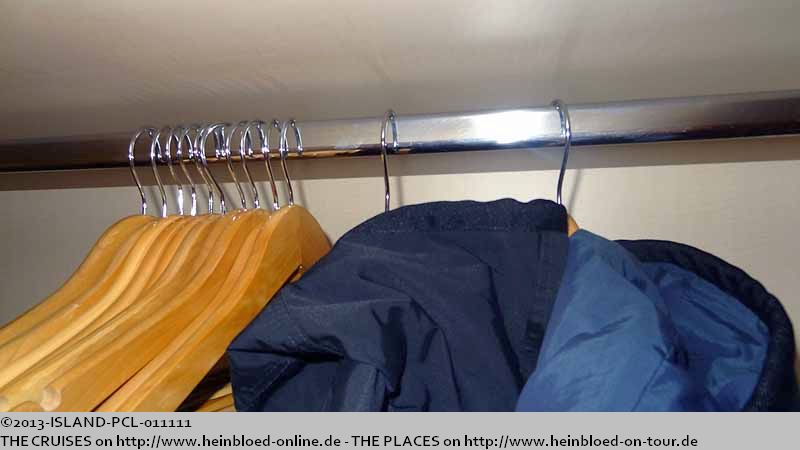 Coat hangers like home.

And endless space available.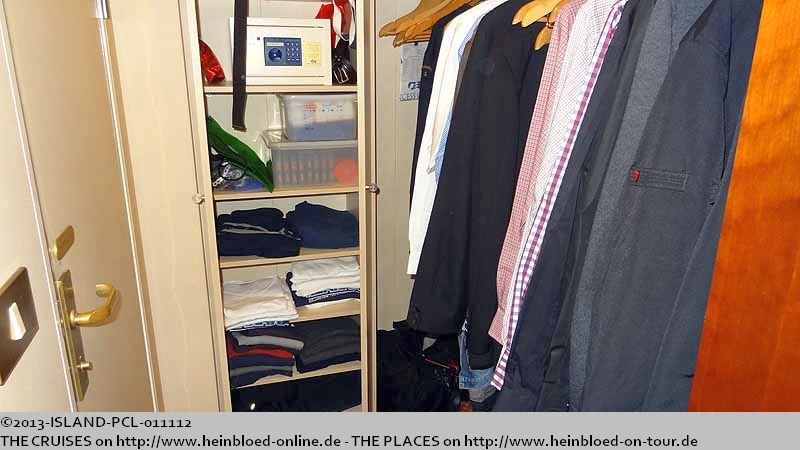 Und Platz ohne Ende.
Am Schluss müssen wir noch nicht einmal alle Schubladen nutzen.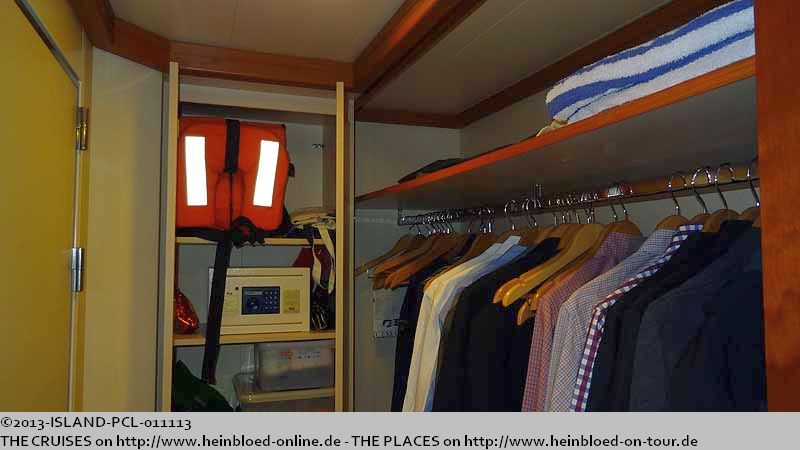 Finally we must not use all drawers.

But few bad things too: the fixed showerhead (which allows little moves) and the curtain.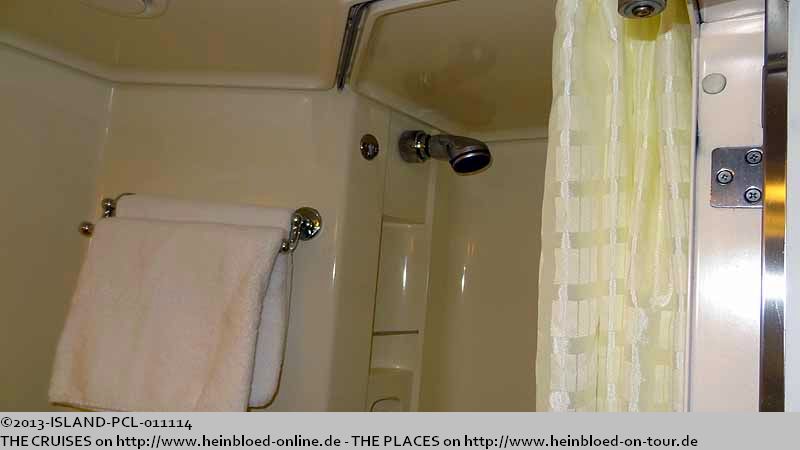 Der feste Duschkopf (etwas bewegbar) und der Vorhang sind so ziemlich das negativste an der Kabine.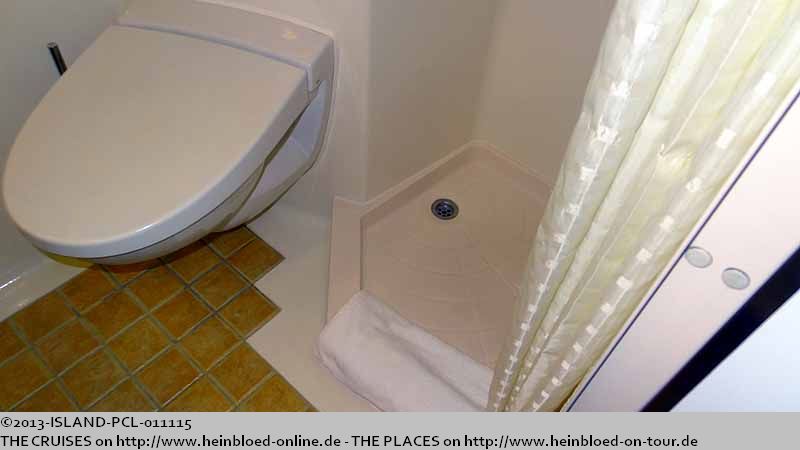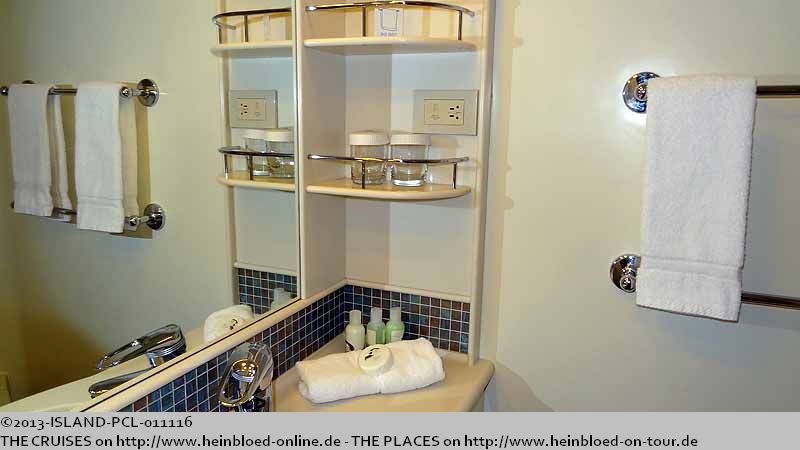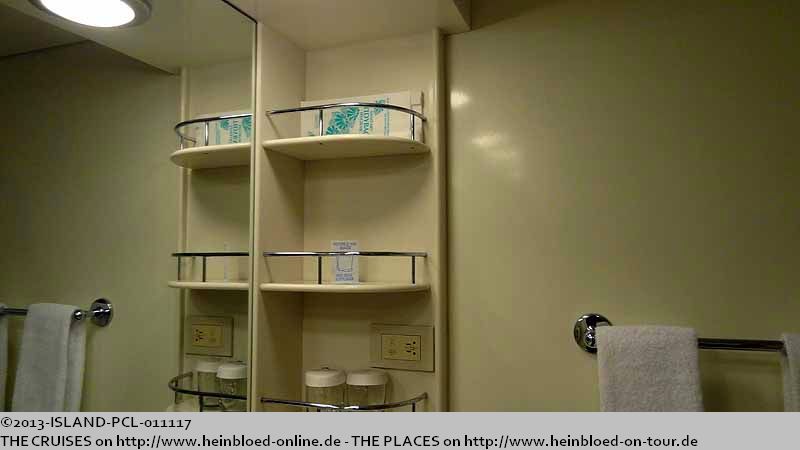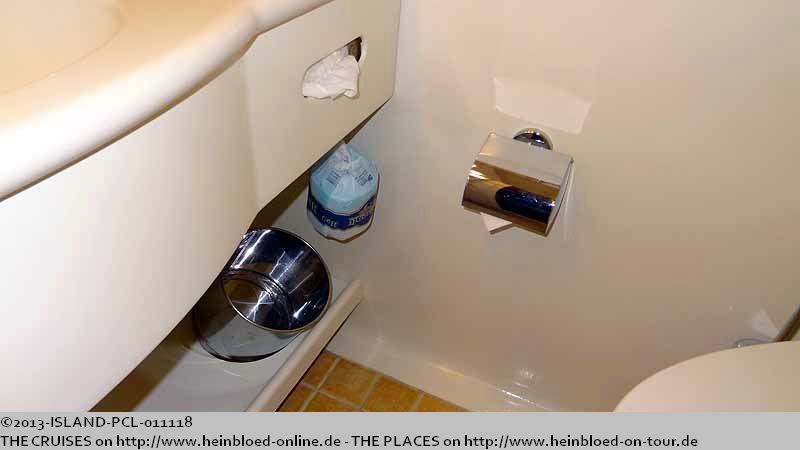 Ich bekomme einen Behälter für meine Injektionsnadeln.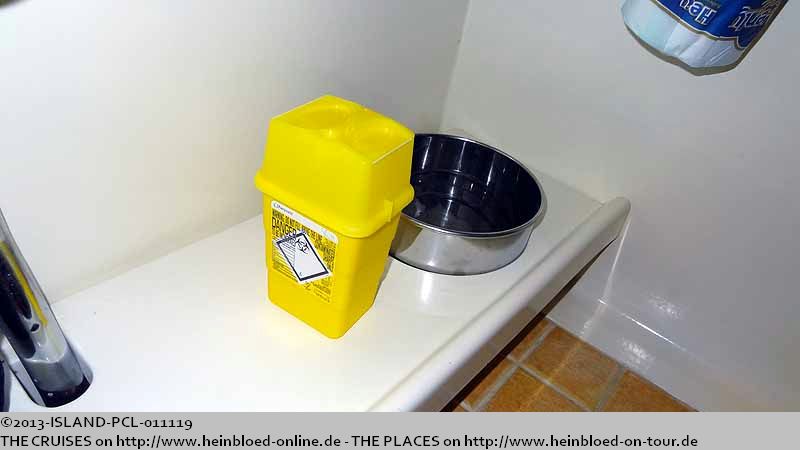 I got a box for sharp needles.

As we preferred to have shower gel, we directly asked for some.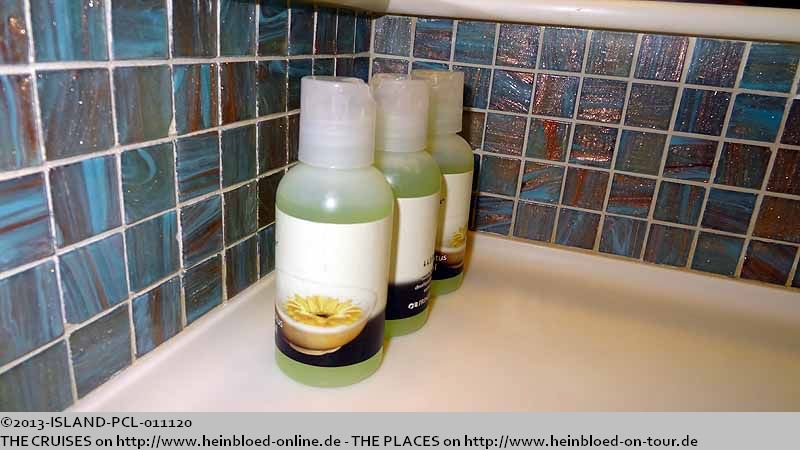 Und da wir lieber Duschgel mögen, fragen wir direkt danach.
Alle Informationen sind da.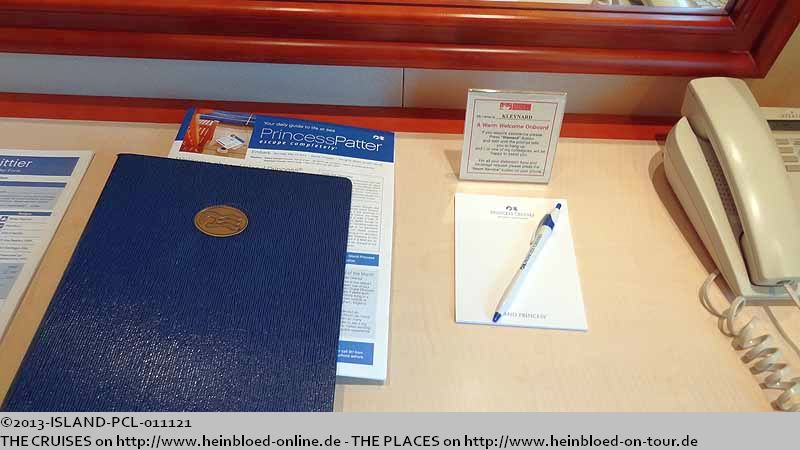 All information we need we got here.

We got again such a stamp, which we could collect or maybe not... I was not sure if we have all stamps at home or not.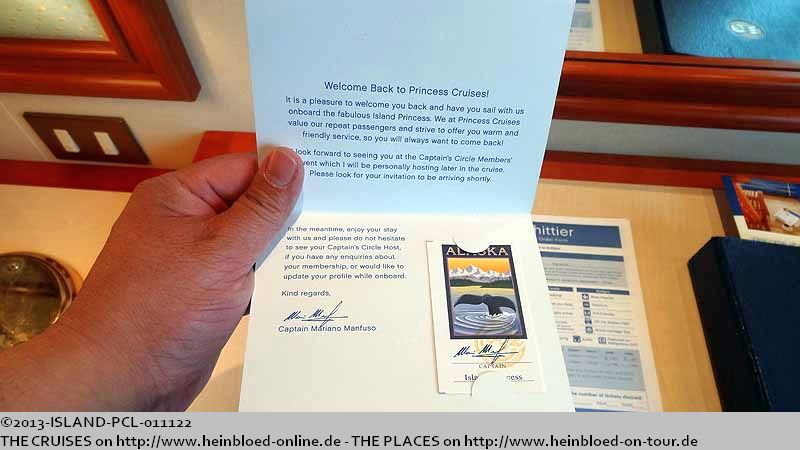 Wir bekommen wieder so eine Marke, die wir nun sammeln oder auch nicht... Ich bin mir nicht mal sicher, ob wir alle Marken zu Hause haben oder nicht.
Die Mini-Bar wird nur auf Aufforderung gefüllt. Uns ist das Verfahren bei Princess zu kompliziert, so dass wir uns an der Bar selbst mit Wasser versorgen.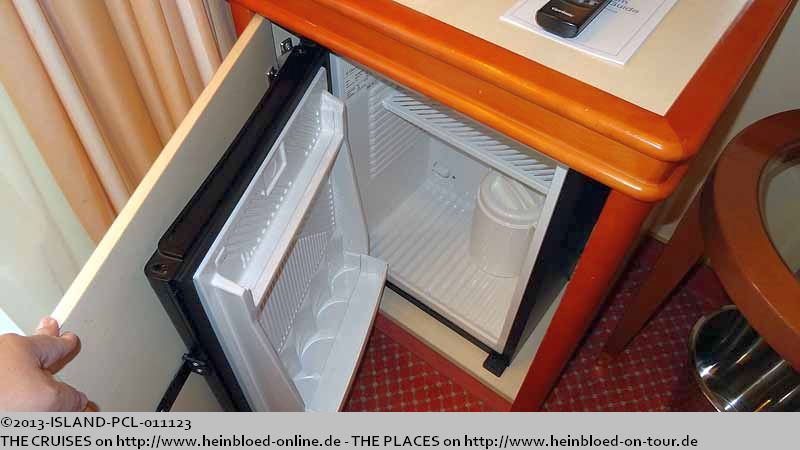 The mini-bar will be only filled up by request. For me, it sounded too complicated, so we just bought ourselves at the bar to fill up.

You really got giant 1.5-liter bottles for little money.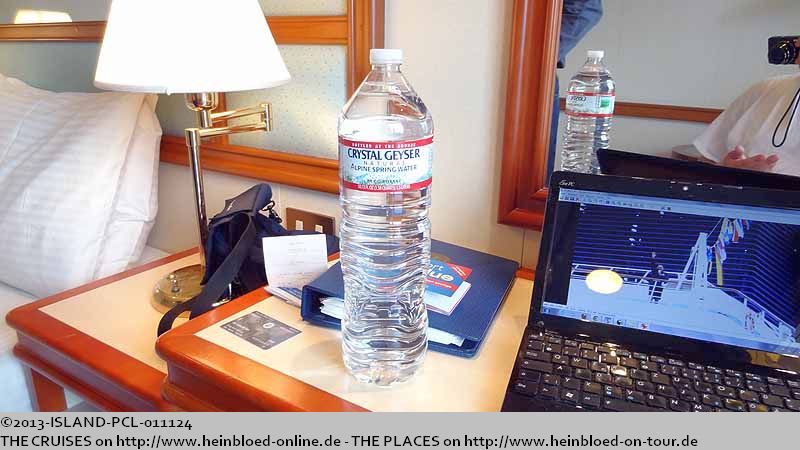 Man bekommt dort schöne 1,5 l-Flaschen für wenig Geld.
Die Coupon-Bücher werden auch immer "unnützer", da hier wieder die Subunternehmer ausgepresst wurden.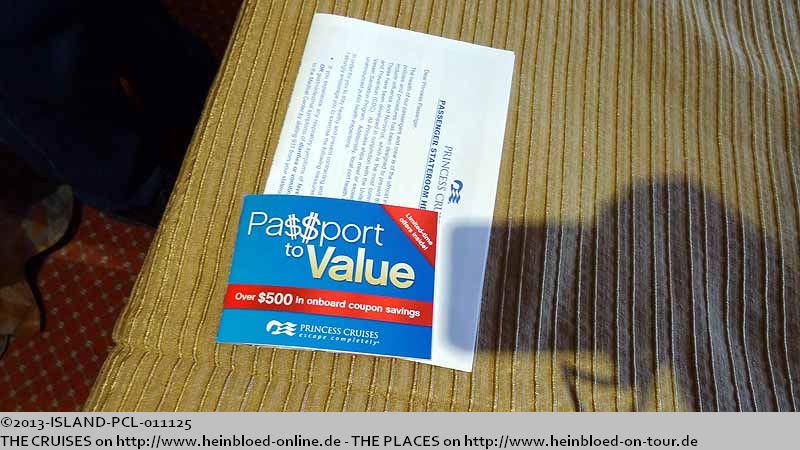 The coupon booklet became more and more useless as they squeezed out the subcontractor on board again.

Hair dryer...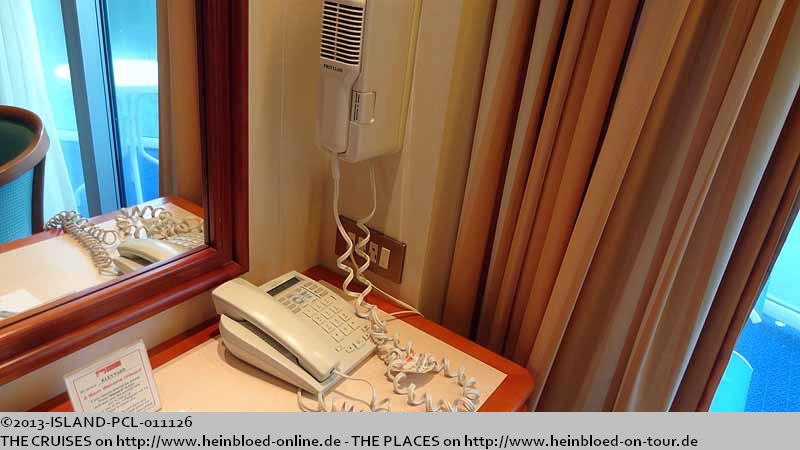 Fön...
Nur die Steckdosen sind ein wenig "blöd"...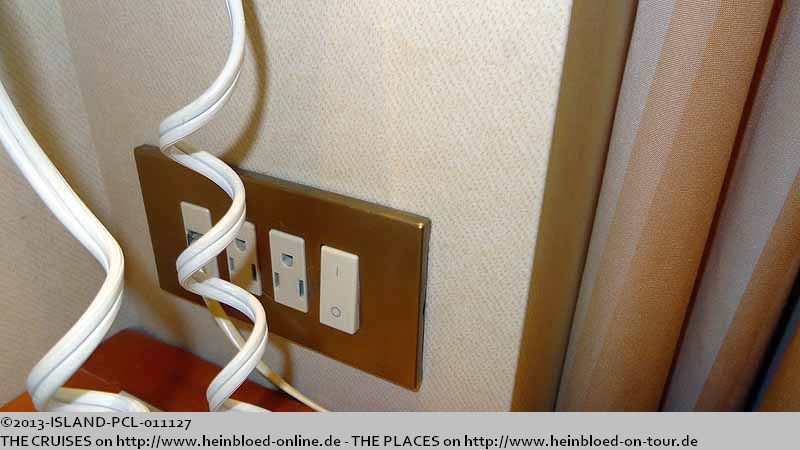 Only the power outlet were somehow stupid...

As we had an adapter, there was no more chance to have a second to use.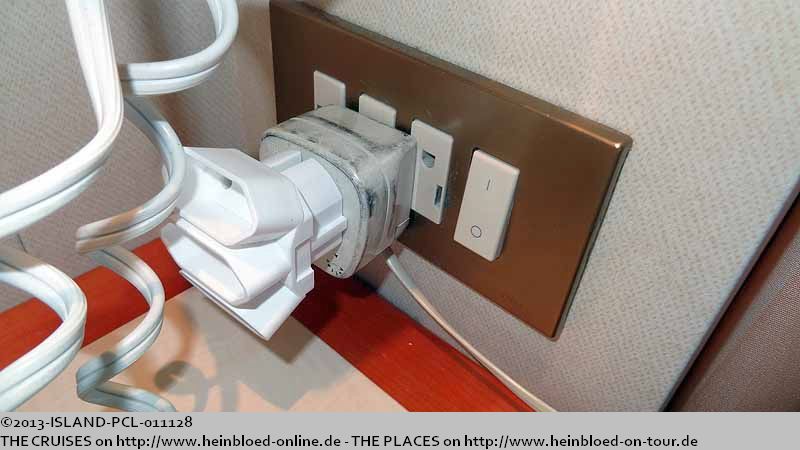 Sobald ein Adapter drin ist, haben wir keinen Platz mehr für einen zweiten.
Aber am Fernseher ist noch ein einer. Aber alles 110 V mit US-Flachsteckern.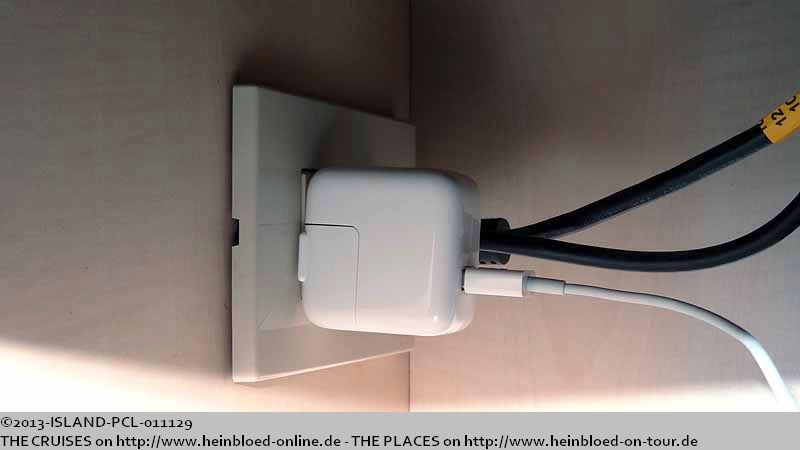 Around the TV-set was another. But all were 110 V with US flat-sockets.

In the evening we got Princess Pattern for the next day.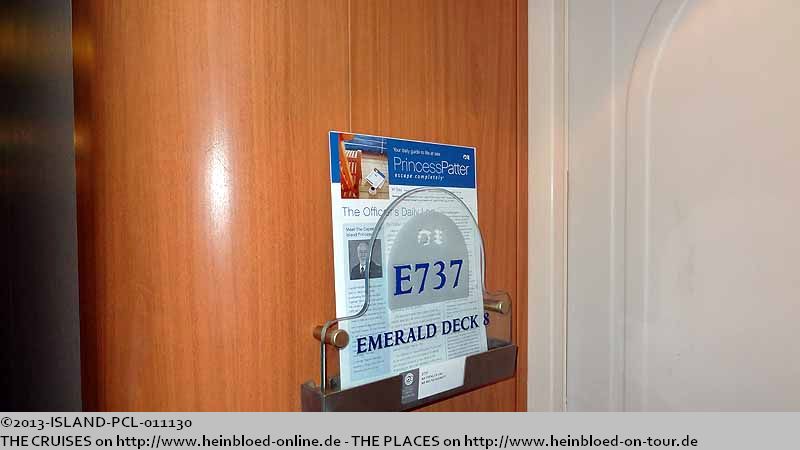 Abends kommt dann die Princess Pattern für den nächsten Tag.
Und unsere Betten werden gemacht.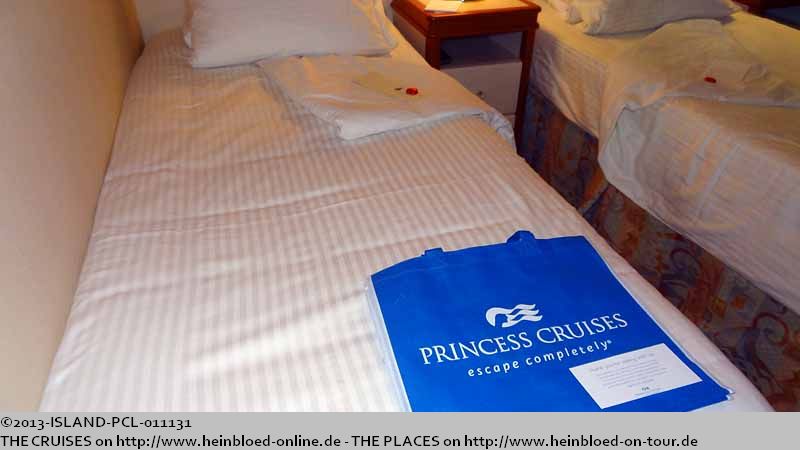 And our beds were prepared for the night.

We got a tote again.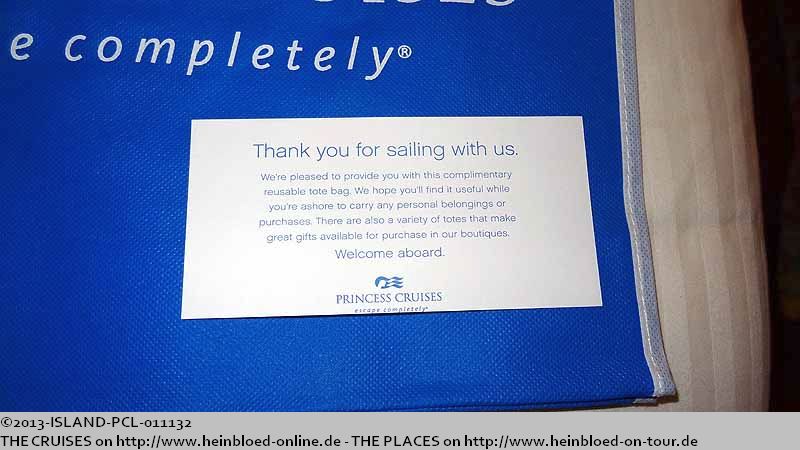 Wir bekommen einen Beutel.
Die Frühstückskarte...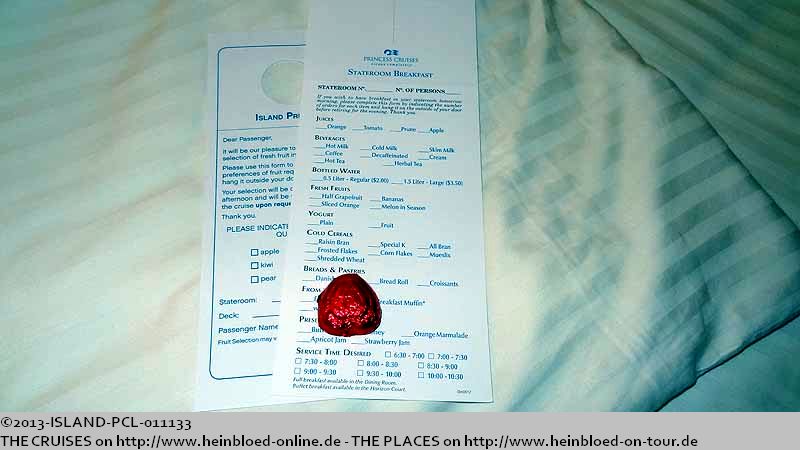 The breakfast menu...

Not just limited to continental breakfast but really with egg and bacon.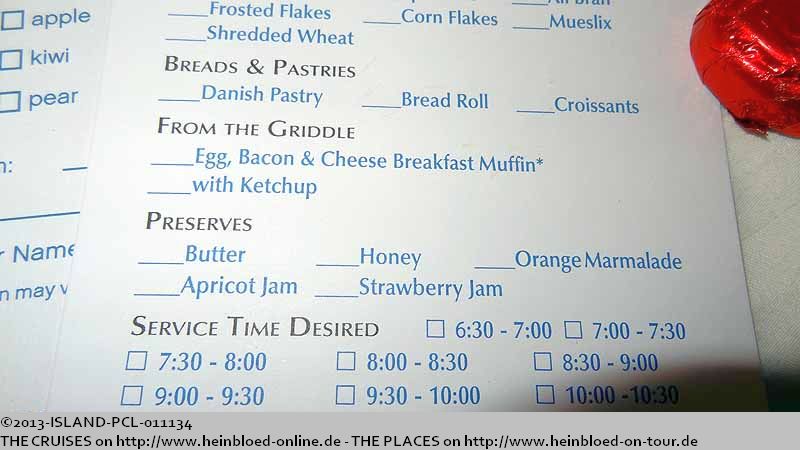 Sogar nicht nur auf das Continental Breakfast beschränkt, sondern richtig mit Eiern und Speck.
Und falls wir frisches Obst in der Kabine wünschen, sollen wir es auch sagen. Eine Pittahaya fehlt jedoch in der Auflistung.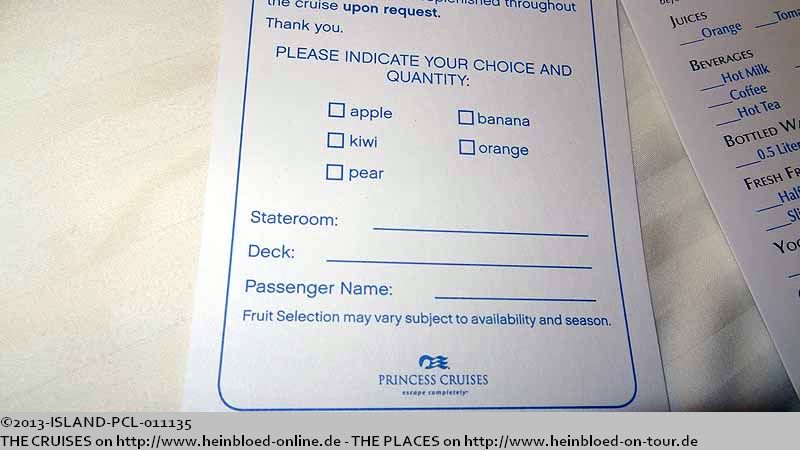 And if we liked to have some fresh fruit we only need to tell. We only missed a dragon fruit on the list.

And chocolate...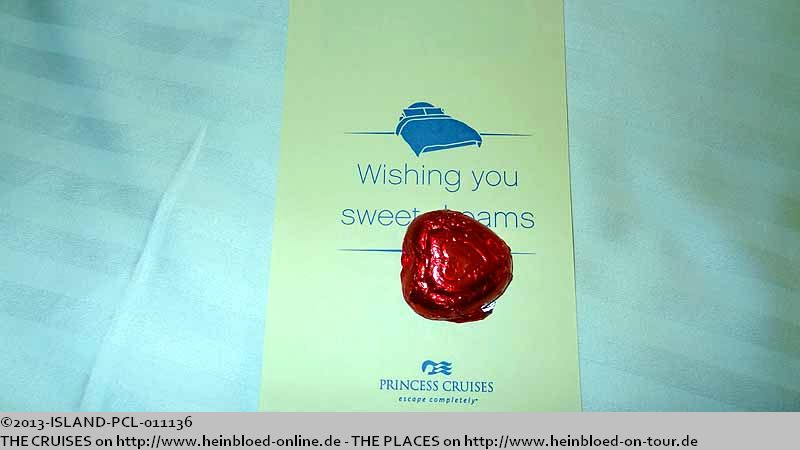 Und Schokolade...
Aber zunächst gucken wir mal, was es eigentlich heute noch so alles gibt.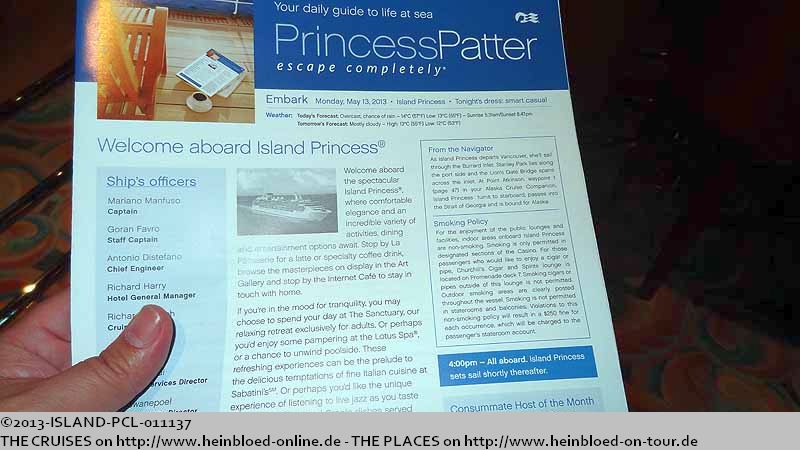 But let's see first what we have that night.

It was already too late to book a table... So we only must show up.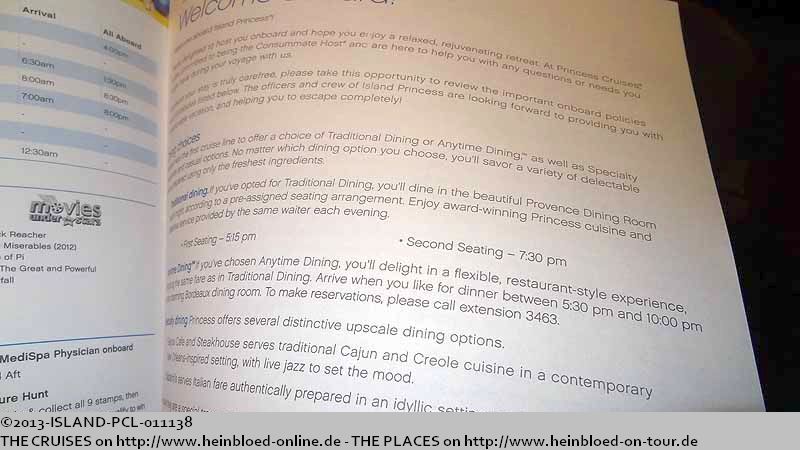 Zum Reservieren eines Tisches ist es schon zu spät... Also müssen wir einfach dort auftauchen.
Welcome Aboard Show... wir sind dafür schon zu müde... speziell, wenn wir noch einem Comedian folgen sollen...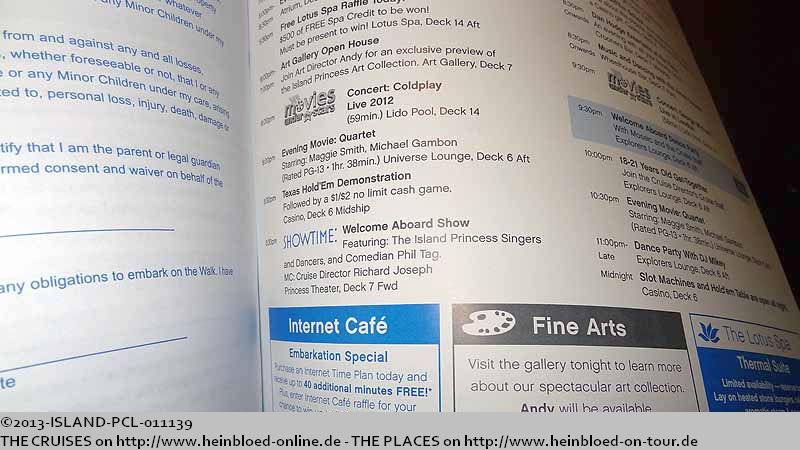 Welcome Aboard Show... for that we were already too tired... especially we were unable to follow a Comedian...

Wow, that might be interesting... Coldplay as Movie under the Stars... But it was anyway too cold, and I only wanted to hear "Viva la Vida" and "The Scientist" I let it go.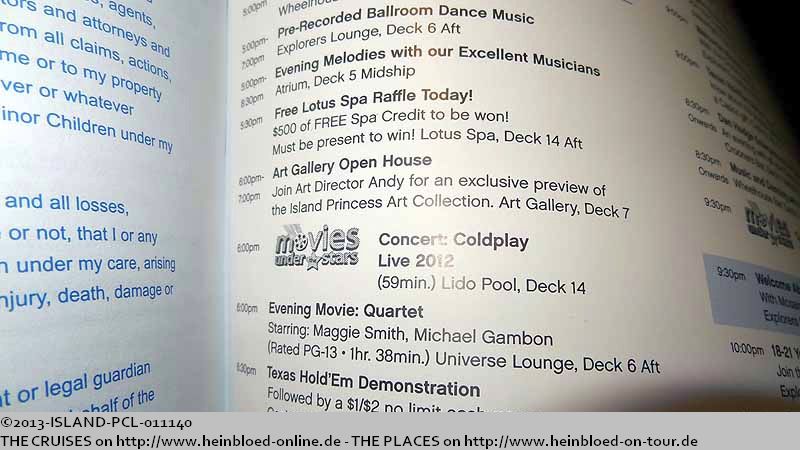 Das wäre es doch... Coldplay als Film unter freiem Himmel... Aber da es zu kalt ist und ich eh nur "Viva la Vida" und "The Scientist" hören will, unterlasse ich es.
Und das Büffet hat nur bis Mitternacht auf. Es gibt nichts, das rund um die Uhr auf hat.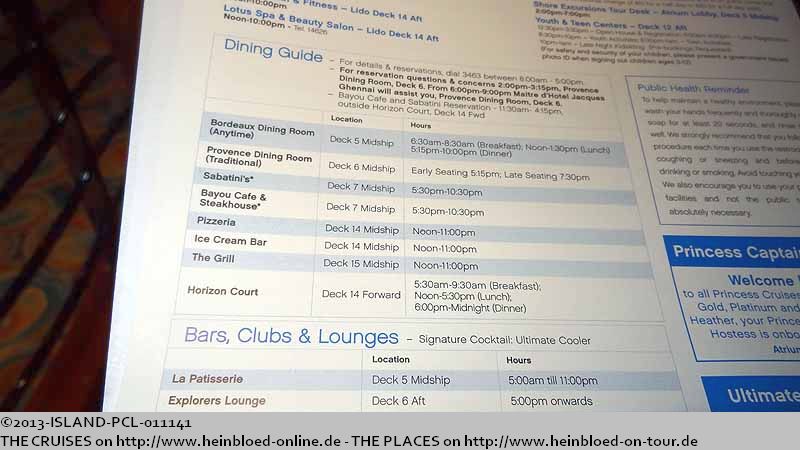 And the buffet was only open until midnight. There was nothing which was open round around the clock.

And what I loved with Canada: I could only make emergency calls what meant that I was unreachable for the company... But it worked with my previous BlackBerry. I loved the new one...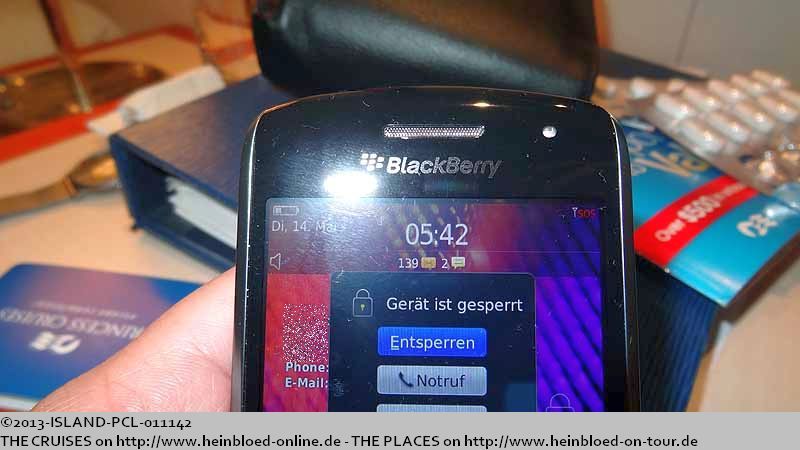 Und was ich an Kanada liebe: ich kann nur Notrufe absetzen, was so viel heißt, wie dass ich für die Firma unerreichbar bin... Mit meinem alten Blackberry ging es allerdings. Hoch lebe der neue.
Die anderen Reisen in diesem Blog/
The other voyages in this blog: