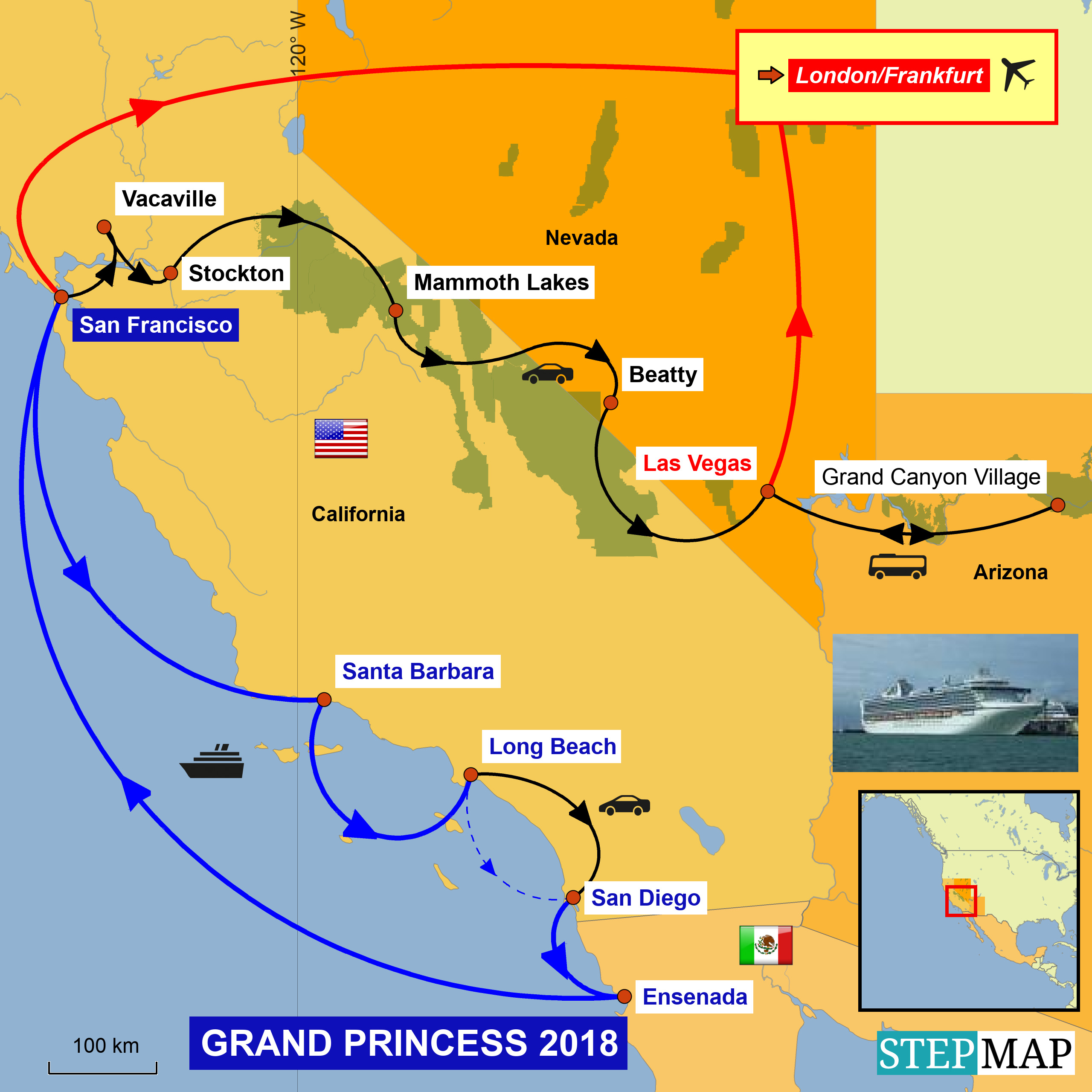 Zu den Höhepunkten der Reise: die Einfahrt der GRAND PRINCESS unter der Golden Gate Bridge. Wir schaffen es gerade noch so. Leider ist der Kapitän an dem Morgen so schnell gefahren, dass ich es nicht mal schaffe, mein Stativ rechtzeitig aufzubauen.

Counting to the highlights of the voyage: GRAND PRINCESS passing the Golden Gate Bridge. We barely could make it. Unfortunately, the Captain drove that morning so fast that I could not set up my tripod right on time.

Also without GRAND PRINCESS the Golden Gate Park was nice.

Auch ohne GRAND PRINCESS ist der
Golden Gate Park
schön.
Der Uber-Fahrer, der uns hierher gebracht hatte wollte nicht auf uns warten, obwohl ich es ihm bezahlt hätte. So rufen wir einen neuen an. Damit man ihm im Dunkeln sofort erkennt, blinkt ein grünes Uber-Zeichen. Und später fährt uns der Fahrer noch schnell zur Montgomery Street. Hier können wir nochmals die GRAND PRINCESS fotografieren.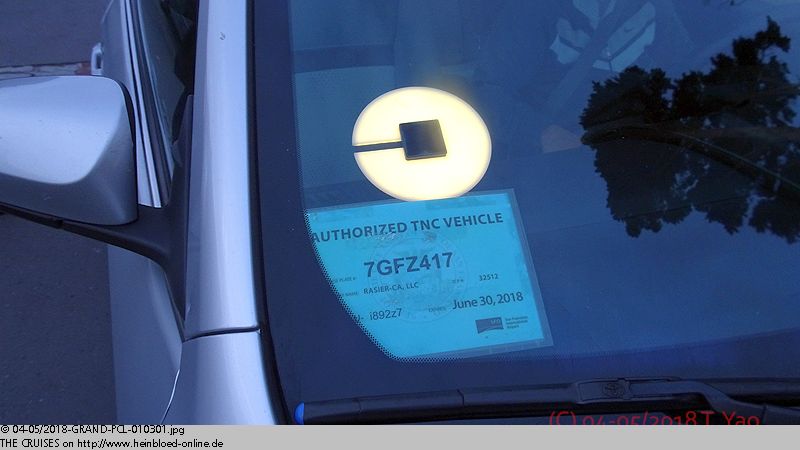 The Uber-Driver who brought us to this place disliked to wait for us although I offered him to pay for waiting. So we called a new one. To allow faster identification in the dark, the green Uber-sign was flashing. And later the driver took us to Montgomery Street. Here we could make another time pictures of GRAND PRINCESS.

Back in the hotel, I need to enjoy the yummy breakfast again.





Zurück im Hotel muss ich nochmals das leckere Frühstück genießen.

Sehr schön: vom Hotelzimmer aus höre ich den Chor der Kathedrale singen.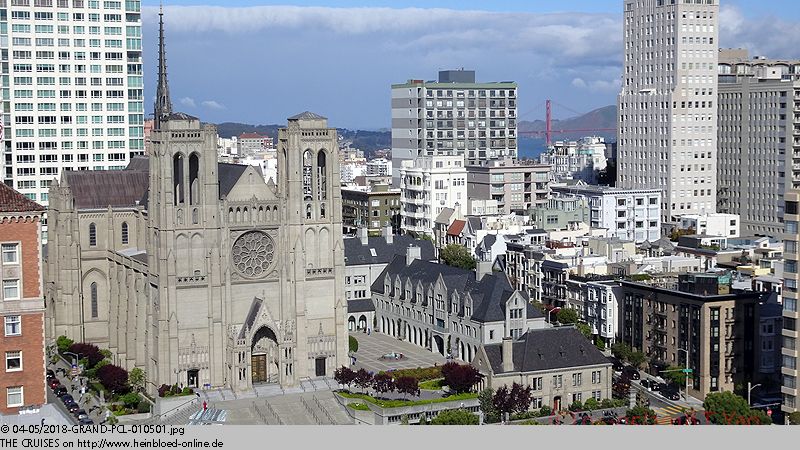 Very nice: I could hear the choir of the cathedrale singing from my hotel room.

Also great the many USB-ports in the Room. But still not enough for us. But with our PowerCube and Skross-Adapter we could easily extend the number of USB-ports we need in total.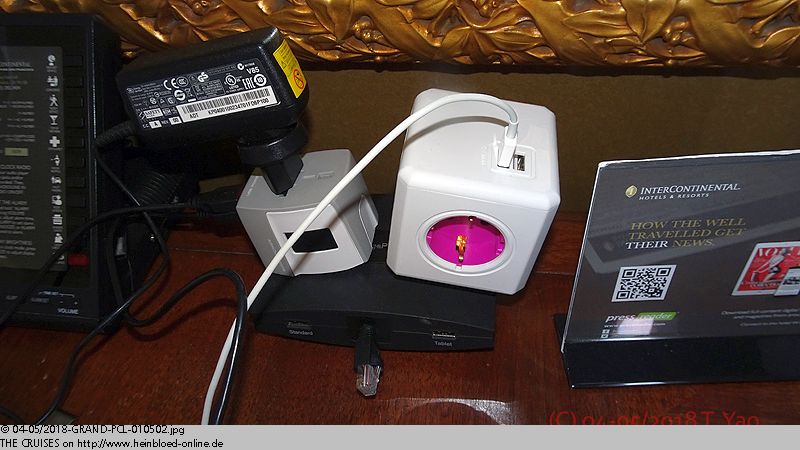 Auch klasse: die vielen USB-Ports im Zimmer. Nur immer noch nicht genug für uns. Mit Hilfe unseres PowerCubes und Skross-Adapter können wir die Anzahl der USB-Ports, die wir benötigen, erweitern.

Der Club ist hier Teil des Restaurants. Hier können wir auch auschecken.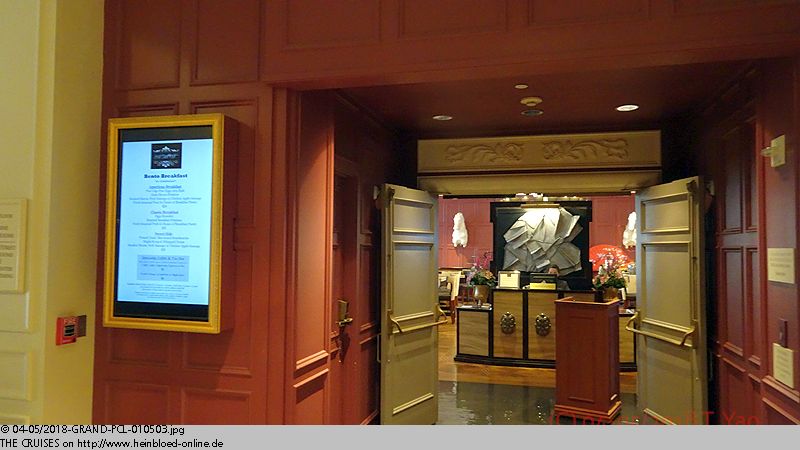 The Club was here part of the restaurant. We could also check out here.

In the hotel guests of GRAND PRINCESS were accommodated too. We could also use the shuttle of the Princess against fee.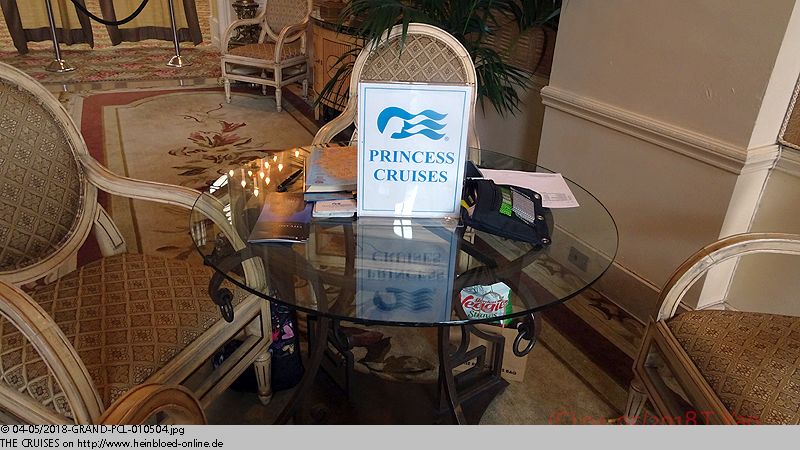 Im Hotel sind auch die Gäste der GRAND PRINCESS untergebracht. Wir könnten gegen Entgelt auch den Shuttle von Princess benutzen.

An unserer Straßenecke: Mason Street: es geht steil runter.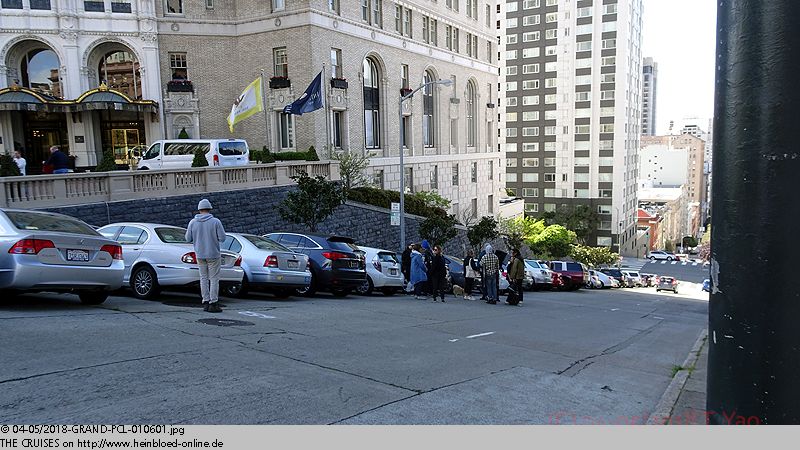 Right at our intersection: Mason Street: it went steeply down.

No other way but to walk down.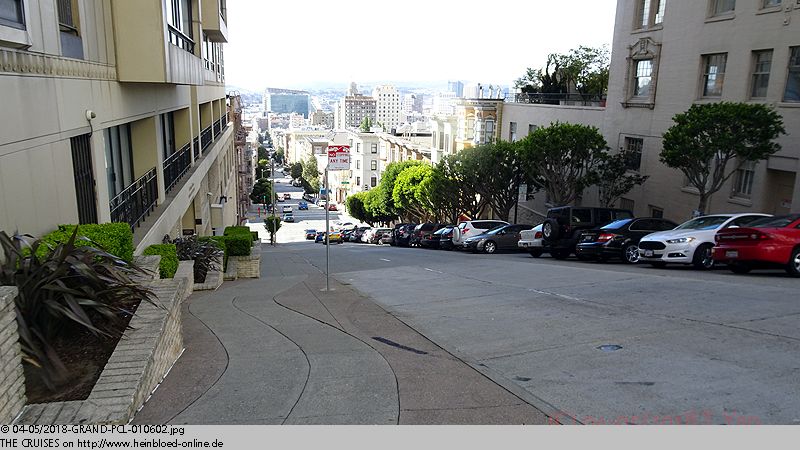 Uns bleibt nichts anderes übrig: wir müssen darunter.

In der Firma gibt es soviele Kollegen mit dem Namen Sutter... warum muss ich ausgerechnet hier in San Francisco an sie erinnert werden.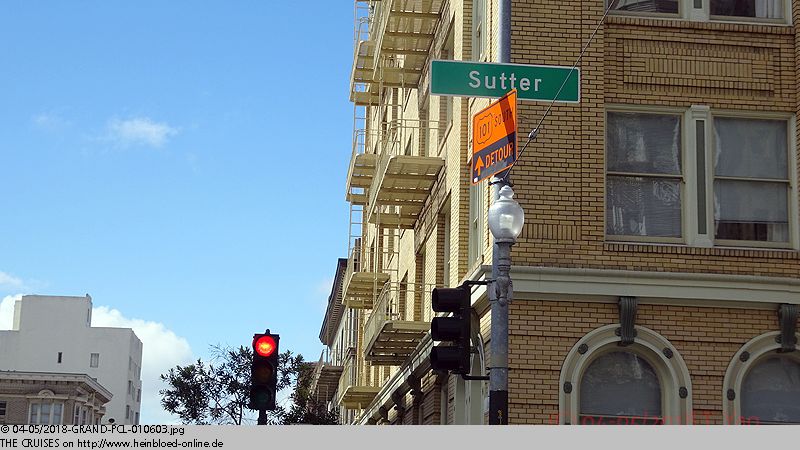 In the company we had so many colleagues called Sutter... why was there a need to be reminded to them here in San Francisco.

At farm:table we met Christine Chang whom we knew from NCL but did not work there anymore. For us very sad unless we would win a lottery and need to find a real estate in San Francisco. We knew her since our sailing on NORWEGIAN JADE 2014 (1). When we knew that we came to San Francisco, we set up an appointment for brunch. It was in the center of the hotel of Frances and Eddie and our hotel. They also knew Christine. Many of our friendships with crew members remained even we cannot meet them anymore on an NCL-ship. It was a micro-café (called by themselves), i.e., in case it was raining you had only one table inside and a few tables outside. It was not warm, so we had the luck that we got the only table indeed inside. Outside parking lots were also transformed into green oases. I need to try a Kouign Amann (sounds like a name of a Hawaiin Queen but it is French (Bretagne) origin). I hope it would work to meet the next former NCL-crew-members in Birmingham, England hopefully.

Im farm:table treffen wir uns mit Christine Chang, die wir von NCL kennen und die heute nicht mehr dort arbeitet. Für uns schade außer wir gewinnen im Lotto und suchen dann eine Immobilie in San Francisco. Wir kennen sie seit der NORWEGIAN JADE 2014 (1). Als feststeht, dass wir nach San Francisco kommen, verabreden wir uns zum Brunch. Es liegt quasi in der Mitte zwischen dem Hotel von Frances und Eddie und uns. Sie kennen auch Christine. Viele unserer Freundschaften mit Crew Mitgliedern bleiben auch bestehen, auch wenn wir sie nicht mehr an Bord eines NCL-Schiffes antreffen können. Es ist ein Micro-Café (eigene Bezeichnung), d. h. wenn es regnet gibt nur einen Tisch drinnen und ein paar wenige Tische draußen. Es ist jedoch nicht unbedingt sehr warm, so dass wir Glück haben und in der Tat den einzigen Tisch bekommen, der innen ist. Draußen hat man auch Parkplätze zu grünen Oasen umgewidmet. Ich muss unbedingt ein Kouign Amann (klingt wie der Name einer hawaiianischen Königin, aber es ist ein bretonischer Kuchen) probieren. Falls es klappt, die nächsten Ex-NCL-Mitarbeiter treffen wir hoffentlich in Birmingham.

Nach umfangreichen Recherchen: am Besten im impark-Parkhaus 80 Francisco Street (direkt gegenüber von 55 Francisco Street) parken. Es ist verhältnismäßig nah (7-8 Minuten zu Fuß - ohne Gepäck). Keinesfalls so nahe, dass man nicht besser zunächst das Gepäck am Kreuzfahrtterminal ablädt und dann parkt und später erst das Auto holt und dann Familie und Rest am Kreuzfahrtterminal einsammelt. Es gibt einen Sonderpreis für Kreuzfahrer: 18,00 USD/Tag (2018).





After many researches: the best would be to park in the impark-garage at 80 Francisco Street (just opposite of 55 Francisco Street). It was relatively close (7-8 minutes walking distance - no bags). But not so close that you did not better first drop off your bags at the cruise terminal and then going to park the car and later to collect first the car before collecting the family and others from the cruise terminal. They had a special rate for cruiser: 18.00 USD/day (2018).

Pier 27 - the new James R. Herman Cruise Terminal in San Francisco and it was really great. We went through in a few minutes. It was spacious that you did not feel squeezed.

Pier 27 - das neue James R. Herman Cruise Terminal in San Franciso und es ist richtig klasse. Wir sind in wenigen Minuten durch. Alles ist sehr großzügig angelegt, so dass es kein Gedränge gibt.

Frances führt eine Inspektion der Aktivitäten beim Gepäcktransfer durch und identifiziert ihr Gepäck. Wie üblich: Die Fahrstühle werden am Tag der Einschiffung mit Liftboys (hier Mani) besetzt: so hält der Lift nicht unnötigerweise, wenn sowieso schon alles voll mit Gepäck ist und eh keiner mehr reinpassen würde. Es geht alles schneller. Aber leider nur bei der Einschiffung. Nach dem Mittagessen steht das Gepäck aber auch bei uns in der Kabine.





Frances did an inspection of the activities of the porters and identified her bags. As usual: On the day of embarkation they worked with Liftboys (like Mani): so the elevator would not stop unnecessary when the cabin was full of bags, and none would fit anymore. Everything went faster. But unfortunately with the embarkation. After the lunch, the bags were already delivered to our rooms.

We always book very advanced in time and so we could take all the promos. We started with this one.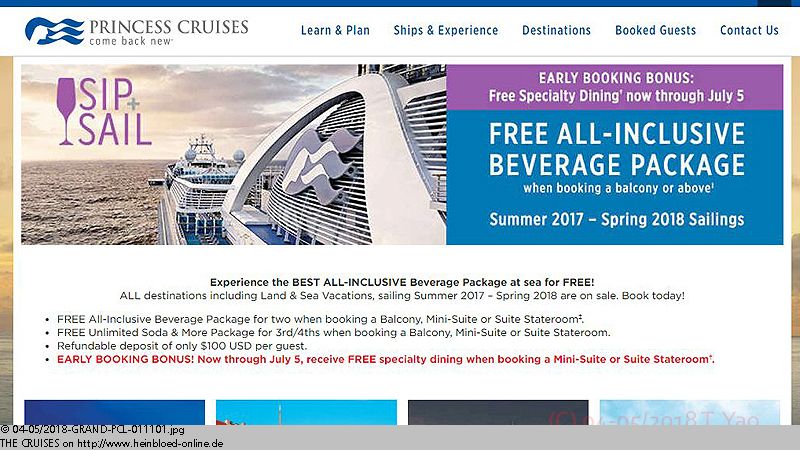 Wir buchen ja immer sehr zeitig und so können wir alle Promos mitnehmen. Damit haben wir angefangen.

Also mit 2.628,00 USD für die Kabine.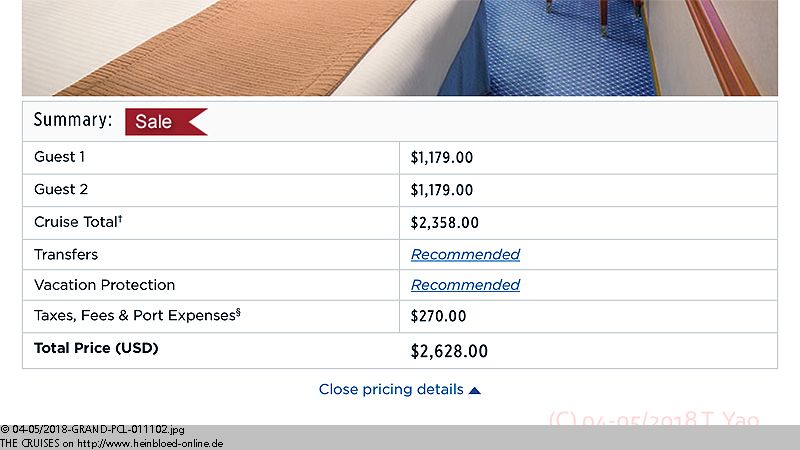 So 2,628.00 USD for the cabin.

We finally paid 2,198.00 USD incl. OBC and pre-paid service charges.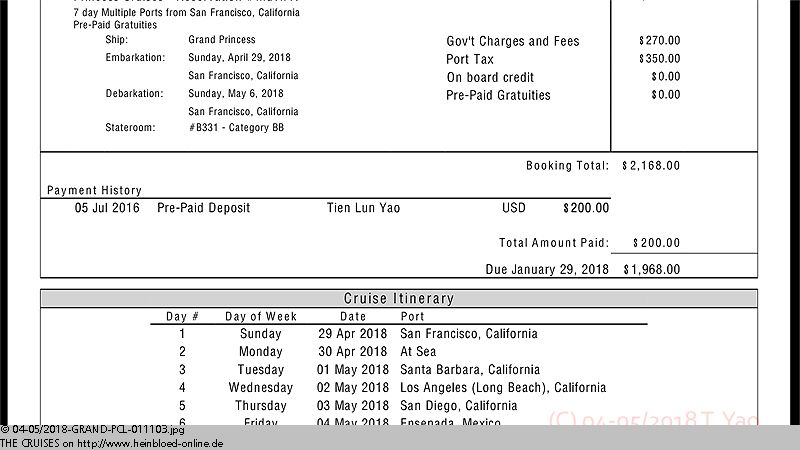 Wir haben am Schluss 2.198,00 USD inkl. Bordguthaben und vorausbezahlte Servicecharges bezahlt.

Neu hätte die Kabine dann 2.828,00 USD gekostet (ohne vorausbezahlte Servicecharges). Wir haben wirklich Glück, dass wir Dorothy haben, die uns das ermöglicht. Zwischendurch gab es ein Upsell-Angebot für 199,00 USD pro Person in eine Mini-Suite, aber das hätte nur einen größeren Balkon bedeutet. Daher haben wir das abgelehnt.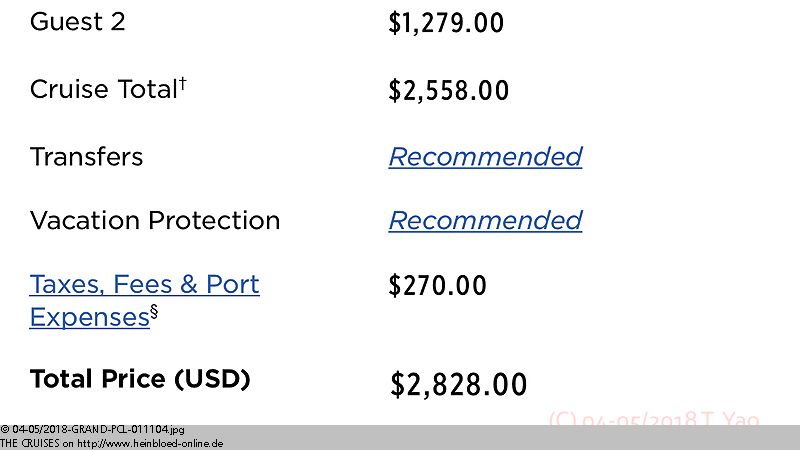 A new booking of the cabin would be 2,828.00 USD (without pre-paid service charges). We really had luck to have Dorothy who enabled us all. Meanwhile, we had an upsell offer to move into a mini-suite for 199.00 USD per person, but that would only mean to have a larger balcony. So we declined.

We barely had chances to spend all OBC.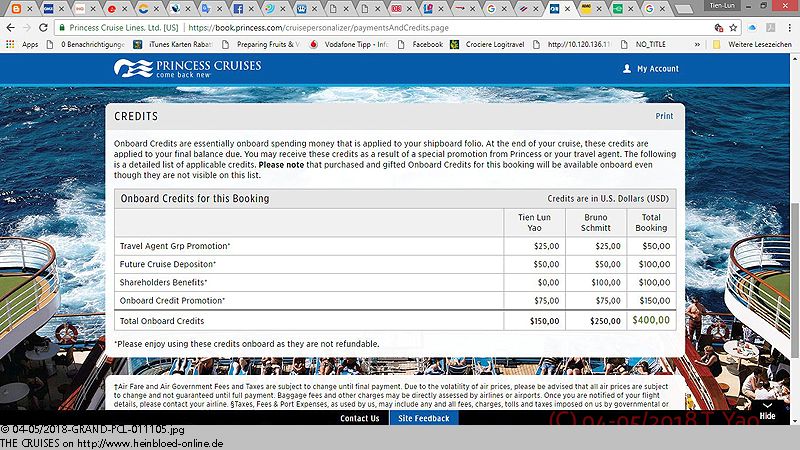 Das ganze Bordguthaben konnten wir kaum ausgeben.

Auf zum ersten Mittagessen mit sehr nettem Service im Da Vinci: falls man jedoch im falschen Eingang reinkommt, landet man im Club Class Dining. Die ersten zwei netten Kellner, die uns auffallen: Hemant und Singh.





Heading for our first lunch with a lovely service in Da Vinci: in case you entered through the wrong entrance you arrived with the Club Class Dining. The first two nice waiters who attracted our attention: Hemant and Singh.

Our cabin B 331.

Unsere Kabine B 331.

Viele Details. Vor allem ein Loch ist im Boden. Sie wird durch eine Metallplatte abgedeckt. Jeder Schritt von uns bringt uns näher auf das Caribe Deck unter uns. Unsere Bewohner unter uns tun uns ein wenig leid. Wir haben Wasser vorbestellt... dass man alle auf einmal geliefert bekommt, führt zu gewissen Problemen. Wir hatten zuletzt eine umgebaute Window Suite auf der GRAND PRINCESS 2011. Dort gibt es auch bereits 230 V-Euro-Stecker. Hier gibt es nur die US-Steckdosen mit 115-V-Flachstecker. Auch bekommen wir einen Willkommensanruf als Ansage. Übrigens verlangt Princess 13,50 USD pro Tag an Service Charge. Andere verlangen mittlerweile 14,50 USD und bieten sehr viel weniger.





Many details. Especially a hole in the floor. It was covered by a metal plate. Each step of us took us closer to the Caribe Deck below us. We felt sorry for the guests below us. We preordered water... the fact that you get all delivered at once occurred some problems. We recently had a rebuild Window Suite on GRAND PRINCESS 2011. There they had already 230 V-European power outlets. Here they had only the 115-V-US-flat-power outlets. We also got a recorded welcome call. By the way, Princess charged 13.50 USD per day for Service Charge. Others wanted 14.50 USD meanwhile and offered much less.

In the bathroom.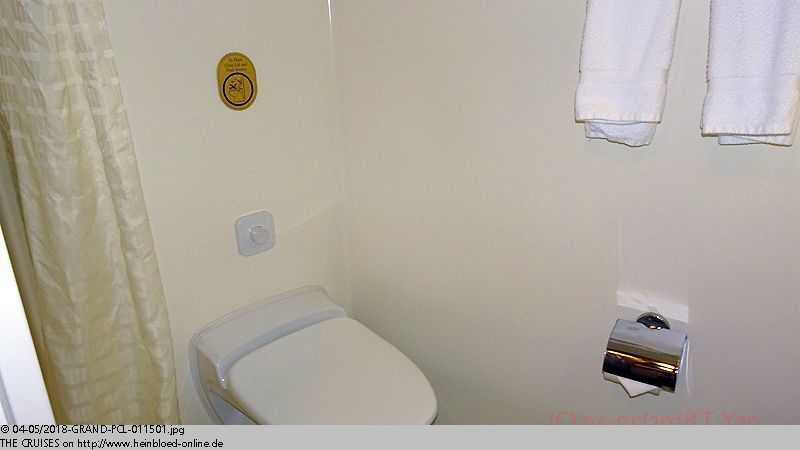 Im Bad.

Wie immer bei Princess: sehr viel Stauraum.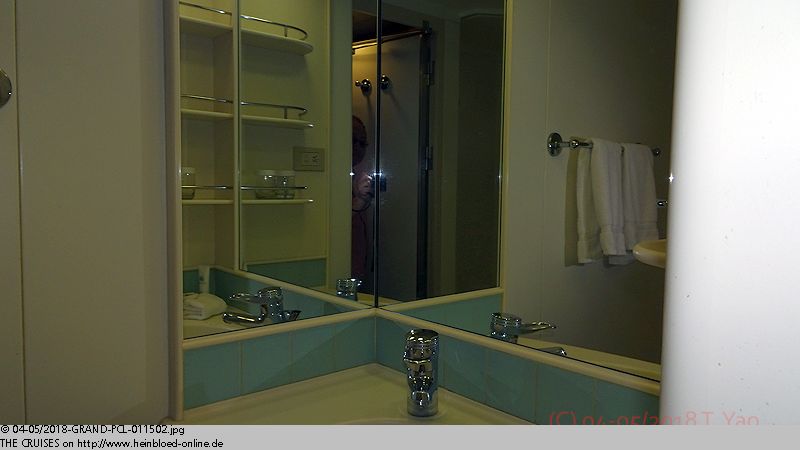 Like usually with Princess: a lot of stowage.

Only the fixed shower head: nothing it should be.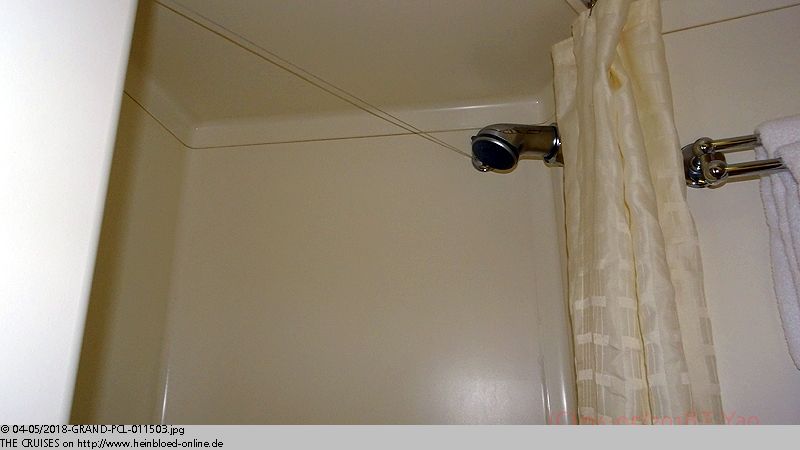 Nur der feste Duschkopf: der muss nicht sein.

Duschgel gibt es jetzt für alle aus dem Spender. Also kein Grund, um zu den Steward oder den Hoteldirektor zu fragen und mit denen das auszudiskutieren, ob einem das zusteht oder nicht. Aber genau diese vielen kleine Dinge sorgen dafür, dass wir bei vergleichbarer Route und vergleichbarem Preis immer wieder uns für Princess entscheiden würden.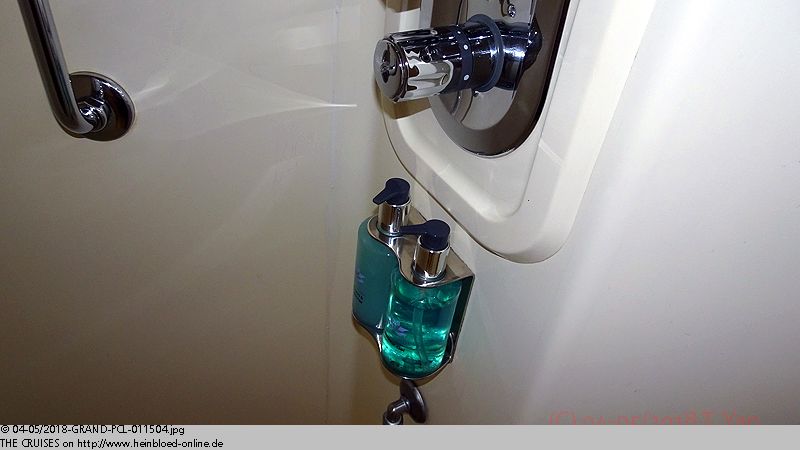 Shower gel for everyone from the dispenser. So no reason to ask the room attendant or Hotel Director for some and to discuss with them if you were entitled to get some or not. But many of those small items made me deciding for Princess if you have a comparable itinerary and price.

Our balcony was sufficient. The condition was terrible. But I was told: they just from a Transpacific and that would be "normal", but from now they would do polishing the ship port after port. I was not sure if paint would be sufficient or you need to do a little more. As we could see directly on the balconies of the Mini-Suites and Suites: I was not sure if I liked to be observed from above! Anyhow we had a great view from our balcony.

Unser Balkon ausreichend. Der Zustand grauenhaft. Aber mir wird erklärt: sie kommen von einer Transpazifik und das wäre daher "normal", aber jetzt würden sie in jedem Hafen immer ein wenig mehr das Schiff aufpolieren. Ich bin mir nicht sicher, ob hier nur noch Farbe reicht, oder man nicht wenig mehr machen möchte. Da wir direkt auf die Balkone der Mini-Suiten und Suiten sehen können: ich weiß nicht, ob ich es mag, wenn man mir so von oben runterguckt! Wir haben auf jeden Fall eine tolle Aussicht vom Balkon.

Wir sind fast direkt am Treppenhaus. So lieben wir es. Nur das Problem: die Treppe endet auf Deck 7 von unten und nach oben führen nur noch Fahrstühle. Für die Seenotrettungsübung wird jedoch das Treppenhaus für die Crew und für Notfälle aufgemacht, um die Gäste mit diesen Treppenhäusern vertraut zu machen. Wir müssen in den Crown Grill zur Seenotrettungsübung. Das ist aber mittlerweile der Albtraum geworden: Während das Sicherheitsvideo bei British Airways noch witzig ist: das Love-Boat-Lied für die Seenotrettungsübung umzutexten, finde ich weniger witzig. Im Gegenteil: sehr nervig. Und das Sicherheitsvideo auf der Kabine wird von den Love-Boat-Crew-Mitgliedern gezeigt.





We were quite close to the stairways. The way we liked it. The only problem: the stairs ended at Deck 7 from the bottom and to the top you had only elevators. For the life drill, they opened the stairway for the crew and for an emergency to make the guests familiar with those. We need to see the Crown Grill for the life drill. That meanwhile became a nightmare: While the safety video with British Airways was funny: altering the text of the Love Boat Song for the life drill I did not think it was funny. Just opposite: very annoying. And the safety video in your cabin was made with all the former Love Boat Crew Members.

We had many internet-minutes complimentary as Platinum-Members.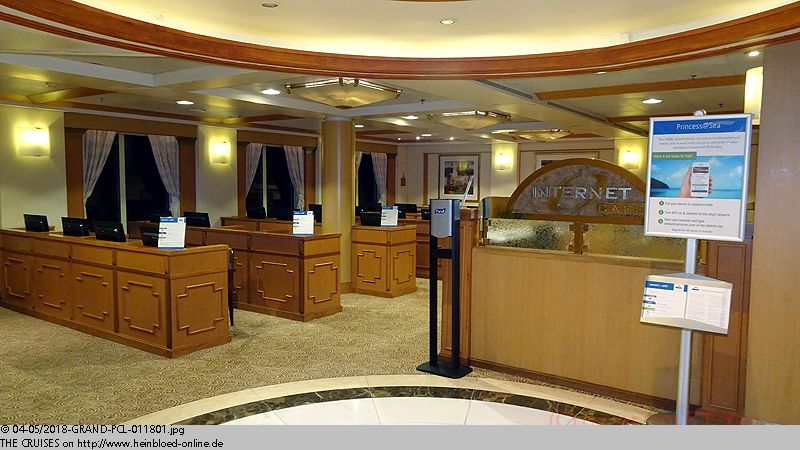 Wir haben als Platinum-Mitglieder sehr viele Internet-Minuten frei.

Deswegen lohnen sich die Pakete für uns nicht.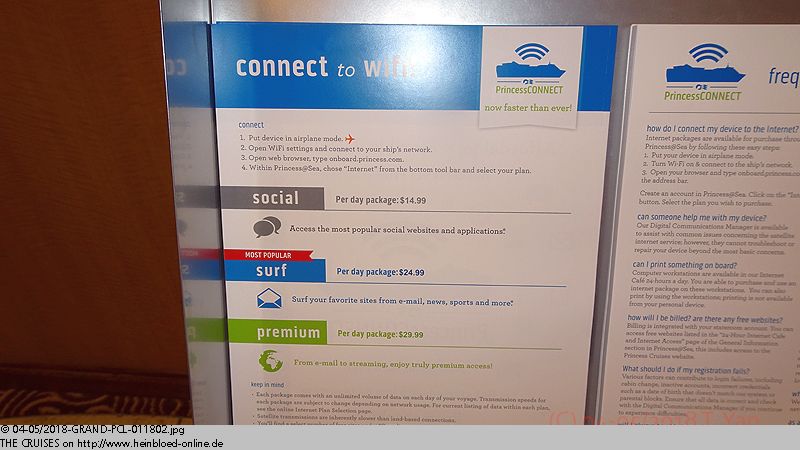 So the packages were not worth for us.

Anyhow the Medallion network with high-speed internet was not available yet.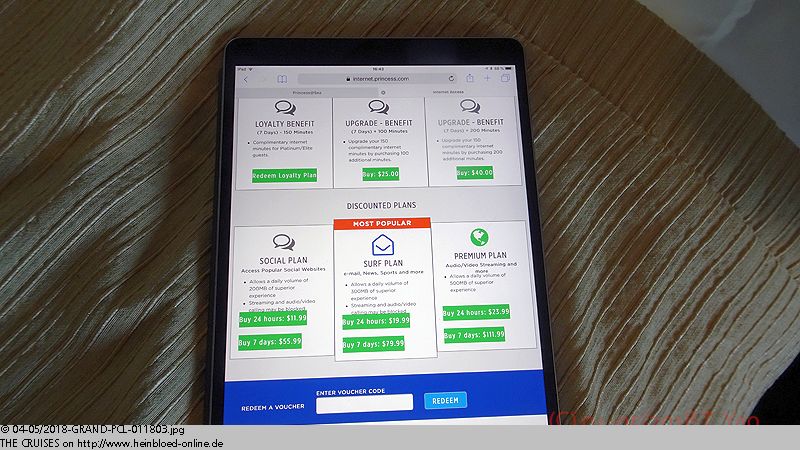 Zumal wohl das Medaillion-Netzwerk mit Hochgeschwindigkeits-Internet noch nicht verfügbar ist.

200 Minuten kaufe ich mir zusätzlich dazu.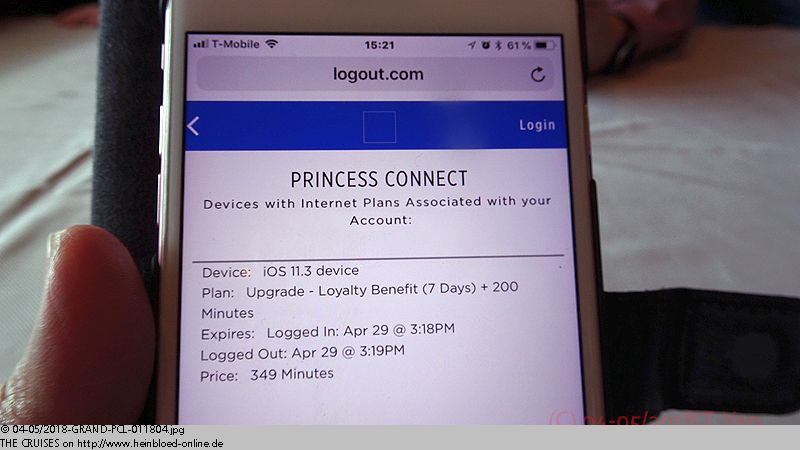 I purchased 200 additional minutes.

You could easily check your activities in the net - maybe you could not because you left after one minute since nothing went through.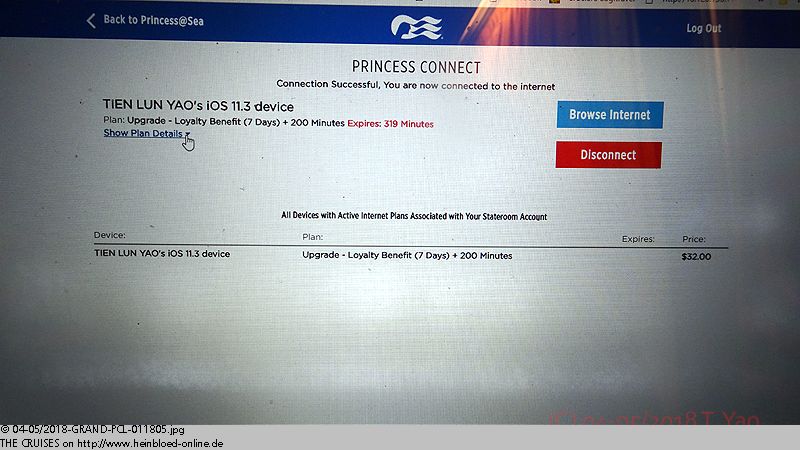 Man kann sehr gut verfolgen, wie aktiv man im Netz ist - oder eben auch nicht, wenn man ständig nach einer Minute wieder rausgeht, um es erneut zu versuchen, weil nichts durchgeht.

Wir machen uns bereit für die Ausfahrt. Irgendwie sind alle gut drauf: Schlepper und Küstenwache zeigen uns ihr Können.





We prepared ourselves for the set sail. Somehow everyone was in a good mood: tug and coast guards showed their abilities.

Also today we had to pass Alcatraz again.

Auch heute müssen wir an Alcatraz vorbei.

Und auch nochmals geht es zur Golden Gate Brücke.





And again we went to the Golden Gate Bridge.

I headed for the Wheelhouse Bar to the Friends of Dorothy-Meeting. The bar was right next to Sabatini. If a live-band was playing it was not very pleasant for the guests who dined in Sabatini.

Es geht in die Wheelhouse Bar zum Friends of Dorothy-Meeting. Die Bar liegt direkt neben Sabatinis. Wenn eine Live-Band spielt, ist es nicht unbedingt angenehm für Gäste, die im Sabatini speisen.

Danach geht es in The One5. Hier ist die Lounge für die Platinum- und Elite-Gäste.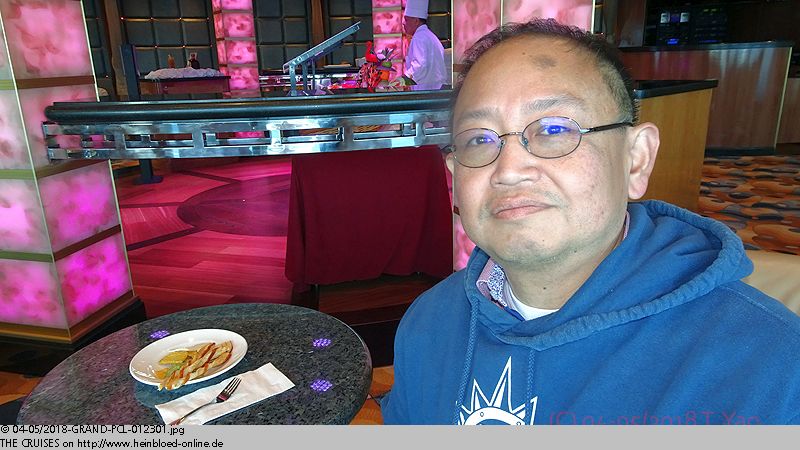 Thereafter I went to The One5. Here they had the lounge for the Platinum- and Elite-Guests.

A beautiful view to the aft. And since the ship's "castration" 2011 (removal of the Skywalkers-Nightclub) the new nightclub.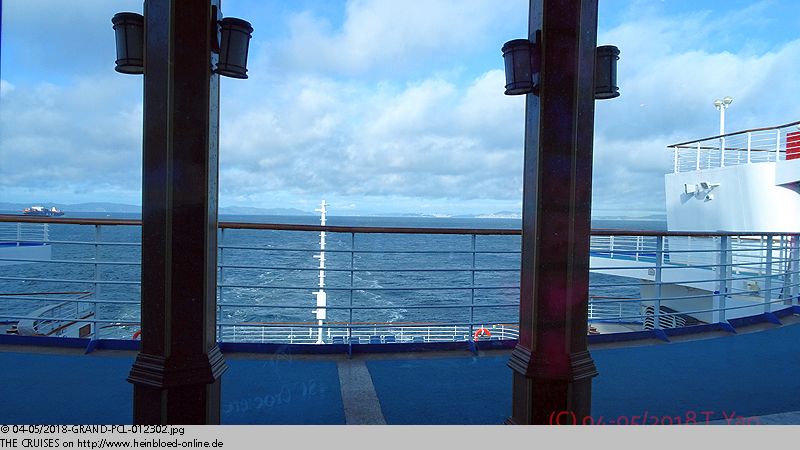 Ein schöner Ausblick nach hinten. Und seit der "Kastration" 2011 (Entfernung des Skywalkers-Nachtclubs) der neue Nachtclub.

Hier gibt es nachmittags meistens ein paar Leckereien für die höheren Captain's Circle Mitglieder.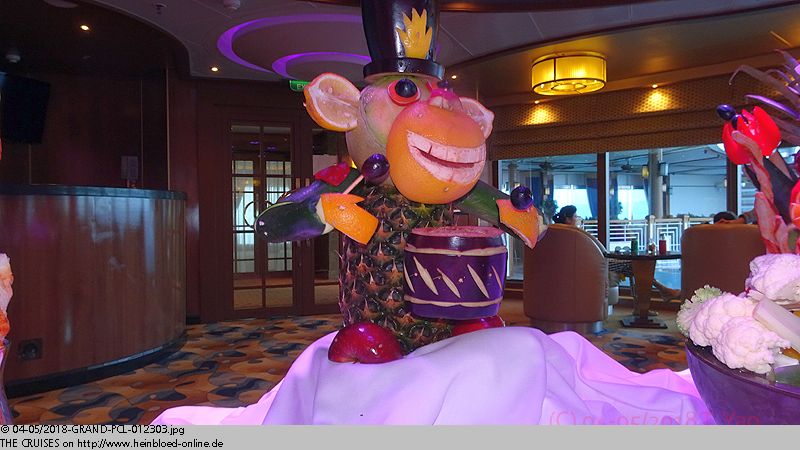 Here they had in the afternoon mostly some nice goodies for the higher Captain's Club Members.

That day they had only Guacamole.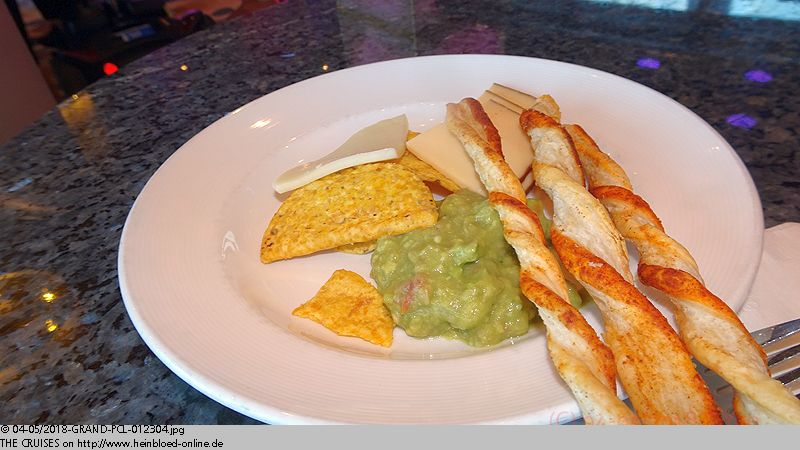 Heute gibt es nur Guacamole.

Zum Abendessen gehen wir ins Sabatini. Es hat sich wieder verändert. Nun ist es eine Trattoria geworden und die GRAND PRINCESS ist das erste Schiff, bei dem man die neue Speisekarte ausprobieren kann, die dann nach und nach flottenweit ausgerollt wird. Schon alleine, dass Audrey Hepburn mich von der Wand anlacht in der berühmten Filmszene aus "Ein Herz und eine Krone" macht es zu meinem Lieblingsrestaurant aller Kreuzfahrtschiffe der Welt. Uns erwartet ein toller Abend. Raffaele Sozzo ist mittlerweile Assistant Maître D' und wir kennen ihn seit der OCEAN PRINCESS 2010 kennen. Mit ihm verbinden wir viele schöne Erinnerungen. Daher bringen wir ihm ein paar Spezialitäten aus Europa mit, die er vielleicht nicht bekommt. Die Regel ist ganz einfach: er verwöhnt uns - wir verwöhnen ihn. Und er hat uns schon oft und toll verwöhnt. Auch sein Team um Oberkellner Franco: Antonio, Eric, Wilson und Marvin verwöhnen uns sehr. Die Herstellung selbstgemachter Pasta steht im Vordergrund der neuen Karte. Meine Porchetta (gegrillter Schweinebauch) ist erstklassig. Nur wie gesagt: leider zu laut, wenn es nebenan Live-Musik in der Wheelhouse Bar gibt und ganz gefährlich: die Chili-Brotstangen. Ein perfekter erster Abend an Bord!!!





For dinner we went for Sabatini. It changed again. Now it became a trattoria, and the GRAND PRINCESS was the first ship to test the new menu which should be rolled out after that fleetwide. Just the fact that Audrey Hepburn was smiling off the wall in the famous movie scene from "Roman Holidays" made it to my favorite restaurant of all cruise ships in the world. A great evening was waiting for us. Raffaele Sozzo was meanwhile Assistant Maître D', and we knew him since our sailing on OCEAN PRINCESS 2010. With him, many fond memories were linked. So we had for him some specialties from Europe which he might not get here. The rule was elementary: he pampered us - we pamper him. And he pampered us many times in a great way. And his team around Head Waiter Franco: Antonio, Eric, Wilson, and Marvin pampered us well. The making of homemade pasta was in the focus of the menu. My Porchetta (grilled pork belly) was brilliant. Now as already said: unfortunately too loud if next they had live music in the Wheelhouse Bar and very dangerous: the chili-bread sticks. Perfect first night on board!!!

By accident, I found the board with the Senior Officers. Diego Perra was the Captain. Hotel General Manager Marin Ford I should make personal acquaintance in a few days. Frank Neuburger from Germany was F&B Manager: but never saw him. Dierdre Doyle I like to speak with about she was shielded perfectly well by the agents at the front desk that she had no idea what happened at the front desk. Executive Chef Joel Directo and Maître D' Joachim Rothe I would make acquaintance in a couple of days personally.

Zufällig finde ich die Tafel mit den Senioroffizieren. Diego Perra ist der Kapitän. Hotel General Manager Martin Ford lerne ich in wenigen Tagen persönlich kennen. Frank Neuburger aus Deutschland ist F&-Manager: habe ich aber nie gesehen. Dierdre Doyle hätte ich gerne gesprochen, aber sie wird von ihren Mitarbeitern an der Rezeption komplett abgeschirmt, so dass niemals erfährt, wie es wohl außerhalb ihres Büros aussieht. Executive Chef Joel Directo und Maître D' Joachim Rothe lerne ich ebenfalls in einigen Tagen persönlich noch kennen.

Ich gehe nachts wieder über das Schiff und sehe mich um. Es hat sich seit unserer Reise 2011 wenig verändert. Nur Leaves wird anscheinend nicht mehr bedient. Tee haben wir hier nie bekommen.





I went in the night again over the ship and looked around. Not so many changes since our voyage in 2011. Only no more tea was served in Leaves. We never got tea here.

Alfredo's Pizza we skipped this time. The Michelangelo (mostly pronounced as Michael Angelo in an American way) was for dinner the place without fixed dining. The 1st sitting was offered in Da Vinci, and after that, you can see it without booking, and Botecelli was only for guests with fixed dining.

Alfredo's Pizzeria haben wir dieses Mal auch nicht aufgesucht. Das Michelangelo (von den meisten als Michael Angelo amerikanisch ausgesprochen) war abends der Ort für die Gäste ohne feste Tischzeit. Die 1. Tischzeit wird im Da Vinci angeboten und danach ist es auch ohne Buchung besuchbar und Botecelli ist nur für Gäste mit fester Tischzeit.

Vorsorglich hat die Rezeption alle Sofas beiseite schieben lassen, auf der ich mich hätte schlafen legen können, wie damals auf der OCEAN PRINCESS 2010.





To be safe the front desk let all sofas removed where I might could sleep on like then on OCEAN PRINCESS 2010.

If you had no space in your cabin, you extend your capacity to the hallway. Why could not someone book right on time a handicapped cabin to have his devices charged in the cabin but in the center of the corridor?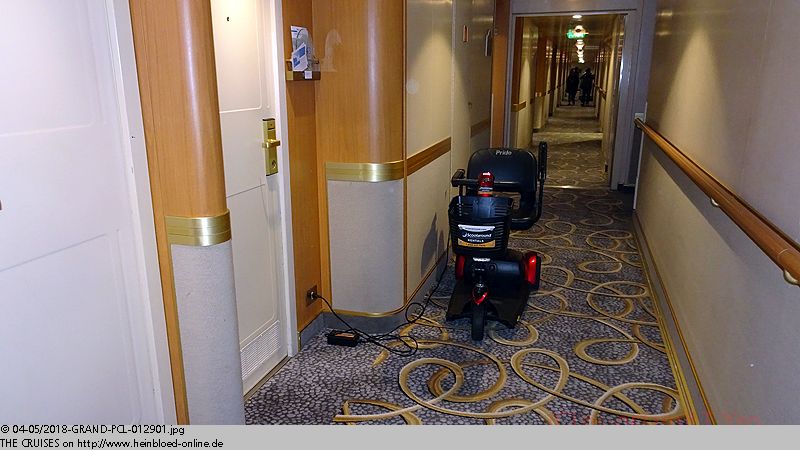 Wenn man eben keinen Platz in der Kabine hat, dann erweitert man einfach alles im Kabinengang. Warum kann man nicht rechtzeitig eine Behindertenkabine bestellen und seine Sachen in der Kabine aufladen, statt so mitten im Kabinengang?

Interessant ist das Angebot im Fotostudio. Eine Actioncam könnte mich schon interessieren.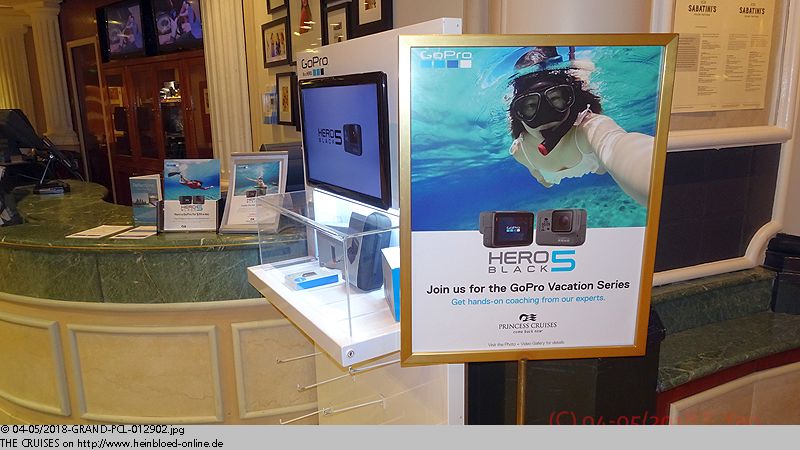 Interesting was the offer in the photo studio. I might be interested in a actioncam.

You could rent it, and the rental could be counted as part of the final price when you would purchase it. I was considering.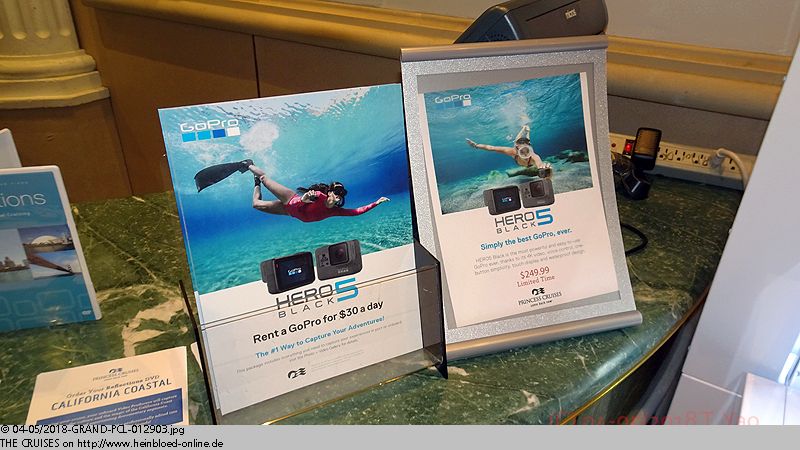 Man könnte sie mieten und der Mietpreis würde auf den Kaufpreis angerechnet werden. Ich überlege es mir.

Zum Schluss des Tages: das wichtigste Bild: ich auf der GRAND PRINCESS.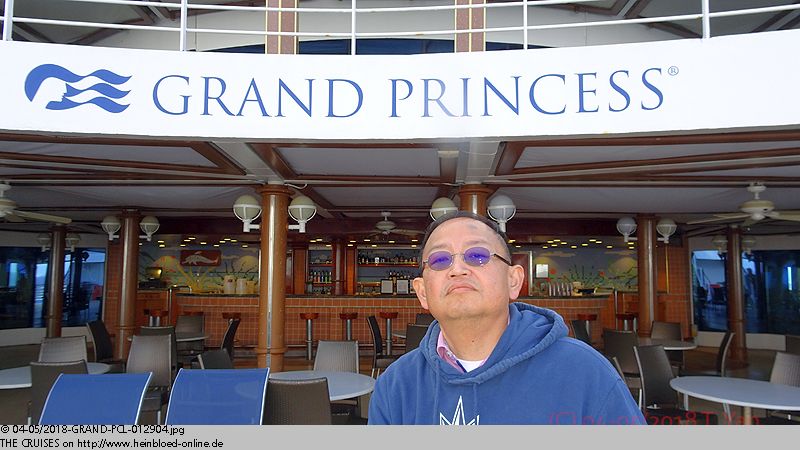 At the end of the day: the most important picture: me on GRAND PRINCESS.
Die anderen Reisen in diesem Blog/
The other voyages in this blog: