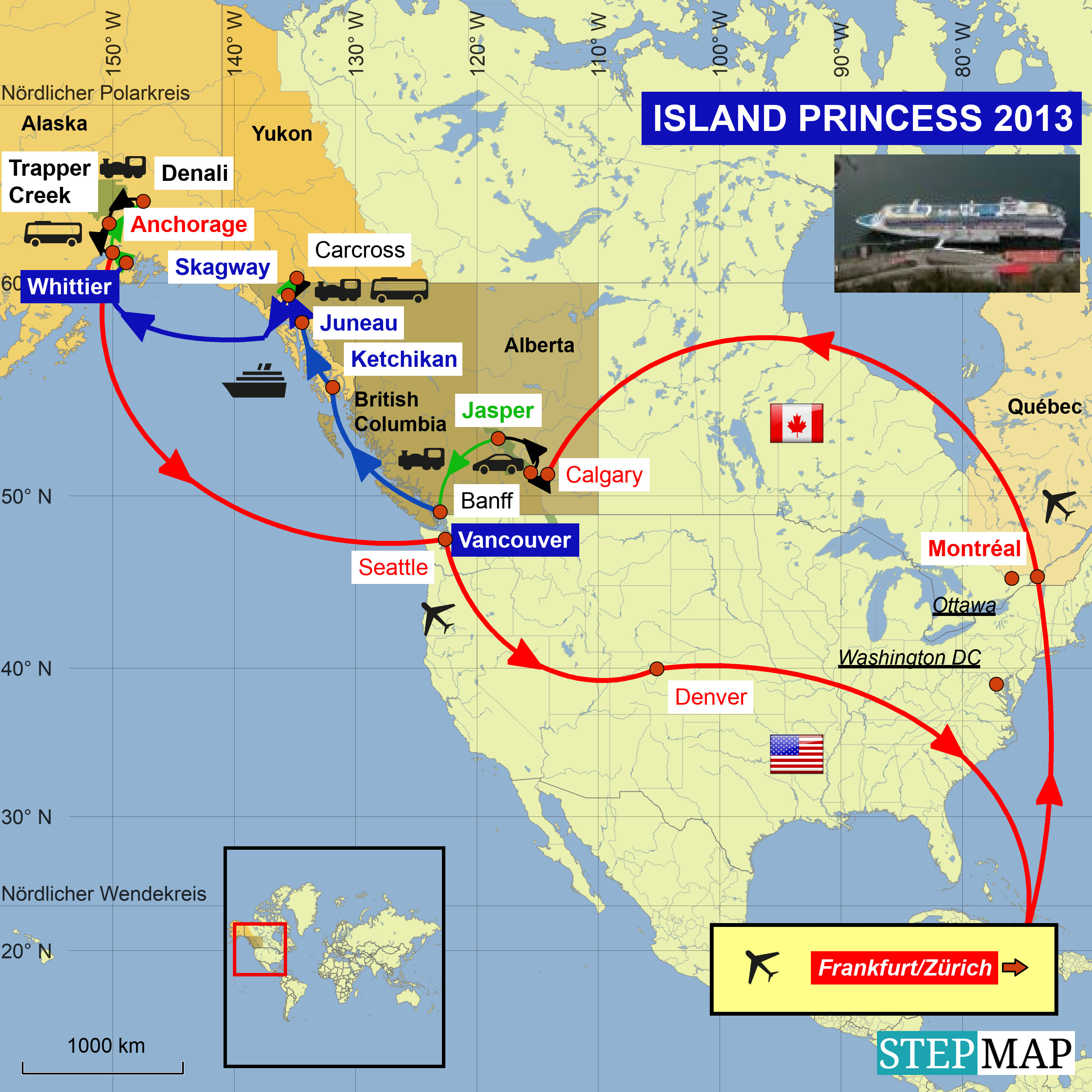 Wir dürfen das Zimmer bis 20.00 Uhr behalten. So konnten wir noch etwa drei Stunden schlafen, duschen und uns umziehen. Das war es uns schon Wert.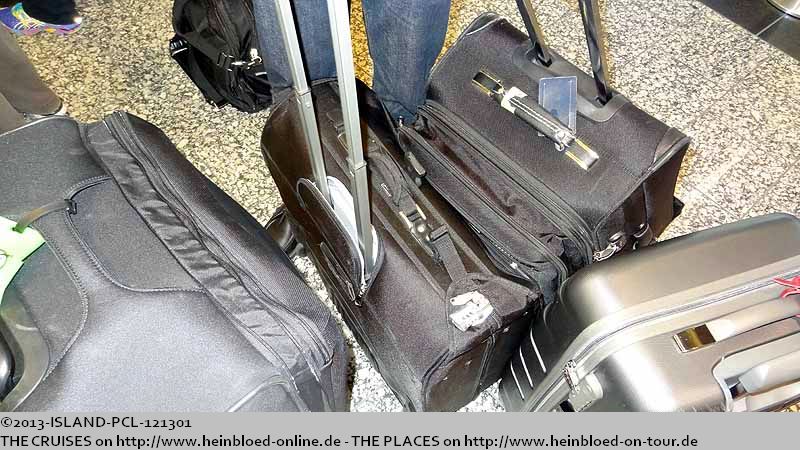 We were allowed to stay in our room until 20.00 hrs. So we could sleep for three hours, take a shower and change our clothes. It was worth to pay.

We went first to the airport and checked-in with United. As they were looking for volunteers, we asked if we could go on the direct flight to Denver. But even on that flight, they were looking for volunteers because the plane was overbooked. We got only for the 2nd portion of the flights an Upgrade offer to the First, so we did not accept the offer. We had the luck to find Torri with the Check-In. As we were traveling on separate tickets and had an extreme long overlay in Denver and the Lufthansa booking was not showing up in the United System, she needed to verify that if there was an alternative flight from Denver with Lufthansa. As our plane was the only one our bags could be through-checked to Frankfurt.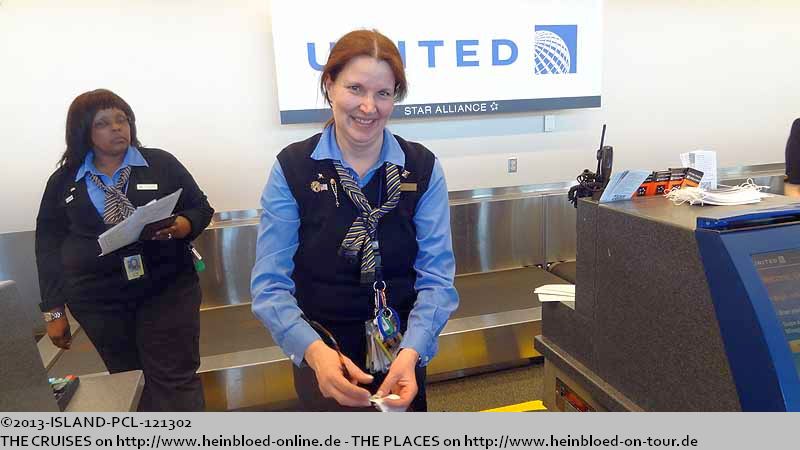 Wir fahren zunächst zum Flughafen und geben schon alles bei United auf. Da Freiwillige gesucht werden, fragen wir nach, ob wir auf den direkten Flug nach Denver dürfen. Aber auch da werden Freiwillige gesucht, weil auch die Maschine überbucht ist. Ein Upgrade-Angebot in die First bekommen wir leider nur für den 2. Abschnitt unseres Fluges, so dass wir darauf verzichten. Wir hatten Glück, dass wir Torri beim Check-In erwischt hatten. Da wir ja auf getrennte Tickets reisen und wir extrem lange in Denver Aufenthalt haben und die Lufthansa-Buchung nicht im United-System auftauchen, muss sie sich die Mühe machen zu prüfen, ob es alternative Direktverbindungen mit Lufthansa ab Denver gibt. Als dann unser Flug als einziger ausgewiesen wird, wird unser Gepäck bis Frankfurt durchgecheckt.
Hier gibt es sogar einen Bahnhof, der nicht im Liniendienst bedient wird. Nur die Kreuzfahrtschiffe bieten hier einen direkte Verbindung an.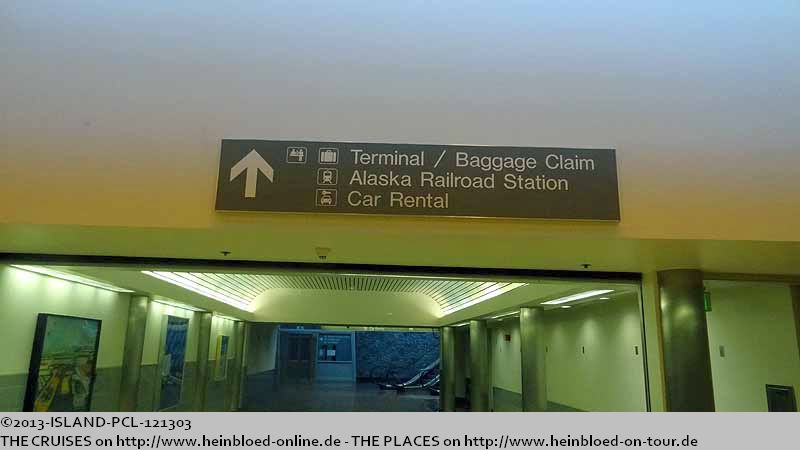 Here they had a train station. But there was no scheduled service. Only cruise guests had a direct service.

So we headed to Seattle.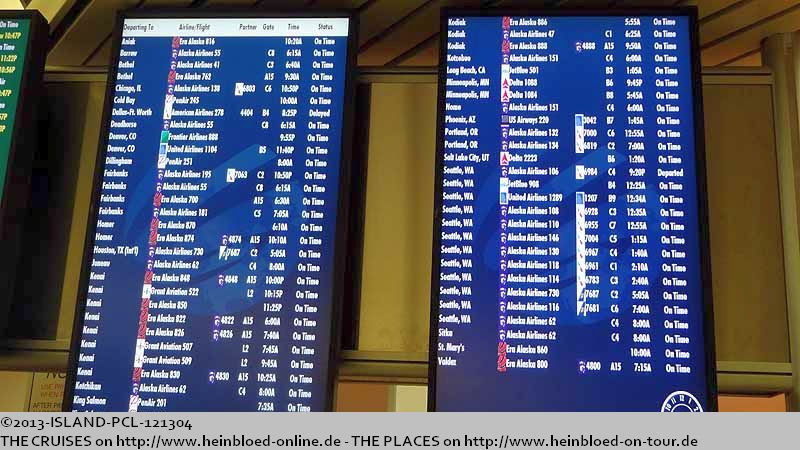 Auf nach Seattle.
Die 1% für die Kunst-Regel führt immer zu interessanten Sachen, die man als Kunst im Gebäude wiederfindet.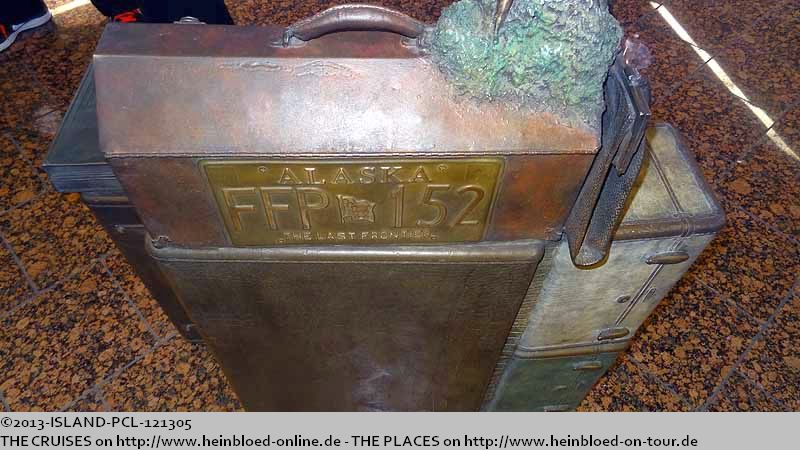 As there was a 1%-rule to spend on art you find exciting things as artwork in the terminal building.

We went back to the city and discovered City Diner in Minnesota Ave.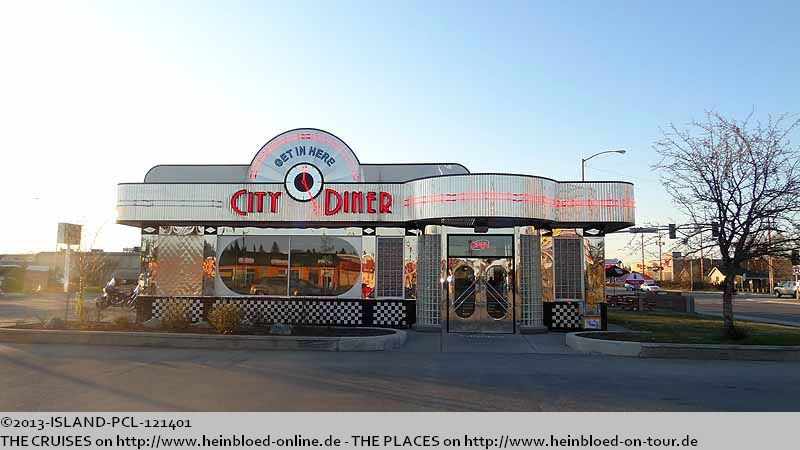 Wir fahren jedoch nochmals rein und entdecken den
City Diner
in der Minnesota Ave.
So ein typisch amerikanischer Diner, wie man ihn aus den 50er-Jahren-Filmen her kennt.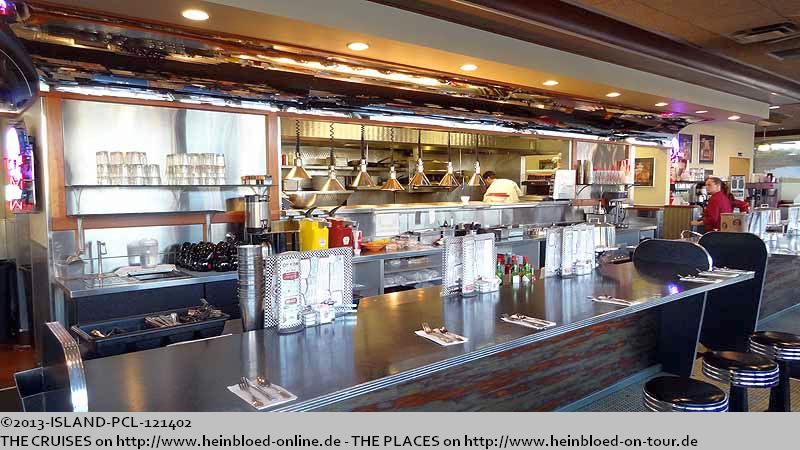 A typical American DIner like you knew from the 50s movies.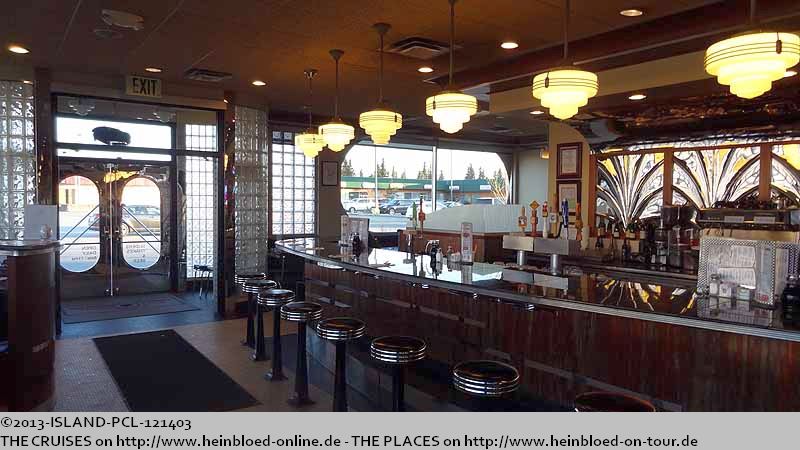 Eistee wird noch richtig in kleinen Krügen an den Tisch gebracht.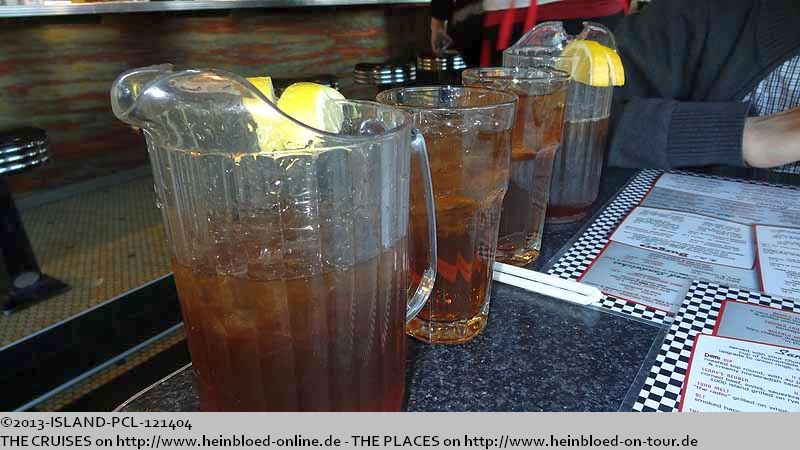 Iced Tea was served in little mugs to the tables.

Everything was homemade.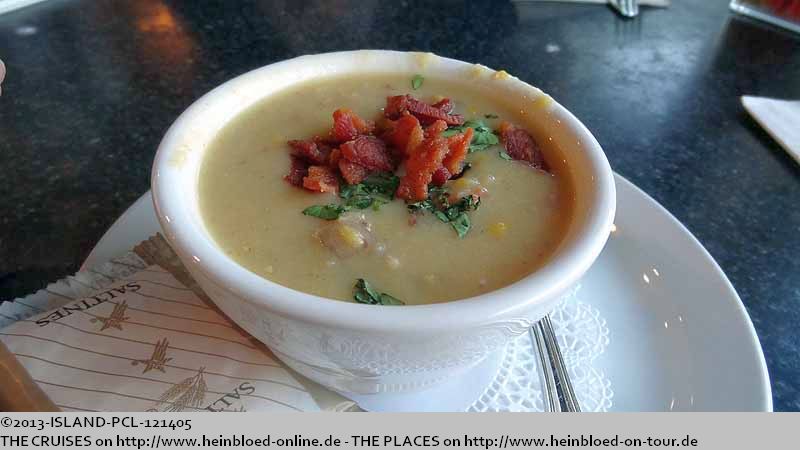 Und alles hausgemacht.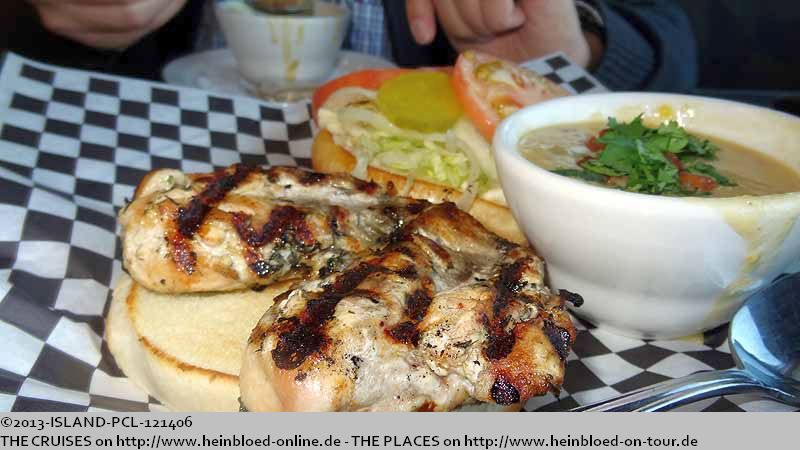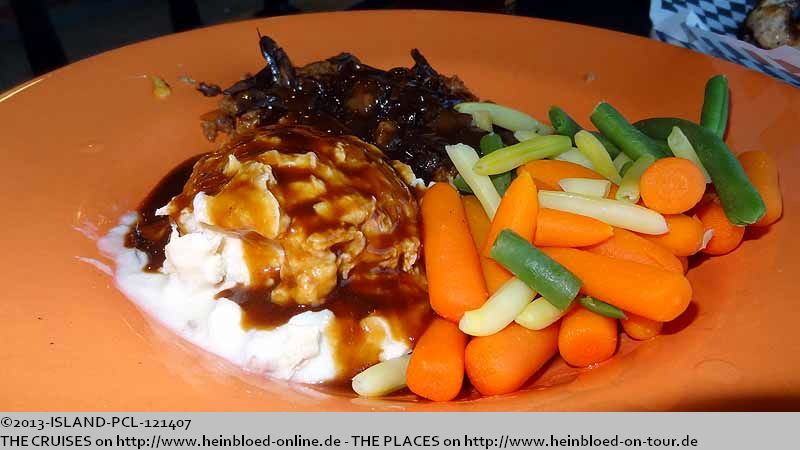 So richtig die klassischen Brötchen, wie man sie von "Unsere kleine Farm" her kennt.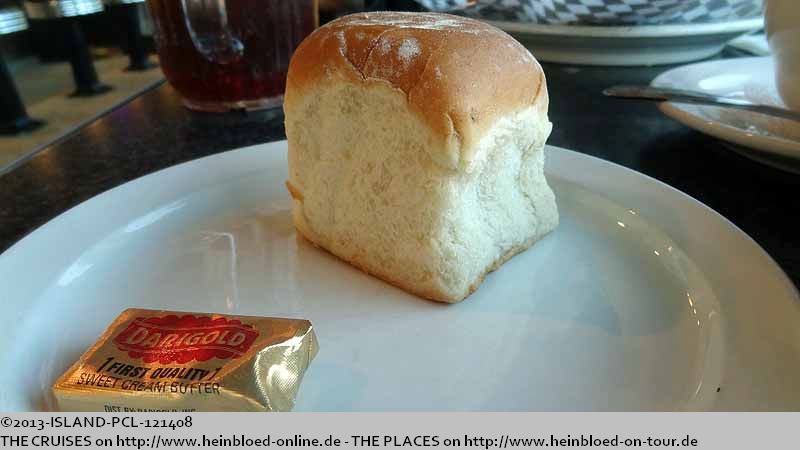 Like in "Little House in the Prairie" small rolls.

They had an original Barista-coffee machine, and excellent coffee - only the cups which fit were missing.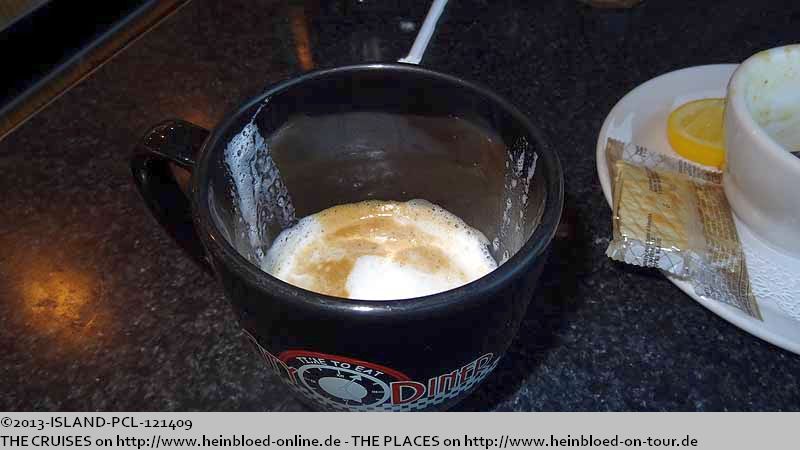 Sie haben eine tolle Barista-Maschine und auch einen leckeren Kaffee - nur die passenden Tassen fehlten.
Wir haben dann noch eine
24-Stunden-Filiale von Walgreens
aufgesucht, um dort in der Apotheke noch etwas zu kaufen.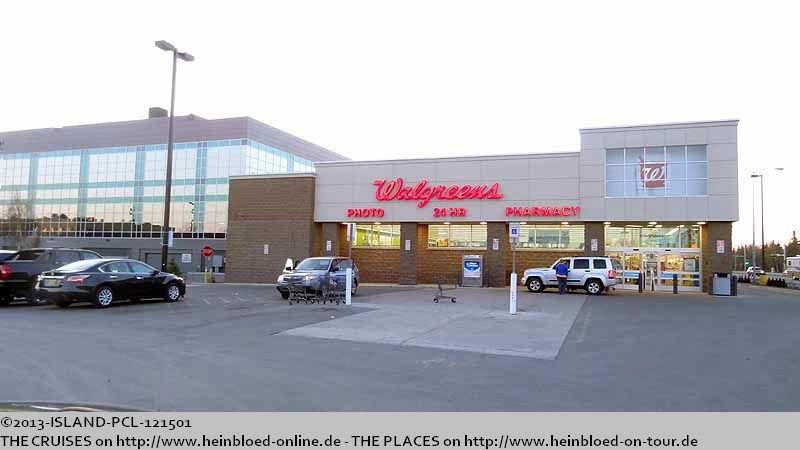 We found a 24-hours-branch of Walgreens to buy somehting in their pharmacy.

In Germany, you can only get nasal cleanser which was based on gravitation. I liked more the active one and bought a stock... So everyone can get some... and will be refunded.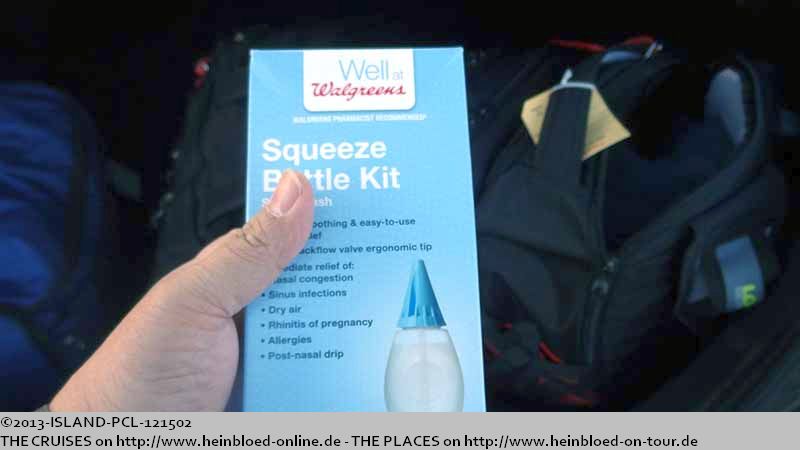 In Deutschland gibt es nur Nasenspülungen, die auf das Gravitationsprinzip des Wassers basieren. Ich mag die aktiven lieber und so lege mich mir dort einen Vorrat an... Jeder, darf mir welche mitbringen... Wird alles erstattet...
Außerdem wollte ich noch den Hustensaft mitnehmen. Hier entdecke ich jedoch den gleichen Wirkstoff
Guifenesin
in fester Form. Ich hatte den Eindruck, dass es bei mir besser wirkte als Ambroxol. Hinterher lese ich, dass in Deutschland es mehr oder minder nur durch Wick bekannt ist und ein Glaubenskrieg zwischen den US- und europäischen Gesundheitsbehörden geführt wird.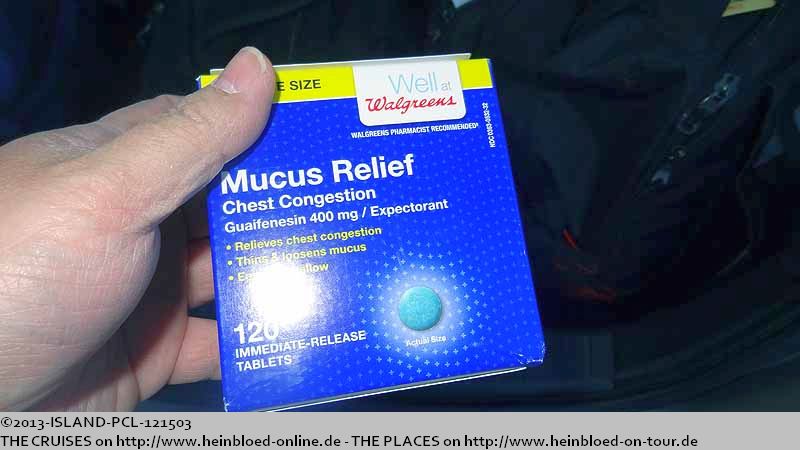 Further more I wanted to buy some of the cough syrup. So I discovered the active ingredient Guifenesin in a solid form. I had the impression it worked better with me than the active ingredients we had in Europe. Later I learned that we can get it in Germany as Vick and there is a religious war between the European and US health authorities.

We returned our car at the airport. But nobody was there to check-in the car.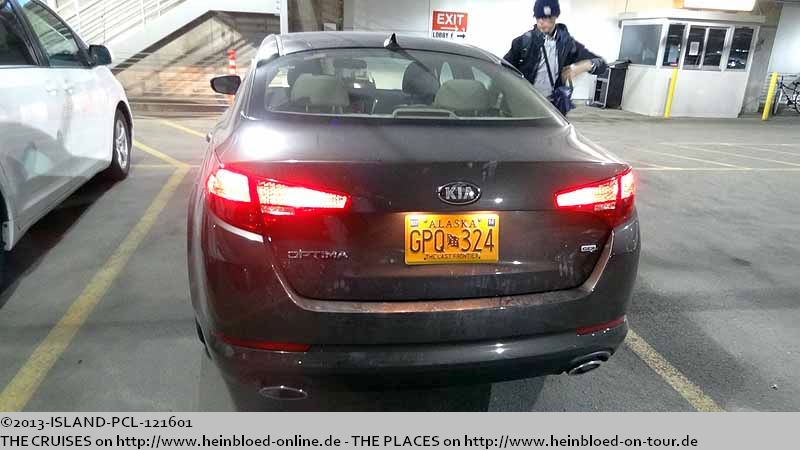 Unseren Wagen geben wir am Flughafen zurück. Aber hier steht niemand, der den Wagen entgegennimmt.
So müssen wir selbst alles notieren. 300 Meilen auf dem Zählerstand... Davon dürfte ich bloß heute schon etwa 100-150 Meilen gemacht haben. So neu?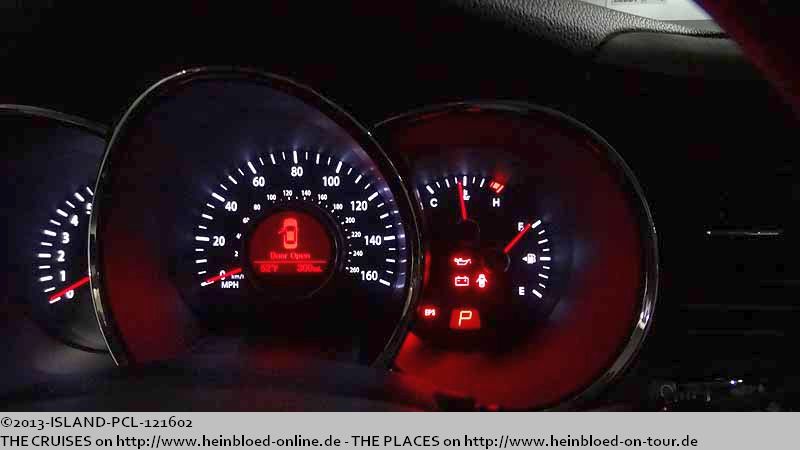 So we need to do everything ourselves. 300 miles on the odameter... We did on that day approx. 100-150 miles. So new?
Die anderen Reisen in diesem Blog/
The other voyages in this blog: