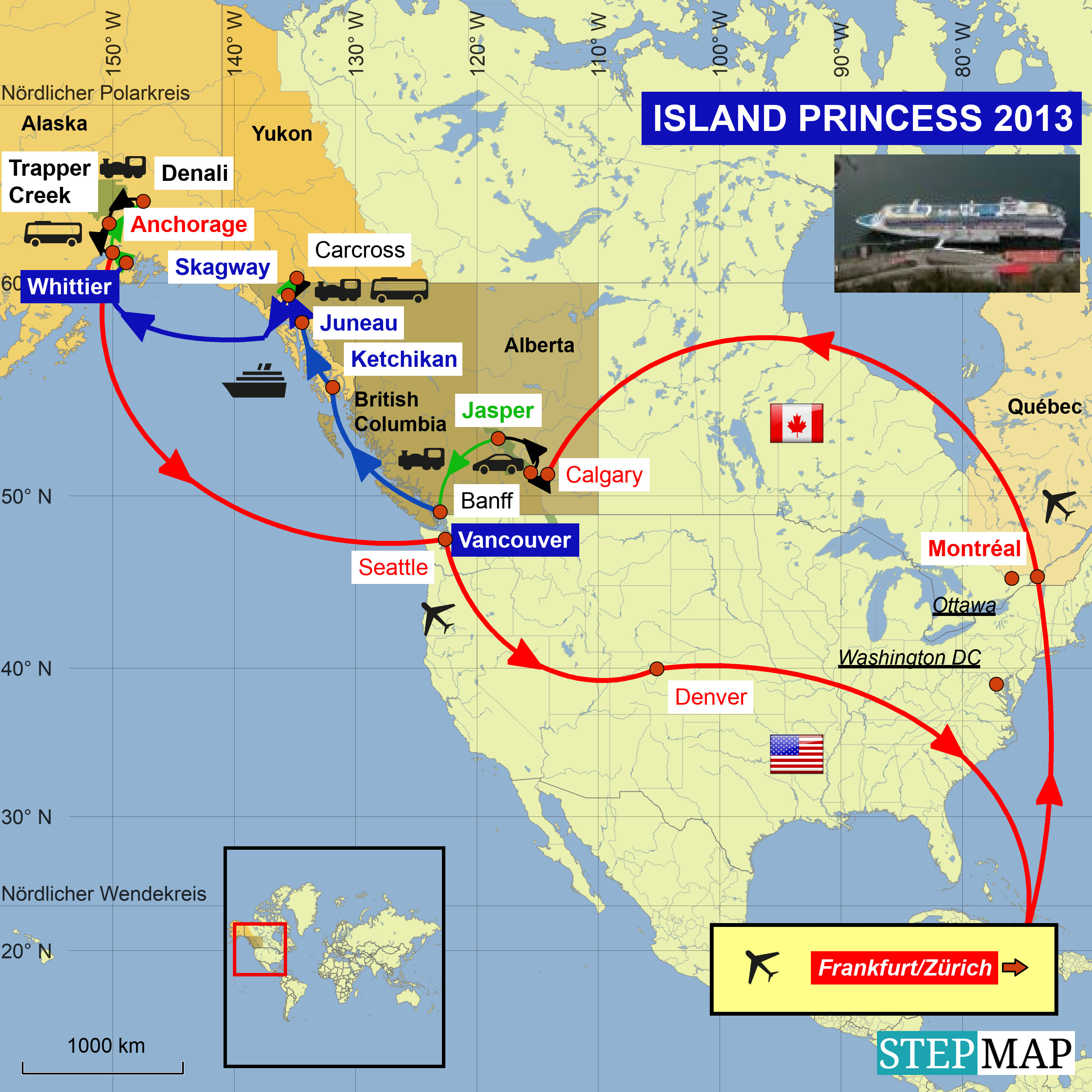 Vor zwei Tagen war das ursprüngliche Schiff hier, auf der wir gebucht hatten: DIAMOND PRINCESS. Und da hatten wir Bilder auf Facebook gefunden: es war Schneesturm.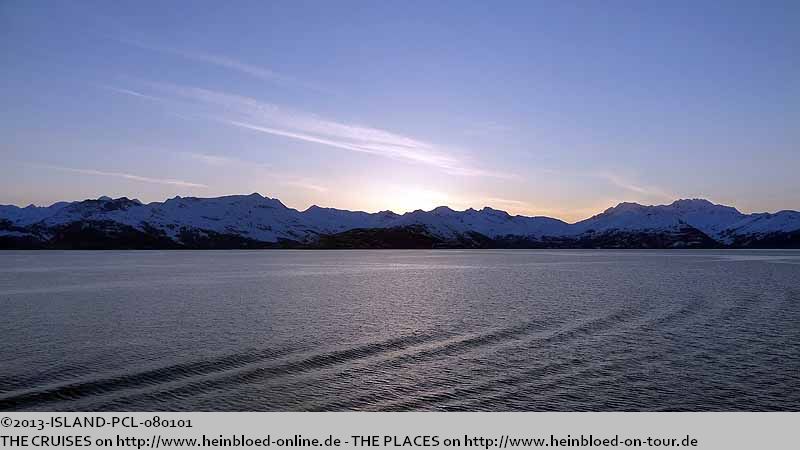 Two days ago the original ship we booked was here: DIAMOND PRINCESS. On Facebook, we could find pictures that they had a snow storm.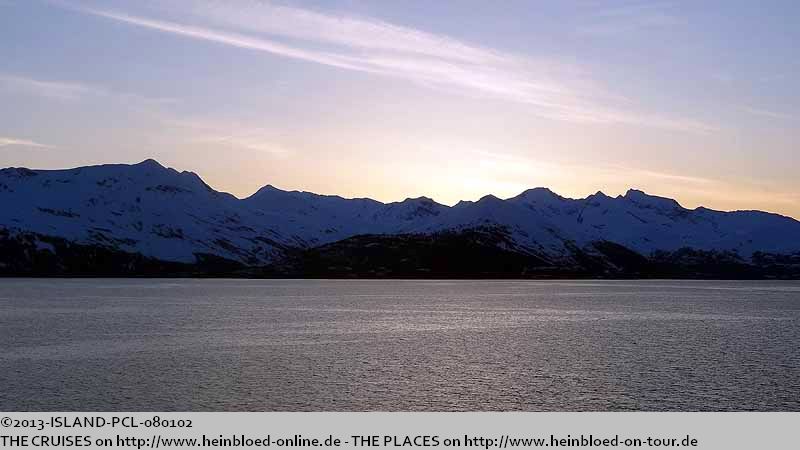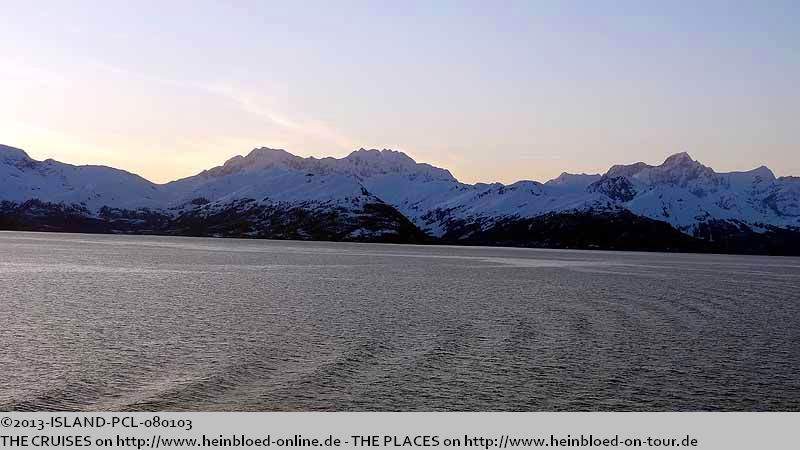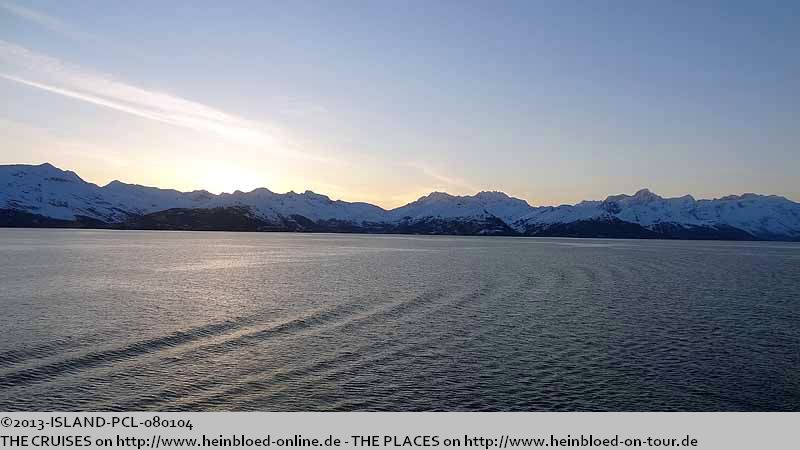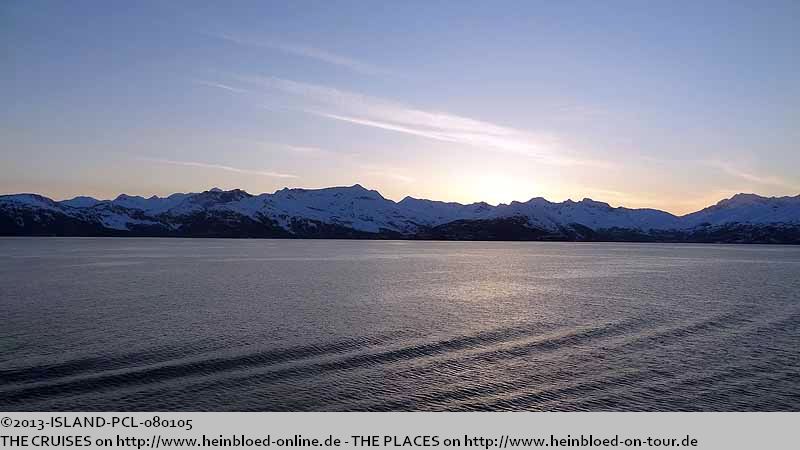 We arrived in the middle of the night.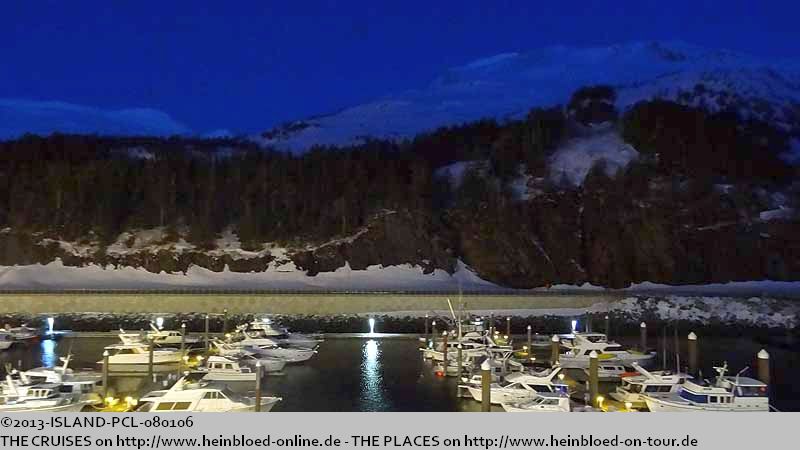 Wir kommen ja schon mitten in der Nacht an.
Ausnahmsweise geht es ins Provence Hauptrestaurant, weil das Bordeaux für die Ausschiffung gebraucht wird.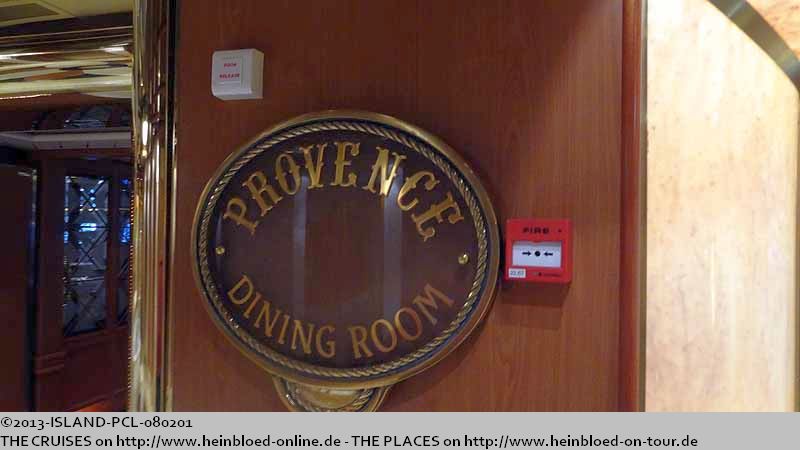 By exception we had to see the Provence Main Dining Room because Bordeaux was need for debarkation.

A last muffin.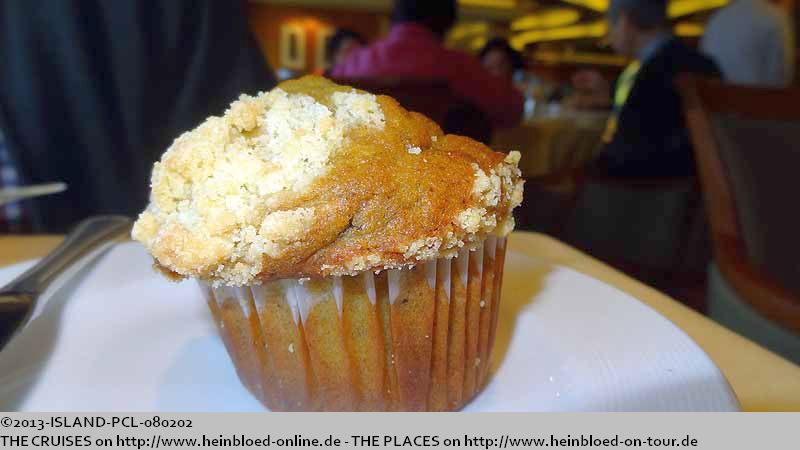 Ein letzter Muffin.
Ein letztes "Yum-Yum" von Maureen.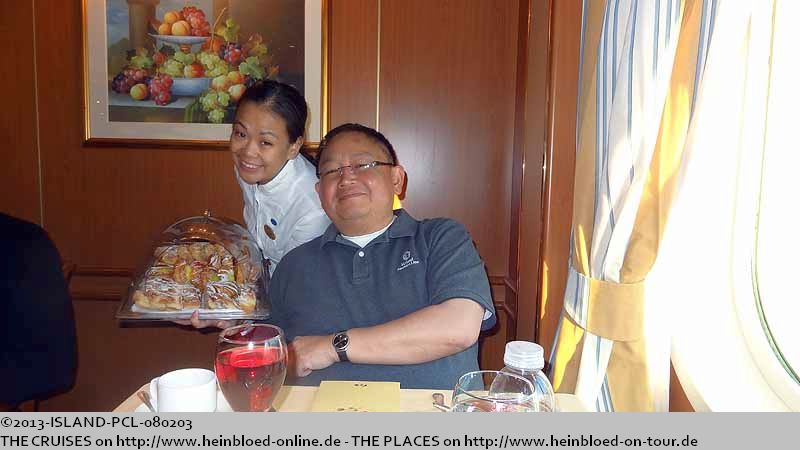 A last "Yum-Yum" by Maureen.

Finally, I caught him... now he had to say no. The only dragon fruit which was on board was squeezed in my bottle of VitaminWater. I made the suggestion to get me one for the ROYAL PRINCESS.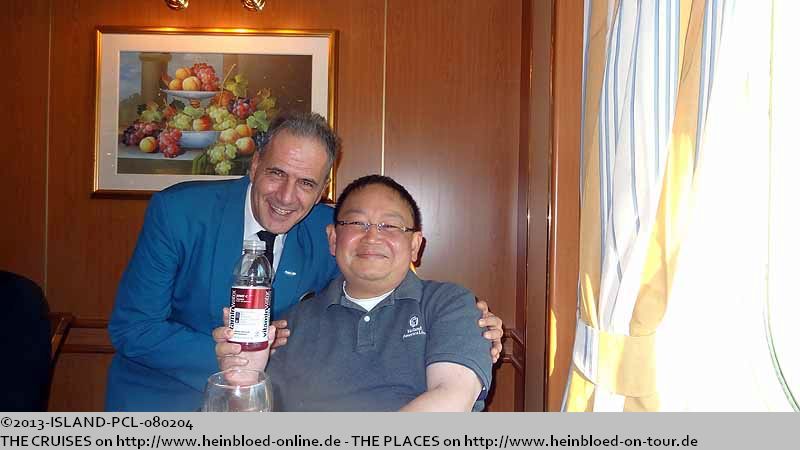 Endlich geschafft... nun musste Maurizio einmal nein sagen. Die einzige Drachenfrucht an Bord ist die, die in die Flasche von VitaminWater gequetscht wurde. Ich schlage ihm vor, dass er für die ROYAL PRINCESS eine besorgt...
Kiwis und Orangen für Bruno.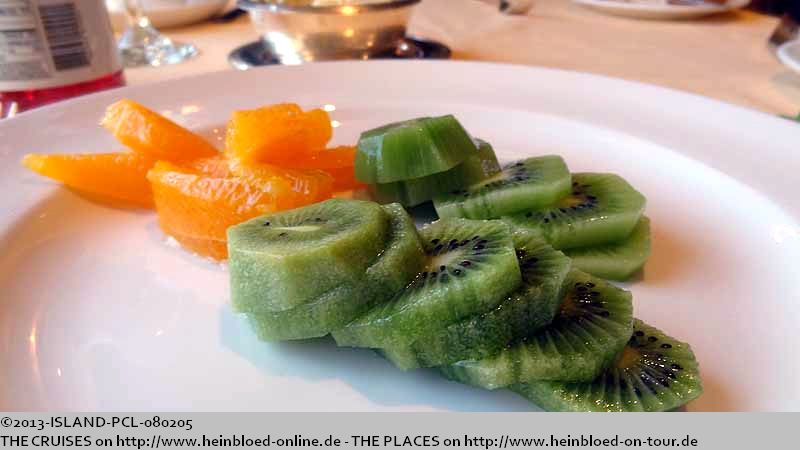 Kiwis and oranges for Bruno.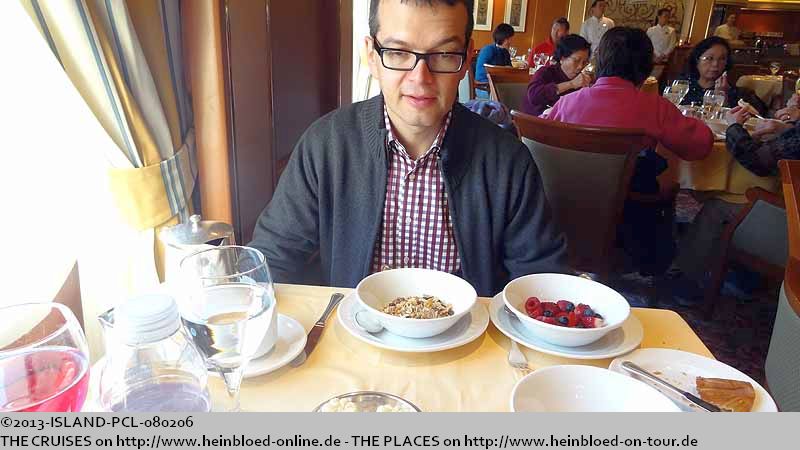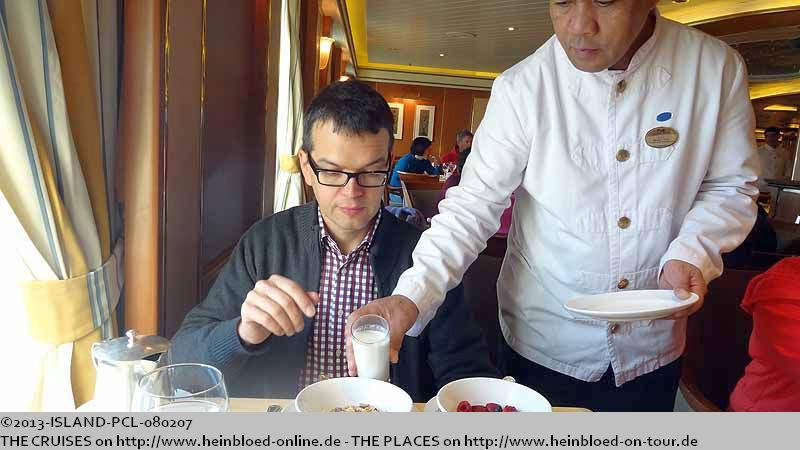 I wanted to have another egg made of real eggs and not the frozen liquid eggs.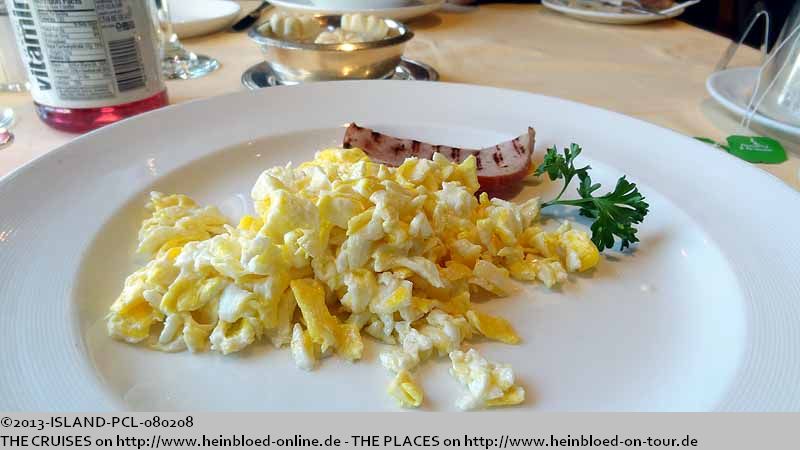 Ich möchte noch einmal ein Rührei aus echten Eiern und nicht aus der tiefgefrorenen Eiermasse.
Wir verabschieden uns von dem tollen Team rund um Maurizio und werden sie in guter Erinnerung behalten.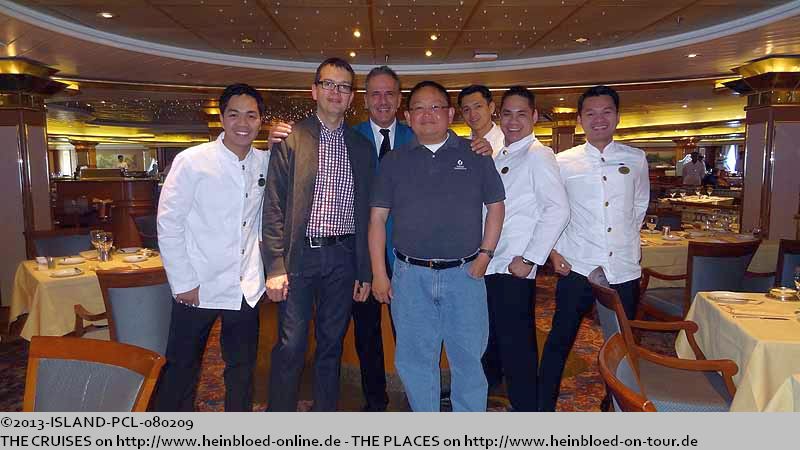 We had to say goodbye to a great team around Maurizio, and we will keep them in fond memories.

The final statement came.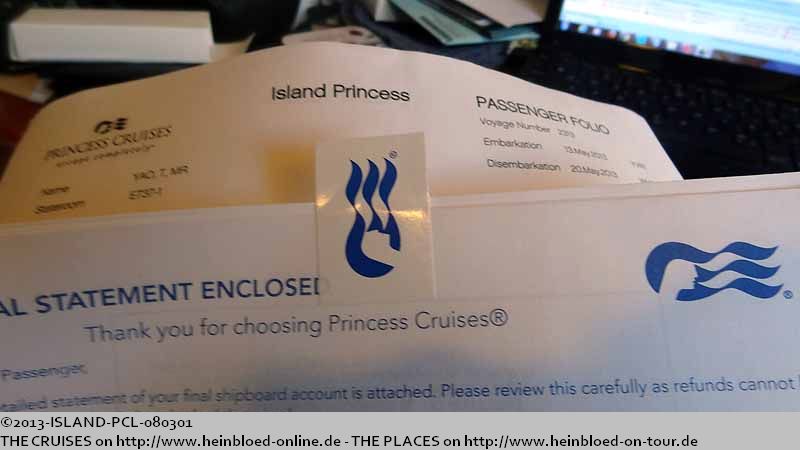 Die Schlussrechnung kommt.
Wir gehen in die Platinum Debarkation Lounge, die in der Wheelhouse Bar eingerichtet wird.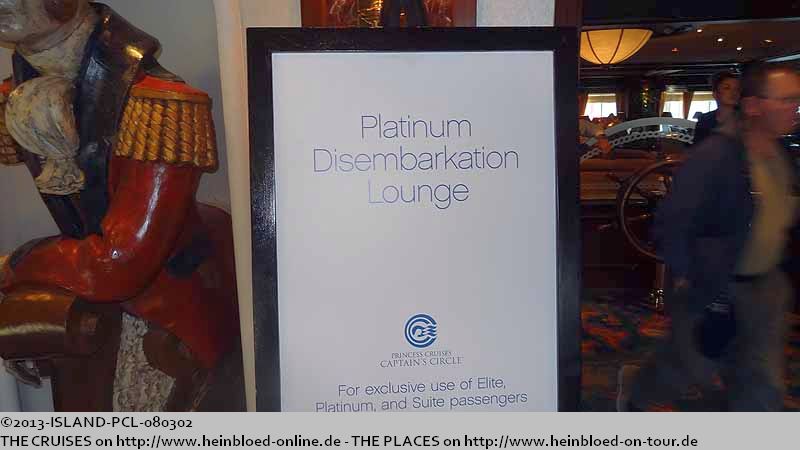 We went to the Platinum Debarkation Lounge which was installed in the Wheelhouse Bar.

Some beverages were waiting for us.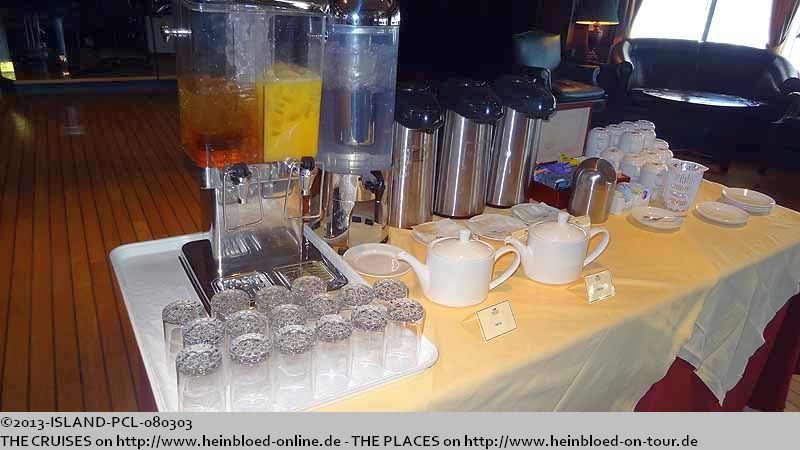 Ein paar Getränke erwarten uns.
Und für diejenigen, die noch nicht gefrühstückt haben, noch ein paar Teilchen.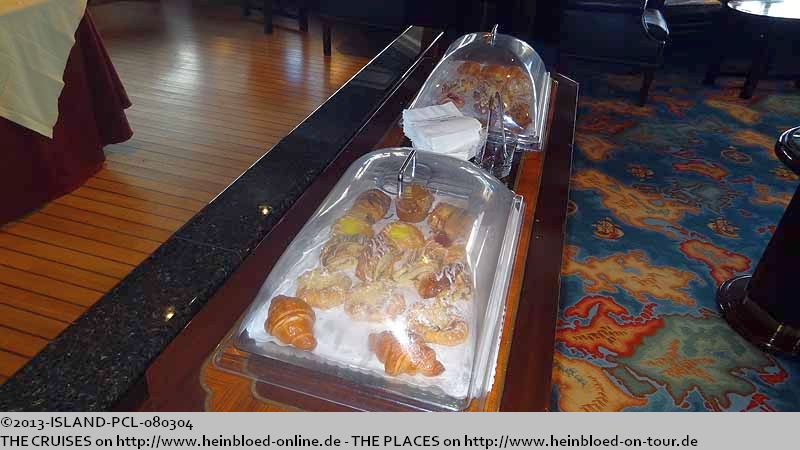 And for those whose had no chance to have breakfast could grab some Danish.

The Wheelhouse Bar was a real must for ship lovers.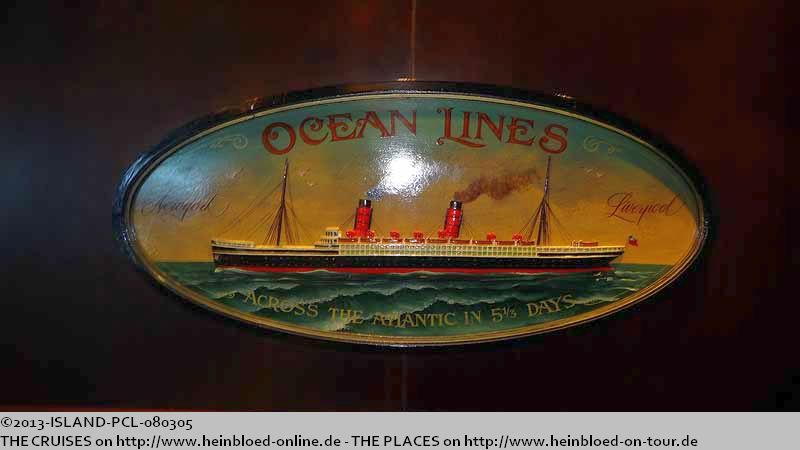 Die Wheelhouse Bar ist ein echtes Muss für alle Schiffsliebhaber.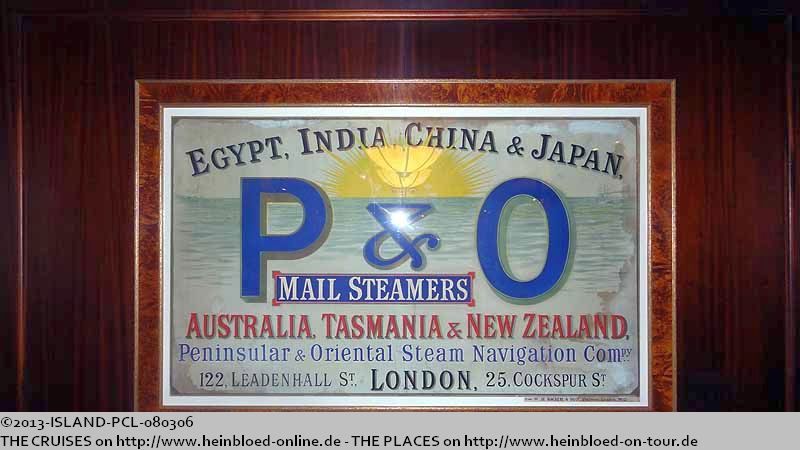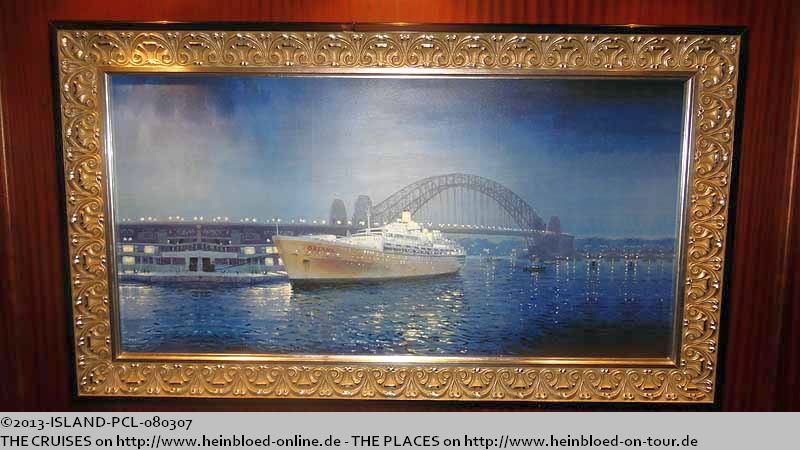 Die CANBERRA, auf der eine Freundin einige Monate als Pianistin tätig war.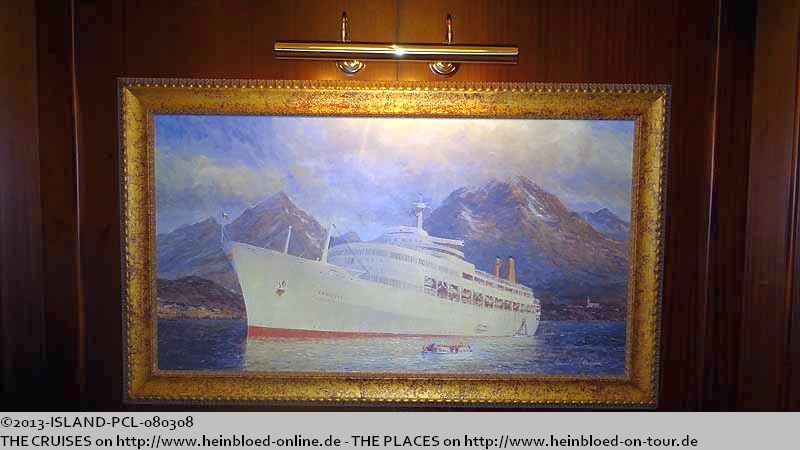 CANBERRA - a friend of us worked there for a couple of month as pianist.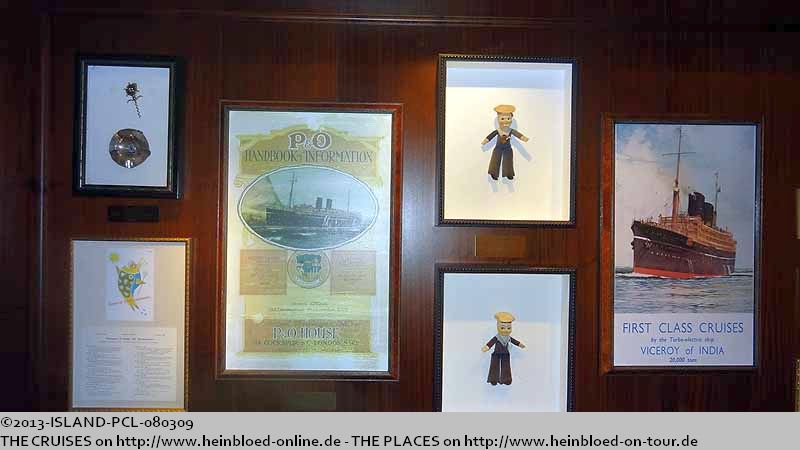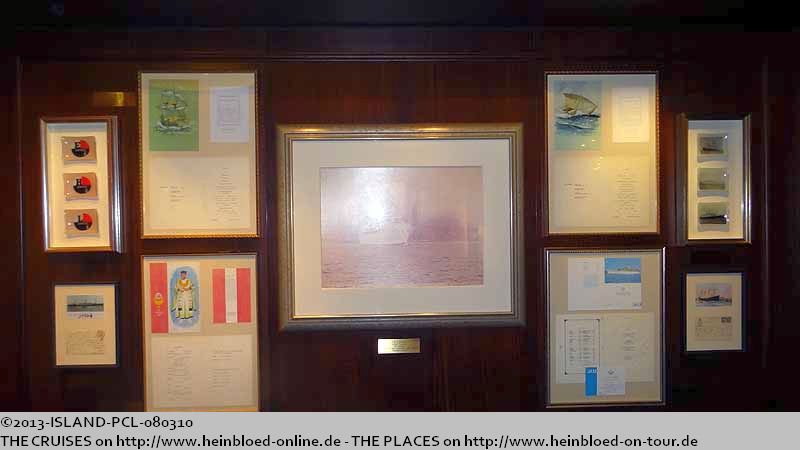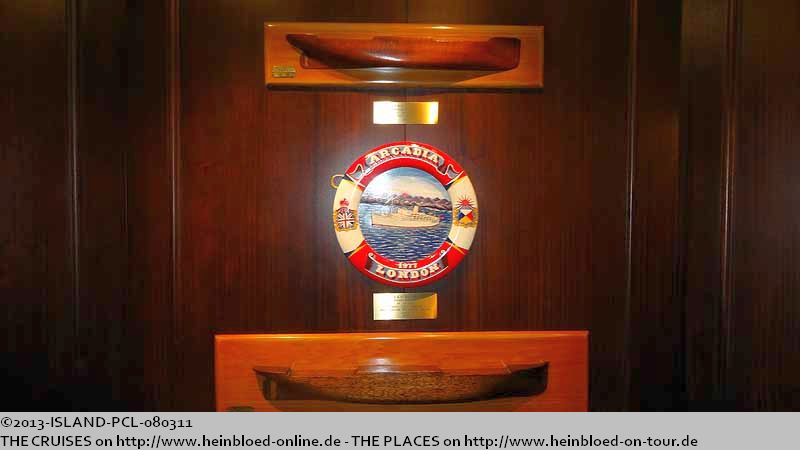 Und Heather am Steuer... unsere Captain's Circle Repräsentatin.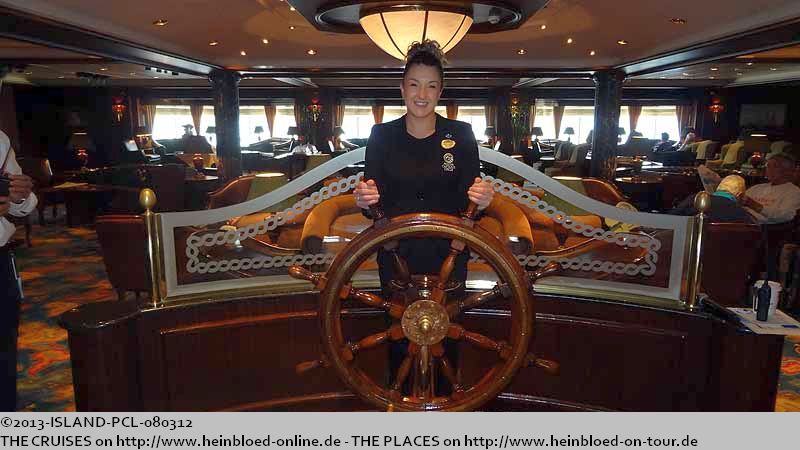 And Heather at the wheel... our Captain's Circle Representative.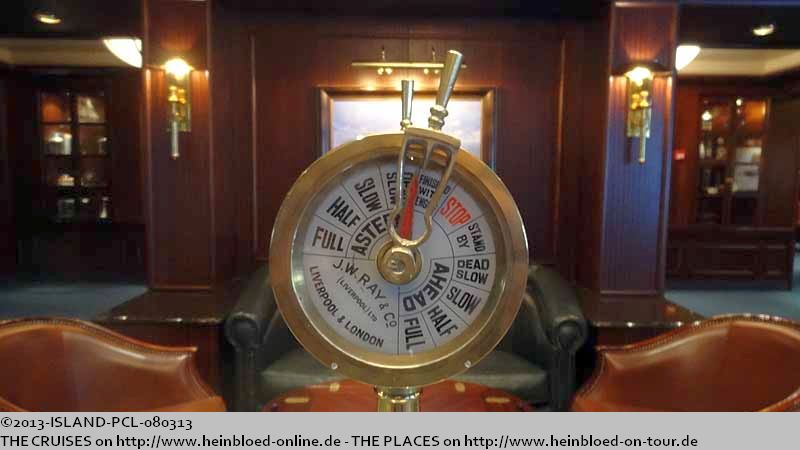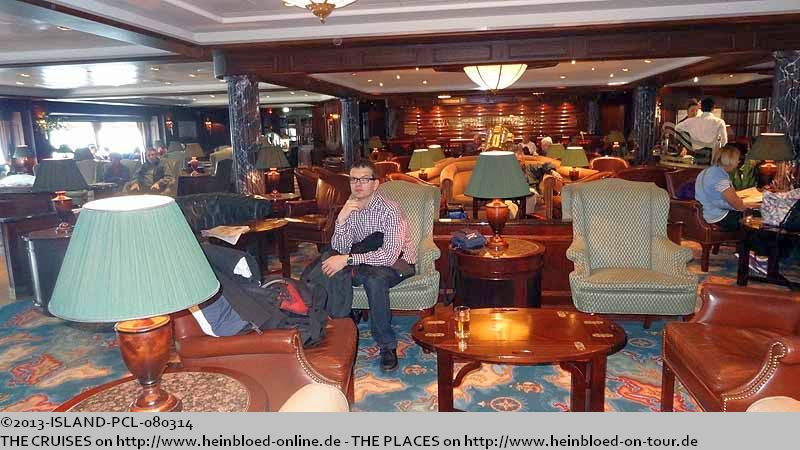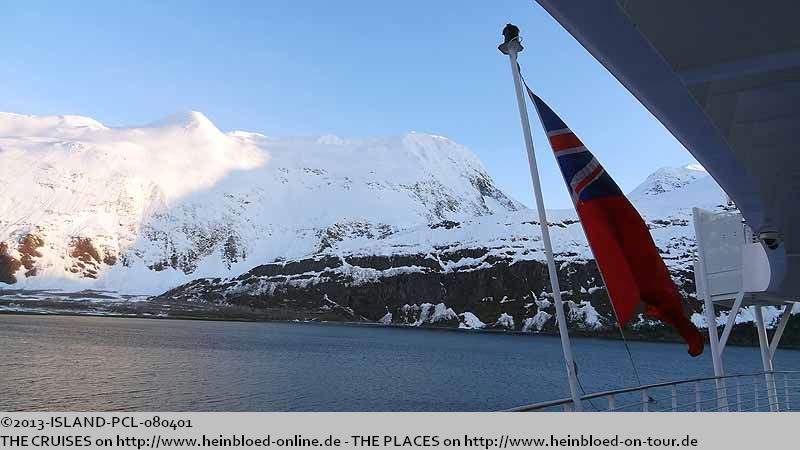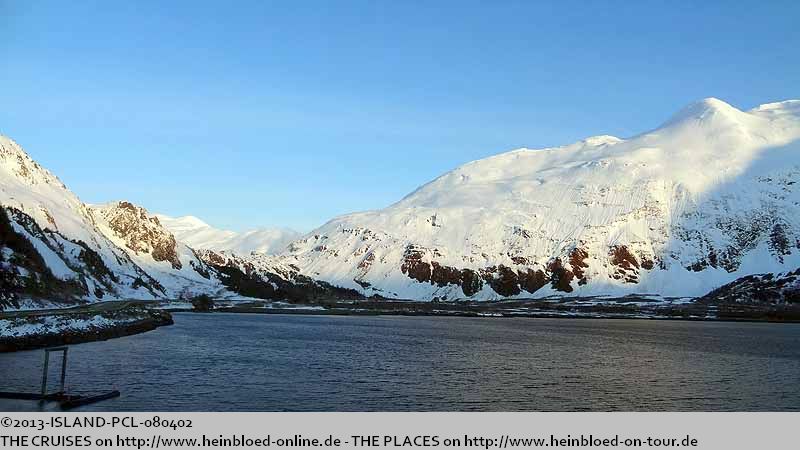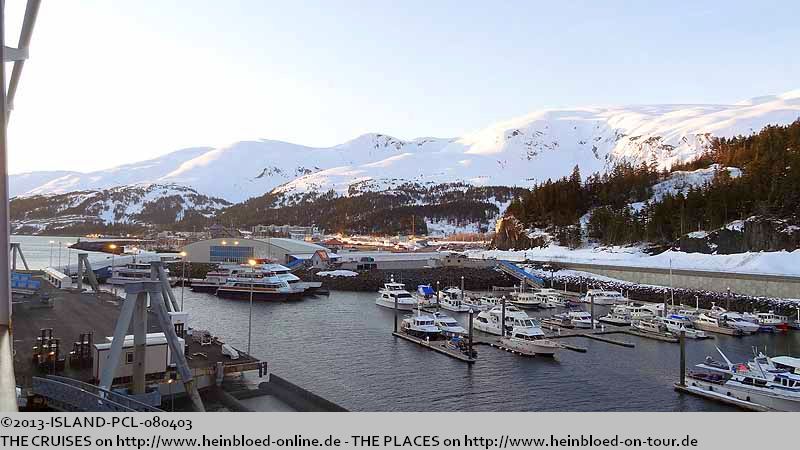 Outside there was already a train but it did not look like a Princess Train but a standard train of Alaska Railroad. It was the direct airport transfer.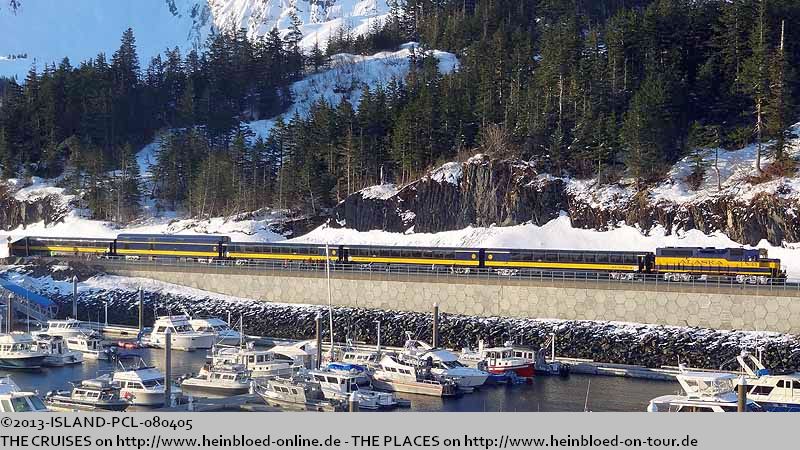 Draußen steht schon ein Zug, aber der sieht gar nicht nach dem Princess-Zug aus, sondern ist ein Standardzug von
Alaska Railroad
. Es ist der direkte Flughafen-Transfer.
Und dann steht der Princess-Zug da.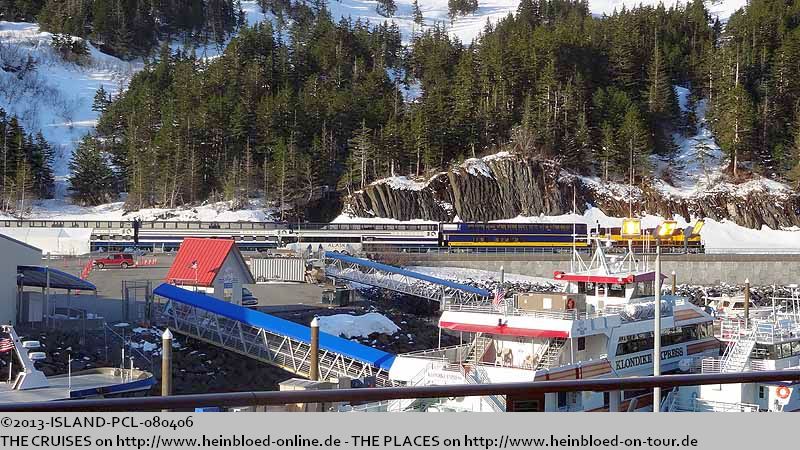 Then our Princess train came.
Die anderen Reisen in diesem Blog/
The other voyages in this blog: