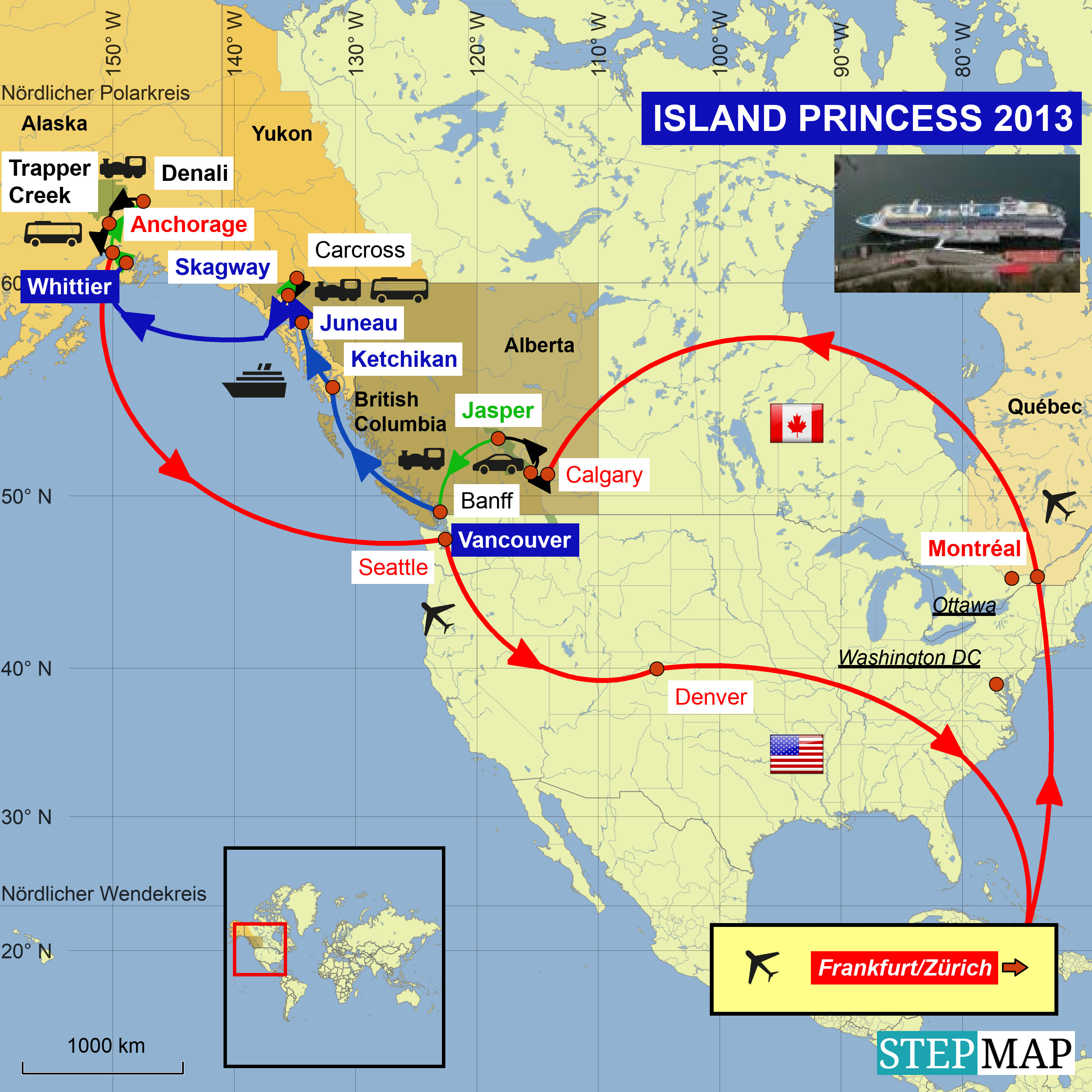 Wir bekommen schon Mail von Princess und sollen bewerten, wie wir es fanden, obwohl die Reise noch nicht zu Ende ist.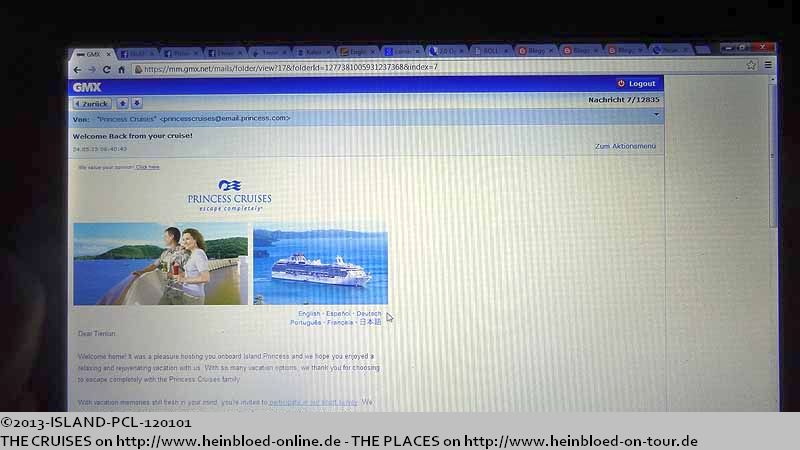 We got a mail from Princess and should rate how we liked it although the voyage was not over.

The German translation was terrible. So they mixed up land tours and shore excursions. But you learned this once you completed the questionnaire. After that amendment was not allowed anymore.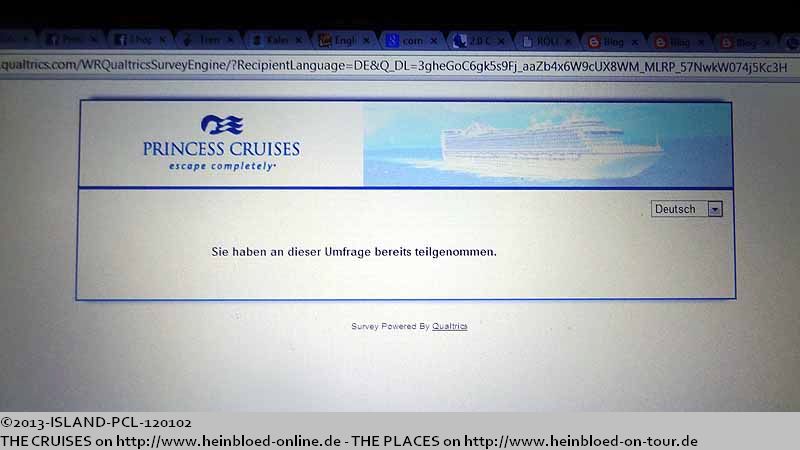 Die deutsche Übersetzung ist grauenhaft. Mit Landausflügen ist die Landtour gemeint. Aber das weiss man erst ganz am Schluss. Nochmals ändern darf ich es nicht.
Im Zimmer im Captain Hook ist uns heute Nacht noch die Dock-In-Station für unser iPhone ausgestattet... aber wir haben doch zwei...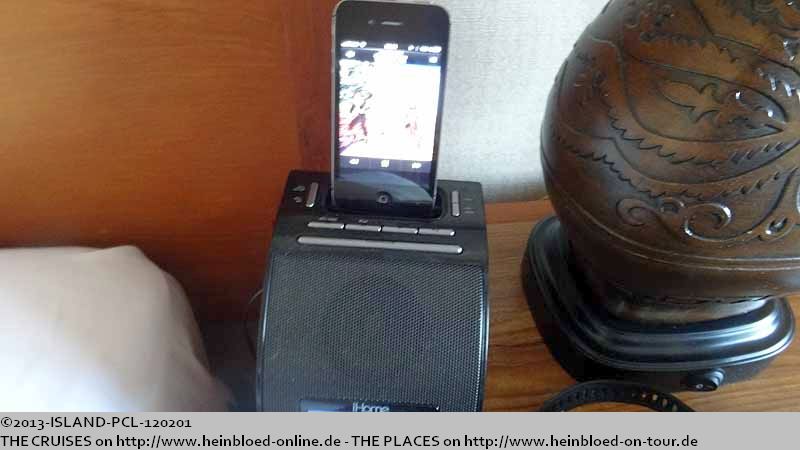 In the room in Captain Hook last night we had a dock-in-station for our iPhone... but we had two...

Where could you find towels which had their hotel name stitched into.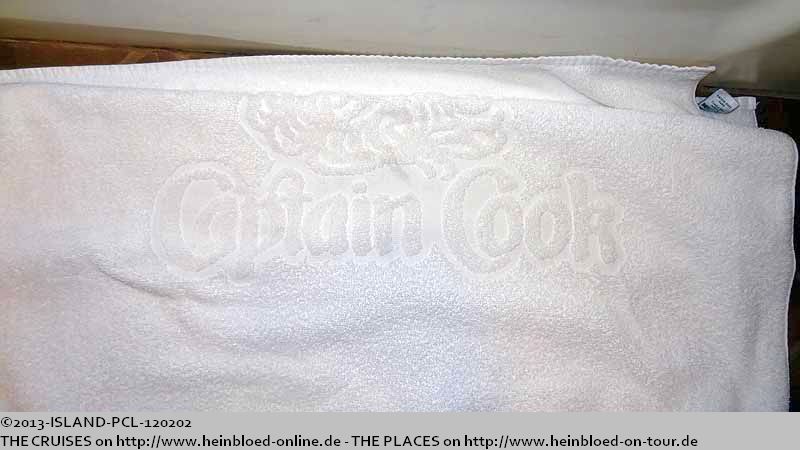 Wo gibt es noch, dass in den Händtüchern der Hotelname eingestickt ist.
Starbucks Kaffee übrigens gibt es auch an der Kaffeemaschine im Zimmer.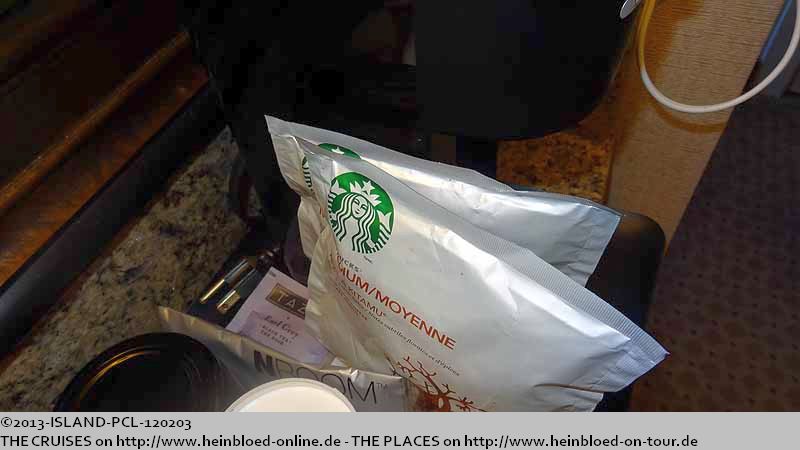 They had Starbucks coffee in the coffee machine in their room.

I did not like to have breakfast in the hotel. So we walked out the side door where you could find the hotel's garage.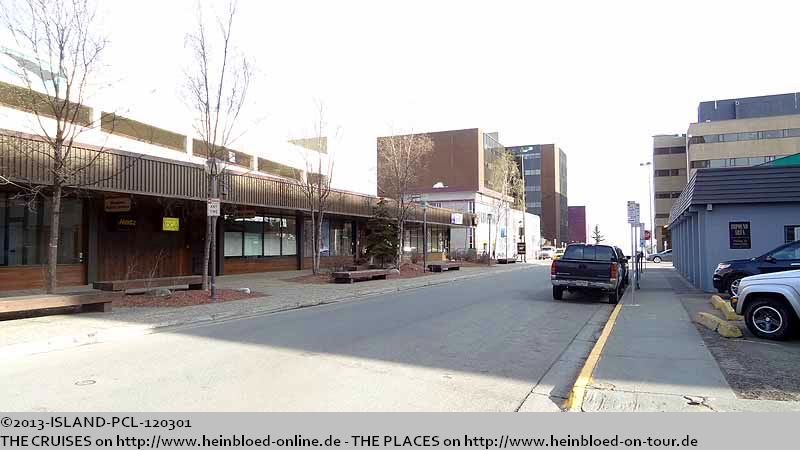 Ich mag nicht im Hotel frühstücken. So laufen wir seitlich raus, wo sich auch die Garage vom Hotel befindet.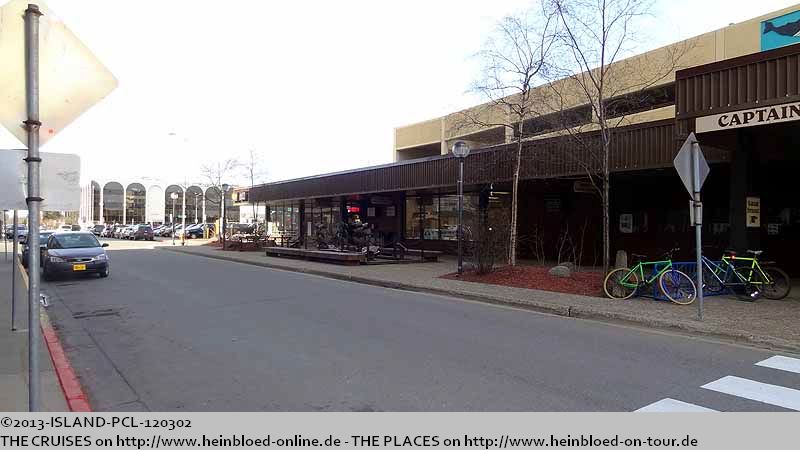 Just opposite you had Hertz but they were very expensive. For a one way rental to Seward, they wanted to have around 250.00 USD.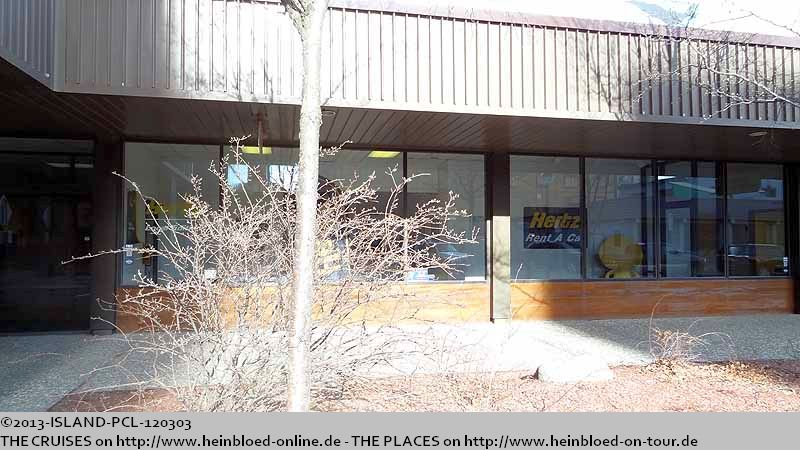 Gegenüber ist direkt Hertz, aber der war zu teuer. Für eine Einwegmiete nach Seward wollten die rund 250,00 USD haben.
Der österreichische Konsul sitzt übrigens auch im Hotel.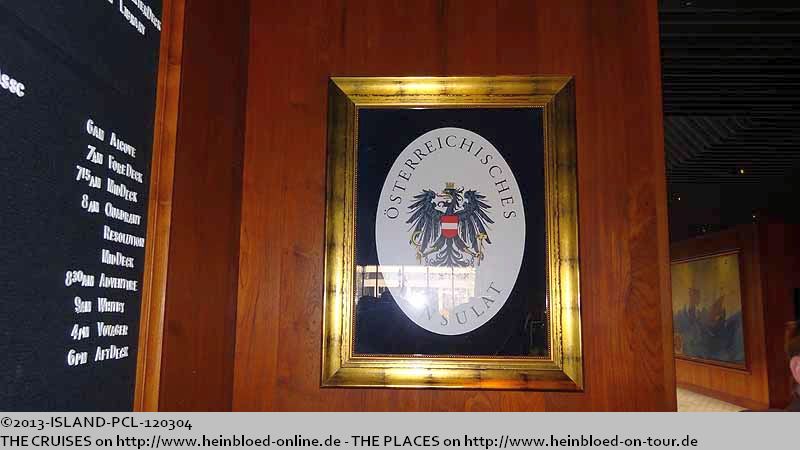 The Austrian consul had its seat in the hotel too.

Just adjustant was Sandwich Deck (W 4th Ave / K Street)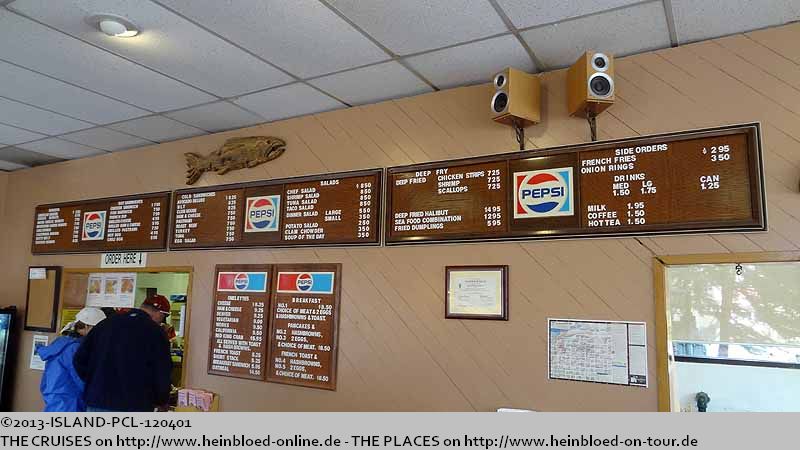 Direkt gegenüber ist
Sandwich Deck
. (W 4th Ave / K Street).
Eine Familie mit asiatischen Wurzeln bereitet hinten alles frisch zu. Nur als sie frage, ob sie auch Congee als Frühstück anbieten bekomme ich als Antwort, dass sie Amerikaner sind und nur asiatisch aussehen... Man muss doch nicht seine Wurzeln verleugnen, nur weil man Amerikaner ist - oder?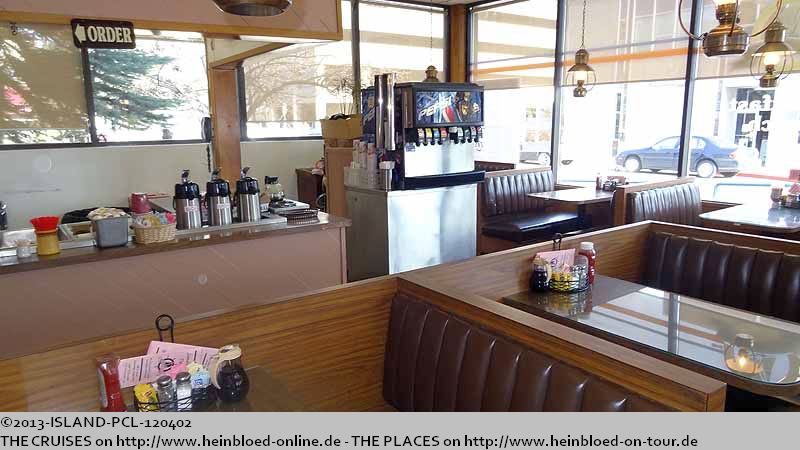 A family with Asian roots prepared everything fresh. When I asked them if they had congee for breakfast, I got the answer that they were Americans and only looked Asian... You must not deny your roots only because you are American - or?

It was cozy but quite narrow...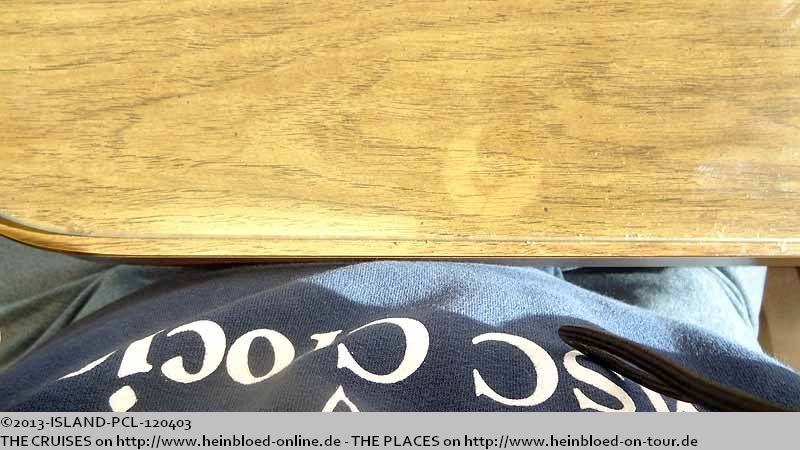 Es ist gemütlich, aber etwas eng...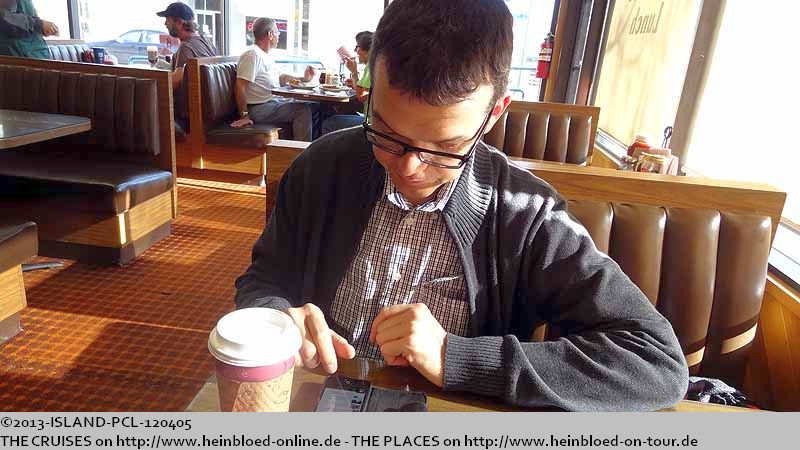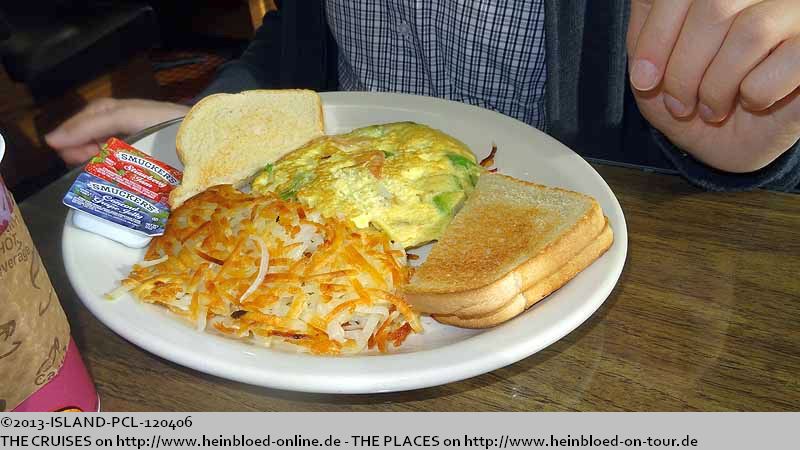 For 15.00 USD (2013) I allowed myself to have an omelette with Alaska King Crab meat.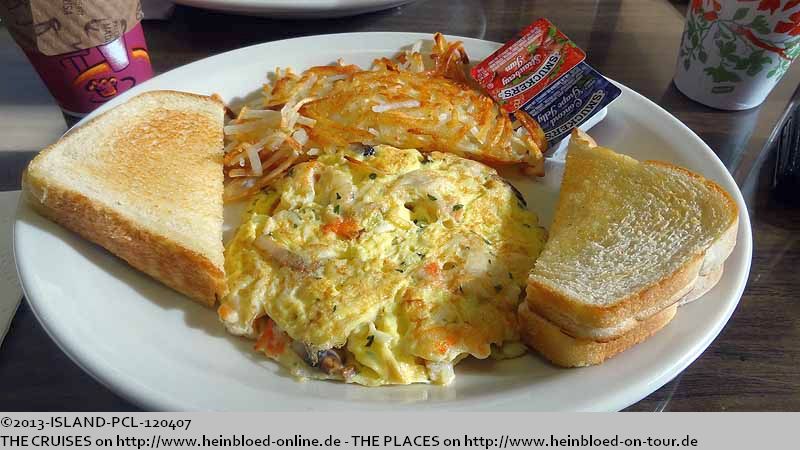 Für 15,00 USD (2013) gönne ich mir doch ein Omelette mit Alaska King Crab Fleisch.
Und tatsächlich ist etwas davon drin.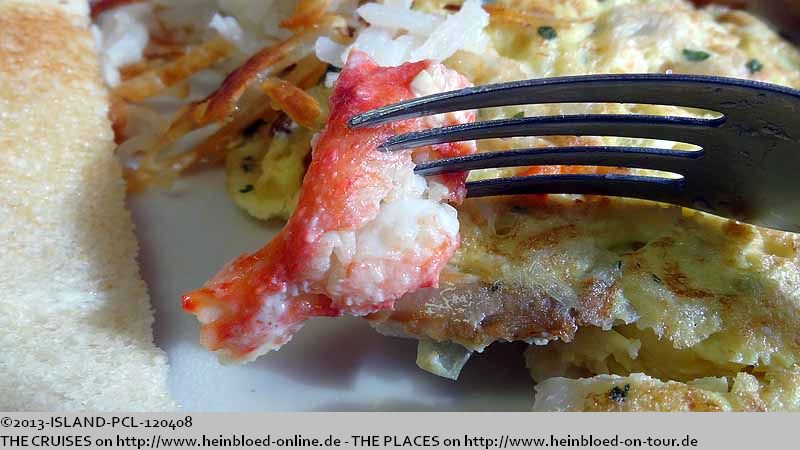 And indeed it was some inside.

The main entrance to the hotel was in the backyard at W 4th Ave.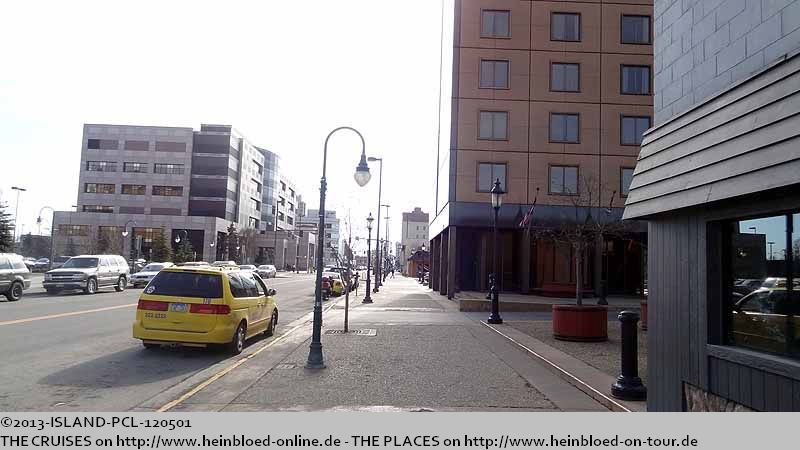 Die Hauptzufahrt zum Hotel befindet sich hinten in der W 4th Ave.
Da Avis sich weigert mich abzuholen, muss ich bis B Street laufen. Sie behaupten, dass es nur fünf Blocks sind. Das ist so wie das 5 Minuten bei Italienern. Offensichtlich haben sie in Alaska keine Sesamstraße im Fernsehen. Ich befinde mich ja an der K Street... L, K, J, I, H, G, F, E, D, C, B... lassen wir mal den Block bis L weg, weil ja das Hotel auch an der Straße liegt... sind immer noch 10 Blocks. Aber es ist o.k.. Die Blocks sind nicht so lang wie in Manhattan und so sehe ich auch etwas von der Stadt, da die 4th Ave eine Hauptachse bildet. So komme ich am
Visit Anchorage Visitor Center
vorbei und kann mich informieren, was wir heute noch machen können.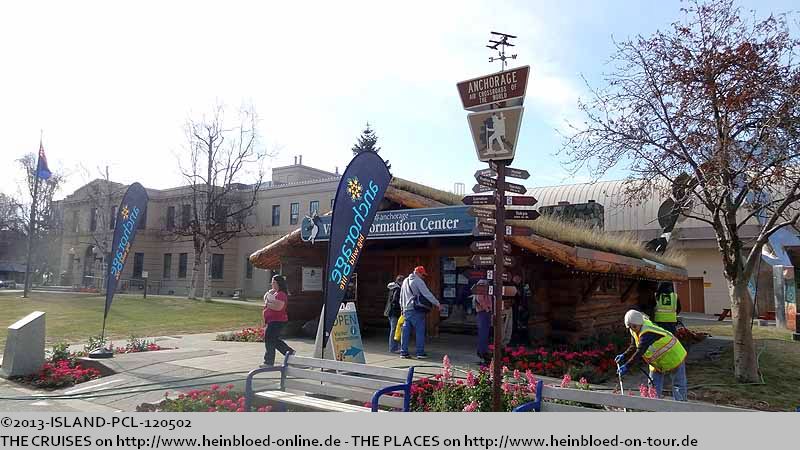 As Avis refused to give me a lift I need to walk to B Street. They said it was only five blocks away. Same like Italians say 5 minutes. Obviously, they had no Sesame Street in the Alaska TV... I was in K Street... L, K, J, I, H, G, F, E, D, C, B... just let L apart as this was the edge of the hotel... still 10 blocks. But it was o.k. The blocks were not as long as in Manhattan, and I saw a lot of the city as the 4th Ave is the main axle of the of the city. So I passed the Visit Anchorage Visitor Center and could get some information on activities we could do that day.

For our Belgian friends, they had a sign to show them their way home. For us, they had no sign which showed us our way home.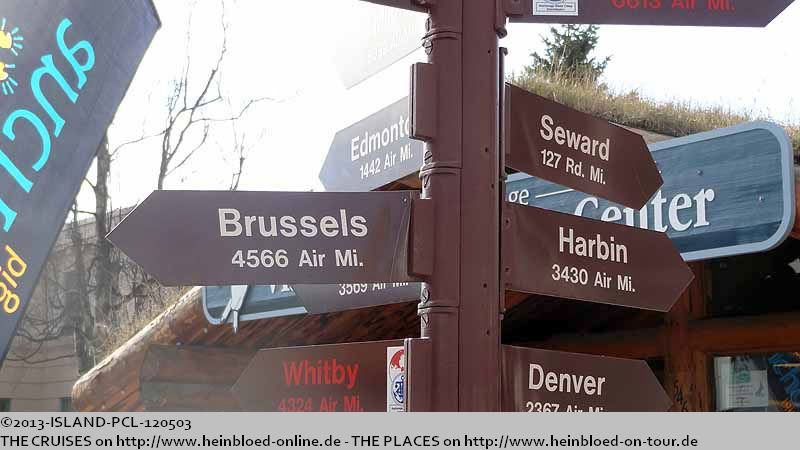 Für unsere belgischen Freunde gibt es das Schild. Für uns gibt es kein Schild, das uns den Weg nach Hause anzeigt.
Im hinteren Gebäude befindet sich ein Prospektzentrum. Alles Attraktionen haben hier ihre Prospekte ausgelegt.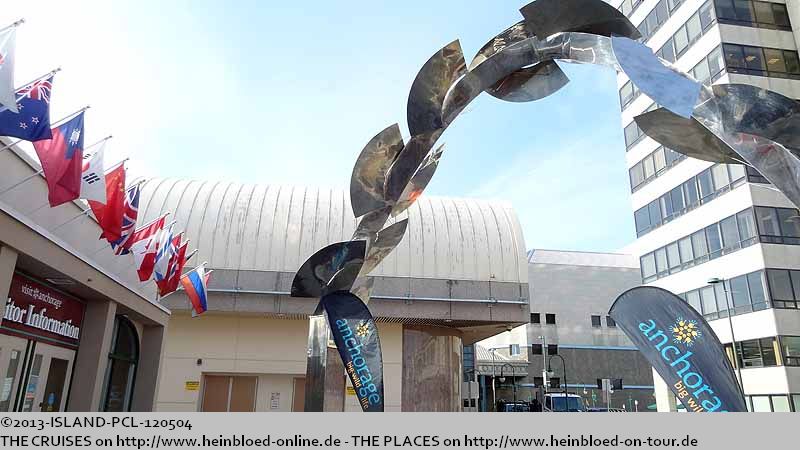 In the back building they had a brouchure center. You can find brochures from all attractions.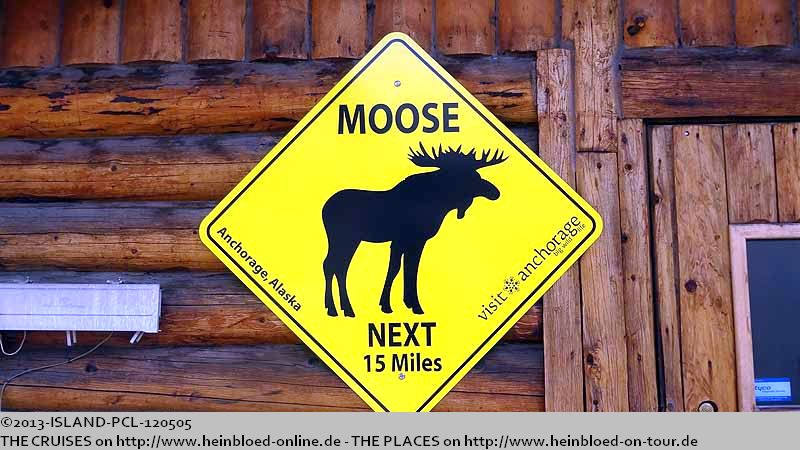 Gegenüber befindet sich das
Hilton
.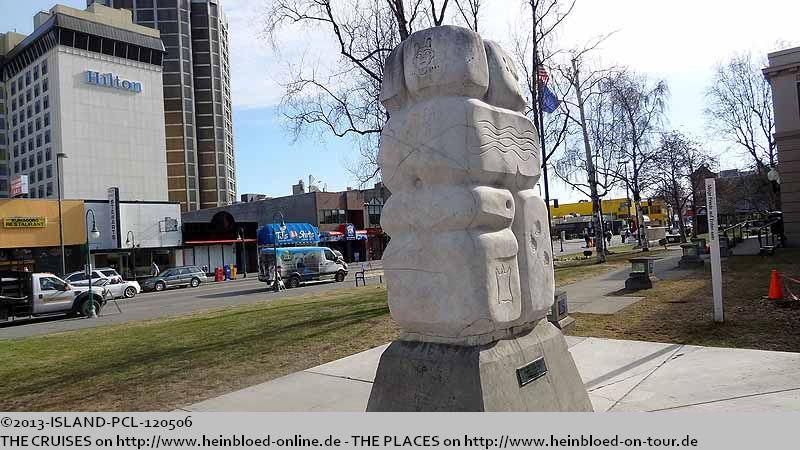 Opposite there was the Hilton.

I bought with Grizzly Gift a T-Shirt as I counted again the wrong number I need.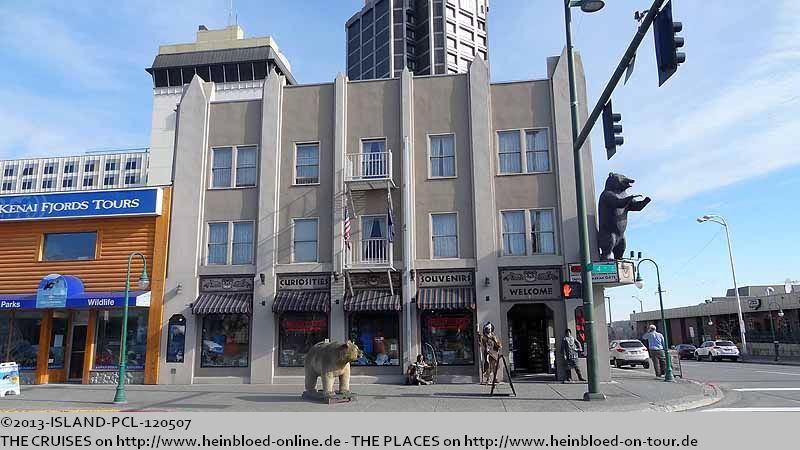 Bei Grizzly Gifts kaufe ich mir schnell noch ein T-Shirt, weil ich mal wieder falsch gezählt habe.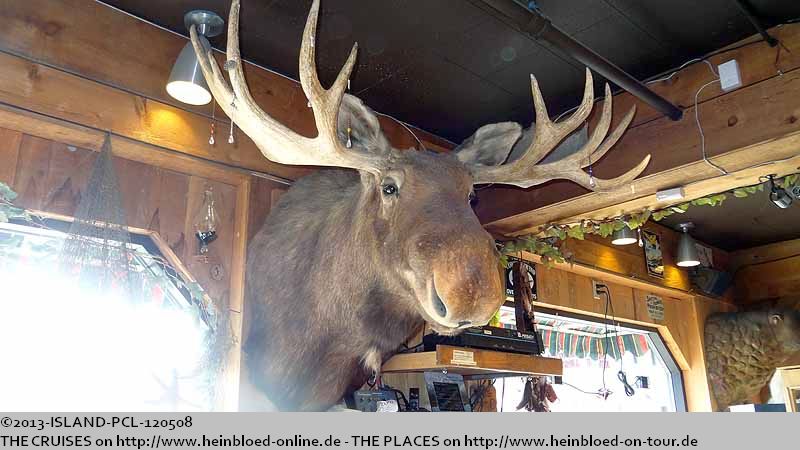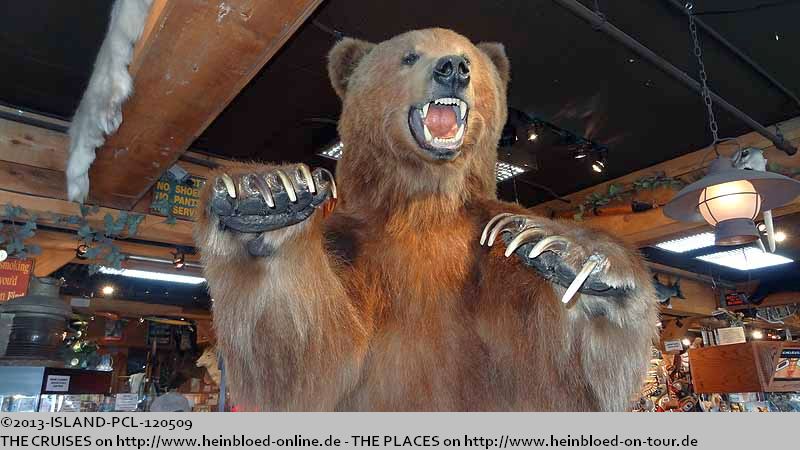 Sonnenblumen mitten in Anchorage.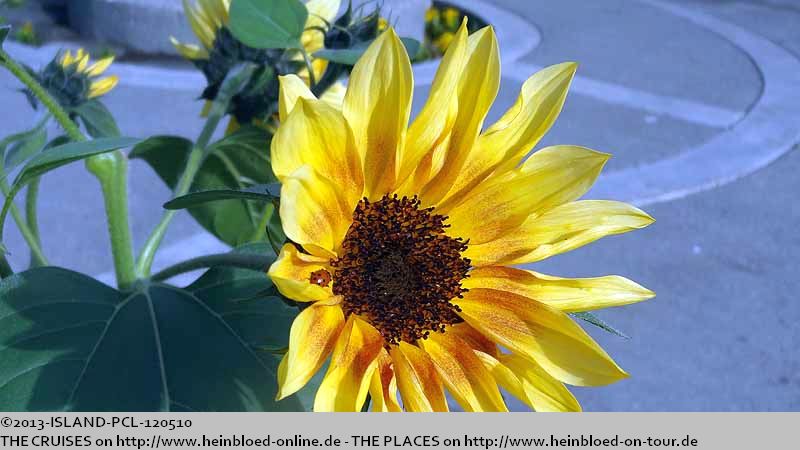 Sun flowers in the center of Anchorage.

Here you see the Russian roots of Alaska. Unfortunate we did not stay long enough in Anchorage to try their food.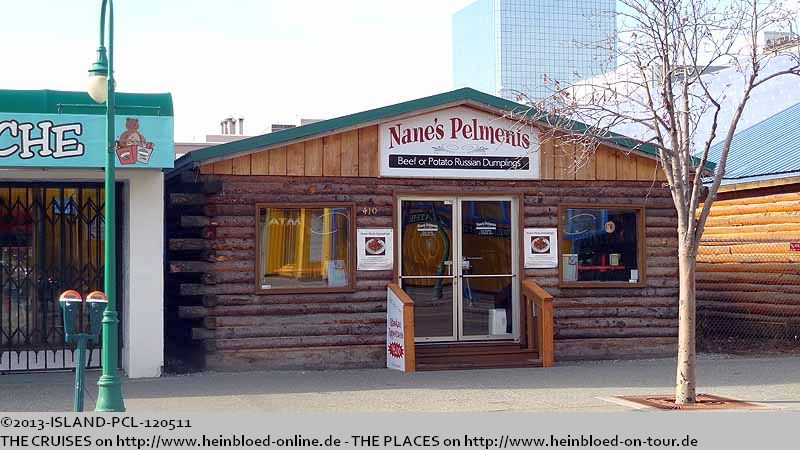 Hier sieht man die russischen Wurzeln von Alaska. Leider sind wir nicht lange genug in Anchorage um das zu probieren.
Unser Busfahrer hat uns gewarnt, nachts (wann eigentlich, wenn es kaum dunkel wird?) über die C Street hinauszutreten. Ich betrete damit gefährliches Pflaster. Bei
Avis
sind sie etwas komisch drauf. Sie sind ein Lizenznehmer ohne Anschluss an das Avis-EDV-System, so sehen sie nicht meinen Stammkundenstatus. Alles muss man manuell angeben.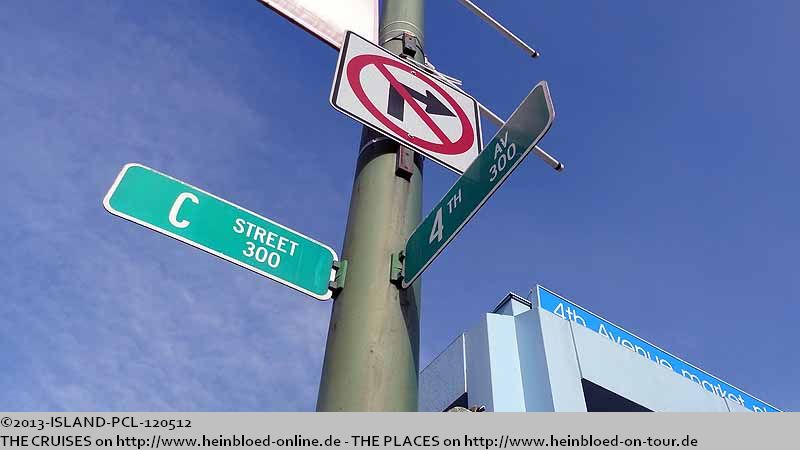 Our bus driver warned us to walk beyond C Street in the night (when - it did not really become dark...). It should become dangerous. With Avis they were somehow strange. They were licensees without access to the Avis computer system, and so they did not know anything on my profile. Everything needed to be entered manually.

The cheapest way to park in the city was a parking meter. All other options reminded me of the price level like in New York City.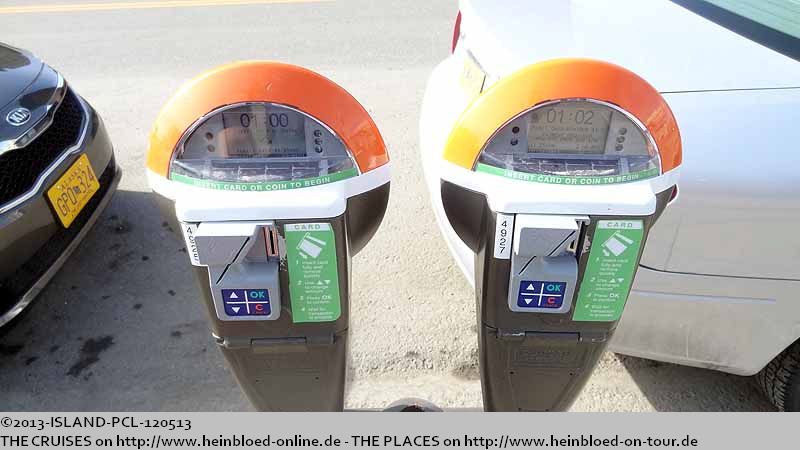 Die billigste Parkmöglichkeit in der Innenstadt ist eine Parkuhr. Alles andere ist fast so teuer, wie in New York.
Sie waren aber so nett, mir ein sehr großes Fahrzeug mit großem Kofferraum zu geben, der nagelneu ist.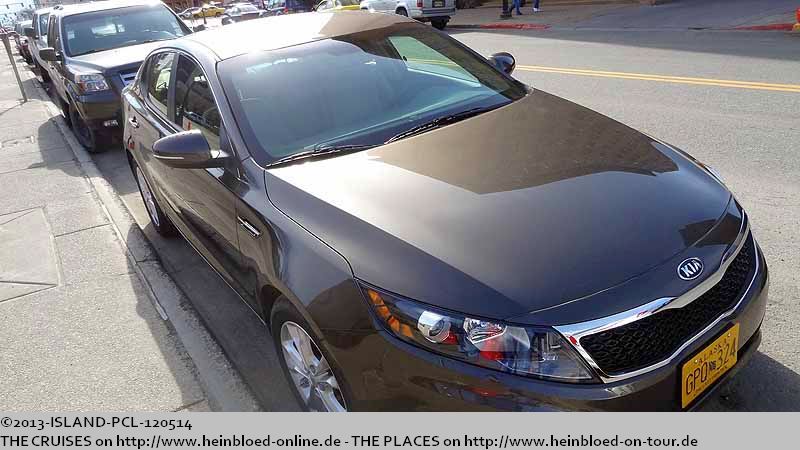 They were so kind to give us a big car with a big trunk which was more or less brand new.

Johnny and Patricia found out that the Hilton provide day rooms.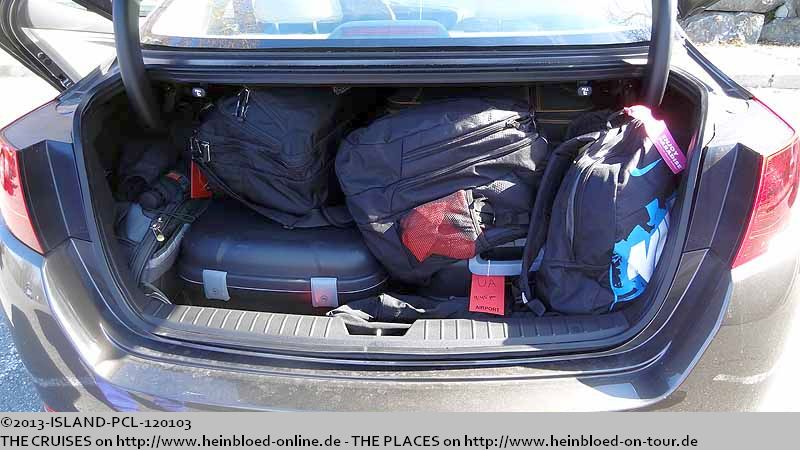 Johnny und Patricia haben herausbekommen, dass das Hilton Tageszimmer anbietet.
Zufällig hören das die Mitarbeiter von Princess als wir deren Gepäck für den Abend vorbereiten wollen und sagen uns, dass das Hilton für die Holland America Gäste genutzt wird und sie gerne auch von dort auch zum Flughafen gebracht werden können. Die Busse würden dort gegen 21:45 Uhr abfahren und sie sollten einfach dort zusteigen, und bräuchten nicht von dort nach hier nochmals rüberlaufen. Wichtig ist übrigens, dass man zu diesem Zweck die Flugdaten im Manifest (EIGENE RUBRIK!!!) übermittelt. Sonst können die nichts planen und vorbereiten.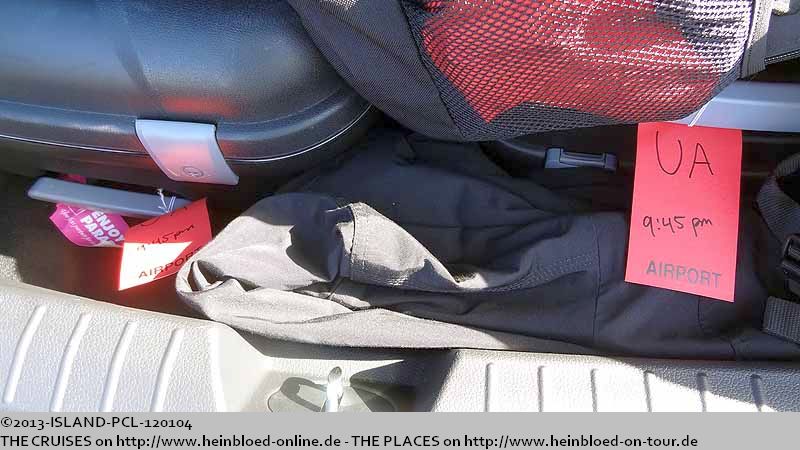 By coincidence the Princess agents noticed when we discussed how to arrange the bags for the nights, and they told us that Holland America uses the Hilton and they organized buses from their too. So the coach will start there at 21:45 hrs and they must not return to this hotel again. It is essential for their plannings to allocate you into the right bus that you fill in your manifest (OWN FOLDER!!!) the flight details.
Die anderen Reisen in diesem Blog/
The other voyages in this blog: