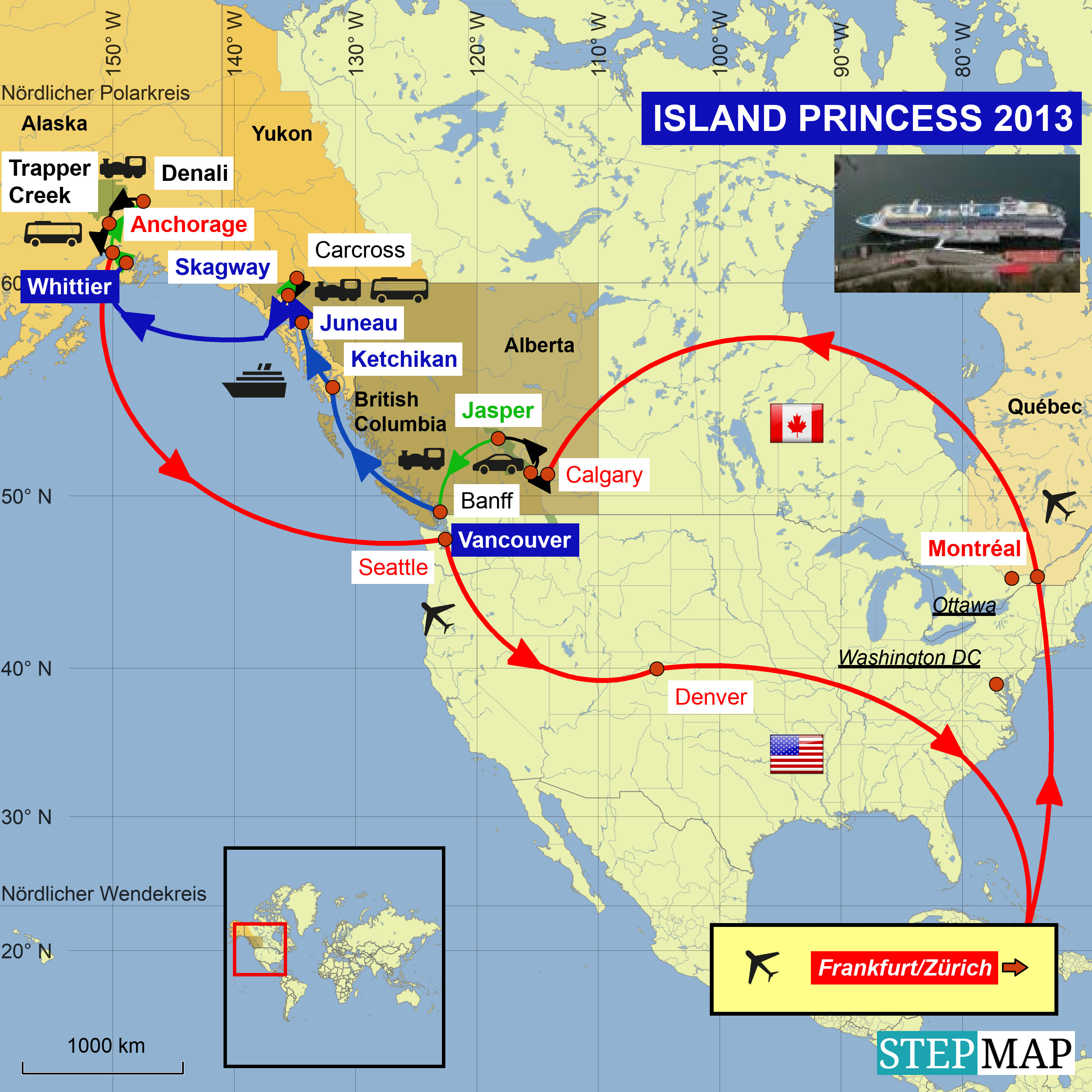 La Patisserie ist eigentlich nicht der geeignete Name für die Kaffeebar.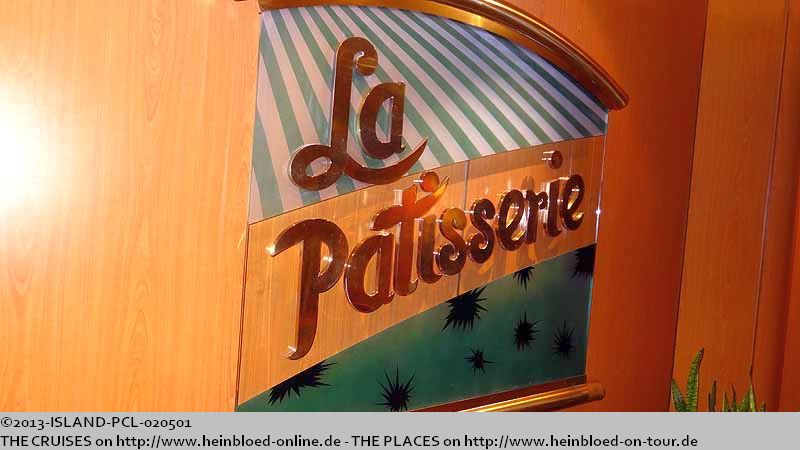 La Patisserie was not the appropiate name for the coffee bar.

There were only a few pastries available during breakfast time.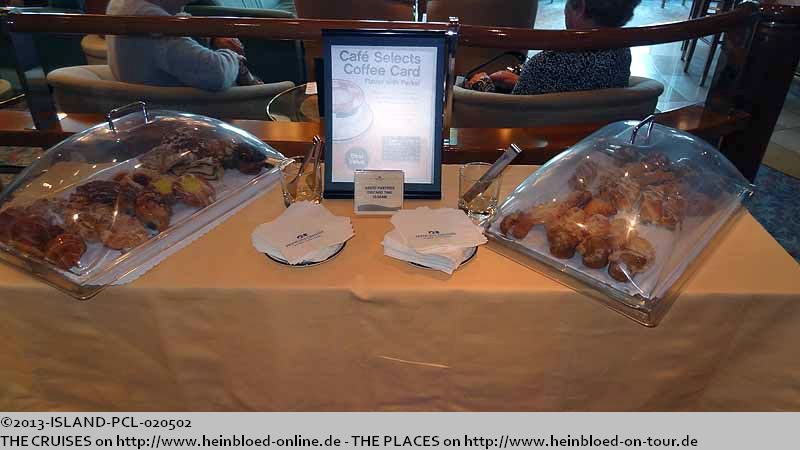 Es gibt nämlich nur zum Frühstück ein wenig Frühstücksgebäck.
Hier bekommt man auch eine Kaffeekarte.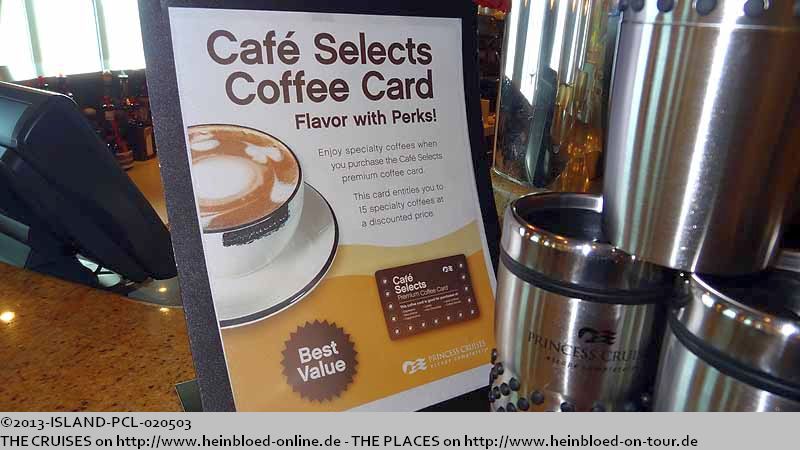 Here you could also get a coffee card.

They had a Barista-machine.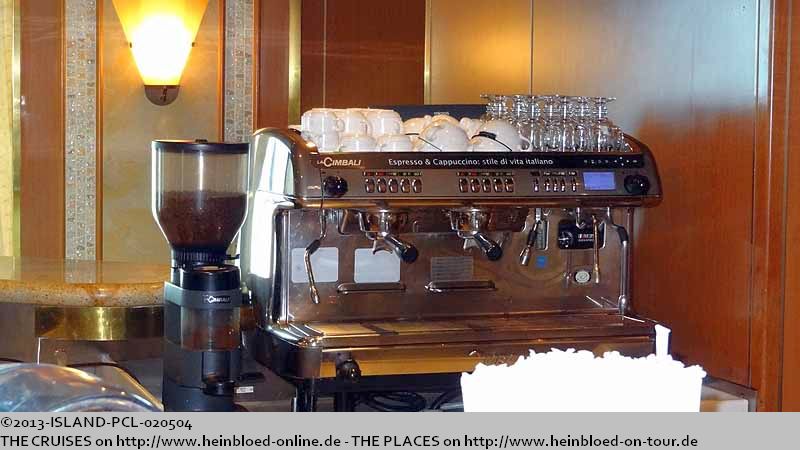 Eine Barista-Maschine wäre ja da.
Wobei der Kaffee auch nicht so teuer ist. Auf jeden Fall billiger als bei Starbucks.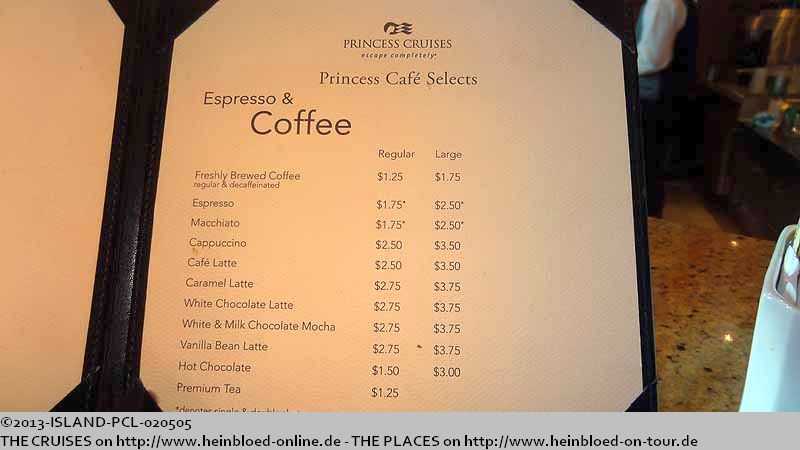 But anyway their coffee was not so expensive. Much cheaper than with Starbucks.

And I would get a complimentary tea with every purchase of a coffee from Bruno's coffee card subject he would buy one.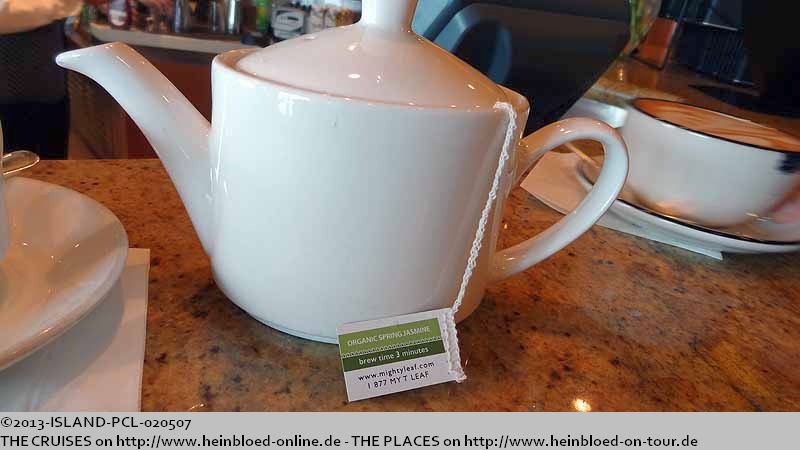 Andererseits würde ich ja einen Tee kostenlos zu jedem Kaffee bekommen, wenn Bruno einer Kaffeekarte kauft.
Und der Tee scheint besser zu sein.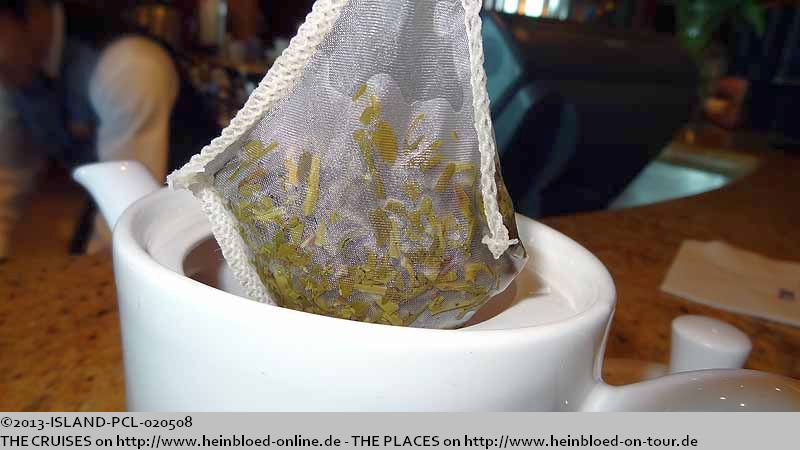 And the tea seemed to be better.

Bruno gave the Cappucino one chance.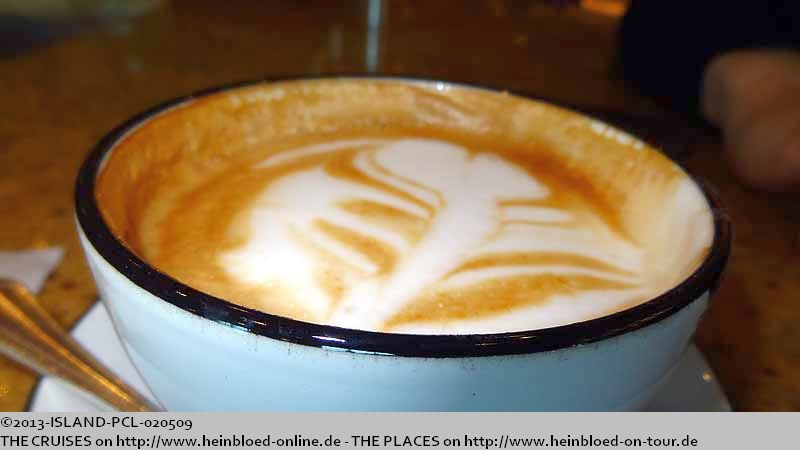 Bruno gibt dem Cappucino eine Chance.
Einmal tief einatmen...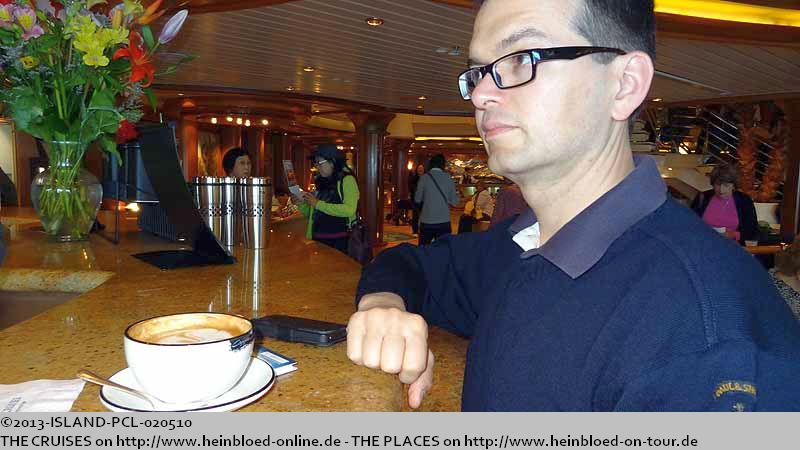 A deep breath.

His face said everything: I had to buy my tea because he did not want to buy a coffee card.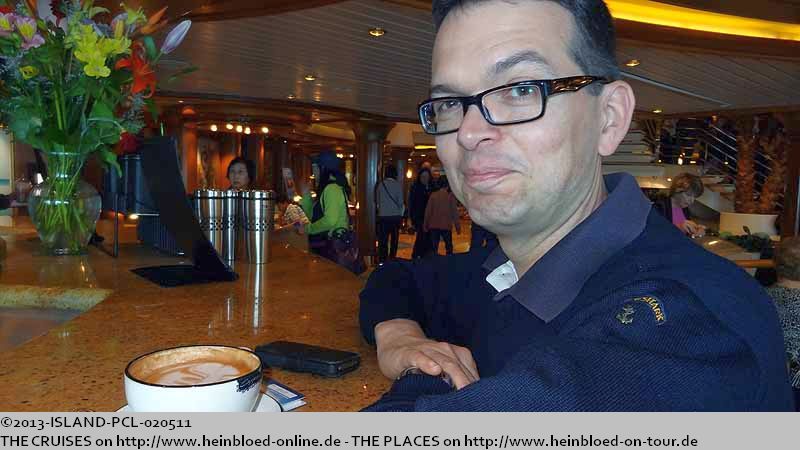 Der Blick sagt alles: ich muss meinen Tee selbst zahlen, weil er keine Kaffeekarte kauft.
Mittags gibt es ein paar Schnittchen.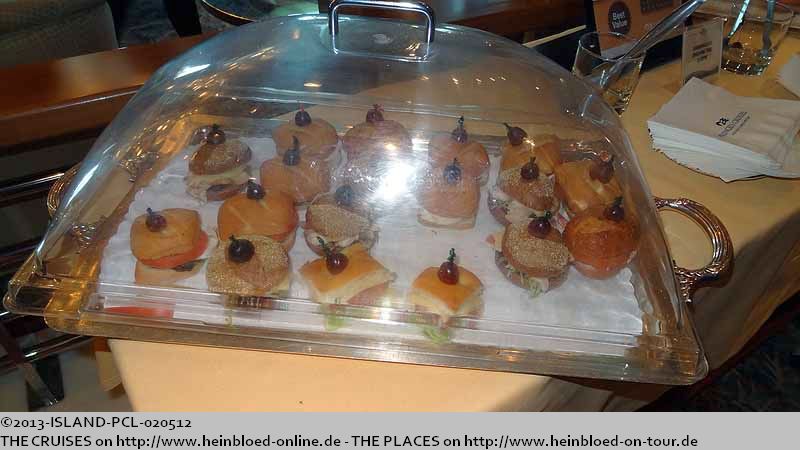 Around lunch you could have some open face sandwiches.

We went to the Port Talk...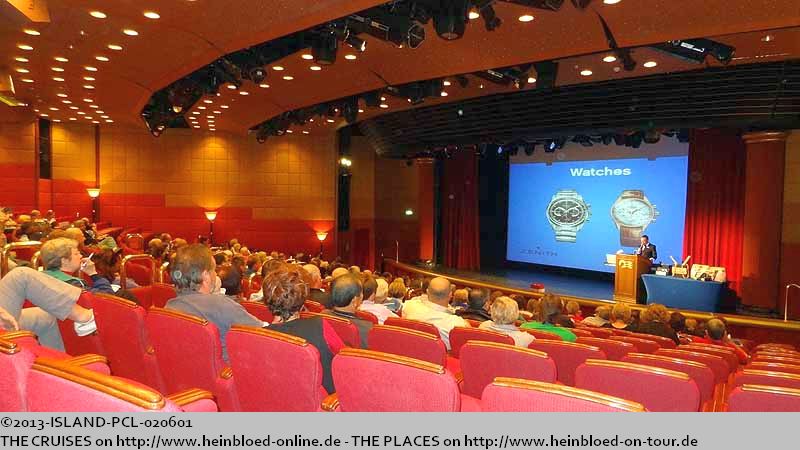 Wir gehen zum Port Talk...
Brauchen wir nicht weiterzusprechen.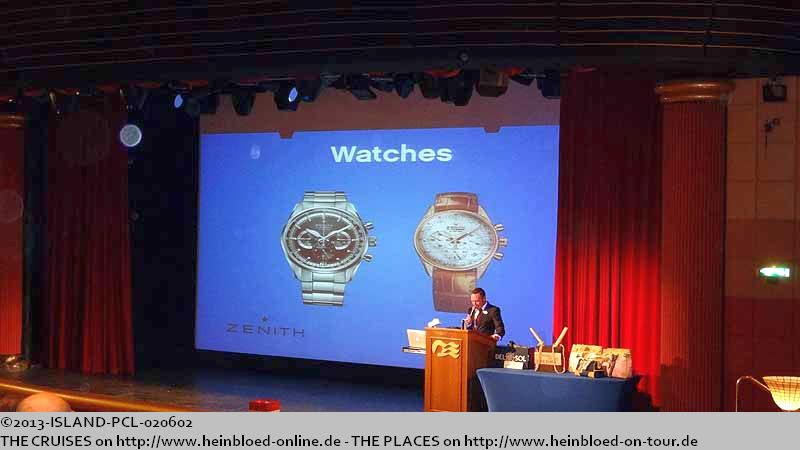 We must not say anything.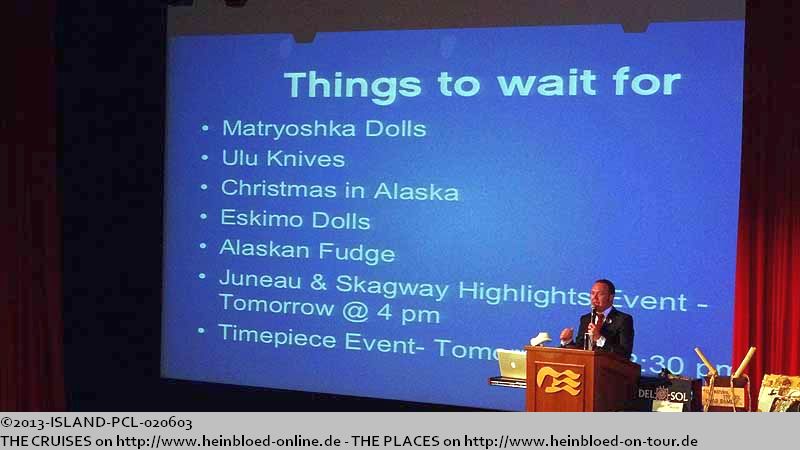 Interessante Deckenkonstruktion, weil man die Technik so verstecken kann.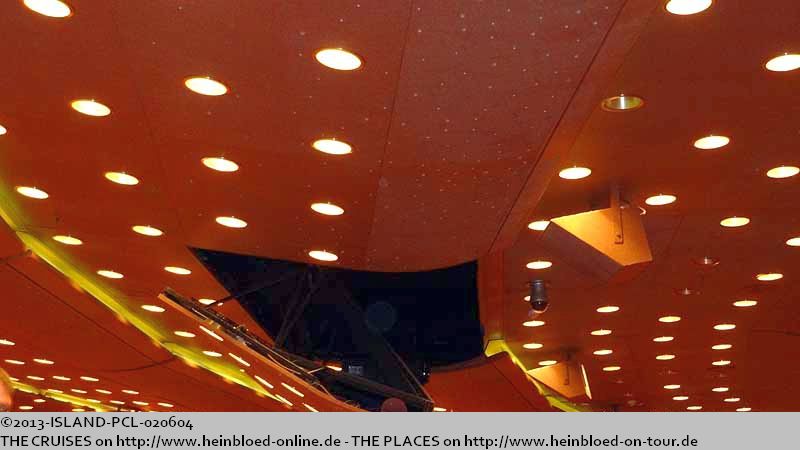 Interesting construction of the ceiling. It was possible to hide the technical equipment.

You had more space than on the Jewel-Class with NCL.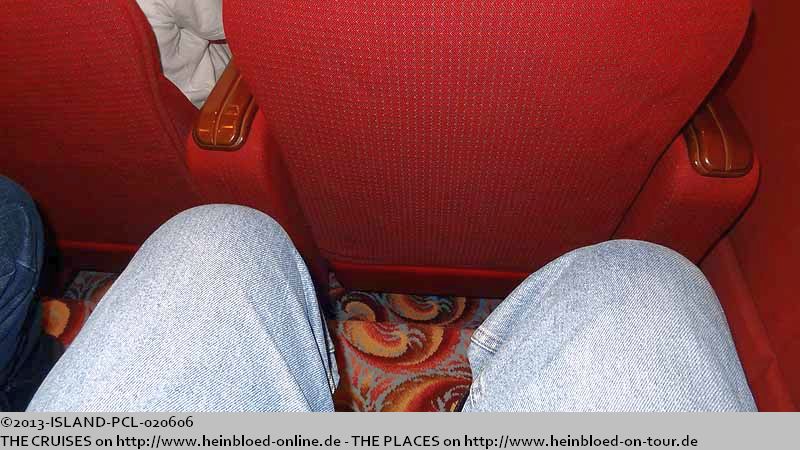 Man hat mehr Platz als bei NCL auf der Jewel-Klasse.
Und die Klapptische gibt es auch für die Getränke.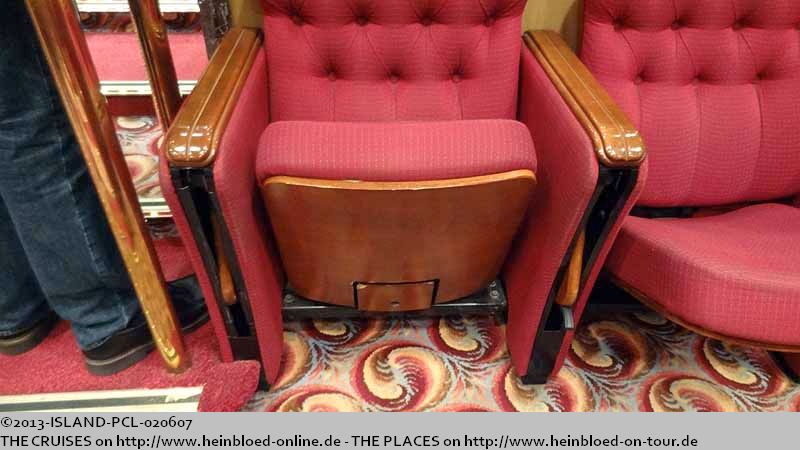 And they had foldable table for beverages.

Our Cruise Director Richard Joseph presented a Power-Point-Slideshow on Alaska and informed about the procedures there. He told us that the Captain would make a 360°-turn and the best place to stay would be the balcony, turning on channel 42 to listen to the explanations of the Park Rangers and to use the whole day the cabin service and allow the cabin stewards to have a calm day.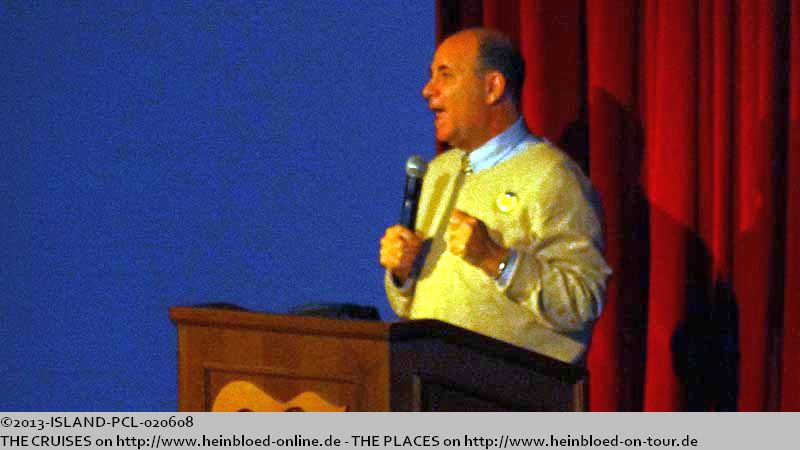 Unser Cruise Director Richard Joseph präsentiert eine PowerPoint-Präsentation über Alaska und informiert über die Abläufe dort. Er informiert uns, dass der Kapitän im Glacier Bay Nationalpark eine 360°C-Drehung machen wird und man am Besten sich daher auf dem Balkon aufhält, Kanal 42 einschaltet, um die Erläuterung der Park Ranger zu folgen, den ganzen Tag den Kabinenservice in Anspruch zu nehmen und den Kabinensteward mal in Ruhe zu lassen.
Wir erfahren doch sehr viel über die Entstehungsgeschichte der Orte und die echten Attraktionen (also keine Shopping-Tipps).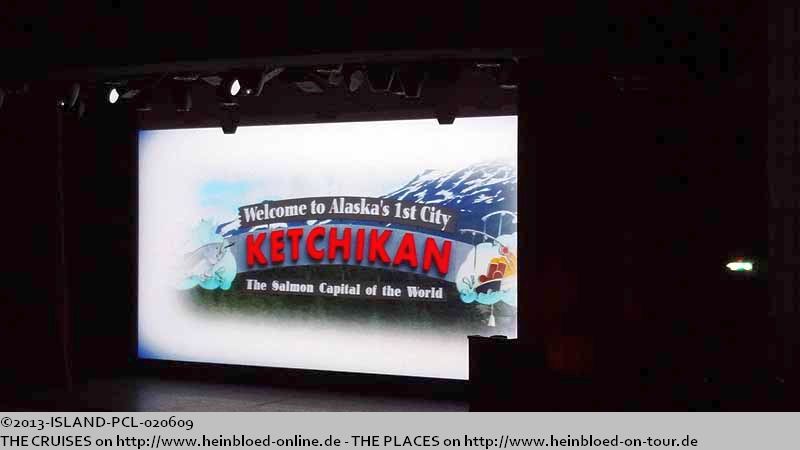 We learned a lot of the history how the single places were founded and some inforrmation on their true attractions (so no shopping advises).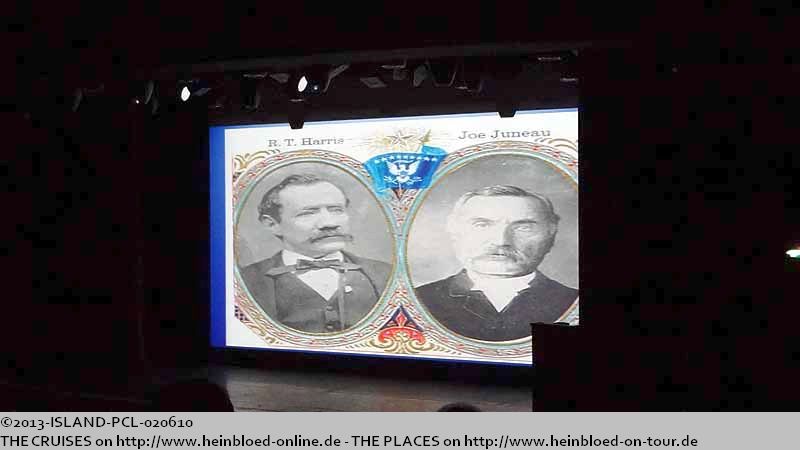 Was uns wundert: es gibt nur sehr wenige Handdesinfektionsspender. Überwiegend im SB-Bereich.

We were wondering what they had only very few dispensers of sanitizers. Most of them around the self-service area.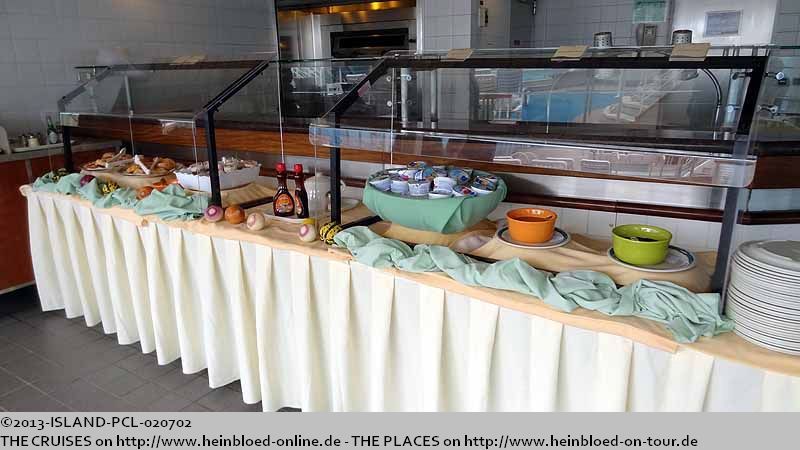 Auf dem offenen Deck gibt es die Vormittagsbouillon. Auf den bisherigen 57 Kreuzfahrten hatte ich sie noch nie bekommen.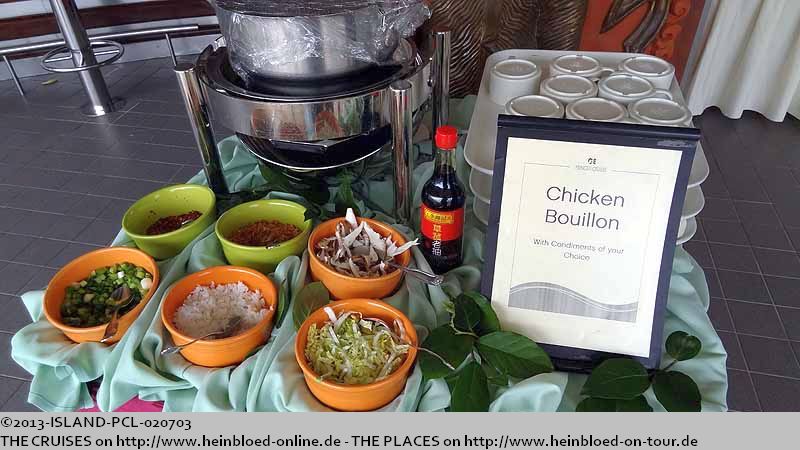 On the open deck you had a late morning bouillon. So far I never had this before on 57 cruises before.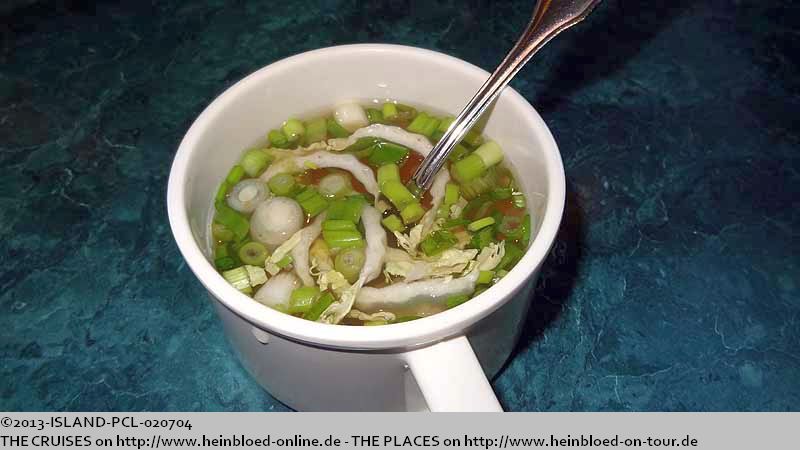 Wir setzen uns allerdings in den Horizon Court rein, weil es zu kalt ist.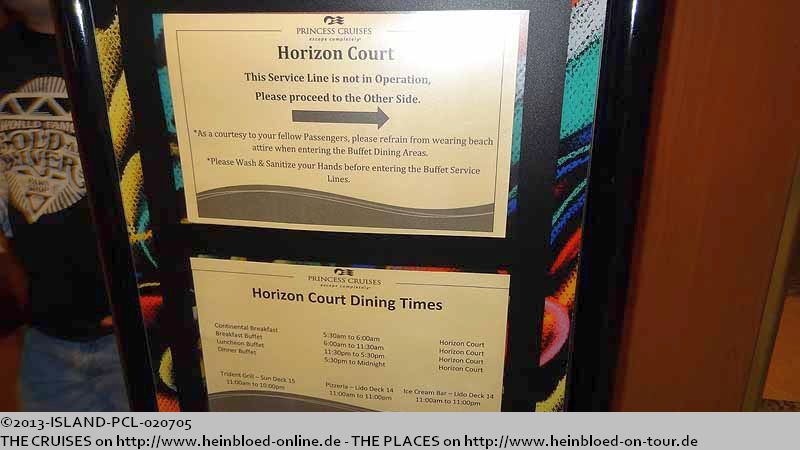 But as it was too cold outsite we took seat in the Horizon Court.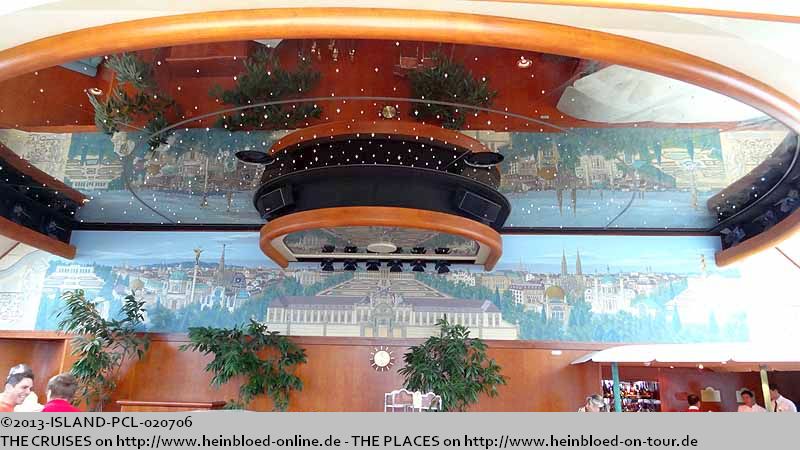 Sogar mit Blick nach vorne. Kein Schiff ist also besser geeignet für Alaska.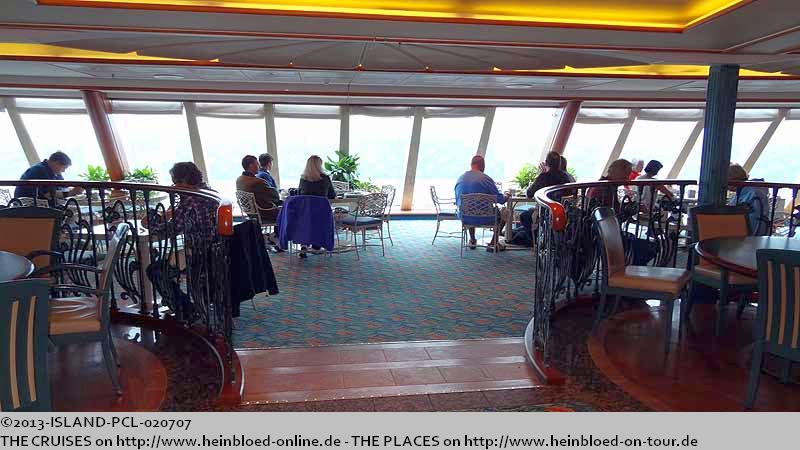 Even you had a view to the front.

A no go was the coffee made of syrup.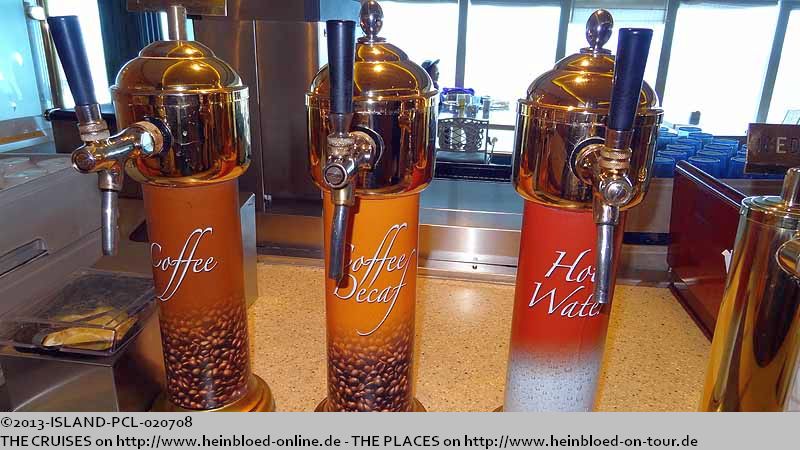 Bloß der Kaffee aus Sirup muss nicht sein.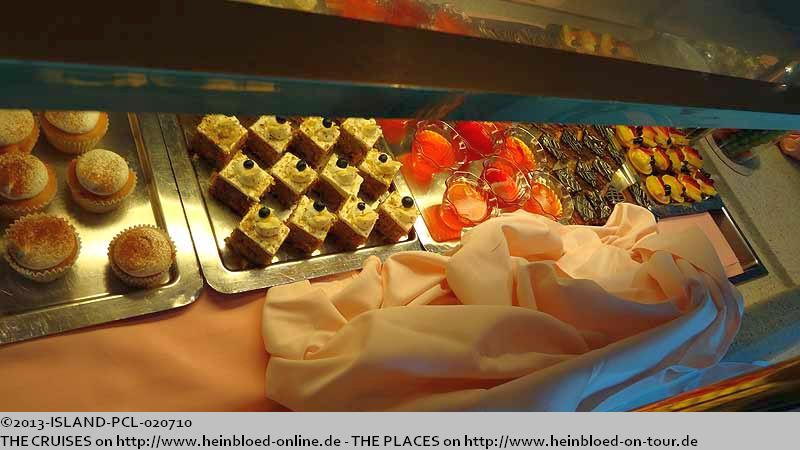 Die anderen Reisen in diesem Blog/
The other voyages in this blog: