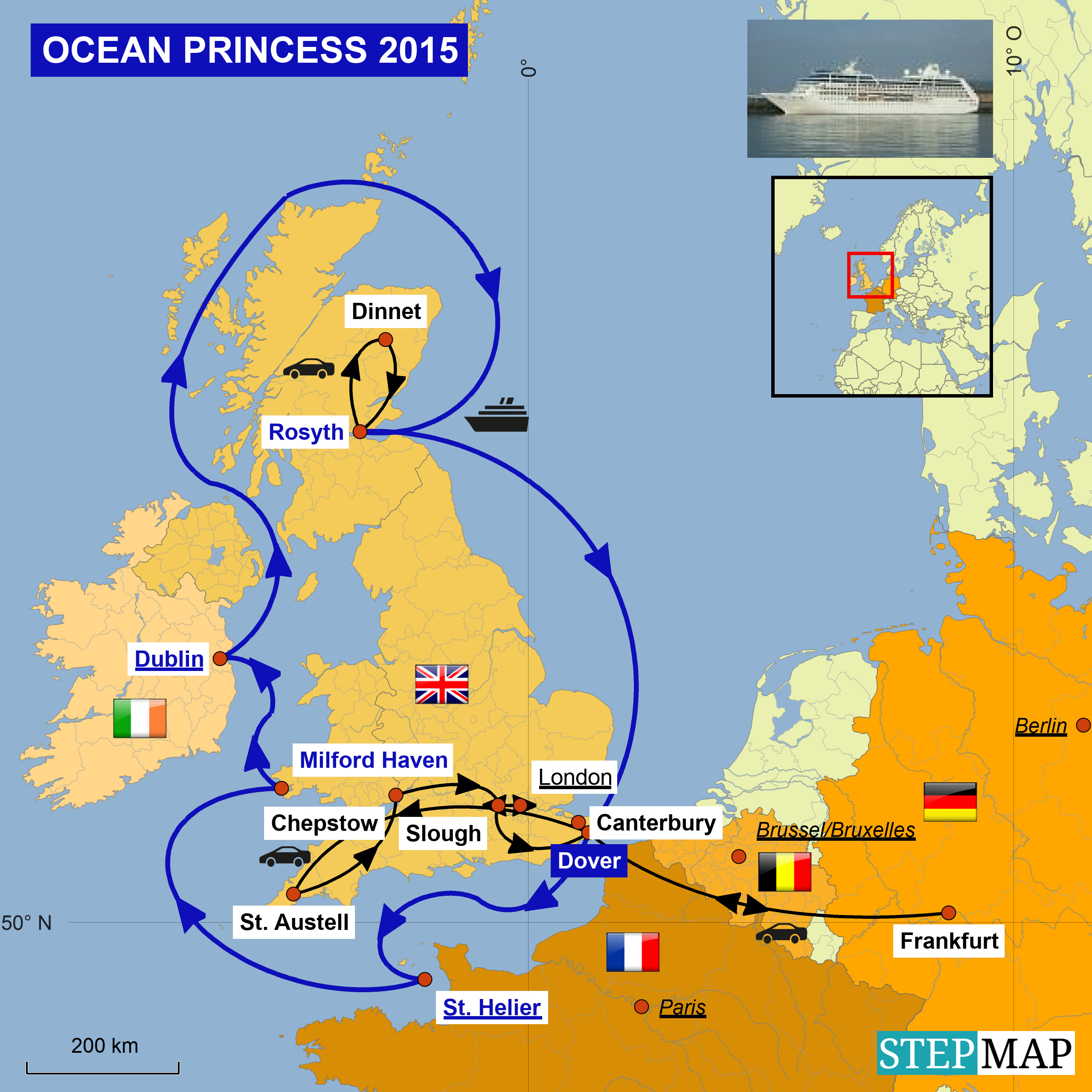 Frühstück in einem Holiday Inn Express ist nie besonders aufregend.

Breakfast with a Holiday Inn Express was never very exiting.

But there was not an alternative.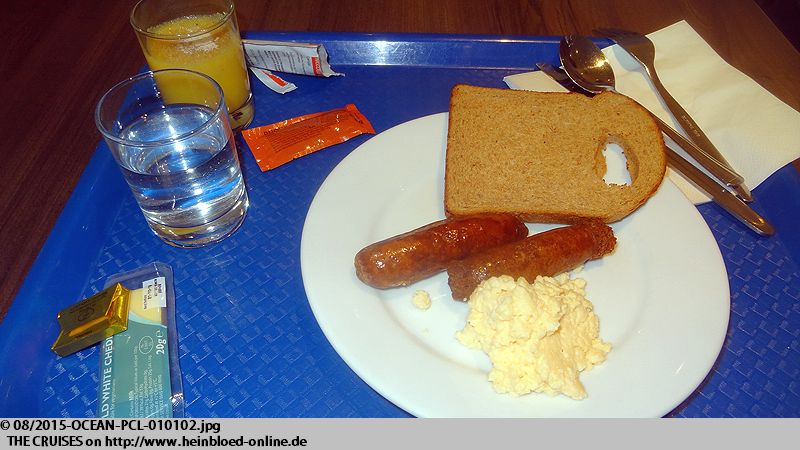 Aber es gibt ja eben keine Alternativen.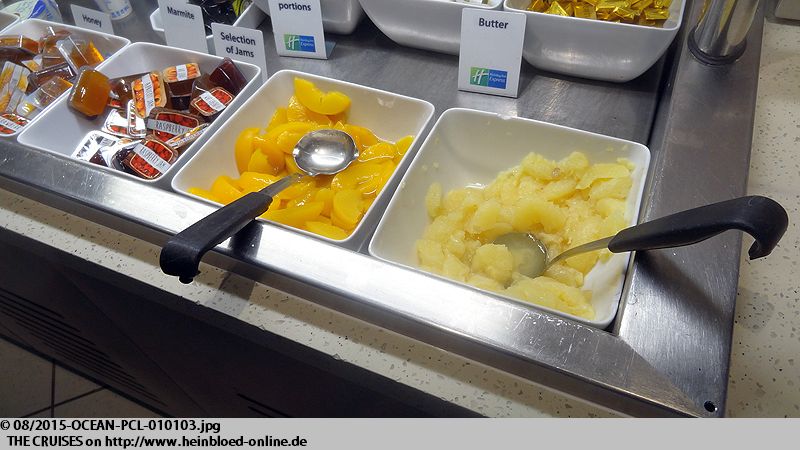 Finally OCEAN PRINCESS

Endlich mal die OCEAN PRINCESS.
Die BRAEMAR liegt ebenfalls in Dover.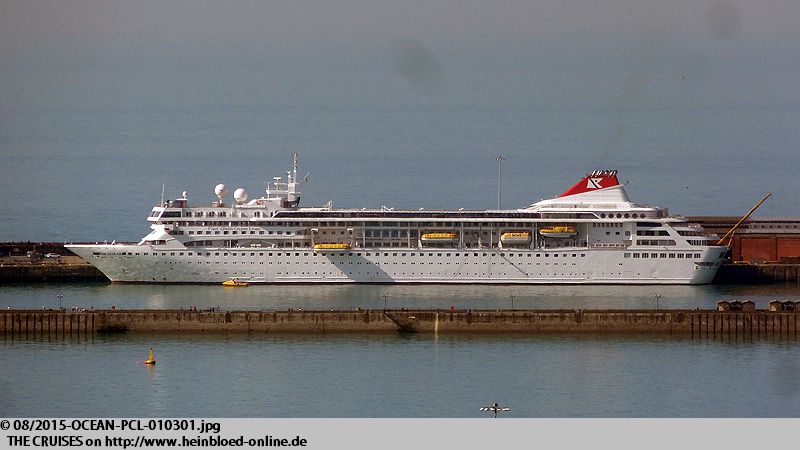 BRAEMAR was docking in Dover too.

We had Fred Olsen in good memories.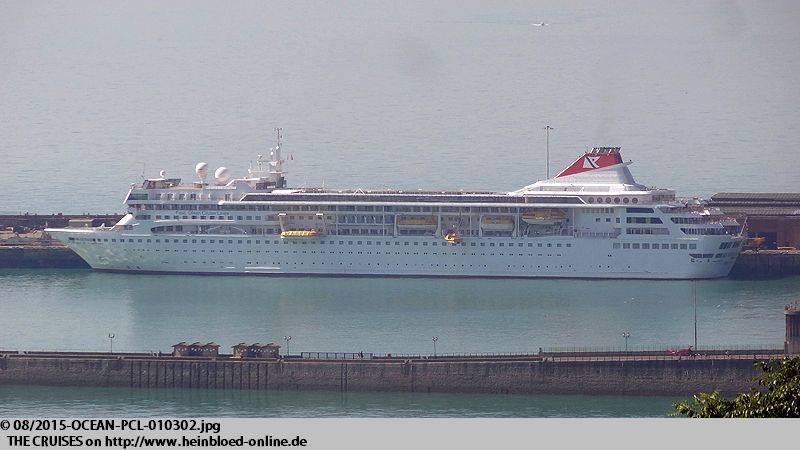 Fred Olsen haben wir in sehr guter Erinnerung.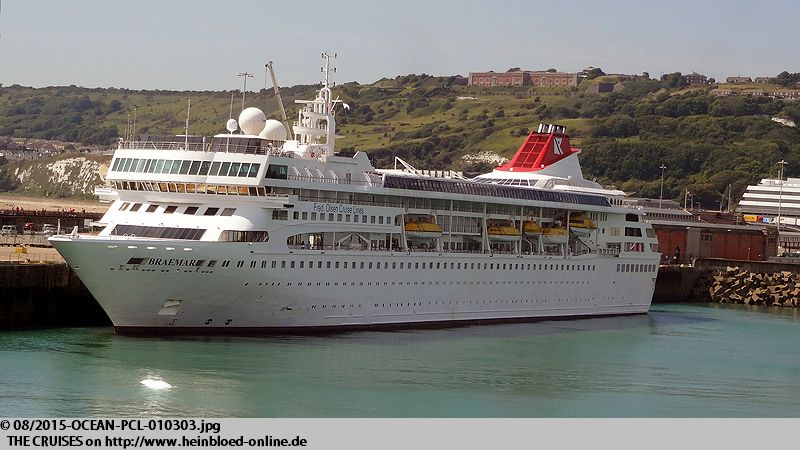 On BRAEMAR we did not sail so far.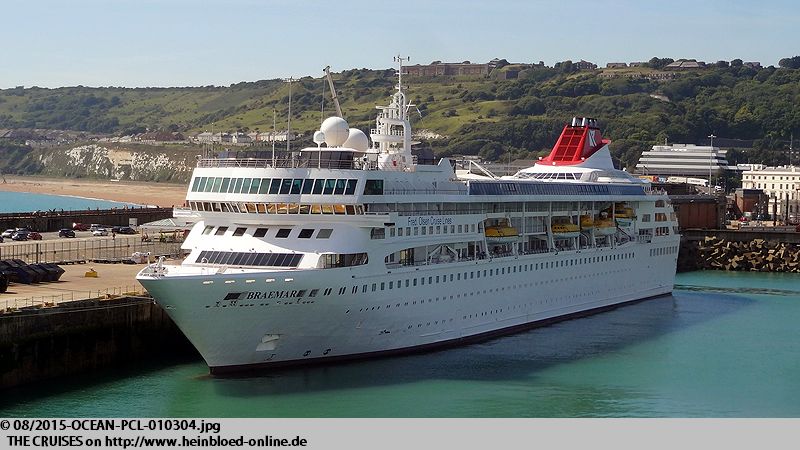 Auf der BRAEMAR waren wir bislang noch nicht.
Eigentlich wollten wir nur zum Schloss, aber da es noch nicht geöffnet hat, fahren wir zunächt zu den
Kreidefelsen von Dover
. Von hier hat man einen schönen Blick auf die Schiffe und rüber zum Schloß.

Actually we wanted only to see the castle but as it was not open yet we went first to the White Cliffs of Dover. From here you had a nice view to the ships and towards the castle.

And here few selfies were taken on the top.

Und hier oben entstehen ein paar Selfies.
Weiter geht es zum
Dover Castle
. Es ist Teil der Stiftung English Heritage. Da wir in etwa wissen, was wir unterwegs sehen wollen, macht es Sinn temporäres Übersee Mitglied zu werden. Man darf einfach die Schlangen für Mitglieder benutzen.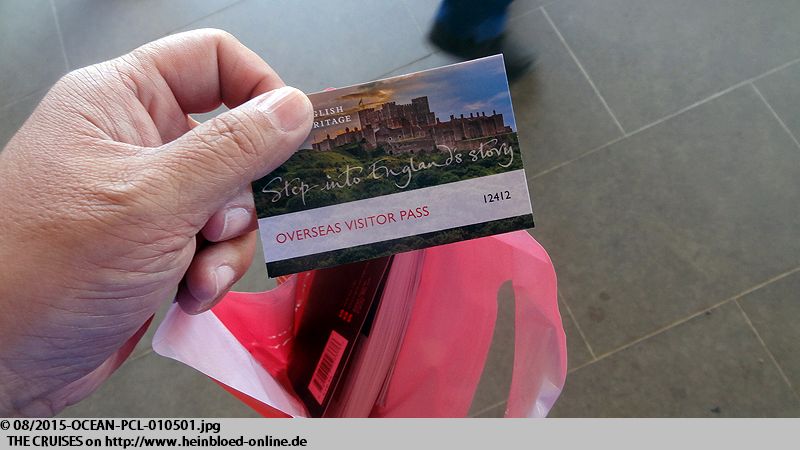 We headed to Dover Castle. It was part of the foundation English Heritage. As we knew what we planned to see it made sense to become temporary Overseas Member. You may use the lanes for members.

In our case two adults paied for 16 days 60.00 GBP (2015) for the Overseas Visitor Pass to visit all attractions. In the price included you had a guide of 10.95 GBP (2015).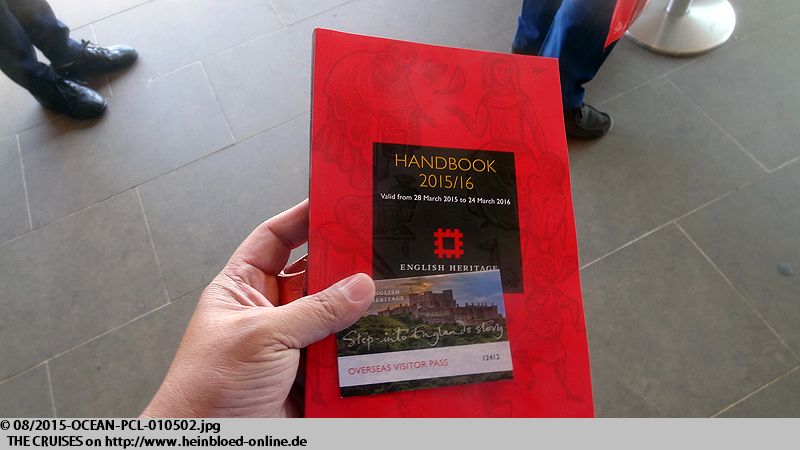 In unserem Fall haben zwei Erwachsene für 16 Tage 60,00 GBP (2015) für den
Overseas Visitor Pass
bezahlt, um alle Sehenswürdigkeiten zu besuchen. Eingeschlossen im Preis ist der Führer von English Heritage im Wert von 10,95 GBP (2015).
Es geht nun endlich mal rein. Bisher haben wir es nämlich noch nie geschafft. Allerdings ist es nur beschränkt für Mobilitätseingeschränkte geeignet, weil es z. T. rauf und runter geht und auch mal viele Stufen hoch geht, die z. T. auch sehr uneben und unterschiedlich hoch sind.

Finally we went into. So far we had never made it before. But it was restricted for mobility reduced since it went up and down and you need to climb many steps which were not always even, and the height of the single steps were different.

Selfies were a must. MY OCEAN PRINCESS and me...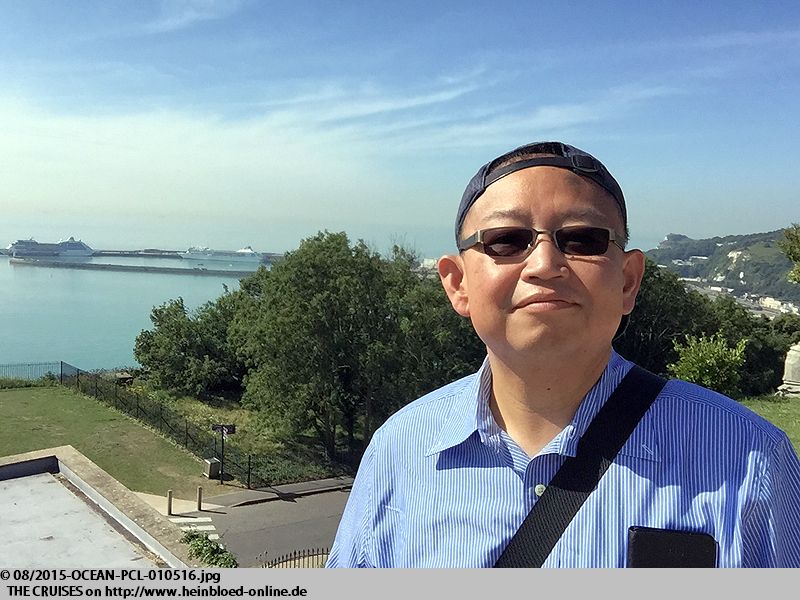 Selfies müssen sein.
MEINE
OCEAN PRINCESS und ich...
Dover Castle und ich.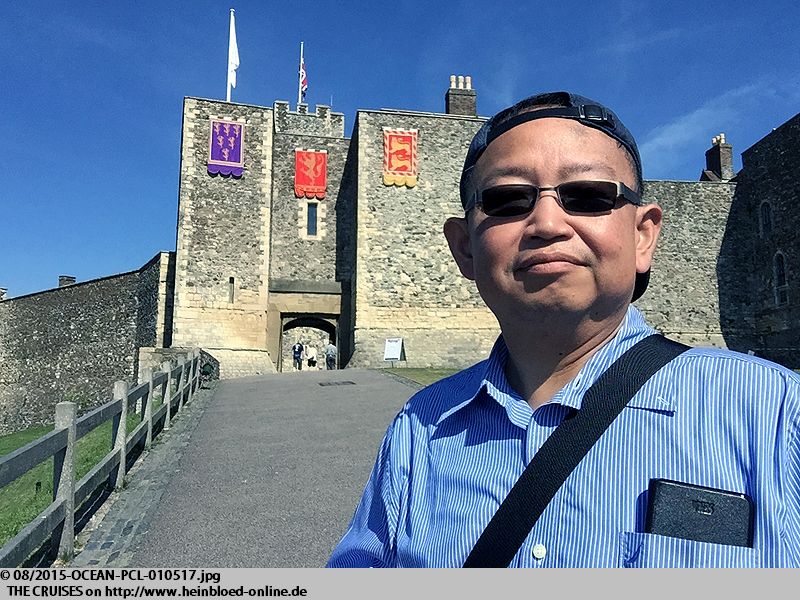 Dover Castle and me.

And so up to the castle.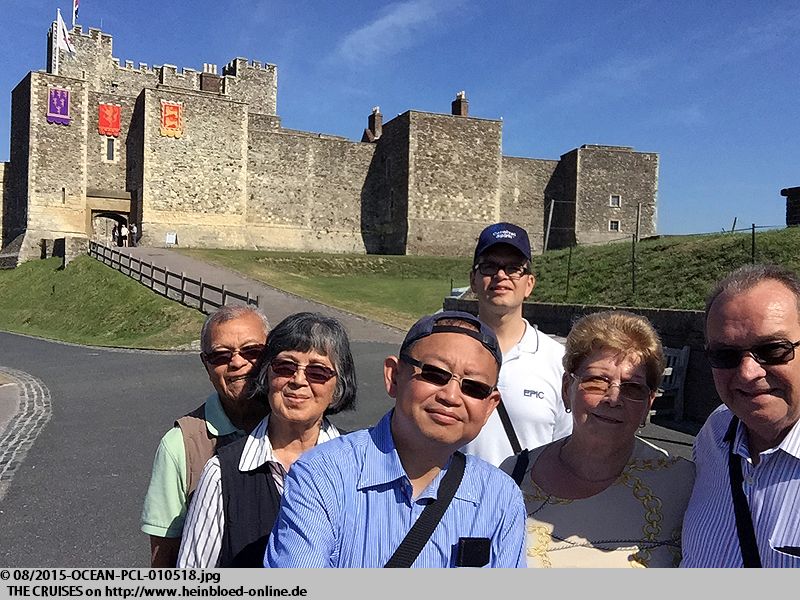 Und so geht es nach oben zum Schloss.
Wir klettern nach oben. Ich bin geschafft, als wir oben ankommen. Aber der Ausblick ist fantastisch. Vor allem bei diesem Wetter.

We climbed up. I had done when we arrived at the top. But the view was fantastic. Especially when we had this weather.

Kent was terrific from the top. Looked like the Odenwald Highlands, Germany - the area where we live. Just without sea.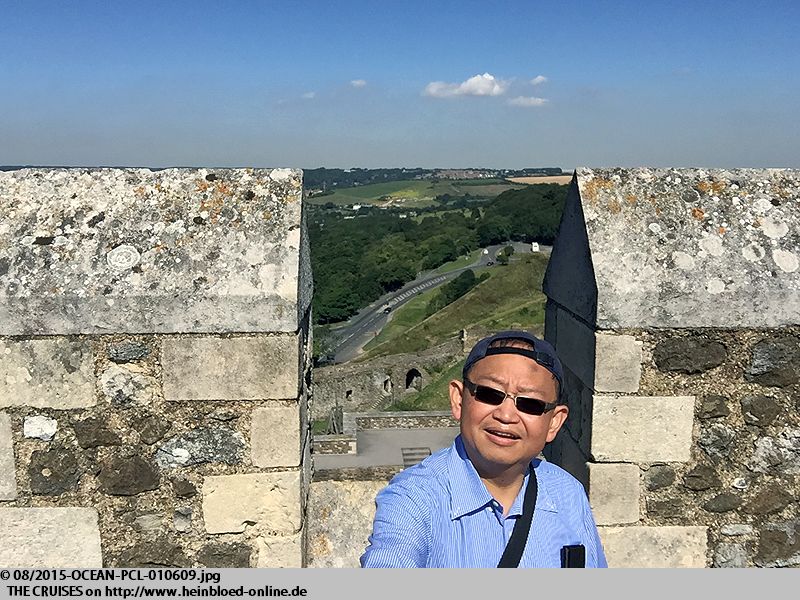 Kent ist wirklich schön von hier oben. Sieht aus wie im Odenwald. Bloß ohne Meer.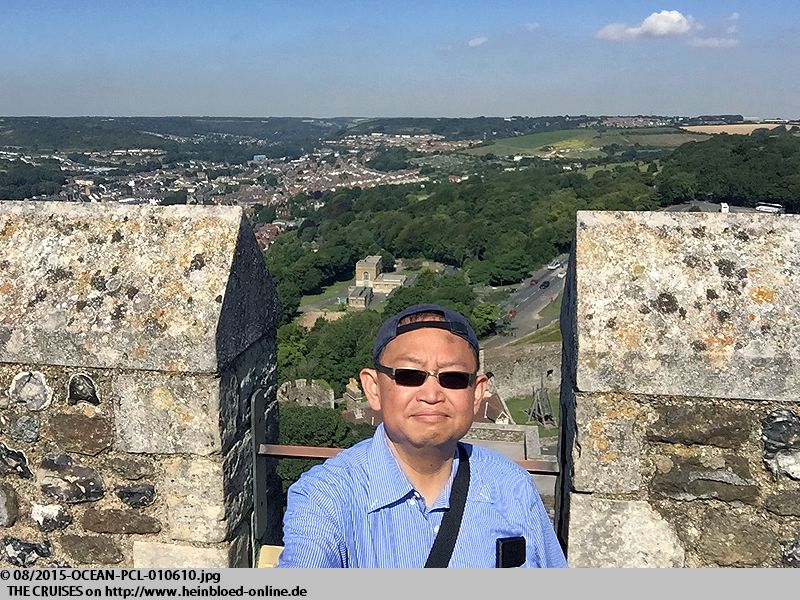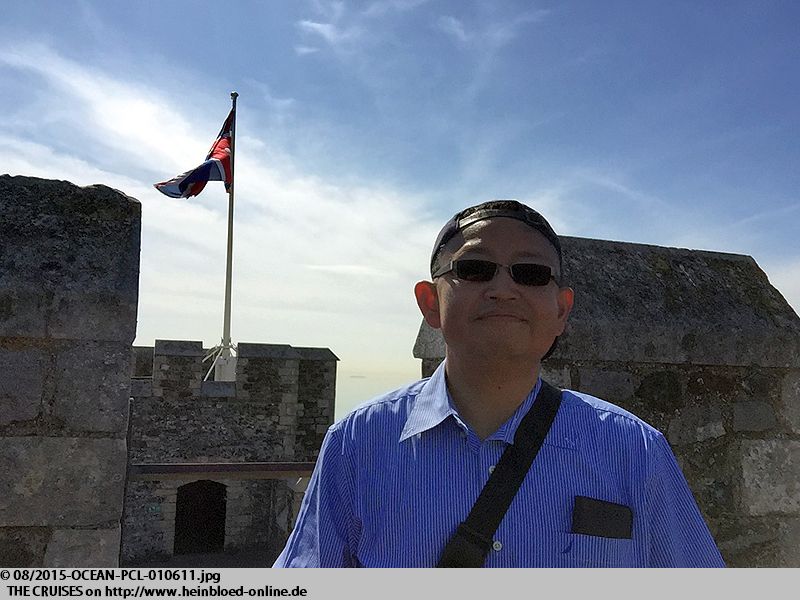 Auch Bruno ist fasziniert von der Landschaft.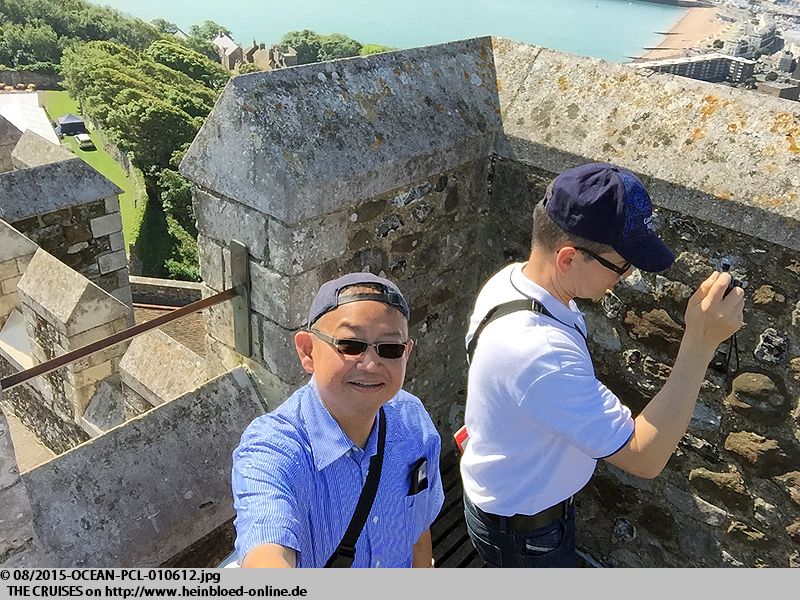 Also Bruno was fascinated of the landscape.

The others too.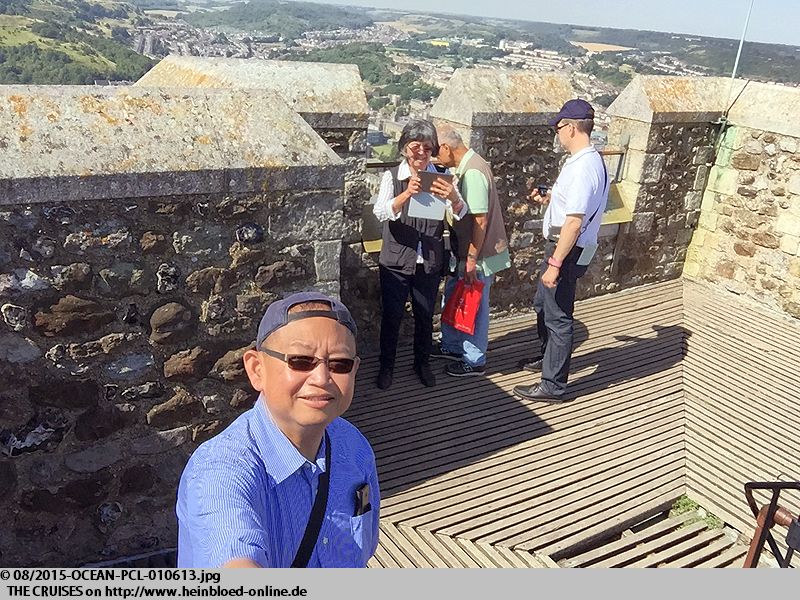 Und die anderen auch.
Wir haben uns mittlerweile abgewöhnt, zu früh an Bord zu sein, wenn Einschiffung ist. Deswegen essen wir noch eine Kleinigkeit hier auf der Burg bevor es auf das Schiff geht.

Meanwhile we were not used anymore to appear early for embarkation. So we had a small bite here on the castle before we headed to the ship.

We tried everything that English kitchen could offer: Ale, Lemonades, Pies, Sandwiches.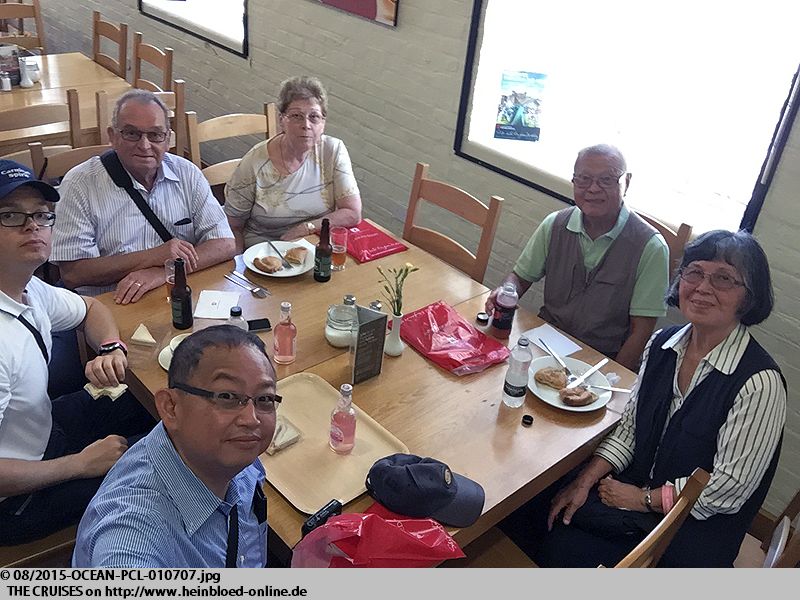 Wir probieren alles durch, was so die englische Küche Gutes zu bieten hat: Ale, Lemonades, Pies, Sandwiches.
Danach werden Frances und Eddie samt Gepäck am Cruise Terminal abgesetzt, damit sie schon mal einchecken können. Mit Bruno und seinen Eltern fahren wir zum Auto, um unser Gepäck für die Kreuzfahrt zu holen und Dreckwäsche der ersten Nacht einfach im Auto zu lassen. Danach setze ich Bruno, seine Eltern, das Gepäck am Cruise Terminal ab und bringe das Auto zurück. Sie sind so freundlich und fahren mich zum Cruise Terminal zurück. Offiziell wohnen Bruno und seine Mutter zusammen und Brunos Vater und ich. So konnten wir alle vier in den USA bei
Dorothy von Cruise Brothers
buchen. Ausländer dürfen nur in den USA buchen, wenn sie zuvor in den USA mal gebucht haben.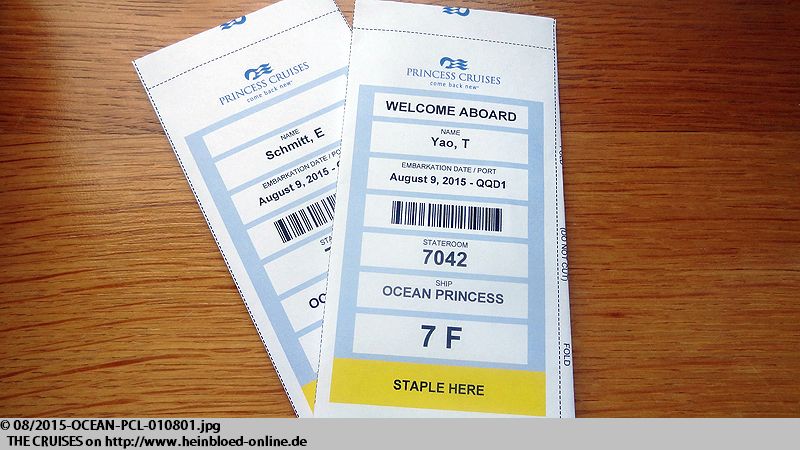 Thereafter Frances and Eddie and their bags were delivered to the cruise terminal to check-in. With Bruno and his parents, we went to our car to collect our bags for our cruise and to leave the laundry for the 1st night in the car. Then Bruno and his parents and our bags were delivered to the cruise terminal, and I returned the car. They were so friendly and drove me back to the cruise terminal. Officially Bruno and his mother stayed in one cabin and Bruno's father and me in a different. So all of us four could book in the USA with Dorothy von Cruise Brothers. Foreigners were only allowed to book in the USA when you booked before in the USA.

Bruno and his parents made themselves comfortable with a drink when I already arrived.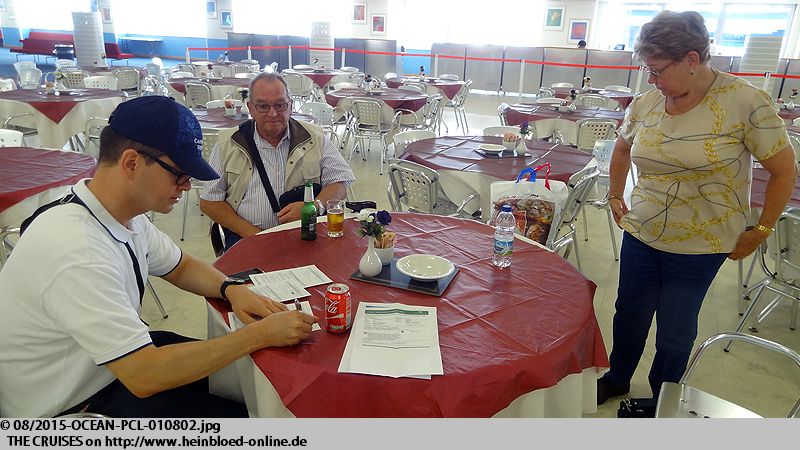 Bruno und seine Eltern hatten es sich gerade bei einem Getränk gemütlich gemacht, als ich schon wieder zurück bin.
Wit haben aber keinen Stress. Das Schiff ist nämlich nur für 700 Gäste gemacht. Die meisten Briten haben schon ihre Lieblingsbeschäftigung hinter sich: Anstehen... und daher waren sie wohl alle frühzeitig da und so haben wir mit unserer Strategie Recht behalten: das Cruise Terminal ist komplett leer. Und dürfen uns eine beliebige Schlange aussuchen. Natürlich gehen wir zur Platinum-Schlange... Wenn schon denn schon... Nach wenigen Minuten waren wir an Bord.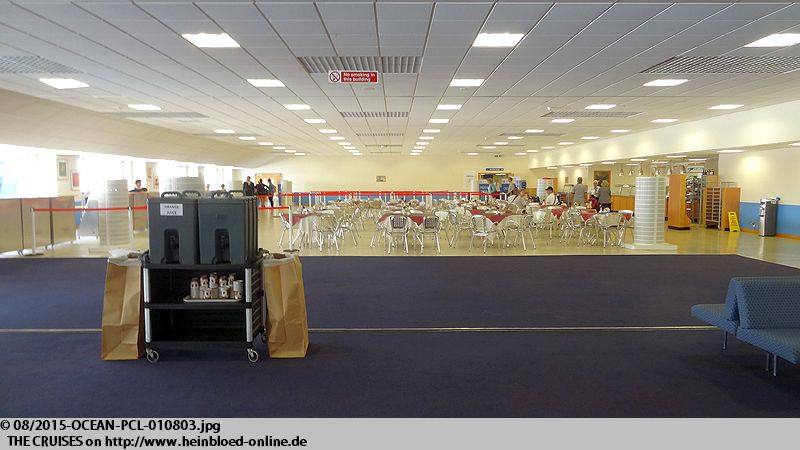 We had no stress. The ship was made for 700 guests only. Most of the Britons followed their favorite occupation: Queueing up... and so they were all early here and to were right with our strategy: the cruise terminal was completely empty. So so we could select any queuing line. Certainly, we went to the platinum queue... since we had the privilege... after a few minutes, we were on board.

First, we went to check for Frances if she was already doing laundry.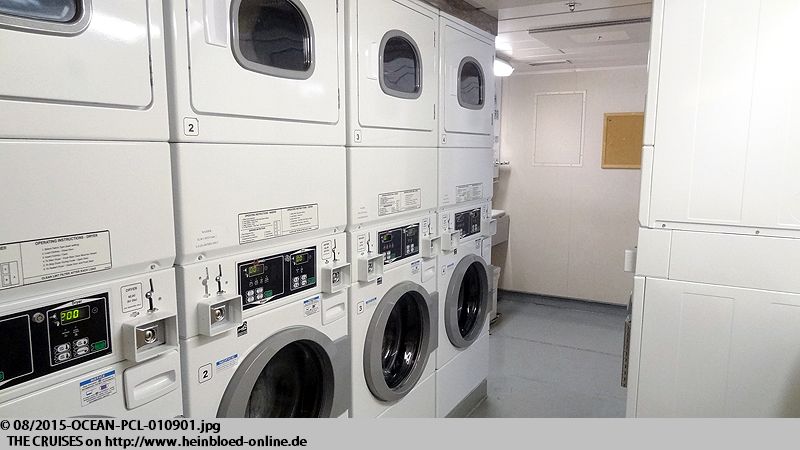 Zunächst gehen wir Frances besuchen und gucken nach, ob sie schon beim Wäschewaschen ist.
Sie wohnt nämlich vis-á-vis vom Waschsalon und so können bequem unsere Wäsche bei ihr abgeben.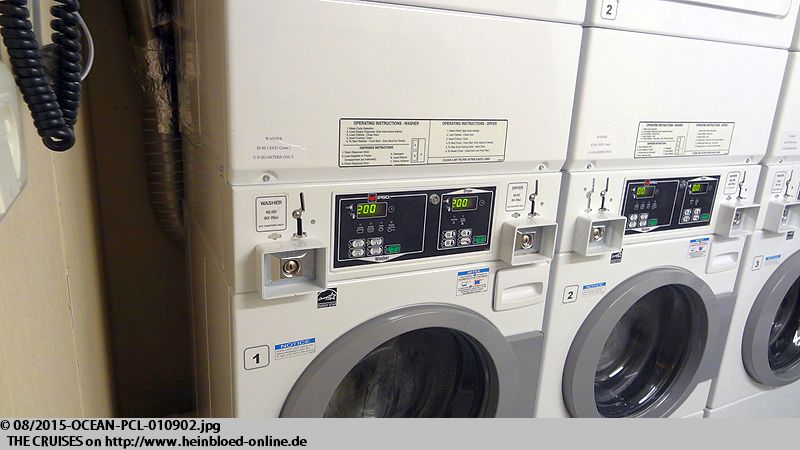 She lived adjustent to the Laundromat and so we could deliver our laundry to her....

So who loves to do laundry should book cabin 7078.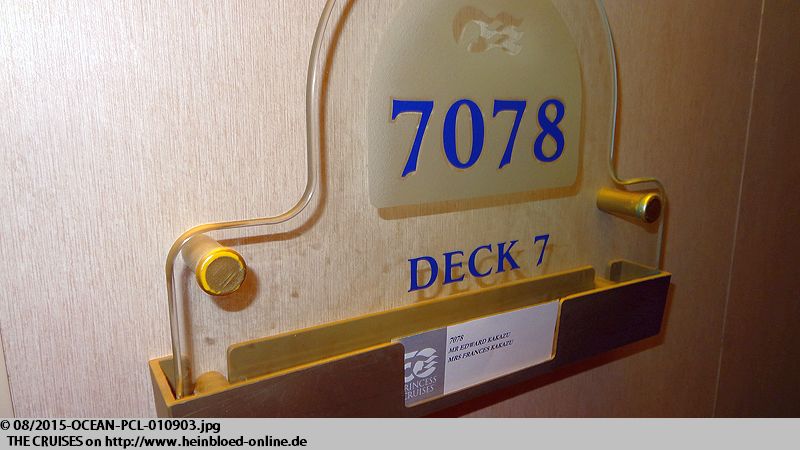 Also wer Wäsche waschen liebt, sollte Kabine 7078 buchen.
In unserer Kabine liegt ein Kabinengruß von Frances. Sie wollte sich bei uns für unsere Mühe bedanken, dass wir die gesamte Organisation der Reise in die Hand genommen haben. Eigentlich ist das ja mein Beruf bzw. Berufung... nur im Alltag für unsere Säuren... in der Freizeit für mich, Bruno, meine Familien und meine Freunde. Und auch ohne Kabinengruß. Mir macht es einfach Spaß.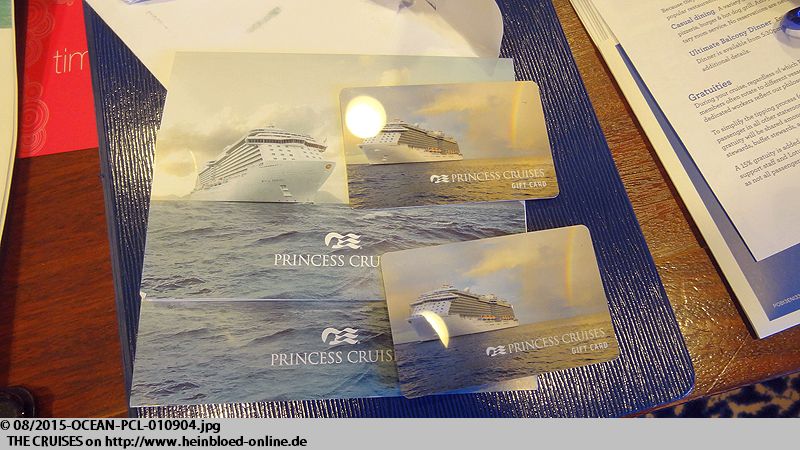 In our cabin we found a cabin greeting from Frances. She wanted to thank us for our effort that we organized everything for the voyage. Actually, it was my profession or mission... in the daily life for our acids... in the leisure time for me, for Bruno, our families, and my friends. Even without a cabin greeting. I just liked it.

We had the balcony cabin 7042 and 7044.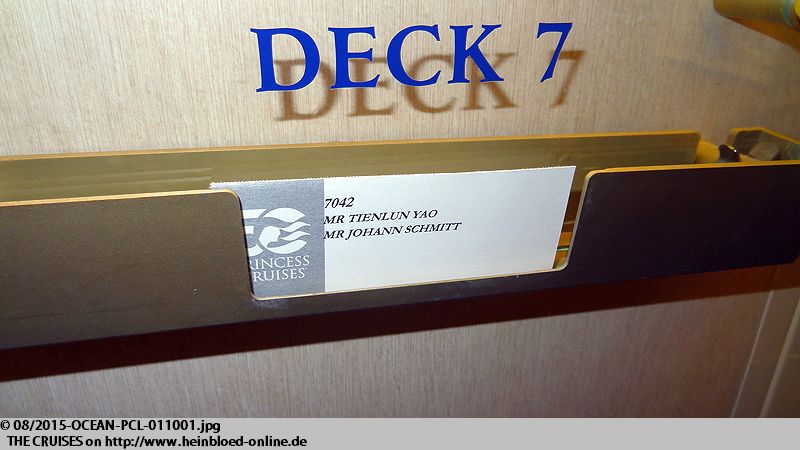 Wir haben die Balkon-Kabinen 7042 und 7044.
Wenn man jedoch ein gutes Reisebüro mit guten Umsätzen hat, dann bekommt man von
Dorothy
schon mal das Angebot, dass für einen kleinen Tick mehr, von einer Kabine mit eingeschränkter Sicht in eine Balkonkabine umziehen kann. Von diesem Angebot machen wir natürlich Gebrauch, da zum Zeitpunkt der Buchung der Abstand zur Balkonkabine echt groß war und nun noch etwa 10 EUR am Tag.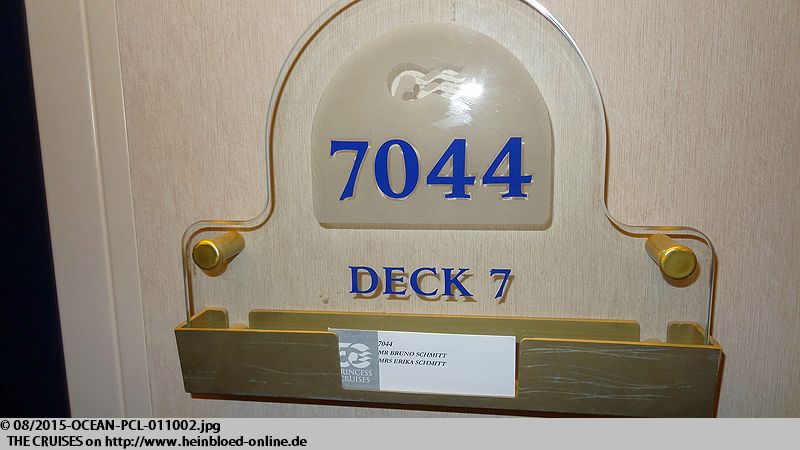 When you had a great travel agency with a high revenue that you get from Dorothy a great offer that you can move from a room with obstructed view to a balcony for just a little more. Indeed, we accepted the offer as at the time of booking the distance to the balcony was really big and now it was about 12 USD per day.

The cabins we already knew from our first voyage on OCEAN PRINCESS 2010.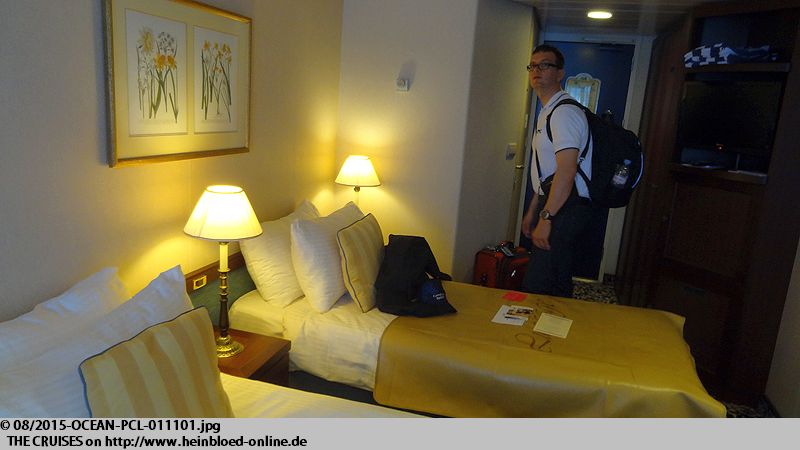 Die Kabinen kennen wir schon von unserer ersten Reise mit der
OCEAN PRINCESS 2010
.
Alles unverändert.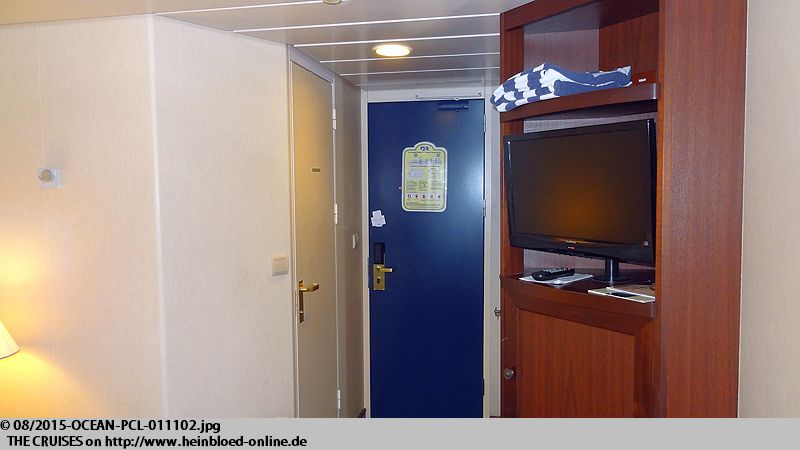 Everything unchanged.

The cabin cards of Bruno and his father we changed meanwhile so that Bruno and I could share the room and his parents the other.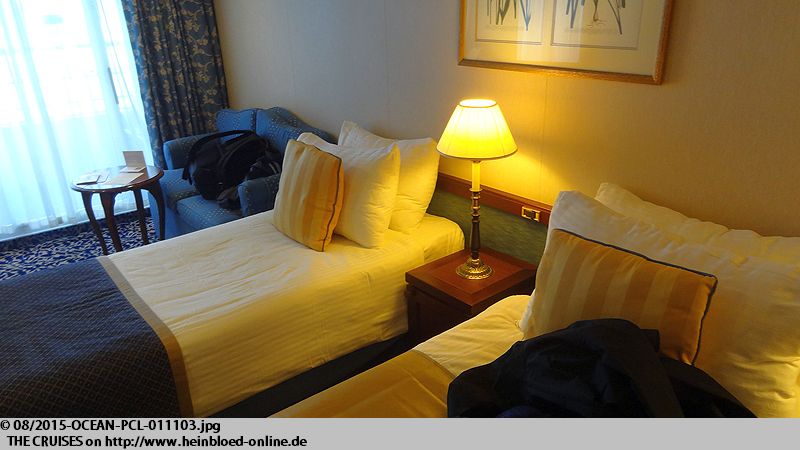 Die Kabinenkarten von Bruno und seinem Vater haben wir zwischenzeitlich problemlos austauschen lassen, so dass Bruno und ich uns eine Kabine teilen und seine Eltern die andere.
Die Kabinen sind wirklich schön.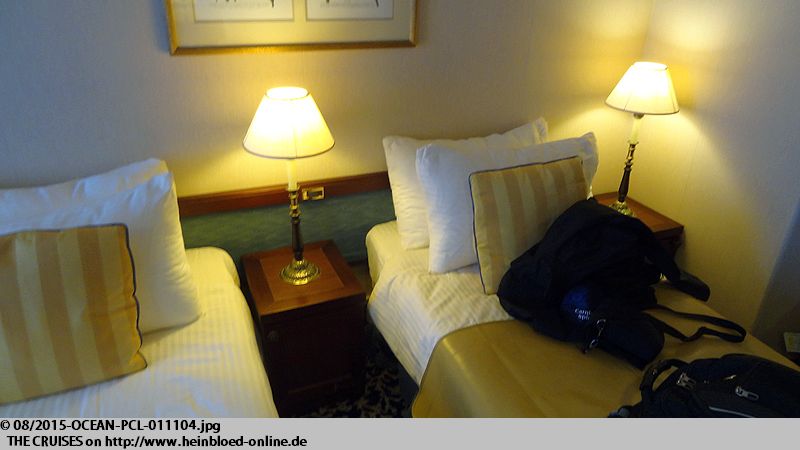 The cabins were really nice.

I had luck and no problems with the mattress this time.

Zum Glück habe ich dieses Mal aber keine Probleme mit der Matratze.
Und im Bad: alles da, was ich brauche.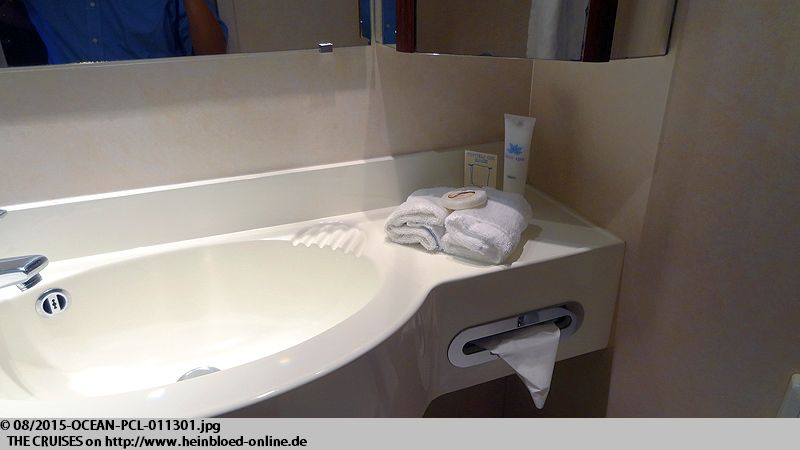 And in the bathroom: everything I need.

Very mean: I wanted to have a discussion like with Celebrity with my cabin steward and the Hotel Director whether I am entitled to have shower gel or not - but they merely suspended the debate: they had shower gel for everyone.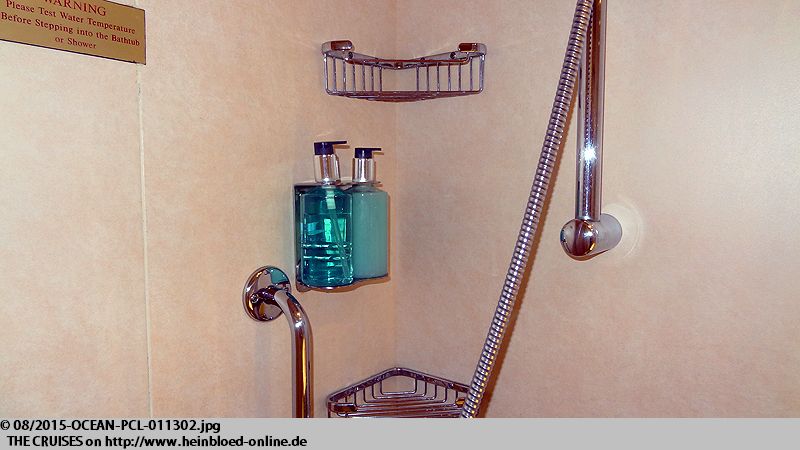 Ganz gemein: Ich wollte doch wie bei Celebrity mit dem Kabinensteward und dem Hoteldirektor darüber diskutieren, ob mir Duschgel zusteht oder nicht, aber diese Diskussion unterbinden sie einfach: Es gibt Duschgel für alle.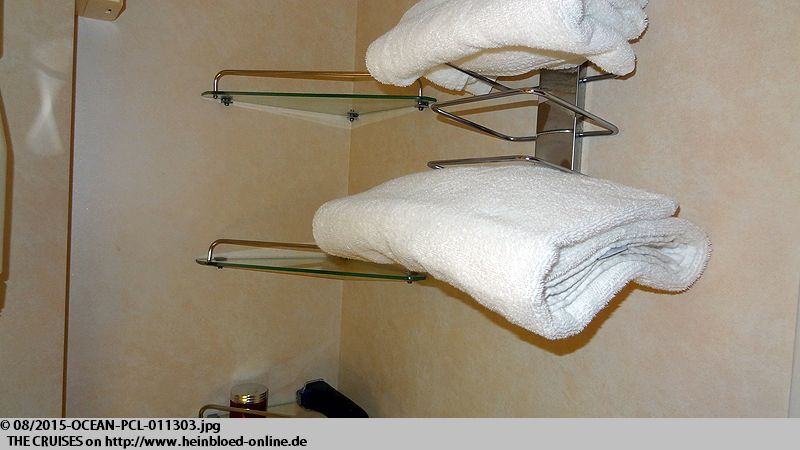 A lot of space behind the mirror which was set up as closet.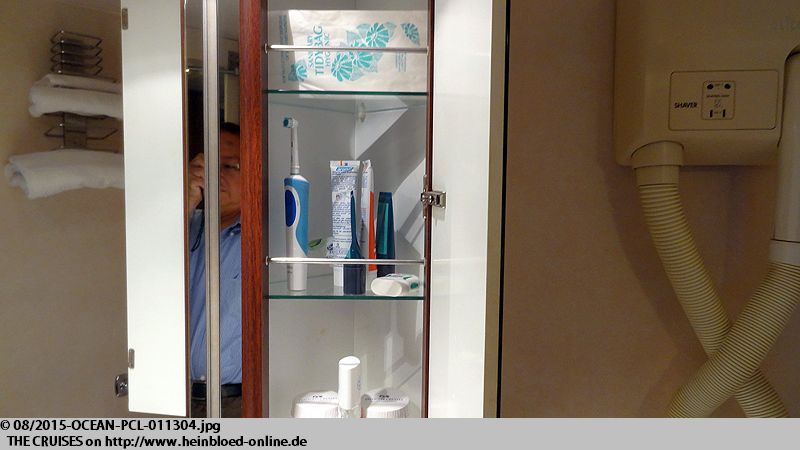 Viel Platz auch hinter den Spiegeln, die als Schranke angelegt sind.
Nur der Haartrockner erinnert zu sehr an Schwimmbad. Und selbst da gibt es mittlerweile schon bessere.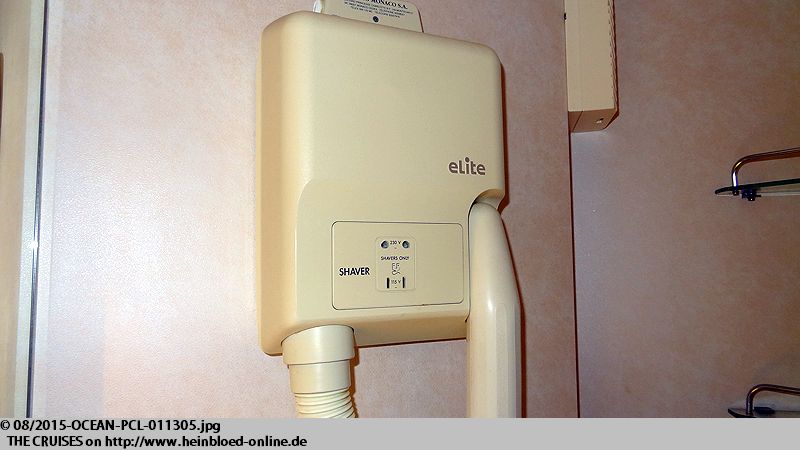 Only the hair dryer reminded too much for swimming pool. Meanwhile, you could get better ones.

The balcony was quite small. For six balcony dinner might make no sense, so we did not book this time.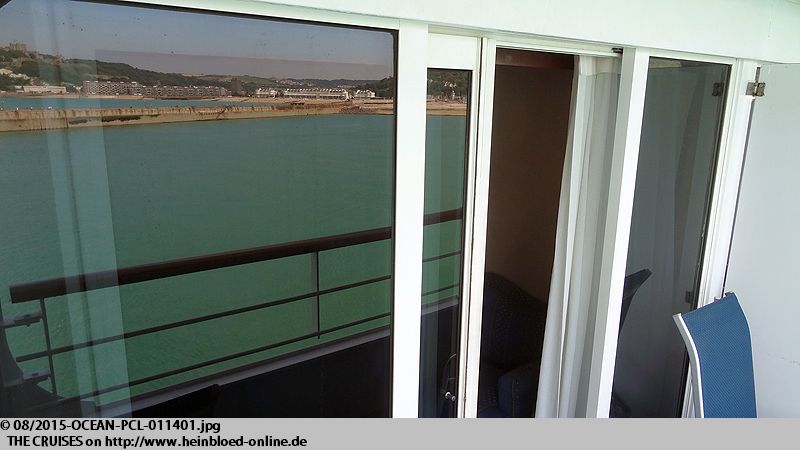 Unser Balkon ist klein. Zu sechst macht vielleicht ein Balkon-Dinner keinen Spaß. Also wird es dieses Mal nicht gebucht.
Brunos Mutter genießt das schöne Wetter.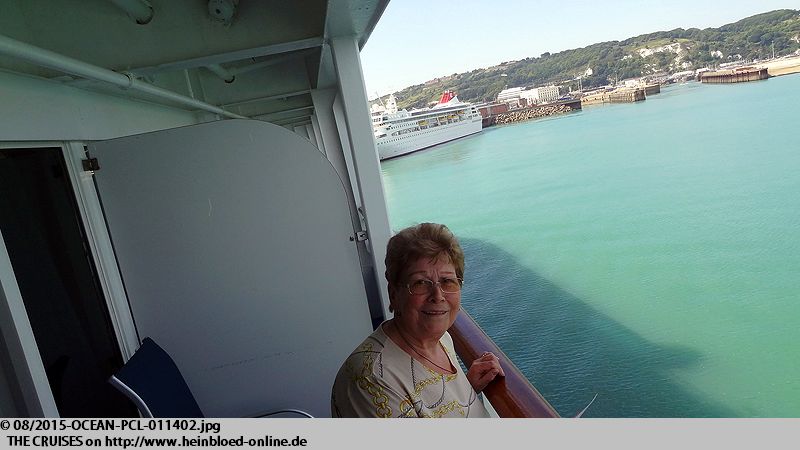 Bruno's Mother enjoyed the beautiful weather.

Bruno's Father as well.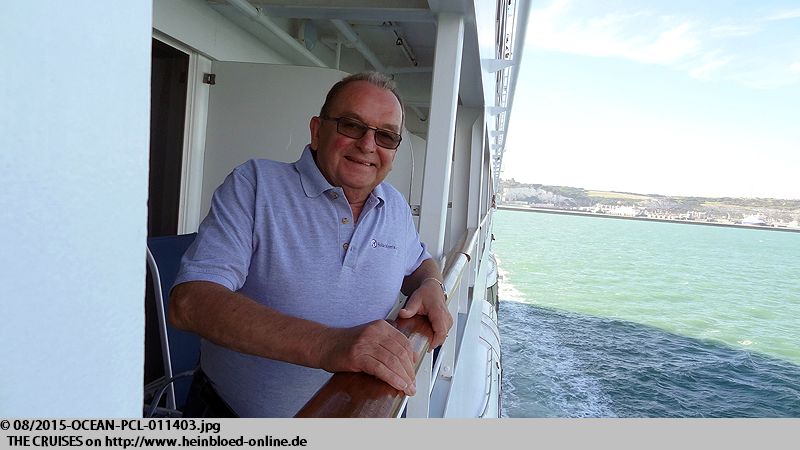 Brunos Vater auch.
Denn wenn man die richtige Seite erwischt, ist die Ausfahrt doch sehr schön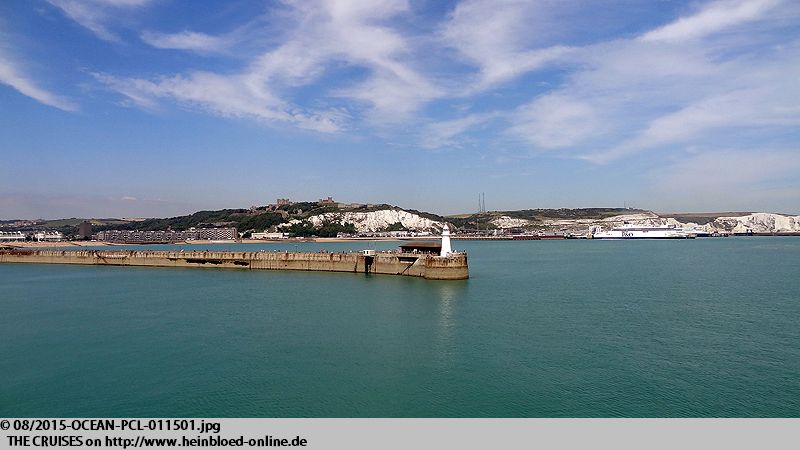 If you caught the right side the set sail was very nice.

Ein wirklich schöner Blick auf die Kreidefelsen bei schönem Wetter.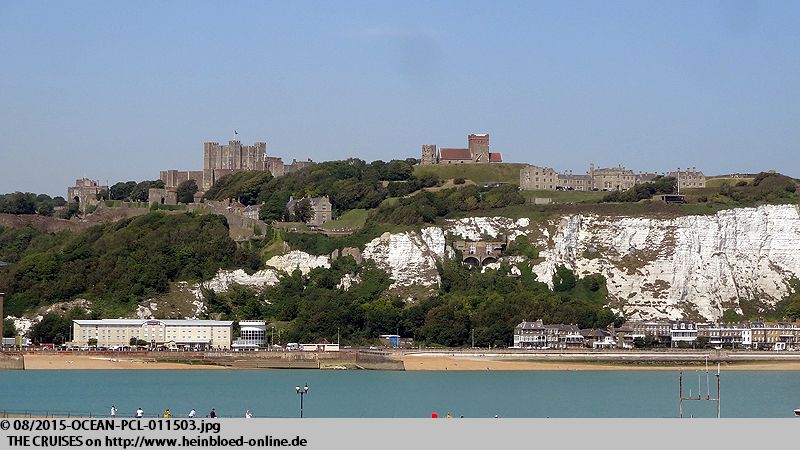 A really nice view on the White Cliffs with nice weather.

Selfies were a must. Like you must have salt to live.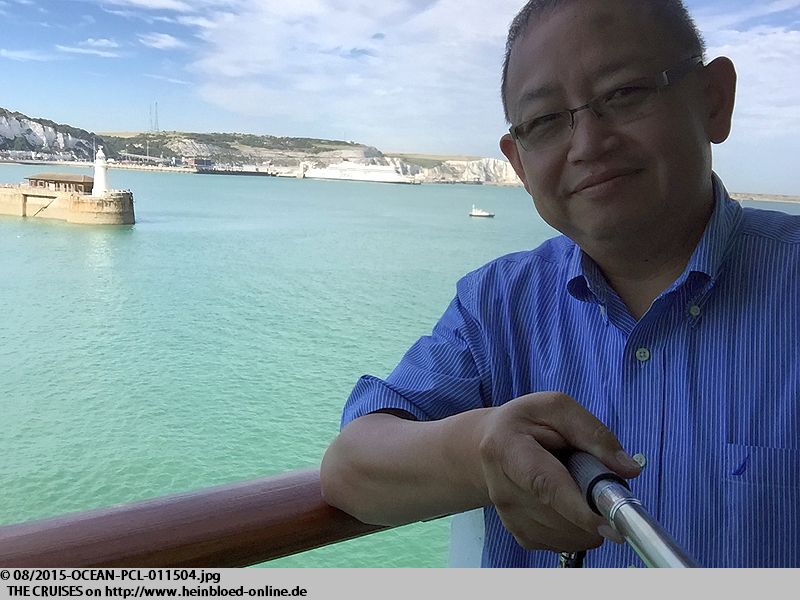 Selfies müssen sein. Gehören zu mir, wie das Salz zum Leben.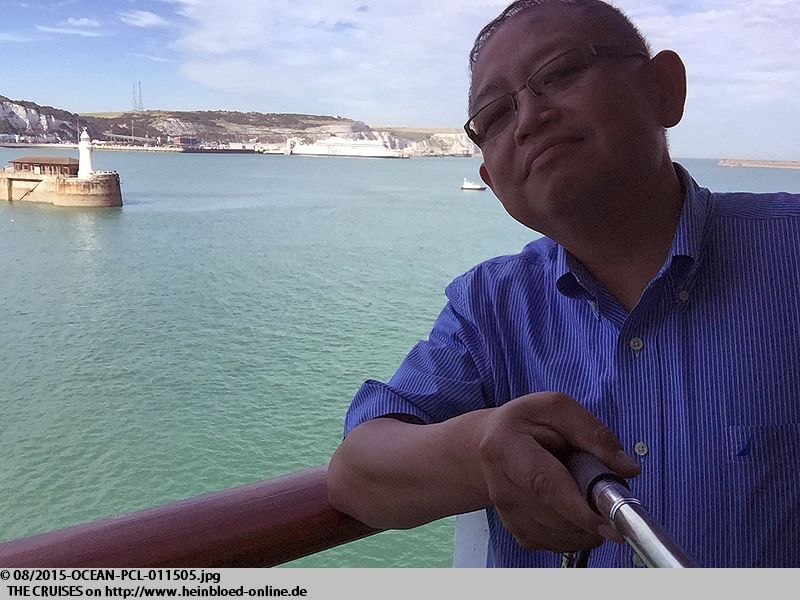 Even later when we departed: we were really happy that we had the balcony.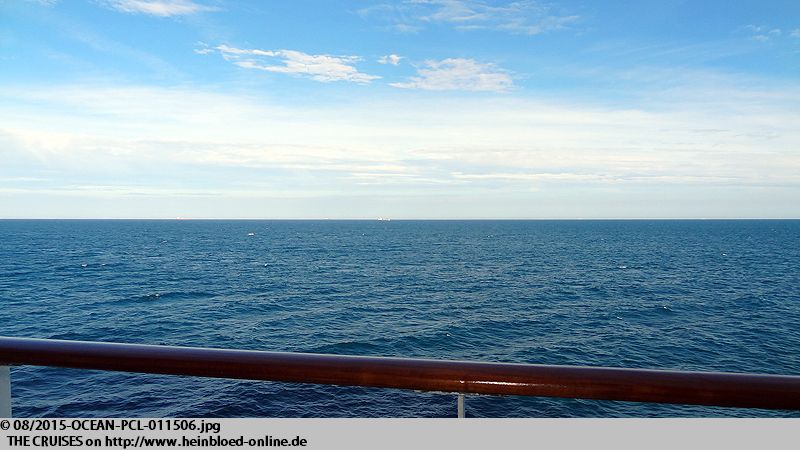 Auch später, als wir losfahren: wir sind sehr froh, dass wir diesen Balkon haben.
Wir gehen doch hoch, um eine Kleinigkeit zu essen.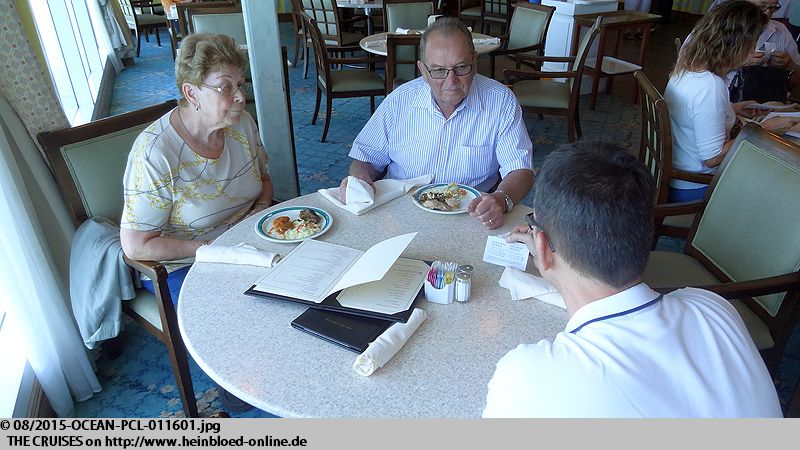 We went up to have a small bite.

The selection was good. Everything was yummy.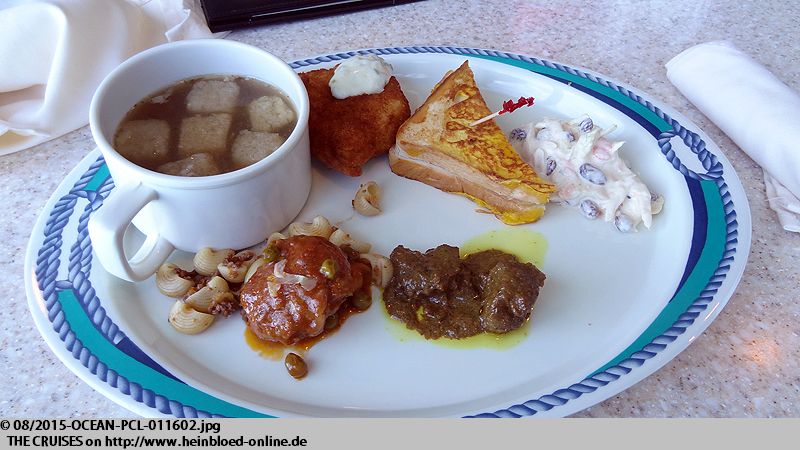 Die Auswahl ist gut. Alles sehr lecker.
Auch die frischen Früchte.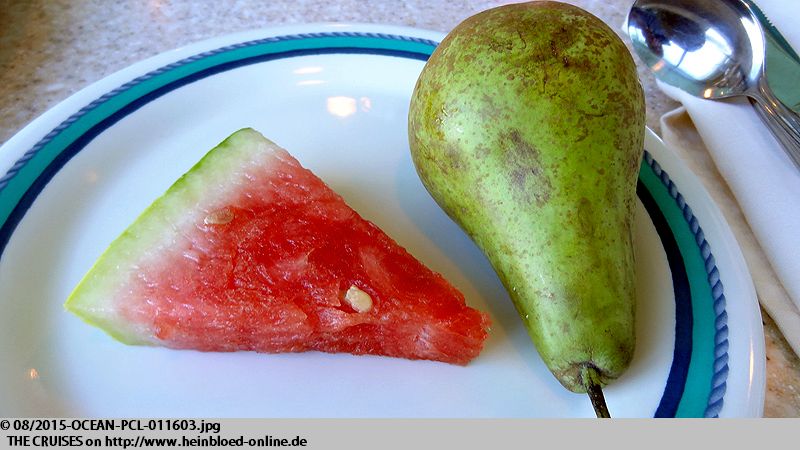 The fresh fruits too.

Princess was the only company we did not buy a coffee card.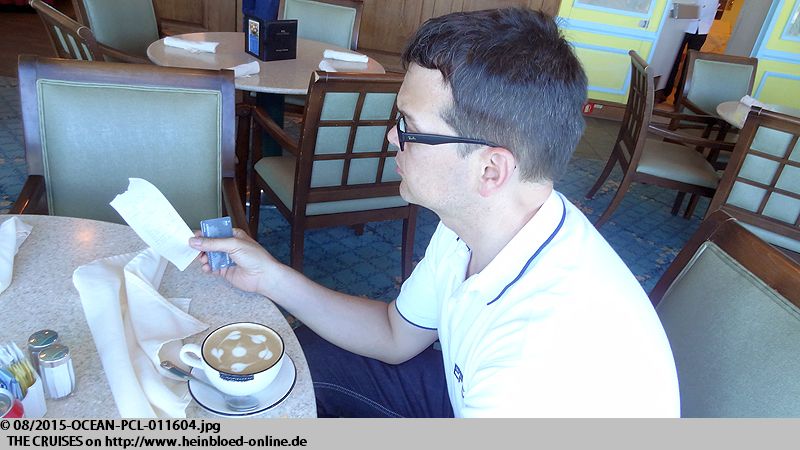 Princess ist so ziemlich die einzige Gesellschaft, bei der wir keine Coffee Card kaufen.
Zum Probieren bestellt Bruno mal einen Cappucino.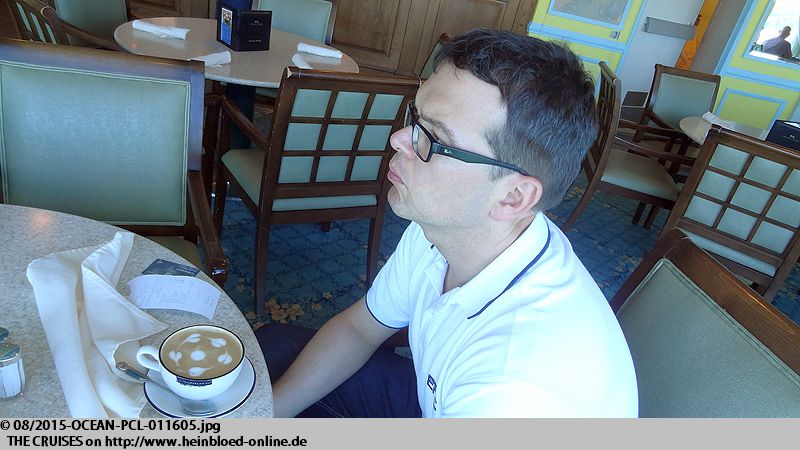 To try Bruno ordered a cappucino.

It stayed with one on this voyage. We asked with Italian Supervisors how they liked the coffee specialties... Either they were tea lovers, or they had their espresso-machine of their own with them.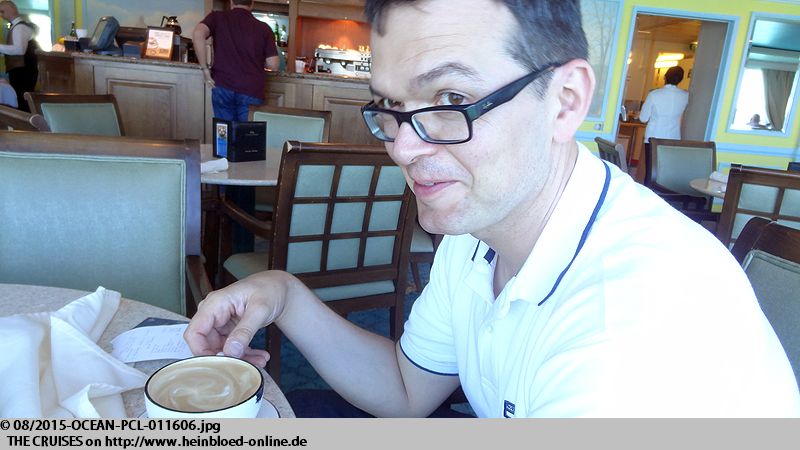 Es bleibt bei der Reise bei einem. Wir fragen bei den italienischen Führungskräften nach, wie sie so die Kaffeespezialitäten finden... Entweder sie sind alle Teetrinker oder haben ihre eigene Espresso-Maschine mit.
Ich finde ihn gut. Zum Dippen der Cookies ist er gut geeignet.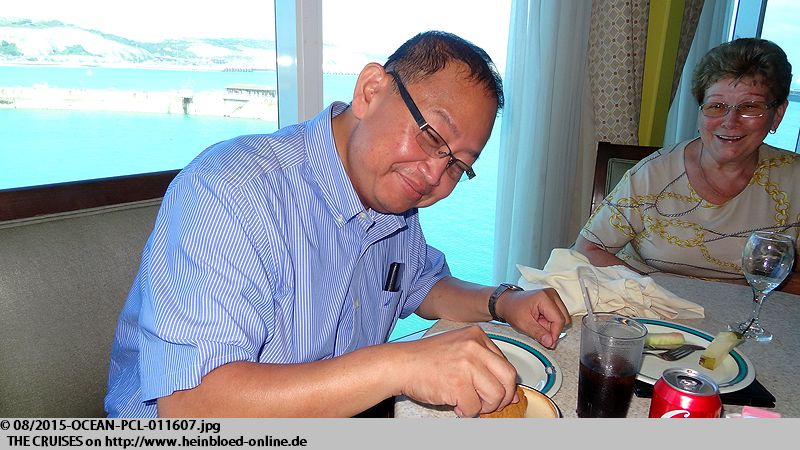 I liked it. To dip cookies it was best to use.

Unchanged terrible: the coffee from the tap made of syrup extract.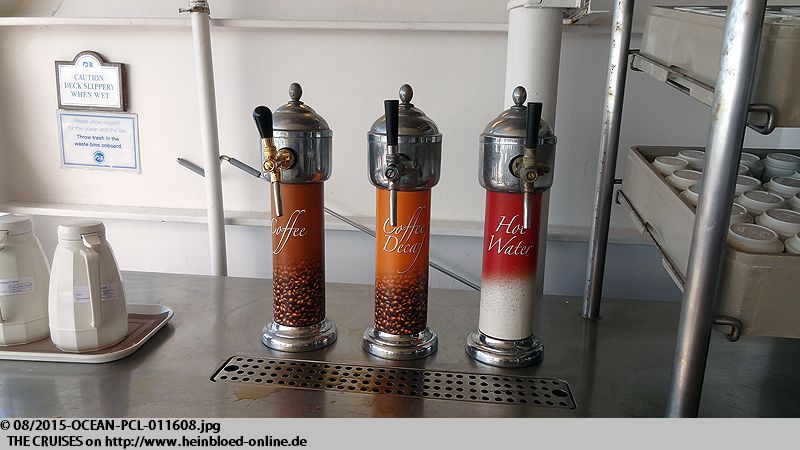 Unverändert grauenhaft: der Kaffee aus dem Zapfhahn aus Sirupextrakt.
Das schöne Wetter nutzen wir aus, um ans Oberdeck zu gehen.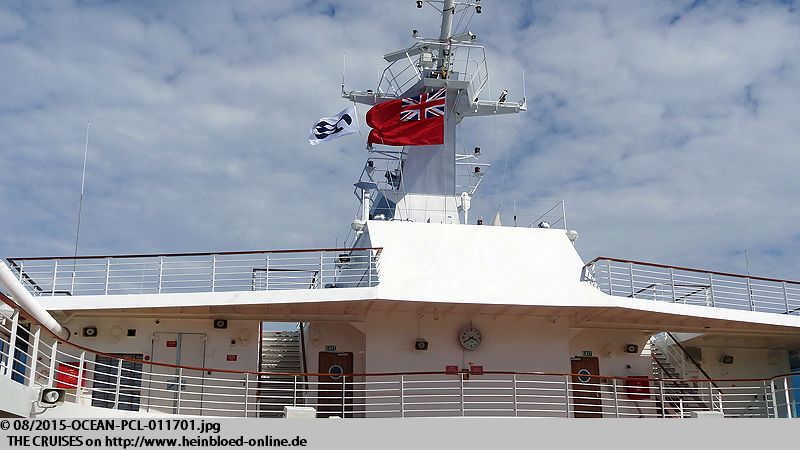 The nice weather we used to get to the upper deck.

Schmitt Family on a grand voyage on a small ship. You really did not feel the other 696 passengers. It was gorgeous.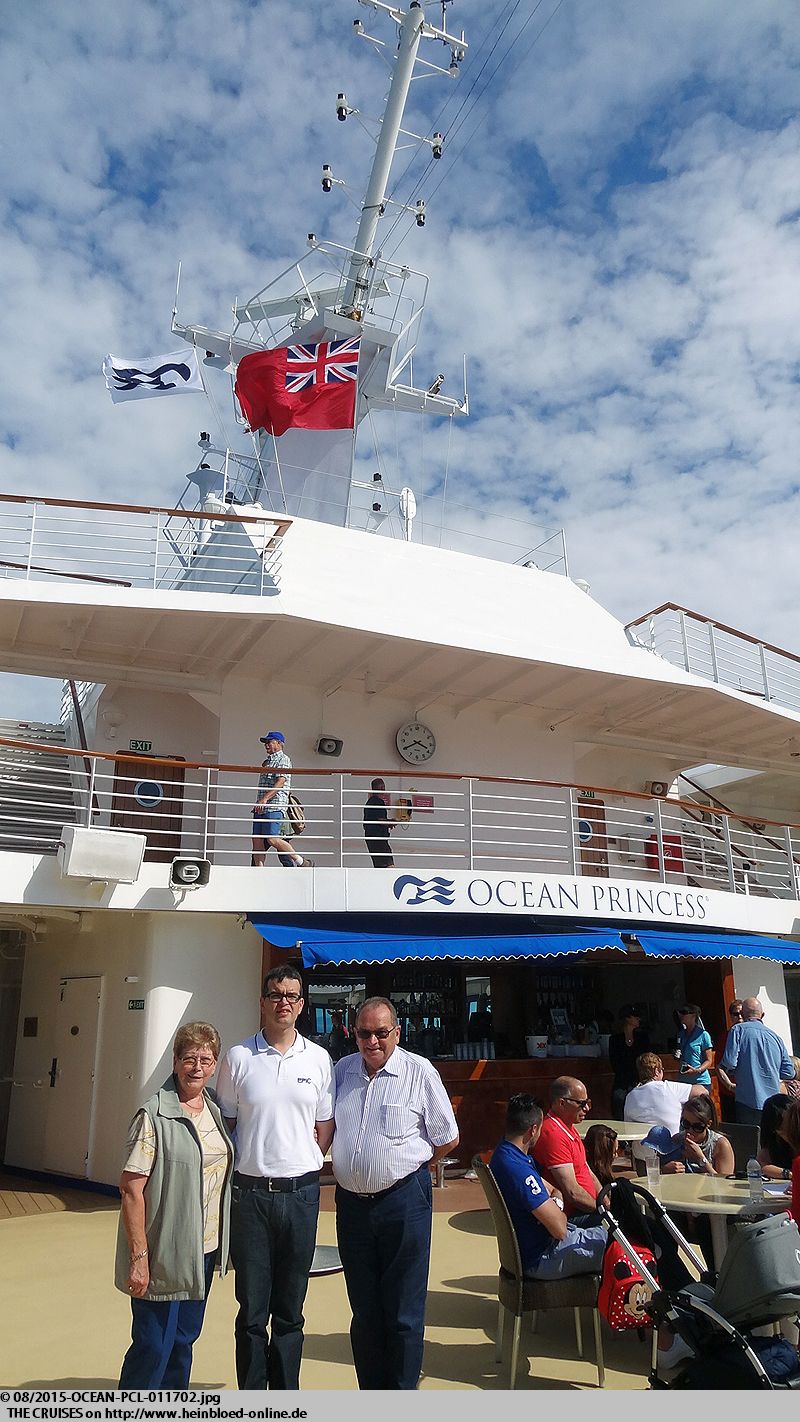 Familie Schmitt auf großer Fahrt auf einem kleinen Schiff. Man merkt die anderen 696 Passagiere kaum. Ist wirklich schön.
Bevor ich in die Elite Lounge kann, müssen wir noch zur Seenotrettungsübung. Die läuft aber hochprofessionell ab. Alle werden gescannt und es geht sehr schnell zum Glück nur in einer Sprache. Es geht also ins Sterling Steakhouse, der nachmittags für einige Stunden für Elite Gäste reserviert ist.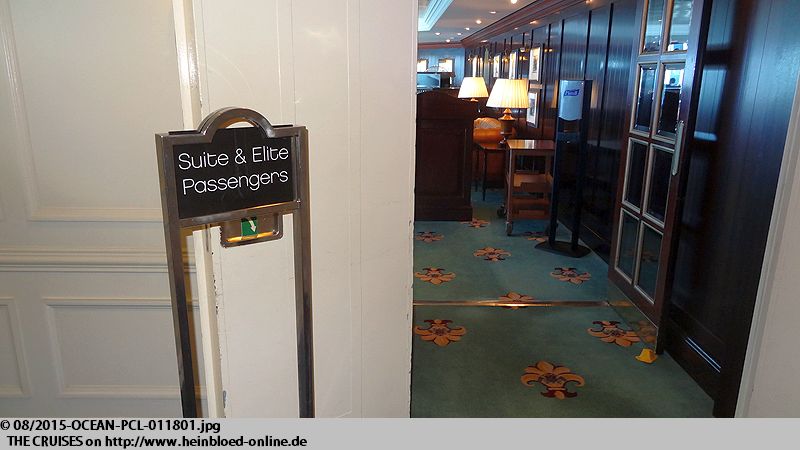 Before I could see the Elite Lounge I need to see the life drill. That ran highly professional. Everyone was scanned it dashed since it was conducted in one language only. I went to Sterling Steakhouse which was reserved few hours in the afternoon for Elite guests.

Here they had always some small bites available. During this voyage, I had no more occasion to see the place again.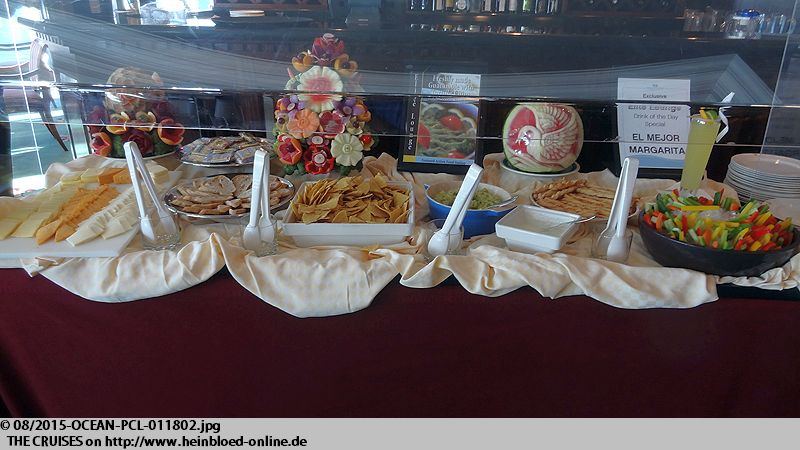 Es gibt hier immer Kleinigkeiten zu essen. Im Laufe der Reise habe keine weitere Gelegenheit mehr, nochmals hier vorbeizukommen.
Ich nehme meinen Shirley Temple.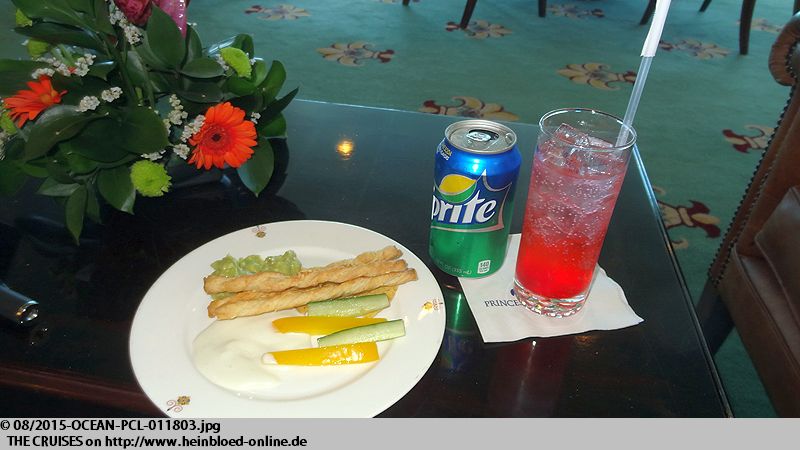 I took my Shirley Temple.

I liked it here somehow.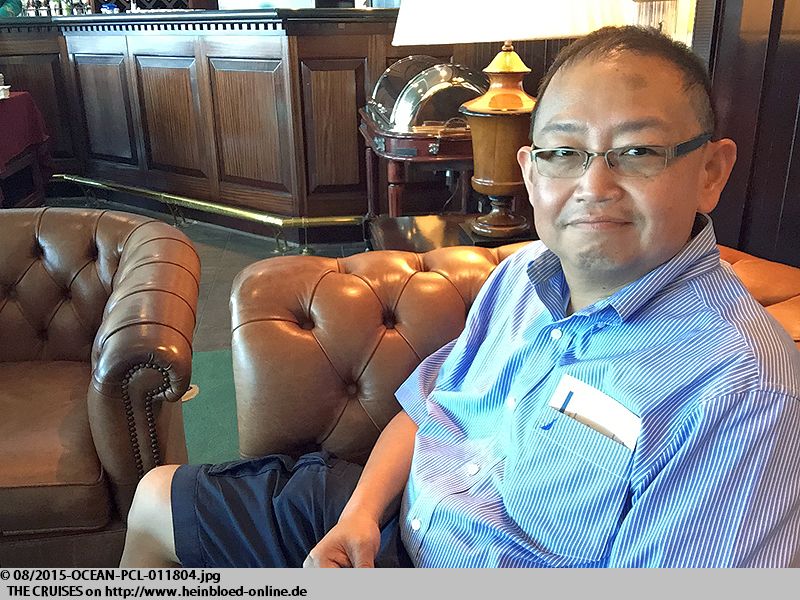 Ich mag es hier irgendwie.
Mit Ingrid Bergmann im Hintergrund.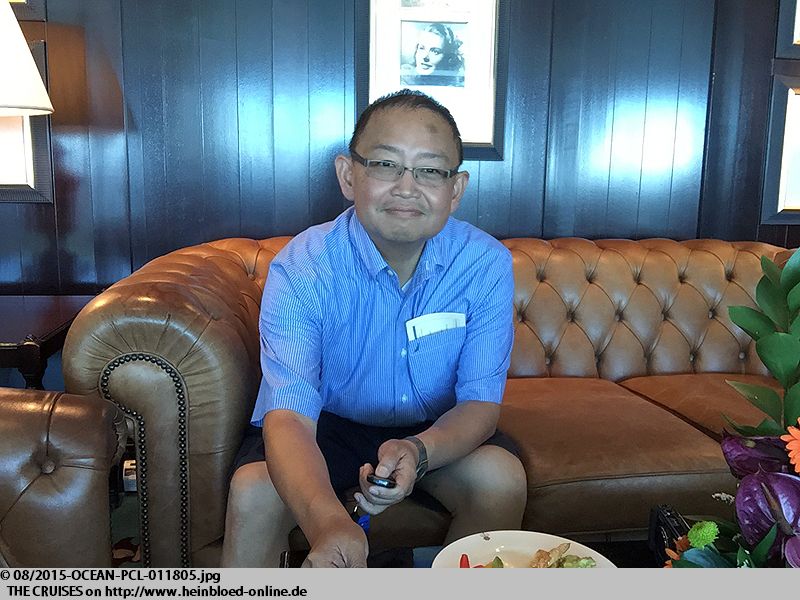 With Ingrid Bergmann in the background.

I let them show me the menu of the Sterlin.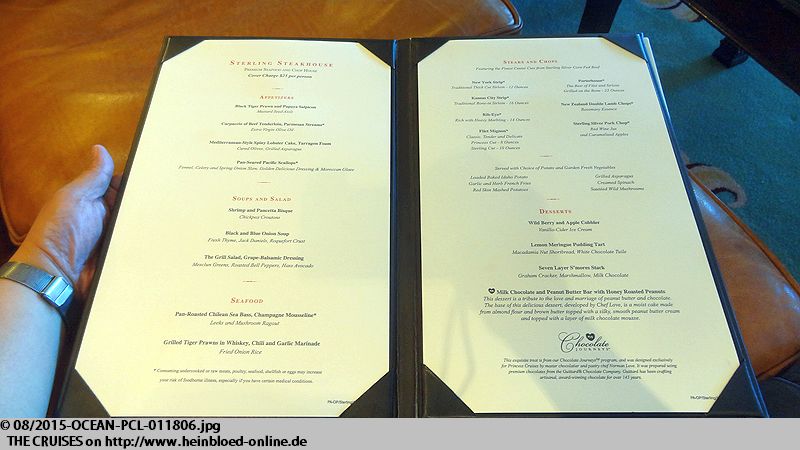 Ich lasse mir die Karten vom Sterling zeigen.
Und auch vom Sabatinis. Beides wollen wir in den Plan einbauen. Wir wollen aber nicht am formellen Abend, auch nicht am italienischen Abend und auch nicht wenn der Chef's Table ist. Man teilt uns mit, dass das leider nicht möglich ist und wir müssten leider auf etwas verzichten. Denn auf der OCEAN PRINCESS haben Sterling und Sabatini nur abwechselnd geöffnet. Ungewöhnlich weil eigentlich zwei Restaurants vorhanden sind.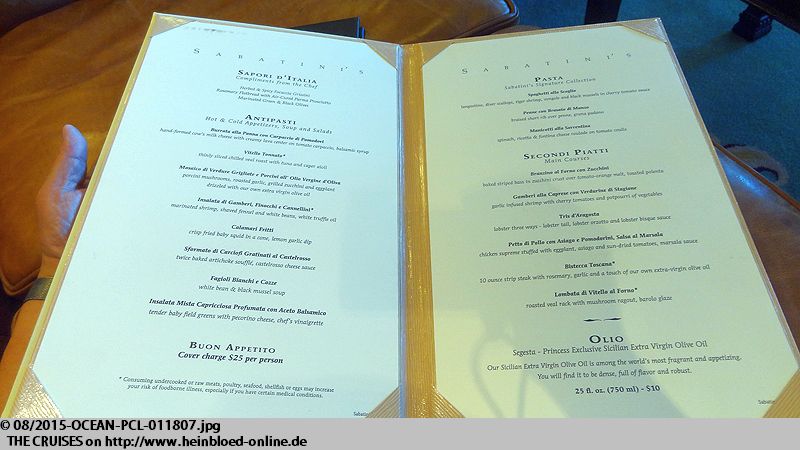 And also from Sabatini. We wanted to include both in our plans. We did not go on a formal night, not on the Italian night and not when they had the Chef's Table. They told us that this would be impossible we need to resign something, unfortunately. They had on OCEAN PRINCESS Sterling and Sabatini which were alternating with their opening days. Strange since they had actually two restaurants.

A beautiful lobby.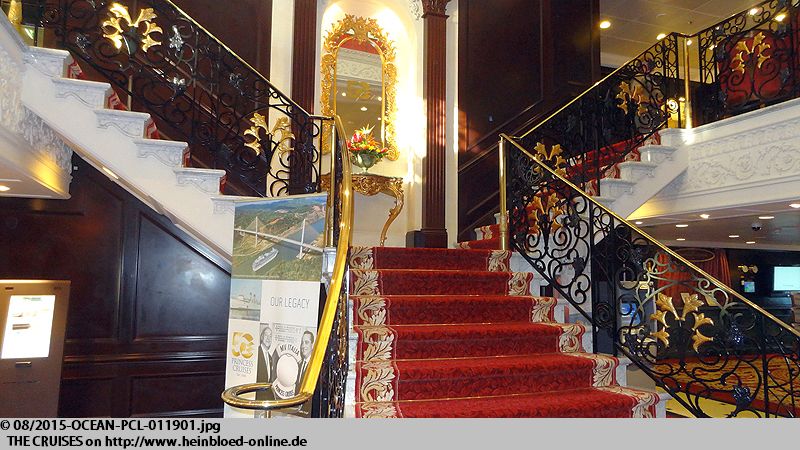 Eine schöne Lobby.
Irgendwas fehlt hier.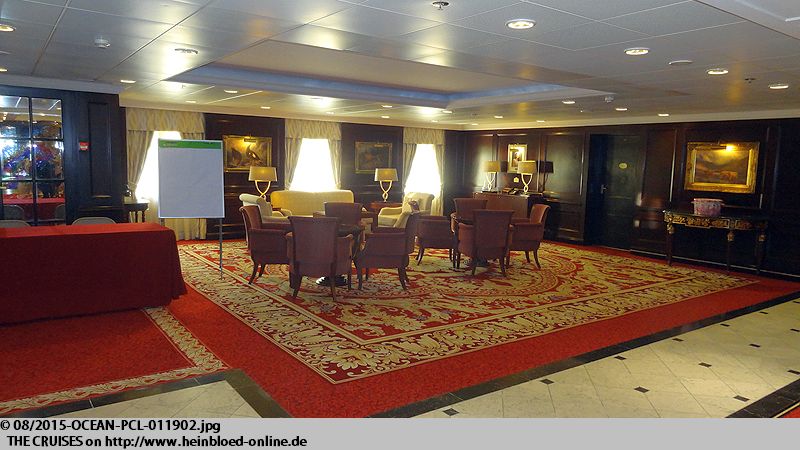 Something was missing here.

They apparently were well prepared for my visit on board.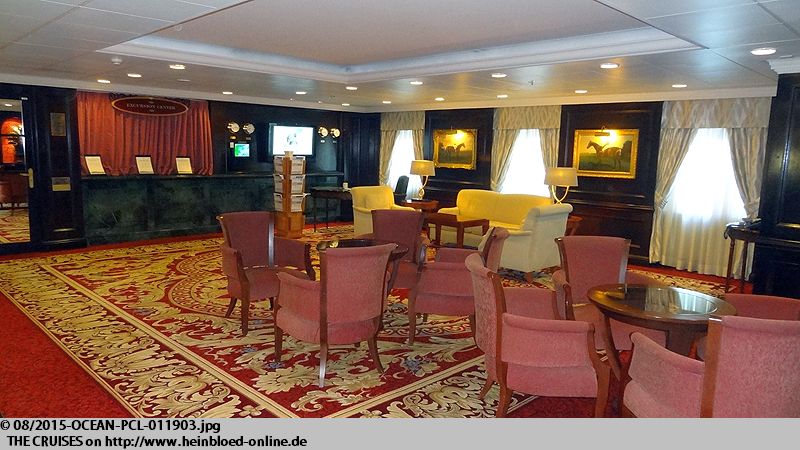 Sie haben sich wohl auf meinen Besuch an Bord vorbereitet.
Das rote Sofa, auf dem ich schlafen wollte, ist nicht mehr da. Damals auf der
OCEAN PRINCESS 2010
gab es etwas Ärger. Weil mir damals die Rezeption nicht helfen wollte, habe ich mir halt selbst geholfen und bin kurzerhand mit Decke und Kissen nachts in die Lobby gezogen. Da die Rezeption nachts geschlossen hat, musste ich mir selbst helfen.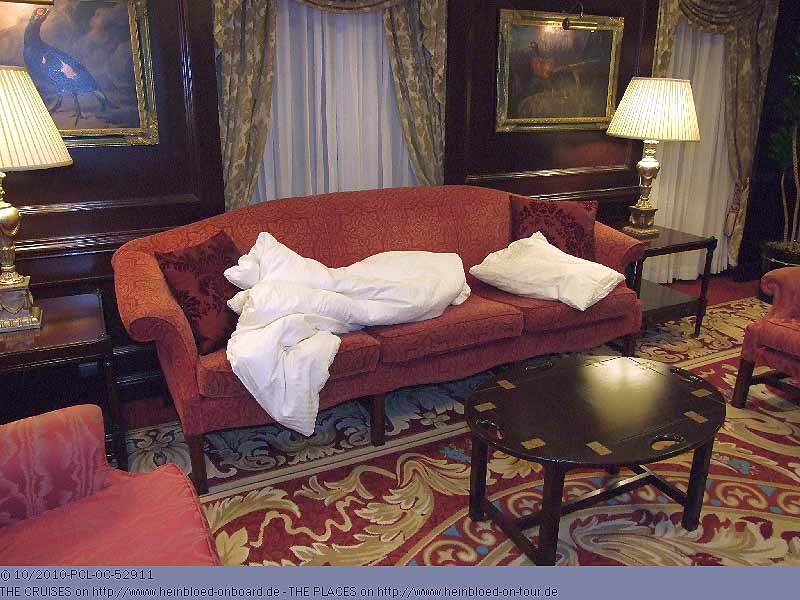 The red sofa I wanted to sleep on was removed. Then on OCEAN PRINCESS 2010 I had some trouble. Because the front did not like to help, I helped myself and appeared with my blanket and pillow to the lobby. As the front desk was closed in the night time, I need to help myself.

The famous godmothers with Princess. One of my most favorite actress Audrey Hepburn... But which ship only? STAR PRINCESS (1989) - today's PACIFIC PEARL. And was not Sophia Loren with MSC??? Indeed CROWN PRINCESS (1990) - today's PACIFIC JEWEL - in German more popular as AROSAblu or AIDAblu. Princess of Wales (Lady Diana): ROYAL PRINCESS (1984) - we better knew her as ARTEMIS or ARTANIA. Last not lease: The Duchess of Cambridge (Kate) christened ROYAL PRINCESS (2013) which we already knew. In the bottom of the left, we had Margeret Thatcher. But for her, I was very special interested personally. But to be complete: REGAL PRINCESS (1991) - the today's PACIFIC DAWN.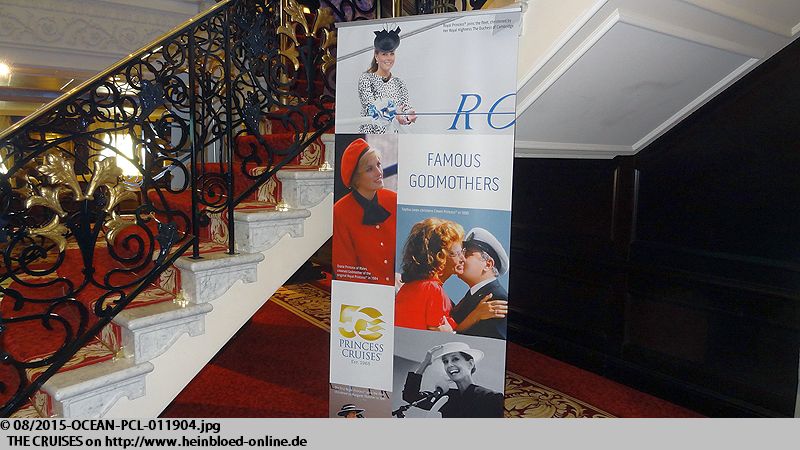 Die berühmten Taufpatinnen bei Princess. Einer meiner absoluten Lieblingsschauspielerinnen Audrey Hepburn... Welches Schiff bloß? STAR PRINCESS (1989) - die heutige PACIFIC PEARL. Und Sophia Loren nicht bei MSC??? Tatäschlich CROWN PRINCESS (1990) - heute PACIFIC JEWEL - in Deutschland besser bekannt: AROSAblu bzw. AIDAblu. Princess of Wales (Lady Diana): ROYAL PRINCESS (1984) - wir kennen sie auch als ARTEMIS bzw. ARTANIA. Last not least: Die Herzogin von Cambridge (Kate) hat ROYAL PRINCESS (2013) getauft, die wir ja auch schon kennen. Unten links wäre noch Margeret Thatcher. Aber für sie habe ich kein besonderes persönliches Interesse. Der Vollständigkeit halber: REGAL PRINCESS (1991) - die heutige PACIFIC DAWN.
Auf dem Bild erkenne ich keinen.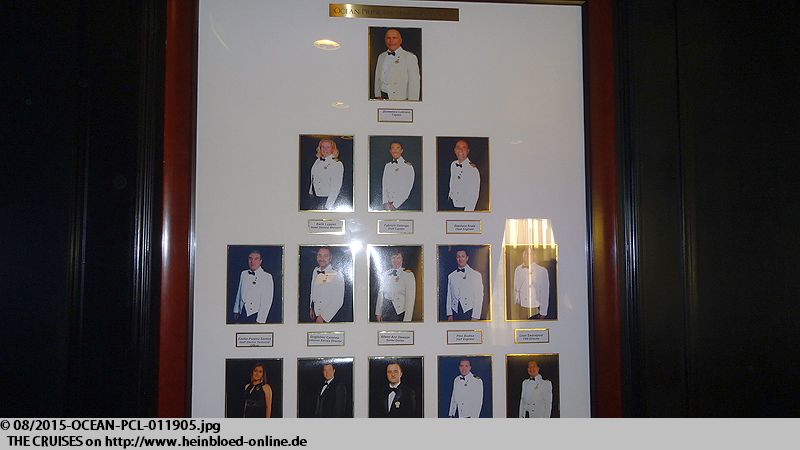 I did not identify anyone on the picture.

We went to the Club-Restaurant. On OCEAN PRINCESS you had only fixed dining. Hmm... Left appeared somehow familiar to me.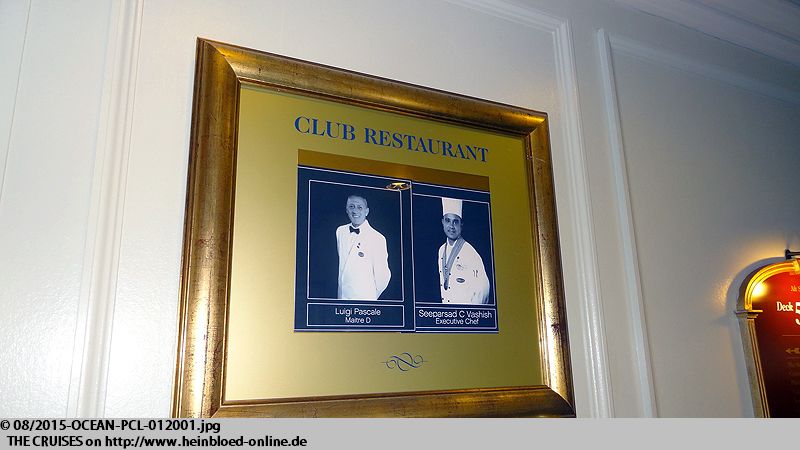 Es geht ins Club-Restaurant. Auf der OCEAN PRINCESS gibt es nur feste Tischzeit. Hmm... Links kommt mir irgendwie doch bekannt vor.
Keine Ahnung, ob es damit zusammenhängt, dass von uns sechs vier Platin-Gäste waren. Ich hatte aber den Eindruck, dass wir wohl mit den besten Tisch bekommen haben. Direkt am Heck. Wir bekommen auch tolle Kellner Chester und Marielito. Die Freundlichkeit brauche ich nicht zu erwähnen, aber wie man sieht, haben wir gemeinsam sehr viel zu lachen!!! Auch das Essen ist sehr gut. Insgesamt erleben wir einen tollen ersten und perfekten Abend - in jeder Hinsicht.

No idea if there was any context that four of six guests were Platinum guests. I had the impression that we the very best table. Just at the aft. We also got great waiters Chester and Marielito. I must not mention their friendliness but as you could see: we had a lot of fun together!!! Also, the food was delicious. In total, we experienced a great first and perfect night - in every respect.
Die anderen Reisen in diesem Blog/
The other voyages in this blog: