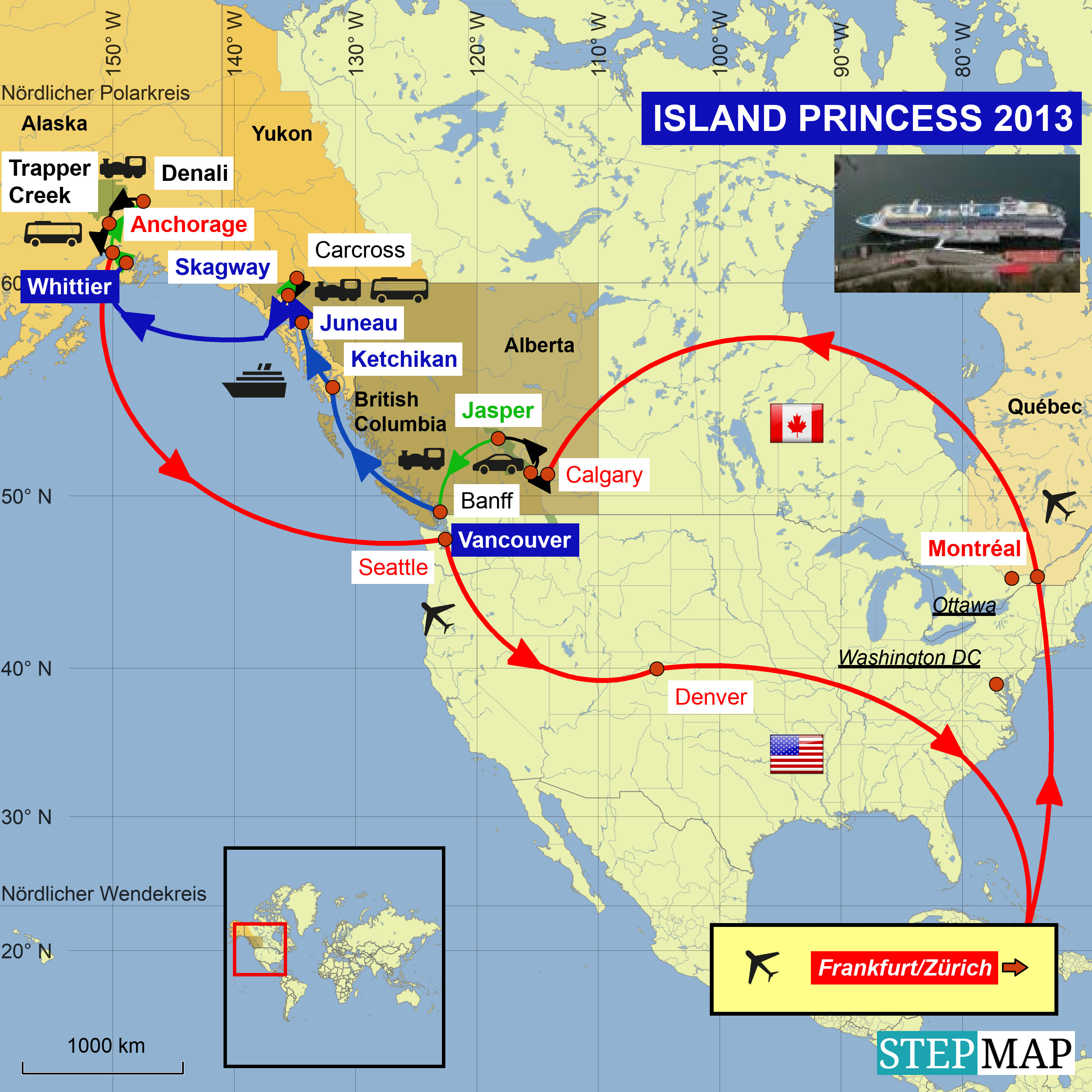 Gegen 20.30 Uhr kommt auch für uns die Aufforderung zur 3. Tischzeit. Alles wird frisch zubereitet.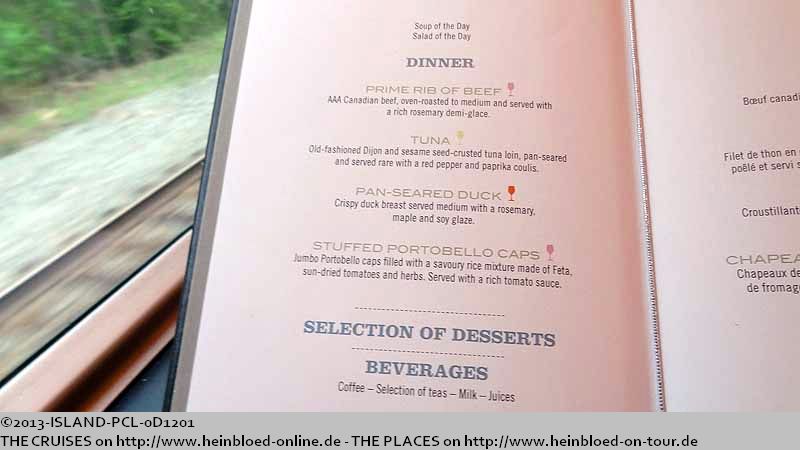 Around 20.30 hrs we got the request to show up for the 3rd sitting. Everything was prepared freshly.

It was again too cold and breezy in the dining car so an extended stay there inside was not so funny.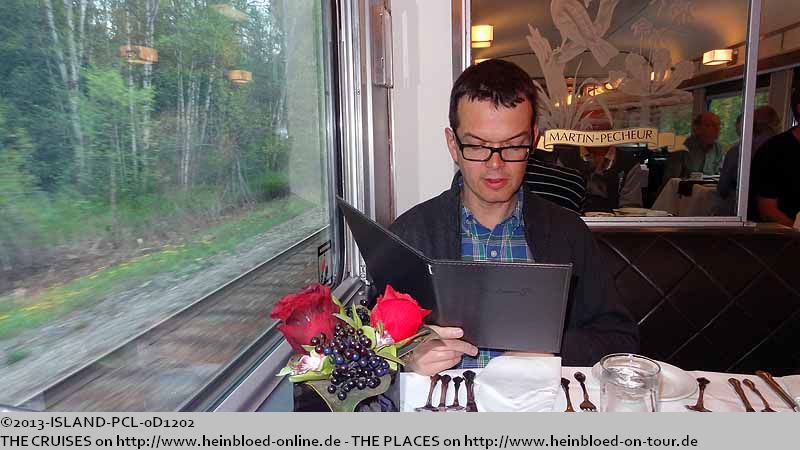 Es ist bloß wieder mal viel zu kalt und zu zugig im Speisewagen, so dass ein langer Aufenthalt keinen Spaß macht.

But all tables were nicely set.

Aber die Tische sind wunderschön gedeckt.
Zunächst gibt es ein Brötchen...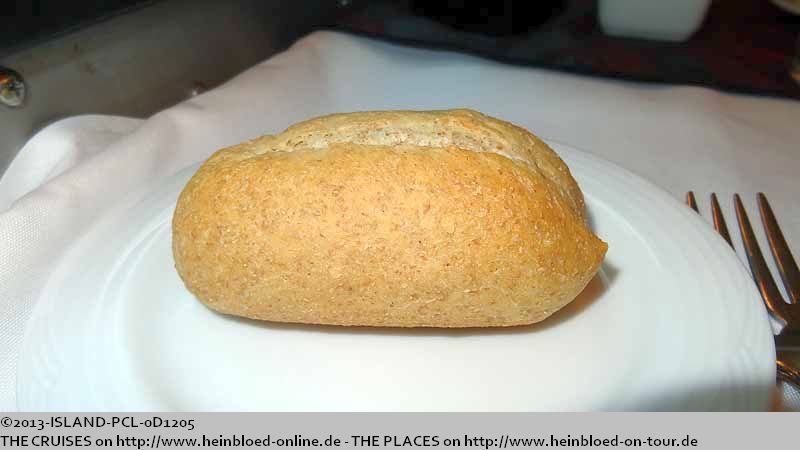 First we got a roll...

All beverages during the meals were complimentary.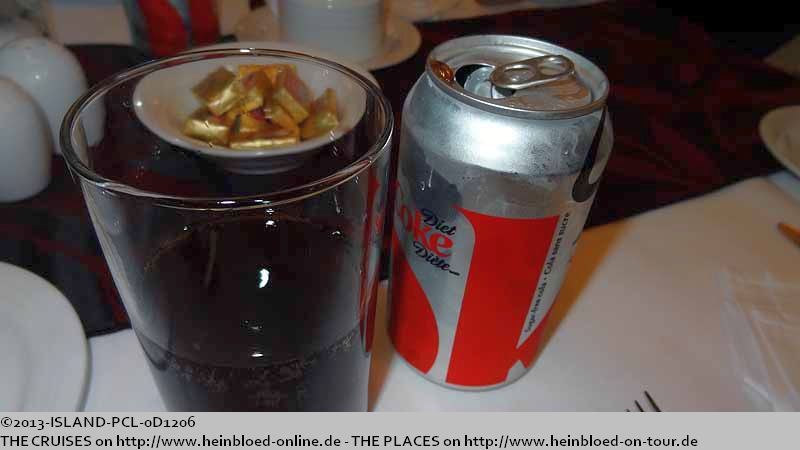 Die Tischgetränke sind frei während der Mahlzeiten.
Man kann wahlweise Suppe haben.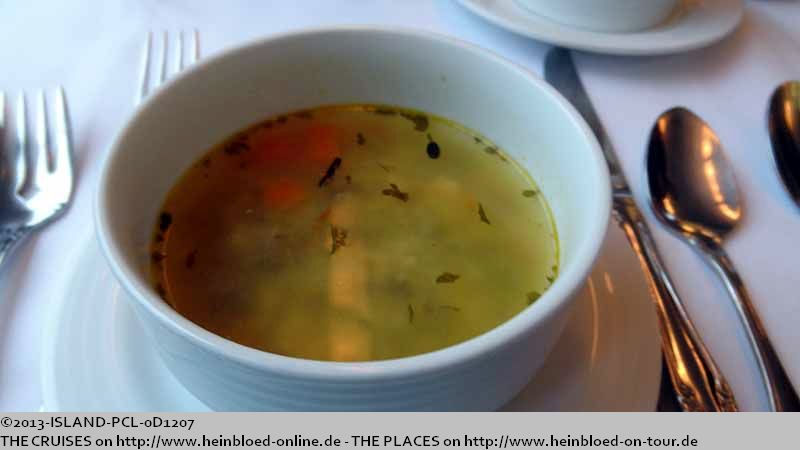 You may have either a soup...

or salad. Or both if you kindly asked.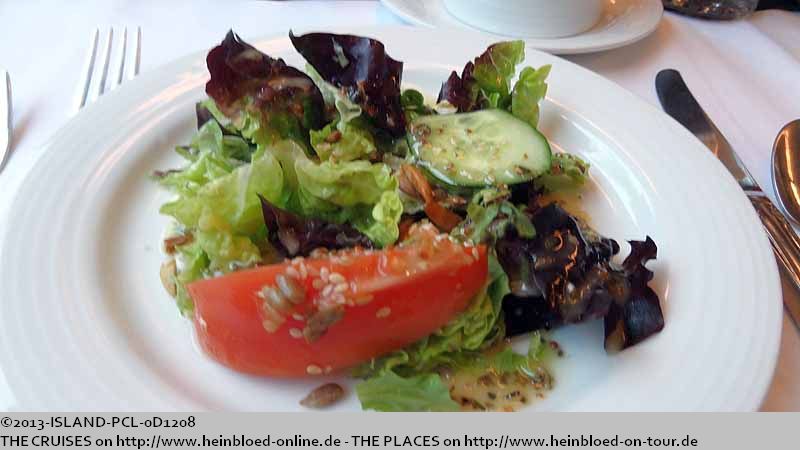 Oder Salat. Oder beides, wenn man nett fragt...
Wir sind also bei "Pretty Woman" mit Julia Roberts und Richard Gere... die berühmte Salatgabel!!!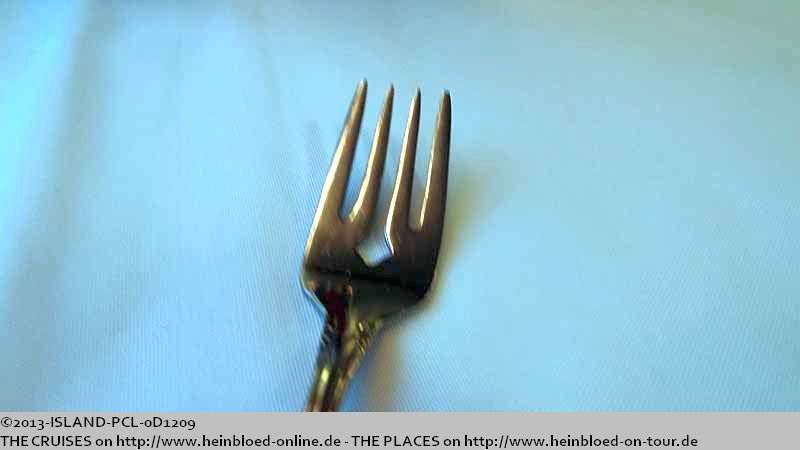 So we became part of "Pretty Woman" with Julia Roberts and Richard Gere... the famous salad fork!!!

Bruno had the grilled Tuna...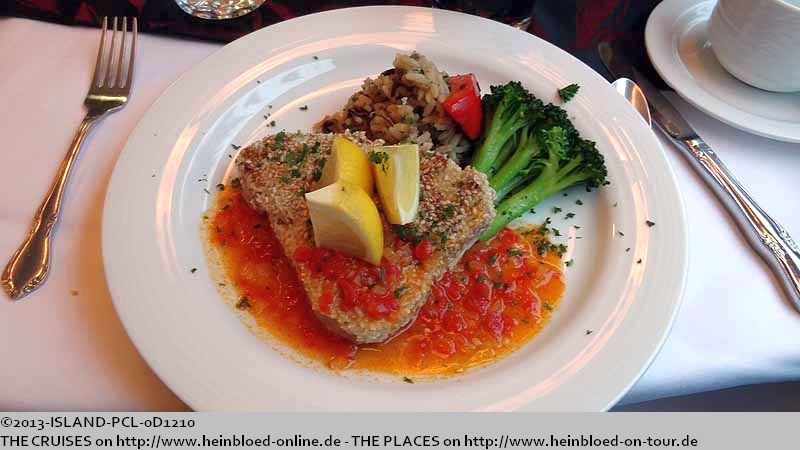 Bruno hatte den gegrillten Thunfisch...
und ich die Entenbrust... das war alles echt gut. Schade, dass bei der Deutschen Bahn nicht mehr frisch gekocht wird. Auf jeden Fall hatte das Essen Kreuzfahrt-Niveau.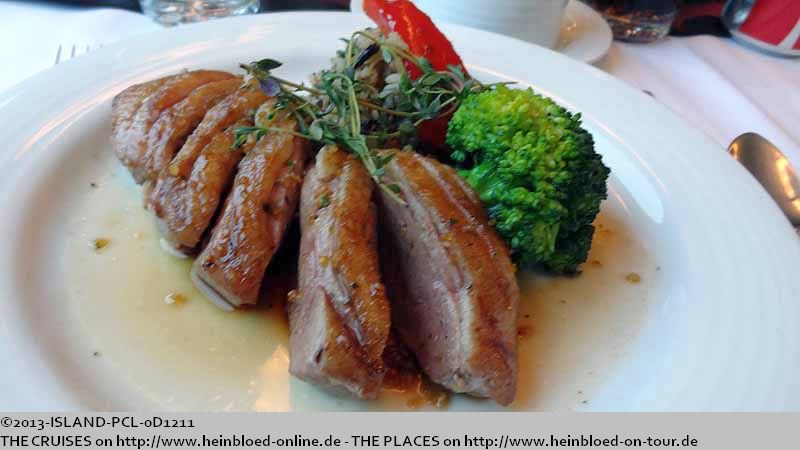 and I had the duck... and it was really good. It was such a shame that they did not cook anymore with German Railways. I must say the food was standard like on a cruise ship.

Well... a carrot-cake in Europe is more a healthy option... but in North America as usual too sweet and too rich...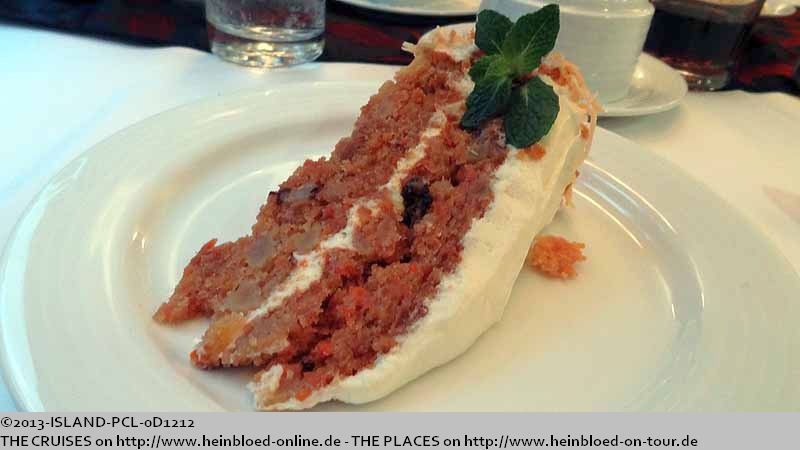 Na gut... Eine Rübli-Torte ist ja bei uns etwas gesünder... aber in Nordamerika zu süß und zu mächtig...
Das kannten wir nicht...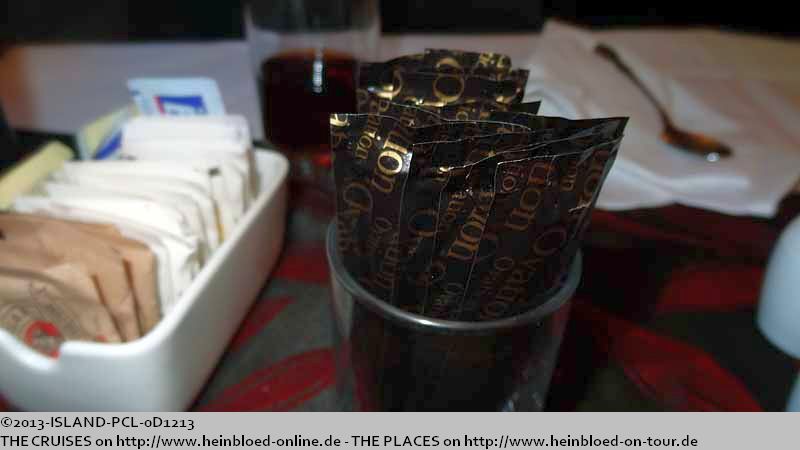 That we did not know.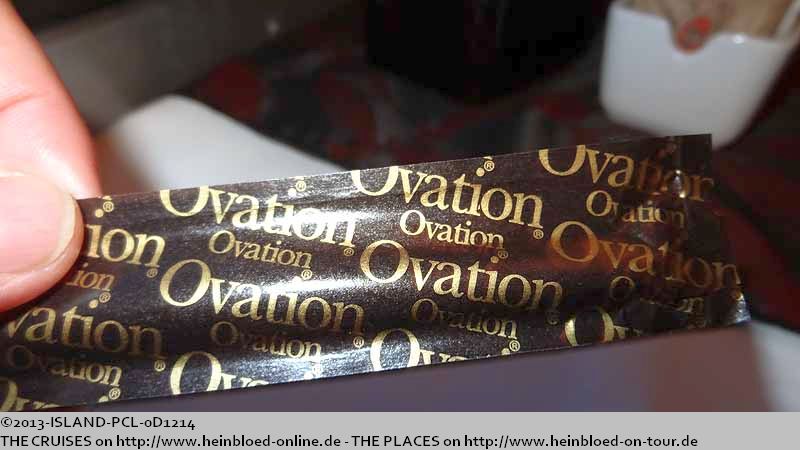 Das berühmte Pfefferminz-Plättchen am Schluß wie bei "Monty Python" - nur als kleines Röllchen.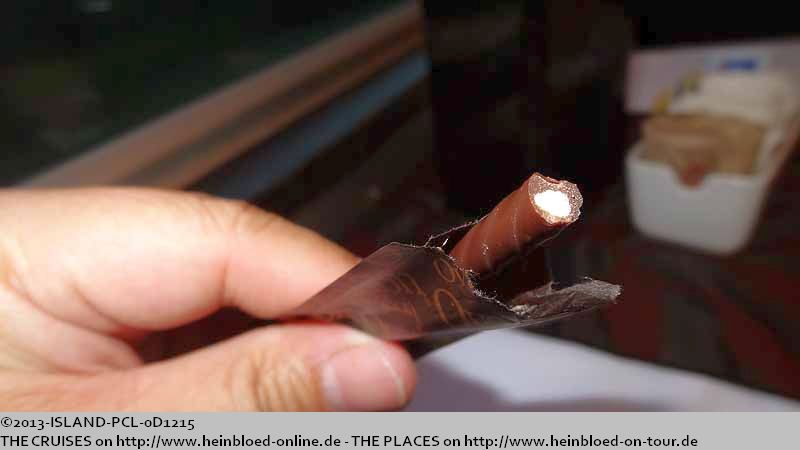 That was the tiny little mint like at the end with "Monty Python" - but just as little rolls.

And there were still the raindrops which occur significant problems for our camera...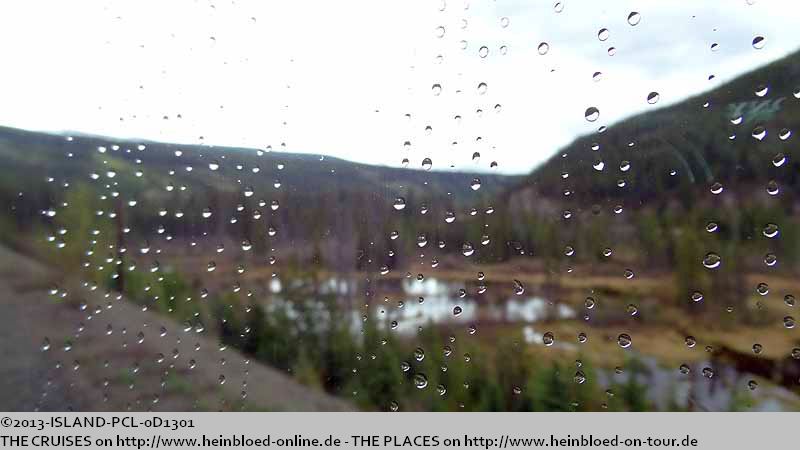 Und dann wären ja noch die Regentropfen, die der Kamera große Probleme bereiten...
Tut uns leid, dass wir leider die Landschaft so genießen müssen, aber es gab ja leider keine offene Plattform.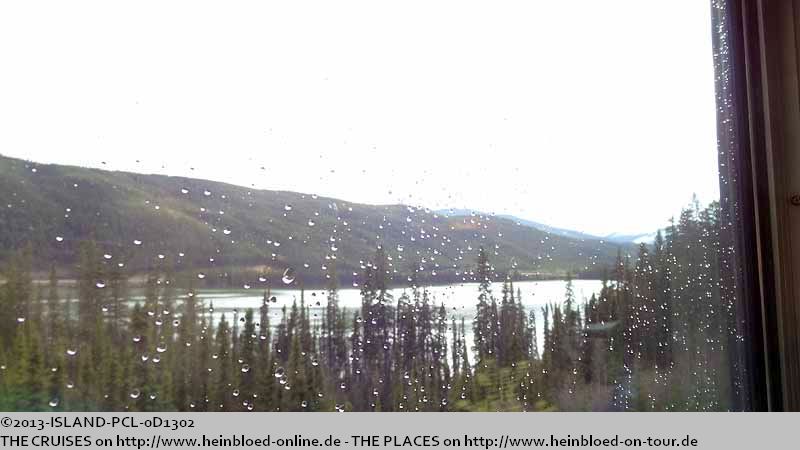 Sorry that you have to enjoy the landscape like this but there was not any open platform.

Der Zug ist einfach endlos lang.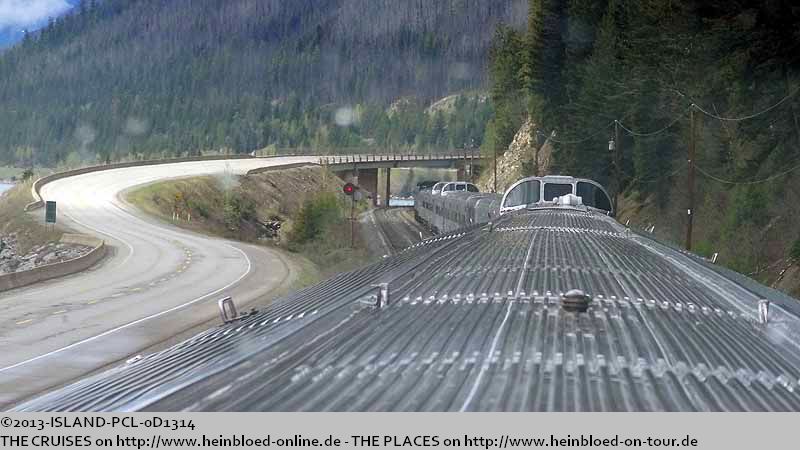 The train was just endlessly long.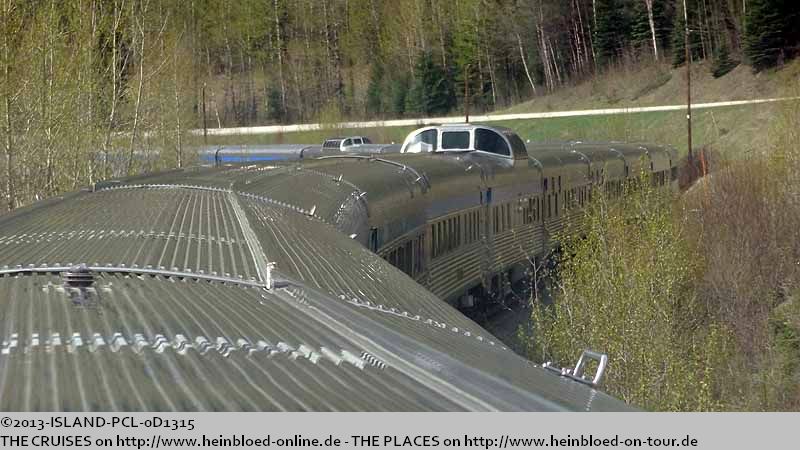 Es war wirklich schön zwischendurch. Nur nirgendwo wurde mal gehalten.

It was very nice in between. But we did not stop anywhere.

Occasionally there was an announcement that an animal was discovered but when we came along with our car it was gone already.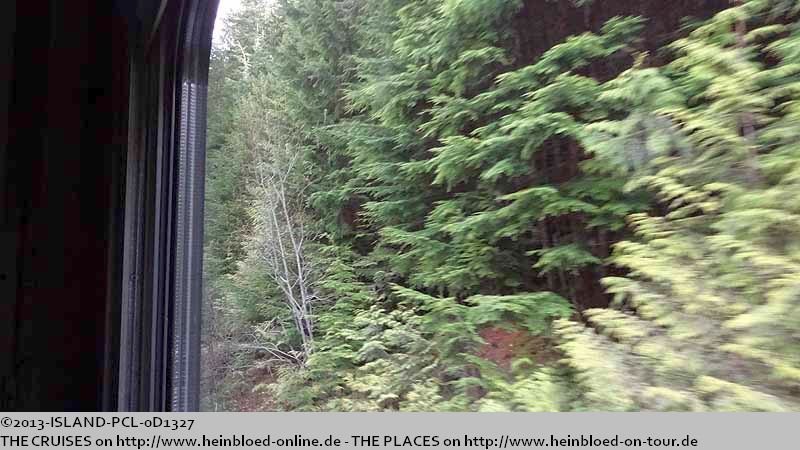 Gelegentlich gab es eine Ansage, dass ein Tier gesichtet wurde, aber bis dass wir mal mit unserem Waggon dran vorbeikamen, war es vermutlich schon längst weg.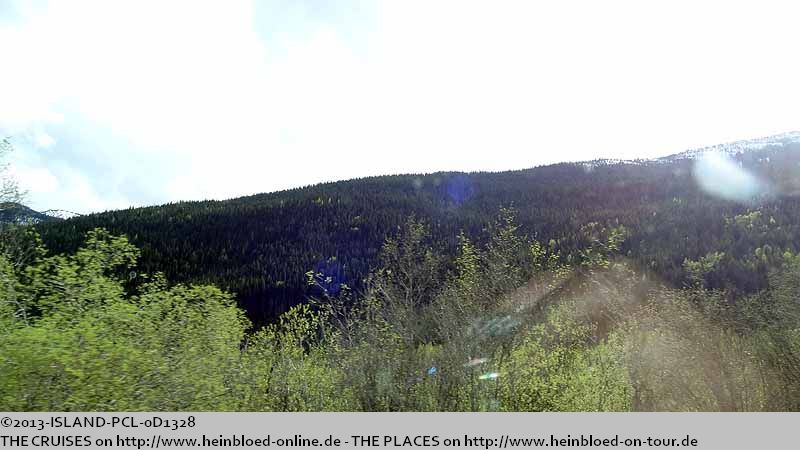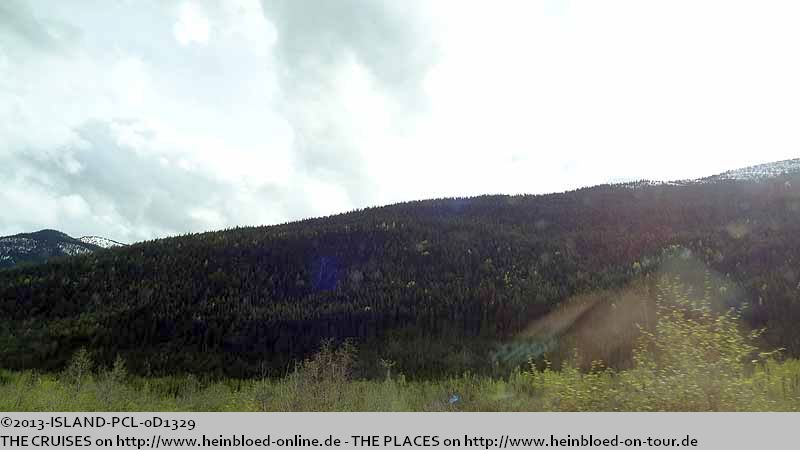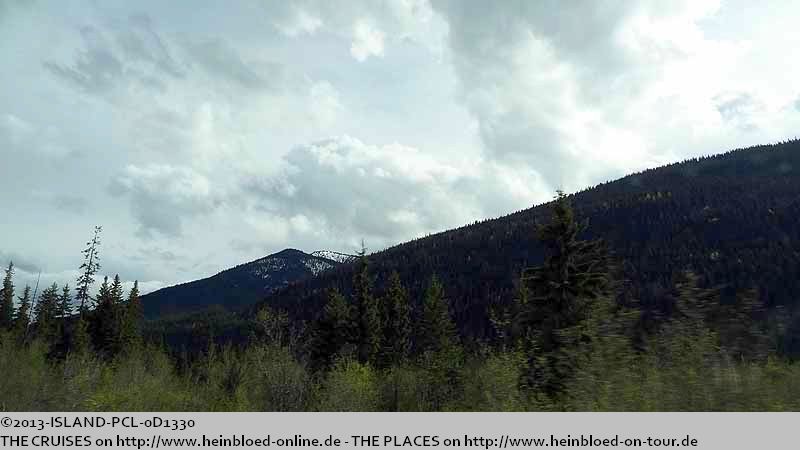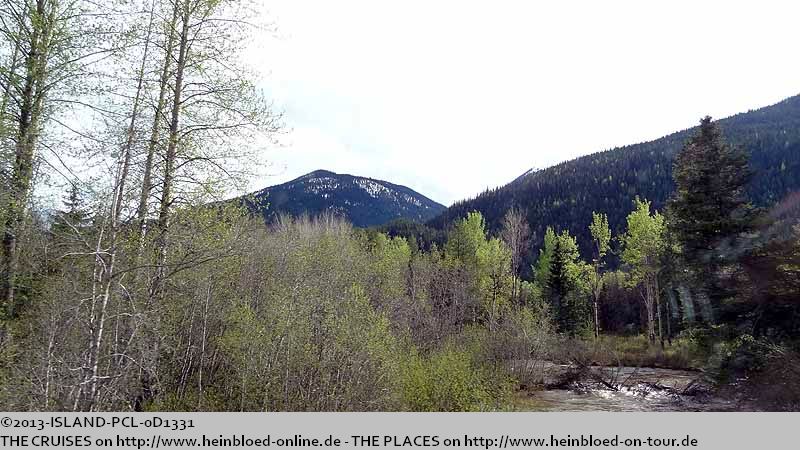 Wie kommuniziert man heute vom Zug aus, wenn die Strom- und Kommunikationsmasten alle in dem Zustand sind. Vermutlich über den Sateliten.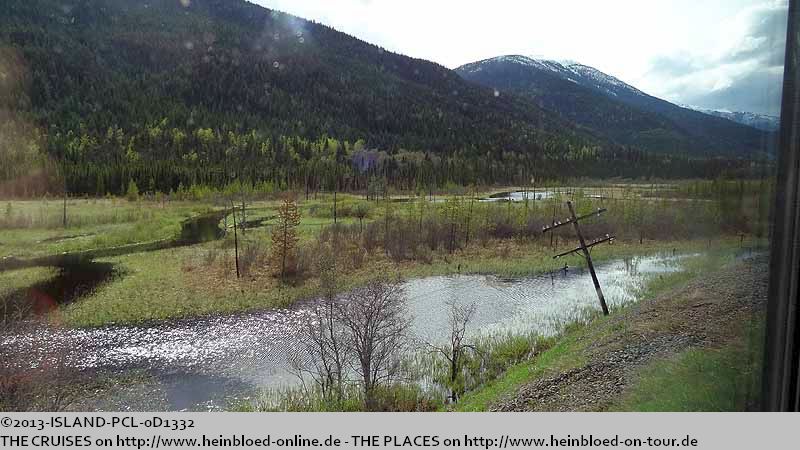 How do you communicate today from the train if the power- and communication lines were in such a condition. I guess by sattelite.

When we came to a waterfall the train became slower that you could take great pictures.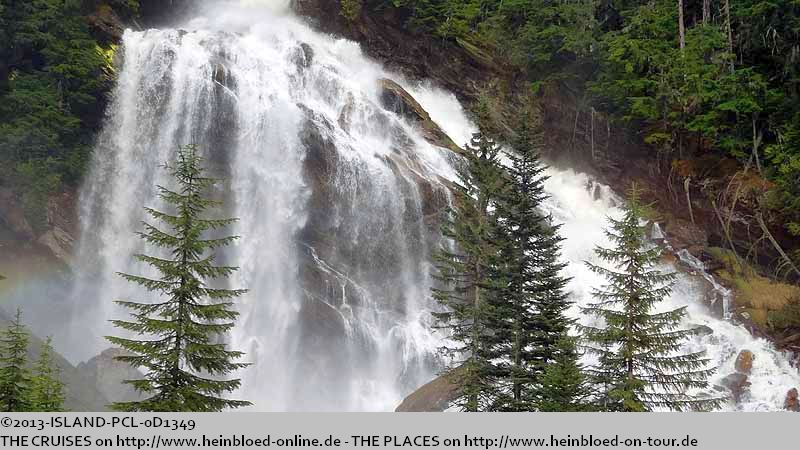 An einem Wasserfall wurde dann langsamer gefahren, damit man mal fotografieren konnte.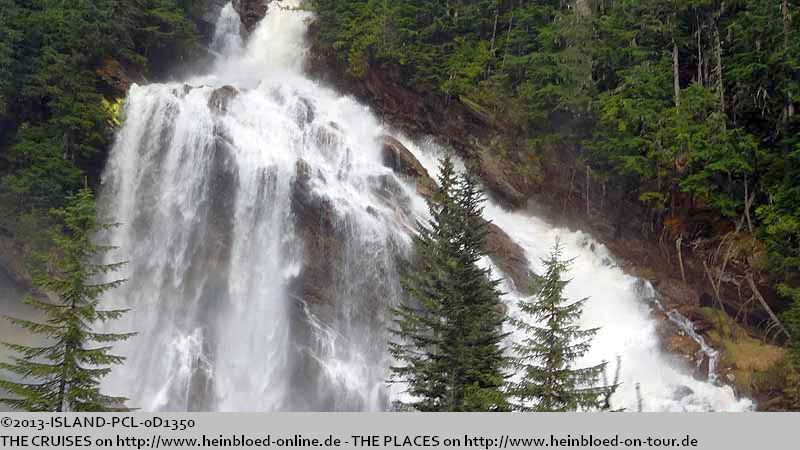 And we need to stop at every junction for every freight train. Woe I later find out that we had to stop for a container train loaded with a container for our Ontario plant... I will never make sure again that they get a scheduled delivery in the future...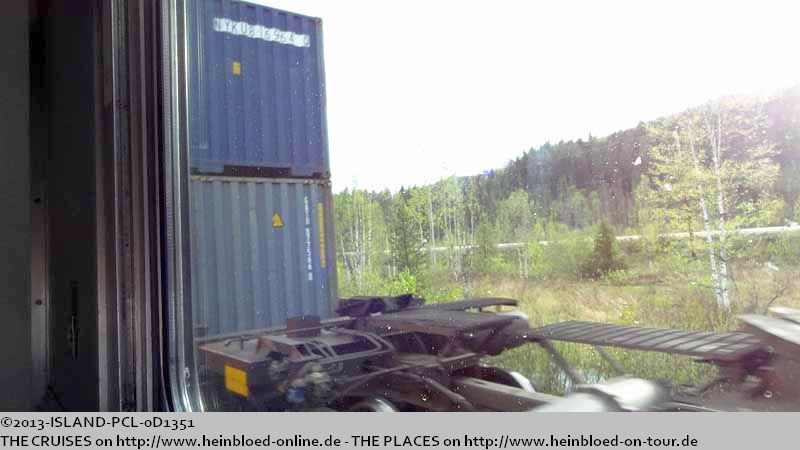 Und für jeden Güterzug mussten wir an einer Abzweigung anhalten. Wehe ich bekomme später heraus, dass ich ausgerechnet für einen Containerzug halten musste, auf dem ein Container für unser Werk in Ontario bestimmt war... Nie wieder sorge ich dafür, dass sie pünktlich beliefert werden...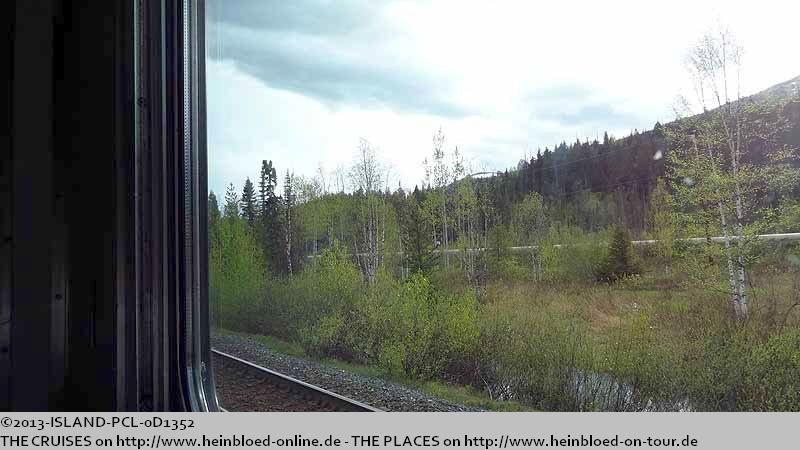 And during the dinner you had no chance to take any pictures because the car was inside illuminated and you had everything mirrored. So next time Jasper - Vancouver again but then by car.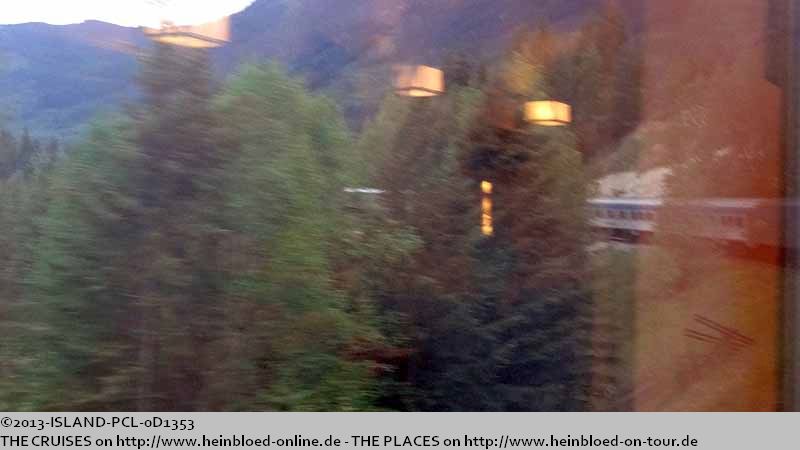 Und beim Abendessen konnte man gar nichts mehr fotografieren, weil die Beleuchtung innen an war und sich nun alles spiegelte. Also das nächste Mal Jasper - Vancouver gerne wieder, aber dann mit dem Auto.
Die anderen Reisen in diesem Blog/
The other voyages in this blog: