Carnival, Holland America und Princess entscheiden, dass ab 15.01.2012 sich etwas an der Raucherpolitik ändert. Von Princess werden wir hierüber direkt informiert, weil für Raucher diese Information nicht unerheblich ist. Entweder HAL weiss, dass wir Nichtraucher sind oder glaubt fest daran, dass wir es eh aus dem Internet erfahren. Übrigens hat Princess ein nettes Widget: Die Countdown-Uhr, die vom Buchungssystem erfährt, dass man gebucht hat. Ansonsten kann man sich die Uhr auch für eine andere Kreuzfahrt einstellen.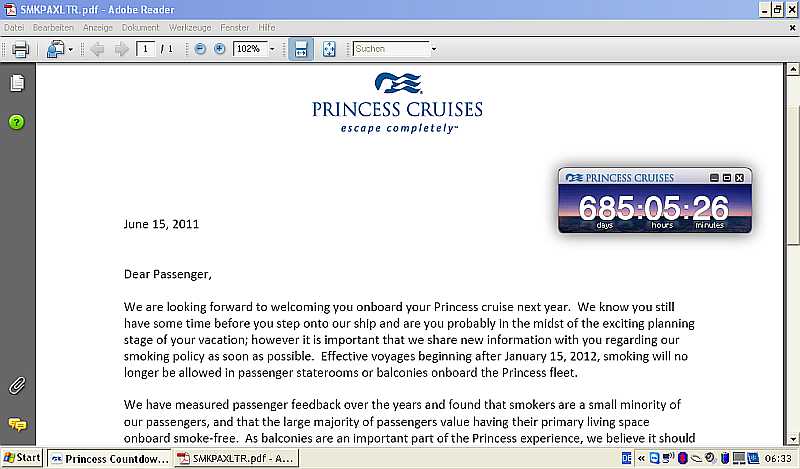 Carnival, Holland America and Princess decided that the smoking policy will change on January 15, 2012. Princess kept us informed immediately as for smokers this information might be essential. We are not sure if HAL knows that we are non-smokers or they believe that we will learn it from the internet. By the way, Princess has a nice widget: The countdown clock which is fed from the booking system and learned that you booked. On all other time, you can set up a countdown yourself for another cruise.

It costs more or less nothing but a good programmer and an excellent database: but for me as a guest a kind gesture which makes me feel more welcome than somewhere else: The personal greeting of Alan Buckelew, President, and CEO of Princess. It is the same we had already previously to our sailing on OCEAN PRINCESS. But it gives me a tremendous previous feeling before our sailing on OCEAN PRINCESS.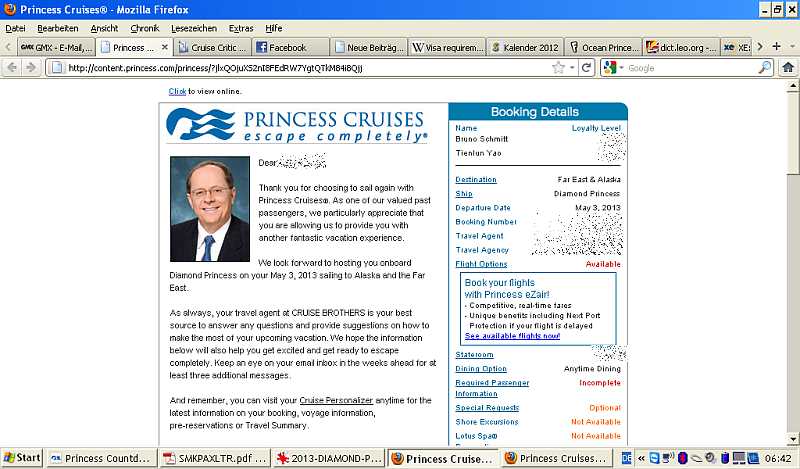 Es kostet so gut wie nichts, außer einer der es super programmiert hat und eine gute Datenbank: aber für mich als Gast eine schöne Geste, bei der ich mich willkommener fühle, als woanders: Der persönliche Gruß von Alan Buckelew, Vorstandsvorsitzender von Princess. Es steht das gleiche drin, wie damals bei der OCEAN PRINCESS auch. Aber ich freue mich genauso im Vorfeld wie bei der OCEAN PRINCESS.
Und so sieht die Informationspolitik der Schwester Holland America Line: Die Mail kommt erst, als wir bereits aus dem Internet davon wussten. Es wird eine Alternative angeboten, nur steht nicht so konkret da, wohin es eigentlich geht, außer dass es sich um eine Rundfahrt Hong Kong handelt. Und wenn man dort anrief: Gucken Sie im Internet nach - wir wissen auch nicht mehr.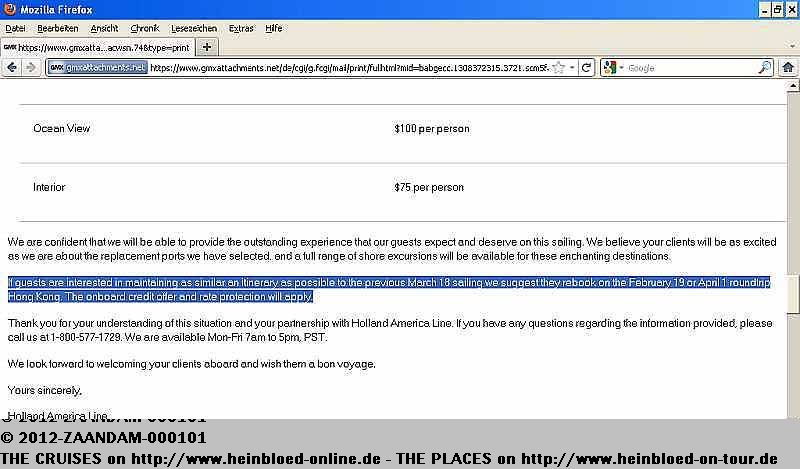 And so the information policy of the sister Holland America Line looks like: The mail came when we already knew from the internet. They offered alternatives but without telling where the ship should go but it will be roundtrip out of Hong Kong. And if you gave them a call: Look yourself on the internet - we do not know more.

And if you have a look on the internet. Long time there was nothing published for April. And for two days they had this offer: left still the old itinerary - on the map already the new route. And now it disappeared again. Even you write an e-mail: you get only an answer with the information you can find yourself on the internet. Also, you have concrete questions: you do not get specific answers. So I had to write to the board of HAL again. Let us see if they give us a solution or just through us from the ship.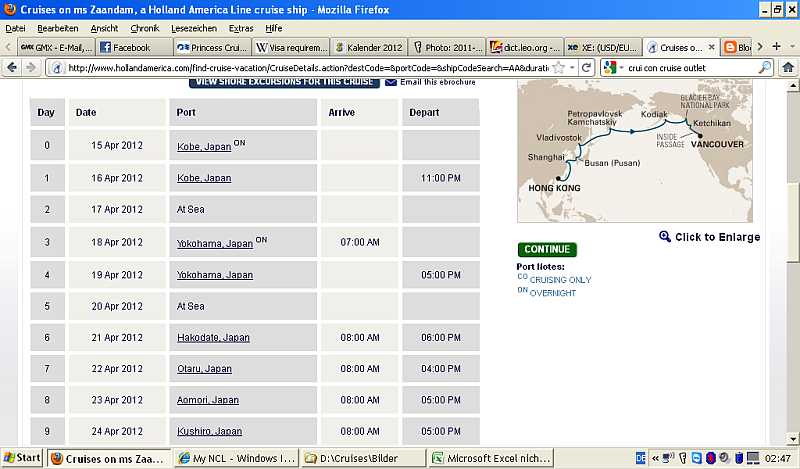 Und wenn man im Internet guckt. Lange Zeit gab es für April gar nichts. Und dann mal für zwei Tage kam dann dieses Angebot: links immer noch die alte Fahrt - auf der Karte bereits die neue Fahrt. Und jetzt ist es wieder weg. Selbst wenn man eine E-Mail schreibt: man bekommt leider nur das mitgeteilt, was man selbst im Internet lesen kann. Selbst auf konkrete Fragen, gibt es keine konkreten Antworten. Mal wieder wurde ein Brief an den Vorstand von HAL fällig. Mal gucken, ob sie antworten oder uns von Bord werfen.
Die anderen Reisen in diesem Blog/
The other voyages in this blog: