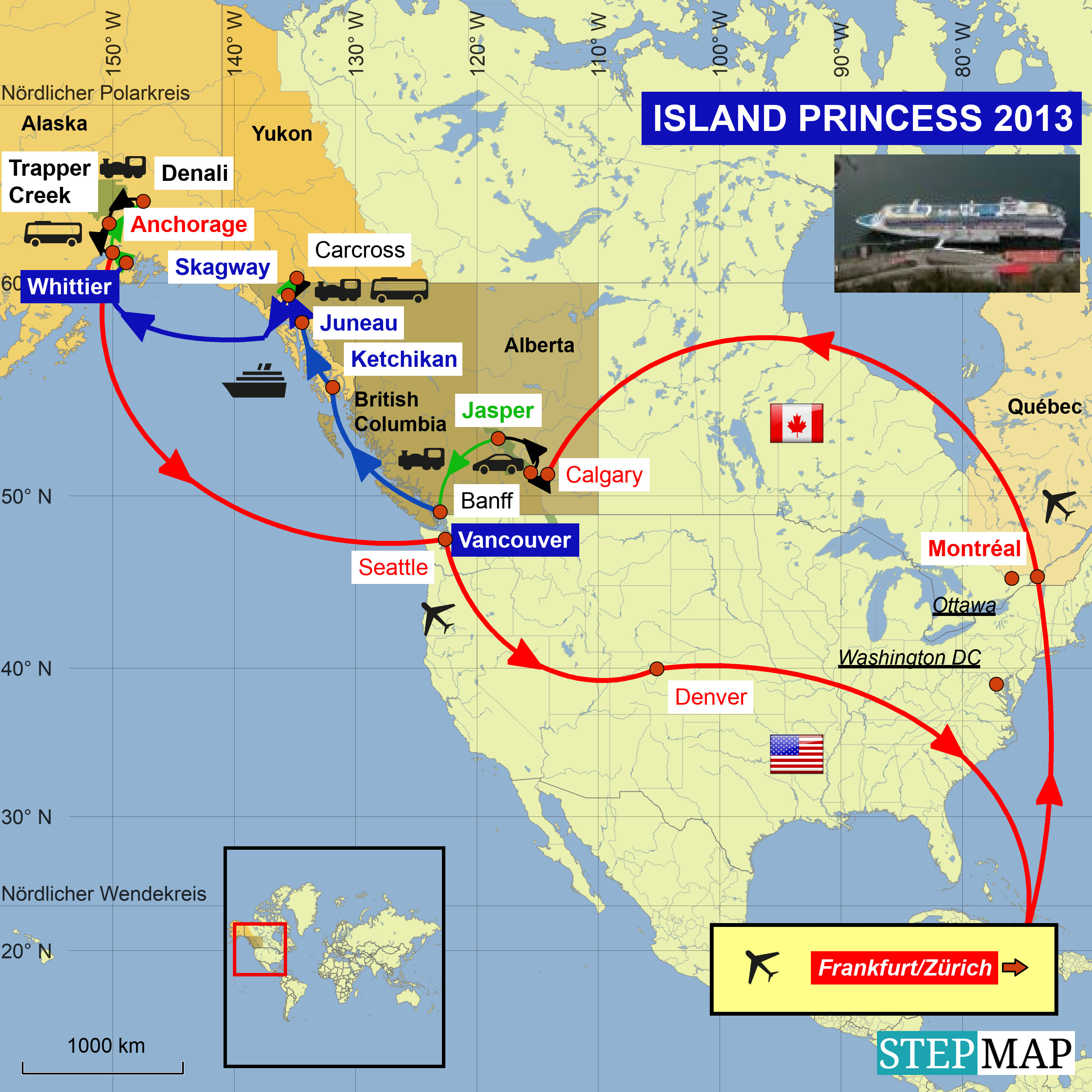 Um 14.22 Uhr rufe ich an. Es geht nur ein Anrufbeantworter an. Ich werde drei Minuten später zurückgerufen. Leider bin ich ein passionierter iPhone-Nutzer, so dass ich keine Ahnung habe, wie man mit einem Android SmartPhone ein Gespräch annimmt. So rufe ich wieder zurück und man erklärt mir, dass man nochmals jemand hier herschickt, der den Aufdruck Juneau Whale Watch auf dem Fahrzeug hat. Gekommen ist dann ein Juneau Tours. Der Fahrer sagt, dass er da war, aber ihm hat man gesagt, dass nur ein Gast zum Schiff zu bringen sei. Deswegen hätte er dann nicht mehr bis 14.15 Uhr gewartet. Ich bin daher schon geladen, bevor wir überhaupt am Schiff sind.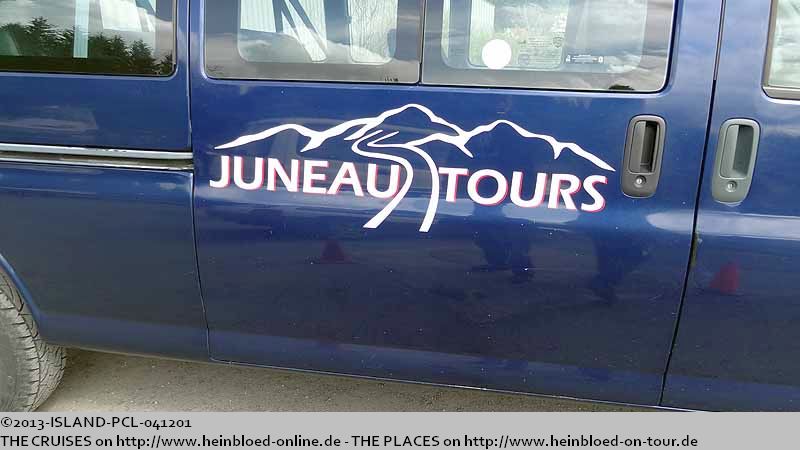 At 14.22 hrs I called. Only voice-mail. I got a call back three minutes later. Unfortunately, I was a passionate iPhone-user because I had no idea how to accept a call on an Android Smart Phone. So I called back, and I was told that they would send another car with Juneau Whale Watching. But Juneau Tours came. The driver told us that he was instructed to collect one guest. That was why he did not wait for 14.15 hrs anymore. I was already upset before we reached the ship.

When we arrived the boarding has not started yet.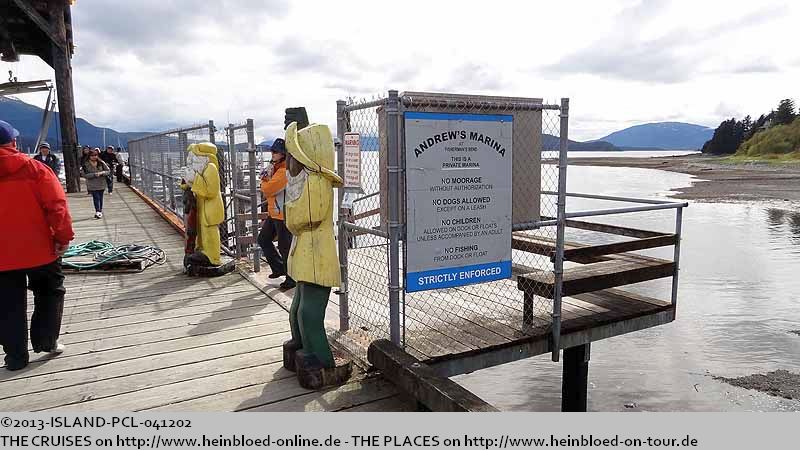 Als wir ankommen, hat das Boarding noch nicht angefangen.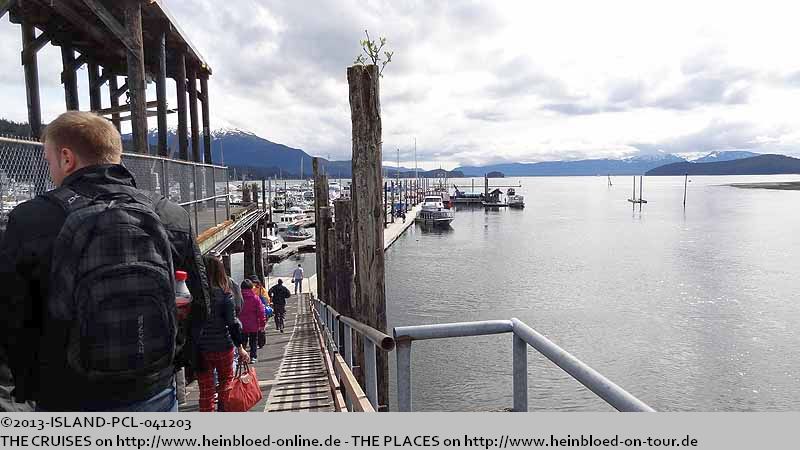 That was a brand-new ship of Juneau Tours. But since our tour on Faröer I did not care anymore.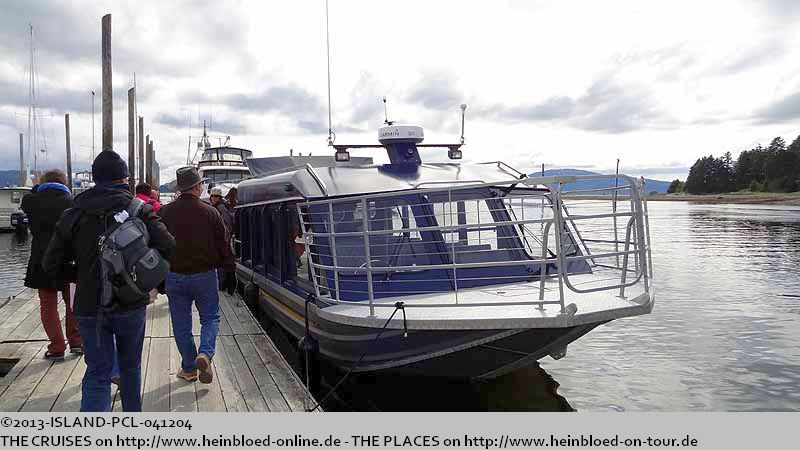 Das ist wohl ein nagelneues Schiff von Juneau Tours. Aber seit unserer Tour auf Faröer ist mir das ziemlich egal.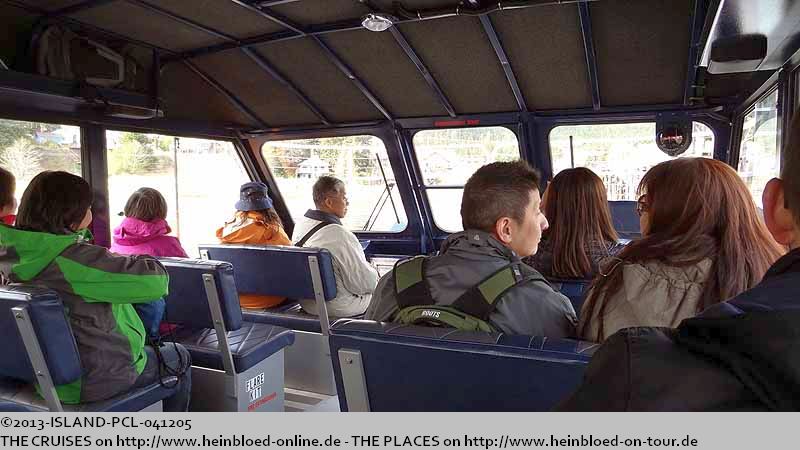 A bold eagle observed our set sail.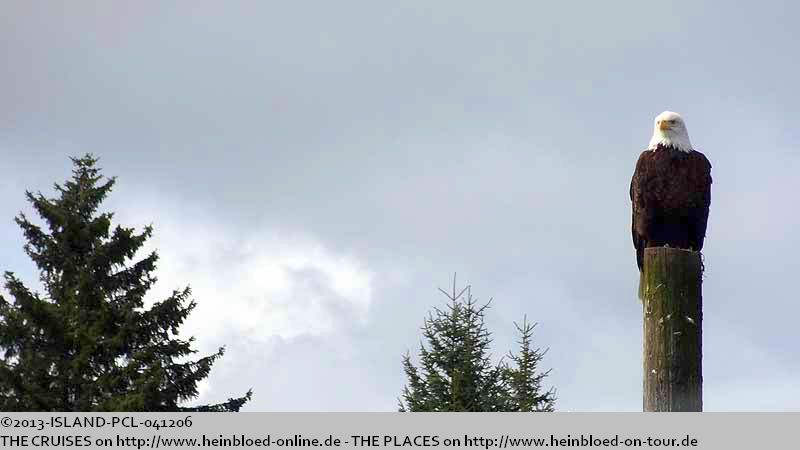 Ein Weißkopfadler beoachtet unsere Ausfahrt.
Und das ist so ziemlich der einzige Wal, den ich zu Gesicht bekomme.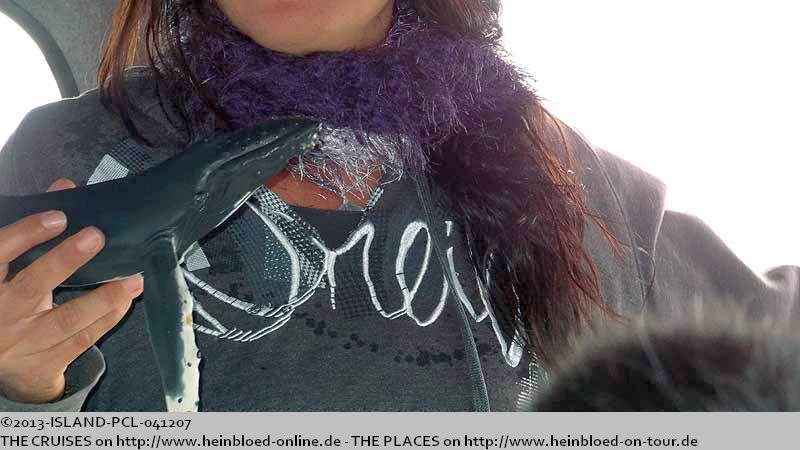 It was more or less the only what which I could see on the entire cruise.

Here in the rear, you had MATANUSKA (built in 1963).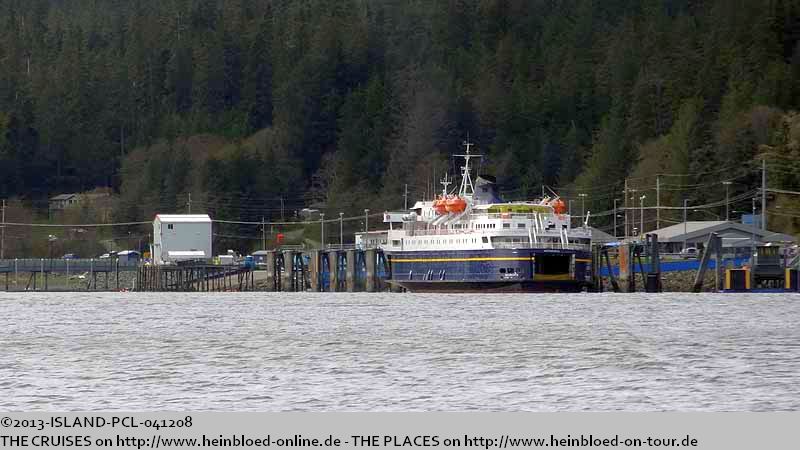 Hinten liegt die MATANUSKA (Baujahr 1963).
Und da käme noch die LE CONTE (Baujahr 1974).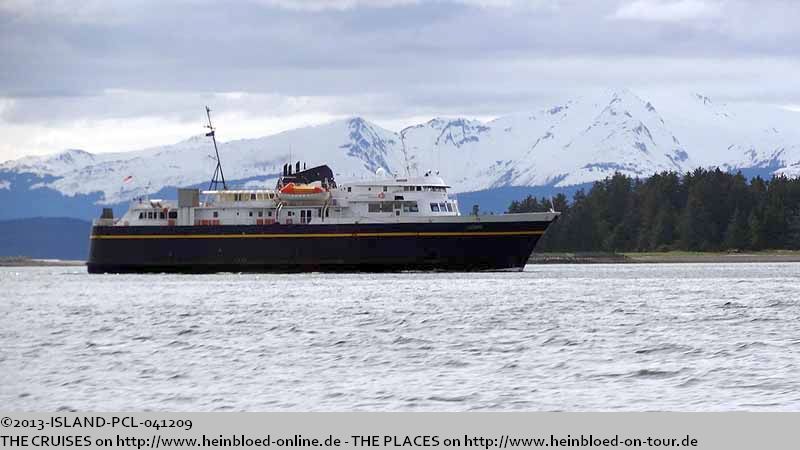 Then LE CONTE (built in 1974) came.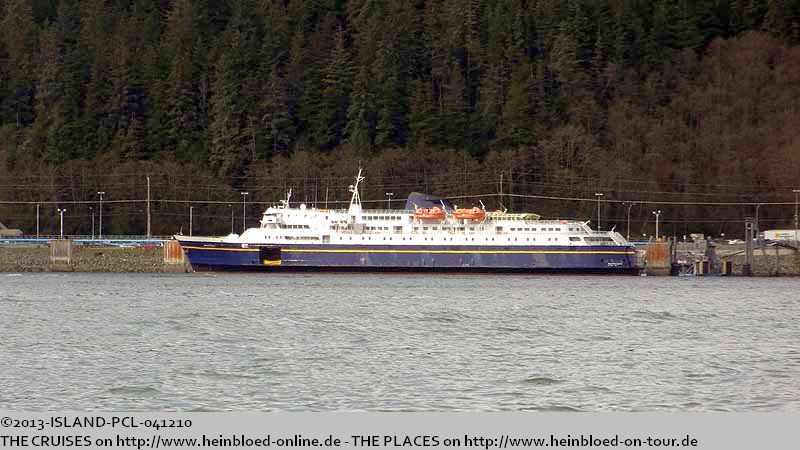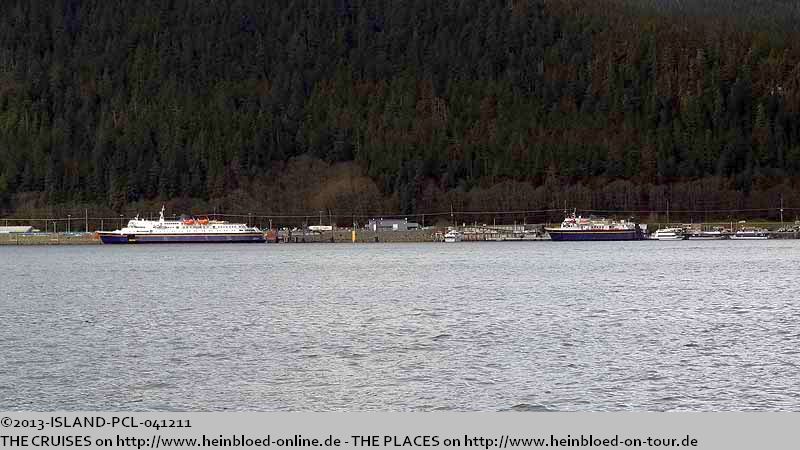 Everything looked so nice.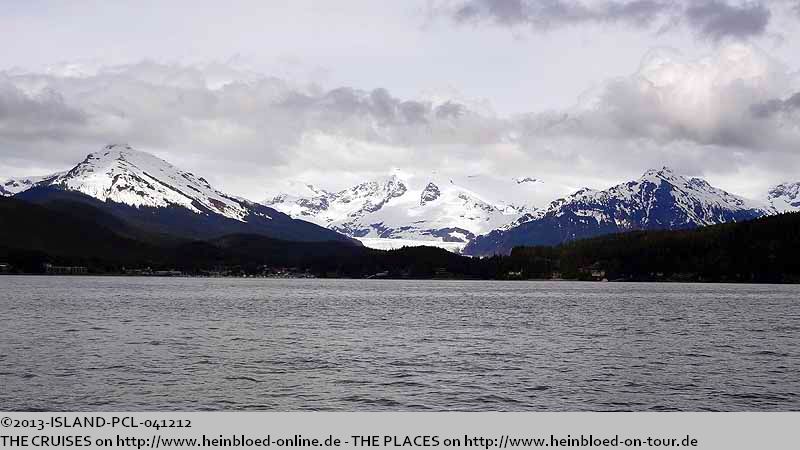 Sah alles ganz nett aus.
Aber ich fand es ziemlich langweilig und kalt.

But I found it only boring and cold.

There was nothing to see for a long time.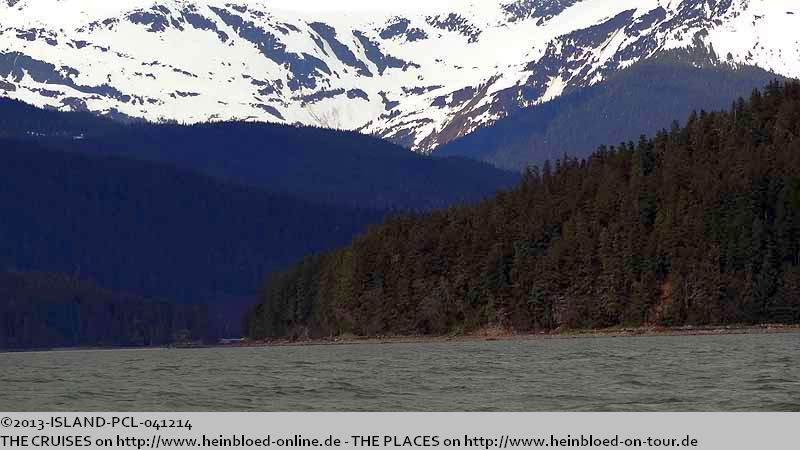 Man sieht erst mal lange lange nichts.
Dann sieht man einen Wal ausatmen.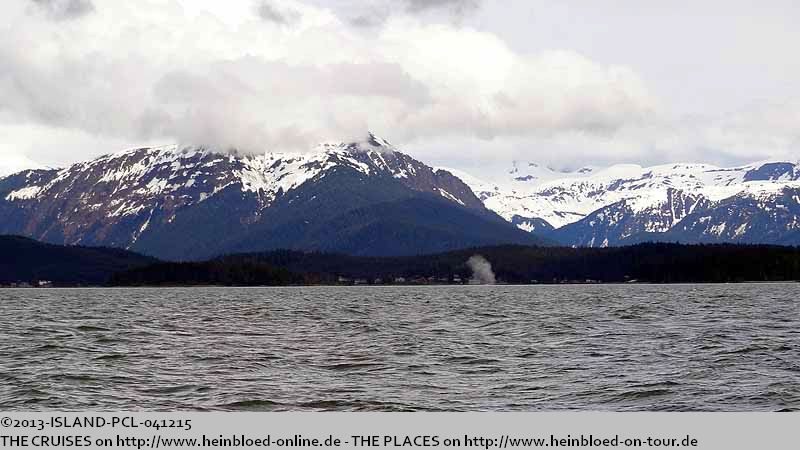 Then you see a whale breathing.

Then you see a piece of whale steak. That was it.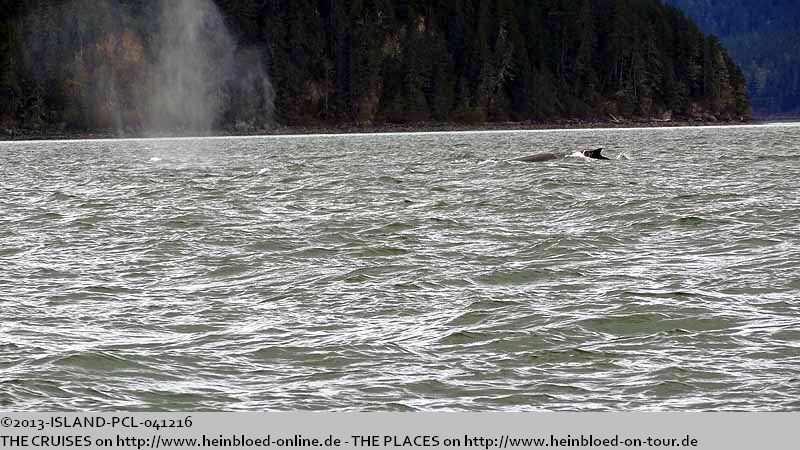 Und dann sieht man ein Stück Walfischsteak. Das war es.
Und so ging das mehrere Stunden lang.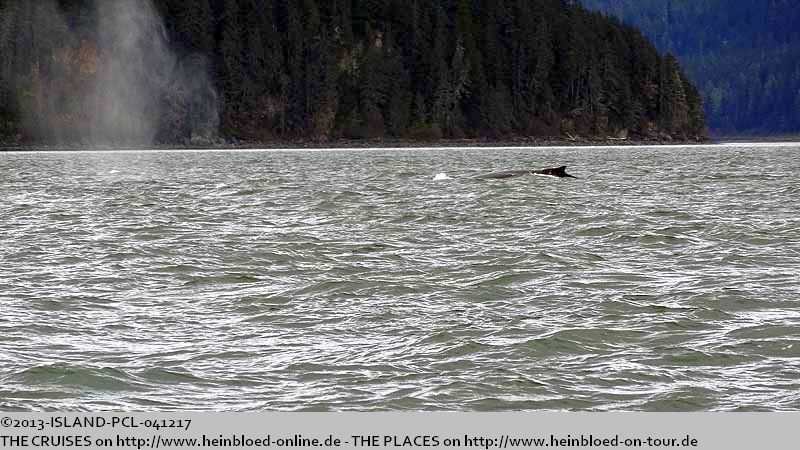 And that for hours.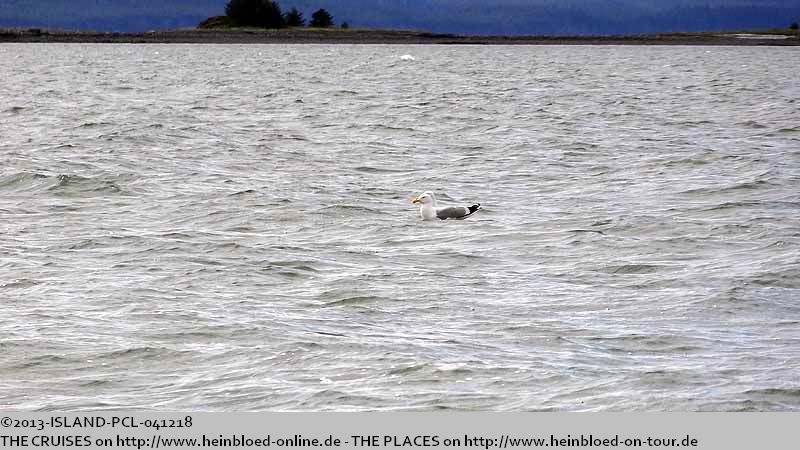 Wenigstens gab es Wasser und einen Riegel.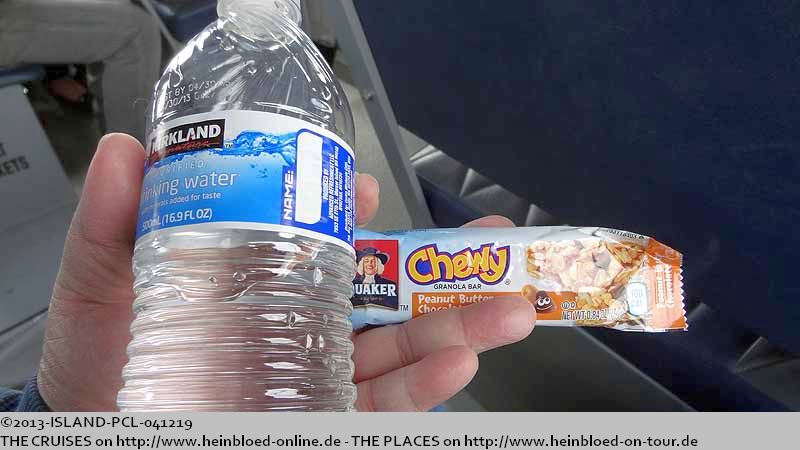 At least you got some water and a bar.

Somehow my expectations were different. Other might have luck. I did not. And it took too long, and it was too expensive and not efficient enough.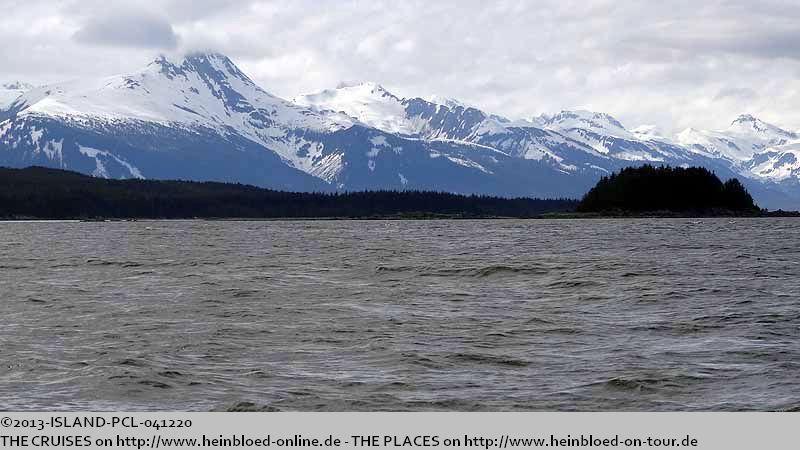 Irgendwie hatte ich mir das anders vorgestellt. Andere mögen Glück gehabt haben. Ich leider nicht. Und dafür dauerte es zu lange und es war zu teuer und nicht ergiebig genug vom Ergebnis.
Und wieder warten, warten, warten,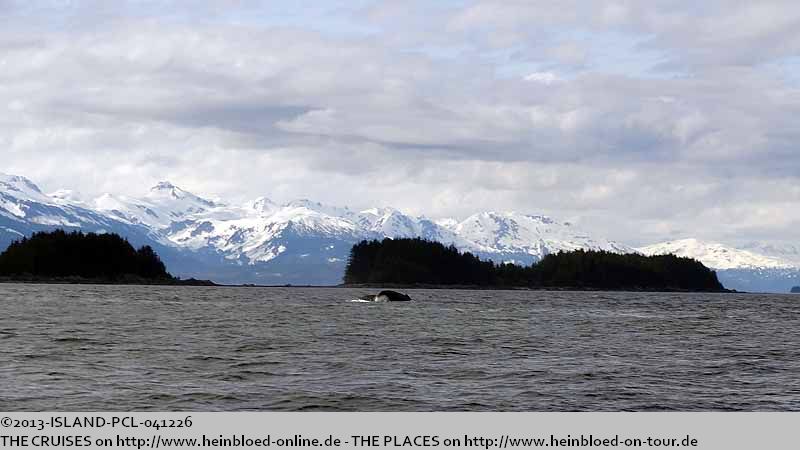 And again waiting, waiting, waiting...

And breath out...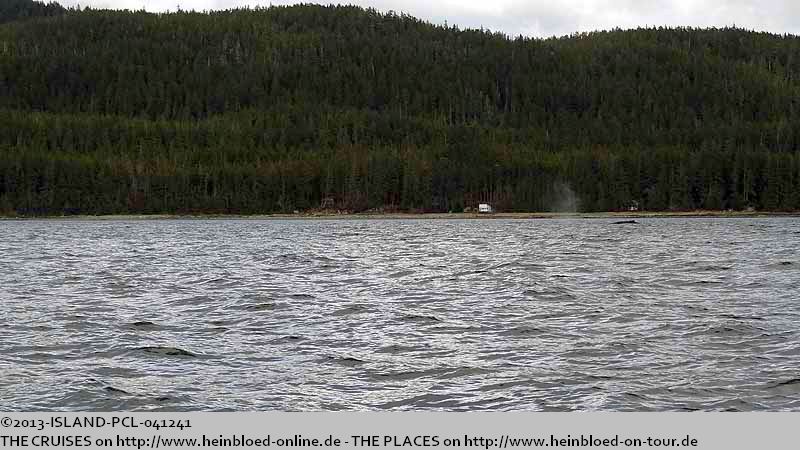 Ausatmen...
Und dann gibt es wieder ein Walfischsteak zu sehen...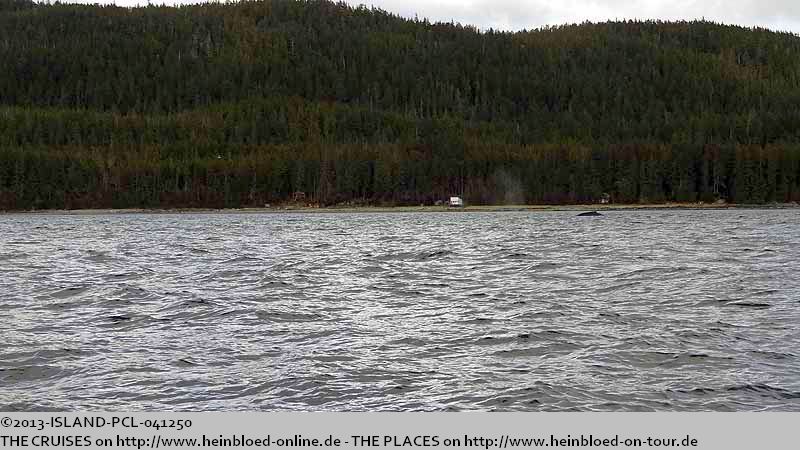 And again a piece of whale steak.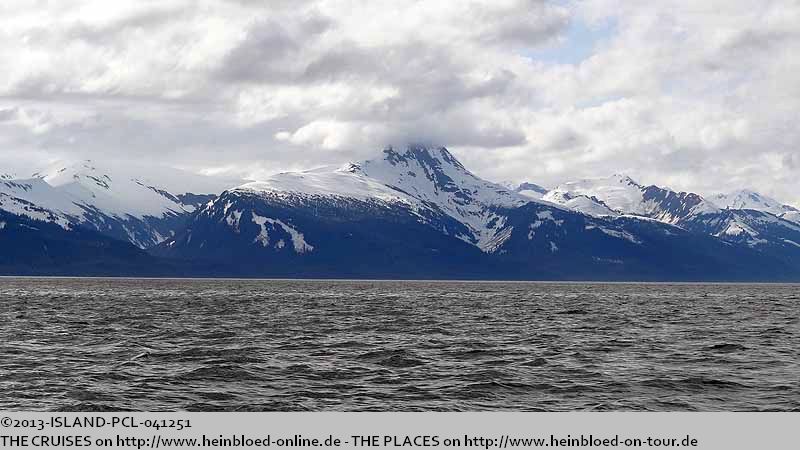 Zum Trost gab es ein paar Robben zu sehen, die sich auf einer Feuerboje ausruhen.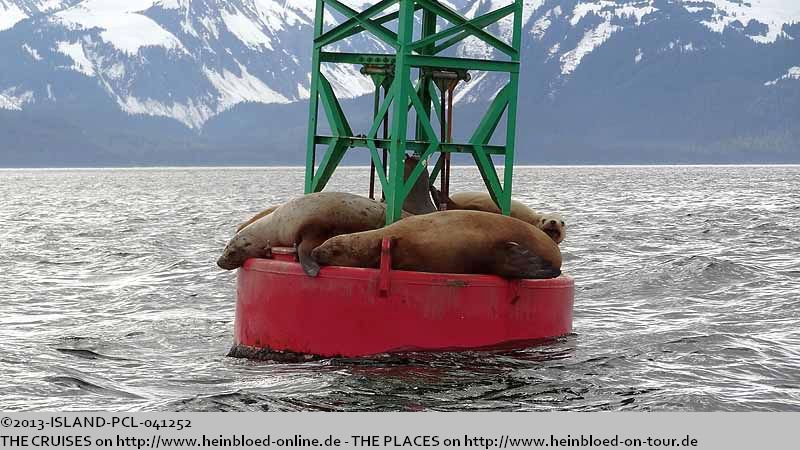 To our comfort we had few seals who had a rest on a fire buoy.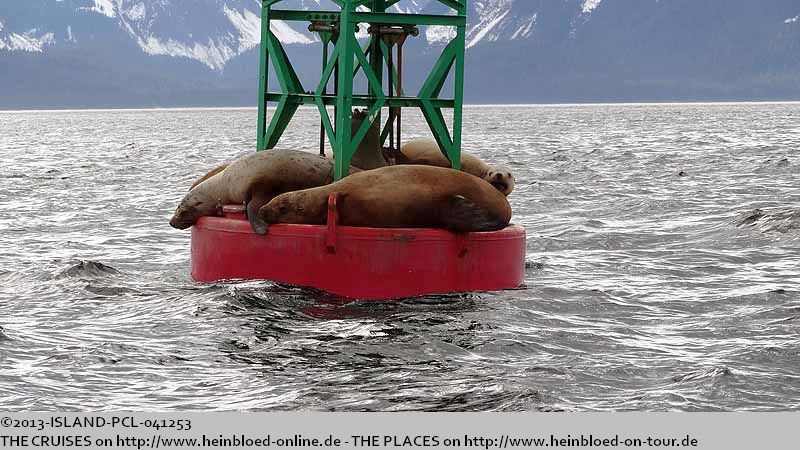 Sie sind sogar voll fies und lassen niemanden mehr rauf, auch wenn er angeschwommen kommt und einen langen Weg hinter sich hat.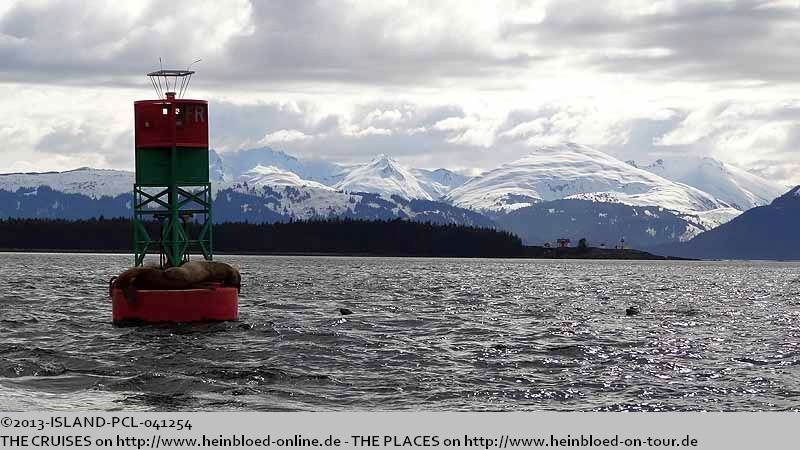 They behaved very bad and did not let anyone on who arrived swimming and had a long way behind.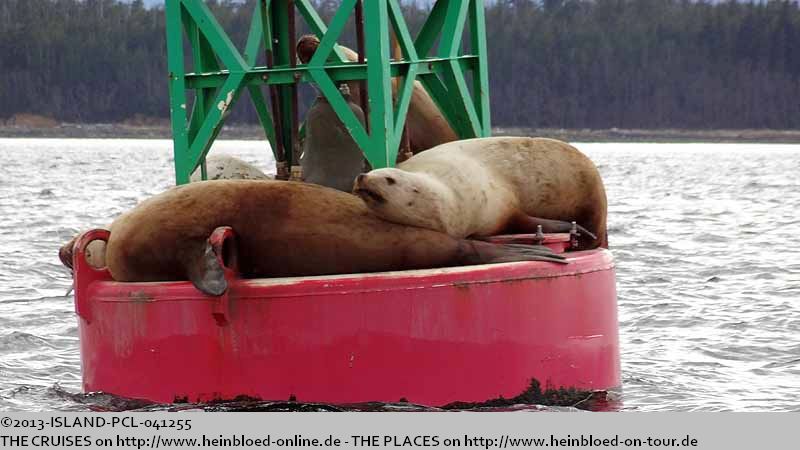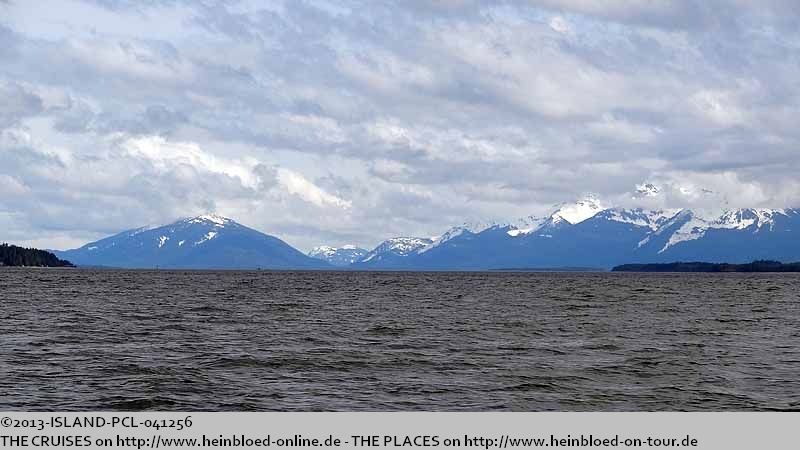 On the tour back I saw what I hoped to see - but as DVD on the TV-screen in our shuttle.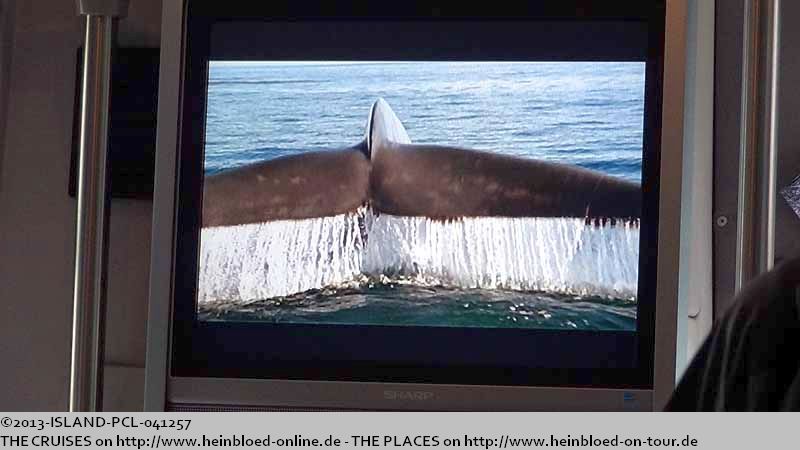 Auf der Rückfahrt sehe ich das, was ich mir erhofft habe zu sehen - allerdings als DVD auf dem Fernseher im Bus.
Weil es einer Texanerin viel zu heiß ist, wird sofort die Klimaanlage auf volle Touren aufgedreht, so dass das Stoffstück im Wind steht.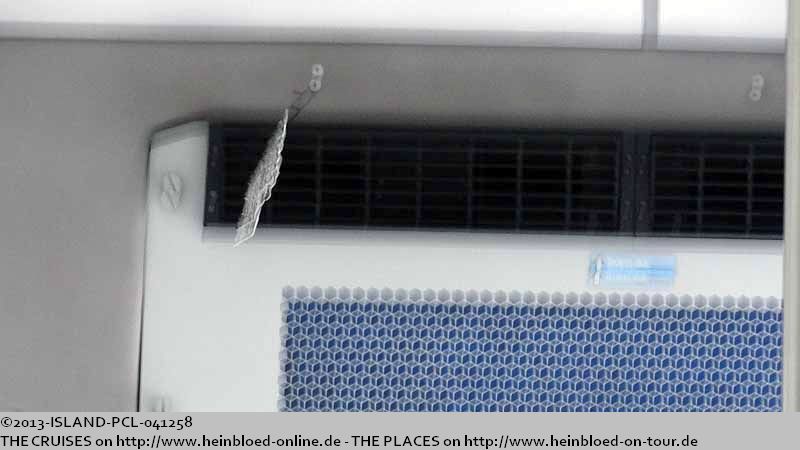 Because one Texas lady felt it was too cot they turned on the air condition in full operation so you could see the little piece of fiber blowing in the wind.

And finally, we saw that they had indeed a bus showing Whale Watch. Unbelievable.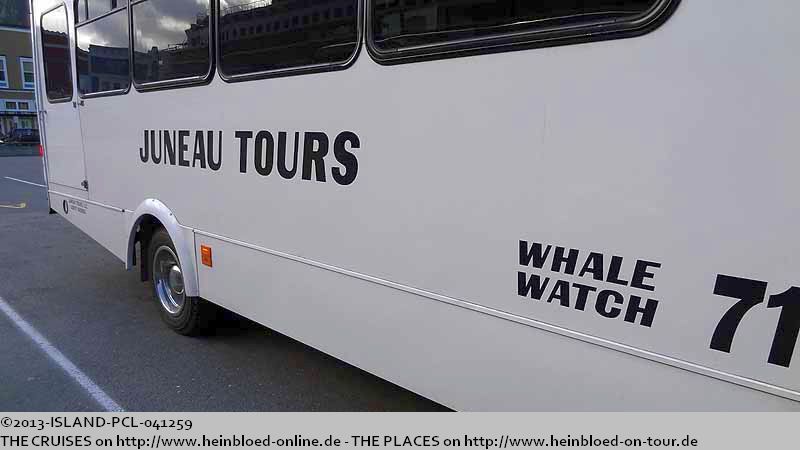 Und endlich sehen wir, dass es tatsächlich einen Bus mit der Aufschrift Whale Watch gibt. Kaum zu glauben.
Leider war niemand mehr da, den ich noch hätte in den Hintern treten können. Nur noch Bruno: der hat es aber nicht verdient und war nach der langen Zeit auf dem kalten zugigen Schiff krank geworden.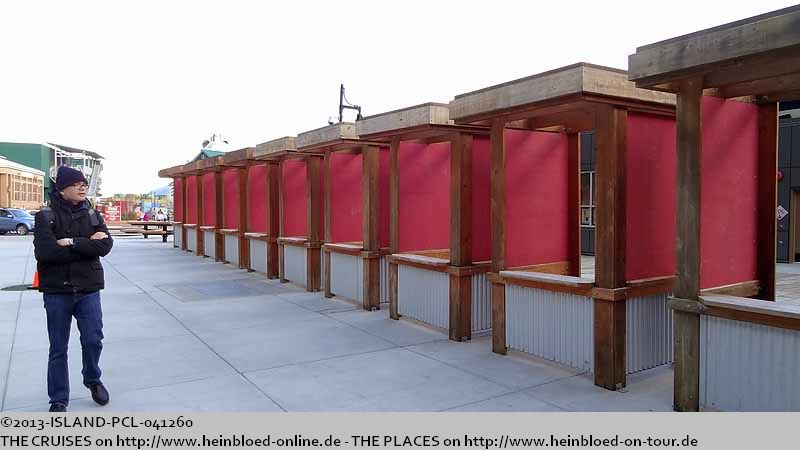 Unfortunately there was nobody there anymore to kick in the ass. Only Bruno: but he did not deserve it to be kicked, and after the long stay on the cold, breezy ship he became sick.
Die anderen Reisen in diesem Blog/
The other voyages in this blog: