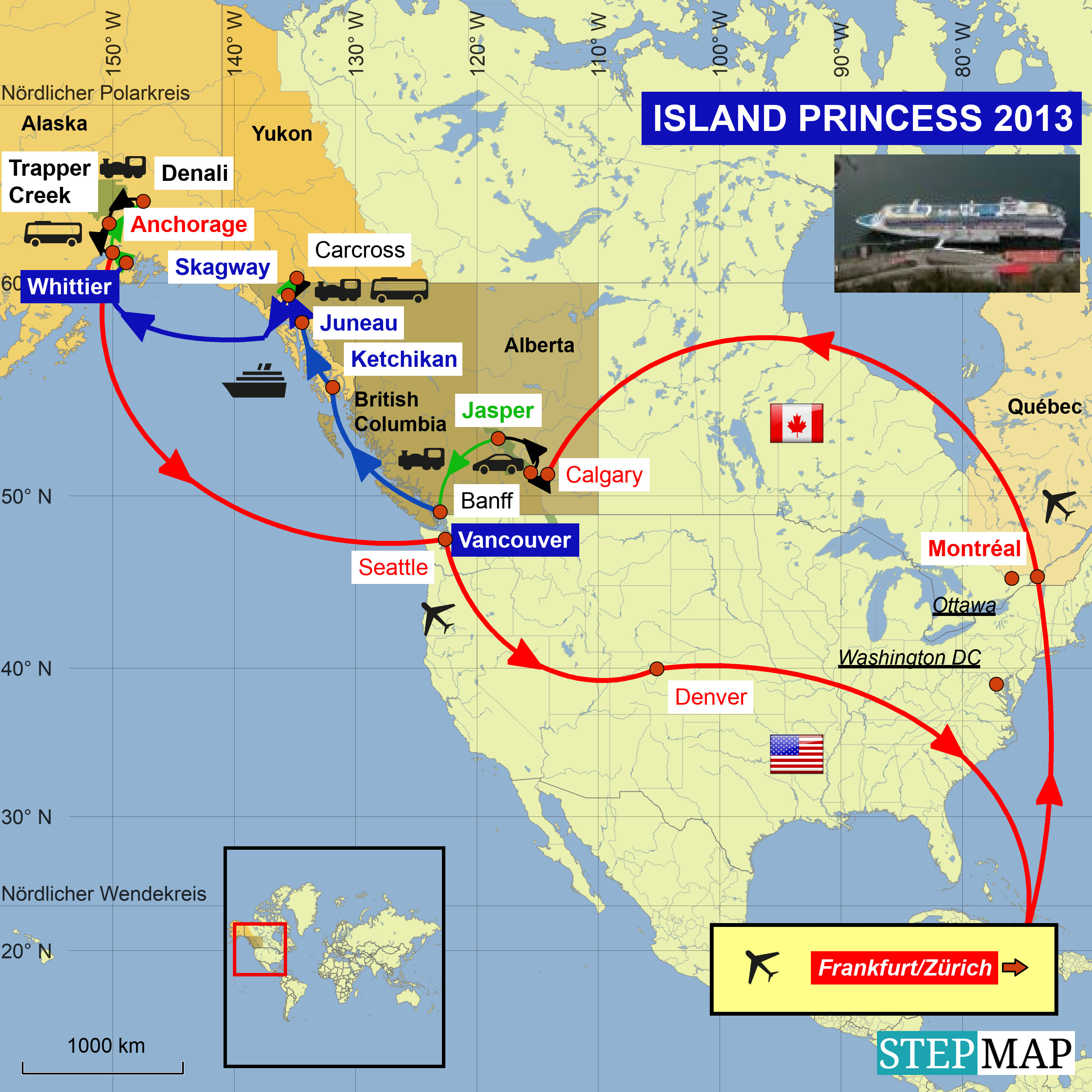 Wir müssen zur Seenotrettungsübung. Auf in die Universe Lounge, die sich nur ein Deck tiefer befindet. Nachdem wir zuletzt von Deck 15 nach Deck 7 laufen mussten, sind wir sehr froh, dass wir in unmittelbarer Nähe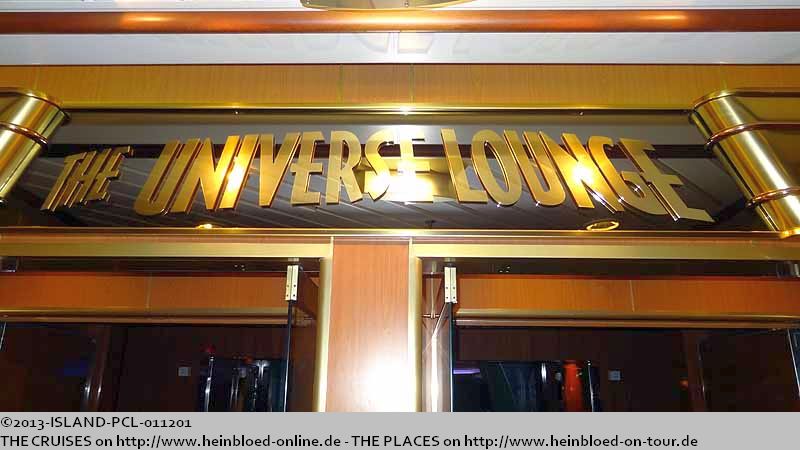 We need to attend the life drill. So we headed to the Universe Lounge which was only one deck lower. After we had to walk from Deck 15 to Deck 7 on the last ship, we appreciated being so close to the muster station.

We were guided to vacant seats, so they made sure that none had to browse around to find empty seats.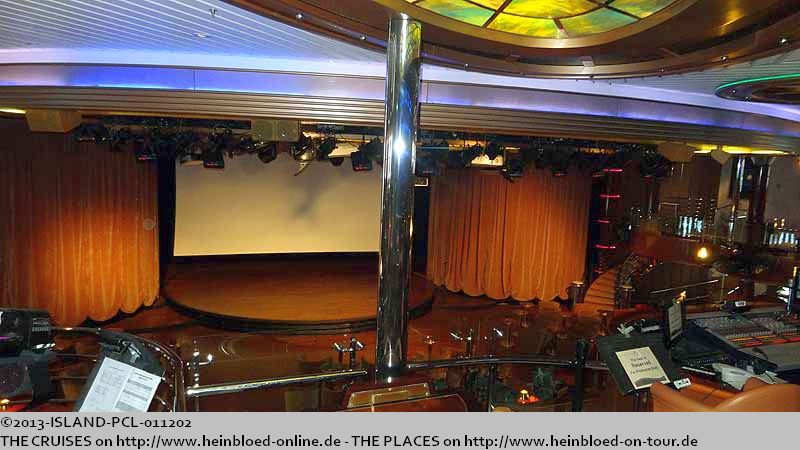 Wir werden auf freie Plätze geleitet, so dass sichergestellt ist, dass niemand lange sich einen Platz suchen muss.
Mit einem Scanner wird unsere Anwesenheit dokumentiert.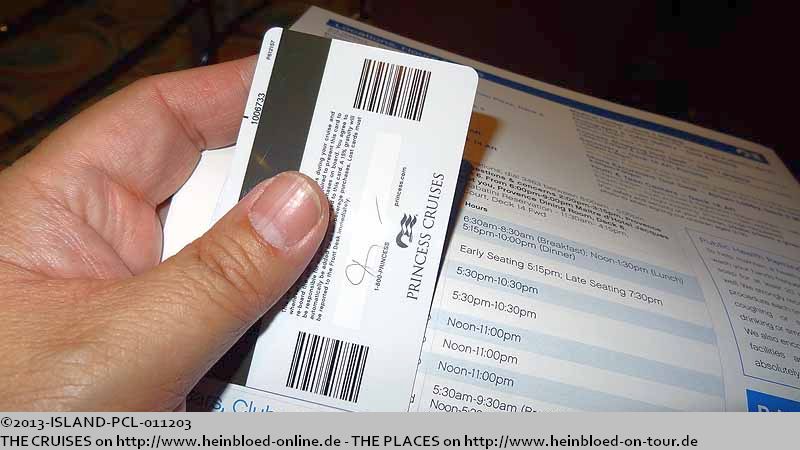 They used a handheld scanner to record our presence.

A very nice lounge.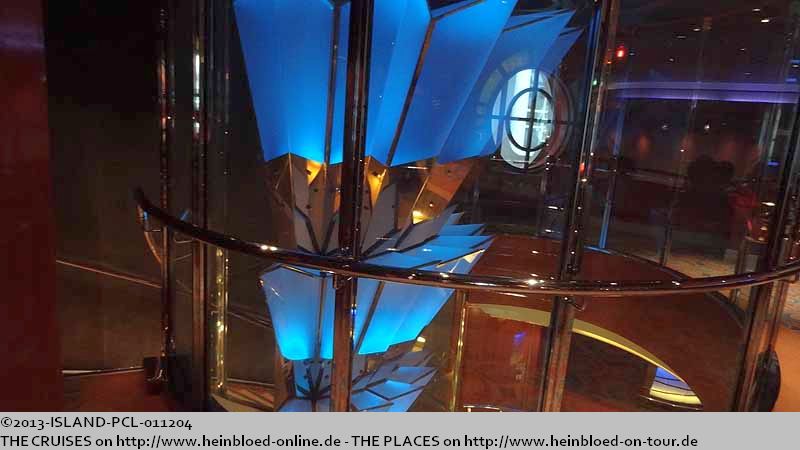 Eine sehr schöne Lounge.
Die Rettungswesten müssen wir mitführen.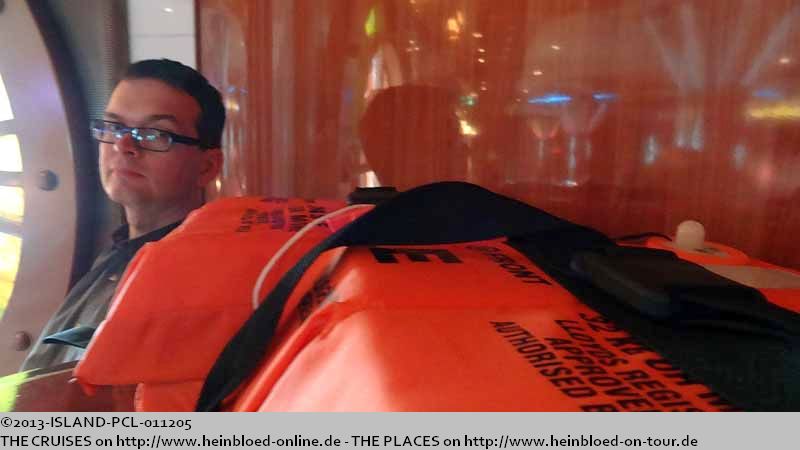 We had to carry the life vests with us.

As we were Youngsters were placed in the seats at high tables, so I was unable to find some sleep. But I would not have anyway a lot of time to do so: the life drill was conducted in one language only so it went quite quickly after we showed that we were able to handle the life vests.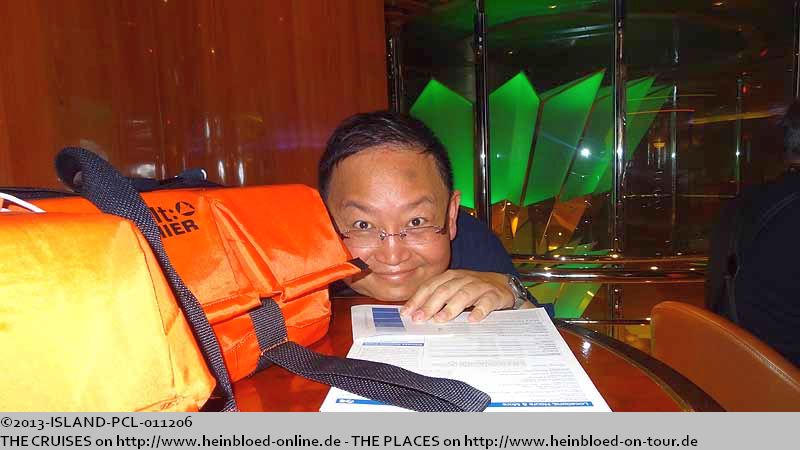 Weil wir als Jüngere an die Hochtische gesetzt werden, kann ich kaum richtig schlafen. Aber viel Zeit hätte dafür eh nicht gehabt: Zumindest hier gibt es nur eine Sprache, so geht es alles Recht schnell, nachdem wir einmal zeigen mussten, dass wir selbst die Rettungswesten umlegen können.
Auf dem Weg zurück gucken wir im SB-Waschsalon vorbei, das bei uns in der Nähe ist.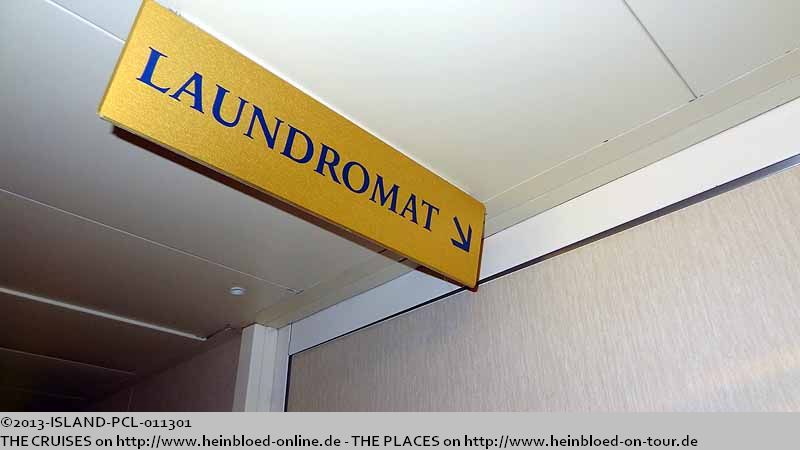 On our way back we had a sneak view to the laundromat which was based close to our cabin.

Inside you could also watch TV.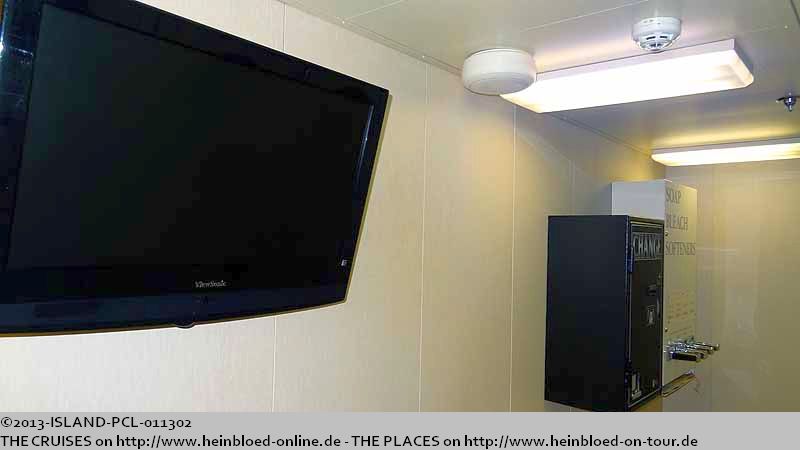 Drinnen kann man sogar Fernsehen gucken.
Amerikanische Bauart. Das geht schnell...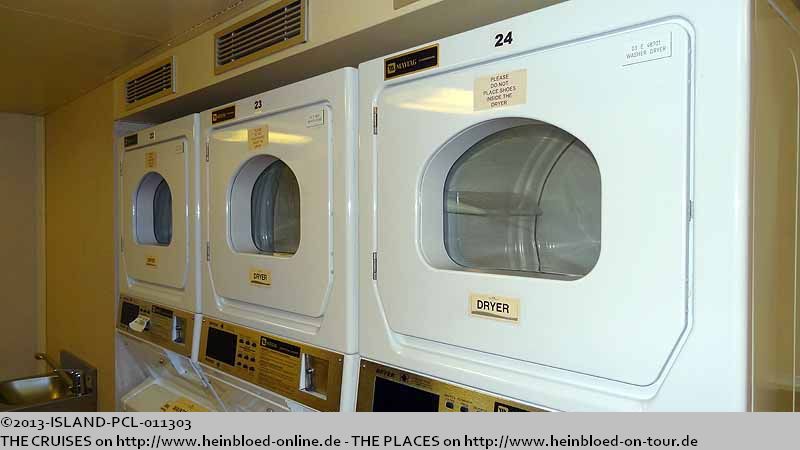 American Style. So it would work quite fast...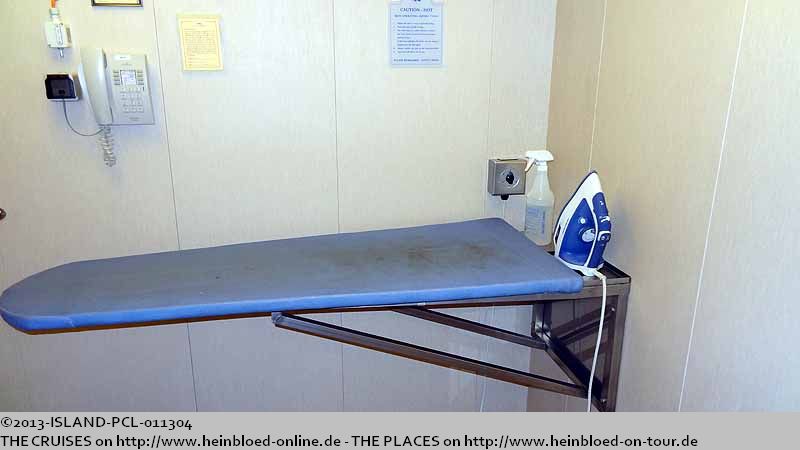 Man muss keine Waschmittel, Weichspüler, Bleichmittel mit an Bord schleppen. Kann man alles kaufen. Sogar ein Wechsler steht bereit.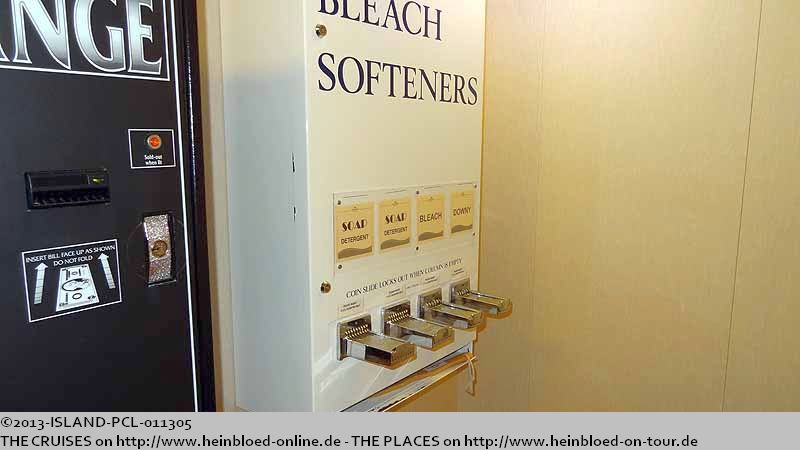 You must not carry detergents, softeners, bleachers on board. You can just buy here. Even you could change here.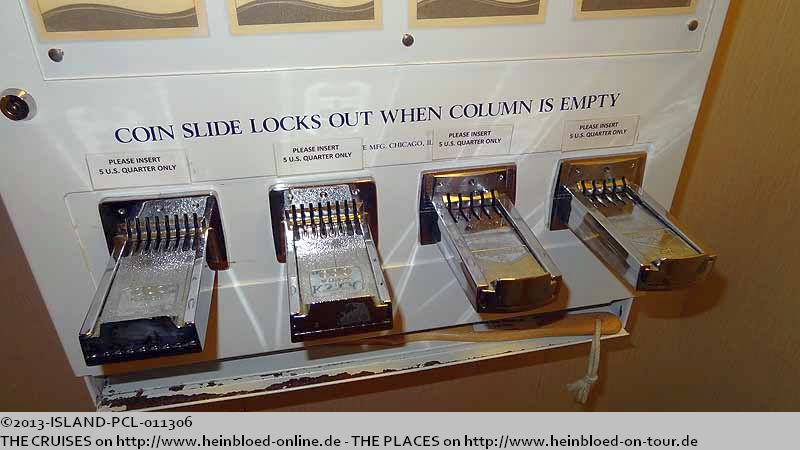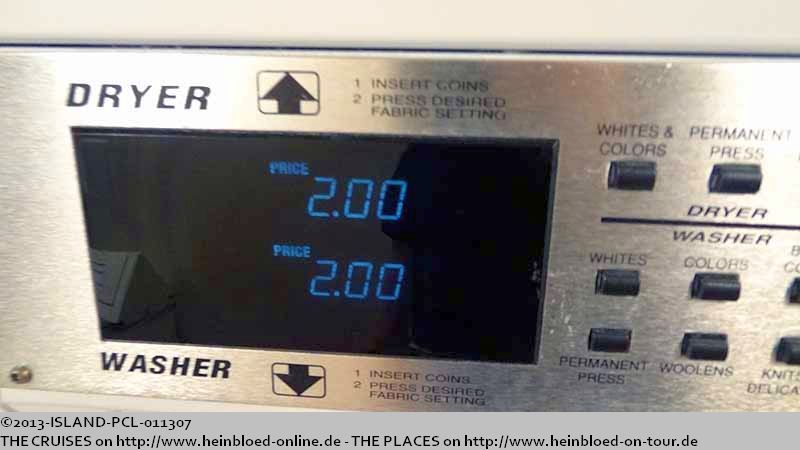 Our cabin was located next to the door to the aft. Subject to this door was open it could be a little breezy in our cabin.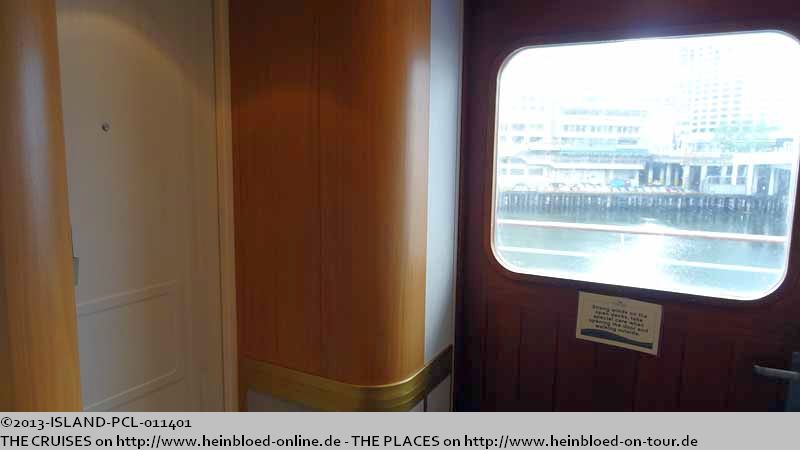 Unsere Kabine liegt direkt am Heckausgang. Dadurch zieht es ein bisschen bei uns, wenn die Tür offen ist.
Von hier können wir schön gucken und stellen leider fest, dass wir die NORWEGIAN SUN nicht mehr sehen können, weil wir erst zwei Stunden später auslaufen werden. Eine kleinere Reparatur ist noch notwendig. Später wird es schon schwierig eine entsprechende Werft später zu finden, deswegen besser jetzt hier, als später mit großen Problemen.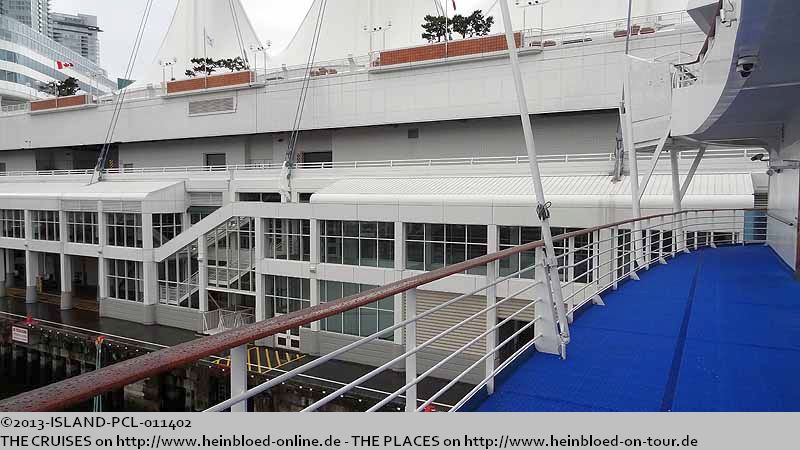 From here we had a beautiful view, but we had to find out that we had no chance to see NORWEGIAN SUN anymore because we would set sail two hours later. A minor repair was necessary. I thought it might be difficult to find an appropriate shipyard so it might be better to do it now but soon.

So we set sail, and NORWEGIAN SUN did not wait for us - normally we should sail first and I could easily take great shots from here.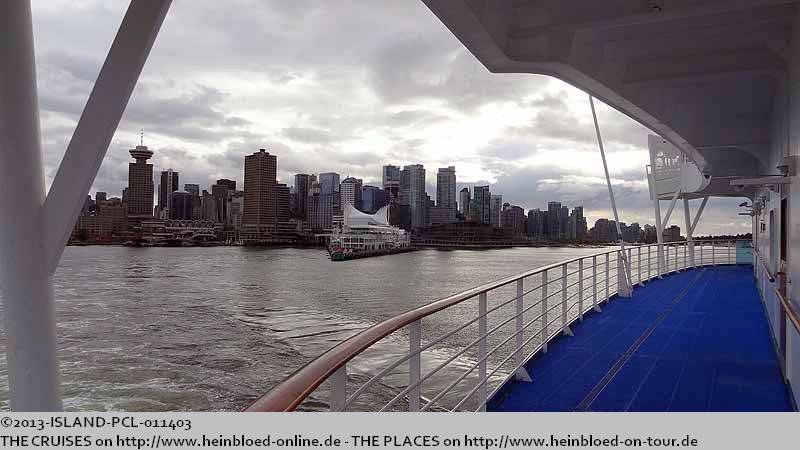 Dann geht es auch schon los und die NORWEGIAN SUN hat nicht auf uns gewartet, denn nomalerweise hätten wir vor ihr auslaufen müssen und hier hätte ich noch großartige Aufnahmen machen können.
Bruno inspiziert zunächst einmal das Fitness-Studio und ist dieses Mal sehr zufrieden.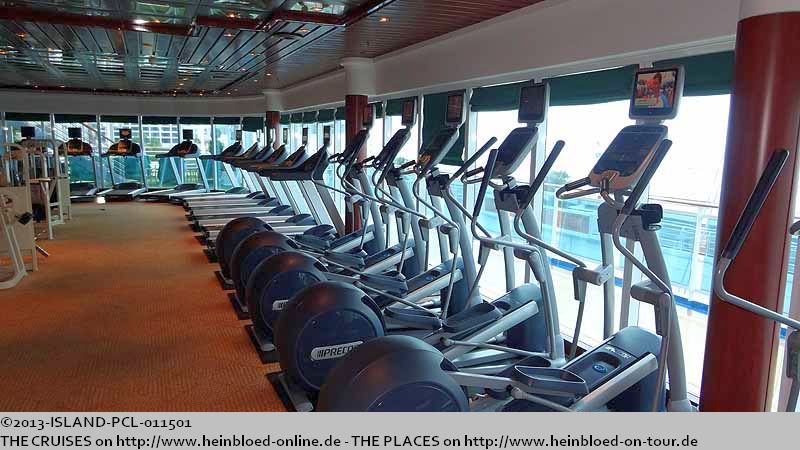 Bruno inspected the gym and he was glad this time.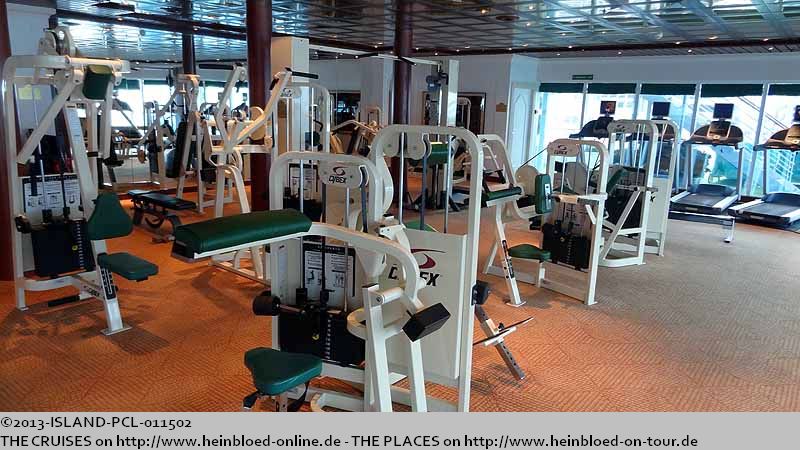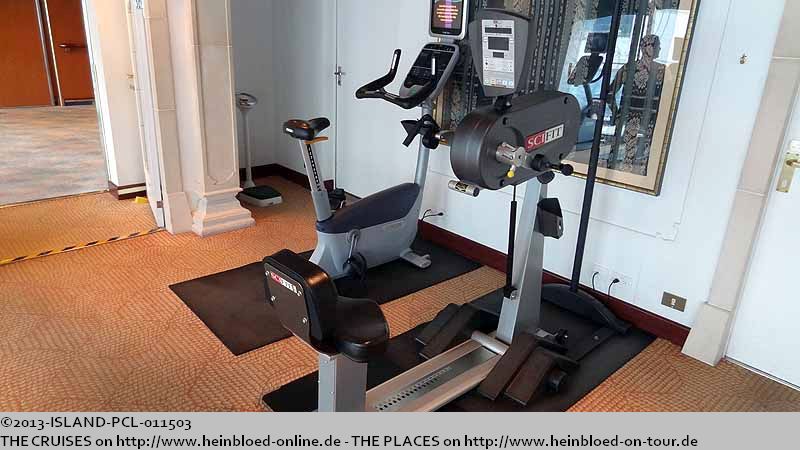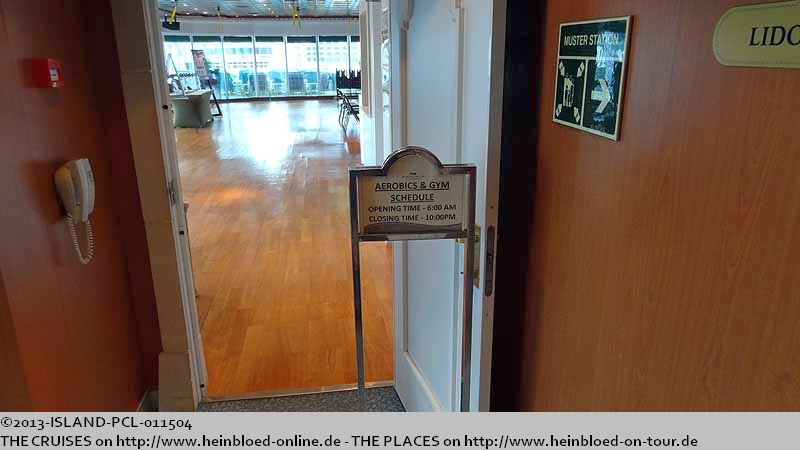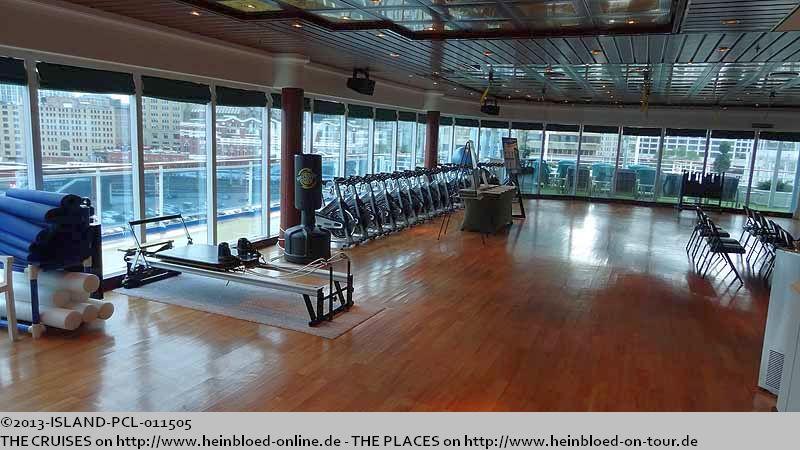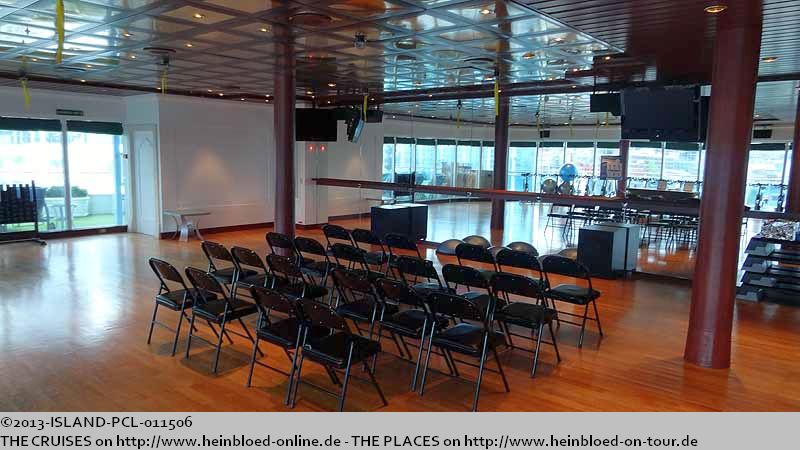 Ich gucke mich rum nach dem, was mich mehr interessiert und finde schon mal das Bayou Café und Steakhouse.

I was looking around for that what I am interested more: Bayou Café and Steakhouse.

A message was waiting for us.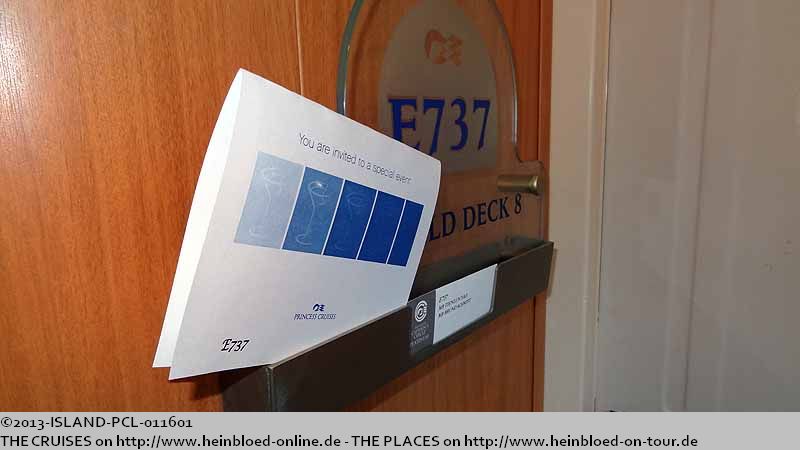 In der Kabine erwartet uns eine Nachricht.
Unsere Einladung für die Elite Lounge, die wir als Platinum-Mitglieder nutzen dürfen.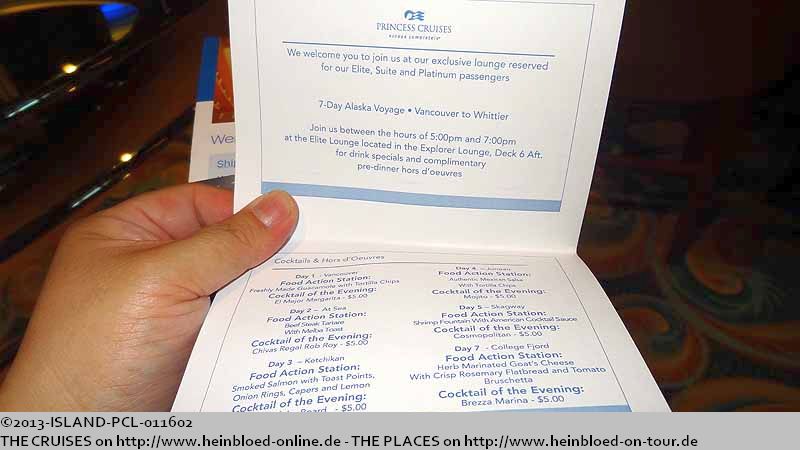 Our invitation for the Elite Lounge which we were allowed to use as Platinium-members.

So we learned at the begin of the cruise what we get to eat the following days.

Schon jetzt erfahren wir, was wir in den nächsten Tagen zu essen bekommen.
Die Elite Lounge befindet sich im hinteren Teil der Explorer's Lounge.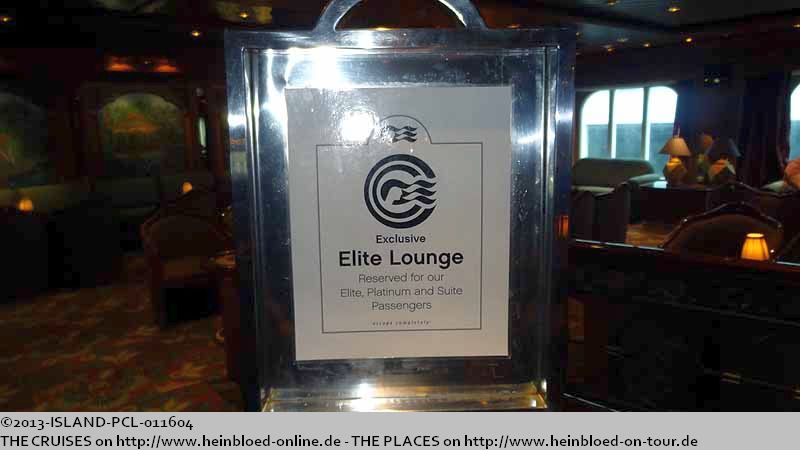 The Elite Lounge was set at the rear of the Explorer's Lounge.

You had the usual snacks.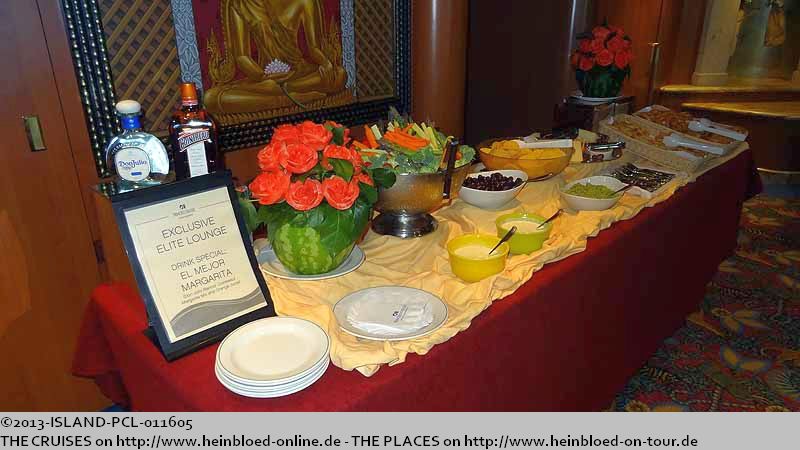 Es gibt die üblichen Kleinigkeiten.
Sowie einen verbilligten Cocktail.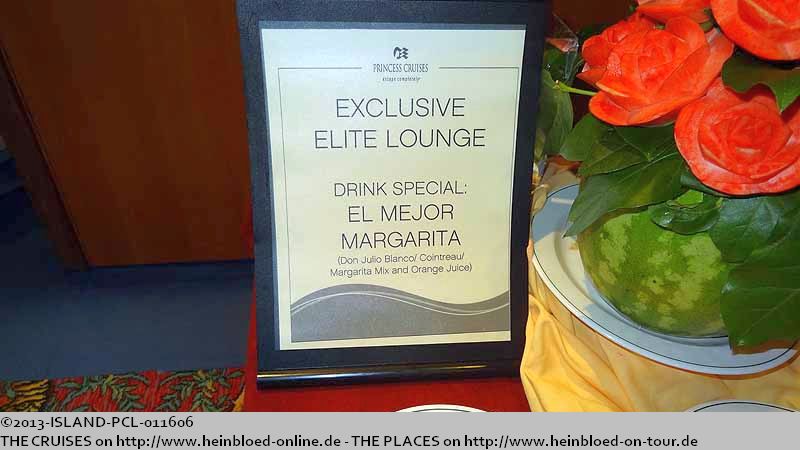 And a discounted cocktail.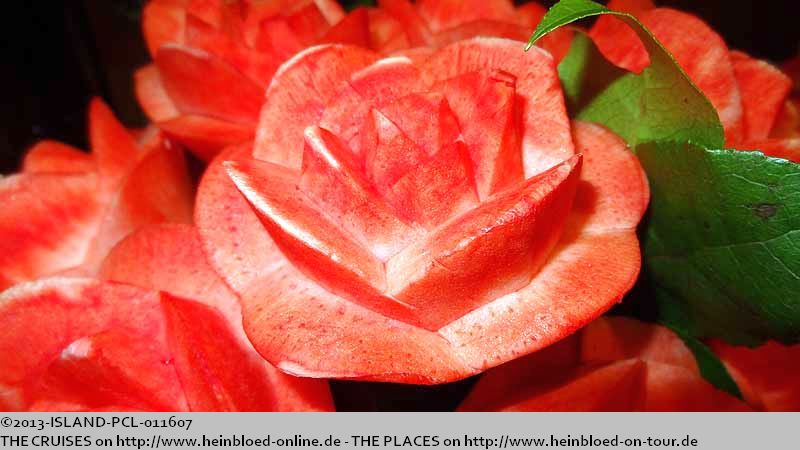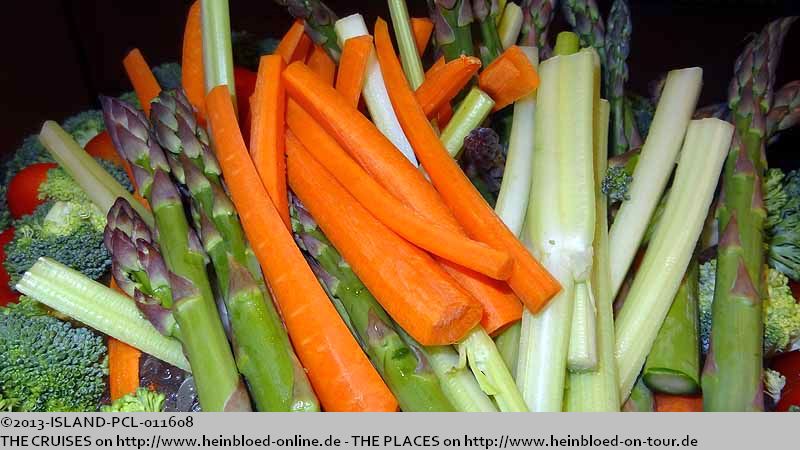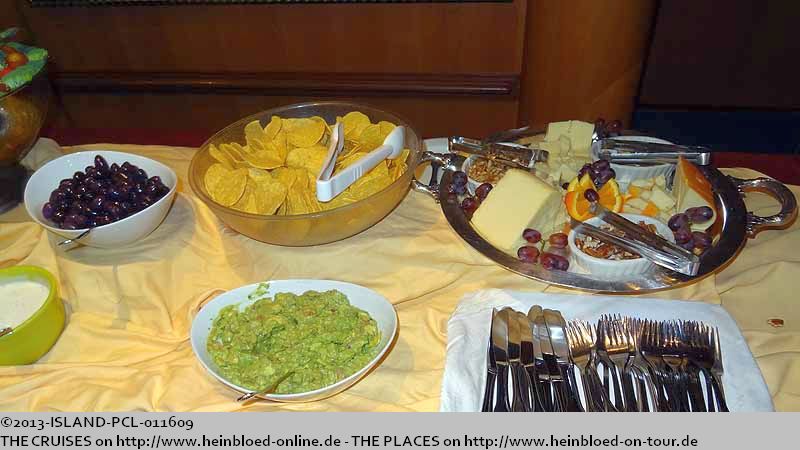 Nach dem ich ein paar Käsestangen esse, die wirklich lecker sind, gehe ich wieder. Mir ist es hier zu kalt und zu unfreundlich. Sowohl vom Ambiente als auch von der Crew. Hier hat keiner Lust eine Extra-Meile zu laufen. Also behalte ich meine Dollar-Noten, weil es keinen Grund gibt, sie hier in die Crew zu investieren.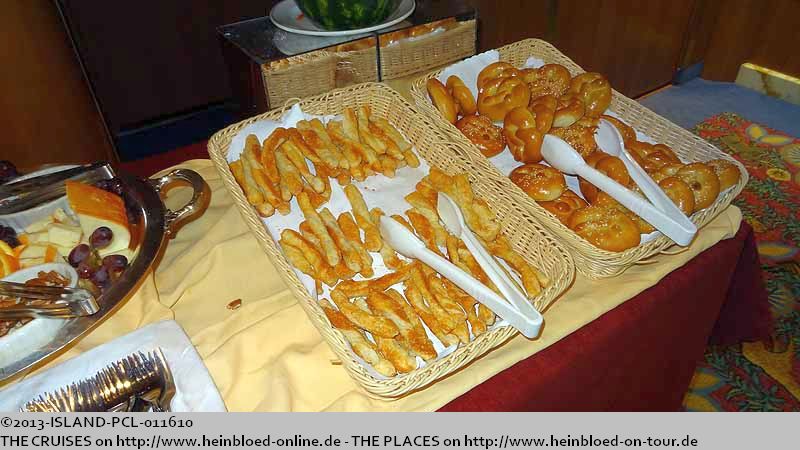 After I had some of the cheese sticks which were really yummy I went away. It was too cold and too unfriendly. Somehow the ambiance but also the crew. Here none was willing to walk an extra mile. So I kept my singles as there was no reason to spend to them.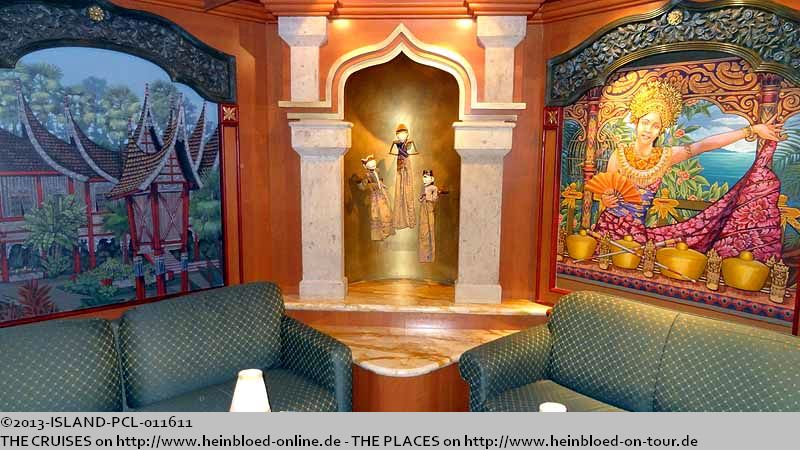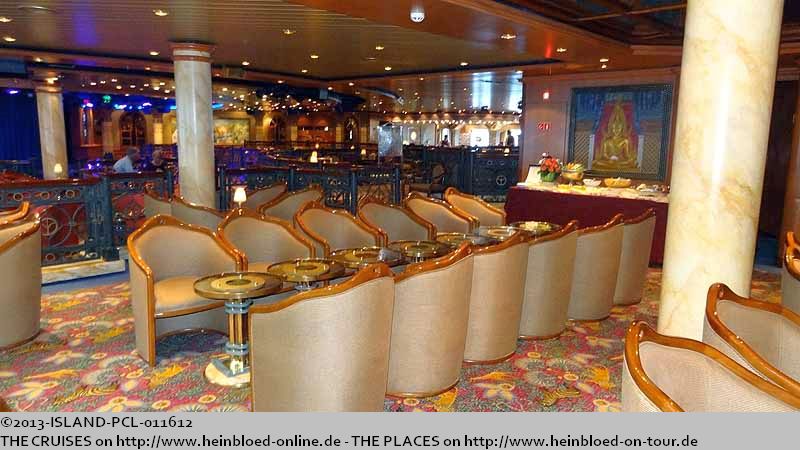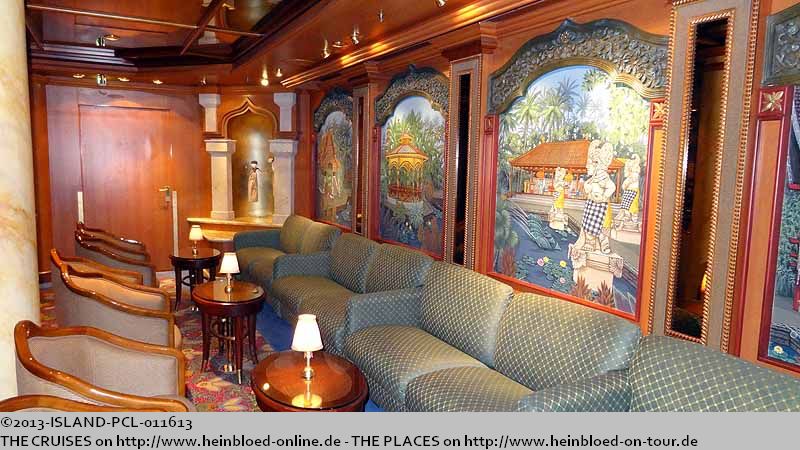 Die anderen Reisen in diesem Blog/
The other voyages in this blog: