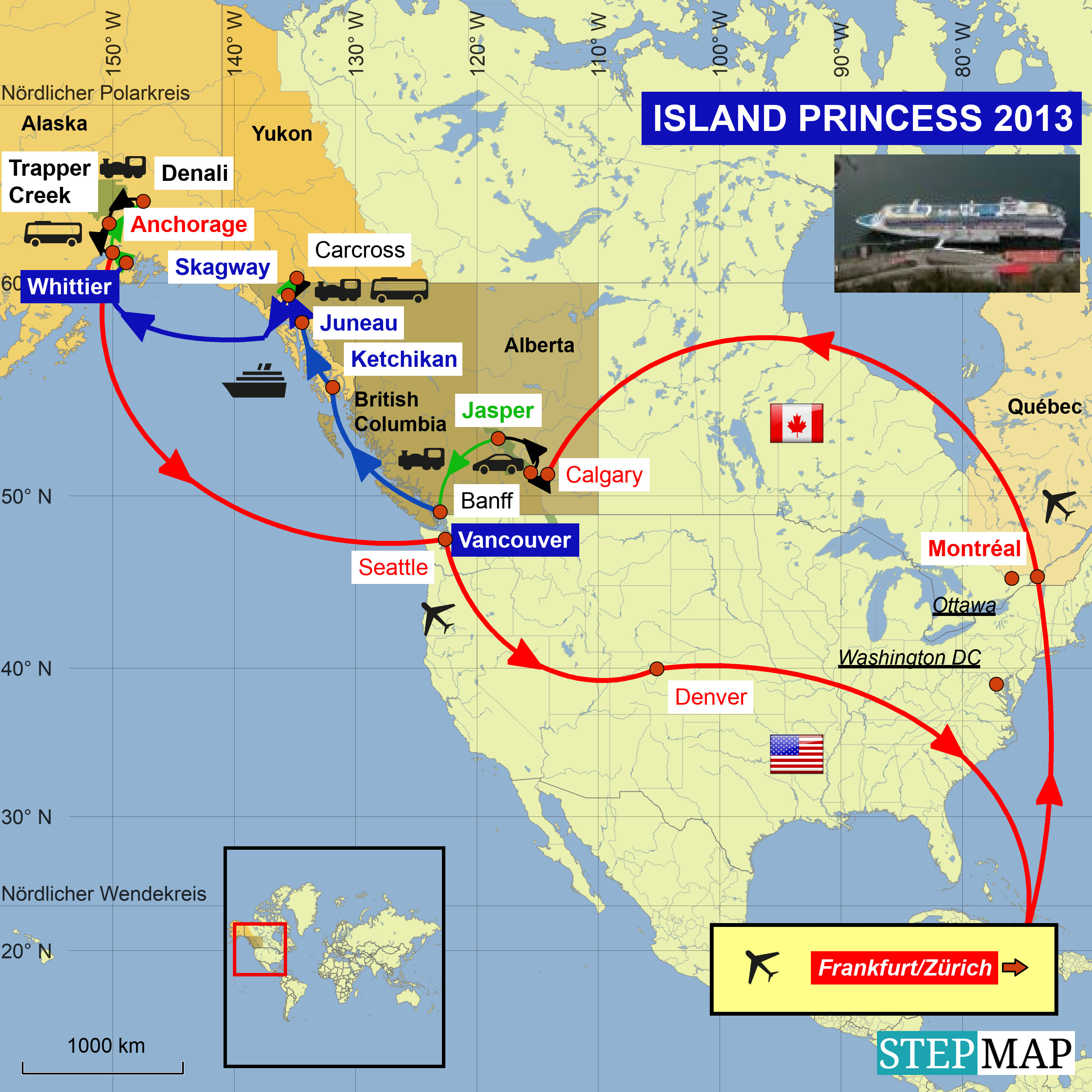 Es ging weiter Richtung Jasper.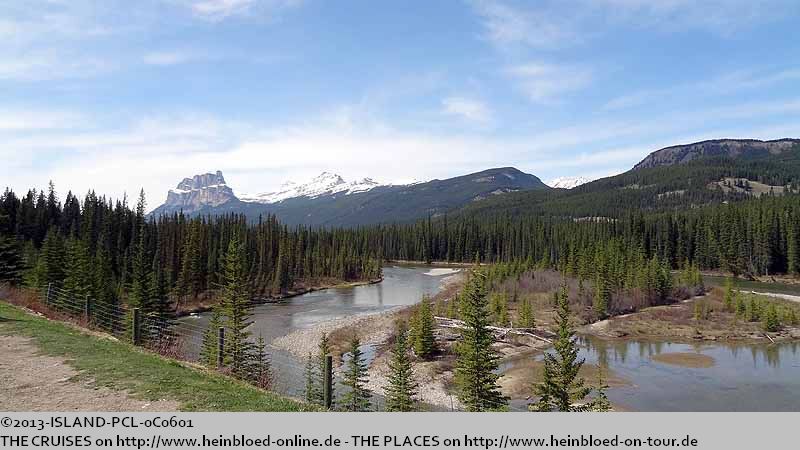 Heading towards Jasper.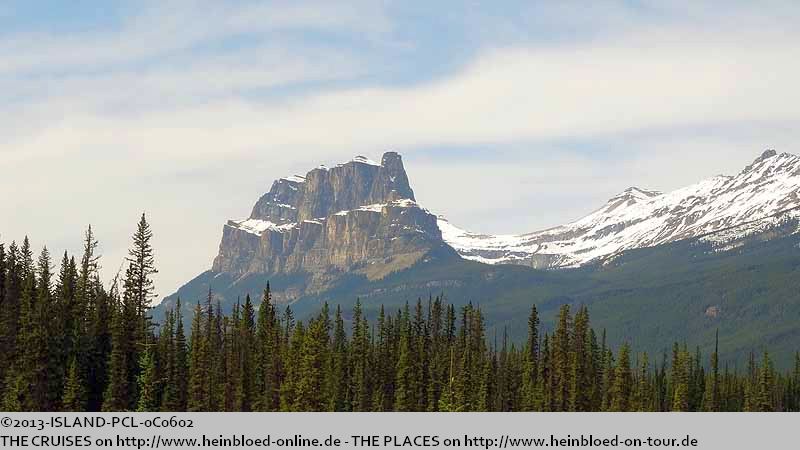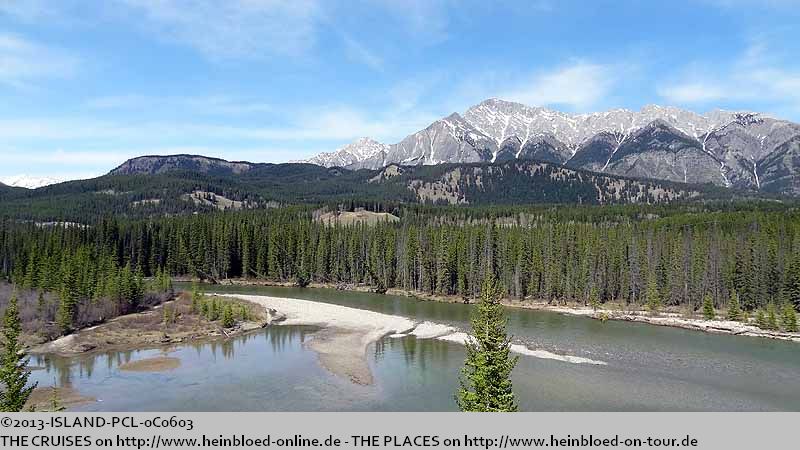 No car came along the road for miles... and then a car carrying truck on the road... Was there a car dealer on the way?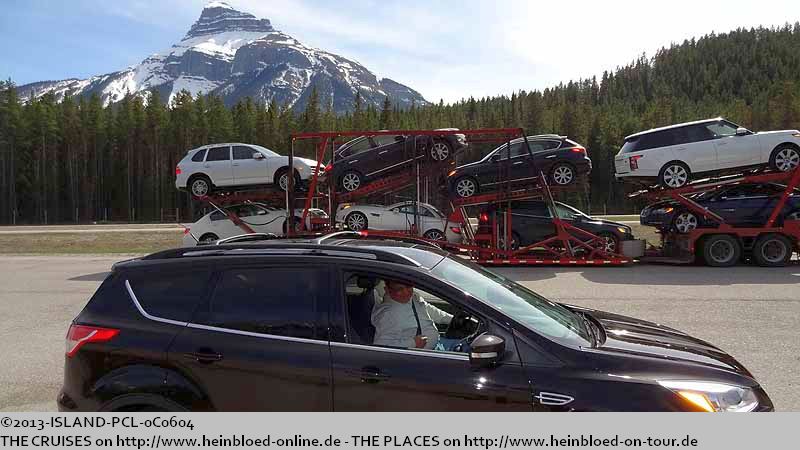 Oft kommt uns kilometerlang kein Auto entgegen... und dann ein Autotransporter auf der Straße... Gibt es einen Autohändler auf dem Weg?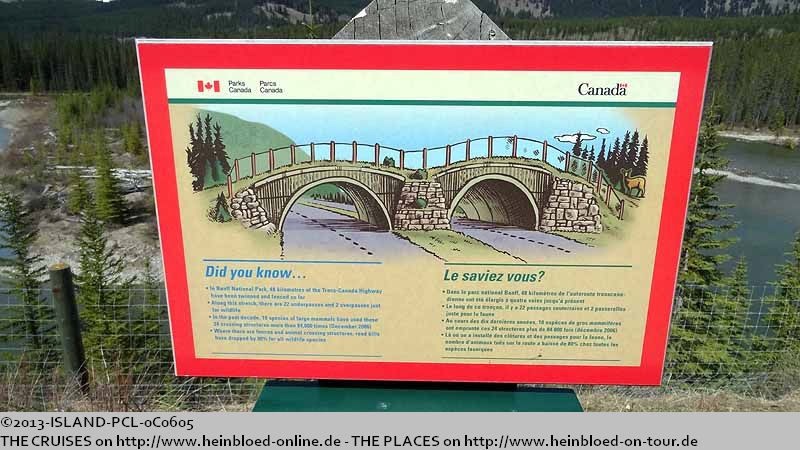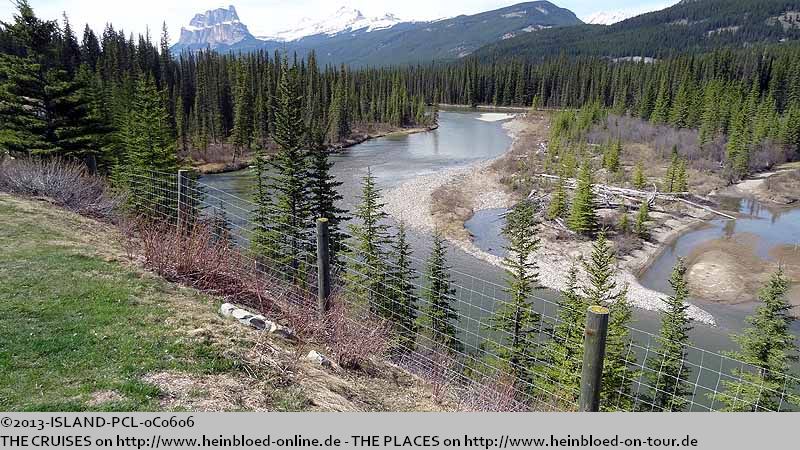 Und dann kommen wir hier an:
Fairmont Chateau Lake Louise
.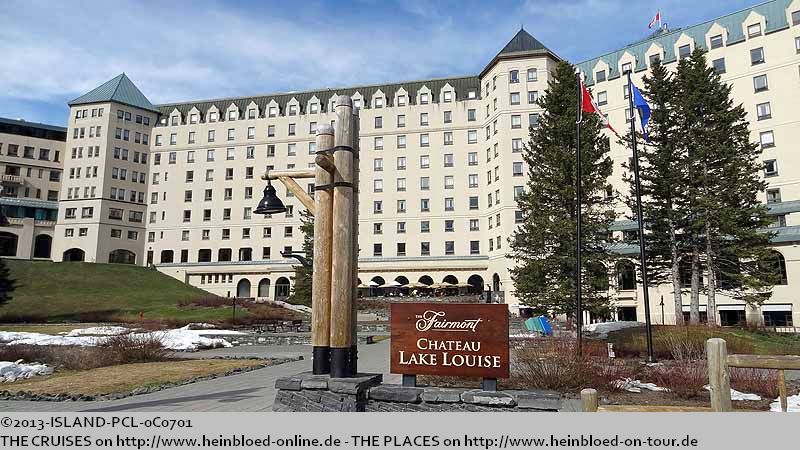 And then we arrived here: Fairmont Chateau Lake Louise.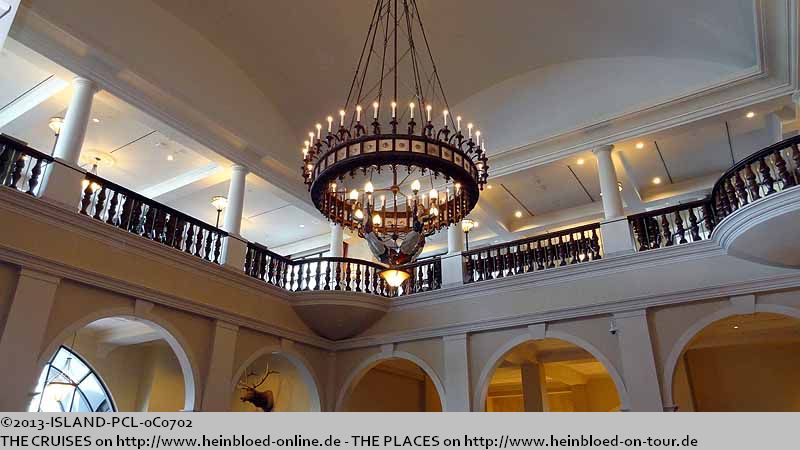 Leider gibt es keine Tea-Time mehr zu Tea-Time... Das gibt es interessanterweise nur mittags und nur mit Reservierung.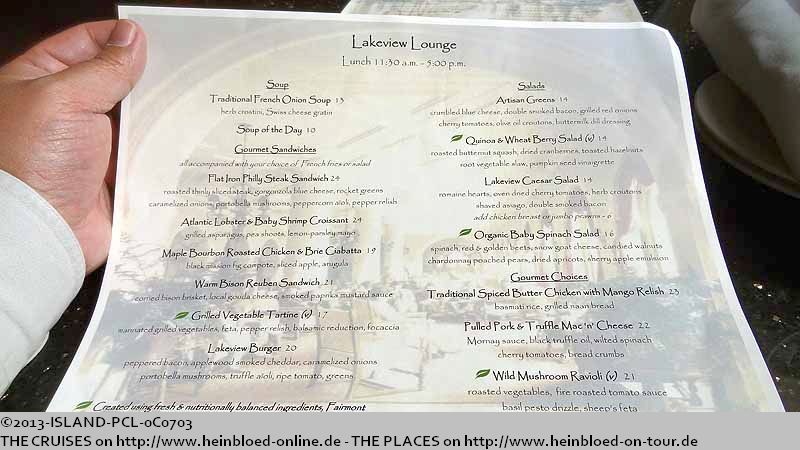 Unfortunately they had no tea-time anymore... It was interesting to learn that you get it only for lunch and only by reservation.

So we enjoyed the view from our table while many were already sitting outside.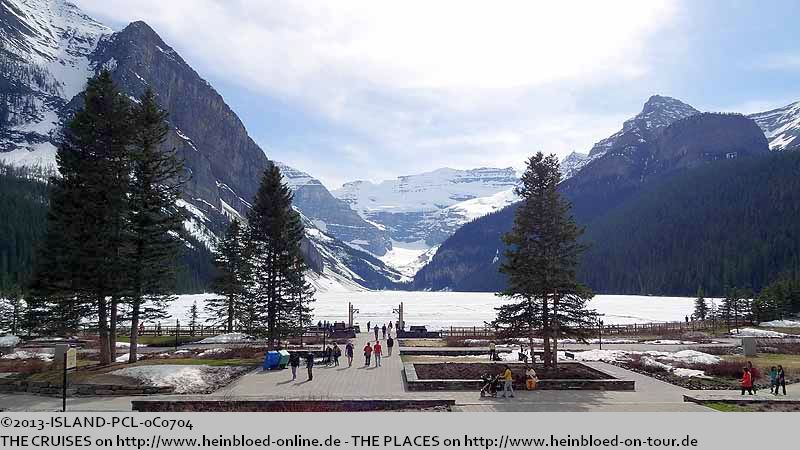 So genießen wir die Sicht von unserem Tisch, während auch viele schon draußen sitzen.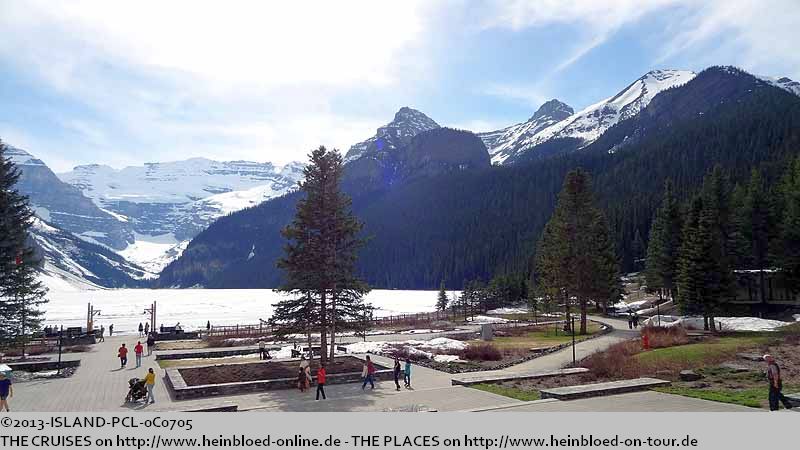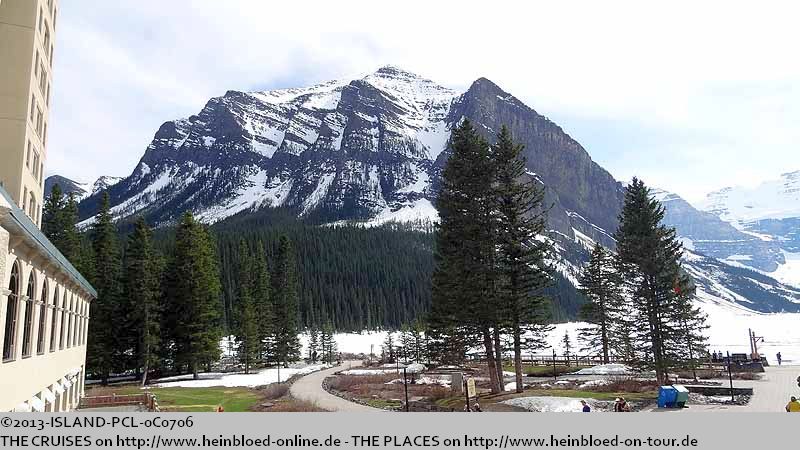 Hier wird mit Stil serviert... aber für den Preis darf man es auch erwarten...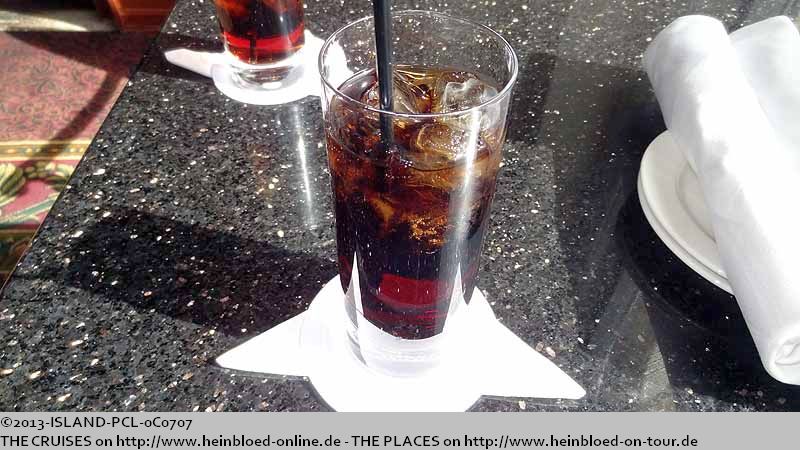 Here they served with style... but for that price you could expect it...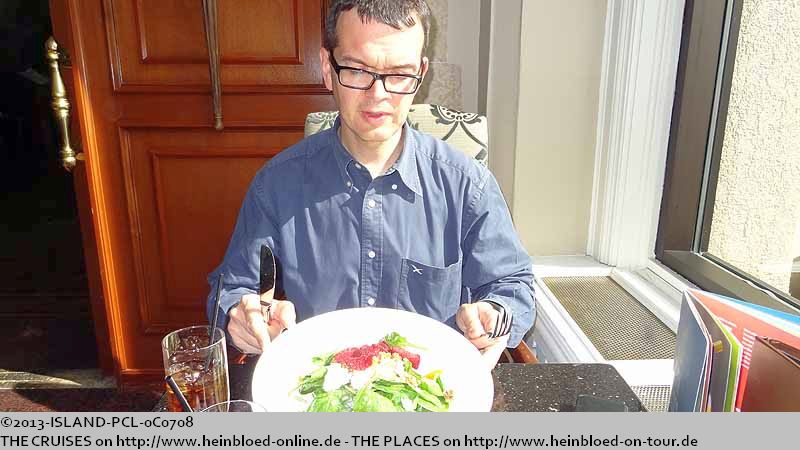 Ein Salat ist durchaus im Rahmen unseres Budgets...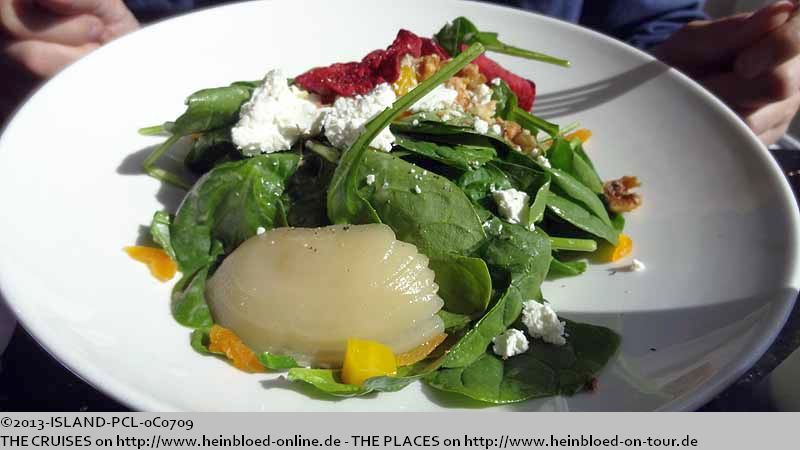 A salad was fine for our budget...

It could be one more slice bacon more with Cesar's Salad...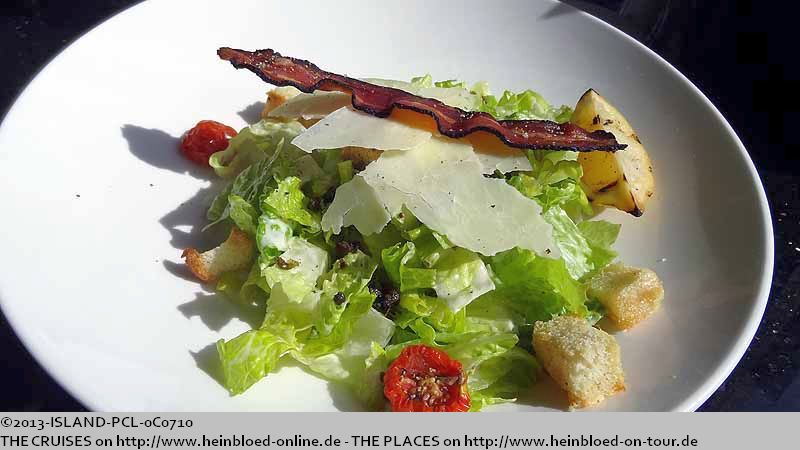 Nun - eine Scheibe Speck mehr beim Cesar's Salad hätte es schon mehr sein dürfen...
Als wir nach etwas Brot fragen, haben wir uns wohl als "arme Schlucker" geoutet, die sich keinen Hauptgang leisten können...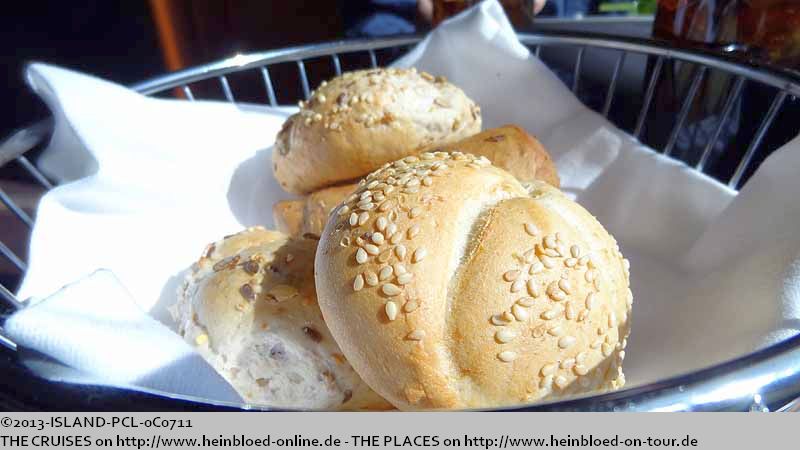 We had our coming-out as poor guys who cannot afford an entree when we asked for some bread...

But they had their Fairmont crest engraved in their silverware.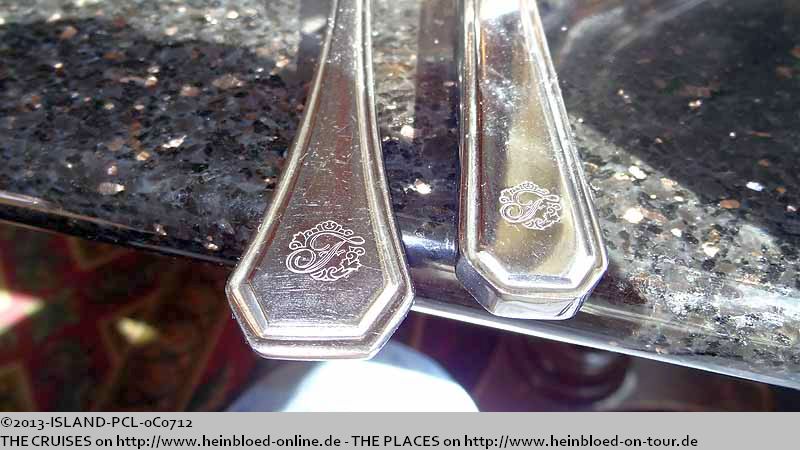 Immerhin gab es noch Besteck, das mit dem Wappen vom Fairmont graviert ist.
Und das von
WMF
(Grüße in die Pfalz...).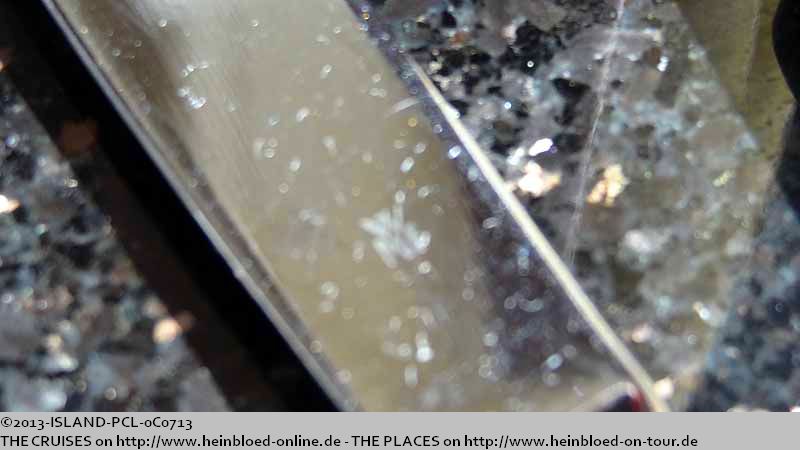 And it was from WMF Germany (Greetings to someone we know and works there).

I bought a magnet there and got a bag as souvenir...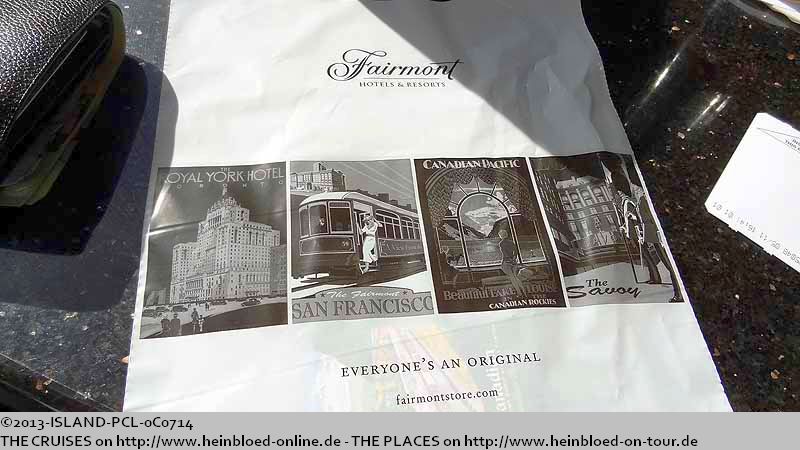 Einen Magneten kaufe ich dort und bekomme eine Tüte als Souvenir...
Wir gehen noch ein wenig raus um zumindest ein paar Meter zu spazieren.

We went outside to have a little walk around.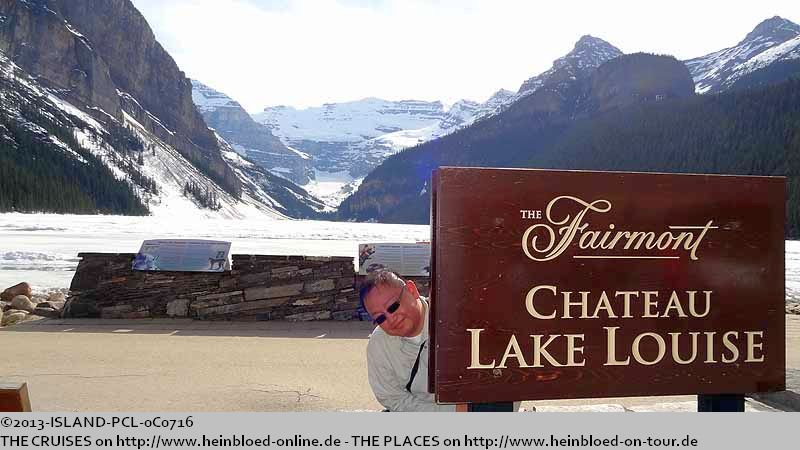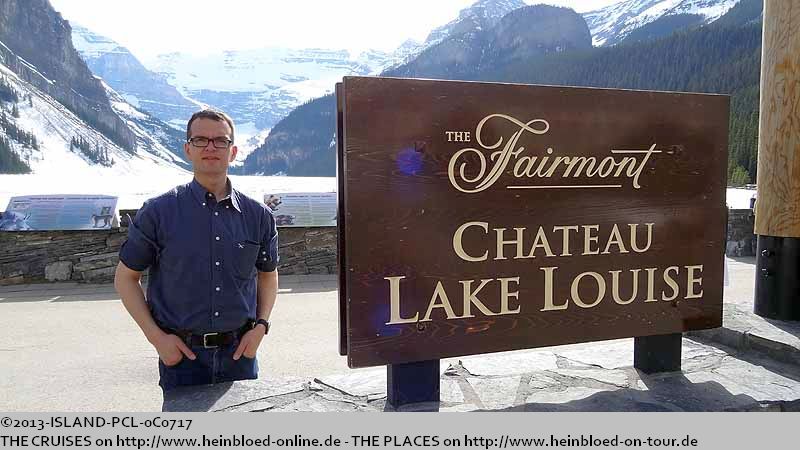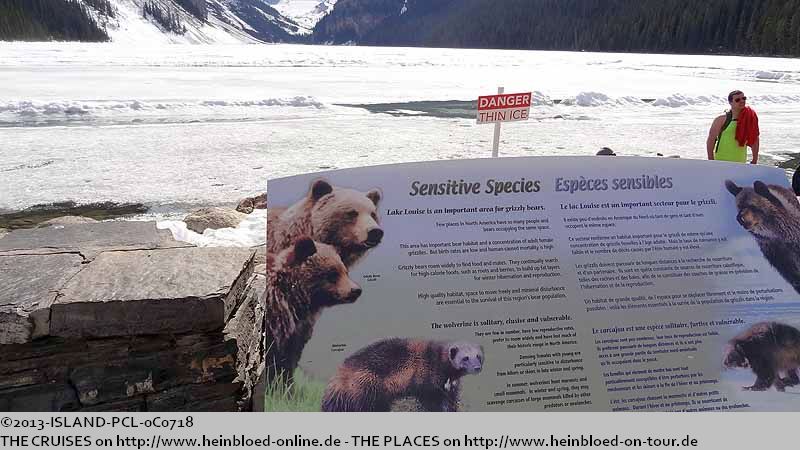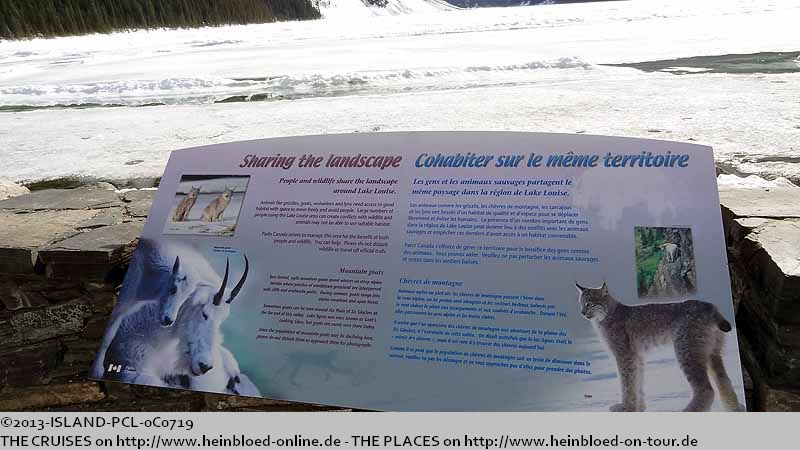 The lake was still frozen but everyone told us how beautiful it must be there.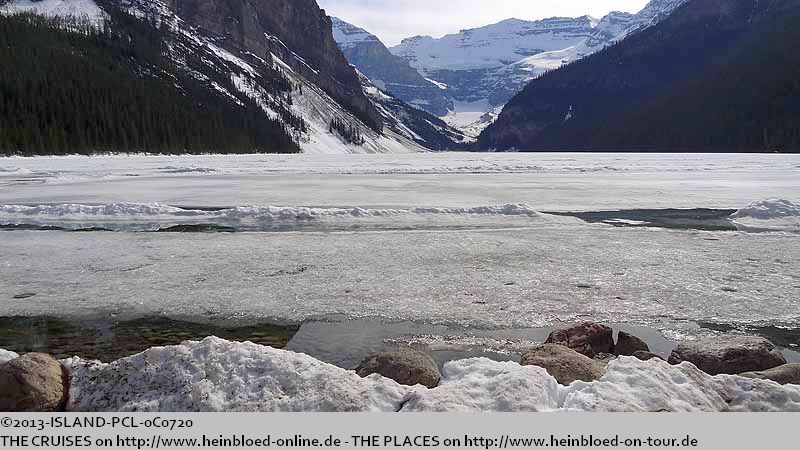 Der See ist leider noch zugefroren, aber jeder sagt uns, dass es hier wunderschön sein muss.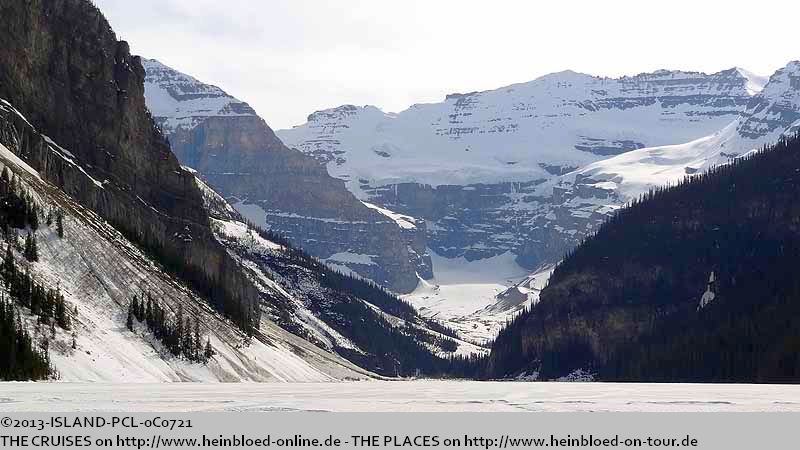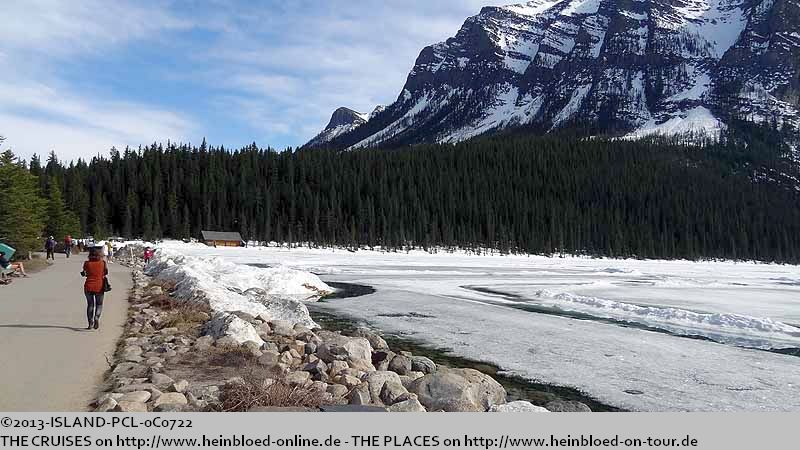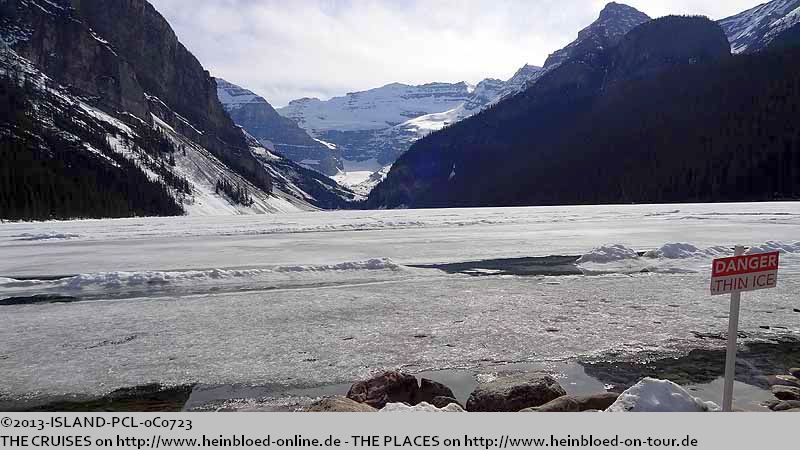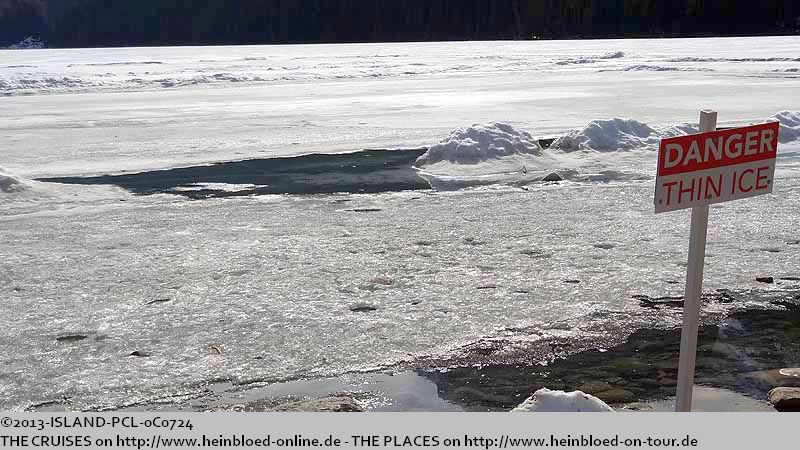 Wir suchen nochmals die Toiletten auf und machen uns weiter auf dem Weg nach Jasper.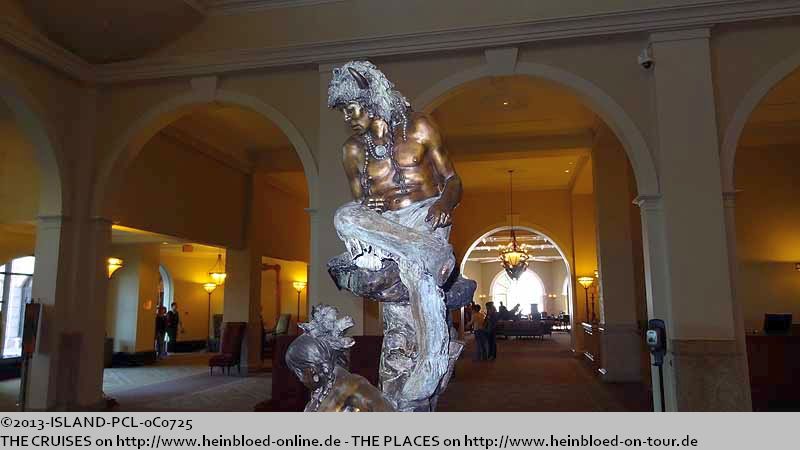 We checked for some restrooms and headed towards Jasper.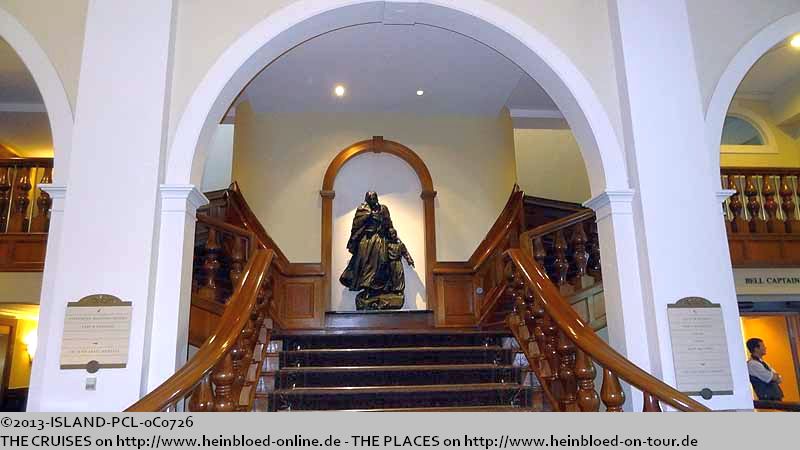 Ein kleines Treppchen für die kleinen Gäste.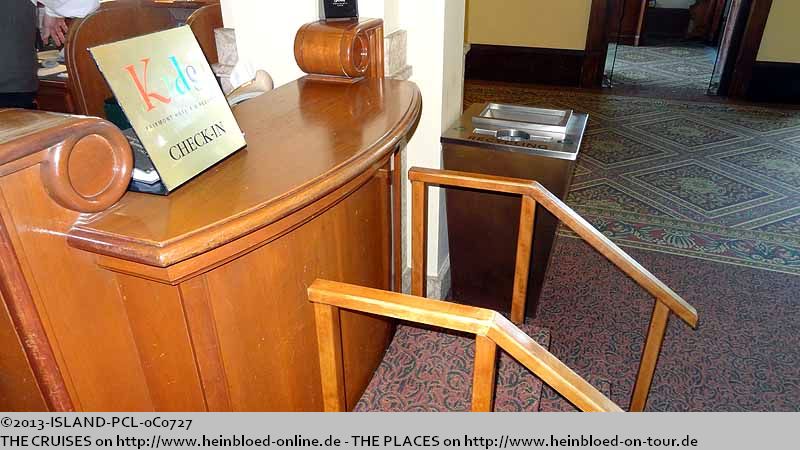 A little stairway for the little guests.

The visit was worth: for 39.00 CAD consumption in the restaurant we got a parking ticket of 30.00 CAD... so we could stay another 23 hours before we need to leave the parking...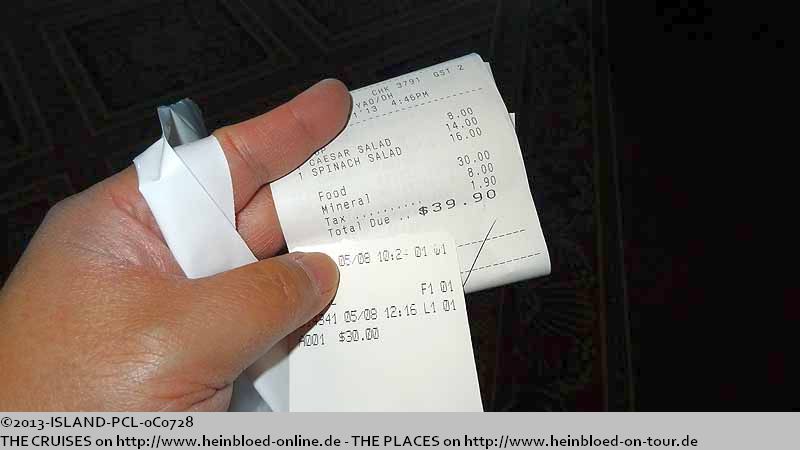 Der Besuch hat sich gelohnt: für 39,00 CAD Umsatz im Restaurant bekommen wir ein Parkticket im Wert von 30,00 CAD... also könnten wir zumindest noch weitere 23 Stunden hier parken, bevor wir weiterfahren...
Die anderen Reisen in diesem Blog/
The other voyages in this blog: