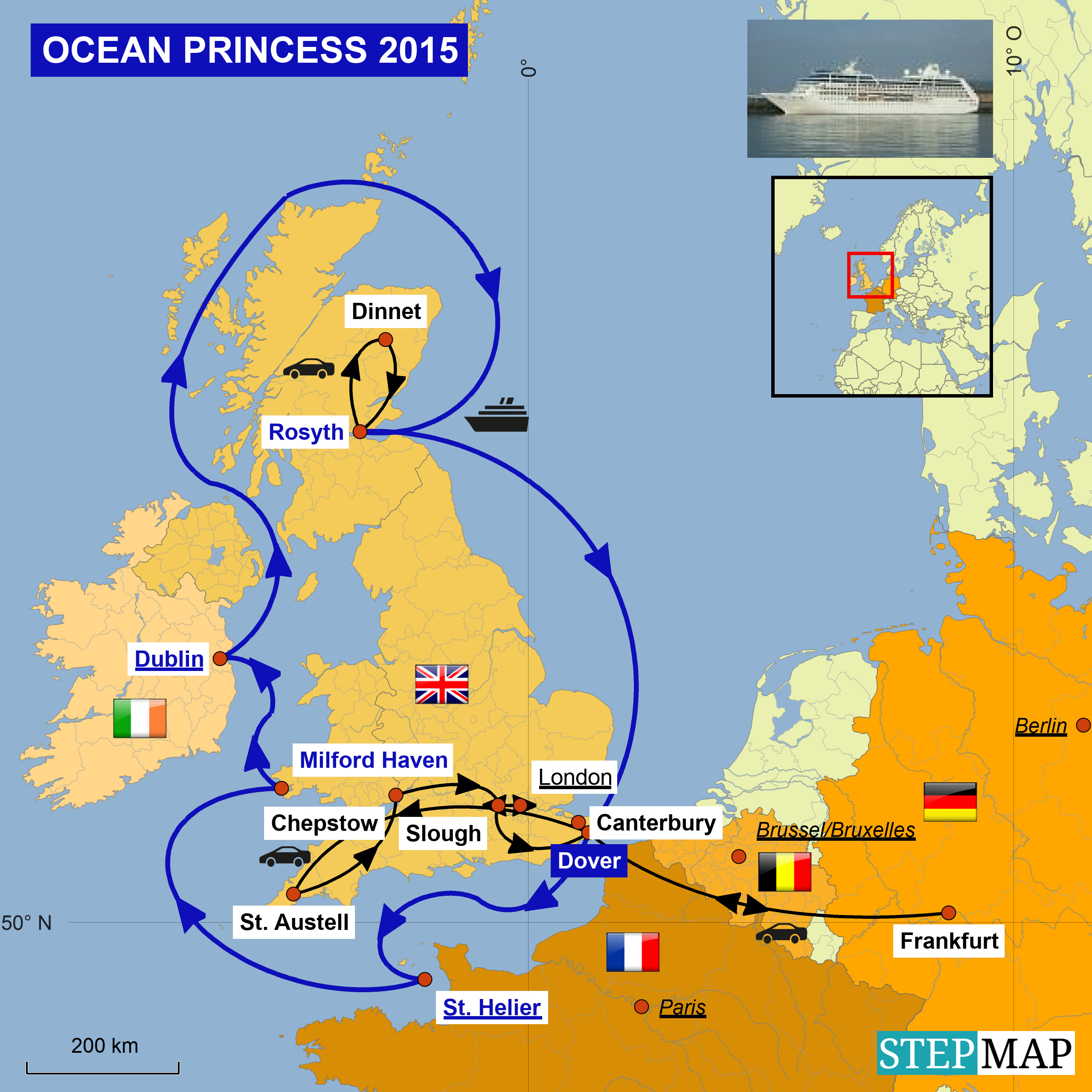 Ein typisches Holiday Inn Express Frühstück.

A typical Holiday Inn Express breakfast.

With Pink Berry Cars I booked a car for Frances and Eddie which should take them to the airport. Somehow the address of the hotel was not well maintained in their database that I had to give them a call and to explain that we were right in the hotel.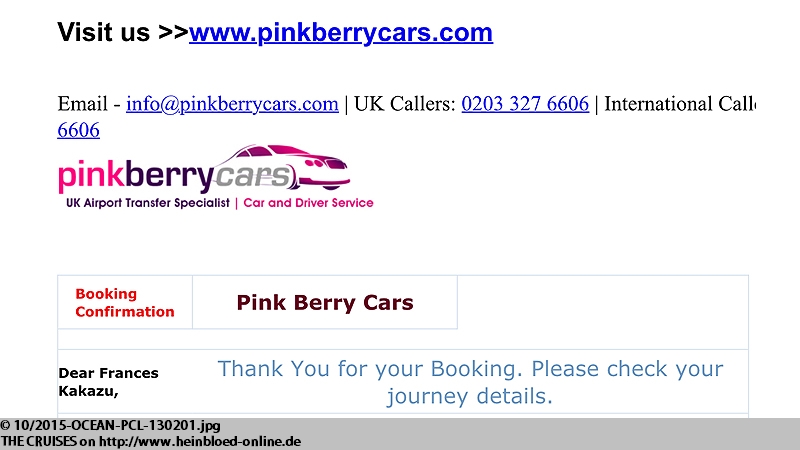 Bei Pink Berry Cars habe ich einen Wagen für Frances und Eddie gebucht, der sie zum Flughafen bringen sollte. Irgendwie war bloß das Hotel nicht so in den Adressen eingepflegt, dass man mal kurz anrufen musste, dass man hier im Hotel sei.
Pünktlich sind sie da. Mit ausreichendem Platz für das Gepäck. Allerdings warten sie auf dem Parkplatz des Bahnhofes, weil der vom Hotel so klein ist. Wir hatten aber wegen der früheren Anreise gestern Glück gehabt und einen Platz gefunden.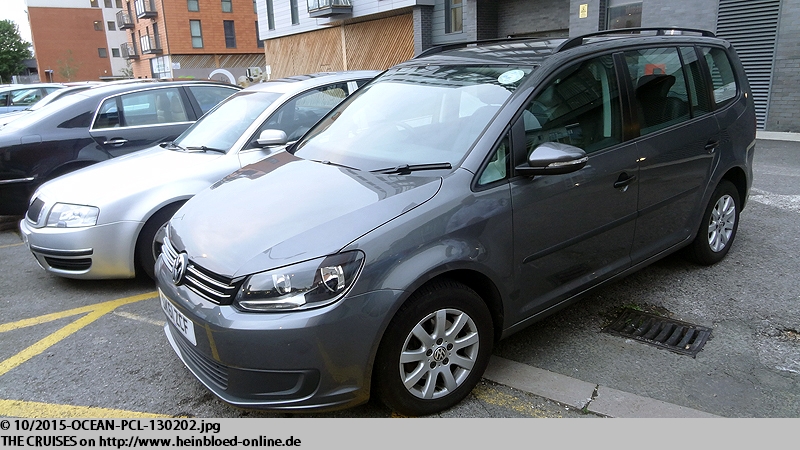 They were right on time there. With sufficient space for all the bags. Indeed they waited on the parking yard of the station because the one from the hotel was so small. We had luck because of our early arrival the day before and found a parking lot.

Now it was time to say good-bye until April 2016.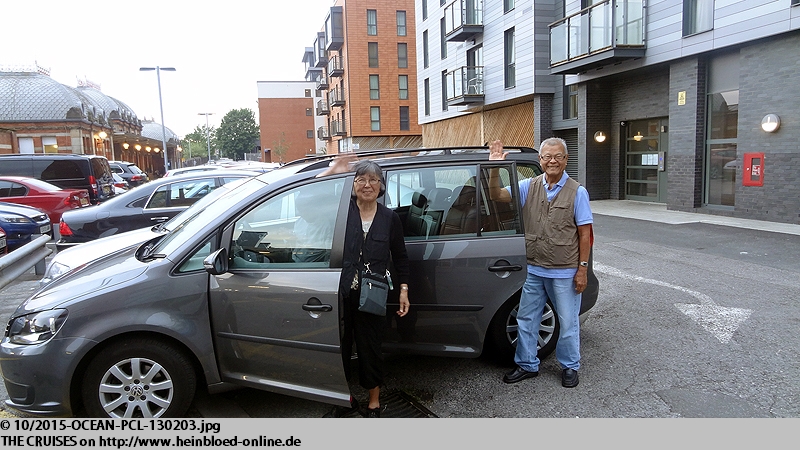 Bis April 2016 heißt es nun Abschied nehmen.
Jetzt sieht man auch, wie nah wir beim Bahnhof sind.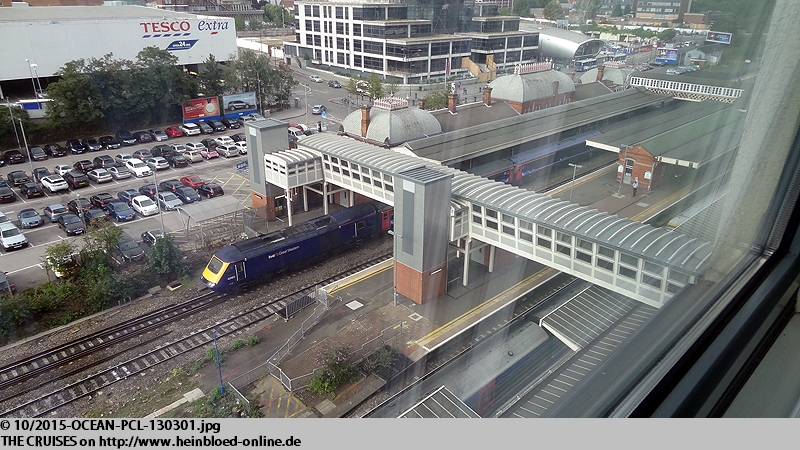 Now we could see how close we were right at the train station.

Unfortunately, Frances had unluck with her room. The air-condition released all the time acoustic alerts which nobody could solve, and they had no alternative room the night.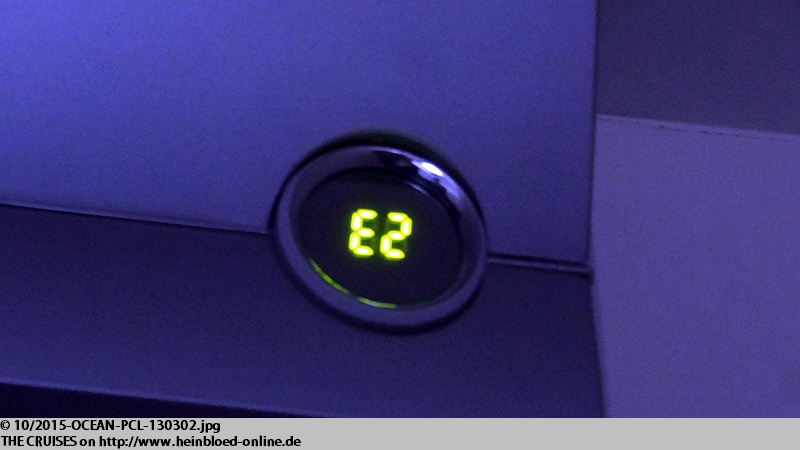 Leider hatte Frances Pech mit ihrem Zimmer. Die Klimaanlage gab ständig eine akustische Warnmeldung, die niemand beheben konnte und leider gab es auch kein alternatives Zimmer für die Nacht.
Nach Frances Abreise habe ich mich in Ihrem Namen darüber beschwert. Sie haben es toll abgewickelt. Sie haben von Frances ihre IHG Rewards Nummer gesucht und gefunden und ihr kurzerhand die Nacht in Form von Punkten wieder gutgeschrieben. Und mir auch, weil ich mir die Mühe gemacht habe, zu warten bis das der Manager da ist. Perfektes Reklamationsmanagement.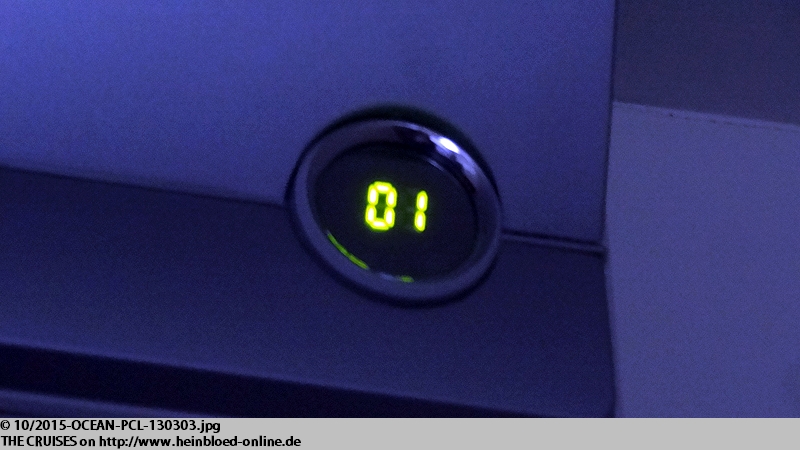 After Frances' departure I claimed on her behalf. They really handled it great. They checked for Frances' IHG Rewards Number and found it and gave her credit for the night in points. And also some points for me because they kept me waiting until the Manager appeared. Perfect claim management.

We drove quickly back to Dover, England. In the end, we were guided through such roads again. We had luck later: no claims regarding the lacquer. Apparently, they were used to have it at the car rental.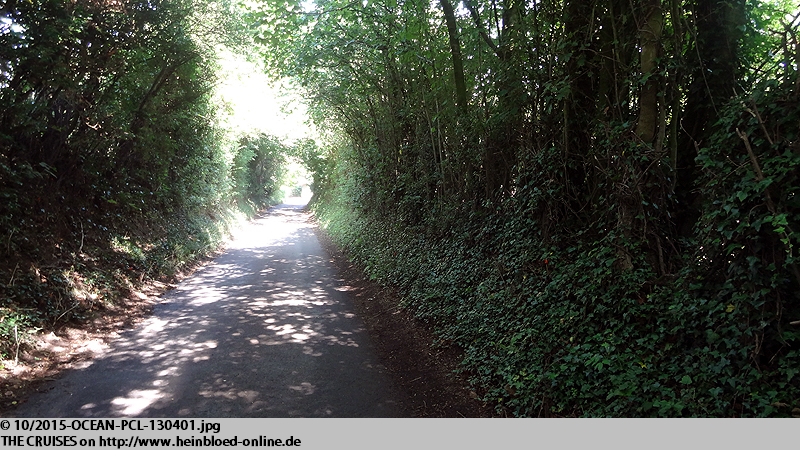 Wir fahren schnell nach Dover zurück. Allerdings werden wir tatsächlich am Schluss wieder durch solche Straßen geführt. Wir hatten später aber Glück: die Lackschäden wurden nicht bemängelt. Anscheinend sind die das von der Autovermietung gewohnt.
Was ich wiederum nicht so gut fand: wir bekommen den Wagen nicht voll bis voll sondern, sollen so auffüllen, dass er den gleichen Stand wie bei der Übernahme hatte. Mag ich überhaupt nicht.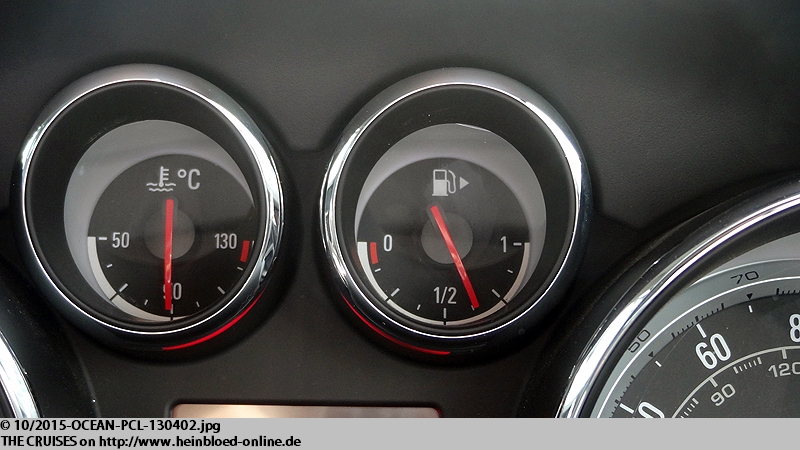 What I did not like very much: we did not get the car full to full, but we should fill up the car with the same level when we collected the car. I did not like it.

On the search for Shepherd's Pie we went into The Marquis in Alkham, England. That was exactly between Folkstone, England, and Dover, England but not at the highway but a little off-side. I read in Tripadvisor that someone was claiming a salty Shepherd's Pie. But I had no chance to find out if it was indeed oversalted because they explained that such kind of pies was more eaten in the Winter. Here we were nicely surprised: a very nice lounge where we had could check already the menu and order in a nice atmosphere some beverages first. Public toilets were equipped with products of Molton Brown. In the restaurant, very great bread rolls were served. If you had so far prejudice against English cuisine because it would be boring and tasted weak: the latest time would be now to learn that it was different. It was fantastic - simply fantastic. A place we need to remember for the next time.

Auf der Suche nach Shepherd's Pie geht es ins
The Marquis
in Alkham. Das liegt genau zwischen Folkstone und Dover, allerdings nicht genau entlang der Schnellstraße sondern ein wenig abseits. Im Tripadvisor hatte ich gelesen, dass sich jemand über ein versalzenes Shepherd's Pie beklagte. Aber ich habe keine Chance festzustellen, ob es tatsächlich versalzen ist, weil man mir erklärt, dass solcherlei Pies eher im Winter gegessen werden. Hier sind wir jedoch positiv überrascht: eine schöne Lounge, so dass wir hier schon in die Karten gucken können und bei einem Getränk in Ruhe bestellen können. Öffentliche Toiletten mit
Molton Brown
Produkten. Im Restaurant selbst werden ganz tolle Brötchen serviert. Wenn man immer noch Vorurteile gegen die englische Küche hat, weil sie angeblich langweilig und fade schmecken würde: jetzt spätestens wurde man eines besseren belehrt. Es war fantastisch - einfach nur fantastisch. Einen Ort, den wir uns für das nächste Mal merken müssen.
Es sind vielleicht 7-8 Minuten Fahrzeit bis nach Folkstone, aber TomTom zeigt uns ganz merkwürdige Staus an, so dass wir unterwegs halten und mal nachlesen, was los ist. Später erfahren wir: Flüchtlinge aus Calais sind in den Tunnel morgens gelaufen und aus Sicherheitsgründen bzw. weil die britischen Grenzbehörden die Flüchtlinge schnappen wollten, war stundenlang der Tunnel gesperrt. Ich spreche mit Eurotunnel und sie werden mir ausnahmsweise die Summe zurückerstatten.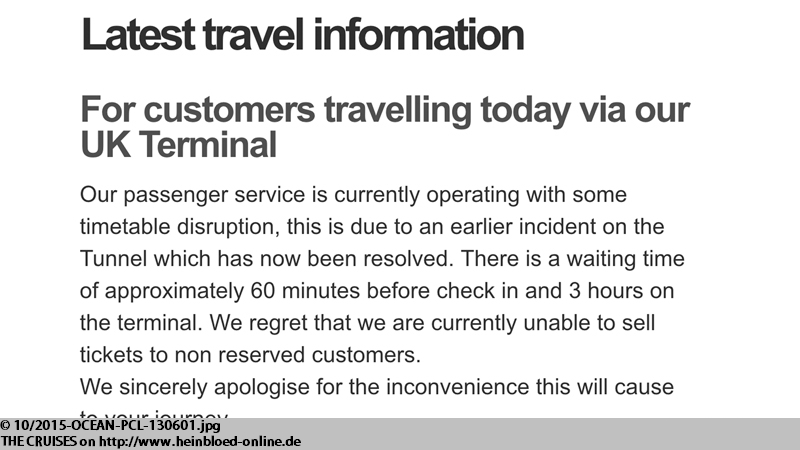 It was about 7-8 minutes driving time left to Folkstone, but TomTom was displaying strange congestions, so we stopped and checked what was going on. Later we learned: Refugees from Calais, France ran into the tunnel in the morning and due to safety reason and because the British Border Authorities would like to catch them, the tube was closed for several hours. I spoke with Eurotunnel, and they would refund the amount by exception.

A few minutes later, the message came, that the tunnel was re-opened, but the backlog was so long (they were already congested from the end of the Motorway from London) that we should expect approx. 3 1/2 hours of waiting time. So we were re-booking on the next ferry. Time for some coffee.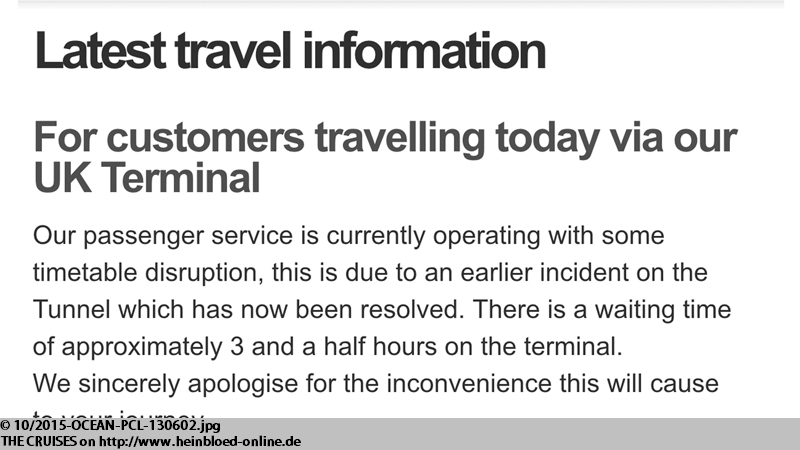 Wenige Minuten später kommt die Meldung, dass der Tunnel wieder geöffnet ist, aber der Rückstau so hoch ist (sie stehen auch schon auf der Autobahn aus Richtung London), dass wir immer noch mit 3 1/2 Wartezeit rechnen müssen. Deswegen buchen wir um auf die nächste Fähre. Zeit für Kaffee.
Warum in die Ferne schweifen, wenn das Gute liegt so nah... Statt eines Cafés in einem Supermarkt fahren wir kurzerhand zurück zu The Marquis, in dem wir schon zum Mittagessen waren und nutzen die Tea-Time.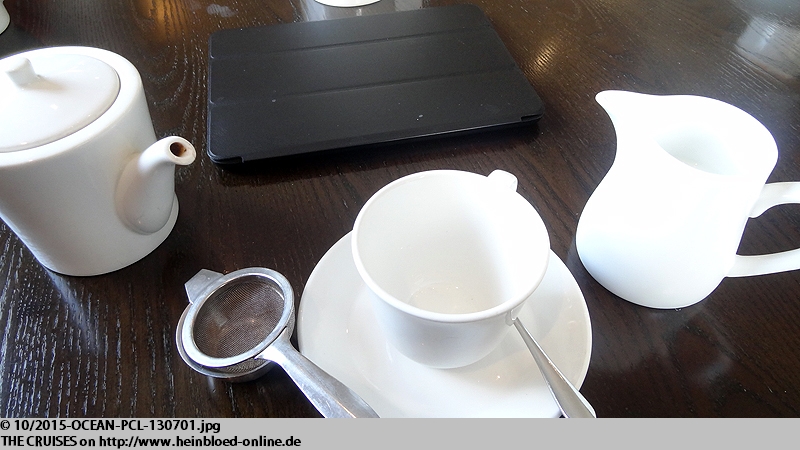 Why should we go so far if there was something good so close to us... Instead of going to a coffee store in a supermarket we merely returned to The Marquis where we had lunch before and used the Tea-Time.

We stayed in the lounge.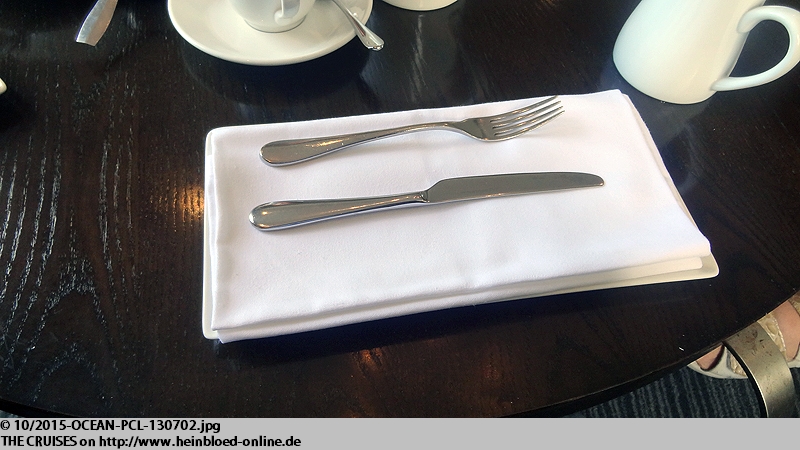 Wir bleiben in der Lounge.
Wieder sehr schön. Bloß hätten wir für 2 Personen bestellen sollen.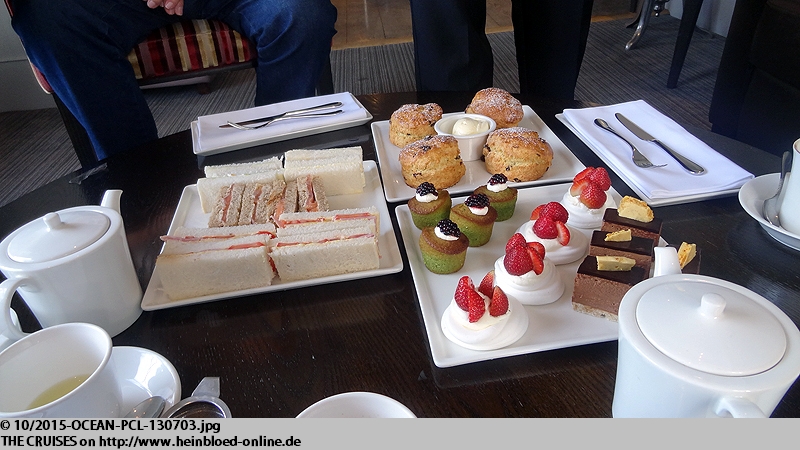 Again very nice. We should only ordered for 2 persons.

We let them wrap for us the sandwiches so that we could eat them on our way. You had even there the selection between butter or clotted cream.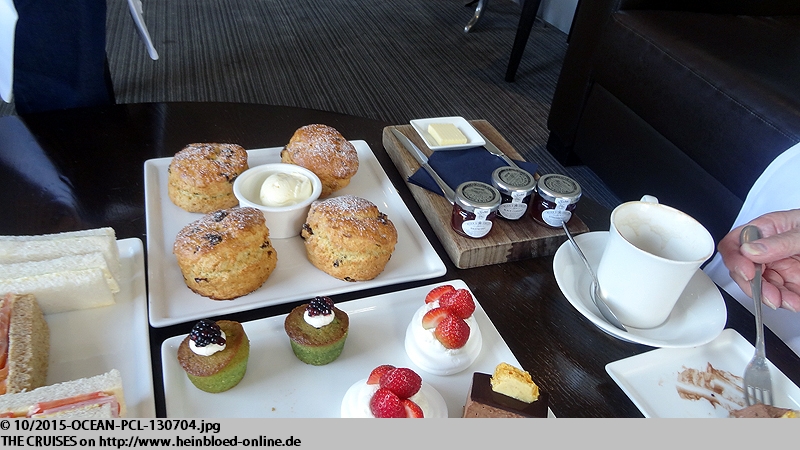 Die Sandwiches lassen wir uns kurzerhand einpacken, damit wir unterwegs noch etwas haben. Man hat hier bei den Scones sogar die Auswahl zwischen Butter und Clotted Cream.
Das ist wohl alles Schicksal: wir sind auf der Seite von Dover, so dass wir direkt neben unserem Parkplatz auskommen. Hier laden wir das Gepäck um und fahren dann mit zwei Autos zu Autovermietung, um den Wagen zurückzubringen. Dann geht es in wenigen Minuten auch schon weiter zum Fährterminal. Nur weg von der Hitze... Hätte ich ja direkt in Basel bei 40°C bleiben können...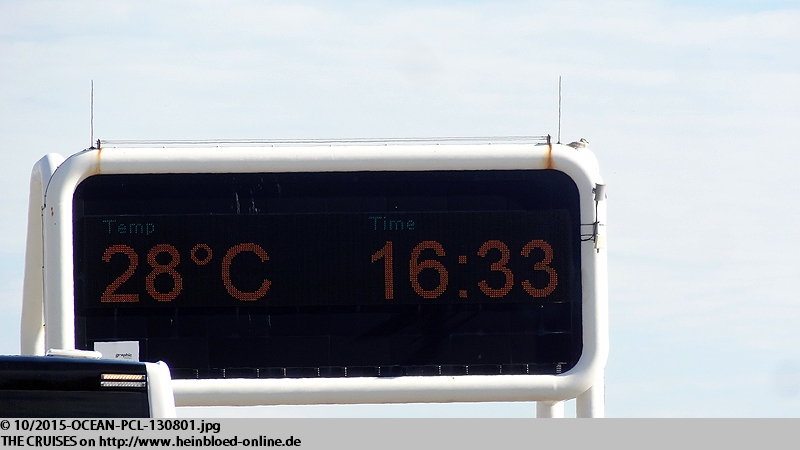 That was right our destiny: we were on the side of Dover where we just arrived next to our parking. Here we could load our bags into the other car and went with two cars to return one with the car rental station. Few minutes after that, we could head toward the Ferry Terminal. Just quickly away from the heat... I could have stayed in Basle, Switzerland with 104 F...

You could feel that it was much busier since the tunnel was not available.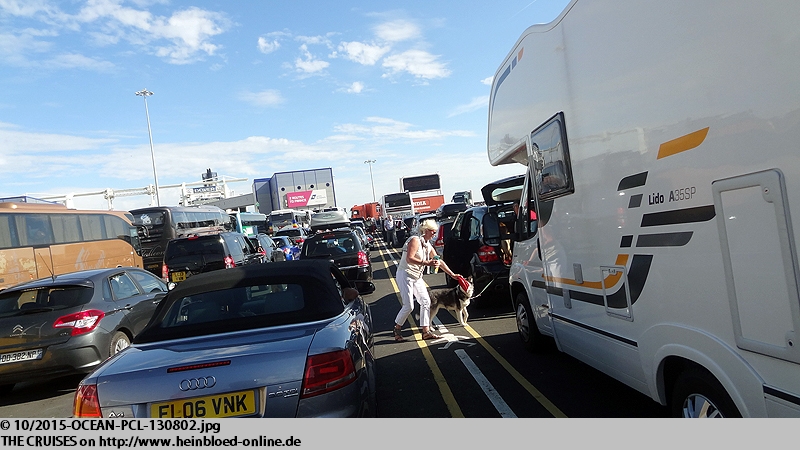 Man merkte schon, dass es sehr viel voller war, weil der Tunnel nicht zur Verfügung stand.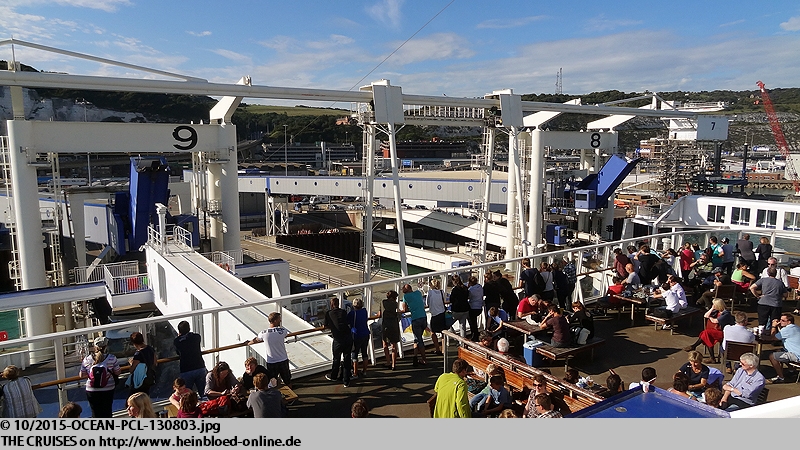 One last view on Dover.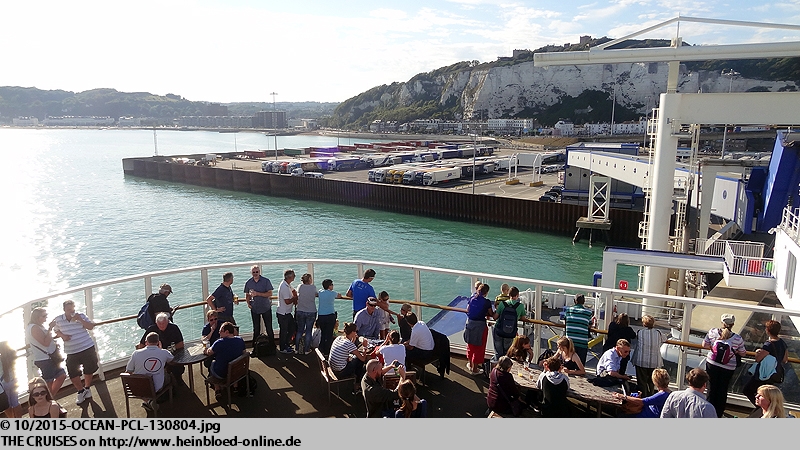 Noch ein letzter Blick auf Dover.
Wir haben wieder mit Club Lounge gebucht.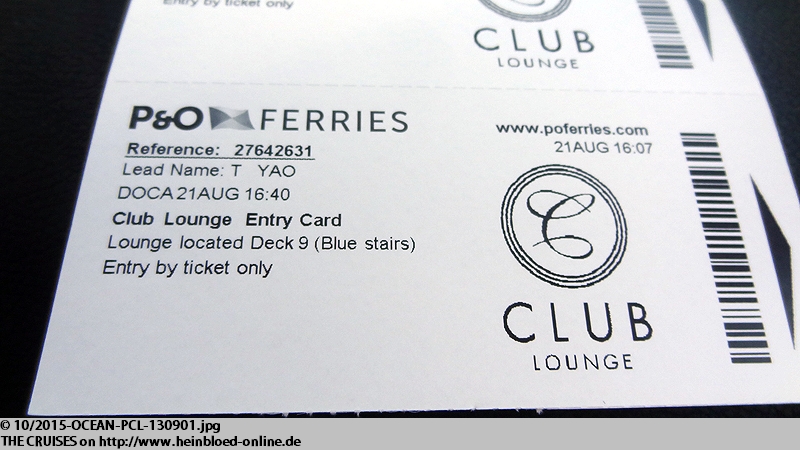 We booked again the Club Lounge.

It was more careful to bridge here the waiting time.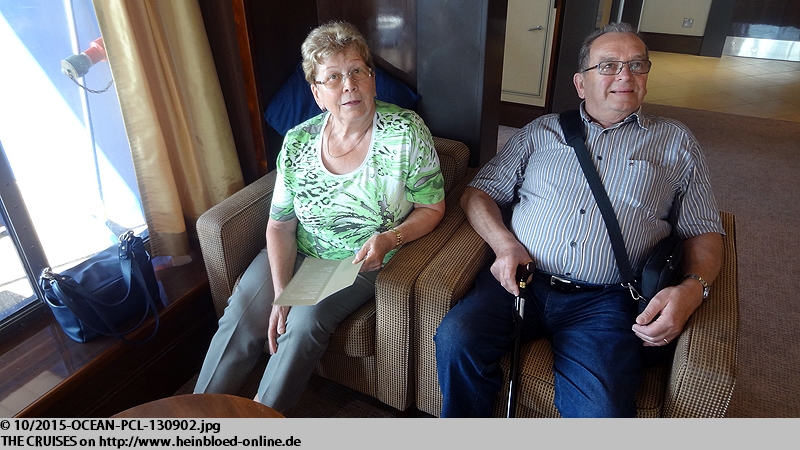 Es lässt sich hier einfach netter die Wartezeit überbrücken.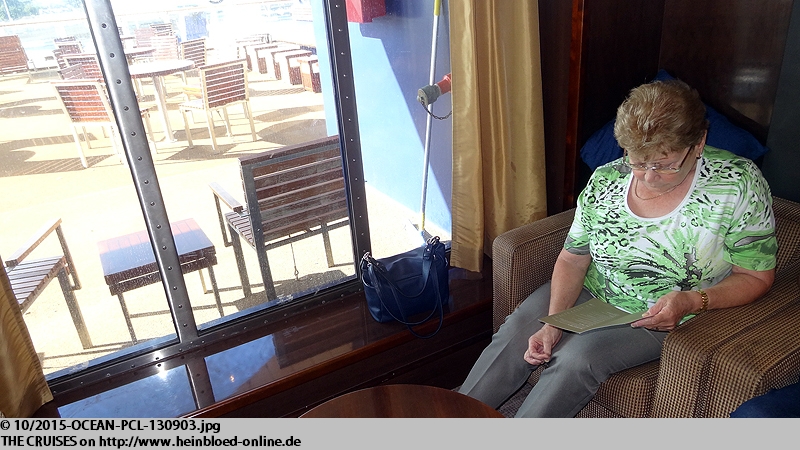 I loved the snack of The Dormen, but I could not buy them anywhere. Especially my favorite was a sort which prouduced exclusively for British Airways.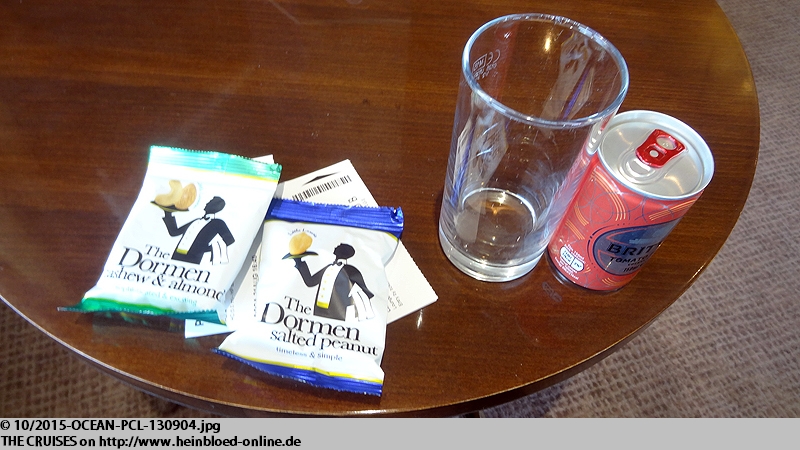 Ich liebe ja die Snack von
The Dormen
, aber ich hatte sie nirgendst kaufen können. Speziell liebe ich unglücklicherweise eine Sorte, die exklusiv nur für British Airways hergestellt wird.
In Calais werden wir nochmals hautnah an die Flüchtlinge herangeführt. Auf der Suche nach einer Tankstelle stellen wir fest, dass das im Bereich der Zufahrt zum Eurotunnel gar nicht so einfach ist: nur für LKWs, nur Selbstbedienung, nur mit Flottenkarten. Wir entschließen uns zurück auf der französischen Seite zu bleiben, auch wenn es bis Thionville ca. 40 EUR Maut und 15 Minuten längere Fahrzeit bedeutet, aber es lässt sich so entspannt ohne Schlagloch und Baustellen fahren. Der Zustand der Autobahnen in Frankreich ist einfach fantastisch.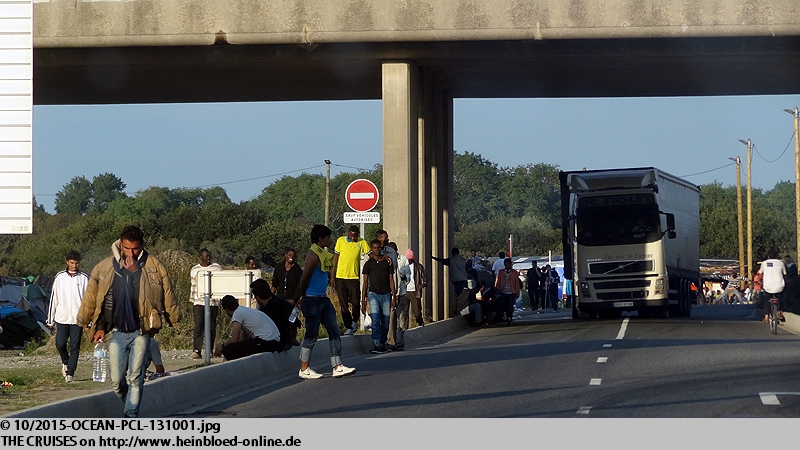 In Calais we got in touch again with all refugees. Searching for a gas station, we found out, that in the access area for the Eurotunnel, you could only find some for trucks only, with self-service only, with fleet-card payment only. We decided to stay on the French side; even it meant, that we had to pay approx. 40 EUR for toll, and to spend 15 minutes longer on the roads. But driving was more relaxed without potholes and construction sites. The condition of French highways was simply fantastic.

The last section of our return journey took us through the Palatine. We knew Tina and Axel from two sailings on QUEEN ELIZABETH 2012 and NORWEGIAN SPIRIT 2013. But now we made it finally and made a brief stop. For a selfie when we had great weather I had a big advantage: my glasses became darker automatically. The other need to exercise how to look into the lenses...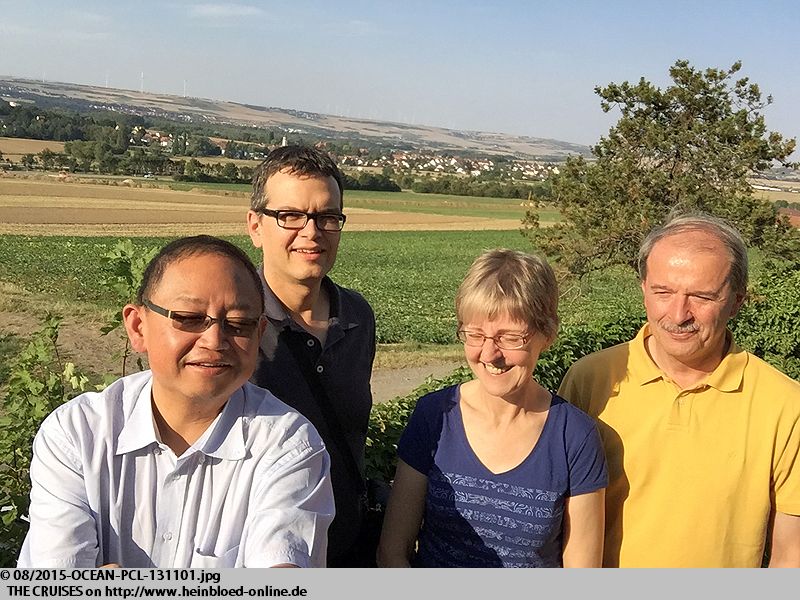 Der letzte Abschnitt unserer Rückreise führt uns durch die Pfalz. Wir kennen Tina und Axel von zwei Fahrten auf der
QUEEN ELIZABETH 2012
und
NORWEGIAN SPIRIT 2013
. Nun haben wir es mal geschafft endlich kurz anzuhalten. Für ein Selfie bei Traumwetter habe ich einen Riesenvorteil: meine Brille dunkelt automatisch nach. Die anderen müssen noch üben, wie man in die Linsen reinguckt... Und wenn man sich für Tinas Kreuzfahrterfahrungen interessiert: einfach in ihrem
Blog
nachlesen.
Tina hat für Bruno extra noch Himbeeren besorgt. Die muss er zu Hause selbst besorgen.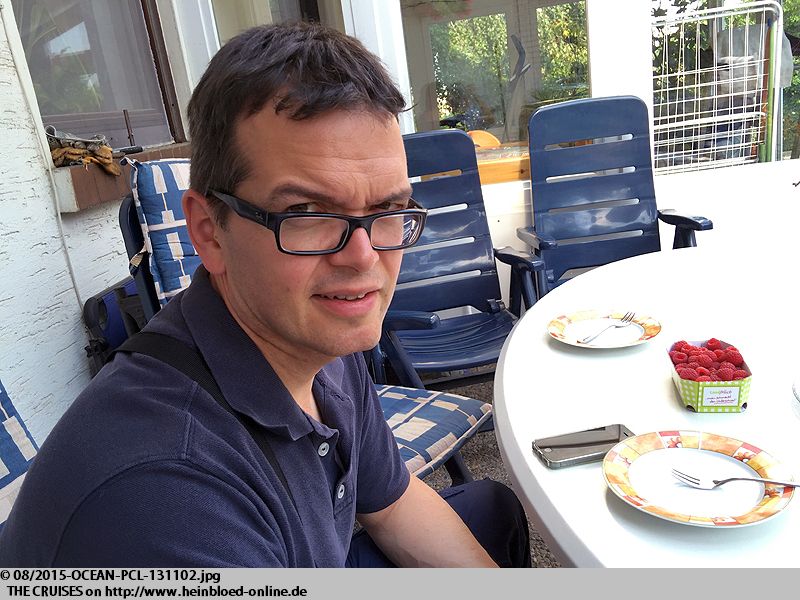 Tina got especially for Bruno some rhasberries. At home he need to buy himself.

Wow - and I hit the magic 80 kgs-mark (= 175 lbs.) downwards. Time to go on cruises again to lose weight... And I really loved to go on OCEAN PRINCESS again, and again around the British Isles and again with new and old friends. It was almost perfect to me. So we were looking forward to DIAMOND PRINCESS in April 2016 again because the performance of Princess was quite good.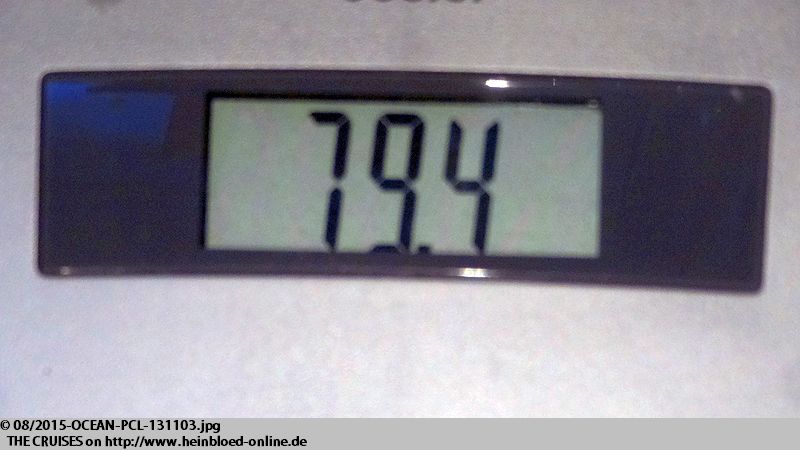 Wow - und ich habe auf der Reise die magische 80 kg-Marke nach unten endlich durchbrochen. Höchste Zeit wieder auf Kreuzfahrt zu gehen, um weiter abzunehmen... Und sehr gerne wieder auf der OCEAN PRINCESS, sehr gerne rund um die Britischen Inseln und sehr gerne mit den alten und neuen Freunden. Es ist schon alles sehr perfekt. Deswegen freuen wir uns auf die DIAMOND PRINCESS im April 2016 wieder, weil die Leistung von Princess schon sehr gut ist.
Die anderen Reisen in diesem Blog/
The other voyages in this blog: