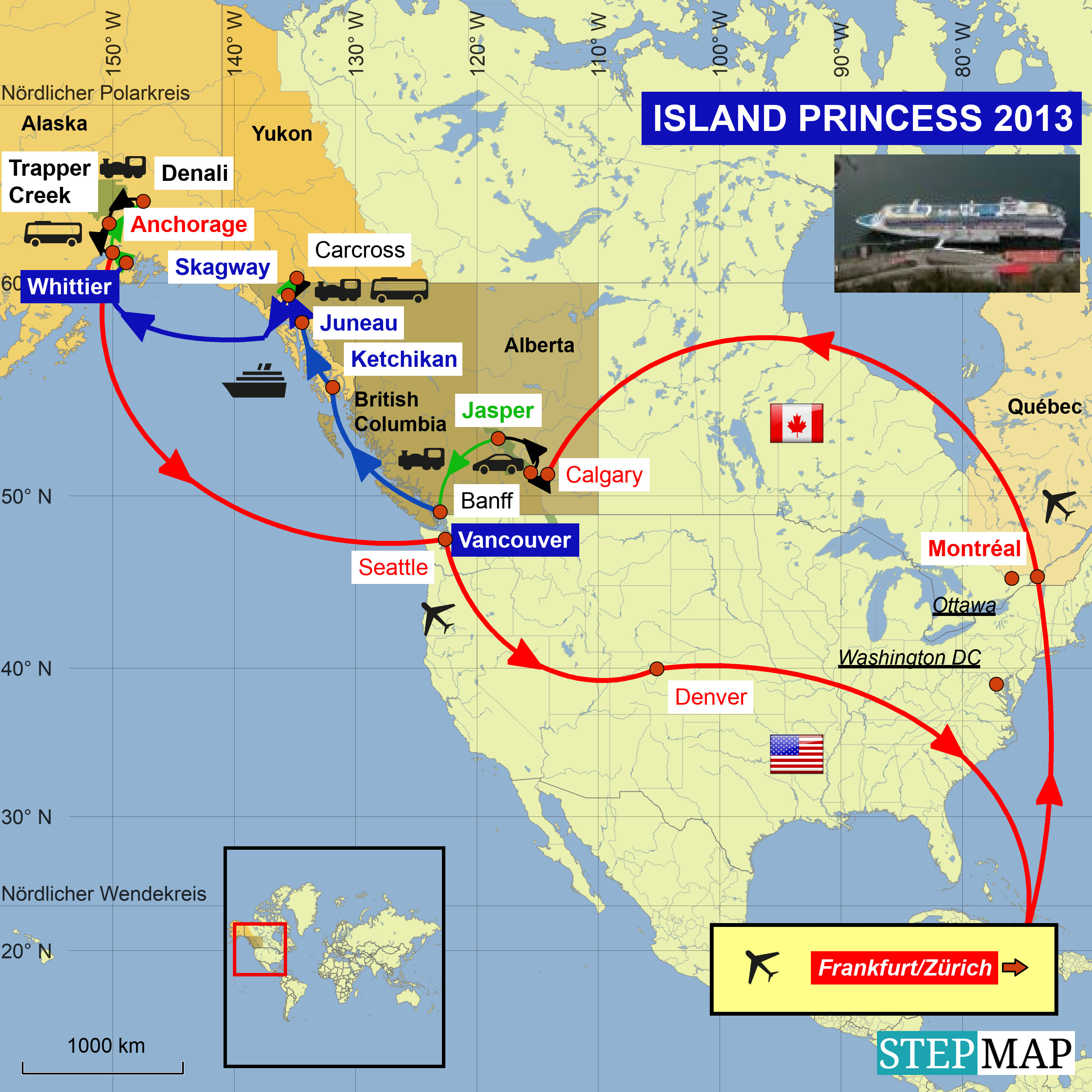 Als wir nach wenigen Minuten am Cruise Terminal ankommen.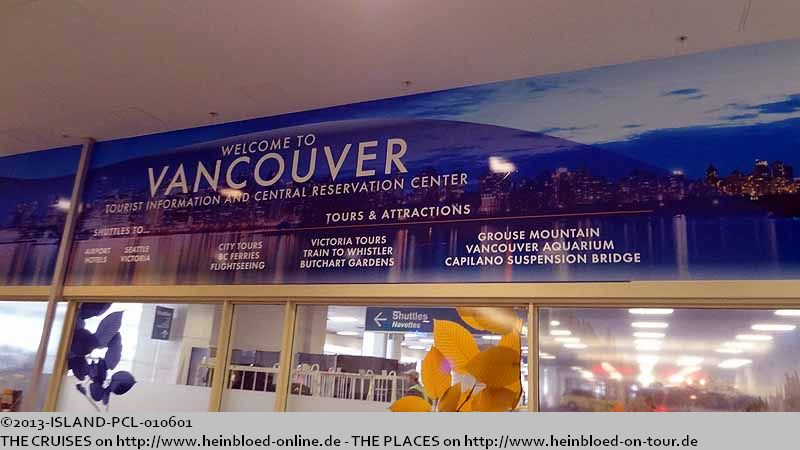 After few minutes we arrived at the Cruise Terminal.

We experienced the most perfect organization. They had dedicated parking lots for taxis to stop backward so the porters had direct access to the trunk. For each ship (NORWEGIAN SUN and ISLAND PRINCESS) they marked different parking lots, so there was no mix-up of the bags possible.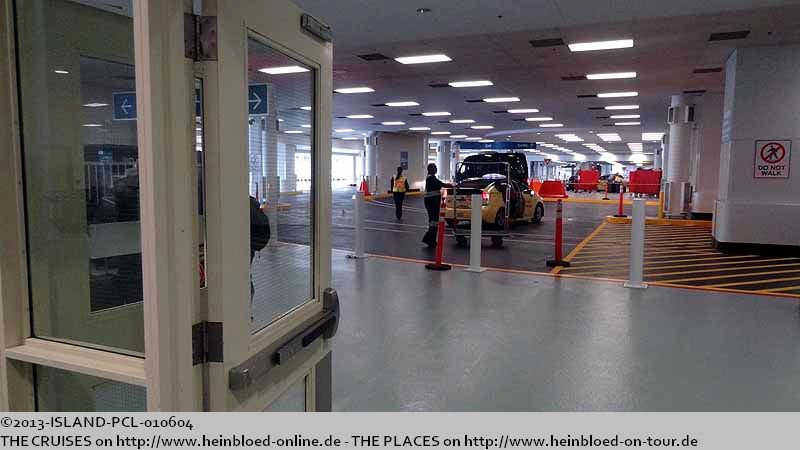 Wir erleben die perfekte Organisation. Es gibt Parkhafen für die Taxis, die dann rückwärts einfahren sollen, damit die Porter direkten Zugriff zum Kofferraum haben. Für jedes Schiff (NORWEGIAN SUN und ISLAND PRINCESS) sind bestimmte Parkbuchten markiert, damit auch die Gepäckstücke nicht durcheinander geraten.
Es gibt eine gemeinsame Schlange für beide Schiffe für die Sicherheitskontrolle. Es gab allerdings einen Riesen-Unterschied zwischen den Handlingsagents. Die Handlingsagents von Princess bzw. HAL konnten einem nichts sagen, wenn man sie auch nur mal gefragt hat, wo die Crew von NCL rauskommt. Die Handlingsagent von NCL sind zwischen die Reihen gegangen und haben den Leuten das Gepäck abgenommen, damit sie nicht ihre Warteposition in der Schlange verlieren, wenn sie das Gepäck zur Abgabestelle bringen. Das war wirklich absolut klasse.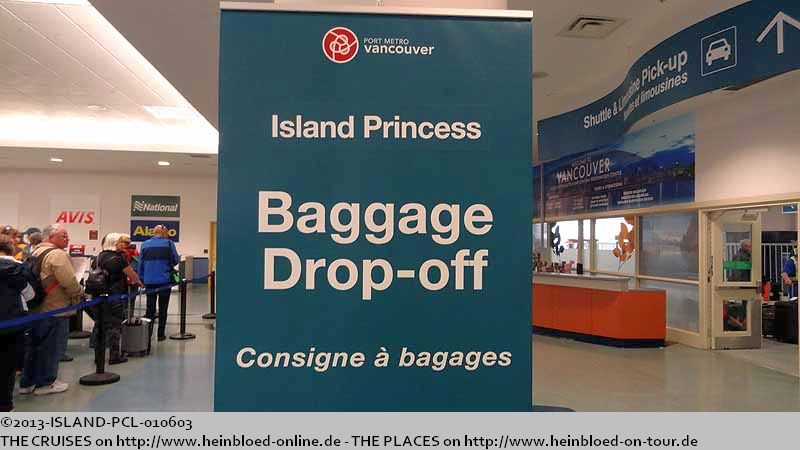 One single line was formed for both ship to pass the security check. But you could see a big difference between the handling agents. The HAL or Princess agents were unable to give you any information even you asked them simple things like where the crew from NCL was coming out. The NCL agents went through the line and helped guests with their bags to get it to the checkpoints without that they lose their waiting position. That was really great.

There at the rear, you had the counters of the car rentals. We need to remember for the next time.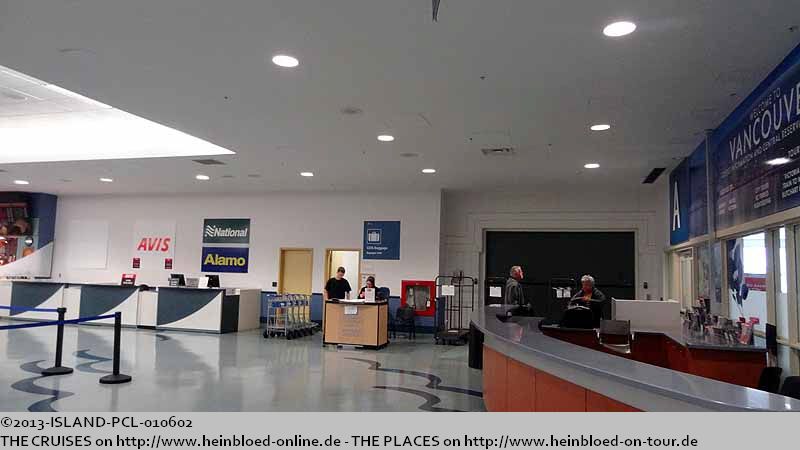 Dort hinten befinde sich also die Autovermietungen. Müssen wir uns mal merken.
Und eine Gepäckaufbewahrung. Da uns die Schlange zu lange war, beschließen wir kurzerhand das Handgepäck hier zu deponieren. Und bei der Gelegenheit erfahren wir, dass man auch Gepäck zum Flughafen schicken kann, so dass man hier in Ruhe sich in Vancouver noch umschauen kann und dann hinterher einfach mit der Bahn zum Flughafen fahren kann.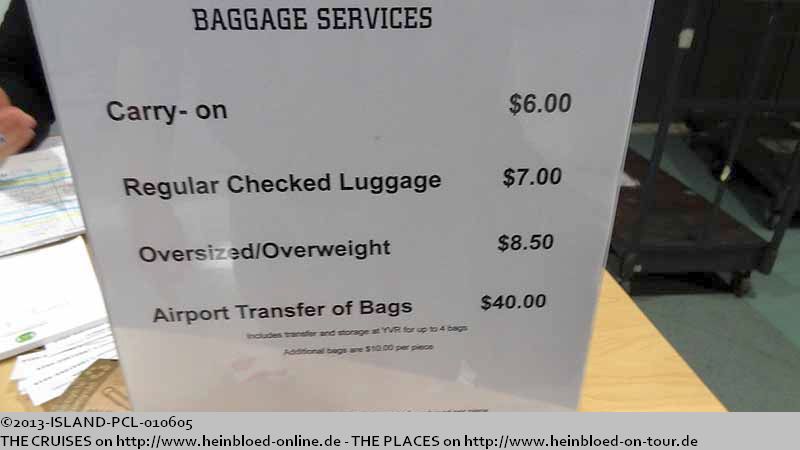 And a baggage storage. As the queue was too long, we decided to store our handbags here. And so we learned that they can send bags to the airport if you like to see around in Vancouver before heading later to the airport by train.

We gave up the idea to get "quickly" on board and to return ashore as we were told that we formally already enter the US and will re-enter Canada when we get ashore and then re-re-enter again to the US when we go onboard again - and that might be very time-consuming.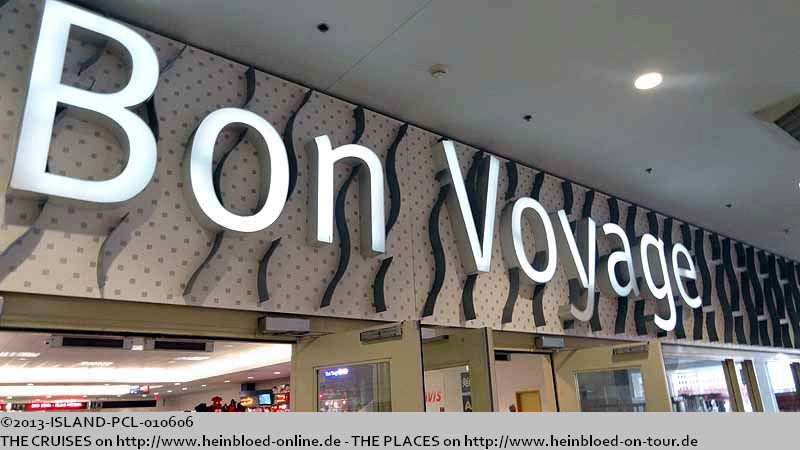 Die Idee "schnell" an Bord zu gehen und wieder runterzukommen, verwerfen wir. Wir werden nämlich darauf hingewiesen, dass wir formell in die USA einreisen. Beim Runterkommen wieder nach Kanada einreisen und wieder in die USA einreisen... und das dauert...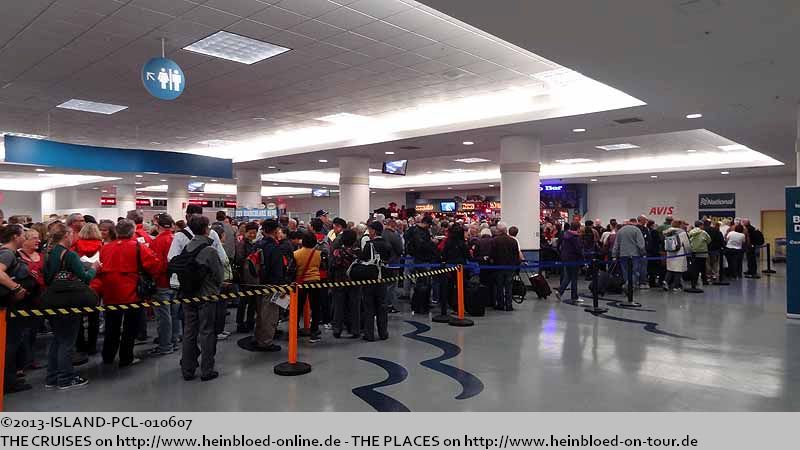 We had an appointment. But none showed up. So I went to see if someone was wating in the original place we should mee: Pan Pacific Hotel.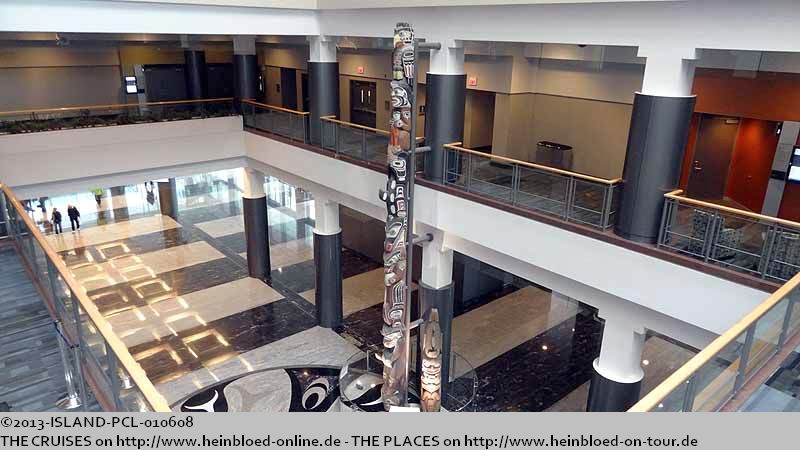 Wir waren verabredet. Aber niemand ist da. So gehe ich mal gucken, ob jemand im
Pan Pacific Hotel
wartet, in dem wir ursprünglich verabredet waren.
Von Kelley bekamen wir den Tipp, wo man den besten Kaffee in Vancouver kauft:
Caffe Artigiano
, damit Bruno eine Princess Kreuzfahrt überlebt. Selbst der Kaffee zum Kauf ist ungenießbar (verbrannt) und der kostenlose aus Sirup hergestellt. Die nächste Filiale war nur zwei Blocks vom Cruise Terminal entfernt.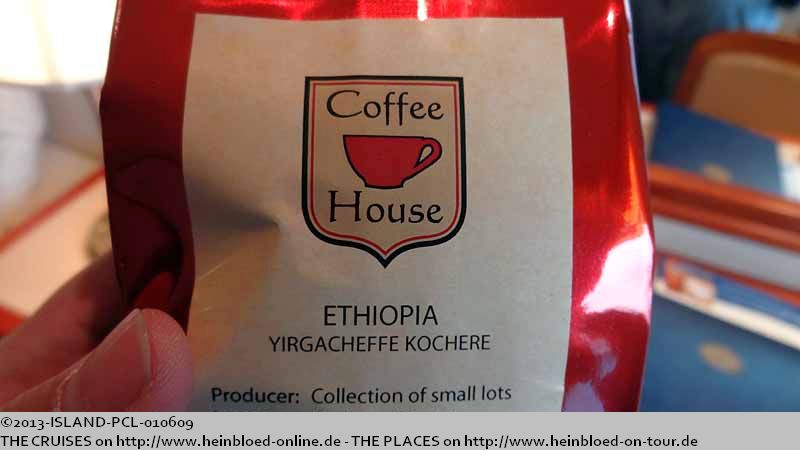 From Kelley we got the tip where to buy the best coffee in Vancouver: Caffe Artigiano - so Bruno will survive a Princess cruise. Even if you buy the coffee, you cannot drink it (roasted too strong), and the free one was made of syrup. The next branch was only two blocks away from the cruise terminal.

We bought Kelley a Frankfurt Cider mug. Even we had no chance to have a tour we appreciate her general offer. So we sent it to her home.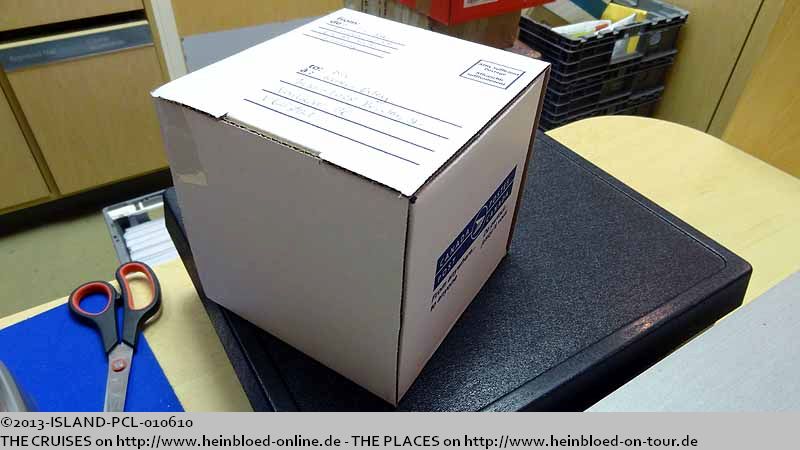 Wir hatten Kelley noch einen Bembel aus Frankfurt mitgebracht. Auch wenn wir nun keine Stadtrundfahrt hatten, wollen wir uns bei ihr schon alleine für die Bereitschaft bedanken. So senden wir es zu ihr nach Hause.
Als wir später gegen 15.00 Uhr wiederkommen (in den offiziellen Dokumenten gab es zwei Zeiten: 15.00 Uhr und 15.30 Uhr...), bekommen wir schon eine auf die Mütze, dass wir so spät dran seien... Bloß der US-Immigration-Officer meinte bloß: was für ein Glück, dass sie keine Minute früher gekommen sind. Ich glaube, dass wir künftig auf ein Mittagessen an Bord verzichten und lieber die Schlange vermeiden.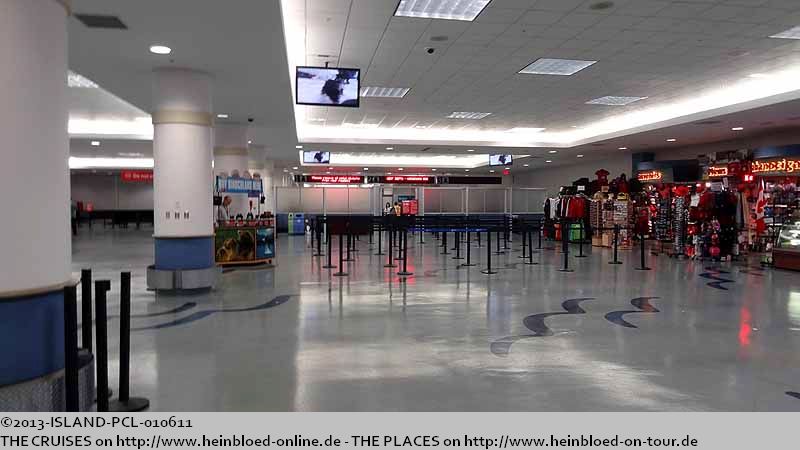 When we arrived later around 15.00 hrs we were criticized that we were so late (but on our documents, there were two times 15.00 hrs and 15.30 hrs)... Only the US-immigration officer said that it was good that we did not arrive one minute earlier. I think that we might skip for the future the line to have lunch on board.

Here we should be as preferred guests: one chair for all... Just in case I might sit there: where should all the other sit???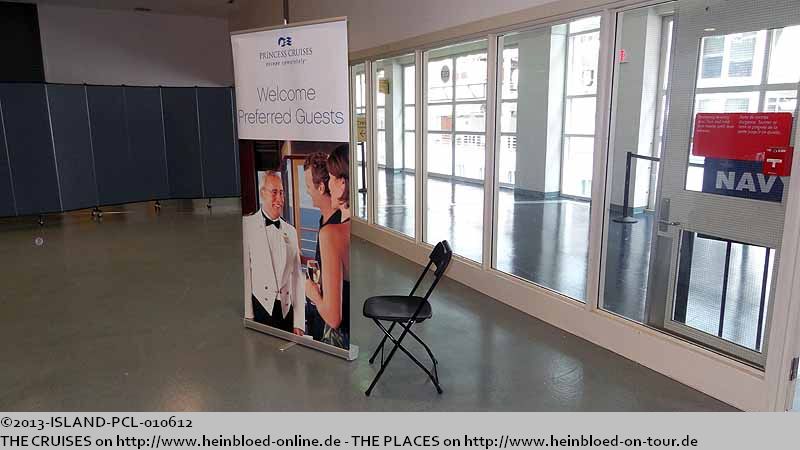 Hier hätten wir uns also einfinden sollen: ein Stuhl für alle Preferred Guests... Und wo sollen sich alle anderen hinsetzen, wenn ich dort schon sitze???
Sofort wissen wir zu welcher Brücke wir müssen: am Heck.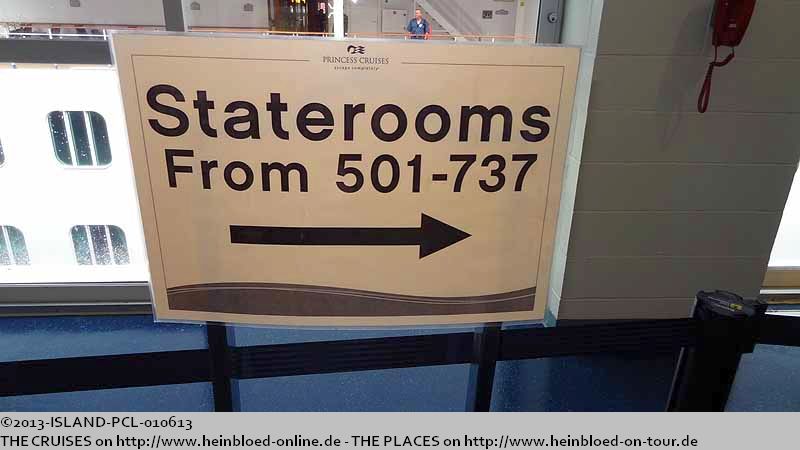 Immediately we knew where we had to go: to the aft.

But back to our lunch break... we met Elena Bodi who was working on NORWEGIAN SUN again and whom we met personally back in September 2012. We saw her first time in her new uniform as she was promoted to Assistant Maître D'.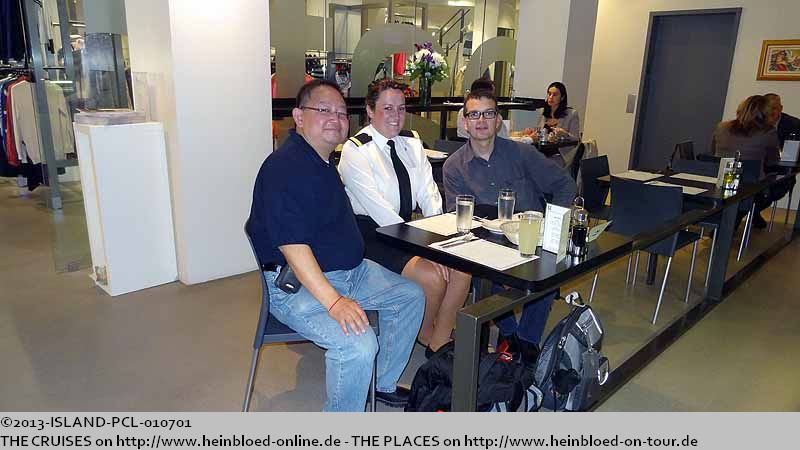 Aber zurück zur Mittagspause... wir haben uns mit Elena Bodi getroffen, die derzeit auf der NORWEGIAN SUN wieder ist und die wir zuletzt im September 2012 gesehen haben. Wir erleben sie in Ihrer neuen Uniform, da sie zur Assistant Maître D' befördert wurde.
Da sie meint, dass wir durch unsere Darstellung auf der NCL-Facebook-Seite nicht unbeteiligt waren, wollen wir das gerne gemeinsam feiern und laden sie zum Lunch ein.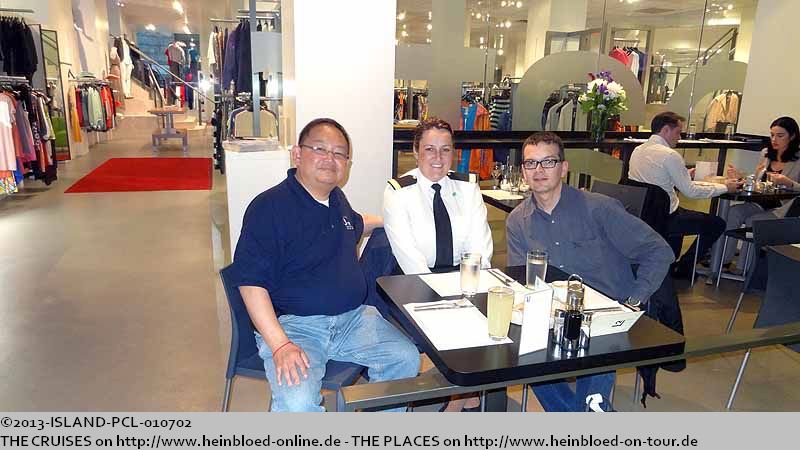 As she said that our postings on NCL's Facebook site might impact the development we wanted to celebrate her promotion and invited her for lunch.

We found an Italian snack bar (L2 Café with Leone) in a shopping center where an Italian Mamma was preparing the dough like from TV-commercials from Italy.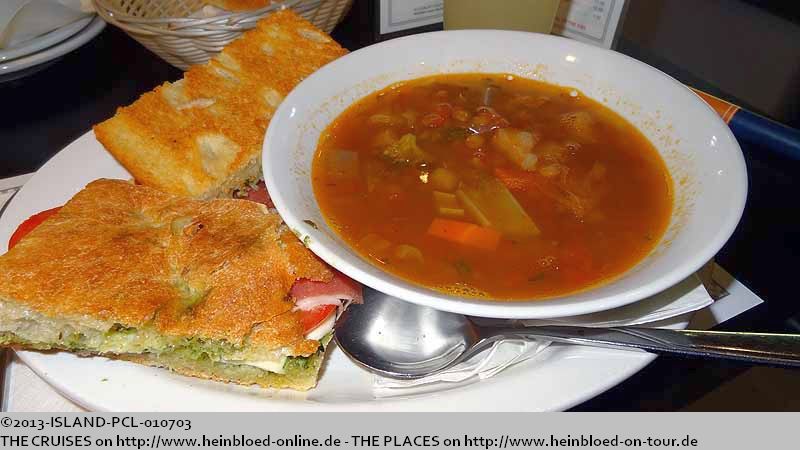 Wir haben eine italienische Snackbar (
L2 Café bei Leone
) erwischt in einem Shopping Center, bei dem noch eine italienische Mamma, wie man sie aus der Miracoli-Werbung her kennt, den Teig anrührt.
Dort gab es natürlich auch guten Cappucino.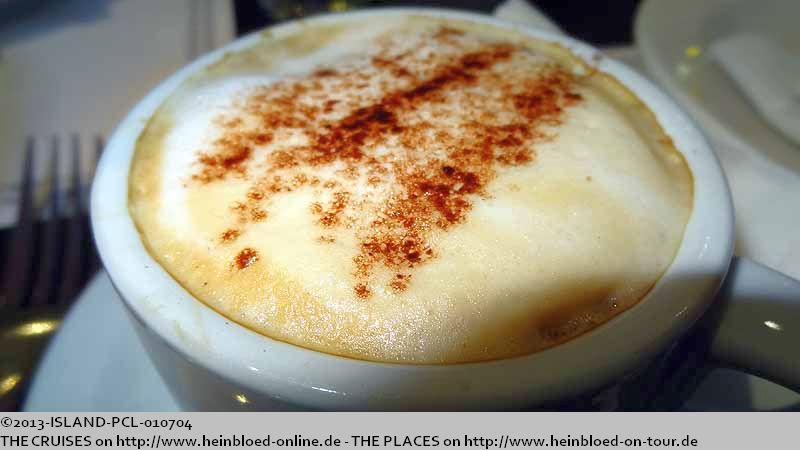 There we had of course a great Cappucino.

As Elena wanted some pictures with us, but it started to rain we went again to the Bar of the Pan Pacific Hotel.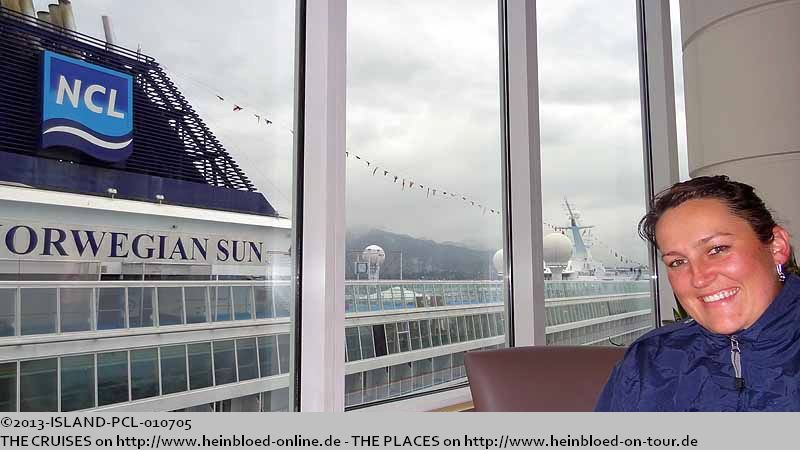 Da Elena gerne noch ein paar Bilder von uns machen wollte, und es anfing zu regnen, ging es nochmals an die Bar des Pan Pacific Hotel.
Hier gibt es einen weiteren Cappucino.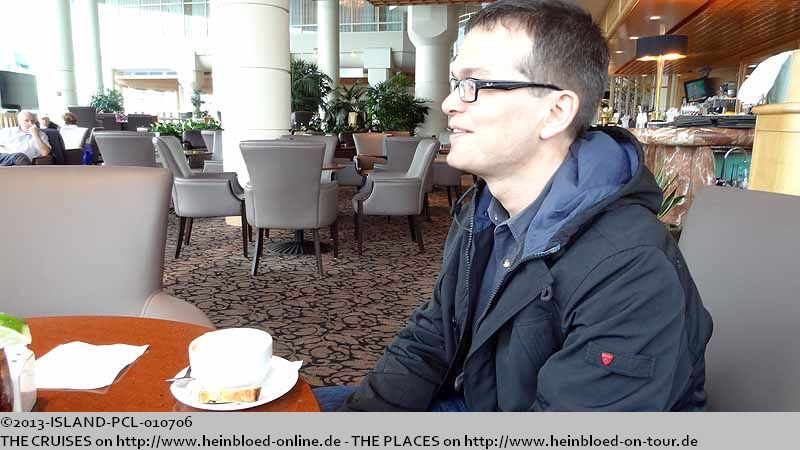 Here we had another Cappucino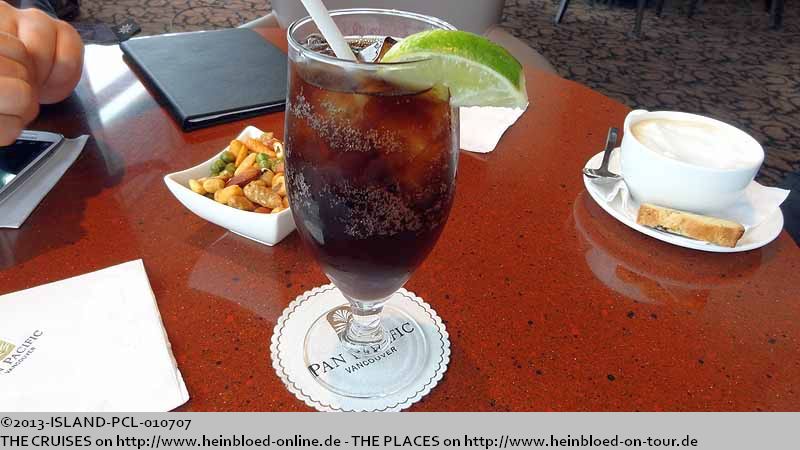 und natürlich ein schönes Erinnerungsfoto mit der NORWEGIAN SUN im Hintergrund.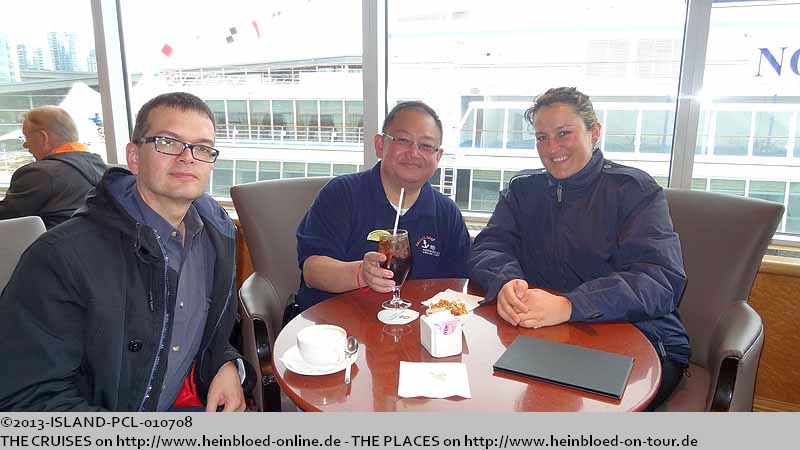 and of course another nice souvenir picture with the NORWEGIAN SUN in the background.

As Elena need to return to her service and we had some commitments too before embarkation we just drank our beverages, saw the restrooms and were looking forward to seeing Elena again.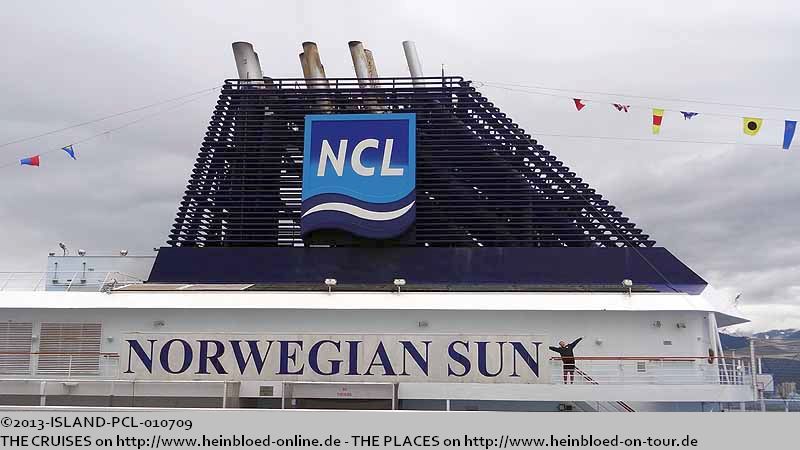 Da Elena zurück zum Dienst muss und wir auch noch ein paar Erledigungen haben, bevor es auf das Schiff geht, trinken wir noch in Ruhe aus, gehen auf die Toiletten und freuen uns Elena wieder zu sehen.
Das Y in SUNNY... aber warum kommen eigentlich nicht Bon, Ludwig oder Christian rauf, um noch ein N zu bilden.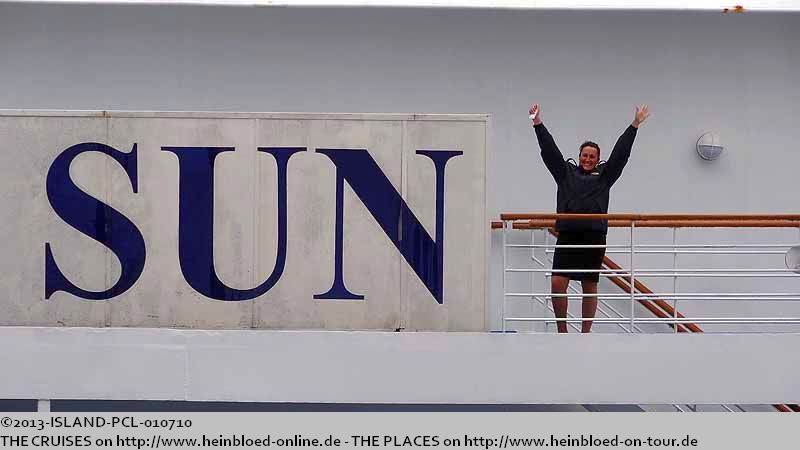 The Y like in SUNNY... but why were Bon, Ludwig or Christian did not show up to form another N.

Later I discovered Elena on the top...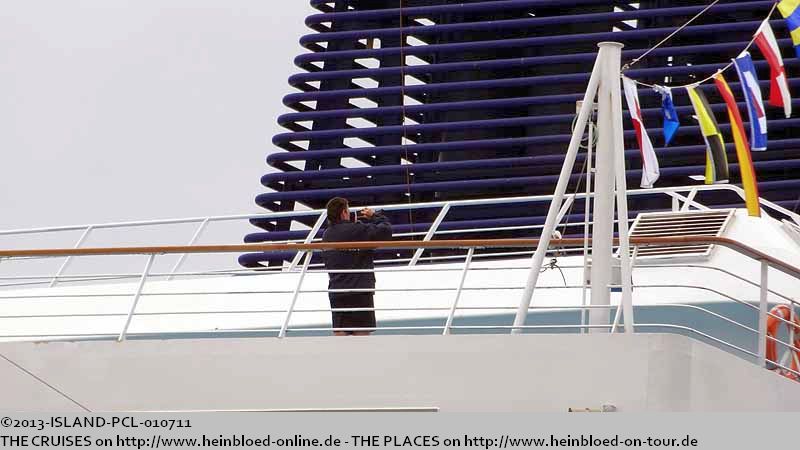 Später sehe ich Elena noch da oben...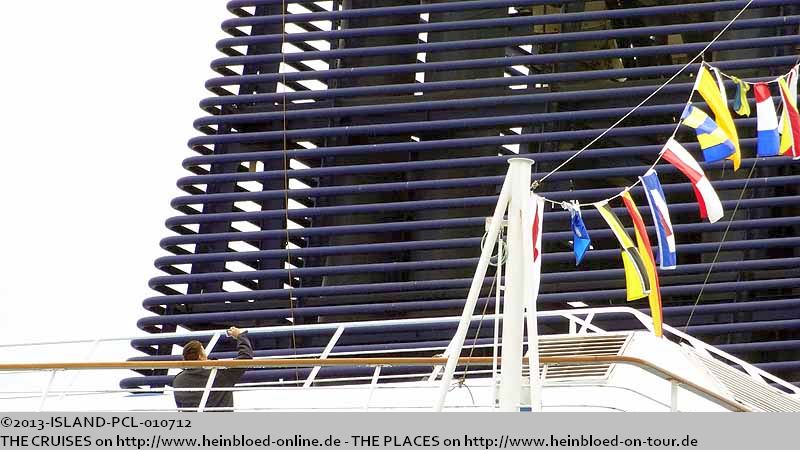 From there she waved me again.

Und sie winkt mir nochmals zu.
Also egal ob ich nun mein Schiff verpasse oder nicht (Yvonne von HAL ist ja nicht da, um mich wieder zu ermahnen, ja pünktlich an Bord zu erscheinen), ziehe ich nochmals als um noch ein paar Bilder von NORWEGIAN SUN zu machen, auch wenn ich schon bestimmt 7.341 Bilder schon irgendwo von ihr habe. Sie ist nunmal einer drei Lieblingsschiffe der NCL-Flotte.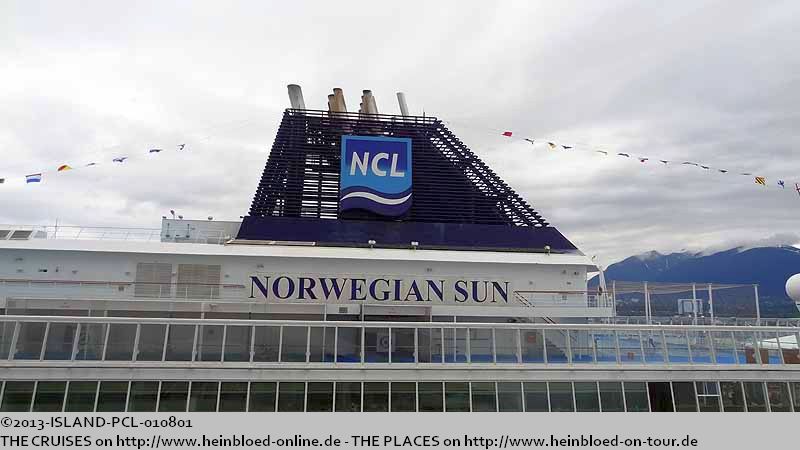 I did not care if I might miss my ship or not (Yvonne from HAL was not here to warn me to be on time back on the ship) so I went out to take a few pictures of NORWEGIAN SUN even I might have already 7,341 photos of her. But she was one of my three favorite ships of the NCL fleet.
Die anderen Reisen in diesem Blog/
The other voyages in this blog: