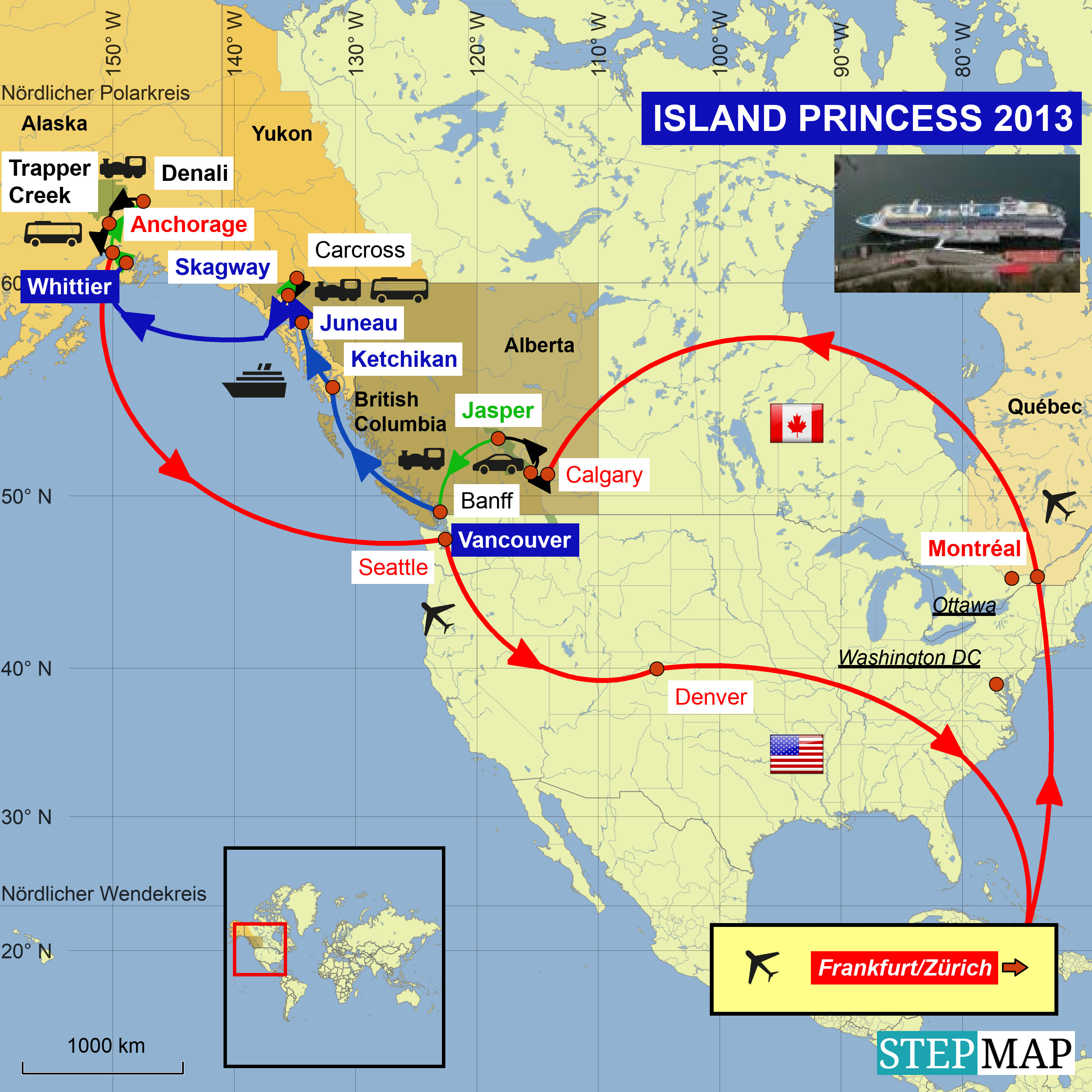 Ein letzter Blick auf
MEINE
ISLAND PRINCESS. Ein wirklich schönes Schiff, auf dem wir uns sehr wohl gefühlt haben.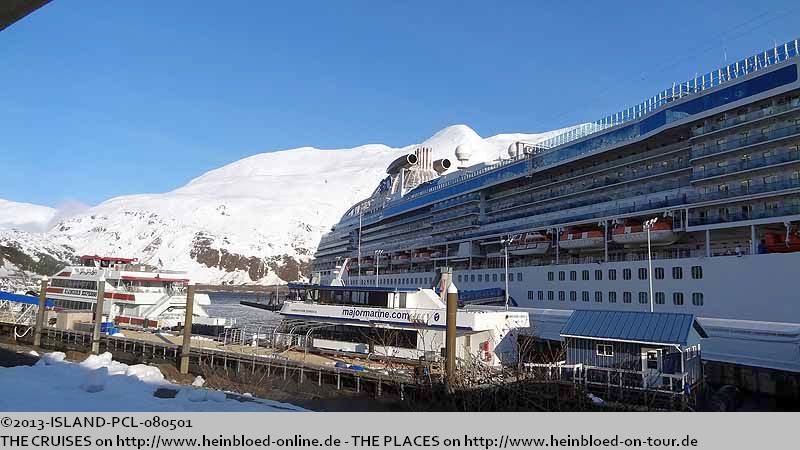 A very last view to MY ISLAND PRINCESS. A real nice ship where we felt very well.

The debarkation was very well organized. All ways were very well signposted. Many agents were there to direct the right way.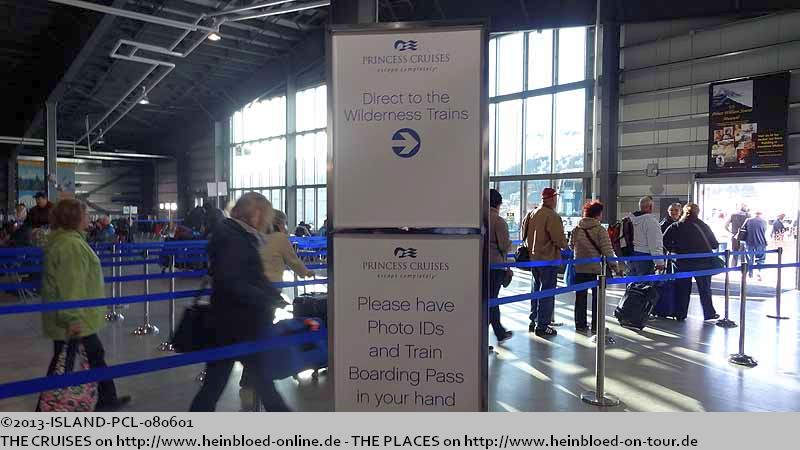 Die Ausschiffung ist sehr gut organisiert. Alle Wege sind sehr gut ausgeschildert. Es stehen viele Agenten, die einen den richtigen Weg weisen.
Sofort wissen wir, dass wir nach hinten müssen.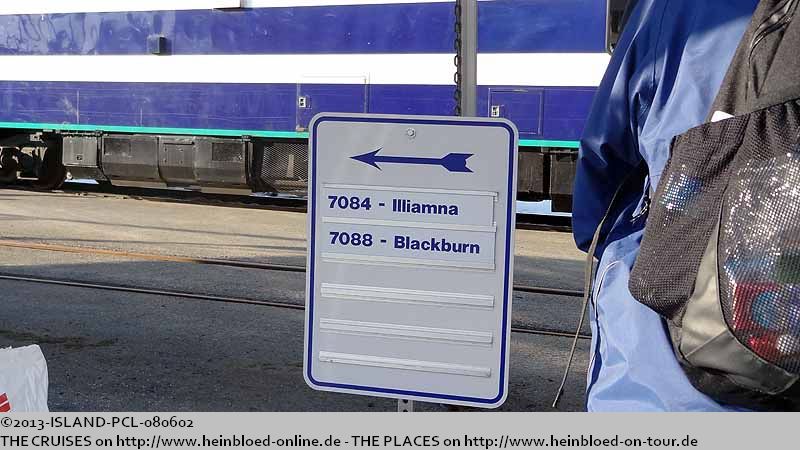 Immediately we knew that we had to go the rear.

The last car.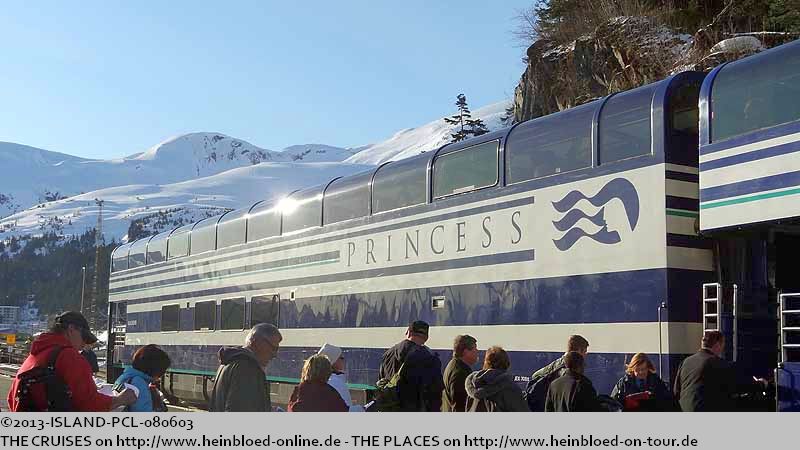 Der letzte Wagen.
Ganz hinten geht es rauf.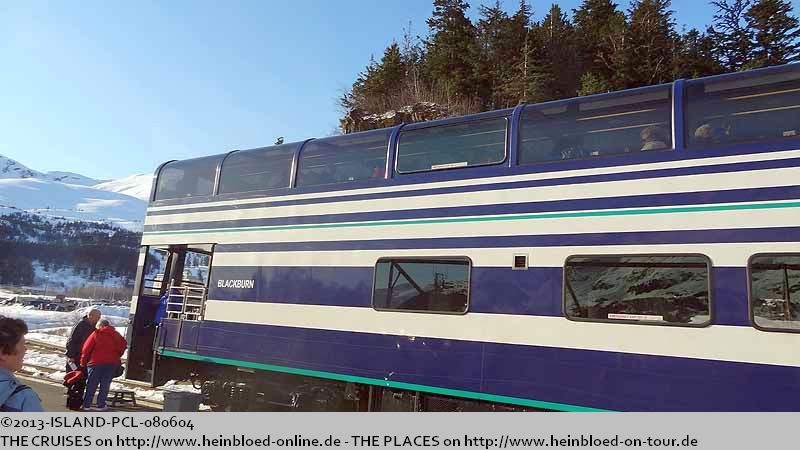 You had to board at the very rear.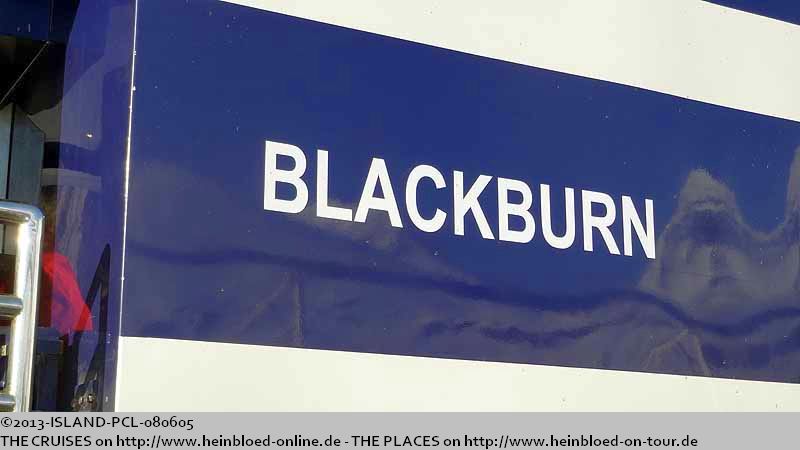 Unsere "Photo-ID" wird nicht überprüft.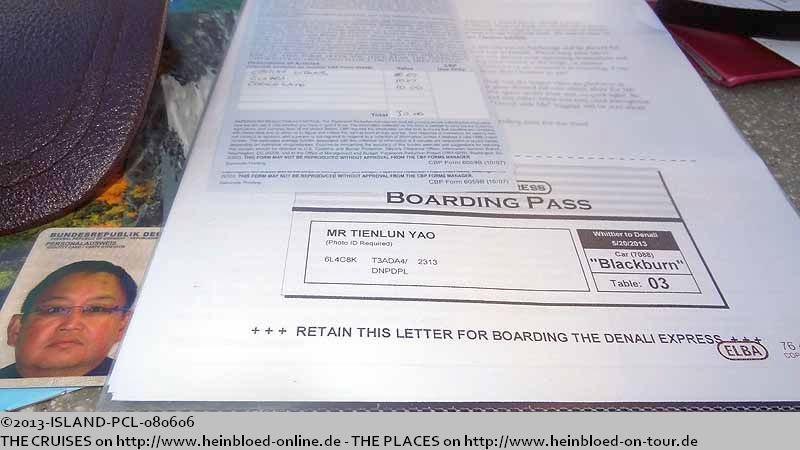 Nobody checked our "Photo-ID".

The stairway was very narrow, and you need to use it for both directions.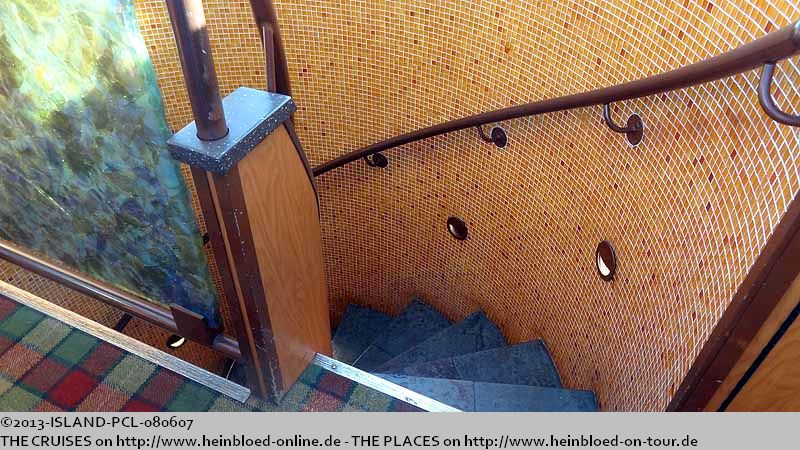 Die Treppe ist ganz schön eng und man muss sowohl für beide Richtungen benutzen.
Da ist unser Tisch.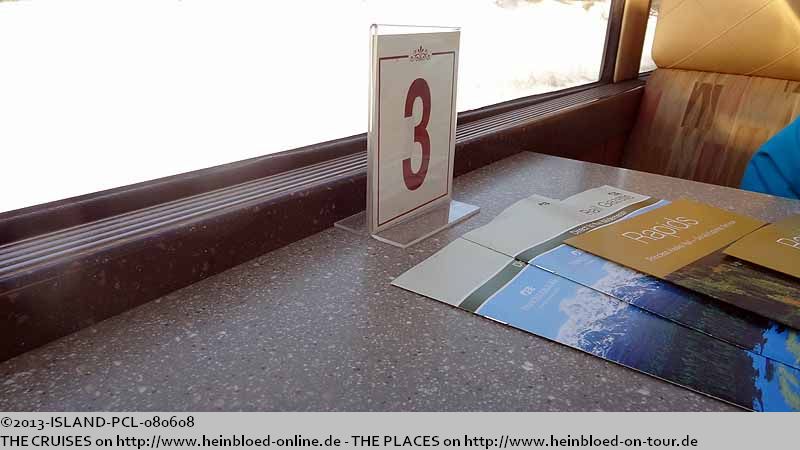 That was our table.

Bord magazine, beverage and meal menu were placed on the table.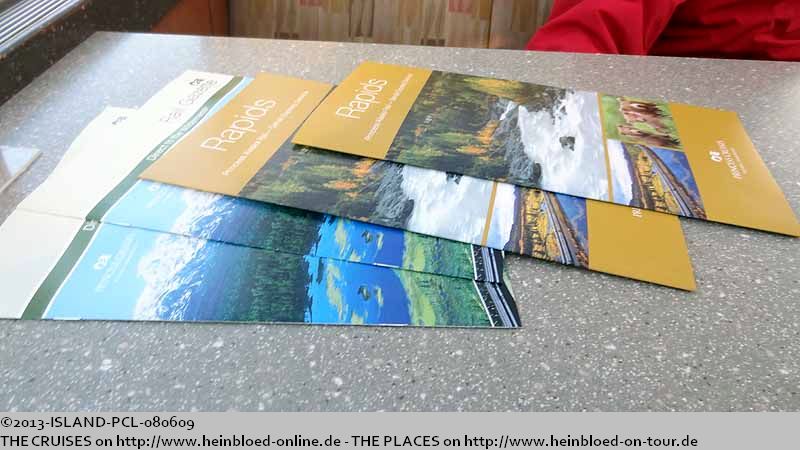 Bordmagazin, Getränke- und Speiseangebot liegen am Tisch aus.
Platz für Handgepäck besteht nur unter dem Sitz und das ist ganz schön eng.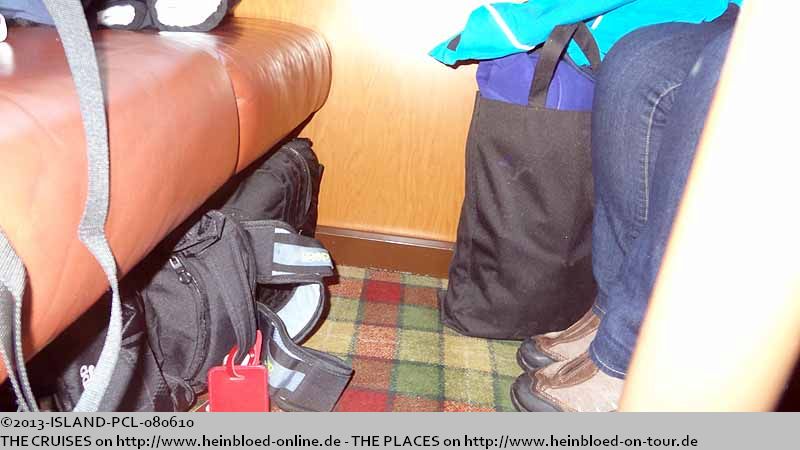 The only space for handbags were available under the seat and it was very very narrow.

There were no racks at the top.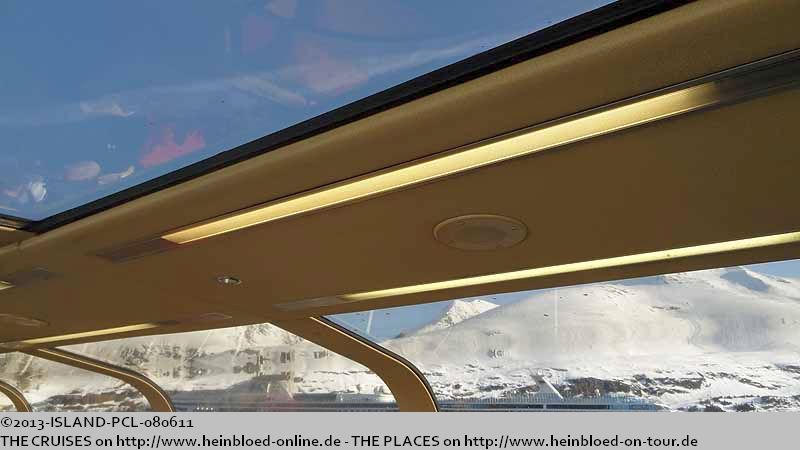 Oben gibt es keine Ablagen.
Wir haben eine Stewardess, die uns Getränke verkauft. Wenn man eine leere Flasche hat, füllt sie einem auch bloß Wasser kostenlos ab. Zwei Kellner aus dem Restaurant unten bedienen oben auch die Gäste mit kleinen Speisen am Platz, wenn man weiterhin gucken will. Ein Reiseführer befindet sich im Wagen, der alles erklärt.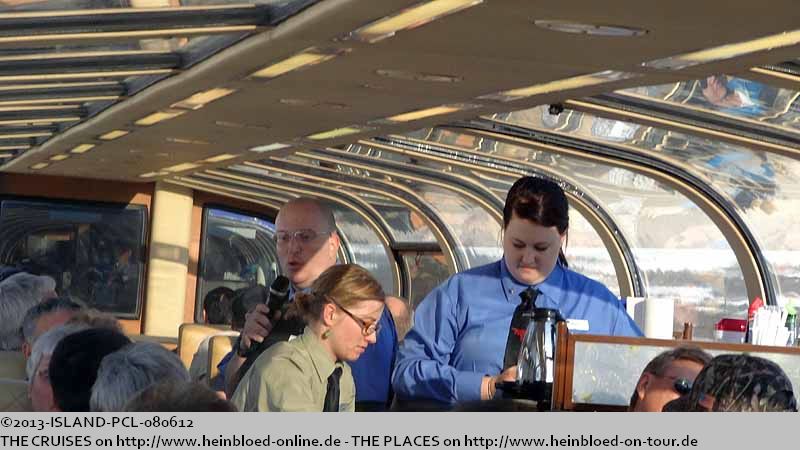 We had one stewardess who sold us beverages. If you had an empty bottle, she filled it with water free of charge. Two waiters served in the restaurant in the lower deck and also served snacks to guests on the upper deck if you wanted to see. One tour guide was in the car who explained everything.

A "standard" toilet or better more than one in one car.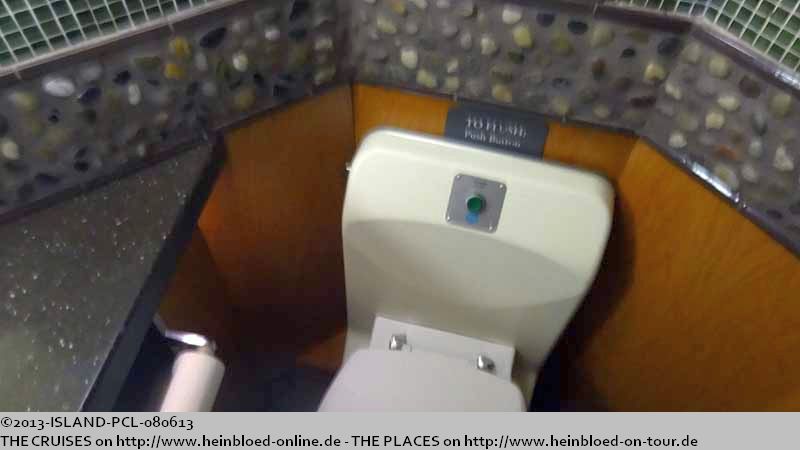 Ein "normales" WC bzw. mehr als eines pro Waggon.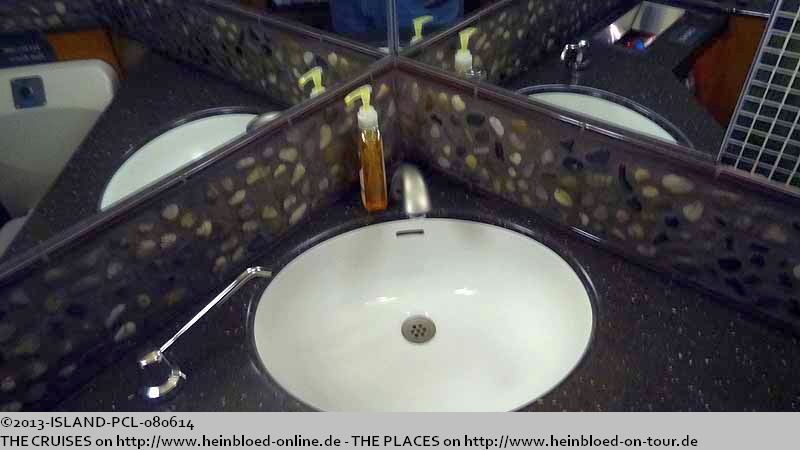 And unusual: on the outside platform they had an electronic display.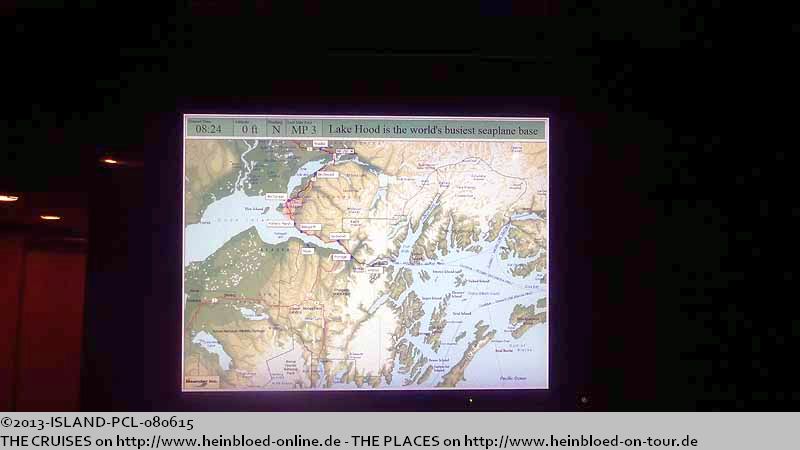 Und ungewöhnlich: Außen an der Außenplattform gibt es eine elektronische Anzeige.
Oben gibt es überall gute Sicht. Bloß keinen Platz im Fußraum.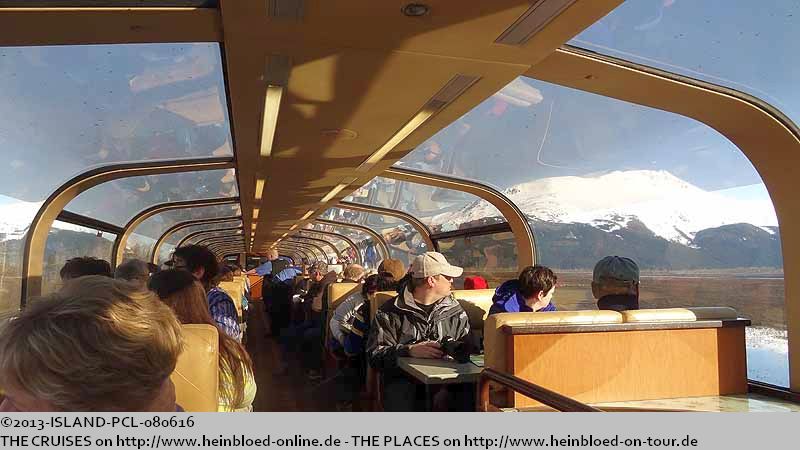 Above we had everywehre a good view. But now space in the legroom.

When I walked down to the platform, it just jumped upwards, and it could not be moved downwards again.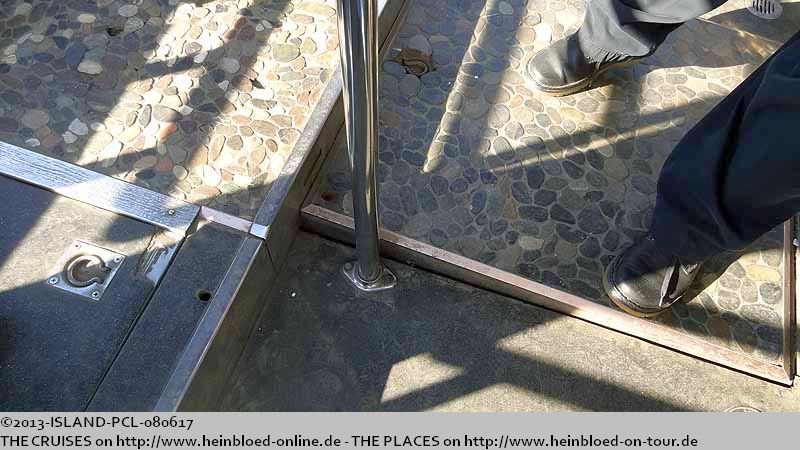 Als ich mal runter auf die Plattform gehe, springt mir eine Plattform entgegen, die sich nicht wieder eindrücken lässt.
Unten befindet sich das Zugrestaurant.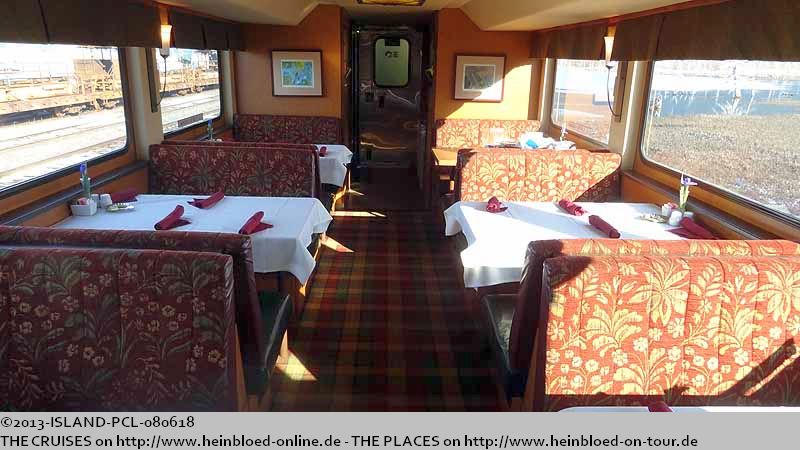 Downstairs you had the restaurant section.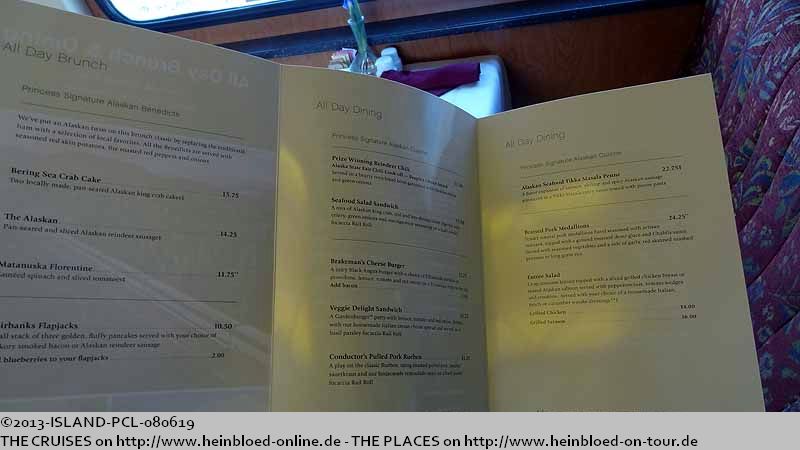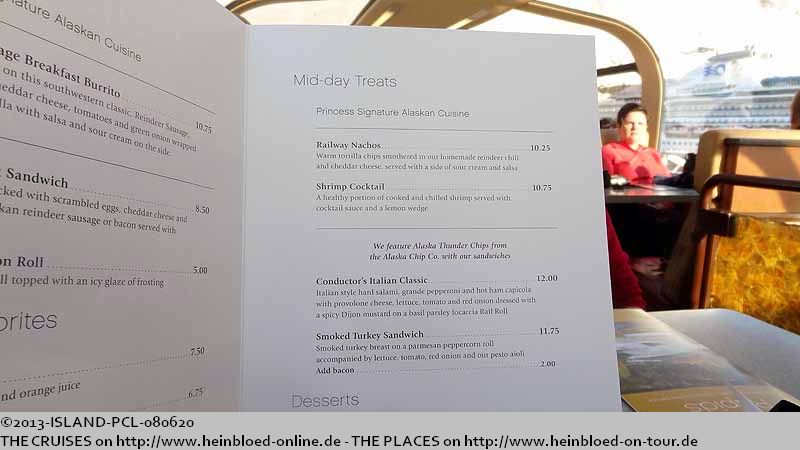 They had everything of paperboard or plastic.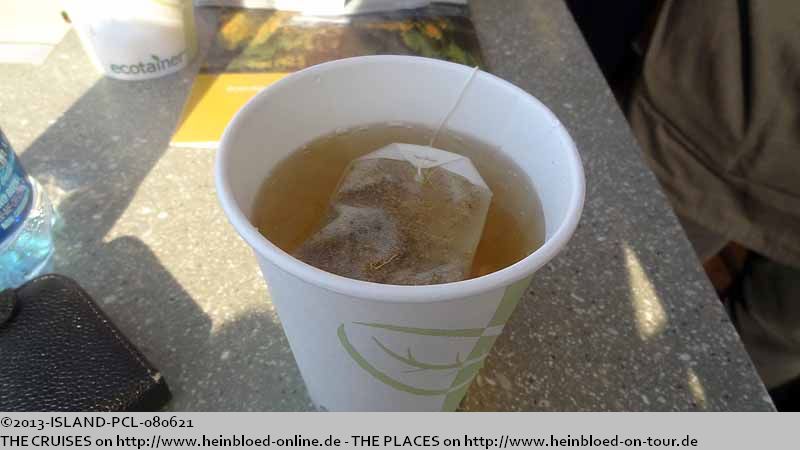 Leider gibt es alles nur aus Pappe bzw. Plastik.
Und mit viel Eis, als ob es in Alaska nicht kalt genug wäre.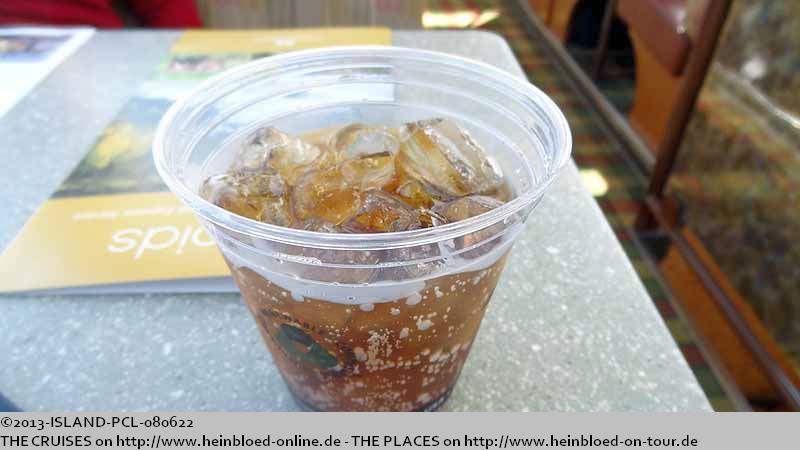 And a lot of ice cubes as it was not cold enough in Alaska.

Bruno said that the coffee was enjoyable.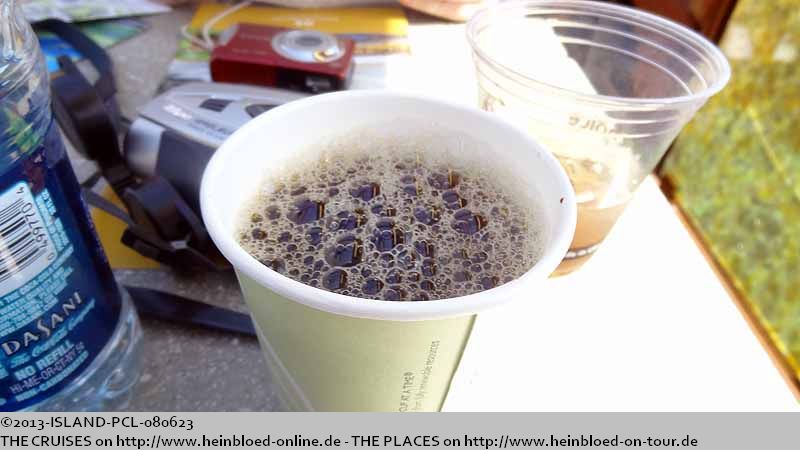 Bruno meint, dass der Kaffee sogar genießbar wäre.
Und ich meine, dass Tomatensaft nur im Flugzeug schmeckt.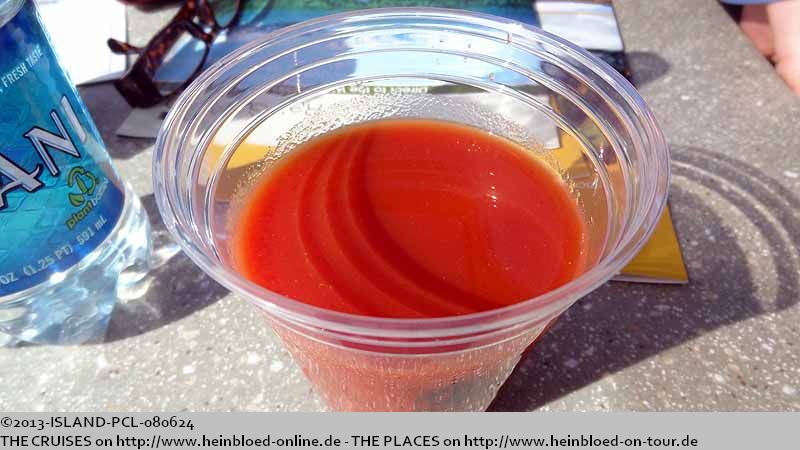 And I said that you should only drink tomato juice only on a flight.

A scope of ice cream... as a dessert or a snack... but too American sweet.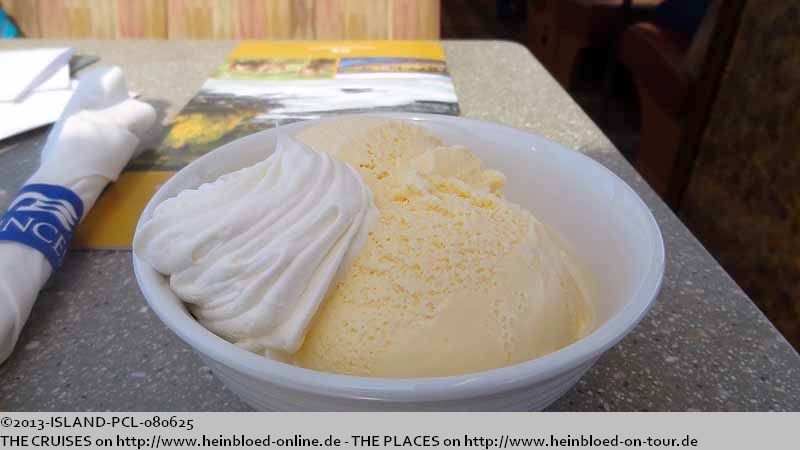 Eine Kugel Eis... als Nachtisch oder zwischendurch... bloß amerikanisch süß.
Alle Beträge (auch nur 2,00 USD) muss man mit der Kreditkarte zahlen.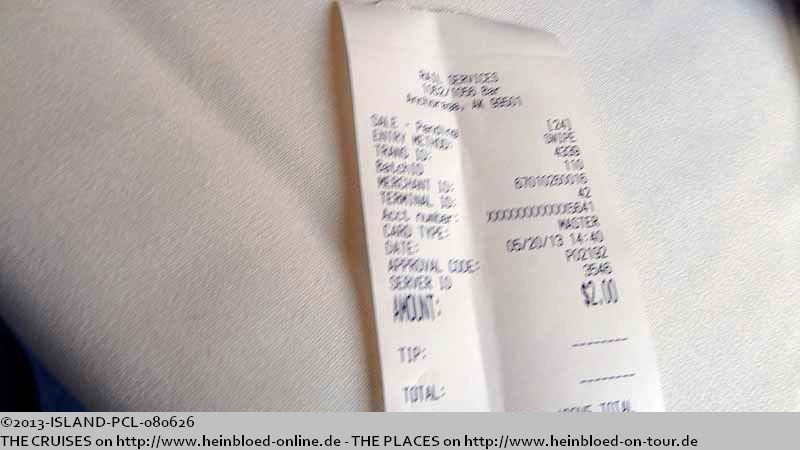 Even amounts like 2.00 USD you had to pay by credit card.

Here we got our paperwork for our stay.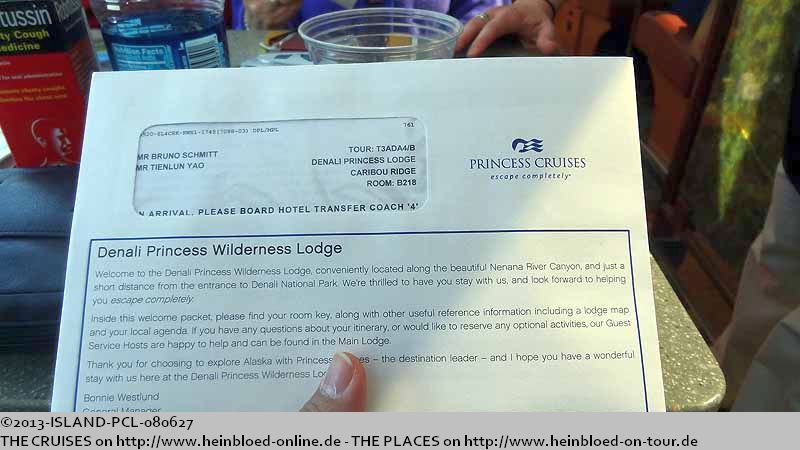 Hier bekommen wir unsere Unterlagen für den Aufenthalt.
Alles Wichtige für die Weiterreise nach McKinley Princess Lodge.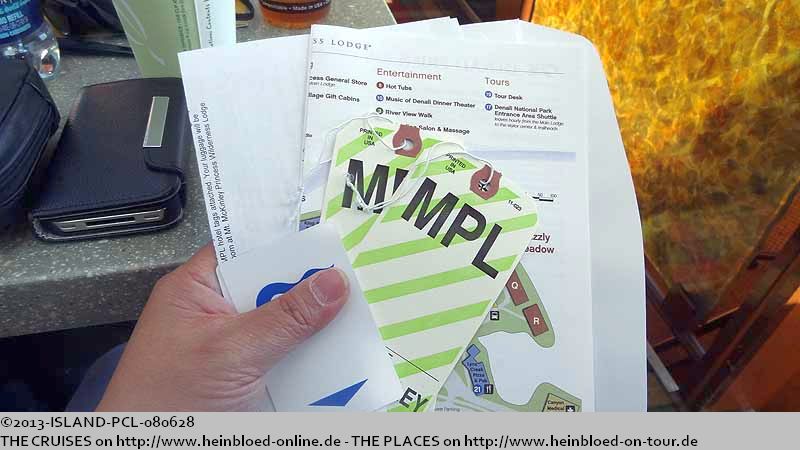 Everything we need to know to head to McKinley Princess Lodge.

And a list of all booked activities. Very well organized.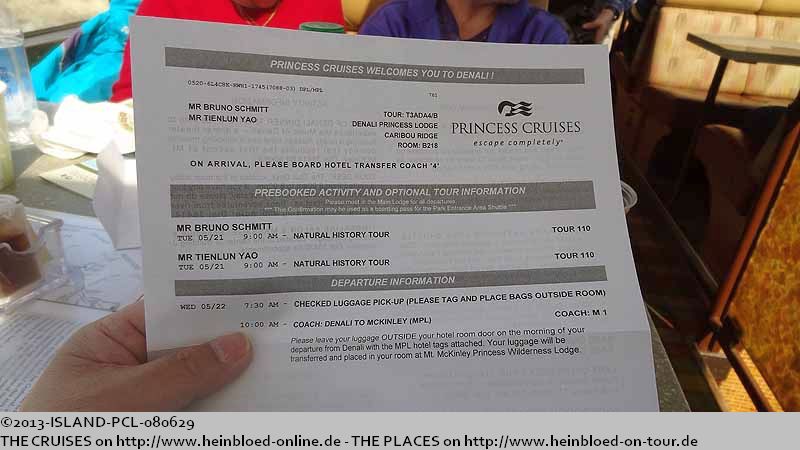 Und eine Aufstellung der gebuchten Aktivitäten. Alles sehr gut organisiert.
Die anderen Reisen in diesem Blog/
The other voyages in this blog: