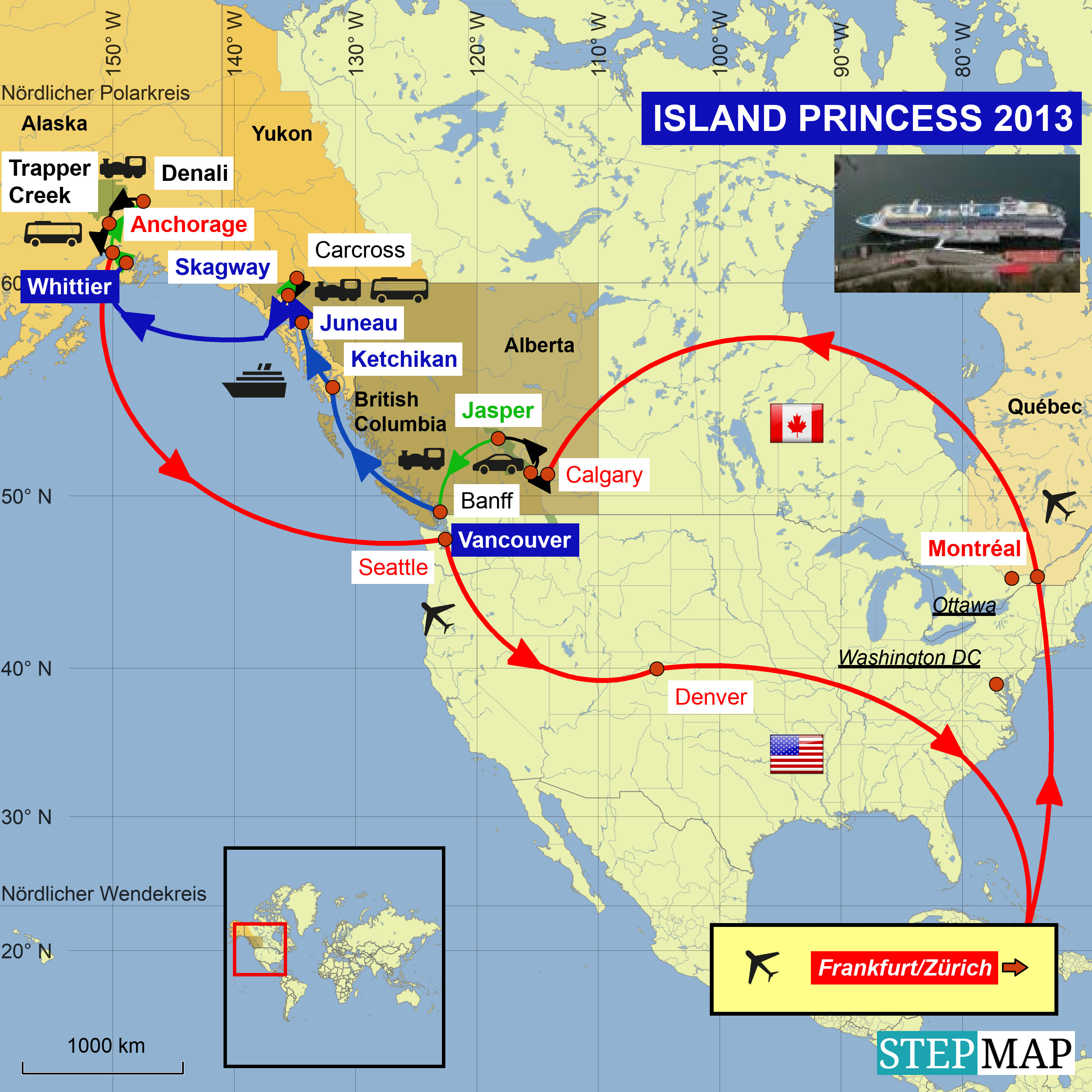 Wir gucken uns noch weiter um. Letztens haben wir es nicht geschafft, uns oben um den Innenpool herum umzusehen.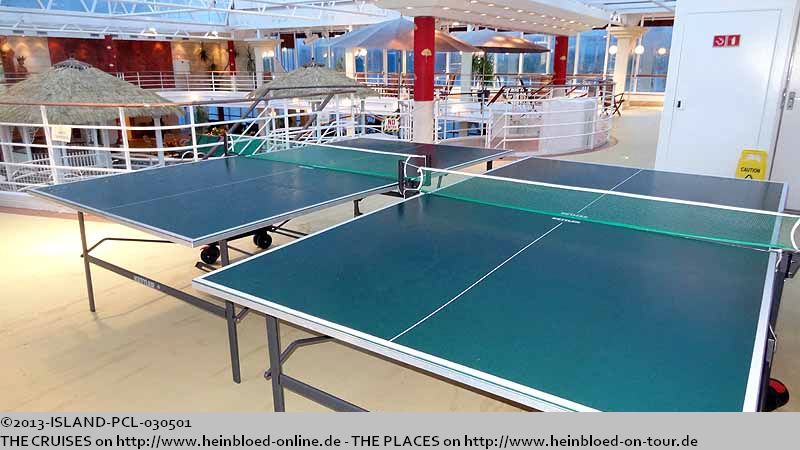 We continued our tour. Last time we did not make it to see the indoor-pool area.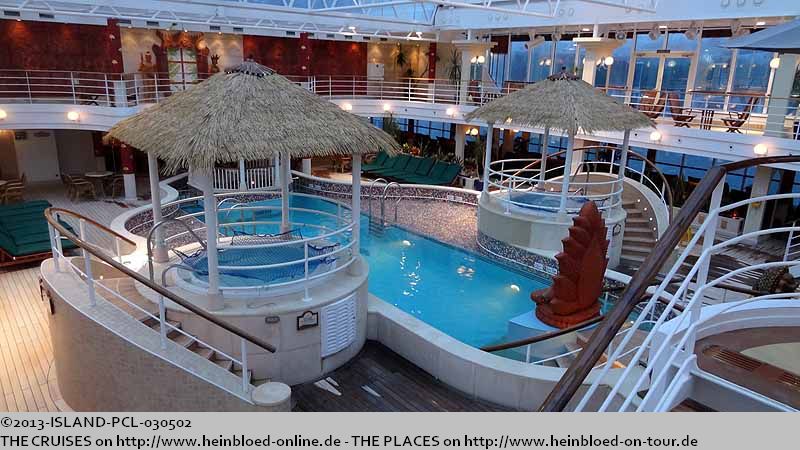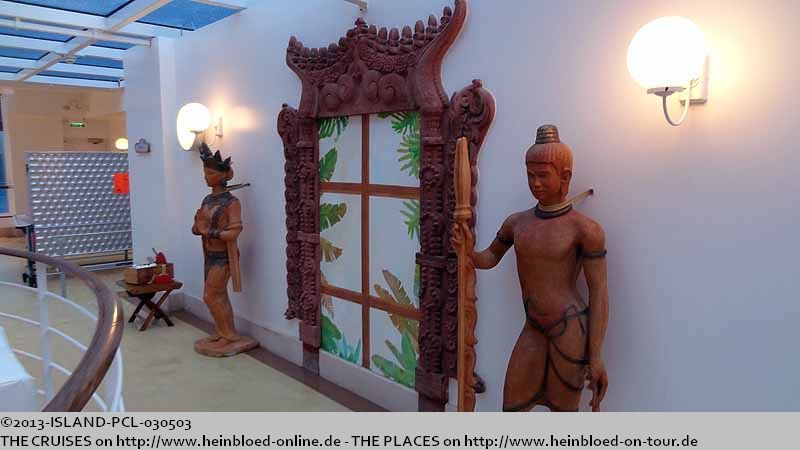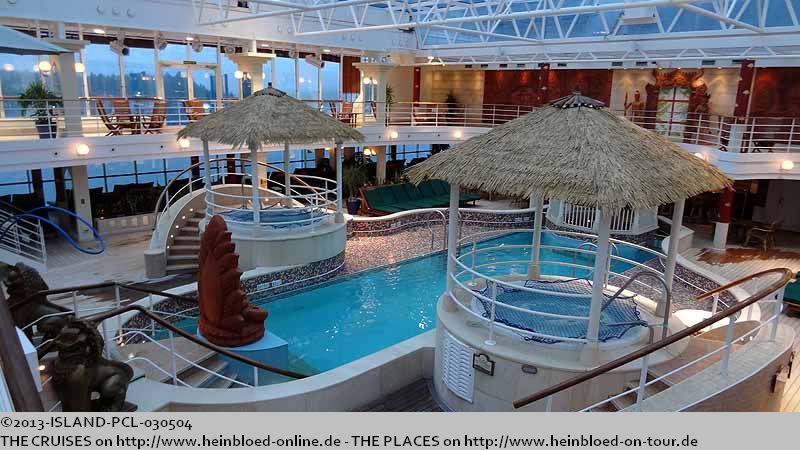 Teak-Holz?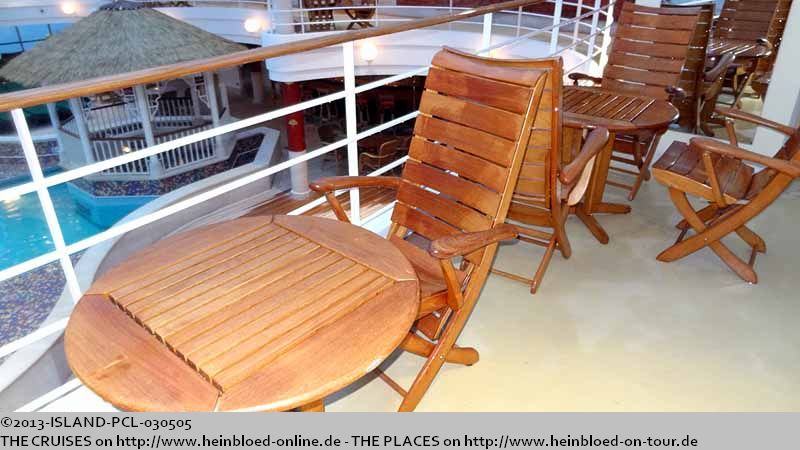 Teak-Wood?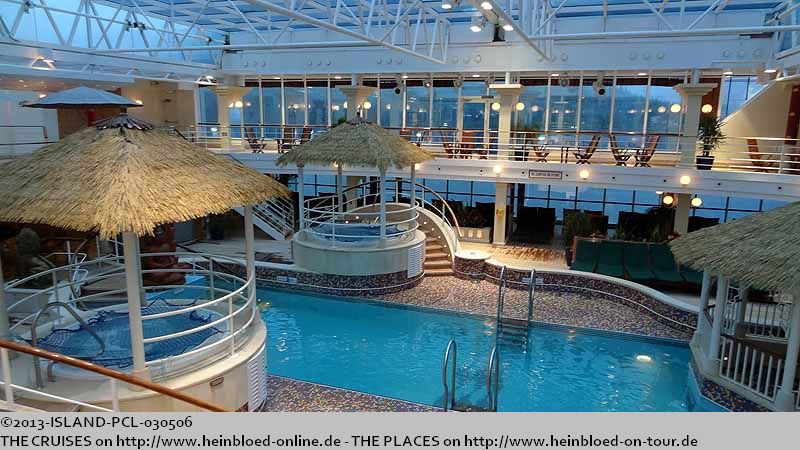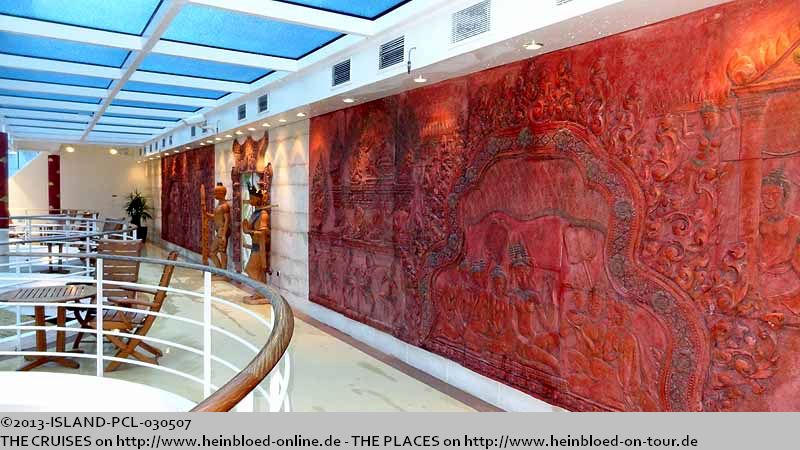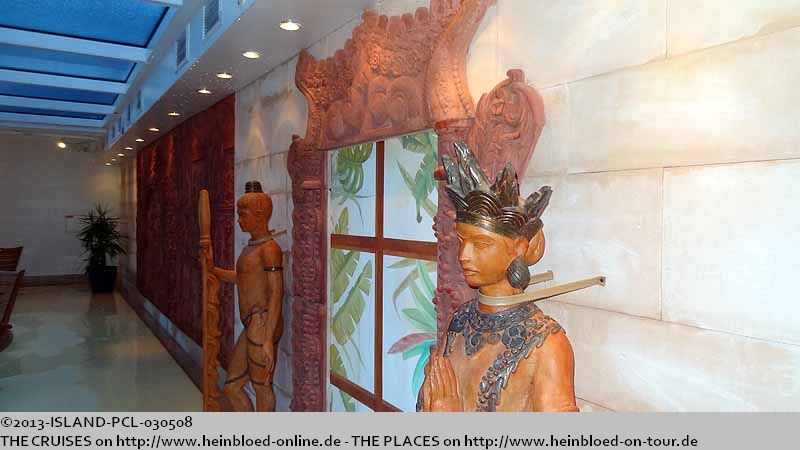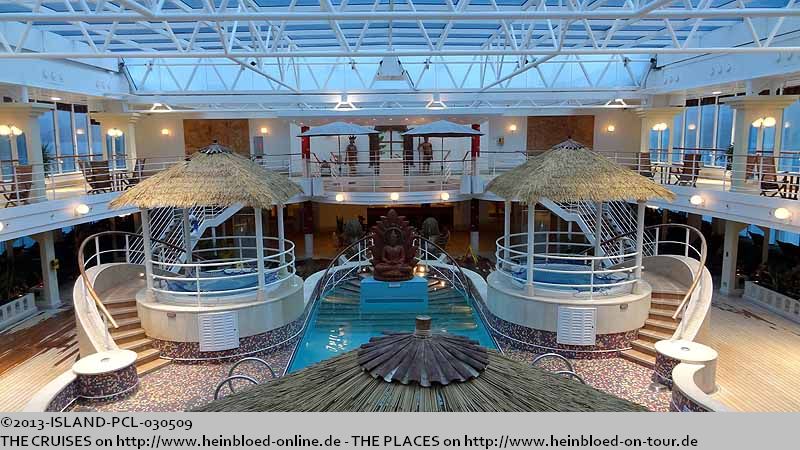 A little birdie was here inside... Was the birdie from Canada?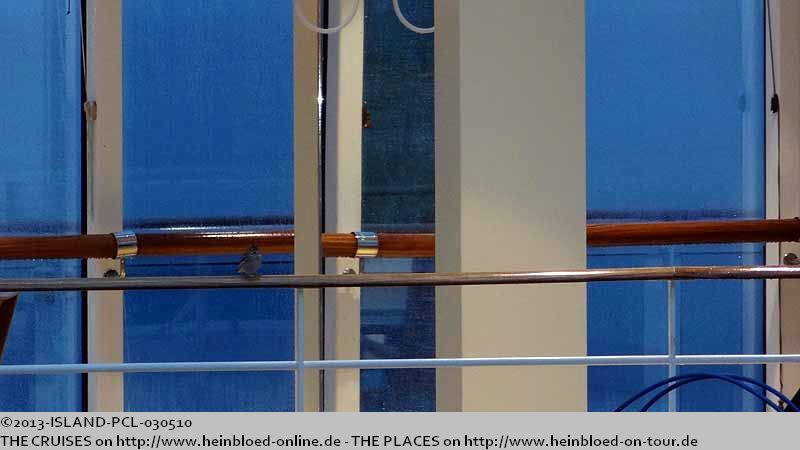 Ein Vogel ist hier drin... Ob sie aus Kanada stammt?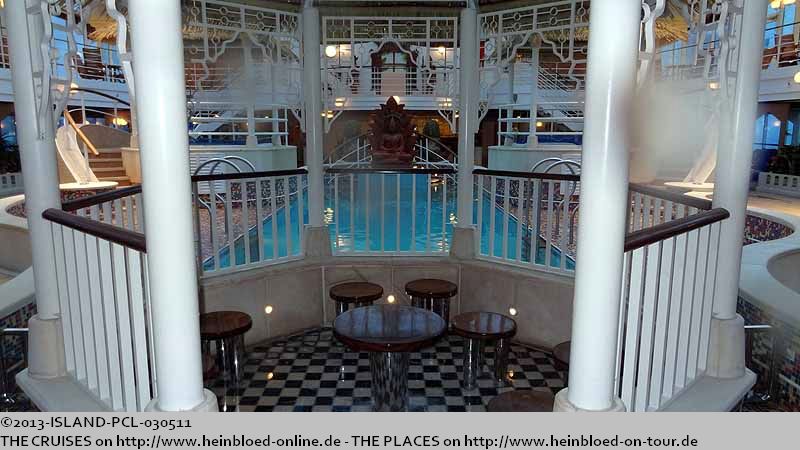 The gym opened at 06.00 hrs but some showed already up at 05.00 hrs. One crew-member who exercised inside told them that it should be closed for another hour. He was insulted: one said that the time of his iPhone had not changed so it cannot be 05.00 hrs in the morning. But did he have already an US-signal?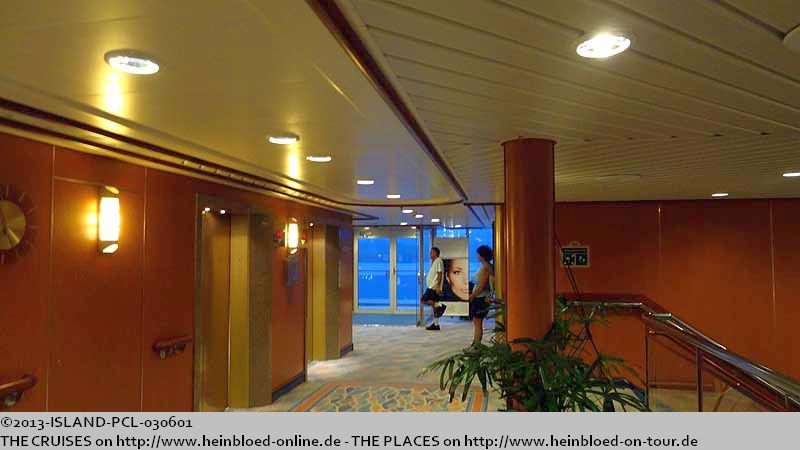 Um 06.00 Uhr öffnet erst das Fitness-Studio, aber um 05.00 Uhr finden sich die ersten ein. Zufällig trainiert ein Crew-Mitglied und sagt ihnen Bescheid, dass noch eine Stunde zu ist. Er wird wild beschimpft: der eine behauptet, weil die Zeit seines iPhones sich nicht umgestellt hat, kann es unmöglich 05.00 Uhr morgens sein. Aber hat er schon ein US-Signal?
Die andere Dame behauptet steif und fest, dass auf dem Telefon die falsche Zeit gestanden hätte... Na, dann müssen sie wohl nur bei uns oder nur nicht bei ihr die Zeit der Telefonanlage in der Nacht umgestellt haben.

Another lady said that the wrong time was displayed on her phone... So I think they changed the time on the whole ship incl. the phone system but they must obviously forget her phone.

In der Damentoilette fallen Automaten auf: Tampon und Binden...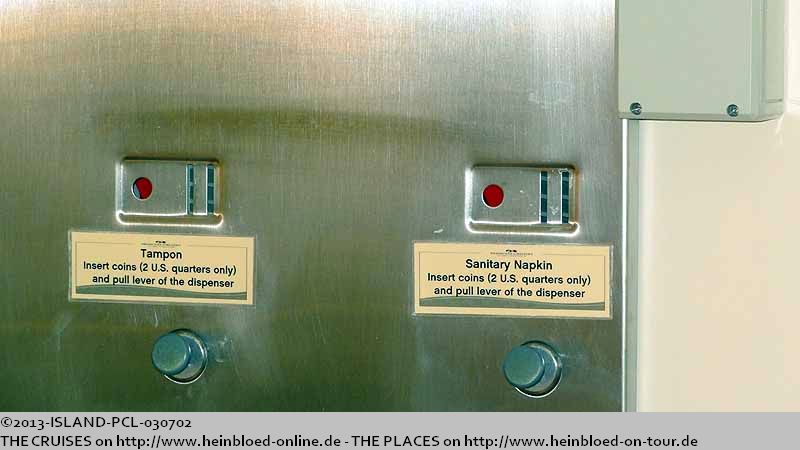 In the ladies' room there were few vending machines: tampons and sanitary napkins...

In the men's room there was only a bowl of dried flowers but no vending machine for preservatives...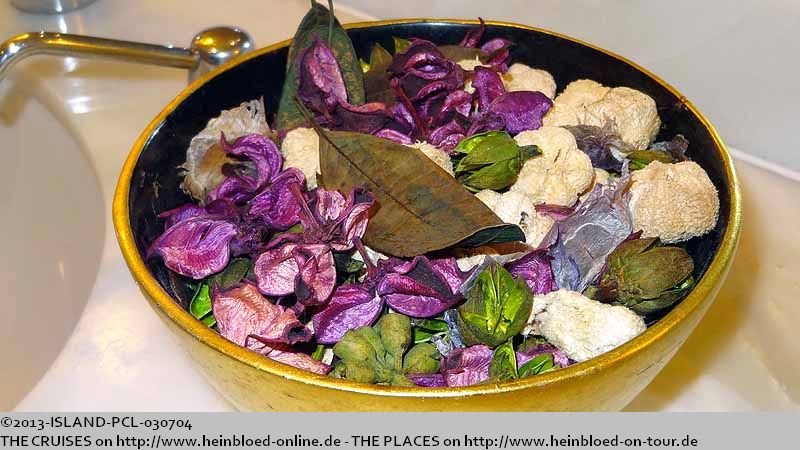 In der Herrentoilette finde ich nur ein Potpourri, aber keinen Kondom-Automaten...
Ich gucke mich mal noch vorne um. Ein toller Blick nach vorne. Genau das richtige für Alaska.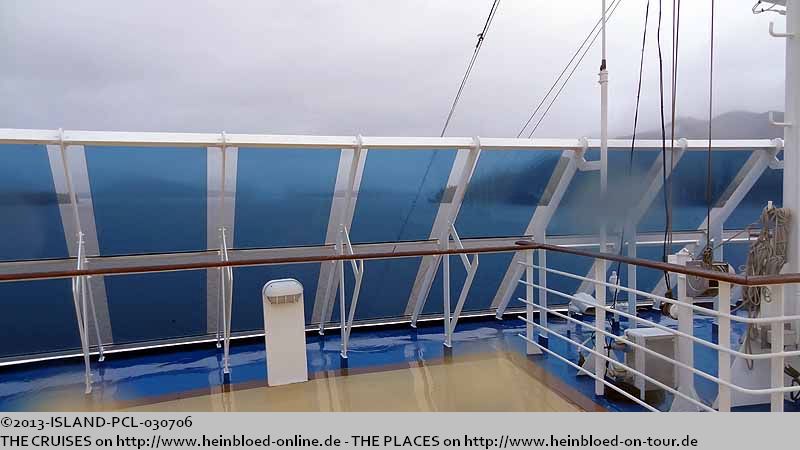 I had a look forward. A great view to the front. Just the right one for Alaska.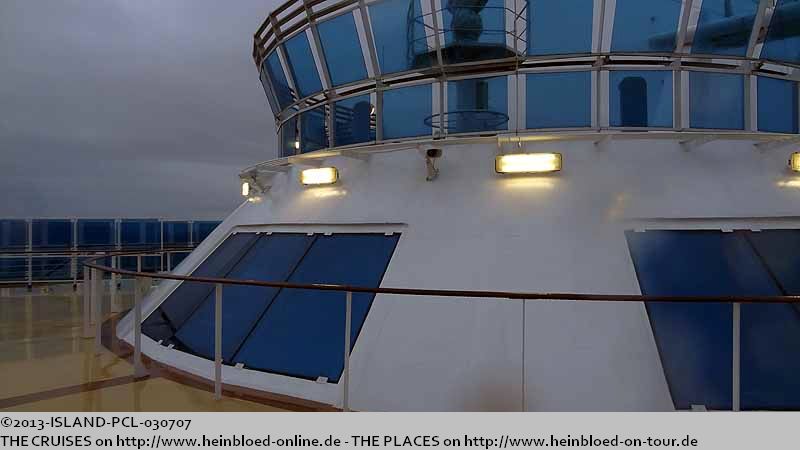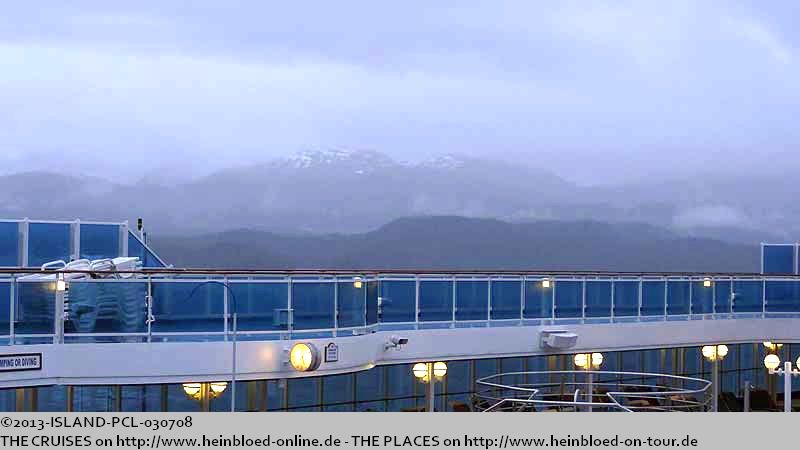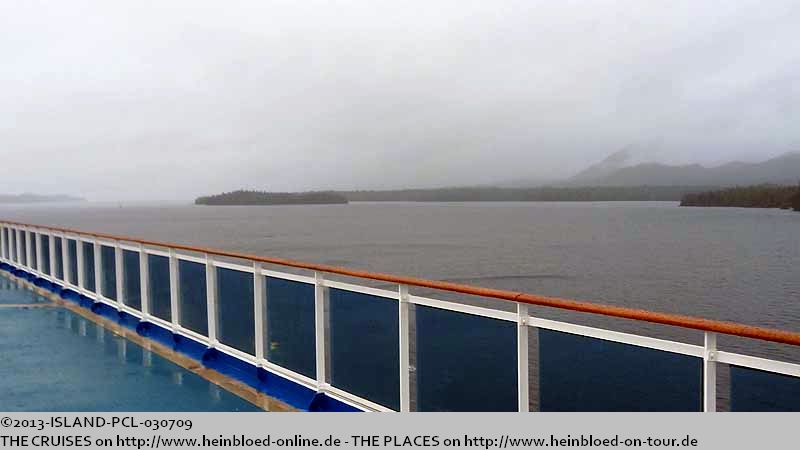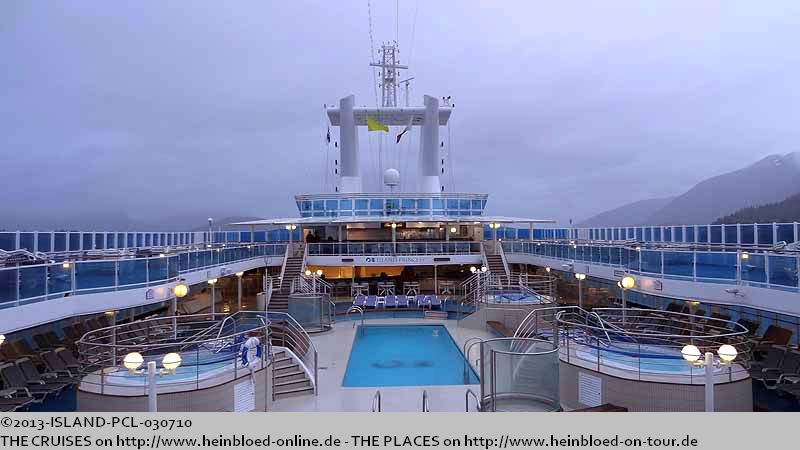 Upstairs there was a great photo studio as we later heared of.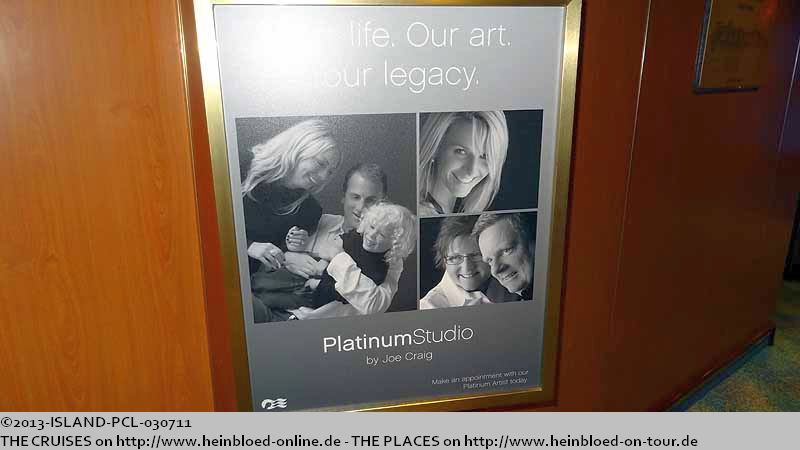 Oben gibt es noch ein tolles Fotostudio wie wir später erfahren.
Und eine Mini-Golf-Anlage, die allerdings noch abgeschlossen ist.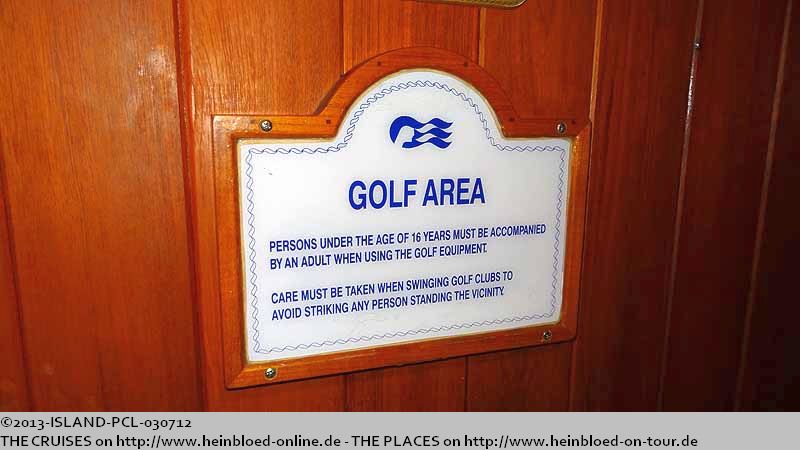 And a mini-golf-area which was closed at this time.

Da wir mehr als ein Programm haben, kann ich sehr gut Markierungen eintragen.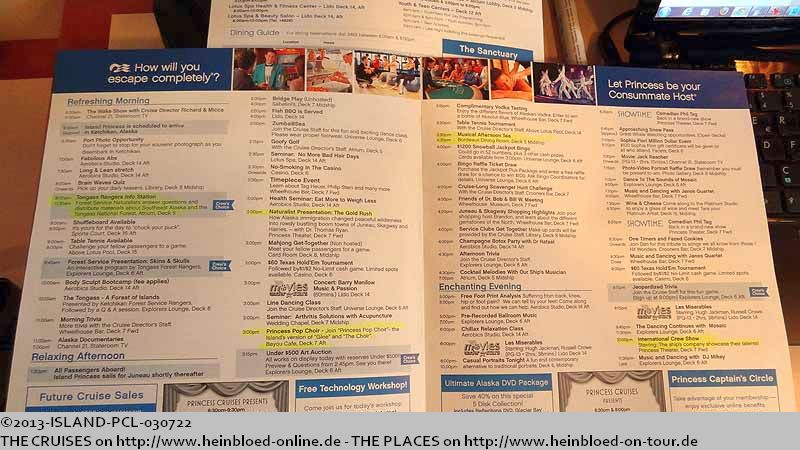 As we had more than one program I was able to add a lot of markings.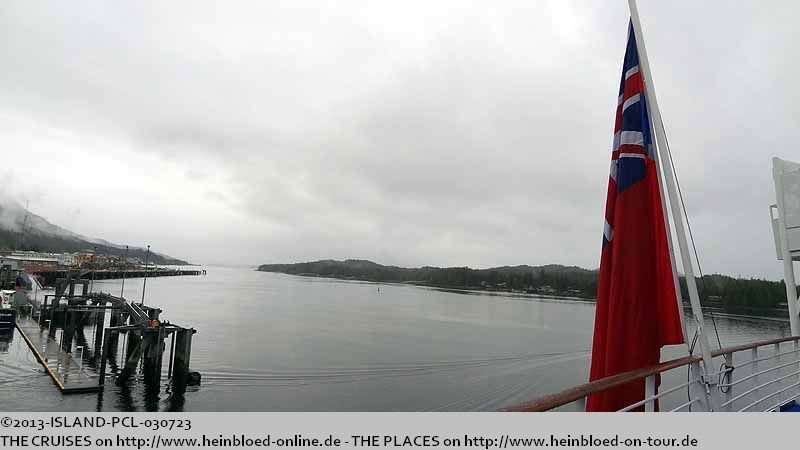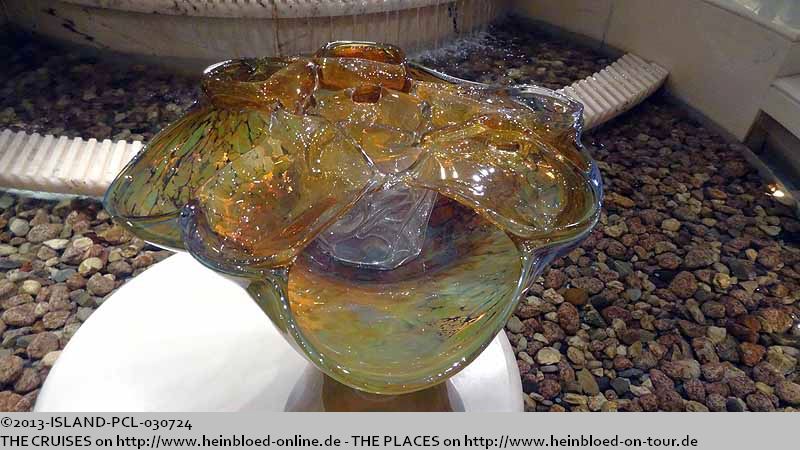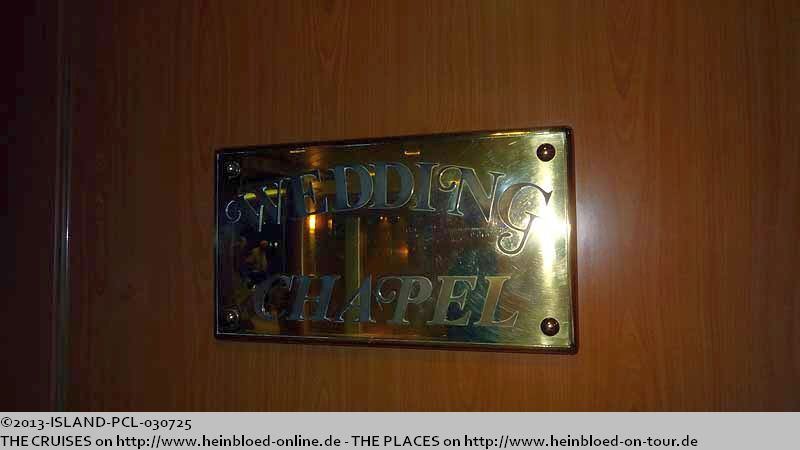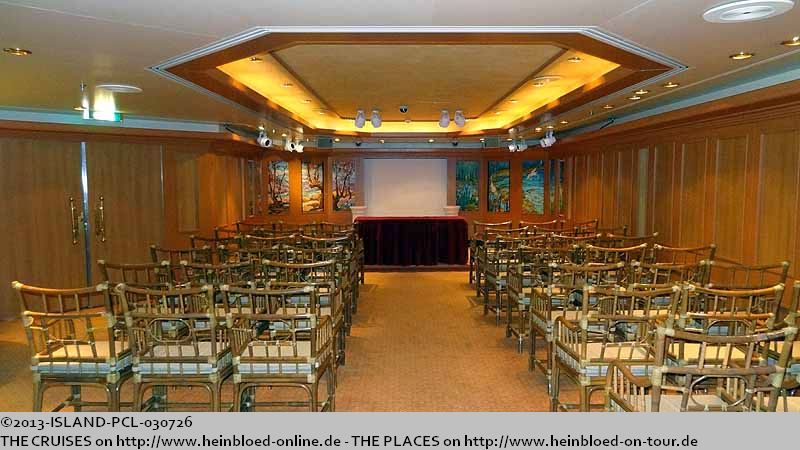 There were National Parks which were under the administration of the US-Department of the Interior and there were National Forest which was under the administration of the US-Department of Agriculture. That also included the Tongass National Forest which was more or less the South Eastern part of Alaska.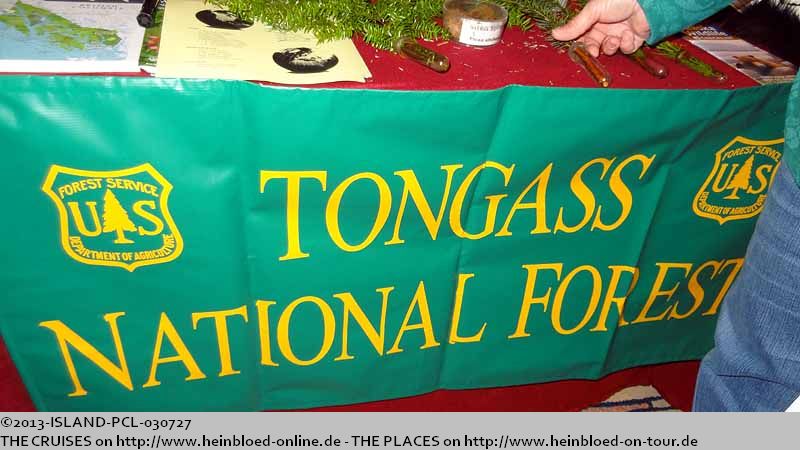 Es gibt die National Parks, die werden vom US-Innenministerium verwaltet und National Forest, die vom US-Landwirtschaftsministerium verwaltet werden. Hierzu zählt auch der
Tongass National Forest
, der quasi den Südosten Alaskas beinhaltet.
Auch hier sind Ranger an Bord, die uns erklären, was wir alles entdecken können.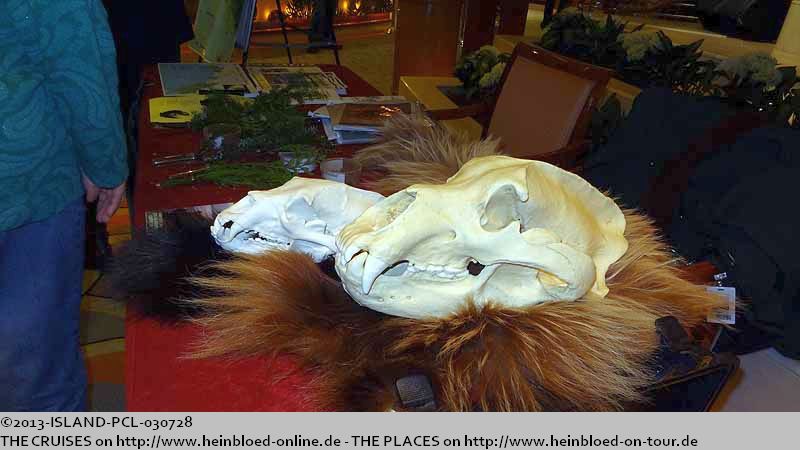 But here we had also some rangers on board who explained us what we might discover.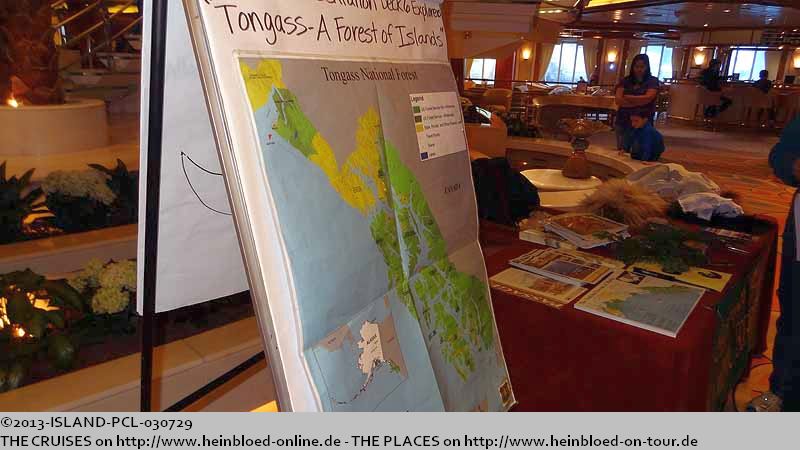 In der Geldbörse entdecke ich einen Geldschein, der mit "
Where's George
" markiert ist. Da ist man aufgefordert einzugeben, wo dieser Geldschein gefunden wurde. Ich nehme ihn zurück mit nach Deutschland. Mit Interesse lese ich, dass ein anderer Cruiser ihn 2008 auf der CELEBRITY CONSTELLATION im Tausch gegen Euros in Warnemünde bekommen hat. Und jetzt ist die Note auf der ISLAND PRINCESS.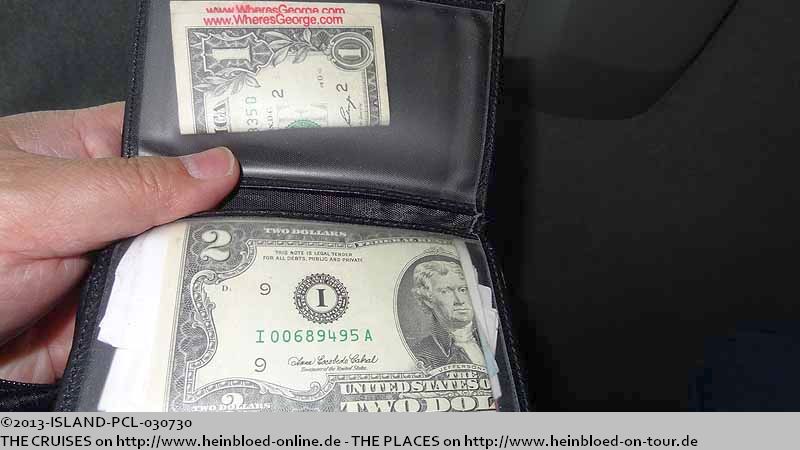 In my wallet I discovered a single which was marked "Where's George". If you find this mark, you are kindly requested to enter the location where you get it from. I took it home to Germany. With great interest, I read that another cruiser on CELEBRITY CONSTELLATION exchanged it against Euro in 2008 in Warnemünde (German cruise port at the Baltic Sea). And now this single is on ISLAND PRINCESS.
Die anderen Reisen in diesem Blog/
The other voyages in this blog: