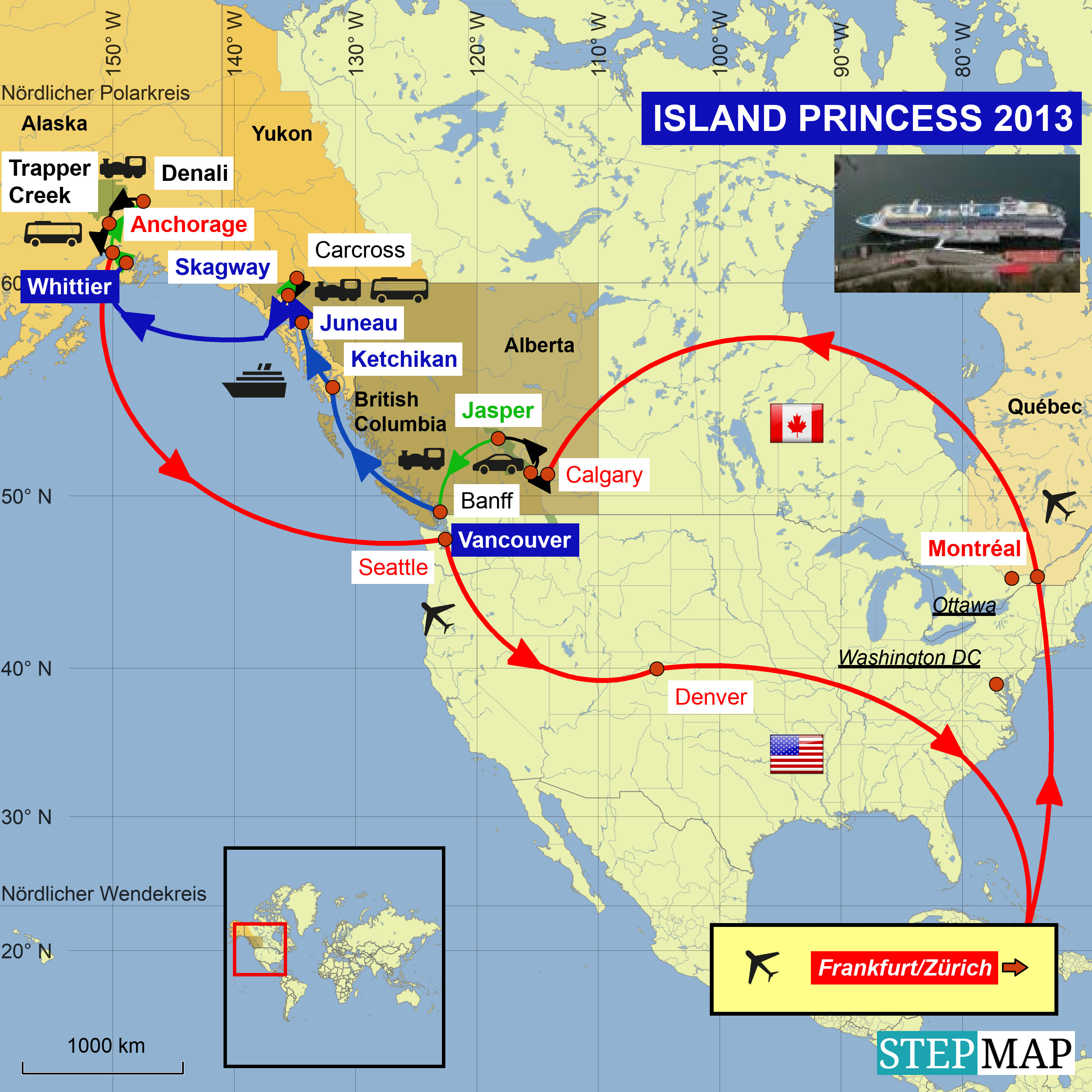 Das ist so gemein, dass gestern ausgerechnet, das Wetter so schlecht war. Und heute soll es sehr schön werden. Aber wir haben keine Lust wieder in The Sanctuary zu gehen.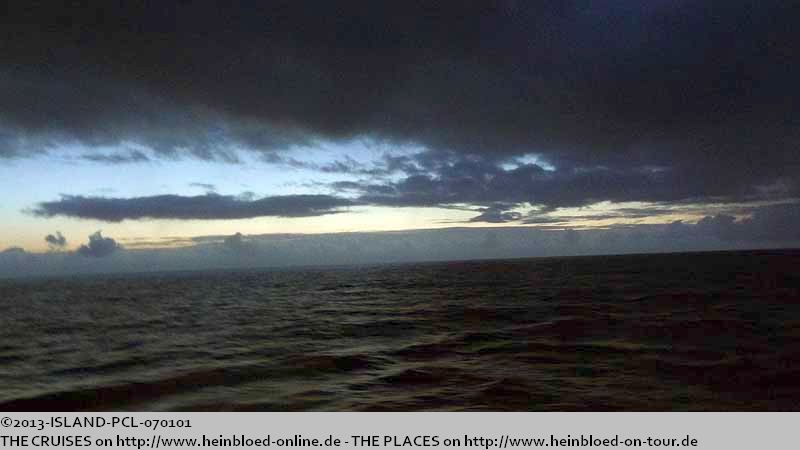 It was so mean that just yesterday the weather was so bad. And that day it should become beautiful again. But we did not like to see The Sanctuary again.

We went for breakfast.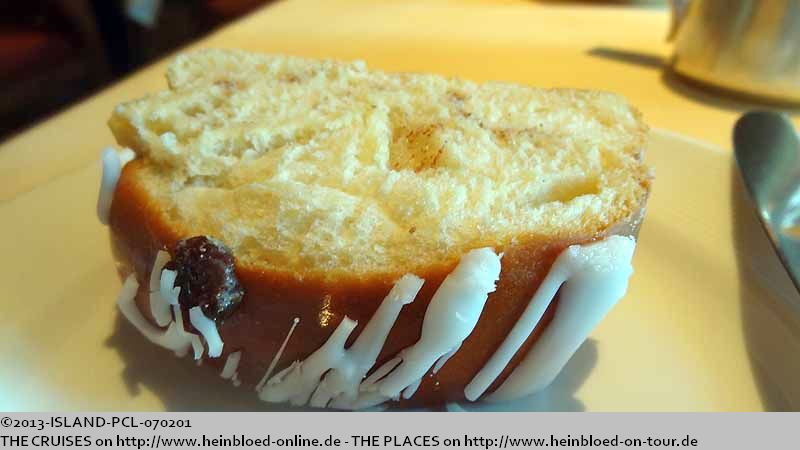 Wir gehen zum Frühstück.
Mit VitaminWater versuchen wir uns aufzupäppeln.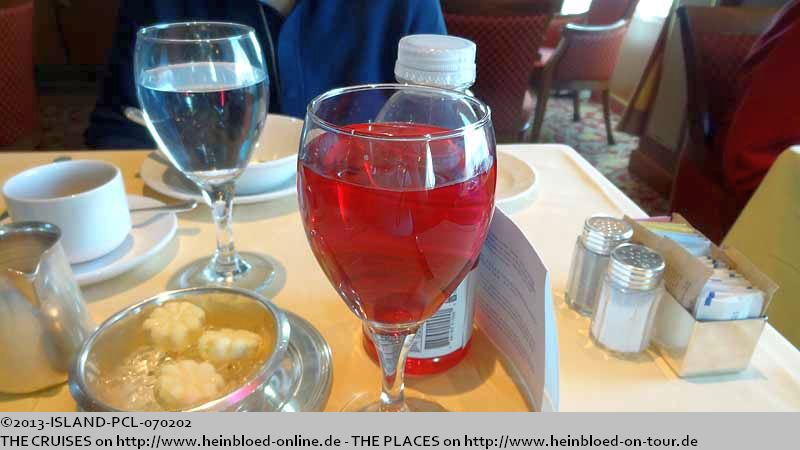 We tried to coddle up ourselves with some VitaminWater.

The man who never say no: Maurizio. We asked if we could get some congee because there were so many Asians on board. After 15 minutes we had some.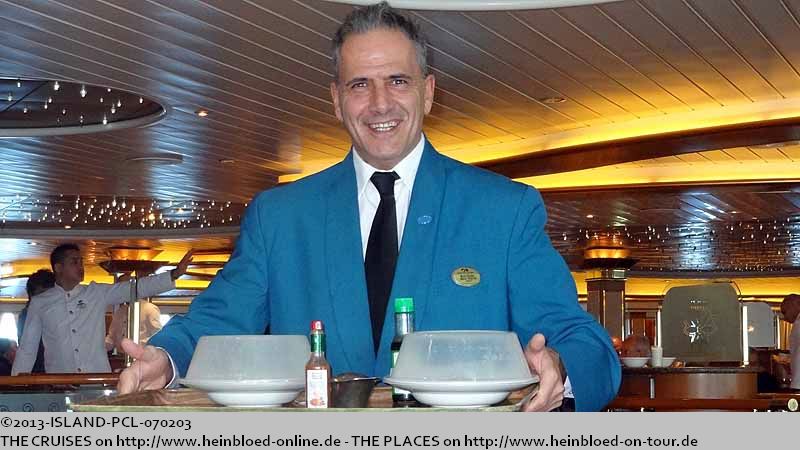 Der Mann, der nicht nein sagen kann: Maurizio. Wir hatten mal gefragt, ob es gar keinen Congee (Reissuppe) gibt, weil so viele Asiaten an Bord waren. Und nach 15 Minuten hatten wir welchen.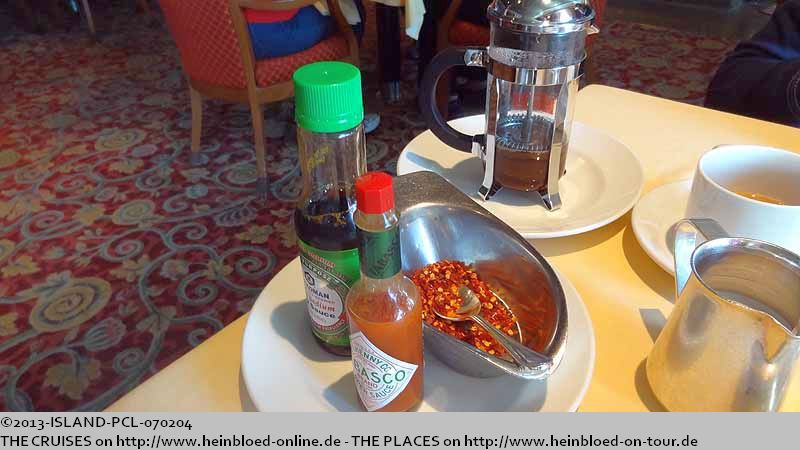 It was so Asian... we had the impression we ate the food for the crew. It was so yummy like only Asians like it (like the bones of the chicken), and it might be crew-food. Maybe we should ask if we can get some food from the crew mess.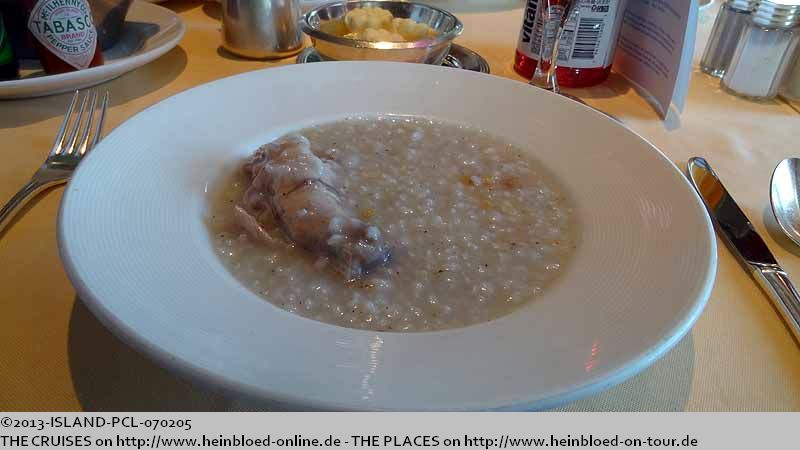 Sie war sehr asiatisch... wir hatten eher den Eindruck, dass wir der Crew jetzt etwas weggegessen haben. Das war eigentlich so lecker (und mit Knochen, wie sie sie Asiaten lieben), dass das möglicherweise Crew-Essen war. Ob wir morgen vielleicht bei denen mal essen können.
Etwas Rührei und ein paar Scheiben Speck...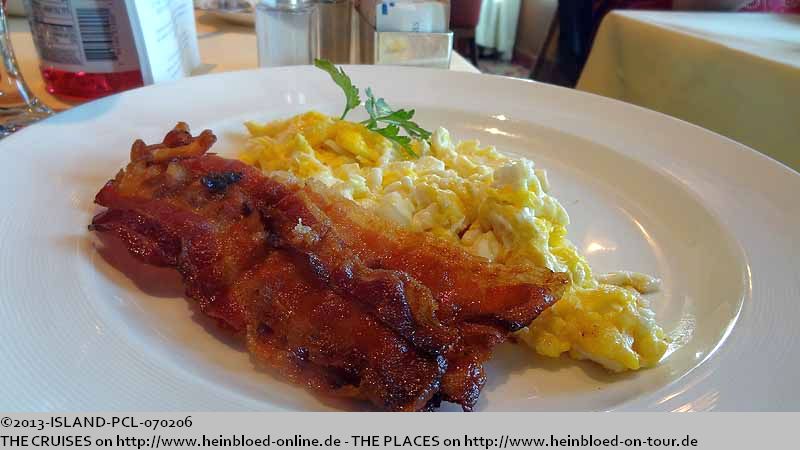 A little bit of scrambled egg and some bacon...

... and I had the yummiest congee. I did not want to ask for some fresh chopped chives... For tomorrow I need a new challenge for Maurizio.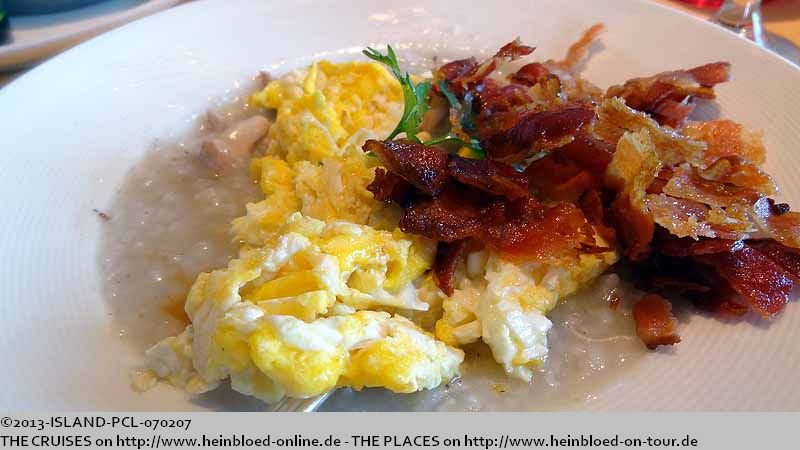 ... und ich hatte den leckersten Congee. Ich wollte jetzt nicht noch nach frischen Frühlingszwiebeln fragen... Für morgen brauche ich eine neue Herausforderung für Maurizio.
Wie üblich gehen wir eine Runde Tee trinken, weil ich auch mal den Ginger Twist probieren möchte.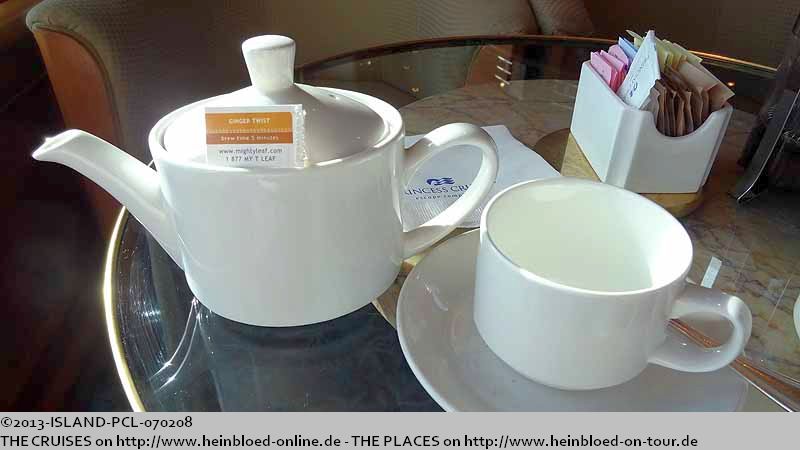 As usual, we went to have another round of tea because I also wanted to try the Ginger Twist.

Envelops for the tips and a nomination card for the Consummate Host.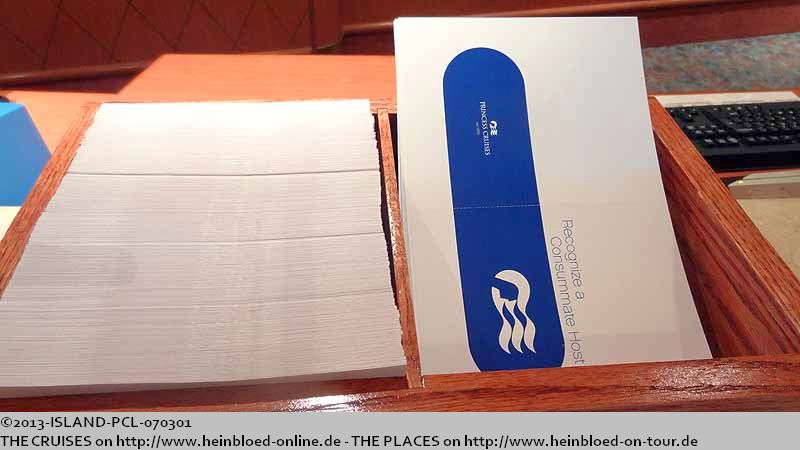 Umschläge für die Trinkgelder und noch einen Nominierungsbogen für den Consummate Host.
Neu bei Princess: die Stufe Medaillion für die Gäste, die schon drei Mal mitgefahren sind.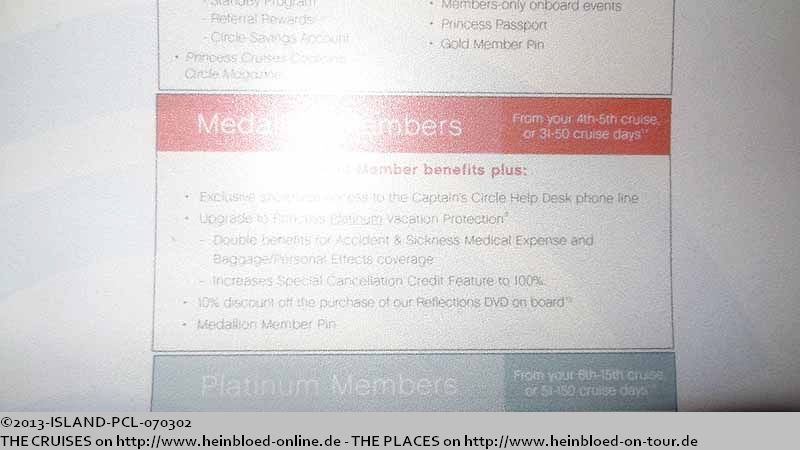 New with Princess: the tier Medaillion for guests who went three times.

As we explained that we never got any pins before we got them for all tiers, we passed already.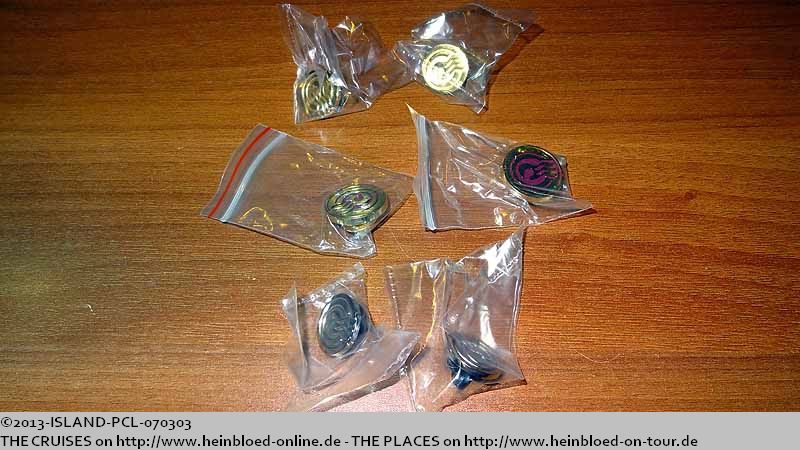 Da wir erklären, dass wir bisher noch nie die Nadeln bekommen haben, bekommen wir sie für alle Stufen, die wir durchlaufen haben.
Hier bekommt man zusätzliche oder andere Gepäckanhänger für die Ausschiffung.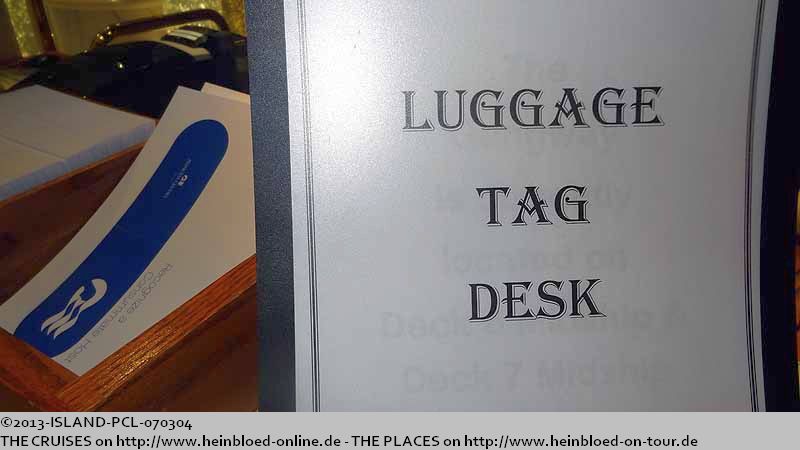 Here you can get additional or different luggage tags for the debarkation.

The table which was set for them stayed empty as they preferred to stay at the front desk.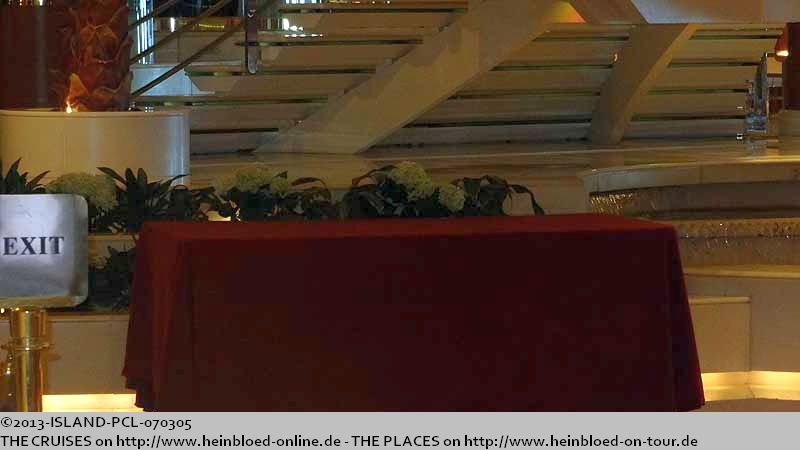 Der Tisch, der für sie aufgebaut wurde, bleibt leer, weil sie lieber hinter der Rezeptionstheke bleiben.
Im Internet-Café bekomme ich eine Gutschrift, weil es gestern Probleme bei der Trennung der Verbindung gab und das komplette Guthaben weg war. Ich war aber deren Held: eine Dame hat sie zuvor rund gemacht, weil sie nicht wussten, wie das Wetter auf Alaska üblicherweise ist und ich ihr vorgeschlagen hatte, doch den Lektor zu besuchen, der sich ja nun bestens auskennt. Sie hat denen zum Vorwurf gemacht, dass sie nur das aktuelle Wetter prüfen konnten, aber nicht wussten, wie sich die Frau für Denali kleiden sollte.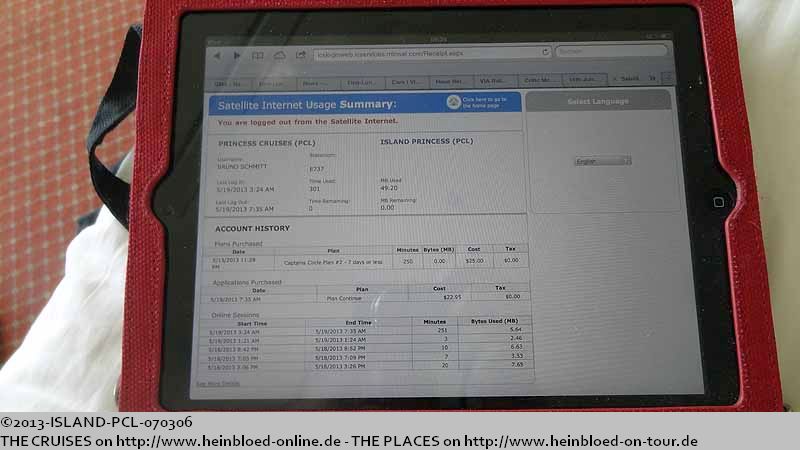 In the internet-café I got credit because we had yesterday technical problem to disconnect and the remained credit was gone. I was their hero anyway. A lady was not very nice to them because they did not know how the weather in Central Alaska would usually be at this time of the year. So I told her to find the lector who should know this for sure. So she blamed on them that they only could check for the actual weather and cannot tell her how a woman should dress in Alaska in this time of the year.



Here you could win a bottle of champagne if you were able to throw a ring over the bottle.

Hier gibt es Sekt, wenn man es schafft einen Ring darüber zu werfen.
Ich habe meine Karte verloren und muss deswegen einen neuen Sticker bekommen. Was mich wundert: jeder andere kann eigentlich mit meiner Karte weiter verzehren, weil die Karten nicht eingelesen werden können. Sie schreiben sich immer nur die Folio-Nummer ab und so können sie meine Identität gar nicht feststellen, wie bei NCL. Dort wird ja das Bild von mir angezeigt, damit sie sicherstellen können, dass ich es auch bin, der verzehrt. So können sie auch die Umsätze nicht kontrollieren und sehen, dass ich einen Soda-Pass besitze. Ich muss die Karte vorweisen oder einen Zahlungsnachweis.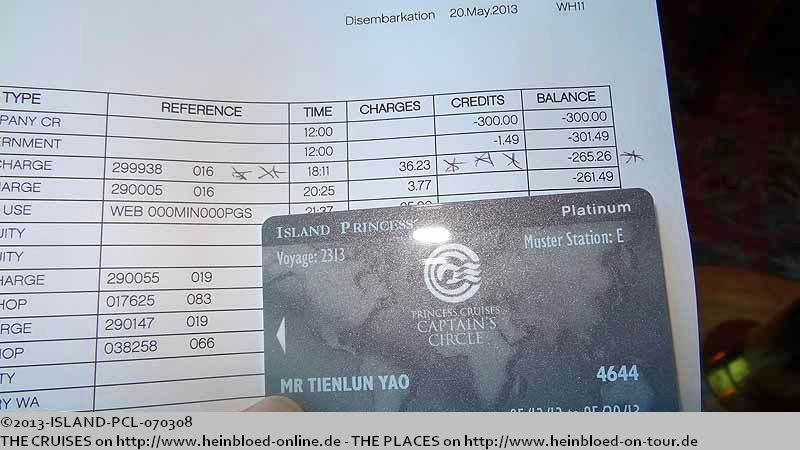 I lost my card and so I need to have a new sticker. I was surprised because anyone else could still go and buy on my card. Most of them only write down the folio-number, and they cannot identify me as with NCL. There my picture was always shown to make sure that it was me who was paying for something. They could not check my revenue and see that if I bought a soda-pass. I need to show them my sticker or a statement.

Anyhow I was asked to sign my card.

Auf jeden Fall werde ich noch gebeten meine Karte zu unterschreiben.
Die Zusammenfassung der Reise.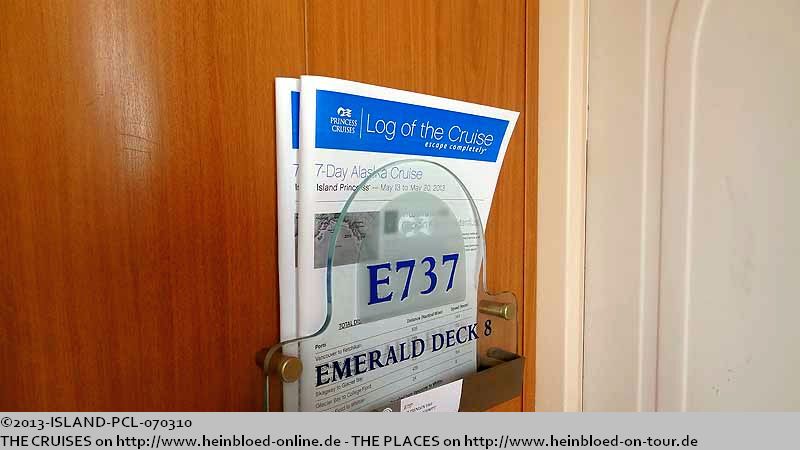 The Log of the Cruise.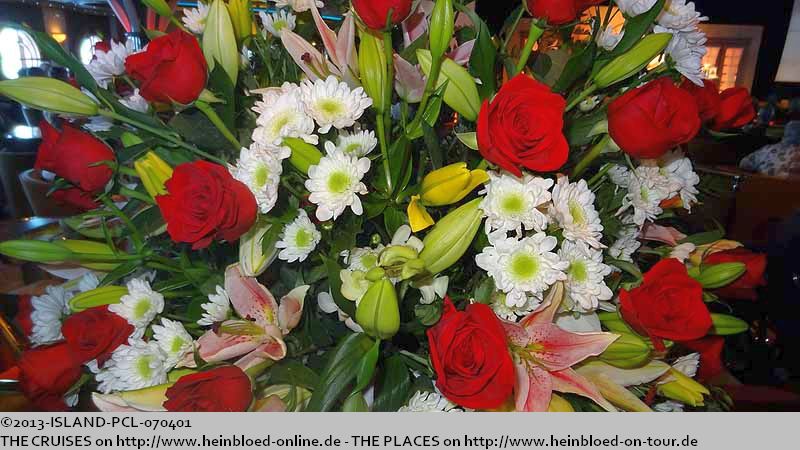 Der Bingo-Verkaufswagen.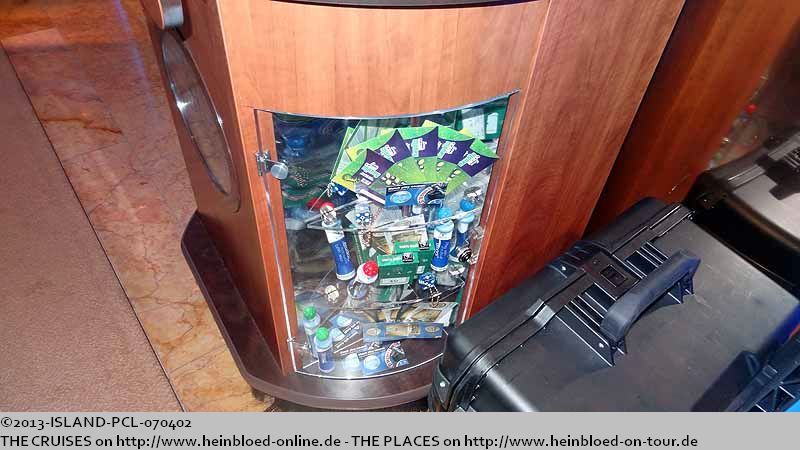 The Bingo sales trolley.

The corners the senior officers skived off the day before and where you cannot take good pictures because of the many mirrors and curves.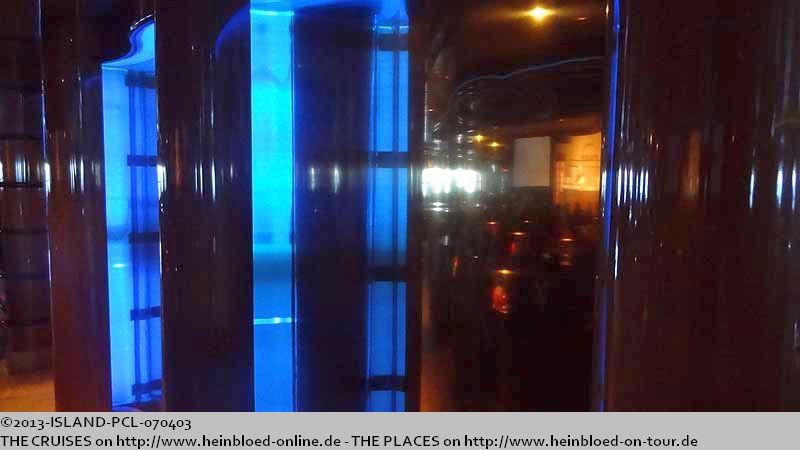 Die Ecken, in die sich die Senior-Offiziere verdrückt haben, und in denen wegen der Rundungen und Spiegelungen keine schöne Bilder entstehen konnten.
Die Kochshow läuft.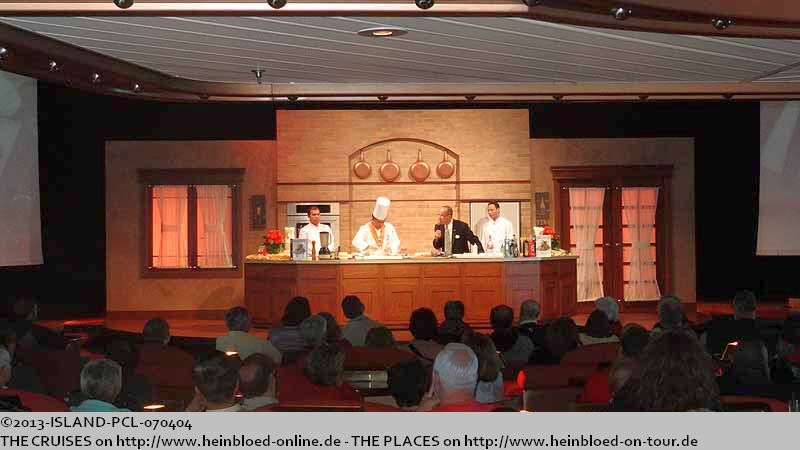 The cooking show as in progress.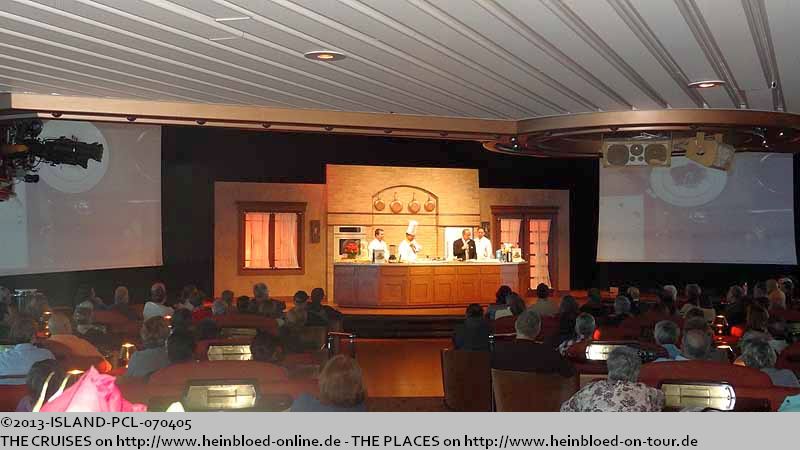 Und die Ergebnisse werden gezeigt, aber nicht serviert. Schade...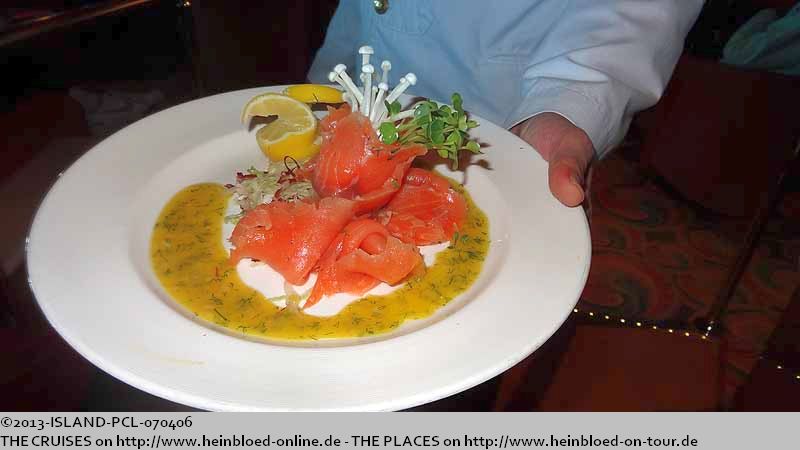 And they presented the results but not served them. How sad...
Die anderen Reisen in diesem Blog/
The other voyages in this blog: