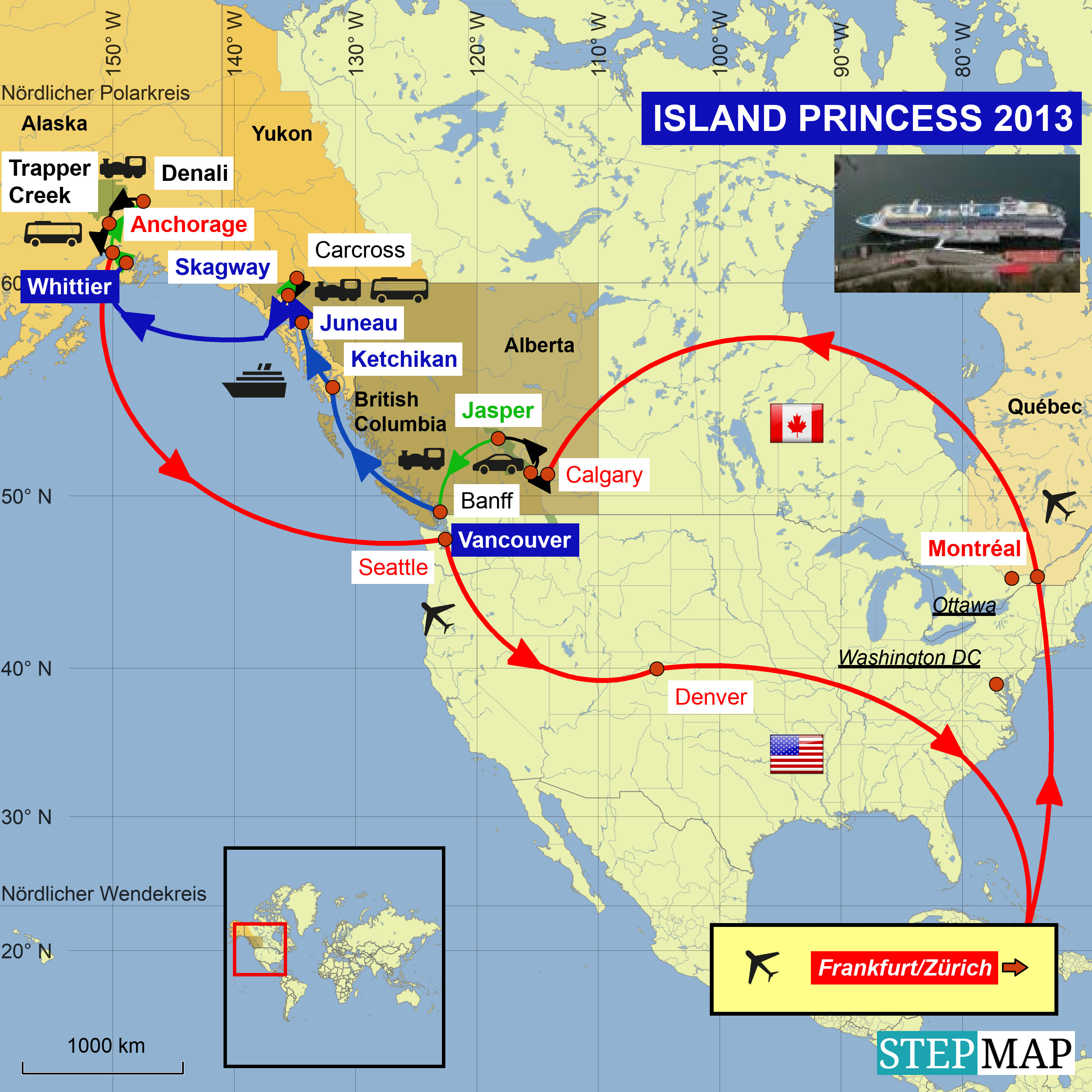 Wir haben eines gelernt: viele Häuserblocks in Downtown inkl. aller Geschäfte gehören den Cruise Lines. Und wir sollen die lokalen Geschäfte unterstützen. So haben wir gedacht, dass wir sowieso mal frischen Fisch essen sollten und nach einer Empfehlung gefragt:
Alaska Fish House Ketchikan
.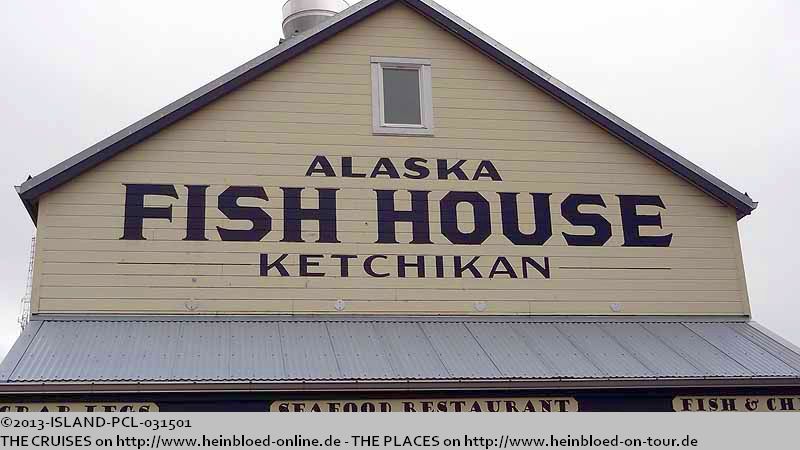 We learned one fact: many of the blocks incl. stores belonged to the cruise lines. And we should support the local business. So we thought that we should ask for a recommendation to have some fresh fish: Alaska Fish House Ketchikan.

But the pure Americans have a different meaning of "fine dining" (like we use it in Europe). Here it was a place with semi-self-service... i. e. you order at the bar - which was more or less part of the sidewalk. Only a few inches missed.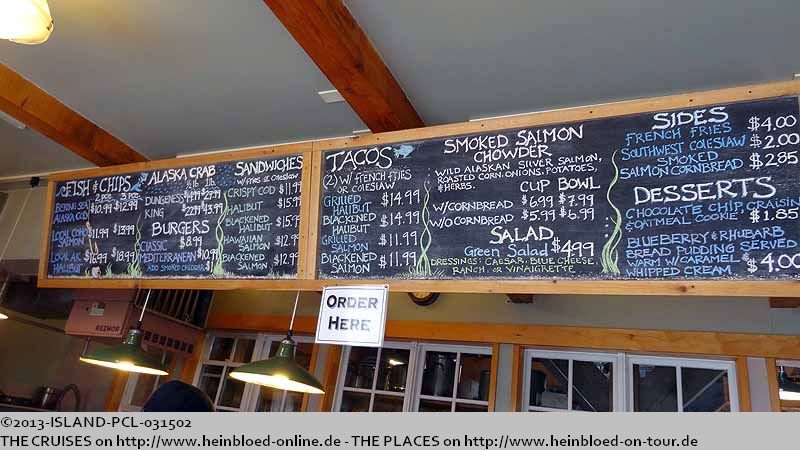 Nun der gemeine Amerikaner hat vermutlich eine andere Vorstellung, was wir unter "Fine Dining" verstehen. In diesem Fall, war es so Semi-Selbstbedienung... d. h. Bestellung an der Theke - mehr oder minder fast auf der Straße... Viel fehlte nicht mehr.
Warten in einem nett gestaltetem Restaurant.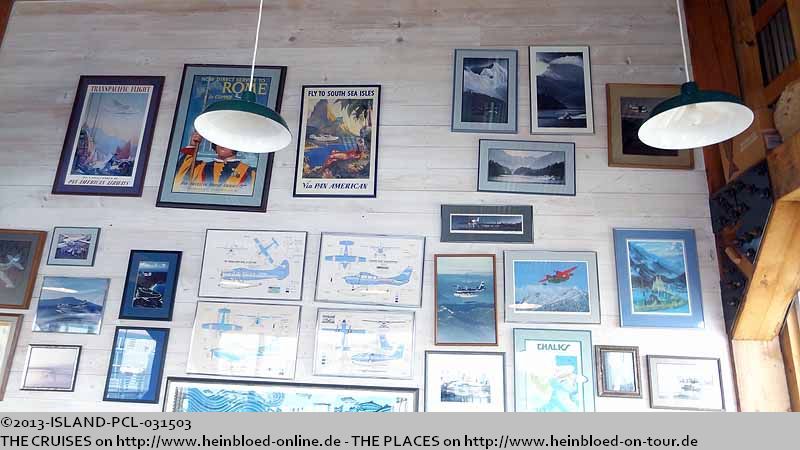 Waiting in a nicely decorated restaurant.

I was very excited to see so many posters of the ancient Pan American World Airways. I loved this company, and I was despondent when she disappeared.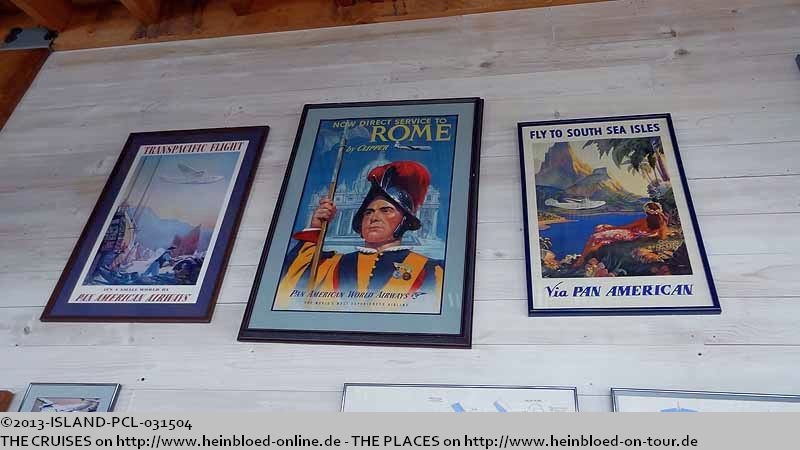 Ich war sichtlich begeistert, dass soviele Plakate von der alten Pan American World Airways hingen. Ich liebte diese Gesellschaft und trauere sehr, dass es sie nicht mehr gibt.
Bruno war weniger begeistert, weil er hier in einem zugigen Restaraunt saß, in dem es kalt und zugig war und nicht einmal einen heißen Tee gab.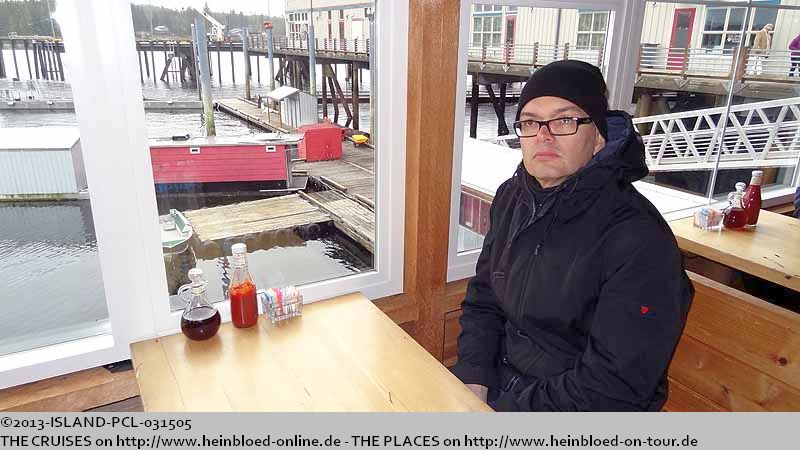 Bruno was less excited because he sat in a cold and breezy restaurant and they had no hot tea.

Oh fantastic... we did not want to have a battered fish which was deep-fried in oil, so we ordered grilled halibut.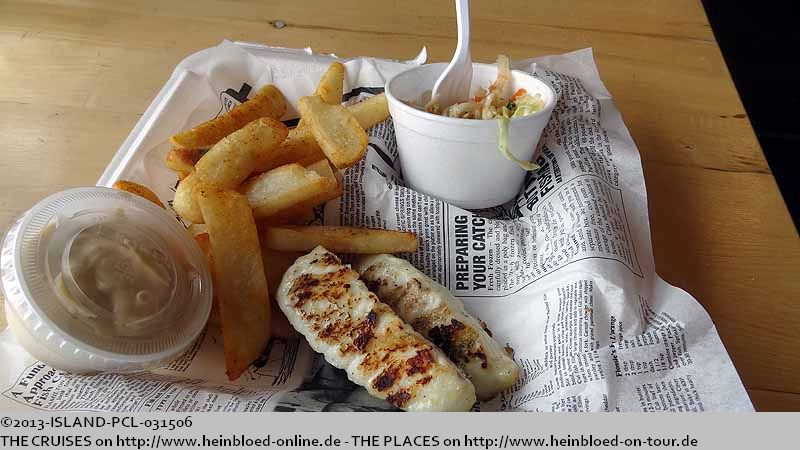 Oh prima... wir wollten eben keinen Fisch haben, der in einem Teigmantel in Fett ausgebacken war, deswegen haben wir gegrillten Heilbutt bestellt.
Der widerum hat 18,00 USD die Portion gekostet... für Stückchen so groß wie Fischstäbchen ohne Panade und leicht verbrannt... Brunos Gesicht sieht man wohl seine Gedanken an...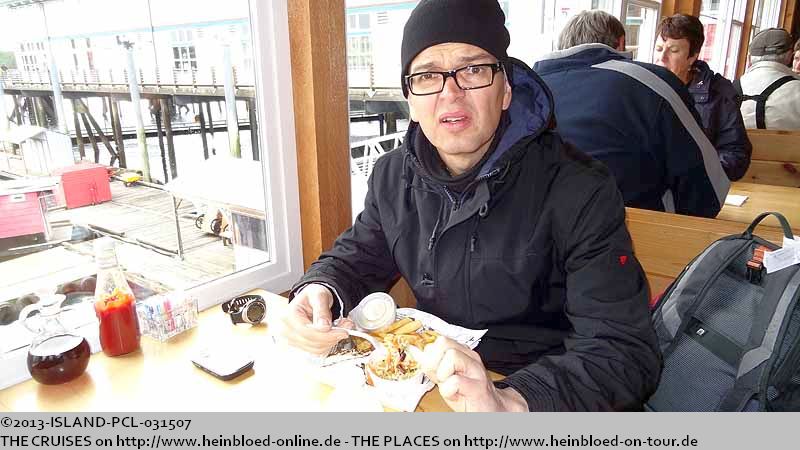 One portion was 18.00 USD... for pieces as large as a fish stick without breadcrumbs and burned... You can read Bruno's thoughts by watching his face.

Or they only forgot to deliver magnifying glasses... I tried the zoom of my camera that I have it later in larger memories when I am back home... and all was plastic...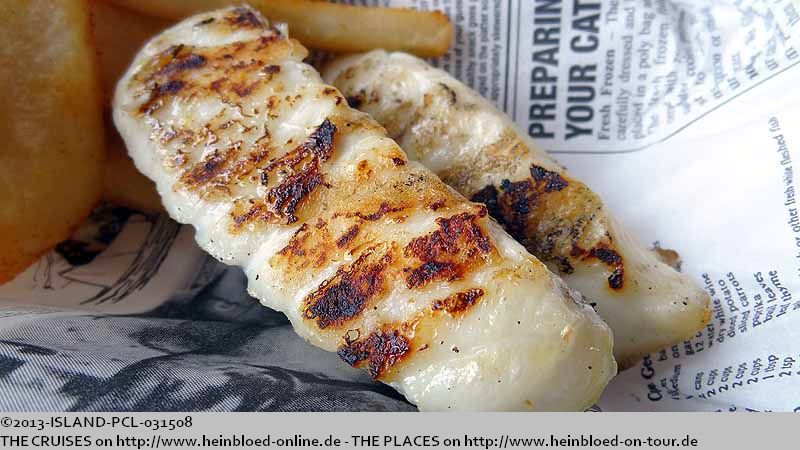 Vielleicht hatten sie auch bloß vergessen eine Lupe beizulegen... Ich versuche es mal mit dem Zoom der Kamera, damit es später zu Hause größer in Erinnerung habe... und alles in Einweg...
Wir gehen noch eine Runde zur
Creek Street
, aber auch hier erinnert alles mehr an Asterix im Avernerland, nur dass hier keine Kohle und Wein verkauft wurde...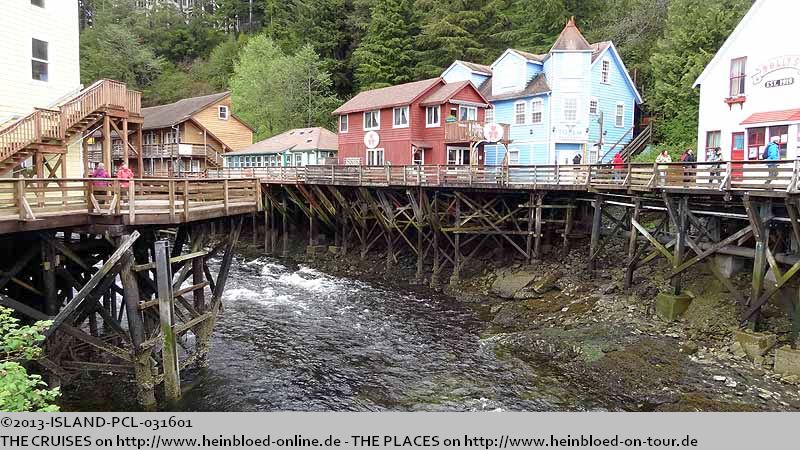 We went for a walk to Creek Street but that reminded me to Asterix in Averner Land too only that you could get any charcole nor wine...

At least it looked nice.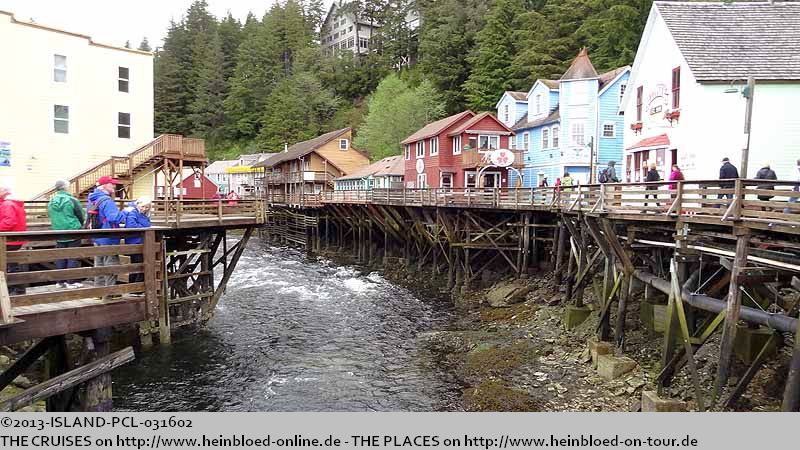 Nett sah es trotzdem aus.
Das ist übrigens Katja, die mir noch ein paar Bilder von der CELEBRITY MILLENIUM schicken wollte.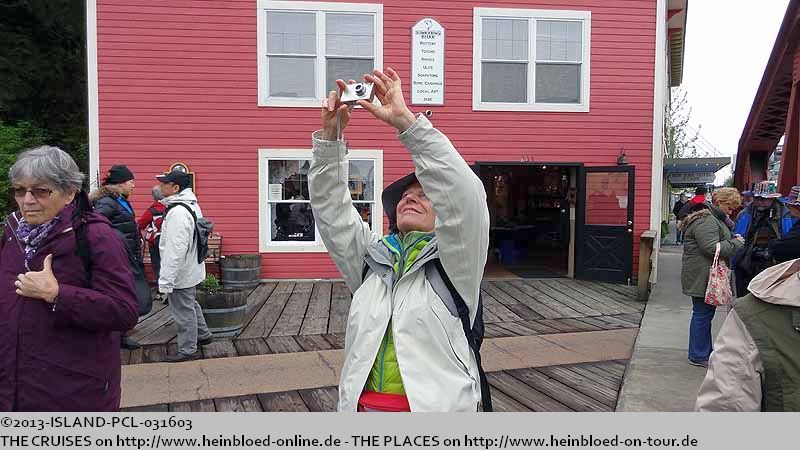 By the way that was Katja who wanted to send me some pictures of CELEBRITY MILLENIUM.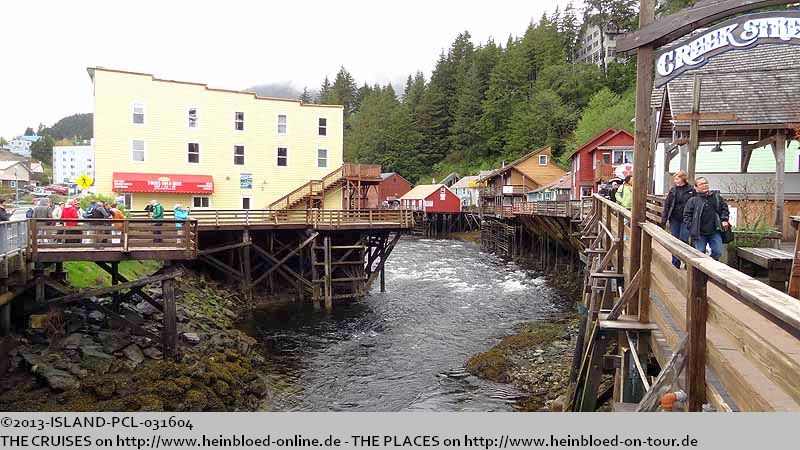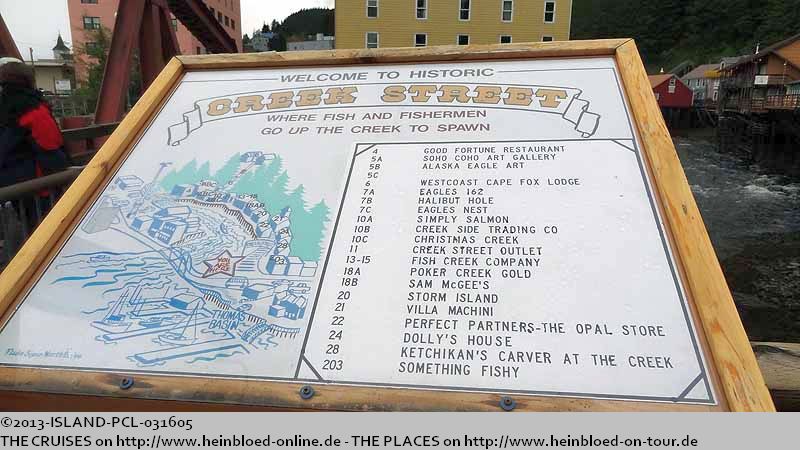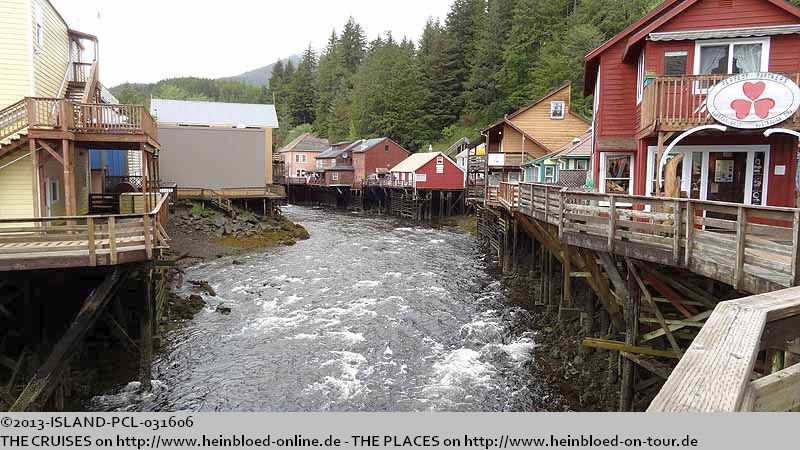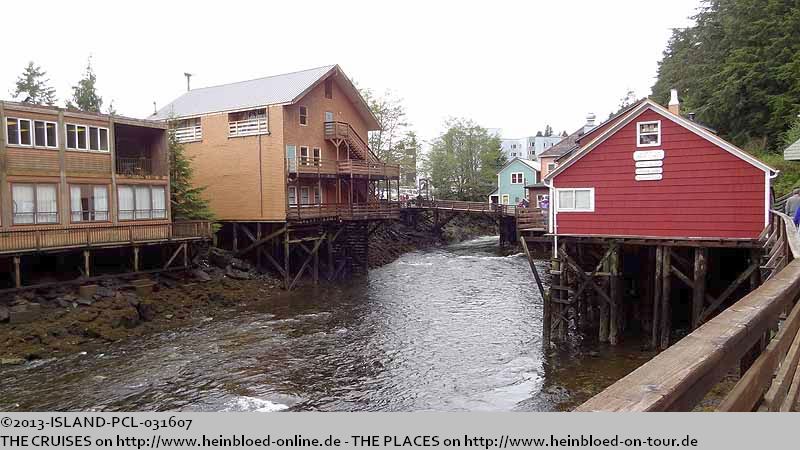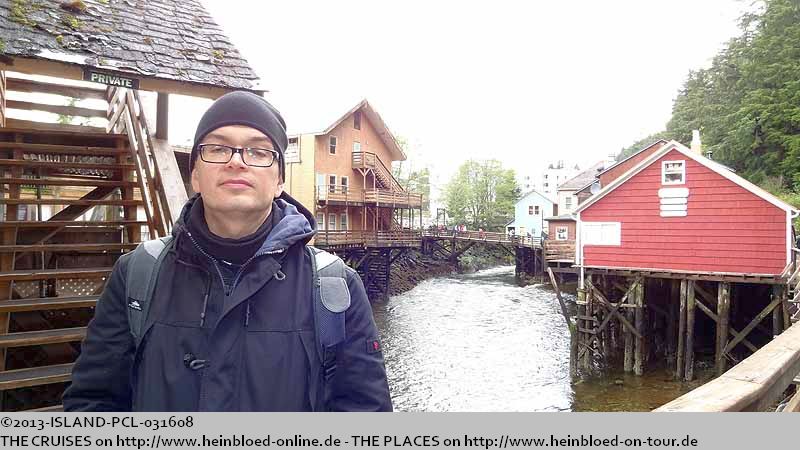 Wir wollten kurz hoch mit der Standseilbahn, um vielleicht besser fotografieren zu können.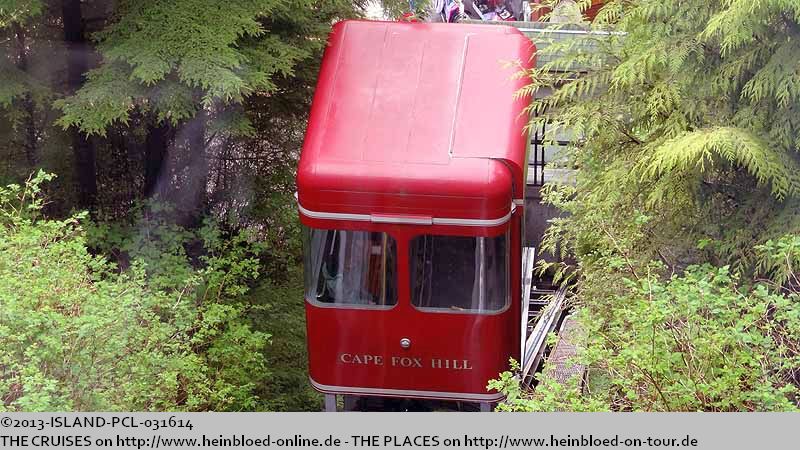 We wanted to take the funicular to have a better chance to take some nice pictures.

It was only a few yards, and the ride took just two minutes.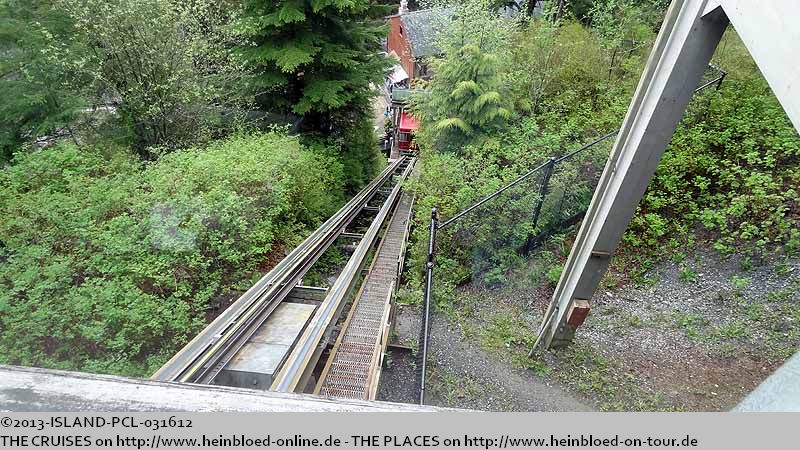 Es sind eigentlich nur wenige Meter und die Fahrt dauert etwa zwei Minuten.
Eigentlich ist es keine Schrägseilbahn, weil es keinen Gegenwagen (wie in Barcelona) gibt, sondern ein Schrägaufzug...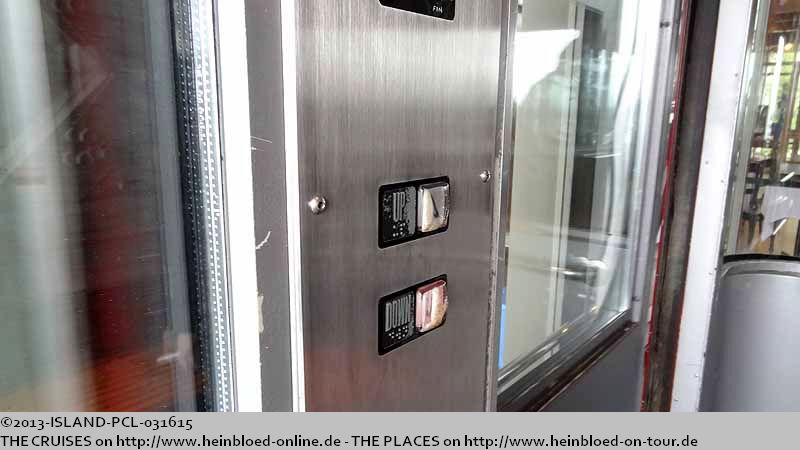 It was not a true funicular because there was no opposite car (like in Barcelona) but a inclined elevator...

There was not an actual schedule...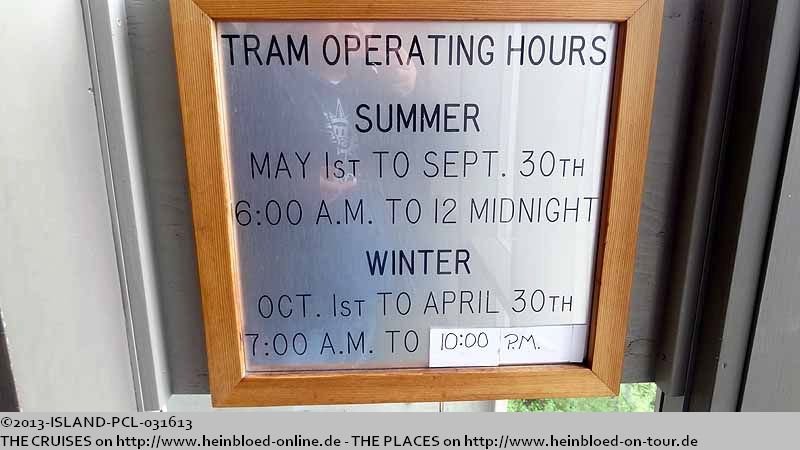 Einen Fahrplan gibt es nicht...
Oben angekommen sitzt man in der Falle: Es kostet nämlich 2 USD (2013), sonst wird man weder weiter vorgelassen oder auch wieder runter... Ein paar Skelette hingen zur Abschreckung an der Wand... oder auch nicht... Selbst gucken gehen...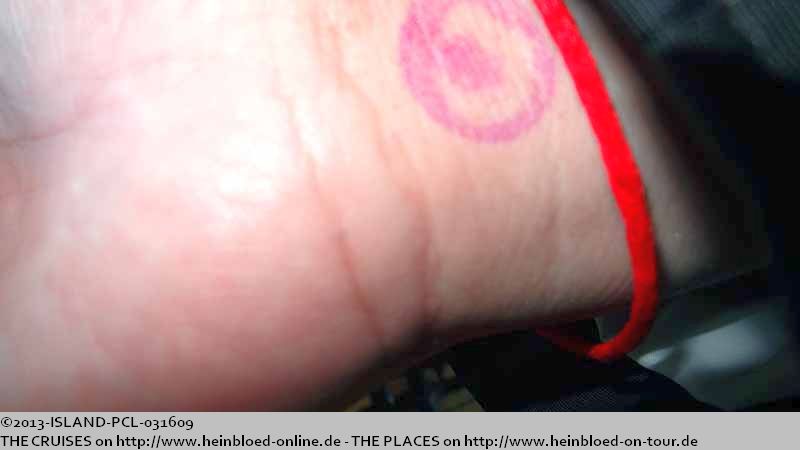 When you arrived at the top you were caught in the trap: you had to pay 2 USD (2013) otherwise they did not let you go or down... Few skeletons were on the wall to frighten... or there were not any?... Just check yourself...

Ant the top you found Cape Fox Lodge. You could also dine here, but as they robbed us already at the fish restaurant, we decided that none should rob us another time, and so we wanted to be back on board to have some food there.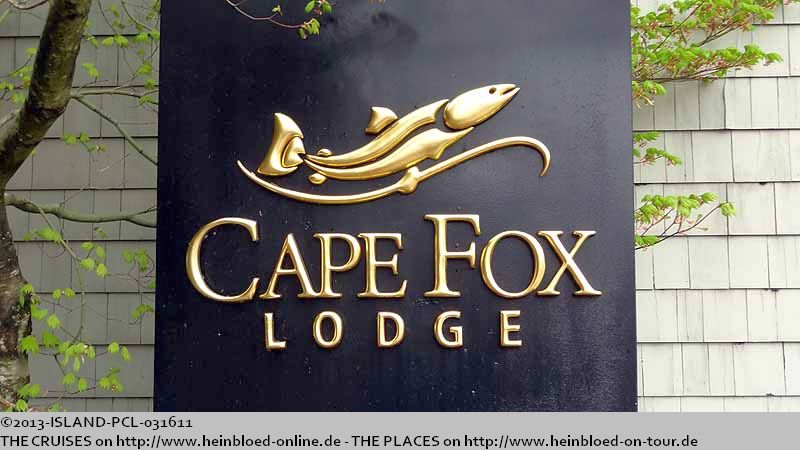 Oben ist die
Cape Fox Lodge
. Man kann wohl hier auch essen, aber nachdem wir zuvor bereits im Fischrestaurant ausgeraubt wurden, wollten wir hier nicht wieder ausgeraubt werden und essen lieber an Bord noch etwas.
Die lange Fahrt zu dem Totem Bight State Historic Park hätten wir uns sparen können...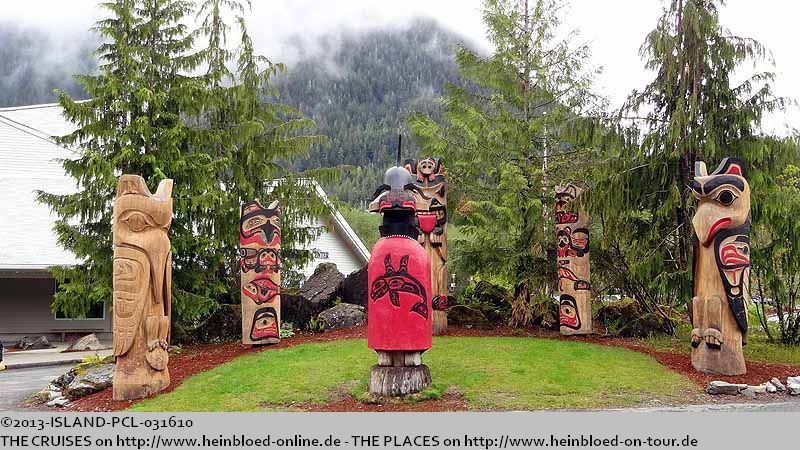 We could save the time and money to go to Totem Bight State Historic Park...

So we quickly went down as we could not find a right spot to take pictures.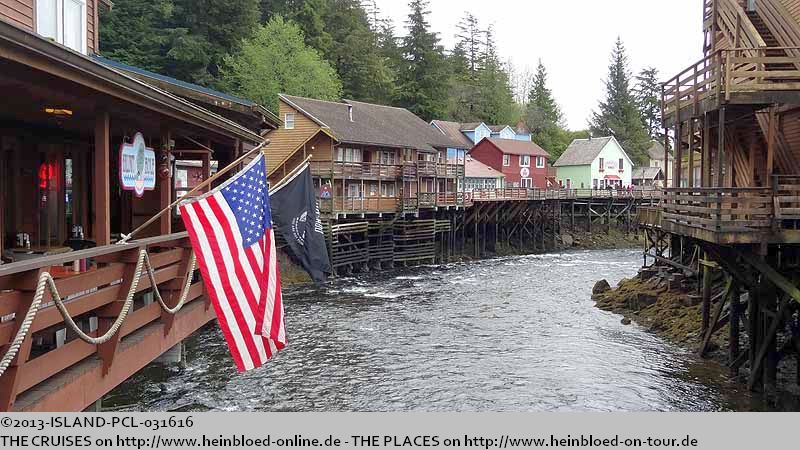 Also geht es schnell wieder runter, nachdem man von hier aus auch nicht gut fotografieren konnte.
Schade, dass noch keine Lachse im Flüßchen schwimmen. Im Sommer zieht es sie hier in die Berge und uns erzählt man, dass man auch dann den Bären beim Fisch fangen zugucken kann.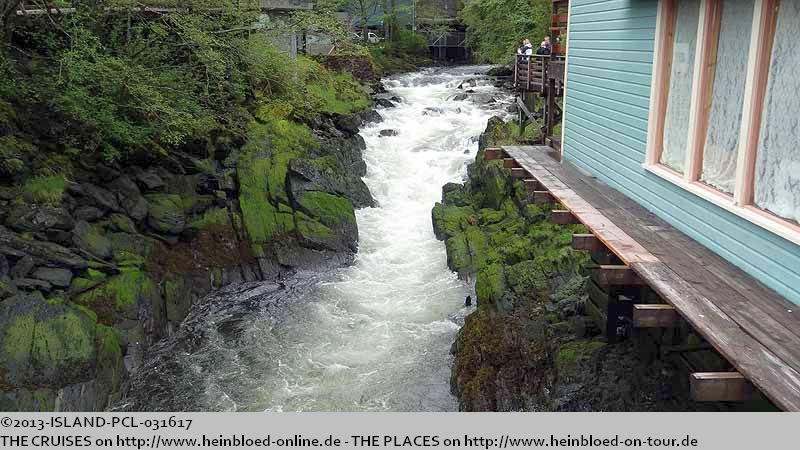 So sad that no salmons were swimming yet. In the summer they move to the mountains, and we were told that you could watch the bears catching the fish.

Wir gehen kurz in die Stadtmitte (Downtown).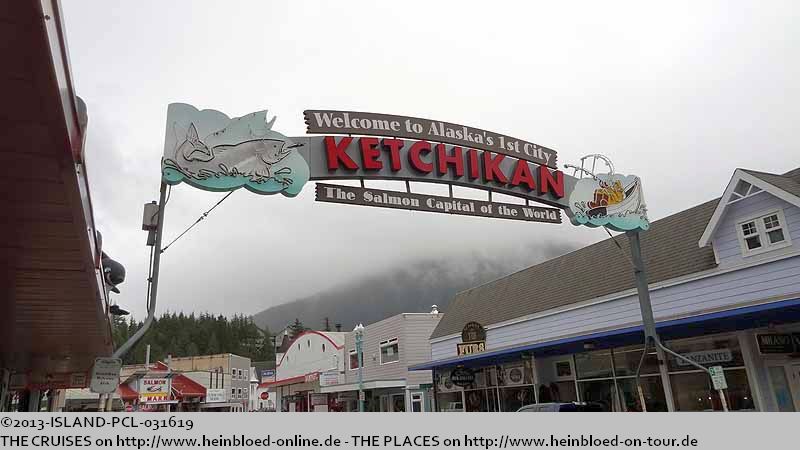 We went quickly to downtown.

All stores from the cruise lines.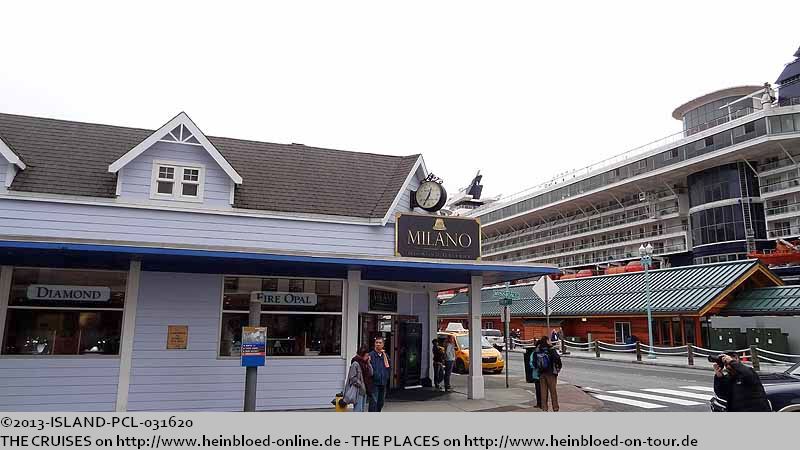 Alles Läden von den Kreuzfahrtgesellschaften...
Tongass Trading Company
soll ein lokaler Anbieter sein.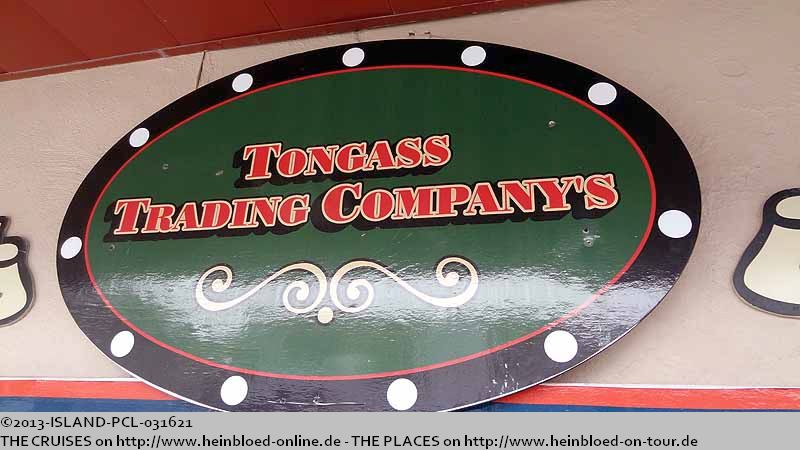 Tongass Trading Company should be a local vendor.

But the company ran several buildings. Until I had everything...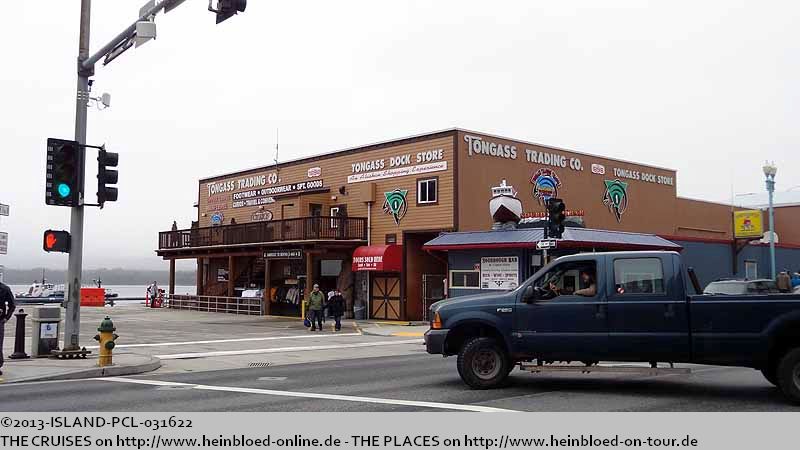 Aber der Laden besteht aus mehreren Gebäuden. Bis dass ich alles zusammenhabe...
Fast alles habe ich bekommen, was ich wollte. Bloß die Äpfelchen zum Beschweren einer Gartentischdecke gibt es hier in Alaska nicht. Die wollte ich eigentlich für unseren Duschvorhang haben...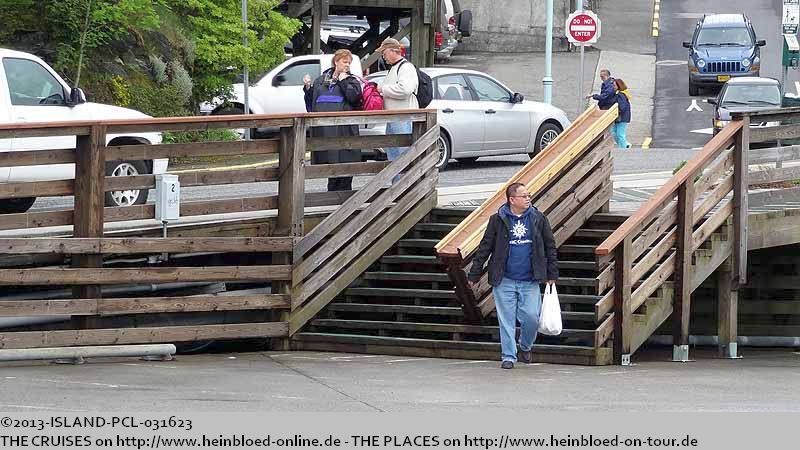 I got more or less everything I need. Only the little apple-shaped weights for the garden-table-cloth were not available in Alaska. I wanted to use them for the shower curtain.

I always thought my toothpaste for my sensitive teeth was expensive in Germany but in Alaska to must negotiate with your bank for more mortgage on your house. Same with vitamins in Alaska. You better buy on the mainland... The manicure set was the need because we need tweezers to get out the SIM-card, but it was quite cheap. Same with the multiple power strip. But the extension cord was a lousy investment because none of the plugs fit in... same like the last item: I did not buy a water protection spray but a spray to expand leather - just because I did not read well.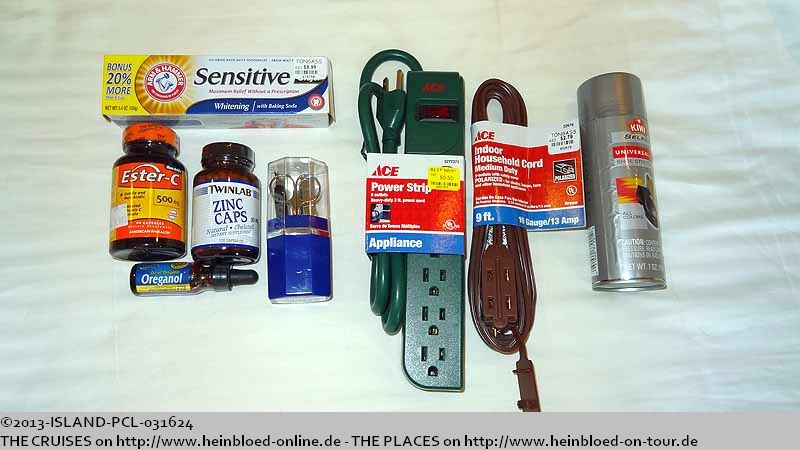 Ich dachte ja schon, dass Elmex Sensitive in Deutschland teuer wäre, aber in Alaska muss ich für den Kauf einer Tube Zahnpasta schon eine Hypothek aufnehmen. Auch Vitamine sind teuer in Alaska. Auf jeden Fall alles auf dem "Festland" kaufen... Das Maniküren-Set brauchen wir wegen der Pinzette, um die SIM-Karte wieder entfernen zu können, aber das war sehr billig. Auch die Mehrfachdose. Die Verlängerungsschnur war eine Fehlinvestition, weil kein einziger Stecker passte... und das letzte war ein Fehlgriff: das Ledererweiterungsspray stand zwischen den Imprägniersprays und ich habe nicht genau genug drauf geschaut.
Eigentlich wäre ich gerne noch eine Runde über unser Schiff geflogen, aber die wollten mir partout kein Angebot für 5 Minuten machen. Ich wollte den Rest der Stadt im Nebel nicht sehen und für eine Runde Amphibienfahrzeugrundfahrt reicht es nicht mehr.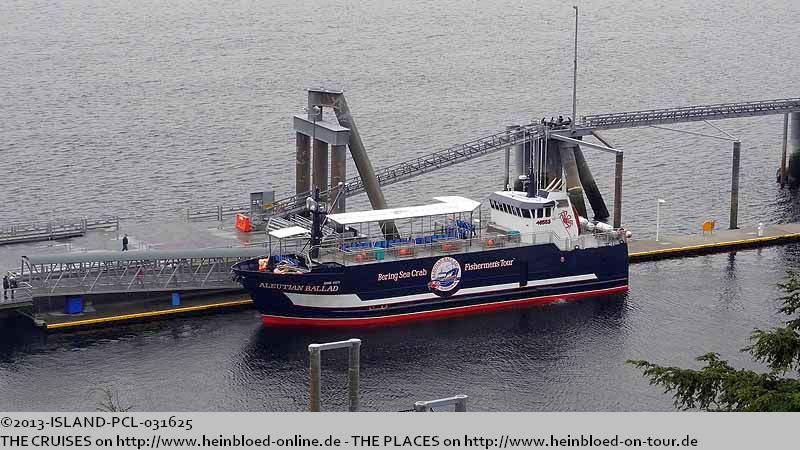 I really would like to have a 5-minutes flight over the ship, but they did not want to sell it to me. I did not want to see anything else because it was foggy and time was not enough for a round with the duck tours.

While I was shopping Bruno was sent to Uptown to take pictures.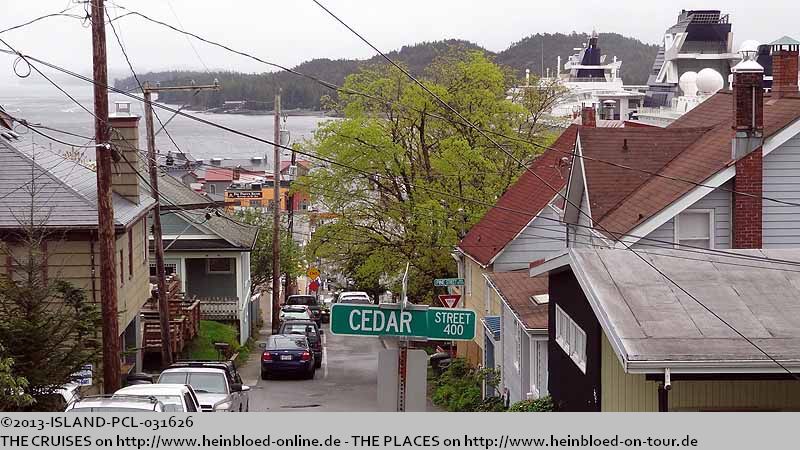 Während ich am Einkaufen war, wurde Bruno wie üblich nach oben geschickt, um zu fotografieren.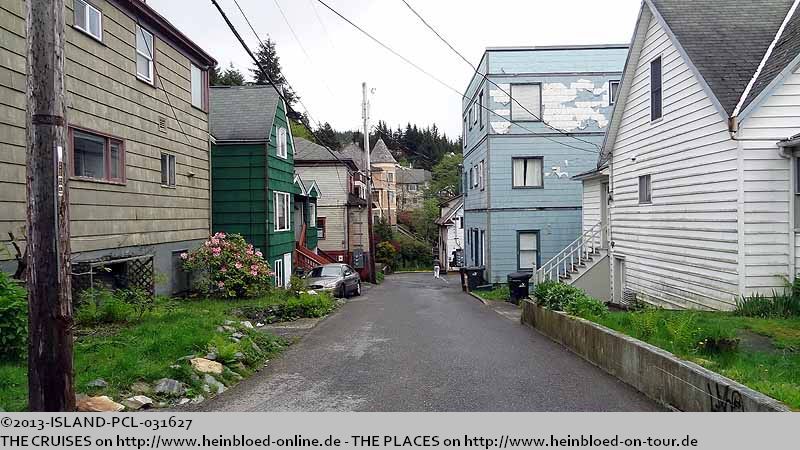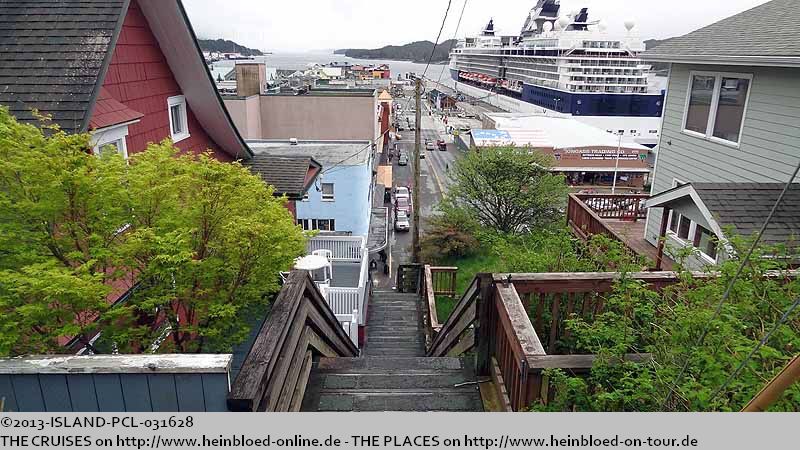 Wir fotografieren den Adler, falls wir keinen mehr lebend zu Gesicht bekommen.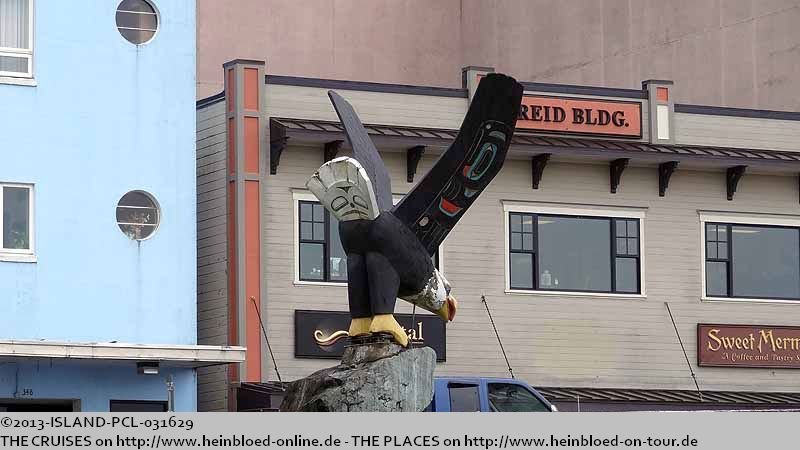 Just in case we might not see any eagle alive we took a picture of the sculpture.

The town was so small that they even did not have a branch of Burger King.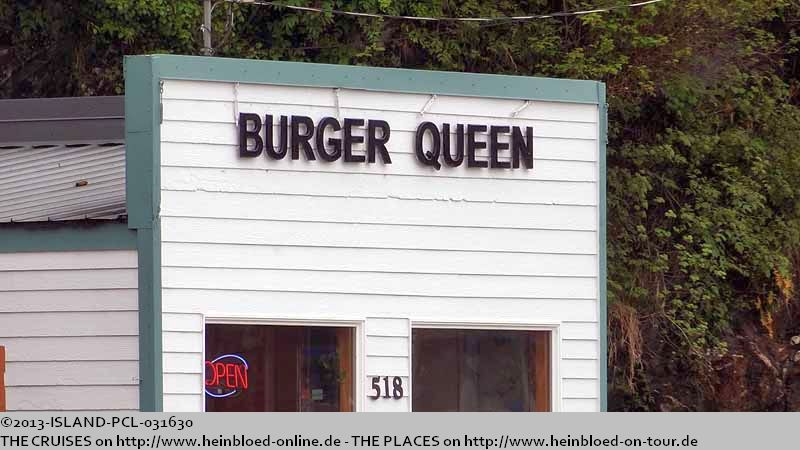 In dieser Stadt gibt es nicht einmal eine Filiale von Burger King...
Die anderen Reisen in diesem Blog/
The other voyages in this blog: