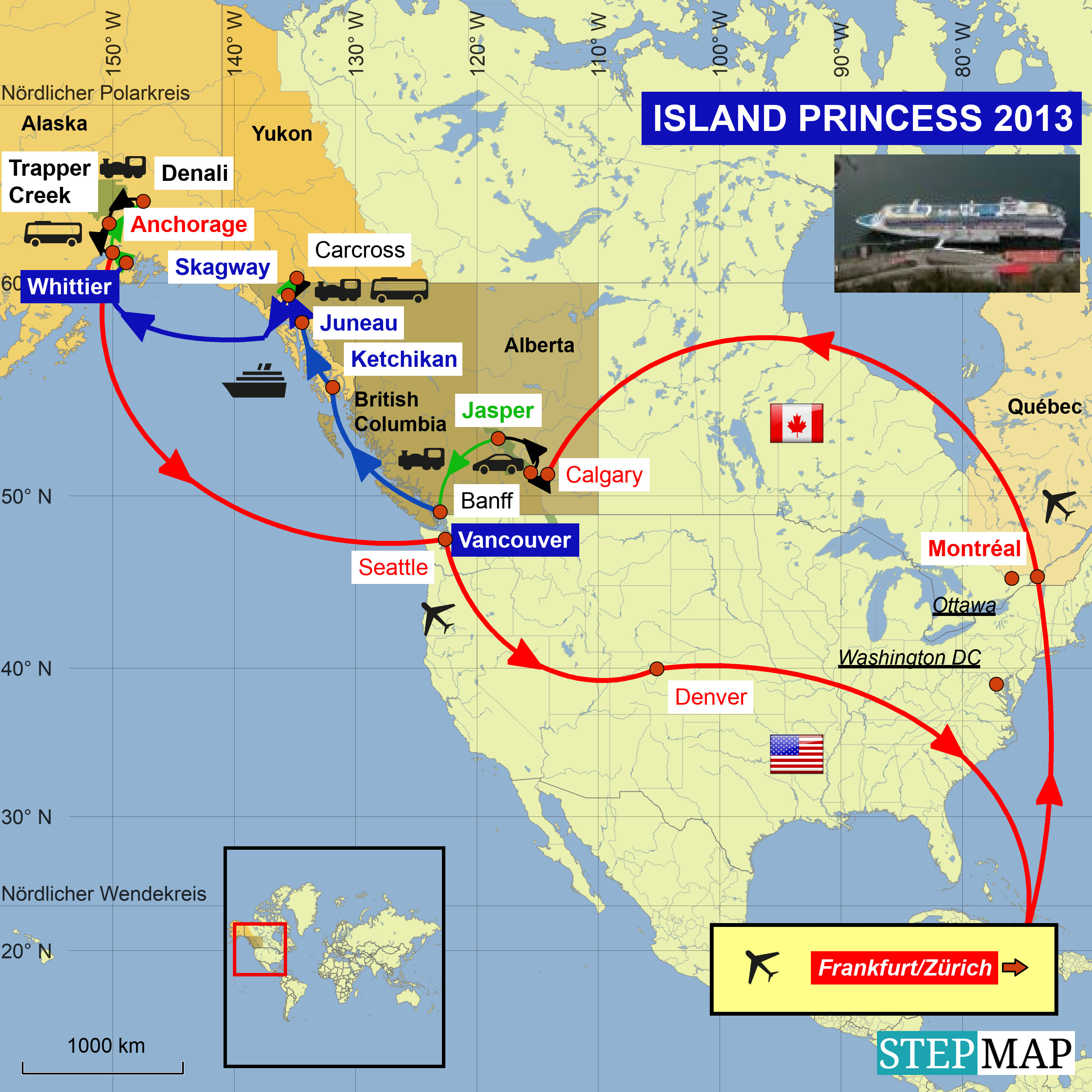 Als wir morgens losfahren, war alles noch strahlend blau.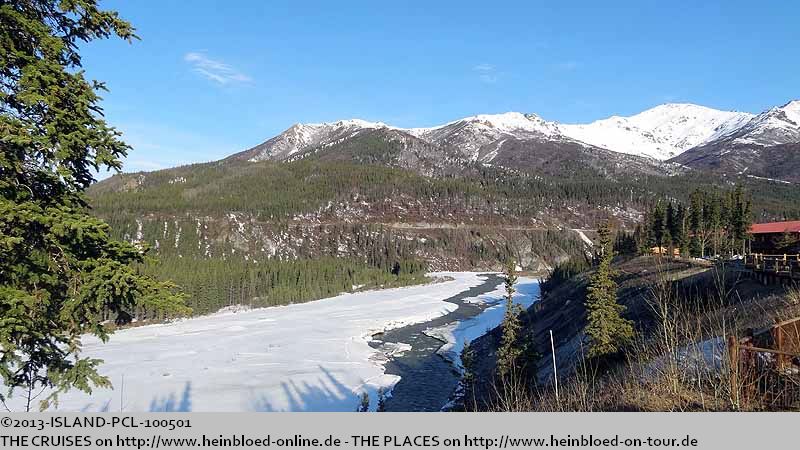 When we started in the morning we had a clear blue sky.

Our bus was announced.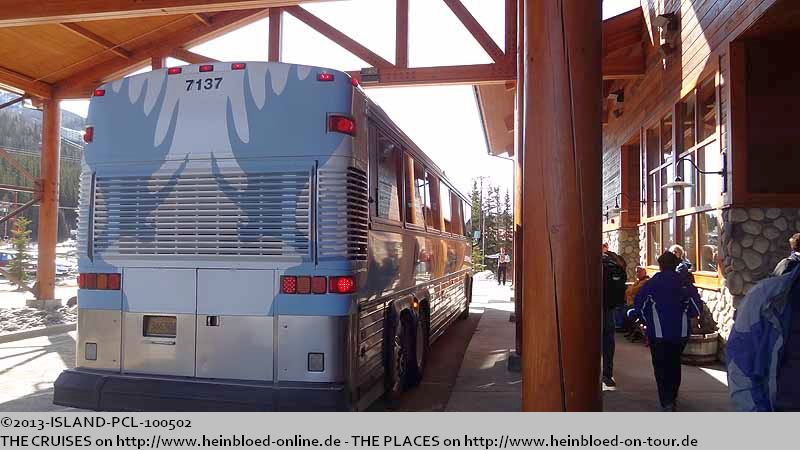 Unser Bus wird aufgerufen.
Eigentlich viel schöner als in der Bahn. Es gibt viel Platz über den Sitzen.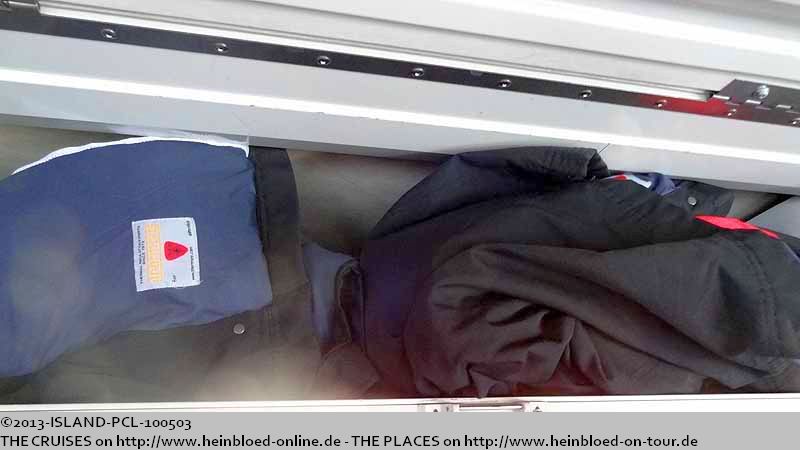 It was nicer than in the trains. You a lot of space over your seats.

We a lot of leg room.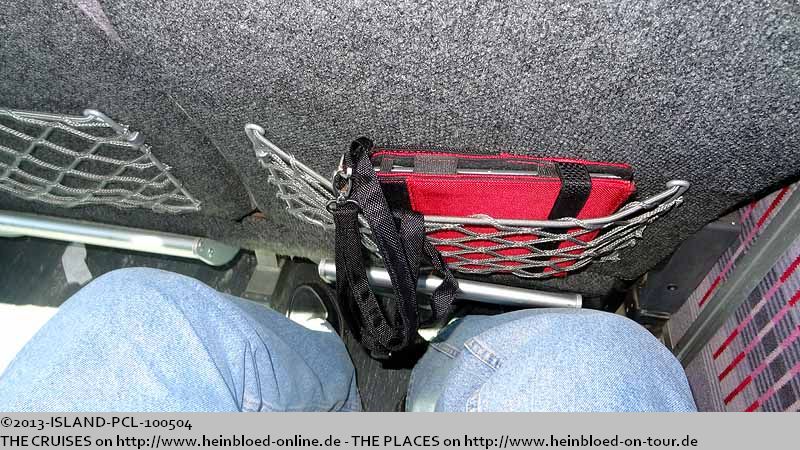 Wir haben Platz für unsere Beine.
Und unter dem Sitz ist auch noch viel Platz für Gepäck.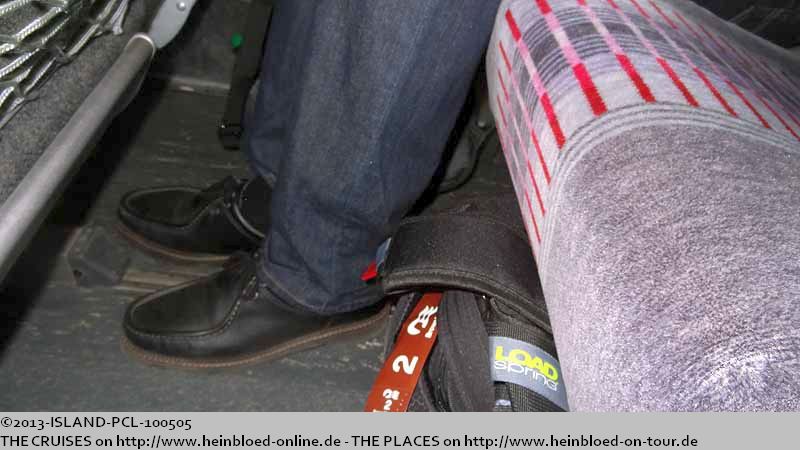 And even under your seat you had a lot of space for your bags.

We already got the documents for the next section of your itinerary.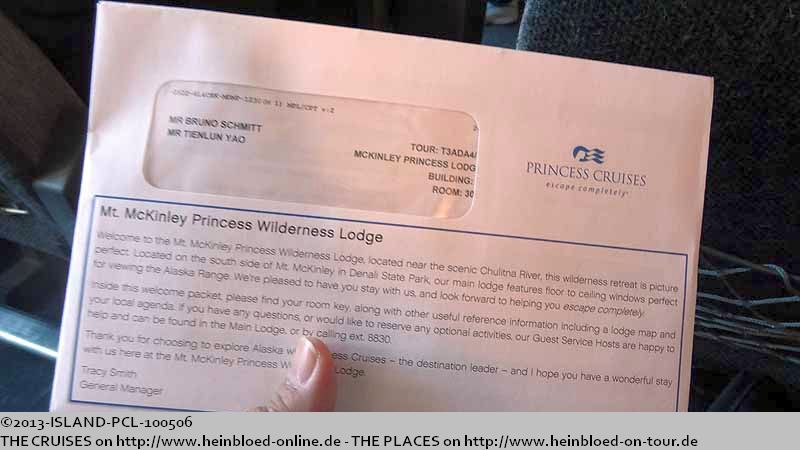 Wir bekommen schon alle Unterlagen für die nächste Etappe.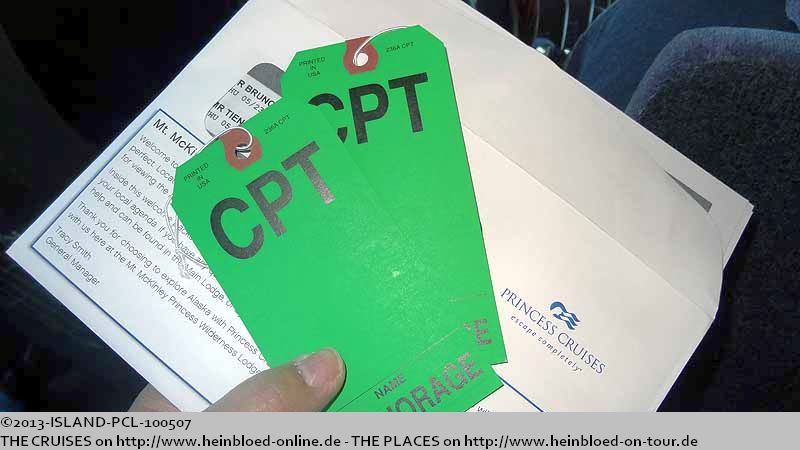 For the last day before we headed to Anchorage I booked a tour with Princess because it might be safer before you miss the bus to Anchorage.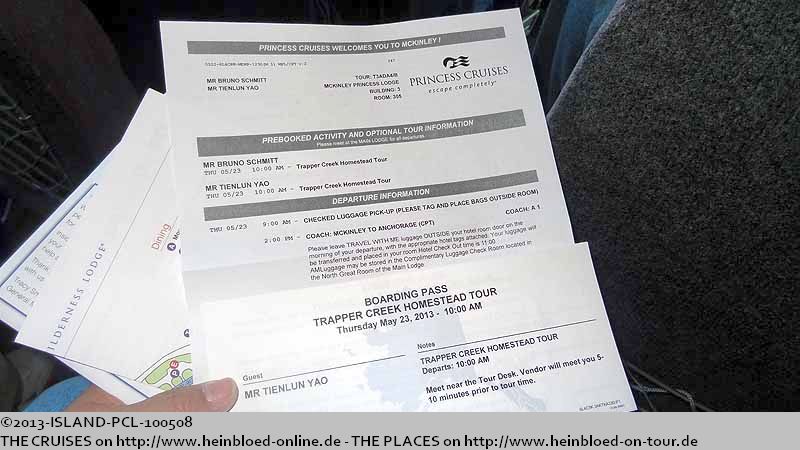 Für den letzten Tag vor der Rückfahrt nach Anchorage habe ich mal sicherheitshalber eine Tour mit Princess gebucht, weil es mir zu unsicher war, dass wir den Bus nach Anchorage verpassen.
Nun geht es zu
Mt. McKinley Princess Wilderness Lodge
.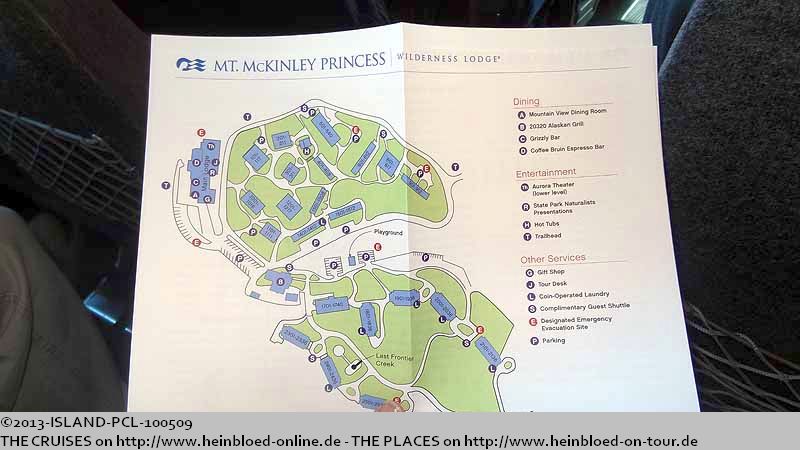 Now we headed to Mt. McKinley Princess Wilderness Lodge.

Unfortunately, the lodge was really in the wilderness. To Talkeetna, you still need about an hour for 48 miles. Due to a missing bridge, you need to have such long travel. They offered a shuttle for 10.00 USD. Would we booked the private alternative tour we would stay at Talkeetna Alaskan Lodge which was only one mile apart from Talkeetna.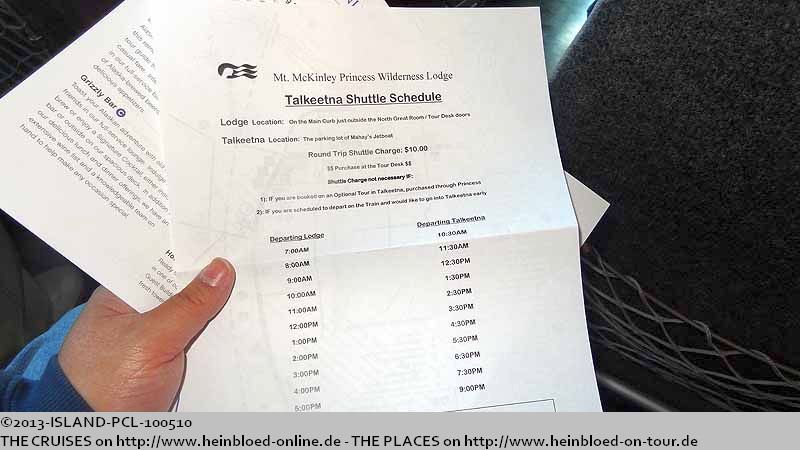 Leider liegt die Lodge wirklich in der Wildness. Bis Talkeetna sind es etwa eine Stunde Fahrt für 48 Meilen. Wegen einer fehlenden Brücke müssen wir entsprechend so weit fahren. Es wird ein Shuttle für 10,00 USD angeboten. Hätten wir die private Alternative gebucht, wären wir in der Talkeetna Alaskan Lodge gelandet, die nur eine Meile von Talkeetna entfernt gewesen wäre.
Es gibt sogar einen Stadtplan.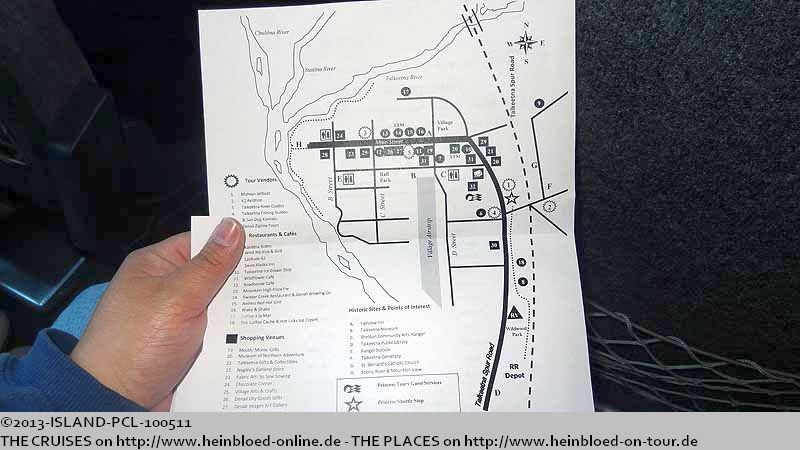 We even had a city map.

Our driver was so kind to slow down for a moose which was on the road that we had a chance to take pictures. But that animal was on the wrong side of the road. In a parking lot with a lovely view we stopped again, and so we could see how the clouds were coming.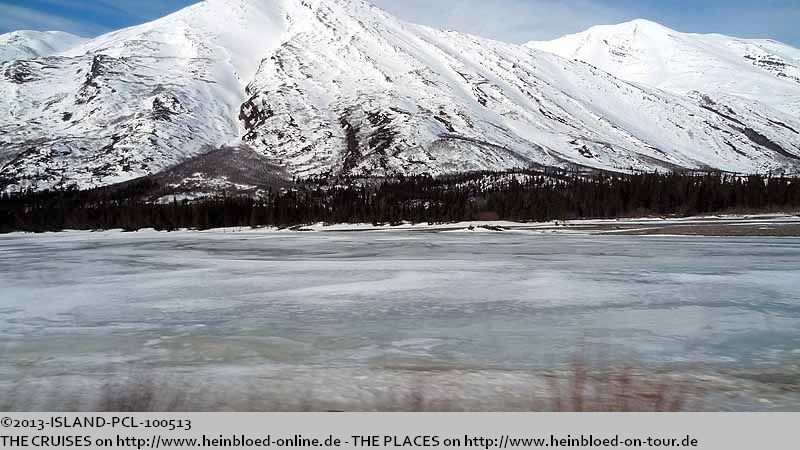 Unser Fahrer hat auch mal gebremst als ein Rentier auf der Straße war, damit wir fotografieren konnten. Bloß war das Tier auf der falschen Seite. An einem Parkplatz mit einem besonders schönen Blick hat er auch mal ein paar Minuten gehalten und man sieht leider schon die Wolken aufziehen.

Unterwegs sehen wir ein Iglu-Hotel.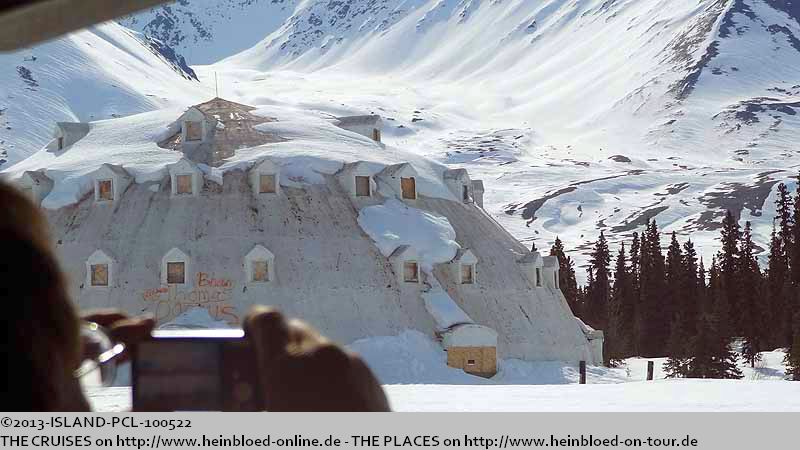 On the way we saw an Ingloo-Hotel.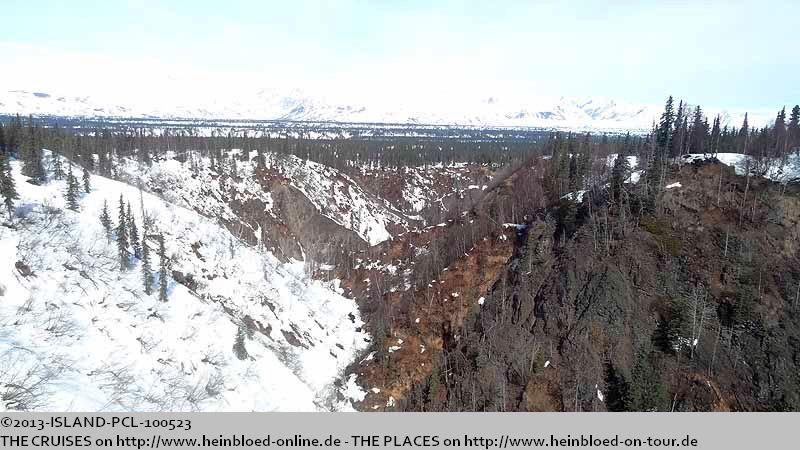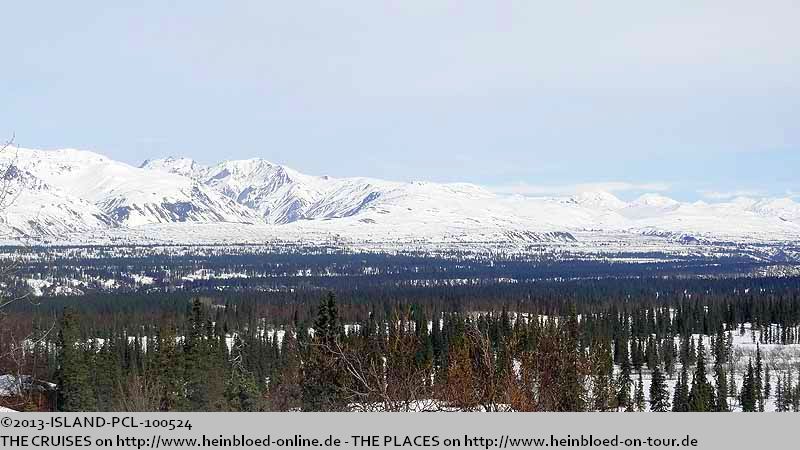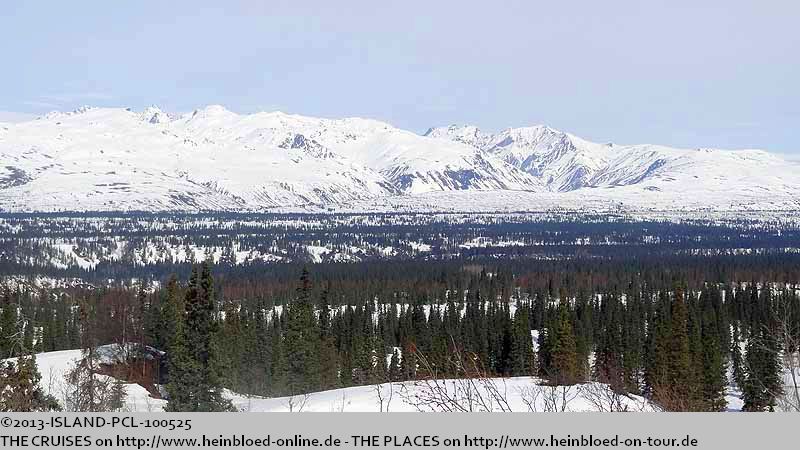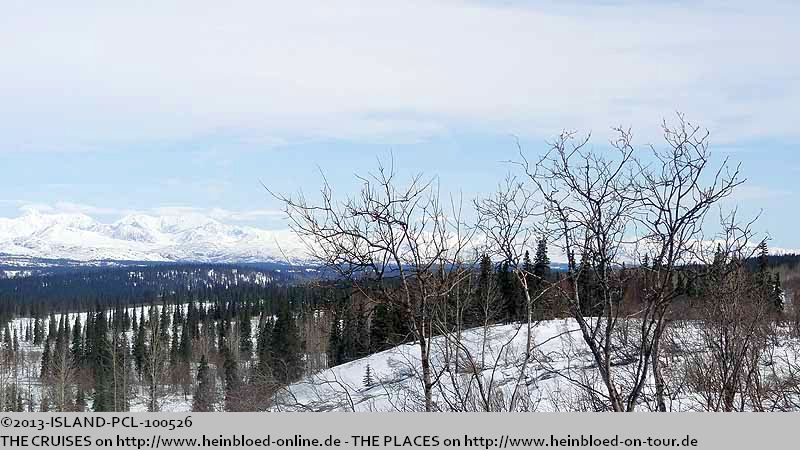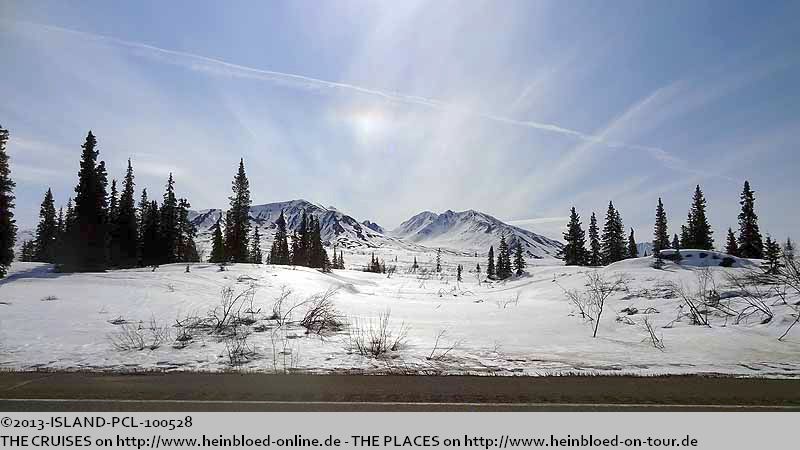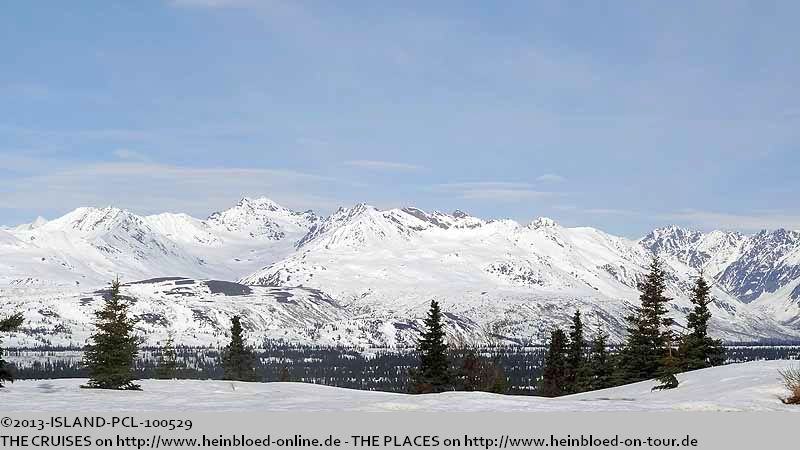 Bruno will nicht mit raus.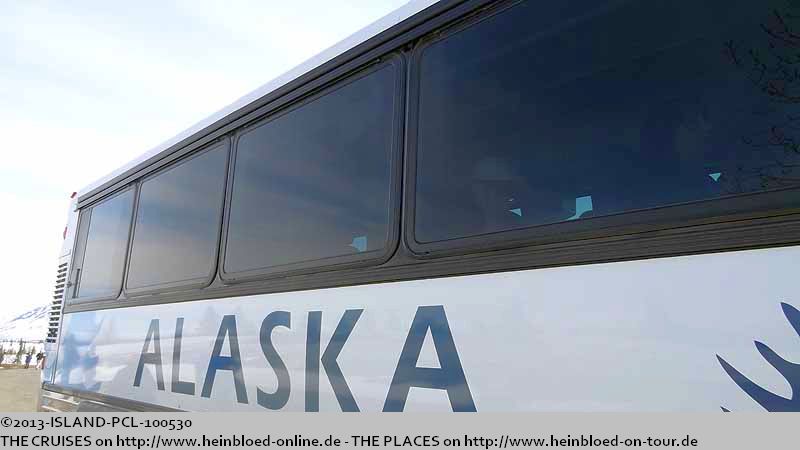 Bruno did not like to come out.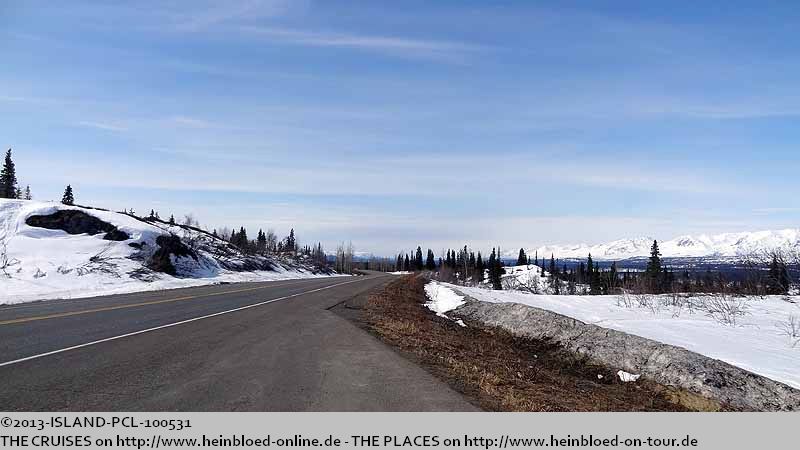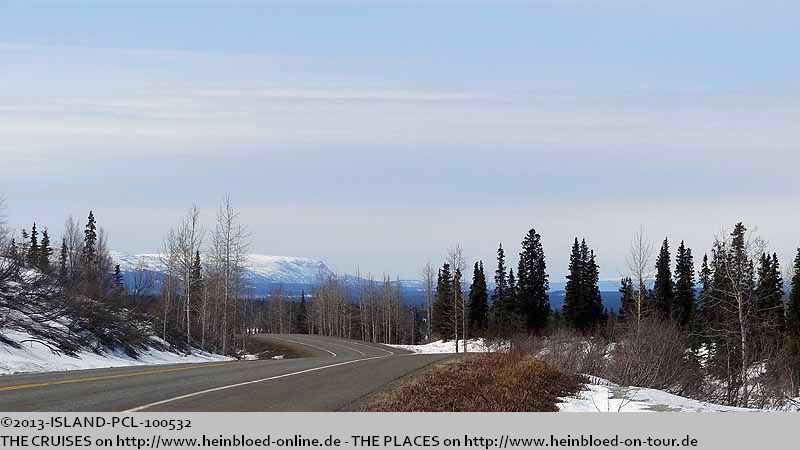 By the way: may I introduce Sydney who stopped for us. Thanks for doing that.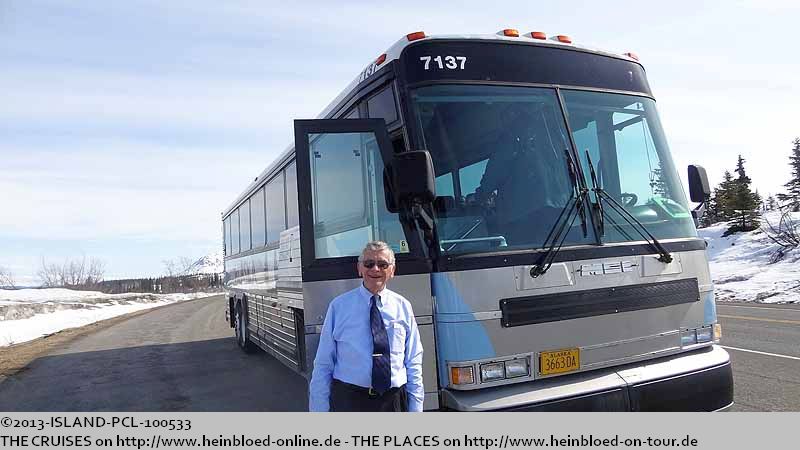 Das ist übrigens Sydney, der für uns gehalten hat. Vielen Dank.
Gelegentlich passieren wir die Bahnstrecke und die Straße ist sehr gut mit Mobilfunk versorgt. Nur habe ich Probleme irgendwie schnell zu kommunizieren.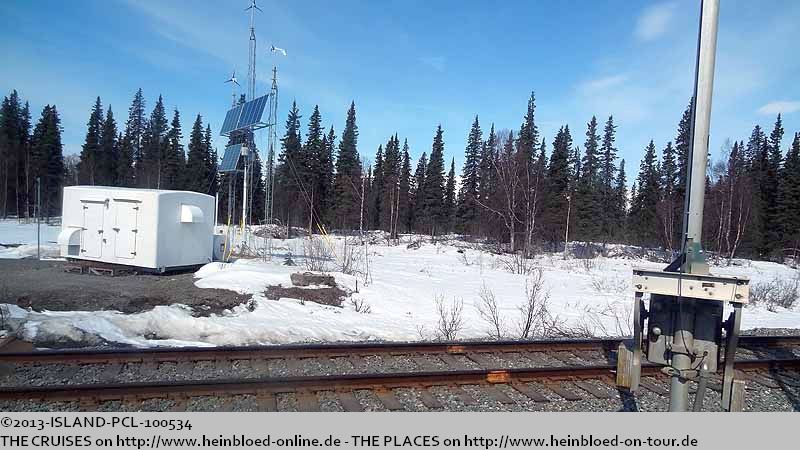 Occasionally we crossed the railroad and the road itself was well maintained with cell phone signal. But somehow I had problems to have a fast communication.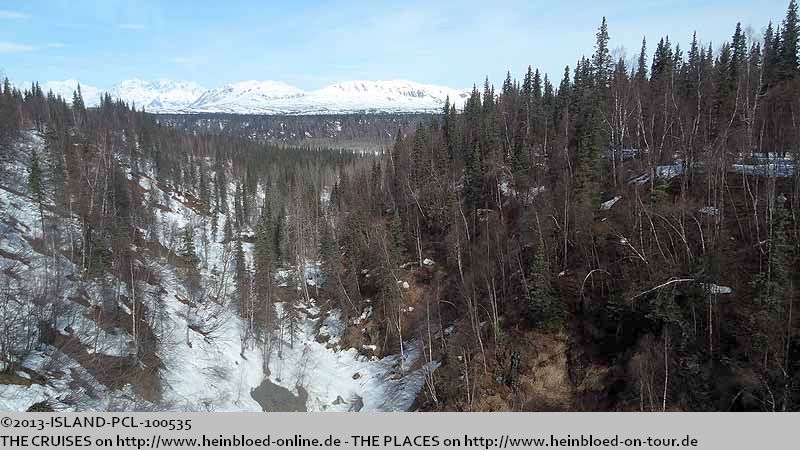 Bruno ist es zu kalt im Bus, weil eben wieder alles runtergekühlt wird, auch wenn es draußen an sich schon kalt ist.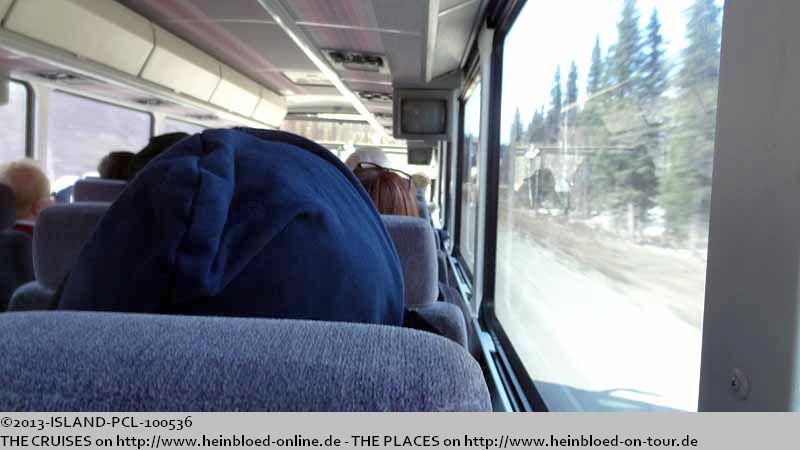 65 miles/hour although that was no freeway.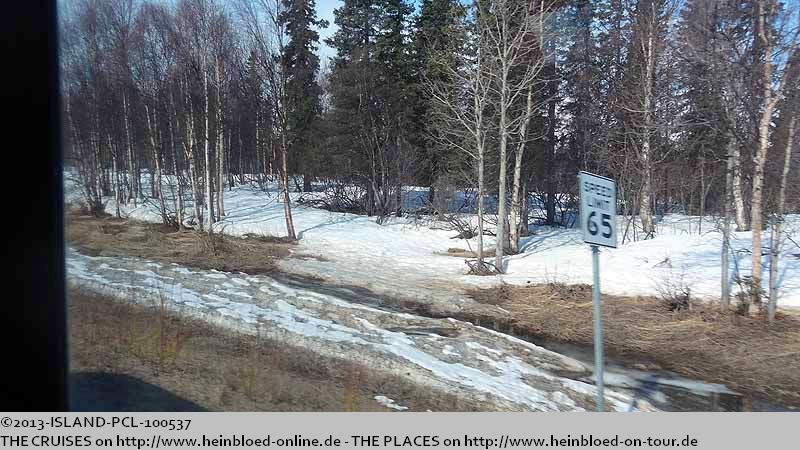 65 Meilen/Stunde, obwohl keine Autobahn hier ist.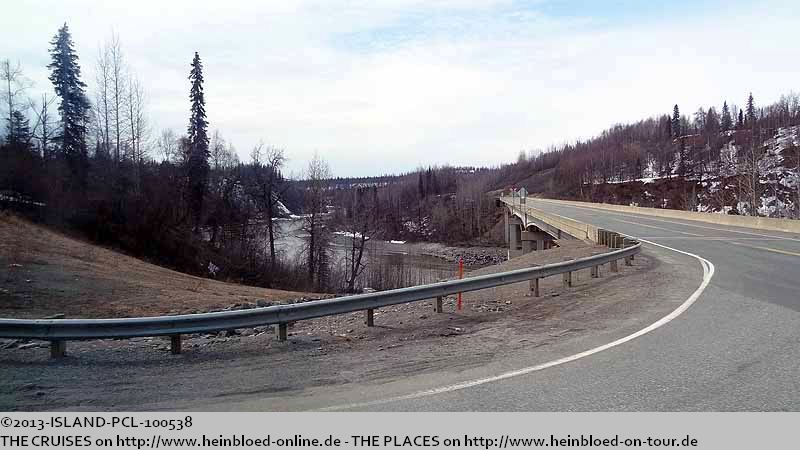 When we reached the Trappen Creek we reached the hotel too.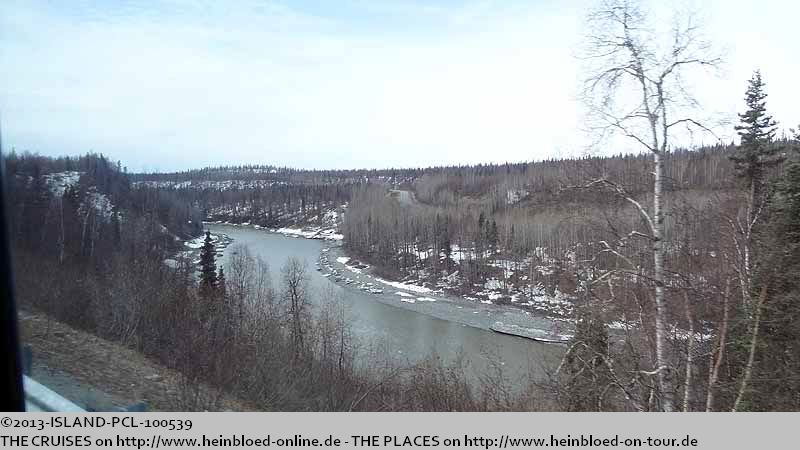 Und als wir den Trapper Creek erreichen, erreichen wir auch schon das Hotel.
Die anderen Reisen in diesem Blog/
The other voyages in this blog: