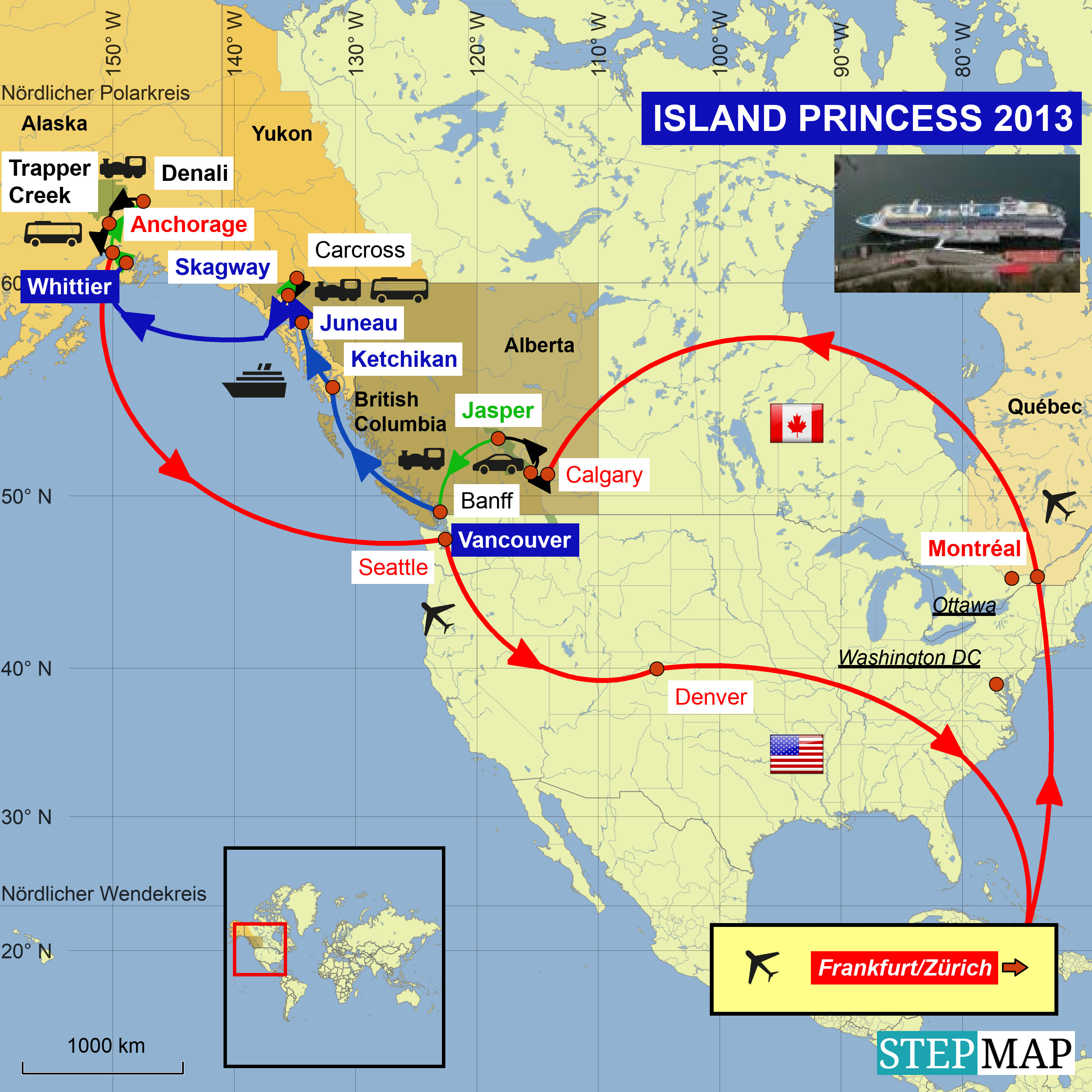 In wenigen Minuten sind wir vom Schiff an der Talstation der
Mount Roberts Tramway
.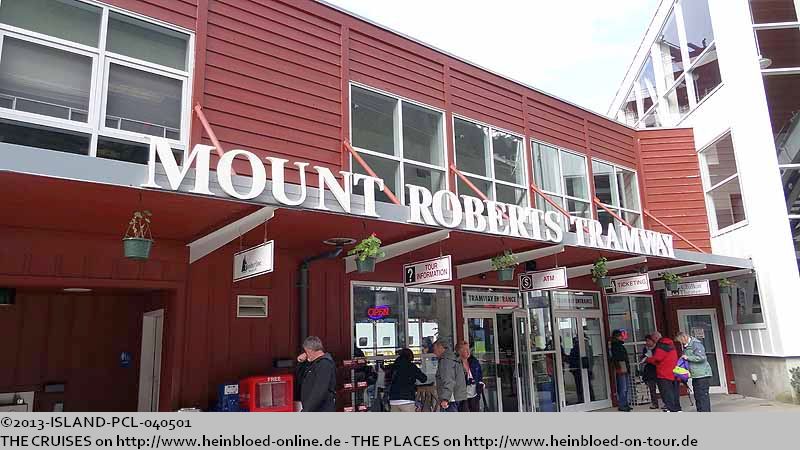 In few minutes we walked from the ship to the valley stop of Mount Roberts Tramway.

The fun was 31.00 USD (2013).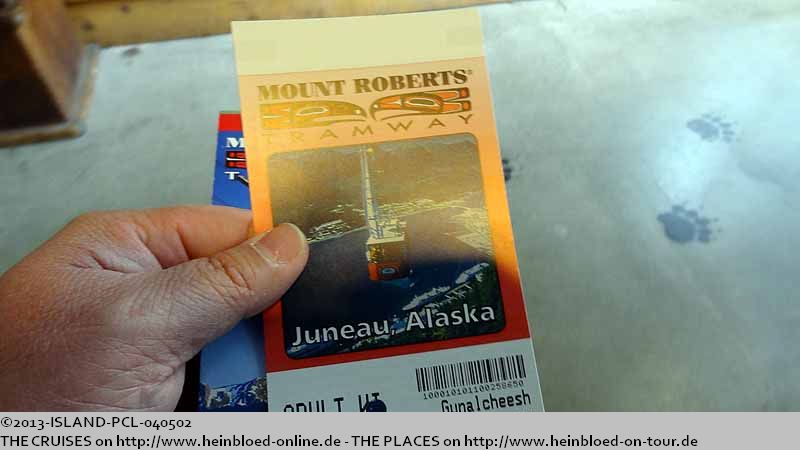 Der Spaß kostet 31,00 USD (2013).
Dafür bekommt man wieder einen Stempel, damit man den ganzen Tag rauf und runter fahren darf.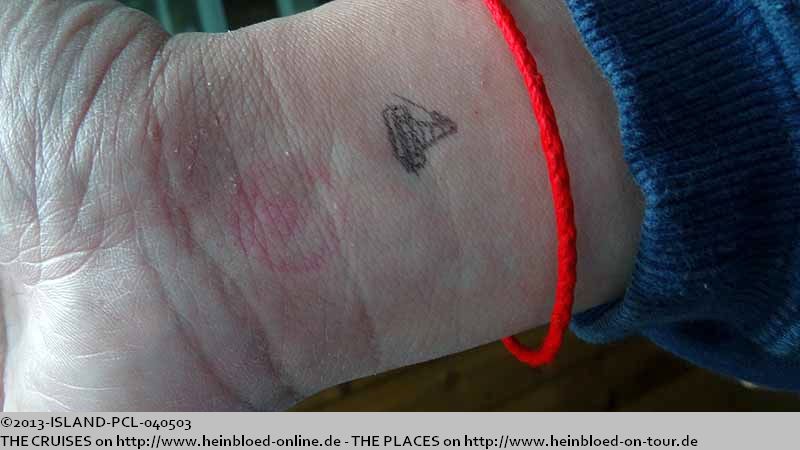 So you got a mark that you were allowed to go the whole day up and down.

Beautiful view from the top.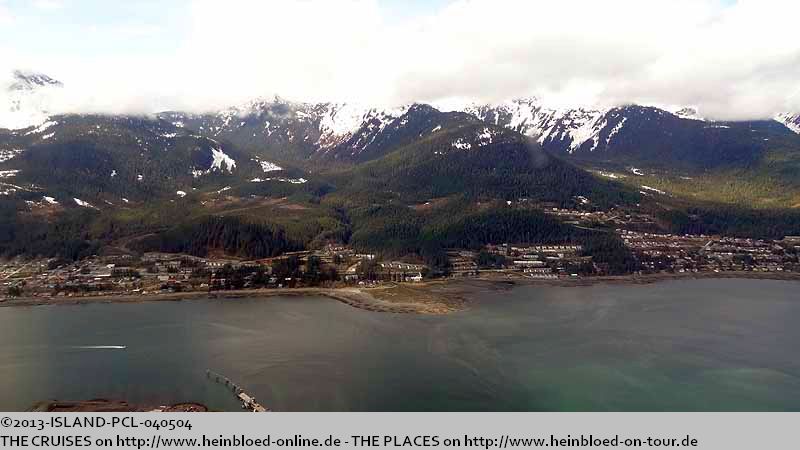 Schöner Anblick von oben.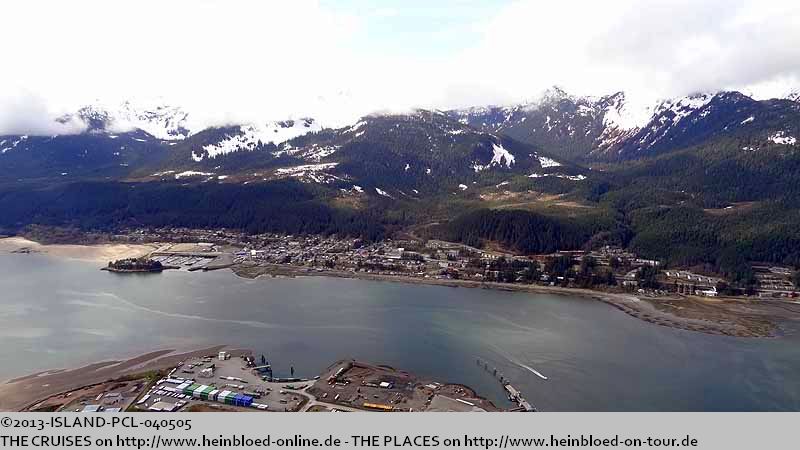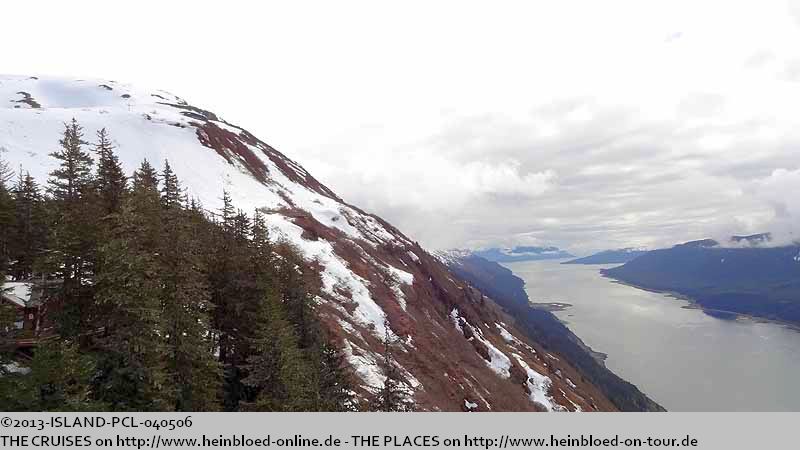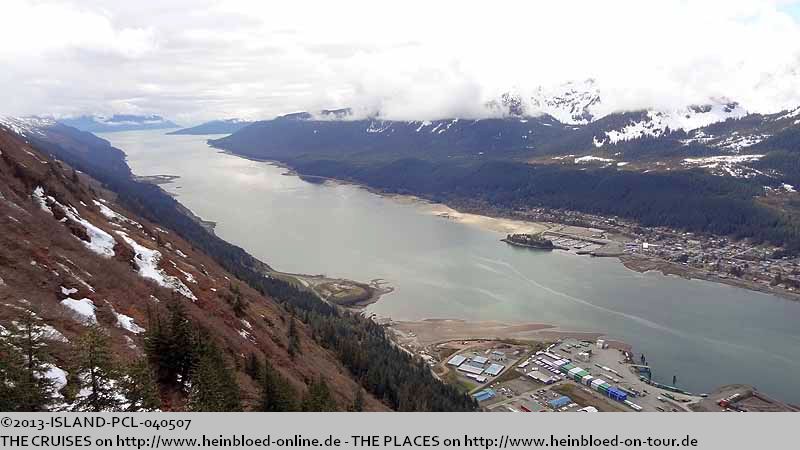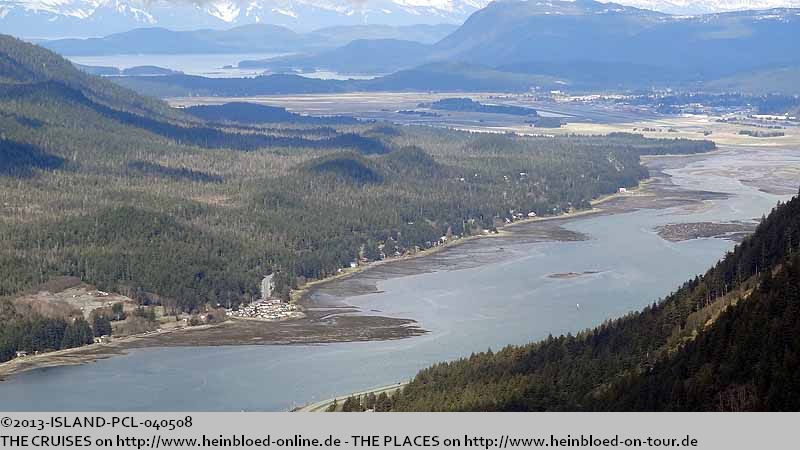 Sehr gut gelöst. So wissen wir, wann wir spätestens wieder runter müssen.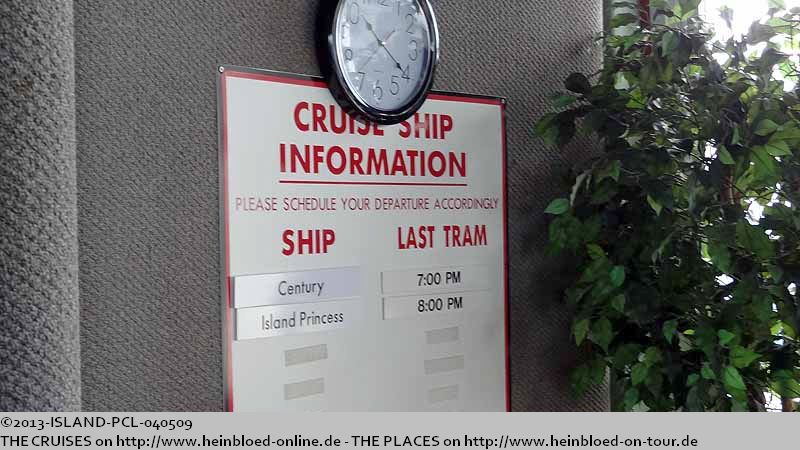 Very smart. So we always knew when we had to return to the ship.

We were on an altitude of 1,800 Feet...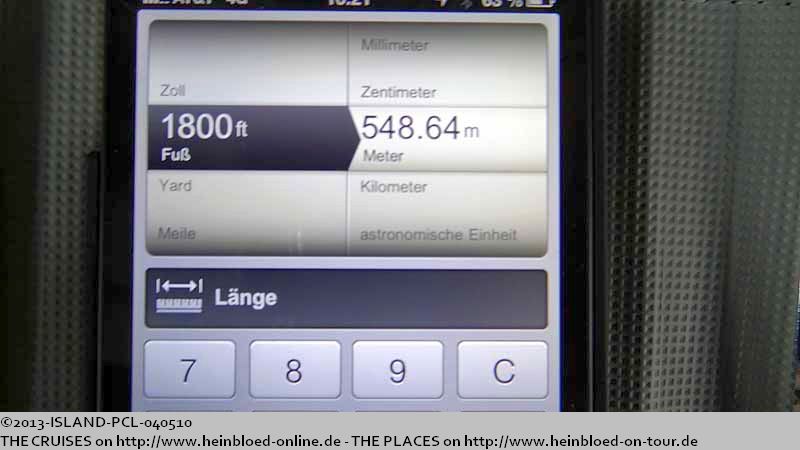 Wir befinden uns auf 1.800 Fuß Höhe...
Normalerweise gibt es hier nur ein Filmchen zu sehen, aber heute gibt es auch Live-Musik.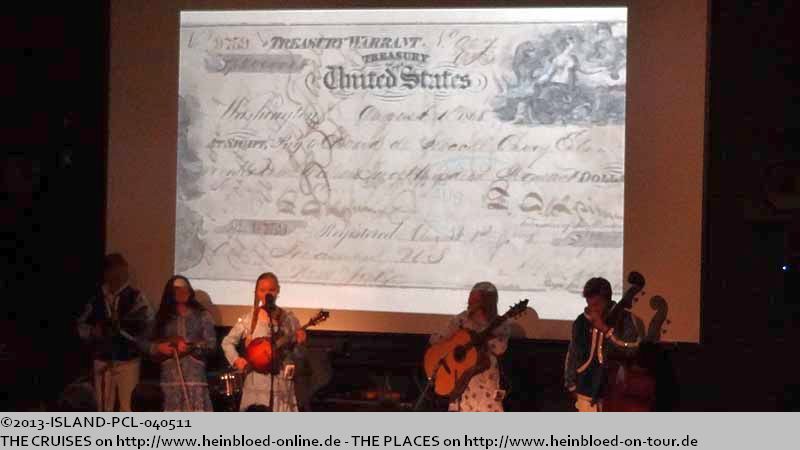 Normally you had here only movies, but that day you had live music too.

We were recommended to see the terrace of the restaurant to enjoy the lovely view...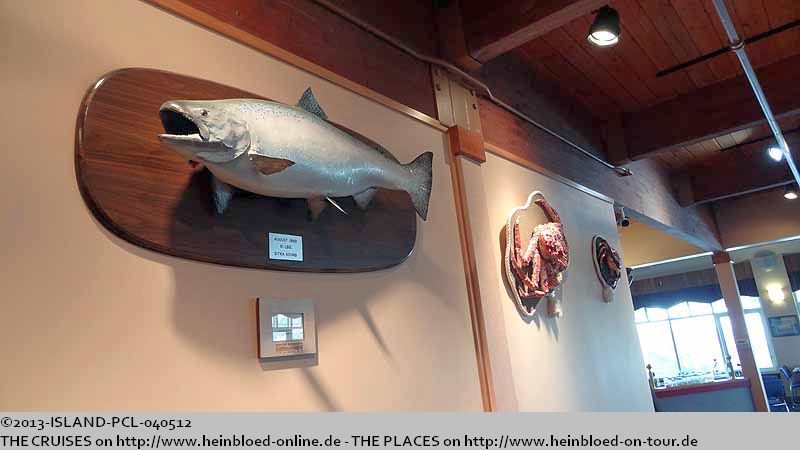 Uns wird empfohlen, dass wir auf die Terasse des Restaurants sollen, um den schönen Ausblick zu genießen...
Hmm... wir wisen aber nicht so recht was gemeint ist.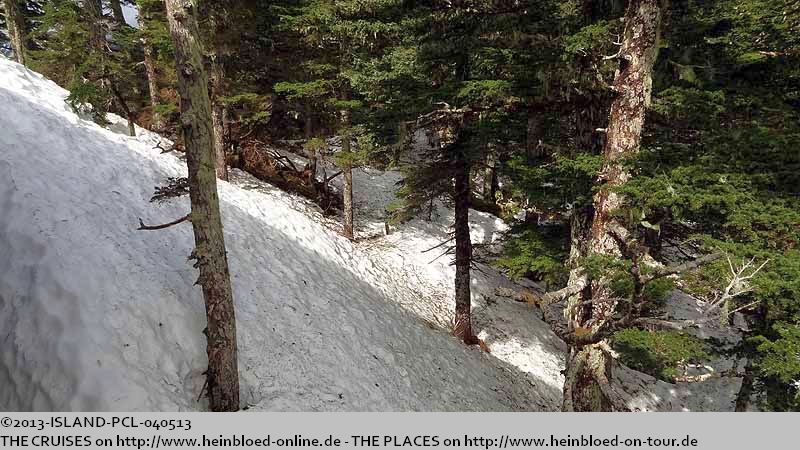 Hmm... we had no idea what they were talking about.

Maybe the recommendation came from someone who usually lived in New Mexico, and any kind of snow might be a sensation...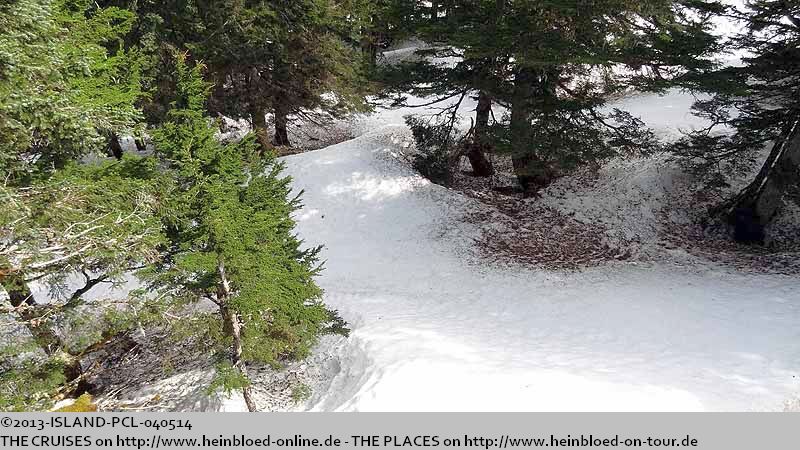 Vielleicht gab es die Empfehlung von jemanden, der sonst in New Mexico wohnt und nicht gewohnt ist, Schnee zu sehen...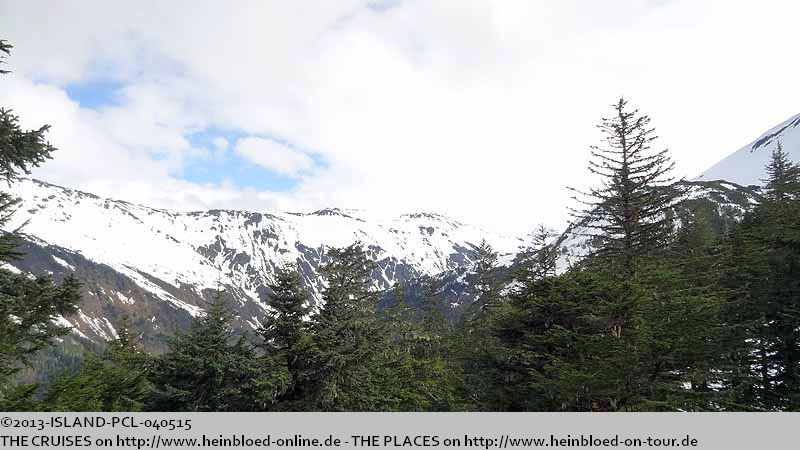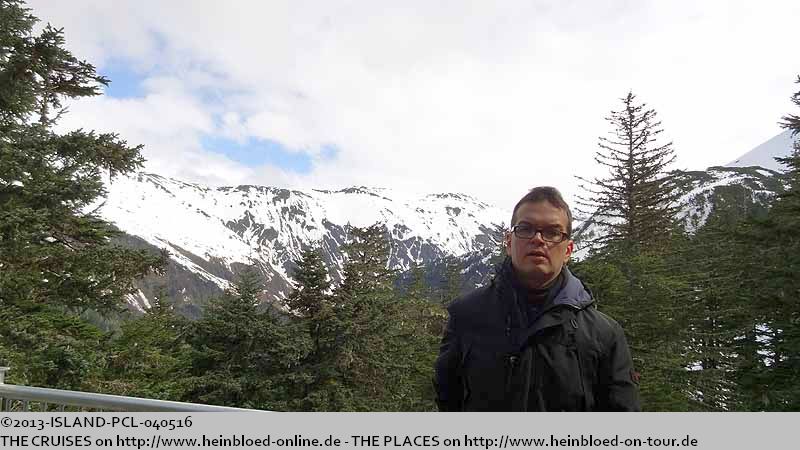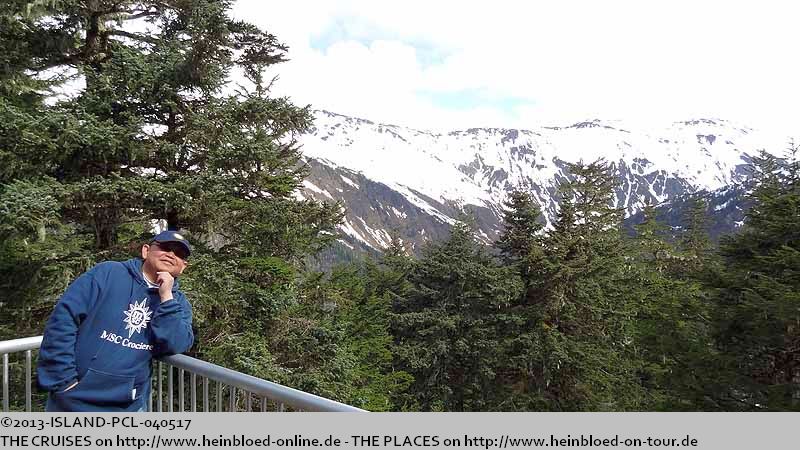 The crow refused to turn around.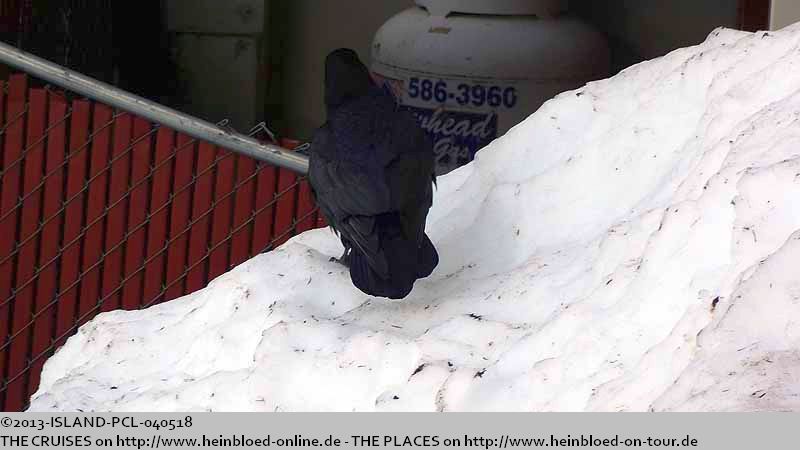 Die Krähe weigert sich, sich mal umzudrehen.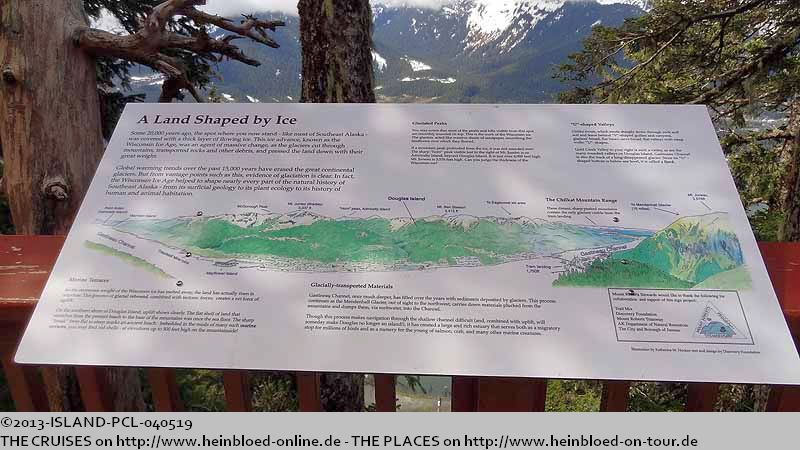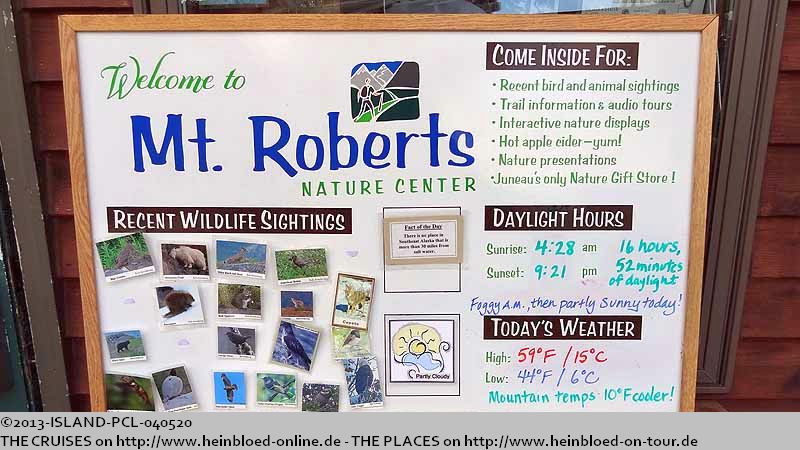 Ist das mehr eine Ausstellungshalle mit Verkauf oder eine Verkaufstelle mit Ausstellung? In den USA geht vieles ineinander über...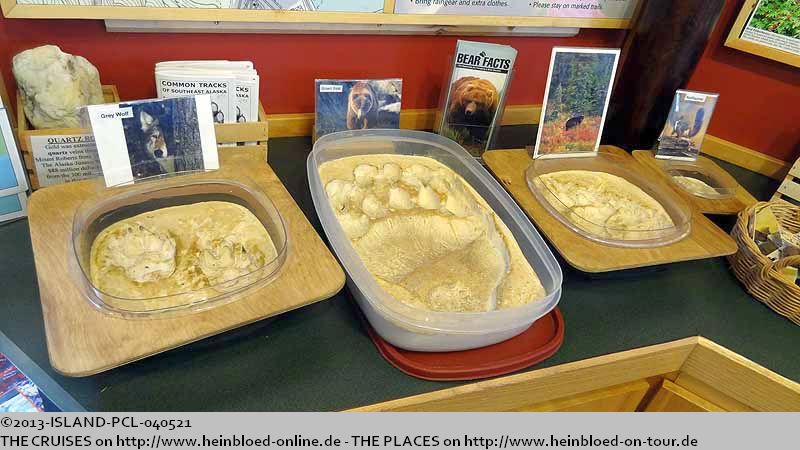 Was that an exhibition venue with sales or a sales venue with an exhibition? In the US many things moves from one to the next...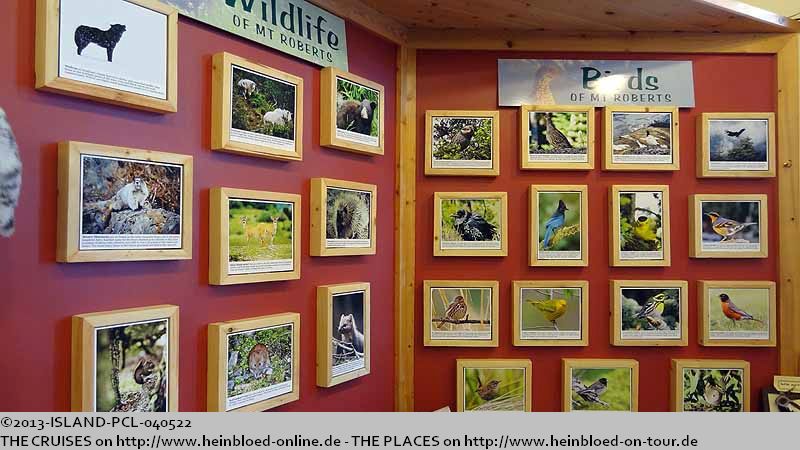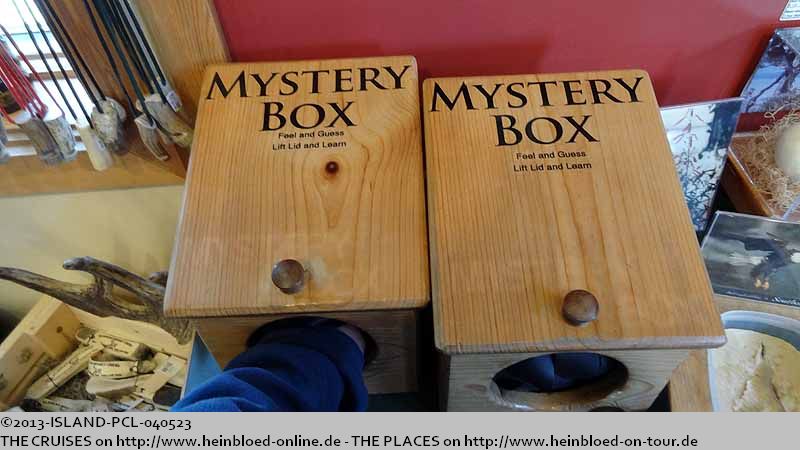 By webcam we could observe an eagle's nest.

Über eine Webcam können wir ein Adlerhorst beobachten.
Könnten wir noch einen entdeckt haben?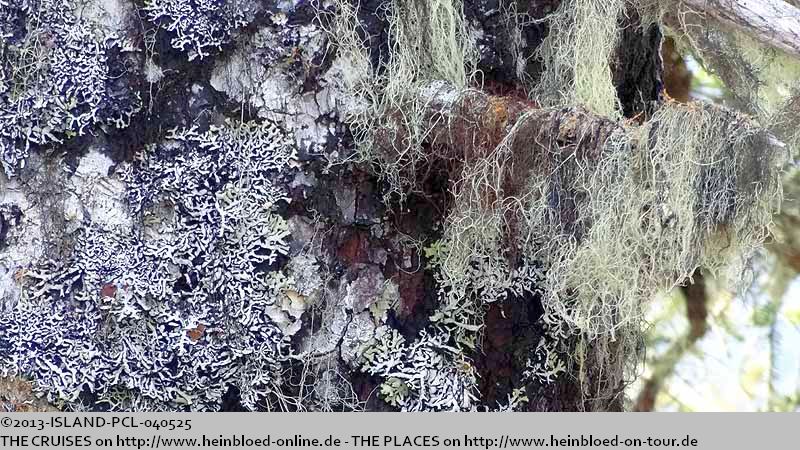 Did we discover another one?

We tested if Bruno's wingspan was as massive as an eagle's one.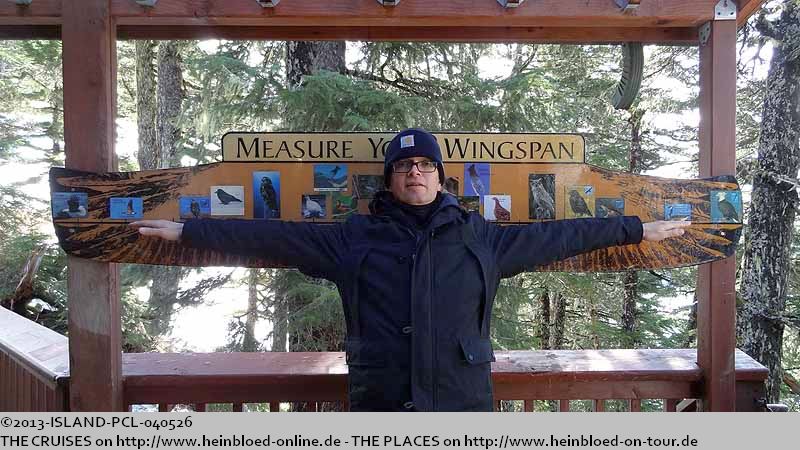 Wir messen mal, ob Brunos Spanweite genauso groß ist, wie die eines Adlers.
Eine Barista-Kaffeemaschine.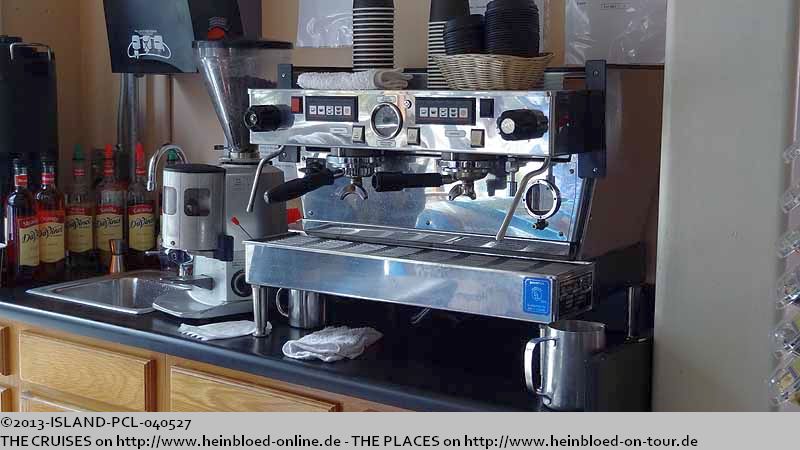 A Barista-Coffee machine.

You could see the smile on his face that it must be one of the best Cappucino he got during the voyage.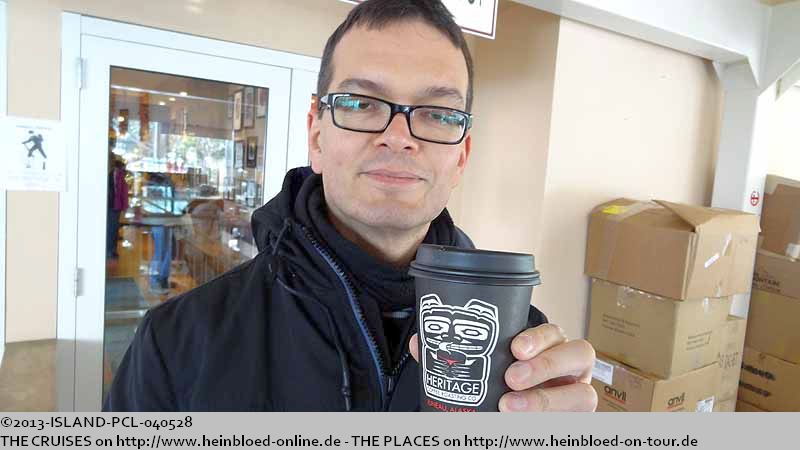 An seinem Gesichtsausdruck sieht man, dass es wohl einer der besten Cappucinos ist, die er während der Reise bekommen hat.
Vitaminwater gibt es hier nicht, aber die Konkurrenz... schmeckt aber nicht so gut...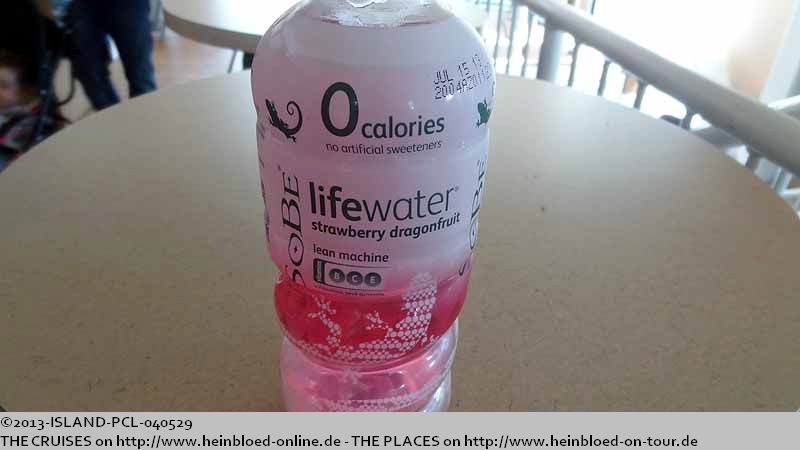 They had no Vitamin Water but their competitor... was not so nice...

You are not allowed to keep an bold eagle in captivity.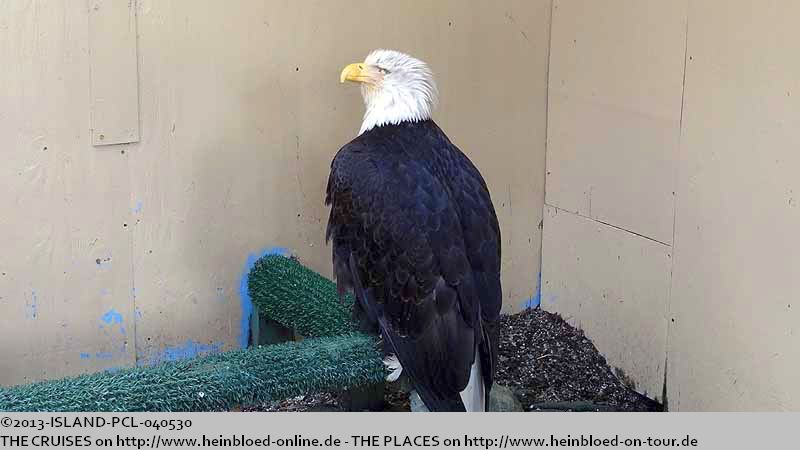 Man darf eigentlich keine Weißkopfadler in Gefangenschaft halten.
Aber dieser Vogel ist auf einem Auge blind und würde in Freiheit nicht überleben, weil er nicht jagen könnte. Und somit würde er leicht selbst zur Beute anderer Greifvögel werden.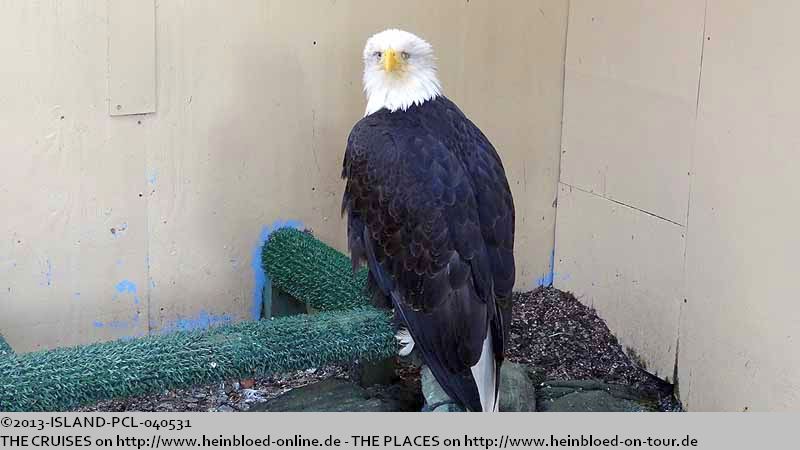 But that bird was blind on one eye and would not survive the freedon because she could not hunt. So she would be an easy prey for other raptors.

So she must be stay here as "ambassador".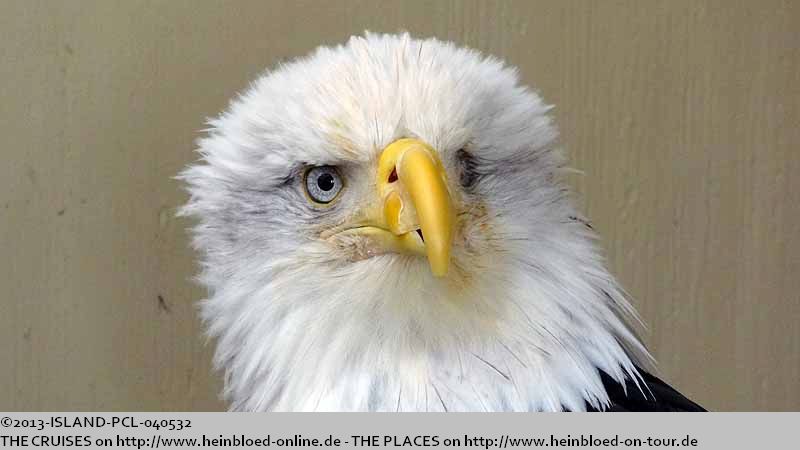 So muss er als "Botschafter" herhalten.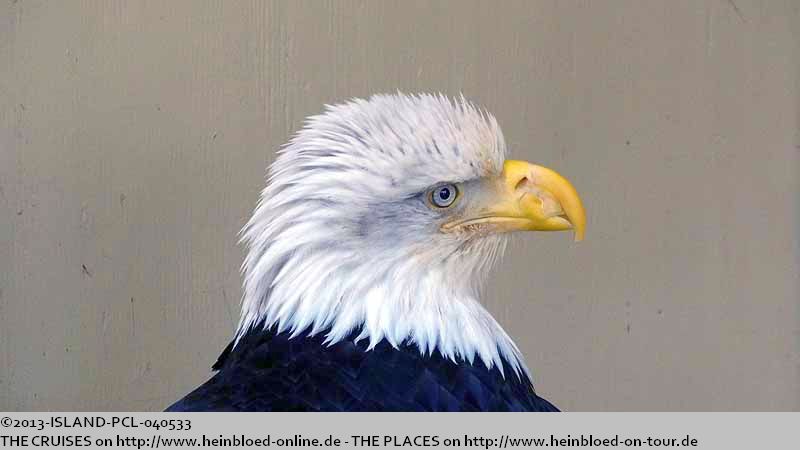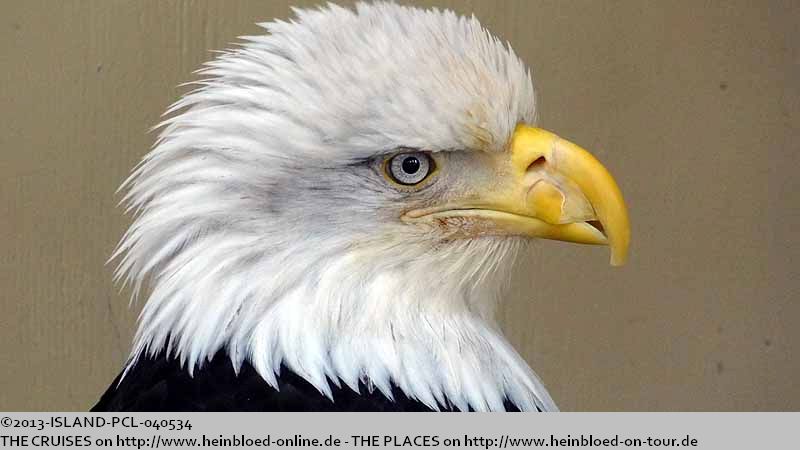 Later when were again at the bottom we discovered the eagle's nest.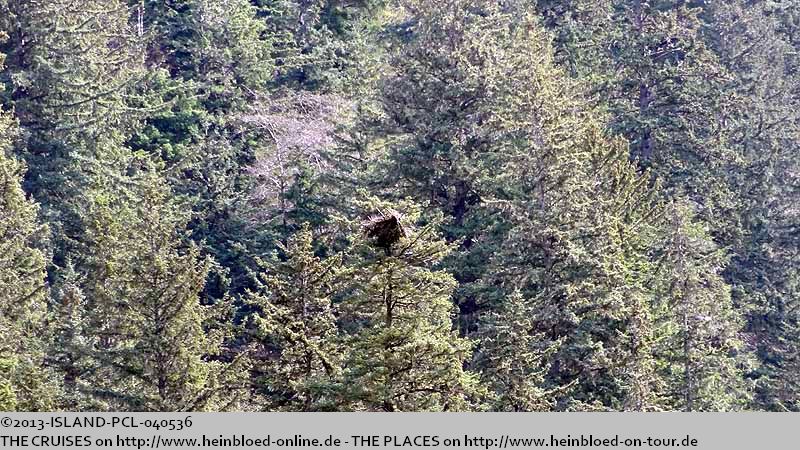 Als wir später wieder unten sind, entdecken wir dann auch den Adlerhorst.
Die anderen Reisen in diesem Blog/
The other voyages in this blog: