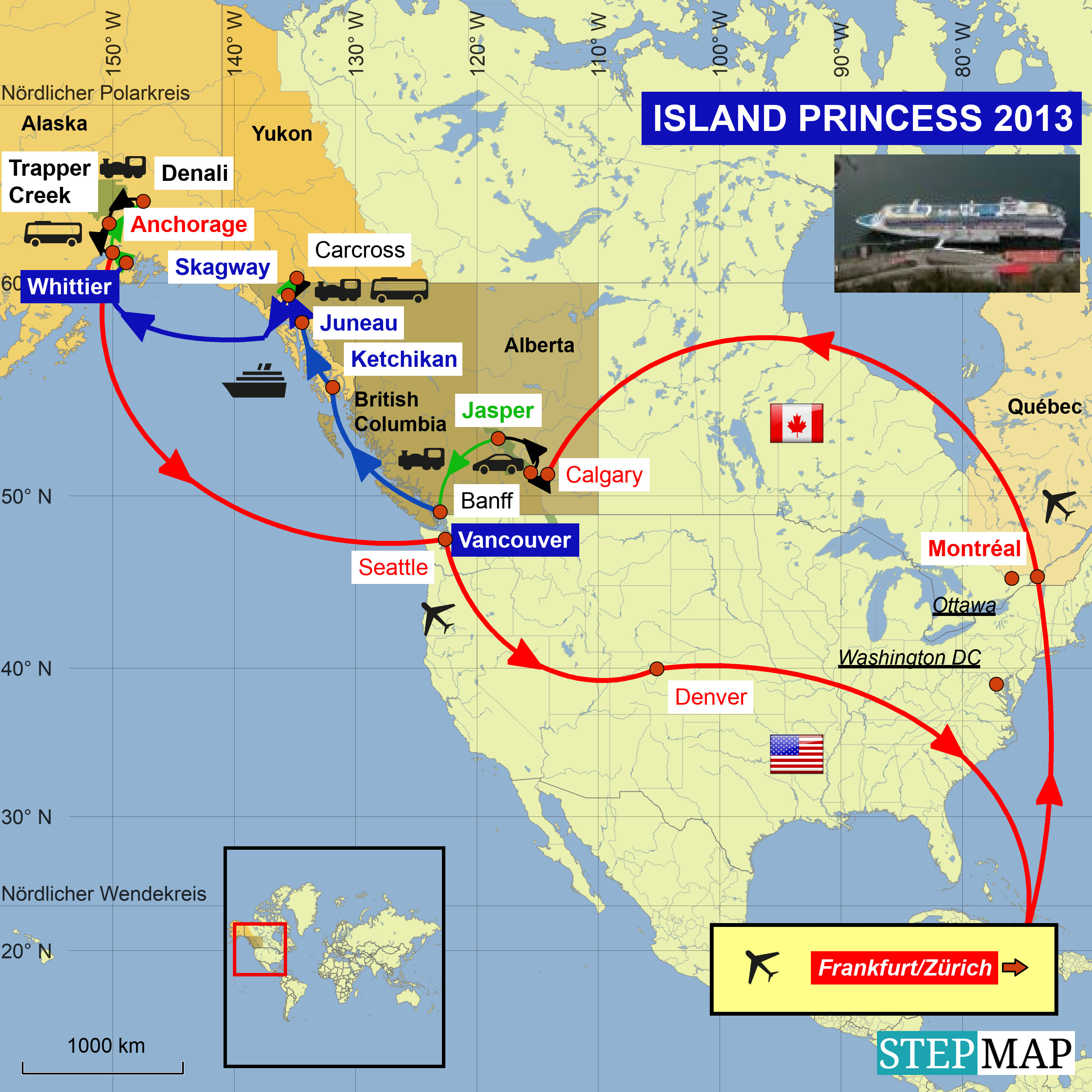 Es war auf dem Schiff richtig toll: oben lief auf dem Bildschirm die Livecam vom Bug und strahlend blauer Himmel.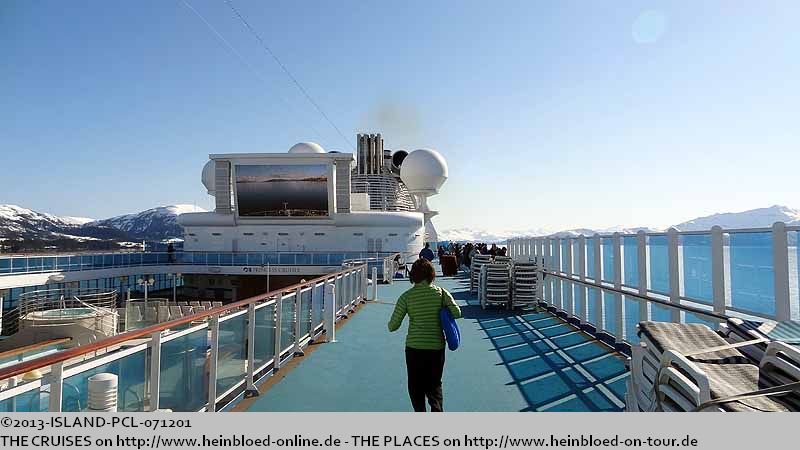 It was great on board: on the top you could follow the livecam from the bow and deep blue sky.

And many nice areas you could stay to have a look to the front.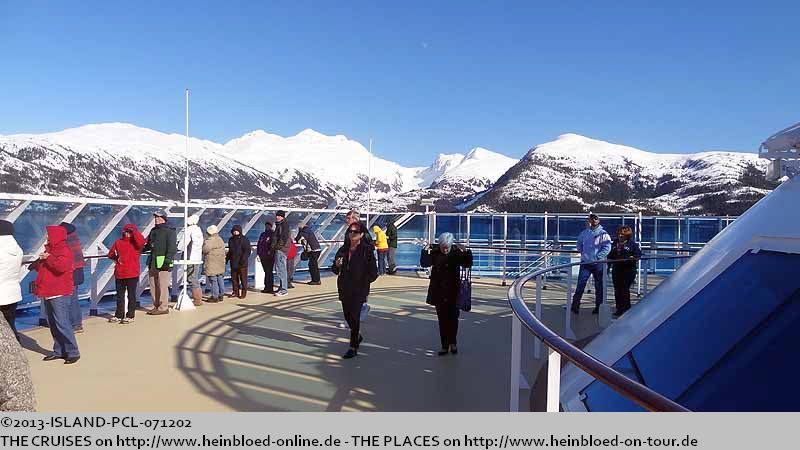 Und wirklich viele schöne Flächen auch nach vorne, um zu gucken, gucken, gucken.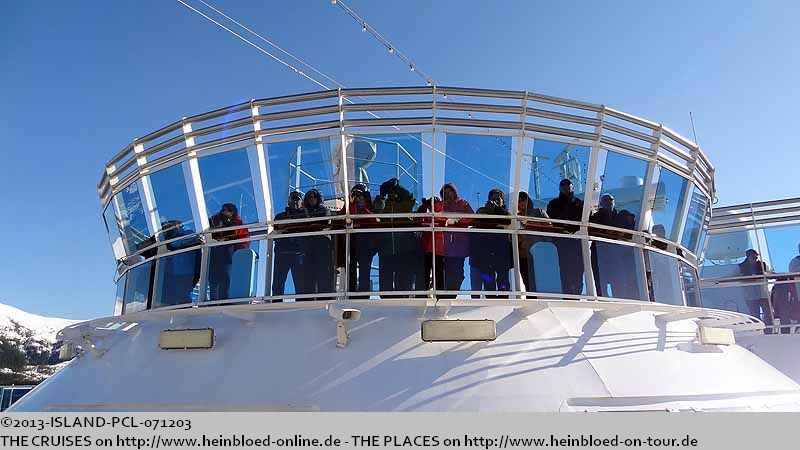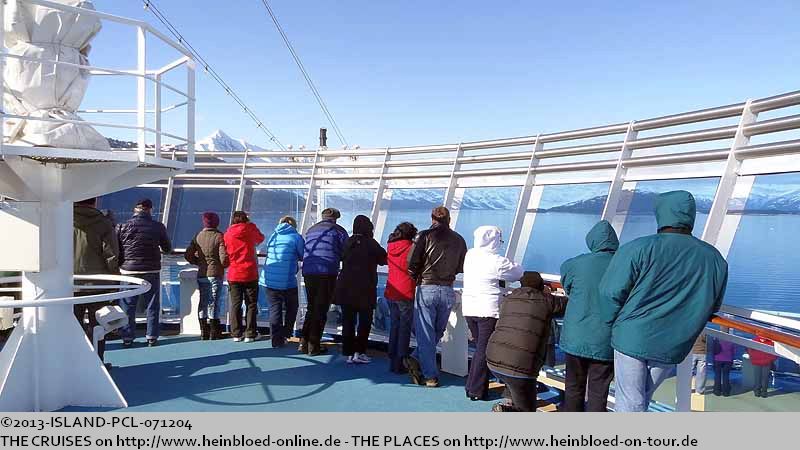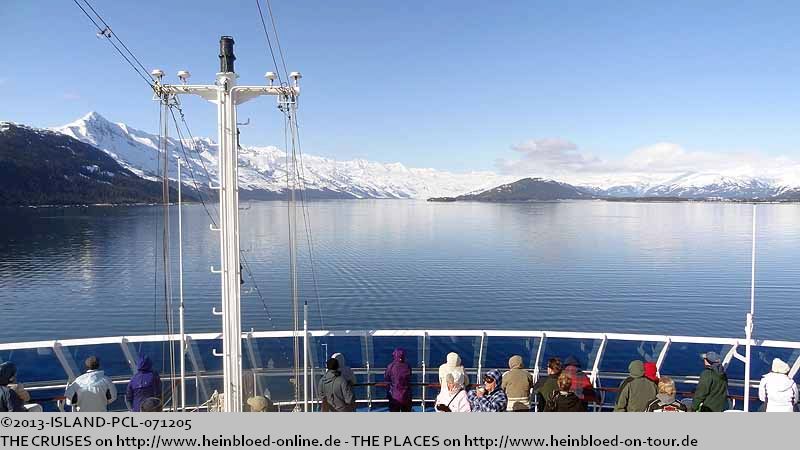 This was a birthday cake which you had to order and to pay for.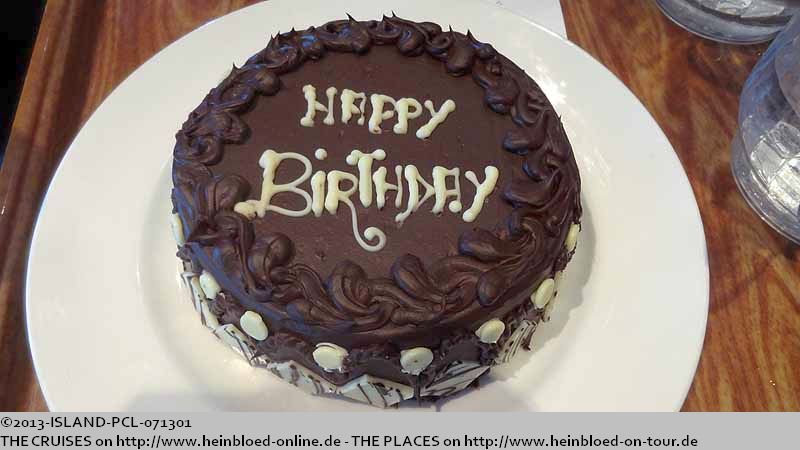 Das war eine bestellte Geburtstagstorte, für die man extra zahlen musste.
Die Schnecken waren so richtig geil und für mich als Diabetiker fast tödlich. Aber lecker...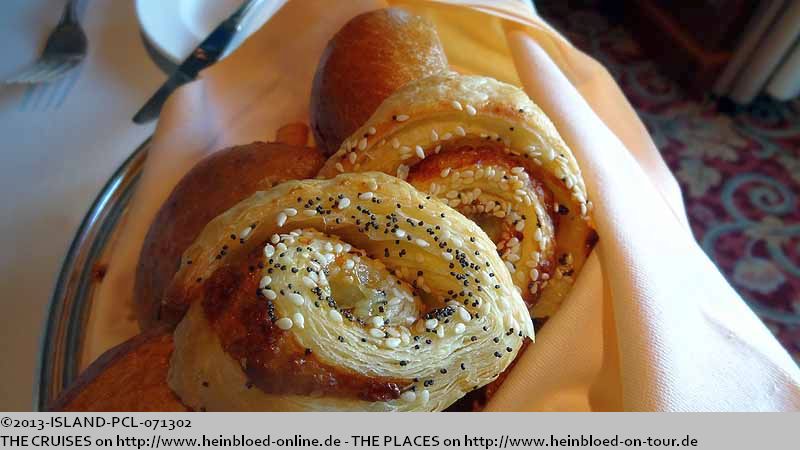 The "snails" were truly good and a way to kill me as someone with Diabetes. But yummy...

Even the waiter noticed it, and we got a second basket.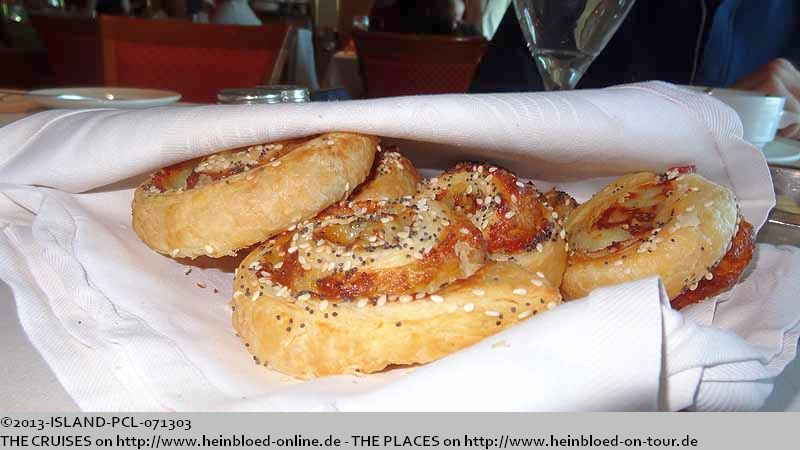 Sogar dem Kellner fiel es auf, dass wir einen zweiten Korb bekamen.
Königin Pastete - muss ich haben... Wenn das alles mein Arzt sieht... Ich habe für mein schlechtes Gewissen gefragt: in der Vollkorn-Dinkel-Light-Zuckerfrei-Fettarm-Version gab es sie nicht...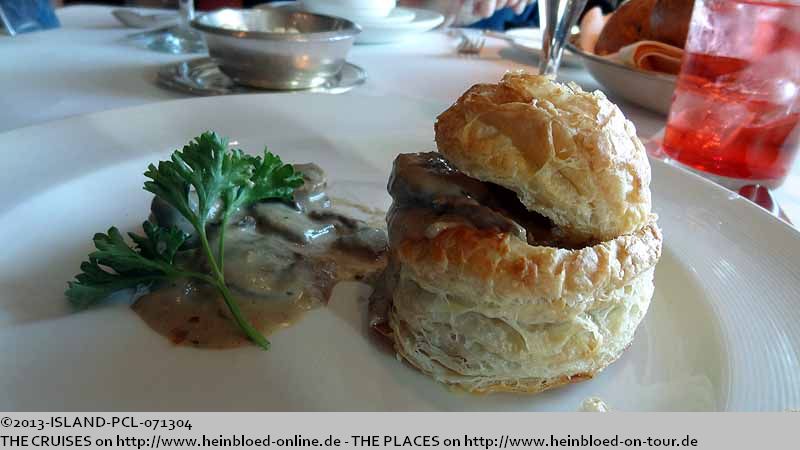 Vol au Vent - must have... If my doctor would discover that... I asked for my bad conscious: they had not wholegrain-spelled-diet-sugarfree-fatfree-version on board available.

Again the broth with the fried batter pearls... not available in the wholegrain-spelled-diet-sugarfree-fatfree-version either... the only chance was only ignoring...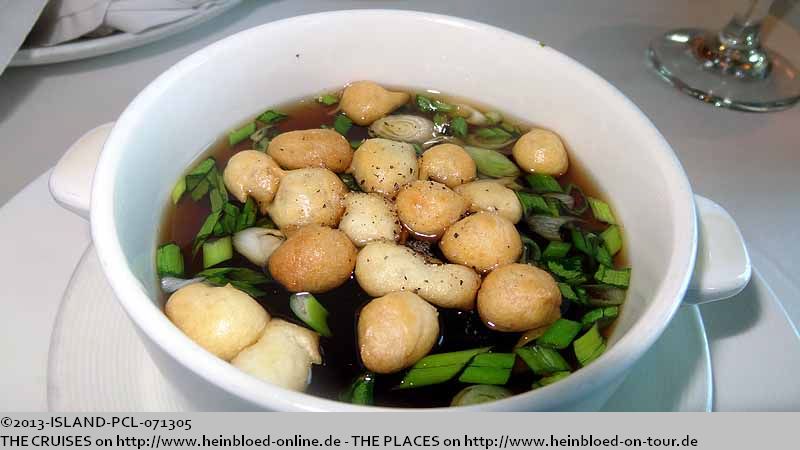 Wieder die Brühe mit Backerbsen... Gab es auch nicht in der Vollkorn-Dinkel-Light-Zuckerfrei-Fettarm-Version... außer man ließ sie weg...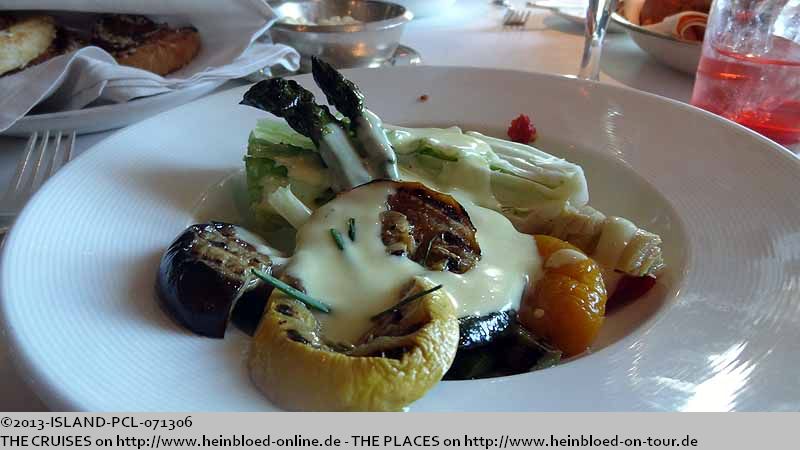 And again we were playing in "Pretty Woman".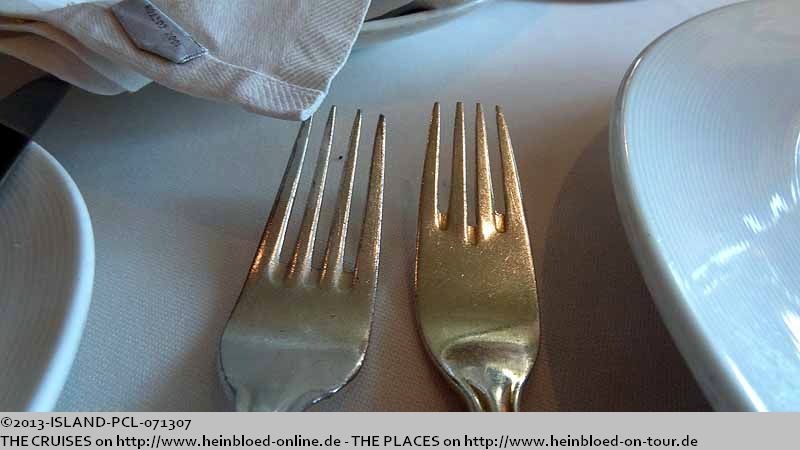 Und wir spielen wieder "Pretty Woman" mit der Salatgabel.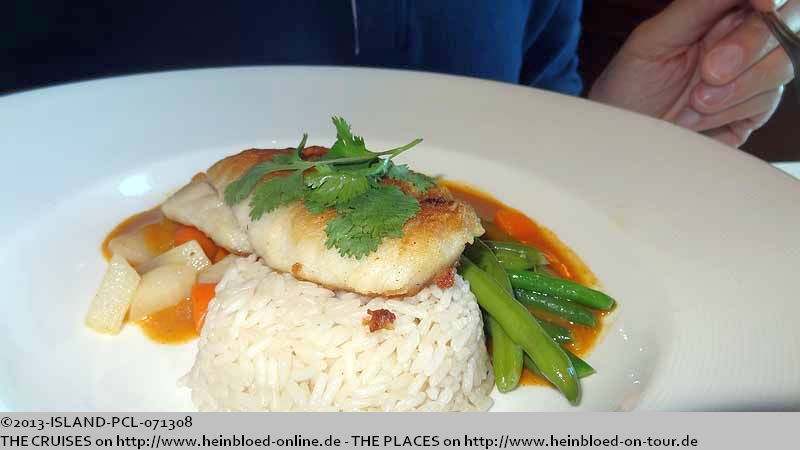 Steak... my world...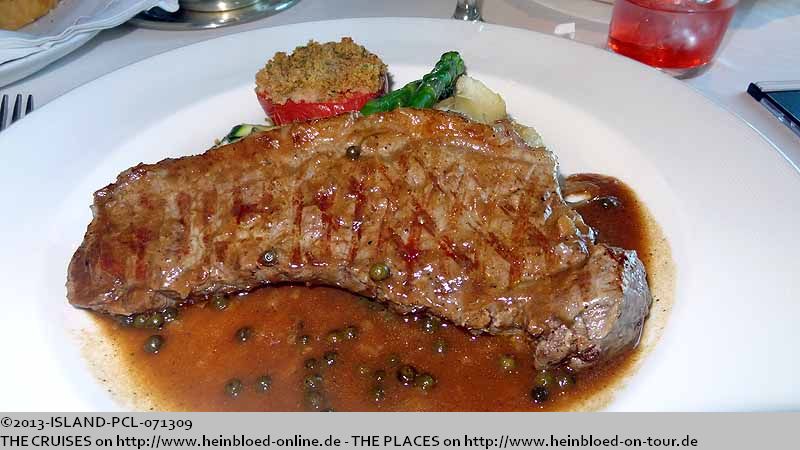 Steak... meine Welt...
Chimichurri... meine Welt...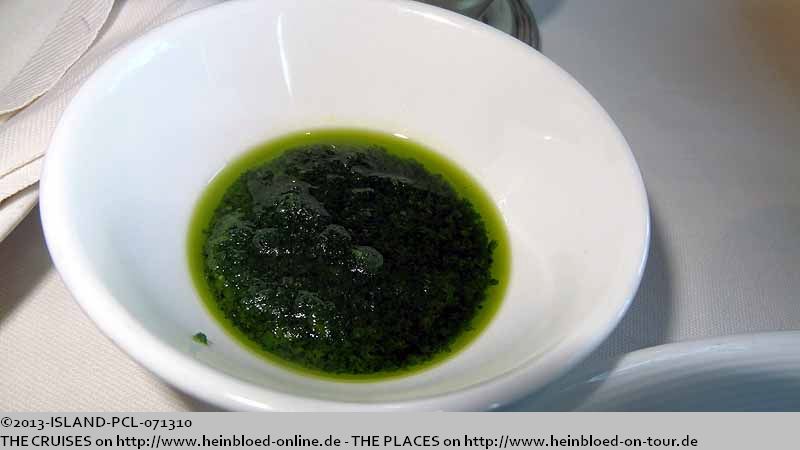 Chimichurri... my world...

Unfortunately, my steak was too well-done, so I got another. Here, Dave, Virgilio, and Fernando wanted to make sure that that time everything was perfect. I felt like a German comedy show (A scene everyone in Germany knows and can quote from this scene - therefore I cannot translate without you know the contents). But watch yourself: ;https://youtu.be/oqJCEYS9WdI. Even you might do not understand the words you might understand what happened.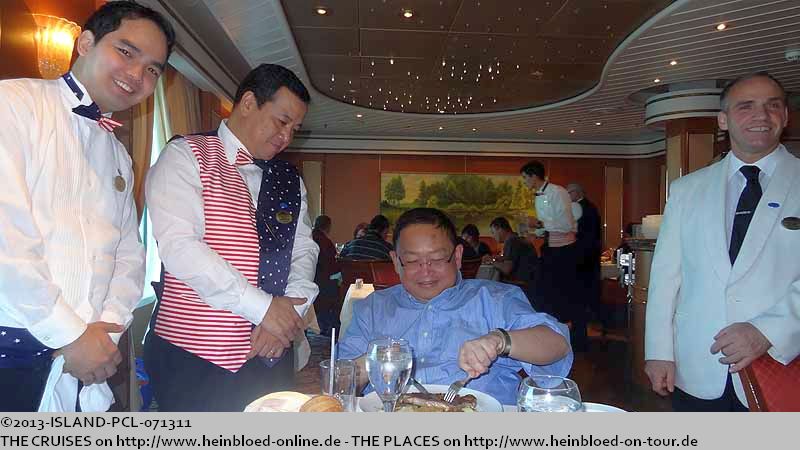 Leider war mir das Steak schon zu sehr durch, so dass ich ein zweites bekam. Hier wollten aber Dave, Virgilio und Fernando feststellen, dass dieses Mal alles in Ordnung ist. Und ich kam mir dabei vor wie bei
Loriots "Kalbshaxe Florida - Schmeckt's?
- Sie haben mir ins Essen gequatscht!" vor. Fehlte bloß noch die Mutter mit dem Kind "Nun lassen Sie doch mal das Kind nach vorne...".
Erstklassiger Service... Die Krümel werden weggemacht.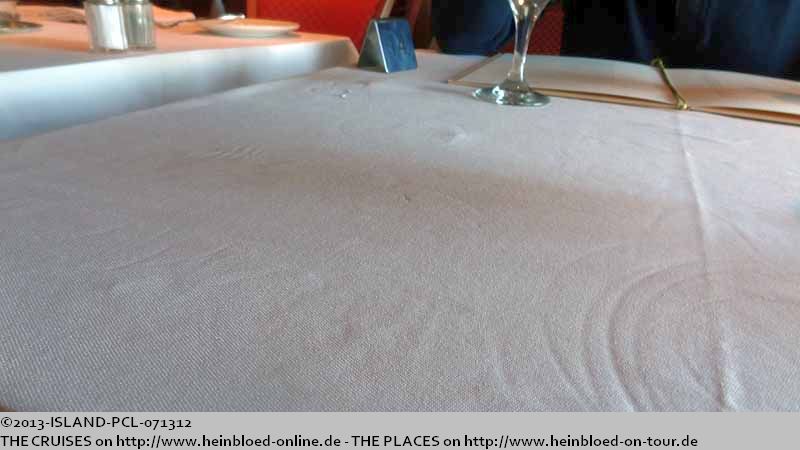 A first class service... the bread crumbs were removed.

We should try the Bake Alaska in Alaska. Must be. Again it was not available in a wholegrain-spelled-diet-sugarfree-fat-free-version. It was the last time that we were pampered so nicely. So you cannot say no.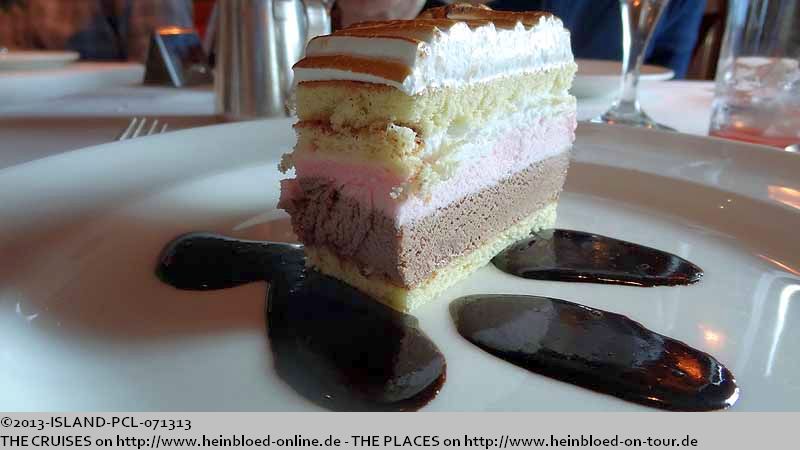 Wir sollen auf jeden Fall Bake Alaska in Alaska probieren. Muss sein. Gab es wieder nicht in der Vollkorn-Dinkel-Light-Zuckerfrei-Fettarm-Version. Es war ja nun das letzte Mal, dass wir so verwöhnt werden. Da kann man nicht einfach nein sagen.
Heute Abend hatten wir wirklich sehr viel Spaß.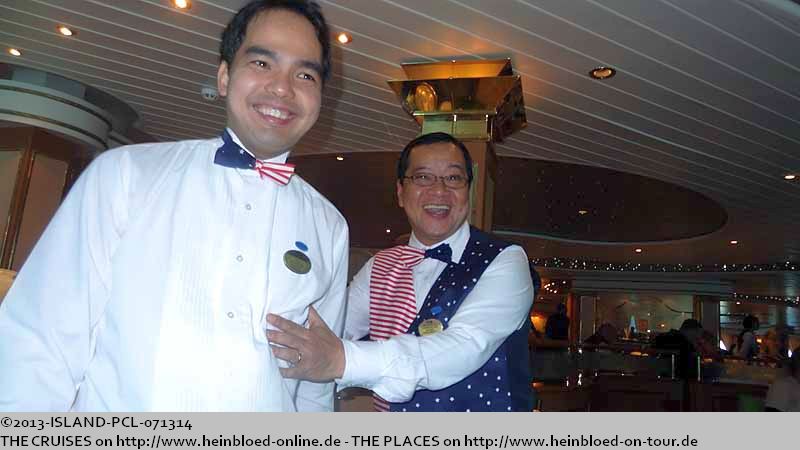 Tonight we really an outstanding experience and pleasure.

We thanked again with Jacques who was our Maître D'Hotel.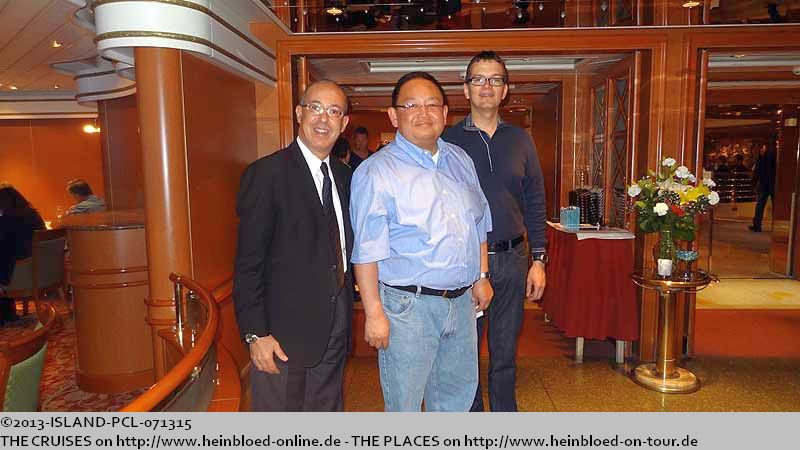 Wir bedanken uns auch nochmals bei Jacques, unserem Maître D'Hotel.
Er meint, dass wir noch ein paar Minuten noch für die Parade der Crew Mitglieder bleiben sollten. Diesem Wunsch kommen wir gerne nach. Sie haben es verdient, dass sie sich mal zujubeln lassen und wir uns mit unserem Applaus bei denen für die tolle Leistung bedanken.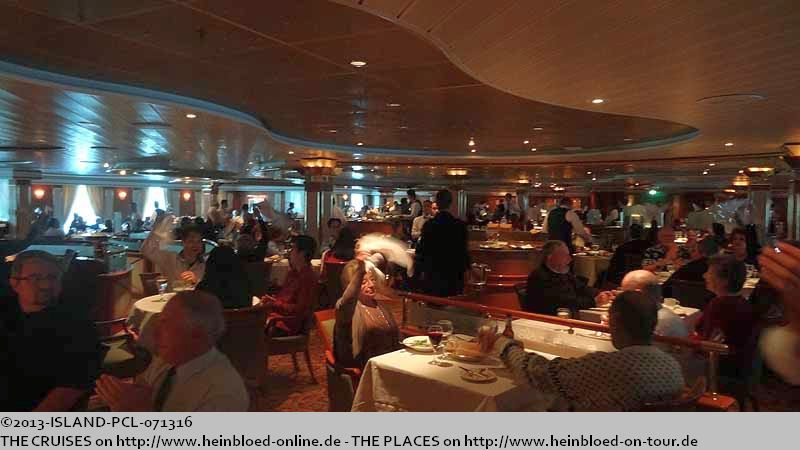 He recommended us to stay for another few minutes that we should not miss the parade of the crew members. Of course, we followed this recommendation. They deserved it that we could say cheer and applaud for their exceptional performance.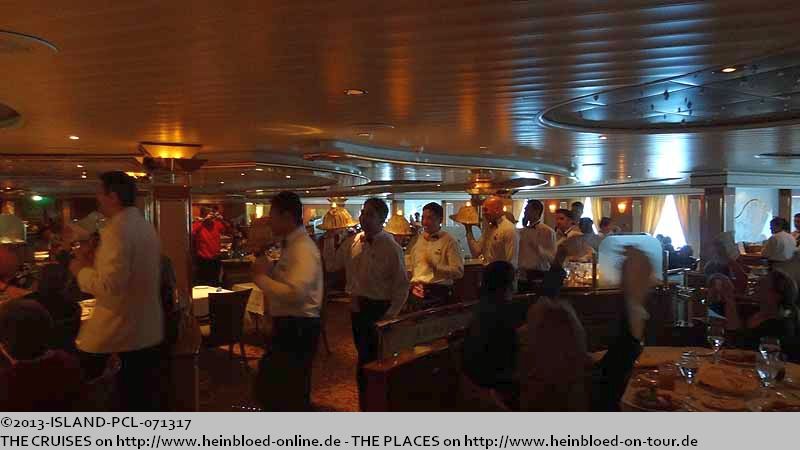 So sehr wir NCL lieben, aber man bekommt das wofür man bezahlt und das Essen hier bei Princess hier im Hauptrestaurant kommt schon an das Essen in den Zuzahlrestaurants bei NCL dran.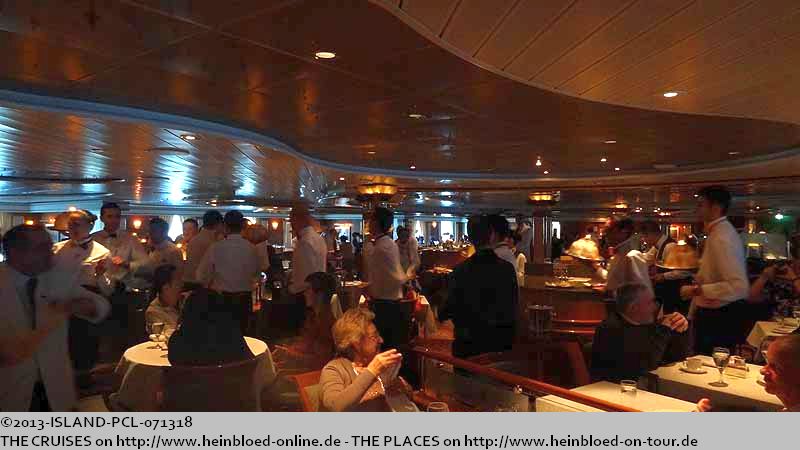 As much as we love NCL but you get what you paid for, and the food with Princess in the Main Dining Room could be compared with the food you get in alternative dining venues with NCL.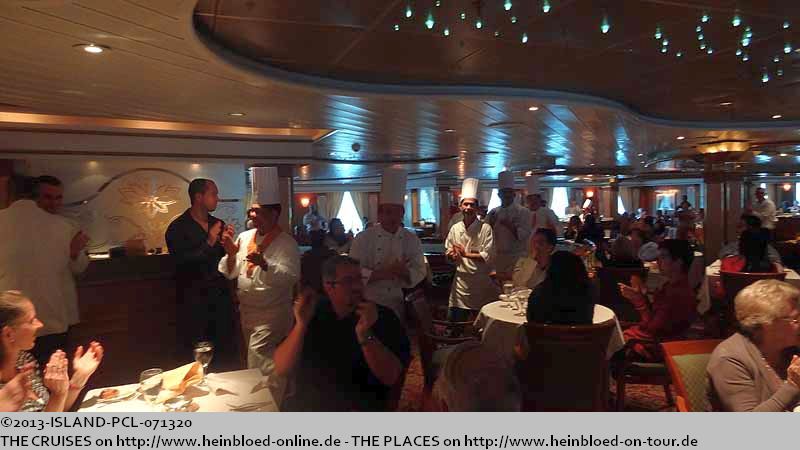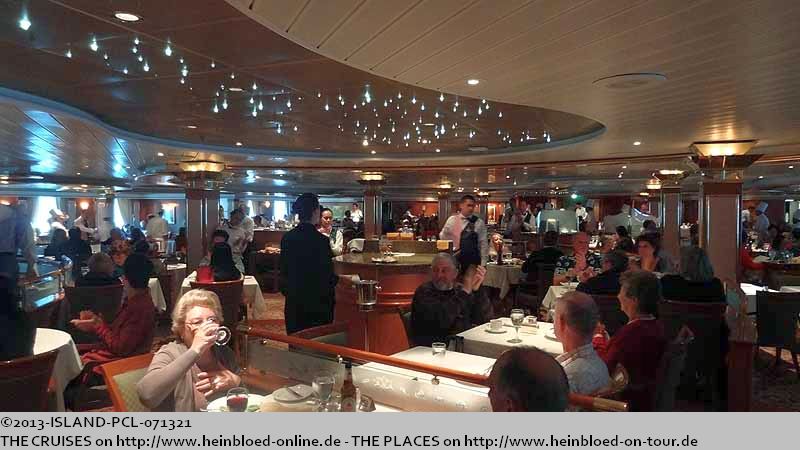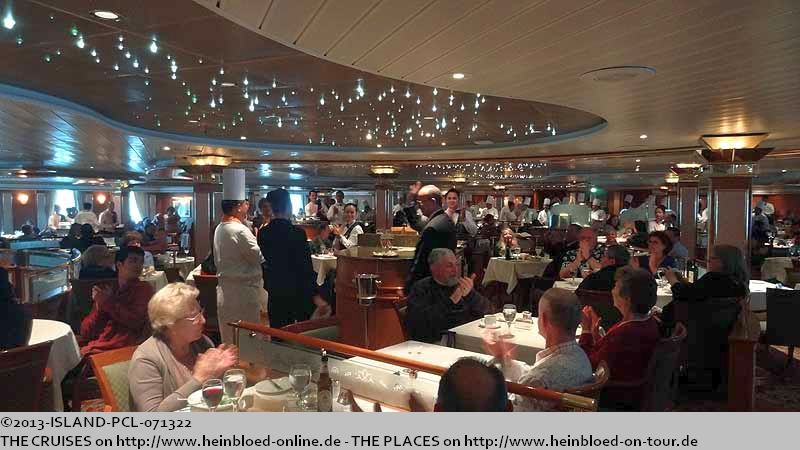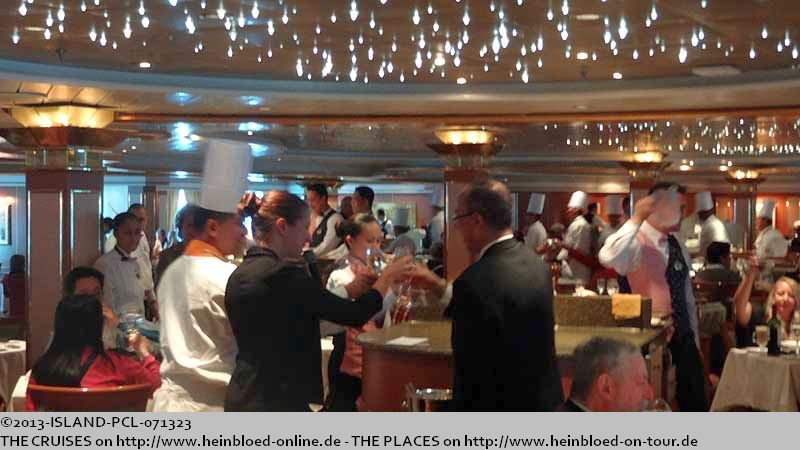 Wir gehen noch ein paar Minuten zu Dan Hodge, um mir die CD unterschreiben zu lassen. Ich habe die letzte im Laden gekauft.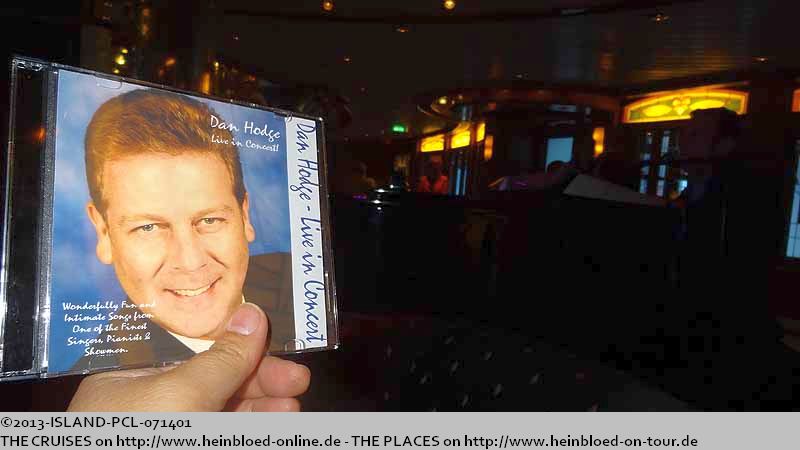 We went for a few minutes to Dan Hodge to let him sign his CD. I bought the last one in the store.

At last, I got a "The Way you look tonight", and it made me very happy.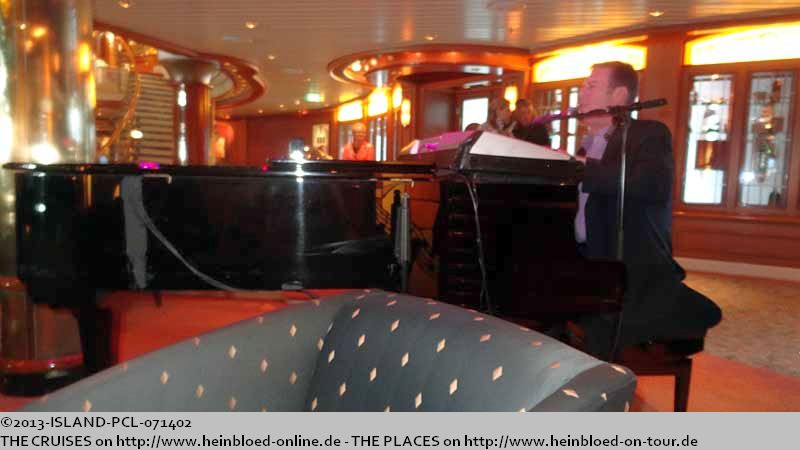 Zum Schluss bekomme ich noch ein "The Way you look tonight", worüber ich mich sehr freue.
Die anderen Reisen in diesem Blog/
The other voyages in this blog: