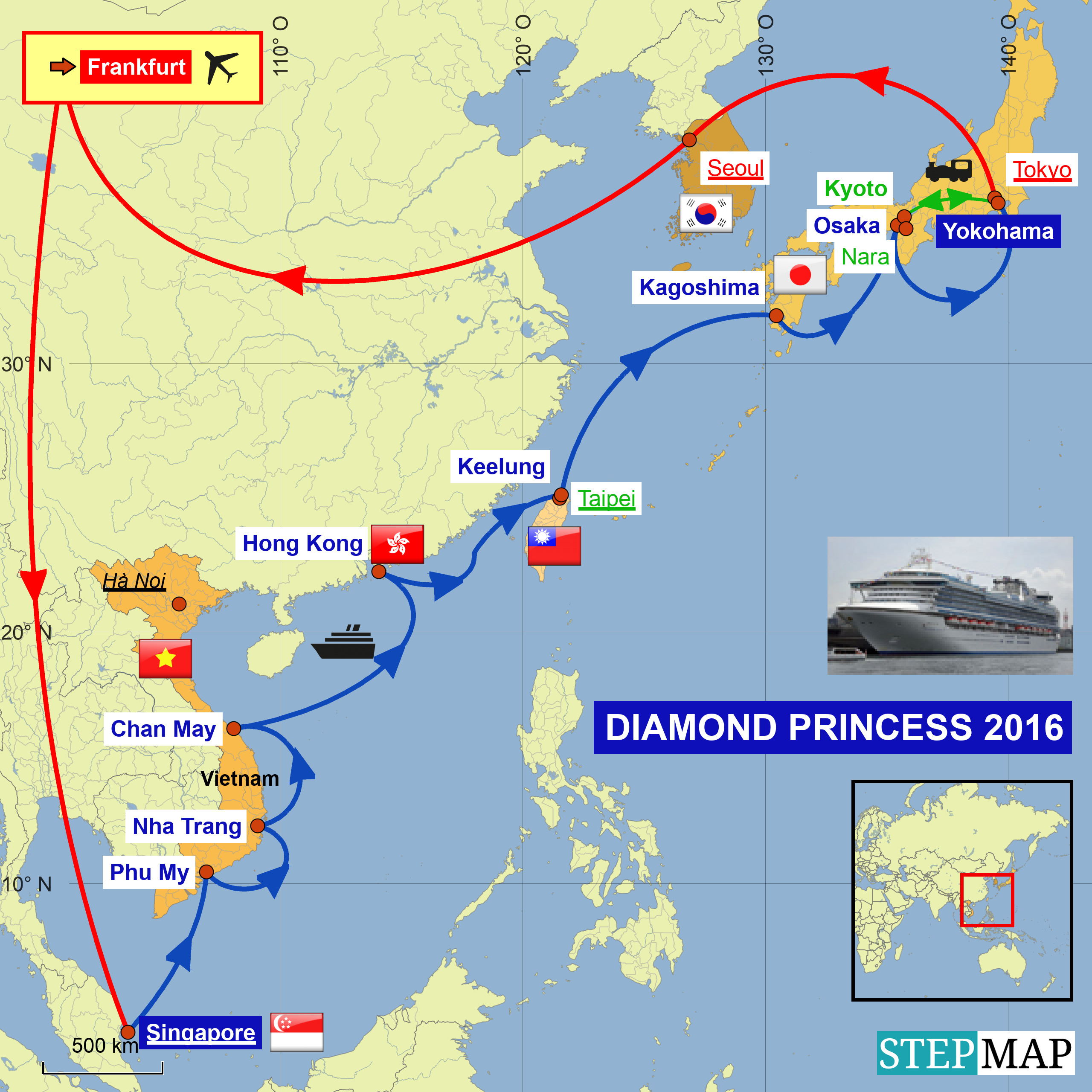 Japan - das Land der aufgehenden Sonne. Mein perfektes Sayonara bis zum nächsten Mal. Es gibt noch so viel zu entdecken. Und mal gucken, welche Touren Princess noch so bietet.

Japan - the land of the rising sun. My perfect Sayonara until the next time. There was so much to discover. And let us which itineraries Princess was offering.

As we booked a car to the airport, we could stay a little longer in our room, and we could see MY DIAMOND PRINCESS was arriving and we thought of the many sweet moments we had with many friends onboard.

Dadurch, dass wir einen Wagen zum Flughafen gebucht haben, konnten wir ein wenig länger in unserem Zimmer bleiben und wir sehen wie
MEINE
DIAMOND PRINCESS einläuft und wir denken an die vielen schönen Momente mit vielen Freunden an Bord zurück.
Bei der Abreise sehe ich erst, dass der Tresor mit einer Steckdose sogar ausgestattet ist.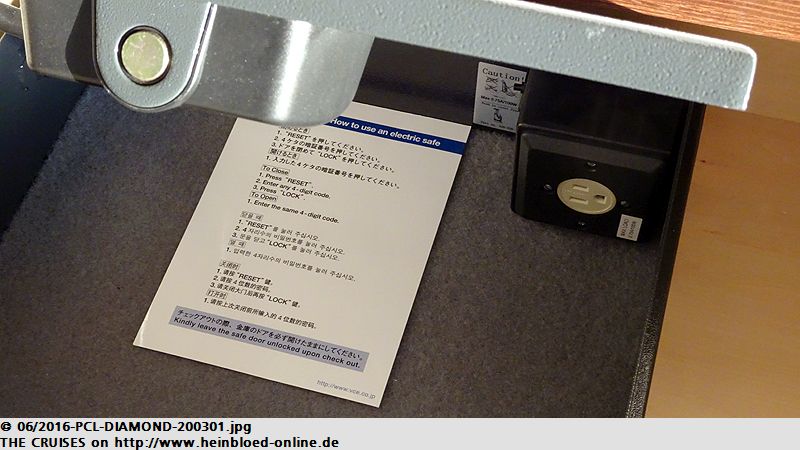 We saw when we were leaving that even there was a power outlet in the safe.

The last time we went through the lobby. Since our car arrived already, we were expected.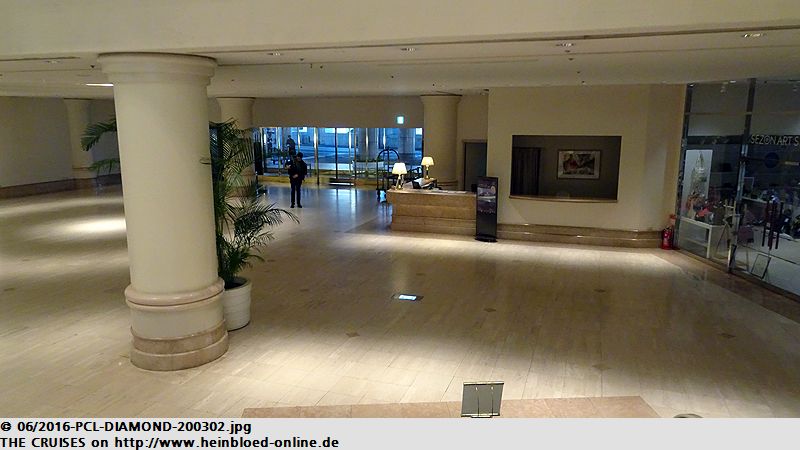 Das letzte Mal durch die Lobby. Wir werden schon erwartet, da unser Wagen wartet.
Ein tolles Fahrzeug wartet auf uns. Lederausstattung, WLAN, Filmchen wenn wir wollen. Und ein sehr netter Fahrer, den das Hotel für uns bestellt hat. Bereits um 06:50 Uhr sind wir am
Flughafen Narita
. Terminal 1. Südflügel.

A great vehicle was waiting for us. Equipped with leather, WiFi, Movies if we would like. And a very nice driver which the hotel ordered for us. Already at 06:50 hrs we arrived at Narita Airport. Terminal 1. South Wing.

A lousy surprise was waiting for us: the check-in counters opened at 07:00 hrs. Departure was 09:00 hrs and the security check was opened at 07:30 hrs. So we had the luck that we were here so early. We found out that Bruno's immigration inspection for Japan was invalid. His immigration officer had technical problems. So he did not get a sticker but a stamp. 15 minutes before departure they released him from the office of the immigration office. The gate-agents of Asiana were used to have this. They told me that they usually started 10 minutes before departure to get him out from the office of the border control to get him on time into the plane. I should calm down.

Hier erwarten uns ein paar böse Überraschungen: Die Check-In Schalter öffnen erst um 07.00 Uhr. Abflug ist um 09.00 Uhr und die Personen- und Handgepäckkontrolle öffnen erst um 07.30 Uhr. Wir haben Glück, dass wir so früh da waren. Es stellt sich heraus, dass die Einreiseprozedur in Japan von Bruno ungültig war. Sein Einreisebeamter hatte technische Schwierigkeiten. So hat er keinen Aufkleber bekommen, sondern einen Einreisestempel. Erst 15 Minuten vor Abflug wird er aus dem Büro der Grenzwache entlassen. Die Gate-Agents von
Asiana
sind das schon gewohnt. Sie meinen, dass sie erst 10 Minuten vor Abflug ihn aus der Grenzwache rausholen würden, um ihn noch pünktlich in den Flieger zu bekommen. Ich soll mich beruhigen.
Also gehe ich kurz in die
United Lounge
.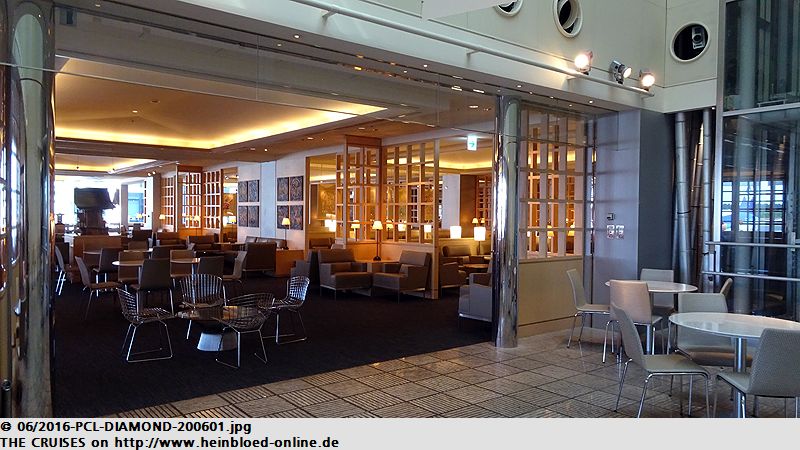 So I went quickly to the United Lounge.

I really would love to see the ANA Lounge, but due to Bruno's problems with the emigration, I better stayed close by.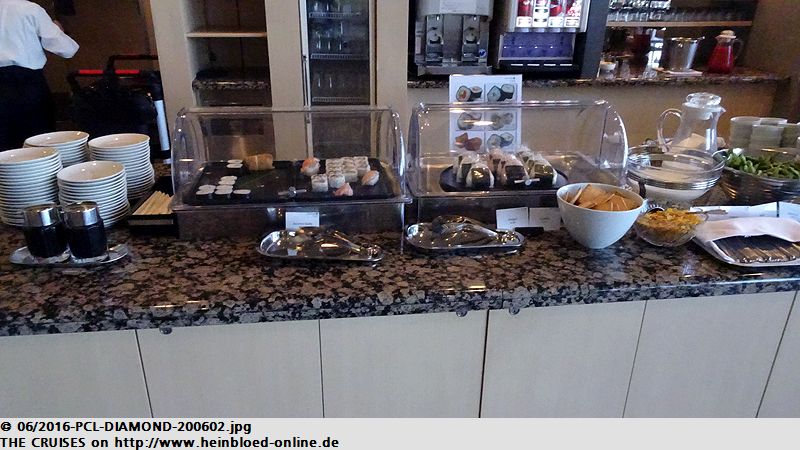 Ich wäre lieber zur
ANA Lounge
gegangen, aber angesichts Brunos Probleme bei der Ausreise, bleibe ich lieber in der Nähe.
Eine Miso-Suppe tut jetzt gut.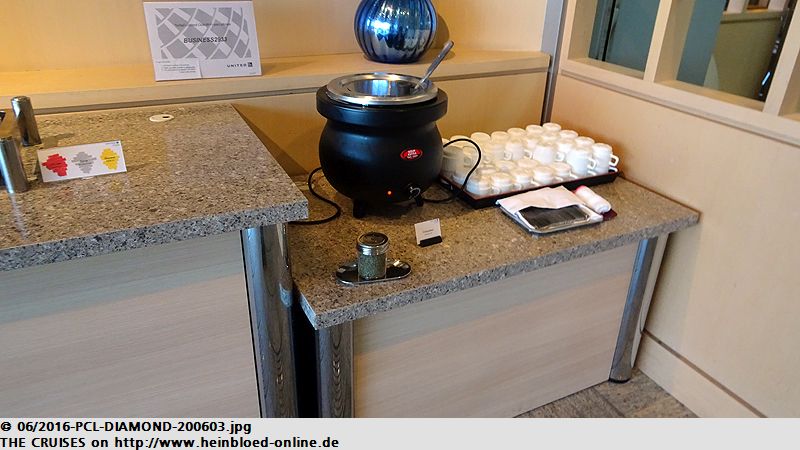 A Miso-Soup was right now.

It was more American-Japanese.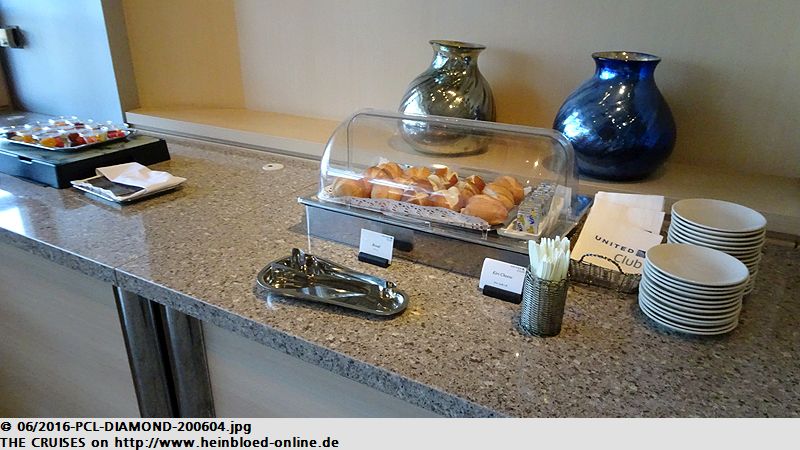 Ist eher amerikanisch-japanisch.
Pünktlich können wir beide mitfliegen: Es geht nach
Seoul-Incheon
. Leider nicht die modernsten Sitze, aber ein sehr schöner Service. Während Bruno lieber japanisches Essen haben und ich freue mich über das koreanische Essen und die Maisbrötchen: sehr lecker. Sehr schön ist der Ausblick über Japan. Ein letzter Gruß.

Both of us could join the flight: We were heading for Seoul-Incheon, Korea. Unfortunately not the most current seats but very nice service. While Bruno preferred to have Japanese food, I was happy to have Korean food and the corn roll: very yummy. Breathtaking was the view over Japan. A very last greeting.

In Seoul-Incheon we did not have so much time and needed to walk directly to our next gate. On our way, we could see some Korean folk. While we were transferring, we bought some vitamins.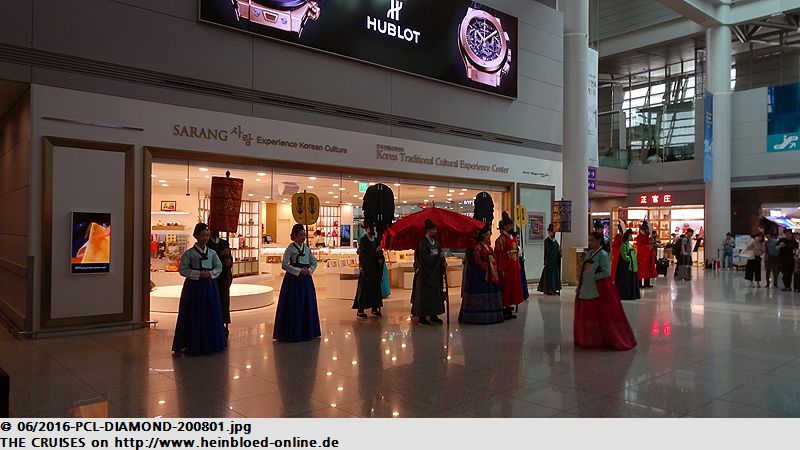 In Seoul-Incheon haben wir leider nicht viel Zeit und müssen direkt zu unserem nächsten Gate. Unterwegs sehen wir etwas koreanische Folklore. Ein paar Vitamine kaufen wir noch im Vorbeilaufen.
Weiter geht es nach Frankfurt. Leider eine alte Boeing 747-400 Mixed mit alter Bestuhlung. Wir erleben einen tollen Service. Nur leider dürfen wir die Stewardessen nicht fotografieren. Das Essen ist toll. Da wir aber tagsüber in Frankfurt landen, ist es nicht weiter schlimm, da wir nicht schlafen. Es war leider mein letzter Flug auf Meilen. Mehr habe ich nicht mehr. Nicht mal mehr für einen Inlandsflug mit Lufthansa zu Schnäppchenkonditionen.

We headed to Frankfurt, Germany. Unfortunately, an old Boeing 747-400 Mixed with old seating. We experienced outstanding service. But we were not allowed to take pictures of the stewardess. The food was delicious. Sind we landed during the daytime in Frankfurt it was not so bad that we did not sleep. It was my last flight on miles. More I did have anymore. The miles I had did not last for a domestic flight with Lufthansa at saver condition.

We should get a check very quickly, but this did not work since we had a German address. We knew from Frances that she had her already. So we asked since we would need the check soon to pay for our voyage on KONINGSDAM and wanted to use the refund for. The check was sent to Frances. But they made it out to me by mistake. So the check needed to be sent to Germany to endorse. But everything worked fine. Such uncomplicated fellow-cruisers we loved to take with us on our voyages.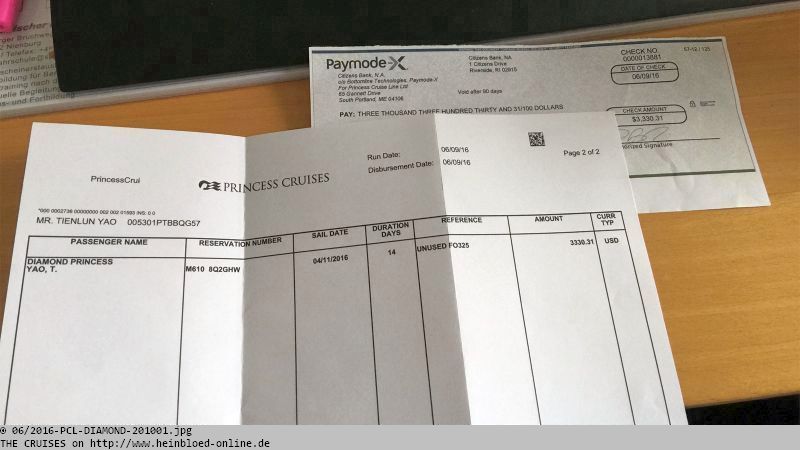 Wir sollten ja schnell unseren Scheck bekommen, aber das klappte bei uns wegen der deutschen Anschrift nicht. Von Frances wussten wir ja, wann sie ihn schon hatte. So fragen wir nach, weil wir bald unsere Reise auf der KONINGSDAM zahlen müssen und dafür den Scheck gerne verwenden wollen. Der Scheck wird dann zu Frances geschickt. Nur blöderweise auf meinen Namen. So muss der Scheck einmal nach Deutschland, um indossiert zu werden. Hat aber alles noch geklappt. Solche unkomplizierten Mitreisende nehmen wir gerne auf unseren Reisen mit.
Eine Erinnerung von der Rückreise war der Film "
Von 5 bis 7 - Eine etwas andere Liebesgeschichte
". Den fand ich so toll, dass ich ihn in Deutsch (auf einem koreanischen Flieger!!!), Englisch und Französisch gesehen habe. Hauptdarsteller: Anton Yelchin (leider vor kurzem verstorben) und Bérénice Marlohe, die man an aus dem James Bond 007 Film "
Skyfall
" kennt. Ein Film aus New York, der mich auf unsere Reise mit der QUEEN MARY 2 vorbereitet. Wir MÜSSEN uns alle Drehorte des Filmes während der drei Tage in New York ansehen. Zu Hause gibt es den Film nicht zu kaufen oder zum herunterladen. So bestellen wir ihn in Großbritannien. Und seit 22.07.2016 ist er auf dem deutschen Markt... Grrr....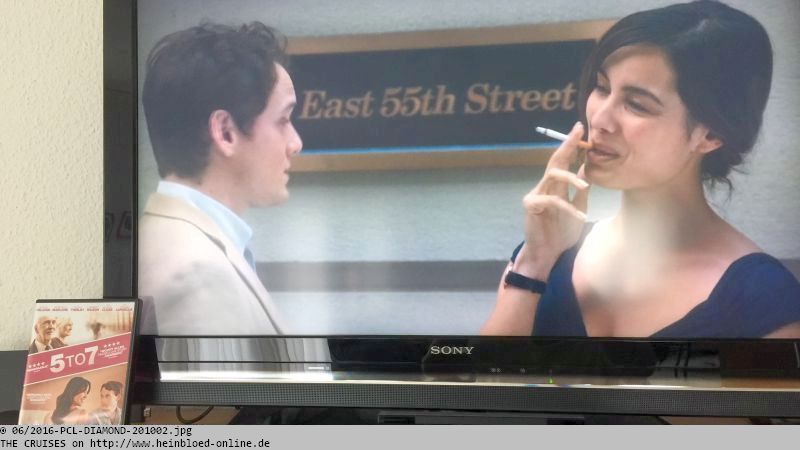 One memory from the return journey was the movie "5 to 7". I loved the movie so much that I watched it in German (in a Korean aircraft), English, and French. Actors in a leading role: Anton Yelchin (unfortunately passed away recently) and Bérénice Marlohe who you might know from James Bond 007 movie "Skyfall". A movie from New York, NY, which I used to prepare our voyage of QUEEN MARY 2. We NEEDED to see all film-sets of the movie during the three days in New York. Back at home, it was impossible to buy the movie or to download. So we ordered it in the UK. Since July 22, 2016, we could get it on the German market too... grrr...

I loved the end of the movie and also this voyage even there was not a full, happy end. But there was no more to tell. Anyhow the ship and the places surprised us nicely. And Princess made us addicted - Now we urgently needed to become an Elite status. And Japan made addicted. It was (nearly) everything perfect. An (almost) ideal voyage. It was all quite good... We wanted more Princess, and we wanted more Japan.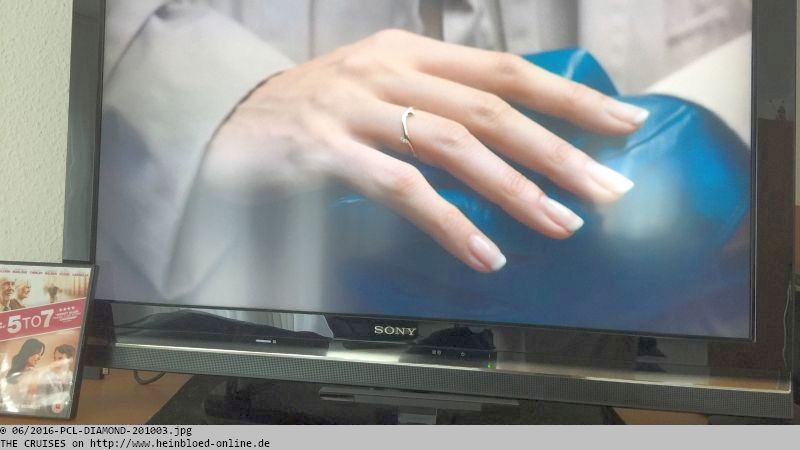 Ich liebe das Ende des Films und auch diese Reise, auch wenn es kein vollständiges Happy End ist. Aber mehr gibt es nicht mehr zu erzählen. Auf jeden Fall haben uns Schiff und Orte wieder positiv überrascht. Auch Princess macht süchtig - Nun müssen wir dringendst Elite Mitglieder werden. Und Japan macht auch süchtig. Es stimmte (fast) alles. Eine (fast) perfekte Reise. Das war wirklich alles ziemlich zu gut... Wir wollen mehr Princess und wir wollen mehr Japan.
Die anderen Reisen in diesem Blog/
The other voyages in this blog: