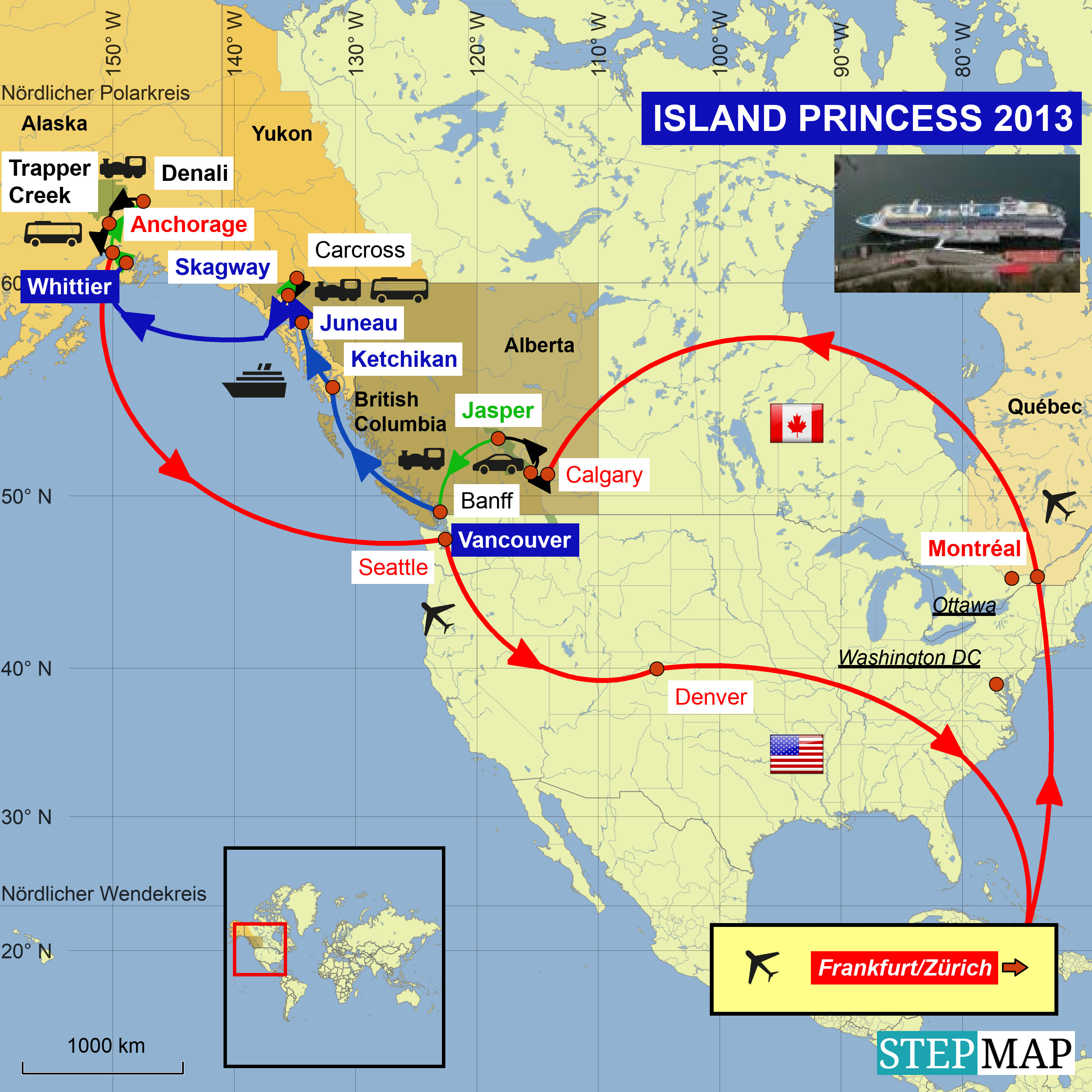 Wir fahren zunächst mal zum Bahnhof Jasper. Wir haben quasi von Montréal nach Vancouver das letzte 1/6 vor us. Also 534,9 m = 860.8 km.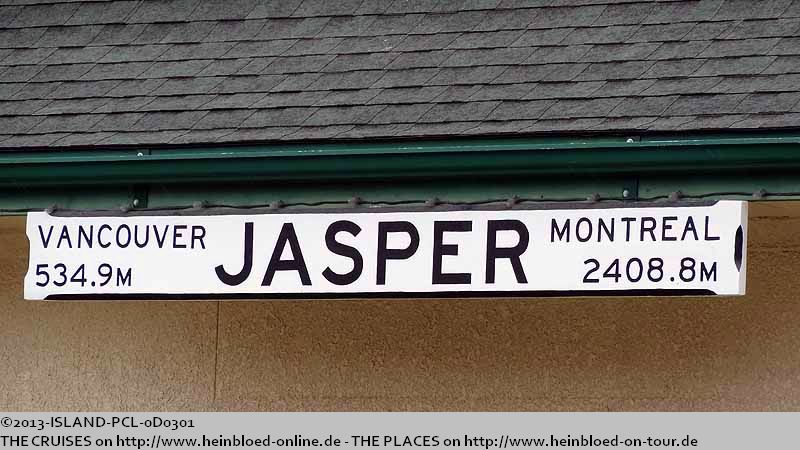 First we went to Jasper Train Depot. So we had the last 1/6 to go: 534.9 m = 860.8 km.

Here also the Rocky Mountaineer stops. They had day trains between Jasper, Calgary and Vancouver (and other destinations). But they had no sleeping cars as they only run during daytime and you had to stay overnight in hotels.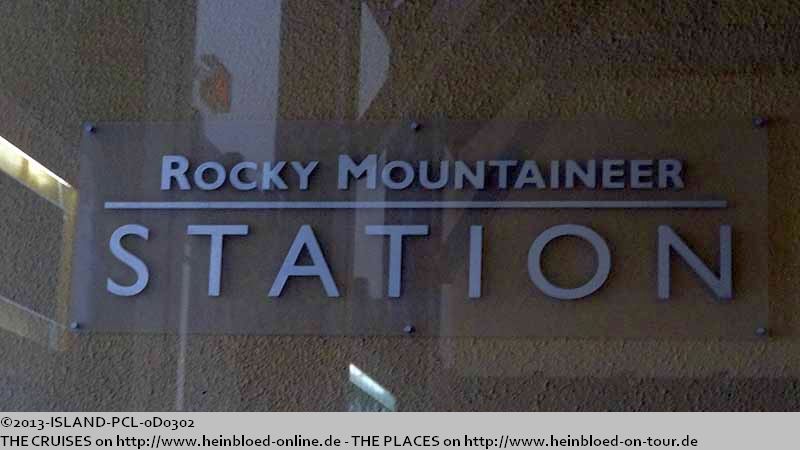 Hier hält auch der
Rocky Mountaineer
, der auch Züge zwischen Jasper, Calgary und Vancouver (und noch andere) betreibt. Aber die Züge fahren nur tagsüber, da sie keine Schlafwagen haben und man übernachtet in Hotels.
Auch geht es dort etwas vornehmer zu: siehe Regenschirme.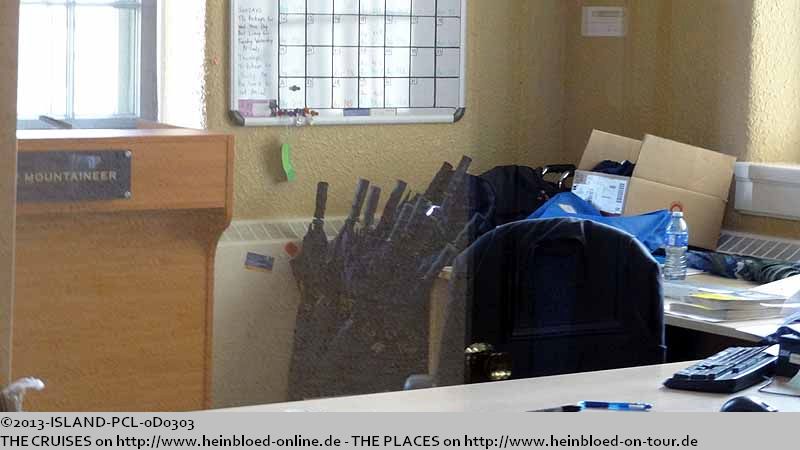 Here it looked more elegant: look at the umbrellas.

There in the back, you had their train...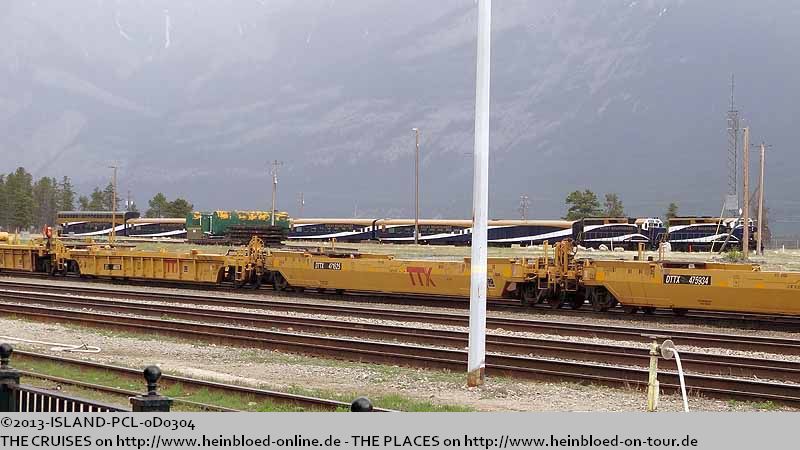 Dahinten steht der Zug...
Lauter Red Leaf Wagen... (3. Klasse).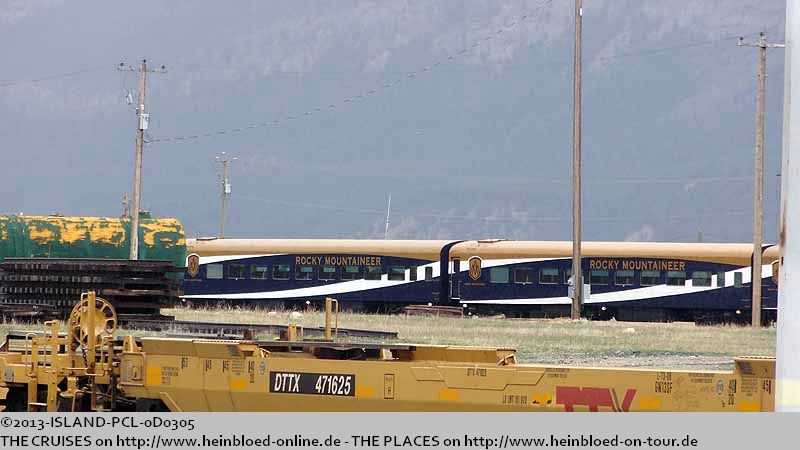 Only Red Leaf cars... (3rd class).

And only one Gold Leaf car (1st class).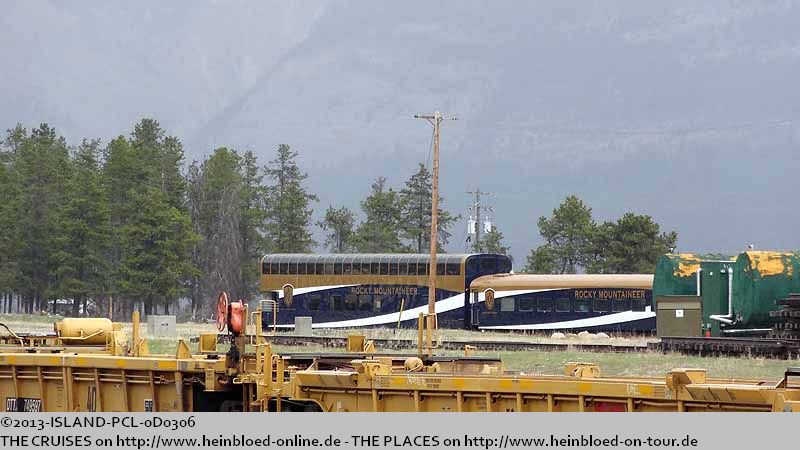 Und bloß ein Gold Leaf-Wagen (1. Klasse).
Wir sind jedoch mit
"The Canadian" von VIA Rail Canada
unterwegs. Das hatten wir mal im Sonderangebot für knapp 800 CAD (für uns beide für eine Nacht in einem 2-er Abteil mit eigener Toilette und Sammeldusche) bekommen. Abgesehen davon, dass es zeitlich nicht gepasst hätte, weil man ja unterwegs in Kamloops übernachtet, hätte die Fahrt für uns beide in der 3. Klasse bereits 1.700 EUR (!!!) gekostet und es wären bloß zwei Mahlzeiten inkludiert (Kalte Mahlzeiten tagsüber am Platz - Abendessen auf eigene Kosten in Kamloops). Also müssen wir zunächst unser Gepäck aufgeben, wie an einem Flughafen.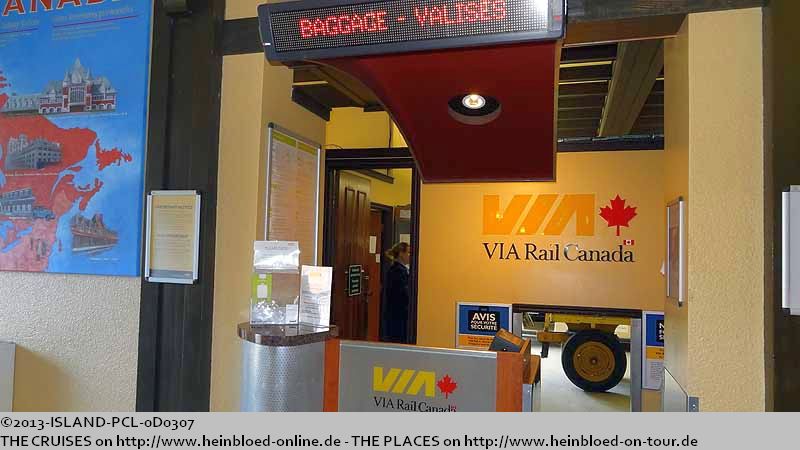 We went by "The Canadian" by VIA Rail Canada. We made a great bargain and paid less than 800 CAD (for both of us in a double cabin with a toilet of our own but collective shower). Besides it would not fit the schedule because you had to stay overnight in Kamloops, the ride in the 3rd class would 2,300 USD (!!!), and only two meals would be included (cold meat during the day - dinner on your won in Kamloops). So we had to check-in our bags like at the airport. In Europe, we carry our bags ourselves with us.

They noticed immediately that Air Canada marked our bags as too heavy (more than 50 lbs.) but when they saw it was only 2 lbs. they did not say anything.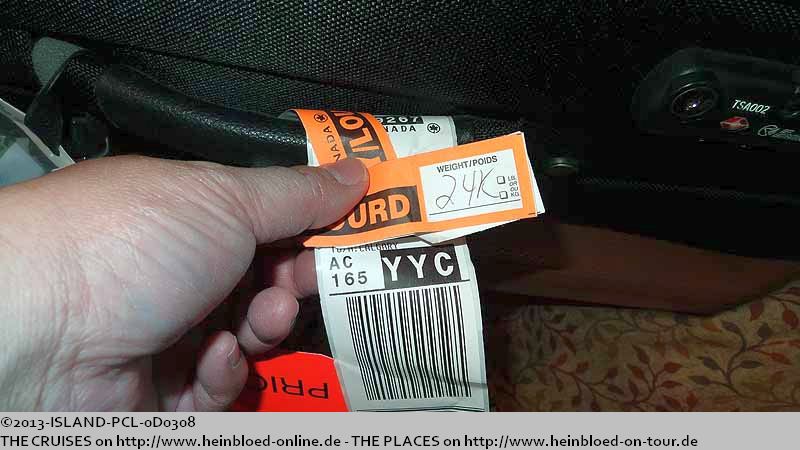 Es wird sofort bemerkt, dass Air Canada unser Gepäck bereits als schwer (über 23 kg) gekennzeichnet hat. Als man sieht, dass es sich bloß um 1 kg handelt, nimmt man es gelassen.
Wir sind im Wagen 121 im Abteil A. Einstieg ist erst kurz vor Abfahrt. D. h. obwohl der Zug planmäßig einen längeren Aufenthalt von 90 Minuten hat, sollen wir nicht vor 14.15 Uhr wieder am Bahnhof sein.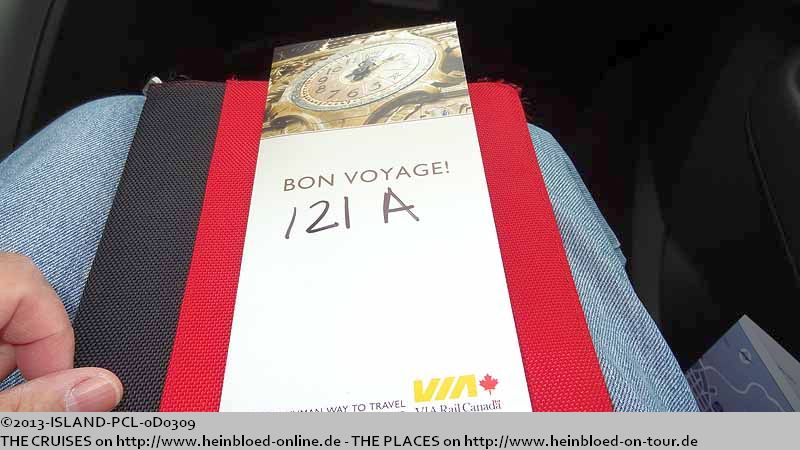 We should be in car 121, cabin A. Boarding should be just before departure. I. e. although the train supposed to have a scheduled stay of 90 minutes we should not be back before 14.15 hrs at the station.

Really like with a flight.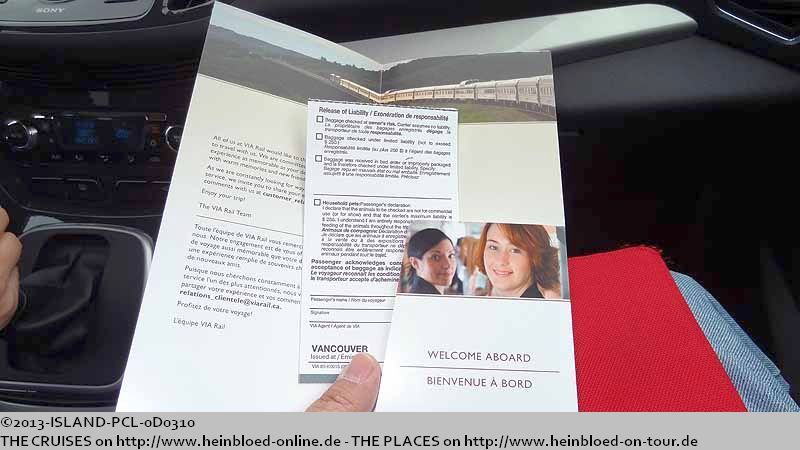 Wirklich wie im Flugzeug.
Nun eine elektronische Anzeige erübrigt sich... 3 x wöchentlich im Sommer und 2 x im Winter geht es in beide Richtungen. Und ansonsten gibt es noch den Abzweig nach Prince Rupert, ABER da ist nichts mit Anschluss am Parallelbahnsteig und sofort weiter... nein: Anschluss - gibt es nicht. Der Weg ist das Ziel und d. h., dass man in Jasper übernachtet, bevor es vielleicht Tage später weiter geht. So heute ist um 12.45 Uhr der Zug nach Prince Rupert bereits abgefahren, während unser Zug um 13.00 Uhr erst planmäßig ankommt. So passt das nicht mit meinem Denken als Vielfahrer der Deutschen Bahn: Jede Stunde, jede Klasse. Nächster Anschluss dann am Mittwoch...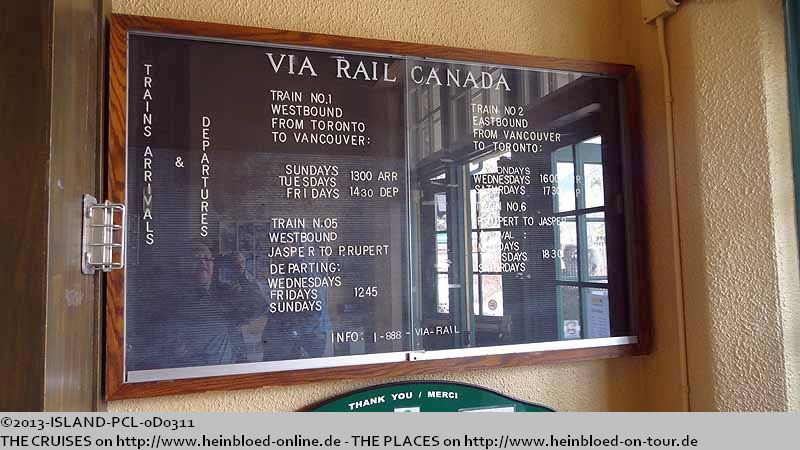 There was no need for an electronic display system... 3 times weekly in the summer and 2 times in the winter you go to both directions. Furthermore, there was a branch to Prince Rupert, BUT there was no immediate connection at the opposite track at same platform... no: connection? No link. The way is the destination and i. e. you had to stay overnight in Jasper before you can continue in maybe a couple of days. Like today the Prince Rupert bound train left 12.45 hrs while our train supposed to arrive at 13.00 hrs. That did not fit into my thinking as a frequent traveler of German Railways: every hour, every class. Next connection on Wednesday...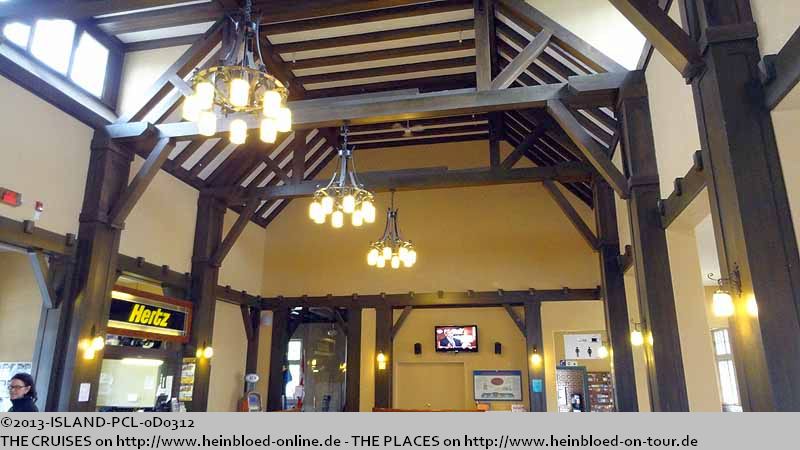 At least we had complimentary WiFi.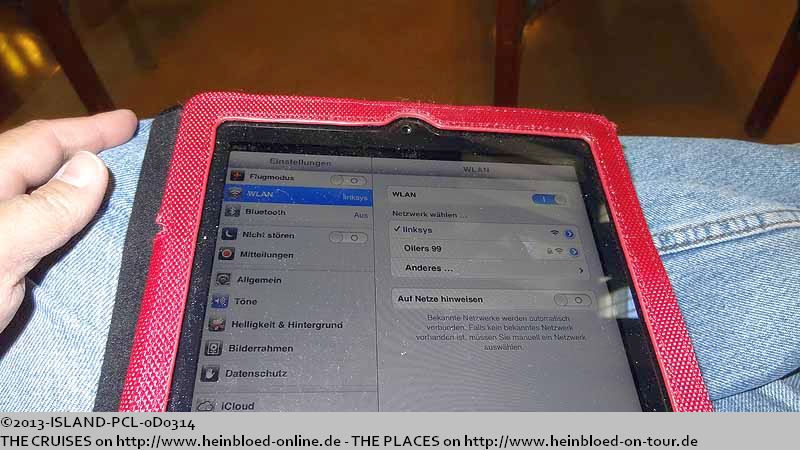 Wenigstens gibt es hier kostenlos WLAN.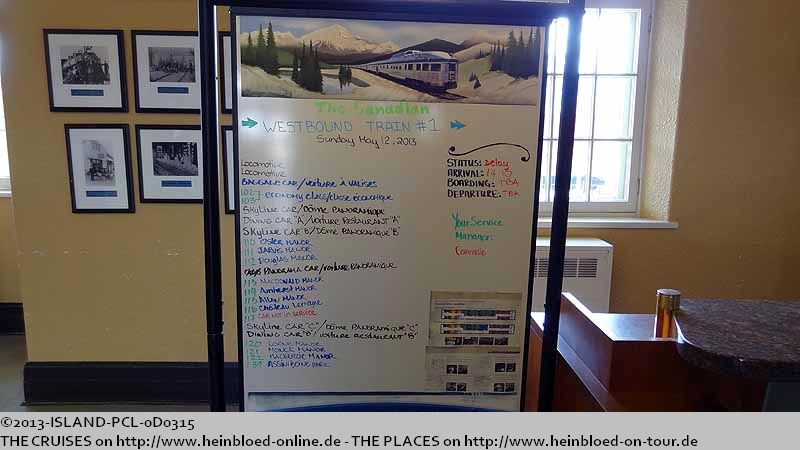 So we would be mostly at the rear of the train. But we had luck as it was a modernized Manor-Car.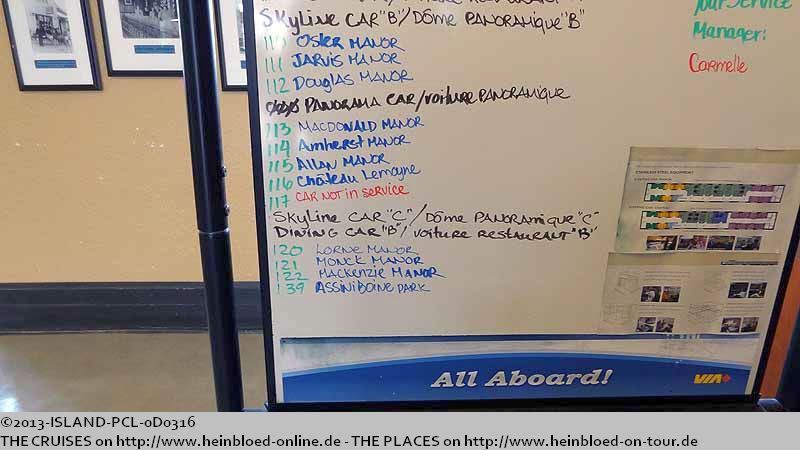 Wir sind also ziemlich weit hinten im Zug. Zum Glück ein modernisierter Manor-Wagen.
Ab und zu fahren noch die unrenovierten Chateau-Wagen mit.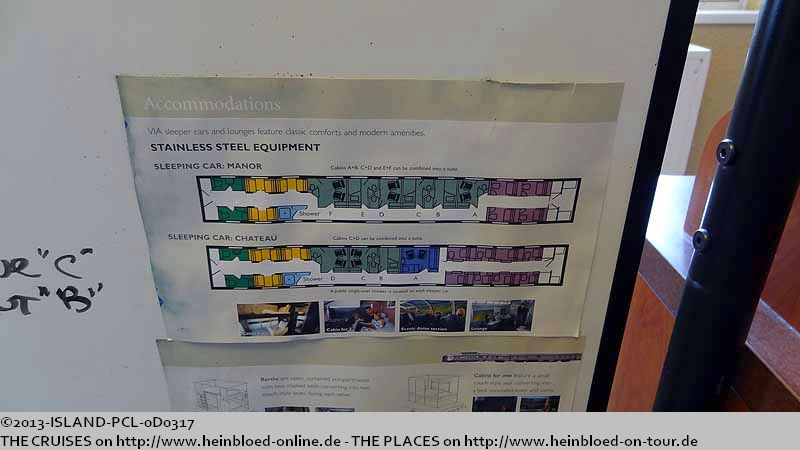 So occasionally you still found the unrenovated Chateau-Cars.

Well done... Delay... Arrival 14.10 hrs... We could easily continue at 14.30 hrs immediately. Why did no they write it on the board?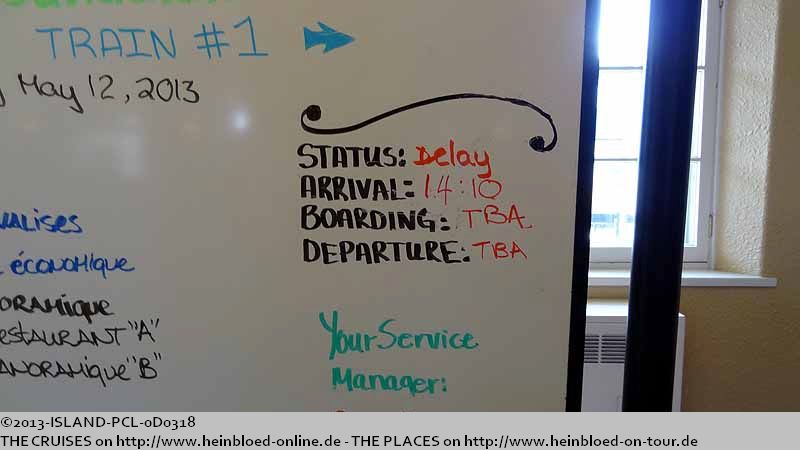 Na prima... Verspätung... Ankunft 14.10 Uhr... aber wir können doch sicherlich um 14.30 Uhr direkt weiter. Warum schreiben sie es nicht an die Tafel?
Der Himmel wird immer blauer. Wir könnten ja noch etwas unternehmen... Bloß müssen wir den Wagen bis 12.00 Uhr abgegeben haben.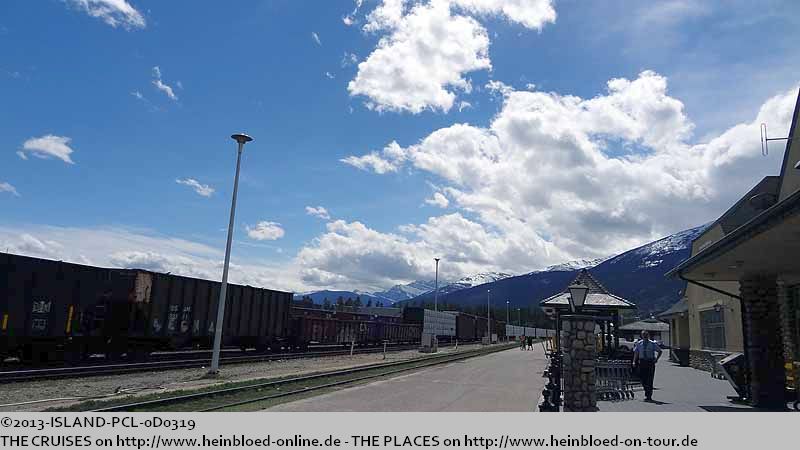 The sky became more blue and blue. We could do something else.... But unfortunately we had to return the car until 12.00 hrs.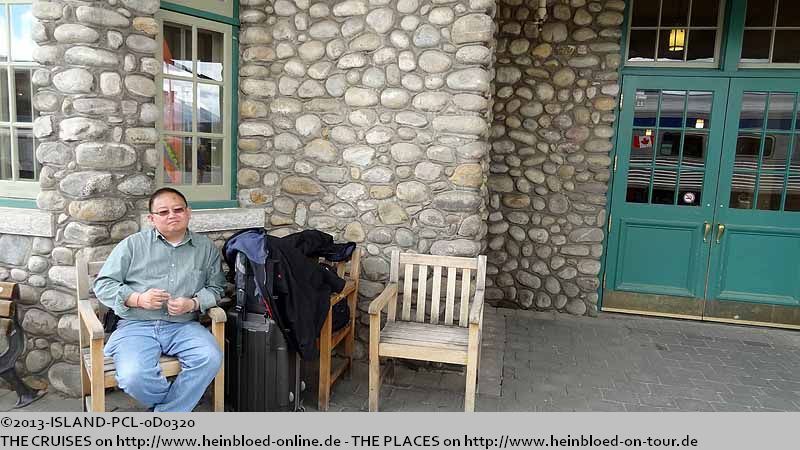 National und Hertz sitzen direkt im Bahnhof, aber deren Autos waren im Einweg unbezahlbar.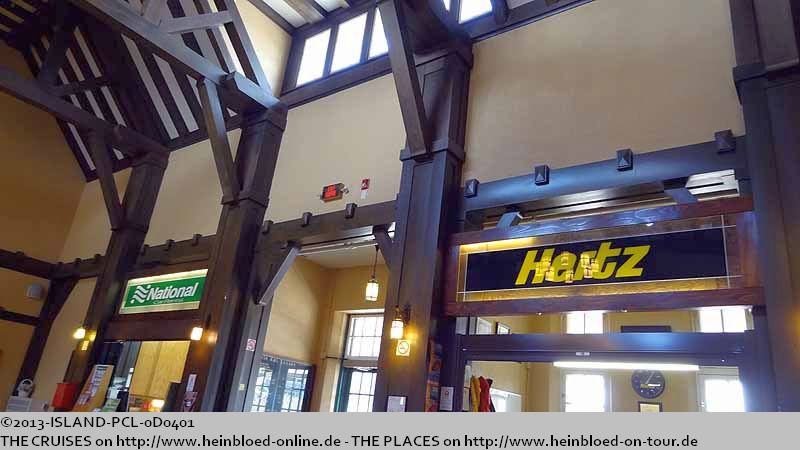 National and Hertz were based directly in the train station but their cars were unaffordable with a one-way rental.

If you look over the parking, you find in the back Budget.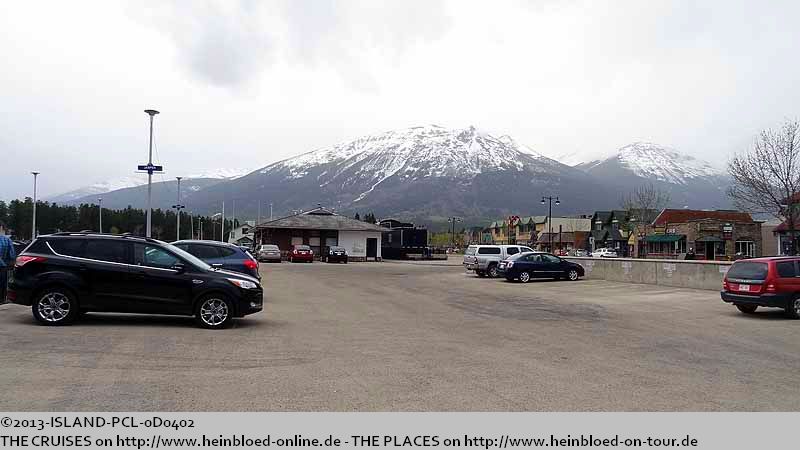 Wenn man in die Richtung des Parkplatz guckt, sieht man Budget.
Aber ganz versteckt, bei der Shell-Tankstelle und einer der wenigen Budget-Stationen, die noch nicht mit Avis zusammengeführt wurden, aber auch hier war ein Einweg unbezahlbar.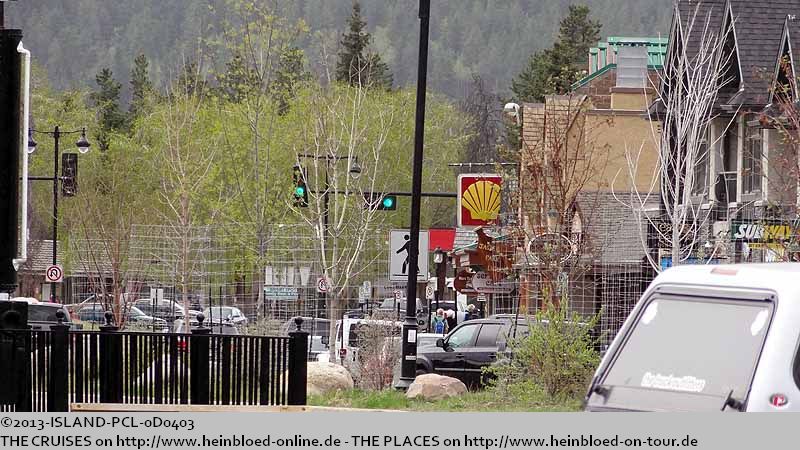 But very hidden with the Shell gas station and one of the fewer Budget locations which were not unified with Avis. Anyhow they were unaffordable as one-way either.

And Avis was just transversal of the train station. And I always thought that Jack Wolfskin was a German brand...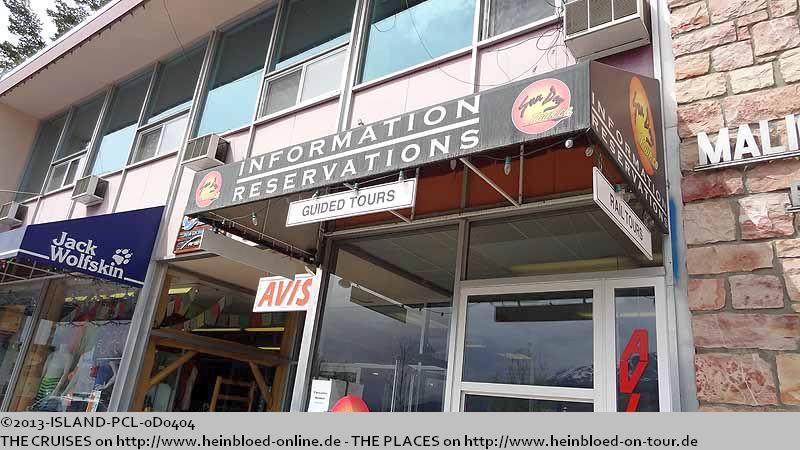 Und Avis war hier schräg gegenüber vom Bahnhof. Und ich dachte, dass Jack Wolfskin eine deutsche Marke ist...
Also so schräg gegenüber.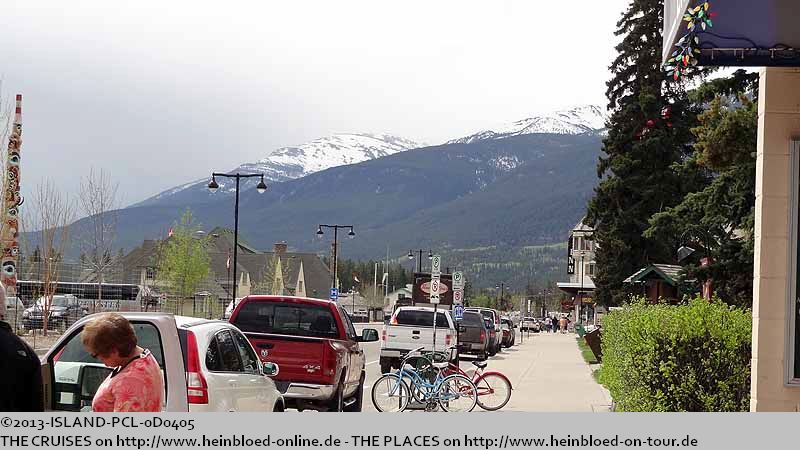 So very transverse.

By the way: gas was here only 1.189 CAD/ liter... Just imagine that we paid the day before 1.609 CAD/ liter.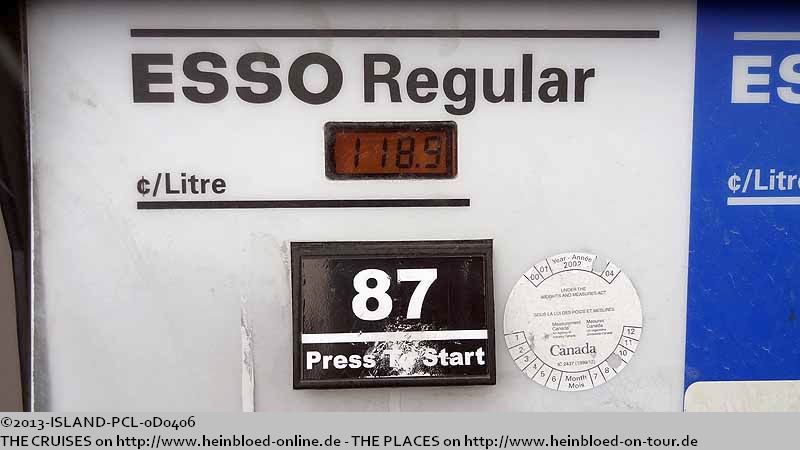 Hier kostet das Benzin nur 1,189 CAD/Liter... Wenn man sich vorstellt, dass wir gestern noch 1,609 CAD/Liter bezahlt haben...
Ein Schlüssel an dem man sich gewöhnen muss... wenn man sich vom Wagen wegbewegt, wird er automatisch abgeschlossen und man kann den Motor nur anlassen, wenn der Schlüssel sich im Wagen irgendwo befindet.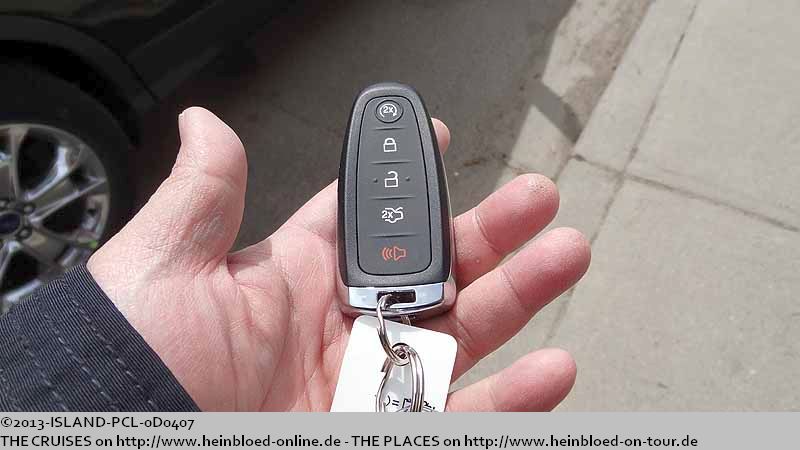 A key you must become familiar with... just when you moved away from the car the car was locked automatically, and you can start the engine only when the key was somewhere inside the vehicle.

That was a great ride.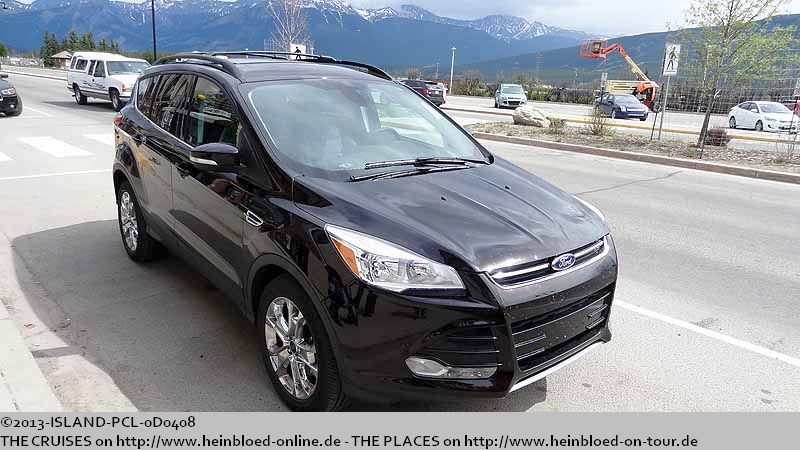 Das war eine sehr schöne Fahrt.
Nun wollen wir doch nichts mehr unternehmen, weil sich das Wetter sehr schnell ändert.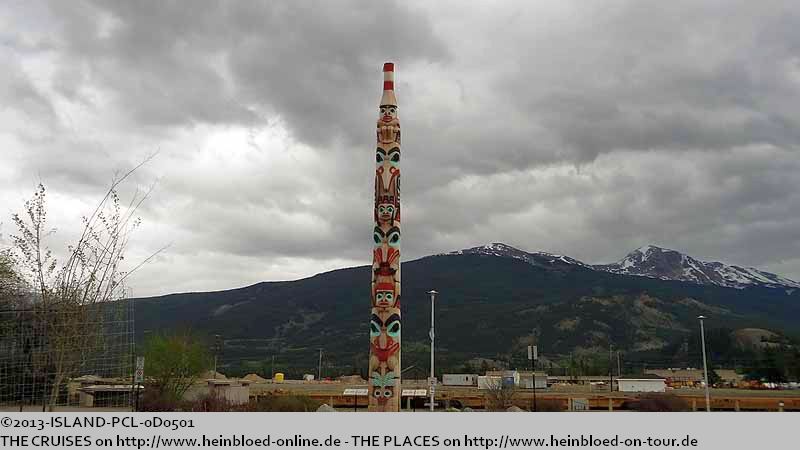 So we decided not do anything else as the weather changed so quickly.

Somewhere close by there was a sign with Cantonese kitchen... but you must expect here in Jasper that this was Cantonese kitchen for Canadians...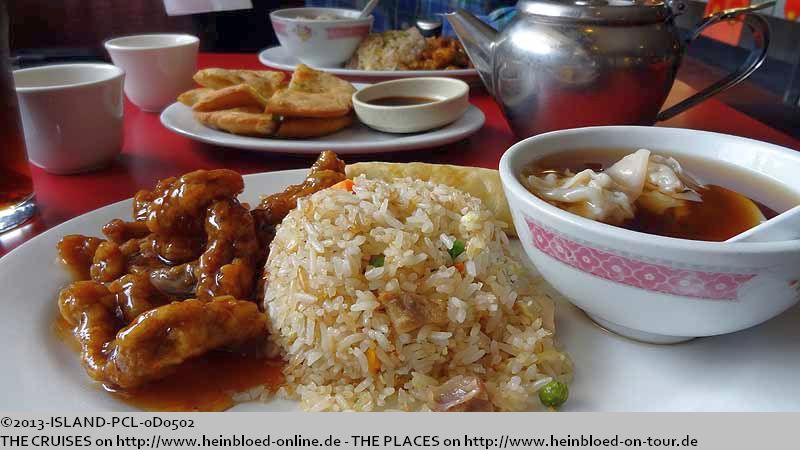 In der Nähe sehe ich ein Schild mit kantonesischer Küche... aber in Jasper muss man damit rechnen, dass es kantonesische Küche für Kanadier ist...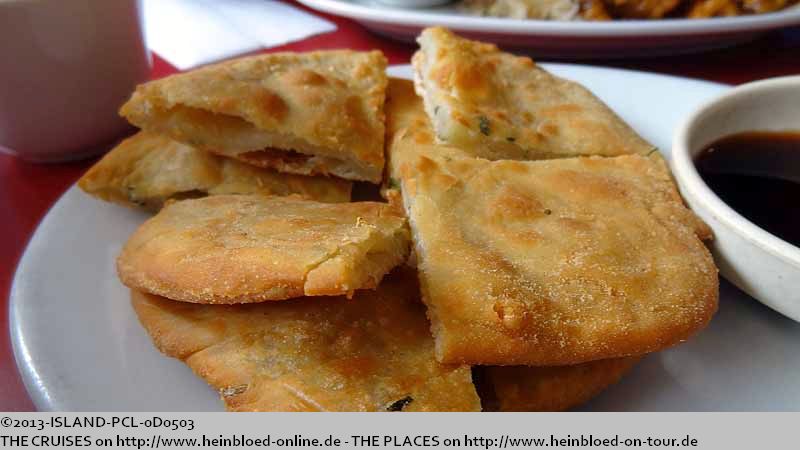 So I had to buy in the station another self-made sandwich and for Bruno a Cappucino made from a Barista-machine. It was not very helpful there, but apparently, it was only open for the revenue of the transit guests. Currently, it was still open because the train has not arrived yet. But the sandwich was delicious.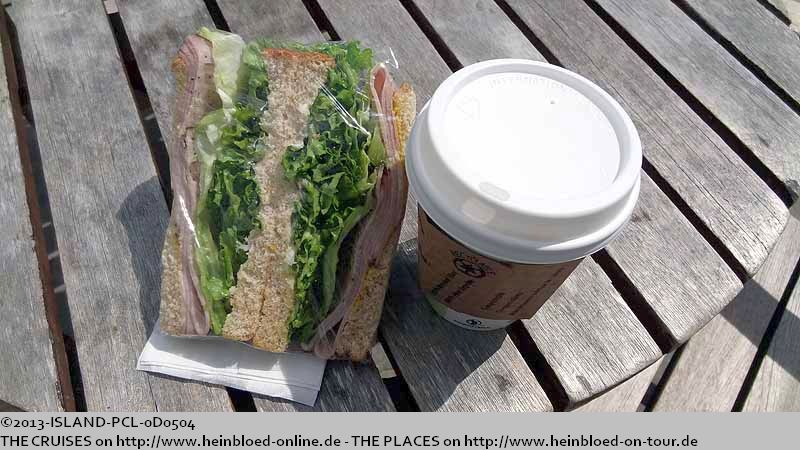 Also kaufe ich im Bahnhof ein selbstgemachtes Sandwich und für Bruno einen Cappucino aus einer Barista-Maschine. Besonders nett geht es dort nicht zu: sie hat eigentlich bloß noch offen, weil der Zug noch nicht da ist und sie nur vom Umsatz lebt, während der Zug hier in Jasper steht. Aber das Sandwich war gut.
Die anderen Reisen in diesem Blog/
The other voyages in this blog: