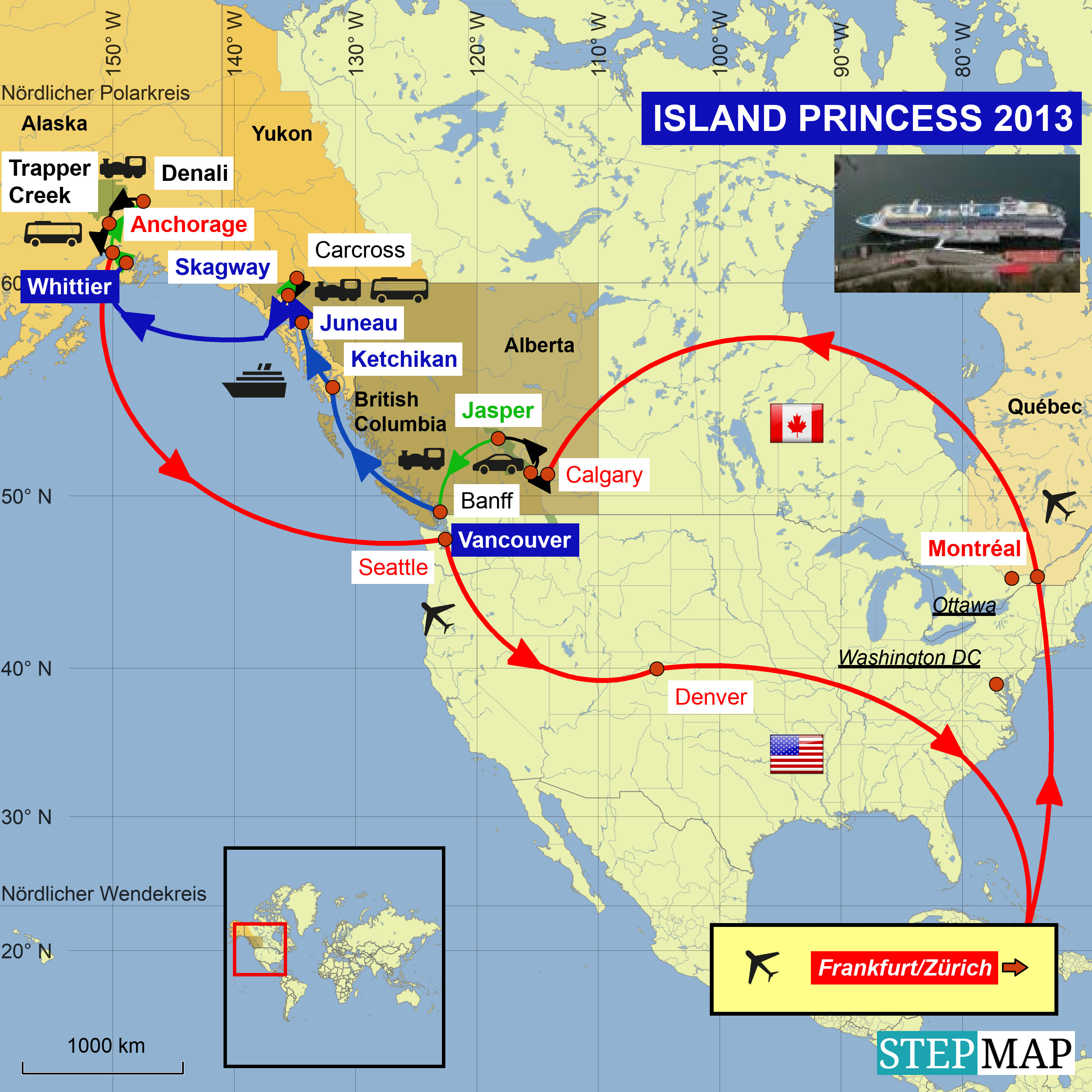 Noch ein Stau... das zieht sich vielleicht hin, mit der Verkehrslage... Aber ganz ehrlich: wir genießen es. Wir steigen aus, fotografieren sie und sie stellen sich in Pose und bleiben stehen.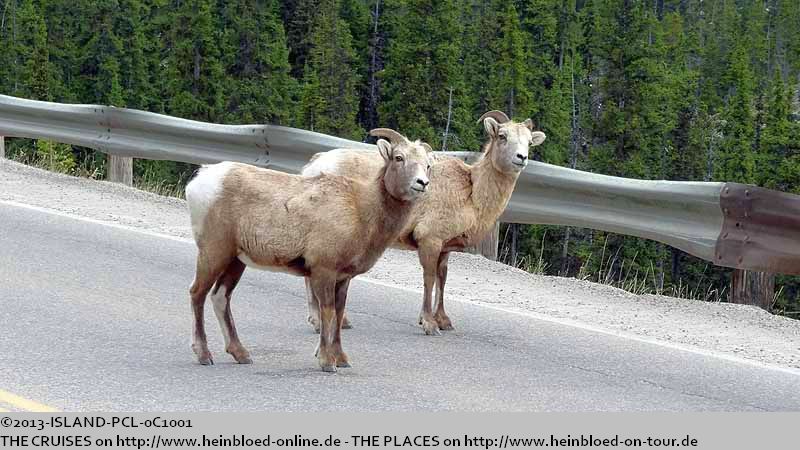 Another traffic congestion... it took so long because of the traffic... But honestly: we really enjoyed it. We left the car, took pictures of them and they posed and stayed.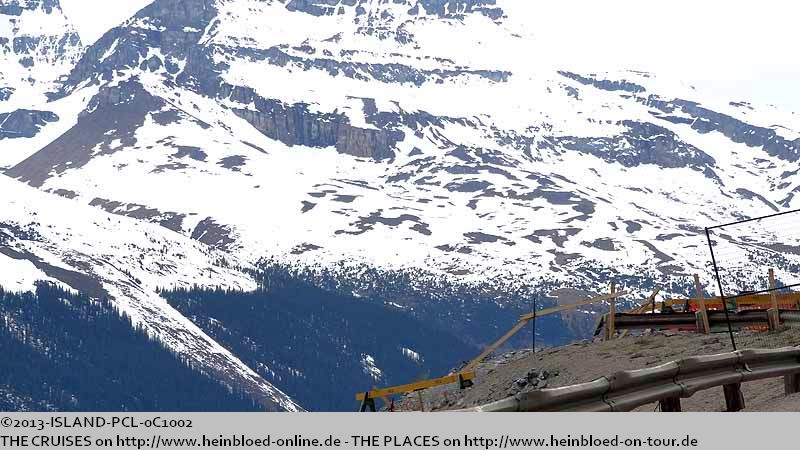 Bei dem Wasserfall müssen wir natürlich auch anhalten.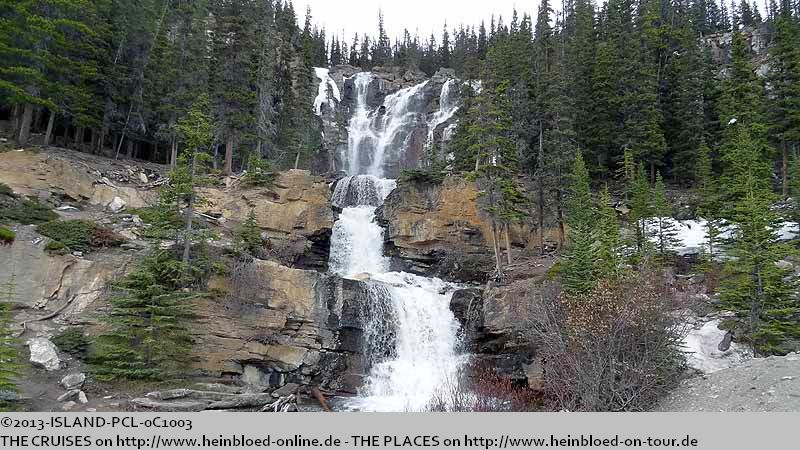 We had to stop when we saw this water fall.

Two cars stopped, and we thought that they had a breakdown - but the failure looked like this.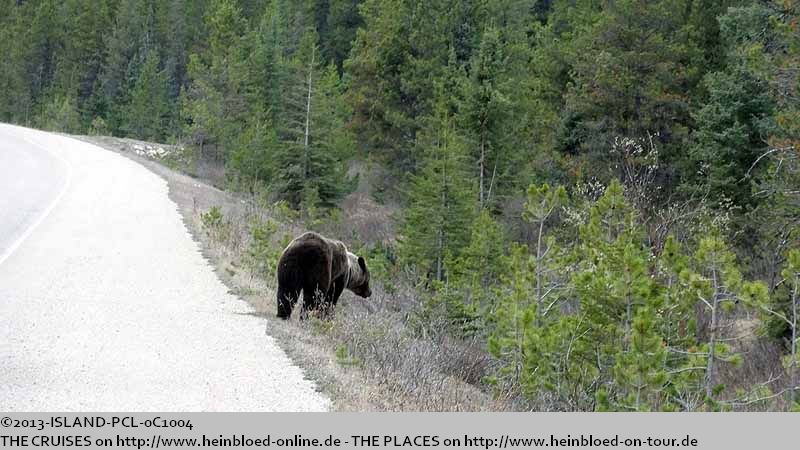 Zwei Autos, die stehen geblieben sind: zunächst dachten wir an eine Panne - aber die Panne sah dann so aus.
Ein junger Grizzly muss wohl frisch aus dem Winterschlaf gekommen sein und sucht ganz verschlafen nach Futter. Wir stellen für ihn keine Gefahr dar und werden überhaupt nicht wahrgenommen.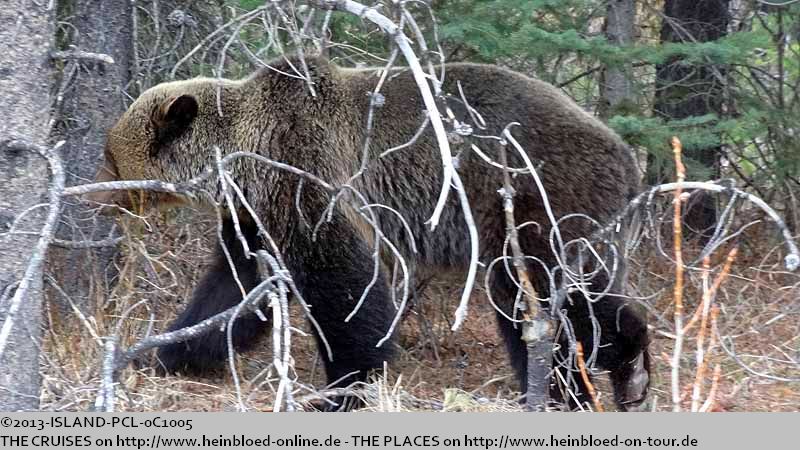 A young grizzly bear must have returned from his winter sleep as he appeared that was looking in a very sleepy way for some food. We were no danger for him as he did not have notice of us.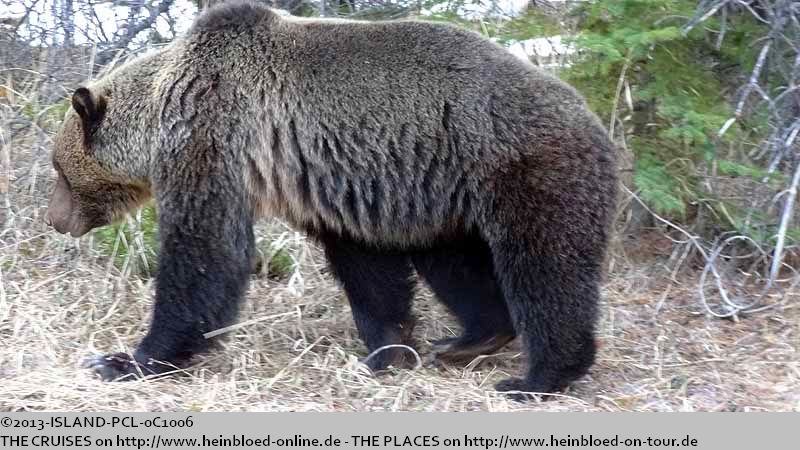 Kurz vor Jasper geht es nochmals an einen weiteren Wasserfall:
Athabasca Falls
.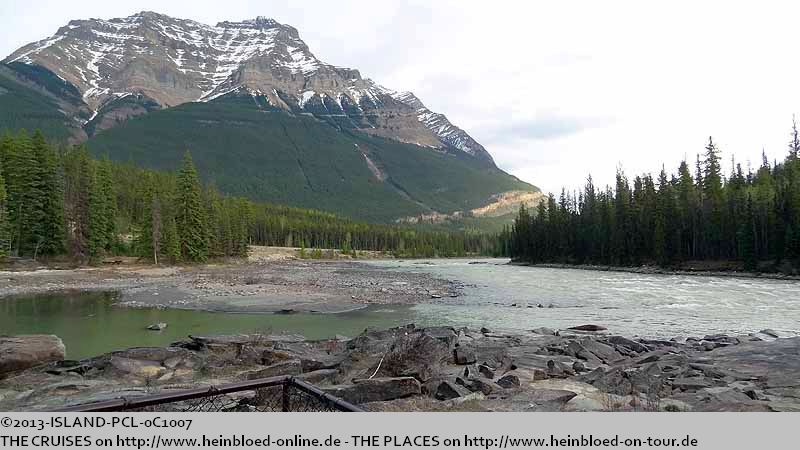 Just few miles before we arrived in Jasper we had another water fall: Athabasca Falls.

You can say it very easily: when there was a parking you normally had something beautiful to see.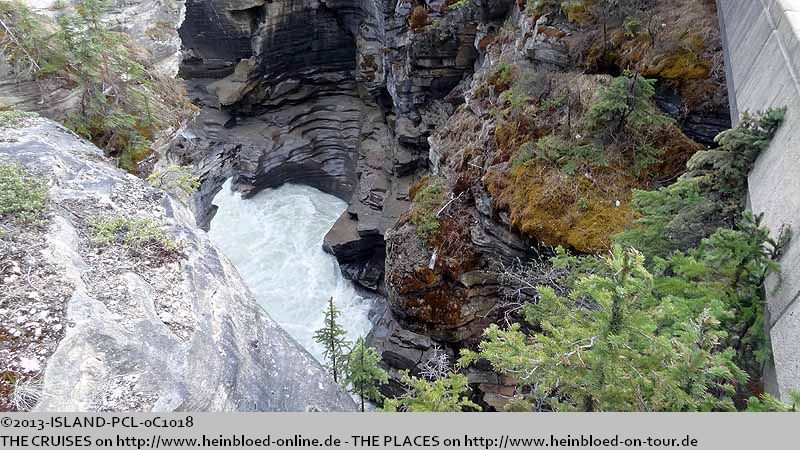 Im Grunde genommen ist es sehr einfach: dort wo es einen Parkplatz gibt, gibt es in der Regel auch etwas zu guckcn.
Wir kommen endlich am
Best Western Jasper Inn & Suites
an. Eigentlich wollte ich nie wieder in einem Best Western übernachten, weil sie mich zuletzt in Düsseldorf geärgert hatten. Aber Best Western Deutschland schickte mir eine Wiedergutmachung, und so habe ich das gebucht und war sehr positiv überrascht. Wir bekommen einen sog. Guest Folio vom Hotel zugeschickt, der auch von Zeit zu Zeit aktualisiert wurde, und wurden auf die verschiedenen Attraktionen hingewiesen. Erstklassig ist auch die Gästebetreuung auf der
Facebook-Seite vom Hotel
. Was mich persönlich in dem Hotel begeistert: die Freundlichkeit des Personals, wie man sie oft sonst nur auf Kreuzfahrtschiffen erlebt. Was gut ist die Philosophie des Hotels: wer Bescheid weiss, kann nicht enttäuscht werden: So wurden wir bereits im Vorfeld hingewiesen, dass das Schwimmbad wegen Renovierung geschlossen ist und man stattdessen Tickets für das öffentliche Bad bekommt und dass es keine Klimaanlage und Fahrstuhl gibt.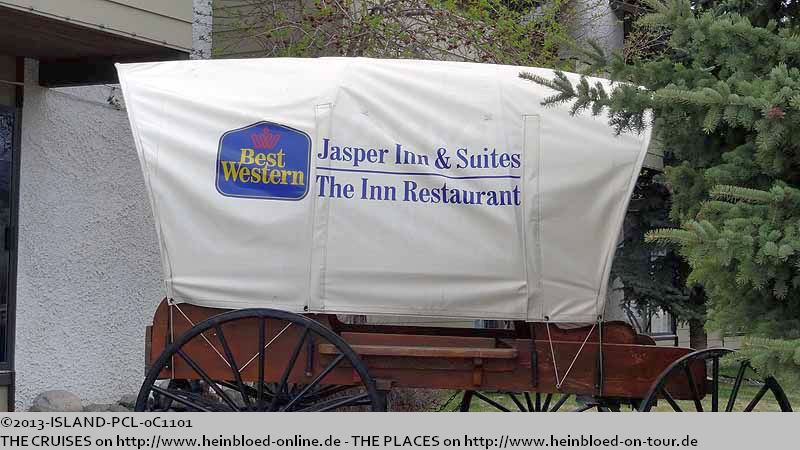 We finally arrived at the Best Western Jasper Inn & Suites. Originally I did not want to stay anymore in any Best Western since my recent bad experience in Düsseldorf. Best Western Germany sent some goodies to apologize, and so I booked again and was nicely surprised. We got from the hotel a so-called Guest Folio with all the information you need to find all the local attractions which were updated from time to time. First class was also the the customer care on the Facebook-Site of the hotel. What made me very happy: their staff members were as friendly as we only knew from the cruise ships. Their philosophy was fantastic: who knew everything before cannot be disappointed anymore: so we learned before we arrived that the pool was closed due to maintenance and we could get tickets for the local public pool and that no air-condition and elevators were available.

We noticed some reviews on some forums... Fine. The colors and pattern might not fit anymore to the actual spirit of the time, but the room was really tidy.

Wir hatten da so ein paar Berichte in Bewertungsforen gelesen... O.K. Die Farben und Mustern entsprechen nicht mehr dem aktuellen Zeitgeist, aber das Zimmer war blitzblank sauber.
Es gab sogar einen kleinen Tresor.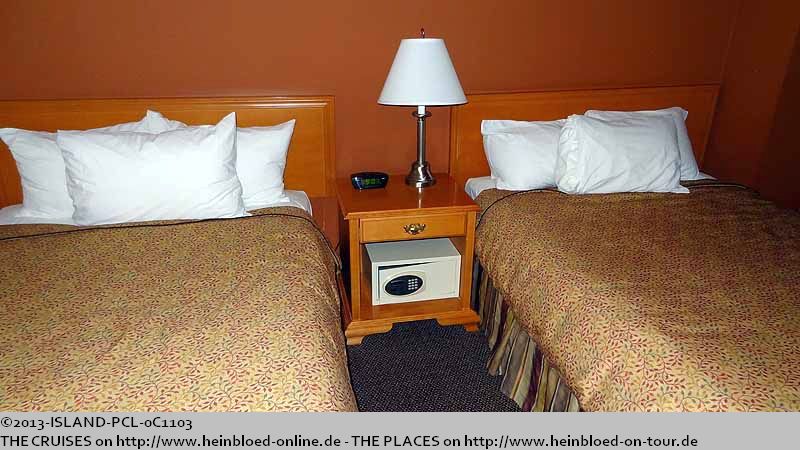 They had a small safe.

Flat TV.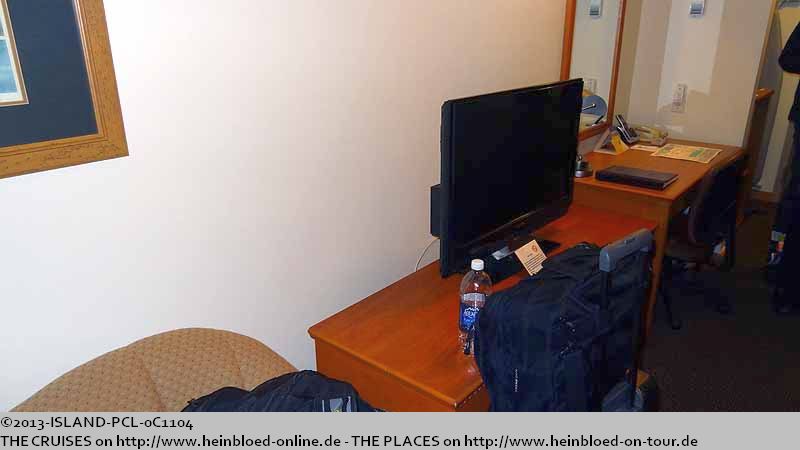 Flachbildschirm.
Kaffeemaschine, Kühlschrank.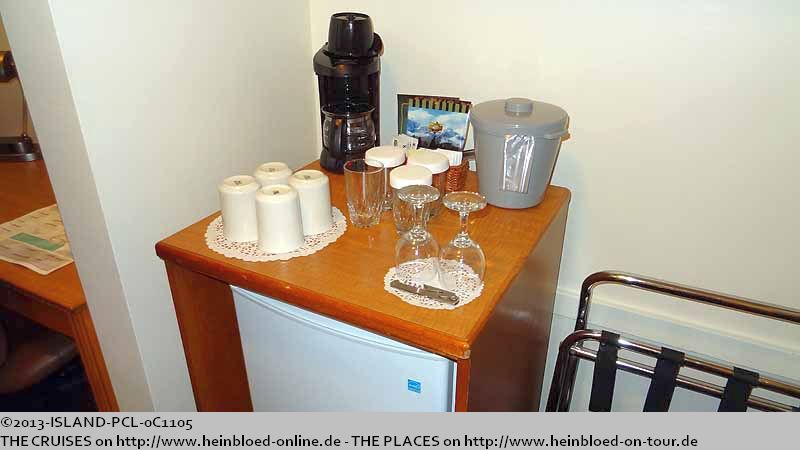 Coffee machine, fridge.

Ironing board.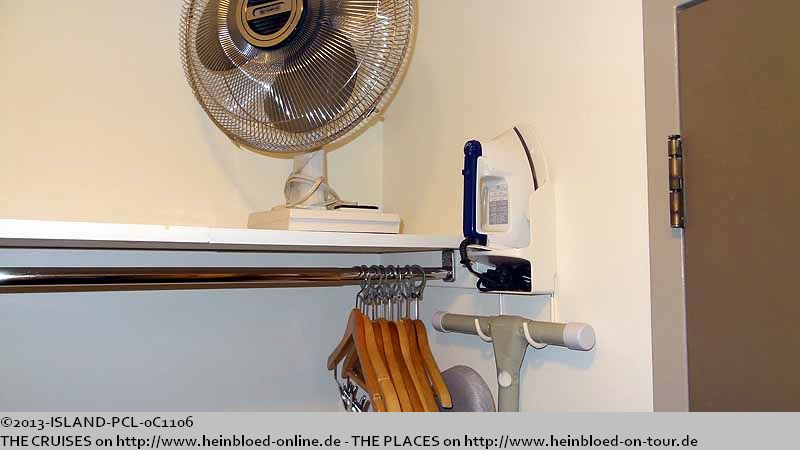 Bügeleisen, Bügelbrett
Im Bad gab es einen Korb voller Kleinigkeiten.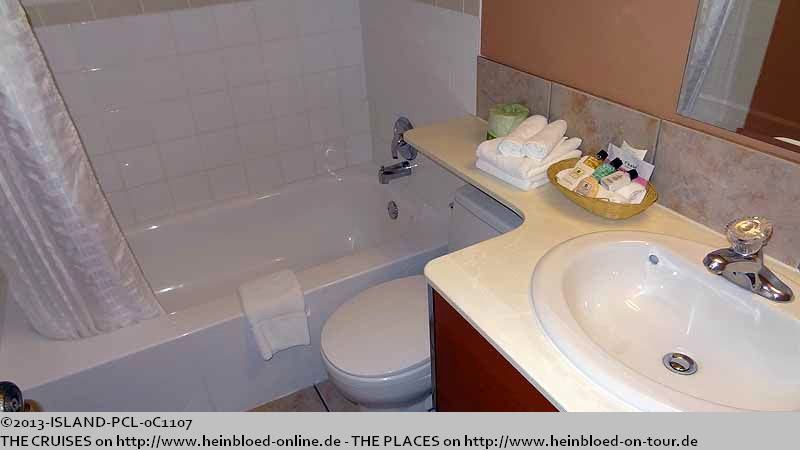 You had in the bathroom a basket full of small good treats.

We were quite late when we arrived and were told that you had only the small menu in the bar. But when we came in the bar, they offered us to order everything from the main menu of the restaurant if we would like. But that was fine for us not having a full dinner anymore.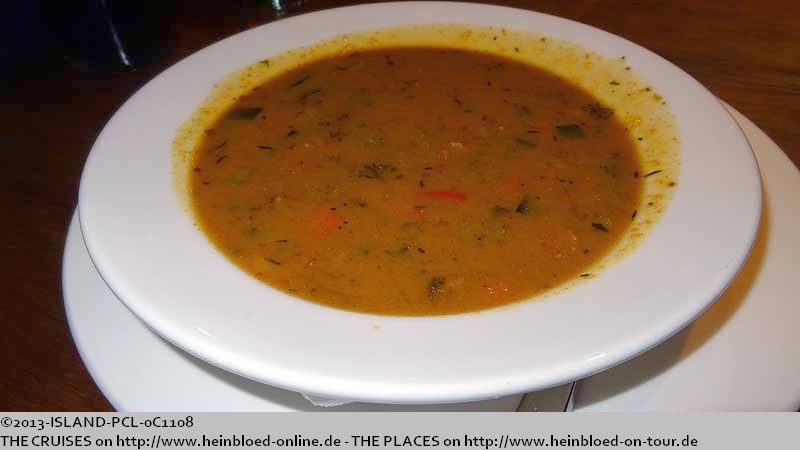 Wir waren recht spät dran, und man sagte uns, dass es nur noch die kleine Karte in der Bar gibt. Aber wir in der Bar selbst ankommen, bietet man uns an, dass wir auch alles von der großen Karte des Restaurants haben könnten. Uns passt es jedoch sehr gut, dass wir kein ganzes Abendessen mehr haben müssen.
Während der Wartezeit nutzen wir das WLAN.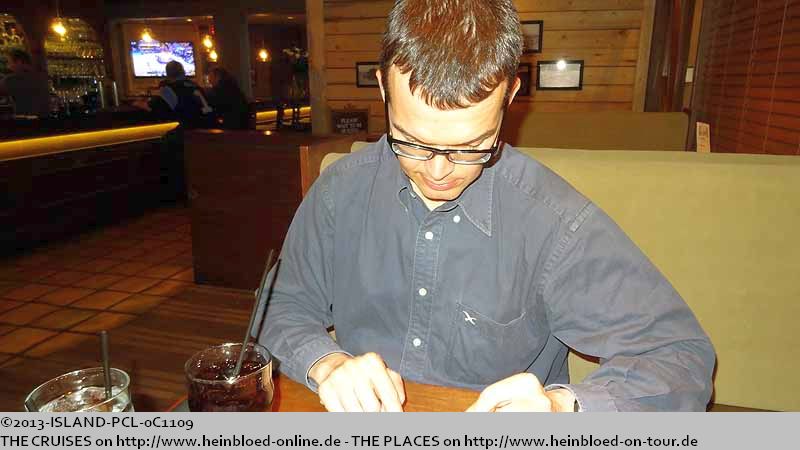 While we waited for our food we used the WiFi.

Bruno wanted to have a small bite only, so it did not occur any problems.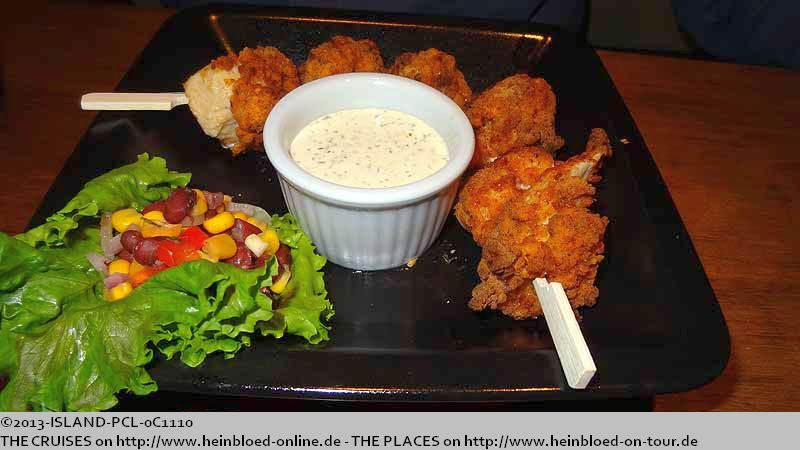 Bruno wollte wirklich bloß eine Kleinigkeit und das stellte gar kein Problem dar.
Ich wollte endlich Poutine probieren, nachdem eine Facebook-Freundin aus Kanada (Valery Hall) meinte, dass ich es unbedingt probieren sollte... Nun: Es sind Pommes Frites mit Bratensauce und Käse... Ein einmaliges Geschmackserlebnis...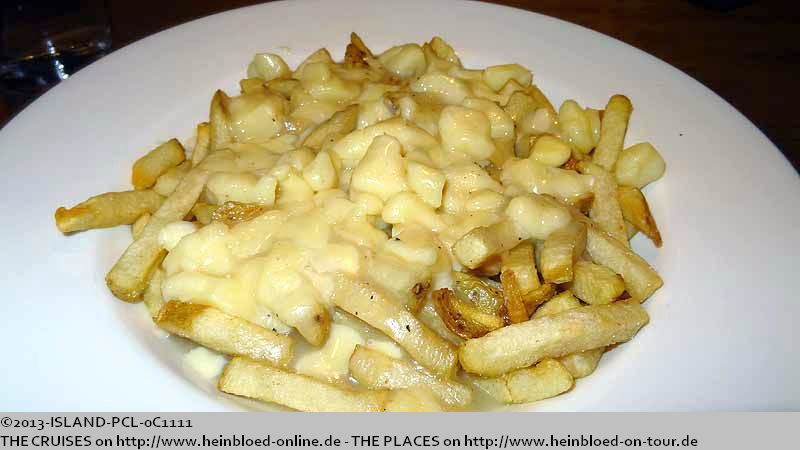 I wanted to find out what Poutines were after a Facebook-Friend from Alberta (Valery Hall) recommended trying... Well... French Fries with gravy and cheese... A unique experience of flavors.

What was very nice (we had during the daytime an outdoor-temperature of 79 F): we could sleep with open windows, and they were equipped with mosquito protection.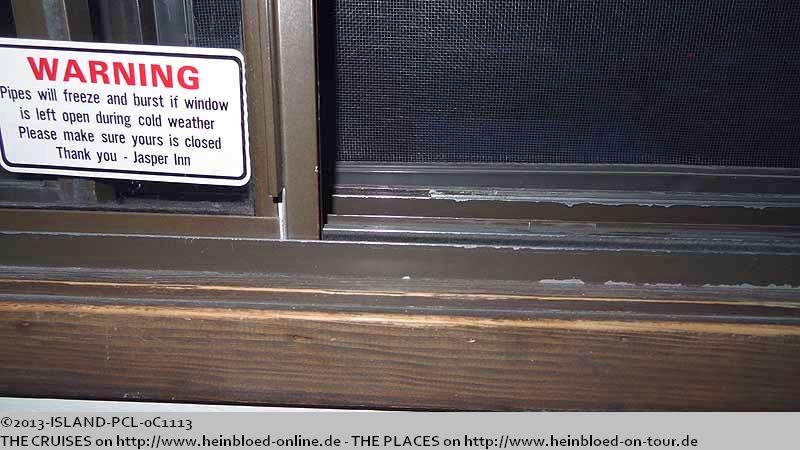 Was sehr angenehm war (wir hatten tagsüber 26°C Außentemperatur tagsüber): wir konnten bei geöffnetem Fenster geschlafen und alle Fenster waren mit Netzen ausgestattet, damit keine Mücken reinkonnten.
Es war so warm, dass ich mich nicht mal zudecken musste.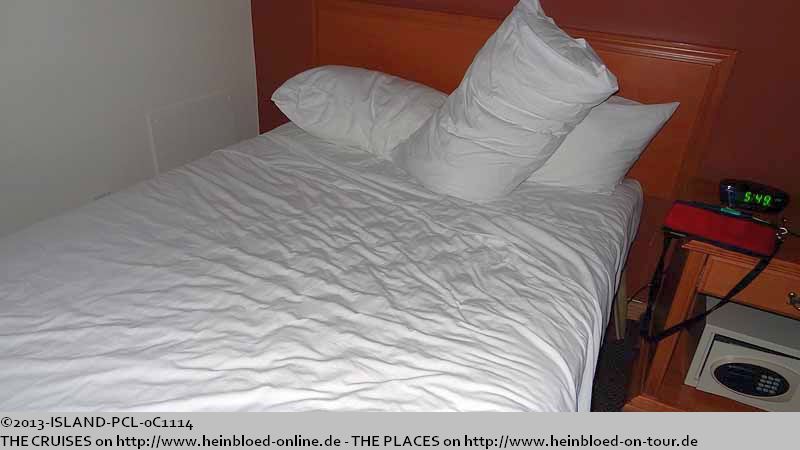 It was so warm that there was no need to use the blanket.

But it was so warm that the whole night other guests were staying in front of the front door and more or less in front of our window to smoke and to party...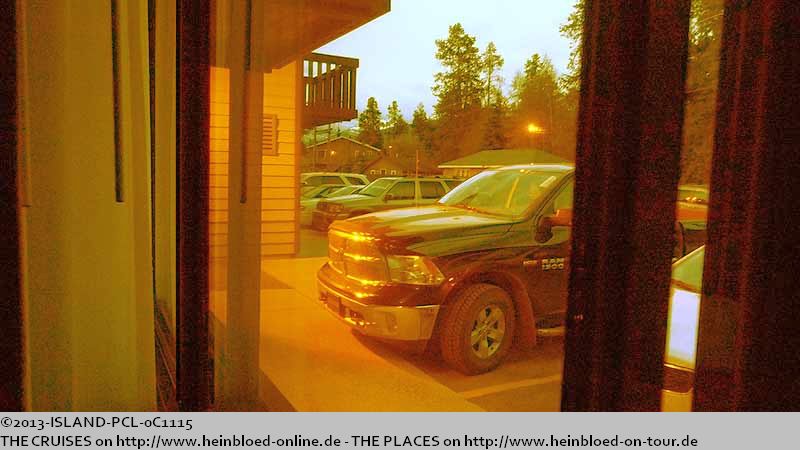 Leider auch so warm, dass die ganze Nacht Leute vor die Tür und damit vor unser Fenster quasi getreten sind, um zu rauchen und Party zu machen....
Aber so hatten wir immer schön unser Auto im Blick, weil wir nicht so legal geparkt hatten...

But we had also a good view to our car because we did not park legally.

A Japanese Stone Garden in the middle of Jasper.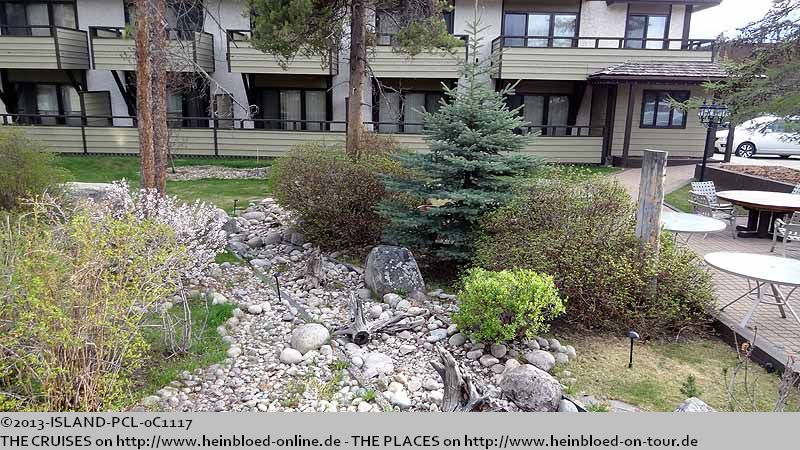 Ein japanischer Steingarten mitten in Jasper.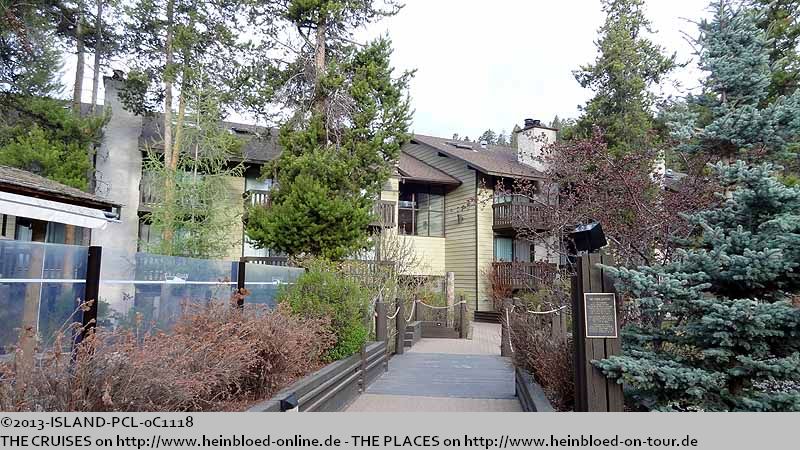 And many "small things" to make your stay more pleasant.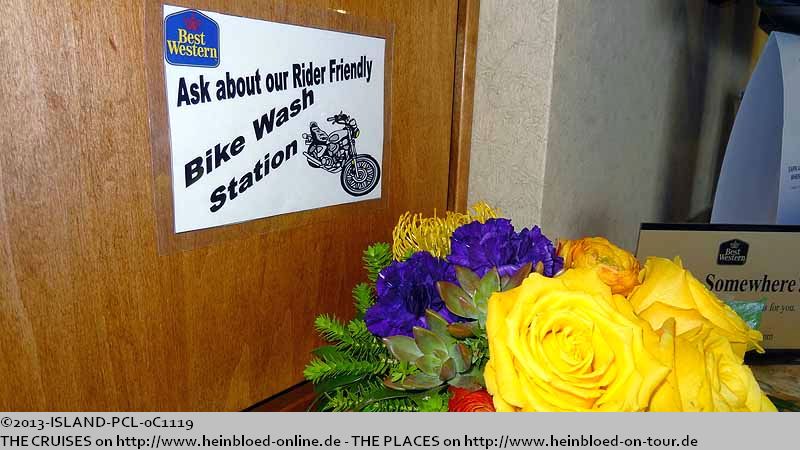 Und immer so "Kleinigkeiten", die dort den Aufenthalt angenehmer machten.
Vor allem einen absolut tollen Service: wir hatten ein technisches Problem und brauchten mal wirklich sehr kleine Schraubenzieher wirklich nur für wenig Minuten. Daher hatten wir vorher per Mail angefragt, ob sie uns so etwas beschaffen und leihen könnten, da wir nicht damit rechneten während irgendwelcher Öffnungzeiten so etwas zwischen Banff und Jasper zu beschaffen. Und prompt kam von Christina eine Mail zurück, dass es für uns an der Rezeption bereit liegt.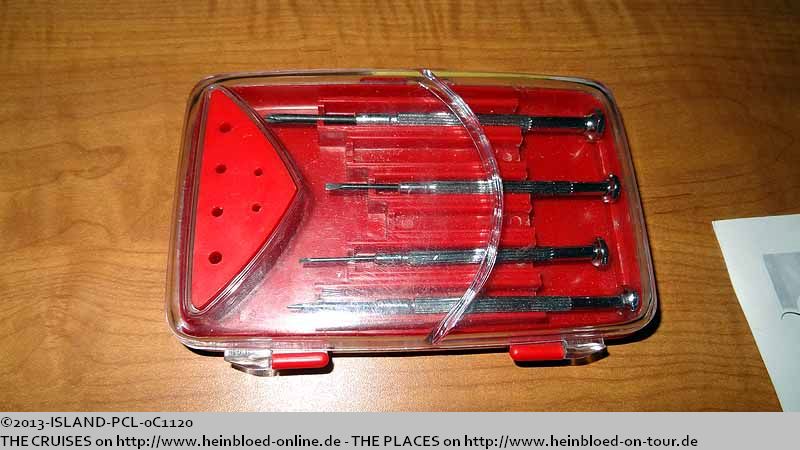 Especially their great service convinced us: we had a technical problem and really need a small screwdriver for a couple of minutes. So we asked by mail if they could get some for us as we did not expect to make it before store closure time between Banff and Jasper. And promptly we got a mail from Christina that they had them ready for us at the front desk.

For the anger I had in Dusseldorf I got something from Best Western Germany.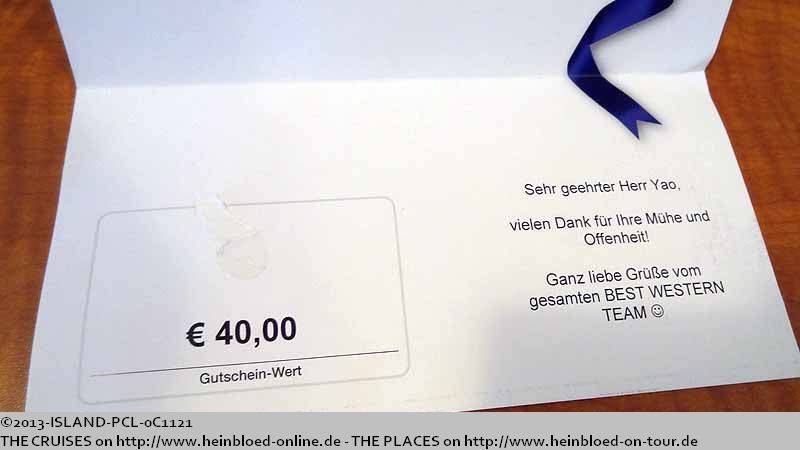 Für den Ärger in Düsseldorf gab es ja etwas von Best Western Deutschland.
Dann gab es noch die
Gutscheine von Best Western
, die man zu bestimmten Aktionszeiträumen mit Sondermeilen für Miles & More oder mit einem Rabatt beschaffen kann. Das habe ich dann ausgenutzt, um zumindest die Übernachtungskosten abzudecken. Auch die Tatsache, dass sie in Euro ausgestellt waren, war in Kanada kein wirkliches Problem. Über Internet fragen sie ab, welcher CAD-Betrag meiner Hotelrechnung gutgeschrieben werden kann und das war es. Sehr unkompliziert. Also gut... Best Western hat mich wieder...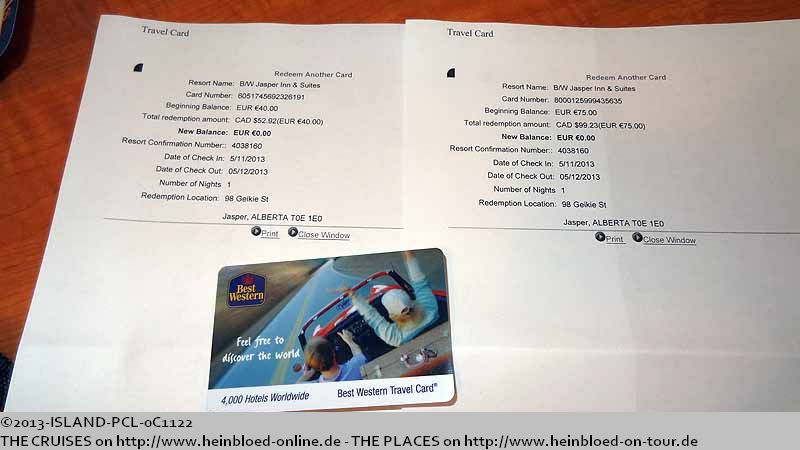 Then we had some vouchers (Travel Card) from Best Western which we could get through certain periods with extra miles with Lufthansa or with discount. So I used it to cover our expenses for the overnight stay. Even they were purchased in Euro it was no problem in Canada. They just check with their internet which CAD-amount could be credited to the bill. Very easy to handle. So well... Best Western got me back...
Die anderen Reisen in diesem Blog/
The other voyages in this blog: