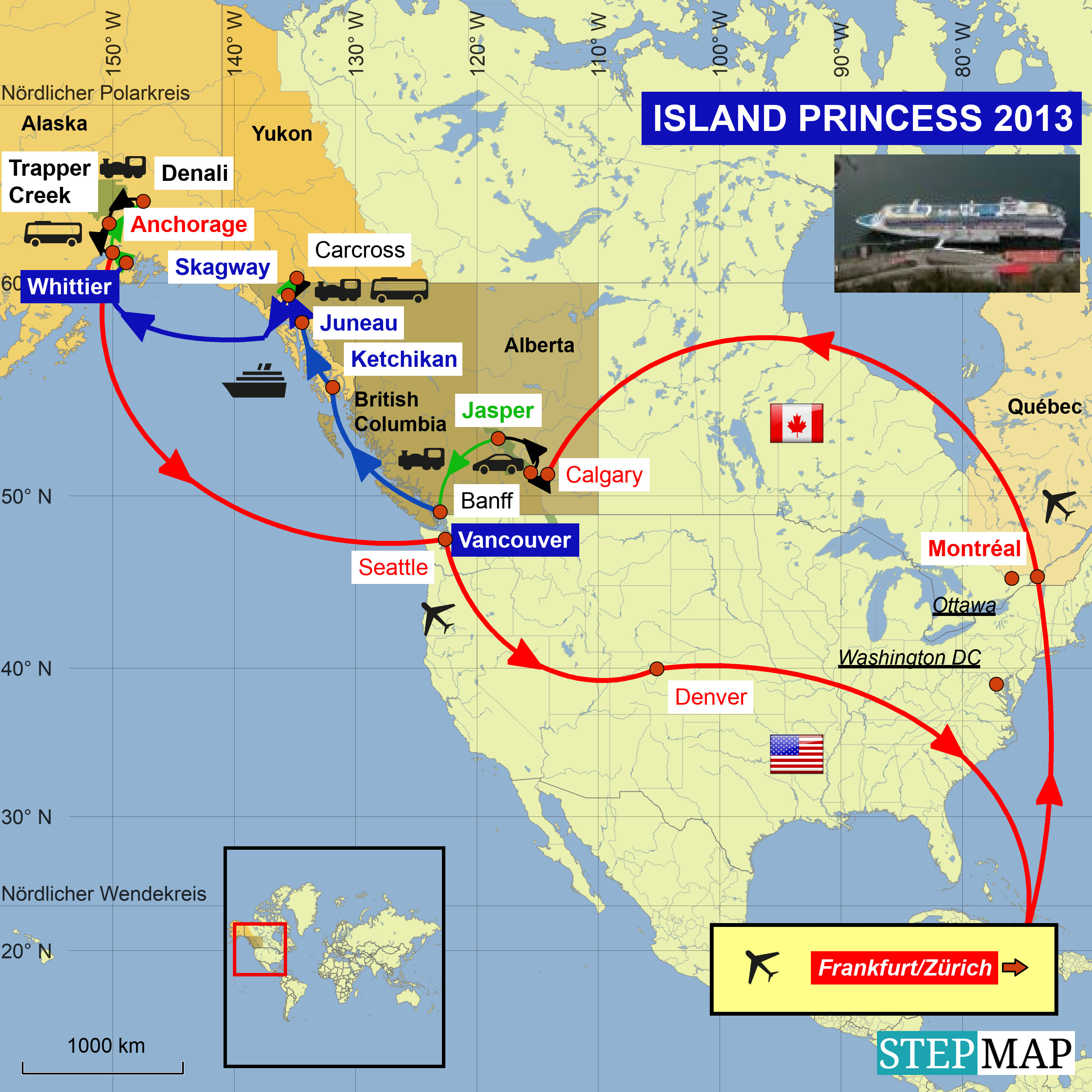 Weiter geht es in die Hauptstadt Alaskas: Juneau. Nur mit dem Flugzeug und mit dem Schiff erreichbar. Eine Landanbindung in den Rest Alaskas gibt es nicht.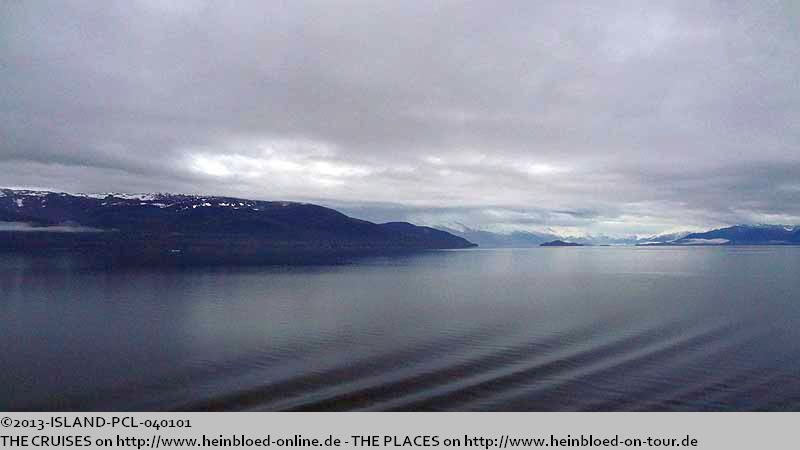 We headed to Alaska's Capital: Juneau. Only accessible by plane or chip. No landside connection is available to the rest of Alaska.

Irgendetwas anderes kommt da hinten... In meinem Plan steht nichts.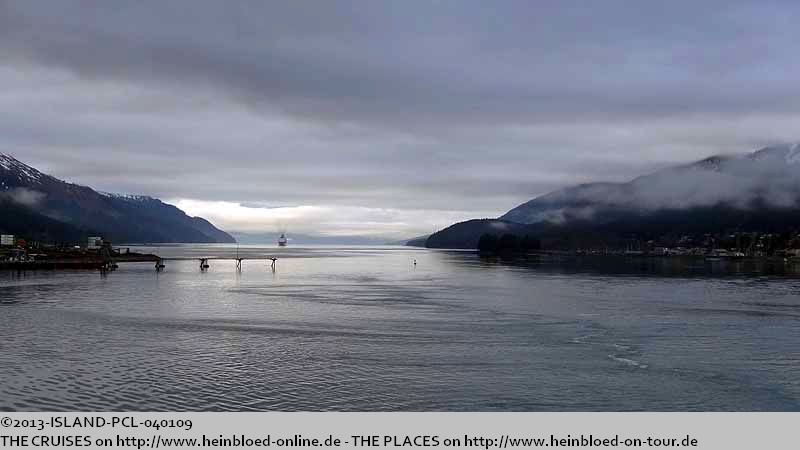 Something came from the back which I did not have on my agenda.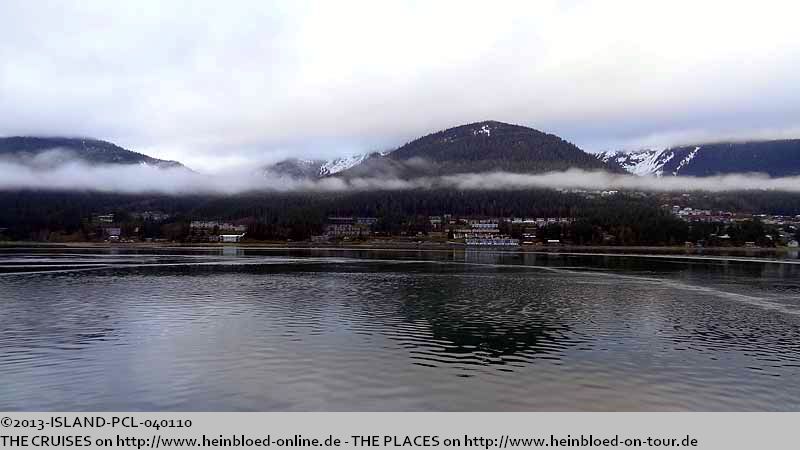 Of all ships CELEBRITY CENTURY came.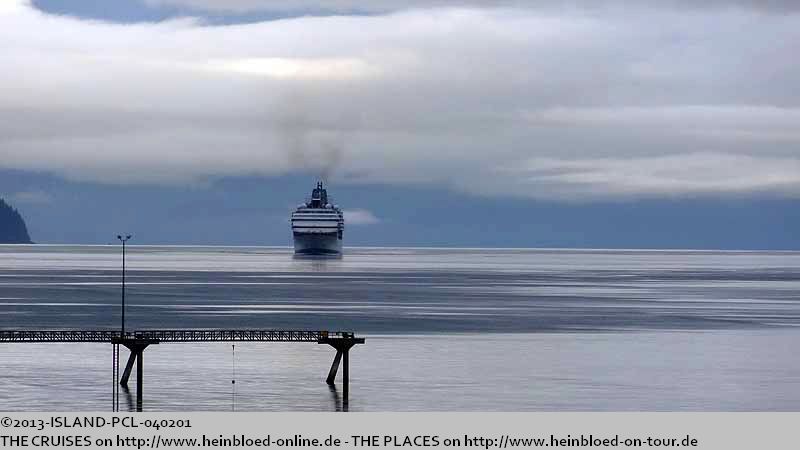 Ausgerechnet die CELEBRITY CENTURY.
Unsere erste Erfahrung mit Celebrity in 2007 waren nicht unbedingt die schönsten... Damals war die Klimananlage in unserer Kabine defekt, so dass wir so krank geworden sind, dass sogar Celebrity die Kosten beim Schiffsarzt übernommen hat. Und wenn sogar Amerikaner sich an Bord Pullover anziehen, dann stimmt etwas an Bord nicht. Seit dem steht das Schiff auf meiner persönlichen schwarzen Liste. Aber kein anderes Celebrity-Schiff verfolgt uns seitdem mehr als die CELEBRITY CENTURY: Miami, Barcelona, Playa del Carmen und nun Juneau. Gehe ich einfach in die Kabine und ignoriere sie? Nein: sie "posiert" extra für mich und so entstehen sehr schöne Bilder, die später von Celebrity Cruises auf ihrer Facebook-Seite gelobt werden. Darüber freue ich mich und sehe entspannt unserer Reise auf der CELEBRITY MILLENIUM im April 2014 entgegen. Lieber wäre ich mit anderen gefahren, aber aufgrund des Termins komme ich mit zehn Urlaubstagen aus und kann 13 Nächte an Bord bleiben inkl. An- und Abreise. Außerdem gibt es zwei Übernachtungen in Tianjin, die es uns erlaubt auch den Geburtsort meines Vaters zu besuchen. Und Keelung ist mit auf den Plan, um meinen Geburtsort Taipei zu besuchen. Und die Reise ist so reizvoll, dass nicht nur meine Eltern dabei sind, sondern auch meine Schwestern, mein Schwager, seine Mutter und auch meine Nichten. Darüber freue ich mich am meisten. Wenn gestern die CELEBRITY MILLENIUM für mich so "posiert" hätte, wäre es schöner gewesen. Aber die tiefhängenden Wolken, der klare Blick zu den Bergen, das Spiel der Wellen im Wasser sorgen für eine tolle Stimmung, die es gestern in Ketchikan leider nicht gab.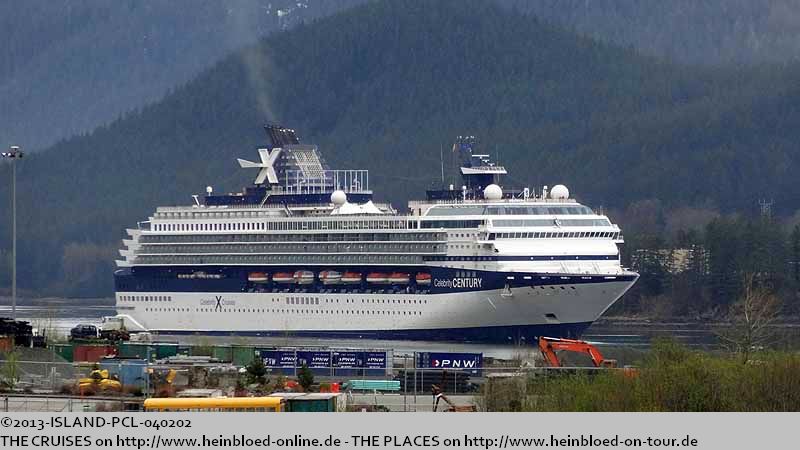 Our first experiences on Celebrity in 2007 were not the best... We had a malfunction of the air-condition in our cabin, so we became so sick that even Celebrity covered the expenses for the doctor. And even when Americans started to wear sweaters, then something was wrong on board. Since then this ship was blacklisted on my personal list. But no other Celebrity-Ship but CELEBRITY CENTURY followed us: Miami, Barcelona, Playa del Carmen and now Juneau. Should I just return to my cabin and ignore her? She just "posed" for me and so very nice pictures were taken who were praised by Celebrity on their Facebook-Site. I was happy to read, and so I was looking forward very relaxed to our voyage on CELEBRITY MILLENIUM in April 2014. I would prefer to go with others, but due to the itinerary, I could spend 13 nights on board with ten days off the only incl. voyage to/from the ship. Furthermore, we will have two overnights in Tianjin which would allow us to see my father's birthplace. And Keelung is part of the itinerary which allows me to see my birthplace Taipei. The voyage is so delighting that not only my parents will come with us, my sister, my brother-in-law, his mothers and my nieces. I am quite happy to go in this constellation. I wished CELEBRITY MILLENIUM would have "posed" for me that way the day before. That would be nicer. But the low clouds, the clear view of the mountains, the play of the waves in the water made an exceptional atmosphere which we had not the day before in Ketchikan.
Die anderen Reisen in diesem Blog/
The other voyages in this blog: