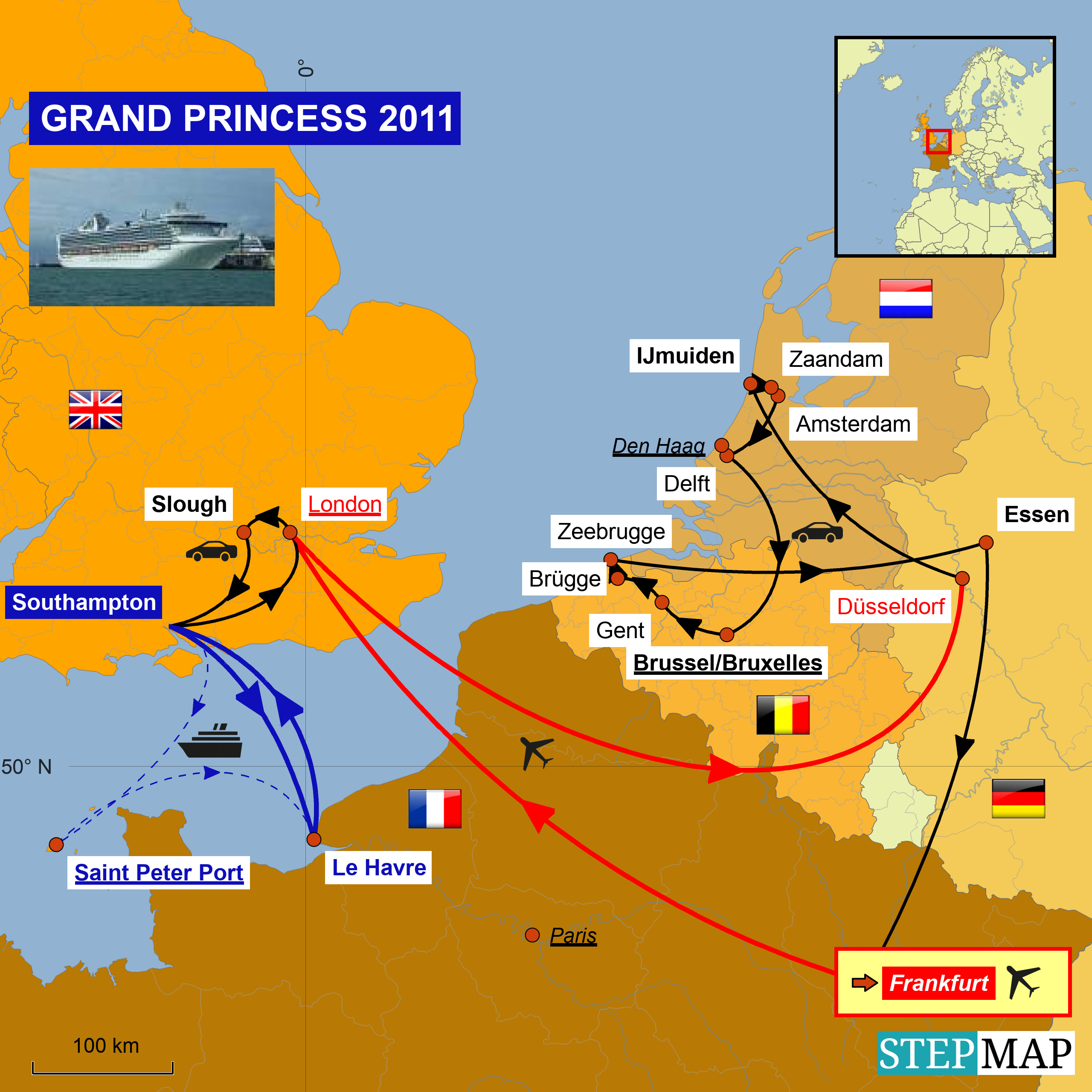 Weiter geht es nach Brügge. Das Parkhaus war so riesig, dass wir uns zunächst orientieren müssen.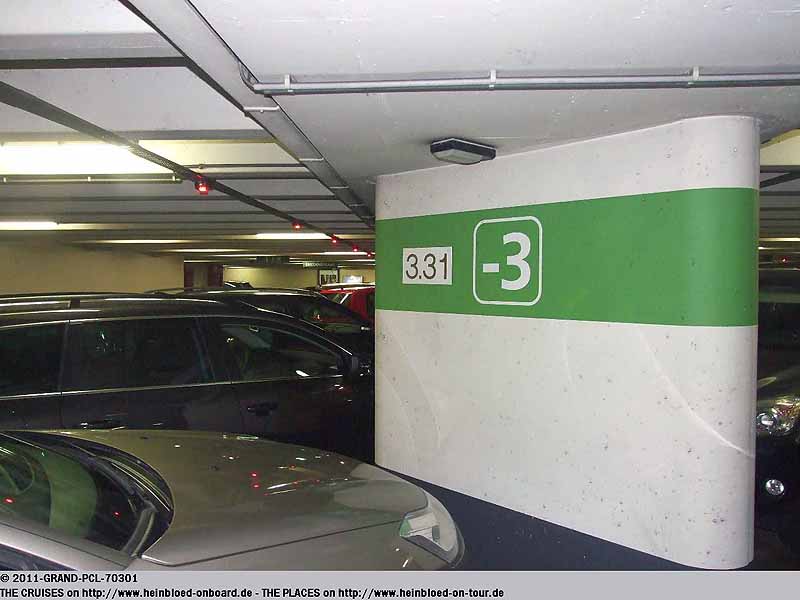 We headed finally to Brugge. The parking was so giant that we first need some orientation.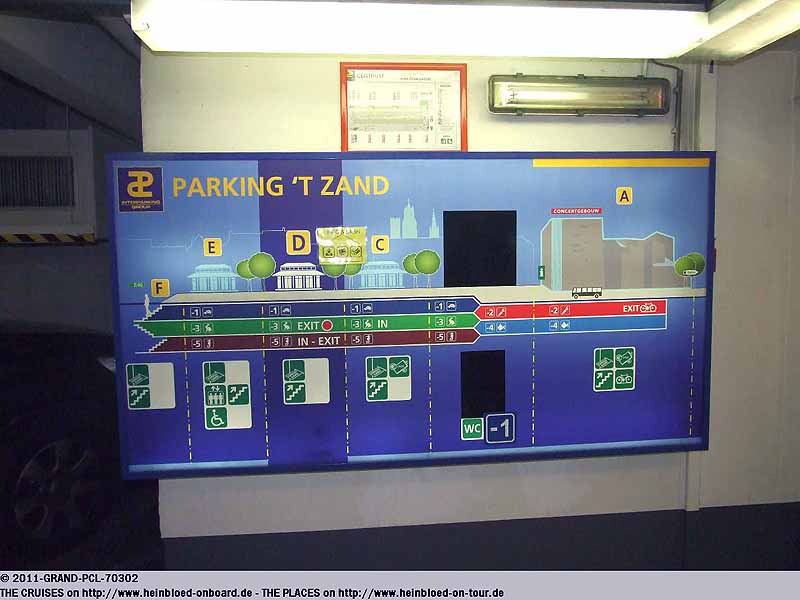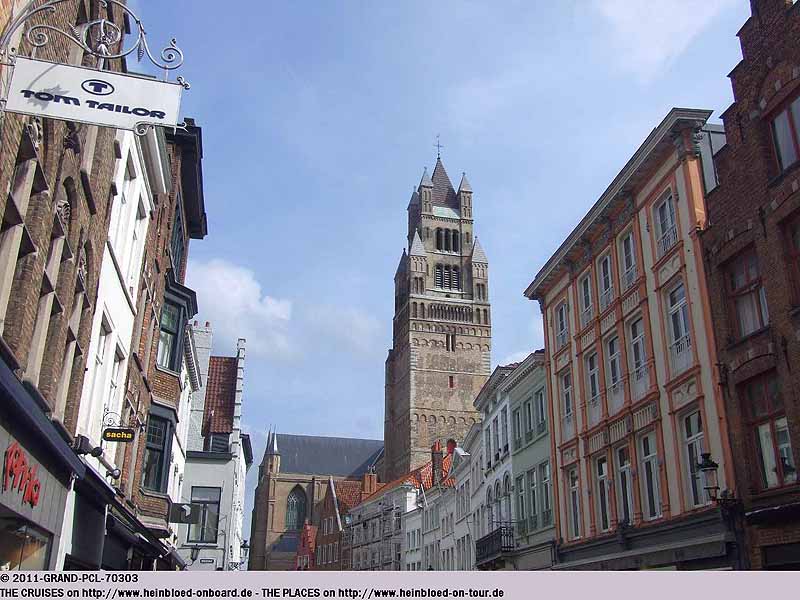 As Brugge it was much more narrow all the streets were very crowded.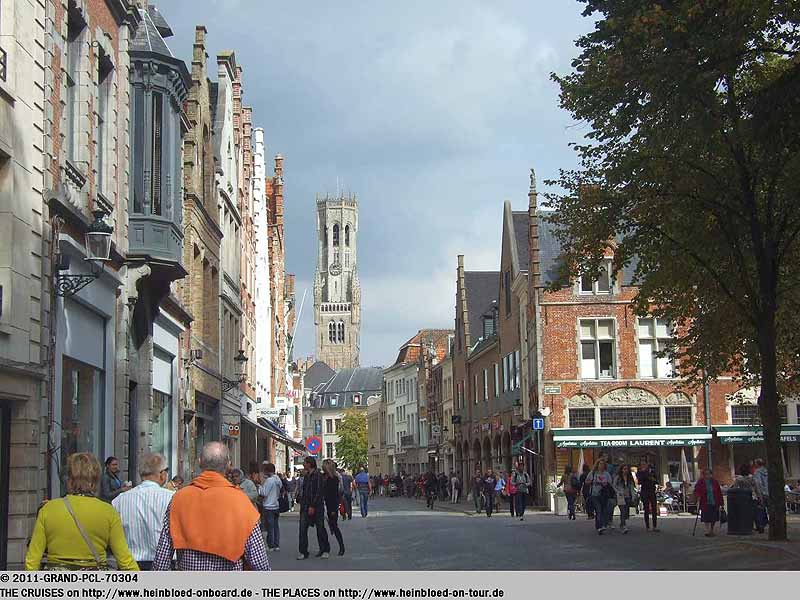 Da in Brügge alles etwas enger ist, als in Gent, war alles ziemlich überlaufen.
Es war keine Freude, hier durch die Straßen zu laufen.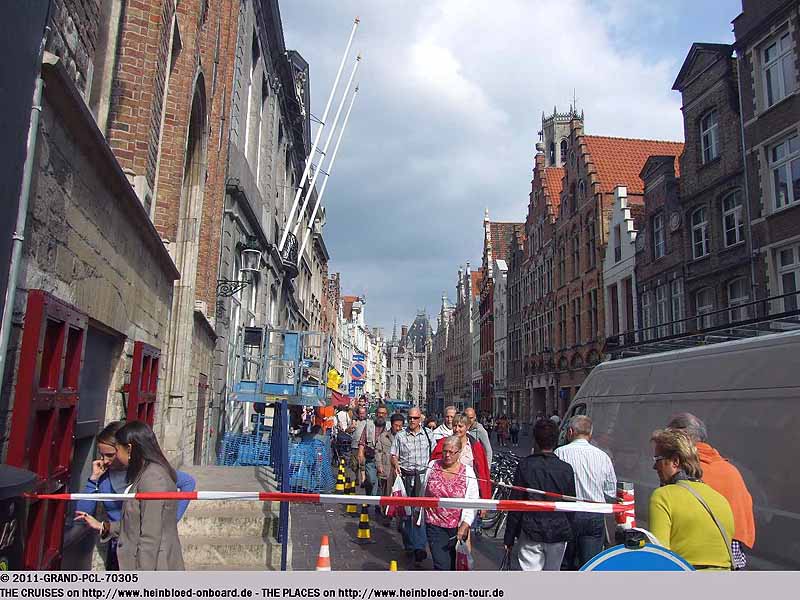 It was no pleasure to walk through the streets of Brugge.

Like one year ago we followed a recommendation of the fiancee of one my co-workers who was from Belgium.

Wie vor einem Jahr folgen wir der Empfehlung der Freundin meines Mitarbeiters, die aus Belgien kommt:
The Old Chocolate House
.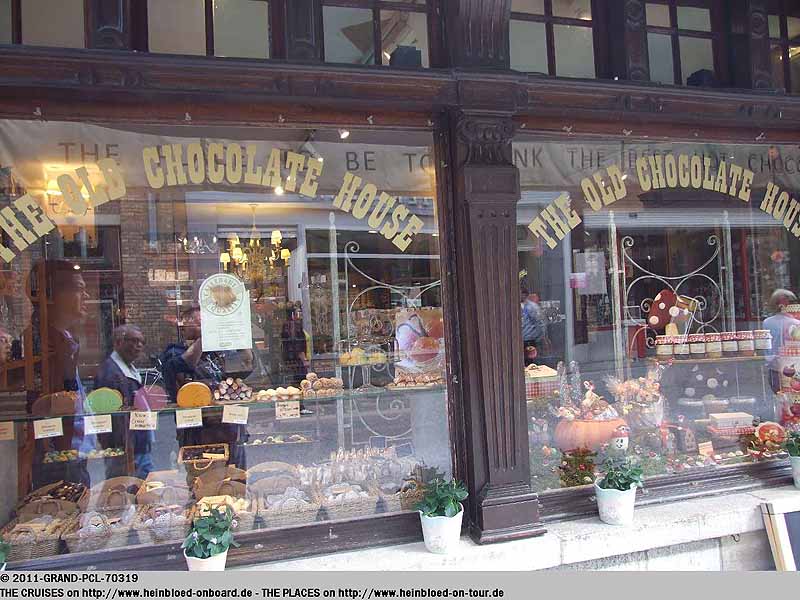 The Old Chocolate House.

Here we wanted to have the last coffee break before we return them to the ship.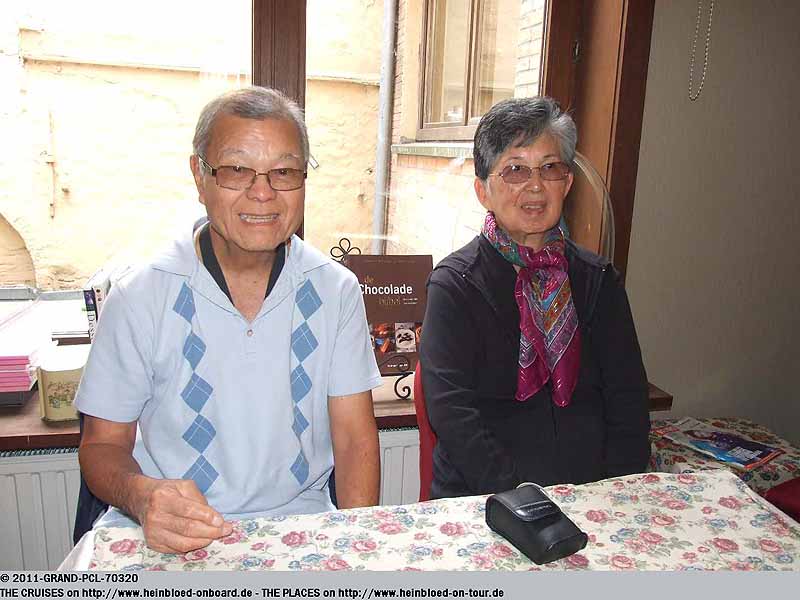 Hier wollen wir noch zum Schluß noch etwas trinken, bevor wir sie zum Schiff zurückbringen.
Bruno meint, dass ich eine gewisse Ähnlichkeit mit der Dame auf dem Bild hätte.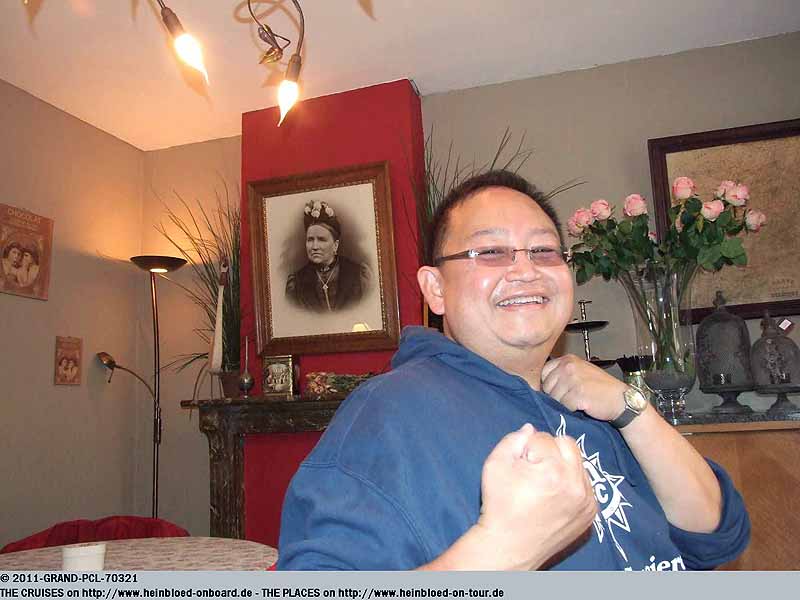 Bruno said that there was a certain resemblance between the lady on the painting and me.

Especially when I twisted my face.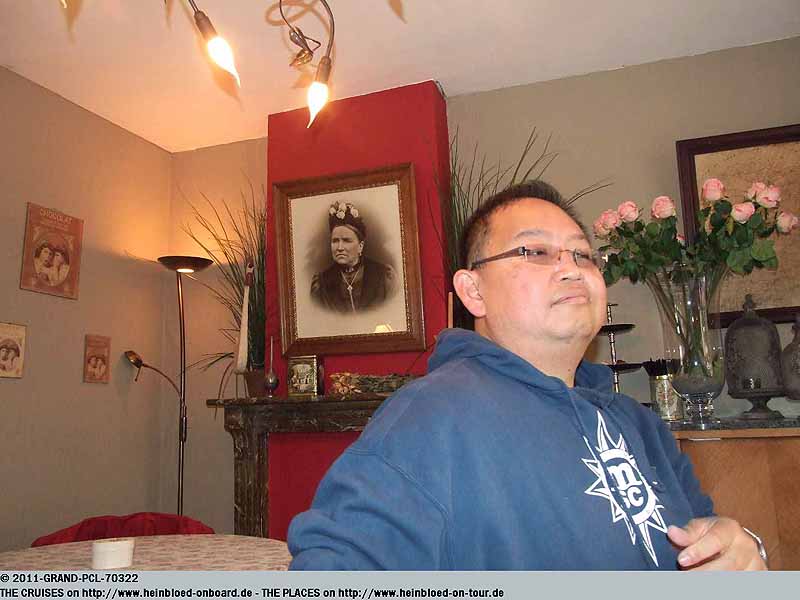 Speziell als ich das Gesicht verziehe.
paiagirl und ihr Mann Eddie nehmen nochmals eine heiße Schokolade. Nur hier wird dieser mit echter Schokolade zubereitet. Die Schokoladenpallets rührt man selbst ein.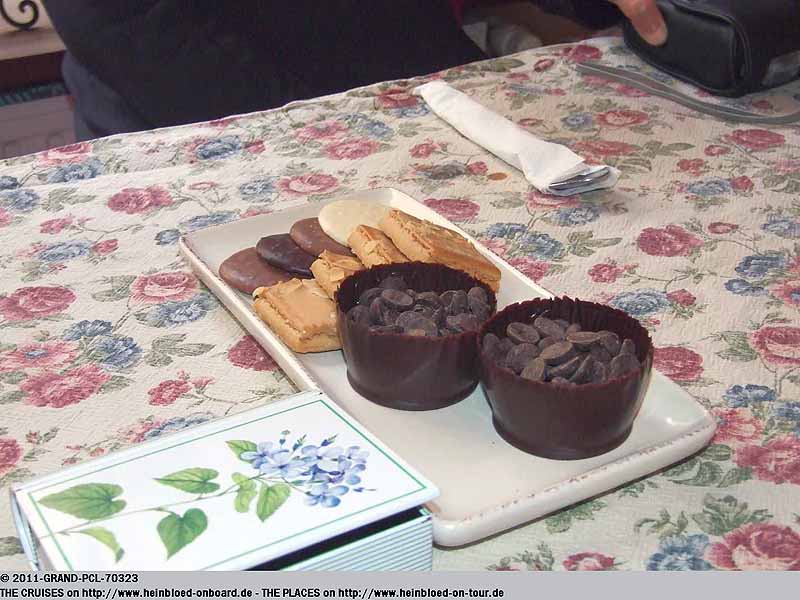 paiagirl and her DH Eddie took again a hot chocolate. But now that one was prepared with real chocolate. You just stir yourself the chocolate palets into the hot milk.

We took a moccachino.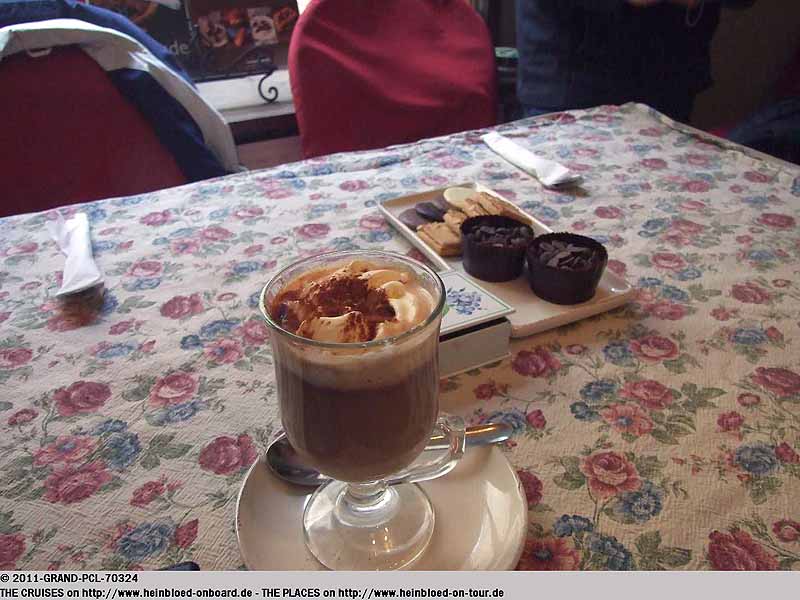 Wir nehmen einen Mocchachino.
Und hier kommt die heiße Milch.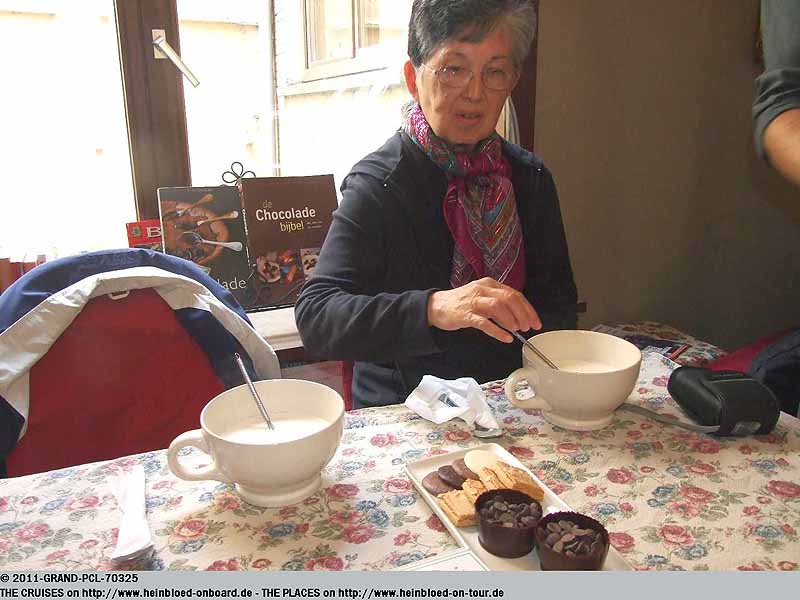 Then the hot milk came.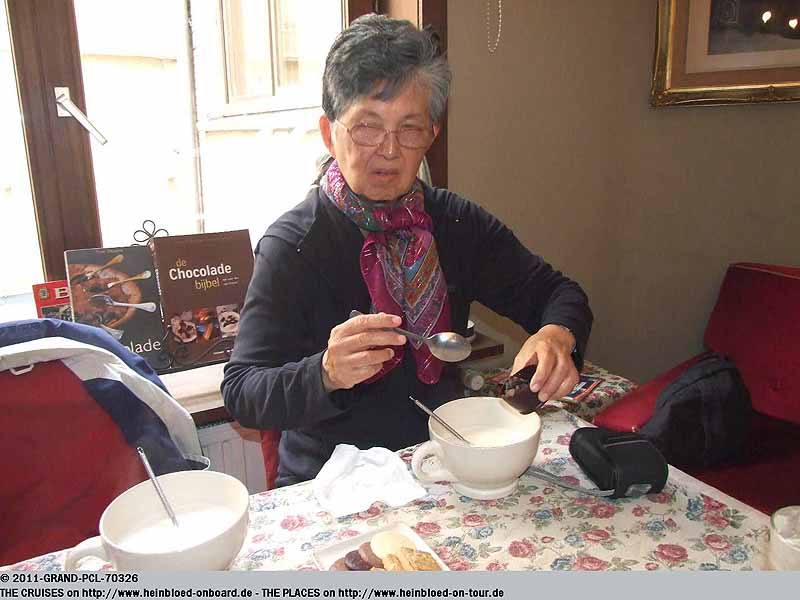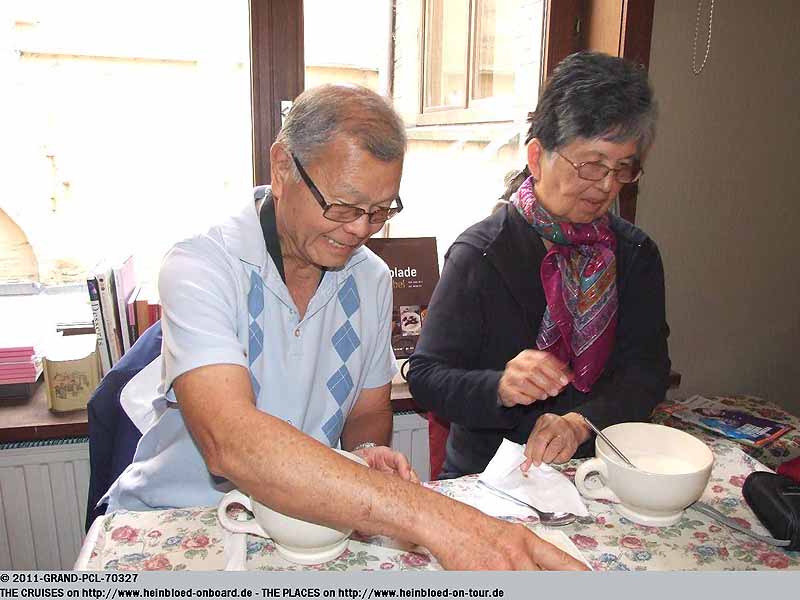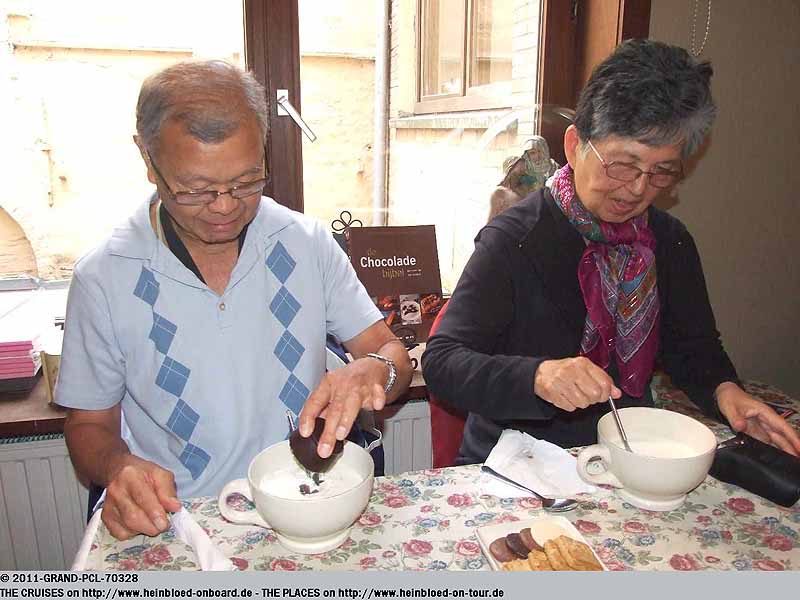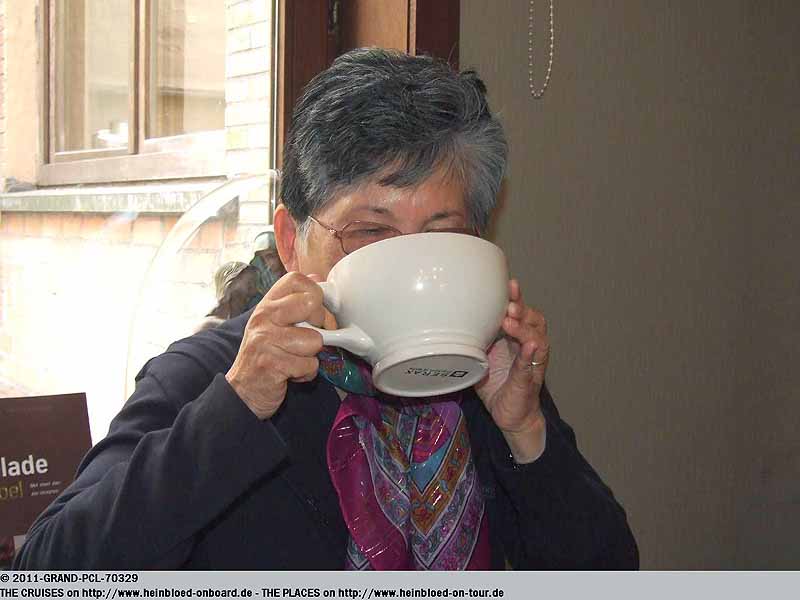 Now we nearly completed the full mounty for the Netherlands and Belgium.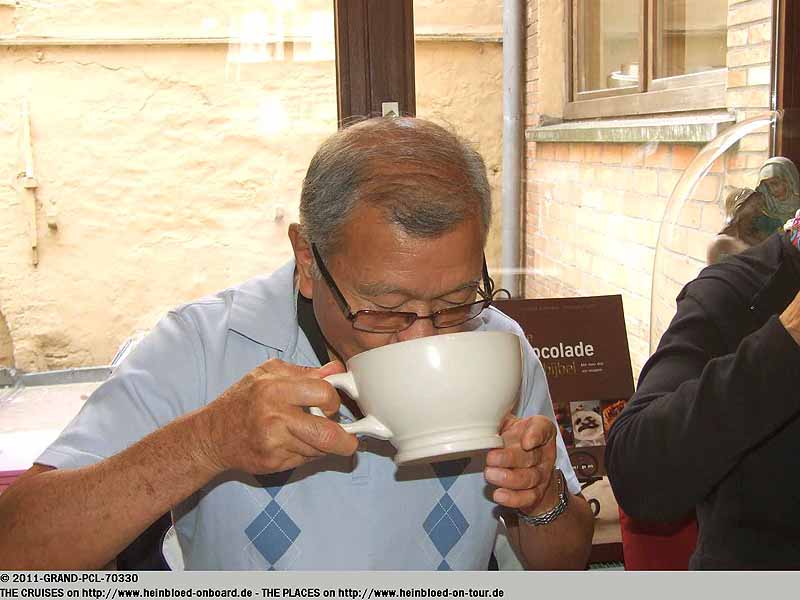 Nun haben sie fast das ganze Programm Niederlande/Belgien intravenös mitgemacht.
Ich gönnen mir auch zum Abschluss noch eine Waffel.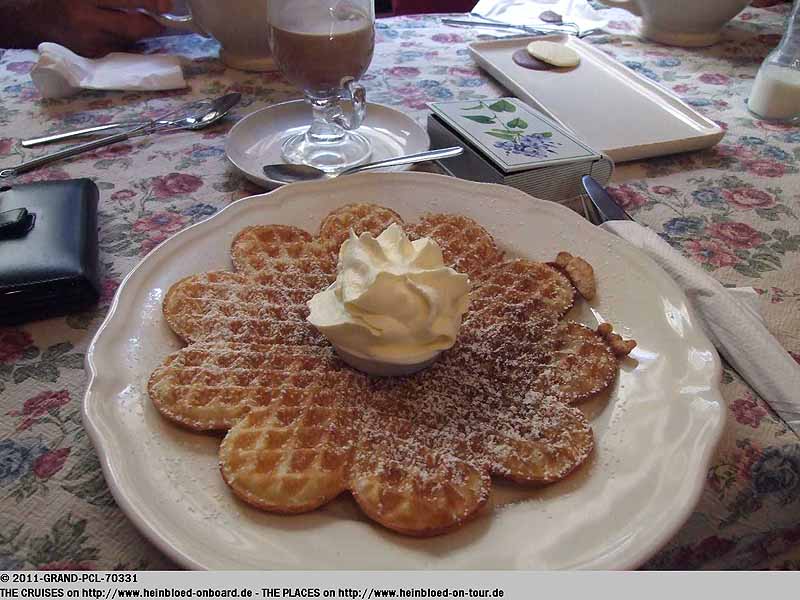 Finally I allowed myself a waffle.

This time I made it to Stephan Dumon who representing Belgium in Shanghai 2010 on the World Exhibition. When I mentioned it, I guess they thought I remembered them from there and were quite happy.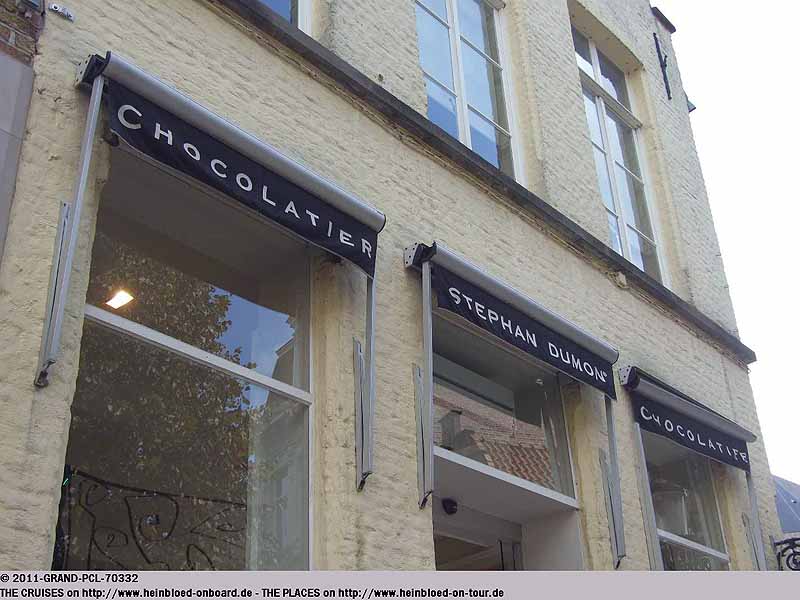 Dieses Mal gehe ich doch mal zu
Stephan Dumon
rein, der 2010 Belgien auf der Expo 2010 in Schanghai vertreten hat. Als ich das erwähne, halten sie mich für jemanden aus Schanghai, der sie wiedererkannt hat und freuen sich darüber.
Ich kaufe noch ein paar zum Probieren. Sie kosten nur halb soviel wie die von Neuhaus. Aber sehr sehr sehr gut.

I bought some to try them. Only half of the price from Neuhaus. But very very very good.

As we were quite late and the last bus from Blankenberge should leave around 16.00 hrs which we could not manage we take paiagirl and her DH Eddie directly to the Cruise Terminal at Zweedsche Kaai. Everyone knew them already. When they showed their cruise card to the security, they only said: "Two from Amsterdam arrived". They thought that Bruno was the third passenger who was missed in Amsterdam. That guest was missed in Amsterdam and appear again in Zeebrugge seems to be quite "normal". For the worst case we already checked for flights to Lisbon, Portugal just in case they had to skip Zeebrugge due to strong winds.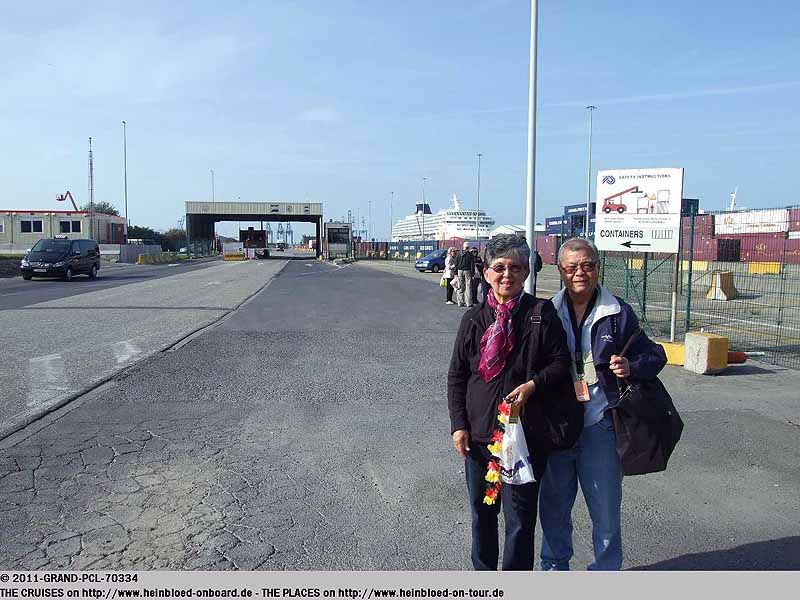 Da wir sehr spät dran sind und den letzten Bus um 16.00 Uhr in Blankenberge nicht bekommen würden, bringen wir paiagirl und ihren Mann Eddie direkt zum Cruise Terminal am Zweedsche Kaai. Dort waren sie bereits bekannt wie ein bunter Hund. Als sie der Security ihre Bordkarten zeigen, meinen sie nur: "Die aus Amsterdam sind da". Bruno wird für den dritten gehalten, der in Amsterdam vermisst wurde. Dass Gäste ihr Schiff in Amsterdam "verpassen" und in Zeebrügge zusteigen ist wohl vollkommen "normal". Wir hatten ja auch schon sicherheitshalber uns nach Flügen nach Lissabon erkundigt, für den Fall, dass Zeebrügge wegen starker Winde nicht angelaufen wird.
Wir müssen uns an paiagirl "rächen". Natürlich hat sie uns wieder Mandeln mitgebracht, obwohl wir es ihr verboten haben. Zur Strafe bekommt sie von uns ein Paket mit Produkten von Wittamer, Leonidas, Neuhaus und Stephan Dumon mit. Zum Vergleich noch noch ein paar Pralinen von
Leysieffer
aus Deutschland, was in Belgien unter Strafe steht. Nun müssen wir uns für ein Jahr verabschieden und treffen sie in September 2012 in Kopenhagen wieder, um gemeinsam nach Island zu fahren. Mit solchen Freunden, die uns gerne etwas zeigen und die sich gerne etwas zeigen lassen, macht es Spaß die Welt zu entdecken.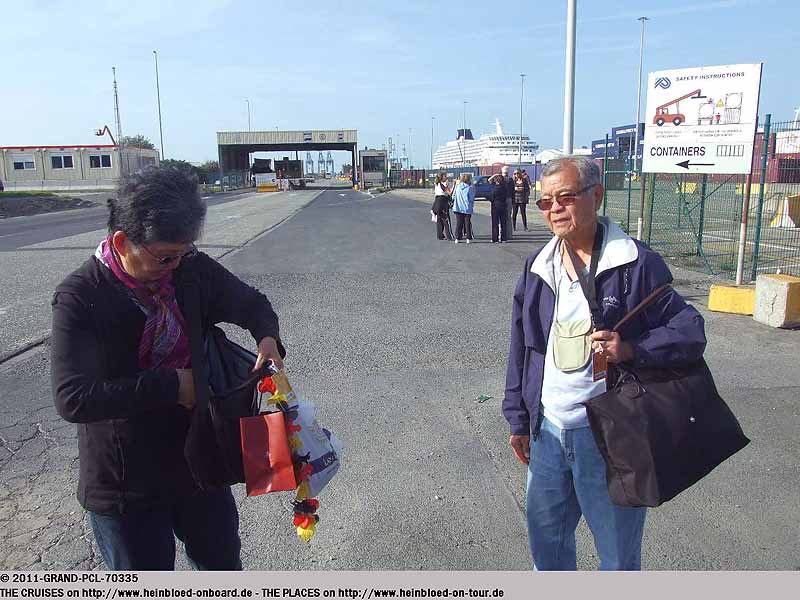 We need to take "revenge" to paiagirl. Of course, she retook almonds for us although we asked her not to do. As a penalty, she got a package with products of Wittamer, Leonidas, Neuhaus and Stephan Dumon. To compare few more from Leysieffer in Germany what means that you might be punished for in Belgium. Now we need to say good-buy for about one year to meet them again in September 2012 in Copenhagen, Denmark and to get from there to Iceland. With such friends who like to show us and who appreciate to let us showing them something, it is a huge pleasure to discover the world...

When we were here by ARTEMIS, there was no shuttle for guests between the port gate and the pier. Now there was a complimentary bus.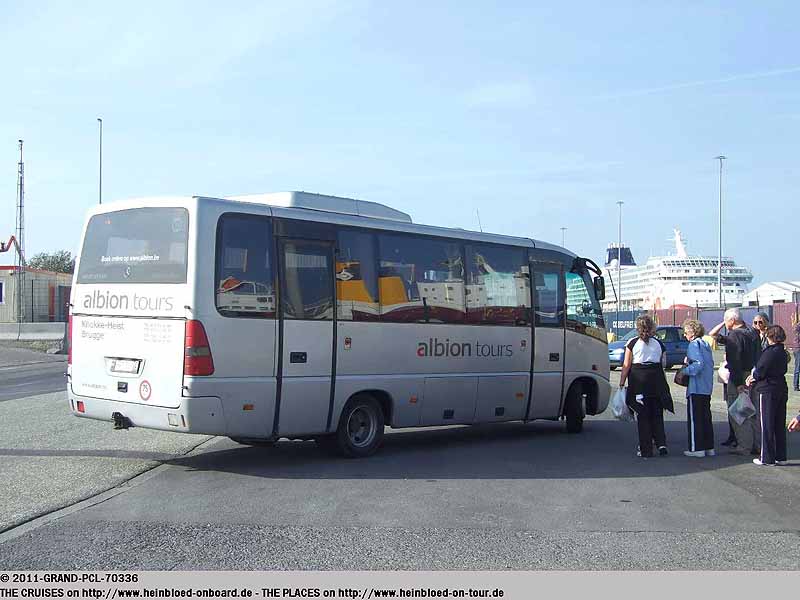 Als wir mit der ARTEMIS hier waren, gab es keinen Shuttle für Gäste, die vom Hafentor zum Pier wollen. Nun wird ein kostenloser Bus eingesetzt.
Zwei sehr schöne Tage mit guten Freunden gehen zu Ende.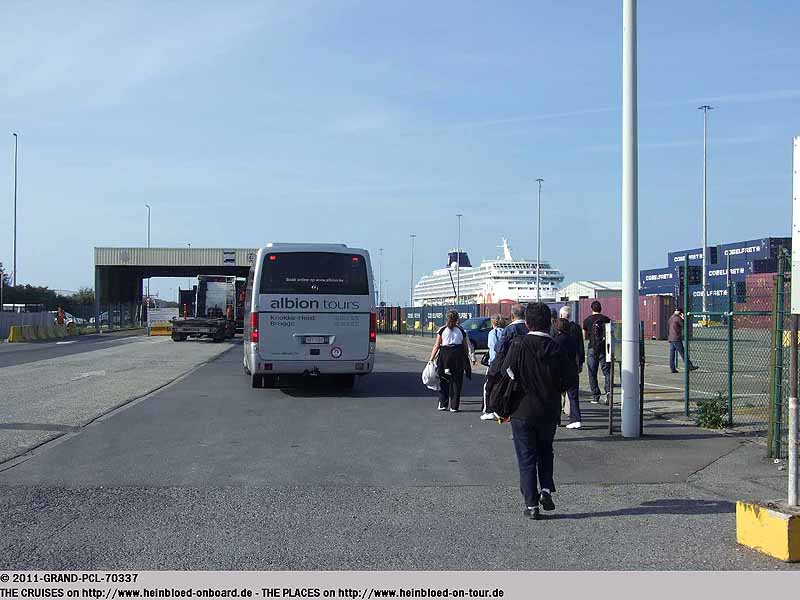 Two very nice days with good friends terminated.

For further shipspotting or researches, we had no more time. I was expected urgently back at work as we had an Open House event. Due to traffic congestions around Antwerp, we lost a lot of time so that we decided to split the ride back to my workplace.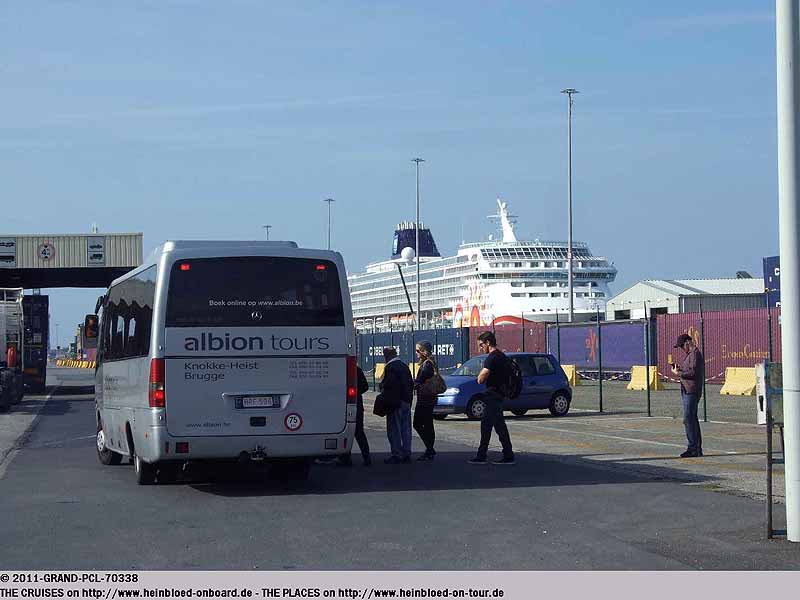 Zum Shipspotten oder weitere Recherchen fehlt die Zeit. Ich werde drigendst für den Tag der offenen Tür im Harz erwartet. Leider werden wir durch Staus um Antwerpen aufgehalten, so dass wir uns entschließen die Fahrt aufzuteilen.
Ein Stück der Fahrt geht wieder durch die Niederlande zurück. D. h. für mich: Automatenessen.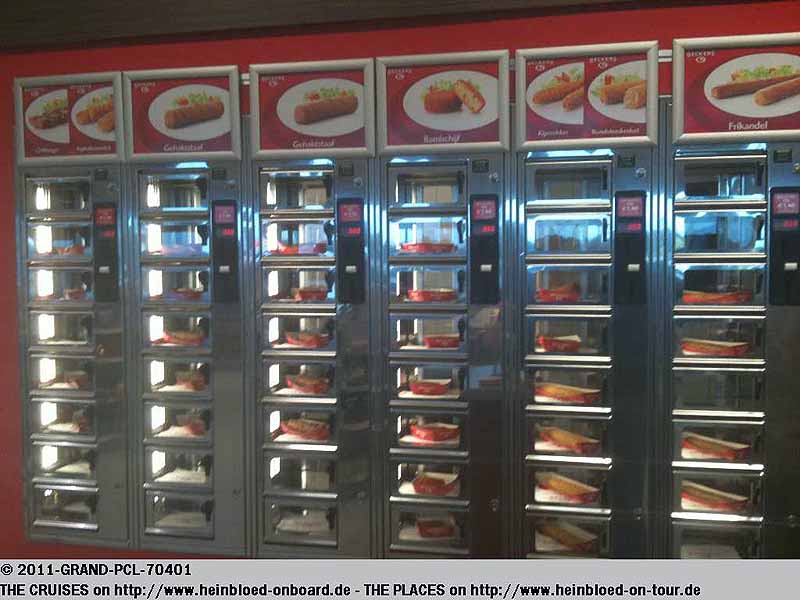 A part of the journey went through the Netherlands which means food from the vending machines.

A complete dinner filled in one roll and only for 1.40 EUR.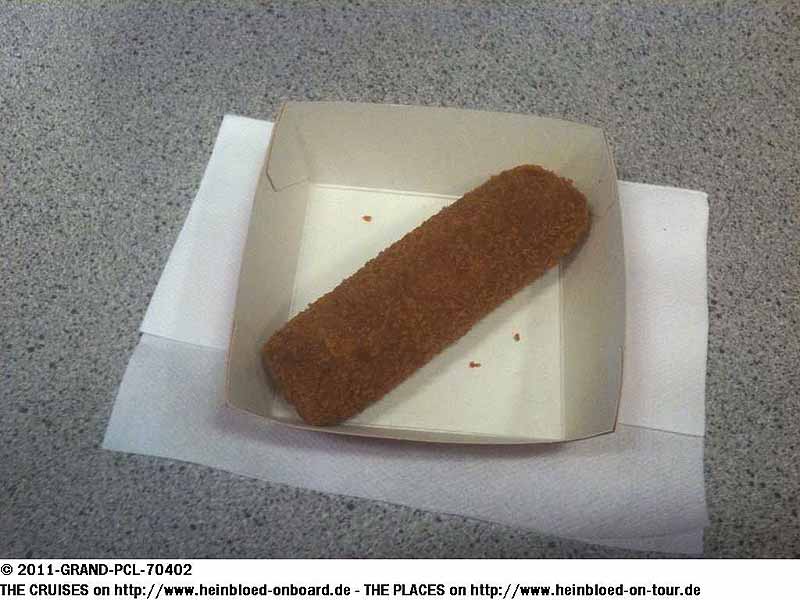 Ein ganzes Abendessen in eine Krokette reingefüllt und das für 1,40 EUR.
Wir übernachten im Holiday Inn Express in Essen, aber in Slough war es schöner.

We stayed overnight in Holiday Inn Express in Essen, Germany but the Slough one was much more nicer.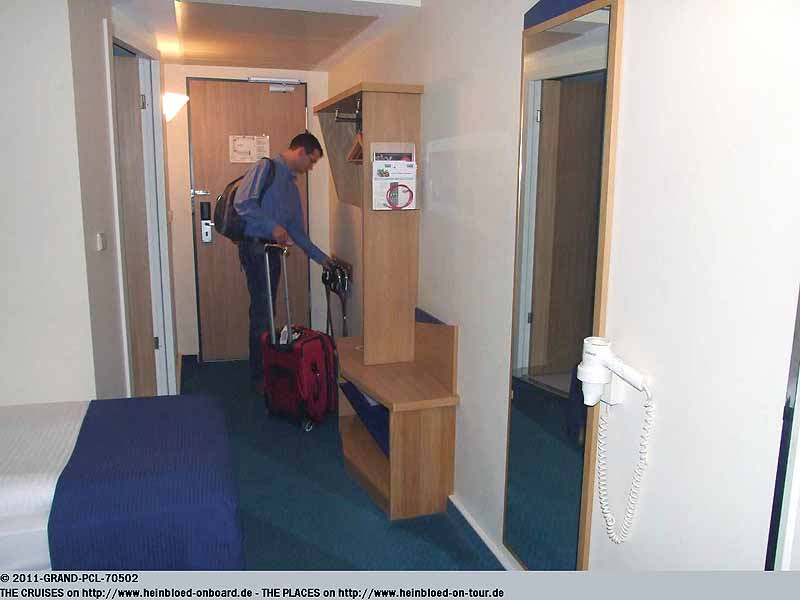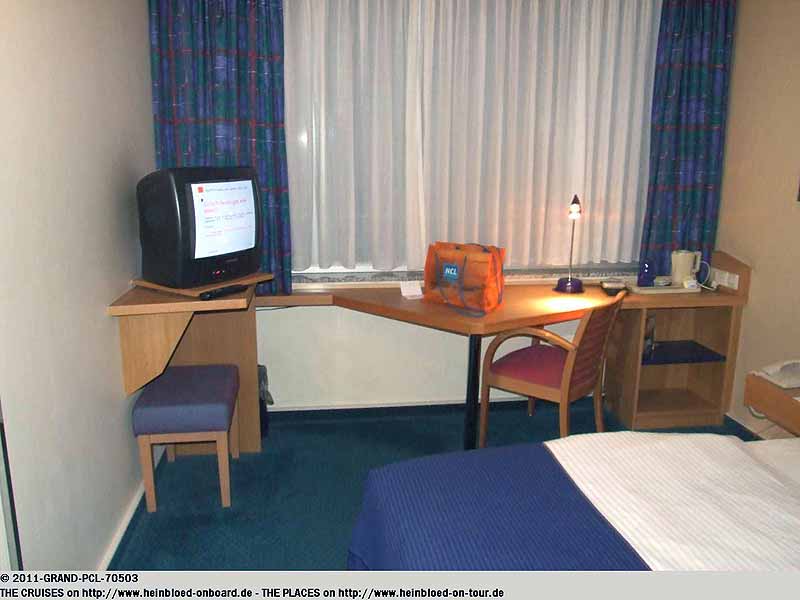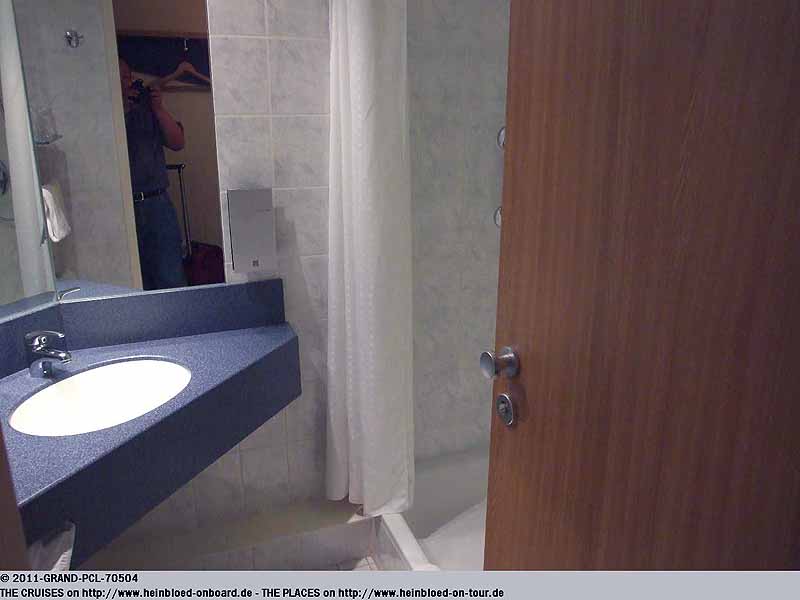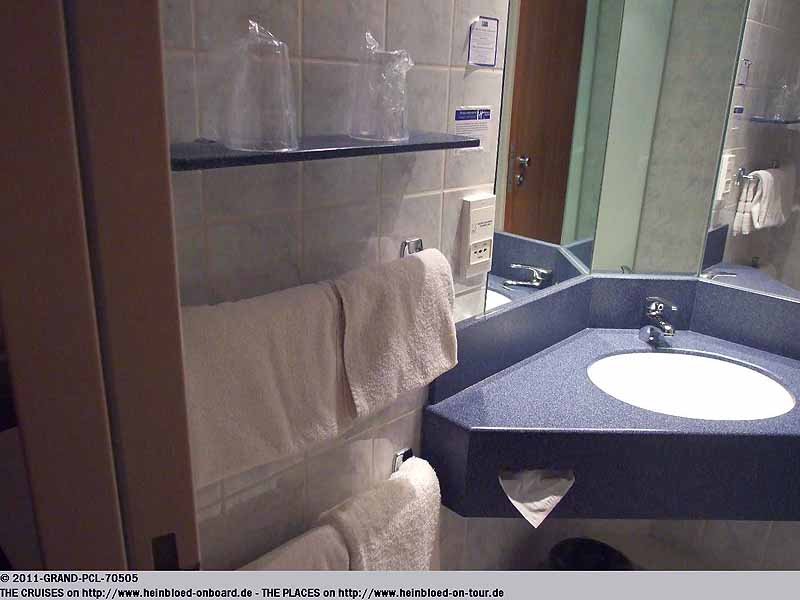 For dinner we went to Mongo's. They had only Mongolian Barbeque what was too much for tonight. So we ordered some starters which reminded us very much of the cruise ship food. So our great voyage ended here. Last, not least we should mention that our car had no scratch and they collected us directly at Frankfurt Central Station, so we did not need to transfer with six bags to the airport. Just for a small surcharge of 9.00 EUR. The cruise on GRAND PRINCESS was fantastic. Small "minor" troubles which we did not like so much but generally spoken it was brilliant. Let us see if we can do 23 nights in a mini-suite on DIAMOND PRINCESS in May 2013. But as we were lucky with the German public holidays: Labour Day, Ascension and Pentecost - just 15 days off the company and going 23 nights at sea. And two more days we could stay four more days in Bejing. Who had additionally Corpus Christi (not nationwide - just regional Catholic, i.e., I have to work while Bruno is "celebrating" in this bed...) we could spend some days more in Canada. First, we wanted to do it in 2012, but Alaska is somehow short-cut. Now we have a full week in Alaska. We are looking forward. Anyone interested in joining???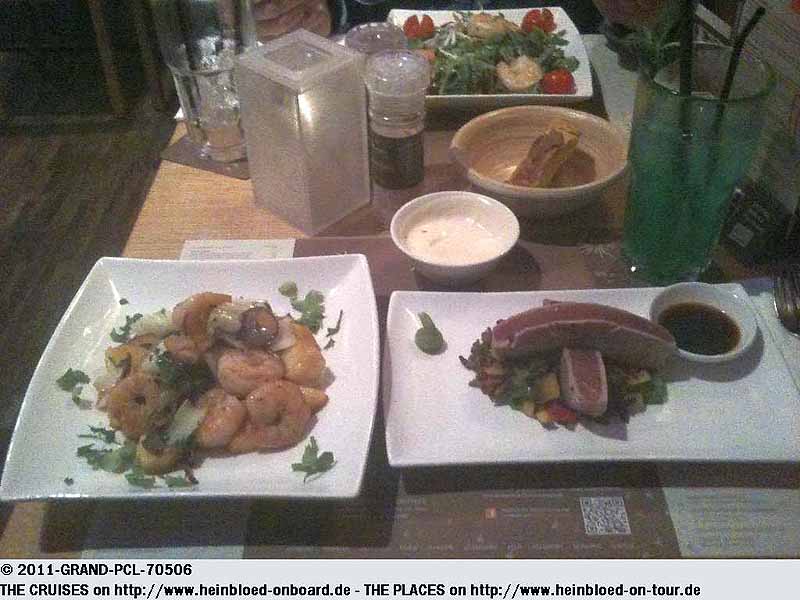 Abends gehen wir noch ins
Mongo's
essen. Es gibt nur mongolisches Barbecue, was uns allerdings heute Abend zu viel ist. So bestellen wir ein paar Vorspeisen, die sehr an Gerichte an Bord erinnert. Hier endet also die tolle Reise. Abschließend sollte man noch erwähnen, dass das Auto keinen Kratzer abbekommen hat und wir direkt am Frankfurter Hauptbahnhof abgeholt wurden und somit nicht mehr mit sechs Taschen nochmals umsteigen mussten, um nochmals zum Flughafen zu kommen. Das hat einen Zuschlag von 9,00 EUR gekostet. Die Fahrt mit der GRAND PRINCESS war klasse. Kleine "Marotten", die uns nicht so gefallen haben, aber insgesamt war es klasse. Mal gucken, ob wir 23 Nächte in einer Mini-Suite auf der DIAMOND PRINCESS im Mai 2013 aushalten. Aber so wie die Feiertage liegen: Maifeiertag, Himmelfahrt und Pfingsten - mit 15 Tagen Urlaub - 23 Nächte auf See. Und mit zwei Tagen Urlaub mehr noch vier Tage in Peking verbringen. Und wer noch Fronleichnam hat (wie Bruno, während ich arbeiten muss), kann ja noch ein wenig in Kanada verbringen. Wir hatten zunächst 2012 in Betracht, aber da wird Alaska gekürzt angeboten. Hier wird eine volle Woche Alaska angeboten. Wir freuen uns sehr. Kommt jemand mit???
Die anderen Reisen in diesem Blog/
The other voyages in this blog: