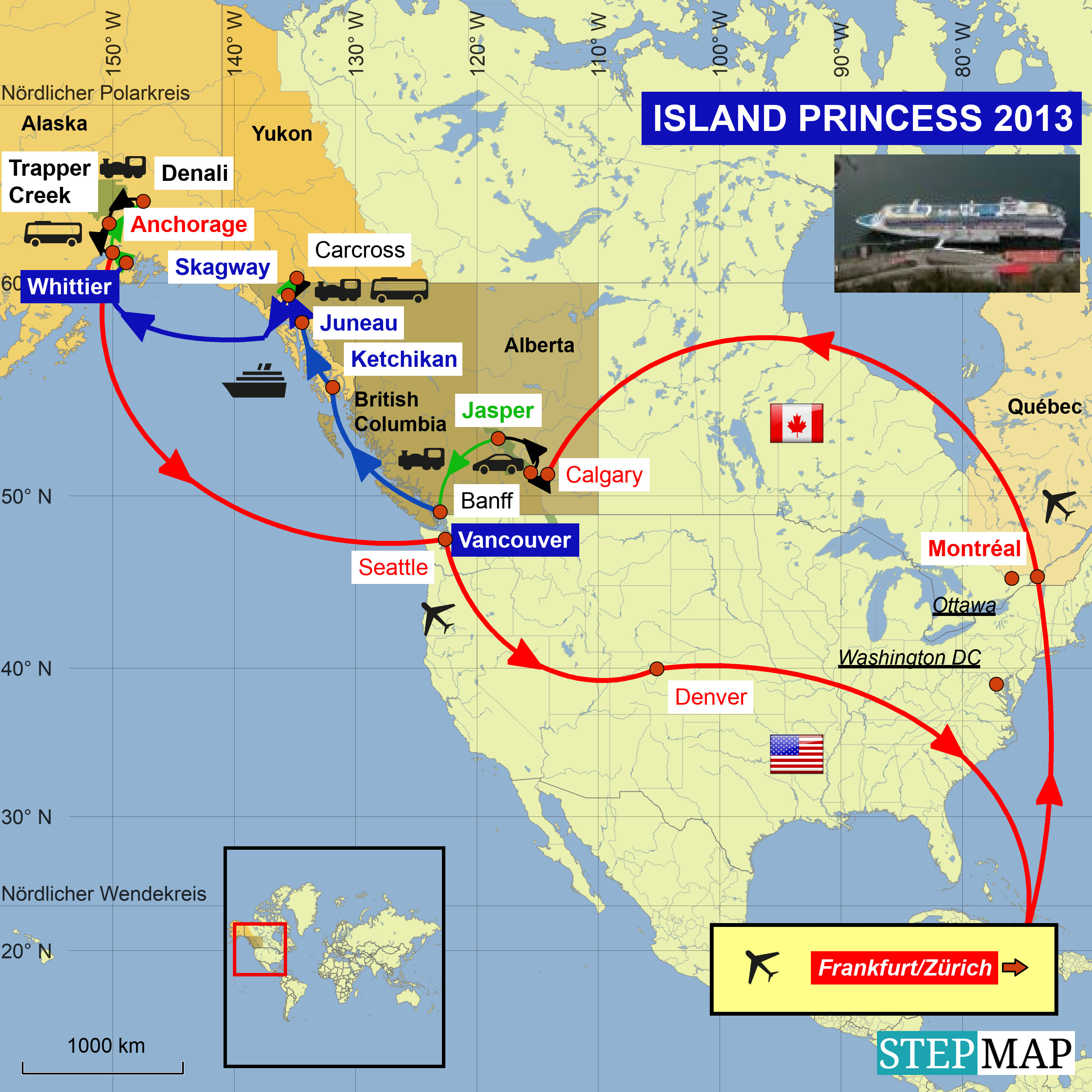 Den 2. Tag passieren wir die Inside Passage.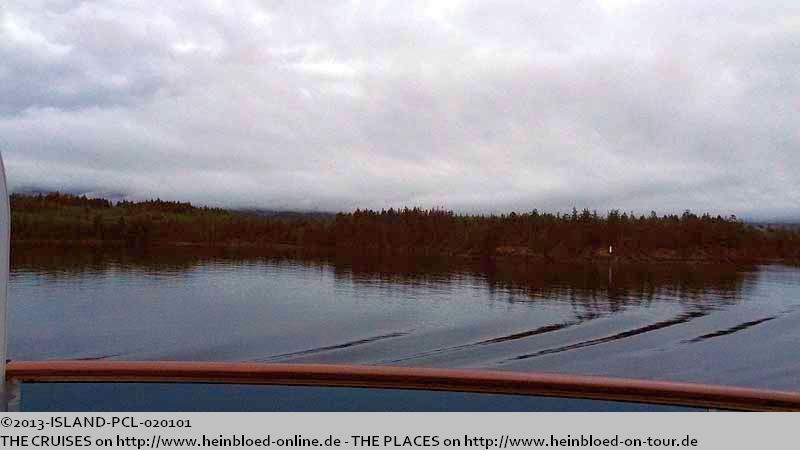 The 2nd day we passed the Inside Passage.

Our cabin offered the significant advantage that we had a 270° view from our balcony.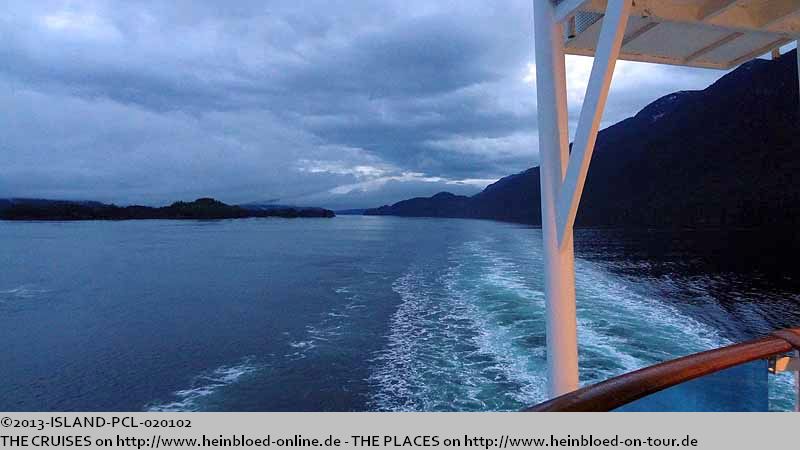 Unsere Kabine war echt ein Riesenvorteil, dass wir eben 270° Blick von unserem Balkon hatten.

Leider bietet Princess weder einen Wäschebeutel zum Sonderpreis an, noch eine Wäscherei-Flatrate, wie bei Holland America. Aber alles ist ziemlich bezahlbar.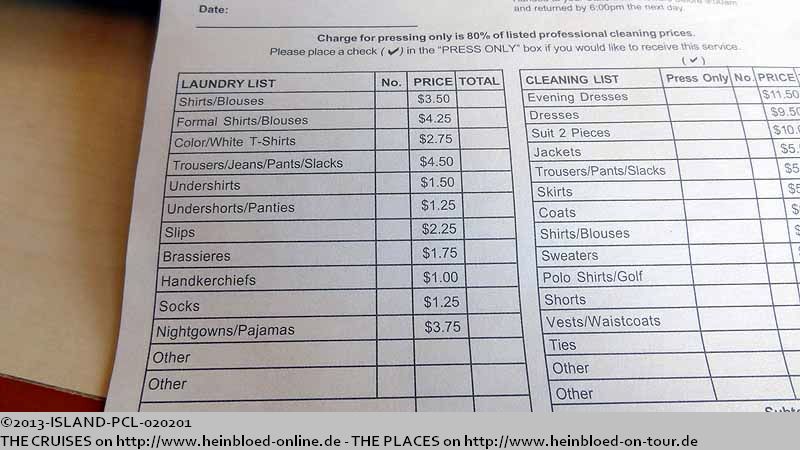 Unfortunately Princess did not offer either a laundry bag special nor a laundry flat rate like with Holland America. But the price for that service was quite moderate.

As I was on vacation and did not like to stay in the laundromat, we filled a few bags.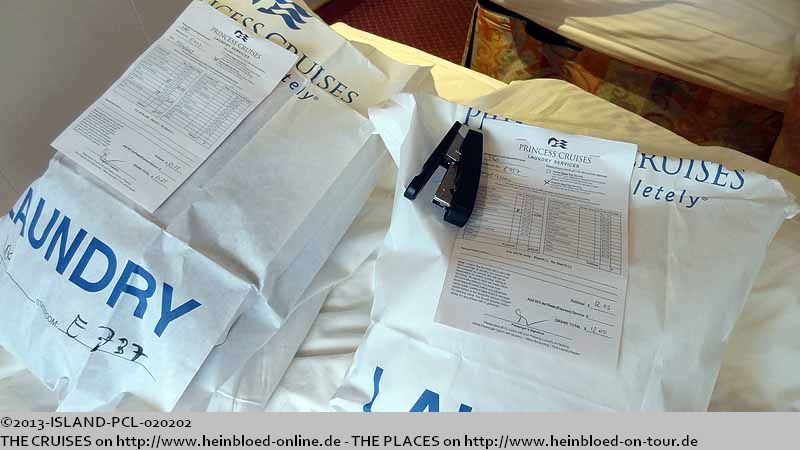 Da ich Urlaub habe und ich keine Lust habe mich in den Waschsalon zu stellen, machen wir kurzerhand ein paar Beutel voll.
Unser neuer Hefter ist von großem Vorteil. Außerdem sind wir mit der Leistung von Klaynard zufrieden, so dass wir schon die 1. Crew-Schokolade hinterlegen und uns für seinen Service bedanken.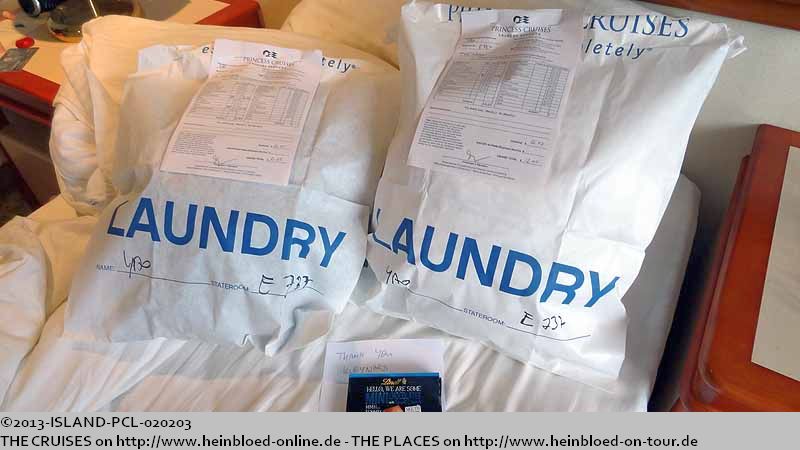 Our stapler was very helpful. Furthermore, we were delighted with the performance of our cabin steward Klaynard so that we placed the first crew-chocolate to say thank you for his service.

To our surprise, we got in many places a shoreside 3G-signal from ashore that we could still use our access to our Virgin Mobile. So we could easily transfer hundreds of pictures on Facebook and to our server in Germany before we entered the US-networks.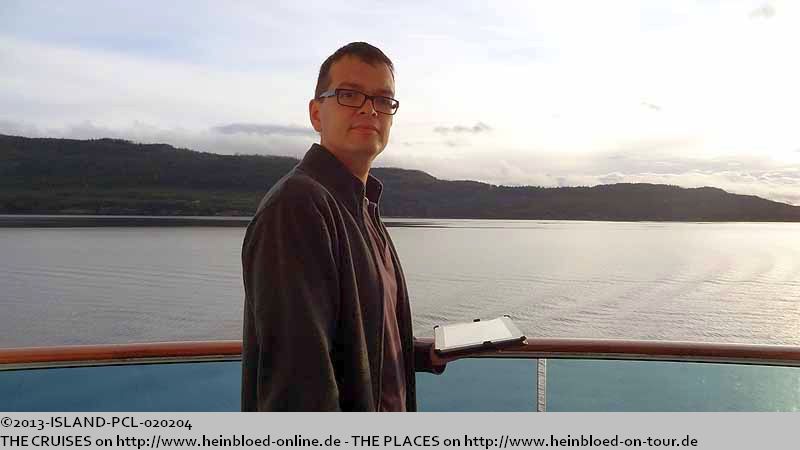 Zu unserem Erstaunen: wir bekommen an sehr vielen Stellen 3G-Netz vom Land, so dass wir immer noch die Karte von Virgin Mobile nutzen können. So können wir noch Hunderte von Bilder auf Facebook und auf den T-Online-Server übertragen, bevor wir ins amerikanische Netz wechseln.
Bei der Dusche ärgerlich ist immer noch ein Vorhang. Hoffentlich wird es auf der ROYAL PRINCESS besser. Die Wäscheleine nutzen wir nicht, da ich ja alles waschen lasse. Nur dieser Duschkopf. Warum können die sich eigentlich nicht noch 1 m Schlauch leisten?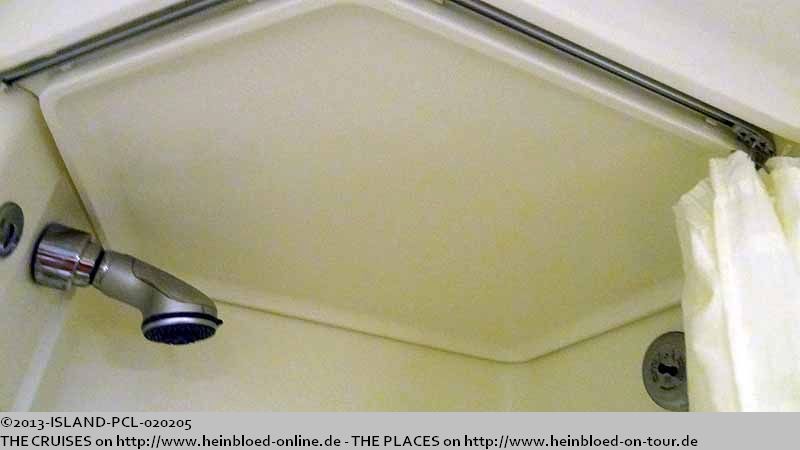 The curtain in the bathroom occurred some anger. I hoped it should become better on ROYAL PRINCESS. We did not use the clothesline as we let them laundry. But that shower head. Why cannot they afford to spend 3 feet of a pipe?

It was quite narrow inside.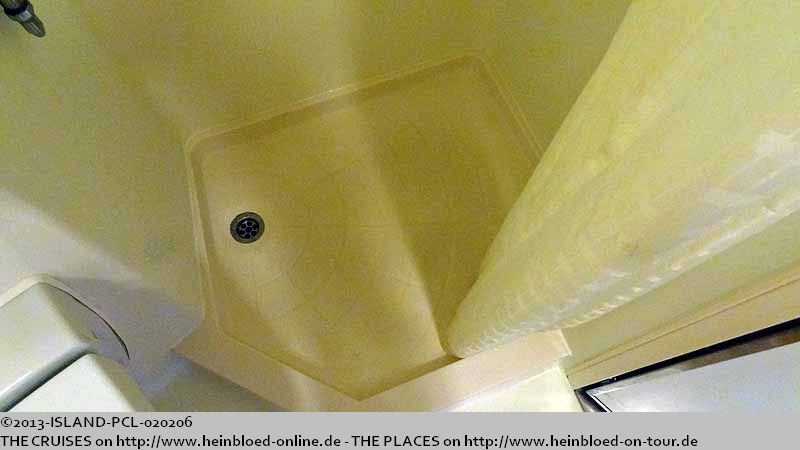 Es ist doch ziemlich eng drin.
Man muss wirklich darauf achten, dass alles zu ist, weil sobald auch nur 1 cm offen steht, steht das gesamte Bad unter Wasser.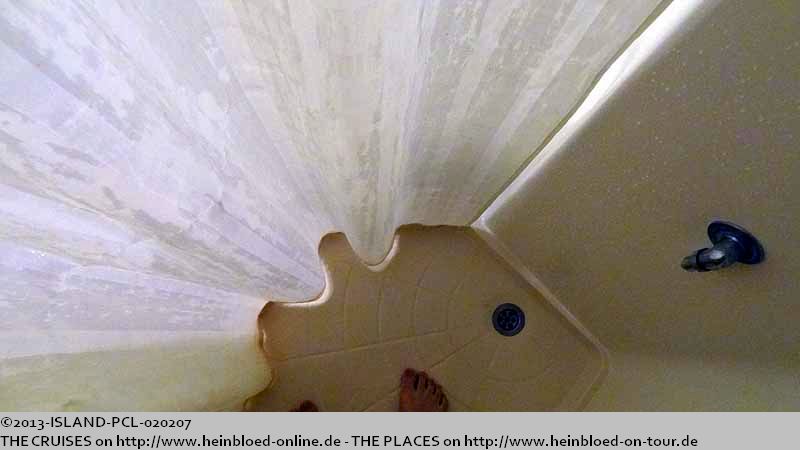 You need to pay special attention that everything was closed. Even one inch was open, and you had complete flooding of the bathroom.

For me, it was perfect that my toothbrush fitted there. And Klaynard got us some shower get from the suites so we must not use our own. Otherwise, you had only soap.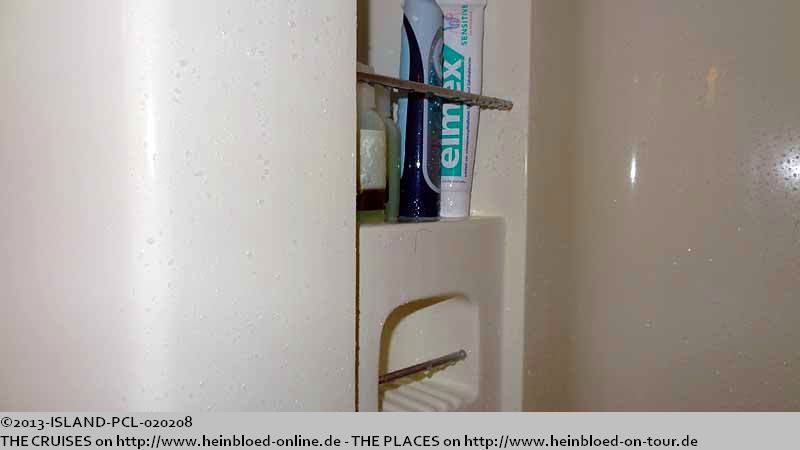 Für mich sehr praktisch: Meine Zahnbürste passt. Und Klaynard hat uns Duschgel aus den Suiten besorgt, so dass wir nicht unser eigenes benutzen müssen. Ansonsten gibt es nur Seife.
Im Rücken ist lediglich die Haltestange. Fand ich ganz schrecklich an dieser Stelle.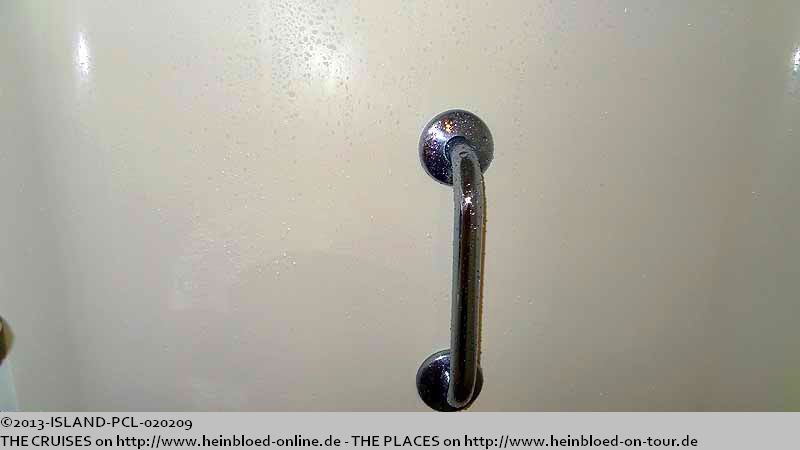 In your back you had always that grab bar. I disliked it at this position.

The towels might be a little thicker. They were quite thin.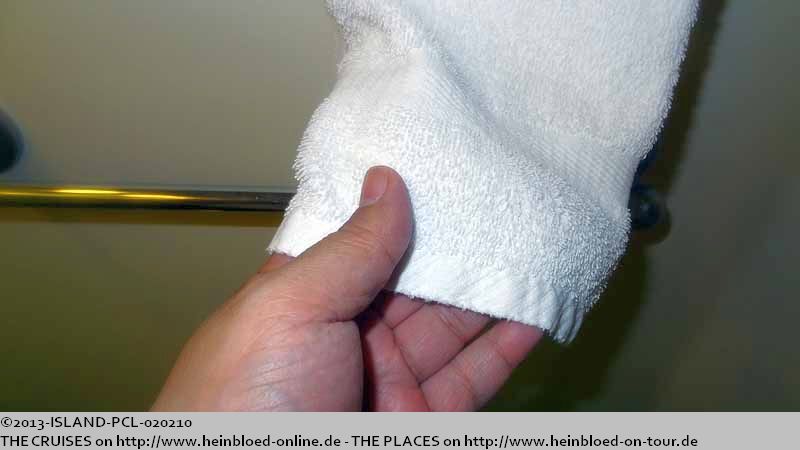 Die Handtücher dürften etwas dicker sein. Sie sind sehr sehr dünn.
Mit Klaynard einigen wir uns, dass wir ihm signalisieren sollen, wenn wir länger aus der Kabine ist, damit er unsere Kabine machen kann.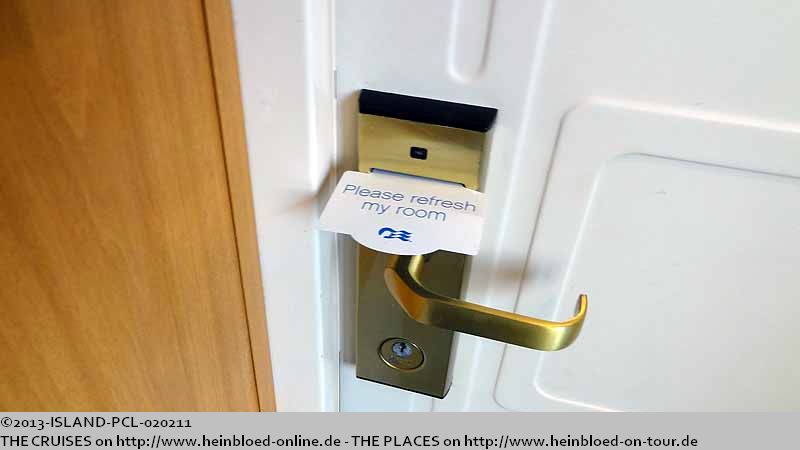 With Klaynard we had the agreement that we showed him when we were not in the cabin that he knew when he could do our cabin.

Bruno needed to tape two sections only, but anything else was terrific. Temperature and air ventilation were perfect.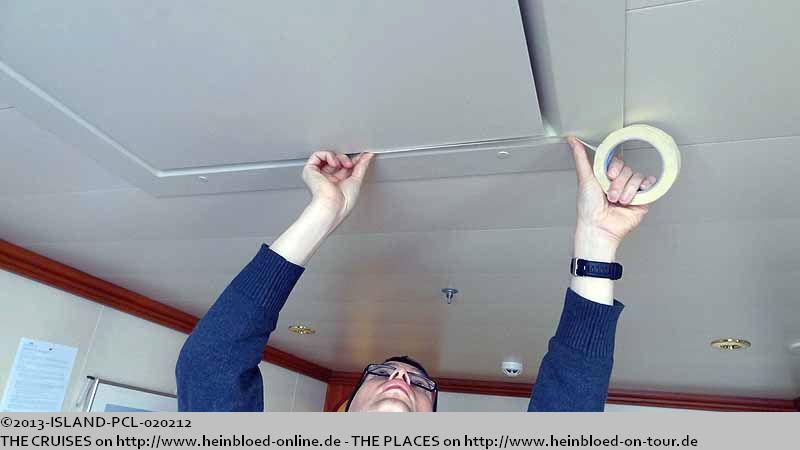 Bruno hat zwei Seiten abgeklebt: war dann alles wunderbar. Die Temperatur und die Luftzufuhr stimmte.
Wir bereiten unsere Wand vor, damit wir den Überblick nicht verlieren.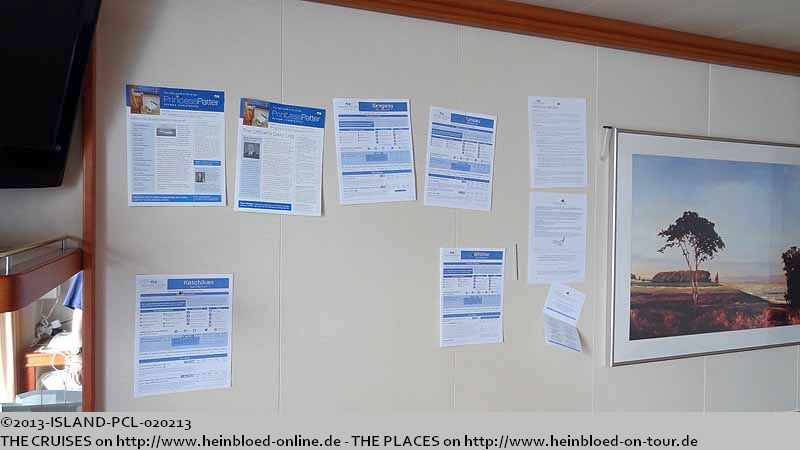 We prepared our wall that we did not loose the overview.

And our poor steward Klaynard need to attend to a life drill for crew only.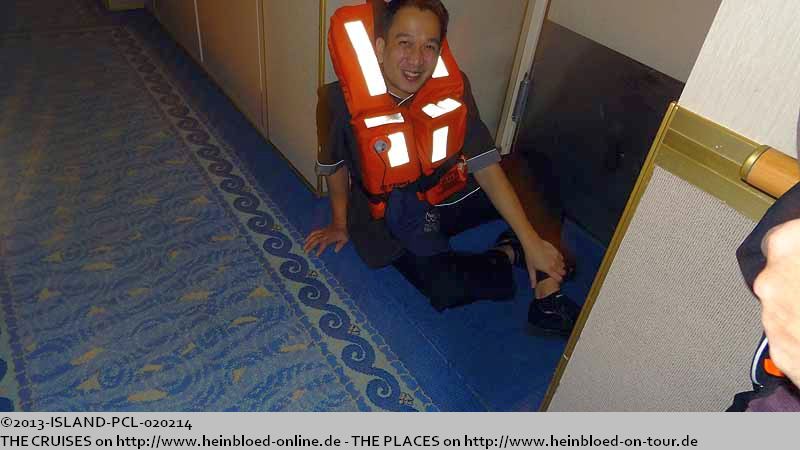 Und unser armer Steward Klaynard musste noch an einer Übung für die Crew teilnehmen.
Die anderen Reisen in diesem Blog/
The other voyages in this blog: