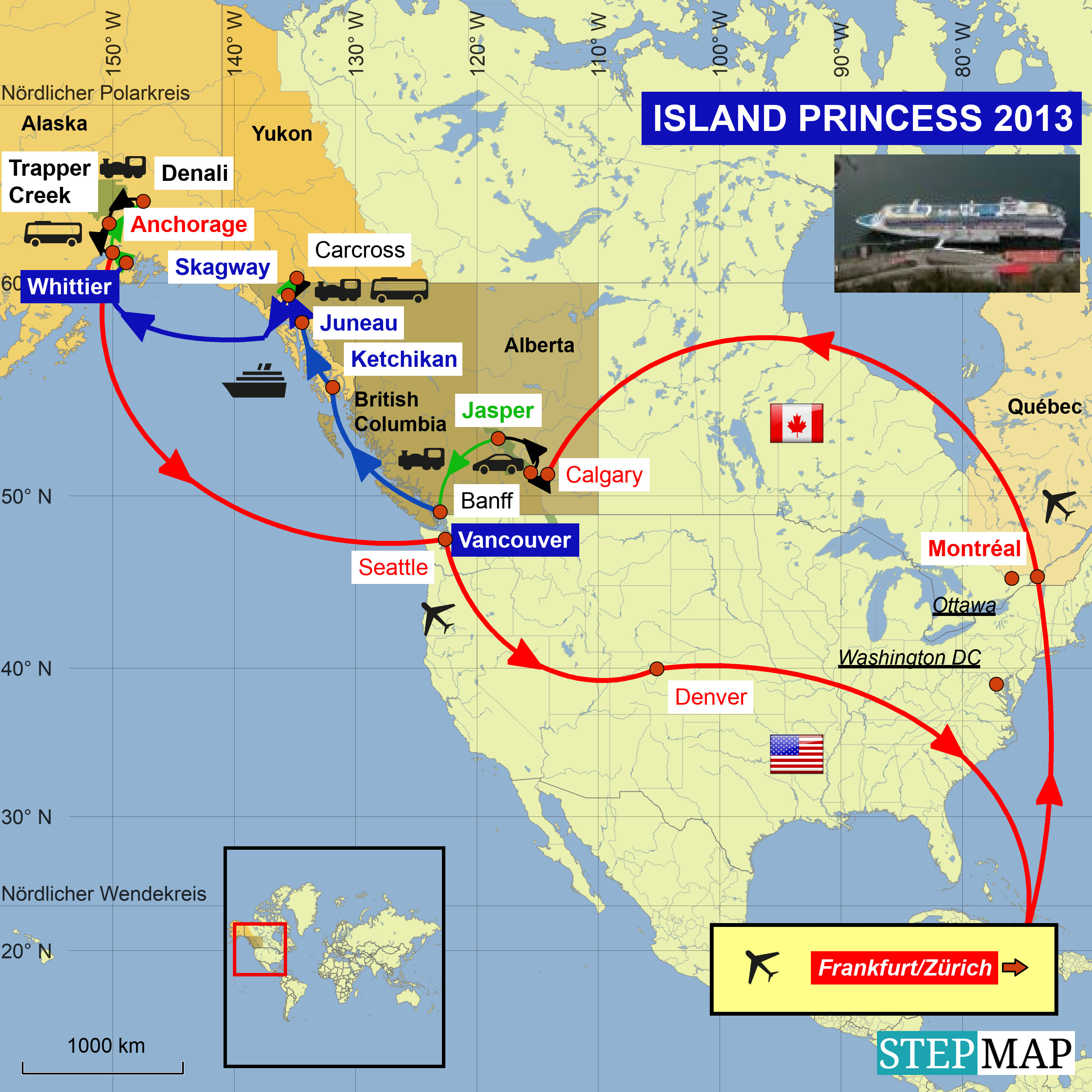 Weil es Bruno nicht so gut geht, gehe ich um 05.30 Uhr hoch in den Horizon Court und bitte um Unterstützung. Hier sind sie gerade dabei die Servietten zu falten.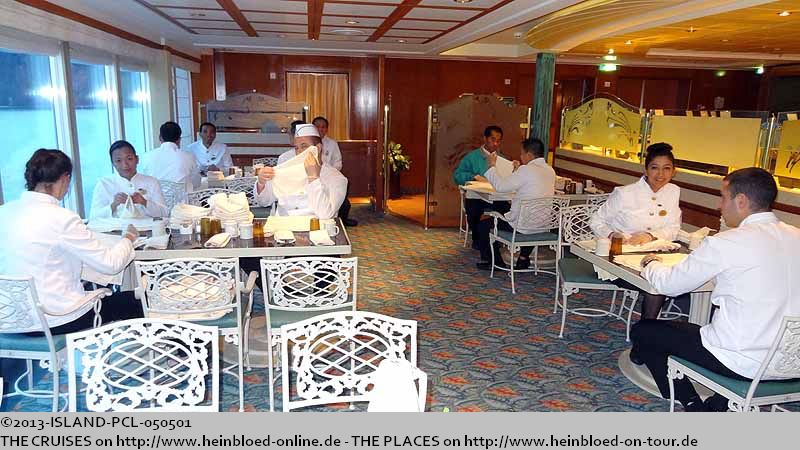 Because Bruno did not feel well I went 05.30 hrs to Horizon Court and asked for assistance. Here they were folding napkins.

I asked for lemon, fresh mint, fresh ginger, some honey and hot water.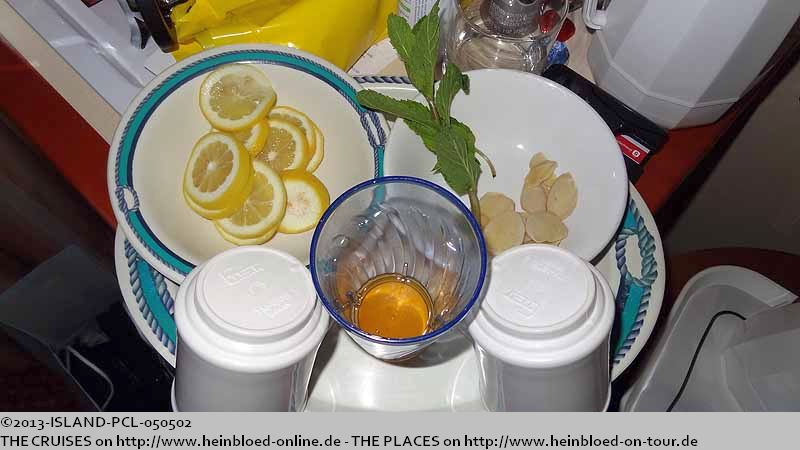 Ich bitte um Zitronen, frische Minze, frischen Ingwer, etwas Honig und heißes Wasser.
Eduardo bittet Slavica, dass sie für mich alles zusammenstellen soll.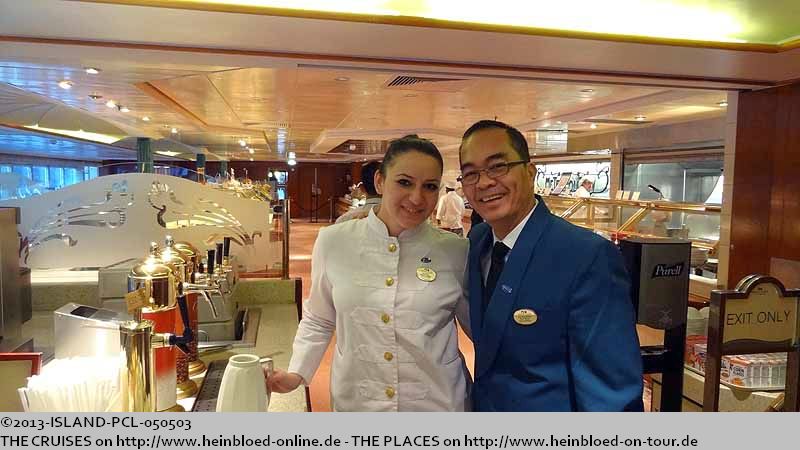 Eduardo asked Slavica to arrange everything for me.

It was not so simple because not everything was available here at the top. But therefore you had the right man like Sous Chef Eugene who arranged everything coming from the bottom. We were told again that this would be no problem. We may place our request around the clock.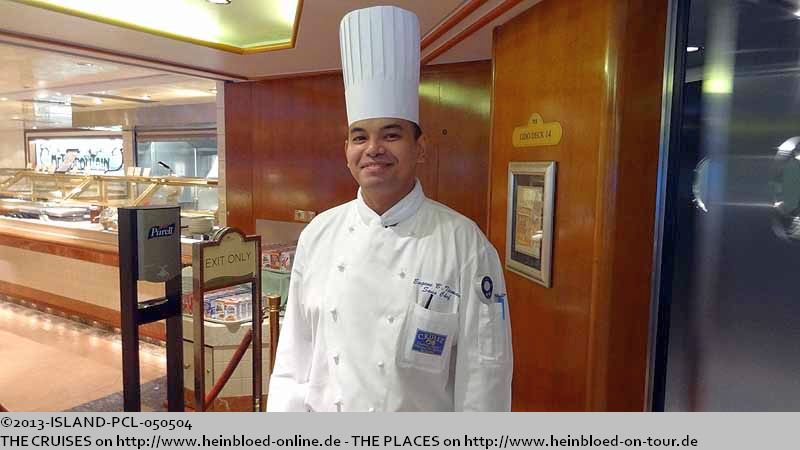 Das ist gar nicht so einfach, weil nicht alles hier oben greifbar ist. Aber dafür ist dann Sous Chef Eugene der richtige Mann, der alles von unten heranschaffen lässt. Uns wird nochmals gesagt, dass es gar kein Problem sei. Mit diesem Wunsch dürfen wir, rund um die Uhr kommen.
Wir haben dann alles kurzerhand in eine Kanne reingestopft. Da wir im Büro auch keine Heißwasser-Kannen mit anderen Sachen mischen sollen, machen wir eine Notiz dran, dass sie uns die Kanne in Rechnung stellen dürfen, und wir sie ggfls. als Souvenir mit nach Hause nehmen würden.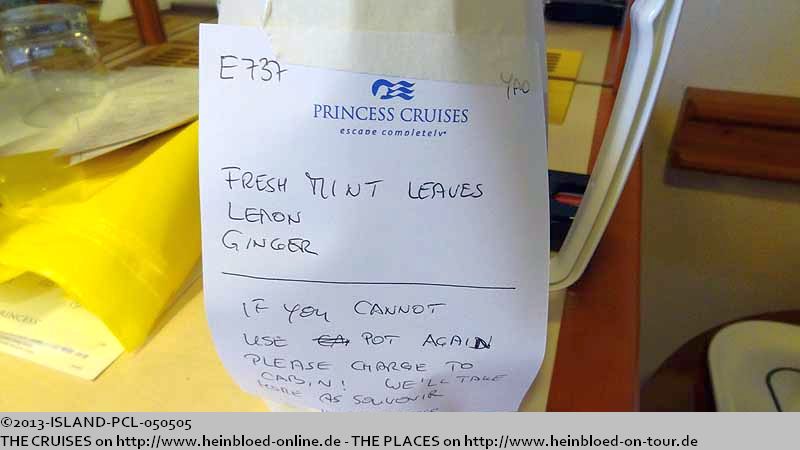 We stowed everything in one pot. As we were not allowed to put anything else in hot water pots, we placed a note that they might charge us the pot and we would take it home as a souvenir.

This morning we had an unusual looking melon plate on a slice of pineapple. Seemed very familiar to me...

Heute Morgen gab es einen interessanten Melonenteller auf einer Scheibe Ananas. Kam mir irgendwie bekannt vor...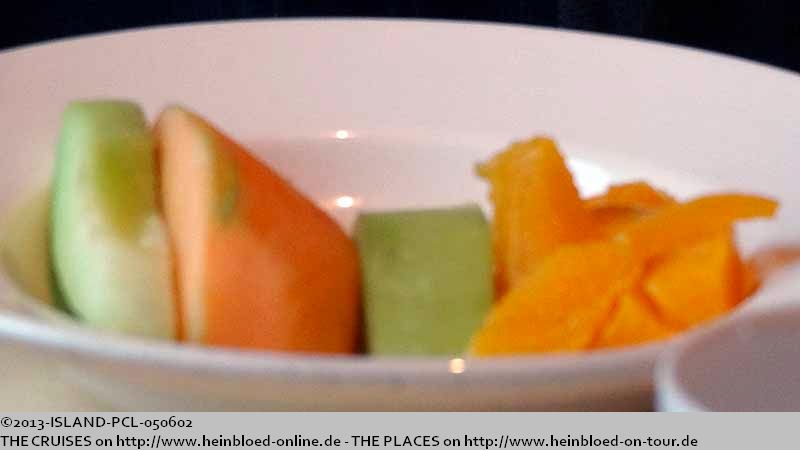 They should not called that Frittata...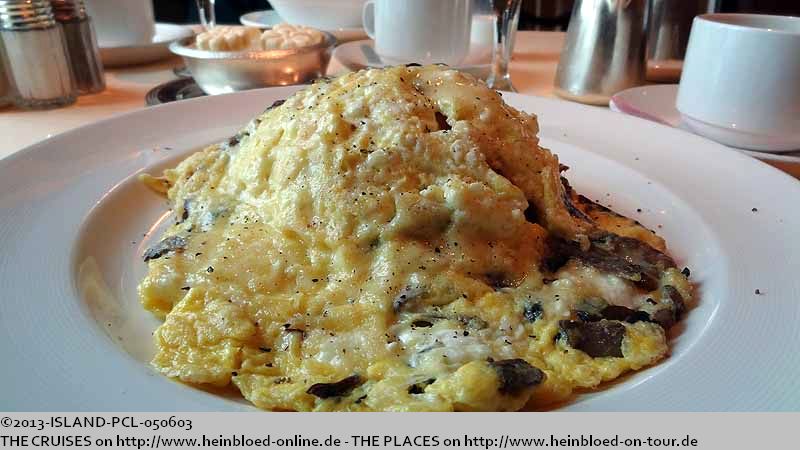 Nur die Frittata hätte nicht so genannt werden dürfen...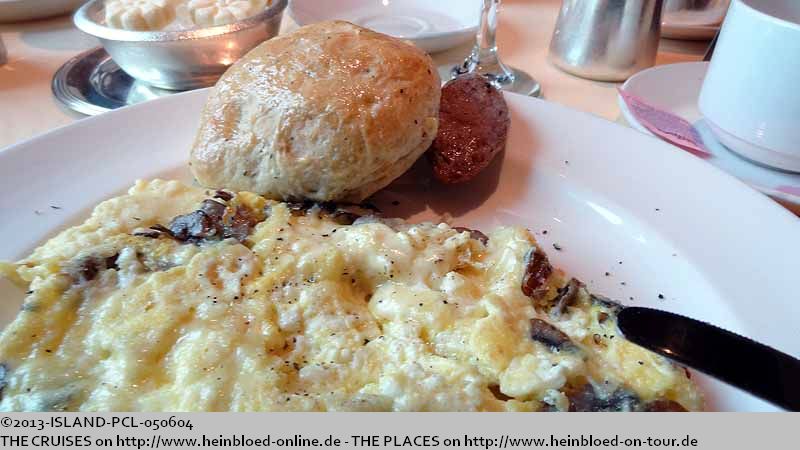 Due to a high OBC we booked very early an excursion. We had luck: the price increased, and you must not prepay with Princess, and you can cancel before the tour starts.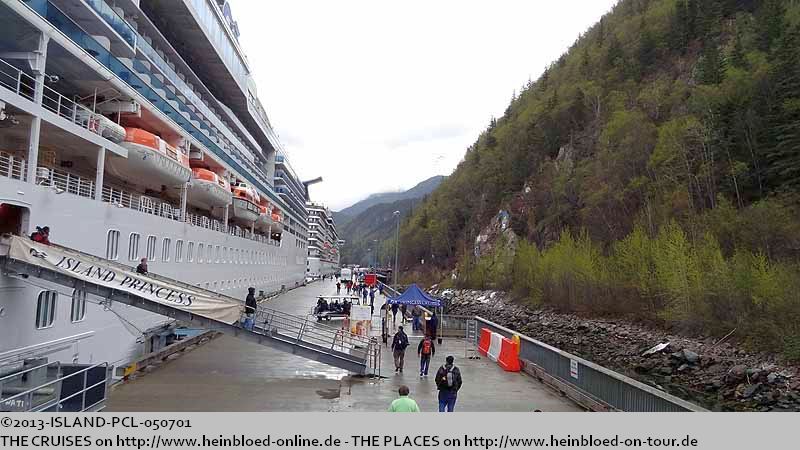 Aufgrund des hohen Bordguthabens haben wir sehr frühzeitig einen Ausflug gebucht. Damit hatten wir Glück: der Preis stieg nämlich und bei Princess muss man nichts im Voraus bezahlen und kann alles getrost bis kurz vor Abfahrt stornieren.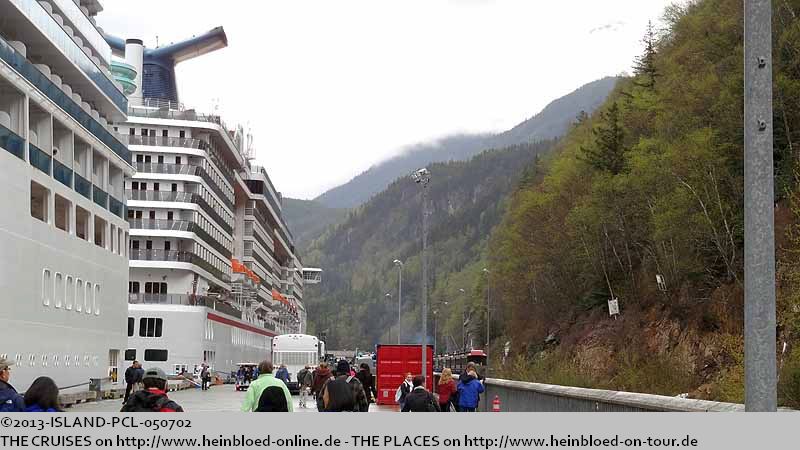 In the background a train was waiting but not for us.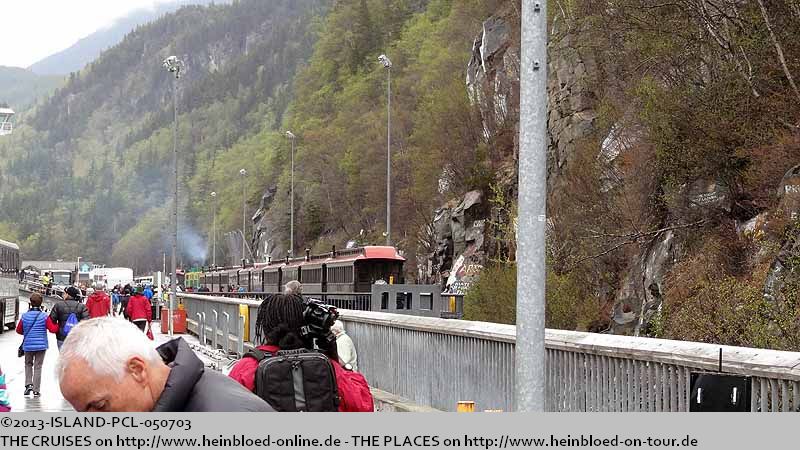 Im Hintergrund wartet bereits ein Zug, aber leider nicht für uns.
Hier in Skagway gibt es eine Besonderheit, Der Erstanlauf eines Schiffes und der Erstanlauf eines Kapitäns auf dem Schiff wird entsprechend dokumentiert. Es heißt, je beliebter der Kapitän, desto höher am Abhang wird es dokumentiert. Leider finden wir die aktuelle ISLAND PRINCESS nicht.

Here in Skagway you had something special. The maiden call of a ship and the maiden call of a Captain were recorded. We were told: the more popular the Captain the higher you will find the tag at the cliff. Unfortunately we could not find the actual ISLAND PRINCESS.

But we could find many other of my favourite ships.

Dafür aber viele andere meiner Lieblingsschiffe.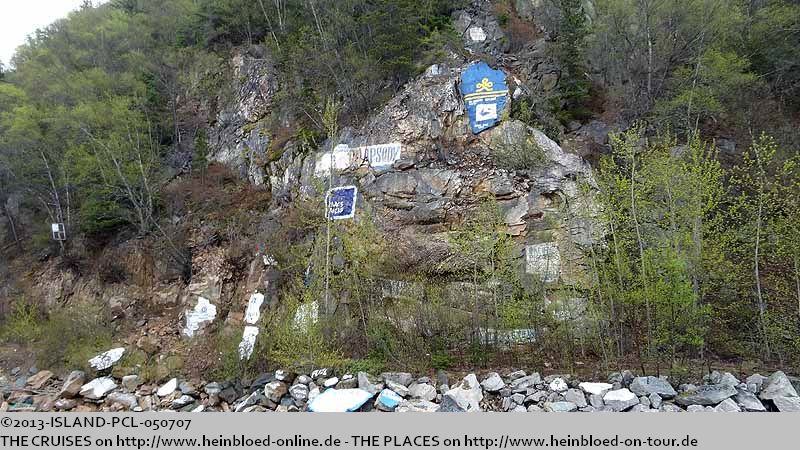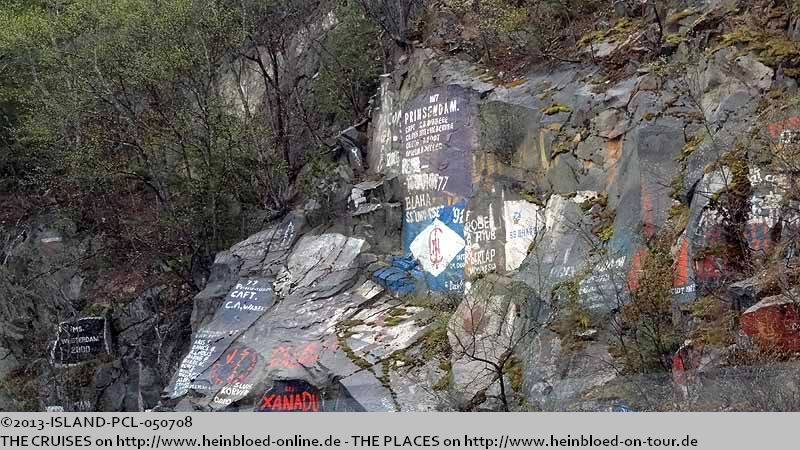 1985 could not be our ship as our ship joined the service in 2003.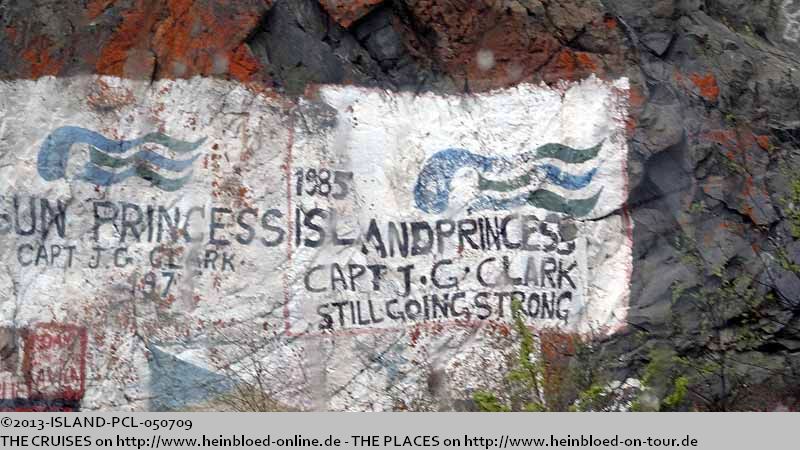 1985 kann nicht unser Schiff gewesen sein, da unser Schiff erst 2003 in Dienst gestellt wurde.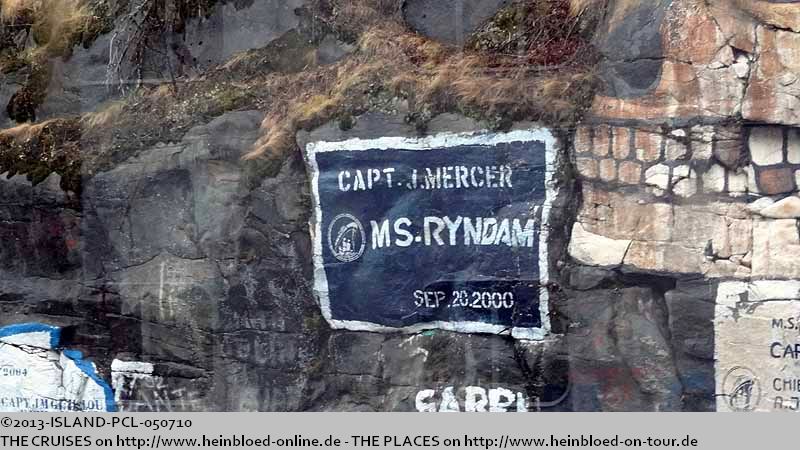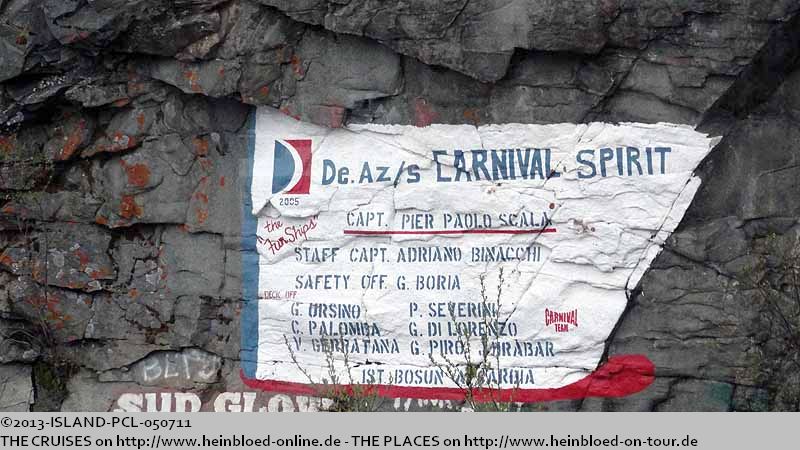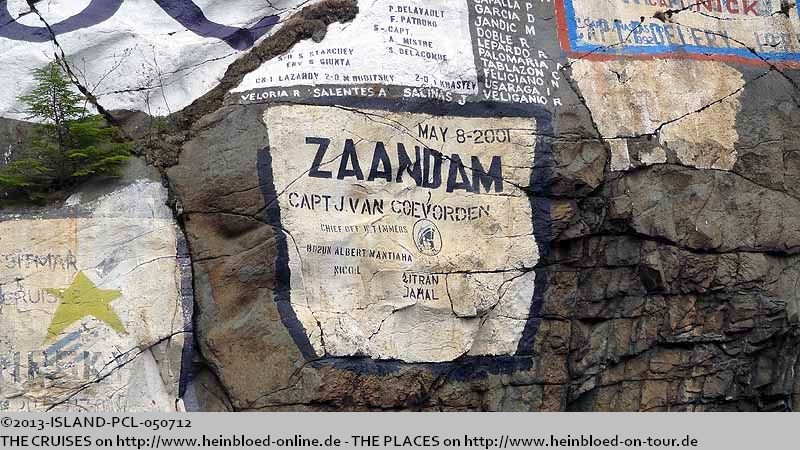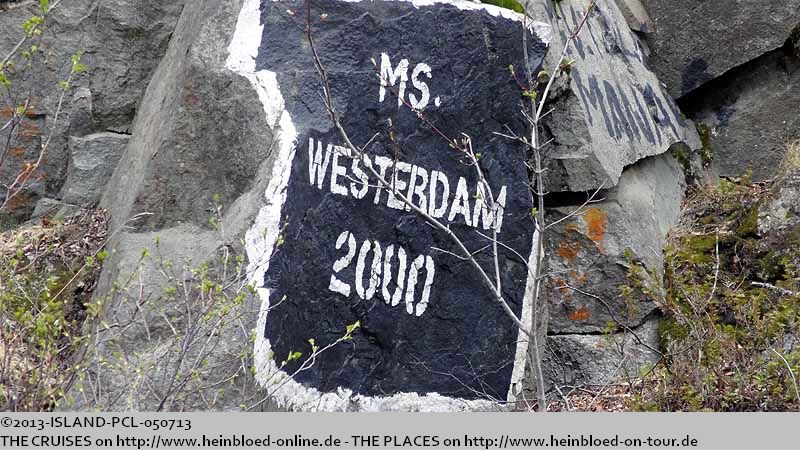 In Skagway brauchen wir später noch einen General Store mit einer Apotheke. So etwas findet man nicht auf der Hauptstraße. Hier gehören fast alle Geschäfte den Kreuzfahrtgesellschaften.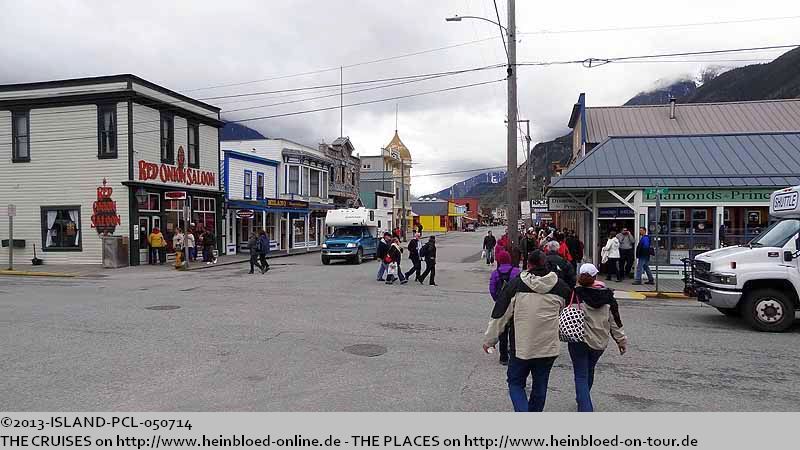 In Skagway we need to have a general store with a pharmacy. You could not find something like this on the main road. Here most of the stores belonged the cruise lines.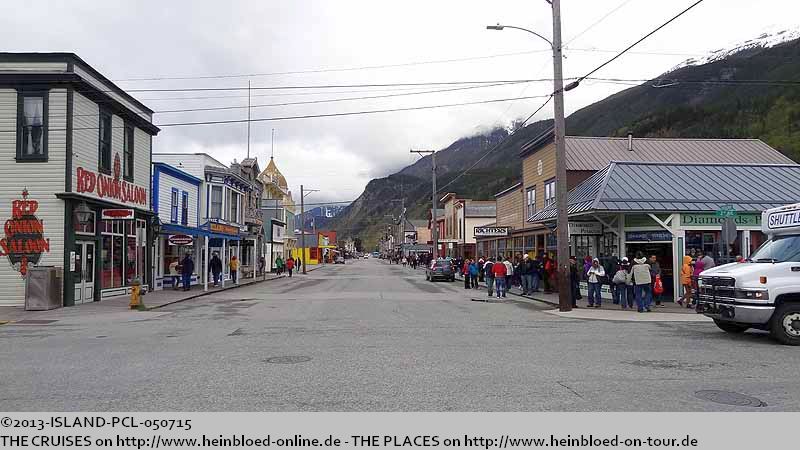 Soweit ist es zwar nicht zurück.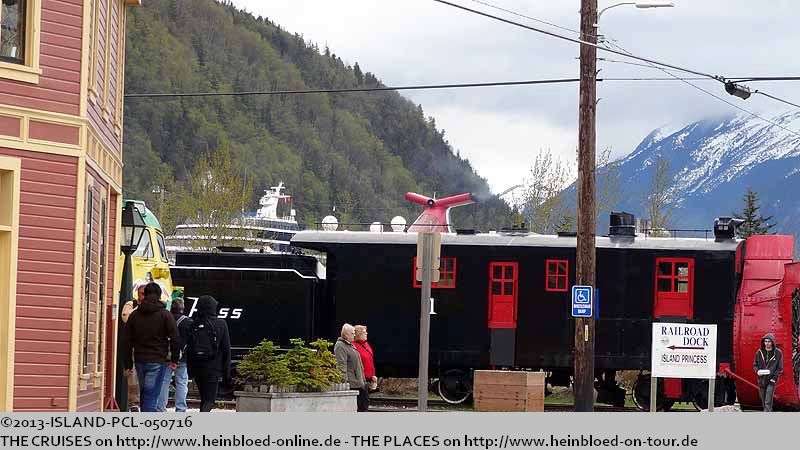 It was not too far away back to the ship.

Off the main road we found it: Liarsville General Store.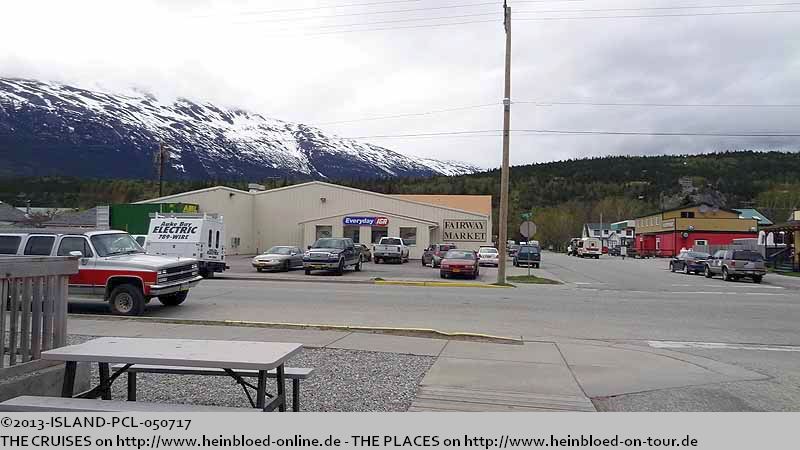 Abseits der Hauptstraße haben wir ihn gefunden: Liarsville General Store.
Es hieß, dass wir nur mit 2 USD (2013) winken müssen, und der Schiffsshuttle überalll halten würde.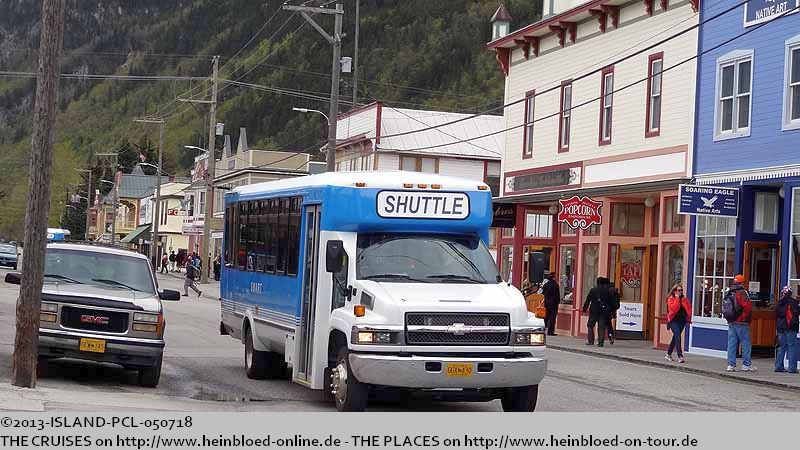 We were told to wave with 2 USD (2013) in our hand and the ship's shuttle should stop anywhere.

But that was not true: you need to find a bus stop which were about two blocks away.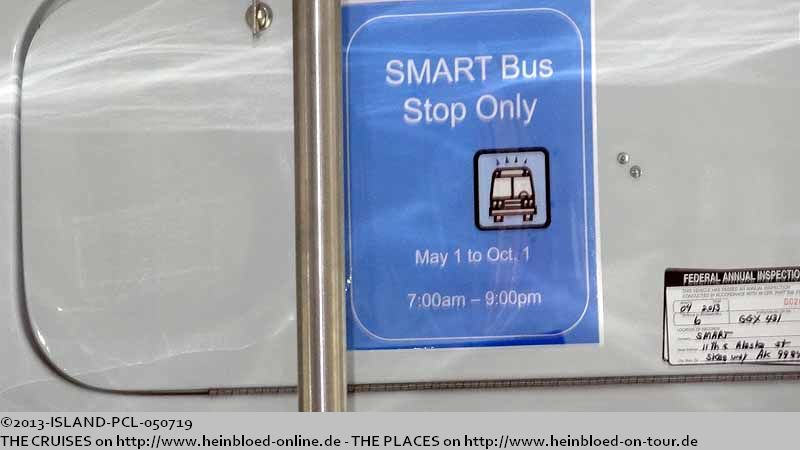 Aber es stimmt nicht: man muss doch bis zu einer Haltestelle laufen, die sich etwa alle zwei Blocks entfernt befinden.
Die anderen Reisen in diesem Blog/
The other voyages in this blog: