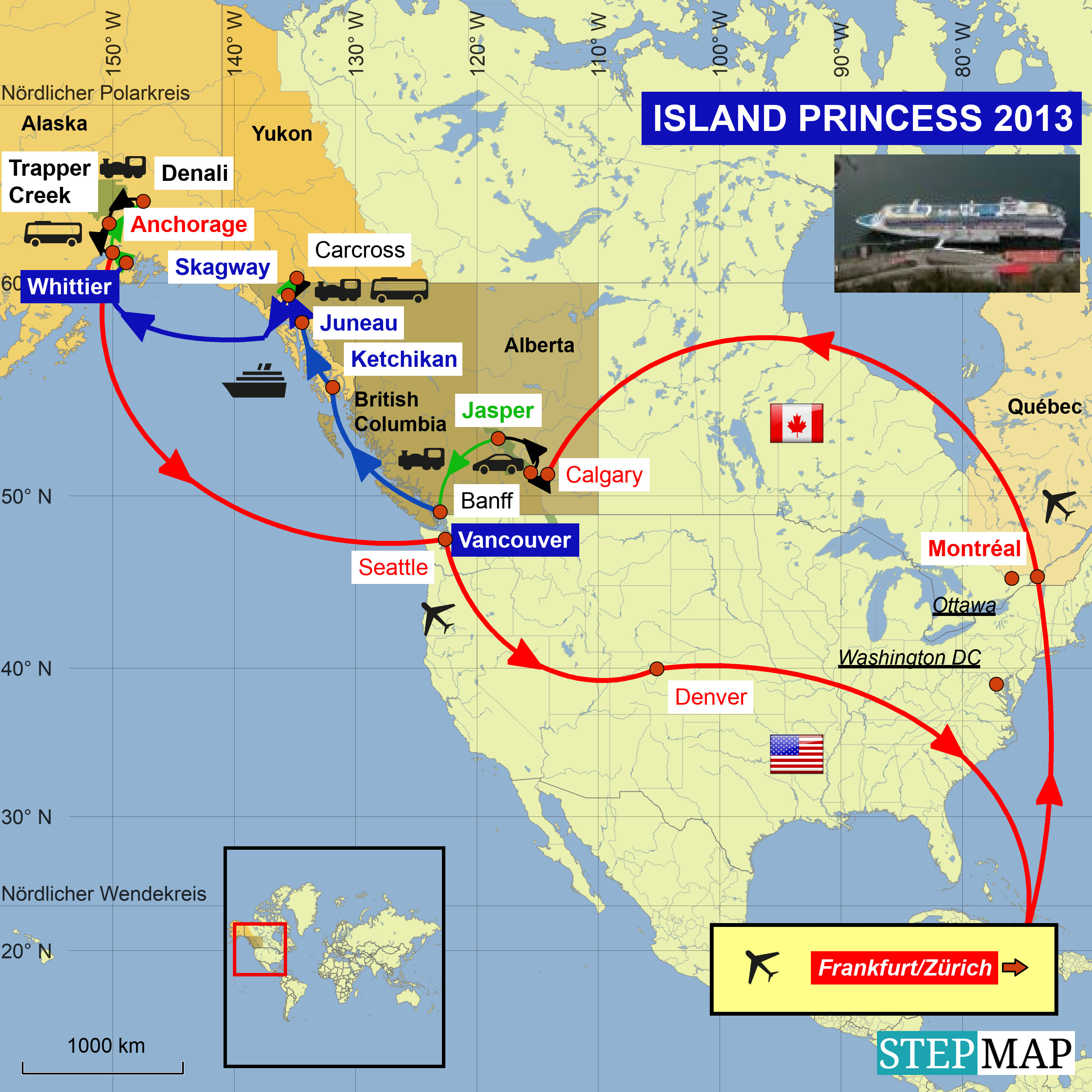 Wir wollen zum Mittagessen. Knackwurst, Bratwurst... lieber wieder ins Bordeaux.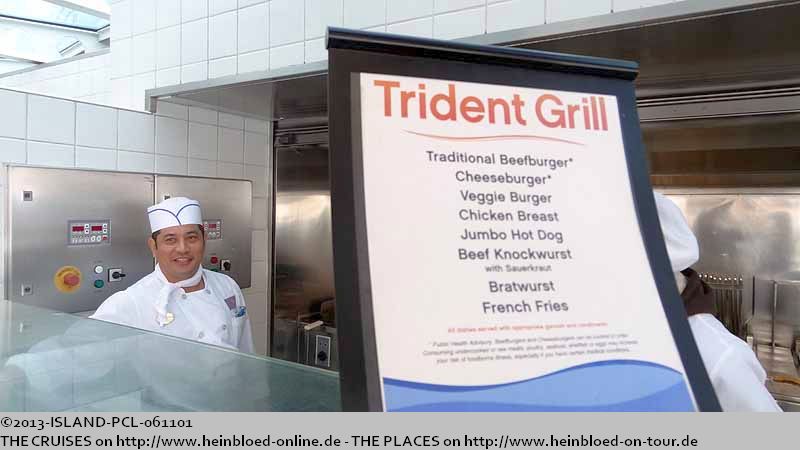 We went for lunch. Knockwurst, Bratwurst... better we went to the Bordeaux.

White Glacier Pizza... well...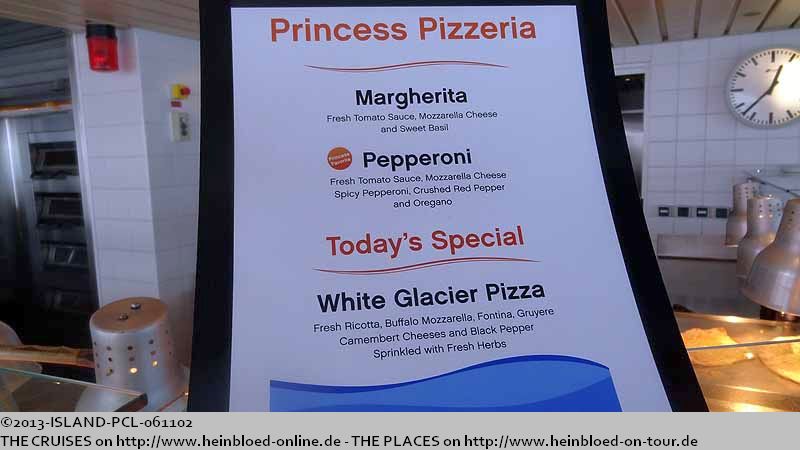 White Glacier Pizza... Aha...
Draußen wird ein Alaska-Spezialitäten-Büffet draußen aufgebaut.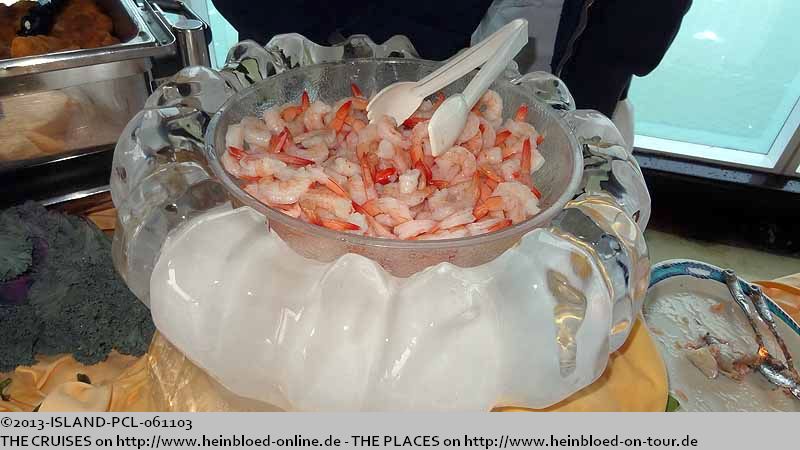 Outside they set up a buffet with Alaska specialities.

Im Bordeaux gibt es wieder die gleichen Brötchen. Und ein "Guten Appetit" auf Bayerisch vom Nachbartisch. Neben uns sitzt ein älterer Herr, der alleine unterwegs ist. Das Reisebüro hat ihm Princess für Alaska empfohlen, was mal grundsätzlich ja nichts schlimmes ist. Leider spricht der Herr kein einziges Wort Englisch. Wie er es geschafft über Montréal (Quebec = Französisch) durch kanadische Immigration zu kommen und danach den Anschlussflug nach Vancouver zu bekommen ist mir ein Rätsel. Aber er hat es geschafft. Nur an Bord gibt es natürlich Probleme, dass er am Bordleben und an den Ausflügen nicht teilnehmen kann. Da er sehr froh ist, dass er mal Deutsch sprechen kann, erfahren wir natürlich einiges über ihn und wie es sich auf der Reise so gestaltet. Hinterher fragen wir an der Rezeption nach: die einzige, die Deutsch sprach ist ausgerechnet in Vancouver von Bord gegangen. Maurizio stellt ihm wohl das Menü zusammen. Als wir erklären, dass wir wenige Tage zuvor eine alleinreisende Exil-Schweizerin in seinem Alter kennengelernt haben, die aber noch sehr gut Schwyzerdütsch spricht, wecken wir ihm die Freude, dass sie möglicherweise seine Reisebegleiterin werden könnte. Maurizio versprechen wir nach ihr Ausschau zu halten und sie zu ihm zu zerren, sobald wir sie wiederentdecken. In meinen Augen hat das Reisebüro hier ziemlich fahrlässig gehandelt. Außerdem geben wir ihm noch die Tipps, dass es oben am Trident Grill Knackwurst mit Sauerkraut (allerdings mit o statt a) und Bratwurst gibt, sowie die Theke mit dem Schwarzbrot, Wurst- und Käseaufschnitt der gewöhnliche Ort ist, an denen man immer wieder Deutsche trifft. Wir spekulieren darauf, dass wir deshalb angerufen und nach unserer bevorzugten Tischzeit abends gefragt werden, damit vielleicht der Herr neben uns platziert werden kann. Aber das traf nicht zu. Princess ist schon eine tolle Kreuzfahrtgesellschaft, aber richtig mit allen Facetten kann man es nur genießen, wenn man auch Englisch kann.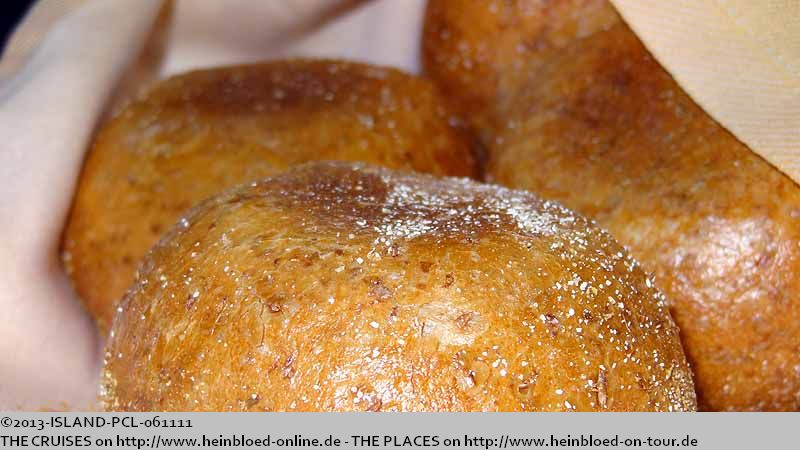 In the Bordeaux we got again the same rolls. We noticed an "Enjoy" in Bavarian from the next table. Next to us was an older single gentleman. His travel agency recommended him to go Princess to see Alaska what was generally not bad. Unfortunately, he did not speak one word of English. I was wondering how he managed the immigration in Montréal (Québec = French) and made his connecting flight to Vancouver. But he made it. Only on board, there were many problems as he could not participate in the board life or shore excursions. As he was happy that he could speak German we learned in a few moments how he survived here on board. Later we asked at the front desk if there was not anyone: the only person who spoke German just debarked in Vancouver. Maurizio compiled a menu for him. When we told that we met a few days ago a single Exile-Swiss lady in his range of age and she still spoke very well Swiss German he had some hope that she could become his travel companion. We had to promise Maurizio to pull her to him once we should re-discover her again. From my point of view, the travel agent worked extreme negligent. Furthermore, we gave him the tips that the could get some Knockwurst and Sauerkraut and Bratwurst at the Trident Grill and usually the buffet area with the dark whole-rye bread, the cold cut would be the "standard" places to meet other Germans. We speculated that we might be called for our preferred dinner time that they could place him next to us, but that was not. Princess is definitely a great cruise line, but you can only enjoy every offer they had if you have some English language skills.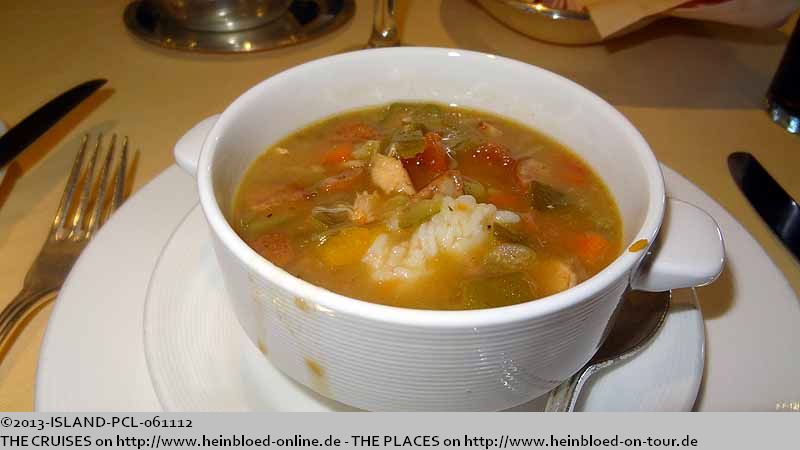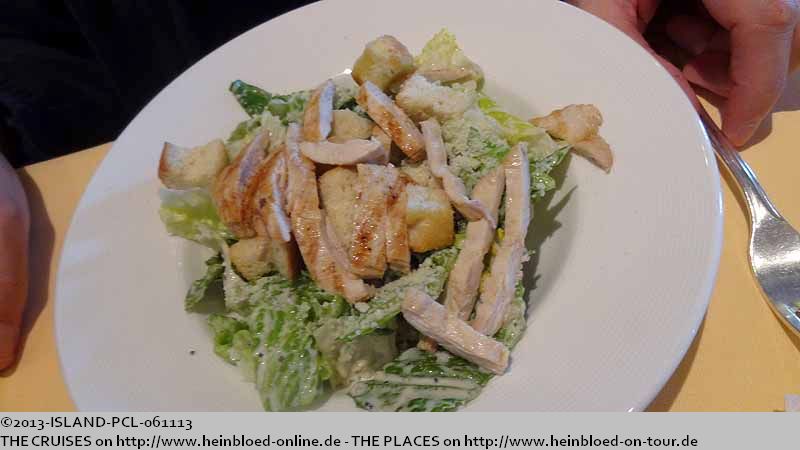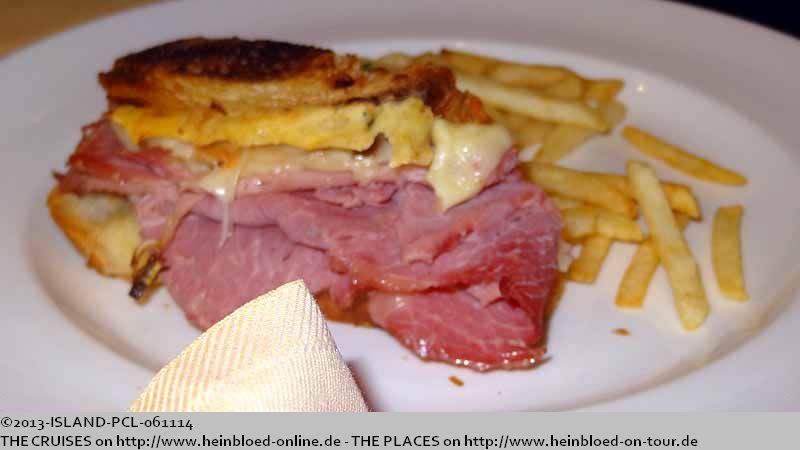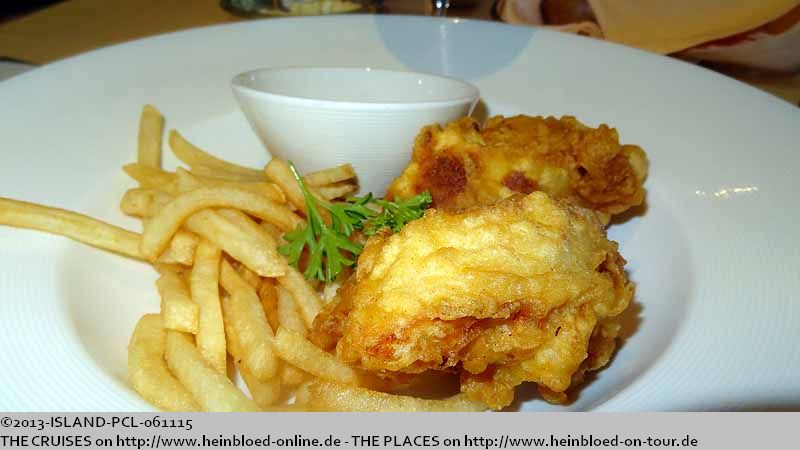 We went again outside... Now while we were leaving Glacier Bay National Park the clear became blue.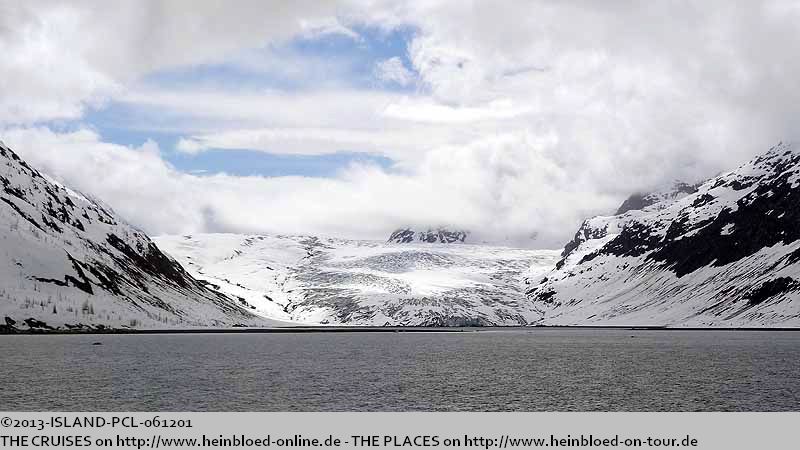 Es geht wieder nach draußen... Jetzt, als wir den Glacier Bay National Park verlassen, wird der Himmel blau.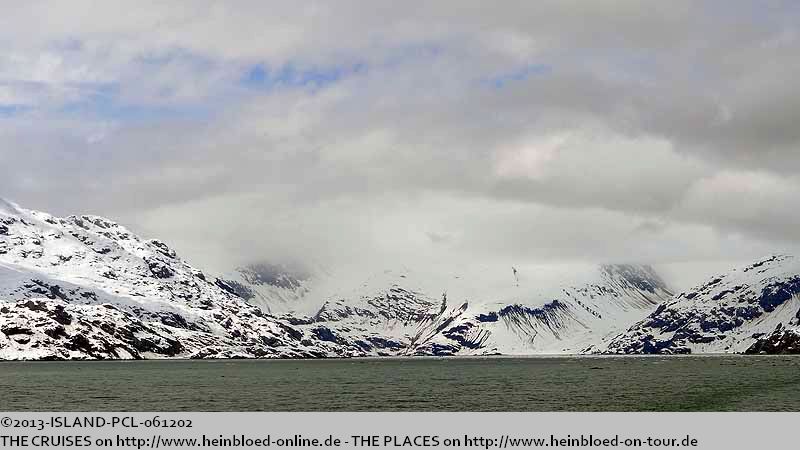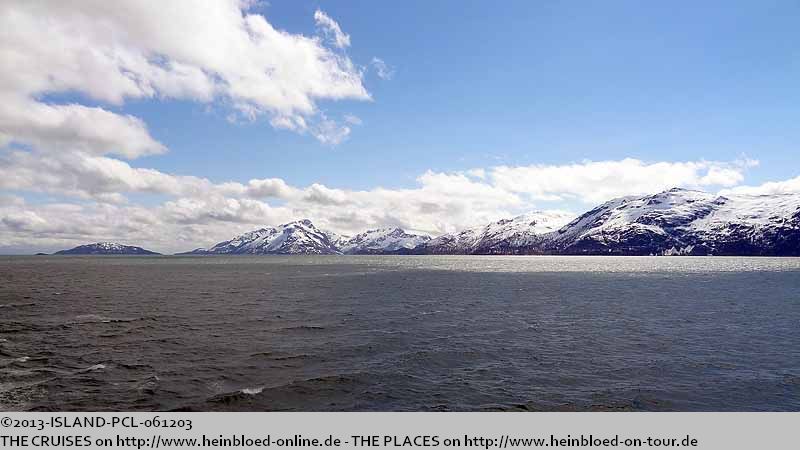 Und noch blauer!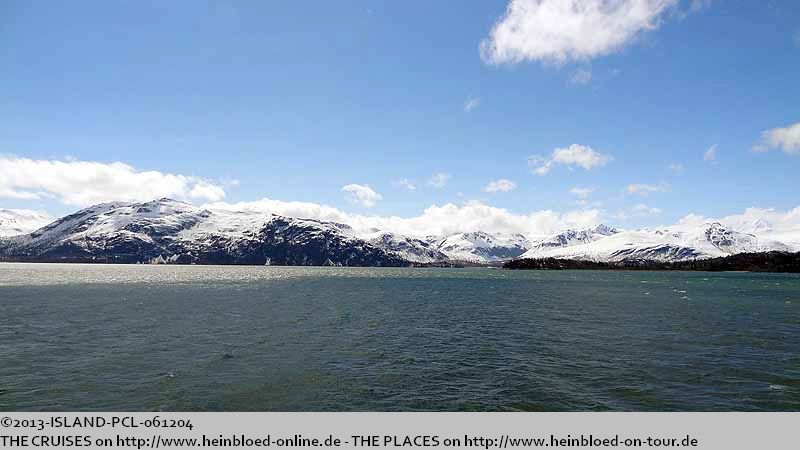 And more blue!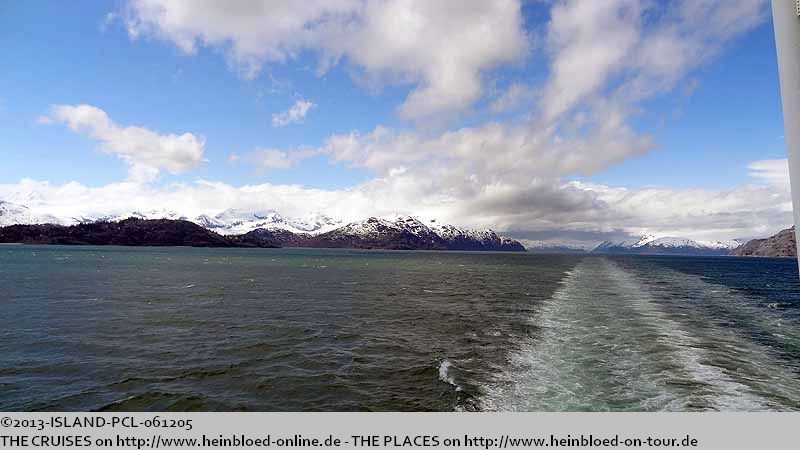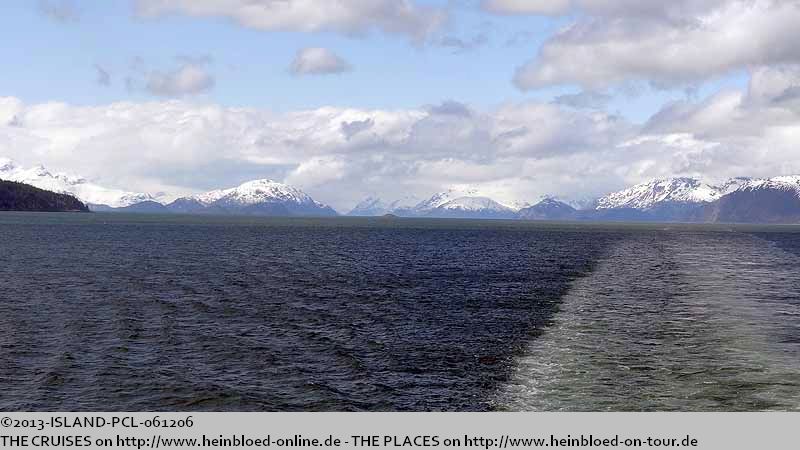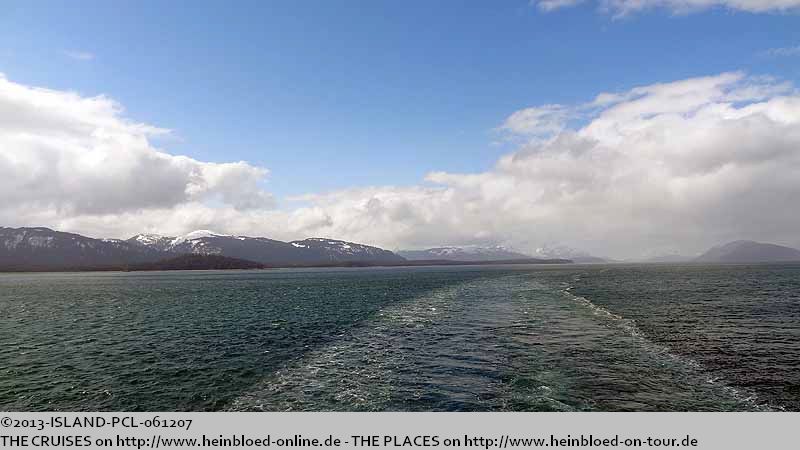 As we were frustrated we went for tea-time.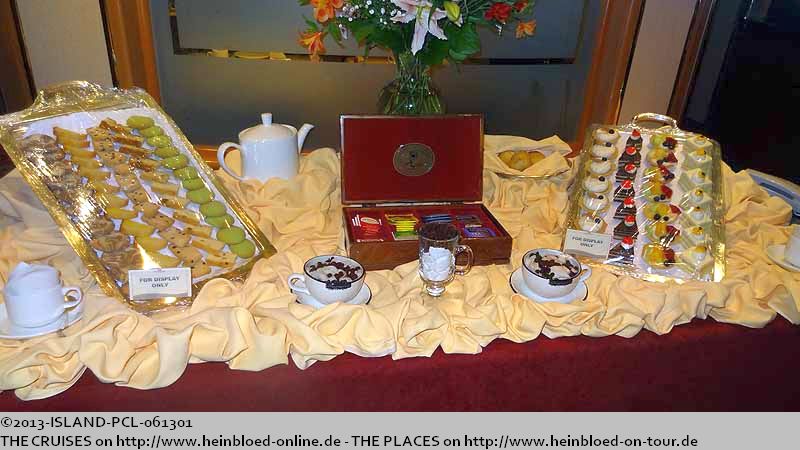 Aus Frust gehen wir zur Tea-Time.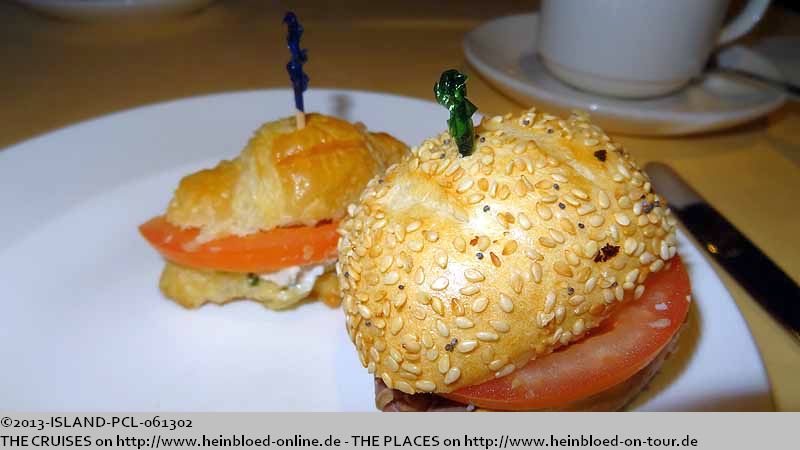 Only here with the cocktail party we were requested to sanitize our hands. We must not do it in any restaurant. Do you need to protect the other guests more than the guests onboard?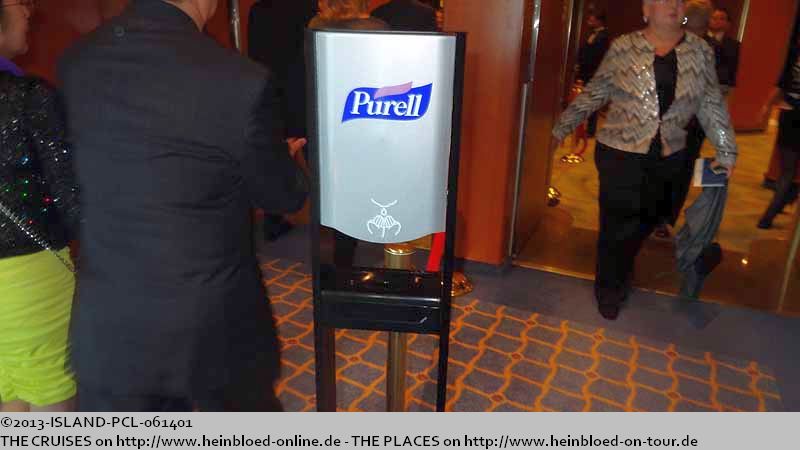 Nur hier bei der Cocktail-Party werden wir gebeten unsere Hände zu desinfizieren. In keinem Restaurant müssen wir. Sind die Senior Offiziere wieder schützenswerter als die Gäste an Bord?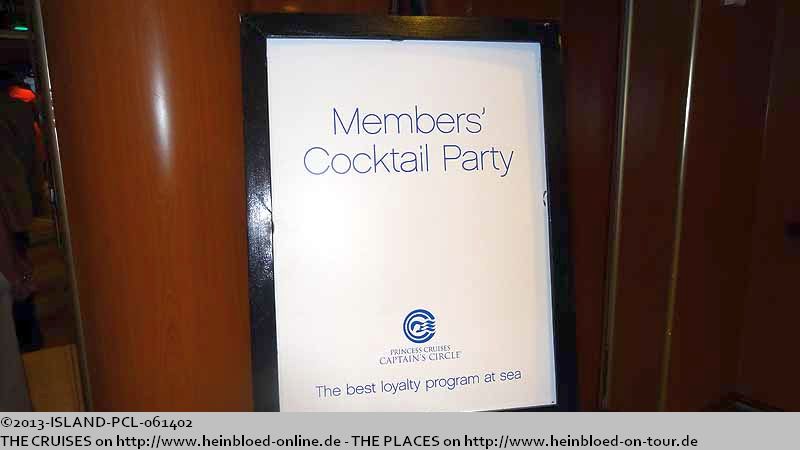 It was nice how the band played.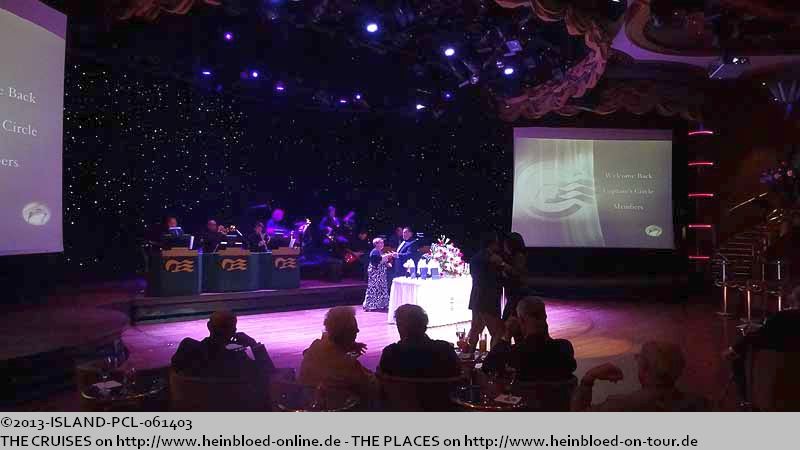 Schön war die Band, die spielte.
Es gab etwas zu knabbern.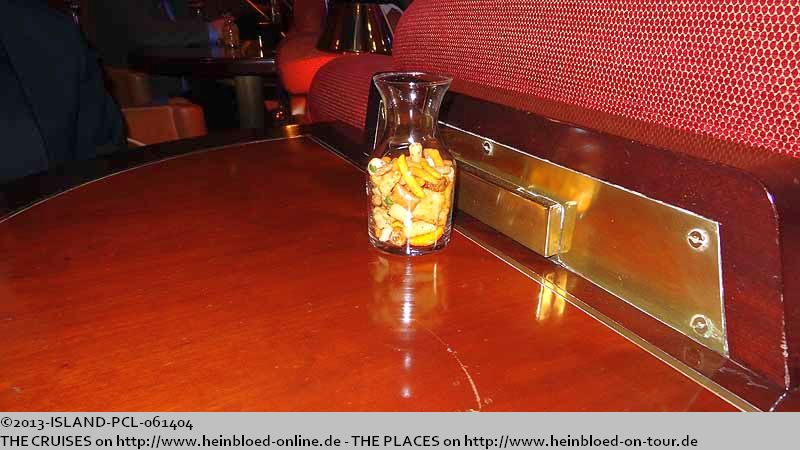 We had some snacks.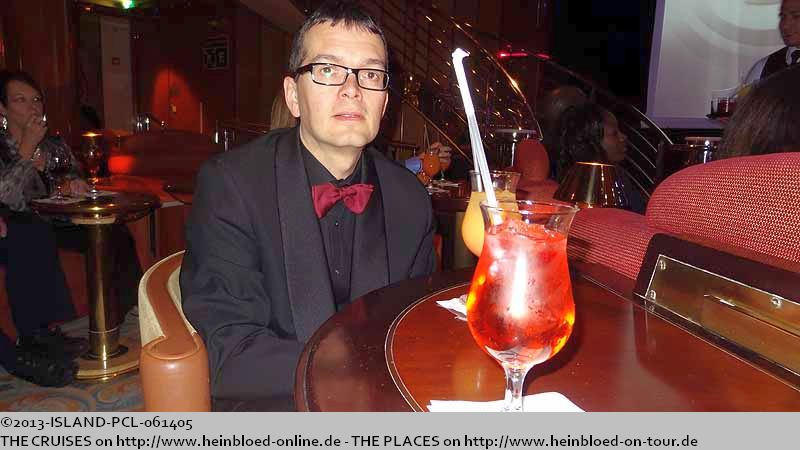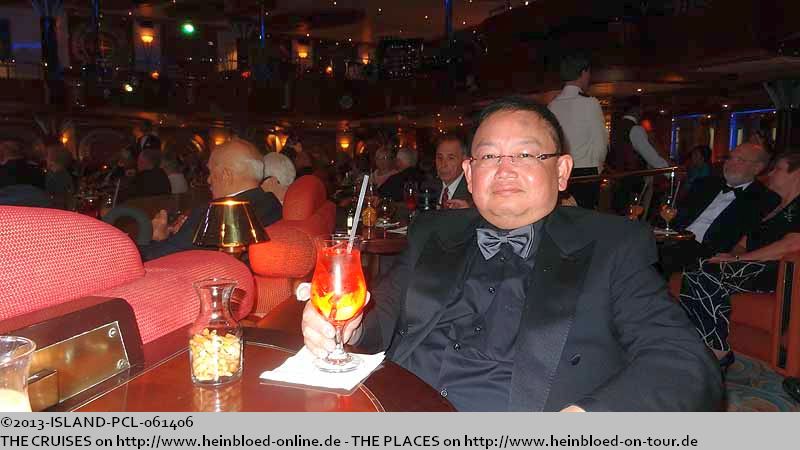 Warm Canapés.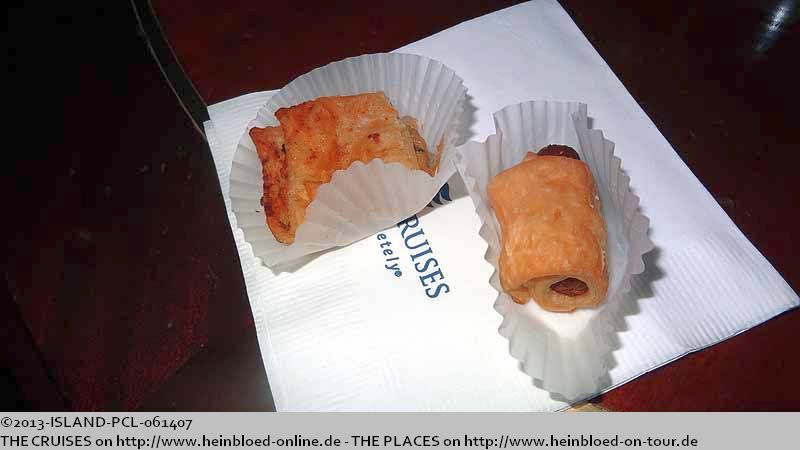 Warme Canapés.
Während alle anderen Gäste 3-4 Canapés noch bekommen, gibt es für uns nur eins... Die Senior Offiziere werden vorgestellt. Aber wie zuvor, sind sie eigentlich sofort wieder weg. Ein paar Flaschen Sekt werden verlost und dann verdrücken sich die Senior Offiziere nicht an den Ausgang sondern in halbrunden Buchten, die gespiegelt sind. Da aber der Kapitän wohl nicht so einverstanden ist, dass ich mit ihm ein gemeinsames Bild will (so kommt es zumindest bei mir rüber), habe ich alle Bilder von der Veranstaltung mit den Senior Offizieren entfernt. Es war so ziemlich das einzige was ich NICHT MOCHTE: Die Senior Offiziere waren irgendwie nicht ansprechbar. Selbst ein "Buenos Sera" wird nicht beantwortet. Aber so stelle ich für mich fest: Der Fisch stinkt vom Kopf. Kein Wunder, dass nur etwa 1/3 der Crew Mitglieder als erster grüßt und ein weiteres 1/3 zurückgrüßt, wenn man als erster grüßt. Und von dem Rest wird man ignoriert. Später teste ich mal: von den sechs Crew-Mitgliedern, denen ich auf dem Weg vom Restaurant zur Kabine begegne, trifft diese Quote genau zu.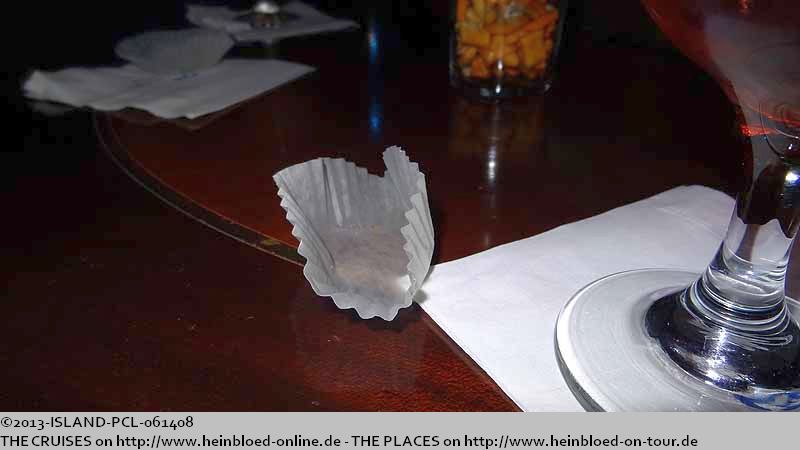 While all other guests got 3-4 canapés we got only one... The Senior Officers were introduced. Again they just disappeared after few minutes into some semi-round mirrored bays. They had a raffle with some Champagne. As I did not have the impression that my wish to have a picture with the Captain was really appreciated (that was my feeling), I erased all pictures of the officers. It was among the less single items which I DID NOT LIKE: The senior officers were not accessible. Even a "Buenos Sera" was not responded. That was my personal wrap-up: The problems start from the top. No wonder that only 1/3 of the crew was the first who greeted, another 1/3 only responded your greeting when you was the first. The other ignored yours. Later I tested it again: from the 6 crew members I met on the way from the restaurant or the cabin it was exactly the ratio.
Die anderen Reisen in diesem Blog/
The other voyages in this blog: