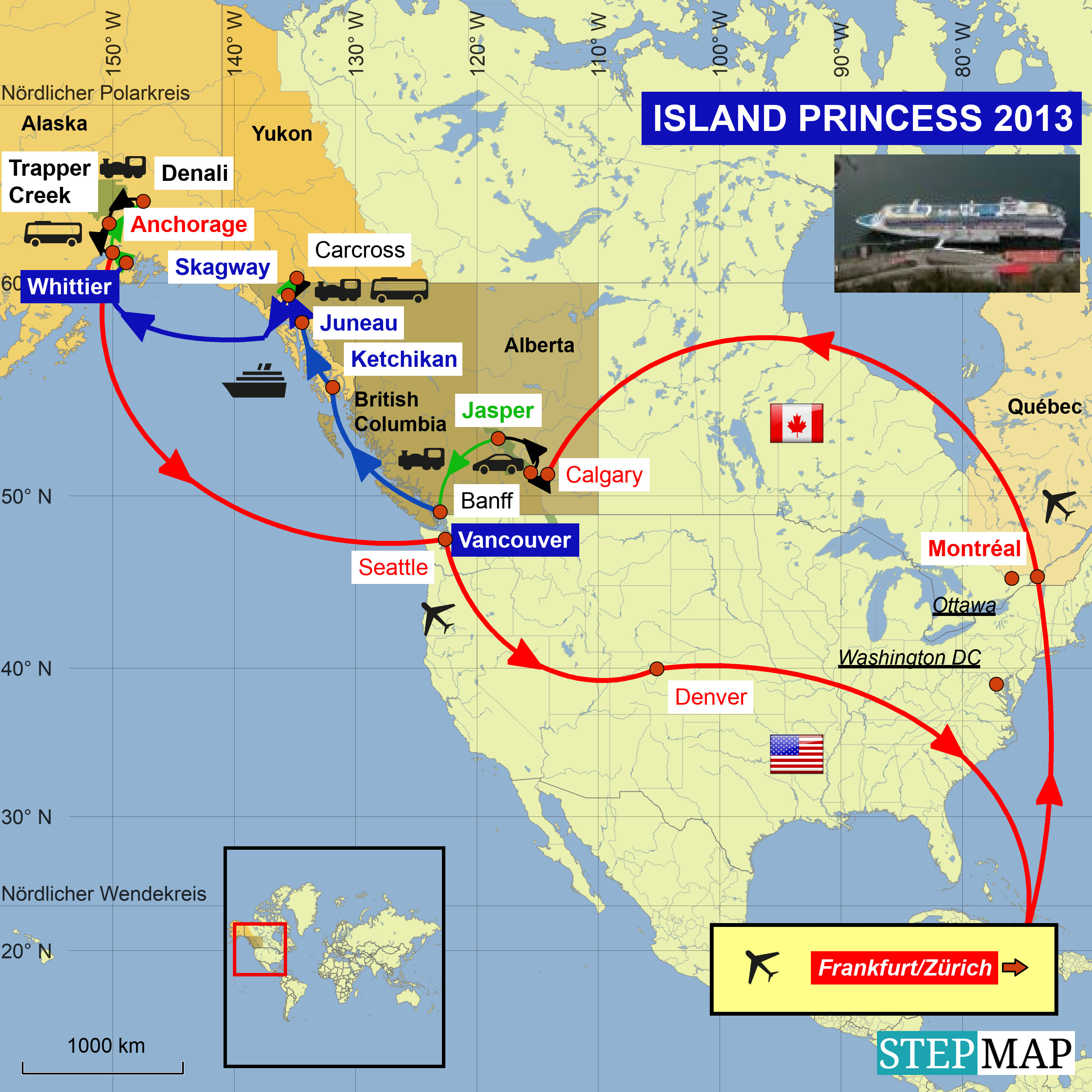 Natürlich müssen wir auch Bilder von unserer ISLAND PRINCESS machen.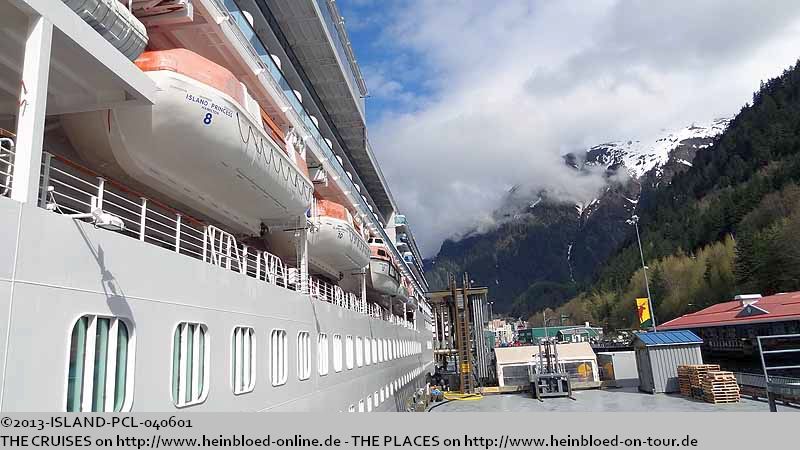 Of course we had to take pictures fo the ISLAND PRINCESS.

Noch ein paar Bilder von der CELEBRITY CENTURY aus anderer Perspektive.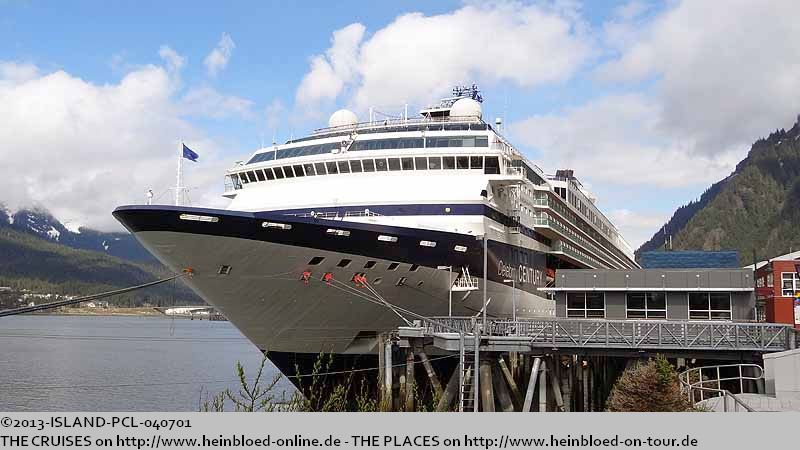 Few more pictures of the CELEBRITY CENTURY from a different point of view.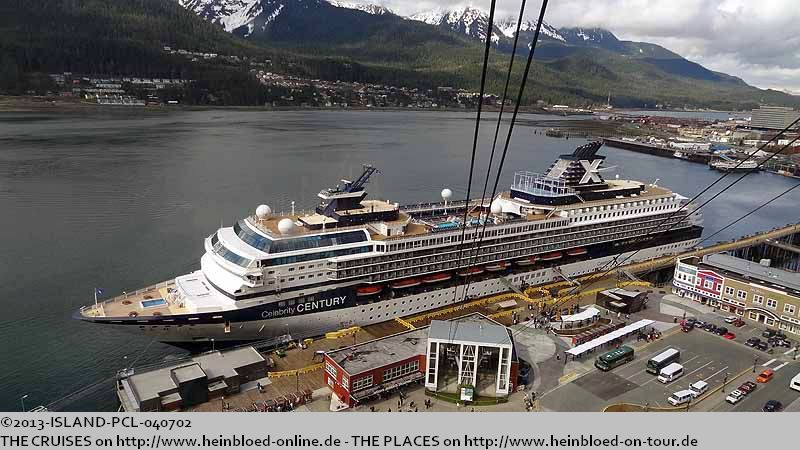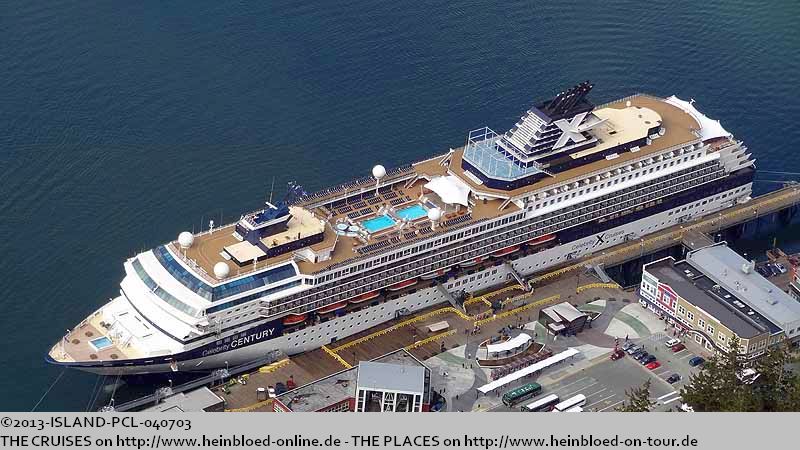 Before we returned to the ship we checked if it was true what Cruise Director Richard said: it was true that we were connected by electric power, so there was no need to use the ship's diesel for producing energy while in port.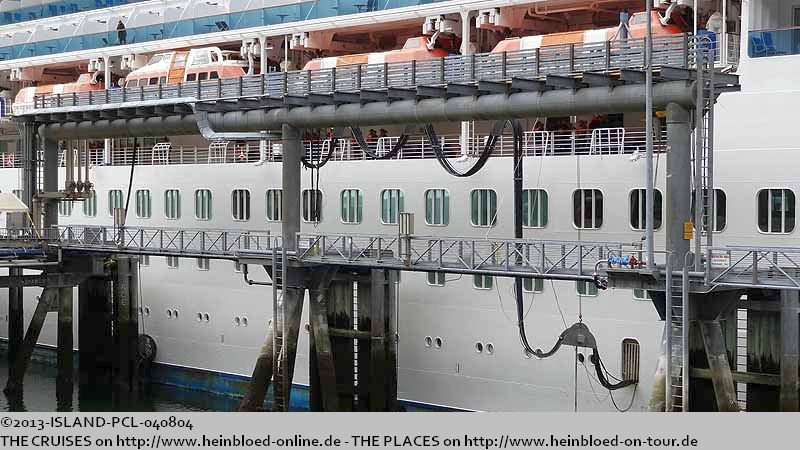 Bevor wir an Bord gehen, überprüfen wir die Angaben des Cruise Directors Richard: In der Tat hängen wir hier an Strom, damit im Hafen nicht unnötig Schiffsdiesel verbrannt wird.
Nur den können wir nicht überprüfen, ob er wirklich sauberer ist, als anderer. Wenn wir hier unsere Handys zum Laden drankstecken, müsste es doch sehr sehr schnell gehen - oder?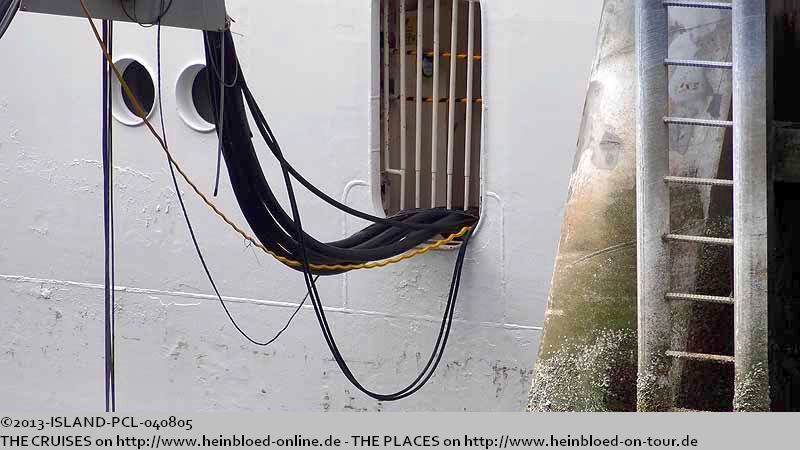 But we could not check if the ship's diesel was cleaner than any other. If we connect our cell phones to reload it should go very quickly - or?

Because of the tide, we noticed that the steps were extremely flat.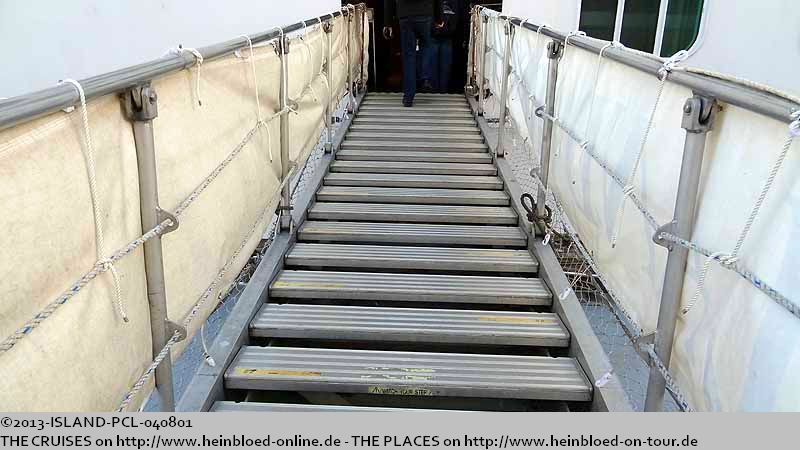 Wegen der Tide fällt uns auf, dass die Stufen sehr sehr flach sind.
In der Kabine finden wir eine Dankkarte von Ion für unseren gestrigen Besuch im Sabatini's.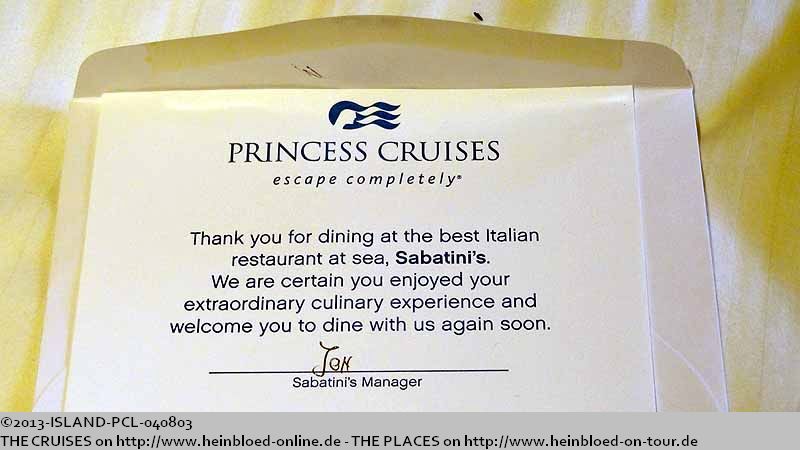 In our cabin we found a card to thank us for our yesterday's visit in the Sabatini's.

"Today the kitchen stays cold - we go to the Wienerwald Chicken Restaurant" (a TV-spot-slogan from the 70s in Germany). During a port day, only the Horizon Court was open for lunch.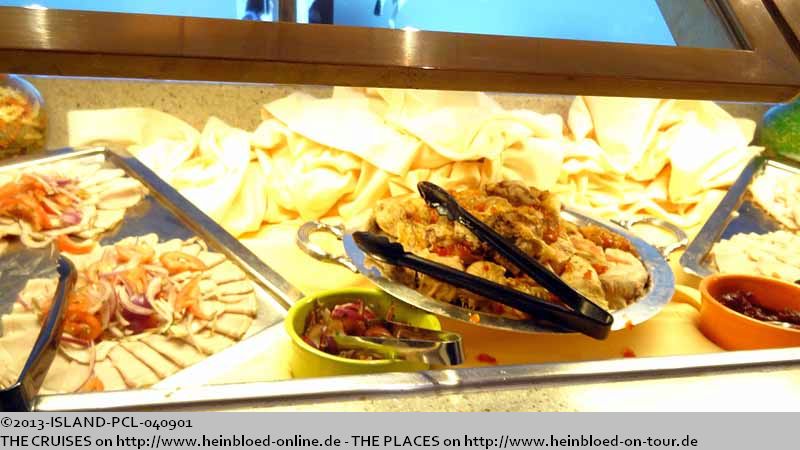 "Heute bleibt die Küche kalt. Wir gehen in den Wienerwald." Hatte ich übrigens zuletzt in Hannover probiert, war eine tiefe Enttäuschung. An Hafentagen gibt es mittags nur im Horizon Court etwas zu essen.
Also gehen wir dort hin und probieren.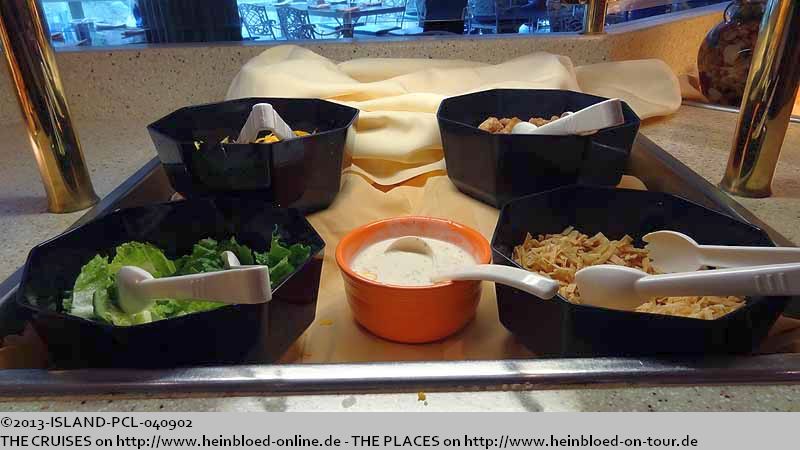 So we went there to try.

We should not die on hunger...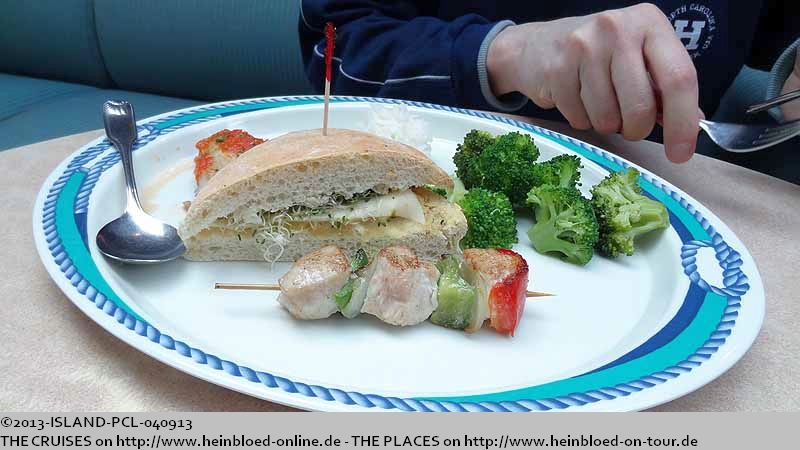 Wir verhungern schon nicht...
Mit Interesse gucken wir jedoch der "Show" zu, die im Hintergrund läuft: Wir werden mal wieder "links" liegengelassen, weil sechs US-Regierungsbeamte an Bord sind, die von vier grünen Jacken (Supervisor) und drei weißen Jacken (Kellner) im SB-Restaurant versorgt werden. Wahrscheinlich ein genauso gutes Passagier-Crew-Verhältnis wie auf der EUROPA (5*+): 1,14. Normales Eiswasser ist nicht gut genug... Die Kellner, die das ranbringen, werden weggeschickt... Es muss Premium-Wasser aus Flaschen sein... Fällt doch bestimmt dann schon unter aktivem Bestechungsversuch - oder? Auch der "normale" (ungenießbare) Kaffee aus Sirup aus dem Zapfhahn ist nicht gut genug (Der wäre unter aktiver Körperverletzung gefallen...) - Es gibt natürlich den Kaffee von einer Barista-Maschine. Musste deswegen jemand extra runter auf Deck 5 oder gibt es hier oben auch eine? Die Sequestration (automatische Budgetanpassung) bekommen wir ja als Kreuzfahrer voll zu spüren: Überstunden und Neueinstellungen werden ja nicht mehr gewährt. Z. T. wird Zwangsurlaub angeordnet. Das macht sich ja leider auch in Bereichen wie Immigration oder TSA bei vielen Kreuzfahrern bemerkbar (Wir hatten Glück!). Hoffentlich wird uns im Notfall geholfen. Nicht dass beispielsweise die Küstenwache nicht mehr rund um die Uhr besetzt ist und damit die Kreuzfahrtschiffe nur noch während der Bürozeiten fahren können. So abwegig ist das ja nicht. In Dublin und Shannon wurde ja bisher die US-Immigration vor Abflug durchgeführt. Aber nun gibt es kein Geld mehr für die 2. Schicht. Dadurch hat man auch mal Pech, dass man erst am US-Zielort abgefertigt wird und das kostet wieder viel Zeit und Geduld. Hoffentlich wird die Situation bald wieder verbessert. Solange können die sich mal an Bord verwöhnen lassen.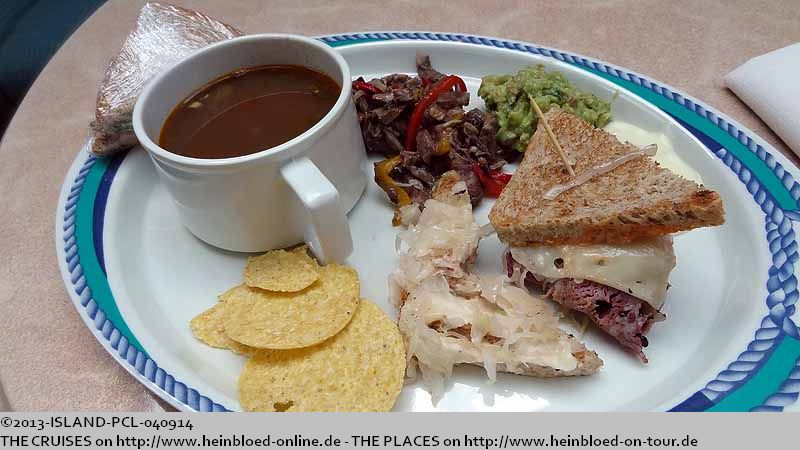 With a big interest we watched over the show in the background: we were ignored by the crew because six US-officers were on board who were cared by four green jackets (Supervisors) and three white jackets (Waiters) in the self-service restaurant. Same great passenger-crew-ration like on EUROPA (5*+): 1.14. Regular ice water was not enough... The waiters who brought it were sent away... It must be bottled premium water... Was that still compliant - or? Even the "standard" (unenjoyable) coffee made of syrup from the fountains was not good enough either (Might be counted as bodily harm...). Of course, they got coffee from a Barista-Machine. Was there a need to walk down to deck 5 and did they also have one there? As cruiser we could feel the sequestration: extra hours and new hires were not allowed anymore, and they were sent for unpaid vacation. In areas like Immigration or TSA we can feel it every day (we had luck so far!). I hoped that we got help in a case of emergency. Like coast guards might not be occupied 24/7 and cruise ship could only go during their office hours. It would not be too absurd. So far they offered US-Immigration before departure at the Irish airports in Dublin and Shannon. There is no money anymore for the 2nd shift. So you could be unlucky to have the immigration at the US-destination which costs much of time and patience. I genuinely hope that the situation will become better. So far let them be pampered while they are aboard.

Just to complete: we had some salsa and chips in the Elite-Lounge...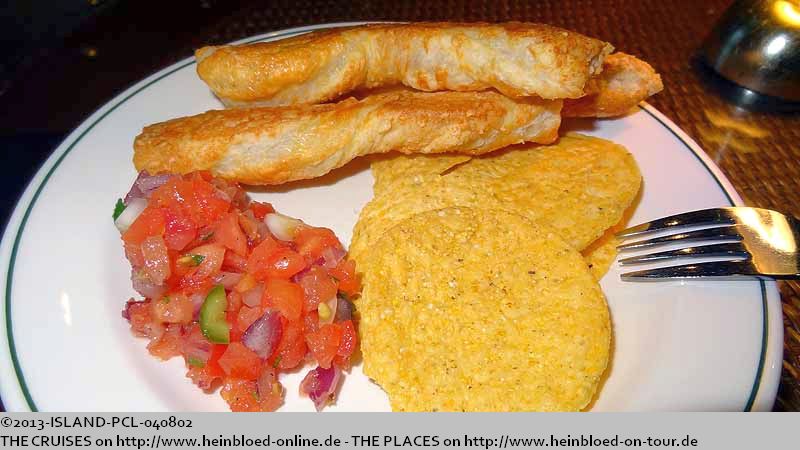 Der Vollständigkeit halber. In der Elite-Lounge gab es später Salsa und Chips...
Die anderen Reisen in diesem Blog/
The other voyages in this blog: