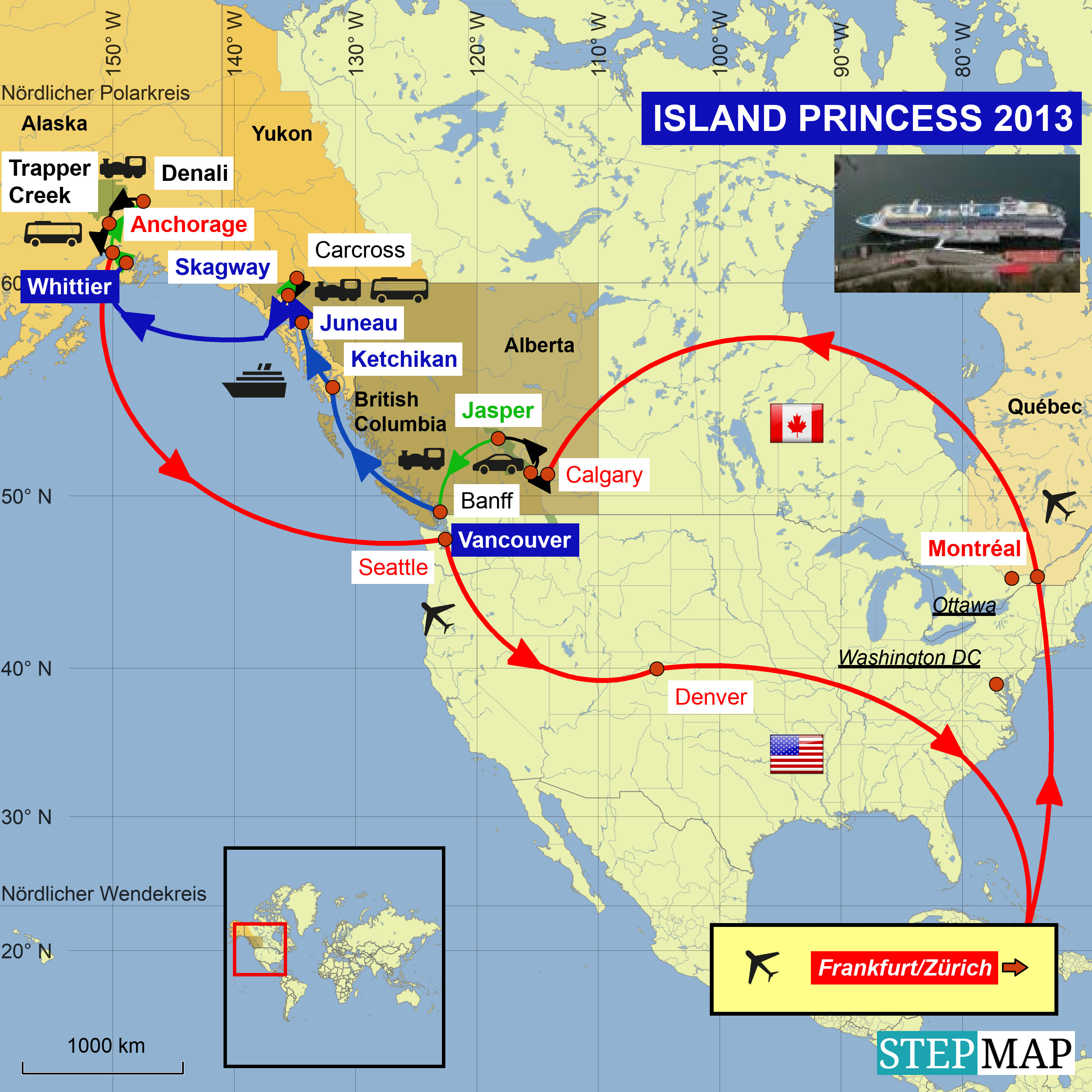 Innen macht das Schiff einen erstklassigen Eindruck.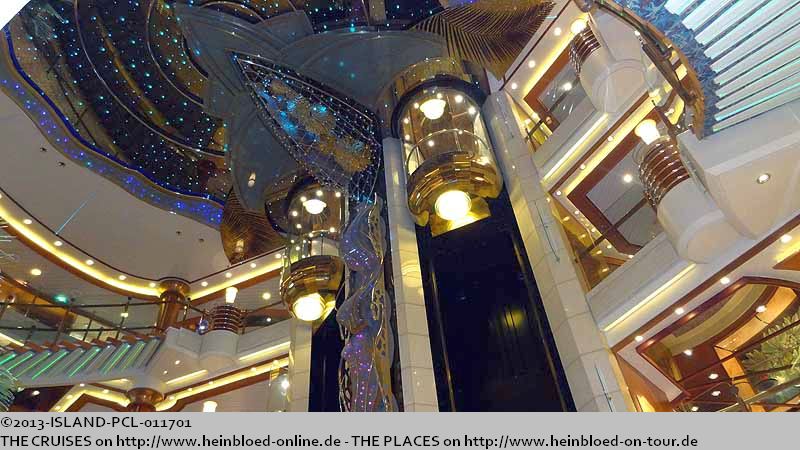 Inside the ship made an excellent appearance.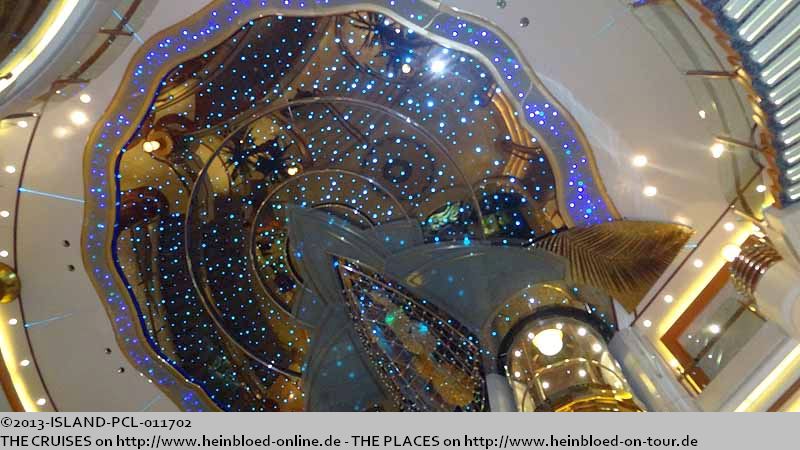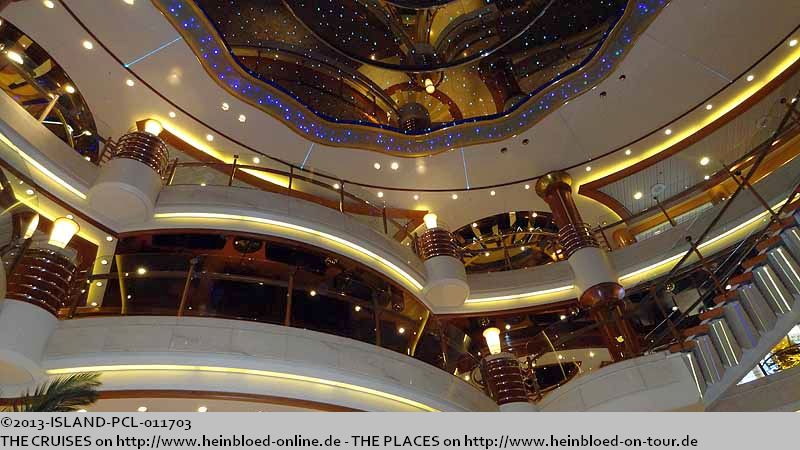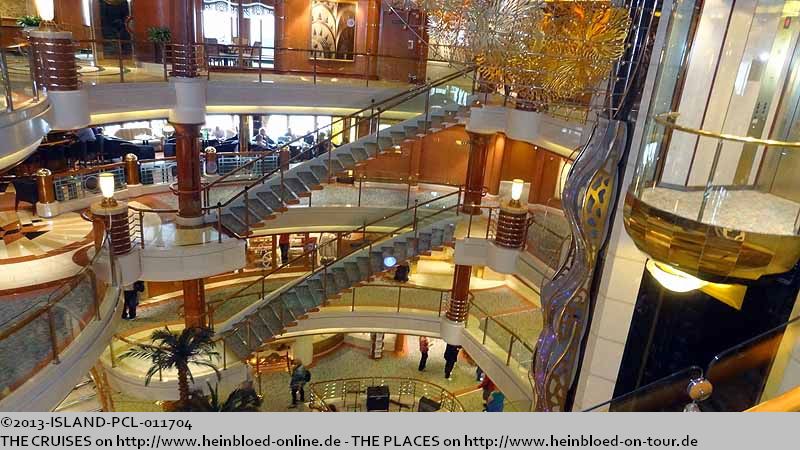 Ein schönes Atrium.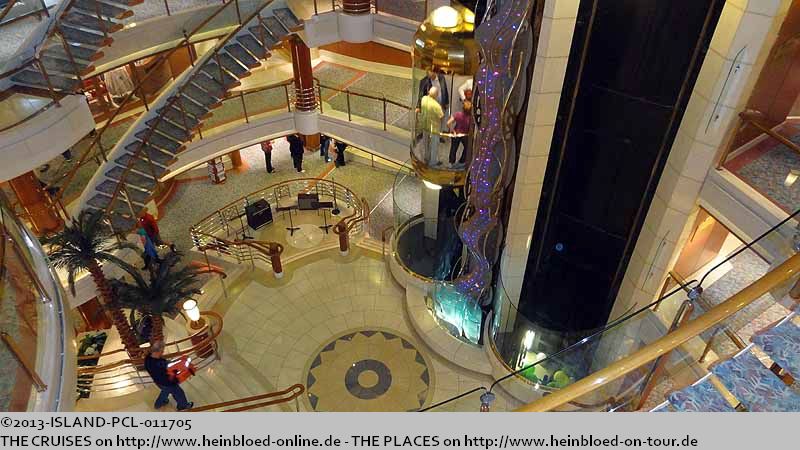 A very nice atrium.

Here we made the acquaintance of the Senior Officers.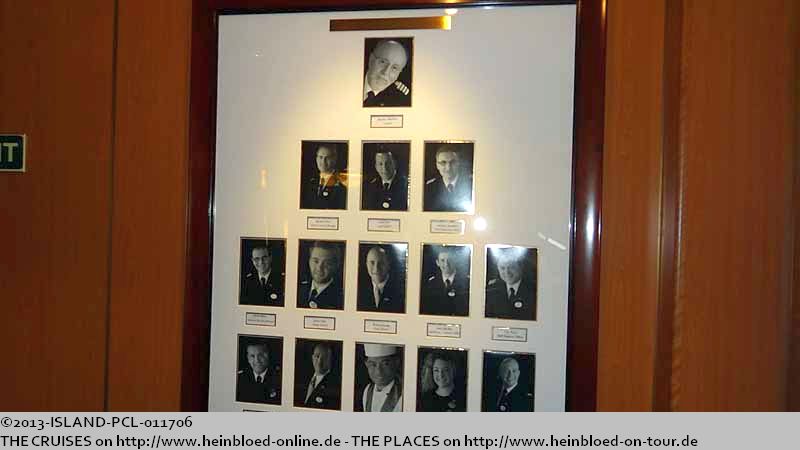 Hier lernen wir die Senior-Offiziere kennen.
Dank
Dorothy
, Brunos
Carnival-Aktien
und der
Anzahlung auf der letzten Reise
, haben wir insgesamt 700,00 USD Bordguthaben.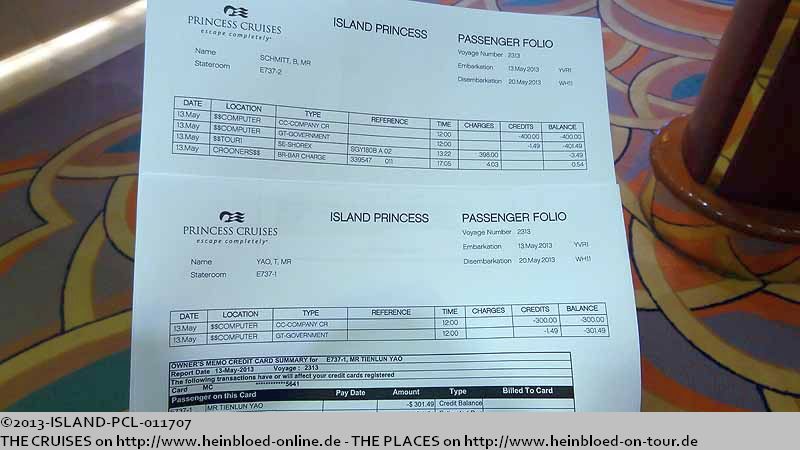 Thanks to
Dorothy
, Bruno's
Carnival Shares
and the
deposit we made on our last cruise
we had an OBC of 700.00 USD.

We were very much impressed of the tea variation you could buy here onboard.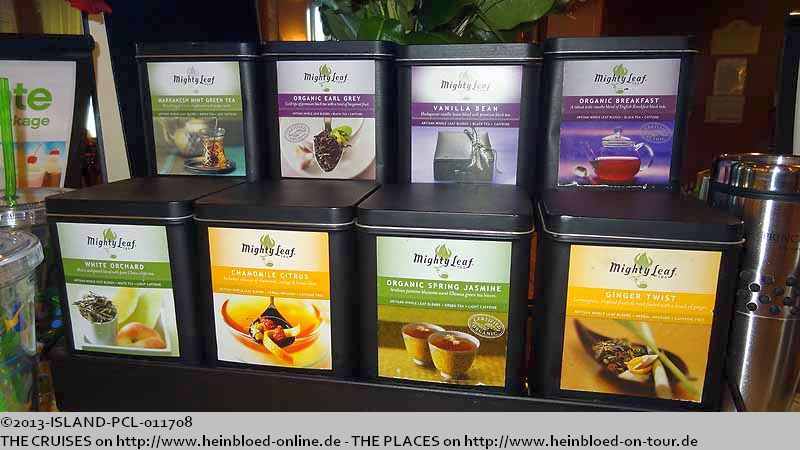 Uns beeindrucken, die tollen Teesorten, die hier zum Verkauf angeboten werden.
Es gibt ein Soda-Paket und ein Ultimate, die auch Cocktails und anderes inkludiert.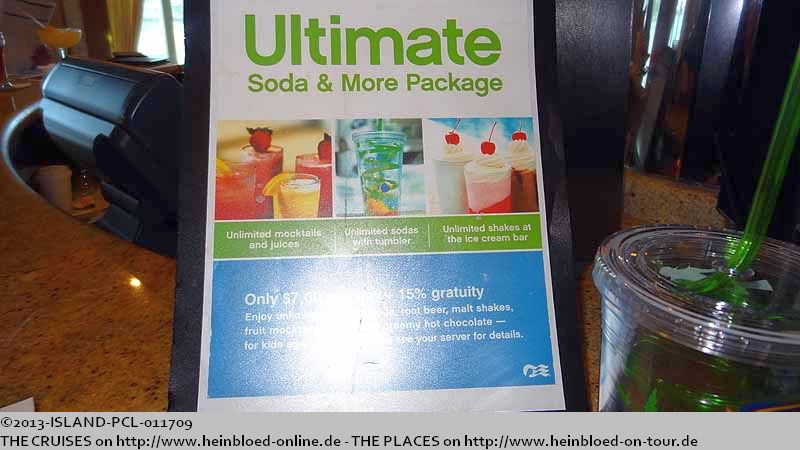 There was a Soda-Package and an Ultimate, which included Cocktails and other beverages.

I only bought a soda-sticker for 36,23 USD for 7 nights incl. service charge (2013).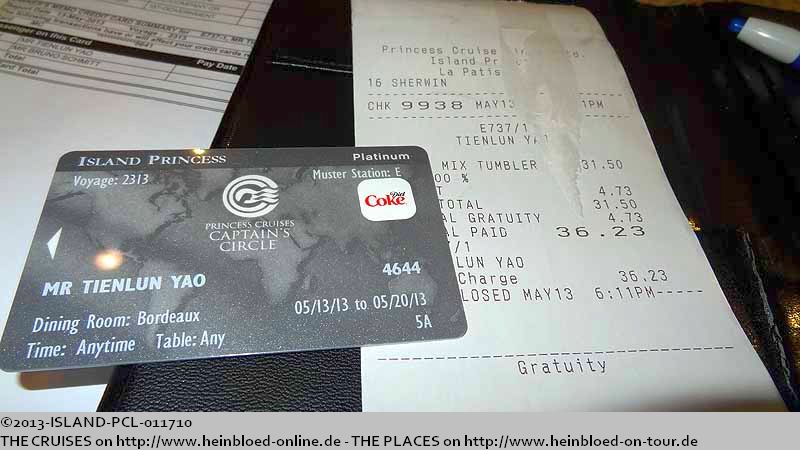 Ich kaufe allerdings bloß einen Soda-Sticker für 36,23 USD für 7 Nächte inkl. Trinkgeld (2013).
Dann geht es zum Internet-Café.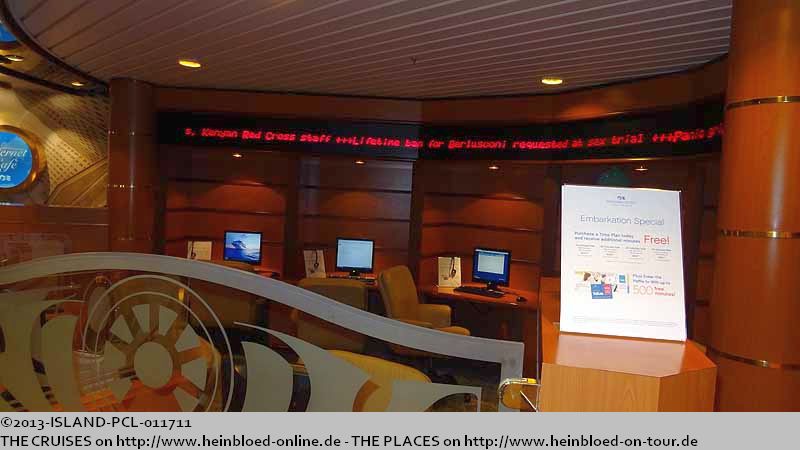 Then we went to see the Internet-Café.

Of course, we participate in the raffle to win 500 free minutes.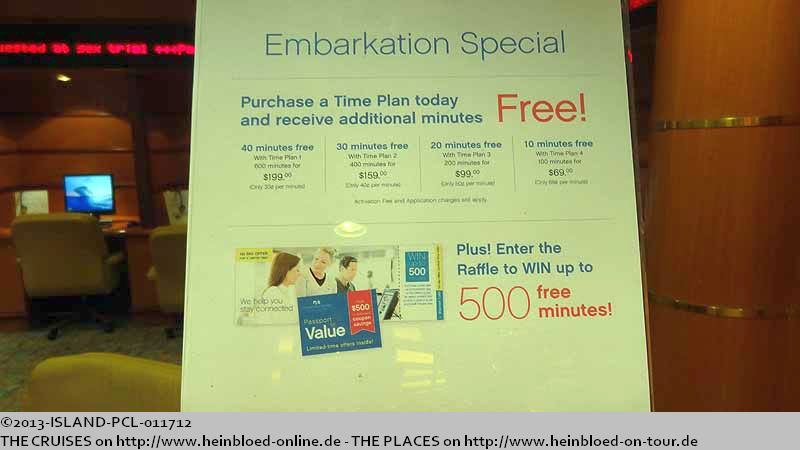 Natürlich nehmen wir an der Verlosung für 500 freie Minuten frei.
Als Platinum-Mitglied kann ich direkt mich einloggen und bekomme 150 Minuten kostenlos.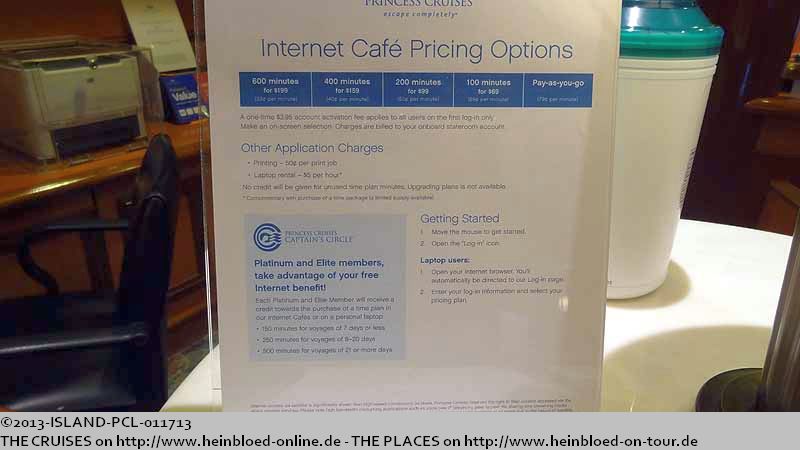 As Platinum-Member I could log in immediately and had 150 minutes for free.

For only 25.00 USD (2013) I could get 250 minutes.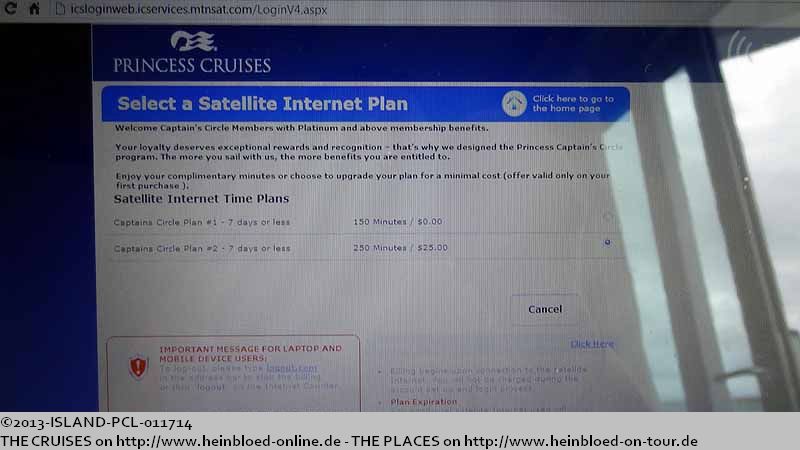 Für nur 25,00 USD (2013) mehr, bekomme ich sogar 250 Minuten.
Überall wird gefeiert...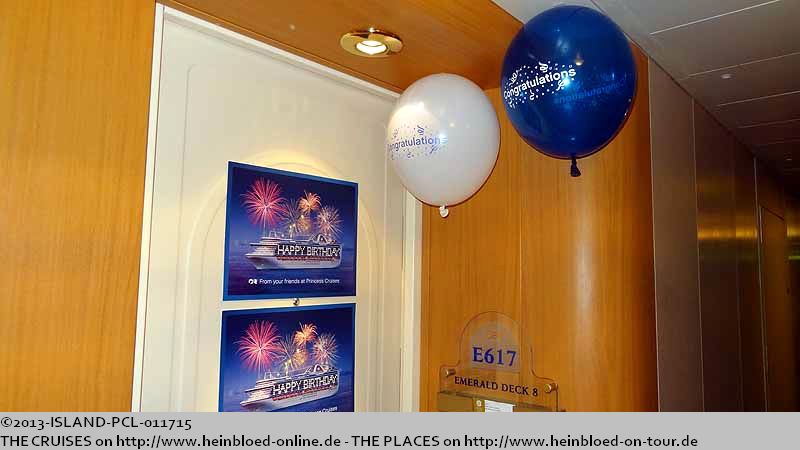 Everywhere they were celebrating...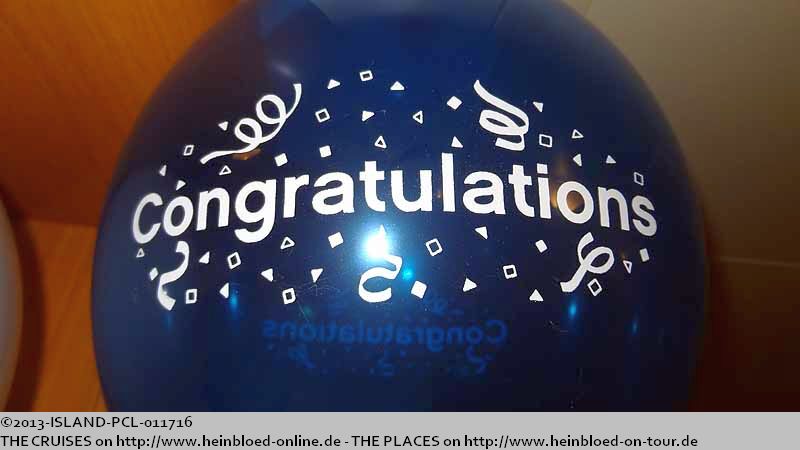 Dann gegen 18.30/19.00 Uhr laufen wir auch aus.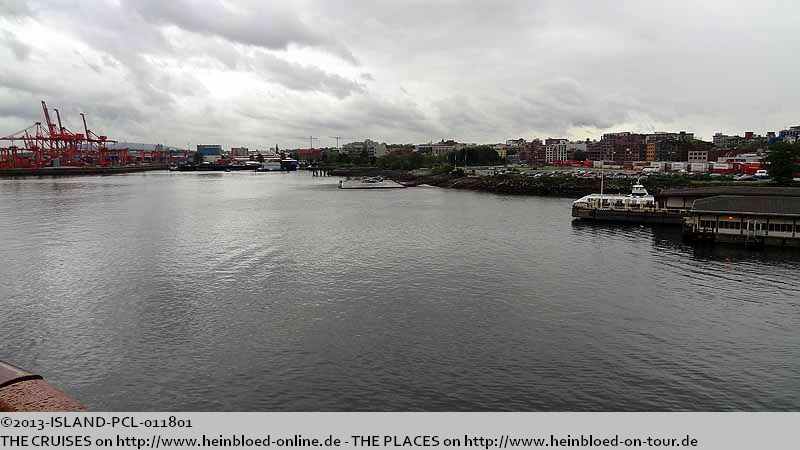 Around 18.30/19.00 hrs we finally set sail.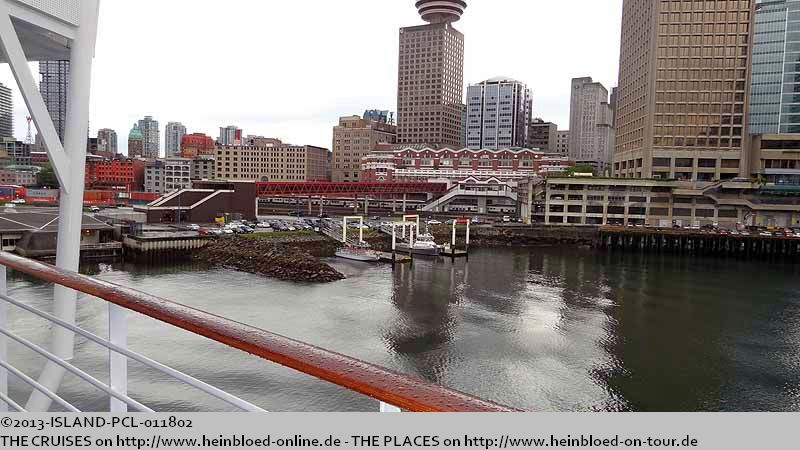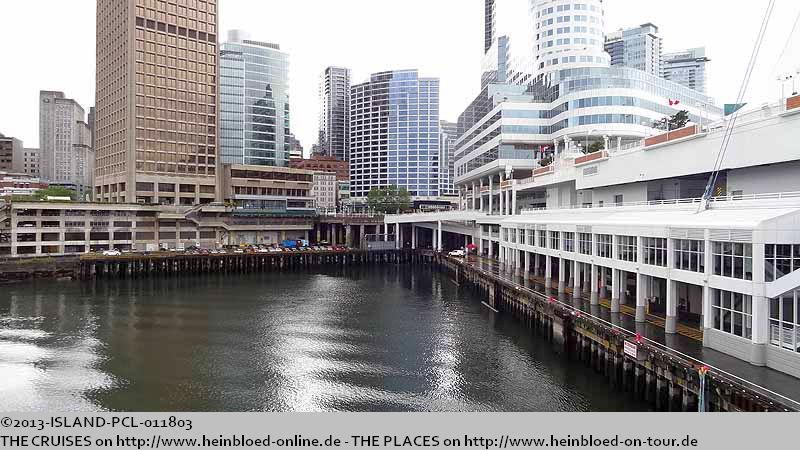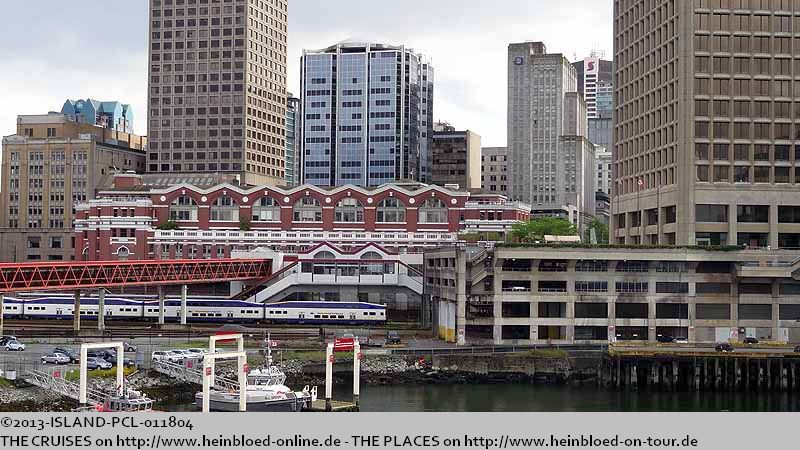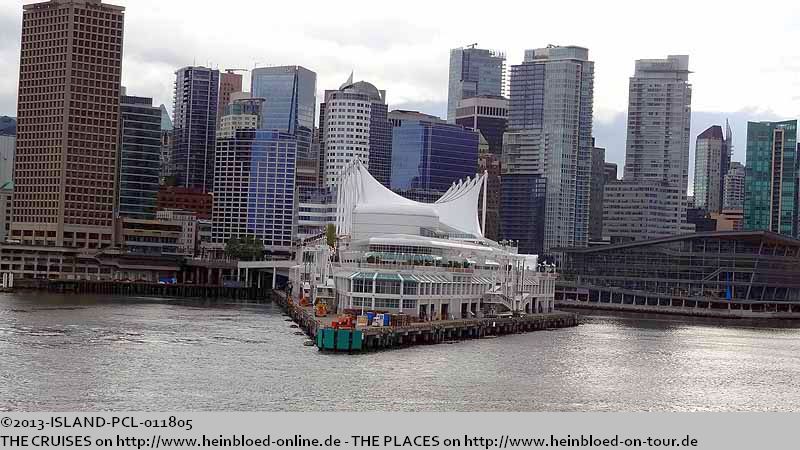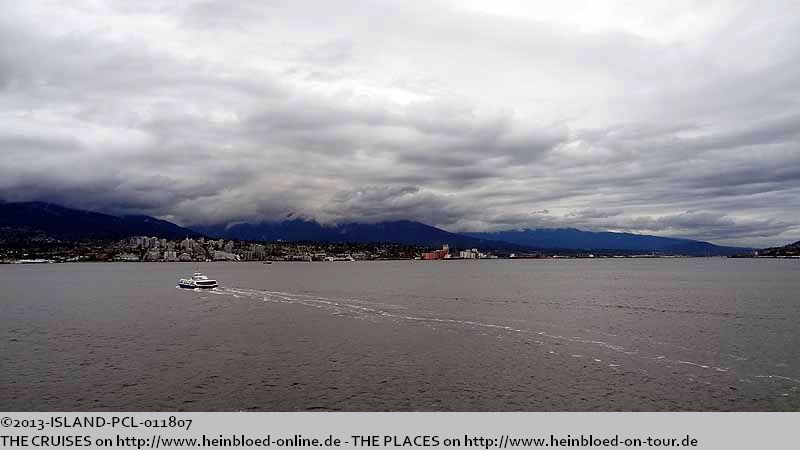 Interessantes Dach mit den den vielen Bäumchen.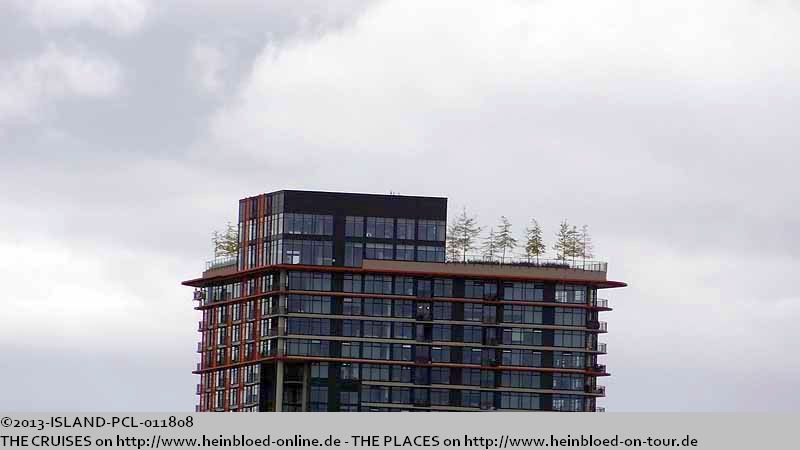 The roof with all the trees looked very interesting.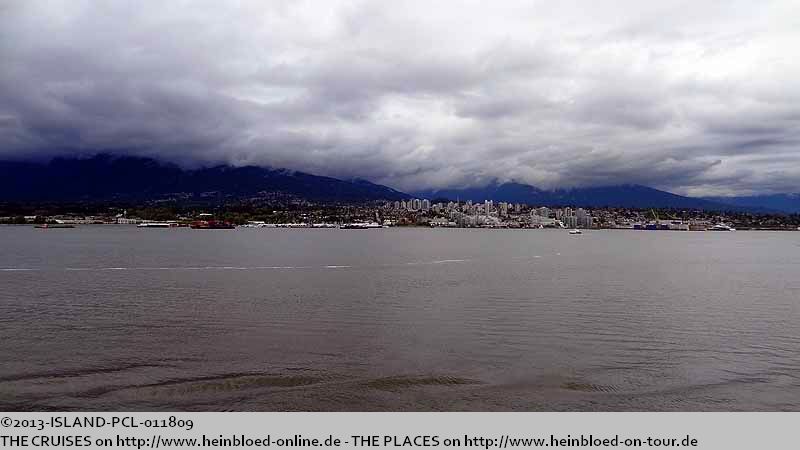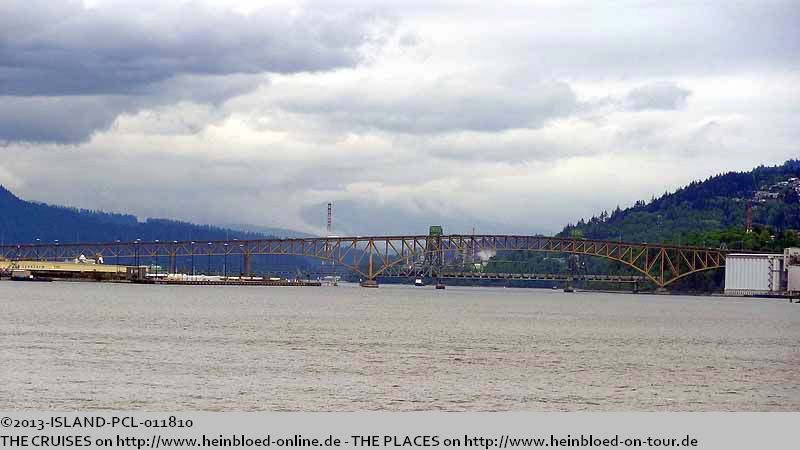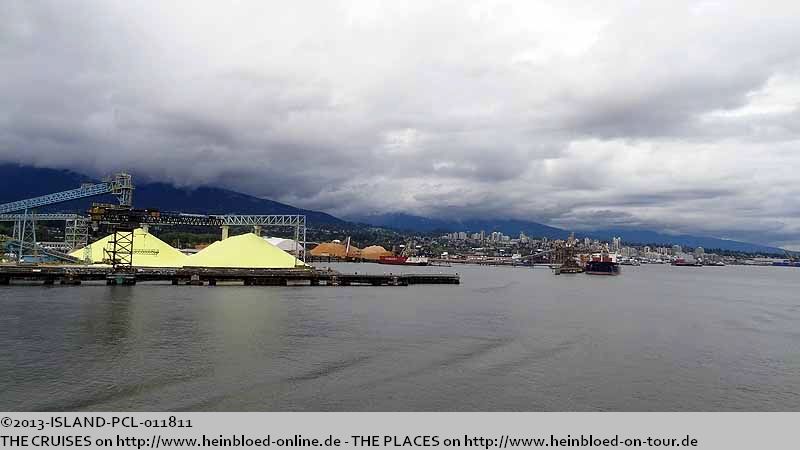 Schwefel?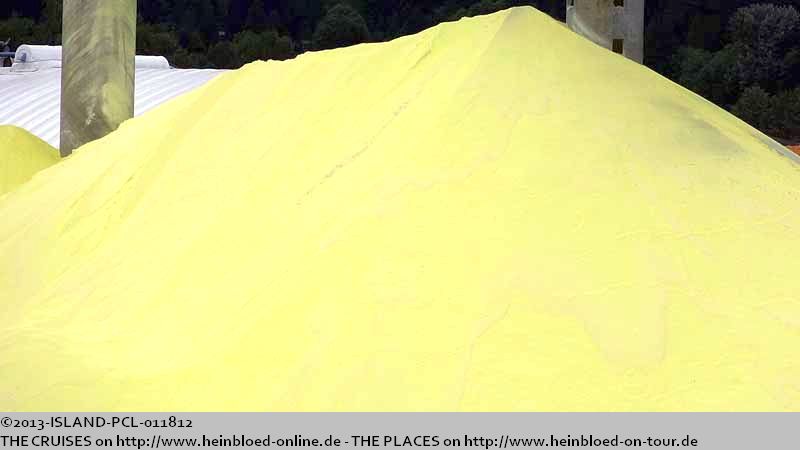 Sulphur?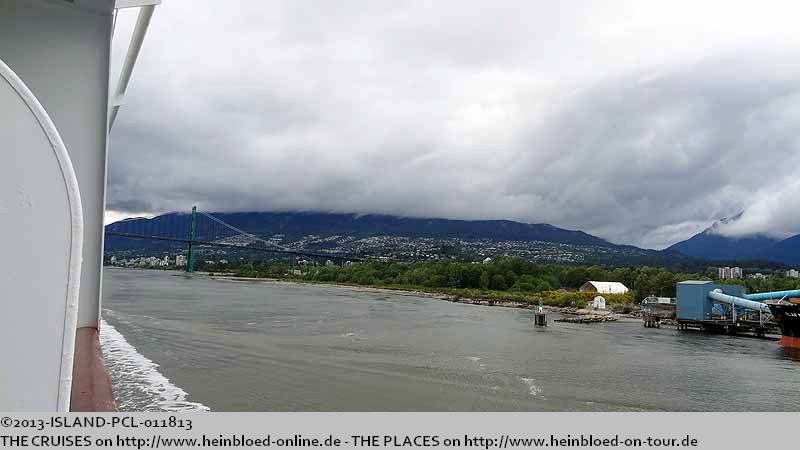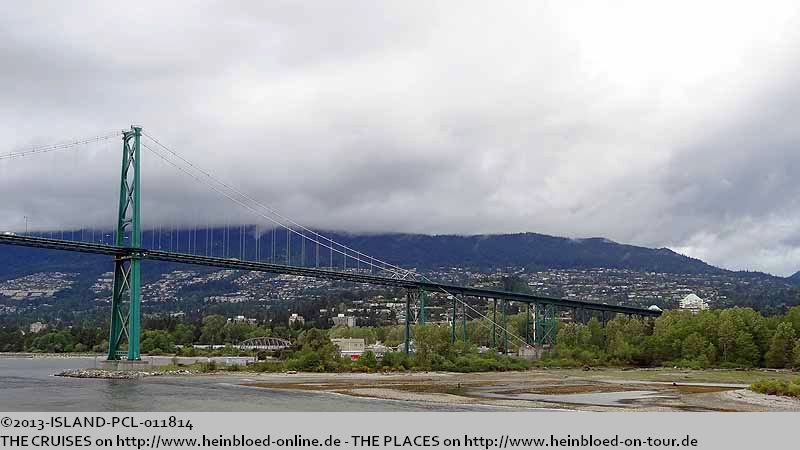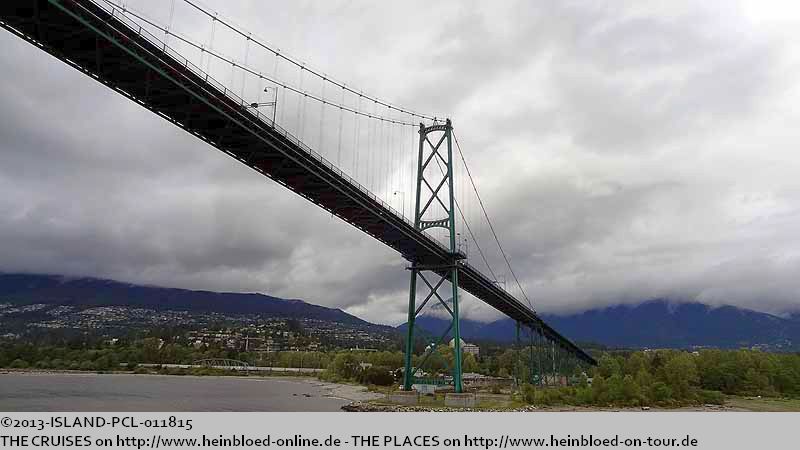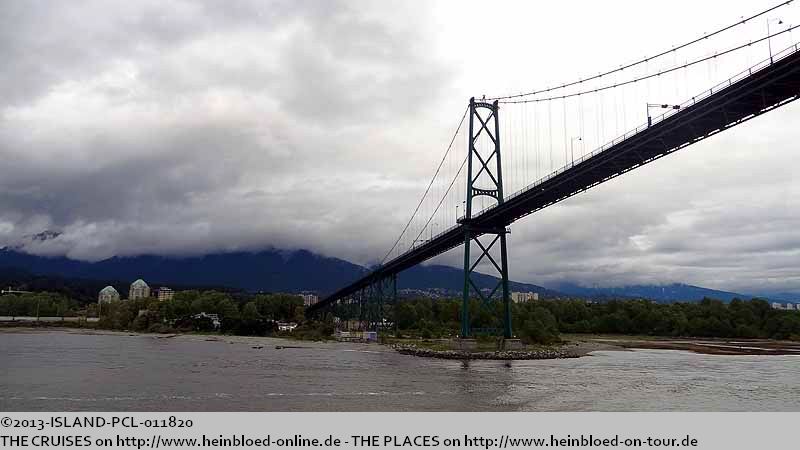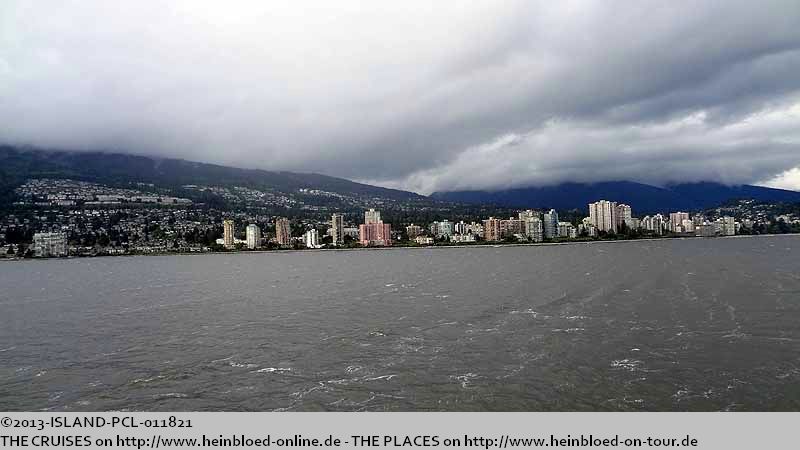 Ein Regenbogen bildet sich über Vancouver. Was für eine schöne Ausfahrt.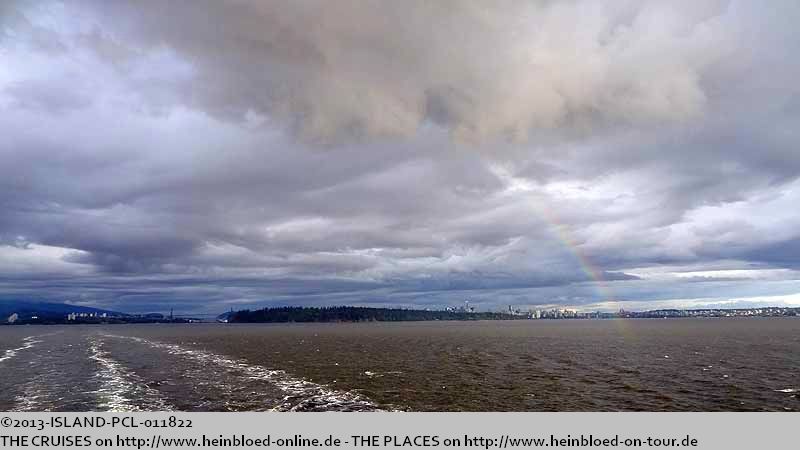 A rainbow was formed just over Vancouver. What a great sailing away.

Auf der einen Seite sieht es eher nach Unwetter aus.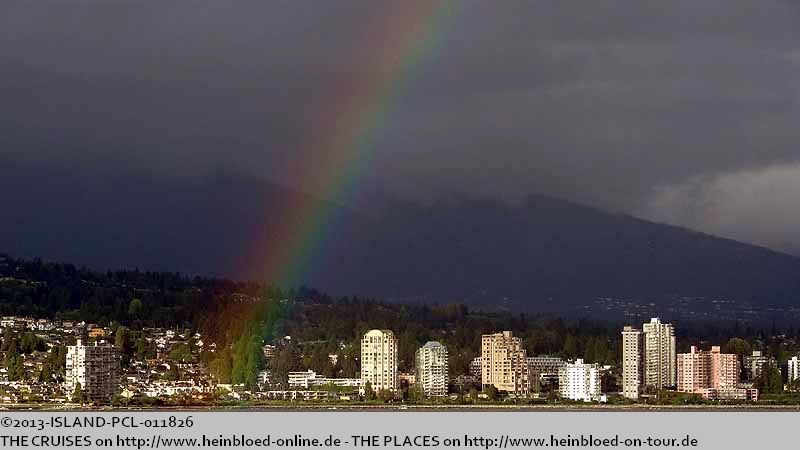 The other side looked more like bad weather.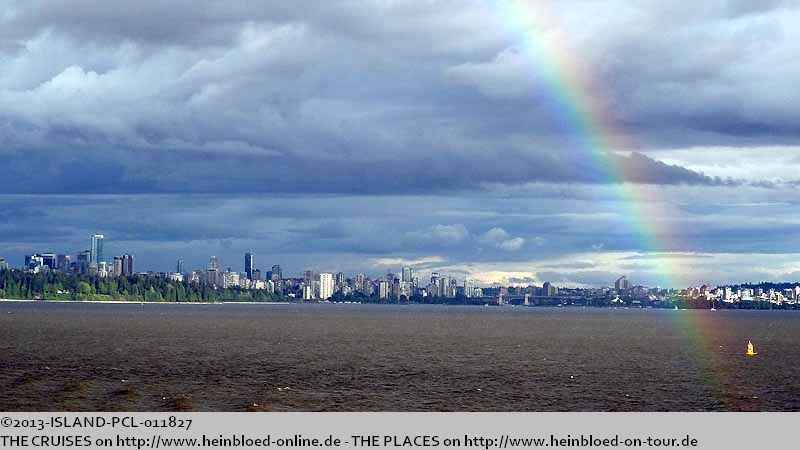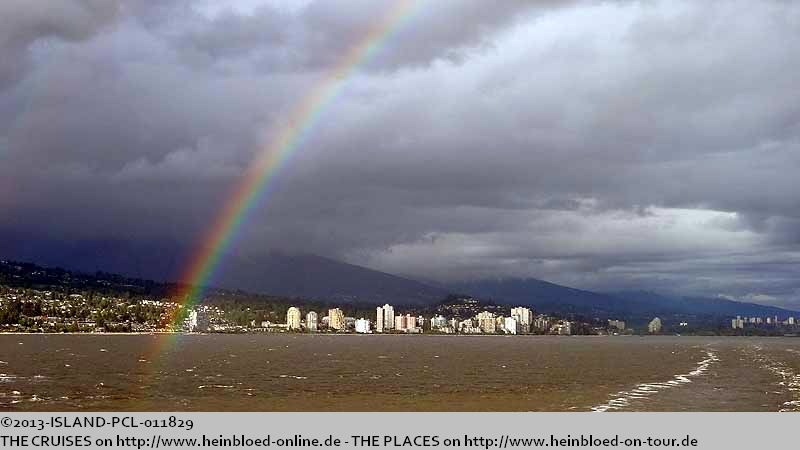 Auf einmal entdecken wir: es ist ein Doppel-Regenbogen. Das habe ich vorher in meinem Leben noch nie gesehen.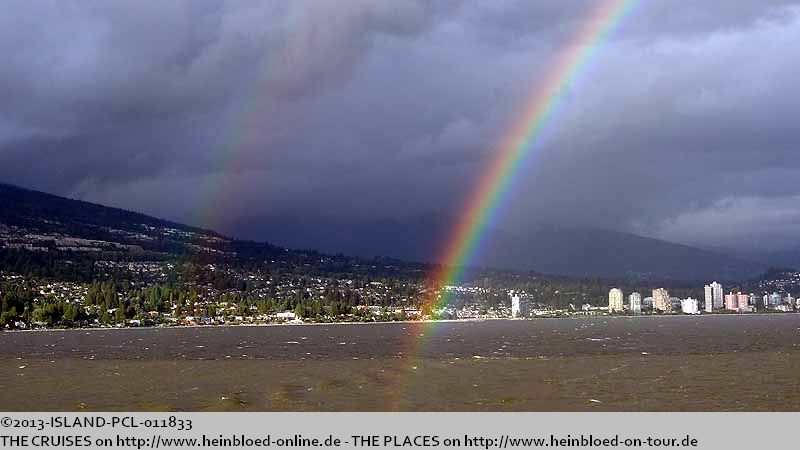 Then we discovered: it was a double rainbow. Something like that I had never seen before in my life.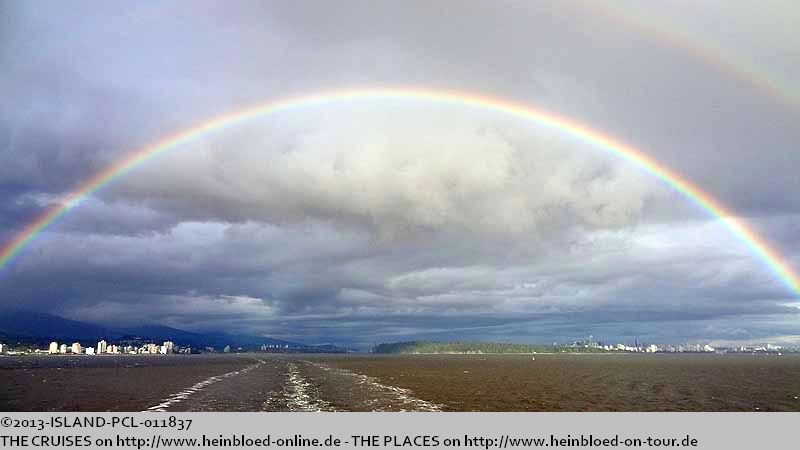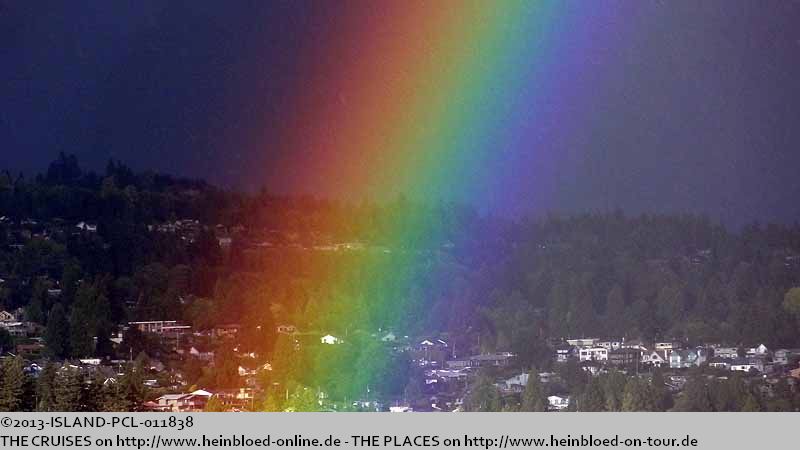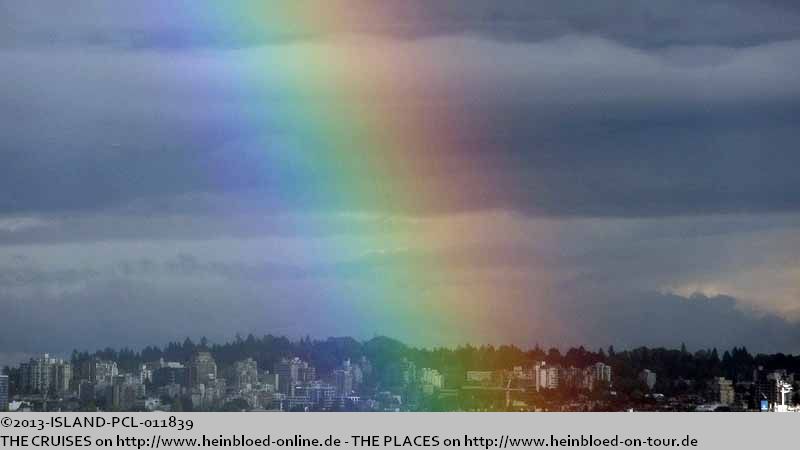 A very nice farewll of Vancouver - just for us the colors of Rainbow and because we were two: a double one.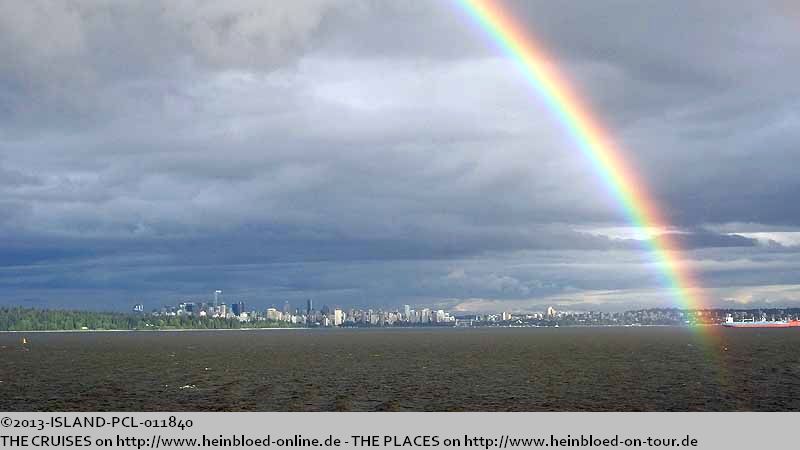 Ein schöner Abschied von Vancouver - extra für uns die Regenbogenfarben und weil wir zu zweit sind, eben ein Doppelregenbogen.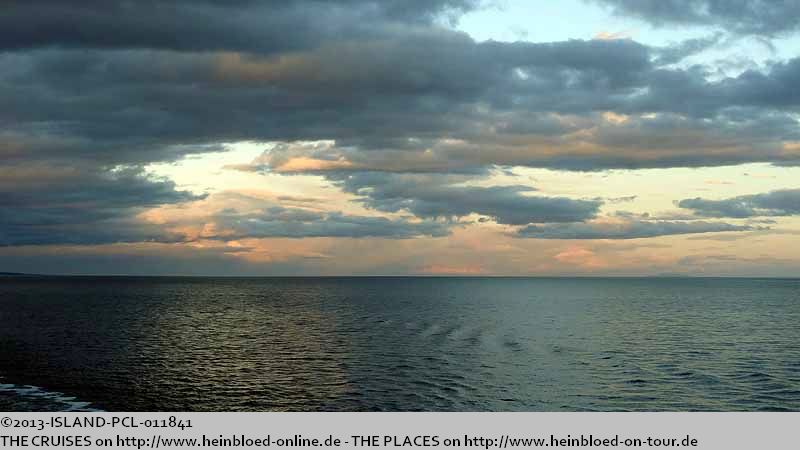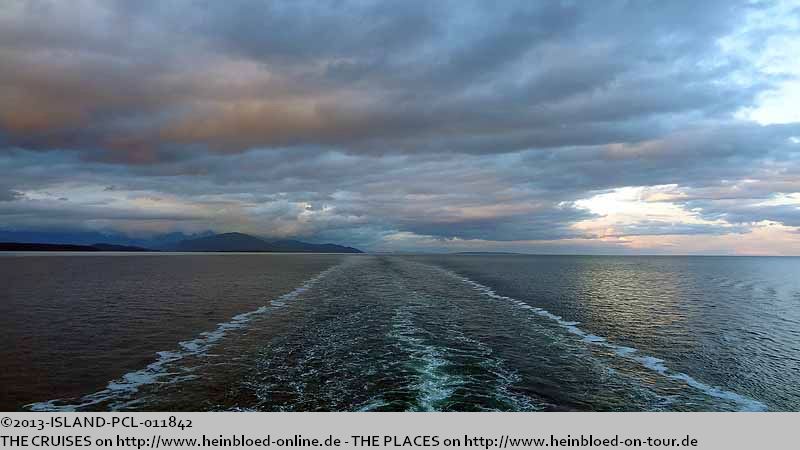 Die anderen Reisen in diesem Blog/
The other voyages in this blog: