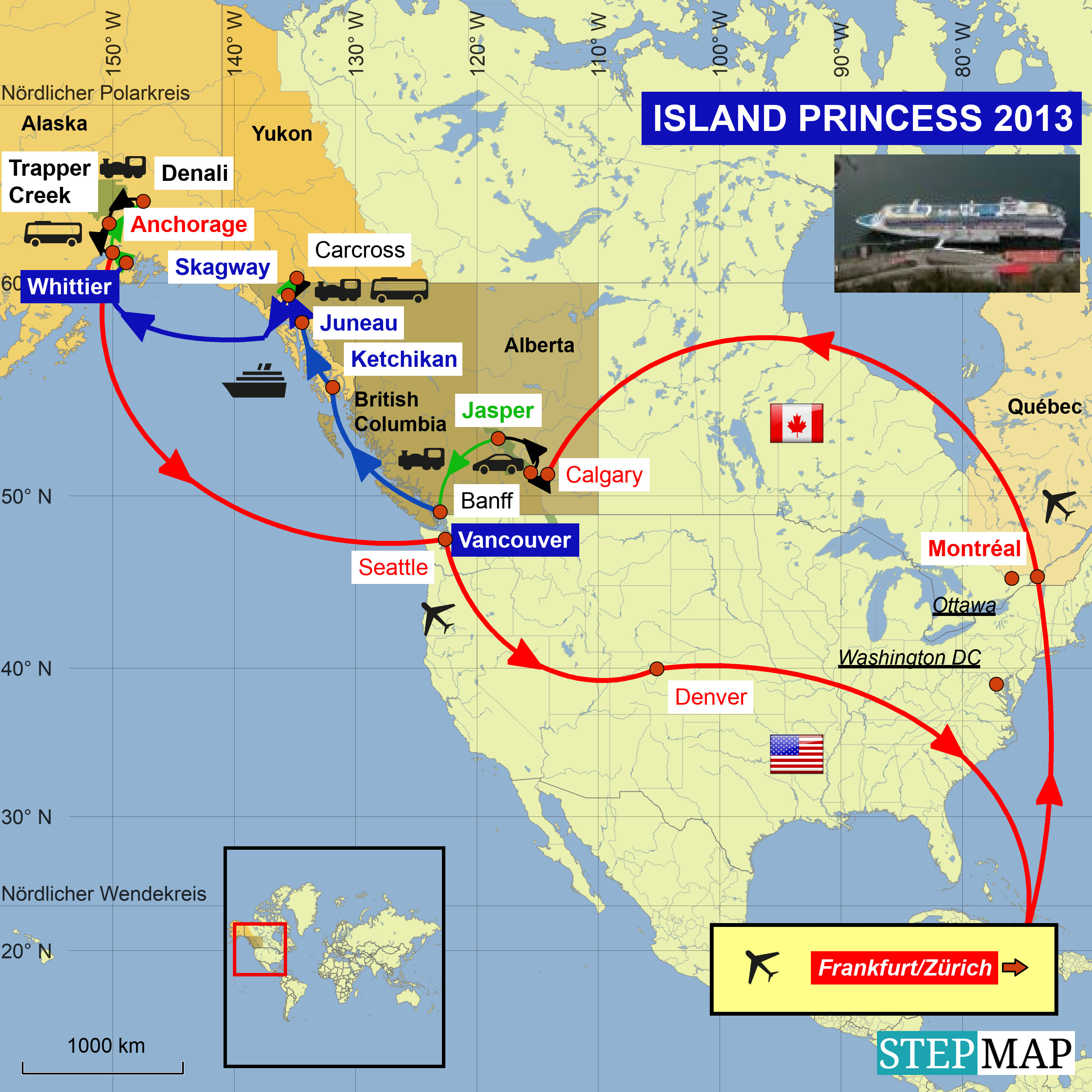 Auf der Rückfahrt halten wir nirgendst mehr. Die gleichen Orte aber von der anderen Seite im Vorbeifahren aufgenommen.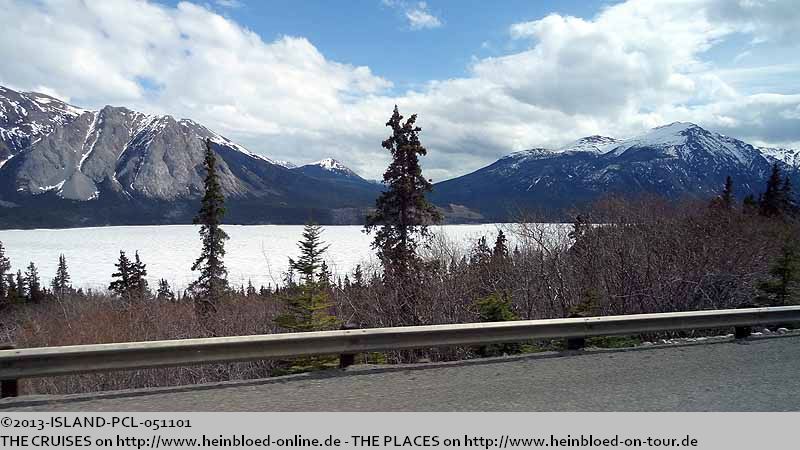 On our way back we did not stop anymore. Same places but from a different angle when we passed.

By the way that was our driver and guide (we did not have it before that the driver was the guide too... wondering that no more has happened so far). Her name was Annie Early. When someone was afraid that we might miss the train she only said that she would act according to her name: she would always be early. So she was waited for us at the train depot in Skagway to get us back to the ship in case we did not want to see downtown anymore. In the morning there was a train just next to the ship: why would not they take us back there?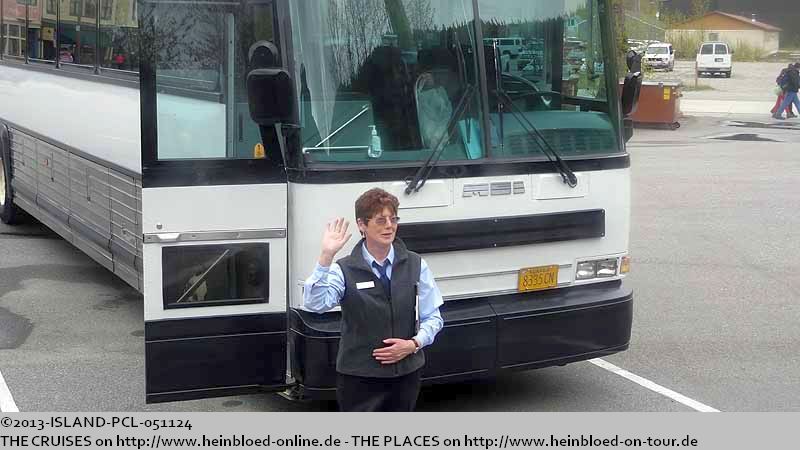 Das ist übrigens unsere Fahrerin und gleichzeitig Führerin (wir haben das nur noch so erlebt, dass der Fahrer gleichzeitig führt bzw. der Führer gleichzeitig fährt... und dass nicht mehr passiert, wundert mich...). Sie hieß Annie Early. Als jemand Angst hatte, den Zug zu verpassen, meinte sie bloß, dass sie handelt, wie sie heißt. Sie ist immer rechtzeitig oder zu früh vor Ort. So erwartet sie uns bereits am Bahnhof in Skagway, um uns zum Schiff zurückzufahren, falls wir nicht in den Ort noch wollen. Morgens fuhr ein Zug direkt neben dem Schiff ab: warum können wir nicht bis dahin zurückgebracht werden?
Unsere Eisenbahntour mit der
White Pass und Yukon Route Railroad
beginnt in Fraser, British Columbia, Kanada. Und ich hatte immer gedacht, dass unsere Fahrt in Whitehorse, Yukon beginnt oder endet, aber das habe ich falsch gedeutet.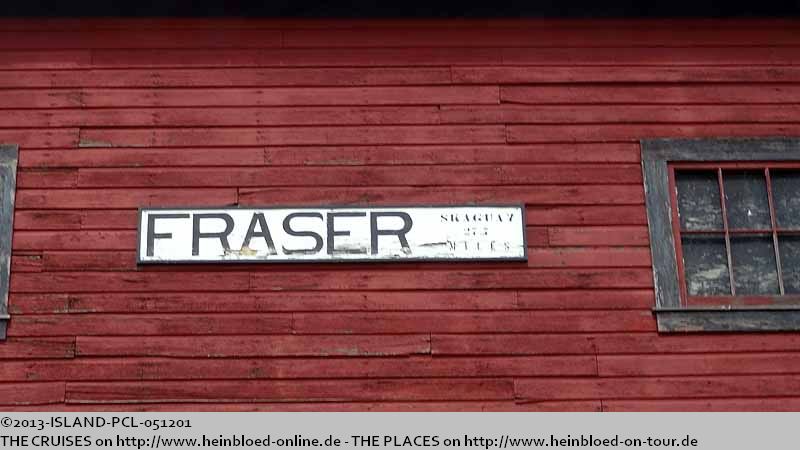 Our railtour started in Fraser, BC with White Pass and Yukon Route Railroad. Somehow I always thought that our tour would start or end in Whitehorse, Yukon.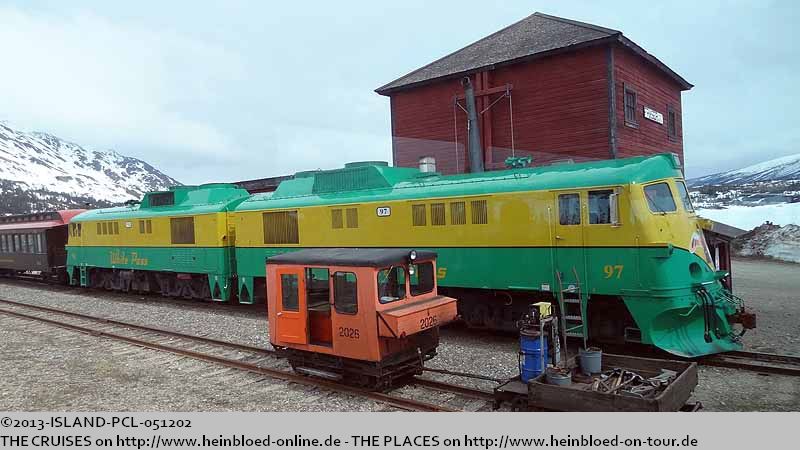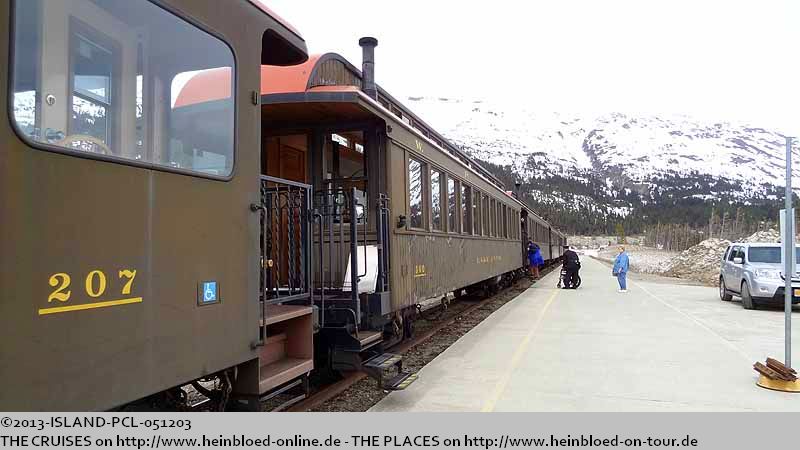 A wood-fired oven heated us up... As it was located next to the door and many walked out and in, there was not really a need to heat it.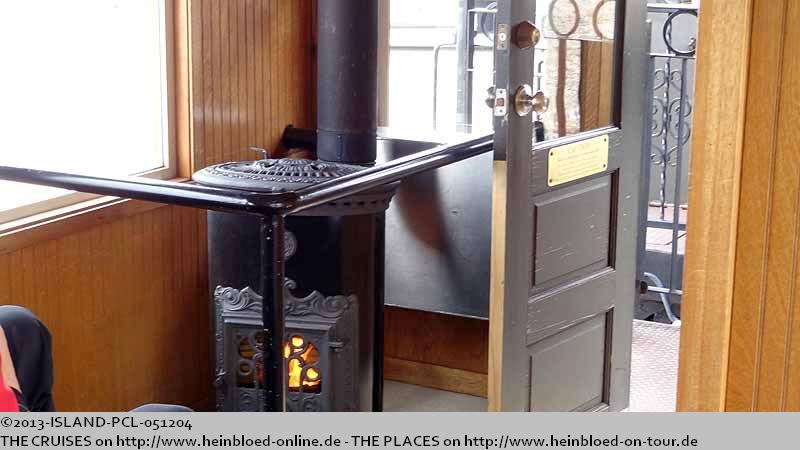 Ein Holzofen sorgt für Wärme vorne... aber da der direkt neben der Tür steht und viele ständig raus und rein springen, hätten sie ihn auch nicht unbedingt in Betrieb nehmen brauchen.
So eine Notausrüstung gibt es in den ICE-Zügen bei der Deutschen Bahn nicht. In jedem Wagen gibt es auch eine Toilette, da das Wechseln der Waggons nicht erlaubt ist.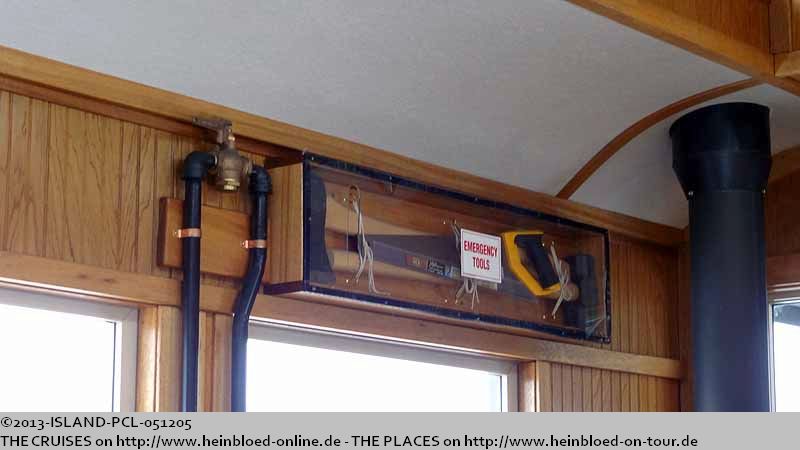 The emergency equipment we never saw with the high-speed-trains in Germany. You could find in each car in the toilet as you were not allowed to change the cars.

Up to the border at the White Pass, it was snow covered.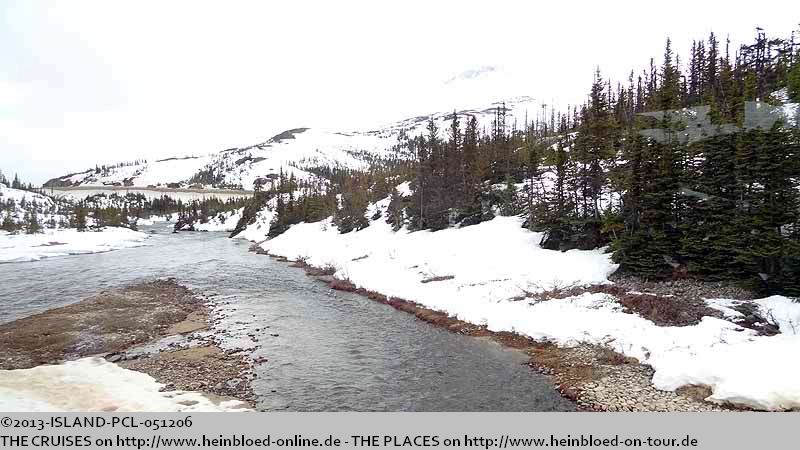 Bis zur Grenze am White Pass ist alles noch schneebedeckt.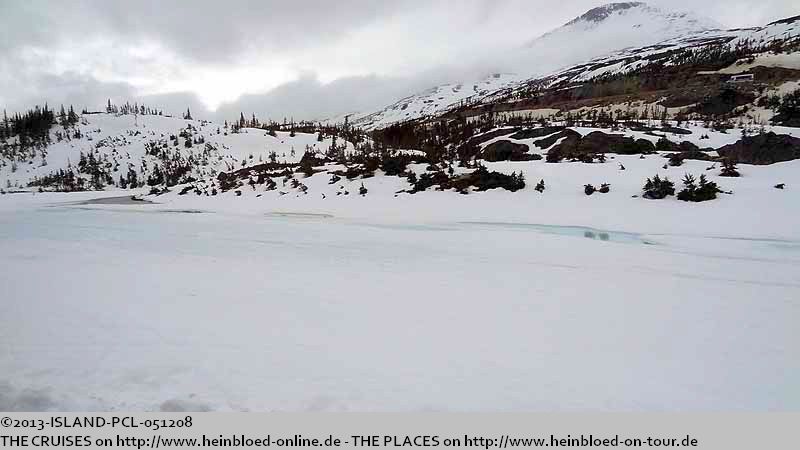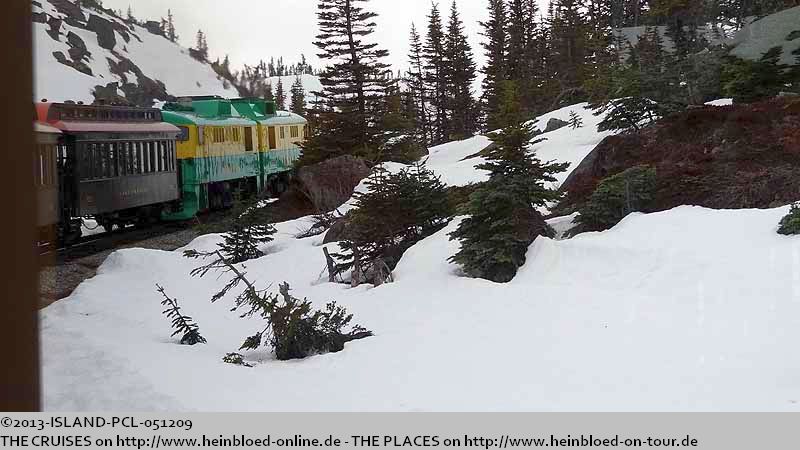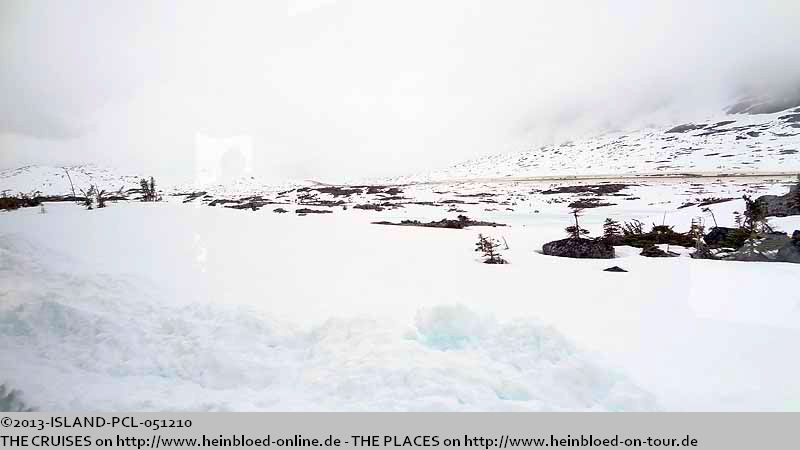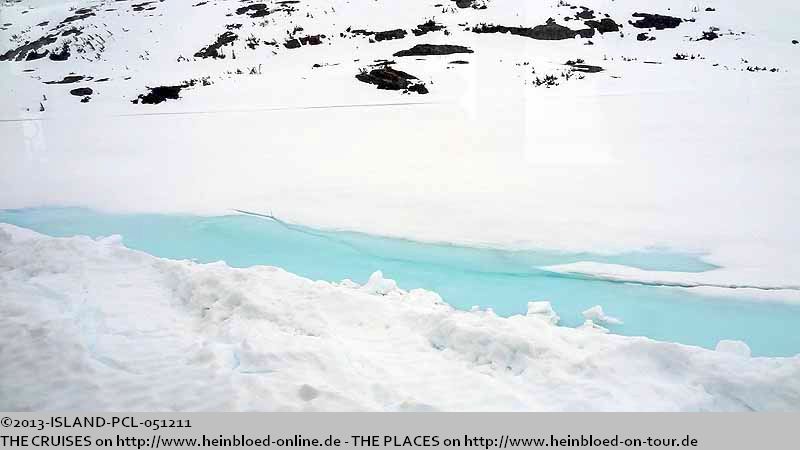 Then we arrived at the US-Canadian border. But there was no immigration.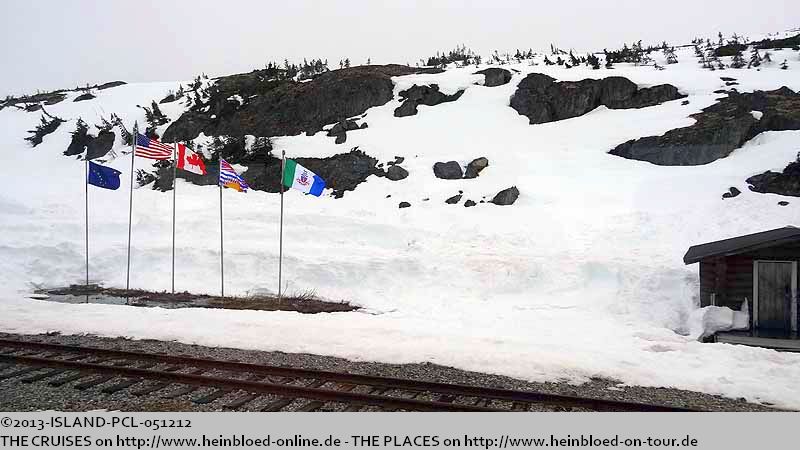 Und wir kommen an die US-kanadische Grenze. Aber hier findet keine Grenzabfertigung statt.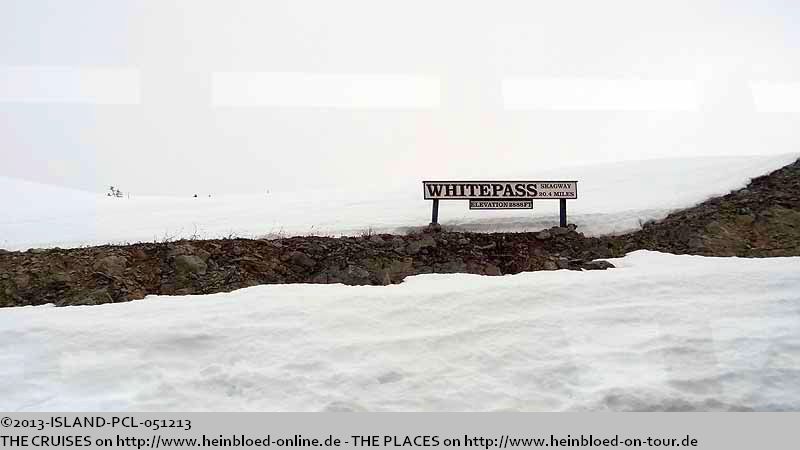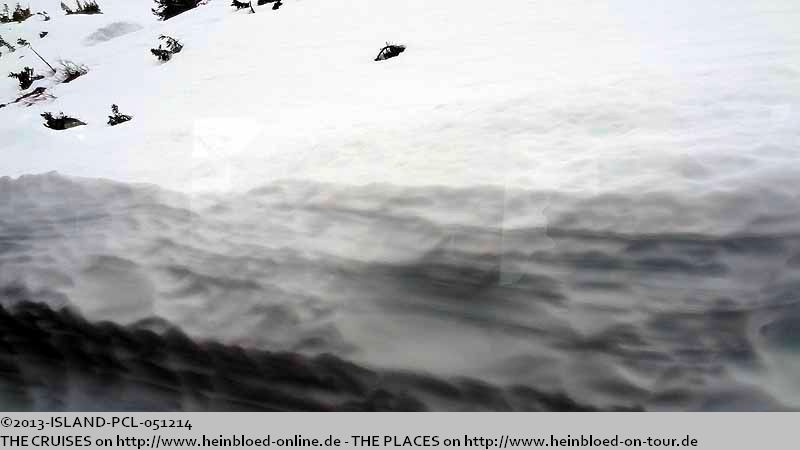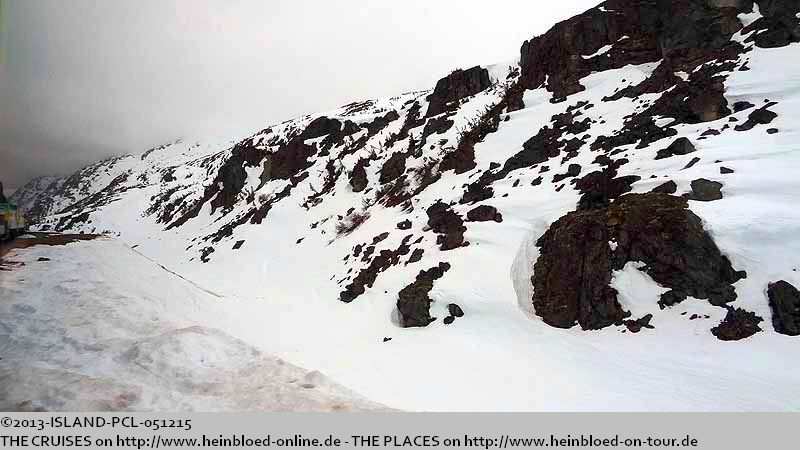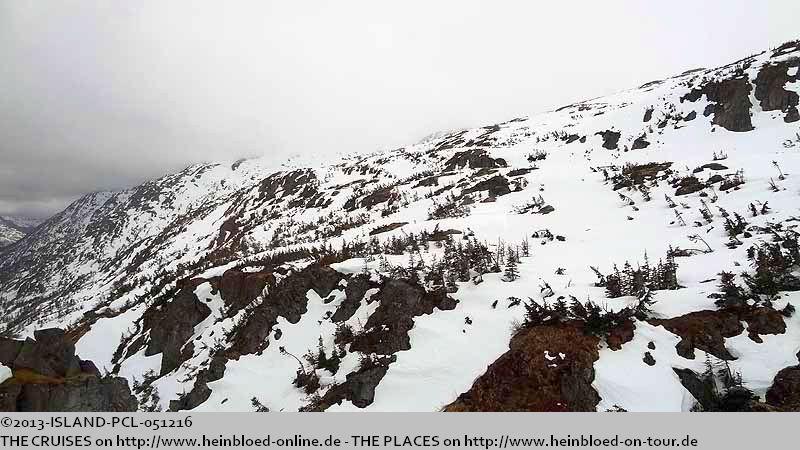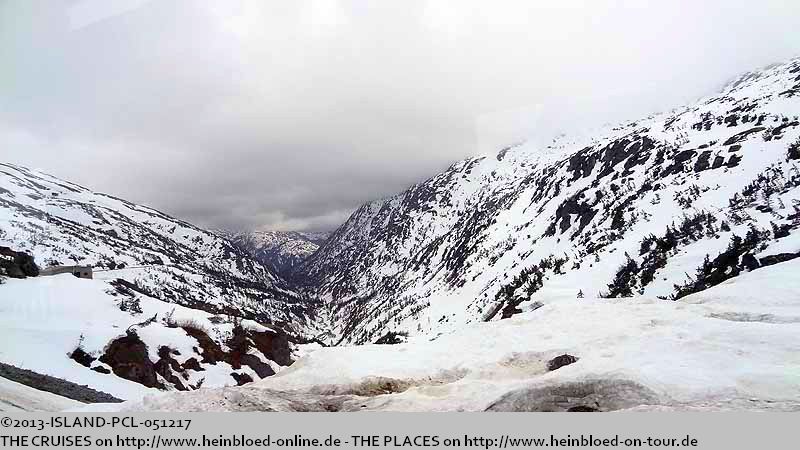 In the tunnel you had no lights in the car so you could see easily the oven.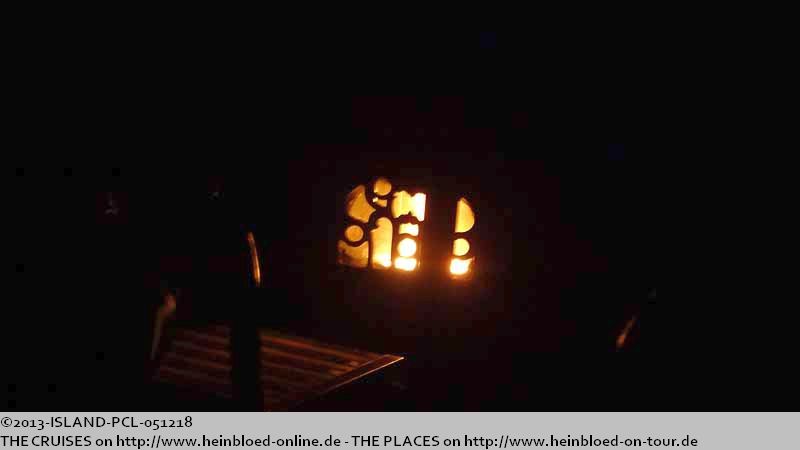 In den Tunneln gibt es keine Waggonbeleuchtung, so dass man gut das Feuer im Ofen sehen kann.

The closer we came to Skagway the less snow we had.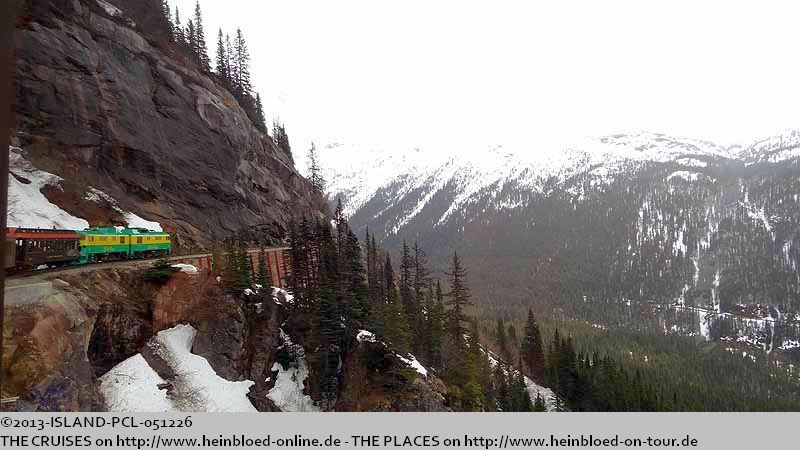 Je näher wir Richtung Skagway kommen, desto weniger Schnee.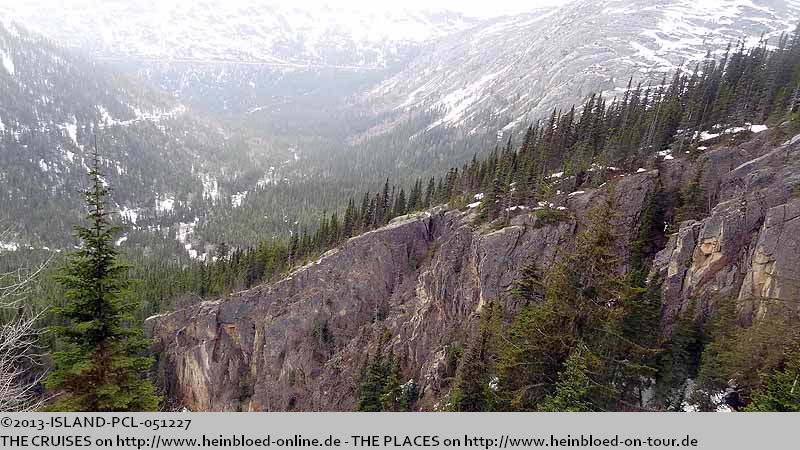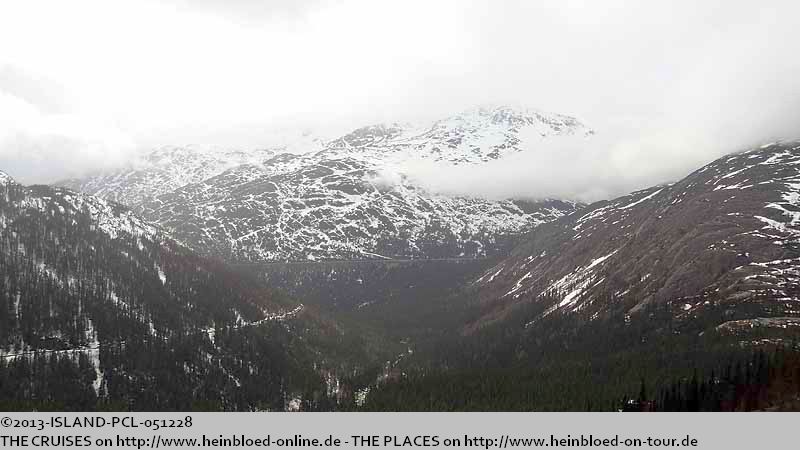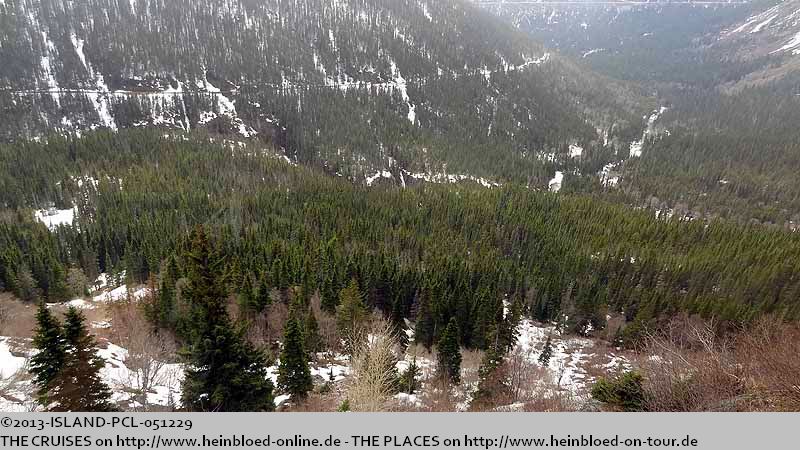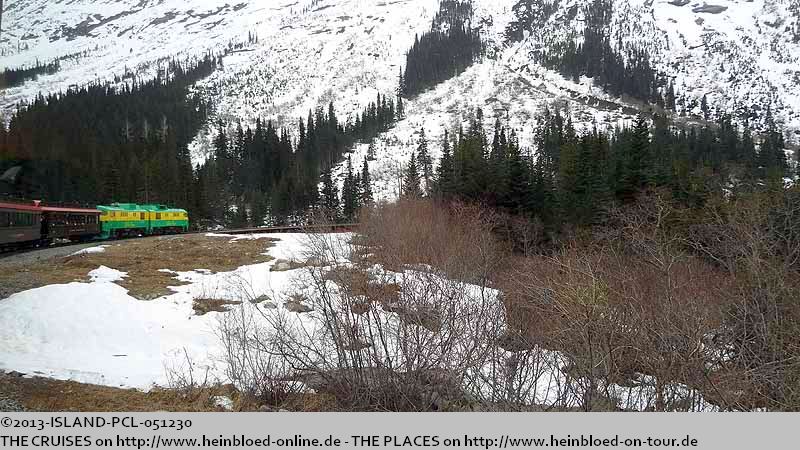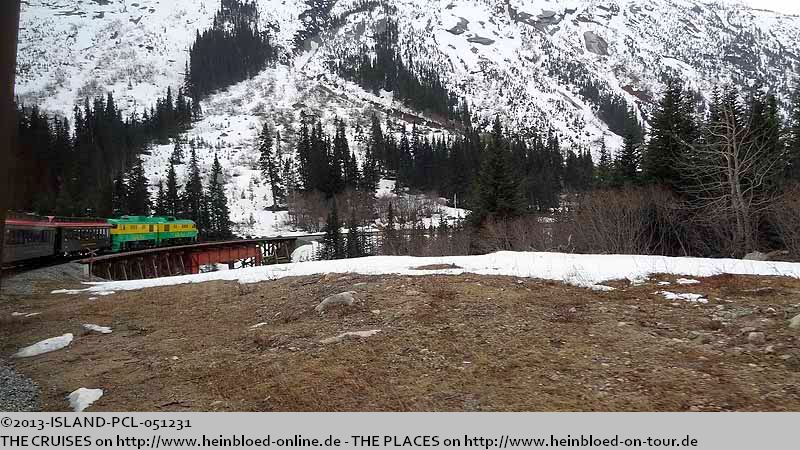 On the way back we collected some passengers.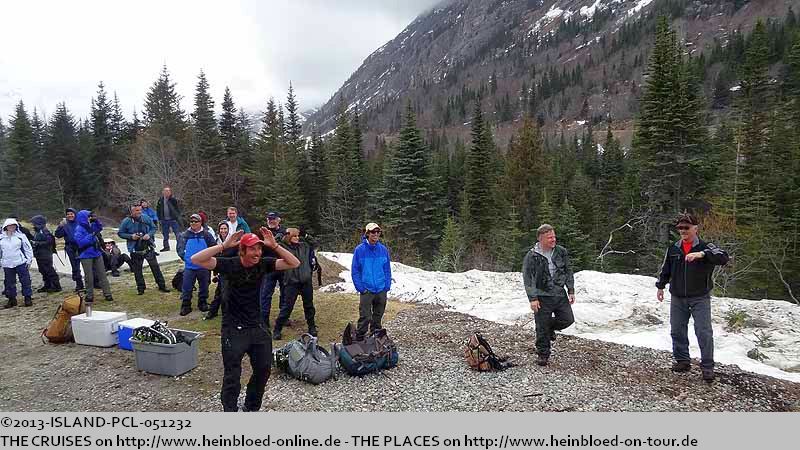 Unterwegs werden noch Fahrgäste eingesammelt.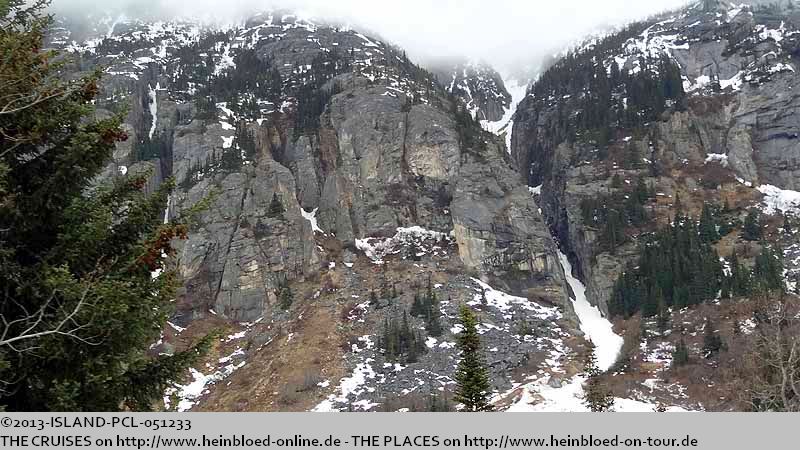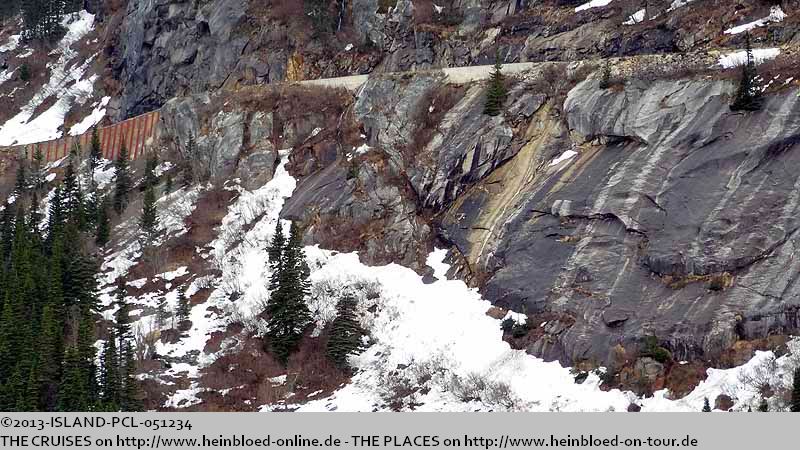 Bei einem Wasserfall fährt der Zug langsamer, damit wir besser fotografieren können.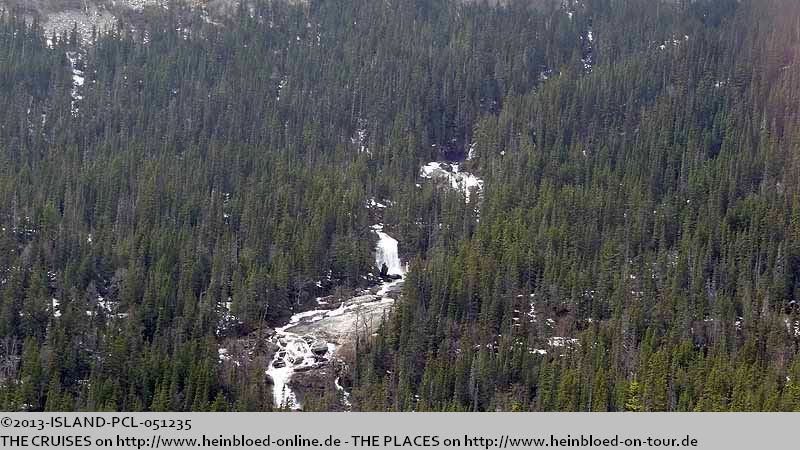 When we came to a water fall the train slowed down that we can take better pictures.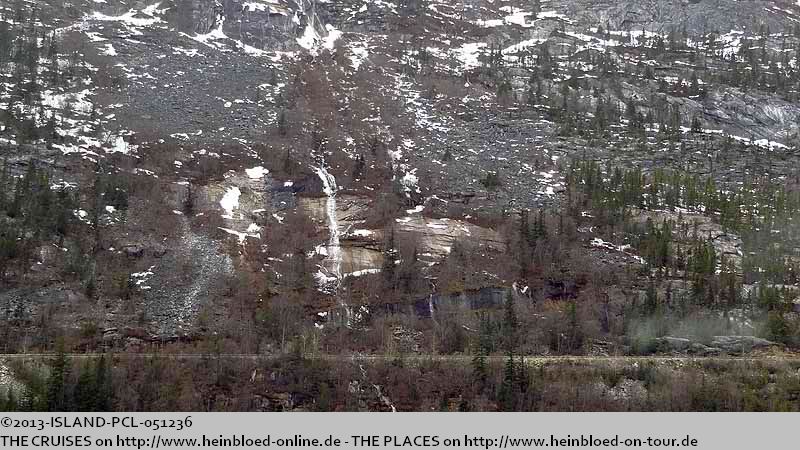 Zugefrorene Wasserfälle?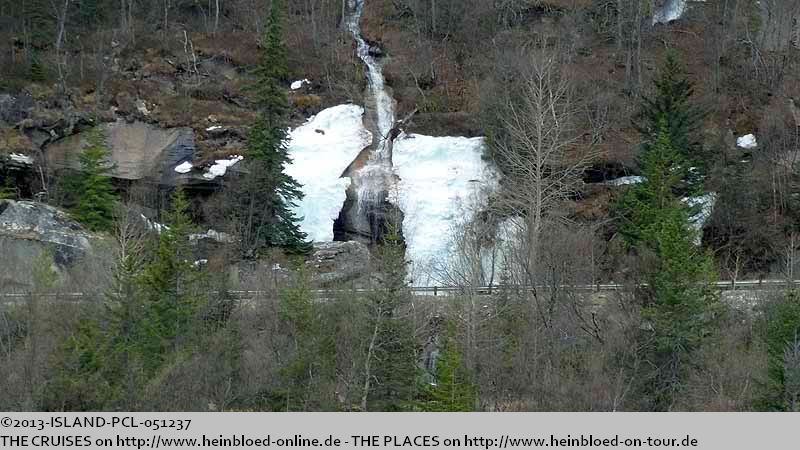 Frozen waterfalls?

The meaning of ON TO ALASKA WITH BUCHANAN could be found here.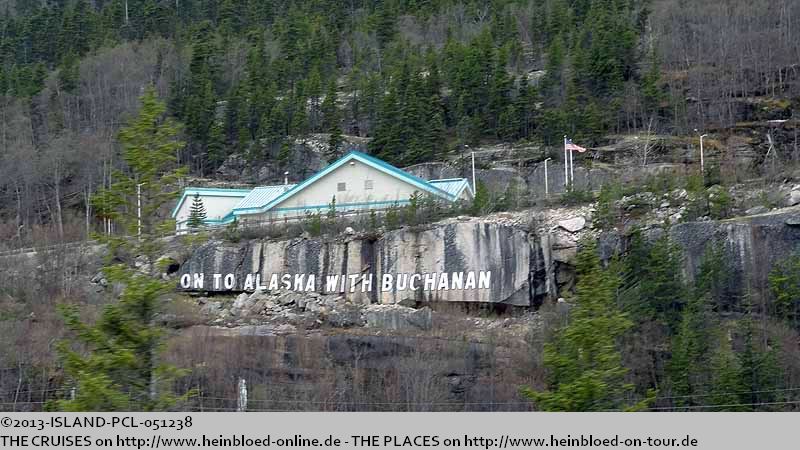 Die Bedeutung des Schriftzuges ON TO ALASKA WITH BUCHANAN wird
hier
erklärt.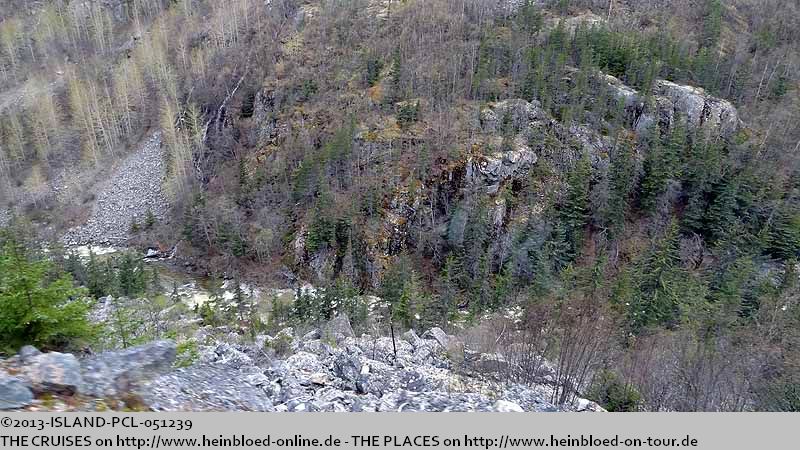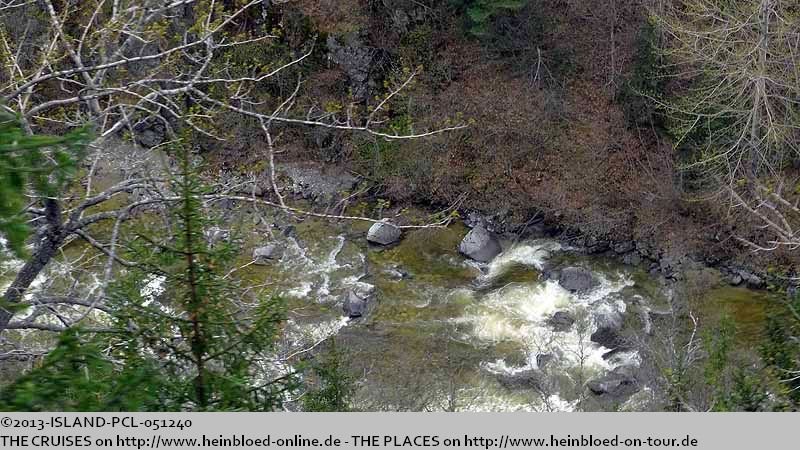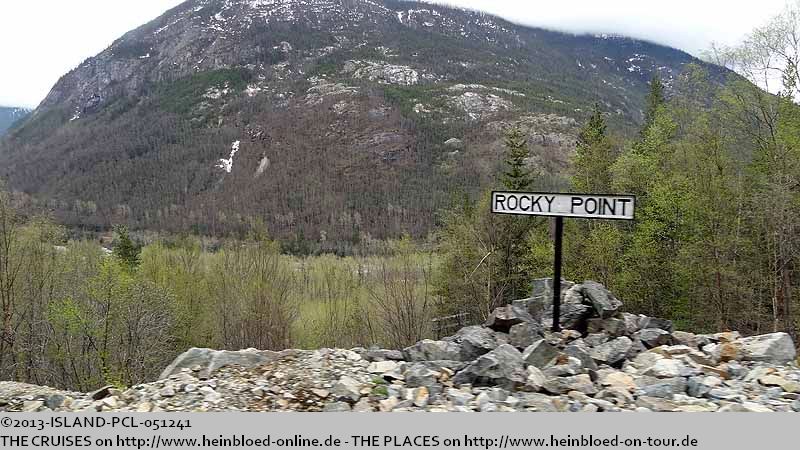 And soon we reached Skagway.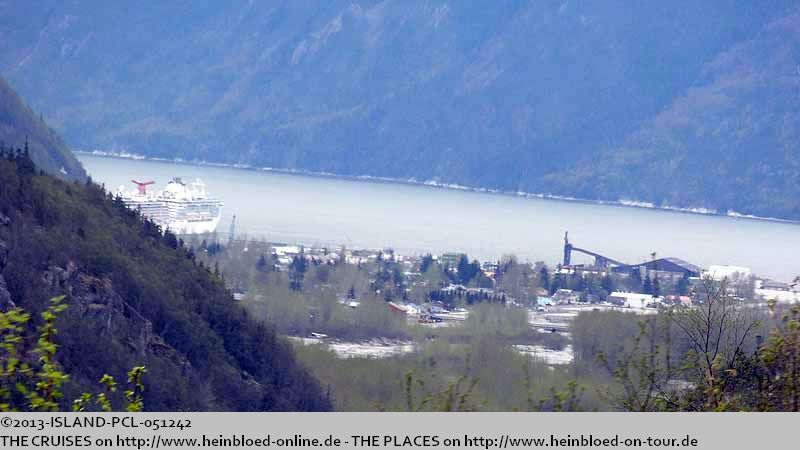 Und bald erreichen wir Skagway.
Blake hat alles erzählt, was erzählenswert war. Und auch in einer Art, in der sogar wir alles verstanden hatten. Und ging nochmals durch den Zug, damit jeder ihn auch mal persönlich sieht. Wir waren einer der wenigen, die ihm Trinkgeld gegeben haben. Das hat er dahingehend gedankt, dass er uns eben auch gefragt hat, wie es uns gefallen hätte und was uns am Besten gefallen hat. Überhaupt hatten wir den Eindruck, dass viele den Fahrern, die auch geführt haben, gar nichts gegeben haben. Wir bekamen i. d. R. ein paar warme Worte mehr. Vielleicht war es auch, weil sie dachten, dass sie von uns nichts bekommen würden, weil wir Ausländer sind.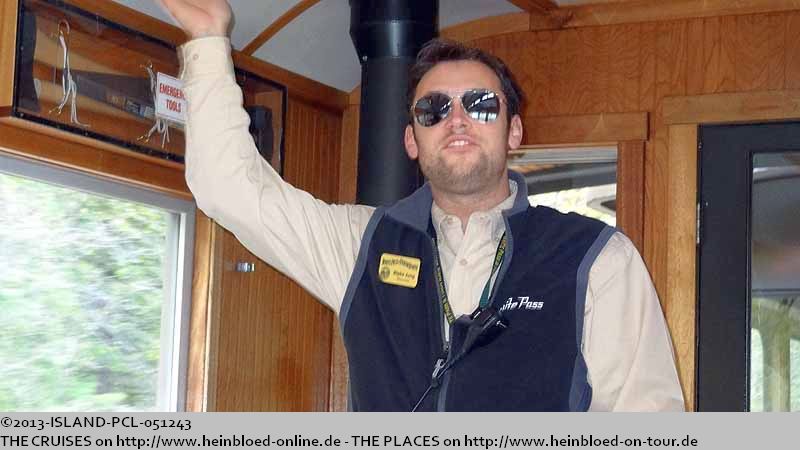 Blake told us everything what was worth to tell. And in a way, we were able to follow. He went through the train to show him personally. We were one of the few guests who tipped him. He thanked with a short conversation and asked us how we liked. However, we had the feeling that many did not tip the driver guides. We always received some additional nice words. Maybe they were only surprised because they did not expect anything from us as we were foreigners.
Die anderen Reisen in diesem Blog/
The other voyages in this blog: