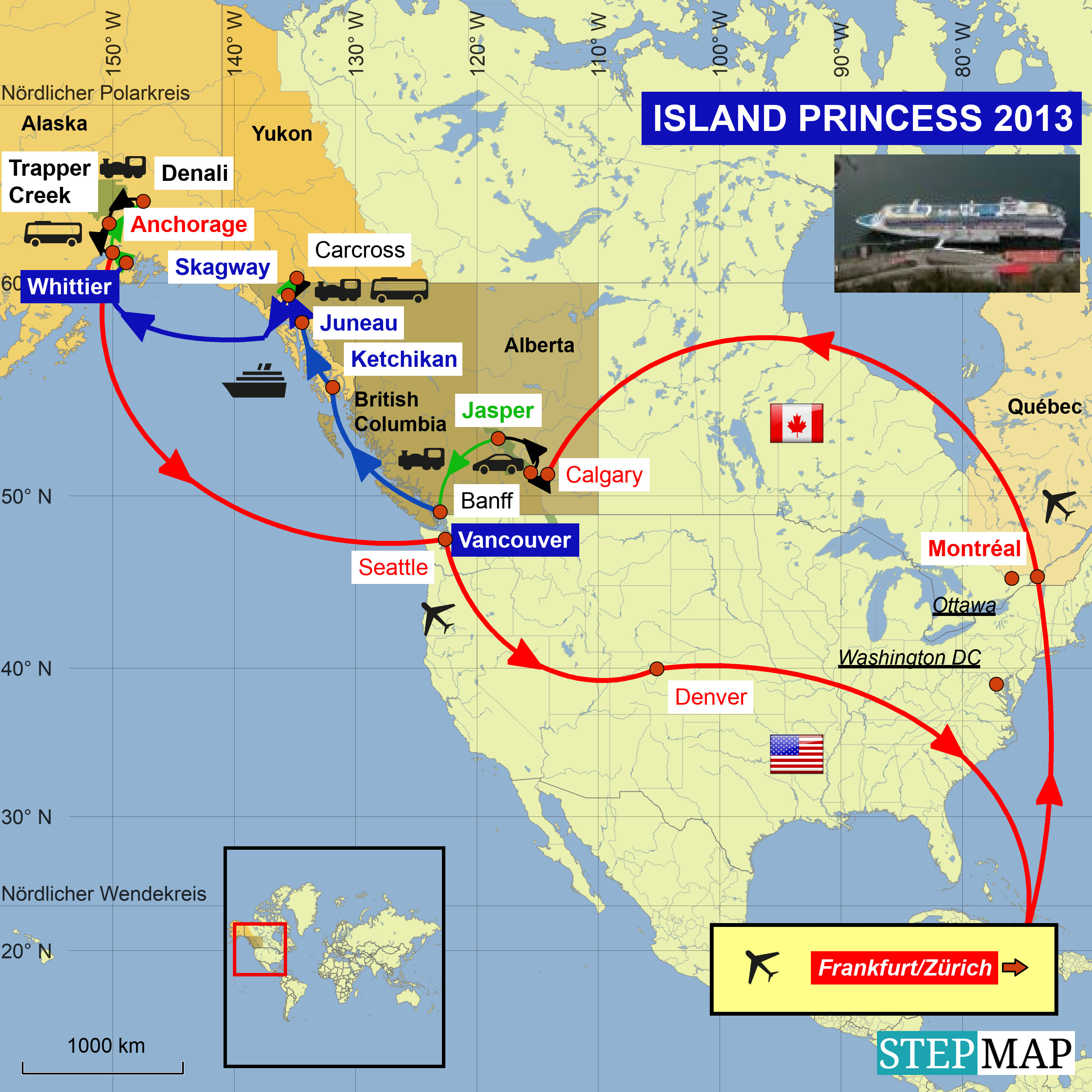 Endlich am Bahnhof Denali (in Deutschland wäre es ein Haltepunkt, wobei es eine Weiche gibt und somit doch ein Bahnhof).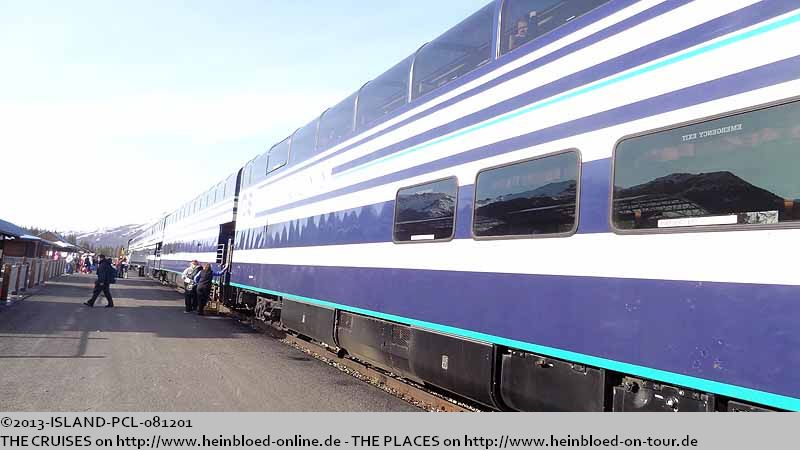 Finally at the train depot Denali (in Germany it would be a regular stop point but maybe because of one junction a station).

I would not call that station building.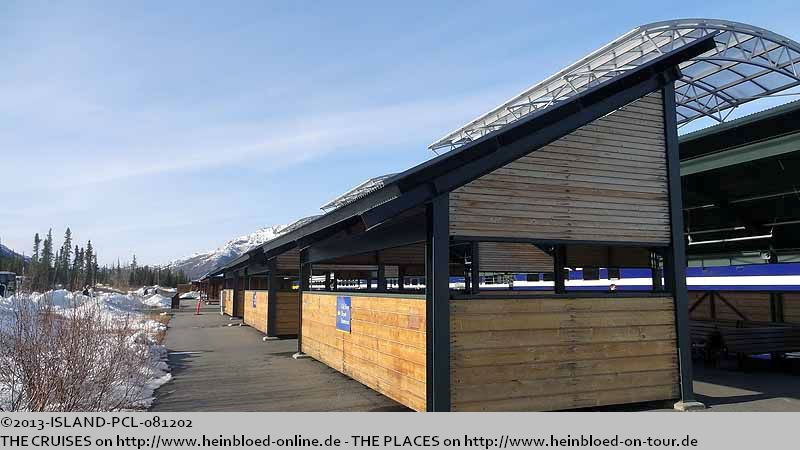 Als Empfangsgebäude würde ich es mal nicht bezeichnen.
Alle Busse warten.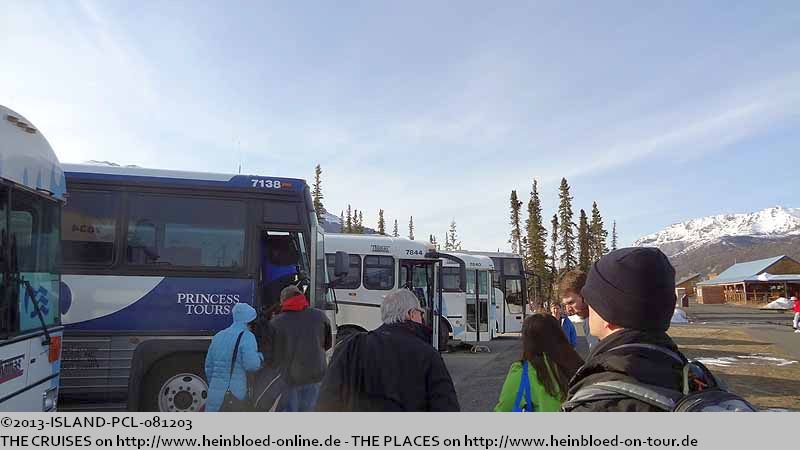 All busses were waiting.

I hoped that they would start moving soon. Now we were here for more than 20 minutes.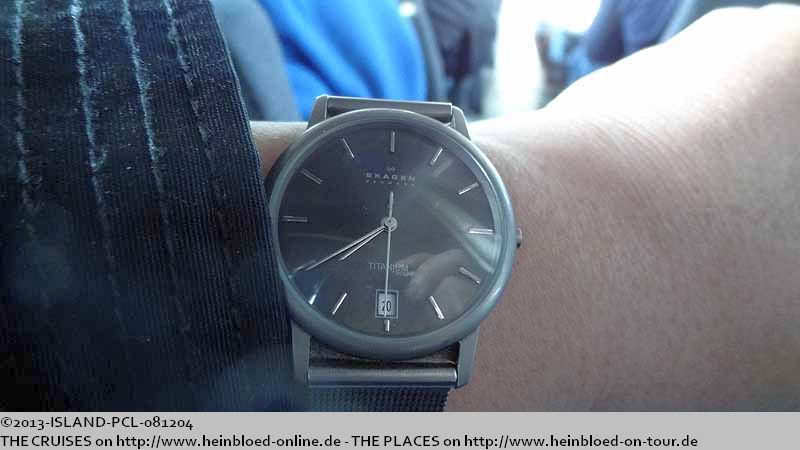 Bald geht es hoffentlich los. Jetzt sind wir hier schon 20 Minuten.
Unsere Fahrerin gibt uns eine Sicherheitsunterweisung. Nicht so schlimm, wie auf dem Schiff und nicht so schlimm, wie im Flugzeug. Aber irgendwann nervt es einfach. Von ihr erfahren wir, dass wir direkt zu unseren Gebäuden gebracht werden und nicht nochmals in einen Shuttle steigen müssen und von ihr erfahren wir auch, dass morgen für die Tour in den Nationalpark Schulbusse eingesetzt werden. Vorhin im Zug hatte uns unsere Reiseleiterin noch gesagt, dass Tourbusse eingesetzt werden.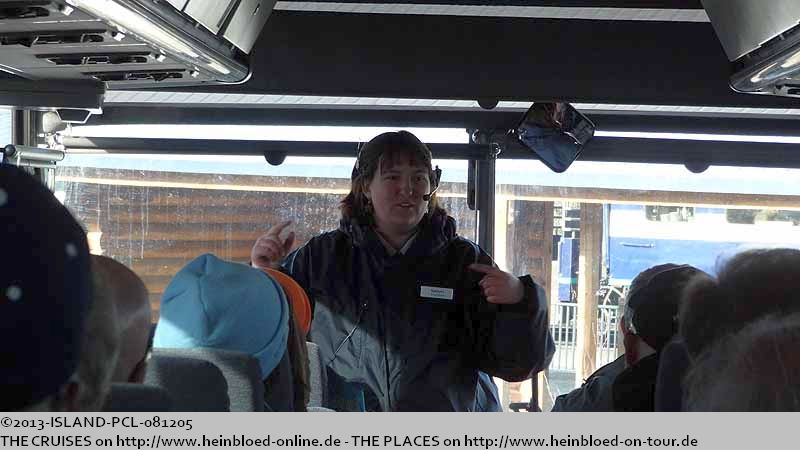 Our driver gave us safety instructions. Not as strict as on the ship and not at the same level as in a plane. But it was slowly bothering somehow. She told us that we will be taken directly to our buildings and must not need to use a shuttle again and so we also learned from her that school buses were used for the national park tour. One of the tour guides told us on the train that they would use normal tour busses.

One lady sat on the bus and told the driver that she must go to Building J. Our driver explained calmly and politely what this was the Bus 4 and only call Building A and she should take the Bus J. The lady became upset when the driver offered her to move to the next bus or later use the internal shuttle. Both were not welcome by the lady, and she only wanted to write a letter. As I sat at the very rear of the bus, I could not hand over some paper and a pen. She railed while she moved out of the bus and said that they told on the train that she should use the original bus. Her husband who stayed all the time calm apologized in a silent way for the habit of his wife. Anyway, she was stupid enough to board the bus and then to ask and apparently not to listen in the train. Finally, we could start and had to stop again for the train passing the railroad crossing after few yards.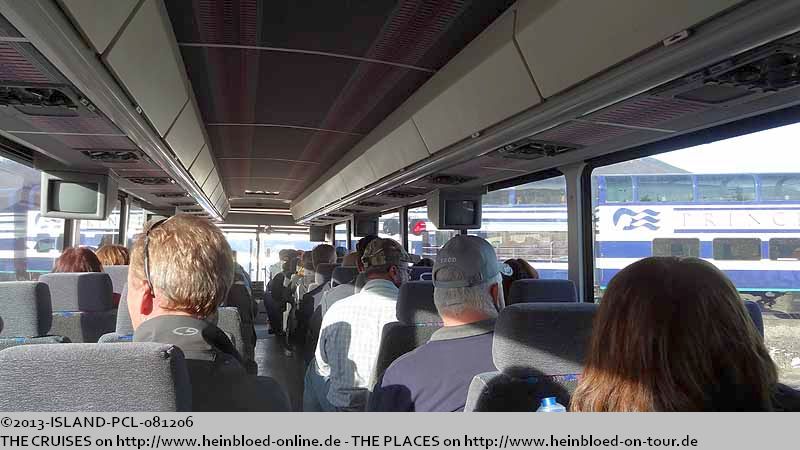 Eine Dame sitzt im Bus und sagt unserer Fahrerin, dass sie zum Gebäude J will. Unsere Fahrerin erklärt ruhig und höflich, dass es der Bus 4 sei, der zum Gebäude A fährt und sie möchte doch bitte in den Bus mit dem Buchstaben J. Die Dame wird ungehalten, als die Fahrerin ihr anbietet, dass sie entweder in den Nachbarbus mit dem Buchstaben J steigen soll oder den internen Shuttle umsteigen muss. Beides will die Dame nicht, sondern nur einen Brief schreiben. Da ich ganz hinten saß, konnte ich ihr nicht noch Papier und Stift reichen. Laut schimpfend verlässt sie den Bus und behauptet steif und fest, dass man ihr im Zug gesagt hat, dass sie in den ursprünglichen Bus steigen soll. Ihr Mann, der bis dahin nichts gesagt hat, entschuldigt sich kleinlaut für seine Frau. Auf jeden Fall war sie offensichtlich blöd genug erst in den Bus zu steigen und dann zu fragen und blöd genug im Zug nicht zuzuhören. Danach können wir losfahren und müssen nach wenigen Metern wieder anhalten, damit der Zug auf dem einzigen Bahnübergang rangieren kann.
Um 20.00 Uhr erreichen wir endlich die
Denali Princess Wilderness Lodge
. Sie gehört zu der gemeinsamen Gesellschaft von Holland America und Princess, in denen alle Alaska-Landaktivitäten gebündelt sind, wobei Holland America seine Gäste hier nicht unterbringt, aber wohl NCL. Royal Caribbean und Celebrity nutzen eine Lodge außerhalb der "Stadt". Man kann aber auch unabhängig einer Kreuzfahrt eine Tour bei ihnen buchen oder nur die Lodge.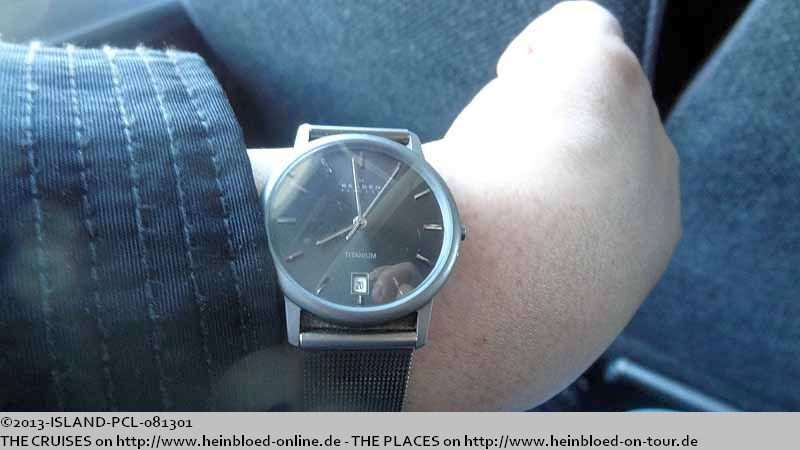 We were not delivered to the main building.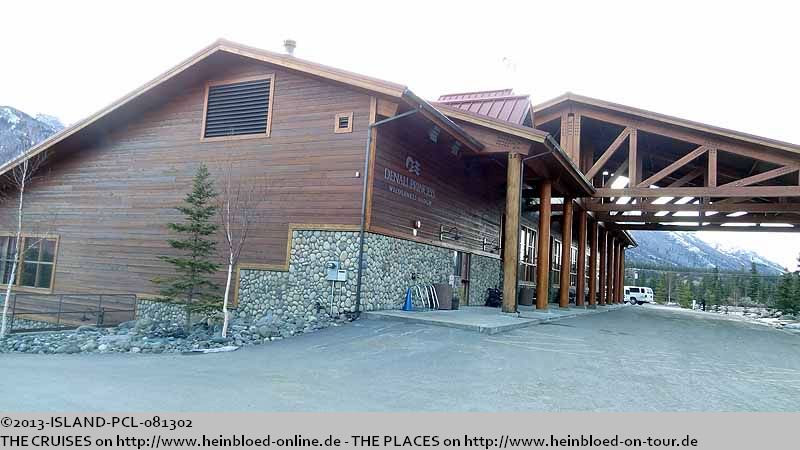 Wir werden nicht hier am Hauptgebäude abgesetzt.
In der Halle erinnert oben alles an ein Lagerhaus.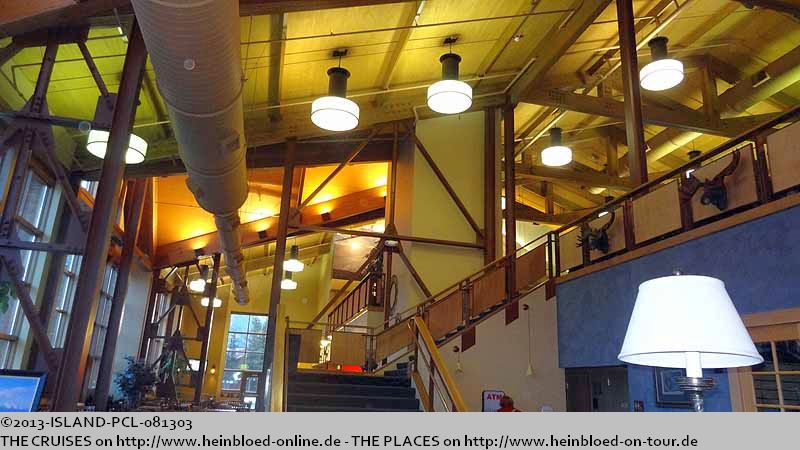 In that hall the ceiling reminded me more to a warehouse.

The lower part reminded me more of an English Country-House. More like an English furniture store (just to the difference to IKEA...). Very practical with complimentary WiFi. Not very practical: a few minutes walk from our building. When we asked, we were told that it was only available here.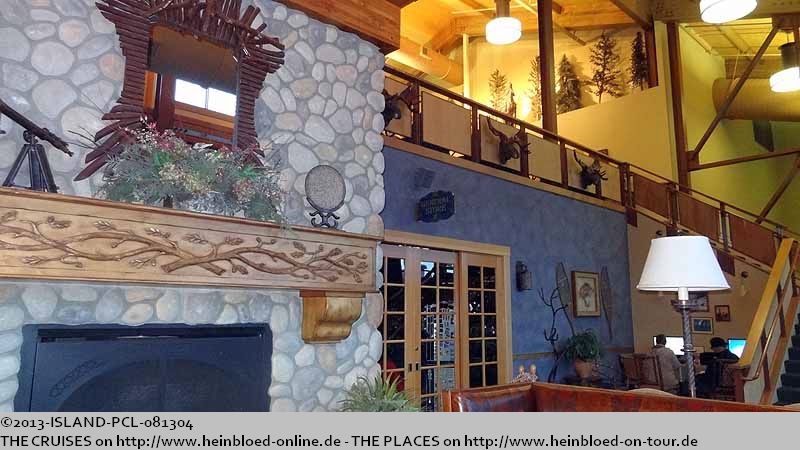 Und unten alles an ein englisches Country-Haus. Also an ein englisches Möbellager (in Abrenzung zu IKEA...). Praktischerweise aber mit kostenlosem WLAN. Unpraktischerweise minutenlang entfernt von unserem Haus. Auf Rückfrage hieß, dass es nur hier WLAN gibt.
Auf den Anzeigetafeln werden die Abfahrten für morgen veröffentlicht.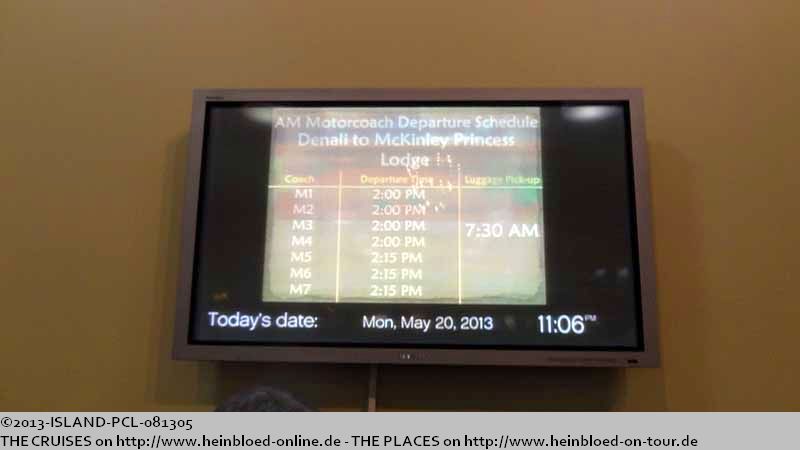 On this board you could find the next day's tours' departure times.

And few shops in the building.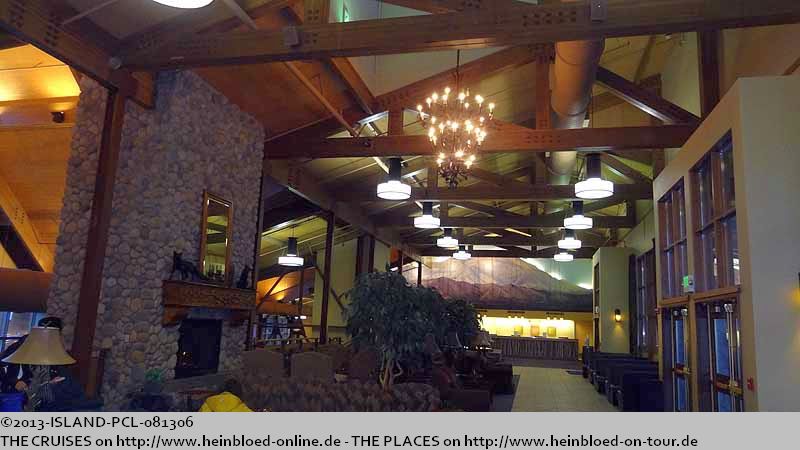 Und ein paar Läden im Gebäude.
Ein paar Läden und Restaurants gegenüber.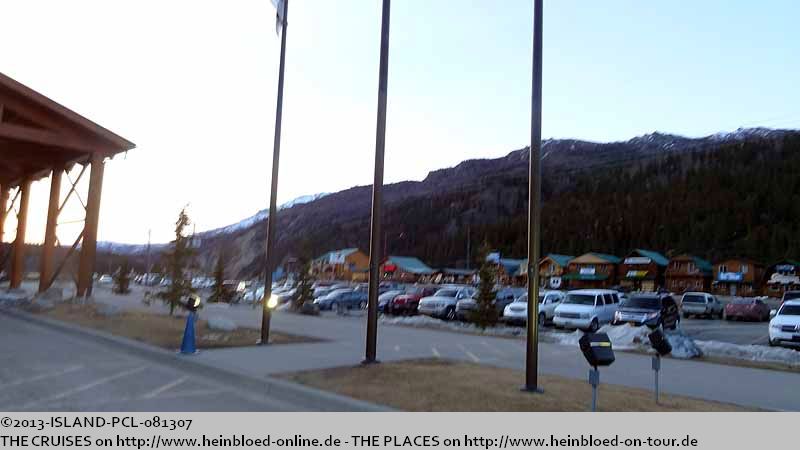 Few shops and restaurants were just adjustant.

And few more shops and lodges on the yard.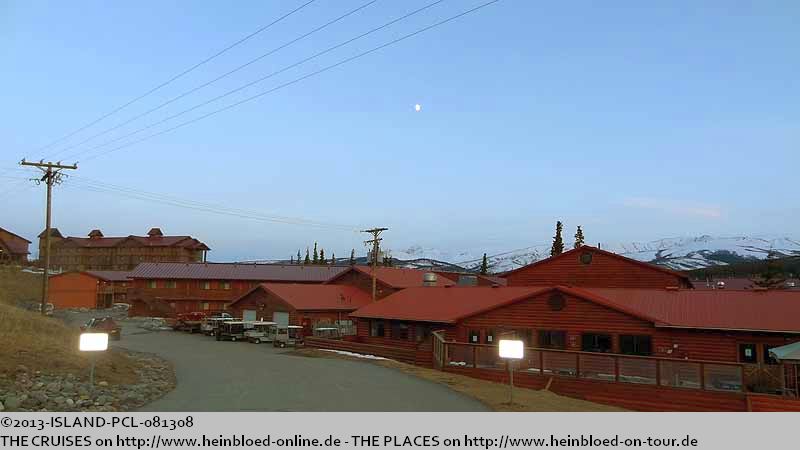 Und auch noch Läden und Lodges auf dem Gelände verstreut.
Unser liegt soweit, dass jemand abends Mitleid mit mir hatte, weil es so kalt war, dass er mich zum Gebäude B hingefahren hat.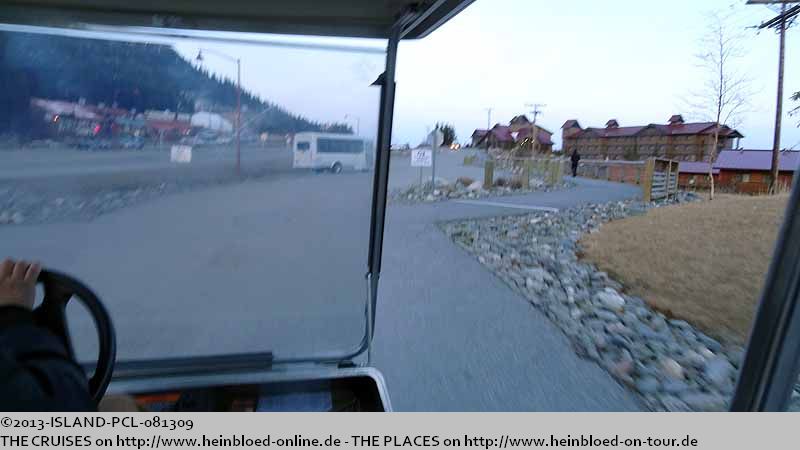 Our building was located so far away that someone felt sorry for me and took me there by a caddy as it was so cold outside.

There was a medical service available, so I might skip the visit with the ship's doctor.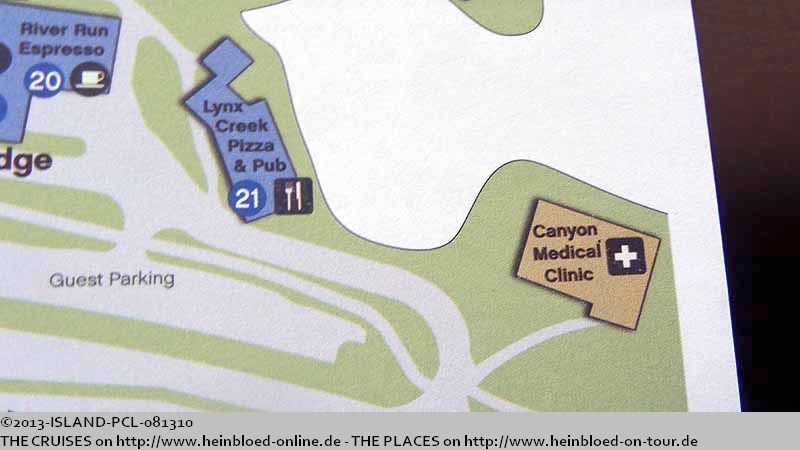 Es gibt hier doch medizinische Versorgung, so dass ich mir den Gang zum Schiffsarzt hätte ersparen können.
Vor unserem Gebäude A+B gibt es ein paar Bronzetiere.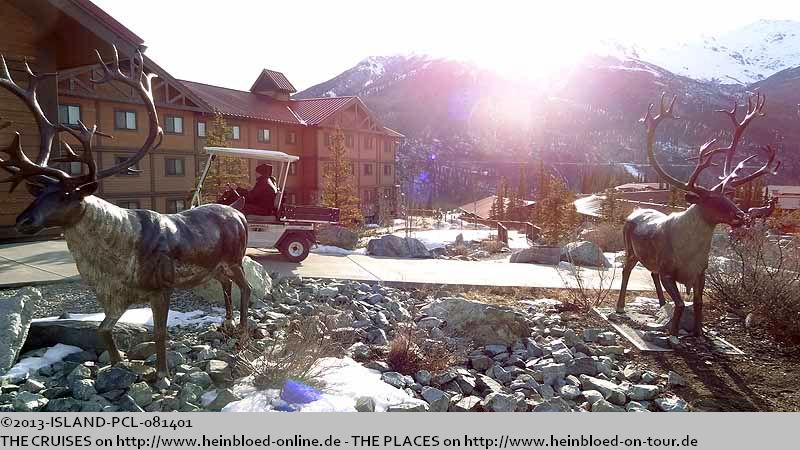 In front of our buildings A+B we had few bronze animals.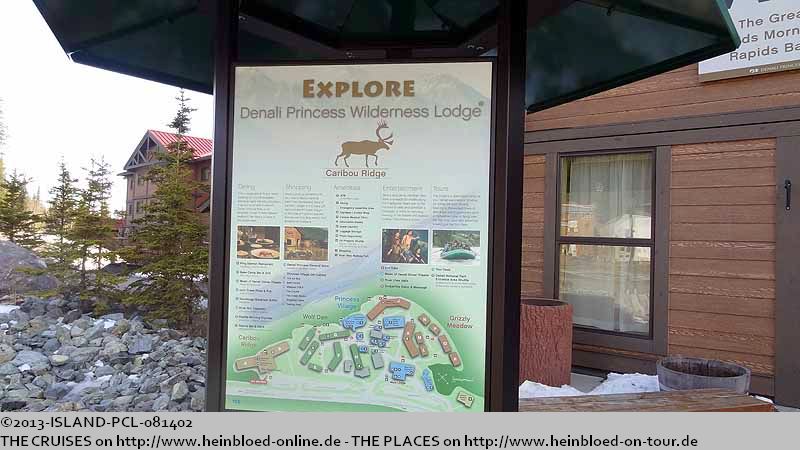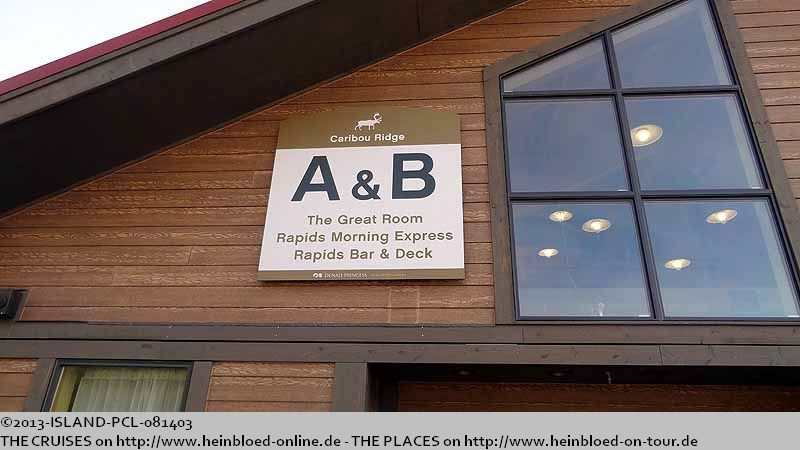 And later we found out that we had free WiFi here in our lounge. Who lived close enough had WiFi in their rooms too.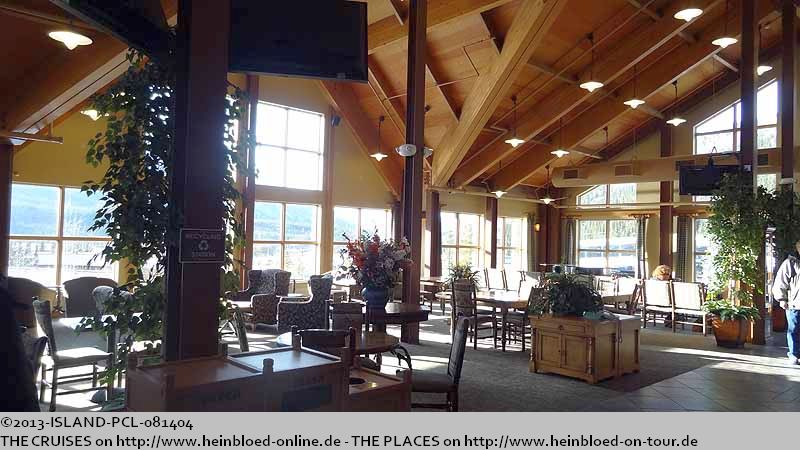 Und wie wir später festgestellt haben, gibt es auch in unserem Aufenthaltsbereich kostenloses WLAN. Wer also nah genug daran wohnte, bekam sogar WLAN im Zimmer.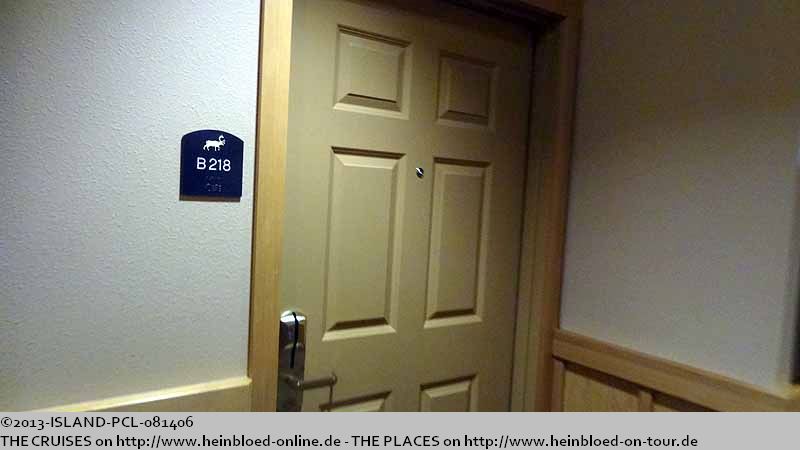 Oh wie grauenhaft. Eine Matratze und eine Bettdecke und eine Reservedecke, falls es kalt wird.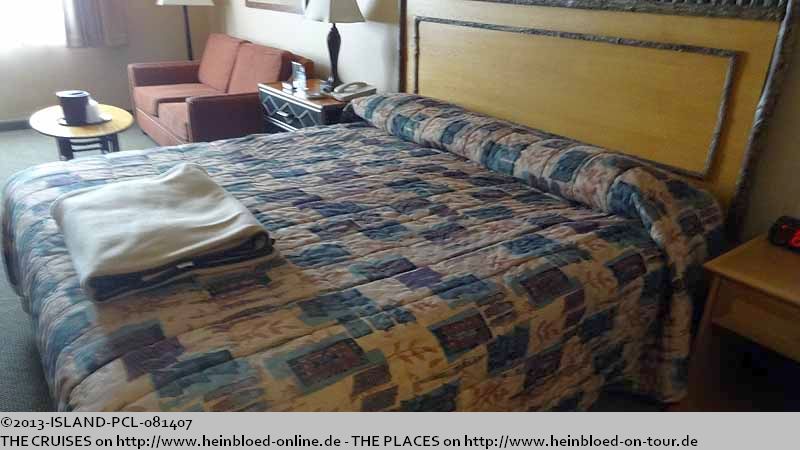 How terrible. One mattress and one blanke and one spare blanket just in case it might be too cold.

They ignored our mail that we requested a twin-bed.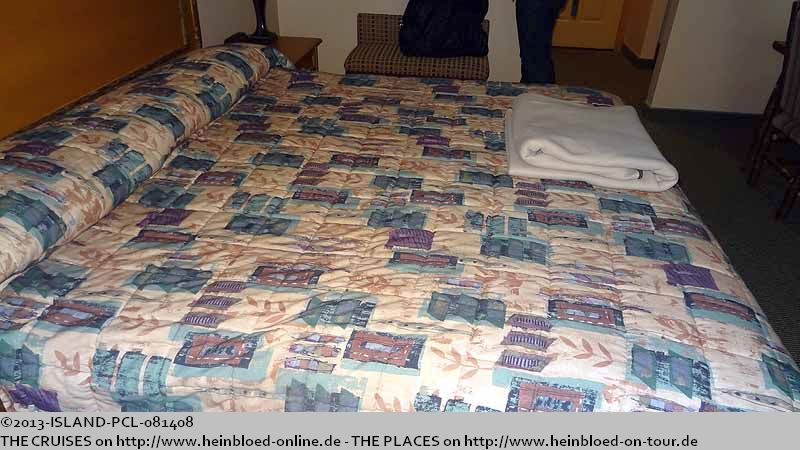 Unserer Mail, dass wir gerne ein Twin-Room hätten, wurde nicht berücksichtigt.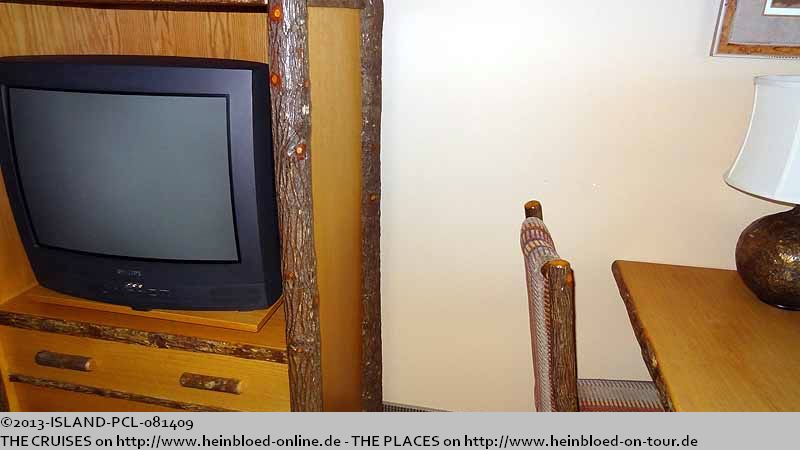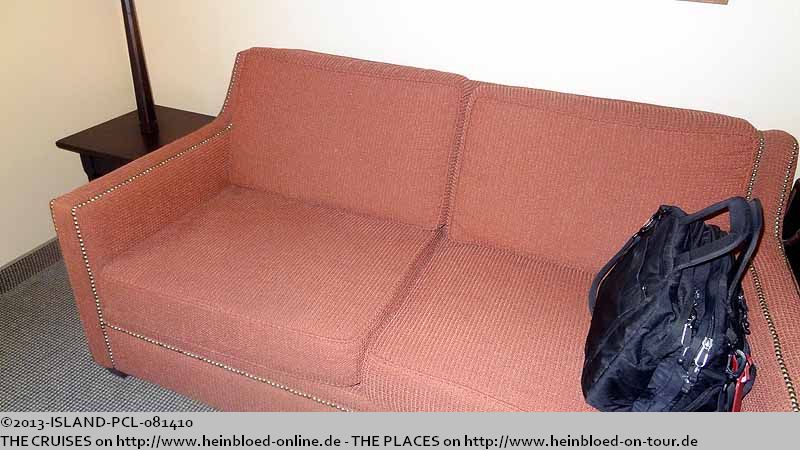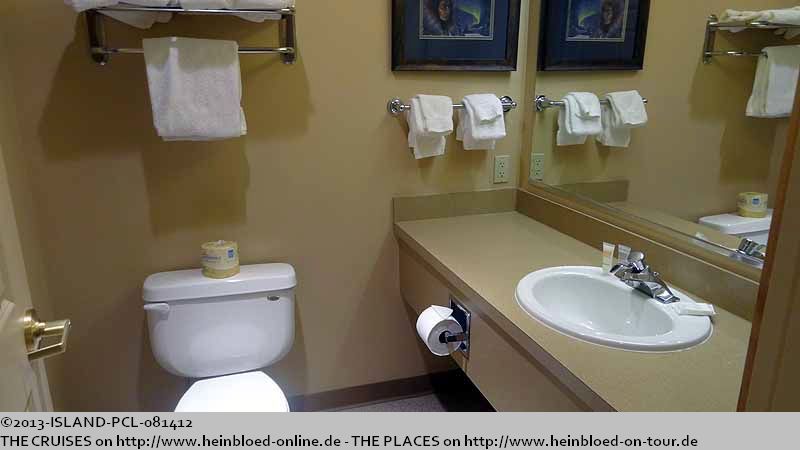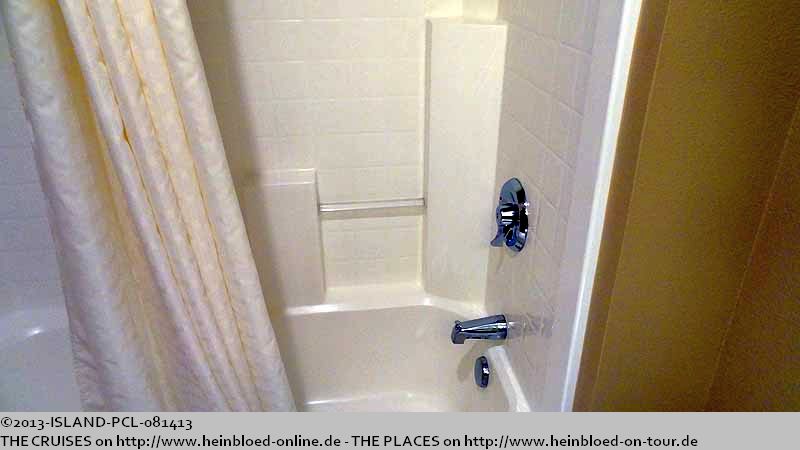 So we had a US-Hotel-/Motel-Standard - but no fridge.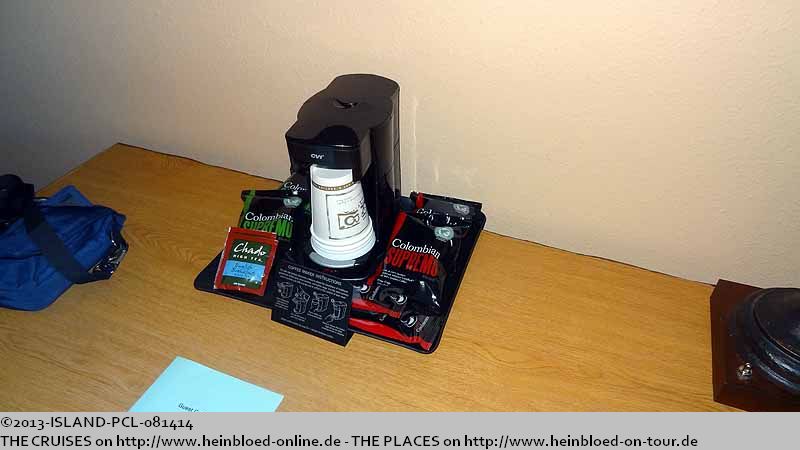 Es ist aber alles so US-Hotel/Motel-Standard - nur ohne Kühlschrank.
Unser Koffer ist schon da.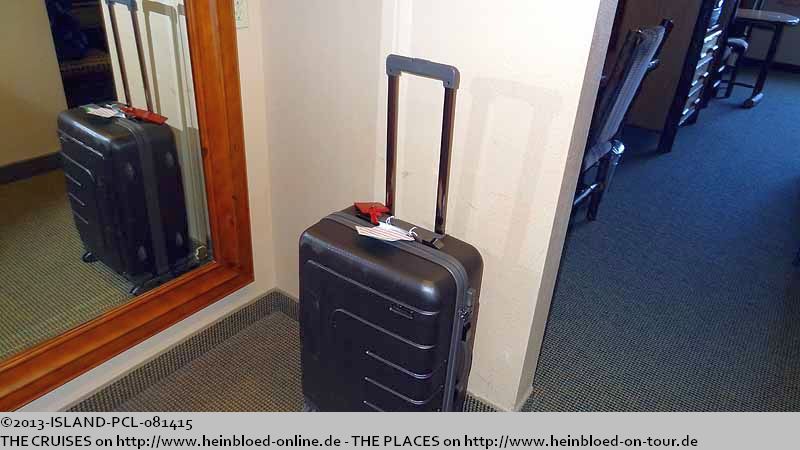 Our suitcase was already there.

A nice view.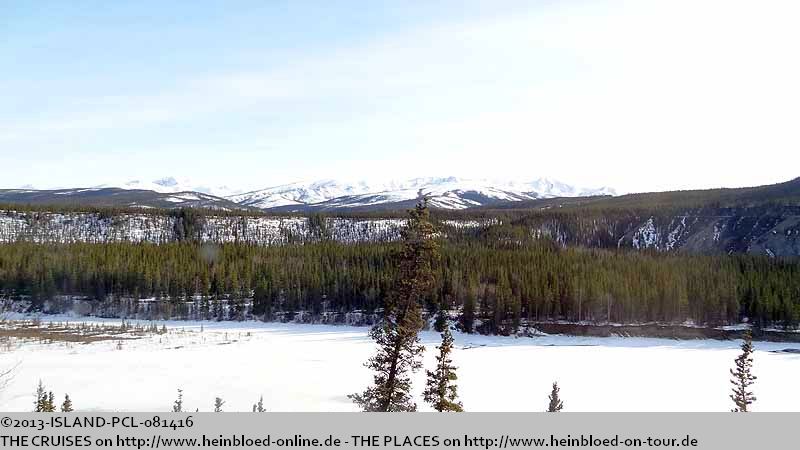 Ein schöner Ausblick.
Ein Anruf bei der Rezeption war kaum möglich. Irgendwann bekamen wir die Rufnummer von Rich und Rona raus und wie man sie anwählt, wenn das Gebäude mit einem Buchstaben beginnt. Ein anderes Zimmer für uns gab es nicht. Zumindest sollten wir zwei Decken bekommen.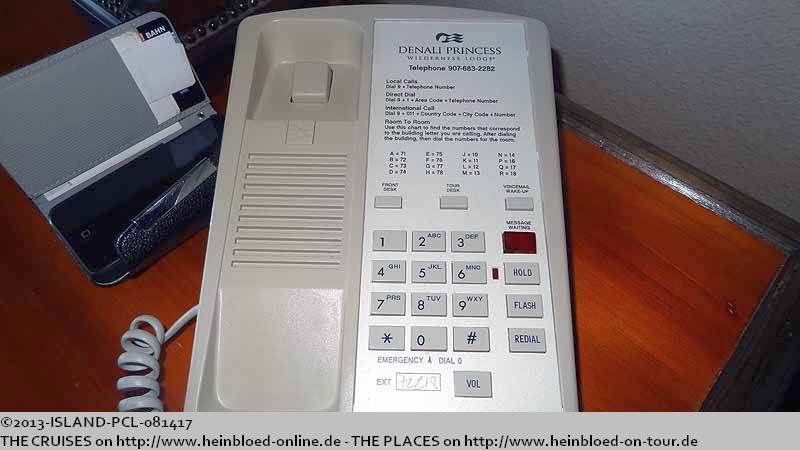 A call with the reception was quite tricky to make. Sometimes we got the number from Rich and Rona and the instructions how to call them if a building starts with a letter. They had no other room for us. At least we should get two separate blankets.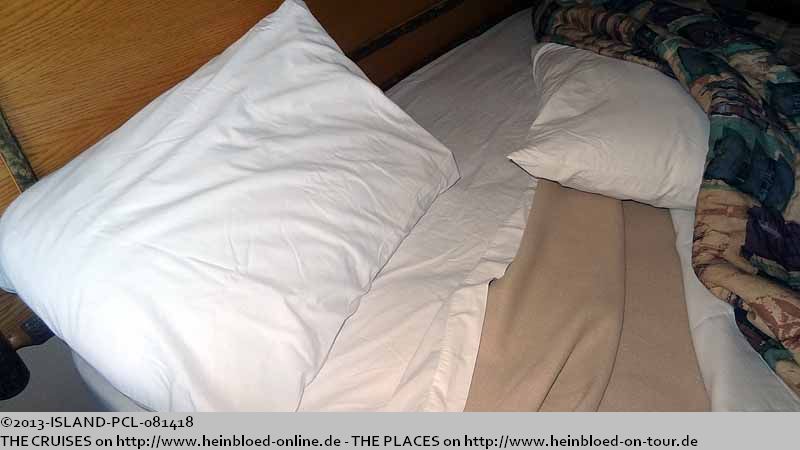 Die kamen auch, aber beziehen sollen wir sie doch bitte selbst.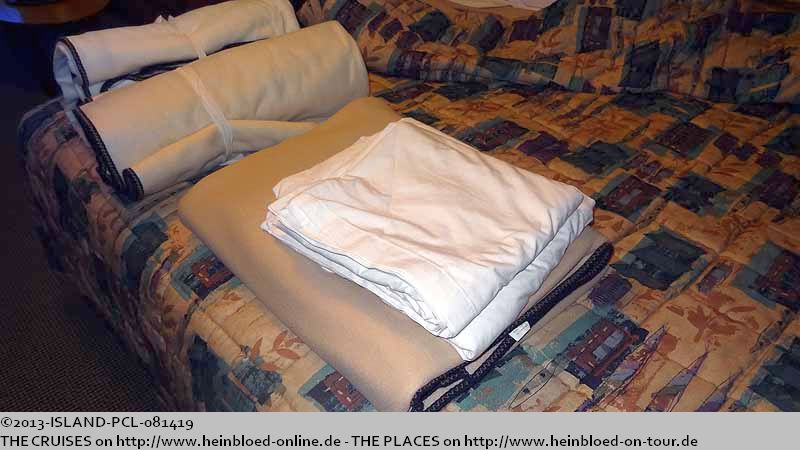 They came but we had to set them ourselves.

Everything was only 3 minutes apart: Blondie said. In the icy wind and due to the windchill effect it was more hours. It was ice-cold in the evening.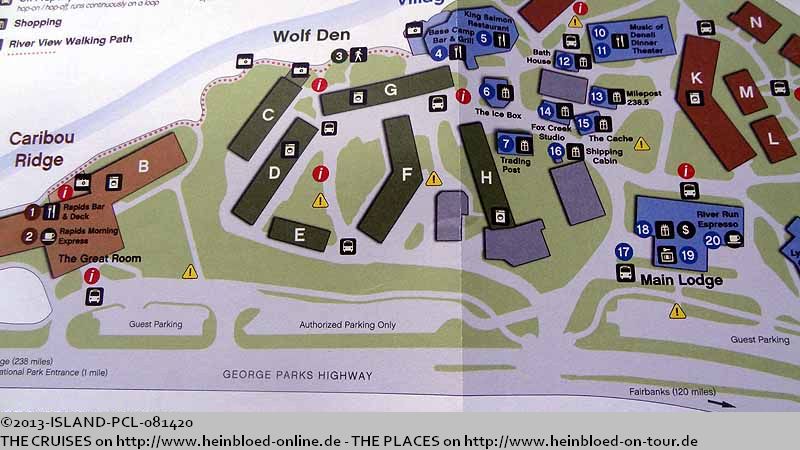 Alles bloß 3 Minuten von einander entfernt, wie Blondie meinte. Im eisigen Wind und mit dem Windchill-Effekt eher Stunden. Abends war es nämlich eiskalt.
Und wir waren am Arsch der Welt. Diesen Teil der USA versorgt AT&T nur mit 2G (EDGE).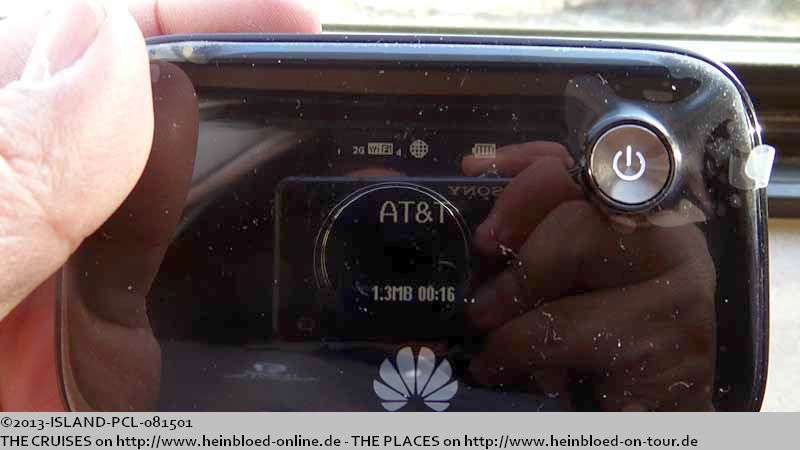 We were at the back of beyond. In this part you can only get a 2G service of AT&T.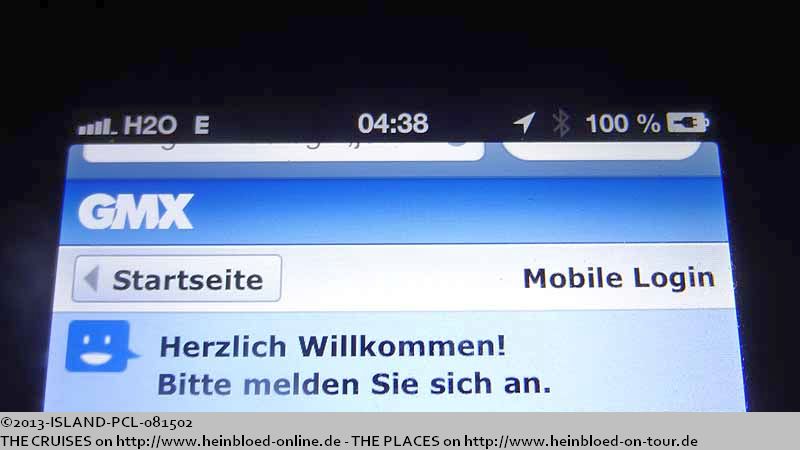 Ich muss mal in Ruhe raussuchen, mit wem wir die Schlauchbootfahrt gebucht hatten. Dafür ist dieses
iPod-App Print Central
echt gut, weil ich alle Dokumente als Mails oder pdf in Folder ablegen kann. Und die Folder habe ich nach Tagen und Orten für die Fahrt sortiert.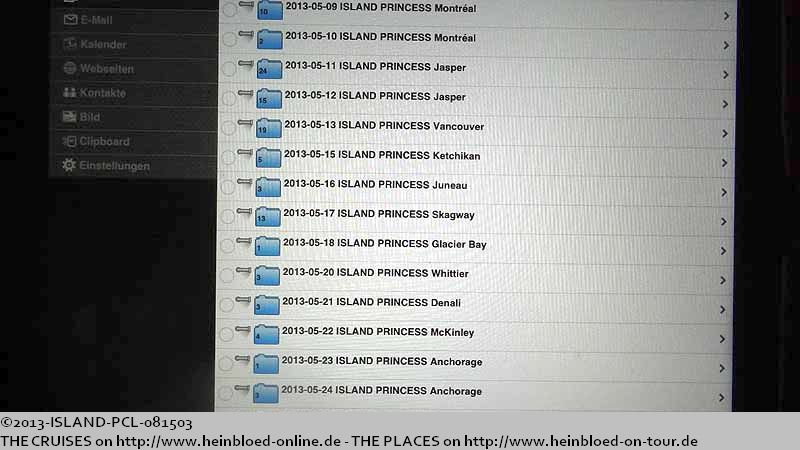 I need to check with whom we booked the rafting tour. For that this iPod-App Print Central was really good because you could store all e-mail messages or pdf in dedicated folders. And the folders were sorted by date and place of a voyage.

So I quickly found out that we booked with Denali Outdoor Center. They apologized. For them, it was also awful because all their trainers already arrived and there was nothing they could do - even no training. Our deposit was refunded immediately. They really were great. We booked on my name but paid with Bruno's credit card the deposit. So they did not match the payment with the booking and asked MasterCard to have Bruno's mailing address. They wrote a manually written letter and asked Bruno for which tour he made the deposit.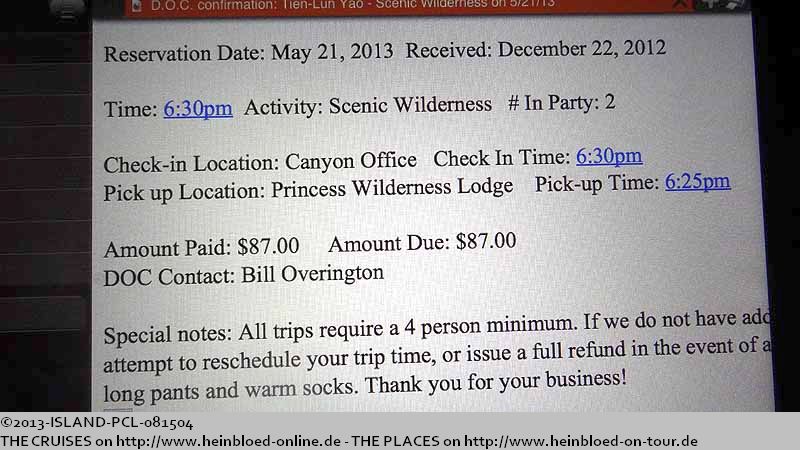 So finde ich schnell heraus, dass wir bei
Denali Outdoor Center
gebucht hatten. Sie haben sich entschuldigt. Für sie ist es auch sehr schlimm, weil ihre Trainer schon alle da sind, aber nichts machen können, nicht einmal trainieren. Unsere Vorauszahlung wird uns sofort zurückerstattet. Die waren wirklich ganz toll. Wir hatten auf meinem Namen reserviert und mit Brunos Kreditkarte die Anzahlung geleistet. Das haben sie nicht so zusammengebracht und sich von MasterCard Brunos Adresse besorgt und ihn angeschrieben und angefragt, für welche Tour Bruno angezahlt hätte.
Rona und Rich waren vom Umzug betroffen und wurden aber direkt in unser Gebäude umquartiert. So suchten wir eigentlich das "Casual Restaurant" (Gemeint war "Base Camp Bar & Grill"). Unterwegs treffen wir ein paar ältere Herrschaften, die behaupten, dass man 20 Minuten zu Fuß laufen muss (so groß ist das Gelände doch nicht) und der Fahrer der Lodge sie zur Pizzeria bringt. Der weigert sich jedoch uns mitzunehmen, weil wir zuviele wären und meint, dass es nur wenige Meter sei. Leider wusste er wohl aber auch nicht, dass es noch weniger Meter zum Eingang der Base Camp Bar & Grill war, wie wir am nächsten Tag feststellten. Da es uns aber zu kalt war, liefen wir hinterher.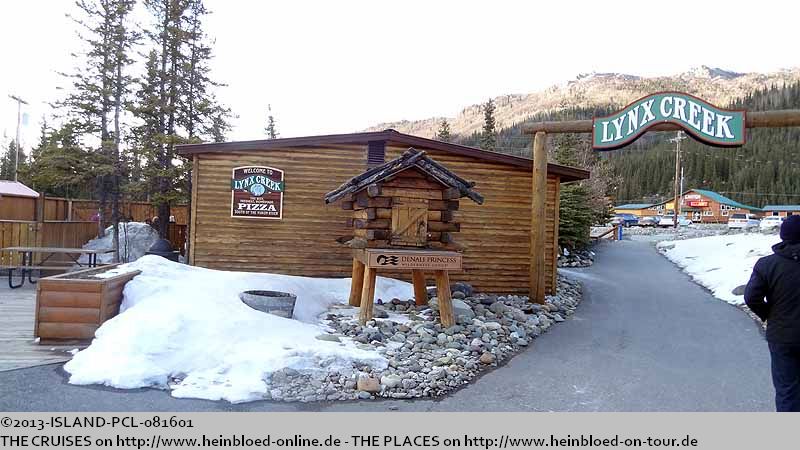 Rona and Rich had to move too and were now in our building. So we were looking for the "casual food venue" (we talked of "Base Camp Bar & Grill"). On the way, we met some other senior guests who told us that we had to walk 20 minutes (the yard was not so large) and the driver of the lodge would take them to the pizzeria. But he refused to take us too as we would be too many and said it was only a few yards. Unfortunately, he did not know either that we were only a few yards away from the entrance to Base Camp Bar & Grill as we found out the next. But as it was too cold, we just walked behind them.

For a horrible price, you had pizza, salad (bag + bag + bottle = salad). Most of the guests were starving because one printer went out of service and the kitchen did not know which pizza to prepare.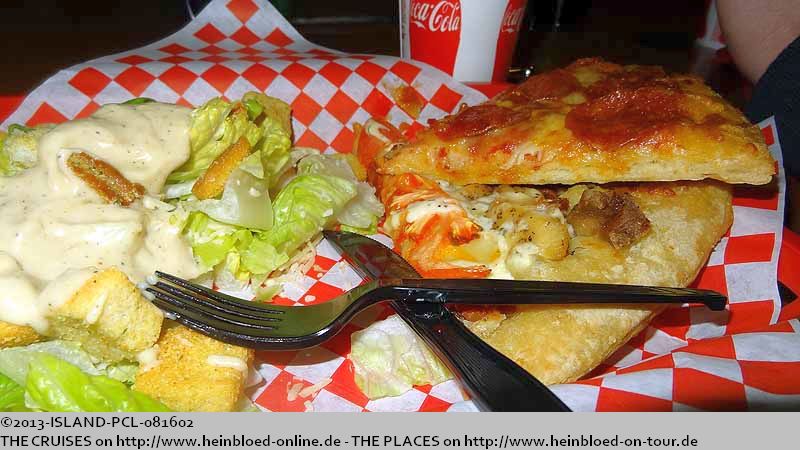 Zu Horrorpreisen gab es Pizza, Salat (Tüte + Tüte + Flasche = Salat). Vor allem die meisten anderen hier waren fast ausgehungert, weil denen ein Drucker ausgefallen ist und somit die Küche nicht wusste, welche Pizza sie herstellen sollten.
Gegen 23.00 Uhr trennen sich unsere Wege von Rich und Rona, die leider morgen schon nach McKinley weiterfahren. Bloß es sah gar nicht nach 23.00 Uhr aus.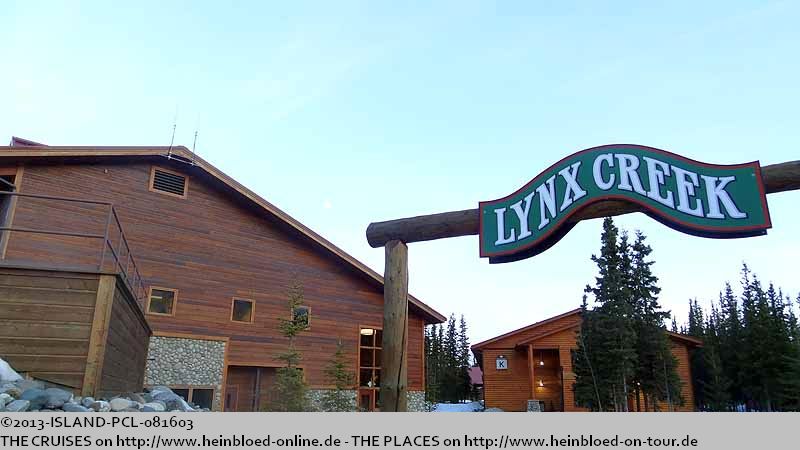 Around 23.00 hrs our ways from Rich and Rona separated who had to head on for McKinley the next day already. It did not look like 23.00 hrs.
Die anderen Reisen in diesem Blog/
The other voyages in this blog: