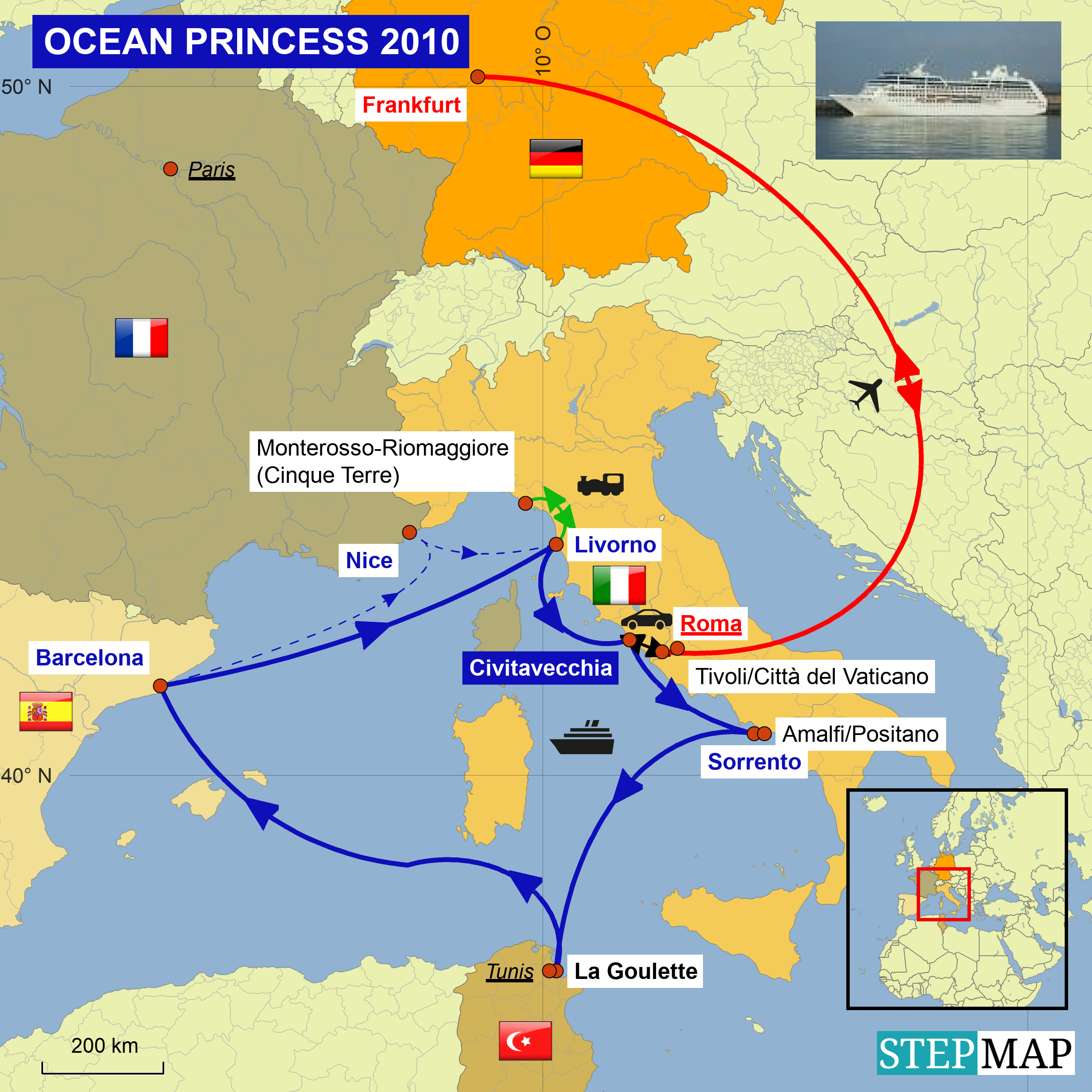 Wie hieß es gestern "privat und vertraulich"... das muss doch auch für die Rechnungen gelten. Wieviel Bordguthaben haben die anderen und wie hoch ist ihre Schlussrechnung. Das ist bei anderen doch diskreter, wenn man nicht beim Vorbeilaufen alles mitlesen kann...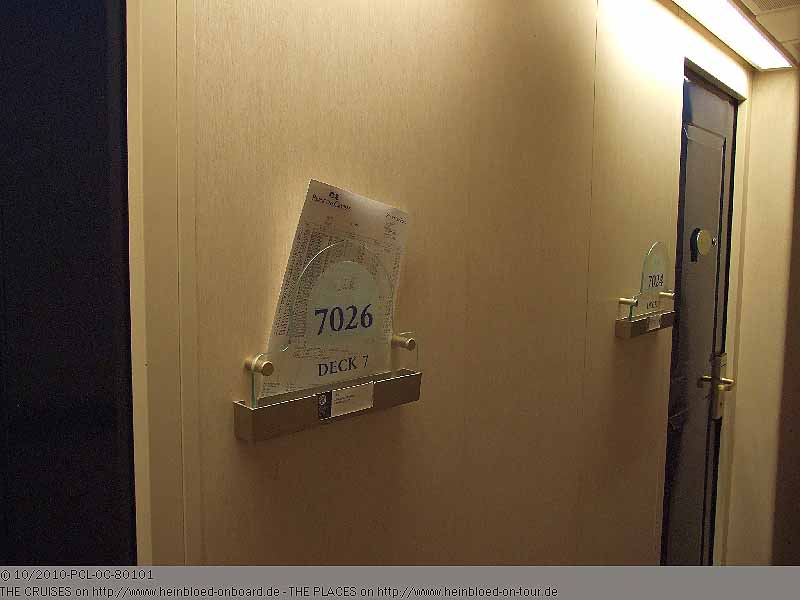 Yesterday it should "private and confidential"... needed to be for them as well. Now we could read how much OBC the other had or how much was their final balance. I guess it might be more discreet if you cannot read their statements if you walk along the hallway.

The last circle. There was not so much...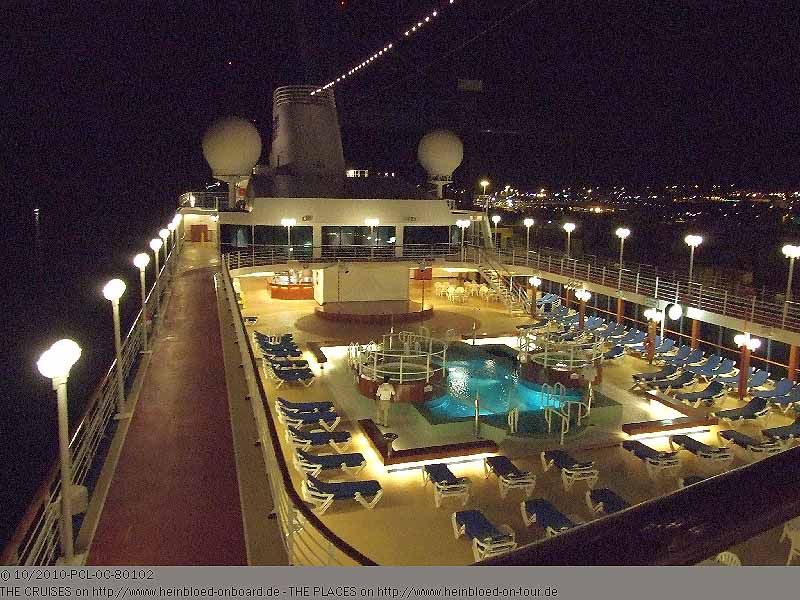 Ein letzter Rundgang. Viel ist ja nicht da...
Oben warten die Platinum-Mitglieder... das dauert noch bei uns, bis es so weit ist...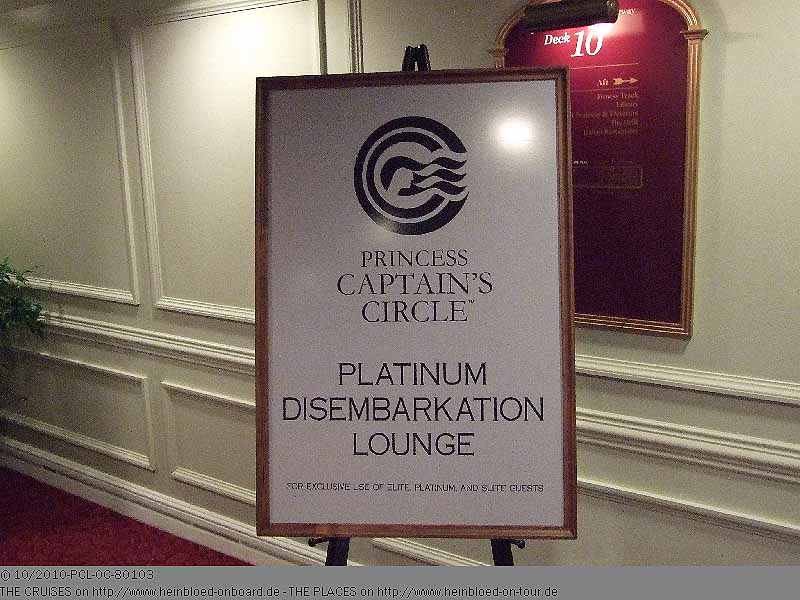 Upstairs the Platinum-Members were waiting... this would take a while with us...

Careful what they all get here...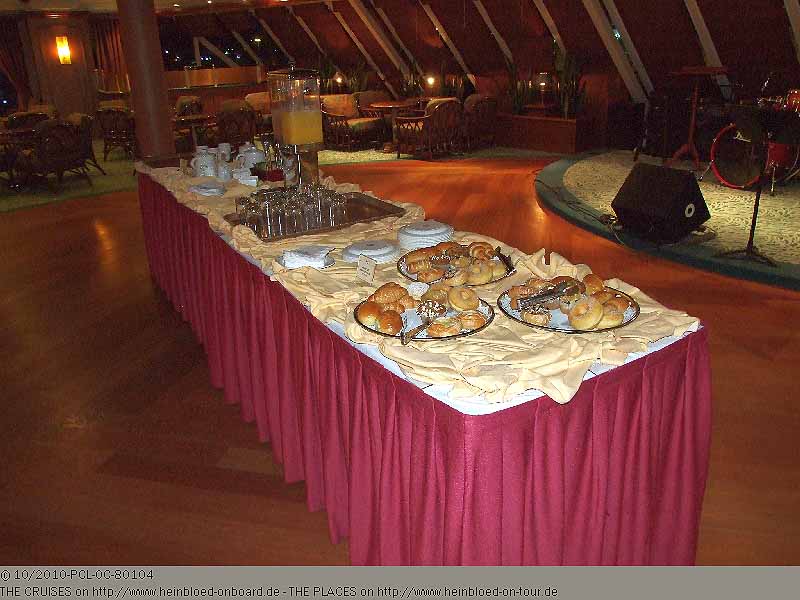 Nett, was sie alles bekommen...
Hier treffe ich nochmals Kruizer (Judie und Jeannie) wieder, die auf ihren Transfer warten. Sie mussten bereits um 06.15 Uhr sich hier einfinden.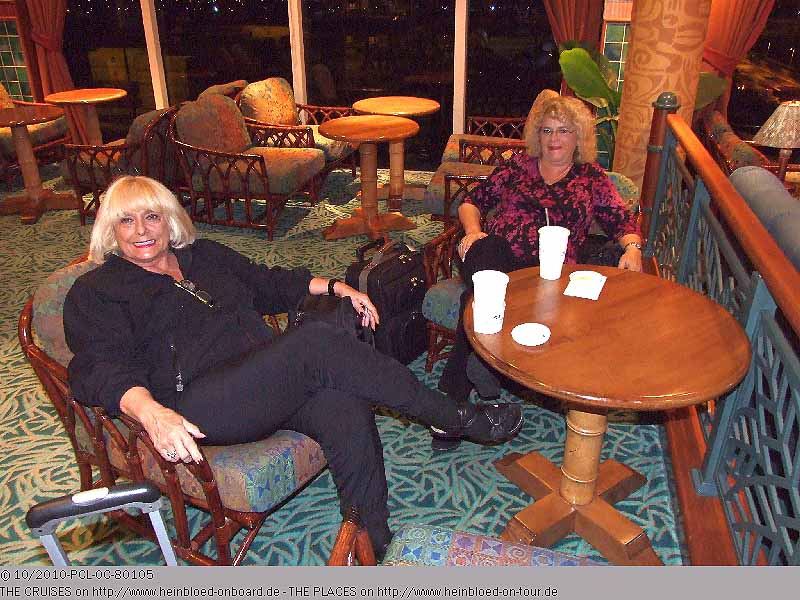 Here I met again Kruizer (Judie and Jeannie) who waited for their transfer. Need to be ready here by 06.15 hrs.

So far I could only identify MSC LIRICA which was in port. There should be another one. But there was no shoreside AIS-signal available for Civitavecchia.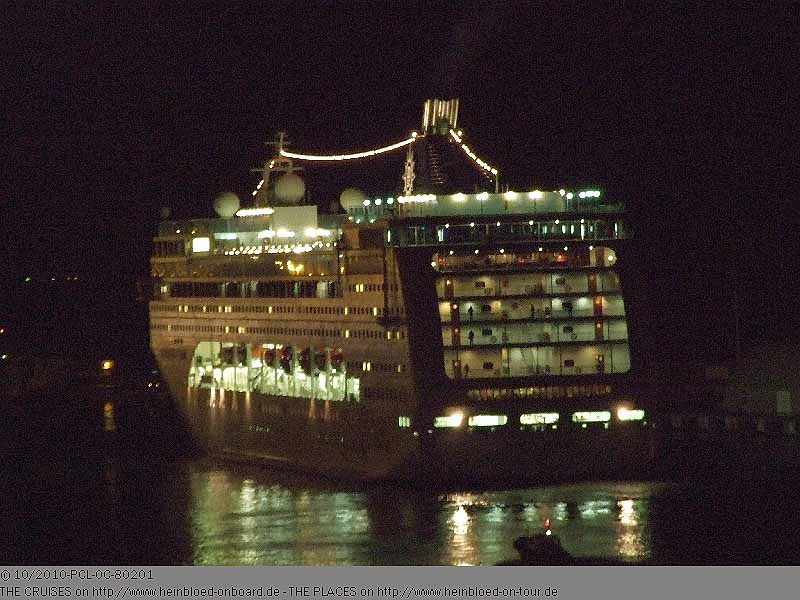 Bisher sehe ich nur die MSC LIRICA, die auch schon im Hafen ist. Hinten scheint noch etwas zu sein, aber es gibt kein landseitig gestütztes AIS-Signal aus Civitavecchia.
Da kommen die nächsten schon.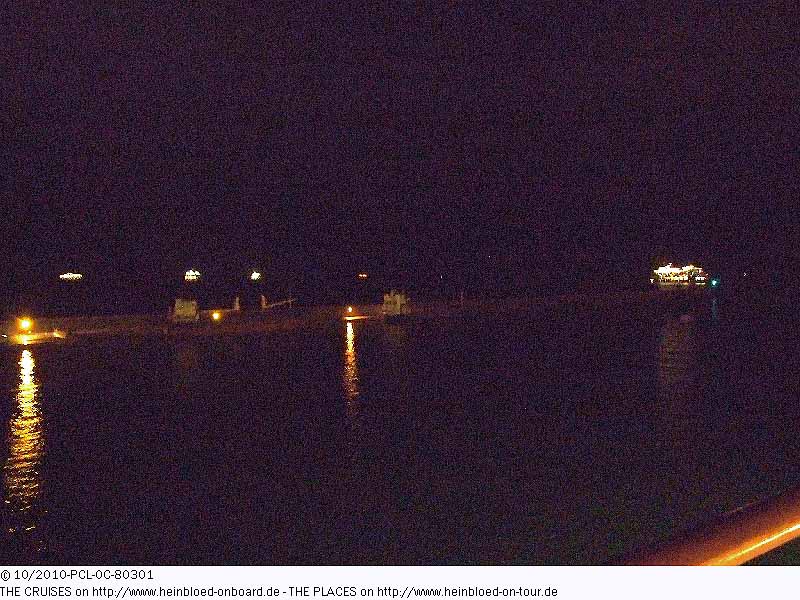 The next were approching.

CELEBRITY CONSTELLATION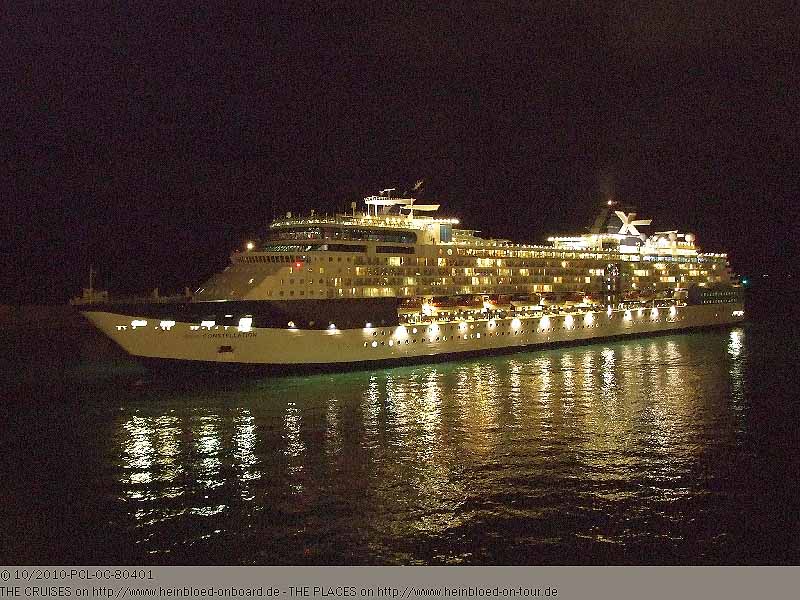 CELEBRITY CONSTELLATION
VOYAGER OF THE SEAS... immer noch fehlt ihr ein Zacken in ihrer Krone...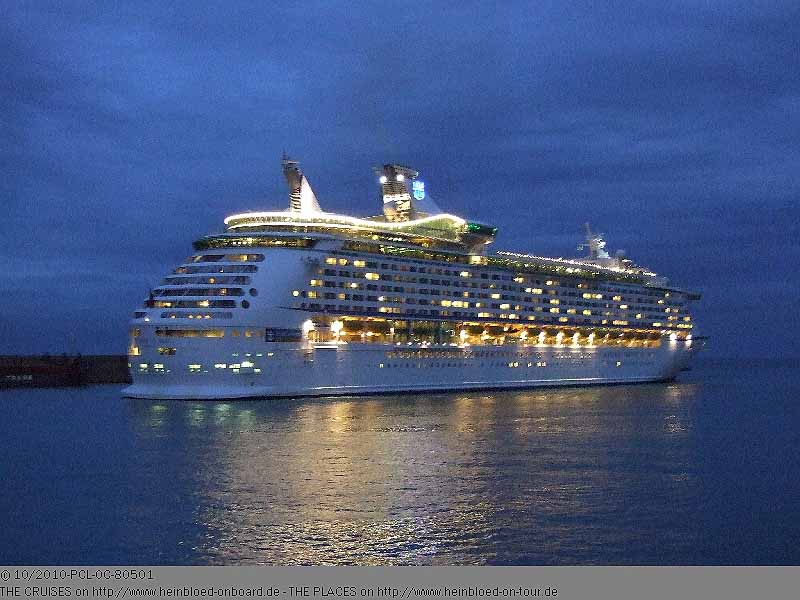 VOYAGER OF THE SEAS... still one part of her crown was missing...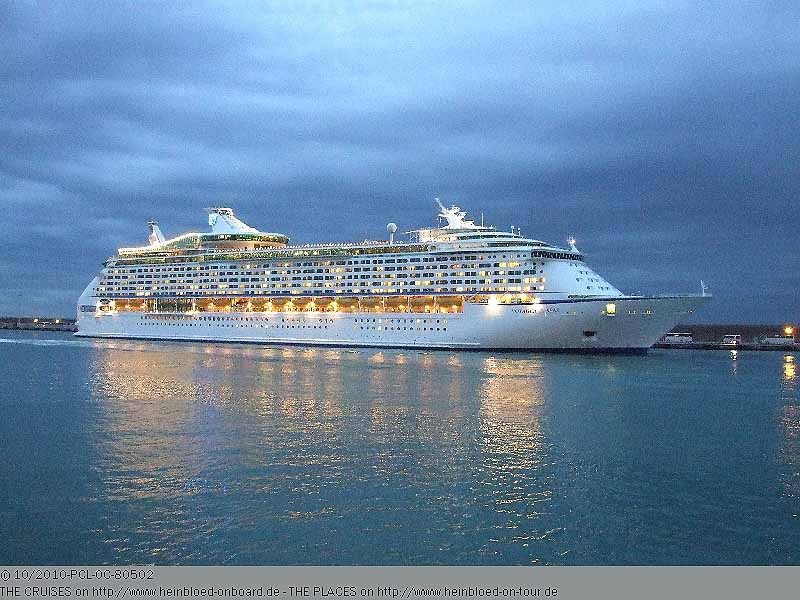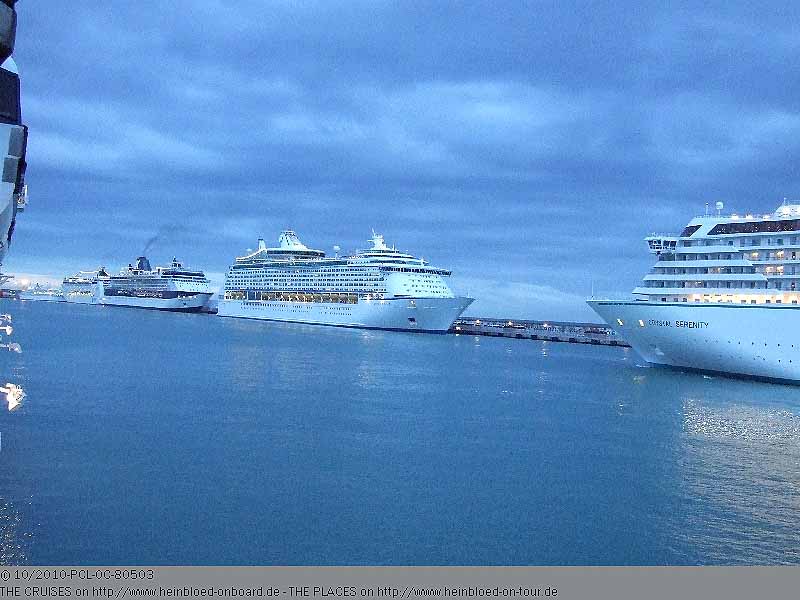 CRYSTAL SERENITY which missed the day before in Livorno.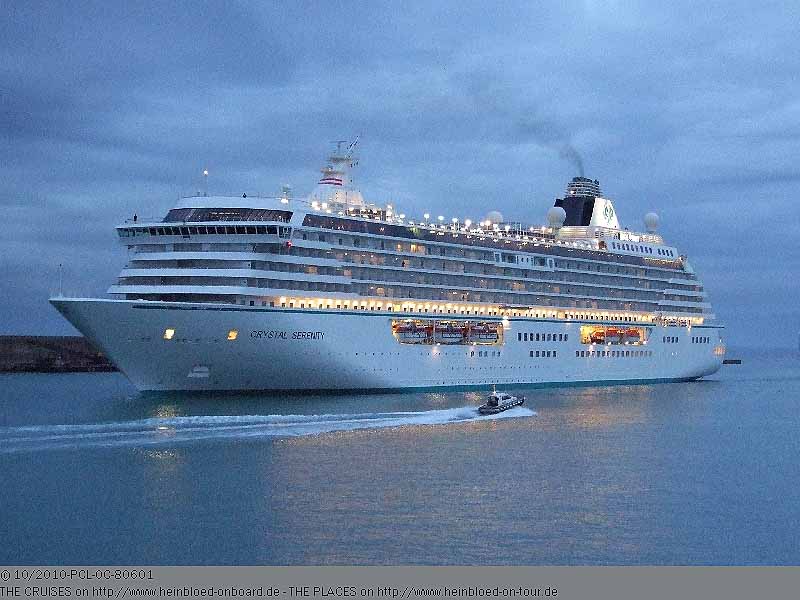 CRYSTAL SERENITY, die ich gestern in Livorno vermisst habe.

Zwischendurch gehe ich einen Haps frühstücken. Viele von der Crew verlassen heute das Schiff, so dass viele im Restaurant da sind, die wir nicht kennen.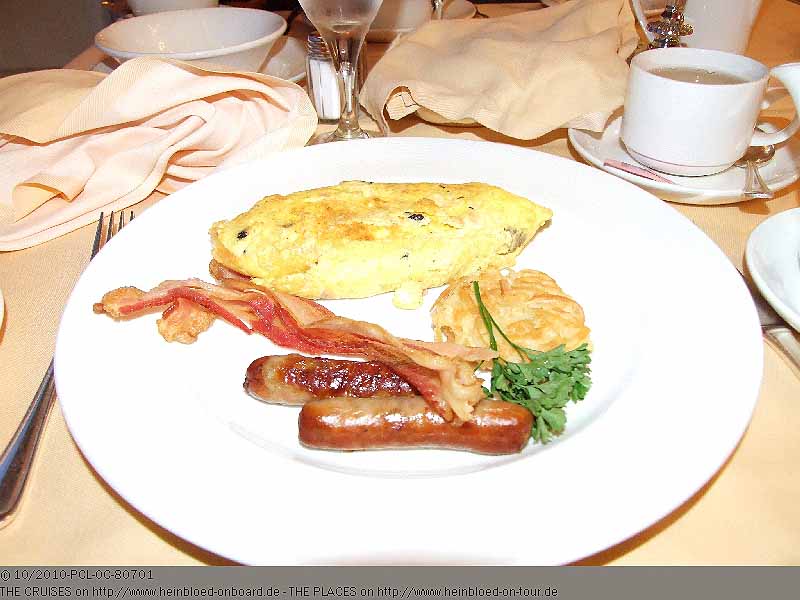 Between the ships I went to have a bite. Many crew members would leave the ship, so we had many in the restaurant we did not know.

Toast - so nicely served...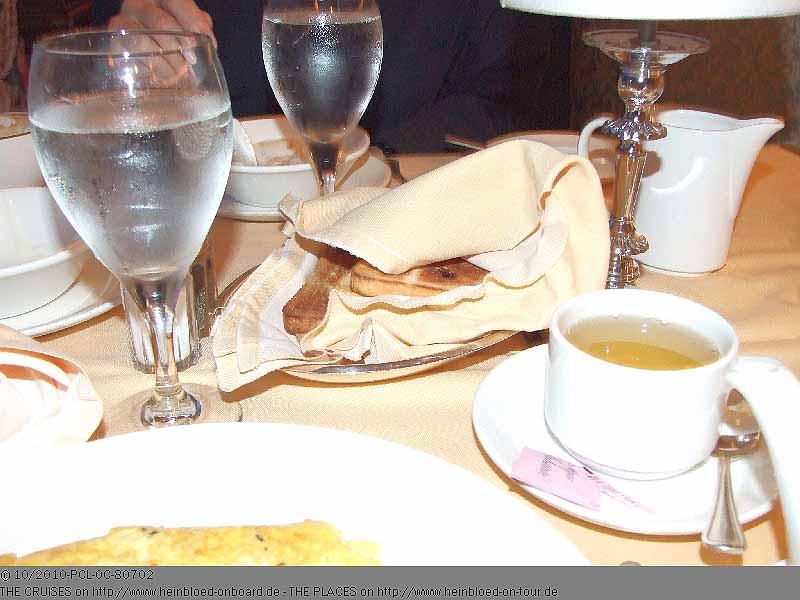 Toast, so schön serviert...
GRAND HOLIDAY...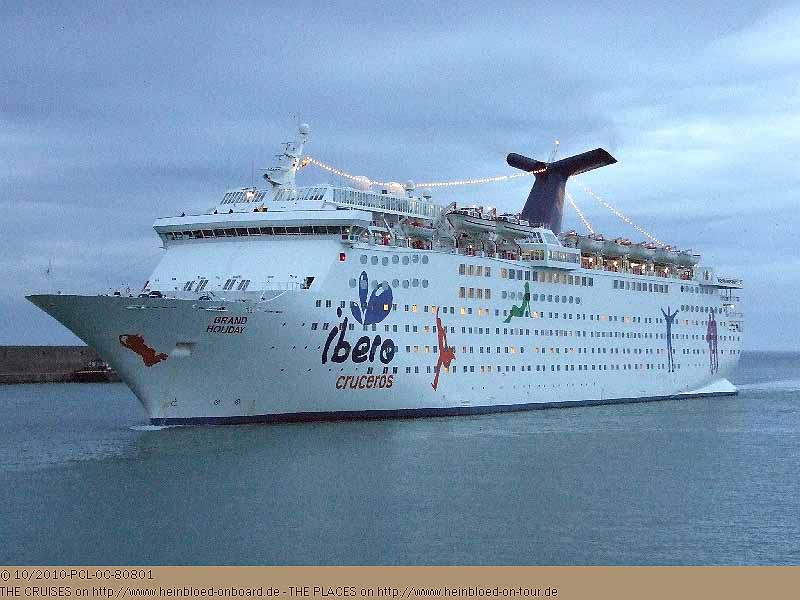 GRAND HOLIDAY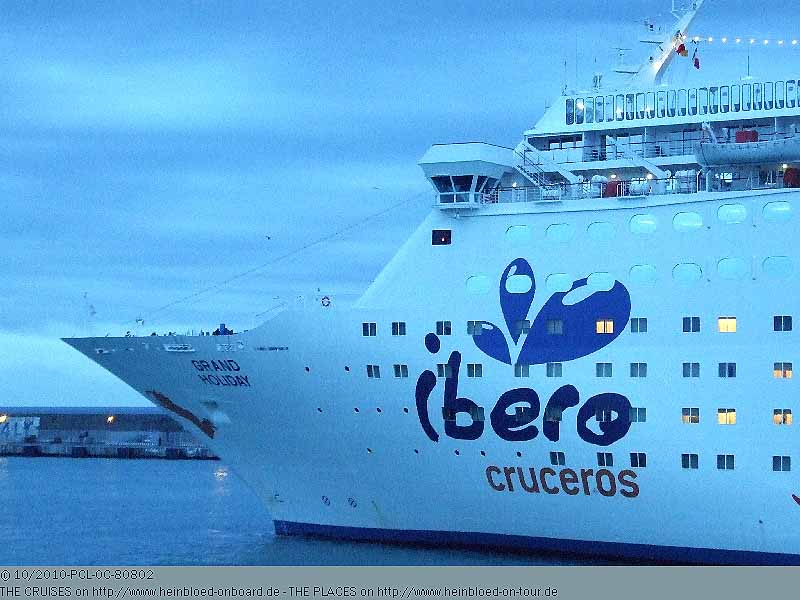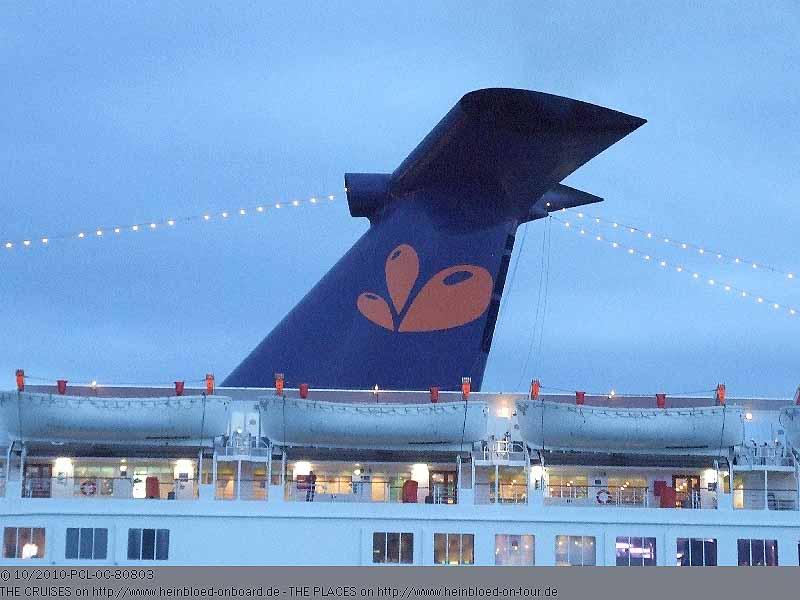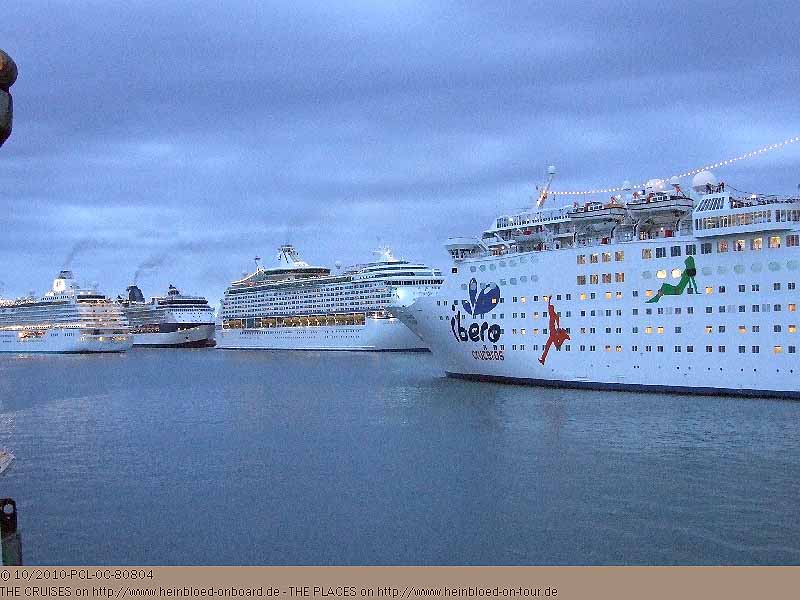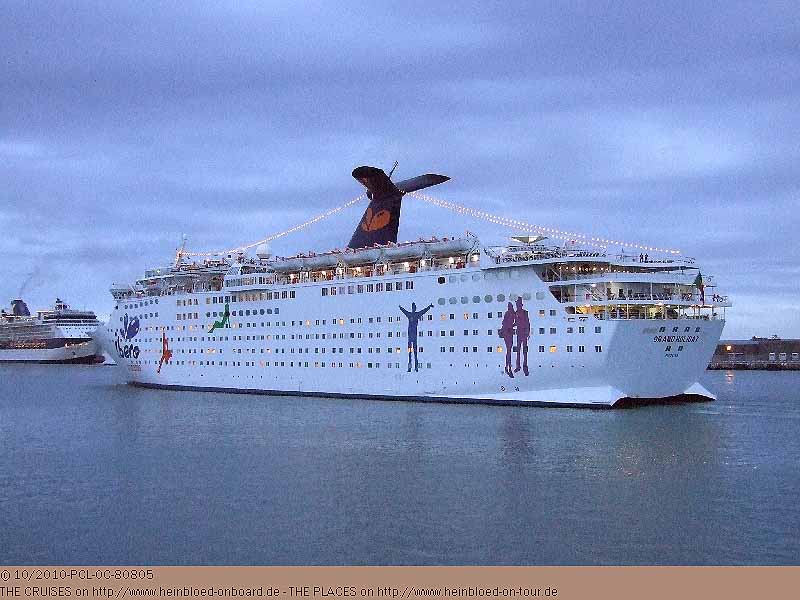 and somehow ahead of her time: NORWEIGAN JADE.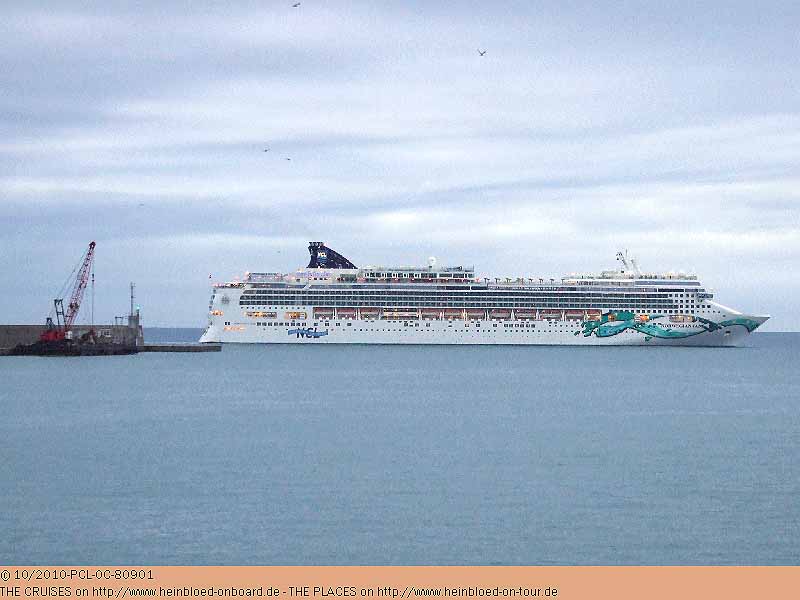 und weit vor ihrer Zeit: NORWEGIAN JADE.
Wir sehen sie ja am 02.01.2011 wieder in Barcelona. Und hier sind wir mit ihr ja am 04.01.2011...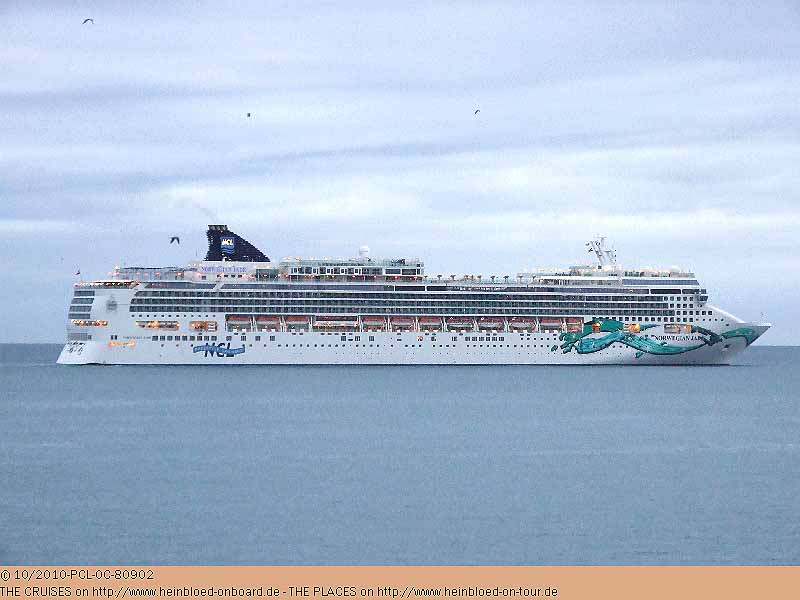 See you again on Janaury 2, 2011 in Barcelona. And here we will be on January 4, 2011 again.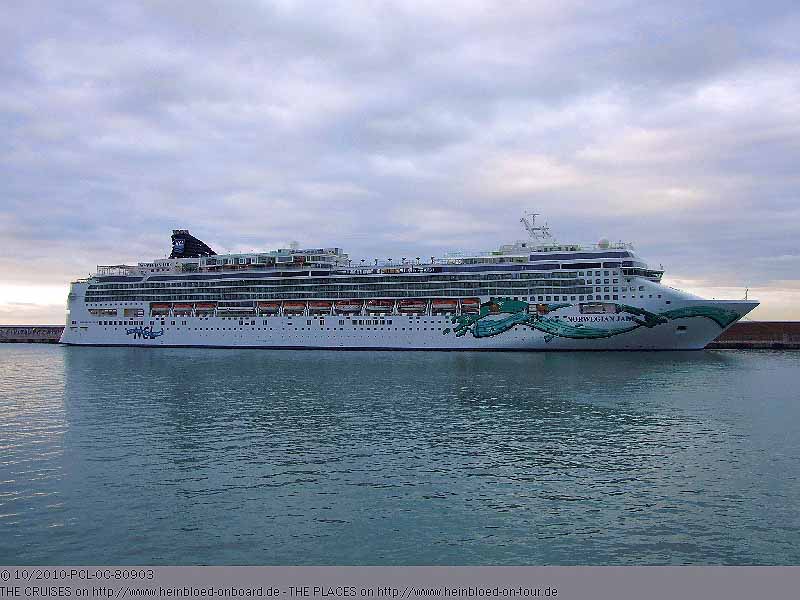 Ist jemand etwa noch immer böse mit Princess??? Die eingetretene Tür ist nicht unsere... Unten stand sie einen großen Spalt offen. Oben war alles zu.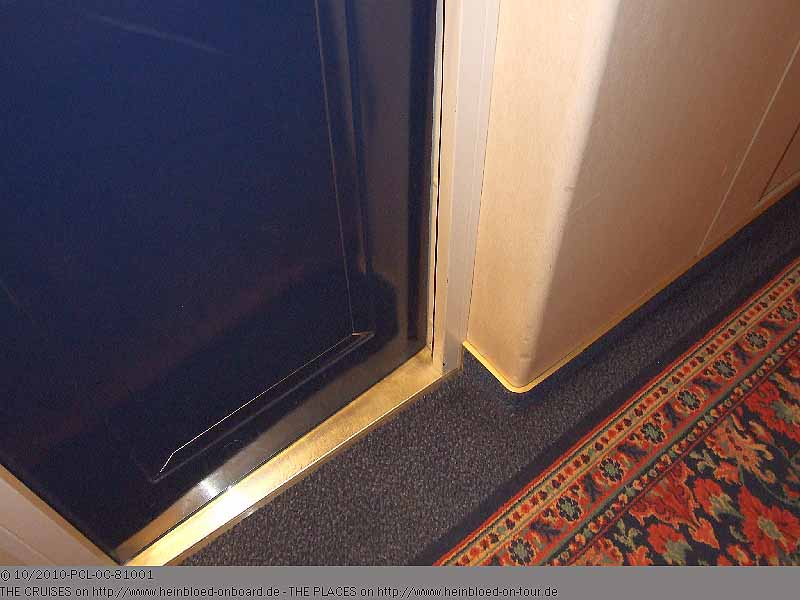 Was anybody else upset of Princess??? Looked someone kicked the door but it was not our... On the top everything was fine and on the bottom looked like a gap.

Debarkation was well organized.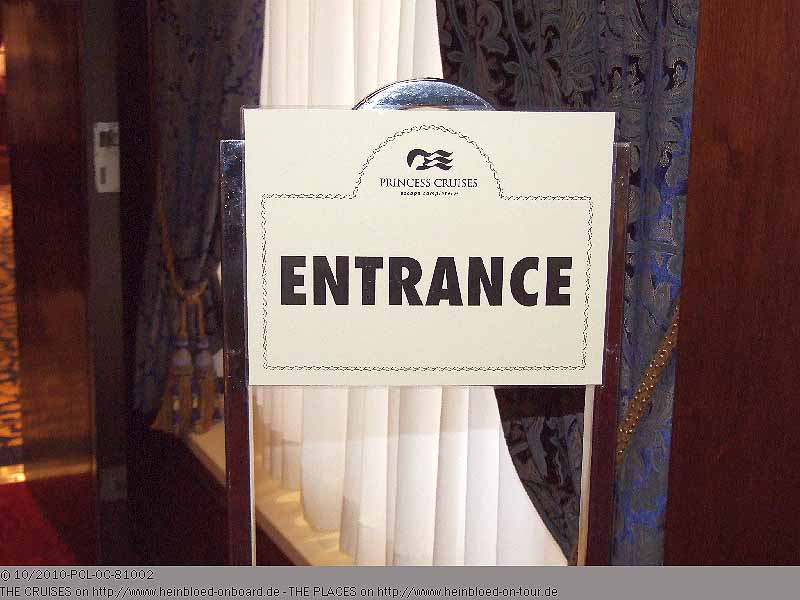 Die Ausschiffung ist gut organisiert.
Es laufen Nachrichten.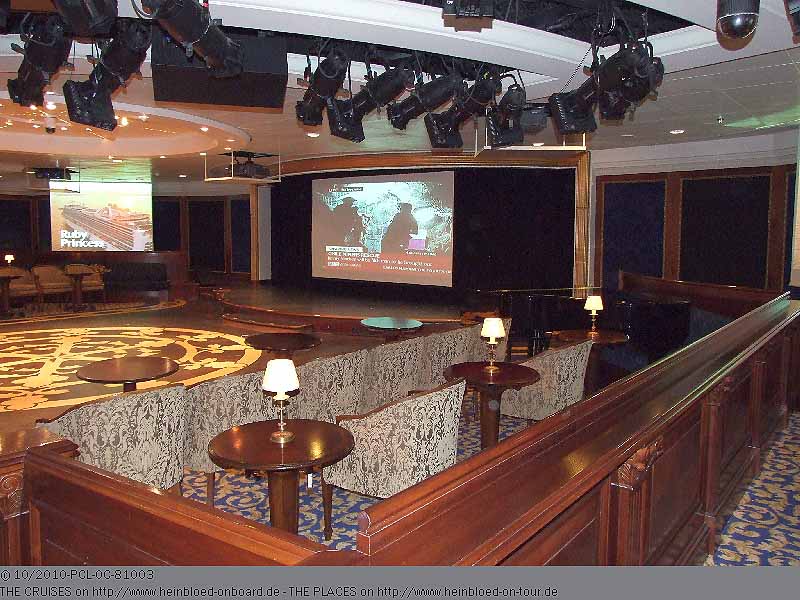 You had a news channel.

There was not so much like with the Platinum Members.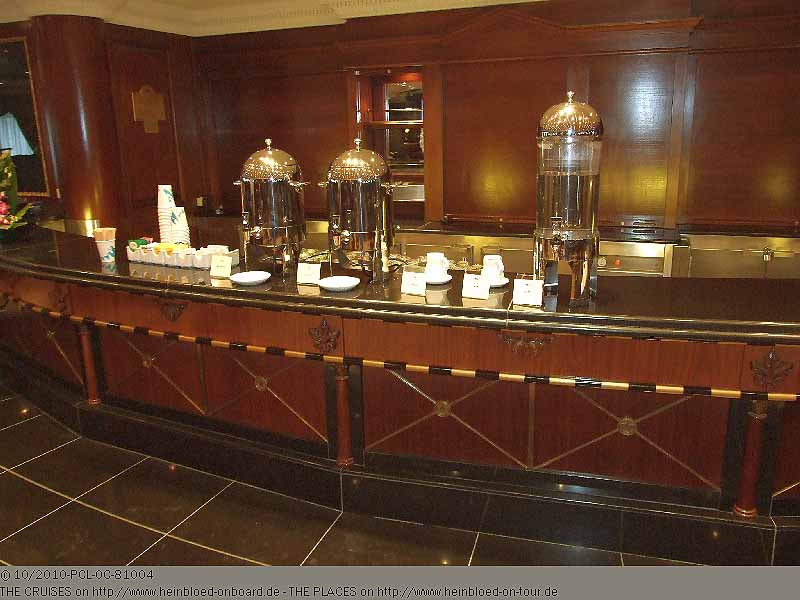 Es gibt nicht so viel, wie oben bei den Platin-Mitgliedern.
Moomin24 (Yoshi und Erico) teilen sich mit uns einen Fahrdienst. Obwohl noch keine 08.30 Uhr sagen sie uns, dass alle Orange-Gäste schon aufgerufen wurden das Schiff zu verlassen. kajomares Freunde winken uns noch zum Abschied zu. Anhand ihrer Lätzchen sieht man, dass sie für die Rollstuhlfahrer zuständig sind. Gut organsiert.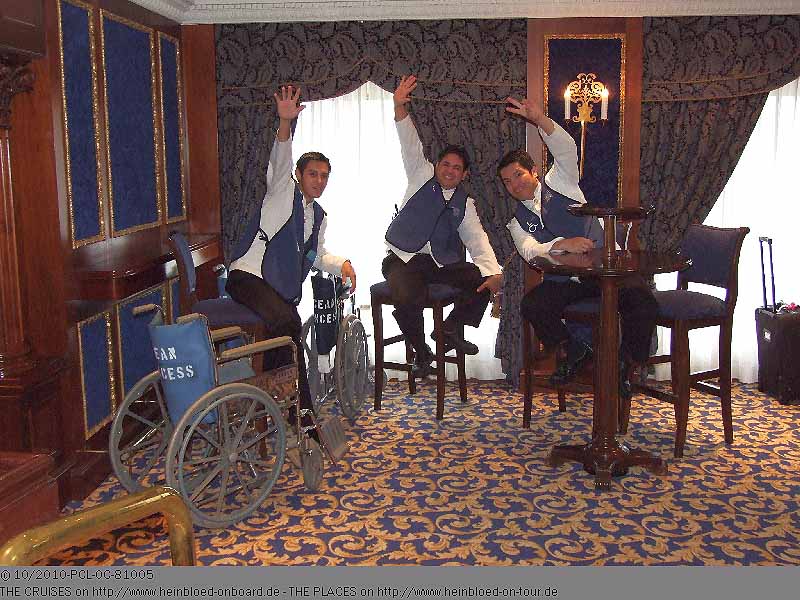 Moomin24 (Yoshi and Erico) shared with us a transfer. Although it was not 08.30 hrs yet, they told us that orange-guests were already announced to leave the ship. kajomares friends waved us for fare-well. Due to their vests, you can see that they were in charge to help wheelchair-guests. Well organized.

Antonio was at the gangway and repeated bye-bye to us. His wish to welcome us again soon on board of a Princess ship sounded very honestly to me. Did not I do enough to get blacklisted??? But frankly: I was harmless... or??? In the baggage hall, we were asked for our color and number and escorted to our bags.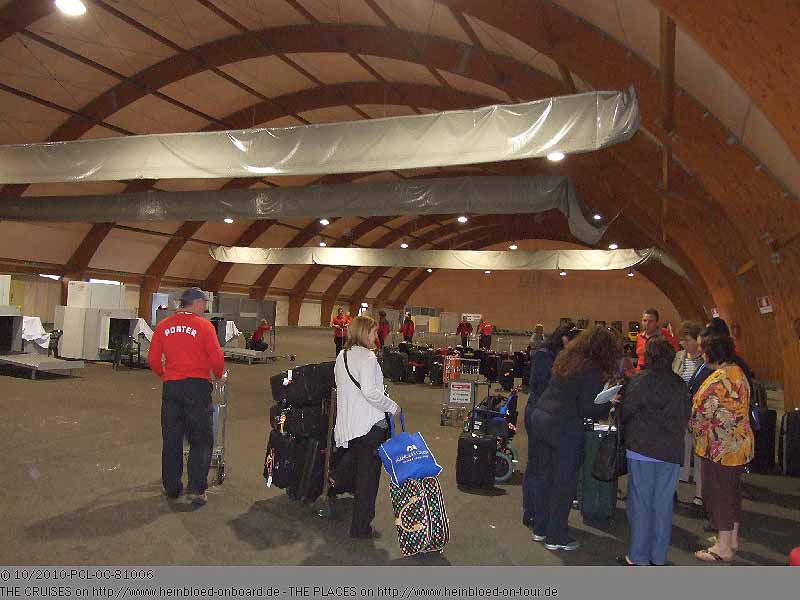 Antonio steht an der Gangway und verabschiedet sich nochmals für uns. Sein Wunsch, dass er uns hoffentlich bald wieder auf einem Princess-Schiff begrüßen kann, klingt sehr aufrichtig. Habe ich ihn nicht genug geärgert, um auf die Schwarze Liste zu kommen??? Aber ganz ehrlich: ich war doch harmlos... In der Gepäckhalle werden wir nach unseren Farben und Nummern gefragt und hingeführt.
Da wir noch 25 Minuten haben, rufen wir noch die E-Mails ab... und Princess will schon unsere Meinung wissen, wie es war. Bruno füllt es am gleichen Abend noch aus, aber als er abschließt kommt der Hinweis, dass die Befragung bereits abgeschlossen ist... Ha Ha Ha...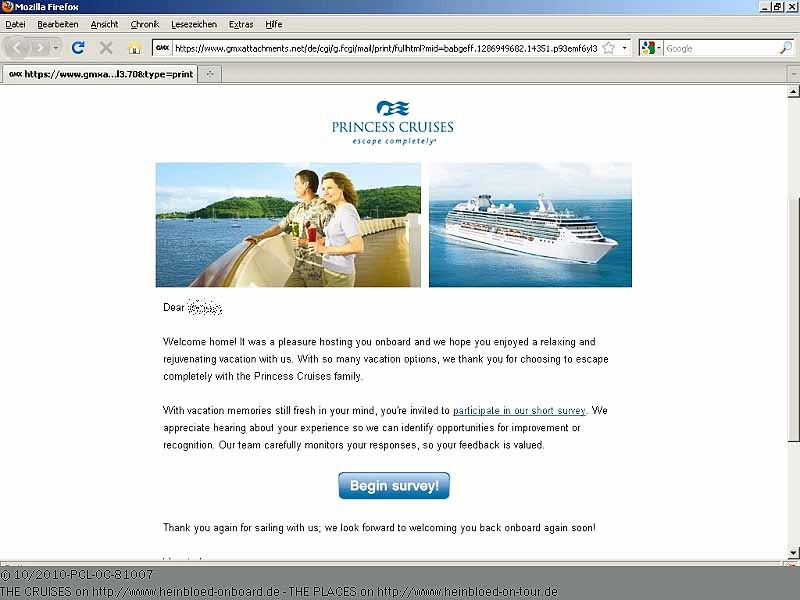 As we still had 25 minutes we checked the e-mails... and Princess would like to know how we loved it. Bruno worked on the answers the same night, and when he finished they showed us that the survey was already closed... Ha Ha Ha...

When I work on my answers a couple of days later, I made the same experience: Survey already closed although I just got a reminder mail to work on my answers.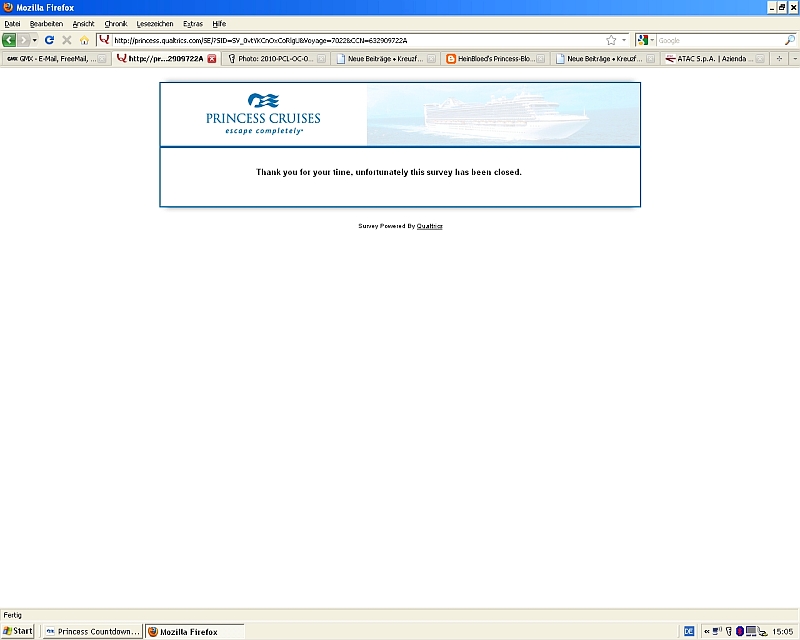 Als ich wenige Tage später meinen Bogen ausfülle, geht es mir auch nicht anders: Befragung bereits abgeschlossen, obwohl ich sogar noch eine Erinnerungsmail erhielt, dass ich bitte den Fragebogen ausfüllen möge.
Die anderen Reisen in diesem Blog/
The other voyages in this blog: