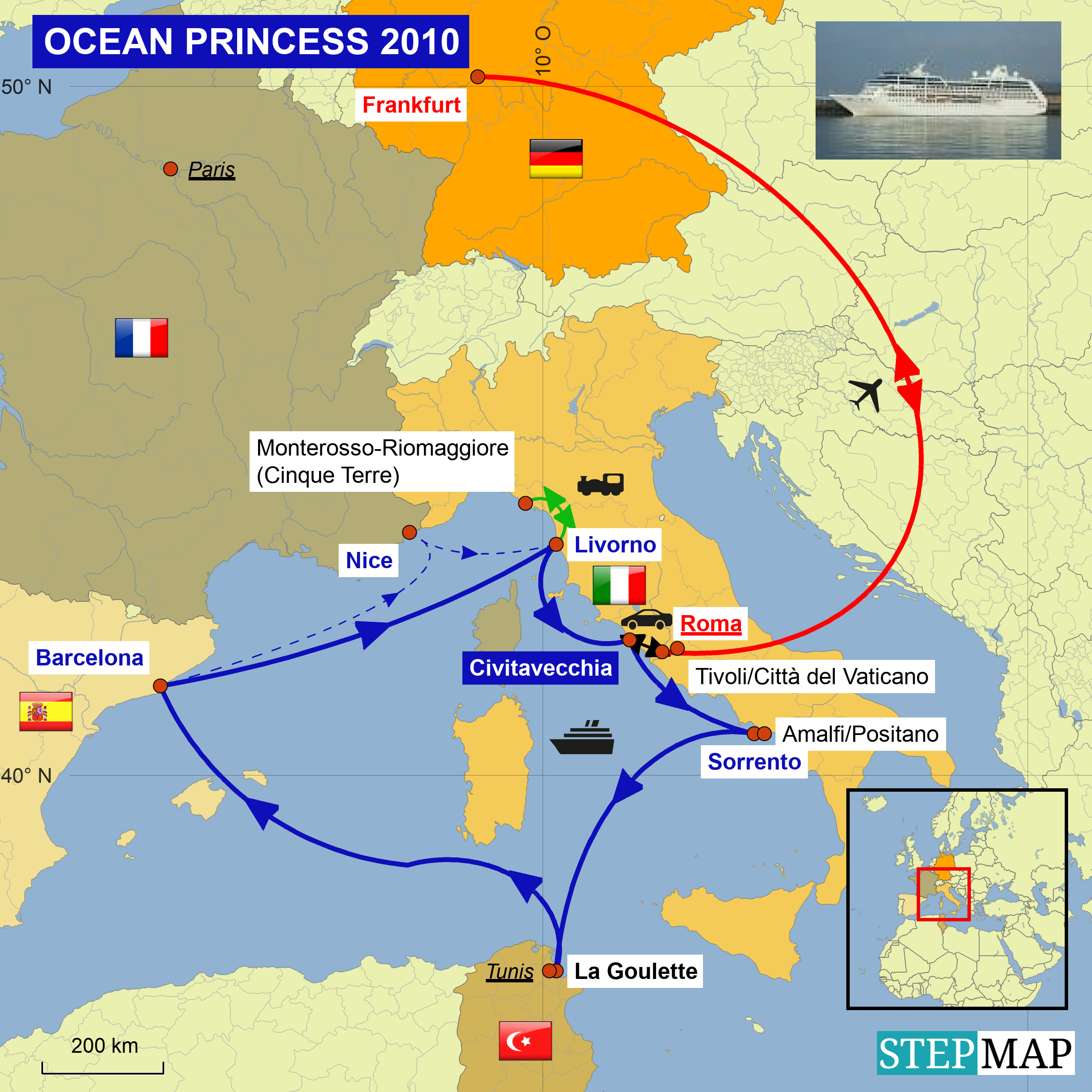 Viel zu weit... aber da im Moment mal der Regen für ein paar Sekunden nachlässt, gehen wir doch mal Richtung Bus...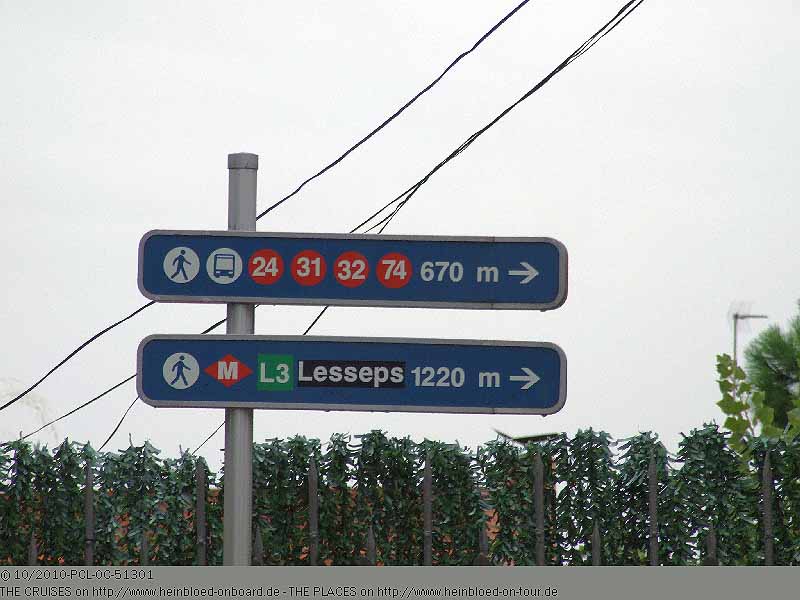 Too far away... but at this moment the rain stopped for few seconds, so we went towards the bus.

Around the corner we found the stop of Line 116.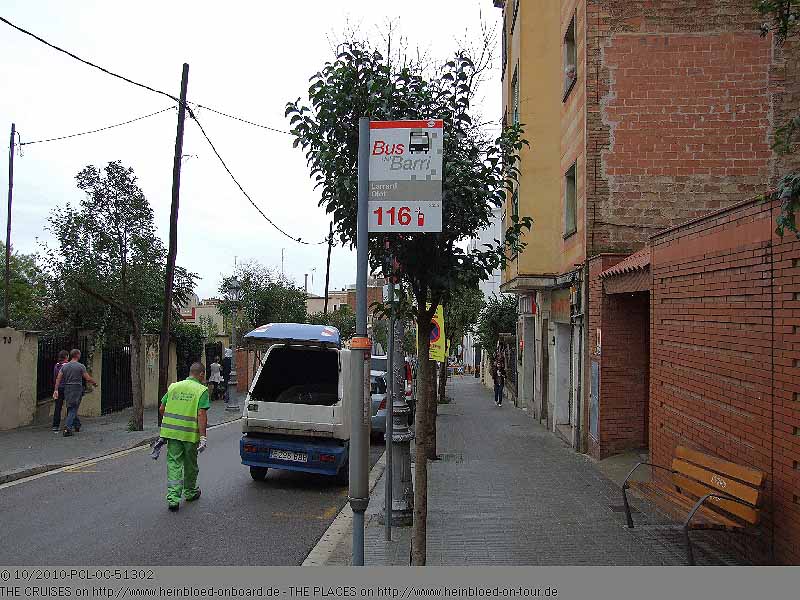 Direkt um die Ecke finden wir die Haltestelle der
Linie 116
.
Wenn man zurückguckt, dann sieht man auch noch den Eingangsbereich an der Straße Olot.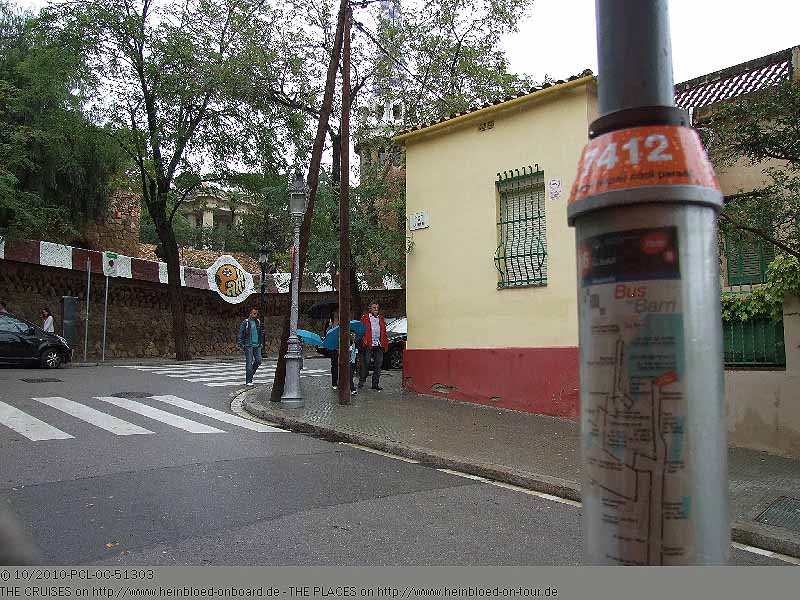 If you look back you see the entrance area at Olot.

What might the meaning of the cell phone on the bus stop.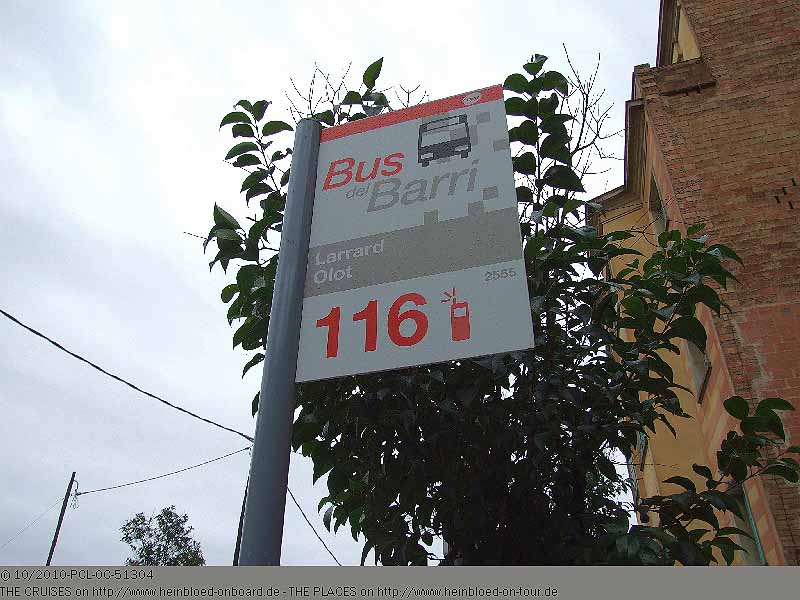 Was hat das Handy zu bedeuten auf dem Haltestellenschild zu bedeuten???
Mit Hilfe der bestehenden Französisch und Spanisch-Kenntnisse und als ehemaliger Praktikant der BVG Berliner Verkehrsbetriebe entnehme ich, dass es sich wohl um einen Rufbusdienst handeln muss.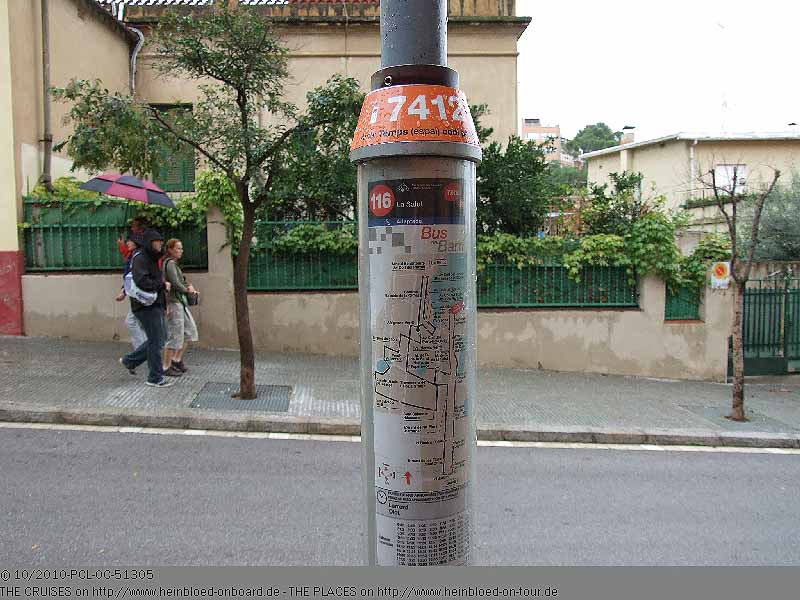 With the help of my French and Spanish language skills and a former trainee with BVG Berlin (Berlin Transport Company) I guess that it must be bus service on request.

As far as we understood: departure time (4 digits), blank, bus stop number. The bus stop number must be the 4-digit number right on top of the cell phone at the bus stop.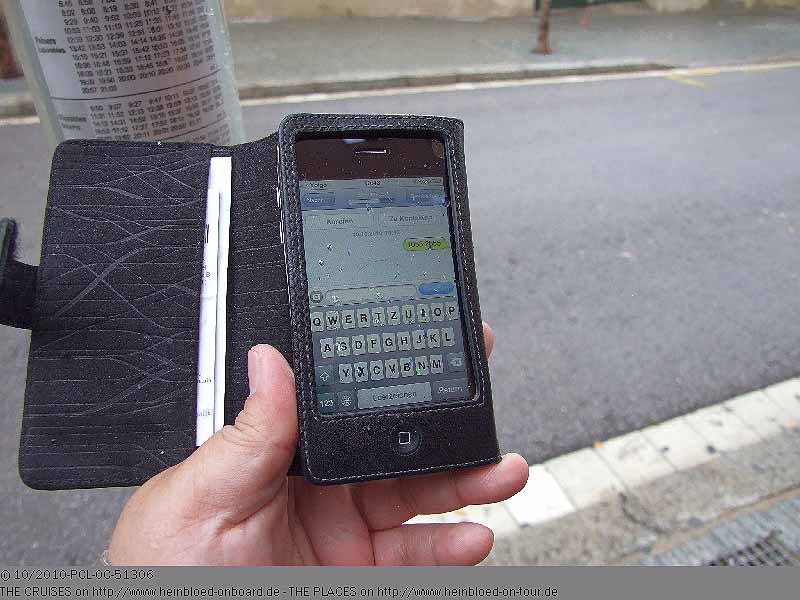 Wenn wir es verstanden haben: Abfahrtzeit (vierstellig), Leerzeichen, Haltestellennummer. Die Haltestellennummer dürfte die 4-stellige Ziffer rechts oberhalb des Handyzeichens an der Haltestelle gewesen sein.
Leider geht die SMS nicht raus. Wir nehmen an, dass wir als Kunden der Deutschen Telekom keine SMS an Dienstnummern in Spanien schicken können, sondern lediglich an echte Mobilfunknummern.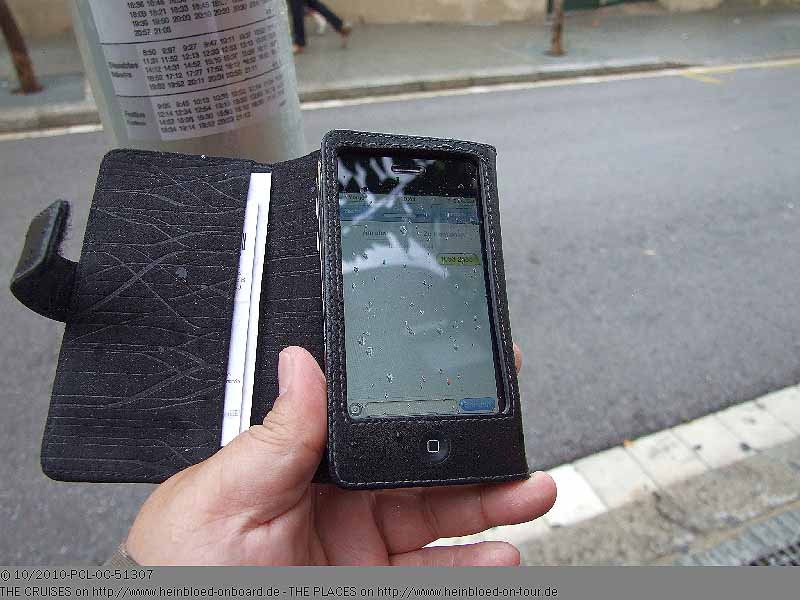 Unfortunately the text message did not get through. We think that we as non-Spanish subscribers cannot send text messages to service numbers in Spain but only to true cell phones.

But the bus came anyway. How cute!!! No tourist inside because none understood that this is a public bus service.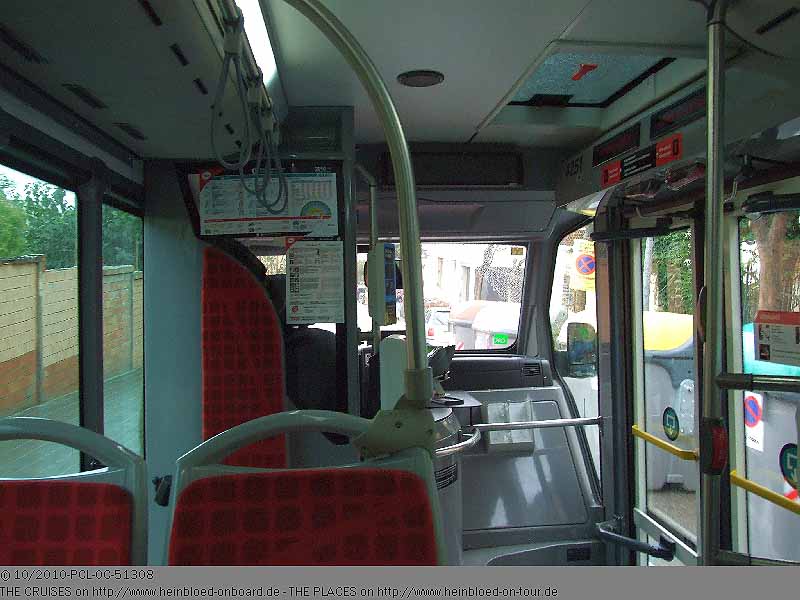 Der Bus kommt trotzdem. Richtig niedlich. Kein Tourist drin, weil wahrscheinlich keiner sonst verstanden hat, dass es sich um einen Busdienst handelt.
Irgendwann klingelt jemand für die nächste Haltestelle. Leider wird sie nicht angezeigt, aber wir sehen, dass es sich um Lesseps handelt und alle hier in die U-Bahn umsteigen wollen.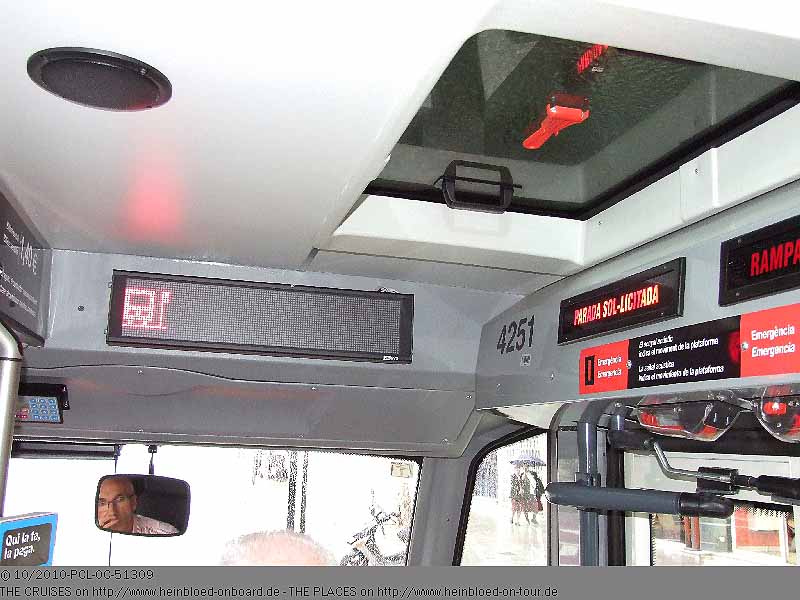 Someone gave signal to stop at the next stop. Unfortunately, it was not displayed, but we saw that it was Lesseps and everybody wanted to transfer to the subway.

Bus del Barri = Quarter line that is why this line is not shown in any tourist guide. This bus should serve the locals, not the tourist.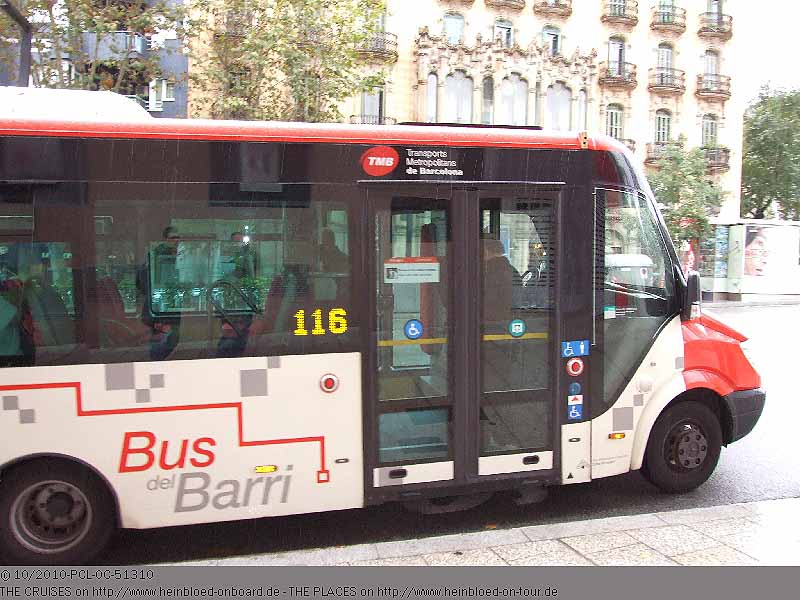 Bus del Barri = Kiezlinie, deswegen wird die Buslinie in keinem Fremdenführer beworben. In erster Linie nicht für Touristen, sondern für die Anwohner gedacht.
Aber für das nächste Mal wissen wir... sie führt direkt zu den letzten Segmenten der Rolltreppe zum Seiteneingang des Park Güells. Aber Pssst...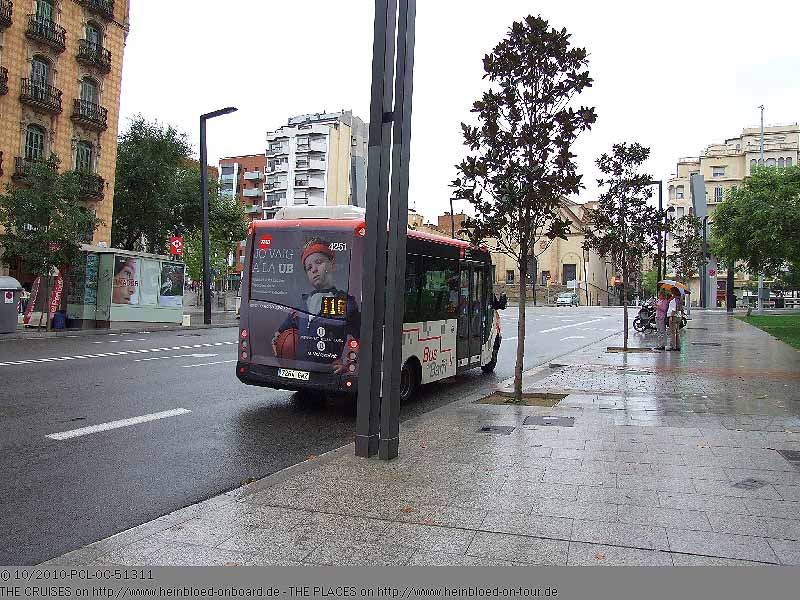 But for the next time we know... she takes us to the last segment of the escalator to the side entrance of Park Güell. But pssst...

Before we arrived at Lesseps, we discovered this shop from our bus.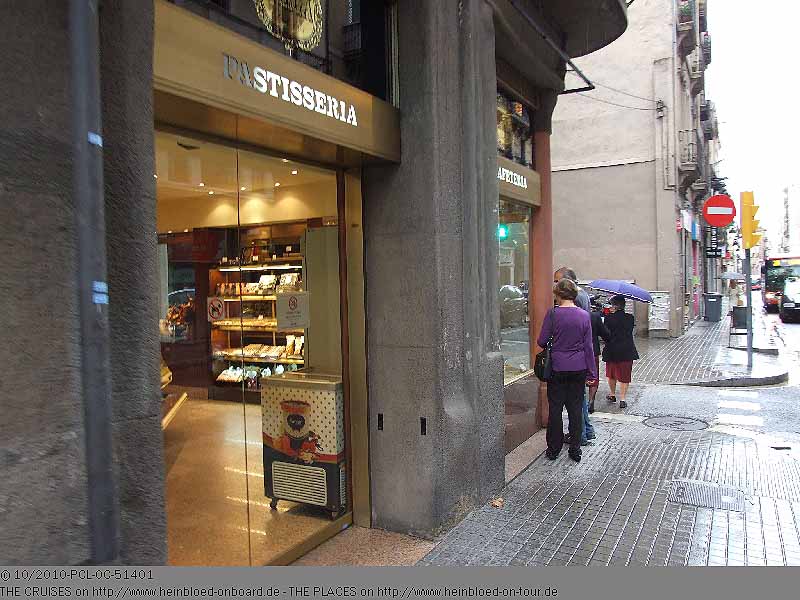 Bevor wir Lesseps erreicht haben, habe ich vom Bus aus diesen Laden entdeckt.
Ein Paradies für Patisserie-Liebhaber...
FARGA
... Zeit für das 2. Frühstück...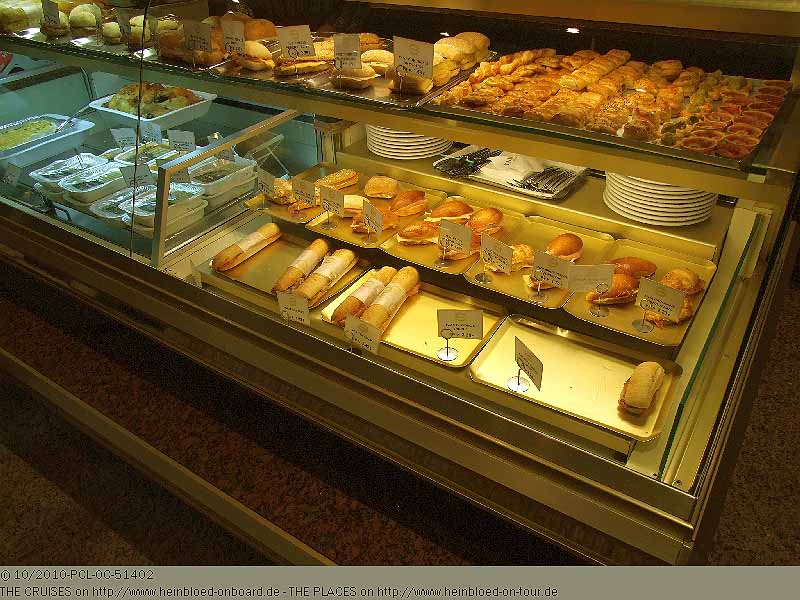 A paradise for pastry lovers... FARGA... time for a 2nd breakfast...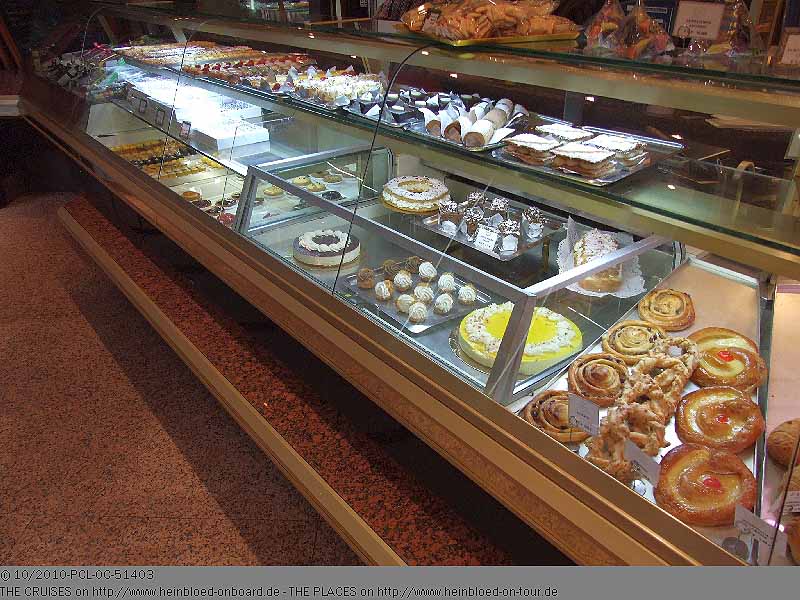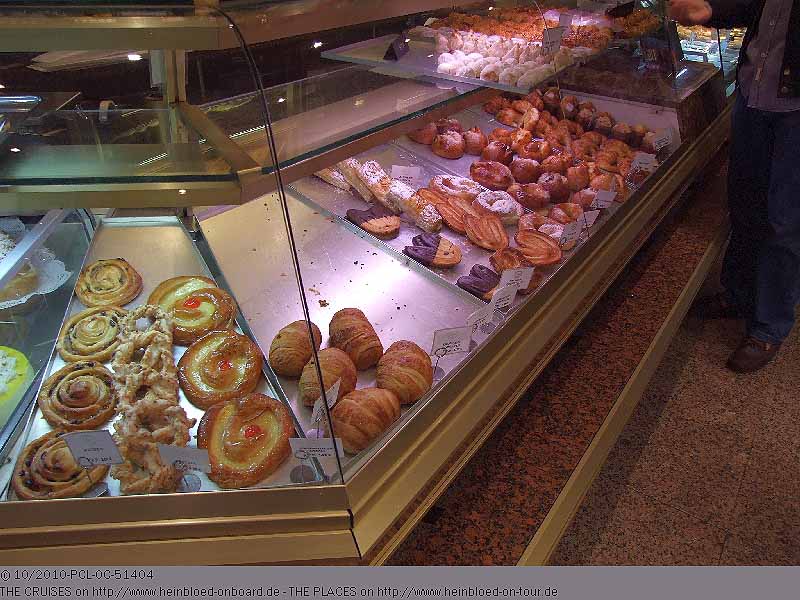 So many little snacks made with passion...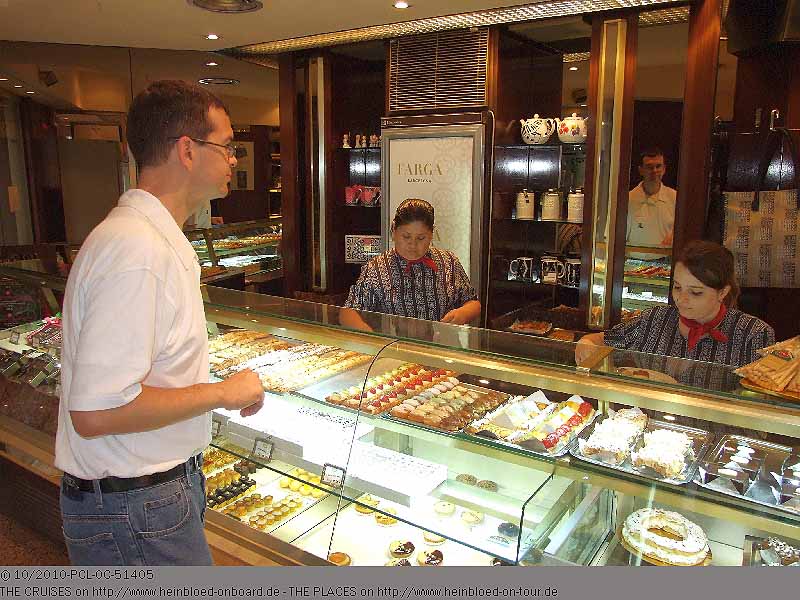 So viele liebevoll hergerichte kleine Häppchen...
Da müssen wir zuschlagen. Bruno süß und ich lieber salzig... Und wenn ich schon an Bord kein Brioche bekomme, dann muss ich hier zuschlagen... Mit Serrano-Schinken, einfach nur hmmm....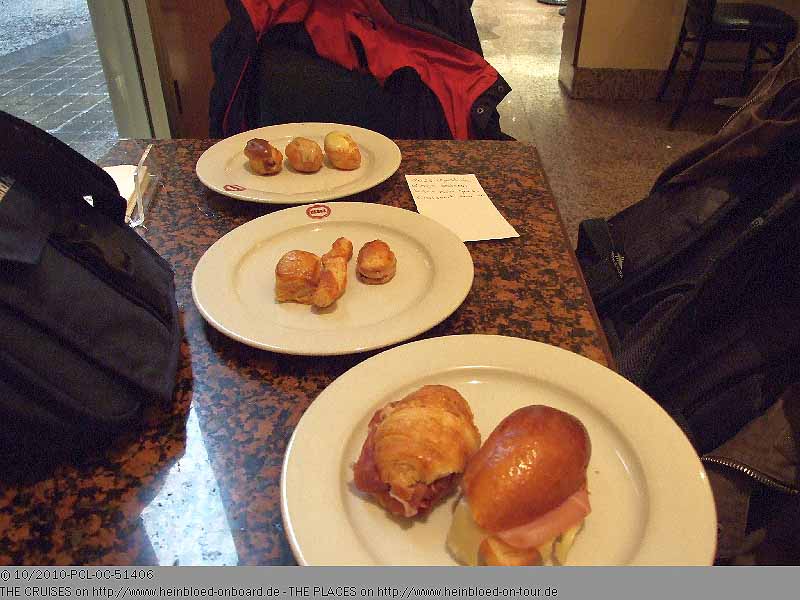 We cannot say no. Bruno liked it sweet, I prefer it saltier... And as I do not get any brioche on board then I need to have it here... With Iberian Serrano-Ham: just yummy...

Great coffee and...

Guter Kaffee und...
echte heiße Schokolade aus einem Schokoladenblock... Da steht der Löffel drin...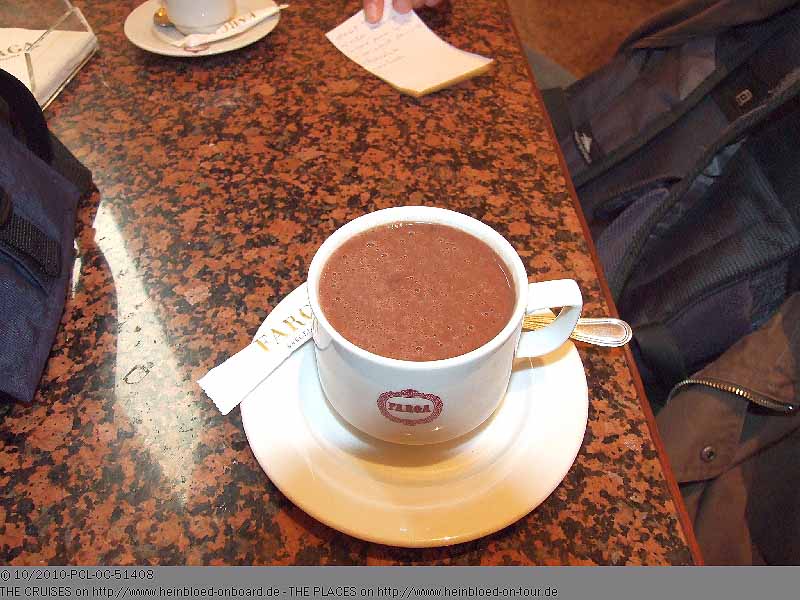 true hot chocolate made out of a brick of chocolate... The spoon could stand in the cup...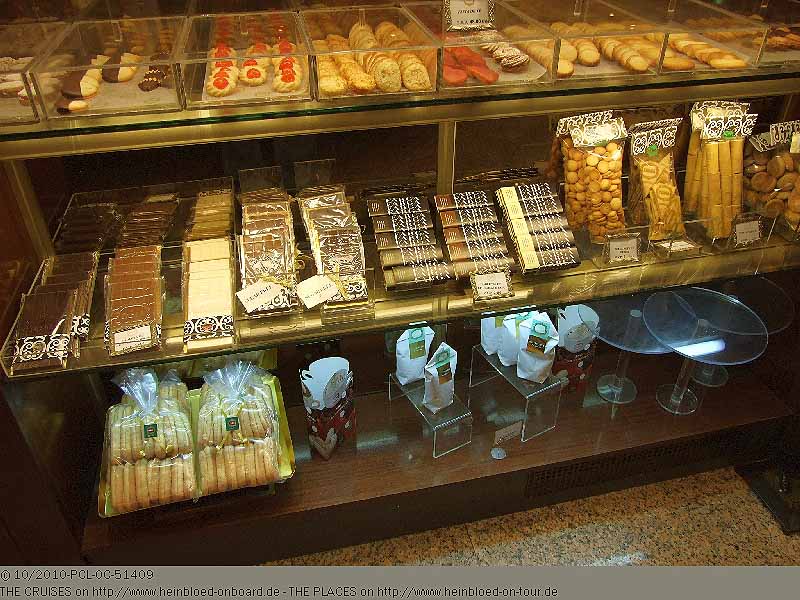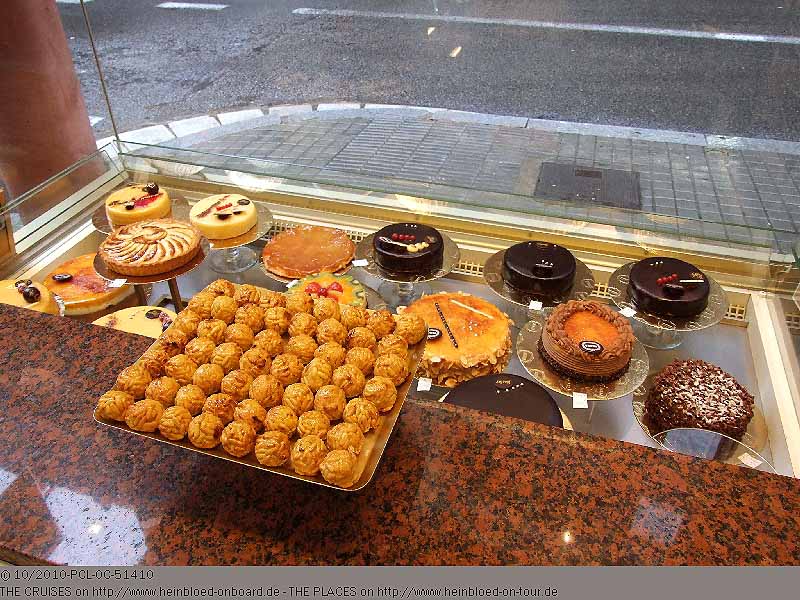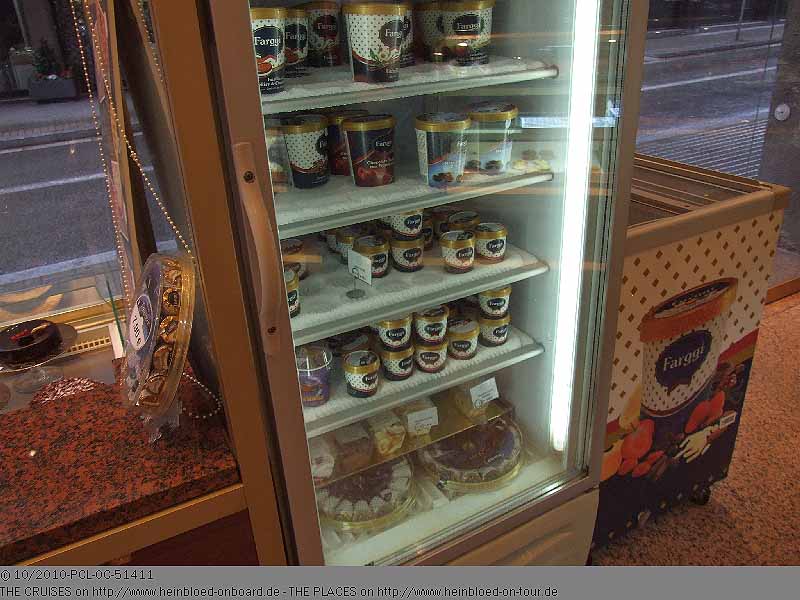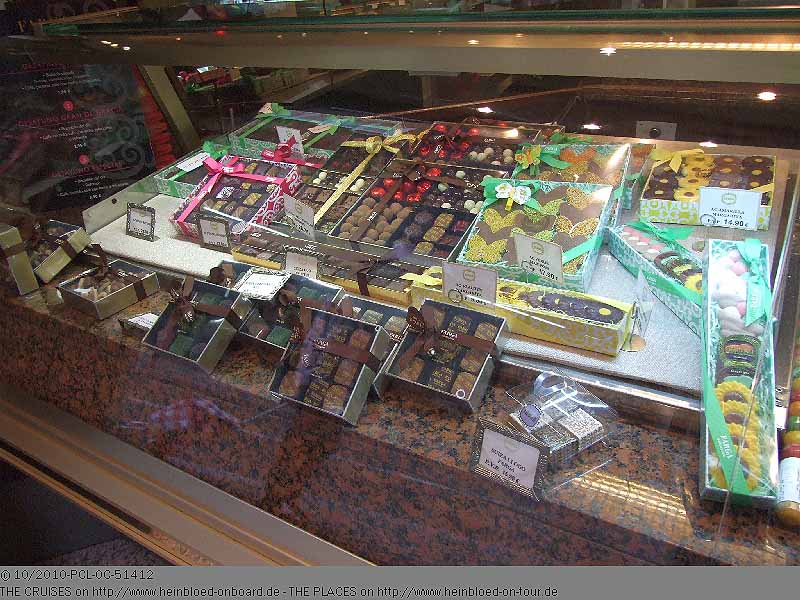 We took a copy of the gift brochure with us.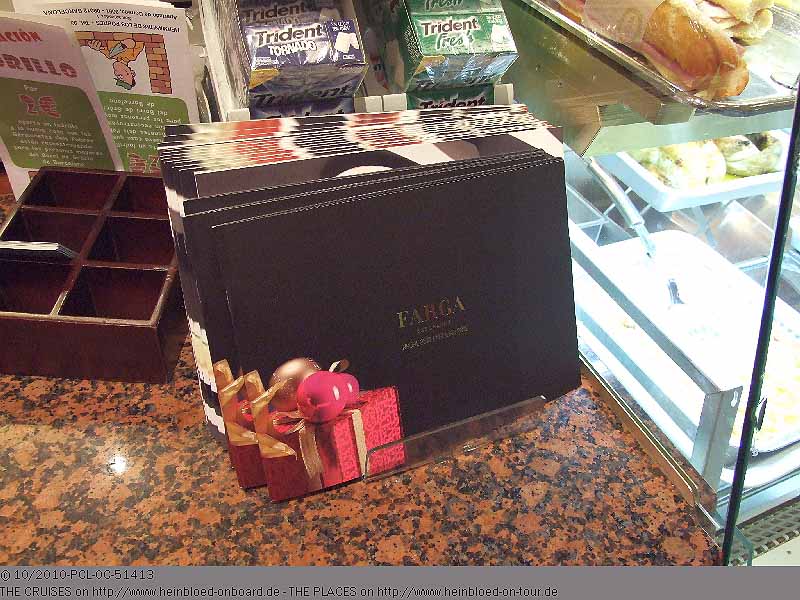 Wir nehmen eine Geschenkbroschüre mit.
Da fällt mir ein, dass NCL mir ja für die NORWEGIAN JADE im Januar mal wieder einen Korb zukommen lassen wollte...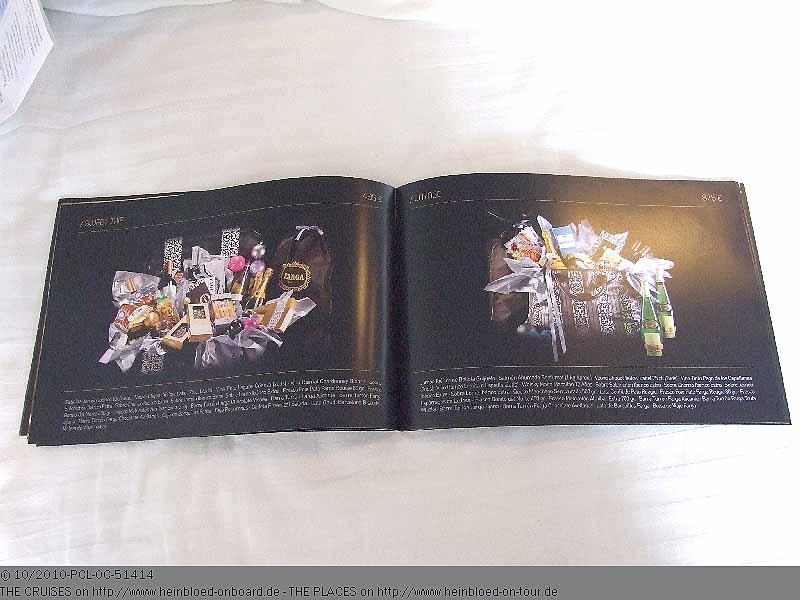 By the way I remember that NCL wanted to send us a gift basket to our cabin...

Looked very nice... I will become their most loyal guest of NCL...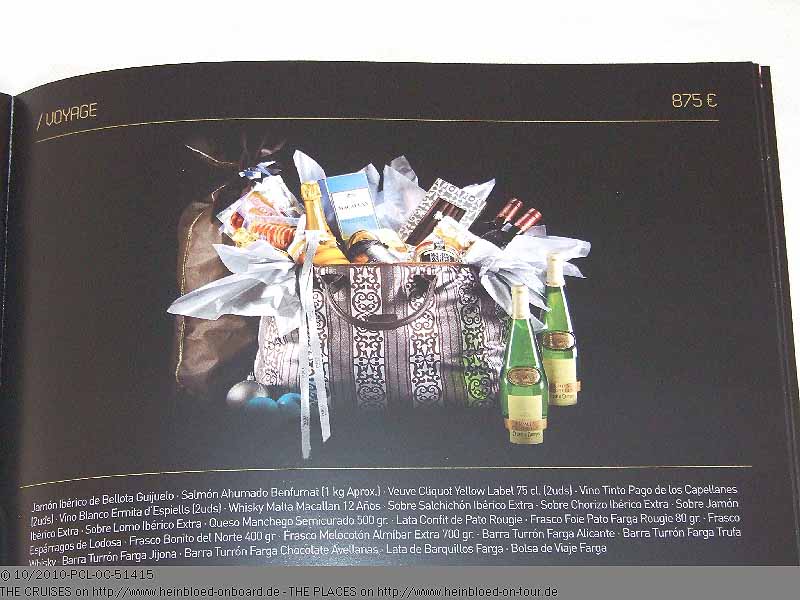 Sieht ja ganz nett aus... ich werde bestimmt danach der loyalste Gast von NCL sein...
bei dem Preis... 875 EUR... sieht nicht nach Fehldruck aus, bei dem ein Komma verrutscht ist.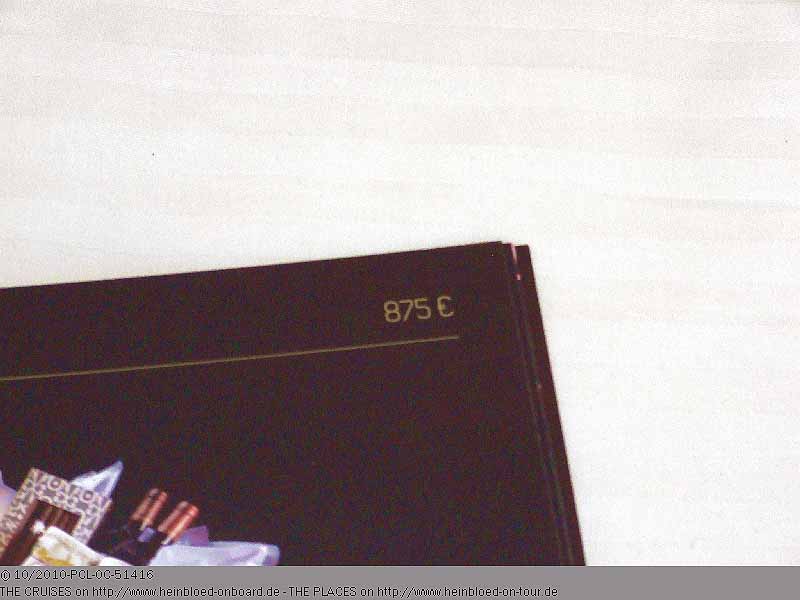 with this price... 875 EUR... does not look like a typo where a point was missing...

We continued for Sants train station and would like to check if a store of Telefonica Movistar has opened. Here we found an actual map...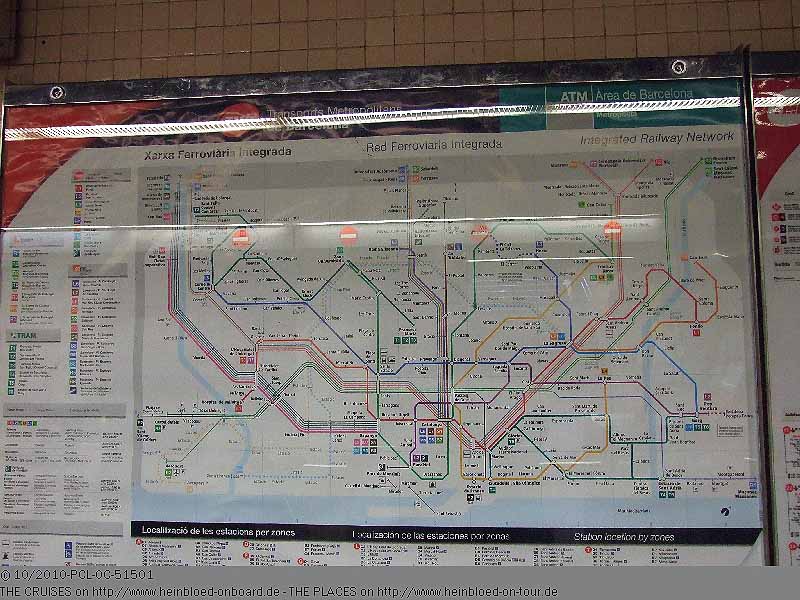 Wir fahren weiter zum Bahnhof Sants und wollen gucken, ob hier vielleicht Telefonica Movistar geöffnet hat. Hier hängt ja noch ein aktuellerer Plan...
Und demnach wird die Linie, die gerade bei Lesseps gebaut wird, zum Flughafen Terminal 2 und 1 weitergeführt... Das wird bestimmt noch sehr interessant, wenn es soweit ist...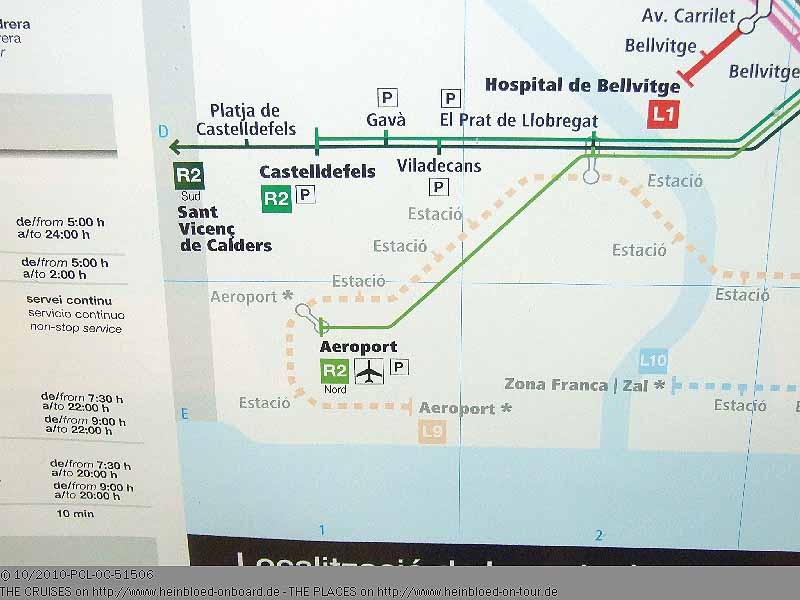 Looks like that the line which is under construction in Lesseps will be extended to the Terminals 1 and 2 of the airport... Will be quite impressive once it is completed.

Line 3 also would get us to Sants train station but with a giant loop via Drassenes at the Columbus Column.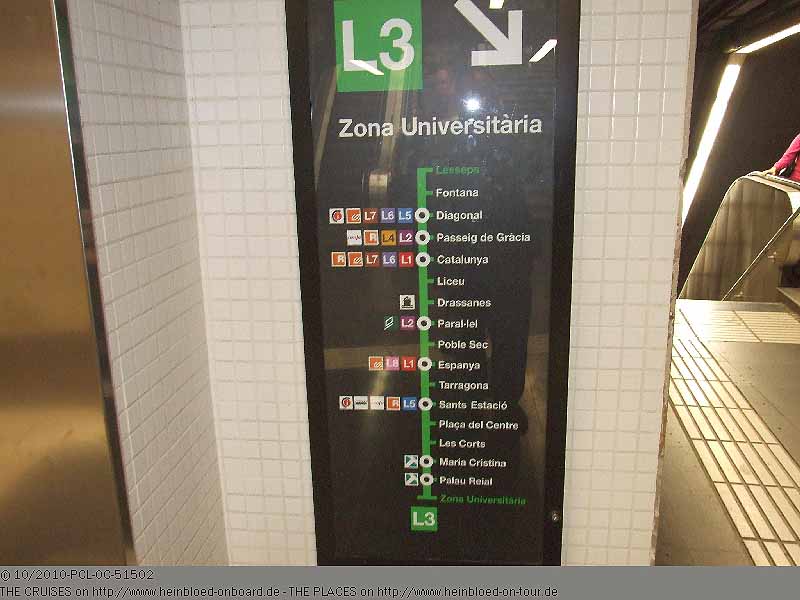 Linie 3 fährt auch zum Bahnhof Sants, aber mit einer riesen Schleife über Drassenes an der Columbussäule.
Also steigen wir in Diagonal um auf die Linie 5.

So we changed at Diagonal to Line 5.

For us only cruises out of Barcelona... never again from Civitavecchia... with this infrastructure...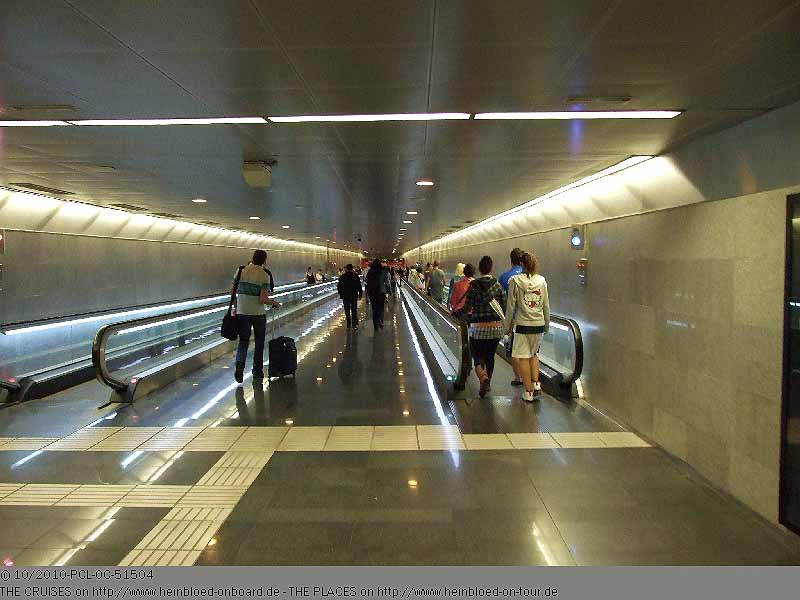 Für uns nur noch Kreuzfahrten ab Barcelona... nicht mehr ab Civitavecchia... bei der Infrastruktur...
Wir folgen der Beschilderung zur Linie 5.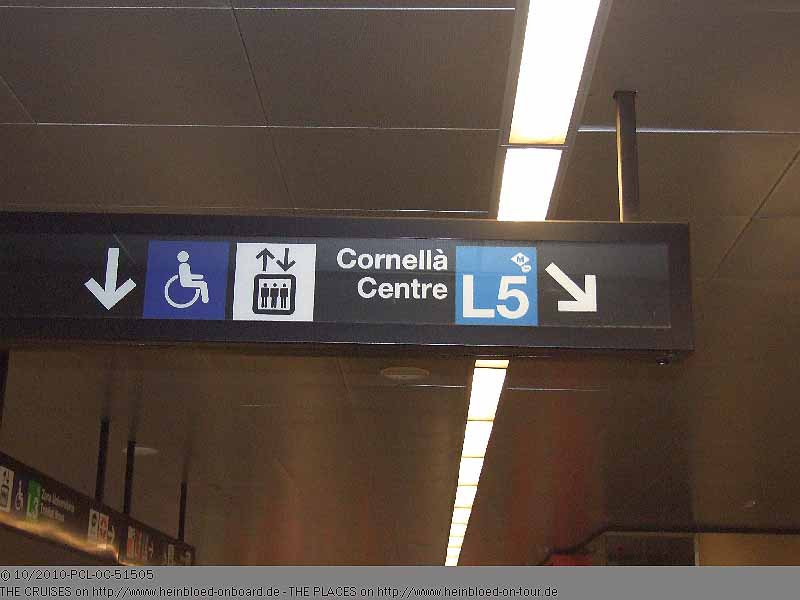 We followed the signpost for Line 5.

Who gets off the wrong stop must be stupid.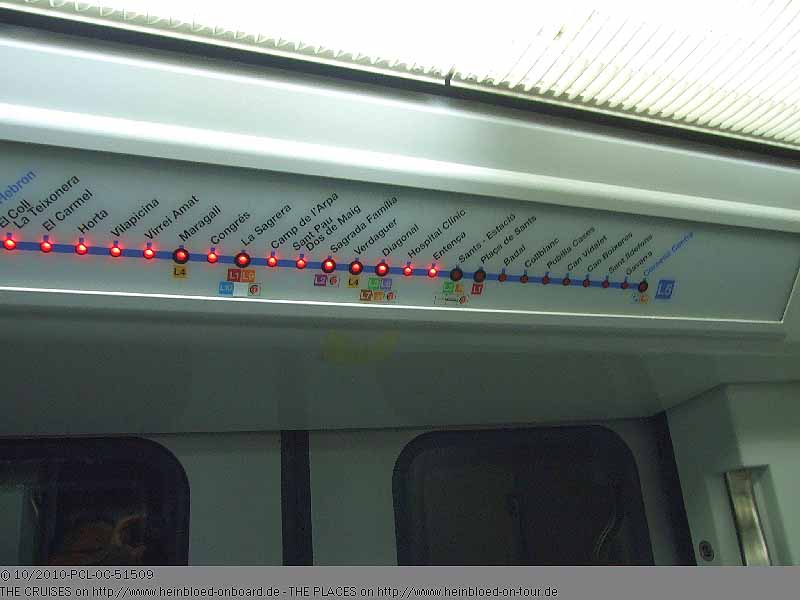 Wer an der falschen Haltestelle aussteigt ist selbst schuld.
Nebenbei laufen in neuen Wagen auch kleine Filmchen, die man auch ohne Worte versteht. Damit man seinen Bahnhof nicht verpasst, läuft als Band immer die nächste Haltestelle mit.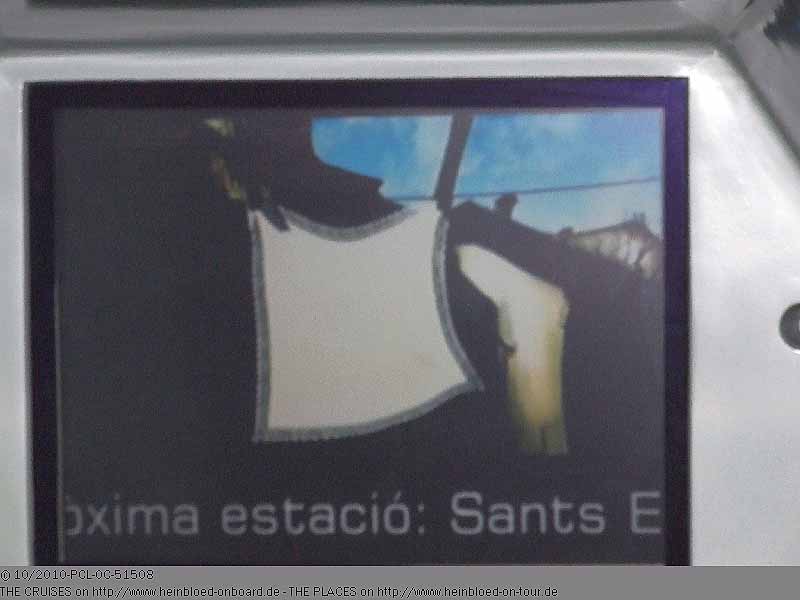 There were also little movies shown which you can understand without listening. To avoid that you do not miss your stop they subtitled the movie showing the next stop.

There is the exit.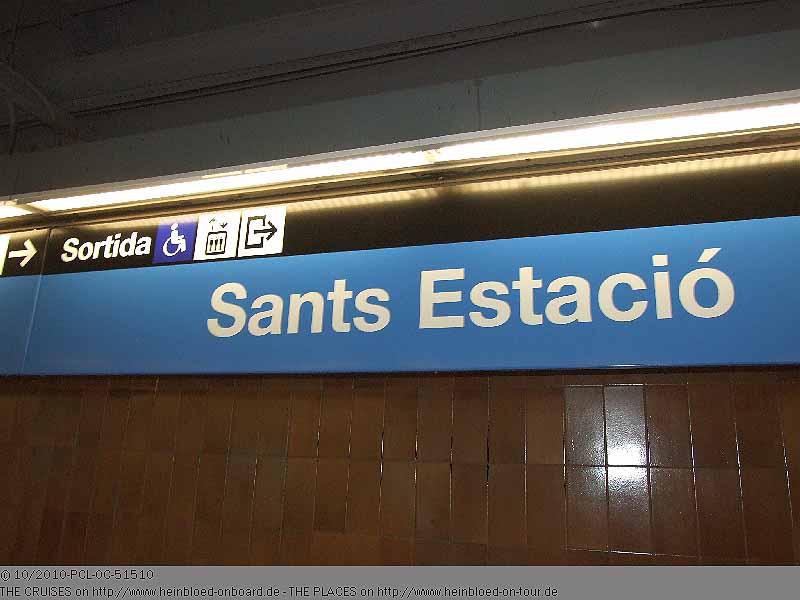 Dort geht es raus.
Da die S-Bahn zum Flughafen von der Eisenbahn betrieben wird, und wir ja zum Bahnhof wollen, folgen wir dem Flugzeug... ist doch logisch... (aber links wäre auch das Logo von RENFE, der spanischen Eisenbahn).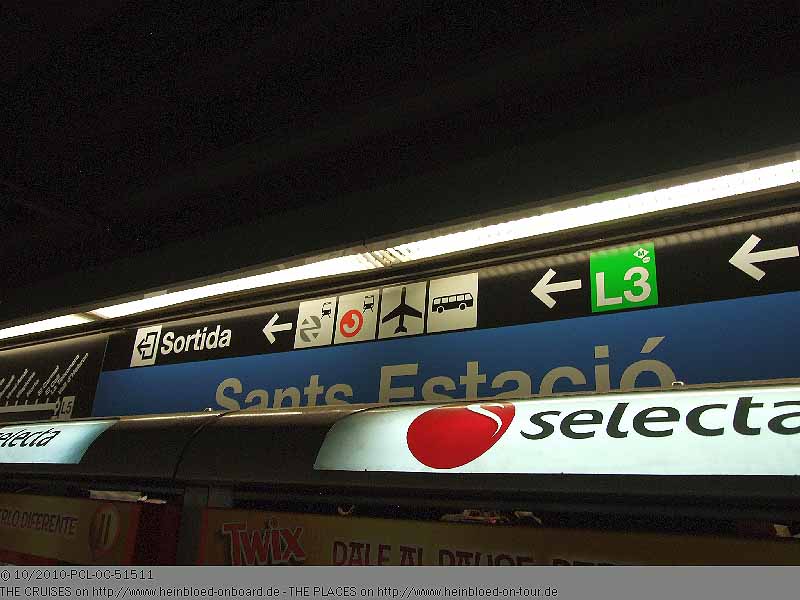 The airport-bound commuter trains are run by the railway company, and we want to find the train station terminal building. So we followed the plane... sounds logical... (but to the left there is the logo of RENFE, the Spanish railway company).

As you can see: easy to transfer between subway line 5 and RENFE but to line 3 for the port, it looks a little far away...

Und wie man sieht: zwischen U-Bahn Linie 5 und RENFE umzusteigen, aber zur U-Bahn Linie 3 Richtung Hafen sieht es ein wenig weiter aus...
Folgen wir den Flugzeugen.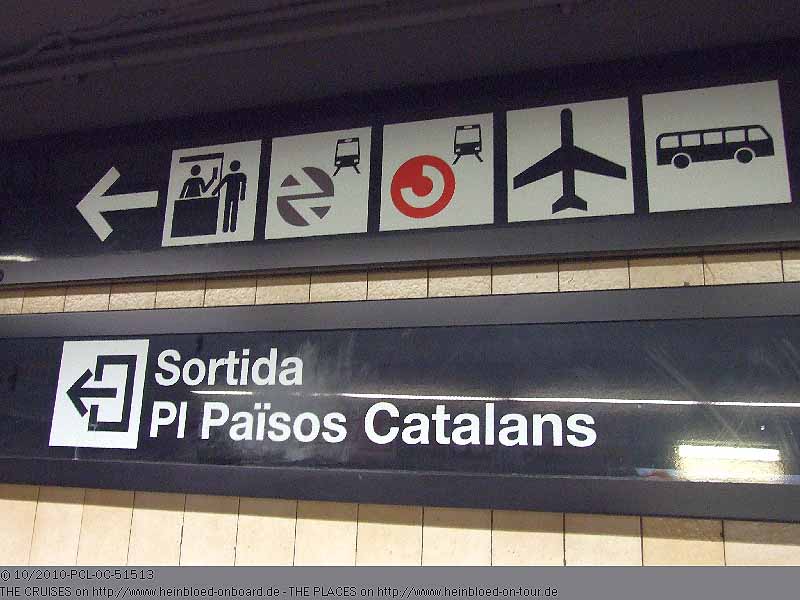 Let us follow the planes.
Die anderen Reisen in diesem Blog/
The other voyages in this blog: