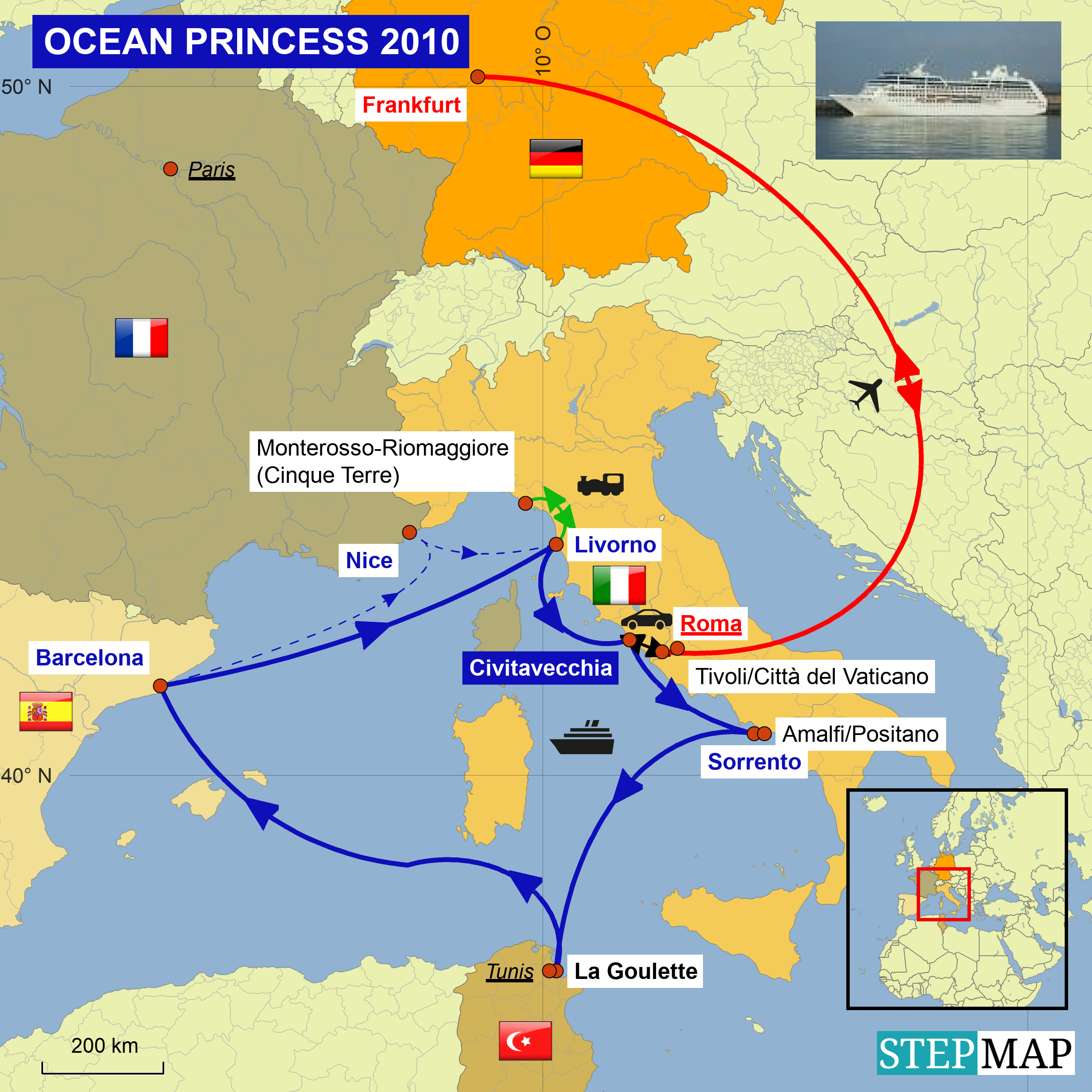 Entweder man geht in die Museen zurück oder über viele Treppen wird man direkt zum Petersplatz geführt.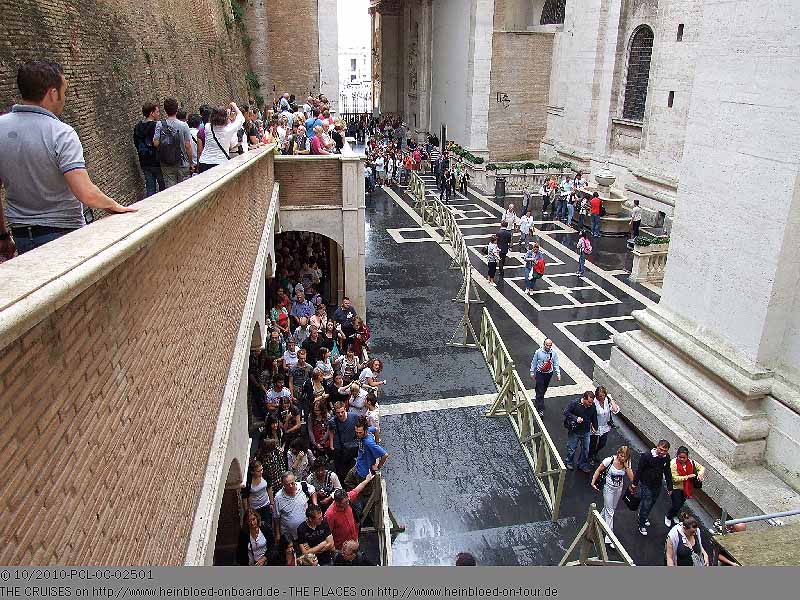 You can return to the museum or on many many stairs directly to the Peter's Square.

You pass the queues to the tombs of the pope and the dome.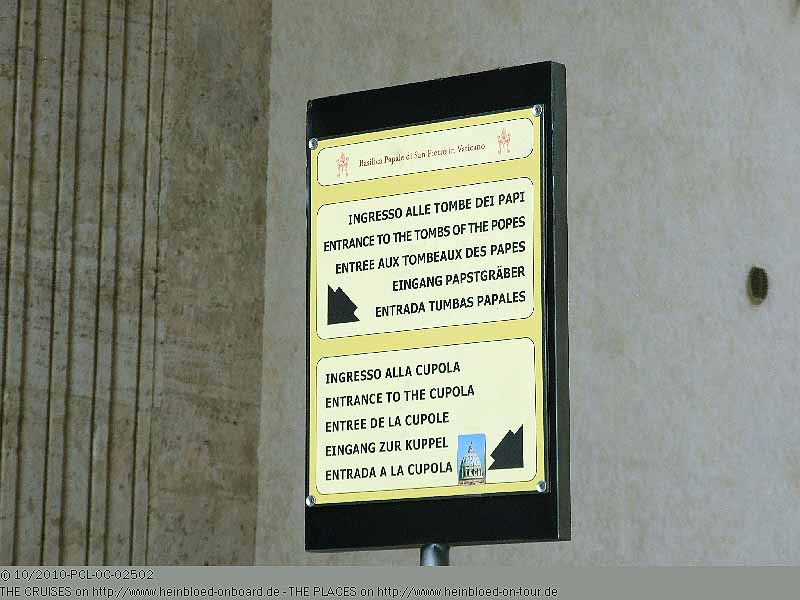 Man kommt hier an den Schlangen für die Papstgräber und für die Kuppel vorbei.
Wenn man in den Petersdom selbst will, muss man sich nicht erneut anstellen.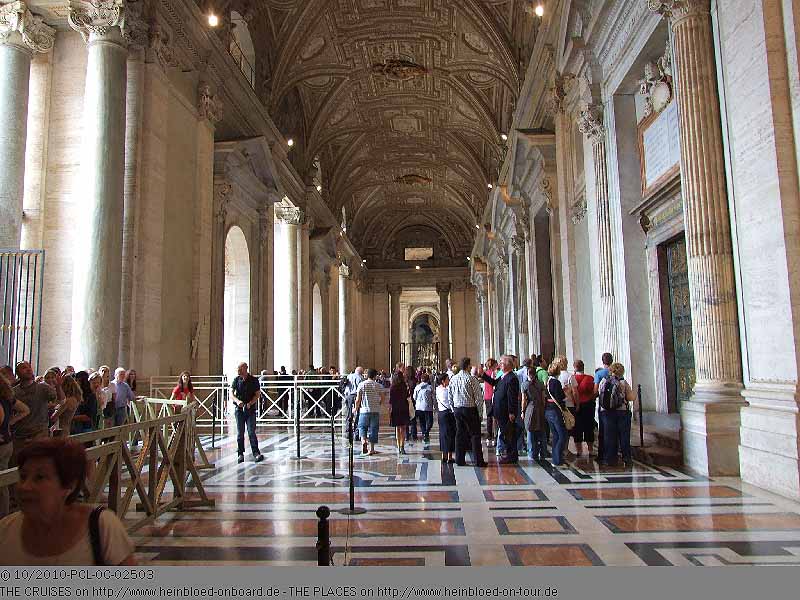 Who likes to go to St. Peter's Basilica does not need to queue up again.

The security guard let you directly against the presentation of your museum ticket.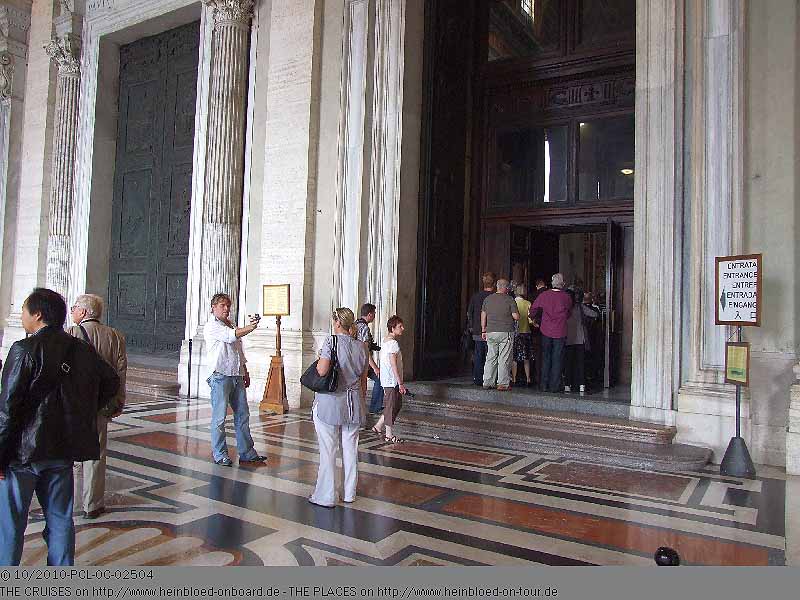 Man wird von den Sicherheitsleuten direkt reingelassen, wenn man kurz die Museumseintrittskarte vorzeigt.
Schweizer Gardisten...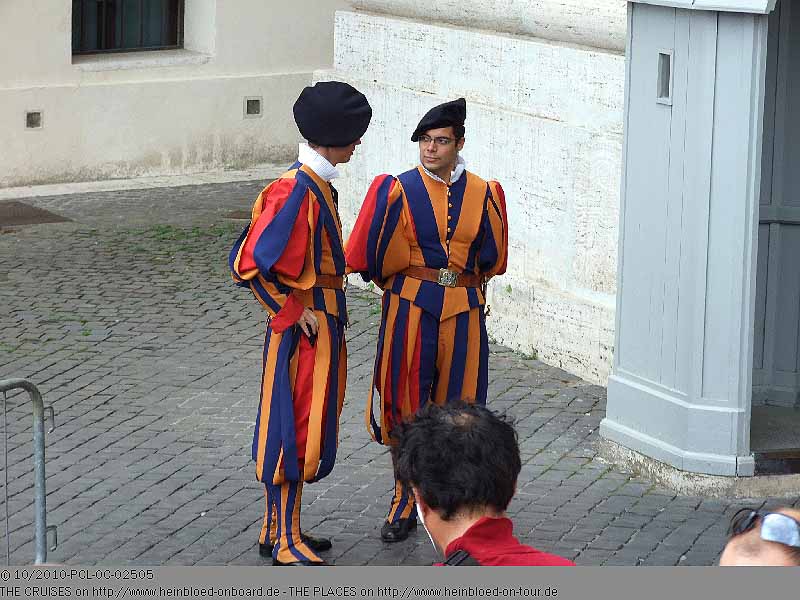 Swiss Guards...

Swiss Guard as well... in the figurative sense: Moderator Garfield (Stefan and his DW Helga) from the German kreuzfahrten-treff.de-Forum. Their cruise on SOVEREIGN took them today to Rome. We exchanged our contact details, and so we had to meet face to face with a cup of coffee and discuss cruising.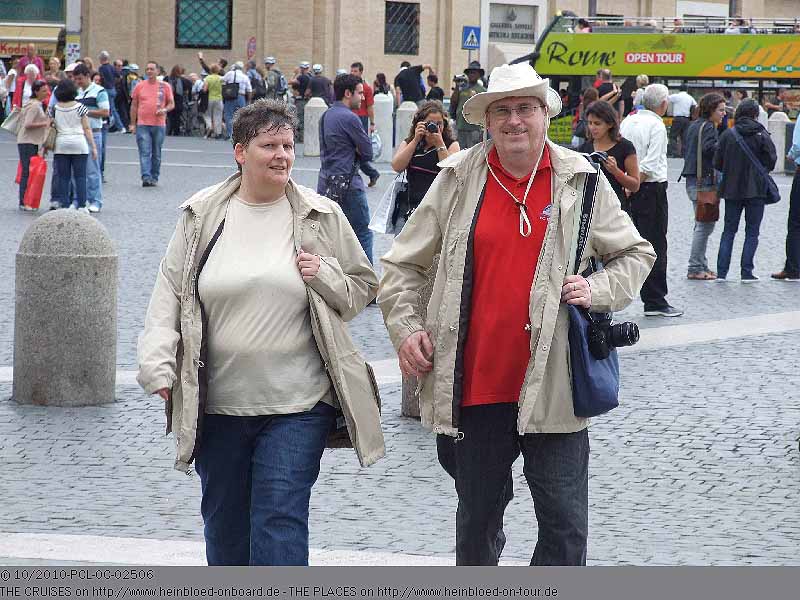 Auch Schweizer Garde... im übertragenen Sinne:
Moderator im kreuzfahrten-treff.de Garfield
(Stefan) und seine Frau Helga. Ihre
Kreuzfahrt auf der SOVEREIGN
führt sie heute nach Rom. Wir haben sicherheitshalber unsere Daten ausgetauscht und so ergibt sich bei einer Tasse Kaffee eine Gelegenheit sich persönlich kennenzulernen und ein wenig auszutauschen.
Da im Café San Pietro alles Selbstbedienung ist und wir uns irgendwo setzen wollen, finden wir kurzfristig vier Plätze in der Bar gegenüber. Für römische Verhältnisse und rund um den Vatikan sogar bezahlbar. Mal gucken, wann und wo wir uns wieder begegnen. Sie müssen weiter und wir auch. Es war auf jeden Fall sehr nett, endlich mal das Gesicht hinter Garfield zu sehen, obwohl es ja Bilder auf seiner
Homepage
gibt. Aber im Gespräch ist es ja immer netter.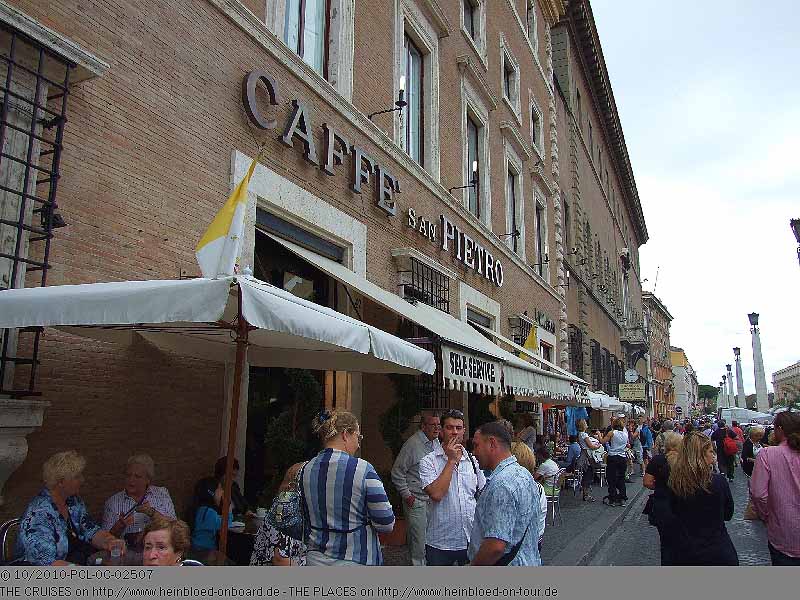 As Café San Pietro is a self-service bar and we want to have a table to sit for sure we went opposite a bar. For Rome and around the Vatican you can afford it. Let us see when and where we will meet us again. It was very nice to see the face behind Garfield although there are pictures on his website. But personally, face to face it is much more beautiful.

We took Bus 40, which runs as an express bus (with fewer stops) directly to Termini train station.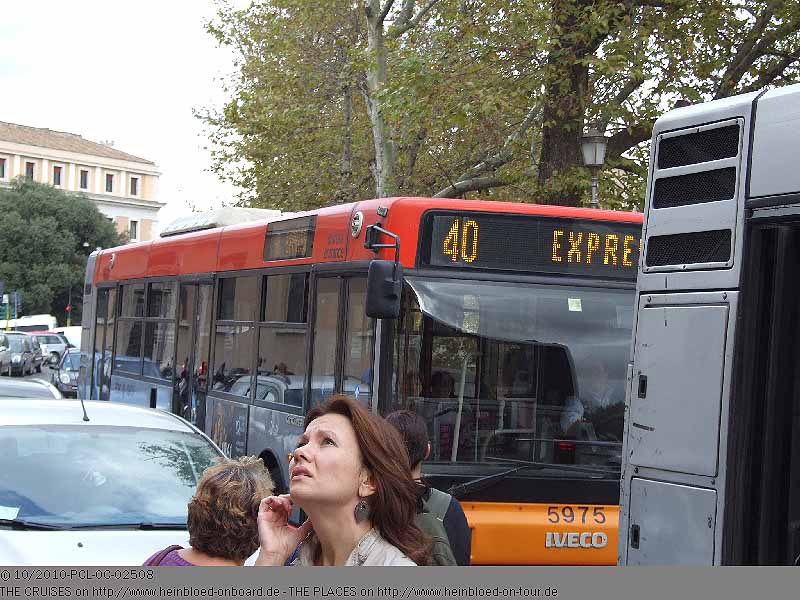 Wir nehmen Bus 40, der als Expressbus (mit weniger Haltestellen) direkt zum Bahnhof Termini bringt.
Dort finden wir auch mal einen Übersichtsplan der Haltestellen.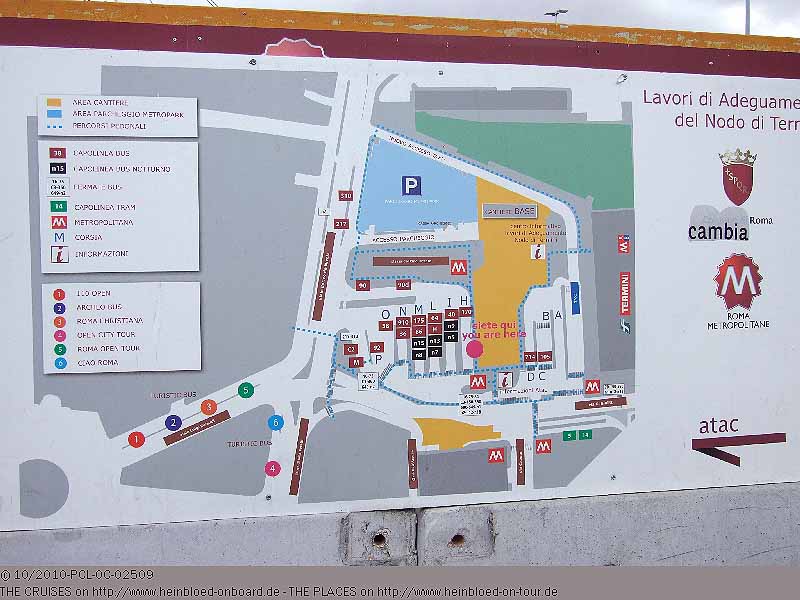 Here we find an overview of the bus stops.

And here a list of all HoHo-Bus-operators stopping at Rome Termini train station: 110 open, Archeo Bus, Roma Cristiana, Open City Tour, Rome Open Tour, Ciao Roma.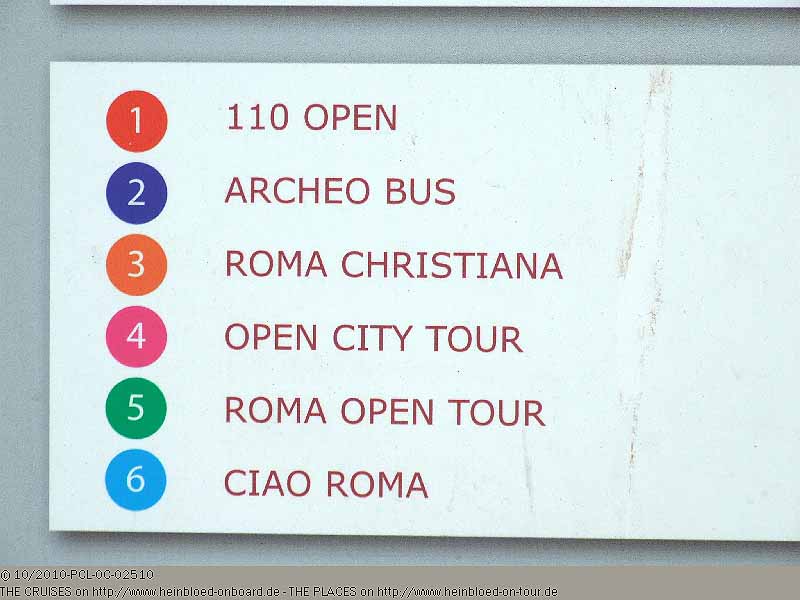 Und hier mal die Aufstellung der HoHo-Touren, die ab Bahnhof Rom Termini angeboten werden:
110 open
,
Archeo Bus
,
Roma Cristiana
, Open City Tour,
Rome Open Tour
,
Ciao Roma
.
Mit der U-Bahn fahren wir nach Tiburtina: Das sieht aber ziemlich voll aus und es ist noch keine Rush-Hour.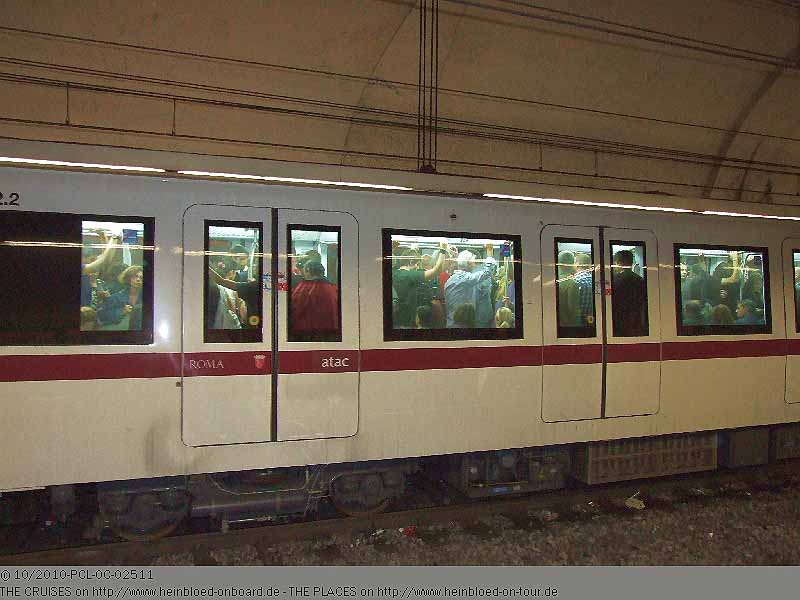 We went to Tiburtina by subway: looked very full but it was not rush-hour yet.

As we bought already our tickets with with Trenitalia on the internet, we could arrive very relaxed at the train station. You can buy tickets for the regional trains one week ahead of travel. Our tickets for the long-distance trains we bought already two months ahead of travel and so we had access to the discounted tickets (meno 30 = 30% if you book minimum 15 days ahead of travel). So we secured a discount for the long-distance train and would have bought the tickets for the regional train later. We wanted to get from Roma to Tivoli (you need to enter all stations in Italian).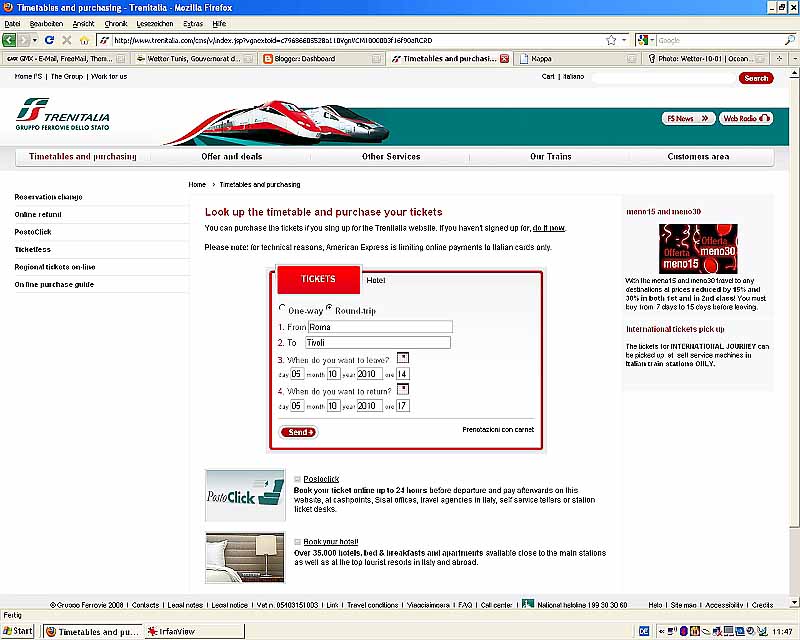 Da wir die Fahrkarten bereits im
Internet bei Trenitalia
gekauft, konnten wir ganz entspannt zum Bahnhof fahren. Fahrkarten für den Regionalverkehr gibt erst eine Woche vor Fahrtantritt. Fahrkarten für den Fernverkehr haben wir bereits zwei Monate vorher geholt und hatten so Zugang zu den rabattierten Fahrkarten (
meno 30
= 30% bei Mindestbuchung von 15 Tagen vor Reiseantritt). So hatten wir uns zumindest den Rabatt für den Fernverkehr gesichert und hätten die Tickets für den Regionalverkehr später hinzugekauft. Wir wollten ja von Roma nach Tivoli (alle Bahnhofsbezeichnungen in Italienisch eigeben).
Für die Hinfahrt werden Verbindungen und Preise ausgegeben. Man sucht sich eine aus.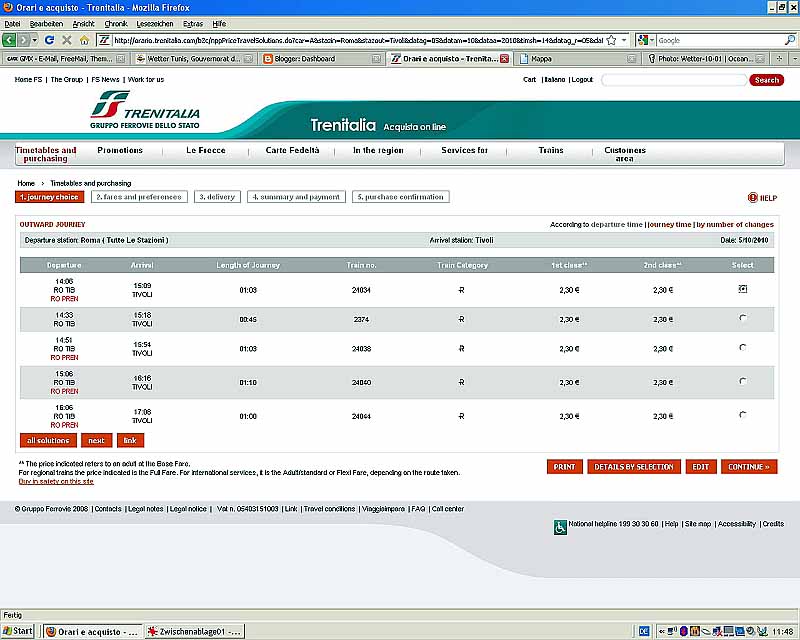 For your outward journey connections and prices are shown. You just select one.

Now you select the return journey. The tickets were valid for all trains up to four hours after the initially booked train departure time.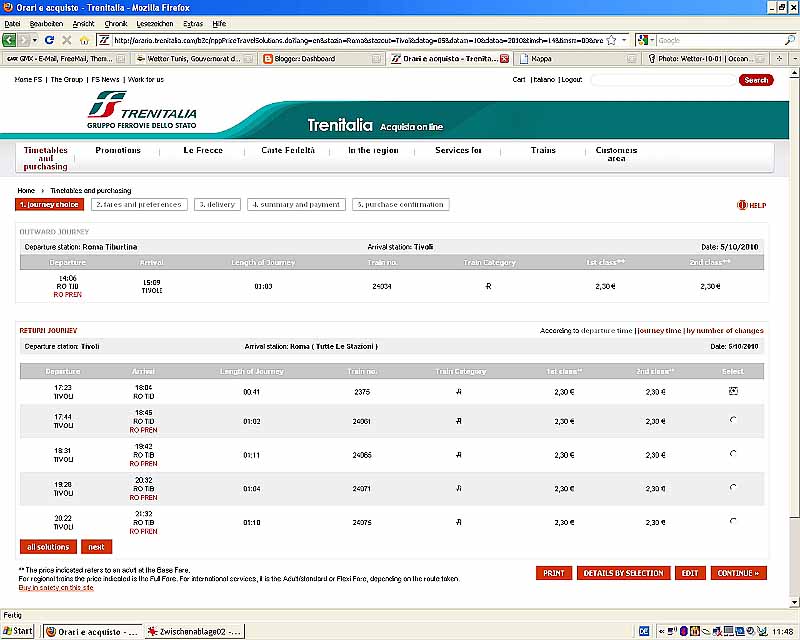 Man wählt eine Rückfahrt aus. Die Fahrkarten gelten für alle Züge bis zu vier Stunden nach der ursprünglich gewählten Abfahrtzeit.
"Intera" ist wieder der Normaltarif. Beim Fernverkehr konnte man mehrere Personen gleichtzeitig auf eine Karte buchen - beim Regionalverkehr muss man für jeden einzeln die Tickets kaufen.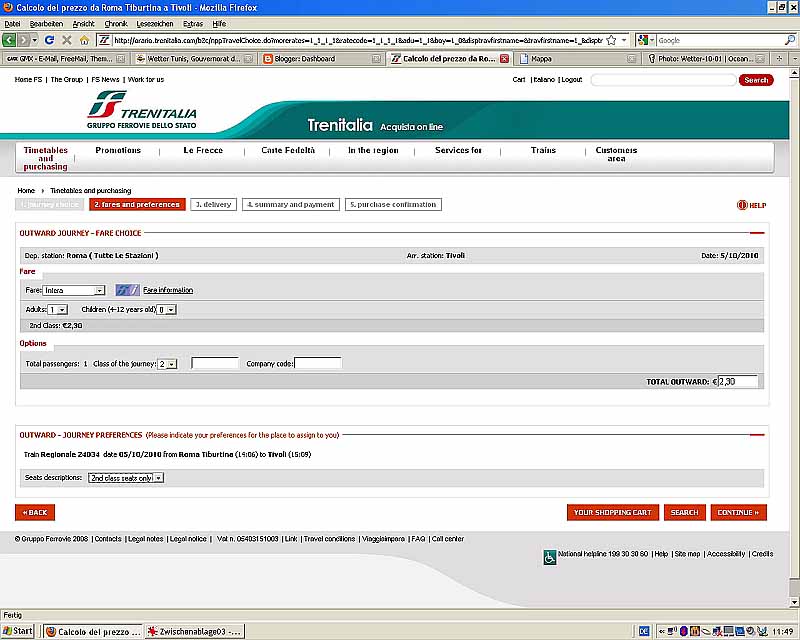 "Intera" is the standard fare. With the long-distance tickets, you can book multiple persons on one ticket. With the regional traffic, you need to buy all tickets one by one.

You need to enter the travel classes accordingly.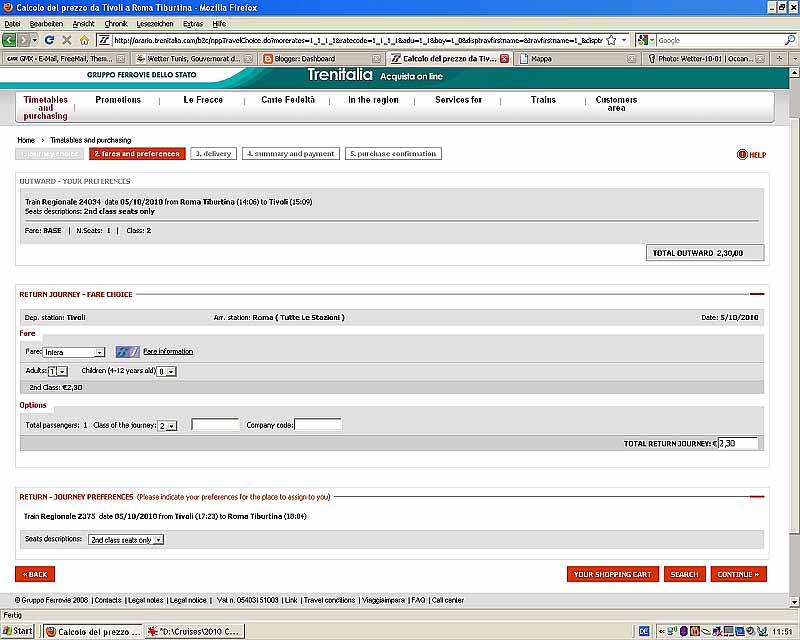 Entsprechend die Angaben für die Reiseklasse angeben.
Wichtig: man muss bei Trenitalia registriert sein.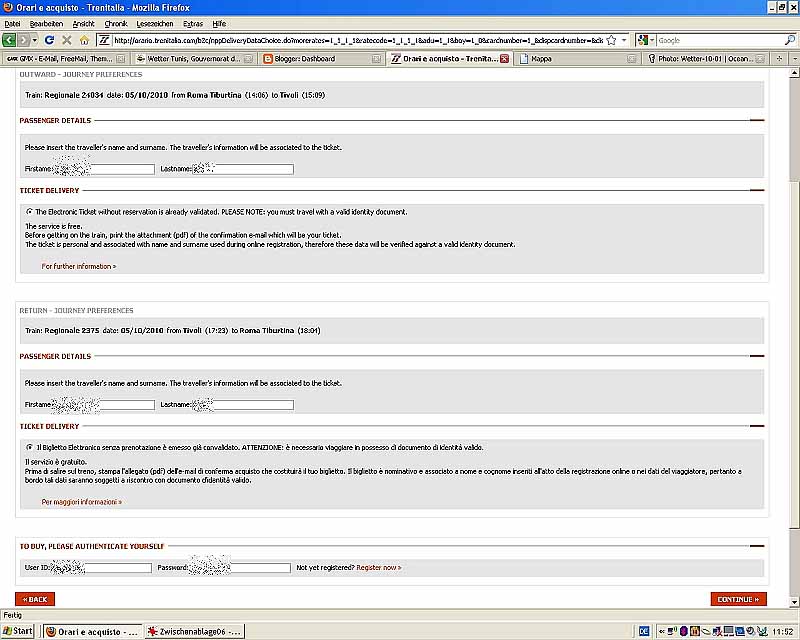 Important: you need to be registered with Trenitalia.

They show your purchases. By clicking on "New Journey", you can buy additional tickets (like here for the 2nd person). The game just restarts again. But with long-distance, you do not need to do so.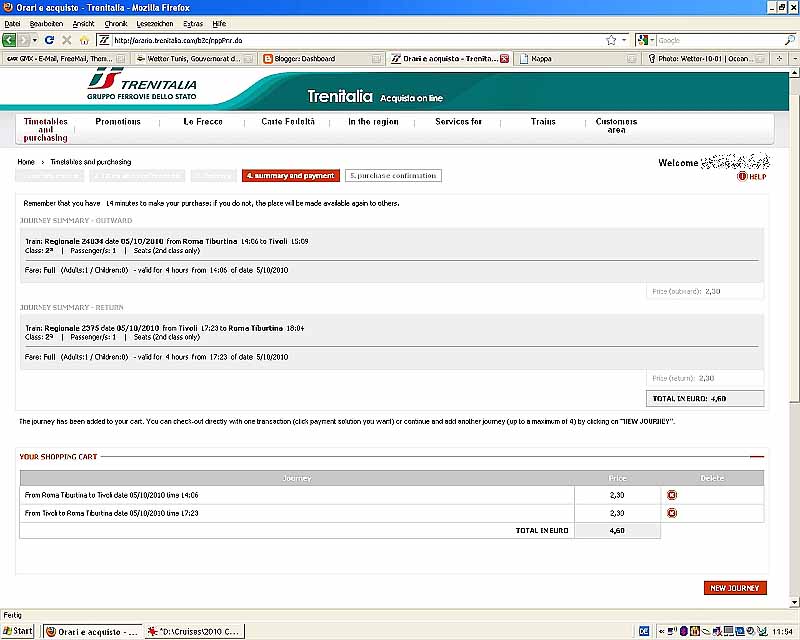 Es wird dann der Einkauf angezeigt. Durch klicken von "New Journey" kann man zusätzliche Fahrkarten kaufen (wie hier für die 2. Person). Das ganze Spiel geht von vorne los. Nur beim Fernverkehr entfällt das.
Wenn man fertig ist: "Credit Card or Prepaid".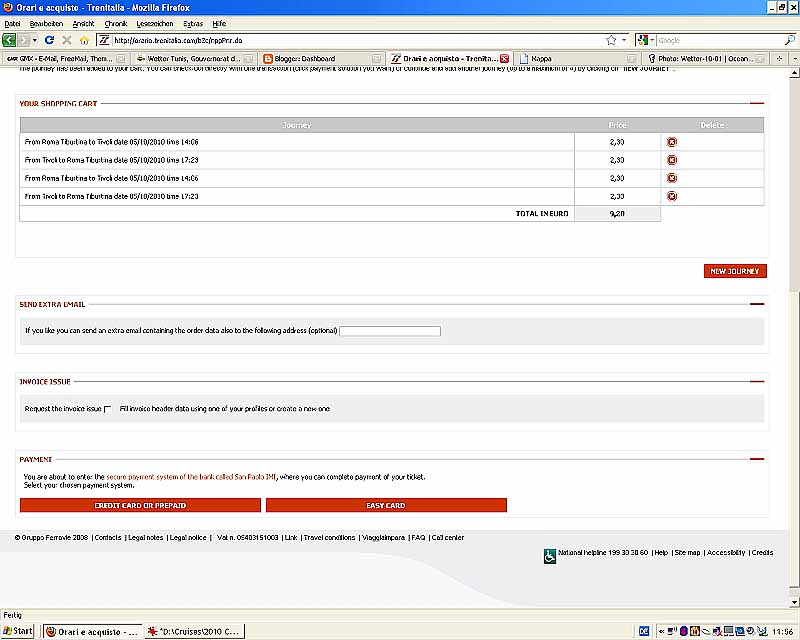 When you are finished: "Credit Card or Prepaid"

Important: your credit card (non-Italian Maestro- and American Express-cards do not work) need to be registered for MasterCard SecureCode or Verified by VISA-procedure. Your credit card company can give you more information.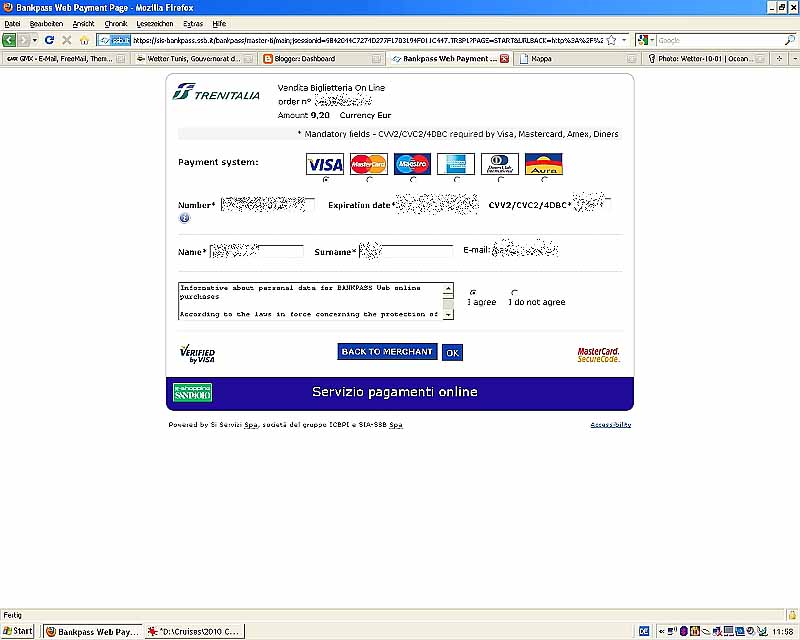 Wichtig: Die Kreditkarte (Nicht-italienische Maestro und American Express-Karten funktionieren nicht) muss am
MasterCard SecureCode
oder
Verified by VISA
-Verfahren teilnehmen. Hierüber informiert die Kreditkartengesellschaft.
In meinem Fall (das ist von Bank zu Bank unterschiedlich) bekomme ich eine zusätzliche Transaktionsnummer per SMS, die ich hier übertragen muss.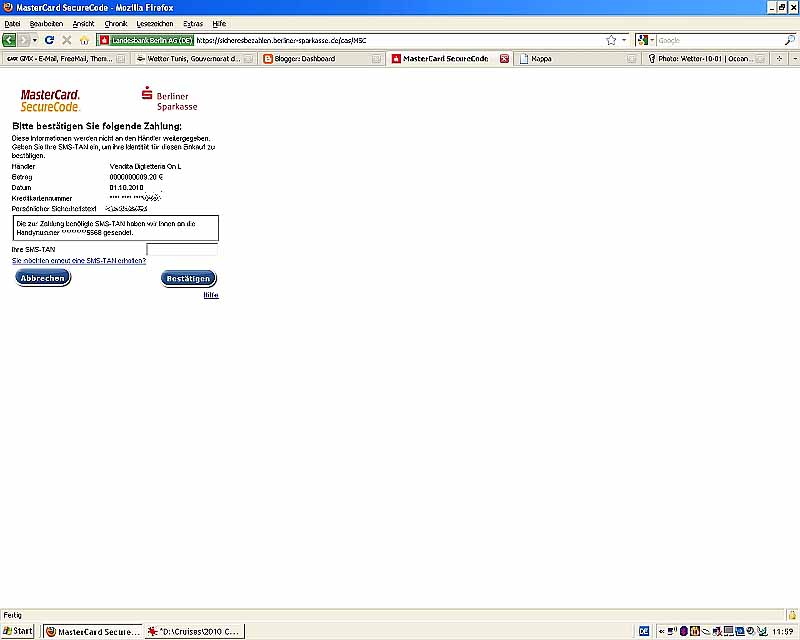 With me (may vary from bank to bank) I receive an additional transaction number will follow as a text message on my cell phone which I need to transfer to the website.

Then you get the final confirmation (will be sent additionally as e-mail).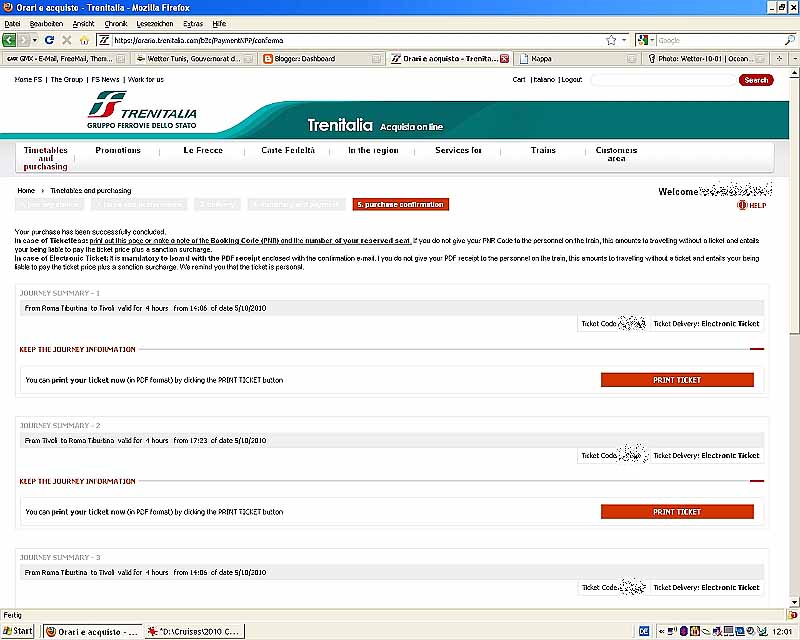 Anschließend kommt die Bestätigung (zusätzlich nochmals als E-Mail).
Und die Fahrkarte als pdf. Sie passt nicht in den Entwerter und muss daher nicht entwertet werden. Die Fahrkarte für den Regionalverkehr gilt für alle Abfahrten von 14.06 Uhr bis 18.06 Uhr ab Roma Tiburtina. Wir hätten uns die Fahrkarten im Regionalverkehr schenken können: Wir sind nur einmal im EurostarCity von Livorno nach La Spezia kontrolliert worden.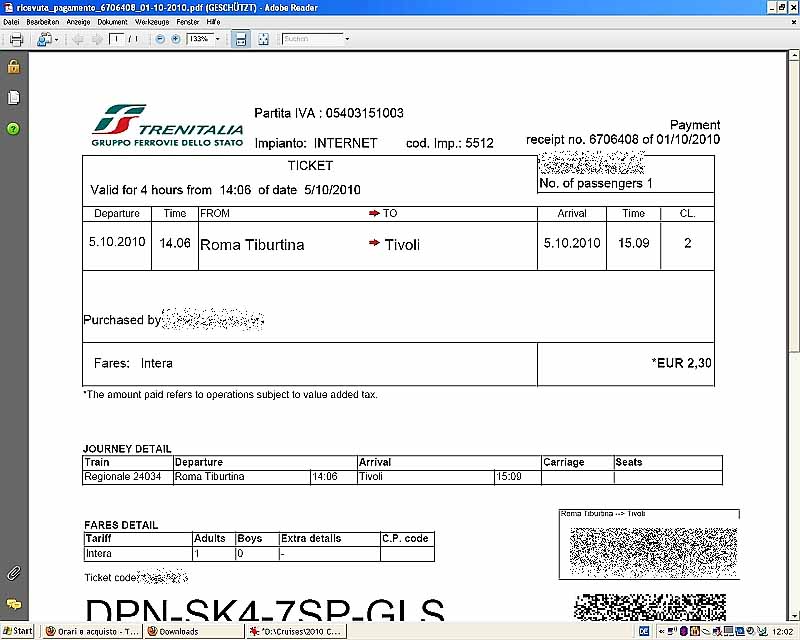 And the ticket as pdf. As it does not fit in the cancellation/validation box, you do not need to cancel/validate/punch them. The tickets for the regional traffic are valid on all departures from 14.06 hrs to 18.06 hrs from Roma Tiburtina. But there was no need to buy them: we had only one ticket check in the EurostarCity train from Livorno to La Spezia.

For practical reason, there is also baggage storage at Tiburtina train station. It costs for the first 12 hours: 3.00 EUR and for all following 12 hours 2.00 EUR. I. e. the first day only 5.00 EUR and for the entire next day 4.00 EUR - so much cheaper than in Roma Termini train station. All prices of 2010.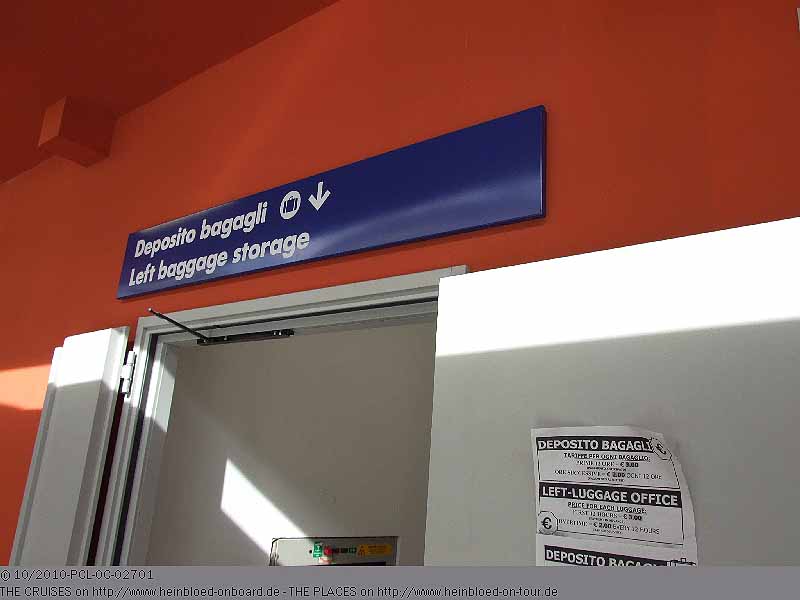 Praktischerweise gibt es im Bahnhof Tiburtinia ebenfalls eine Gepäckaufbewahrung. Sie kostet für die ersten 12 Stunden: 3,00 EUR und jede folgenden 12 Stunden 2,00 EUR. D. h. für den ersten Tag nur 5,00 EUR und jeder weitere Tag 4,00 EUR - also günstiger als im Bahnhof Roma Termini. Alle Preise von 2010.
Könnte interessant sein, wenn man nach Tivoli will und anschließend zum Flughafen.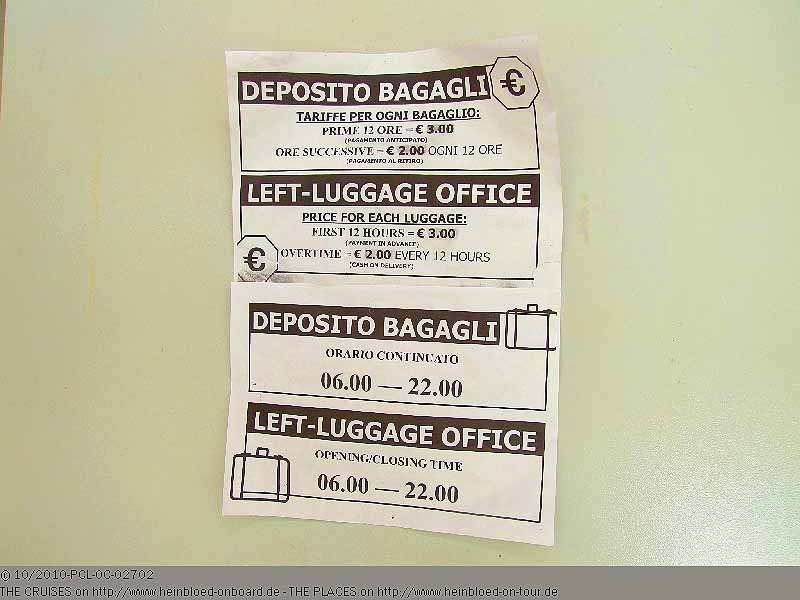 Might be interesting if you want to see Tivoli and later want to continue to the airport.

We caught a gap in the schedule. The next train to Tivoli should leave in 36 minutes.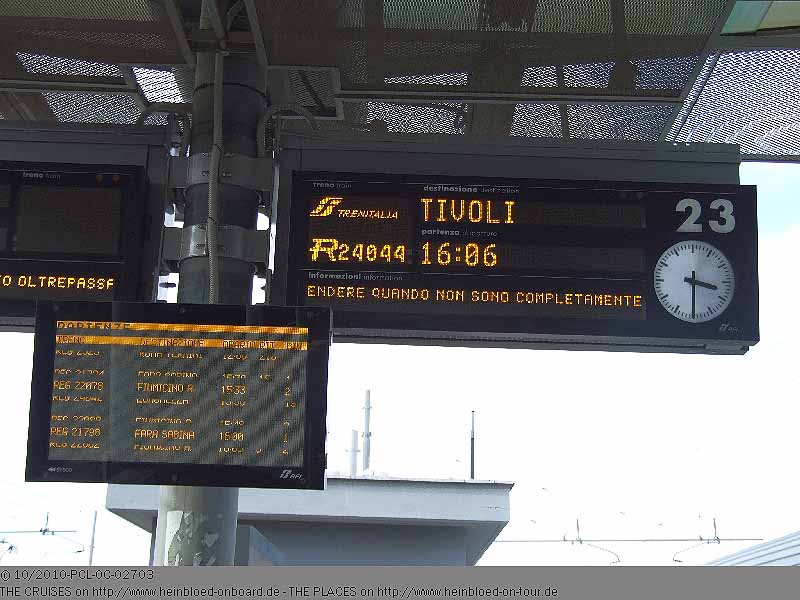 Wir erwischen ausgerechnet ein Fahrplanloch. Der nächste Zug nach Tivoli geht erst in 36 Minuten.
Meine Tage mit Trenitalia sind hoffentlich bald gezählt.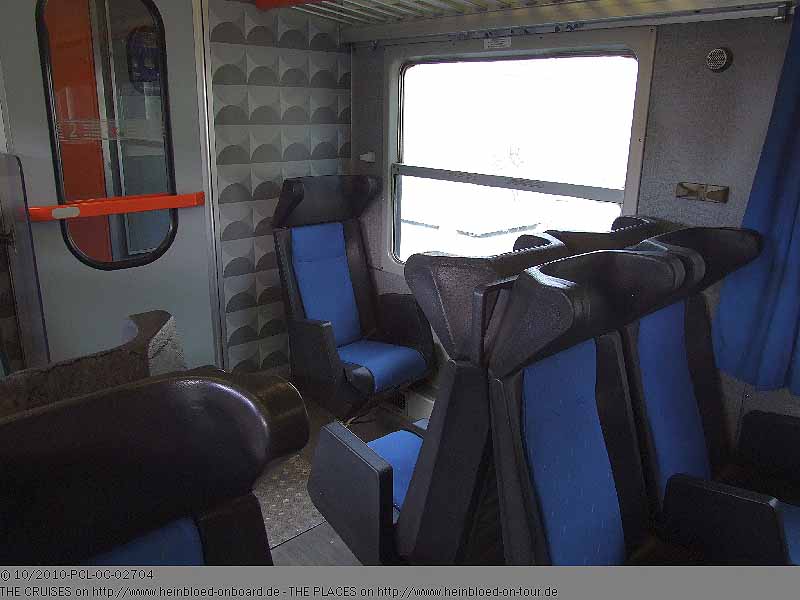 I hope my days on Trenitalia are gone soon.

The ride by train was lovely. It was like a ride in the Tuscany.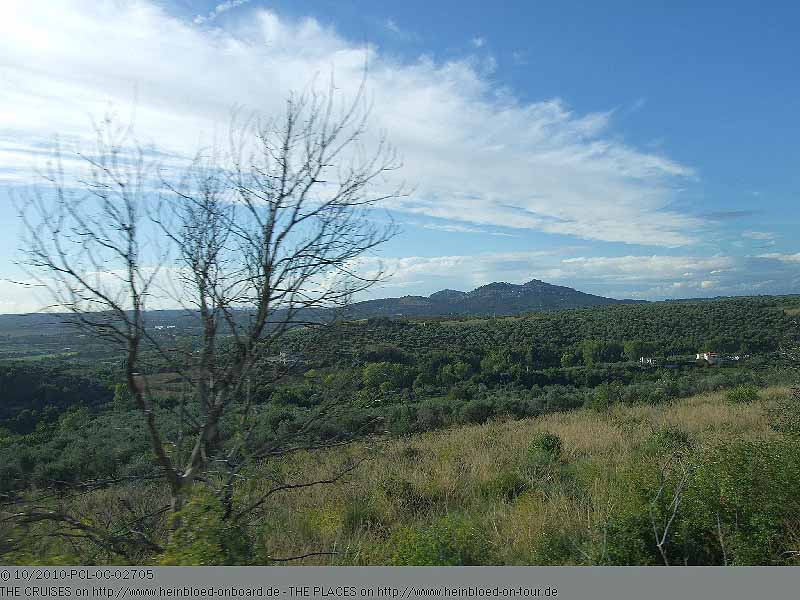 Die Fahrt mit der Bahn ist sehr schön. Man kommt sich vor, wie in der Toskana.
Tivoli ist weiter oben gebaut, so muss die Bahn in lange Kurven nach oben geführt werden.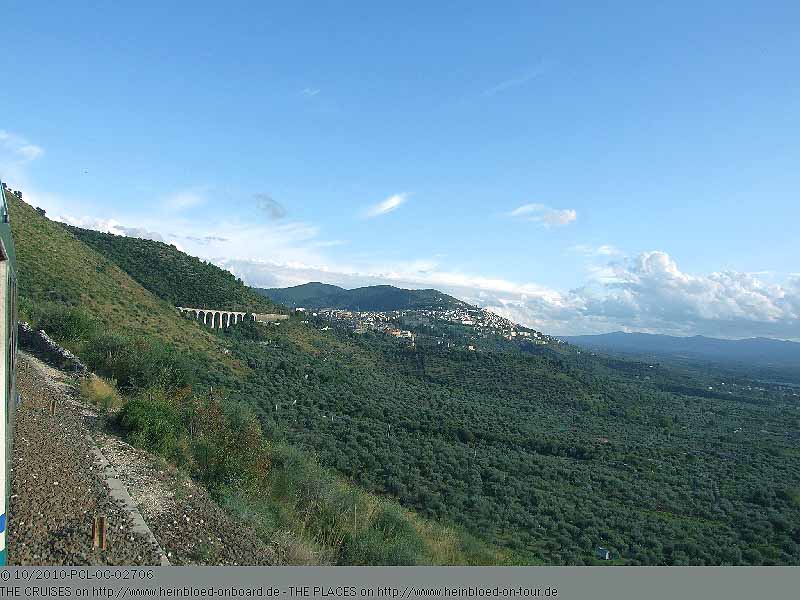 Tivoli was built on an elevated level so the train need long curves to the upper level.

Finally: 17.06 hrs at Tivoli.

Endlich da: 17.06 Uhr in Tivoli.
Ein kleiner überschaubarer Bahnhof.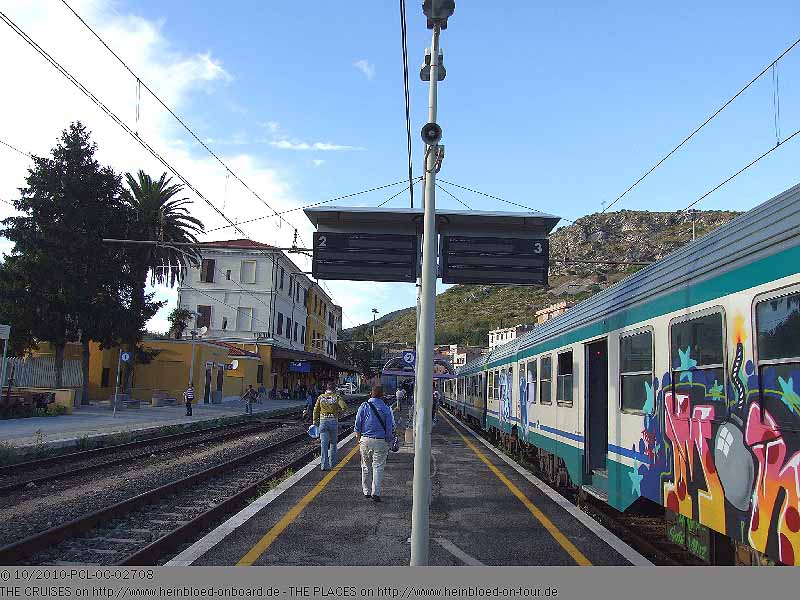 A little manageable station.

We went quickly to the bar to buy tickets. At 17:15 hrs buses, 1 and 4 should depart for Villa d'Este. Line 4 should need 5 minutes and Line 1 10 minutes. According to the plan of Trenitalia.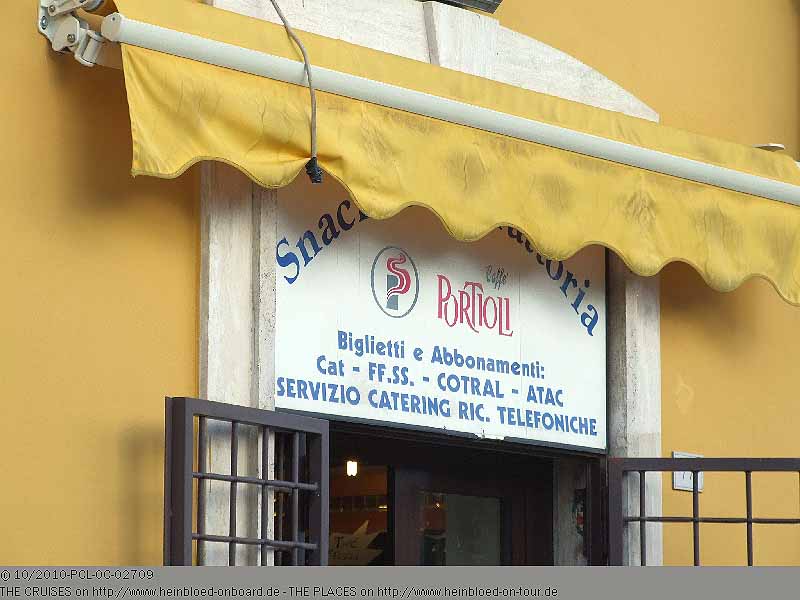 Wir gehen schnell in die Bar, um Fahrkarten zu kaufen. Um 17:15 Uhr sollen die Busse der Linien 1 und 4 nach Villa d'Este fahren. Linie 4 braucht nur 5 Minuten und Linie 1 10 Minuten. So laut
Plan bei Trenitalia
.
Die Fahrkarten kosten 1,00 EUR (2010).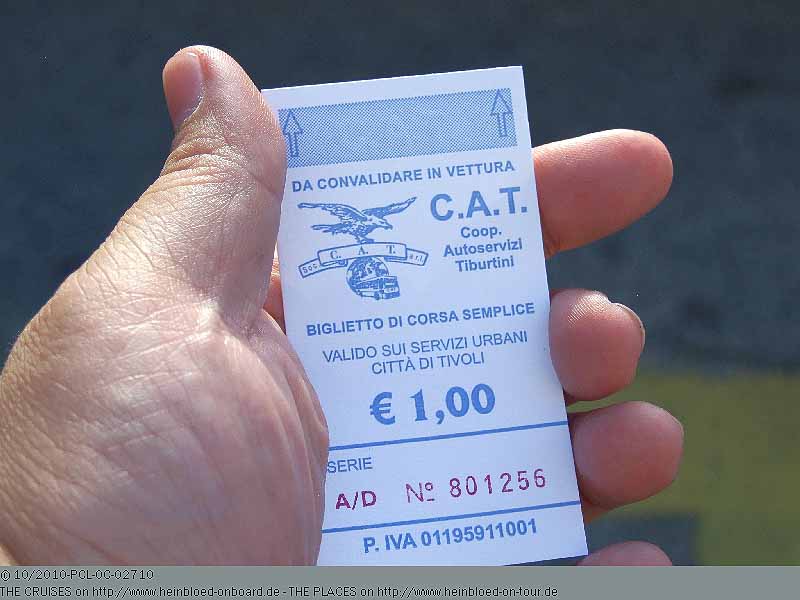 Tickets are available for 1.00 EUR (2010).

The bus stop is just in front of the train station building.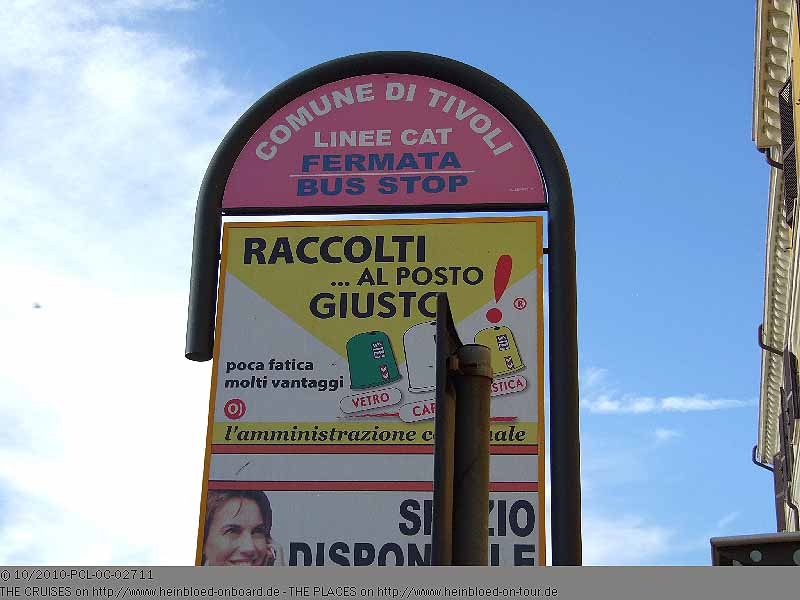 Die Haltestelle befindet sich direkt vor dem Bahnhofsgebäude.
Einen Bus der Linie 4 habe ich ja gestern an der Villa Adriana gesehen: der würde hier gar nicht reinpassen. So kommt zumindest die
Linie 1
.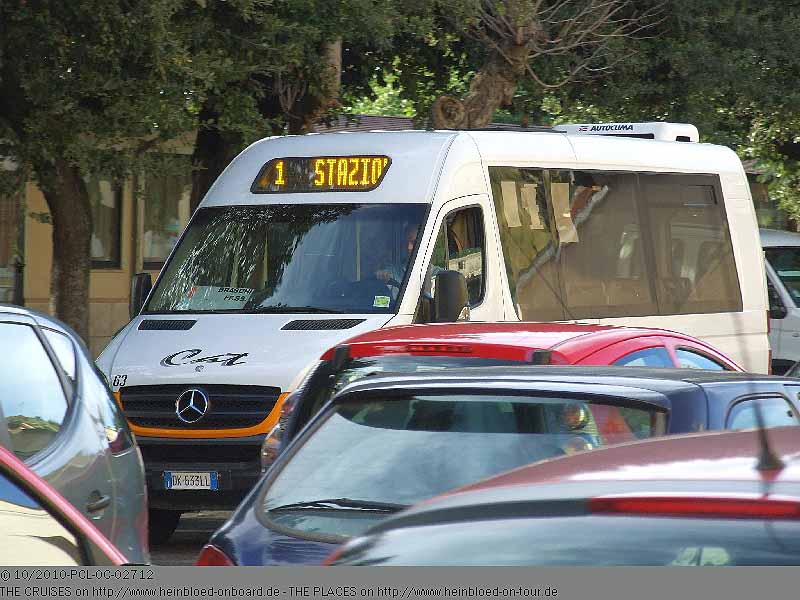 I saw yesterday a bus of route 4 at Villa Adriana: it would not fit to the station square. So only bus 1 came.

But it runs big loops as it connects multiple neighborhoods with each other. We were released at this fortress.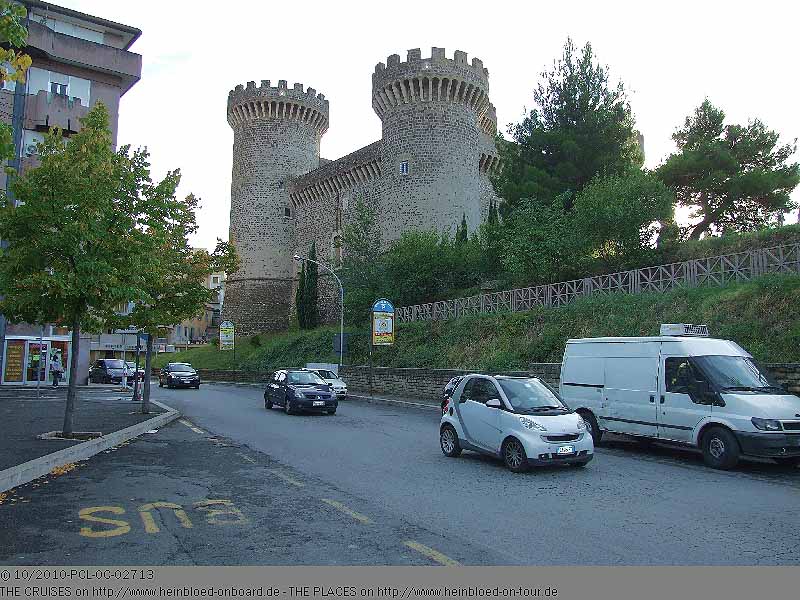 Die macht jedoch noch eine große Schleife, da sie in mehreren Schleifen die Ortsteile miteinander verbindet. An dieser Festung werden wir rausgelassen.
Um die Ecke in Fahrtrichtung nach links und runter.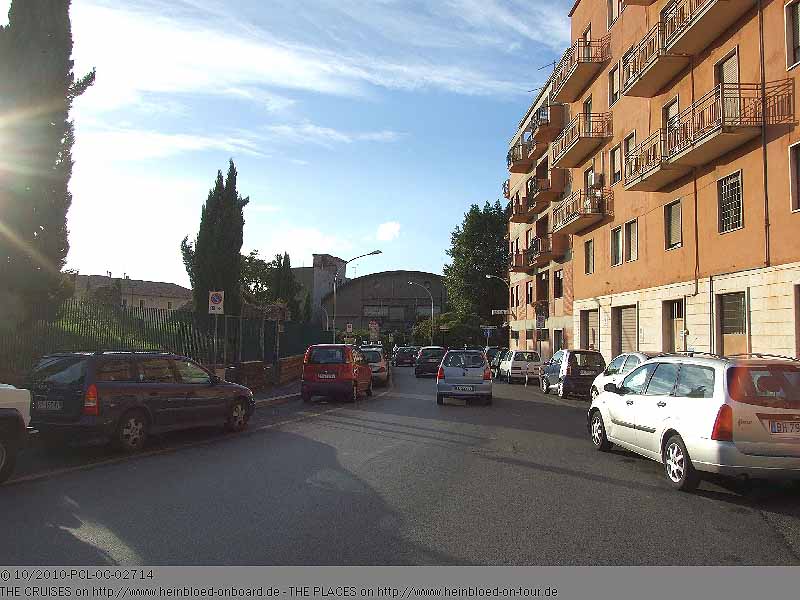 Around the corner to the left in direction of the ride and down.

Just follow the signs.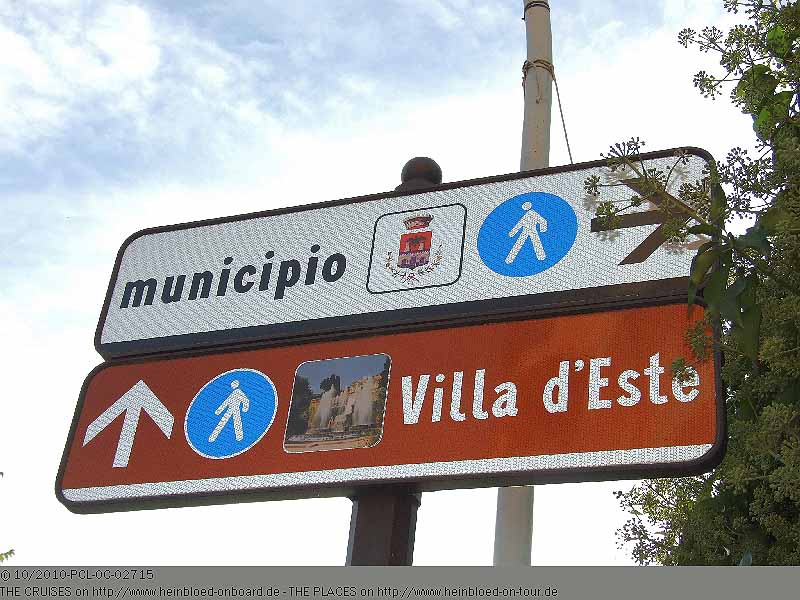 Den Schildern hinterher laufen.
An diesem Platz dann rechts vorbei.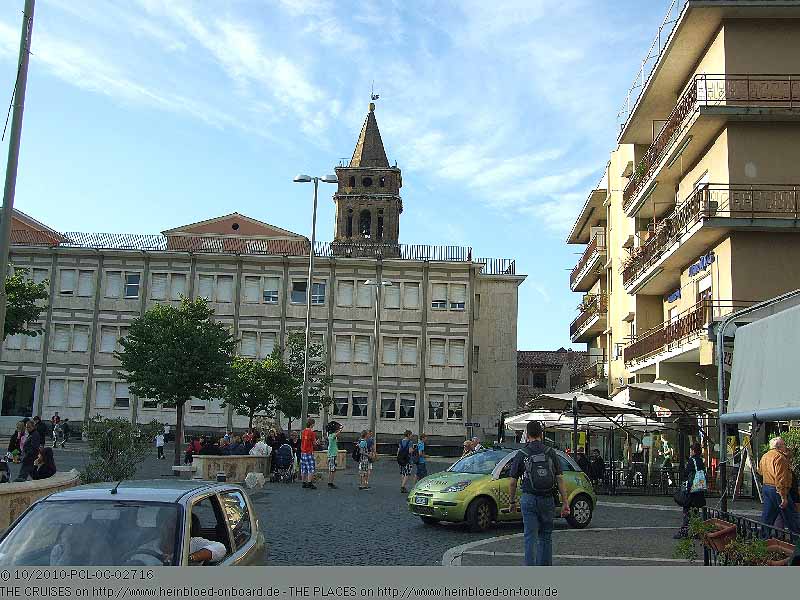 To the right when you arrive at this square.

And you see the entrance to the left.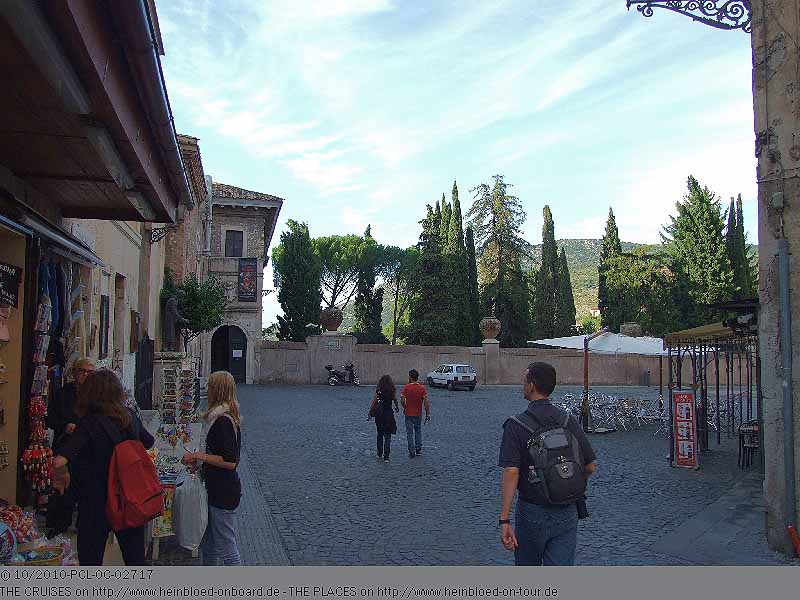 Und links ist dann der Eingang.
Die anderen Reisen in diesem Blog/
The other voyages in this blog: