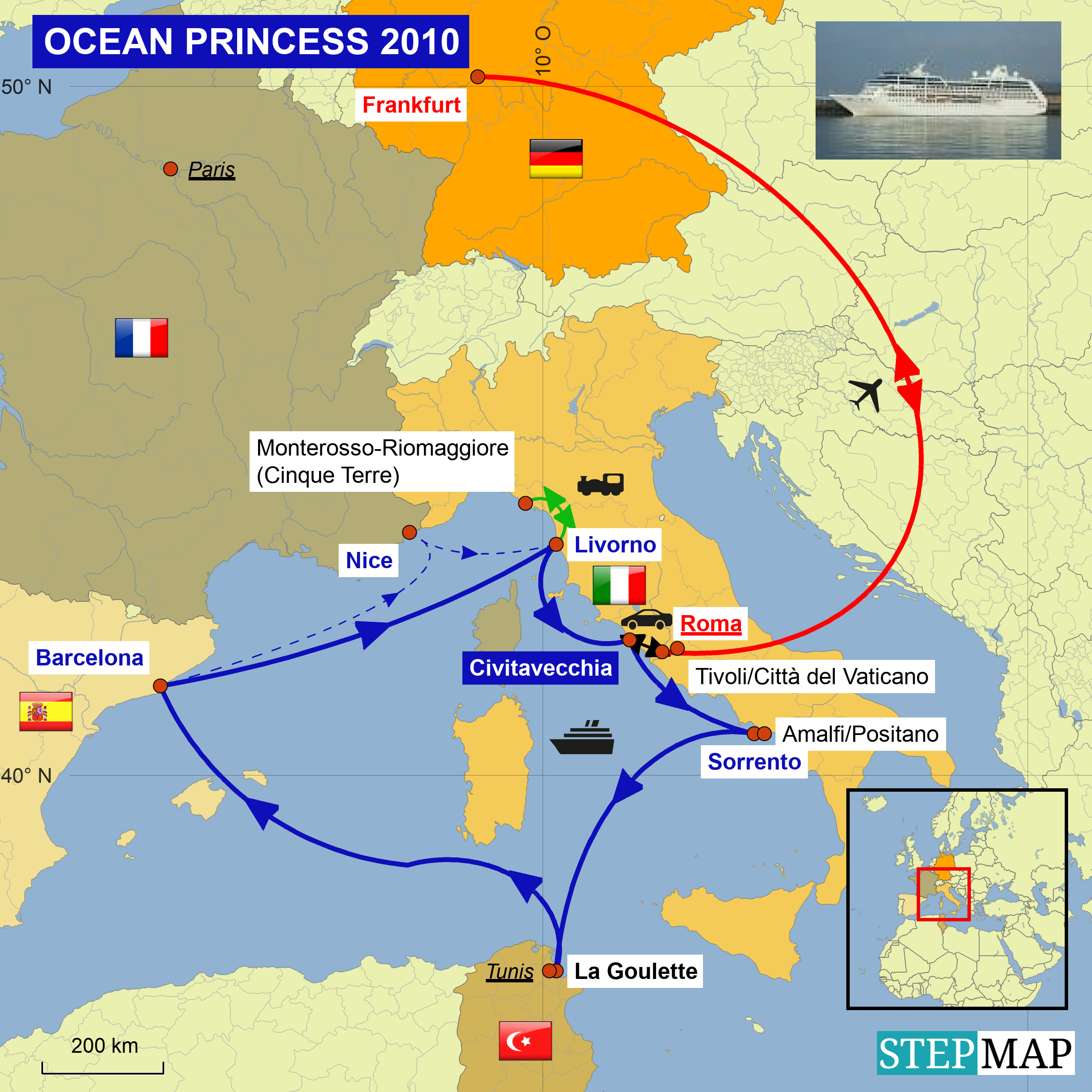 Ich hatte mir für die 1. Nacht Fiumicino ausgewählt. Eigentlich anders geplant mit Mietwagen, wollte ich dann hinterher nichts mehr ändern, als sich dann doch noch Mitfahrer für einen Transfer von Rom nach Civitavecchia fanden. Die Flughafen-Hotels waren nicht die billigsten, aber 71,00 EUR inkl. Frühstück und WLAN fand ich dann doch in Ordnung. In Strandnähe und guter Verkehrsanbindung nach Ostia: Das
Best Western Riviera Hotel
.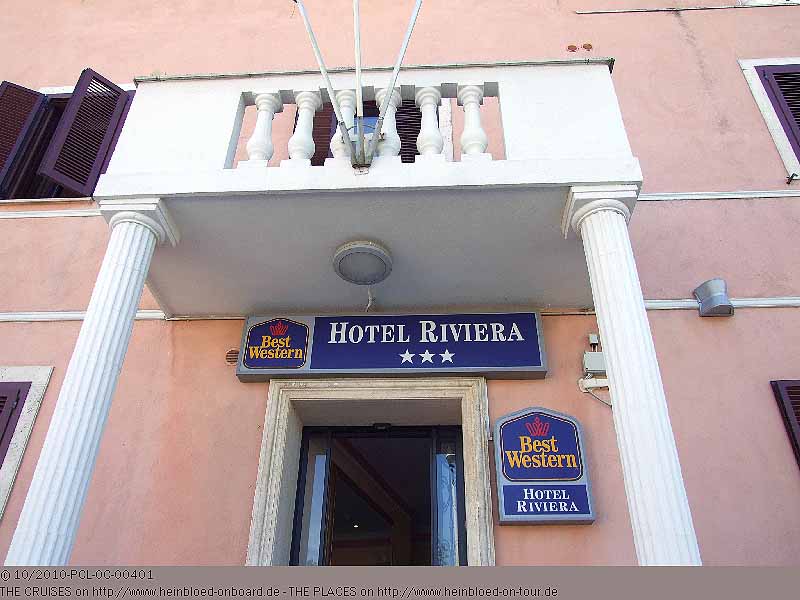 I choose for the 1st night Fiumicino. It was originally planned another way by car rental. But when someone was found to share the transfers from Rome to Civitavecchia, we did not want to change anymore. The airport hotels were not the cheapest but 71.00 EUR incl. breakfast and WiFi were quite fine. Close to the beach and good connections to Ostia: The Best Western Riviera Hotel.

Indeed not so far away from the beach. You can see the hotel-sign illuminated to the center of the right side.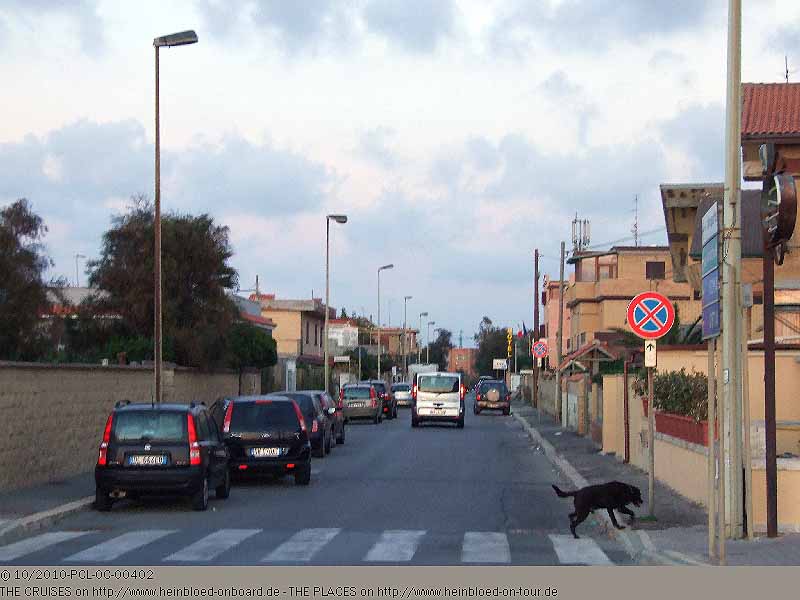 Vom Strand in der Tat nicht weit. Das Hotel-Schild leuchtet rechts in der Mitte.
Ein kleiner Innenhof, an dem sich unser Zimmer anschließt.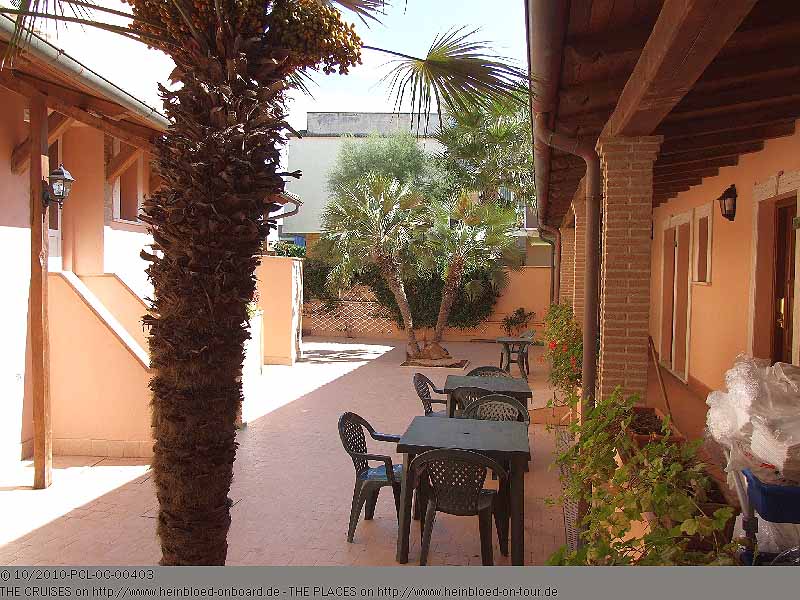 A small court which connects to our room.

Our room was available at 11.00 hrs so we could move directly to our room. Just number 306 was somehow confusing as we thought it might be on the 3rd floor...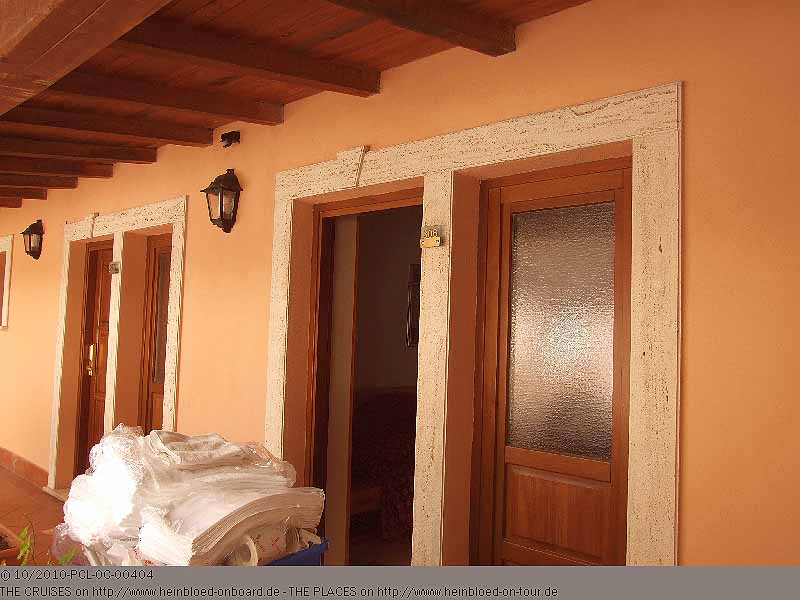 Unser Zimmer war um 11.00 Uhr auch schon fertig, so dass wir es direkt beziehen konnten. Die Nummer 306 war bloß etwas irritierend, so dass wir dachten, dass es zunächst im 3. Stock liegt...
Das ganze erinnert an eine Innenkabine, da es keine Fenster gibt, die man zum Lüften öffnen kann. Auch von der Größe. Aber es ist alles da, was man braucht und es ist sauber. Das Personal ist auch freundlich und hilfsbereit. Was will man mehr für den Preis erwarten???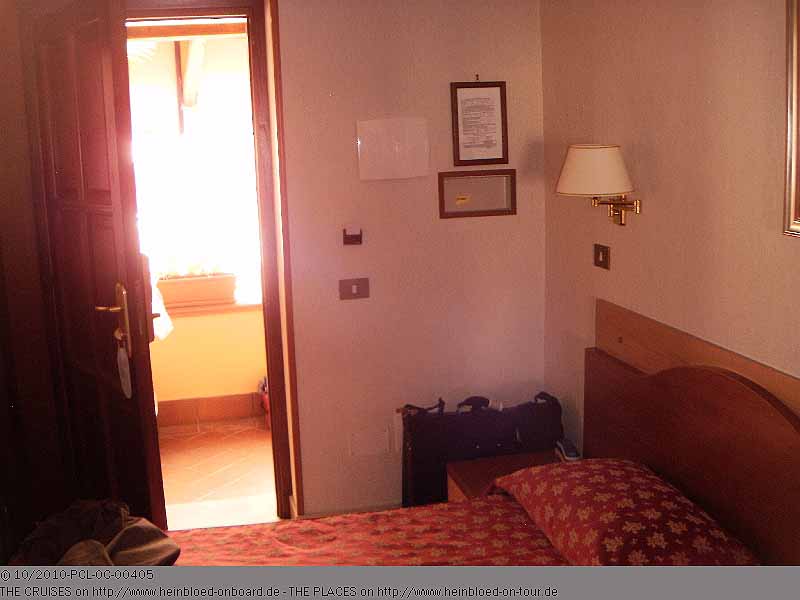 It reminded us to an inside cabin with no window to open to get some fresh air. The size as well. But everything you need was available, and it was clean. The staff members were friendly and helpful. What do you need more for this rate???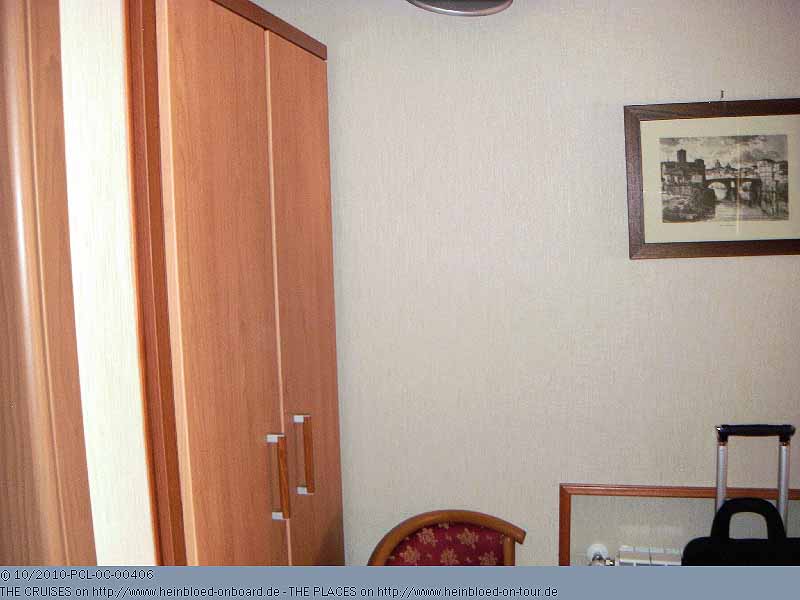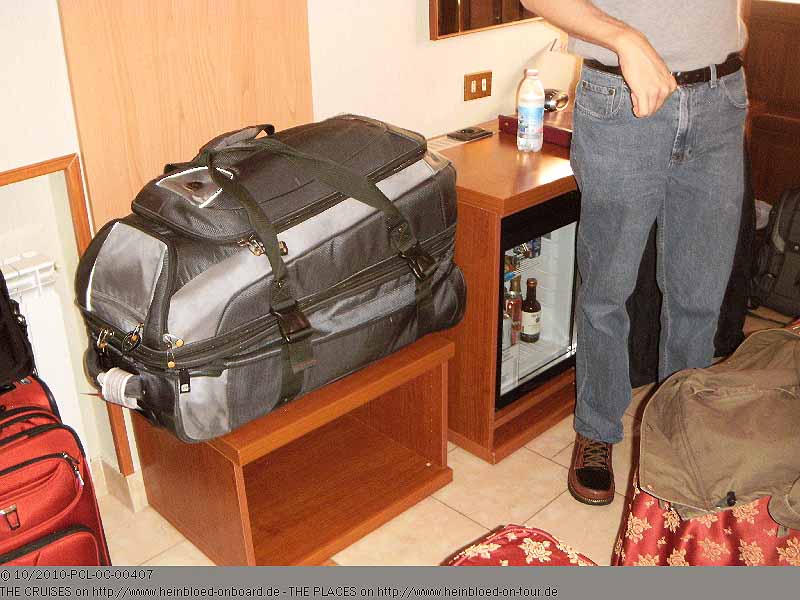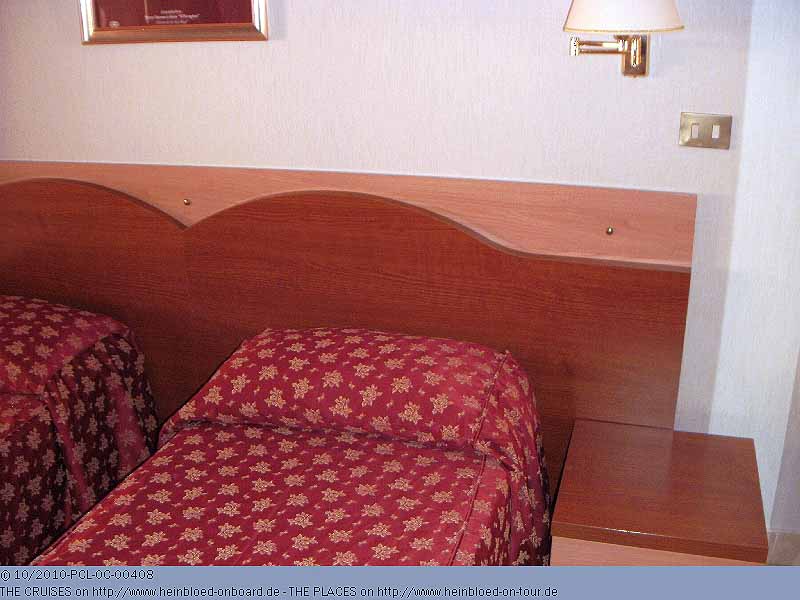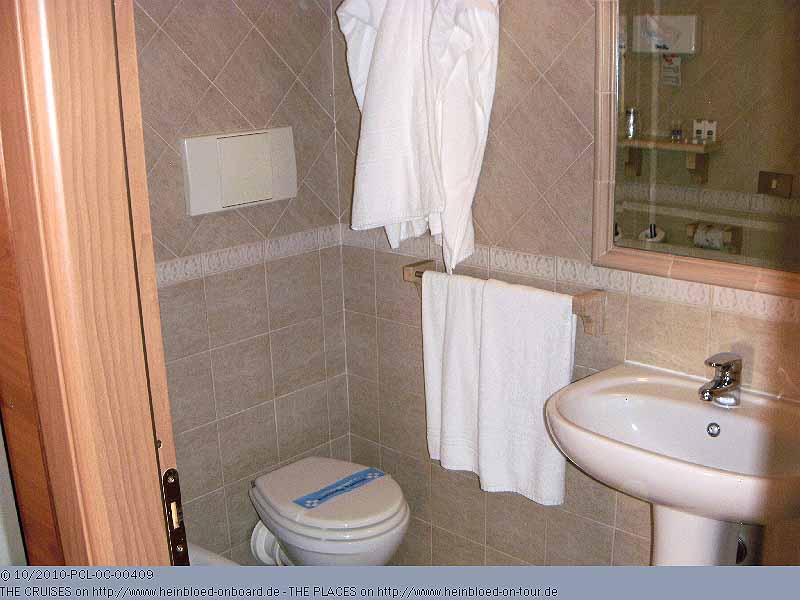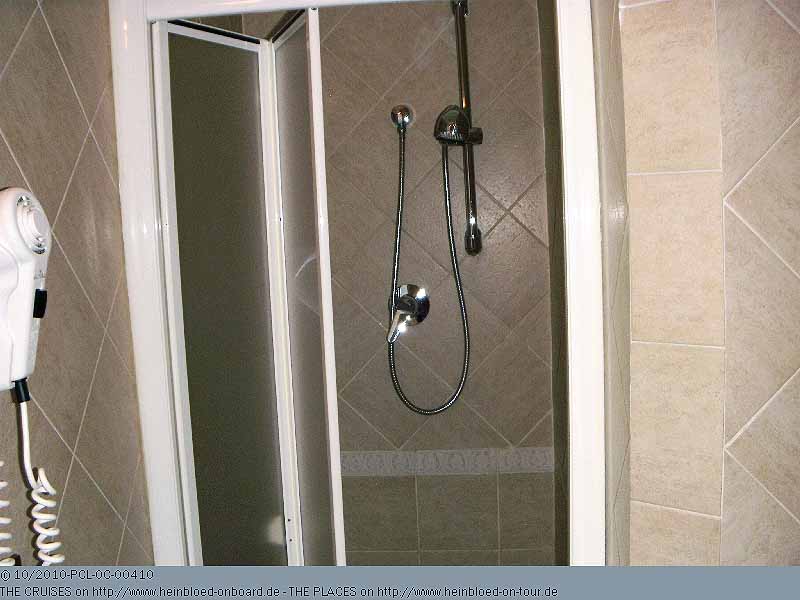 Wir wollen weiter nach Ostia Antica. Es gibt die kommunalen Verkehrsbetriebe als auch die regionalen Verkehrsbetriebe: hier in Lazio
COTRAL
. So müssen wir zunächst an einem heiligen Sonntag einen Händler finden, der Fahrkarten verkauft, da im Hotel die COTRAL-Fahrkarten ausgegangen sind. Aber da wir Zeit haben laufen wir ca. 15 Minuten und finden einen Zeitungshändler, der uns für 1,20 EUR das Stück die Fahrkarten verkauft. Die Datumsangabe bezieht sich auf die Erstellung der Tickets.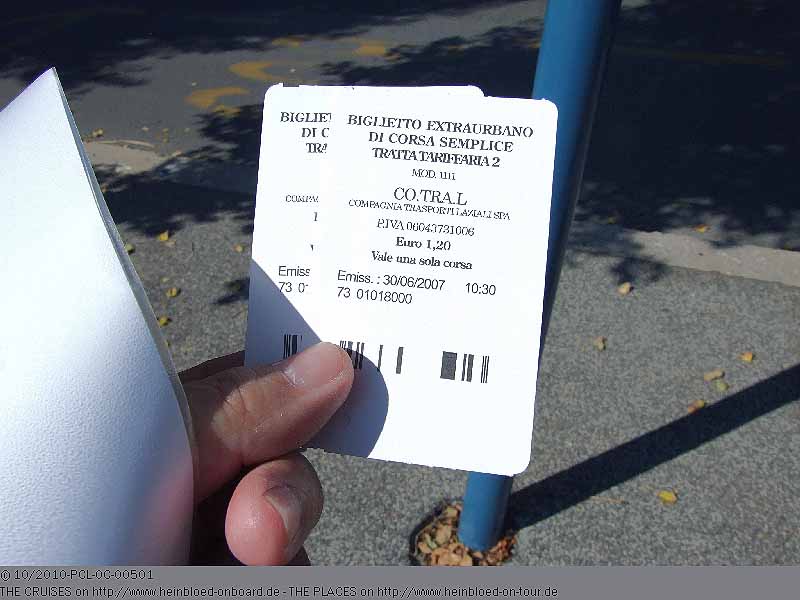 We wanted to continue for Ostia Antica. There are city transport companies and as well regional transport companies: here in Lazio it's COTRAL. So we need to find on a holy Sunday, a dealer who sells tickets as the hotel has no more COTRAL-tickets in stock. As we had enough time, we walked for about 15 minutes and found a newsstand who sold the tickets for 1.20 EUR per ride. The date on the ticket is the print-out-date.

You need to find a COTRAL-bus stop. Foremost you need to check ahead of your travel when the bus supposed to depart. Only guaranteed departures are available from the terminals and essential transfer points. The rest is just gambling and estimating as nothing is shown at the bus stop. Here with COTRAL in Fiumicino, it worked quite well as the buses departed at the time I calculated before. Or you use their itinerary planner if you know precisely the name of your bus stop or an address. But it's not guaranteed just an estimation, and as it is not integrated it might be that you need to walk 2 miles as the buses of the competitors are not in the same system.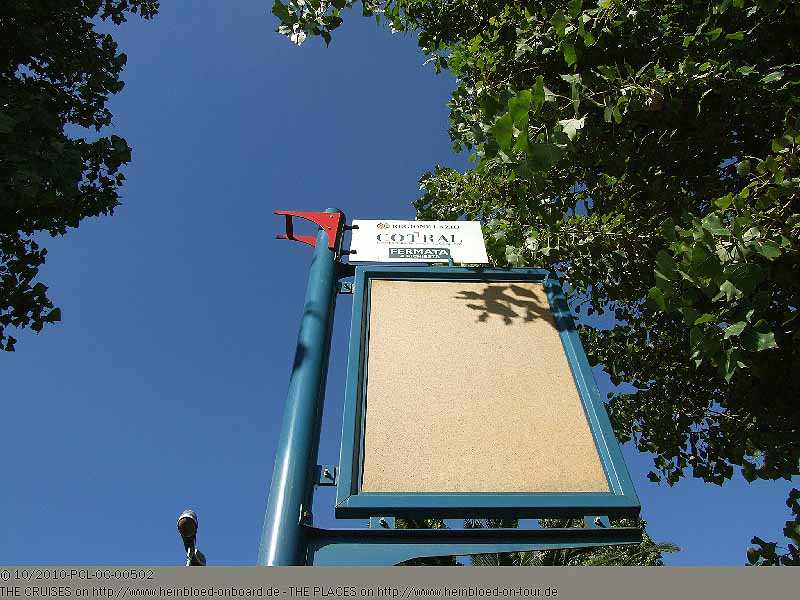 Man muss eine Haltestelle von COTRAL finden. Wichtig: man muss sich vorher im Internet erkundigen, wann die Busse kommen und es gibt nur garantierte Abfahrtszeiten von den Endstellen und von bestimmten Knotenpunkten. Der Rest ist eine Hochrechnung, da an den Haltestellen nichts angezeigt wird. Bei COTRAL hier in Fiumicino klappt es jedoch ganz gut und die Busse fahren auch dann ab, zu dem ich es hochgerechnet habe. Alternativ nutzt man den Routenplaner, wenn man genau die Haltestelle weiss oder die Straßenangabe. Nur es sind keine garantierte Zeiten und es ist selten übergreifend, so dass man gemäß Planer auch mal 3 km laufen kann, weil die Busse von der Konkurrenz nicht im gleichen System vorhanden sind.
Wichtig: die Fahrkarten müssen im Bus noch entwertet werden.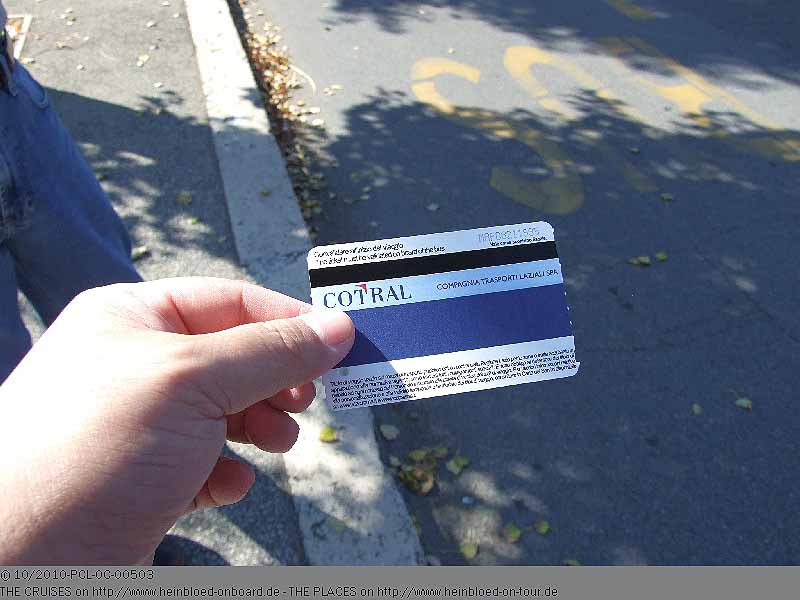 Important: the tickets need to be cancelled/stamped/punched once you get into the bus.

The COTRAL-Bus just stop in front of the train station building at Lido Centro. You could continue on this bus to Ostia Antica after a short break. But we preferred to change to the subway. By the way, the Fiumicino-Leonardo da Vinci-Airport bound buses depart from here as well.

Der COTRAL-Bus hält am Bahnhof Lido Centro direkt vor dem Bahnhofsgebäude. Eigentlich könnten wir mit ihm weiterfahren und würden auch so nach Ostia Antica kommen nach einer kurzen Pause. Aber wir steigen hier doch in die
U-Bahn
um. Von hier aus fahren übrigens auch direkte Busse zum Flughafen Fiumicino-Leonardo da Vinci.
Zurück in unsere Richtung Fiumicino (Flughafen und Hotel) halten die Busse auch am Rande von Ostia Antica. Allerdings etwa geschätzte 8-10 Minuten vom Zugangsbereich von den Ausgrabungsstätten an der Schnellstraße: so am südwestlichen Ende des Geländes. Nach Ostia Antica muss man daher erst nach Lido fahren und dann wieder mit zurückfahren, wenn man nicht umsteigen will.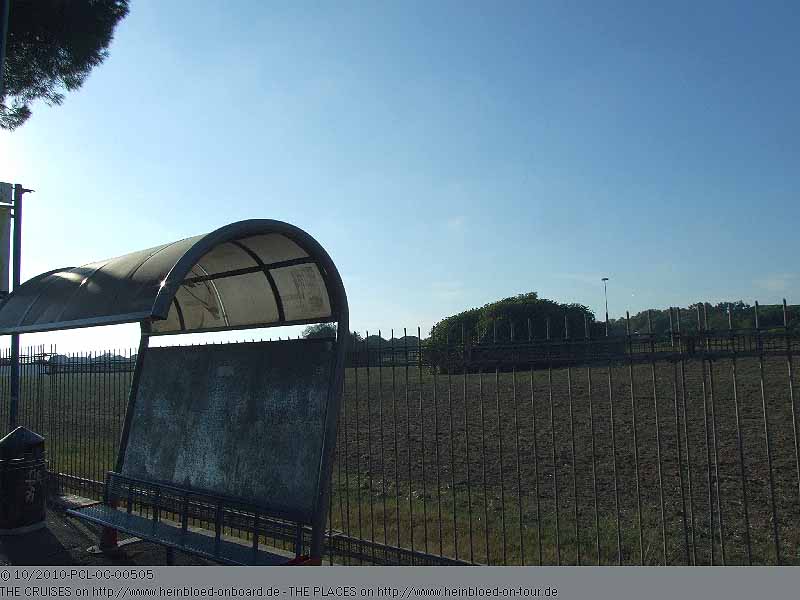 Back towards Fiumicino (Airport and Hotel) the buses stopped at the Ostia Antica area as well. But you will need to walk 8-10 minutes from the entrance area of the site at the expressway: at the Southwestern end of the area. To Ostia Antica, you need to go to Lido first and on the way back you reach it if you do not want to transfer.

We bought a Roma Pass which is valid for three days incl. public transport on ATAC (Rome's public transport) but no commuter trains of Trenitalia or COTRAL-buses. The first two attractions you can enter without admission fee and queuing up. For the following attractions, you get a discount. The pass costs 25.00 EUR (2010). Admission to the Colosseum (incl. Forum Romanum) would be 12.00 EUR (2010) and for Ostia Antica 6.50 EUR (2010) = 18.50 EUR.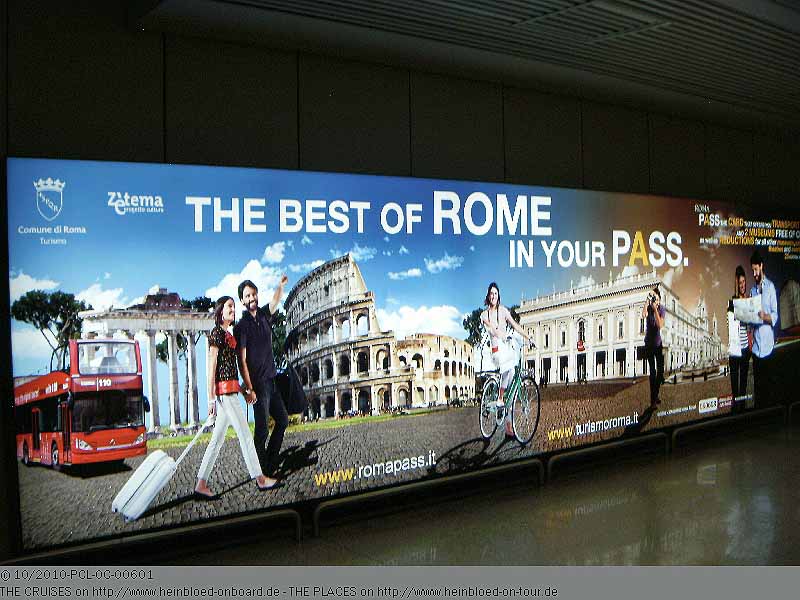 Wir hatten uns jedoch einen
Roma Pass
besorgt, der drei Tage in Rom gilt - inkl. Transport mit
ATAC (Römische Verkehrsbetriebe)
, jedoch ohne S-Bahnen von Trentitalia (inkl. Leornardo-Express) und COTRAL-Bussen. Bei den ersten beiden Sehenswürdigkeiten kommt man umsonst und ohne Anstehen rein. An den folgenden Attraktionen bekommt man Rabatt. Der Pass kostet 25,00 EUR (2010). Der Eintritt ins Collosseum (inkl. Forum Romanum) kostet 12,00 EUR (2010) und Ostia Antica 6,50 EUR (2010) = 18,50 EUR.
Die Pässe kann man im Internet vorbestellen und muss sie hier abholen. Also kann man sie auch gleich hier am Flughafen, Terminal 3, Ankunftshalle kaufen.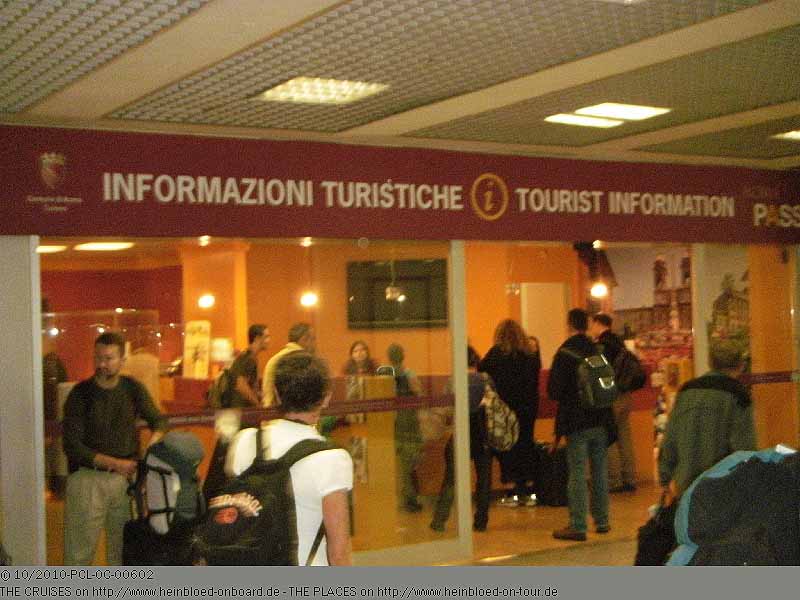 You can pre-purchase the passes in the internet but you need to collect them anyway. So you can buy them directly at the airport Terminal 3 arrival hall.

You get a kit with all the information.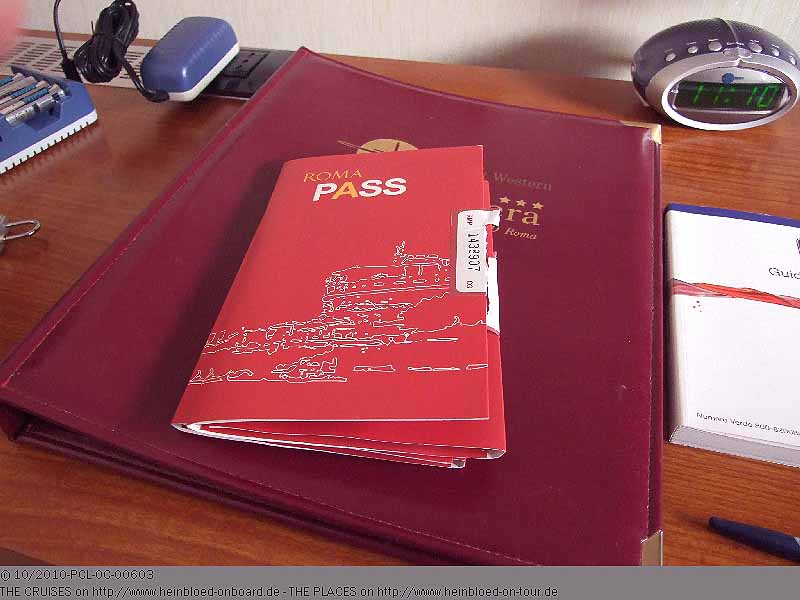 Man erhält einen Umschlag mit allen Informationen.
Karte, Servicenummer, Führer und Stadtplan.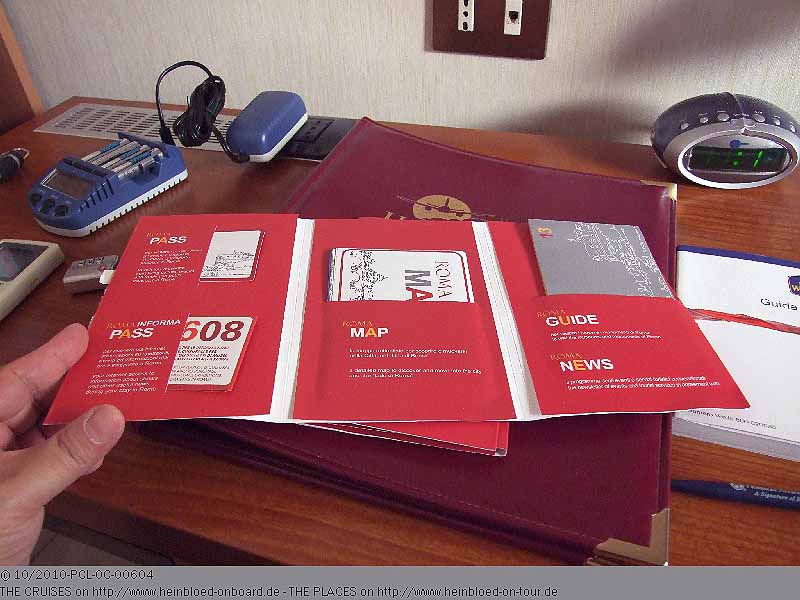 Pass, service number, guide and map.

You just add your name and the first date of the validity.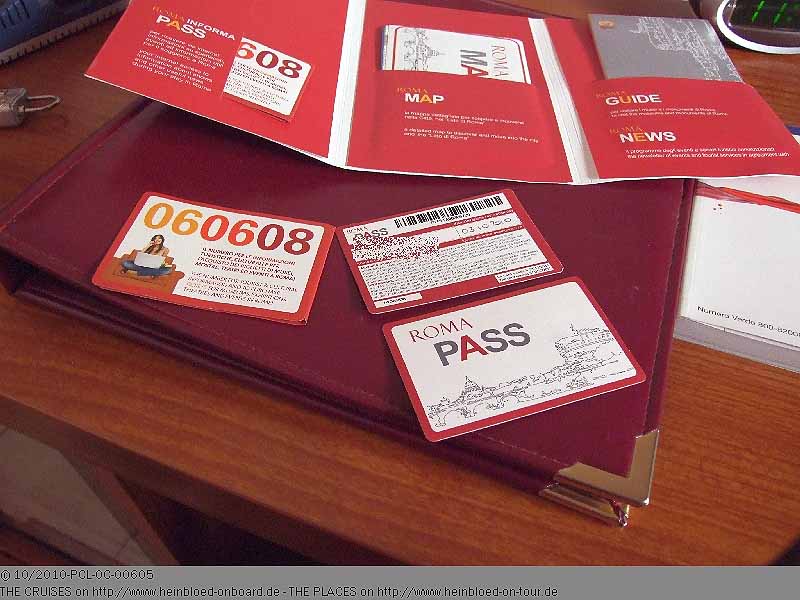 Man füllt einfach seinen Namen und den ersten Tag der Gültigkeit aus.
Der Pass ist mit einem RFID-Tag ausgerüstet, d. h. beim 1. Mal wird die Karte aktiviert. Im Bus und an manchen Bahnsteigszugangskontrollen in dem die Karte vor das gelbe Feld gehalten wird.

The pass contains an RFID-Tag which will be activated with the first visit. On the bus or at the train's access points to you need to hold the pass in front of the yellow area.

With this kind of access control you need to hold your pass at the yellow area.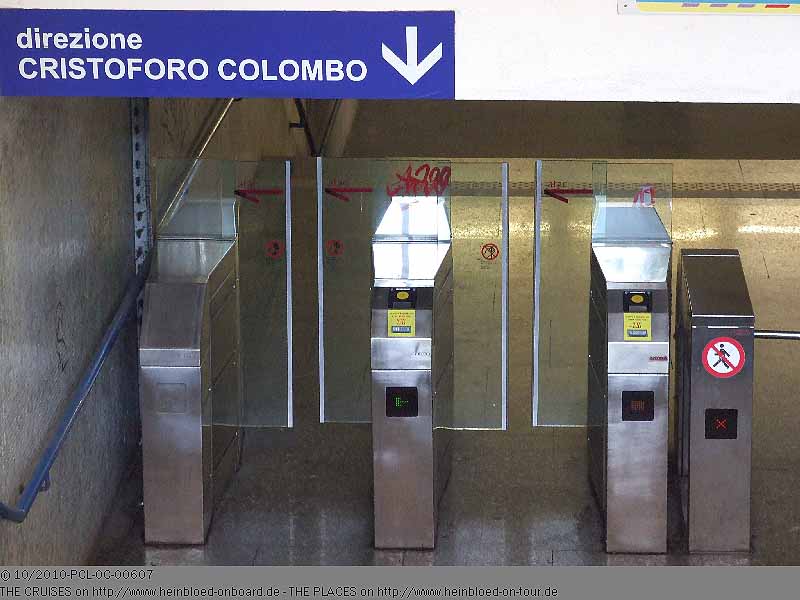 Bei diesen Sperren an das gelbe Feld halten.
An einem Fahrkartenautomaten informieren wir uns über die Angebote. Die Automaten können auch in anderen Sprachen bedient werden, wenn man links unten den Knopf neben den Flaggen drückt.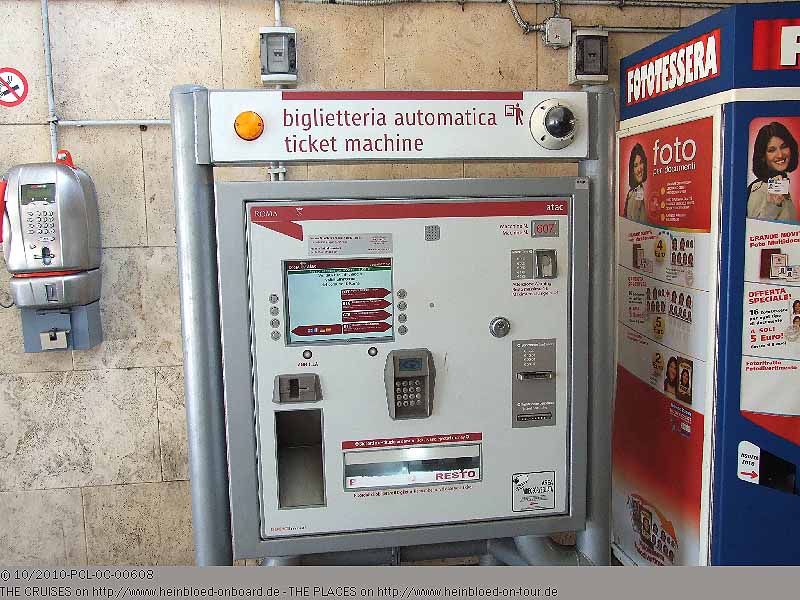 At a ticket machine we learned about their offers. The machines can be operated in various languages if you push the button at the bottom of the left part with the flags.

Let's try English and try the button at the top of the right side.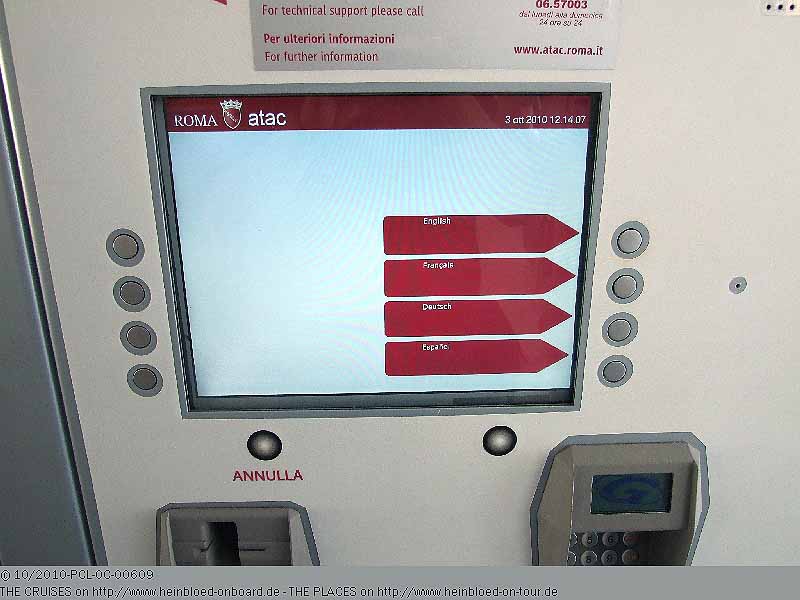 Wir nehmen mal Englisch und drücken den Knopf rechts oben.
BIT sind einfache Fahrten für 1,00 EUR (2010) innerhalb von 75 Minuten.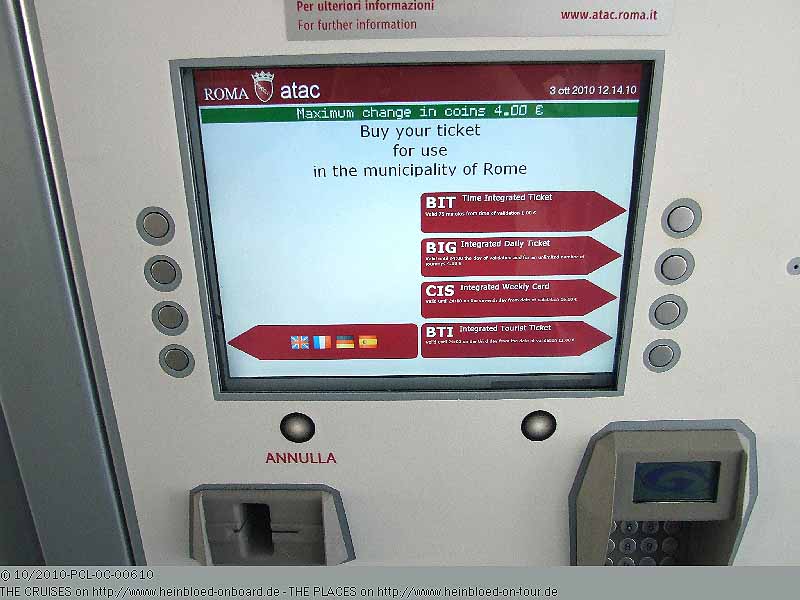 BIT are single rides for 1.00 EUR (2010) within 75 minutes.

We dislike the idea to think about if we need a new ticket or not: BIG were 24-hours-passes for 4.00 EUR (2010)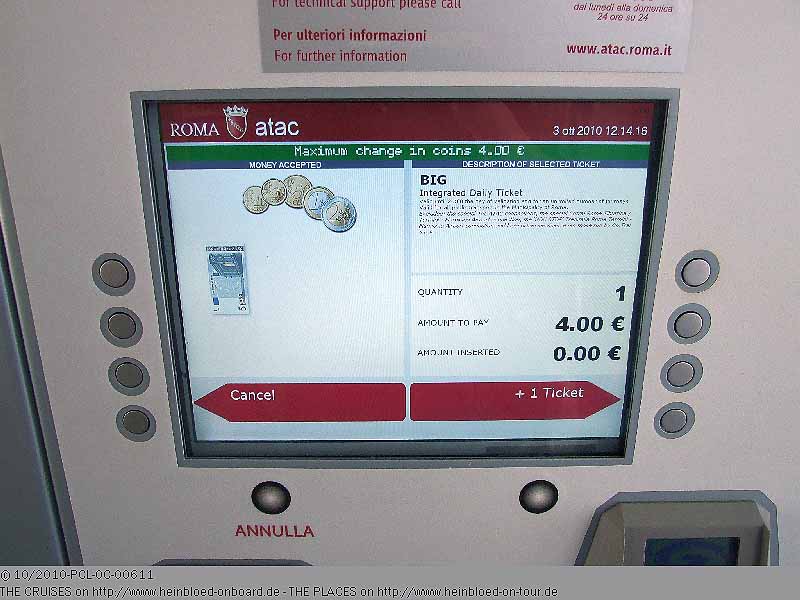 Wir haben eigentlich keine Lust ständig darüber nachzudenken, ob wir eine neue Fahrkarte brauchen oder nicht: BIG sind 24-Stunden Karten für 4,00 EUR (2010).
Und BTI 3-Tages-Tickets für 11,00 EUR (2010) plus 18,50 EUR von den Einzeleintritten macht es 29,50 EUR und damit ist ein Roma Pass billiger für uns: 25,00 EUR (2010). Gutes Schnäppchen.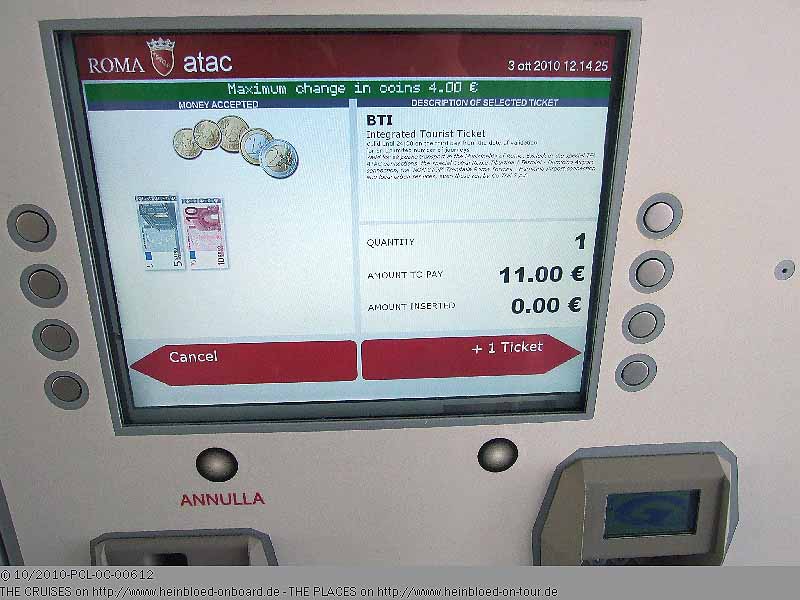 And BTI is a 3-days-pass for 11.00 EUR (2010) plus 18.50 EUR for single admissions: that is 29.50 EUR and so a Roma Pass might be cheaper for us: 25.00 EUR (2010). Great bargain.
Die anderen Reisen in diesem Blog/
The other voyages in this blog: