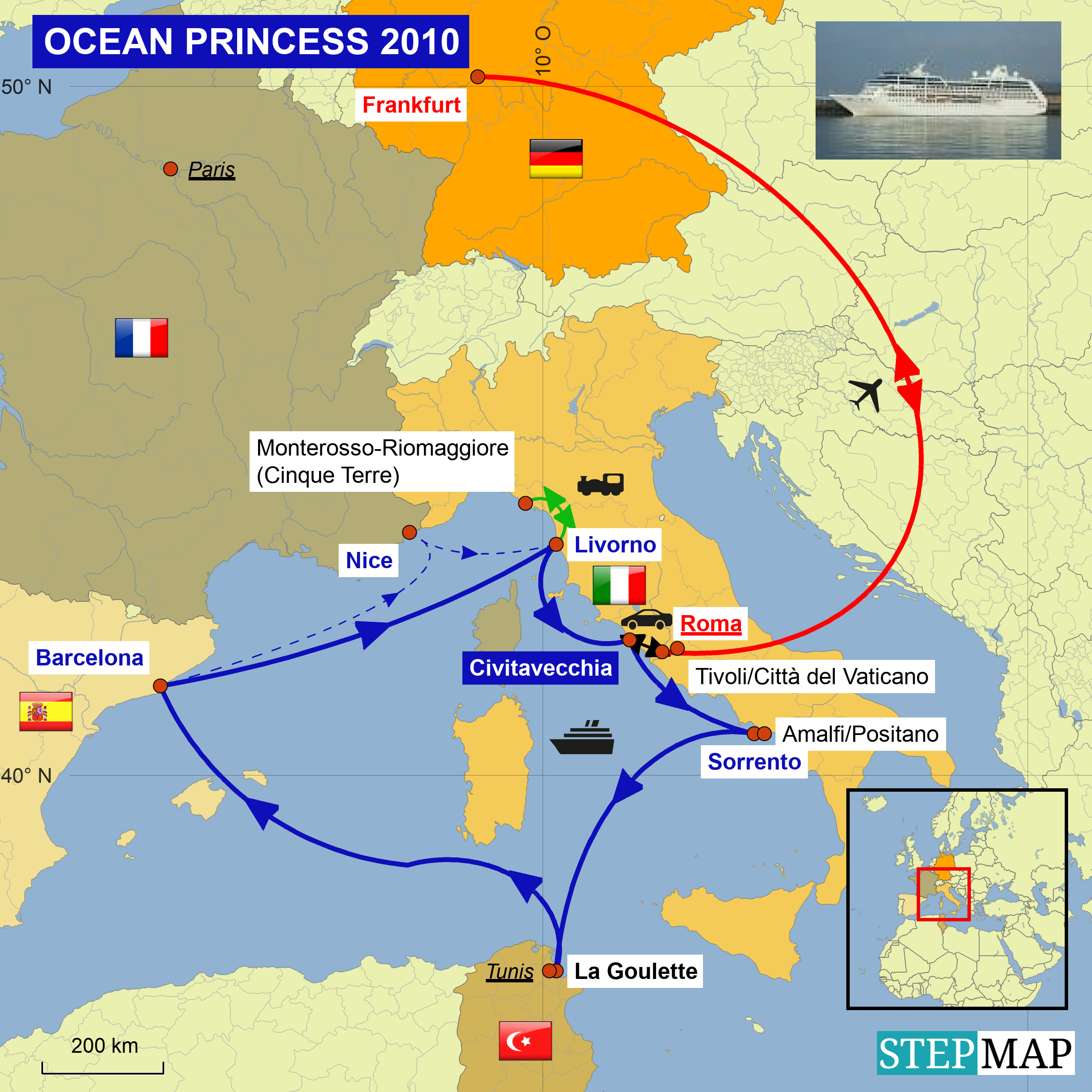 Am 2. Tag habe ich im Shop nachgefragt, ob es bestimmte Tage gibt, um neutrale Princess-Polo-Shirts zu kaufen. Es hieß nein. Es gäbe nur das Standardangebot zu den Standardpreisen. Zum Glück habe ich nichts gekauft und stelle heute fest, dass für 20,00 USD genau die Polo-Shirts angeboten werden, die ich mag.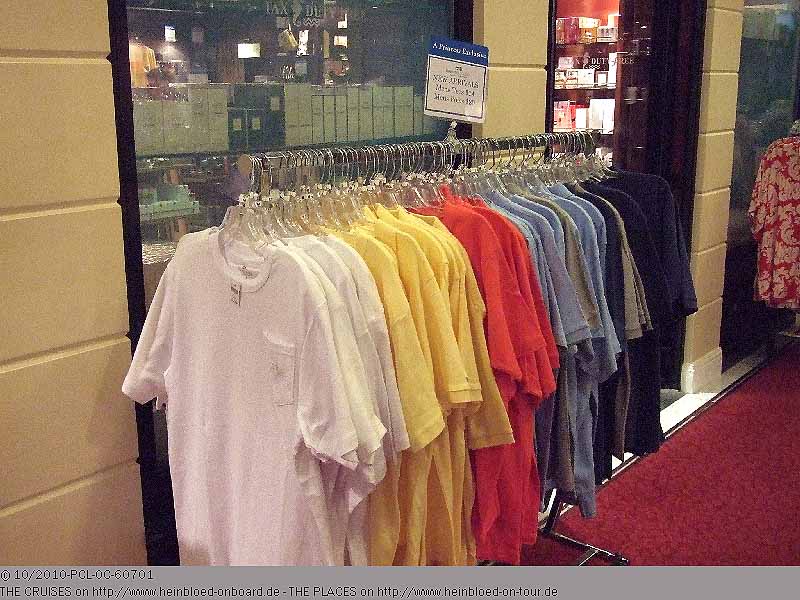 The 2nd day we asked in the shop if there will be special days to buy neutral Princess-Polo-Shirts. They said no. They had only standard offers for standard prices. So I did not purchase and today I found out that for 20.00 USD you can get precisely the Polo-Shirts I like.

In Princess Pattern we read that you should get at the end of your 1st voyage a beginners kit for the Captain's Circle. We never got one on GOLDEN PRINCESS. But here we did not get one either. We need to have asked days before. For just two kits they are not willing to restart the printer: We should ask the next time. I do not mind. We are looking for my Platinum tier with NCL which I reach January 2011.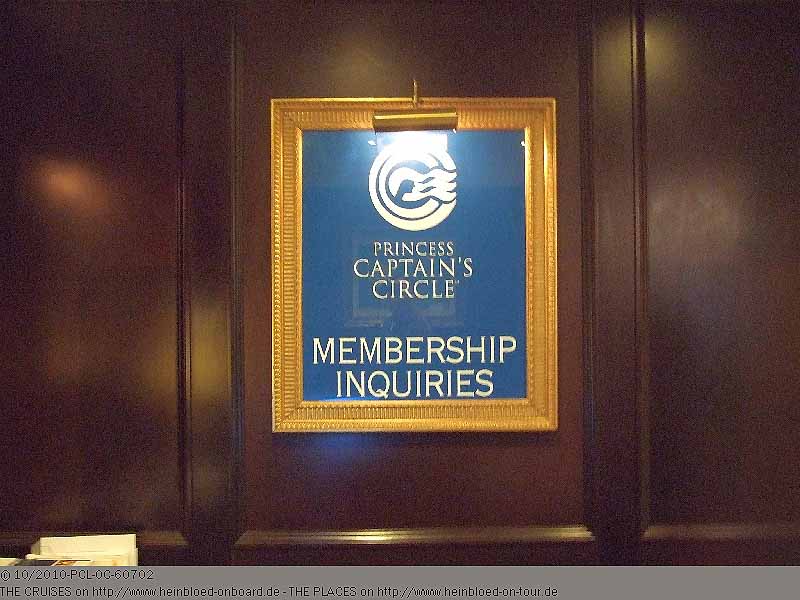 Im Princess Pattern lesen wir, dass man eigentlich nach der 1. Reise ein Anfänger-Kit für den Captain's Circle bekommt. Wir haben es damals auf der GOLDEN PRINCESS nicht bekommen. Aber auch hier will man uns keins erstellen. Wir hätten schon ein paar Tage vorher fragen müssen. Für zwei Kits würde man nicht extra ausdrucken: wir sollen einfach das nächste Mal nachfragen. Von mir aus... da freuen wir uns lieber an den Platinum-Status, den ich im Januar 2011 bei NCL erreiche...
Wir fahren entlang der italienischen Küste, so dass ich meine TIM-Karte nutzen kann.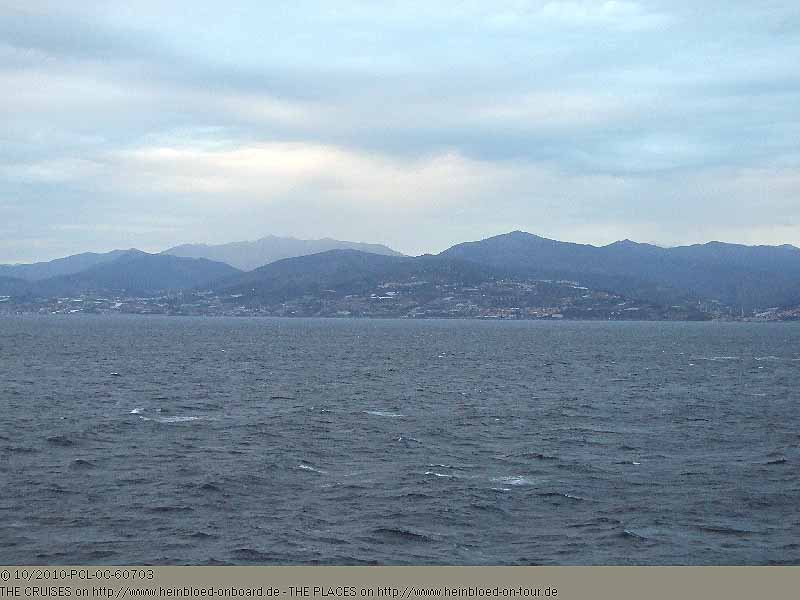 We were sailing alongside the Italian coast so that I could use my TIM-card.

Our dinner we booked tonight at Sabatini. Initially, we booked for 20:30 hrs as our sailing was scheduled at 20:00 hrs out of Nice. When we asked if we could come earlier, they told us that they were booked out, but we should come whenever we wanted. They were sure to find for us two a beautiful place. When we arrived at 19:00 hrs we got a lovely table at the corner.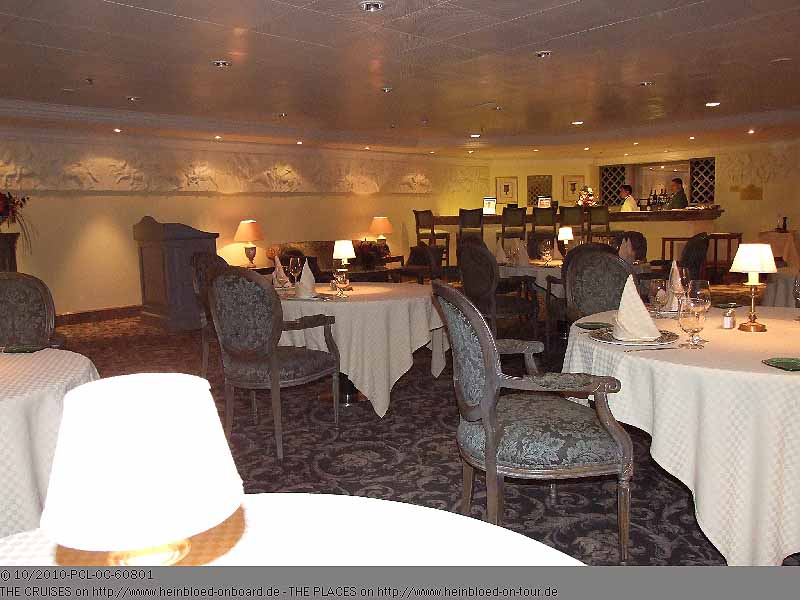 Unser Abendessen nehmen wir heute im Sabatinis ein. Wir hatten eigentlich eine Reservierung für 20:30 Uhr, da wir um 20:00 Uhr in Nizza abgelegt hätten. Als wir nachfragen, ob wir schon früher kommen dürfen, hieß es, dass ausgebucht sei, aber wir sollen einfach kommen, wann wir wollen. Sie würden schon ein paar Plätze für uns finden. Als wir gegen 19:00 Uhr kommen, bekommen wir wieder einen schönen Ecktisch.
Die schönsten Platzteller auf der Reise.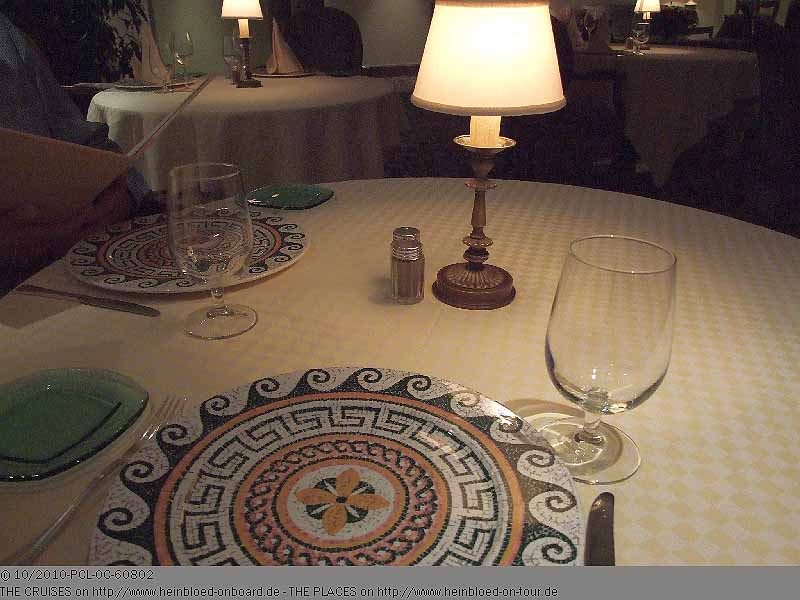 The nicest underplate on the entire voyage.

And again the tasty breadsticks we knew from the Chef's Table.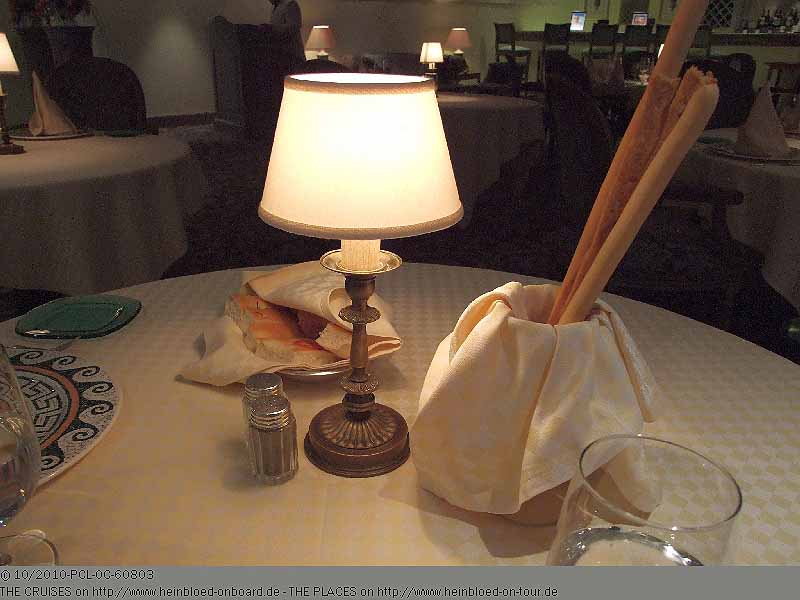 Und die leckeren Brotstangen vom Chef's Table.
Ich hätte eigentlich unseren Kellner zur Verzweiflung bringen und nach Butter fragen sollen...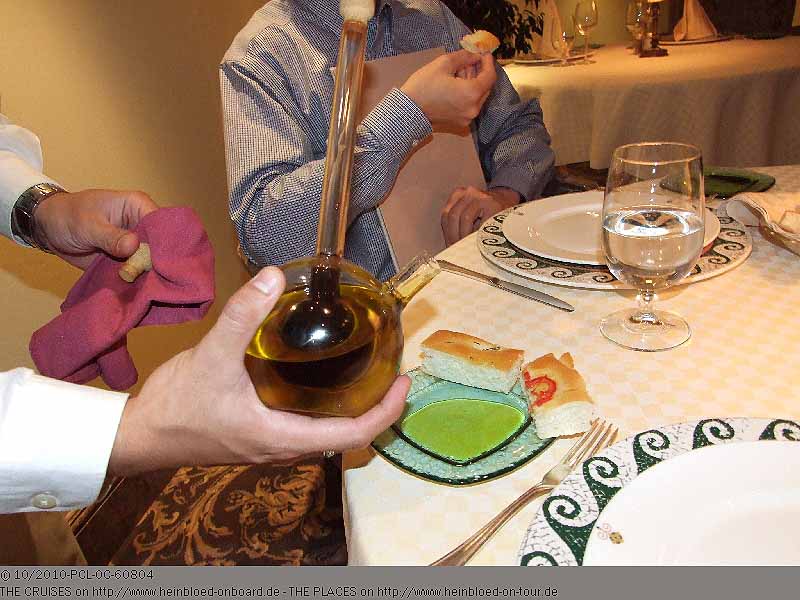 I should made our waiters desperated and should ask for some butter...

But I was more happy to have olive oil and balsamic vinegar instead.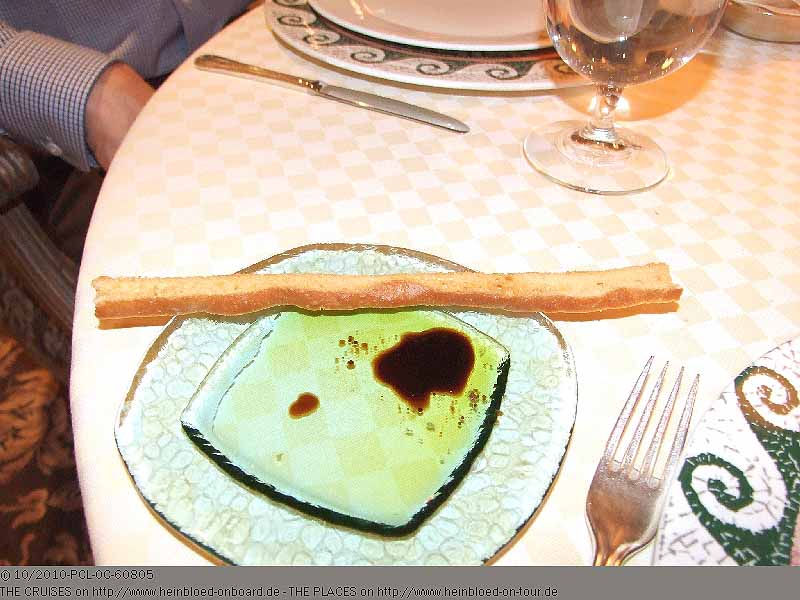 So freue ich doch eher darüber, dass es stattdessen Olivenöl und Balsamessig gibt.
Eigentlich ist Sabatinis ein Buffet-Restaurant... nur dass man nicht als Gast zum Buffet läuft, sondern die Stewards das Buffet zum Gast bringen. Man wählt nur Suppe bzw. Salat und den "Secondi" (2. Hauptgang) aus der Karte und am Schluss noch das Dessert. So kommt zunächst einmal die kalte Antipasti zum Tisch und man sagt einfach, ob man und wieviel man möchte.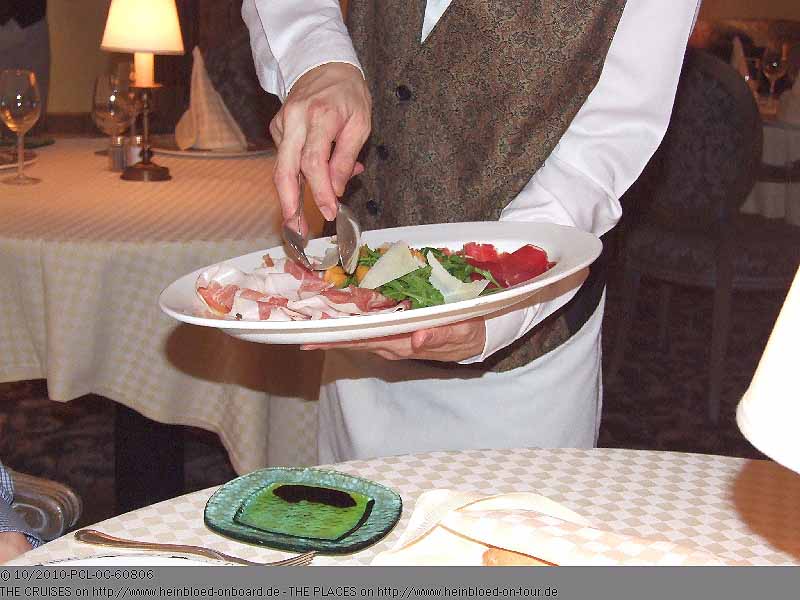 Sabitinis is a buffet restaurant... the only difference: you as the guest do not walk to the buffet, but the stewards come with the buffet to the guest. You only choose your soup or/and salad and the "Secondi" (2nd entree) from the menu and finally the dessert. So you get first the cold antipasti to the table, and you just say if what and how much you want.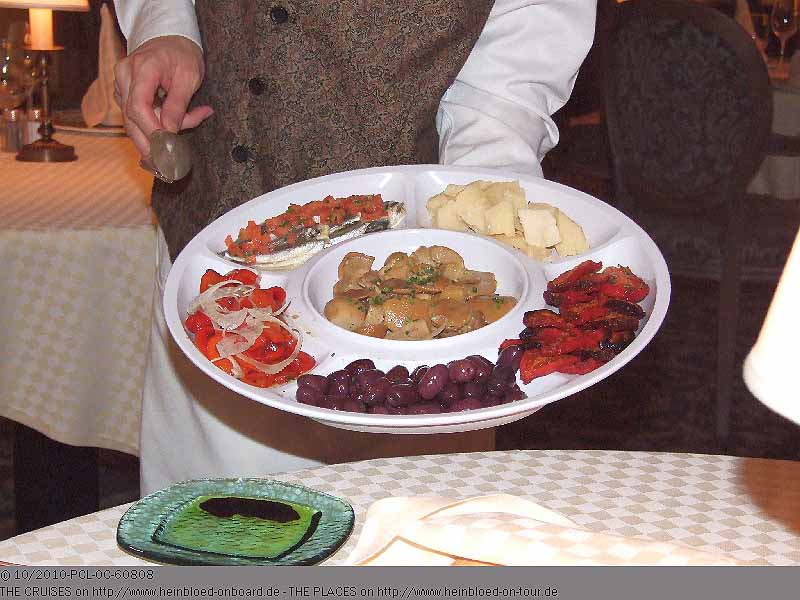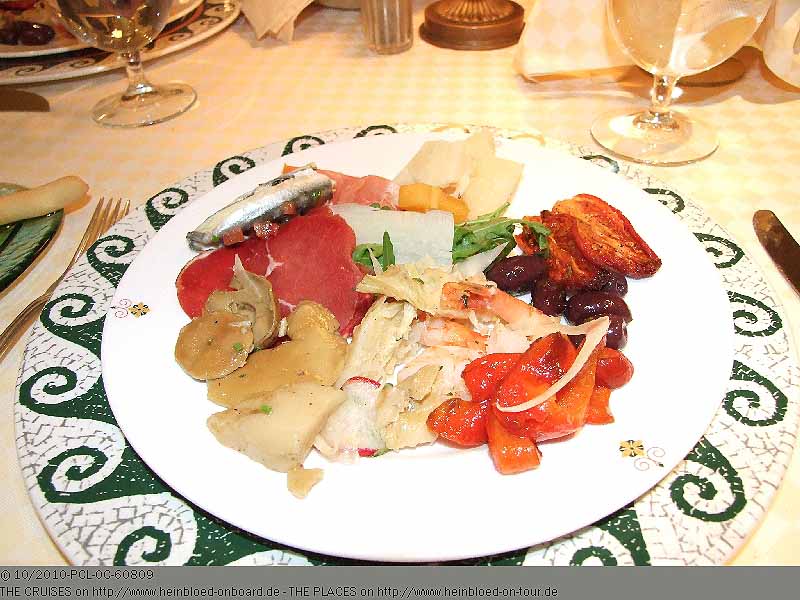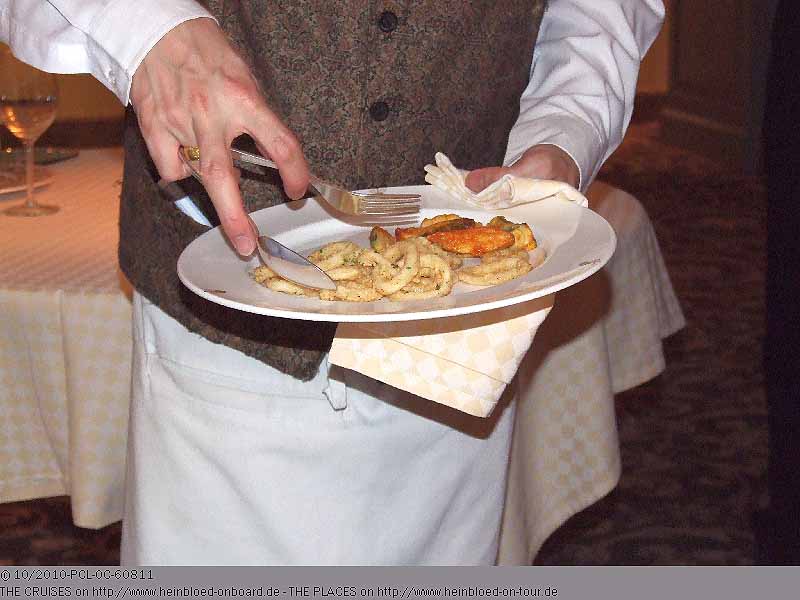 Ich meine, dass es die leckersten Calamari-Ringe waren, die ich gegessen habe. Auch dieser warme Käse... hmmm... nur der "Crabcake" war nicht meins, dann lieber Maryland Crabcake.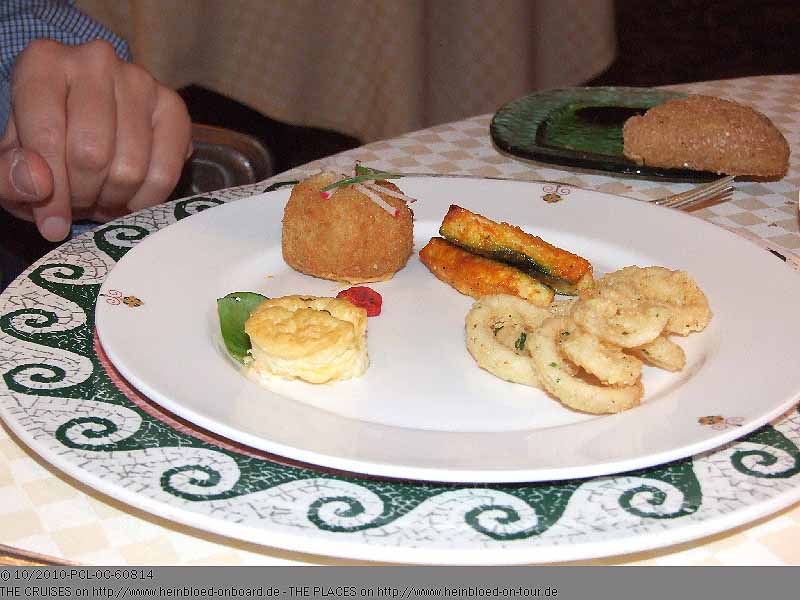 I thought that it was the most tasty calamari-rings which I ever had. Also the warm cheese... hmmm... only the crab cake was not mine - I guess Maryland Crabcake is better...

Somehow the state and color of Bruno's soup looked very familiar to me. When we asked for an honest answer, they confirmed that indeed the base for the soup was the same as the one I had in Sterling Steakhouse. Just other seafood components.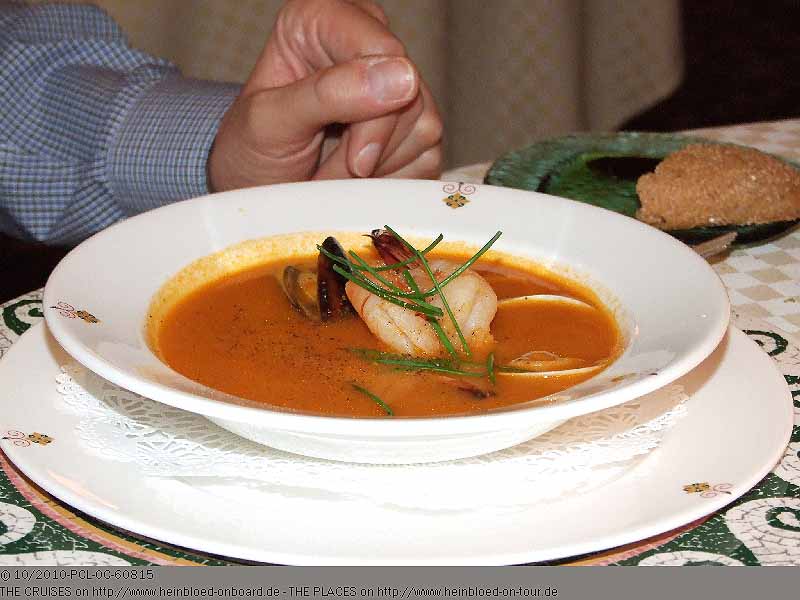 Irgendwie kam mir die Konsistenz und Farbe von Brunos Suppe bekannt vor. Auf Anfrage mit Bitte um ehrlicher Antwort, hat man uns bestätigt, dass es in der Tat die gleiche Grundlage sei, wie bei der Suppe, die ich im Sterling Steakhouse hatte. Nur andere Einlagen.
Ich mag ja diese italiensiche weiße Bohnensuppe, wenn ich bei NCL bin, aber hier hatte ich wieder Pech mit der Suppe. Dabei bin ich ein echter Suppenkasperl. Was Bruno sein Kaffee und Muffin, ist bei mir die Suppe. Es ist auch schon vorgekommen, dass ich mir nochmals eine Tasse Suppe statt eines Desserts bestellt habe.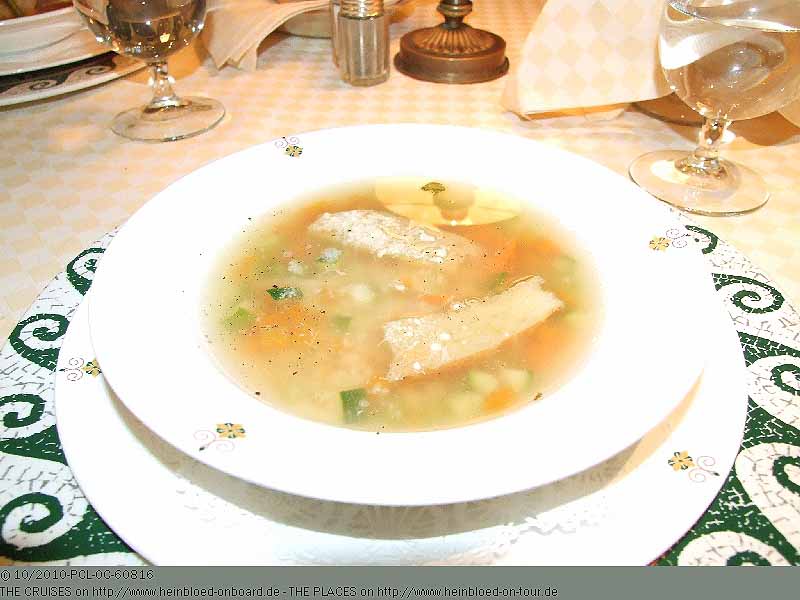 I love the Italian white bean when I go on NCL but here I had unluck again. I am a true poor soup eater. Bruno's coffee and muffin is the soup with me. I happened that I ordered another soup instead of a dessert.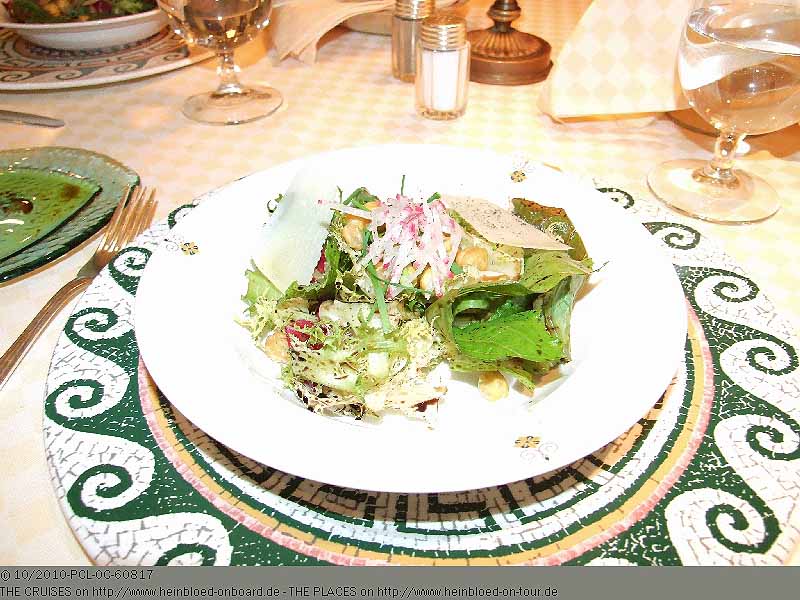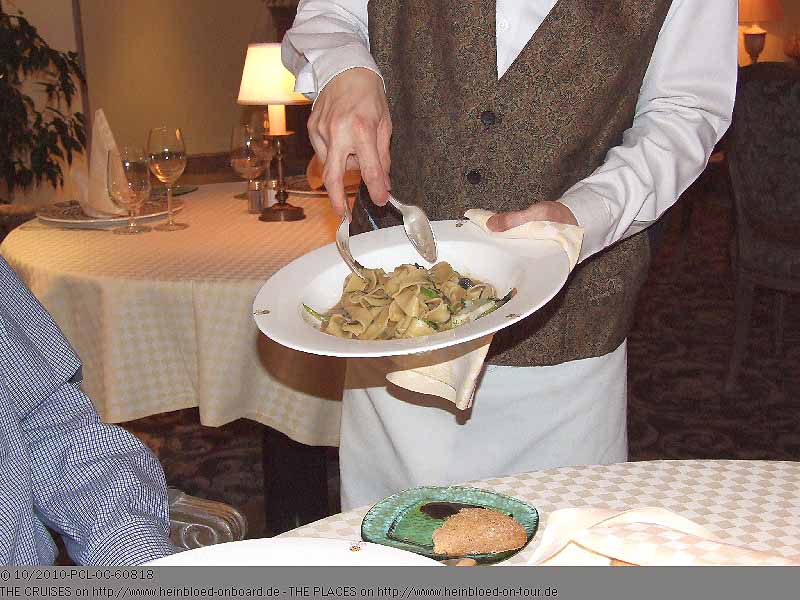 The trufes raviolis... hmmm...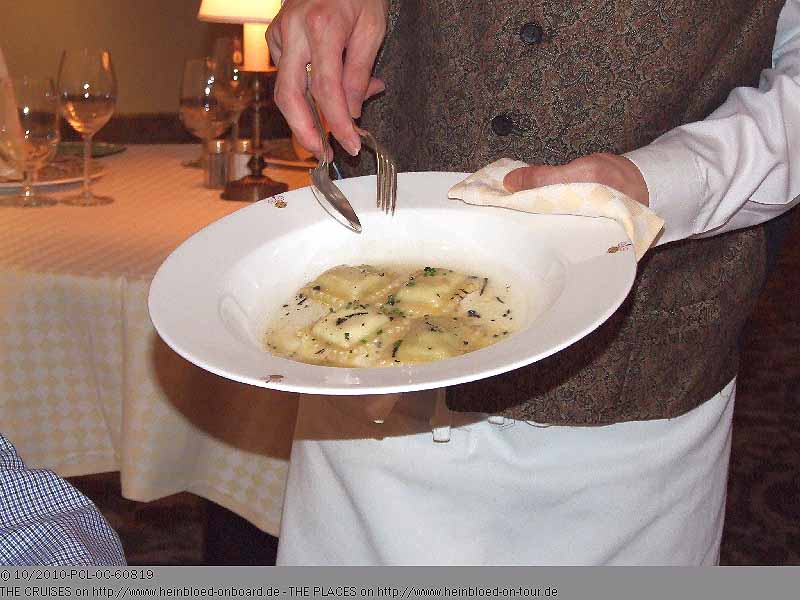 Diese Trüffelraviolis... Hmmmm...
Das wäre noch eine Steigerungsmöglichkeit: Am Tisch frisch geriebener Parmesan, wie bei NCL...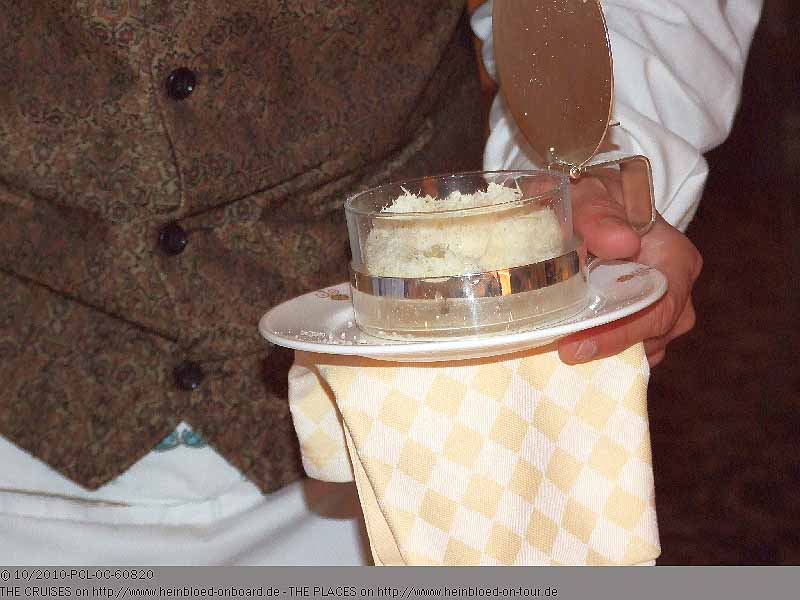 Few space for improvement: freshly grinded parmesan cheese at the table like with NCL...

Bruno took the scallops.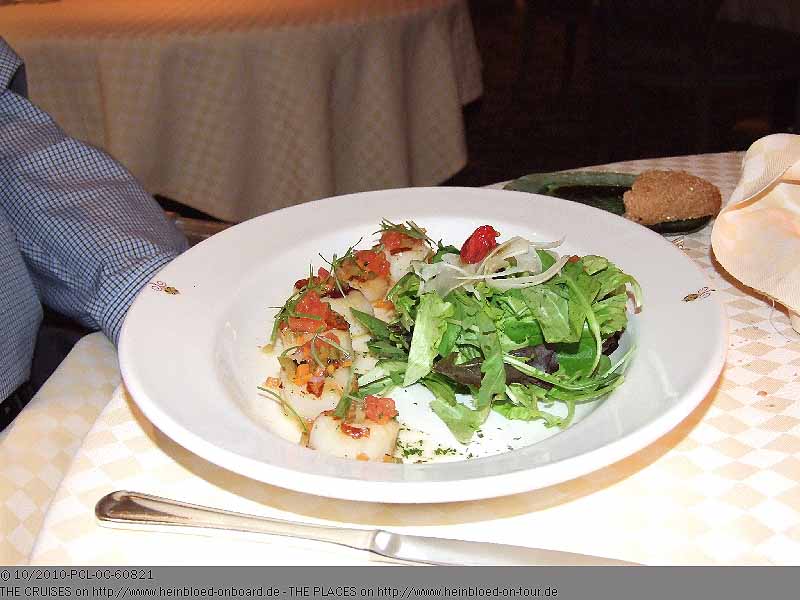 Bruno nahm die Jakobsmuscheln.
Ich konnte mich nicht entscheiden. Auf jeden Fall keinen Fleisch mehr und auf jeden Fall keinen Hummer mehr, weil die King Prawns doch immer noch einen Tick besser waren. Es gab zwei Gerichte mit King Prawns und da Direk mich nun an drei Abenden bedient hat, meint er zu mir, dass ich bestimmt lieber diese hätte und weil ich mich nicht entscheiden kann, meint er, dass er gerne zwei Jakobsmuscheln mehr anbraten lassen kann, damit ich welche probieren kann. Er könne aber auch gerne beides bringen, was mir allerdings zuviel wäre. Bruno bietet er im Gegenzug an, ob er ihm zwei Garnelen anbraten lassen soll, aber er möchte nur die Jakobsmuscheln. Und wie immer non-plus-ultra.

I was unable to decide. No meat and no lobster anymore because they did the king prawns a little better. There were two dishes with king prawns and Direk who knew me now the third night told me that I would prefer this one and because I was unable to decide he offered that I can see two scallops to test. He offered Bruno to have two king prawns, but he only wanted scallops. And like before: never had something better before.

I was not sure, but I remember from GOLDEN PRINCESS that they showed us a try with all desserts as samples to let us more comfortable making our decision.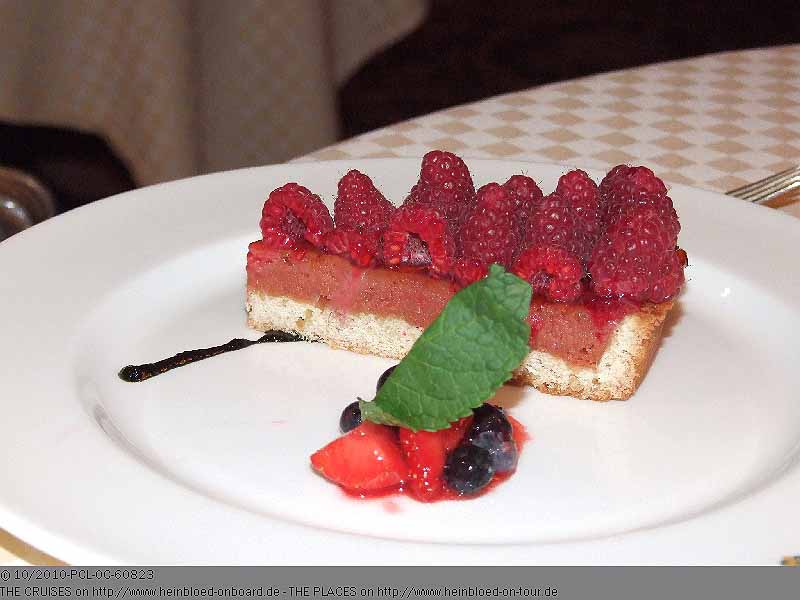 Sicher bin ich mir nicht, aber ich meine, dass wir damals im GOLDEN PRINCESS ein Tablett mit den Mustern der Desserts bekommen haben, um uns unser Dessert auszusuchen.
Als meines kommt, dachte ich im ersten Moment: die und ihre Halbkugeln. Morgens werden die Formen für pochierte Eier benutzt und abends für das Parfait.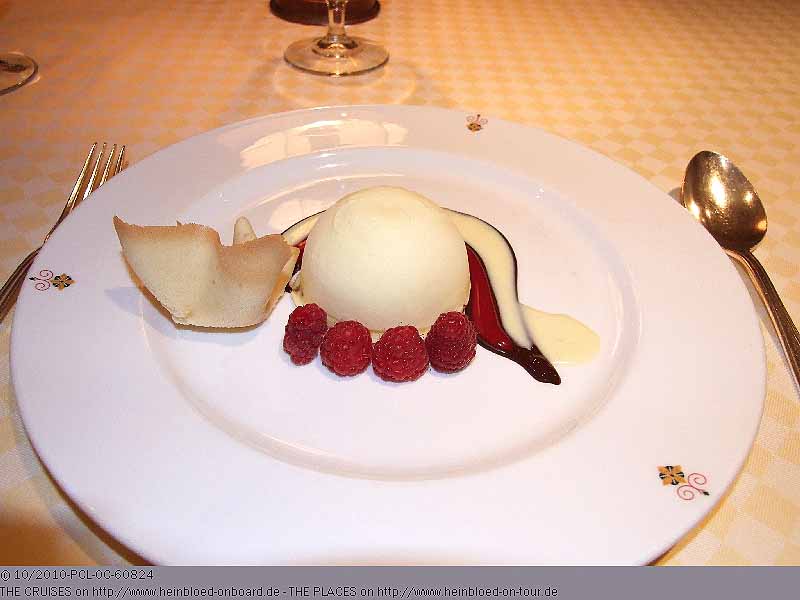 When my came I thought the first moment them and their hemispheres. For breakfast, we had the same shape as the poached eggs and tonight with the parfait.

I had stupid thoughts again and found out that it tasted like with the Chef's Table.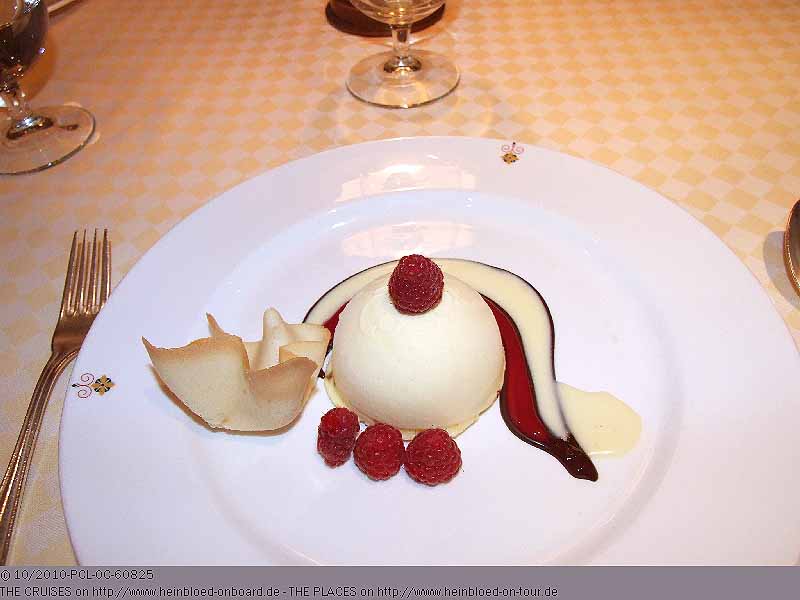 Ich komme auf blöde Gedanken und stelle fest, dass es fast so schmeckt, wie beim Chef's Table.
Wir haben wie üblich nur stilles Wasser aus der Flasche getrunken. Während des Essens kam Raffaele und bot uns eine Flasche Wein an: Antonio würde uns gerne eine kleine Freude machen. Wir erklären ihm, dass ich keinen Alkohol vertrage und daher sagen wir freundlich nein. Raffaele meint dann, dass dann das Essen auf Kosten des Hauses gehen würde, wenn wir schon keinen Wein trinken. Nun hat mir mein Vater beigebracht, dass wenn man in einem Restaurant vom Besitzer eingeladen wird, dann sollte man zumindest dem Personal etwas Trinkgeld da lassen. Wir wollten es auf die Wasserrechnung schreiben, aber auch hier hat Raffele gesagt, dass wir das vergessen sollen und meinte zu uns, ob er uns nicht doch eine Flasche tollen italienischen Wein auf die Kabine bringen lassen darf, die wir dann unseren besten Freunden verschenken können. Da wir schon die Kochbücher im Gepäck haben, bedanken wir uns herzlichst nochmals. Da wir an Bord keine USD abheben konnten, mussten wir schnell in die Kabine, um unser Euro-Portemonnaie zu holen. Ich schreibe noch eine Nachricht auf den Umschlag, den wir am Tisch liegen lassen. Wir haben wirklich hier oben drei Mal einen erstklassigen Service genossen und obwohl wir bereits beim 1. Besuch Trinkgeld haben aufbuchen lassen, beim Chef's Table Bargeld auf dem Tisch gelassen haben, legen wir jetzt noch etwas mehr rein, schlicht und einfach, weil wir deren Service genossen haben und es honorieren wollten.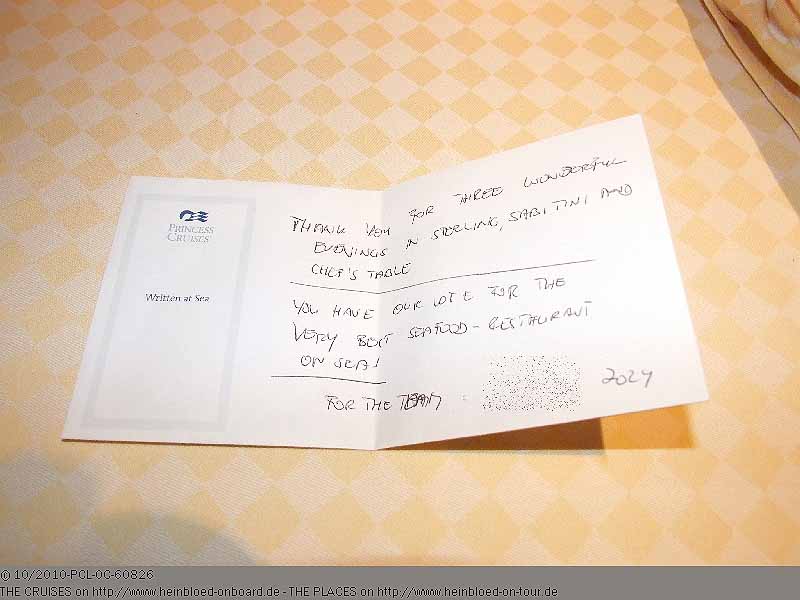 As usual we had our bottled still water. While we were eating, Raffaele came and offered us wine: Antonio would like to make us a small pleasure. We explained that I cannot digest alcohol and that was why we said no. Raffaele decided that the dinner will be on them if we do not drink wine. My father taught me that if you are invited by the restaurant owner you always have to tip the waiters. We wanted to add the tip to the bill, but when we wanted to pay our water, Raffaele said that we should forget it and offered us again some good Italian wine we should take home for our families or friends. As we had the cooking books, we really thanked him but repeated no. As there was no occasion to withdraw USD on board, we need to walk quickly to the cabin to get our Euro-wallet. I wrote a notice on the envelope to leave it on the table. We enjoyed three times an outstanding service and although we let them book some tips on our first night, left some money at the Chef's Table we wanted to give them something again: only because we appreciated the enjoyable service very much and wanted to honor it.

What a shame that only little things were missed for total perfection... You can hear the same time Dean Martin and the song of a tenor from the loudspeakers which was not so lovely. When the next table started to play their favorite music on the speaker of their iPhone, I would expect someone from the crew to stop it from keeping a certain kind of nice atmosphere. And they attacked my plan for my next OCEAN PRINCESS cruise: 1 x Chef's Table, 1 x Balcony Dinner and 5 x Sabatini: Then we would have our flexible dining every day. But this would not be possible because the Sabatini and the Sterling Steakhouse open only alternating which means one restaurant is closed every night. This brought me to the question: why cannot they offer a combined restaurant like the Tuscan Grille on CELEBRITY EQUINOX which connects both: Steaks and Italian. You can use the same venue to provide both. In the empty restaurant, you could offer flexible dining on OCEAN PRINCESS. Would it be the chance to make the OCEAN PRINCESS perfect and to give the guests who love it their flexible dining???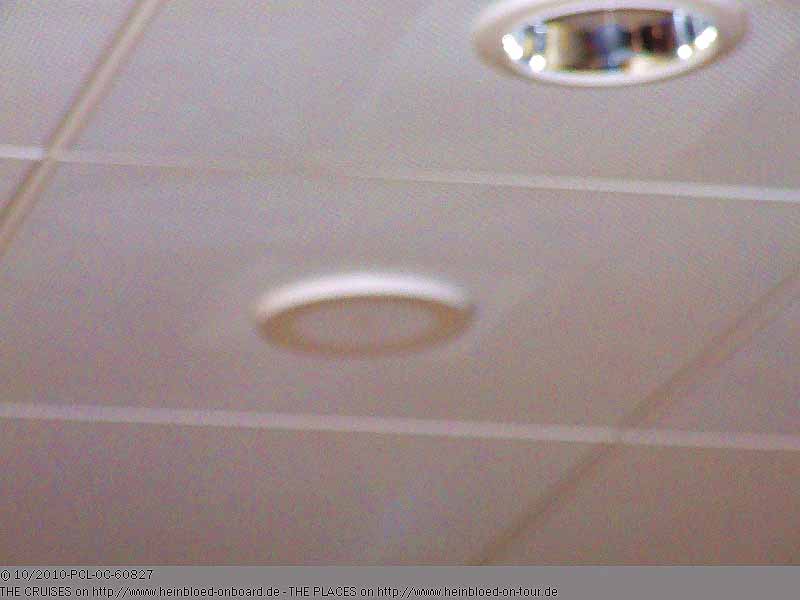 Schade, dass nur eine Kleinigkeiten zur Perfektion fehlten... Irgendwie kamen aus den Lautsprechern gleichzeitig Dean Martin und die Musik eines Tenors raus, was es mal wieder ein wenig ungemütlich machte. Daraufhin hat unser Nachbartisch sich hierüber lustig gemacht und spielte auf dem iPhone seine eigene Musik über Lautsprecher ab. Das hätte meiner Meinung nach durch die Crew unterbunden werden müssen, um eine gewisse Atmosphäre zu halten. Außerdem haben sie meinen Plan für die nächste OCEAN PRINCESS-Kreuzfahrt torpediert: 1 x Chef's Table, 1 x Balkondinner und 5 x Sabatinis: Dann hätte ich täglich mein Flexible Dining. Leider öffnet das Sabatinis im täglichen Wechsel mit dem Sterling Steakhouse, was bedeutet, dass eigentlich ein Restaurant jeden Abend immer leer steht. Das bringt mich auf die Frage: warum eigentlich nicht ein kombiniertes Restaurant, wie im Tuscan Grille auf der CELEBRITY EQUINOX, das beides miteinander verbindet: Steak und Italienisch. Man kann es ja abwechselnd mit dem gleichen Ambiente nutzen. Nur dann stünde ein Restaurant ja frei, um flexible Dining auf der OCEAN PRINCESS anzubieten. Wäre das kein Plan, um die OCEAN PRINCESS zu perfektionieren und Gästen wie mir, die auf Flexible Dining stehen entgegen zu kommen???
Die Unterlagen sind wie üblich da.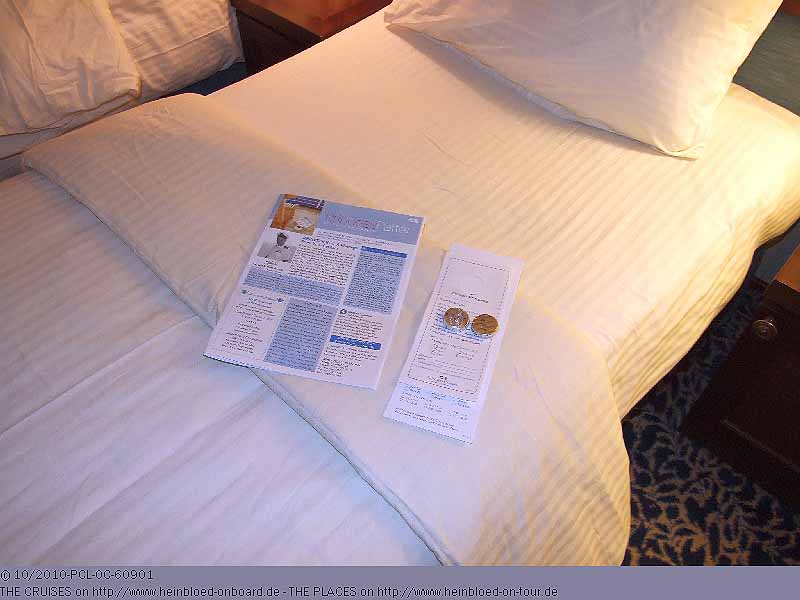 The files came as usual.

When we opened them, we found out that they really want us to have from the ship.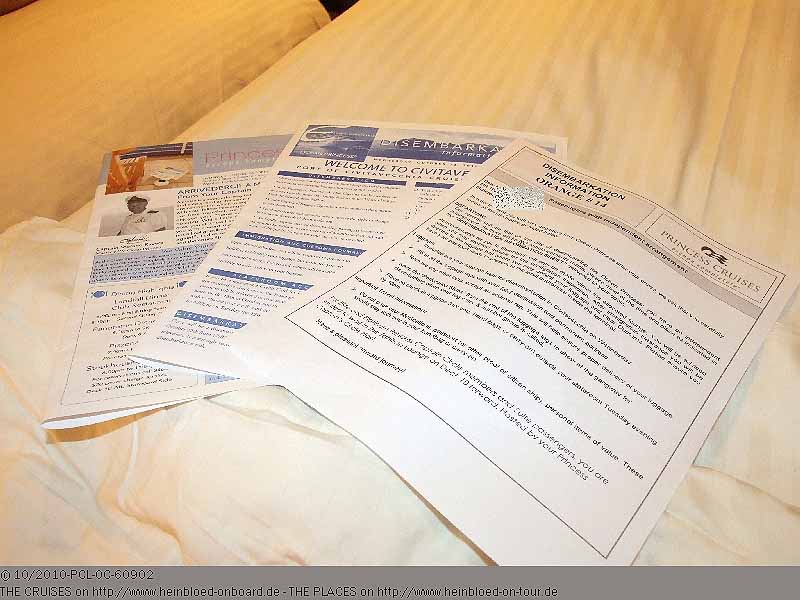 Als wir sie aufmachen, sehen wir schon, dass sie uns tatsächlich von Bord haben wollen.
Da wir angekreuzt haben, dass wir bis 09.00 Uhr von Bord sein wollen, kommen wir die Gruppe für 08.30 Uhr. Perfekt.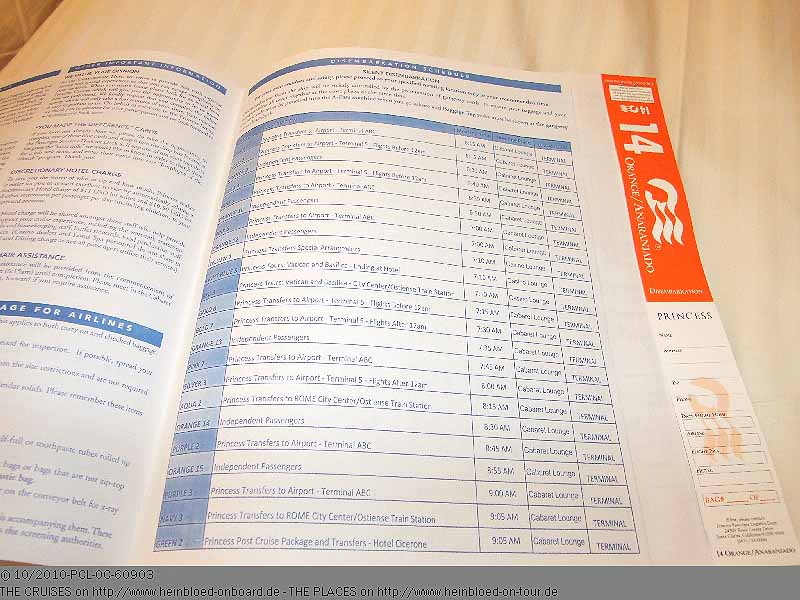 As we said before that we want to be from the ship by 09.00 hrs we got the group for 08.30 hrs debarkation. Perfect.

Currently, it was 72F, only little movements: a perfect condition to sleep. Tomorrow should be a long day, and we need the sleep.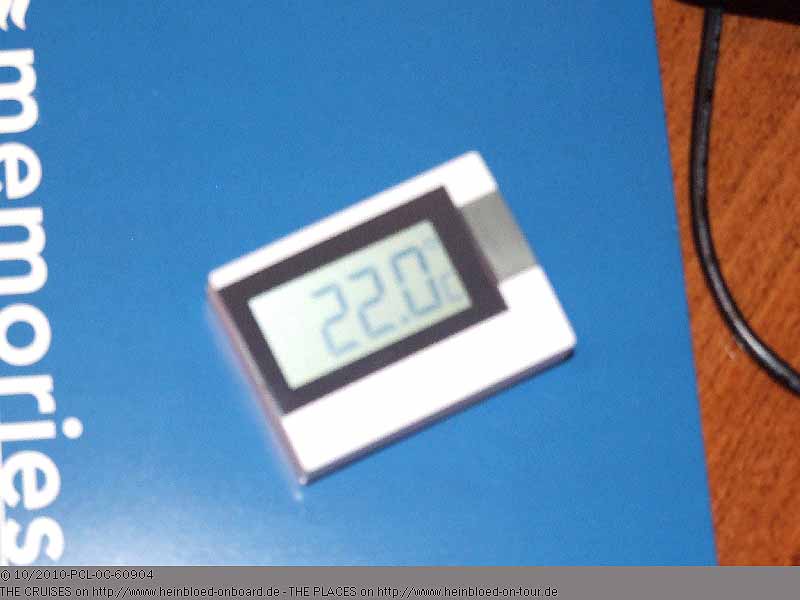 Im Moment sind es 22°C, kaum Seegang, es zieht nicht: perfekte Bedingungen zu schlafen. Morgen wird ein langer Tag und da brauchen wir den Schlaf.
Die anderen Reisen in diesem Blog/
The other voyages in this blog: