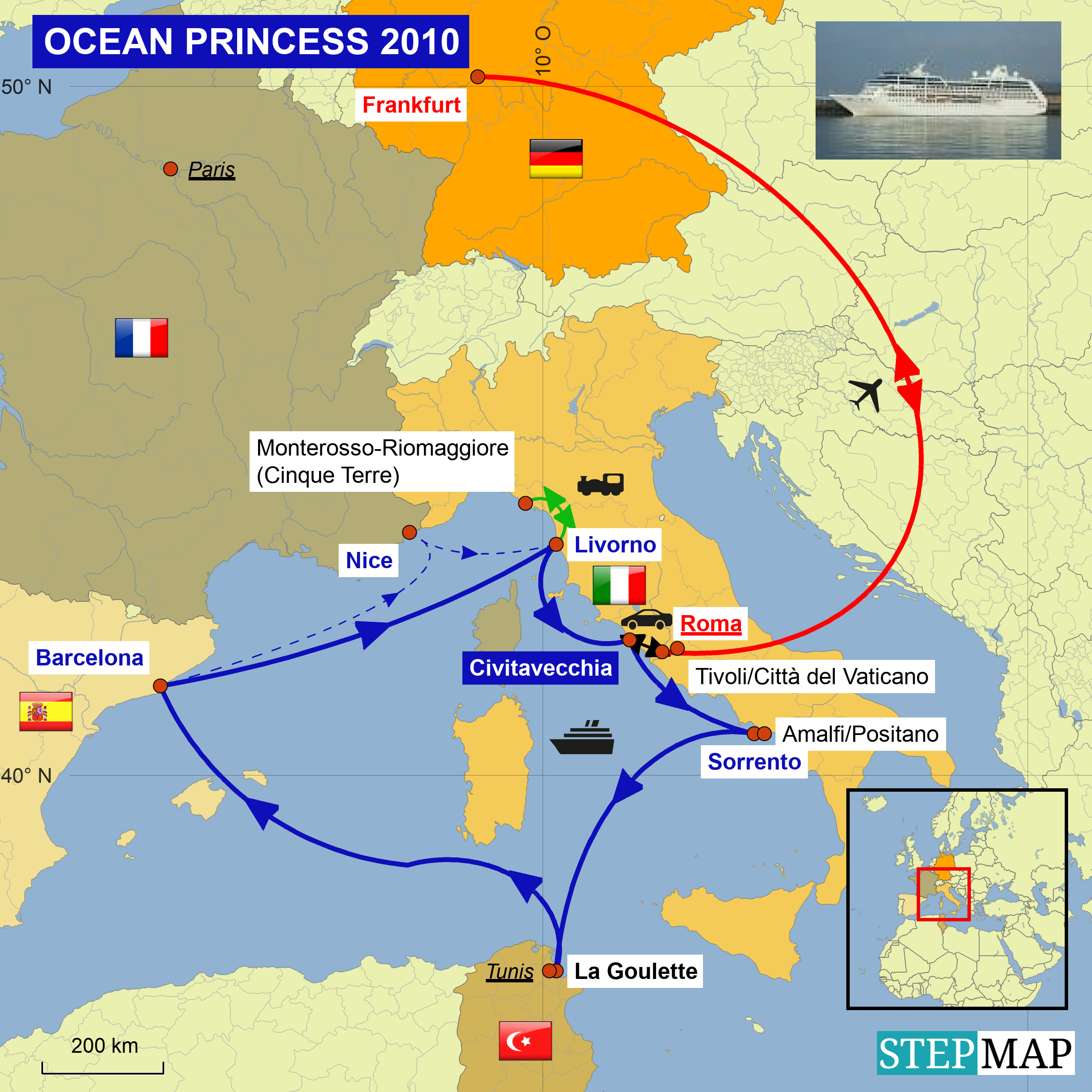 Weiter geht es nach Sidi Bou Said, einem Künsterdorf. Da man nicht mit dem Bus ins Dorf reinfahren darf, müssen wir am Bahnhof aussteigen und laufen.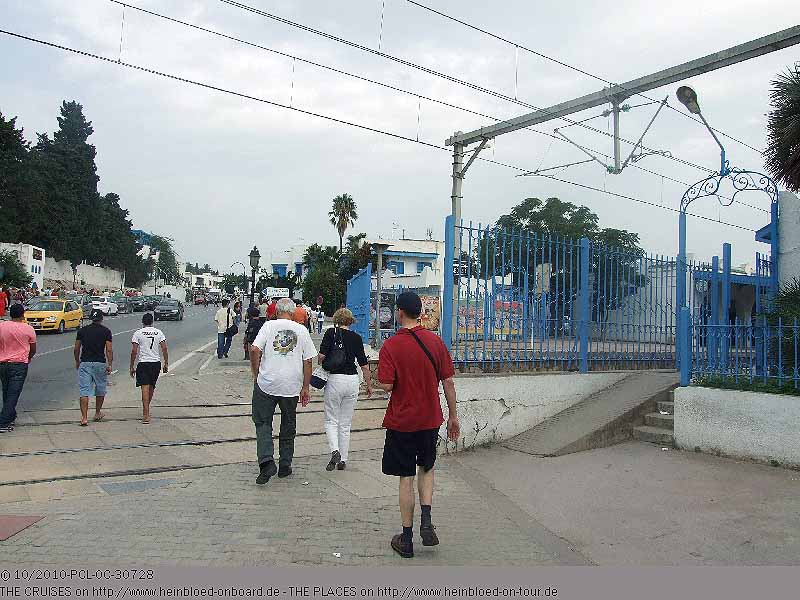 We continued for Sidi Bou Said, an artists' village. As you are allowed to get into the center by bus, we need to leave the bus at the train station and had to walk.

Basti Schweinsteiger (a famous German soccer player) in Tunisia...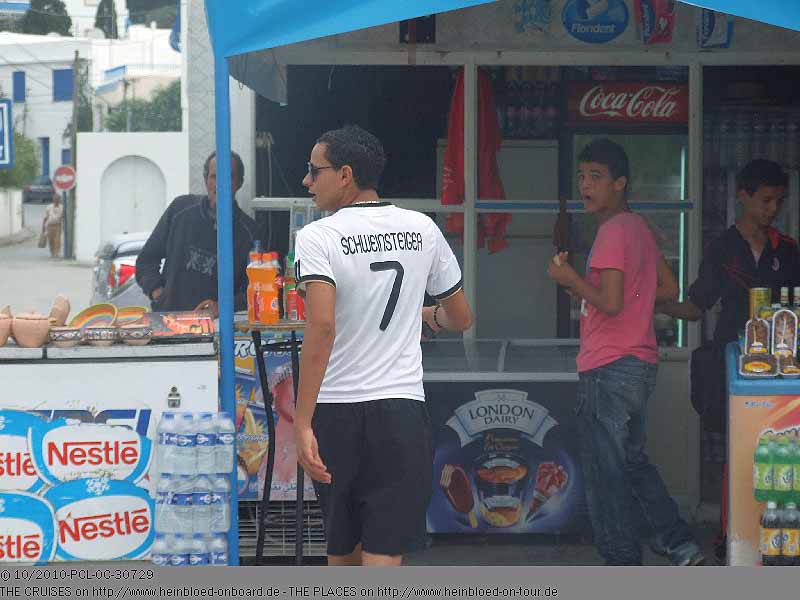 Basti Schweinsteiger in Tunesien...
Das sah wirklich ganz nett aus.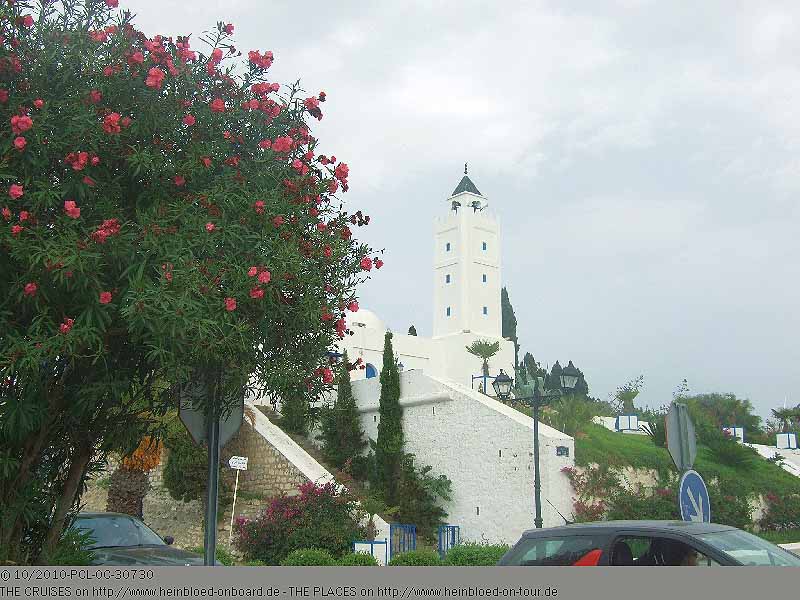 Looked somehow pretty nice.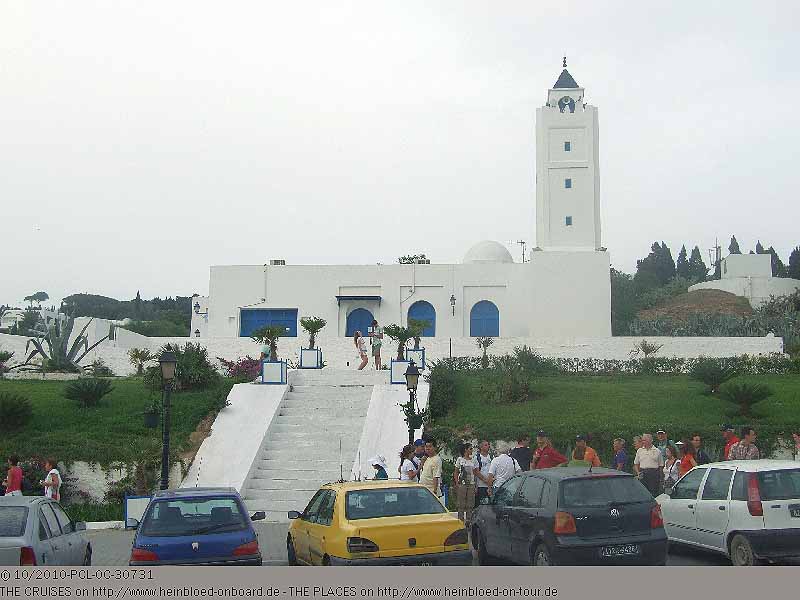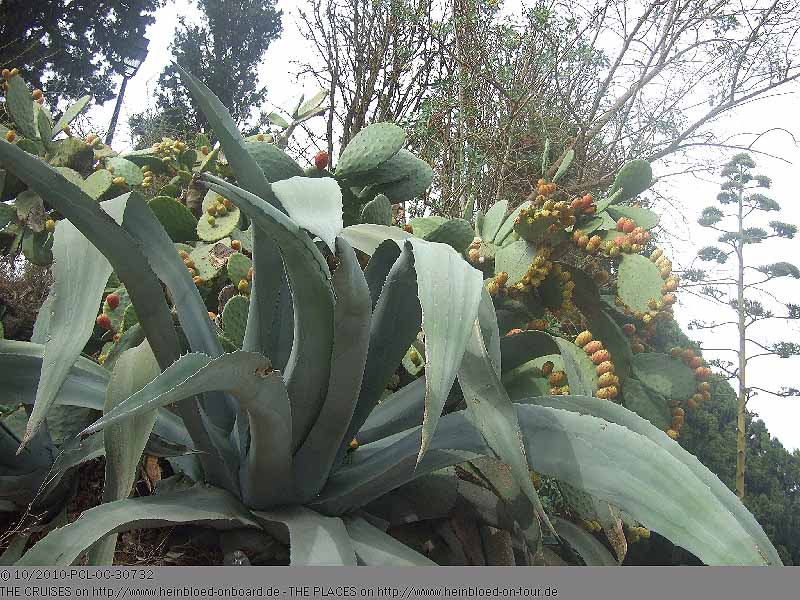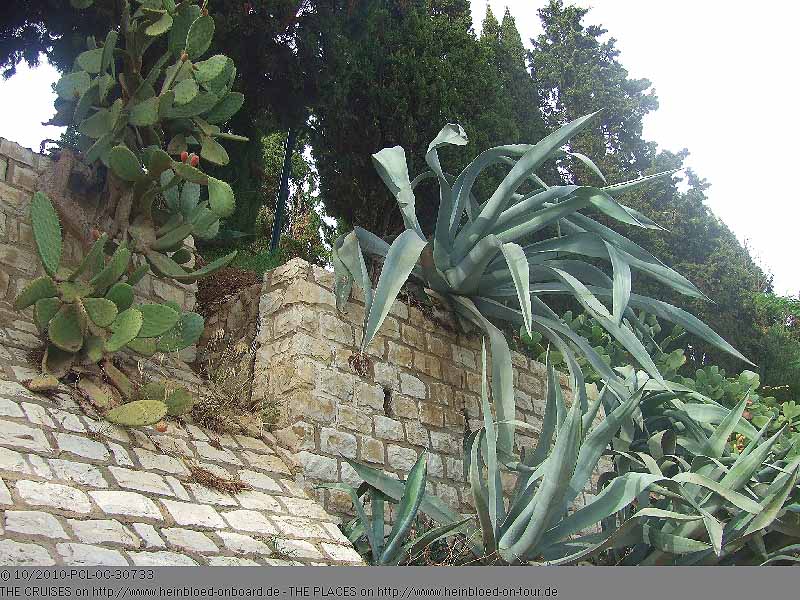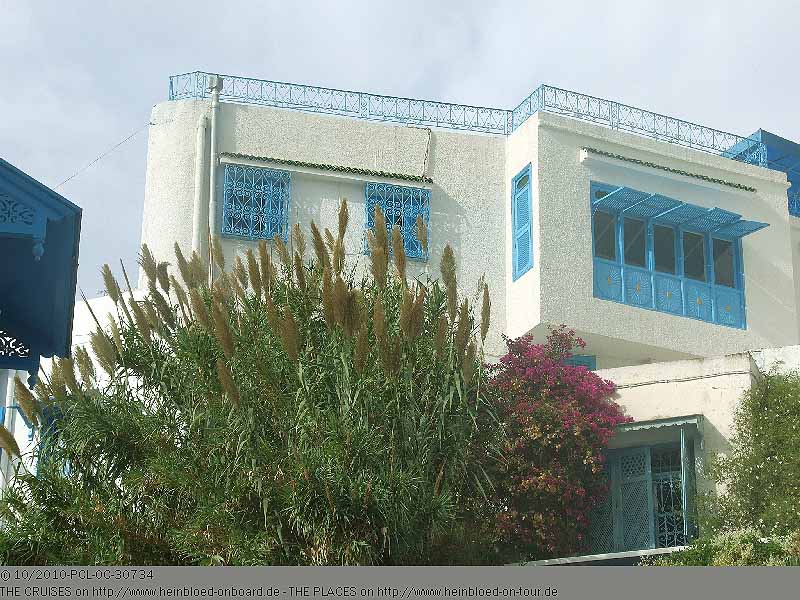 We did not see so much of the village. The nice place which we discovered in our guidebook we did not see. We got only the explanation that all houses must be kept in white and blue. And that the balconies were so-called ladies' balconies which we already know from Cartagena, Columbia.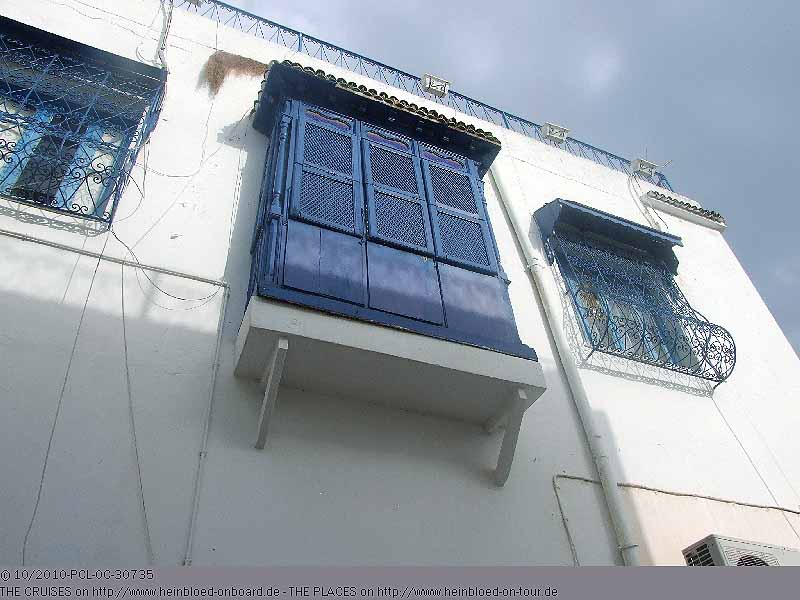 Wir bekommen nicht viel vom Dorf zu sehen. Die schönen Plätze, wie sie z. T. in den Reiseführern stehen, sehen wir nicht. Wir bekommen lediglich die Erläuterungen, dass alle Häuser in blau-weiss gehalten werden müssen. Und dass es sich um die Damenbalkone handelt, die wir schon aus
Cartagena, Kolumbien
kennen.
Stattdessen bekommen wir die Hinweise, wo wir am besten einkaufen (demnach nur in den staatseigenen Geschäften) und wie wir handeln sollen.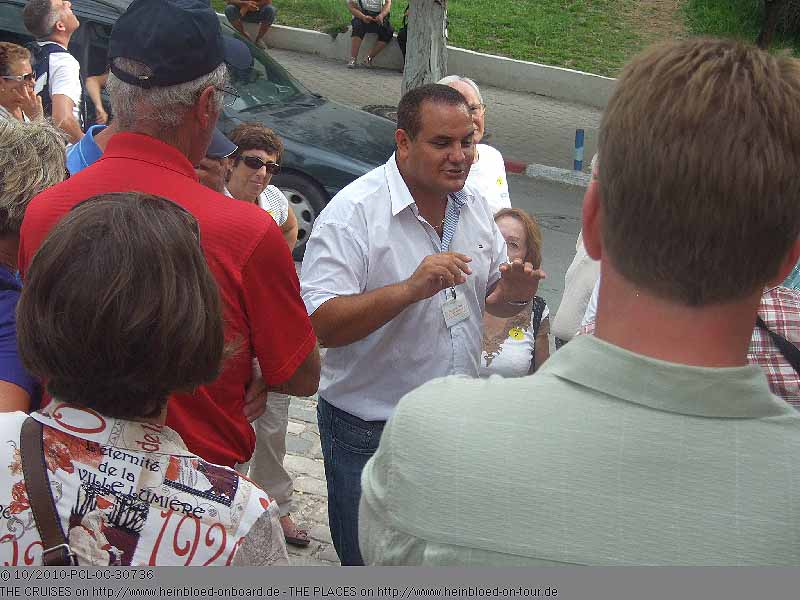 Instead of this we got many advises where to shop (we should see the state-owned stores) and how to negotiate the prices.

It was too hot and too humid to walk higher and maybe to discover the delicate corners.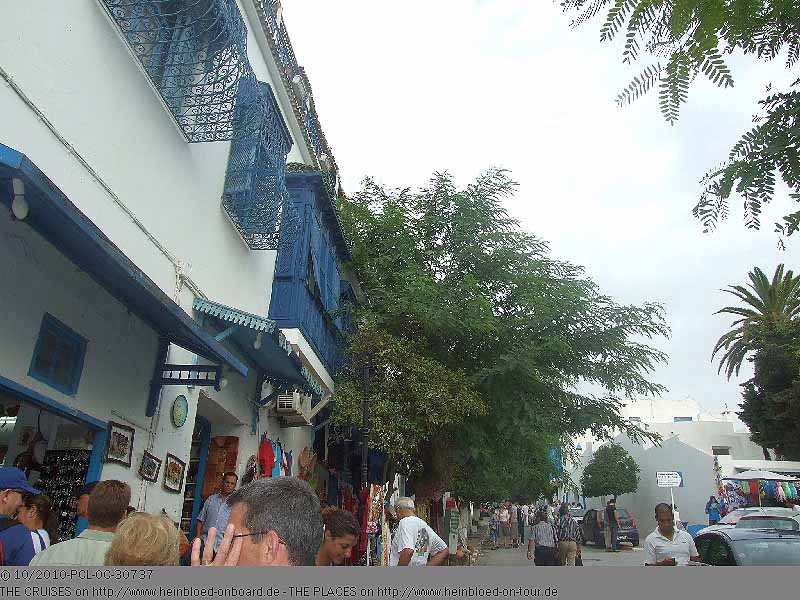 Es ist eh zu heiß und zu schwül, um noch weiter bergauf zu laufen und eventuell die schönen Ecken zu entdecken.
In die Straße mit den Kunsthandwerkern zu gehen, haben wir keine Lust.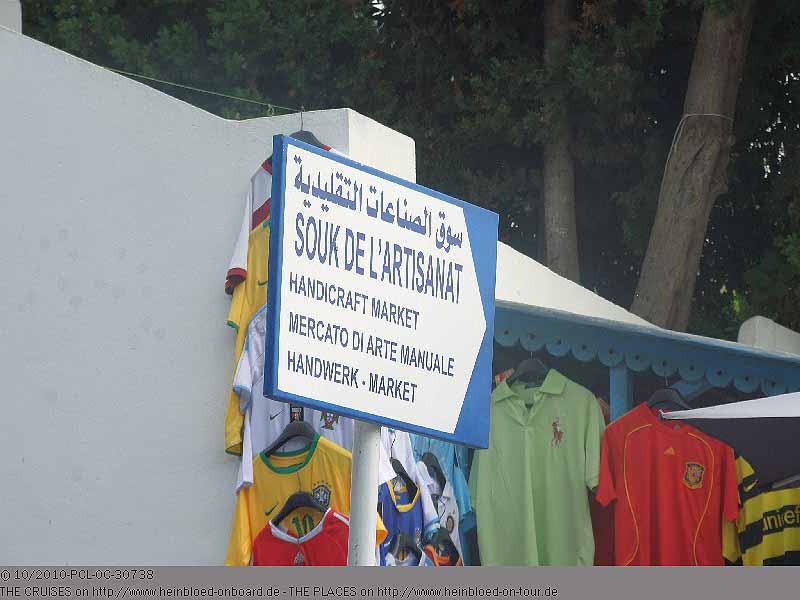 To see the handicraft's street we were not very much interested.

The only street-dealer who tried to sell us something was a flower-dealer. But nobody else took any notice from us.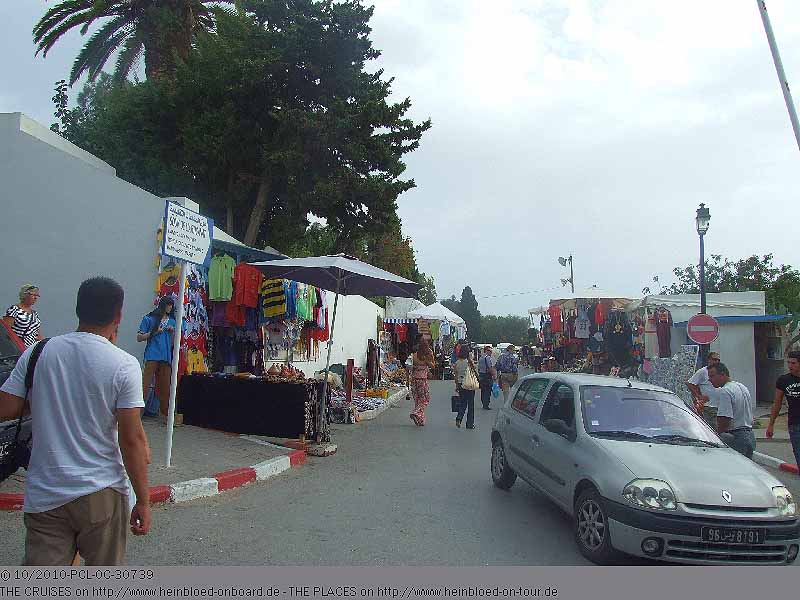 Wir werden aber nur von einem einzigen Blumenhändler angesprochen. Sonst werden wir in Ruhe gelassen.
Da wir Durst haben, gehen wir in einen sog.
Salon de Thé - Dar Dallaji
.

As we were thirsty we went to a so-called Salon de Thé - Dar Dallaji.

I really would like to try something Tunisian, but I could only identify Western food on the menu.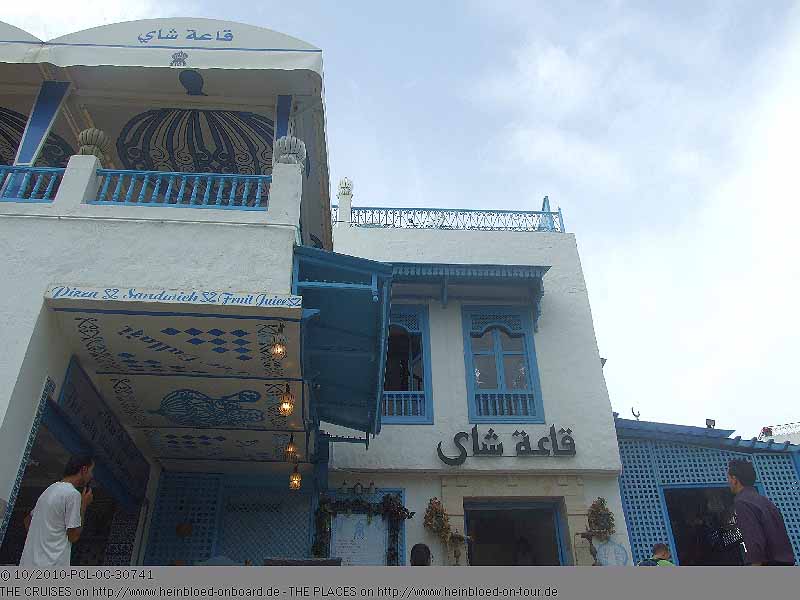 Ich hätte auch gerne mal etwas tunesisches probiert, aber ich konnte auf der Speisekarte bloß westliches Essen identifizieren.
Es lag sehr schön wie in einer Oase in einem Garten.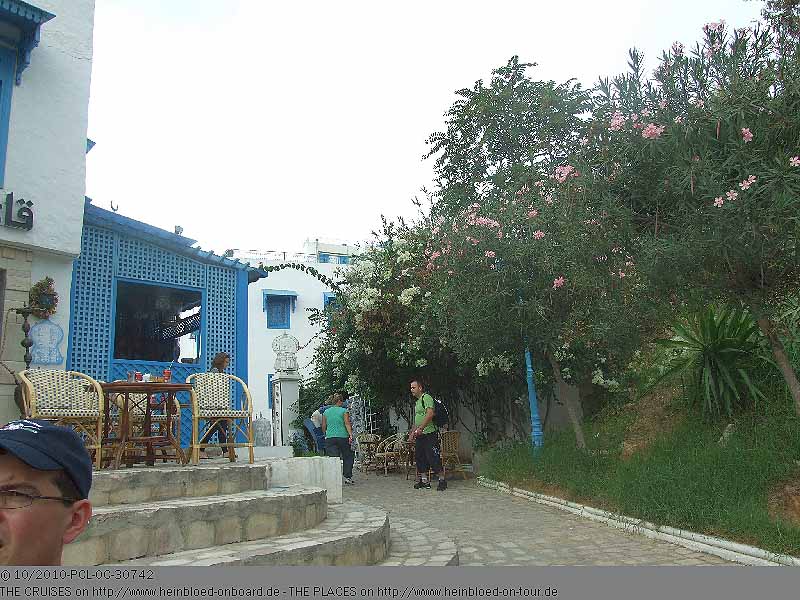 It was like in a oasis in a garden.

They spoke any kind of languages. But I ordered in French a true Arabian tea which they liked as we did not order something western. In the glasses, you find pine nuts. For the pot, we paid 3.00 EUR (2010). If you know how much a little of pine nuts costs in Germany it was a real bargain.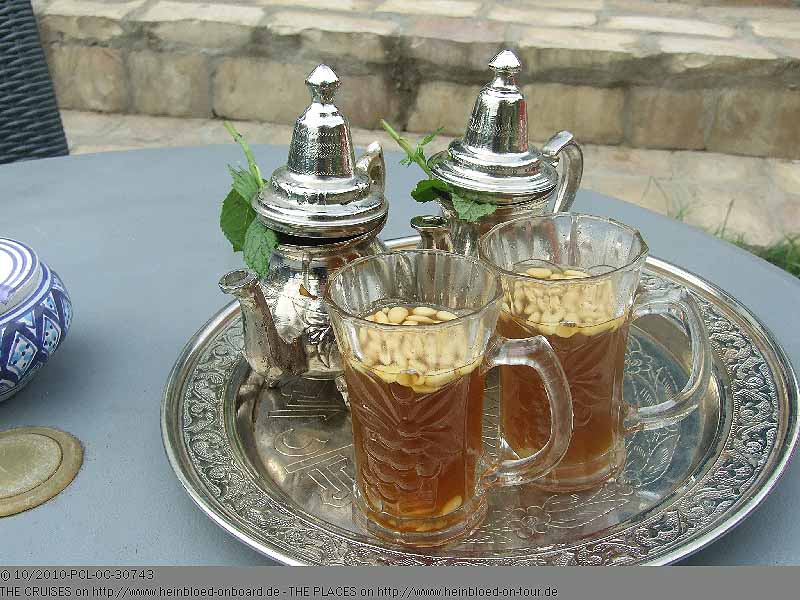 Sie sprechen so ziemlich alle Sprachen. Aber ich bestelle in Französisch einen echten arabischen Tee, worüber sie sich sehr freuen, dass wir nichts westliches wollen. In den Gläsern sind Pinienkerne. Für das Gedeck zahlen wir 3,00 EUR (2010). Wenn man sich vorstellt, wie teuer eine Tüte Pinienkerne in Deutschland ist, war das ja schon ein Schnäppchen.
Bruno sieht sich noch ein wenig im Garten um, während ich mich in den Schatten umplatziere.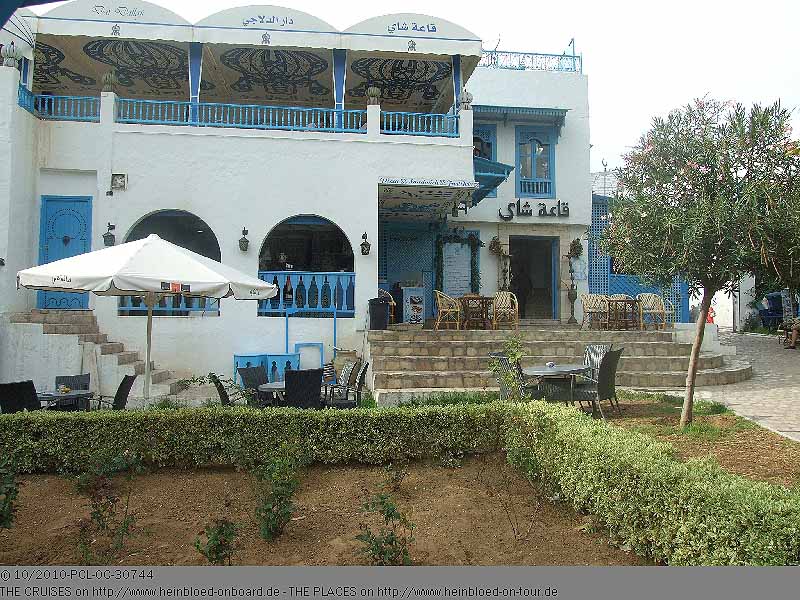 Bruno looked around in the garden while I changed to a seat with some shadow.

We should come back one day when it is not so hot...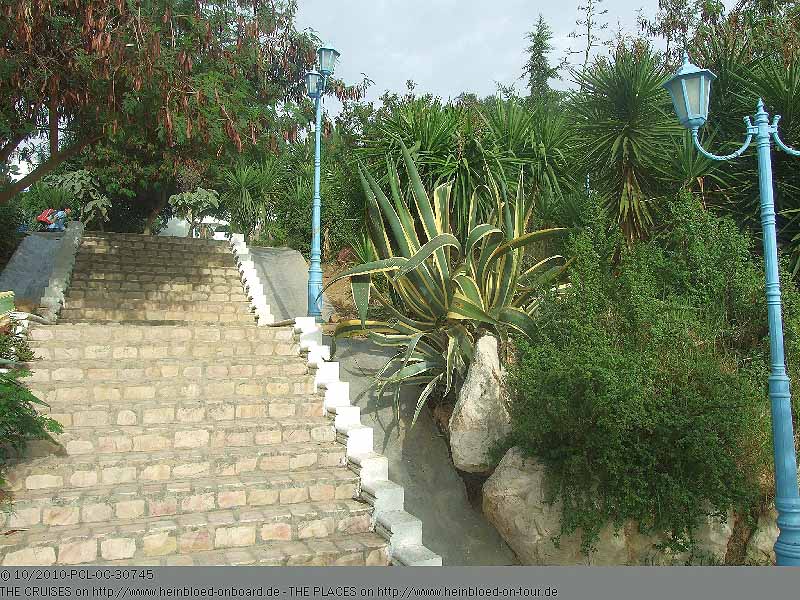 Eigentlich sollten wir nochmals wiederkommen, wenn es kühler ist...
Zum Café gehört auch Souvenirgeschäft, aber man auch hier in Ruhe gelassen, so dass man sich in Ruhe umsehen kann.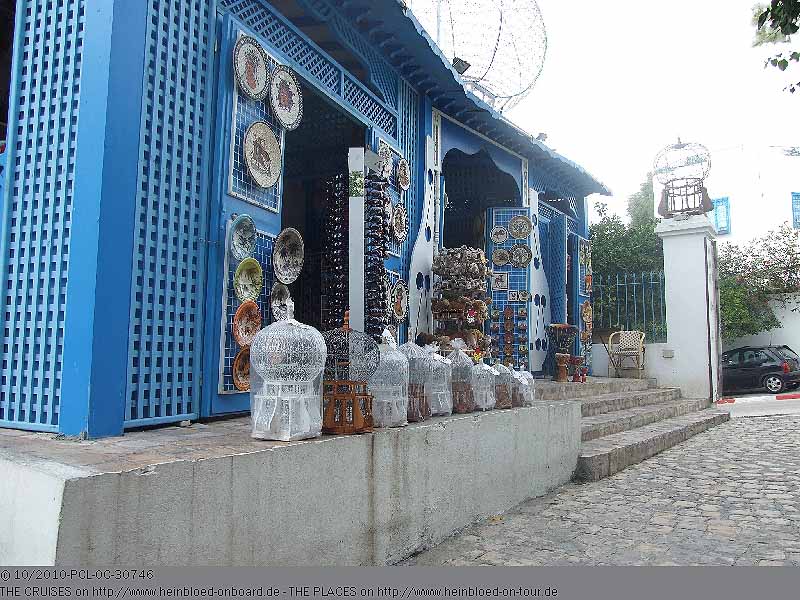 A souvenir shop was part of the café, but nobody gave you much attention, so you were able to browse without being bothered.

When I sat here people from the street can see me.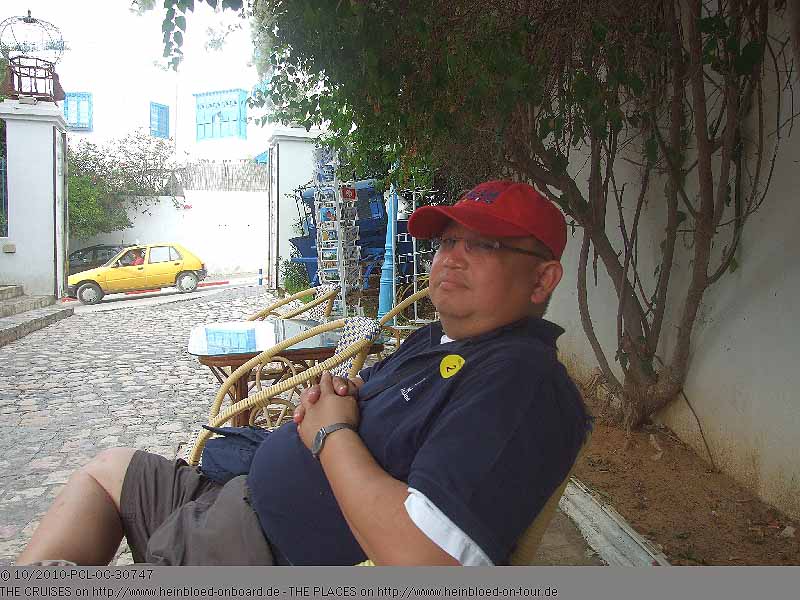 Als ich mich hierher umgesetzt habe, kann man uns von der Straße sehen.
Bald kommen auch schon andere Cruiser, die uns nachmachen und hier einen Tee trinken.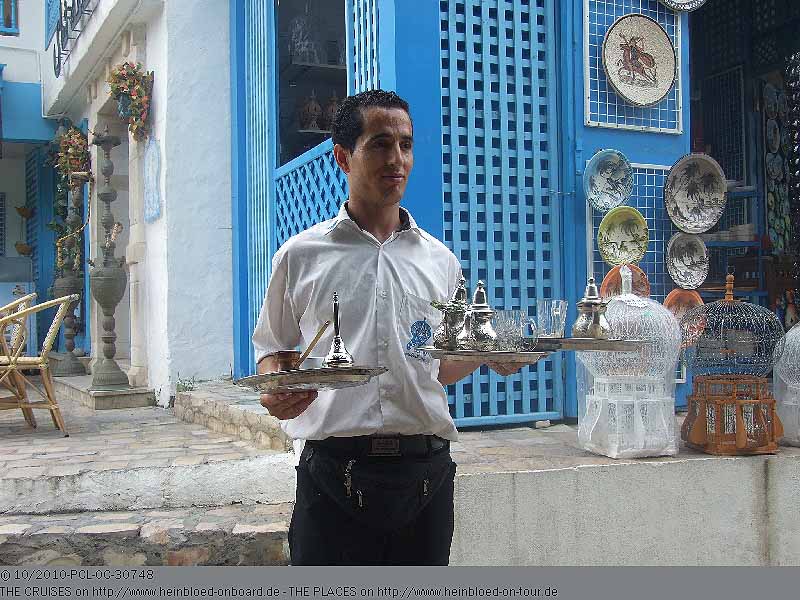 So other cruisers came by who also had something to drink here.

Next to us there were also some parents-cruisers like us before on WESTERDAM in Norway. Two different generations from different continents met in the center to spend a few days together. Sorry to learn that two days later in Barcelona the wallet of the father was stolen. The highest lost: the coffee card - you need to survive on the ship. By the way: coffee. The way they served coffee was gorgeous: You get a few drops of jasmine oil on your arms to freshen you up. By the way: jasmine oil. We were sent unescorted the hill down. Those who were interested in such aromatic oils our tour guide will escort them to a special shop.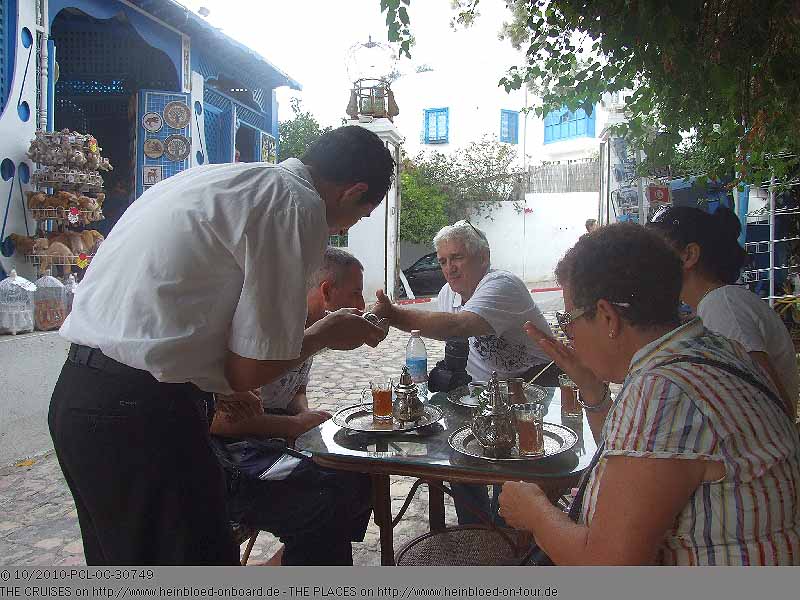 Neben uns setzt sich ebenfalls ein paar Eltern-Kreuzfahrer, so wie wir zuvor auf der
WESTERDAM in Norwegen
. Zwei Generationen aus unterschiedlichen Kontinenten, die sich in der Mitte getroffen haben, um ein paar Tage miteinander zu verbringen. Schade, dass sie dem Vater ein Portemonnaie am nächsten Tag in Barcelona geklaut haben. Der schmerzlicheste Verlust: Die Kaffeekarte, die man zum Überleben auf dem Schiff braucht. Àpropos Kaffee. Der Kaffee wird hier toll serviert: Es gibt ein paar Tropfen Jasminöl auf die Arme zur Erfrischung. Ápropos Jasminöl: wir werden selbstständig wieder bergab geschickt. Diejenigen, die sich für aromatische Öle interessieren, begleitet unser Fremdenführer gerne in ein ganz spezielles Geschäft.
Unten fährt die
TCM-Bahn
die Sidi Bou Said, Karthago, La Goulette und Tunis verbindet.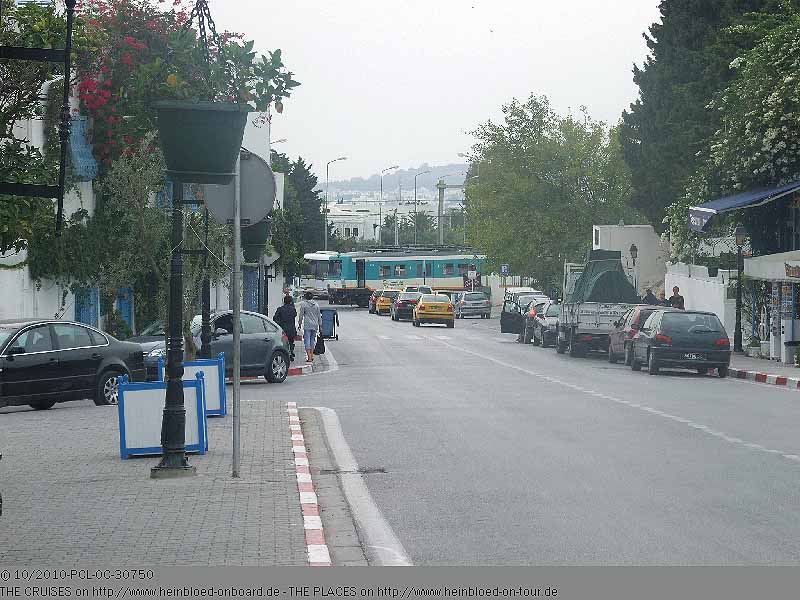 Down the street we could see the TCM-commuter railways which connects Sidi Bou Said, Carthage, La Goulette and Tunis.

The offered 1st class cars too: may we try it the next time. Looked like the train station was only a few hundred yards away from the port entrance as we could see from our bus.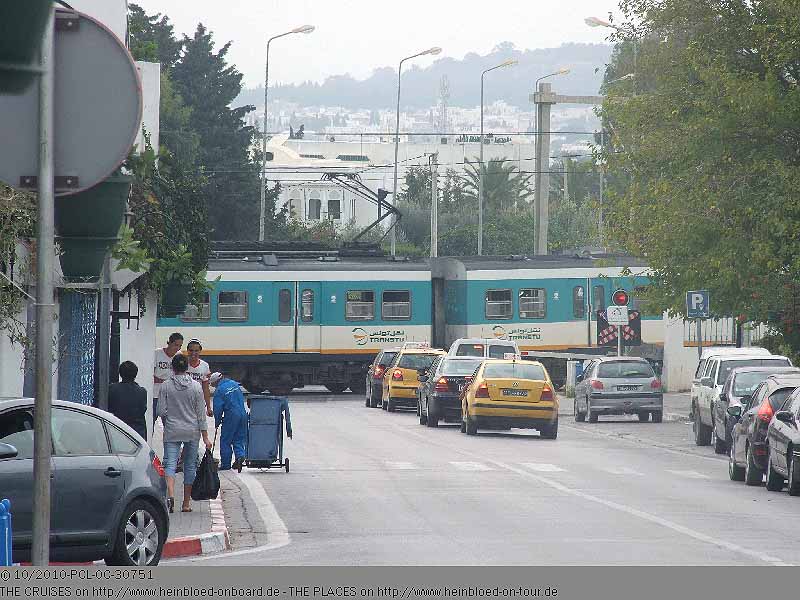 Es gibt sogar 1. Klasse: vielleicht probieren wir es das nächste Mal es aus. Am Hafen waren es wenige Hundert Meter vom Hafentor bis zum nächsten Bahnhof, wie wir sehen konnten.
Weiter geht es zu einem US-Militärfriedhof.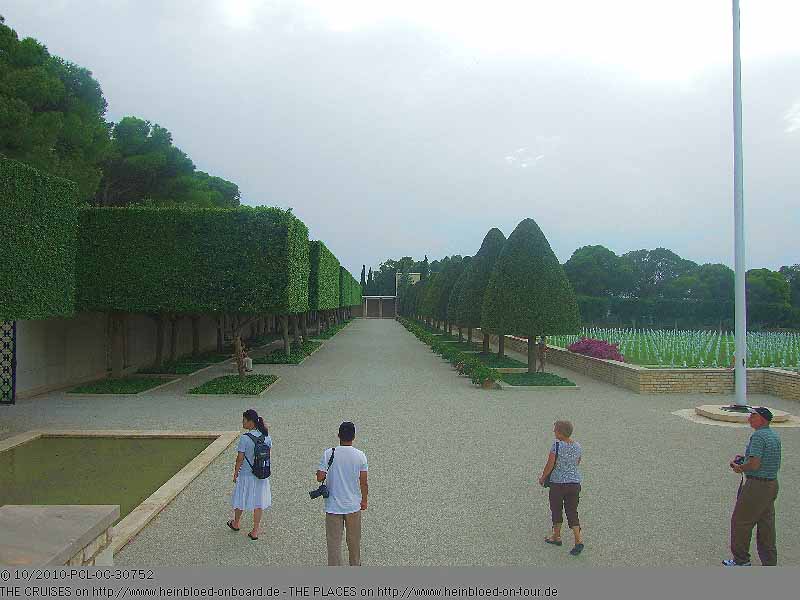 We continued for a US military cementary.

But we did not go too deep inside. Most used it as a toilet stop because it was all "Western".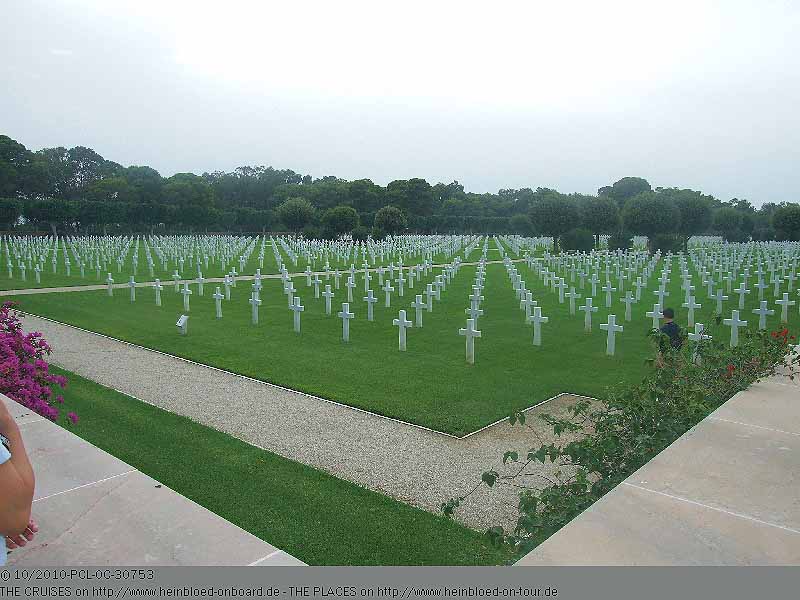 Wir gehen aber nicht besonders tief rein. Es wird mehr als Toilettenstop genutzt, weil es hier alles "westlich" ist.
Von hier aus geht es noch zu den Aquadukten.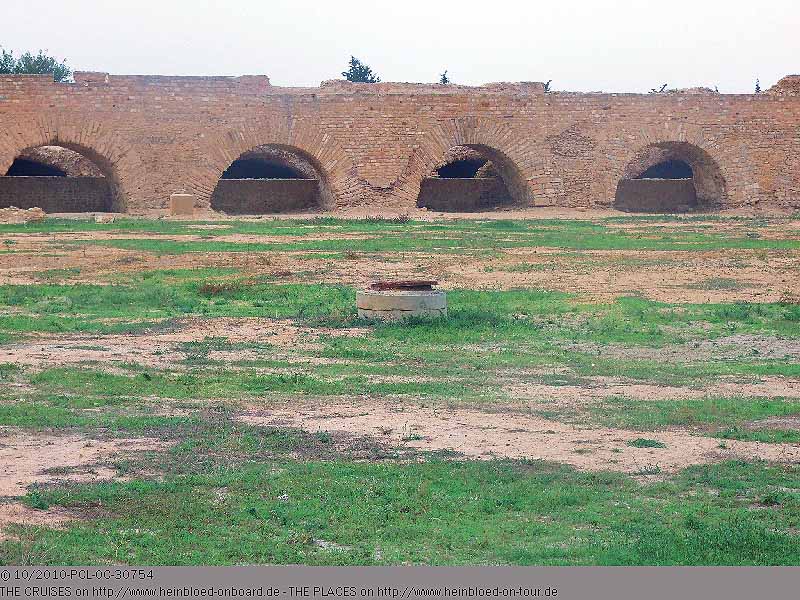 From here we continued for the aquaducts.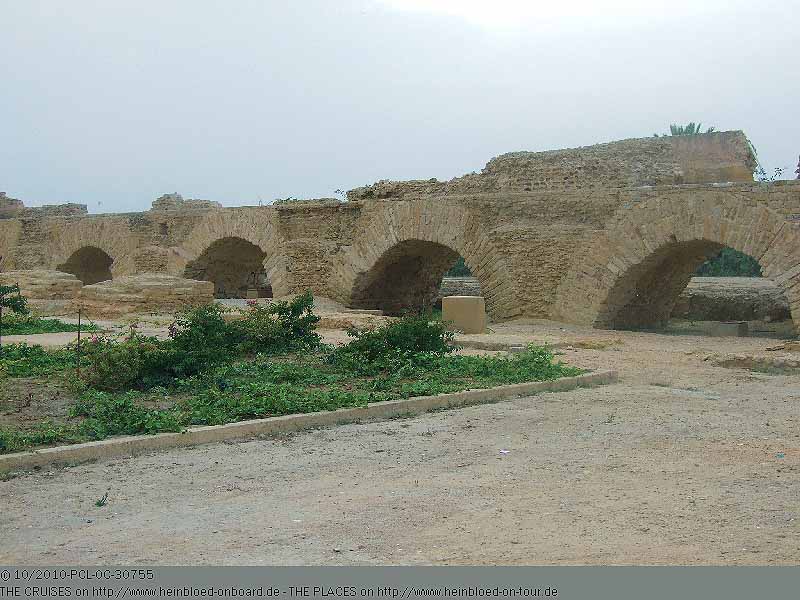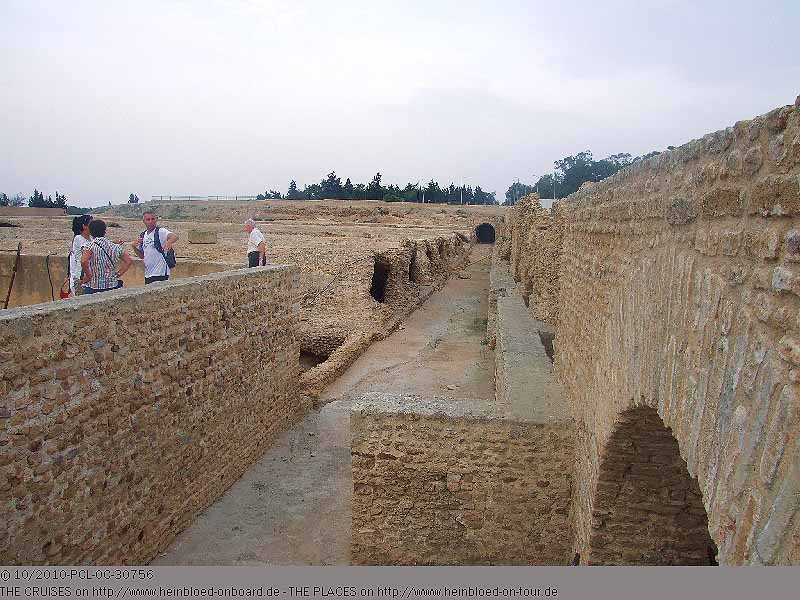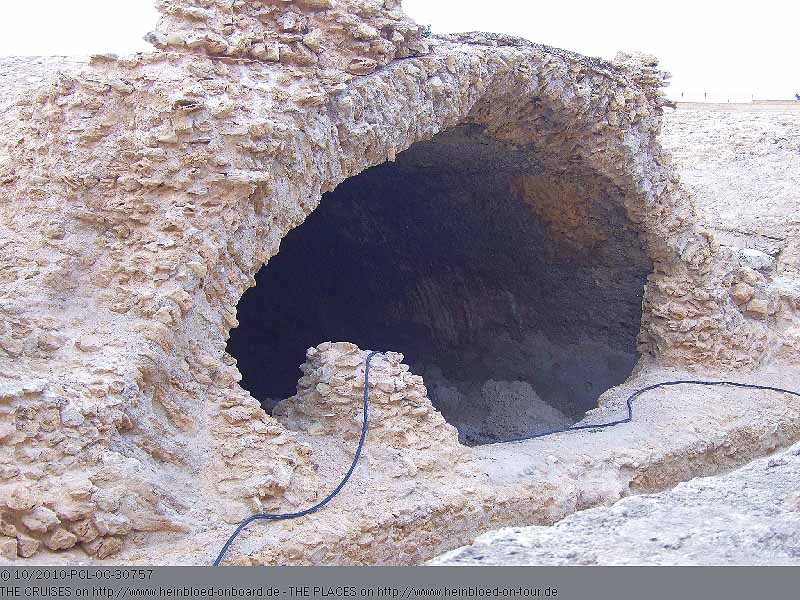 Last not least zu den letzten alten Steinen: einem alten römischen Badehaus.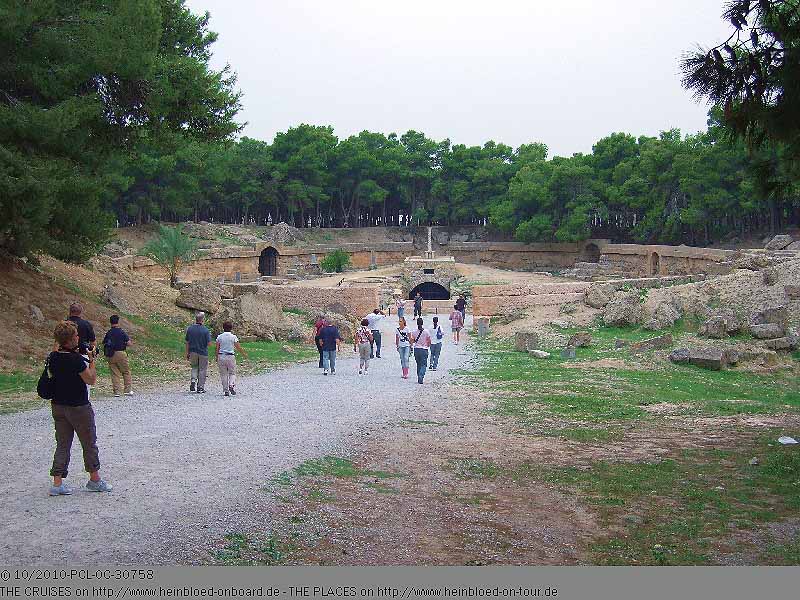 Last not least to the last old stones: an onld ancient Roman bath house or today spa.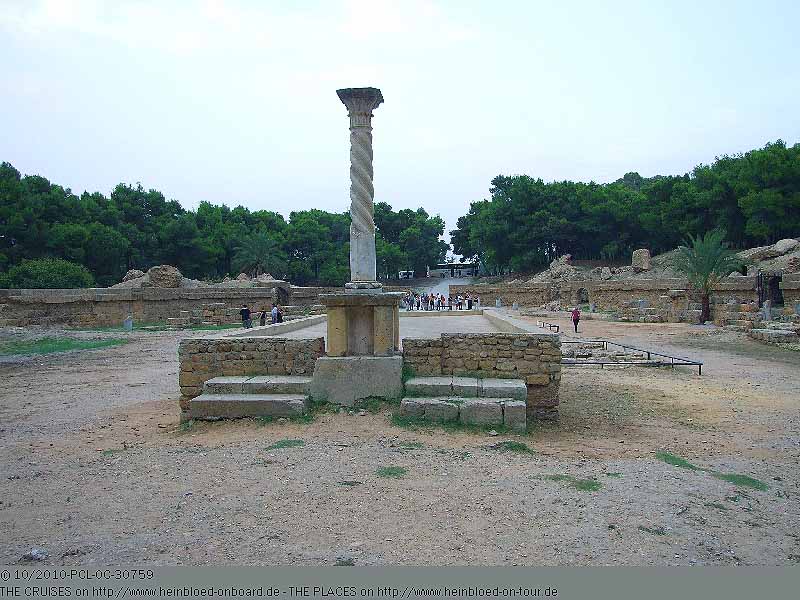 They delivered us directly in front of Goulette Village. We still had 55 minutes bo we looked immediately for the café to use the complimentary internet.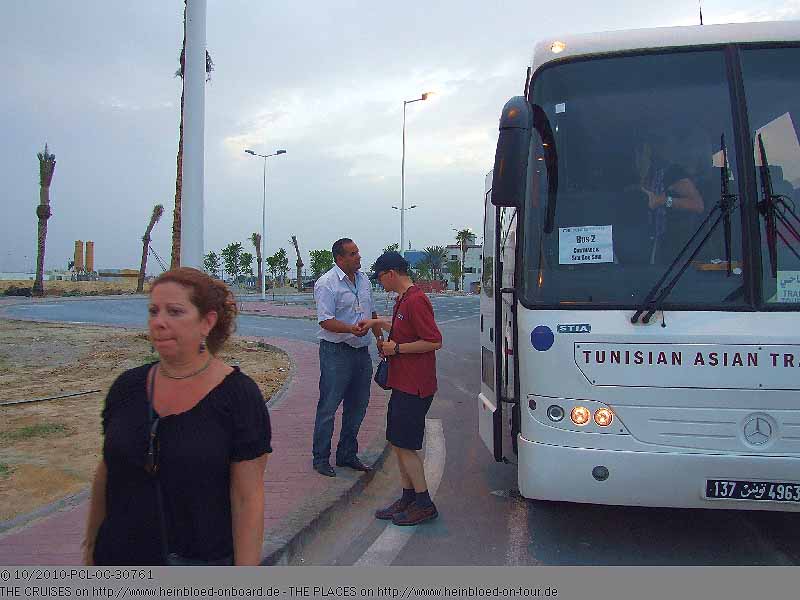 Wir werden direkt vor Goulette Village abgesetzt. Wir haben nur noch 55 Minuten Zeit, aber wir suchen sofort zum Café, um das Internet kostenlos nutzen zu können.
Bruno läuft schon voraus. Ich komme zur letzten Minute und bin aber nicht der letzte. Hier werden erst die Ausreisekarten eingesammelt.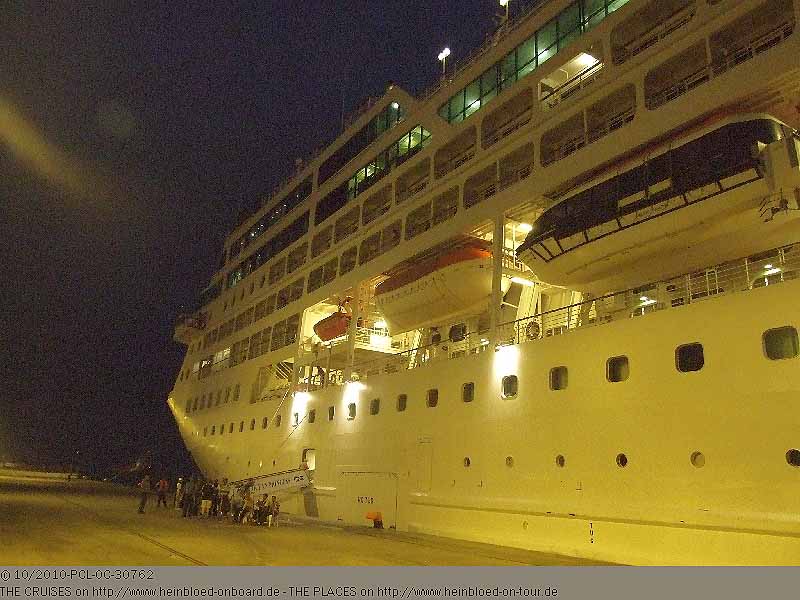 Bruno walked back earlier to the ship. I came the last minute and still was not the last. Here was the place they collected debarkation cards.
Die anderen Reisen in diesem Blog/
The other voyages in this blog: