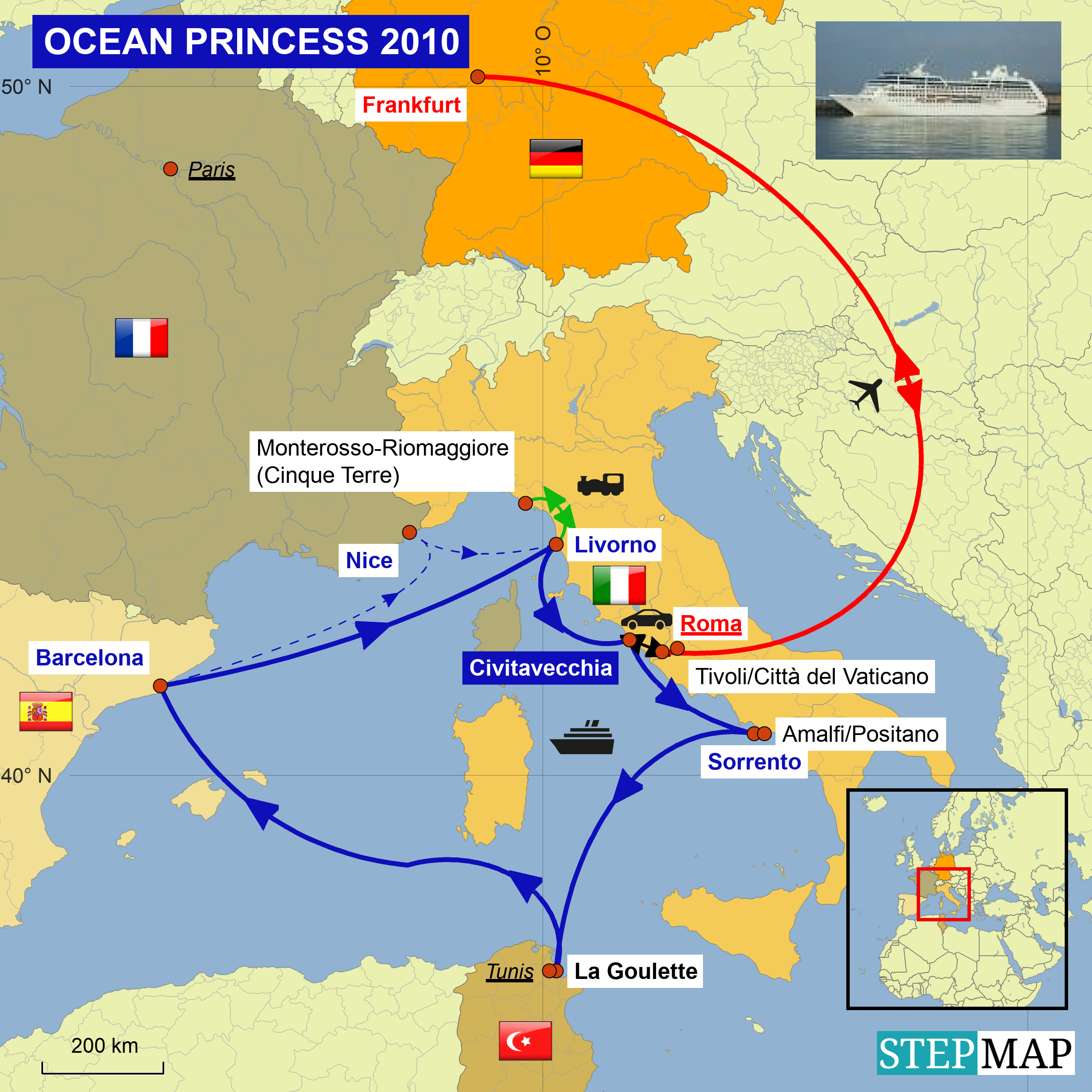 Da ist also der Eingang zu den Vatikanischen Museen.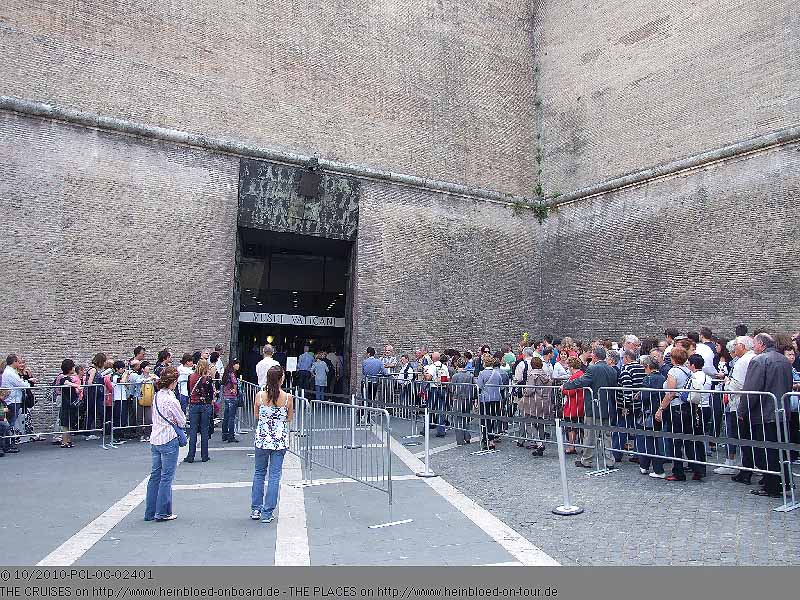 This is the entrance to the Vatican Museum.

Here is a check and you need to show your reservations. It was not printed for nothing that you need to show the voucher. They did not let someone in who had the reference but no print-out. What should the guard scan if there is no barcode available???

Hier wird man direkt kontrolliert und man muss seine Reservierung mitführen. Nicht umsonst steht in der Reservierungsbestätigung, dass man den Gutschein mitführen muss. Ein paar kommen nicht rein, die nur die Referenz haben, aber keinen Ausdruck. Was soll der gute Mann an der Kontrolle scannen, wenn er keinen Barcode hat????
Man wird nochmals an eine angemessene Bekleidung erinnert, wenn man in die Sistinische Kapelle will.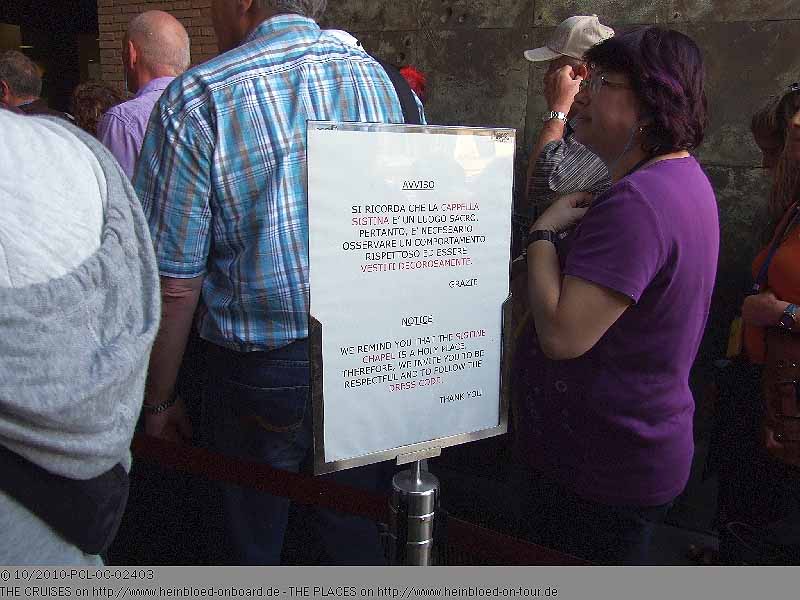 They remember one to have appropiate clothes if you like to visit the Sistine Chapel.

Do not arrive with large bags to this place...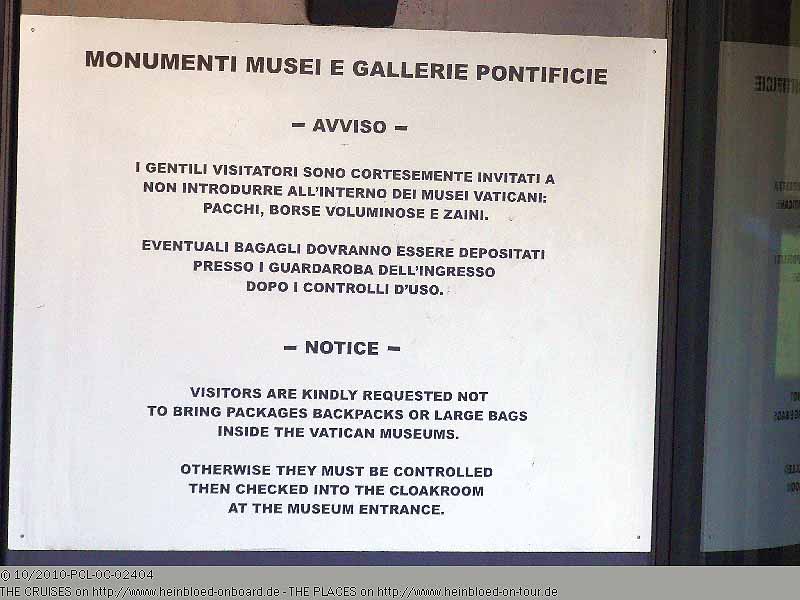 Also keinesfalls mit großem Gepäck hierher anreisen...
Drinnen wirkt es wie die Abfertigungshalle eines Flughafens. In der oberen Gallerie befinden sich die Kassen für die Besucher ohne Eintrittskarten.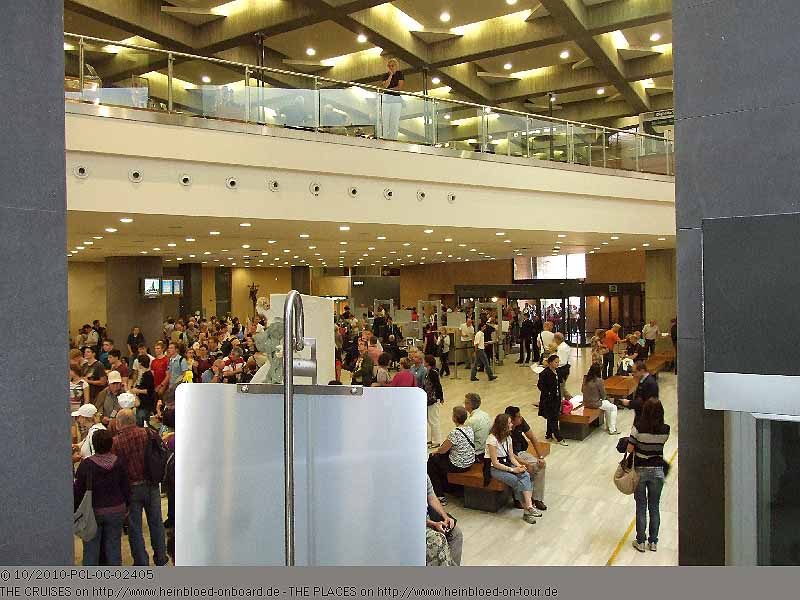 Inside it looked like a check-in hall of an airport. In the upper gallery, you find the cashiers for individual visitors.

You find the storage for the bags to the left.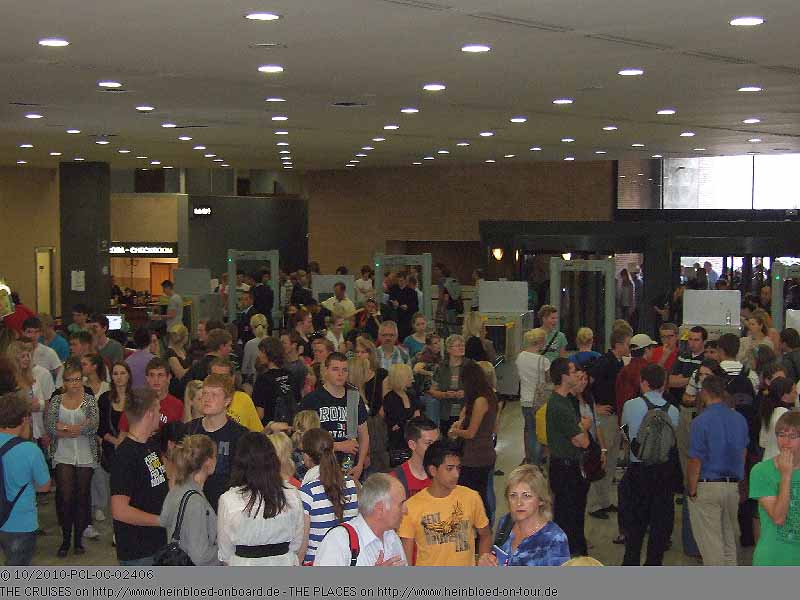 Hinten links befindet sich die Gepäckaufbewahrung.
Für uns mit Reservierungen gibt es hier einen eigenen Kassenbereich.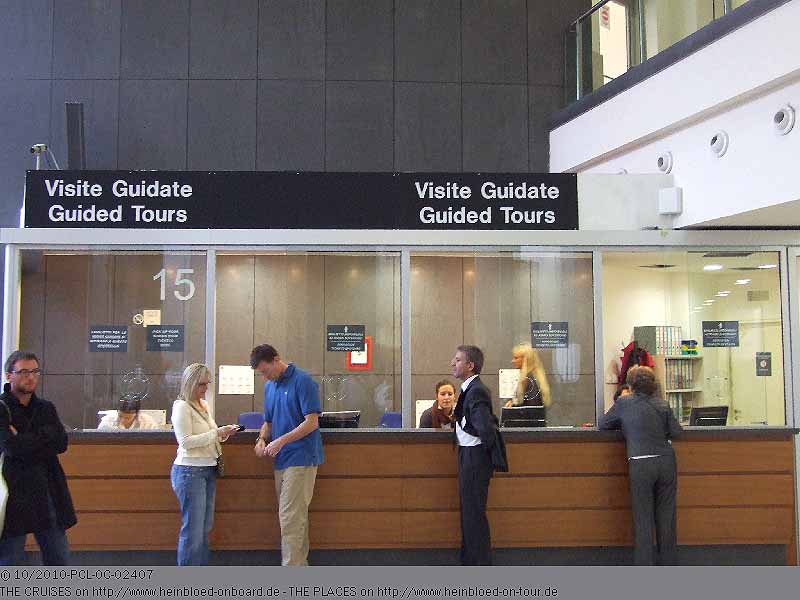 For us with reservations you find a dedicated cashier section.

We got our reservation exchanged for two admission tickets and got a receipt that we were entitled to get some audio-receivers.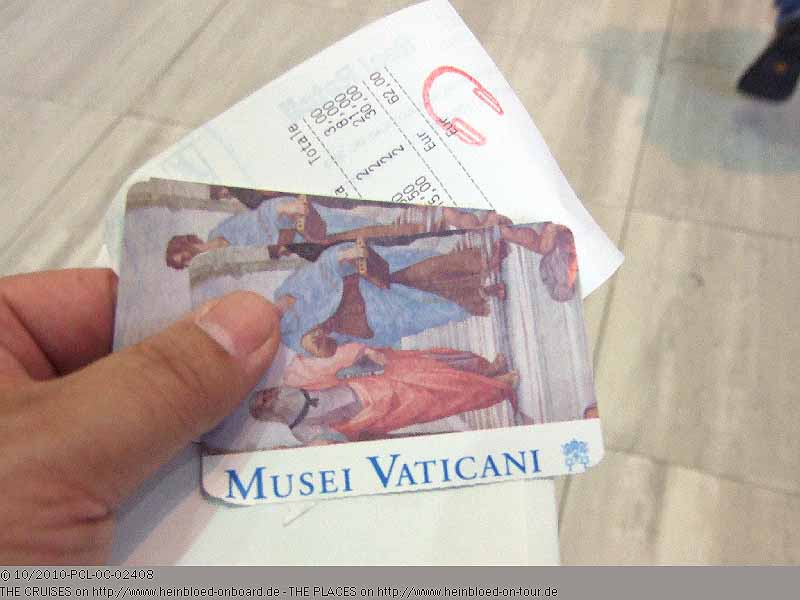 Wir bekommen unsere Reservierungen hier gegen zwei Eintrittskarten eingetauscht und bekommen einen Beleg, dass wir berechtigt sind, entsprechende Audioempfänger zu bekommen.
Es gibt extra einen Treffpunkt für uns.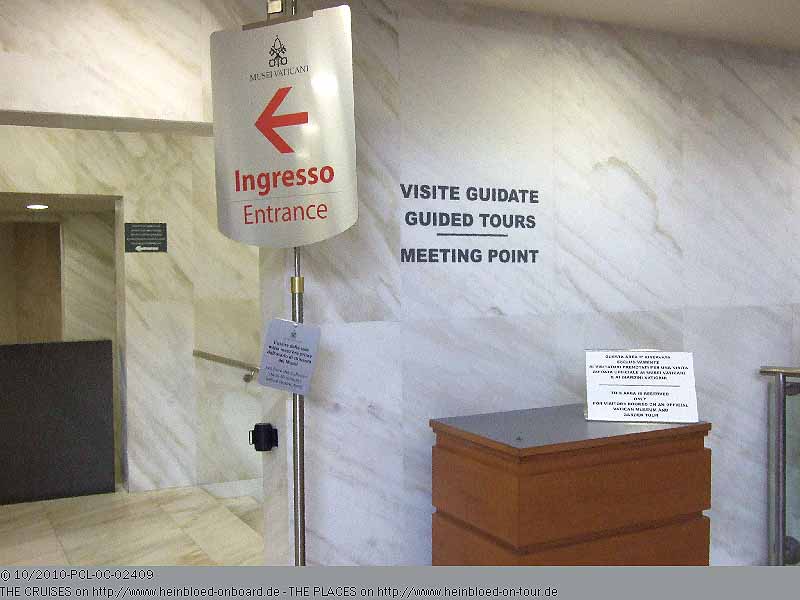 There was a dedicated meeting point for us.

All others should not be there...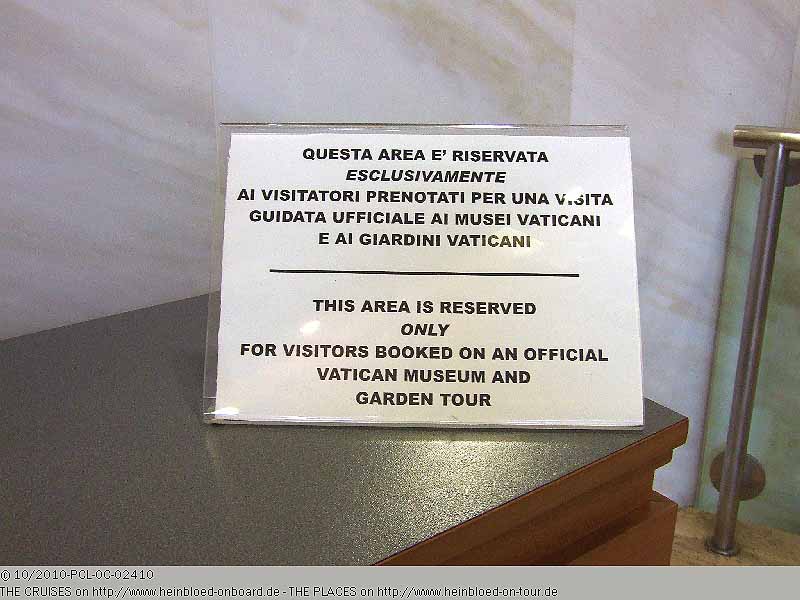 Und alle anderen haben hier nichts zu suchen.
Unsere Gruppe bekommt hier ihre Audioempfänger.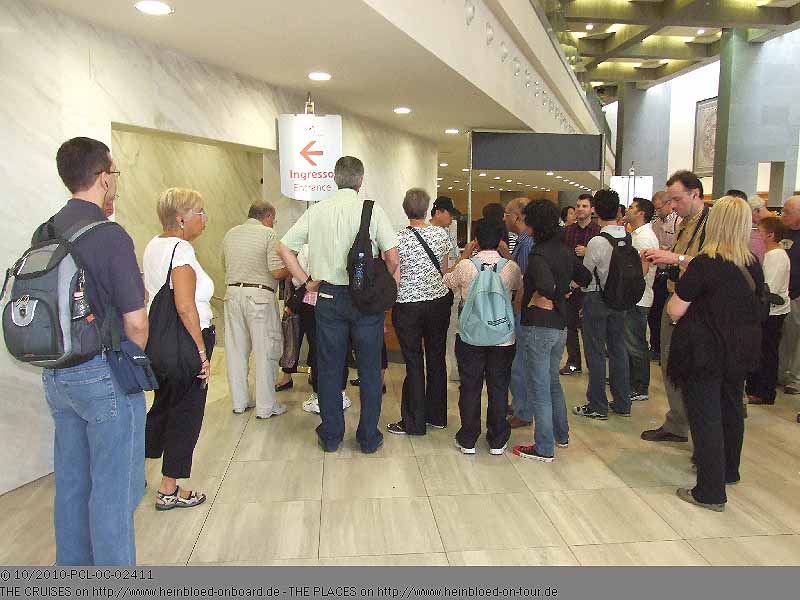 Our group got the audio-receivers.

It only works if you are close enough with your tour guide. It should avoid that the tour guide needs to speak up and we can understand him better. Who does not like the type of button in the ear should have some headset of his own with him.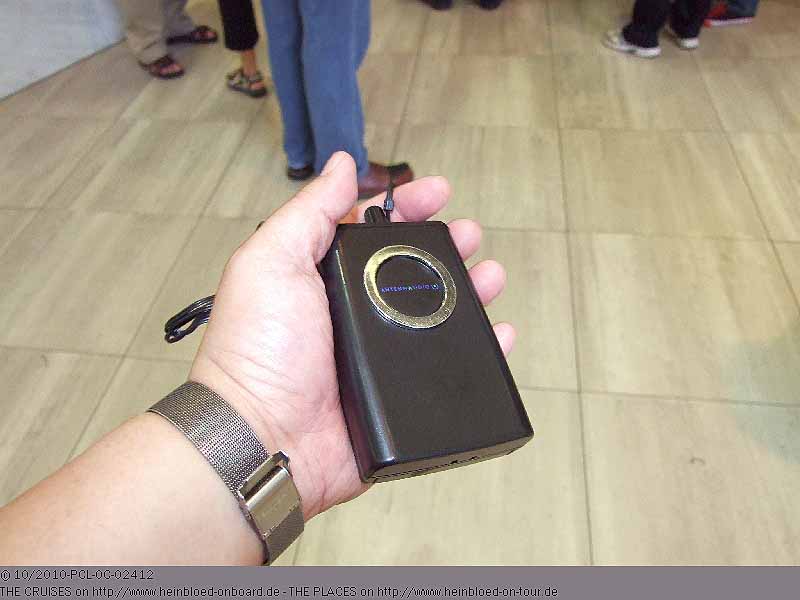 Es funktioniert nur in der Nähe des Fremdenführers und somit soll vermieden werden, dass ein Fremdenführer laut sprechen muss und wir alles besser verstehen. Wer jedoch keine Knöpfe in den Ohren mag, sollte lieber sich einen normalen Kopfhörer mitbringen.
Da in der Sistinischen Kapelle Redeverbot besteht, erklärt die Fremdenführerin anhand der Schautafeln vorab schon alles, was wir erst in zwei Stunden sehen werden. Aufgrund der tollen Erklärungen freuen wir uns schon sehr es endlich im Original zu sehen.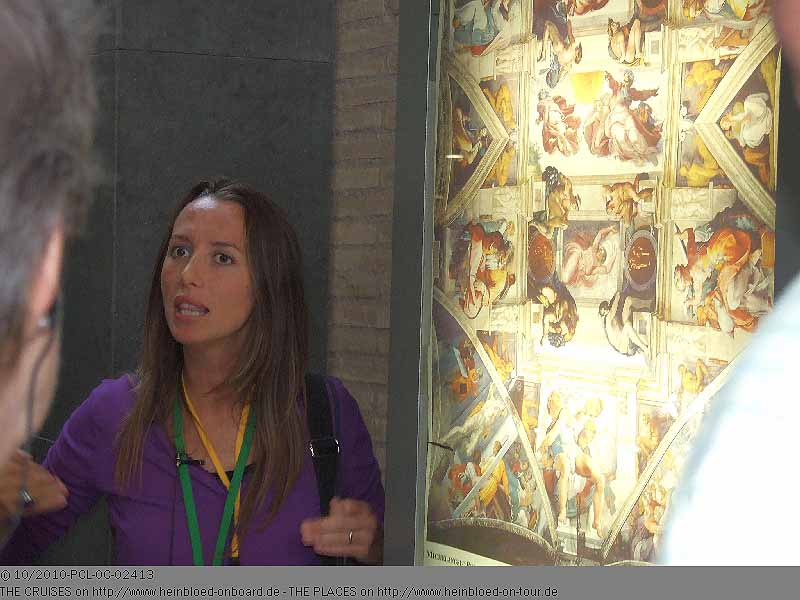 As it is not allowed to speak loud in the Sistine Chapel our tour guide explained at the board two hours ahead of the visit. Due to her great explanations, we were looking forward to seeing the originals finally.

They usually explain it outside in the outdoor-court but as you can see on the ground: big drops of rain came down.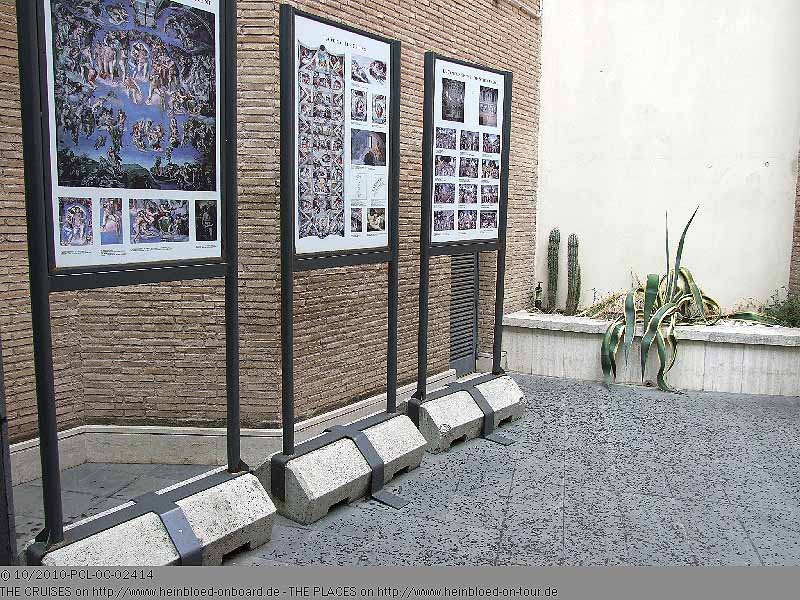 Normalerweise finden die Erläuterungen im Innenhof im Freien statt, aber wie man auf dem Boden sieht: Dicke Tropfen kommen nieder.
Was wir an dieser Stelle noch nicht wissen: näher kommen wir an den Finger Gottes und Adams später nicht mehr dran. Aber 14,00 EUR für den Stoffbeutel finde ich doch etwas extrem teuer.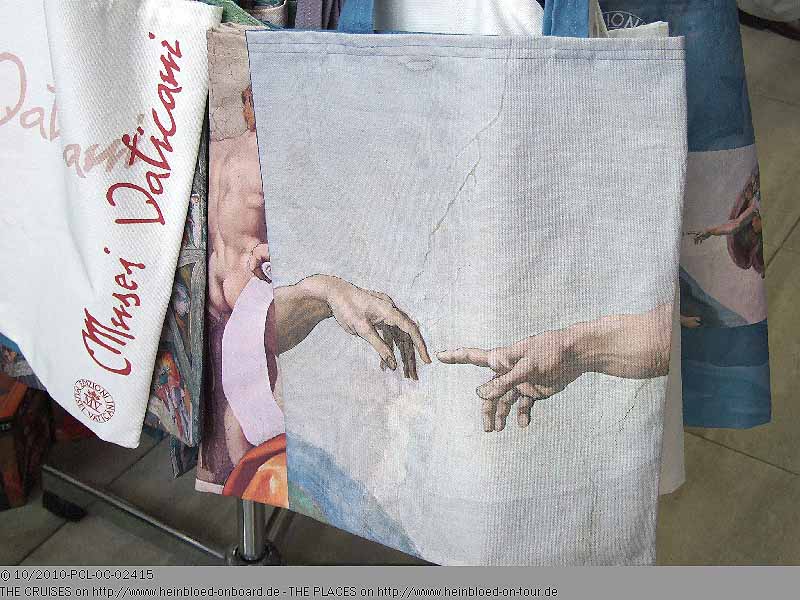 What we did not know at this point: closer but now we will never have the chance to see the finger of God and Adam. But 14.00 EUR for a shopping bag is somehow expensive.

I did not expect an escalator in a building of the Vatican.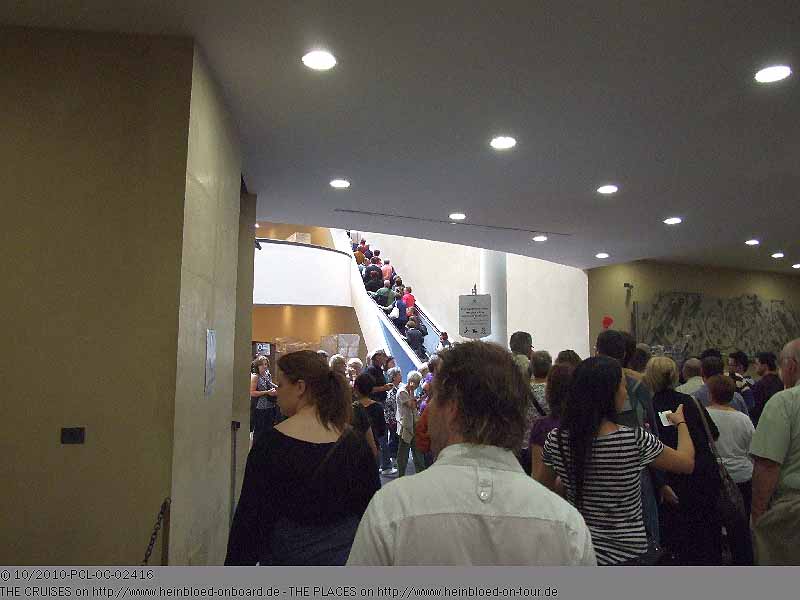 Mit einer Rolltreppe habe ich ja eigentlich im Vatikan nicht gerechnet.
Aber bei dem Höhenunterschied sicherlich der beste Weg, um die Massen nach oben zu bewegen.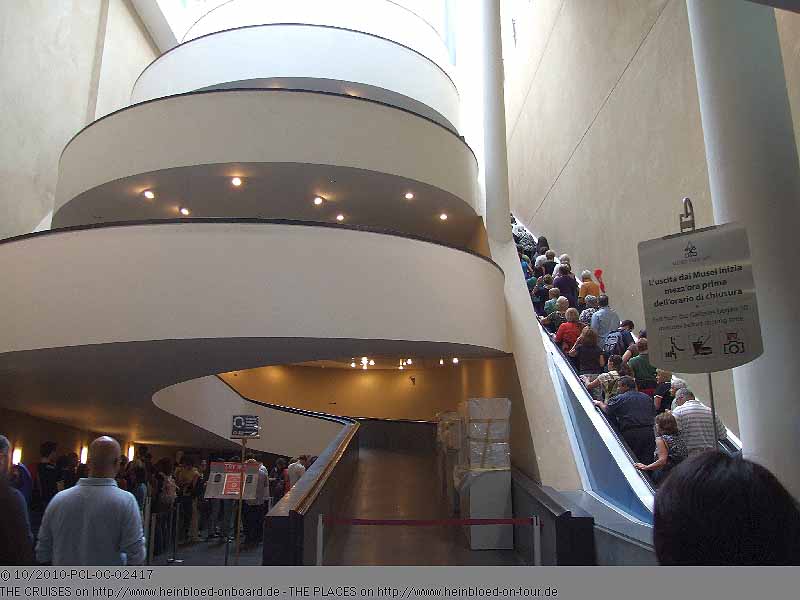 But with this difference on the levels, it must be the best way to move the masses.

Like in the subway.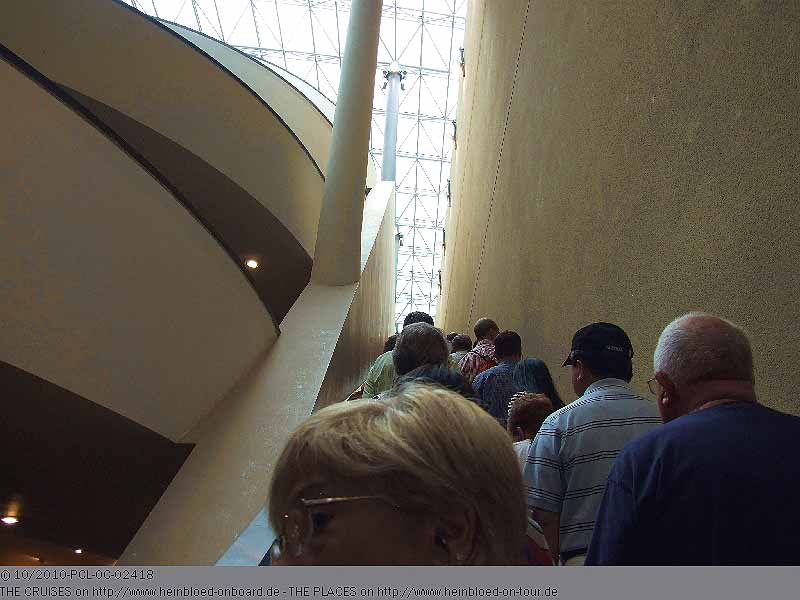 Fast wie in der U-Bahn.
Es heißt ja Vatikanische Museen. Unsere Führung beinhaltet jedoch nur die Führung durch die Räume, die auf dem Weg zur Sistinischen Kapelle liegen.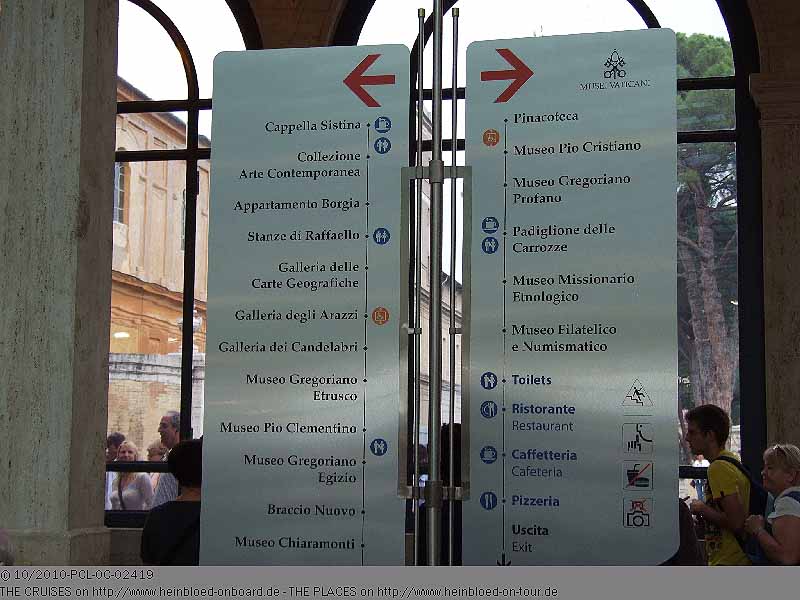 It were the Vatican Museums. Our guiding was limited to the rooms on the way to the Sistine Chapel.

We went outside to have a view of the dome of St. Peter's Basilica.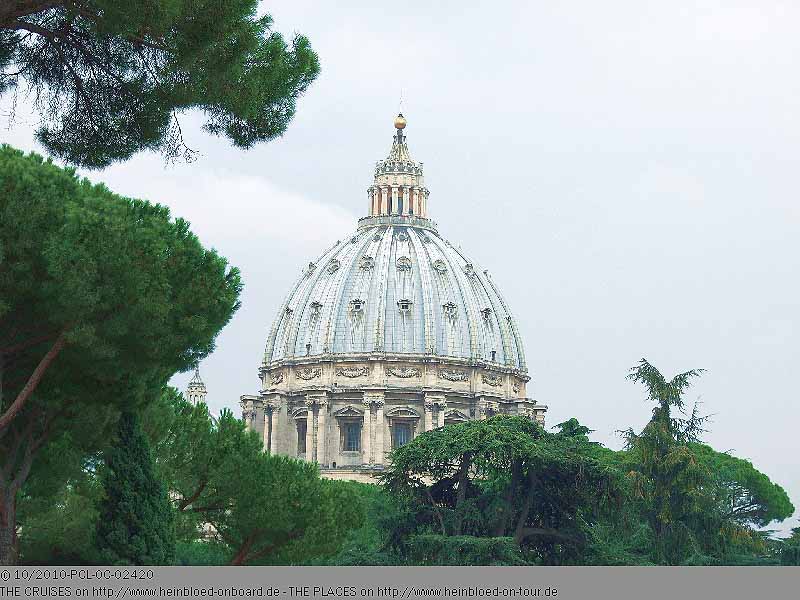 Es geht kurz nach draußen, um die Kuppel des Petersdoms zu sehen.
Die Vatikanischen Gärten heben wir uns für ein anderes Mal auf. Aber das wäre etwas, was uns noch interessiert.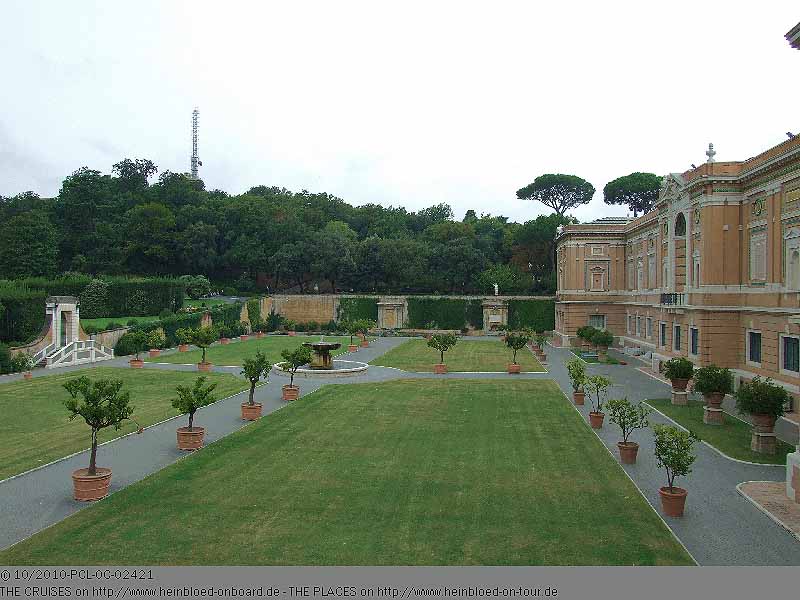 We saved the Vatican Garden for another visit. Something we are very interested to see.

This part of the museum we did not even enter.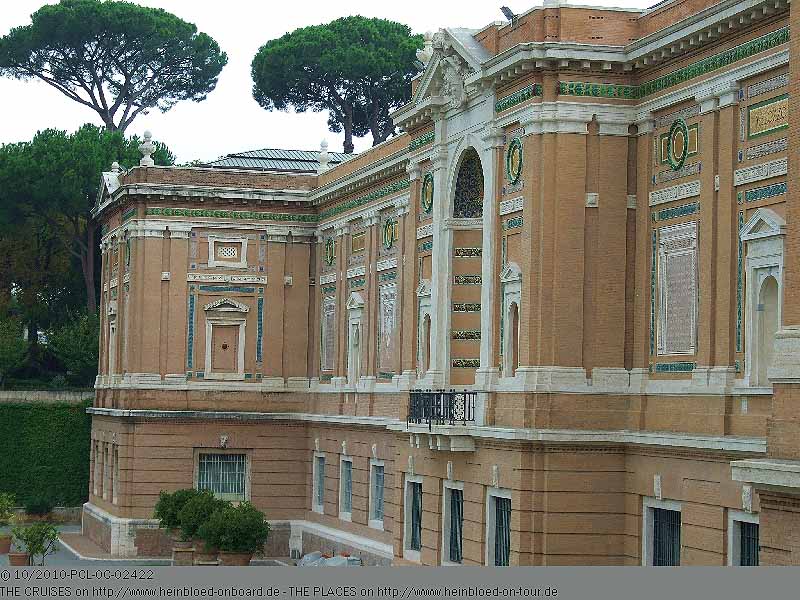 Diesen Gebäudeteil des Museums betreten wir nicht einmal.
Wäre aber interessant bei der Architektur: Baujahr 1981...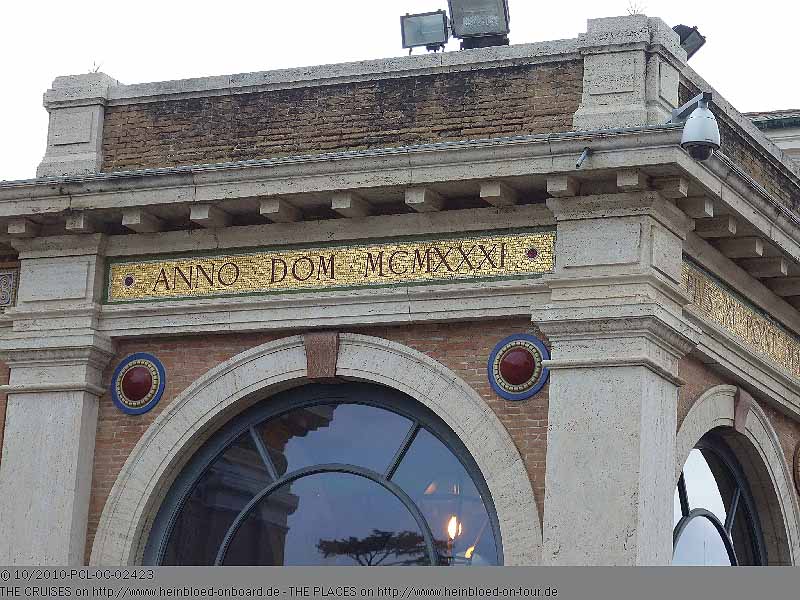 But might be very interesting because of the architechture: build in 1981...

When we were in the next inside court, it started to rain again.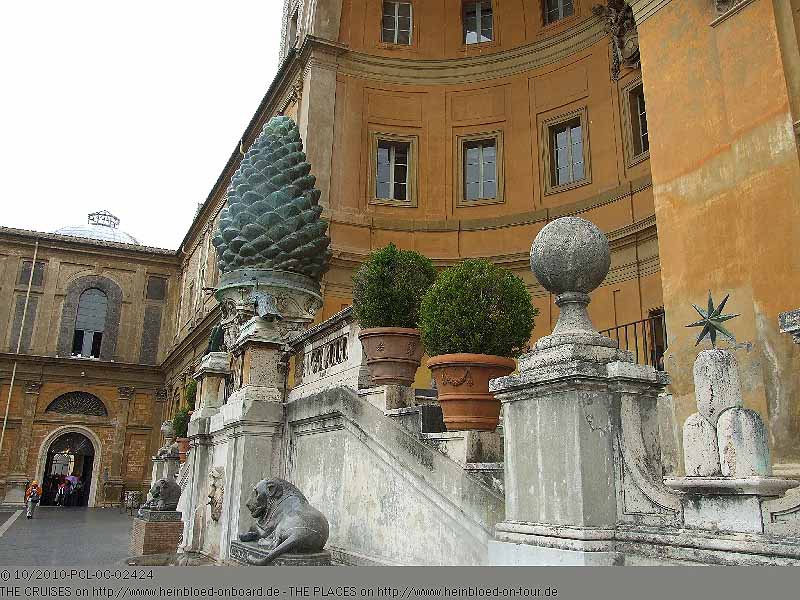 Als wir im nächsten Innenhof sind, fängt es wieder an zu regnen.
So rennen alle vom Platz und wollen schnell in die Gebäude rein.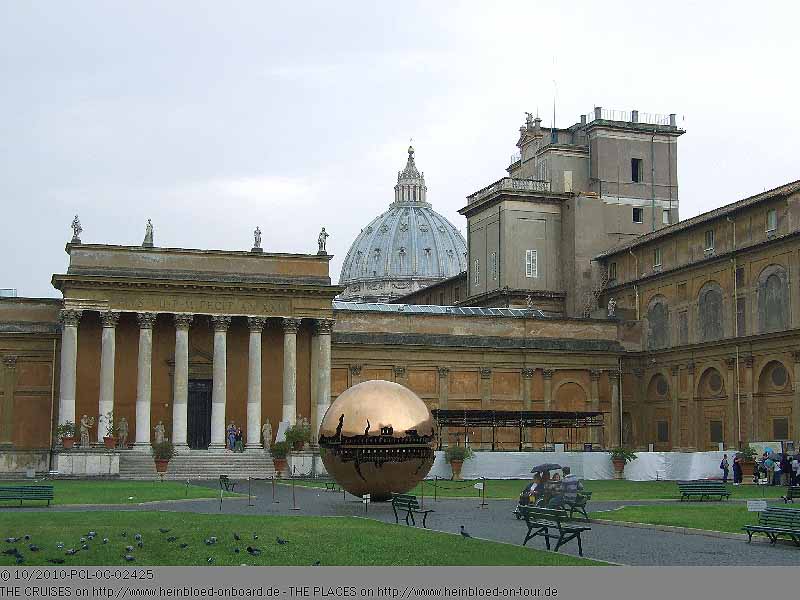 So everybody ran to the buildings and entered them.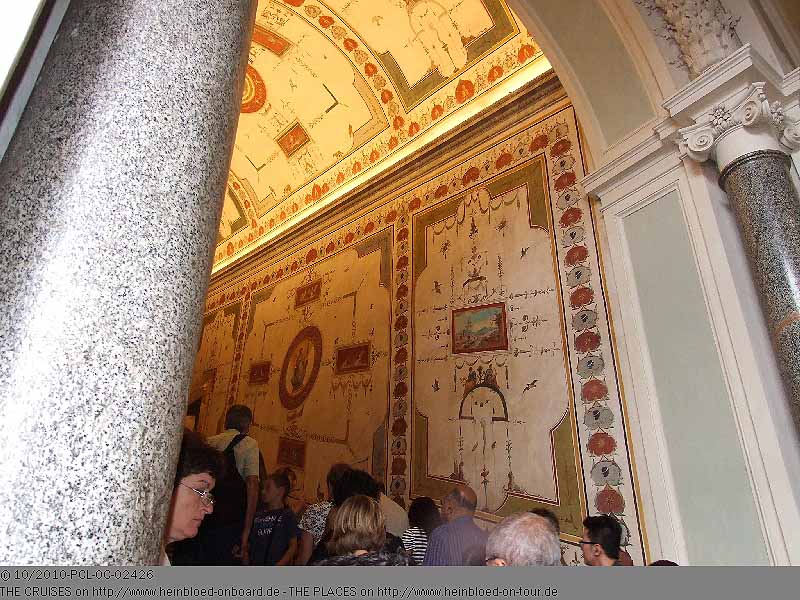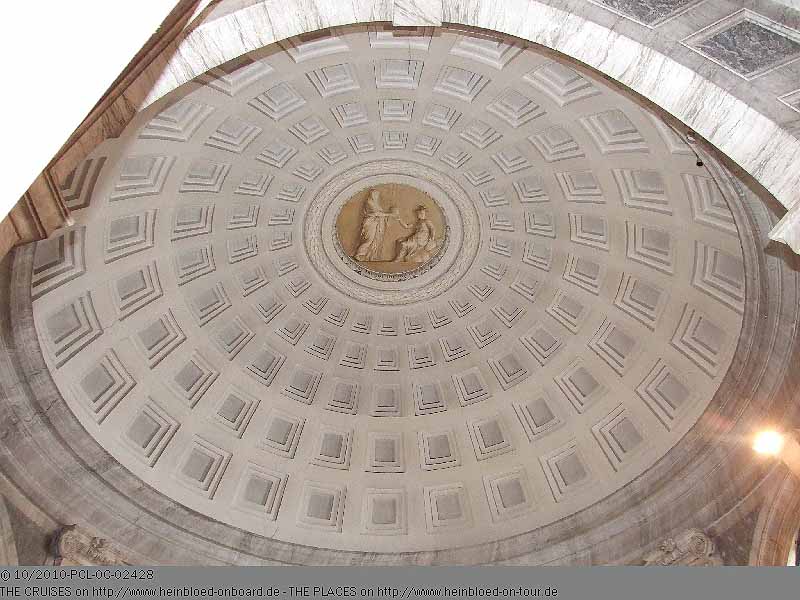 In einem weiteren Innenhof gibt es Skulpturen (insgesamt ca. 3.000 Stück im gesamten Museum, wovon 2.000 ausgestellt sein sollen). Die Geschlechtsteile von Apollo, führen dazu, dass manche Amerikanerinnen vor Scham rot anlaufen und nicht mehr wissen, wohin sie gucken sollen.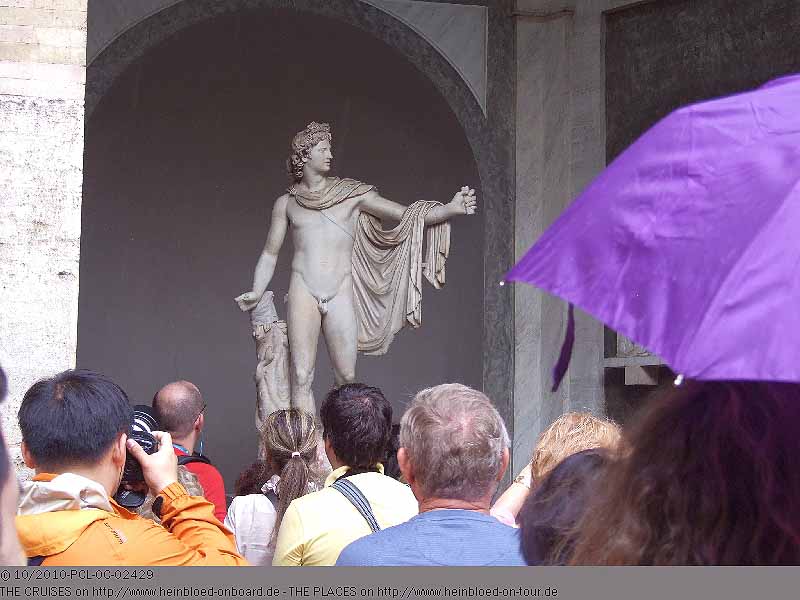 In another court there were sculptures (totally they have about 3,000 of them 2,000 were exhibited). The genitals of Apollo occurred that some faces of American women became red and did not know anymore where to look.

Of the tour, members attracted our attention because of the many questions they had. The tour guide was at the limit of her knowledge because he liked to know every single history of the unique sculptures. Two days later we found out: they were also guests on OCEAN PRINCESS and had the cabin five doors down the hallway. I have not studied Art History: just let the pictures speak for themselves.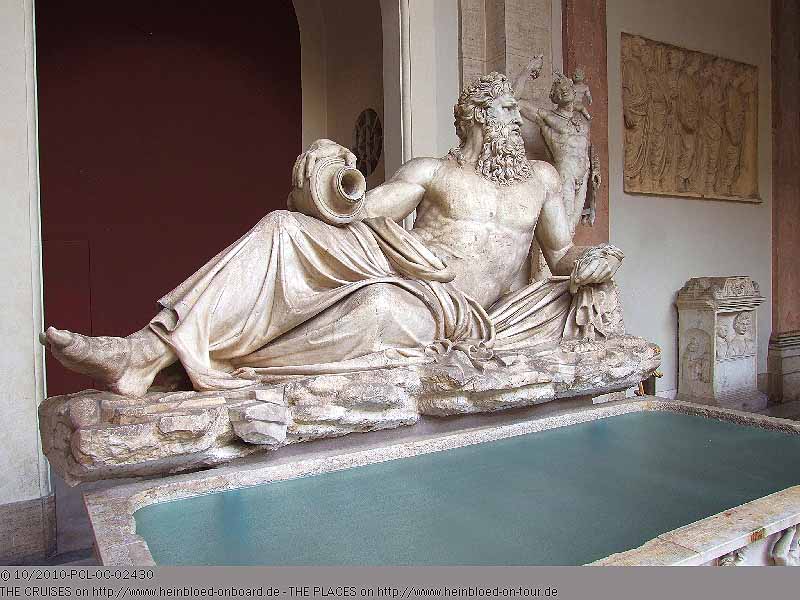 Ein Gruppenmitglied fiel durch viele Rückfragen auf. Er brachte die Fremdenführerin an den Rande ihres Limits, weil er von jeder einzelnen Statue die Hintergründe wissen wollte. Zwei Tage später stellen wir fest: sie sind auch Gäste der OCEAN PRINCESS und wohnen fünf Kabinen von uns entfernt. Ich bin kein Kunsthistoriker: Einfach die Bilder wirken lassen.

Zwischenzeitlich hat es wieder aufgehört zu regnen.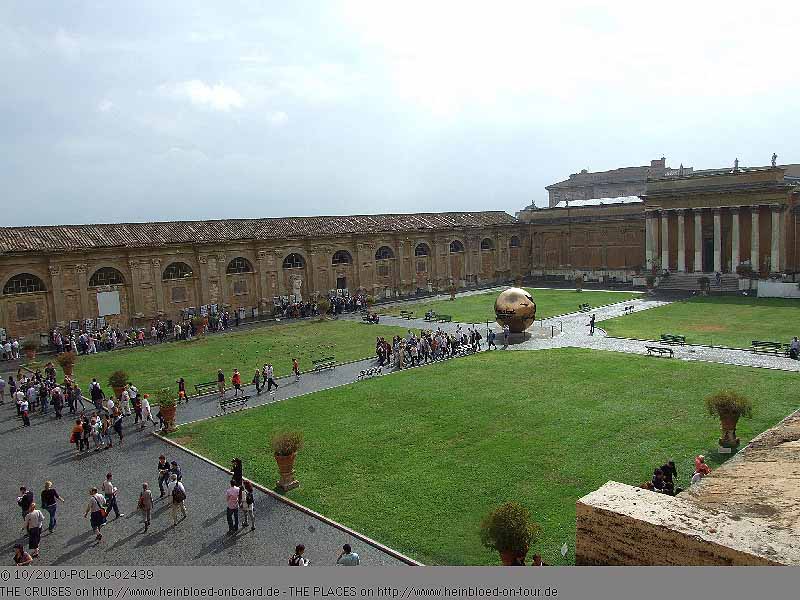 Meanwhile the rain stopped.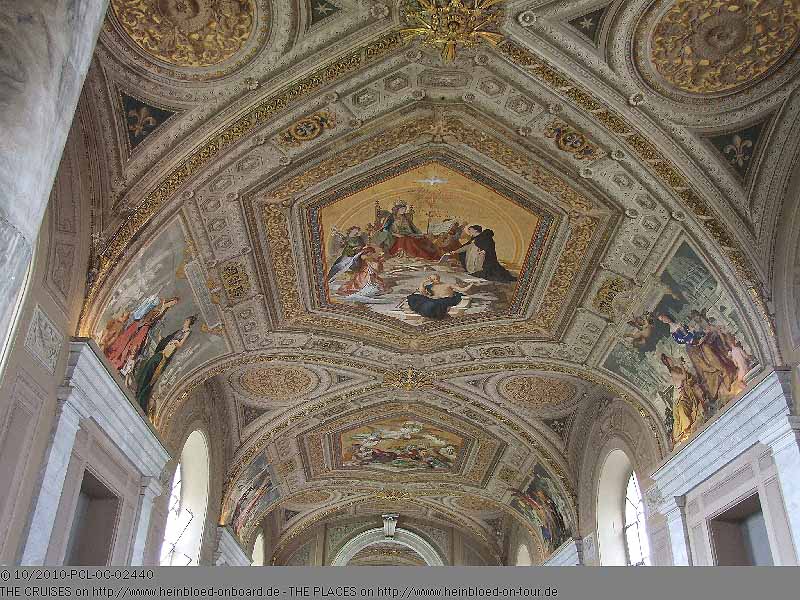 Eigentlich sollte Fotografieren hier verboten sein, aber die Sicherheitsleute unternehmen nichts, wenn man selbst mit Blitz fotografiert. Nur als ich dann im Museumsmodus ohne Blitz fotografiere, werde ich von der Fremdenführerin gemaßregelt. Entweder alle oder keiner. Aber dass ich nicht soll und andere können ungestört fotografieren, sehe ich nicht ein.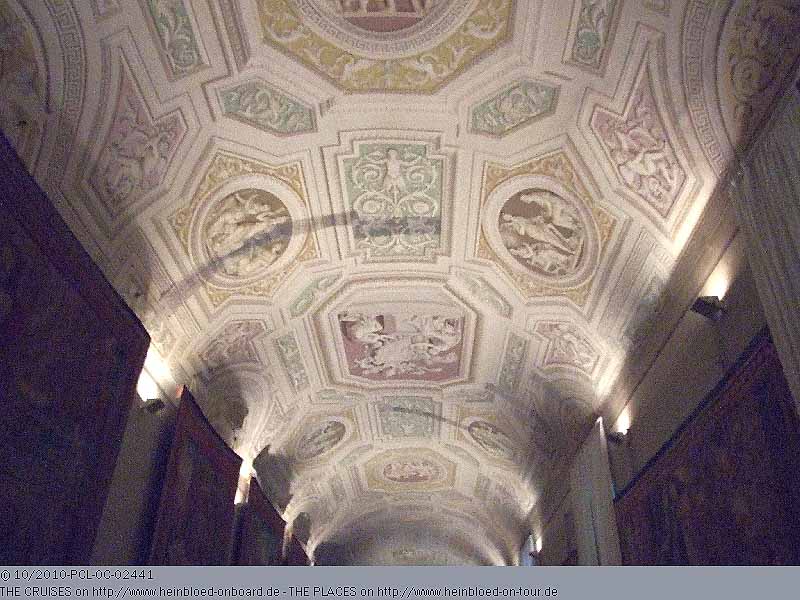 Normally taking pictures was forbidden in this room, but the security guard did not stop anyone even they took pictures with flash. But when I made with the museum's mode our tour guide tried to stop me. They should stop all or none. I do not accept that others can take pictures while I was forbidden.

Now we get to the Italian map room: Google Street View anno before...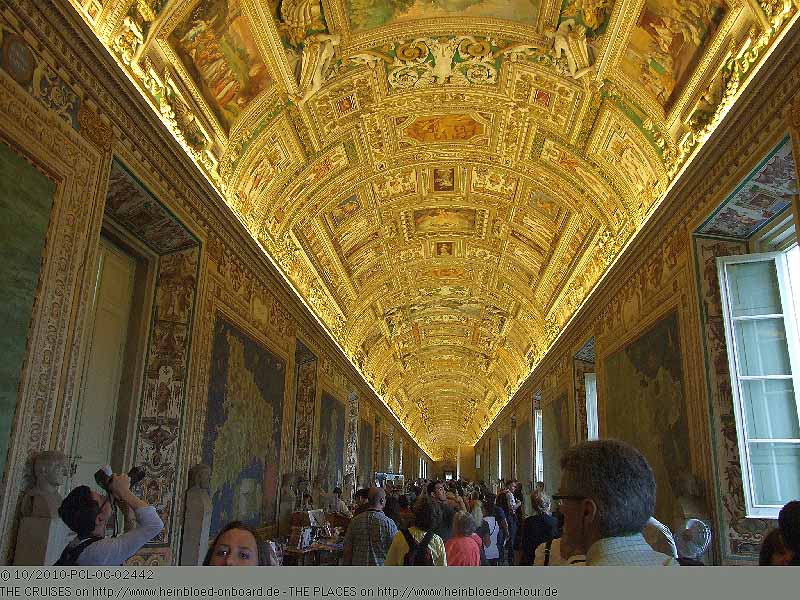 Hier geht es kann in den italienischen Landkarten Raum: Google Street View anno dazumal...
Extra für uns Kreuzfahrer: Genua... und auch die anderen heutigen Kreuzfahrthäfen werden abgebildet.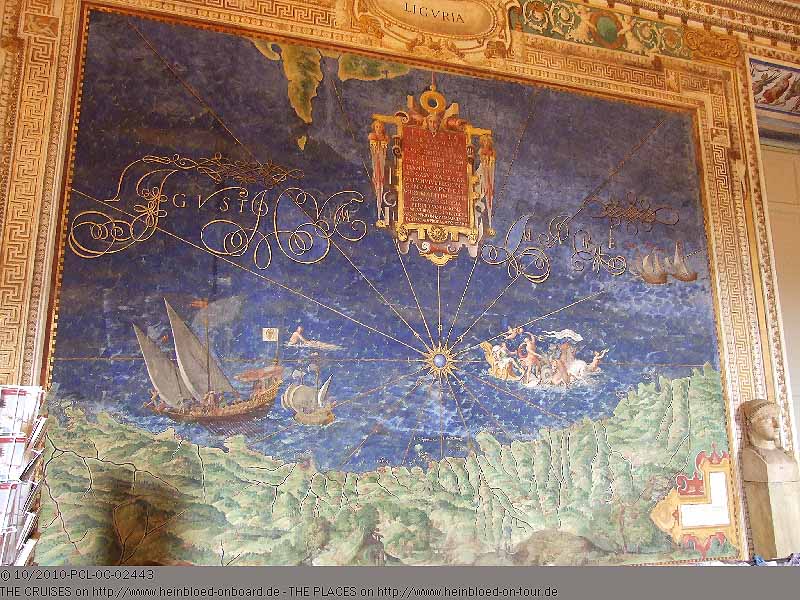 Just for us cruisers: Genoa... but all other today's cruiser's port were shown here.

Mit Raffaels Werken endet die Führung durch die Fremdenführerin und die Audioguides werden uns abgenommen. In die Sistinische Kapelle werden wir alleine geschickt.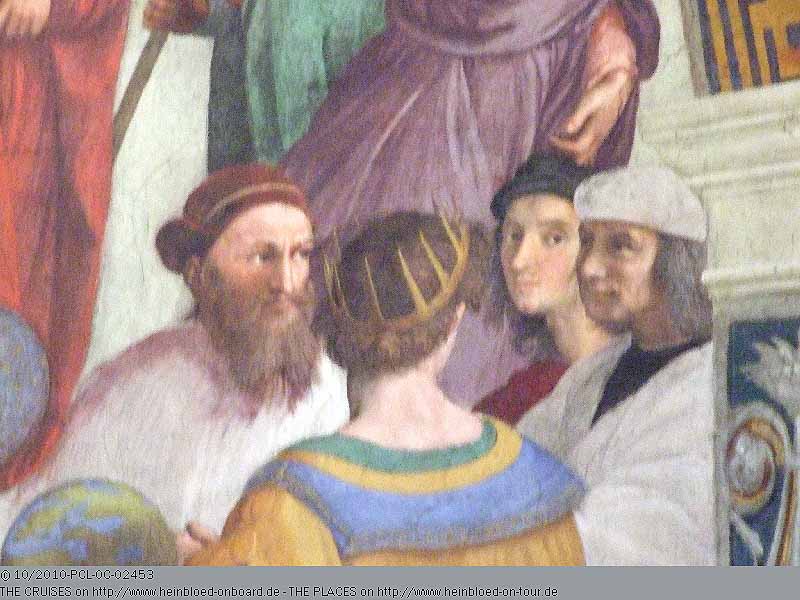 With Raffaelo's work the tour was terminated by the tour guide and they collected the audio-receivers. They send us without a guide to the Sistine Chapel.

Our visit there took maybe five to eight minutes. It was very dark there to avoid taking pictures. Strictly forbidden and at the entrance you were asked to stow away your camera. If I did not know how to pack a can of anchovies: now I knew it. Many do not respect that you should not speak there. A group from Pullmantur's SOVEREIGN ignored it, and they did not use the audio-receiver-system, and so it was quite loud around them. The ceiling was so far away that you that you were unable to identify anything the tour guide told us to see when we were on the boards. It does not make sense to stay any longer, and so we sadly gave up and went away.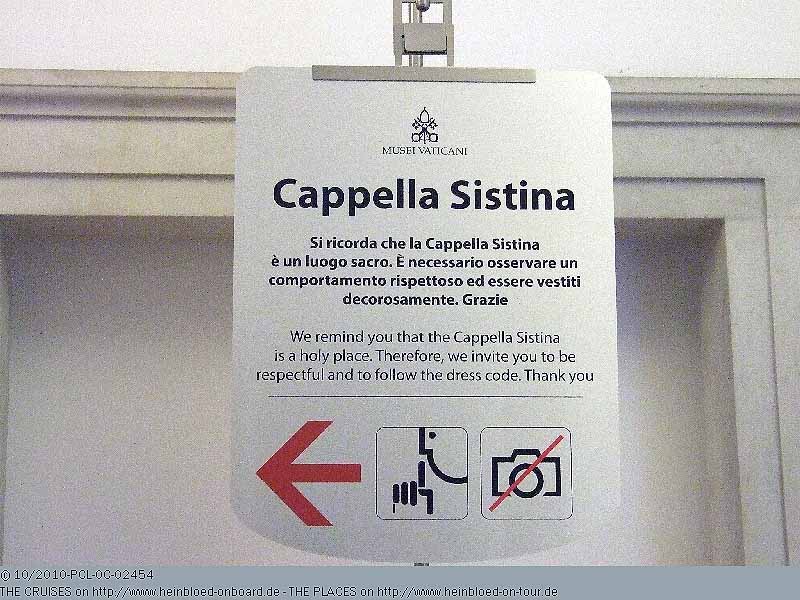 Unser Besuch dort dauert vielleicht fünf bis acht Minuten. Es ist alles abgedunkelt, damit man nicht fotografieren kann. Ist dort strikt verboten und schon am Eingang wird man aufgefordert seine Kamera wegzupacken. Wenn ich bislang noch nicht wusste, wie man eine Dose Sardinen einbüchst: nun weiss ich es. Viele halten sich nicht an das Sprechverbot. Besonders unangenehm fälllt die Pullmantur-Gruppe von der SOVEREIGN auf: Anscheinend nutzen sie keine Audio-Übertragung und daher wirkt es sehr laut um sie herum. Da man so weit weit von den Details an der Decke ist, macht es für uns keinen Sinn, dort lange zu verweilen und etwas zu erkennen, worauf uns die Fremdenführerin an der Tafel neugierig gemacht hat. Resigniert gehen wir.
Die anderen Reisen in diesem Blog/
The other voyages in this blog: