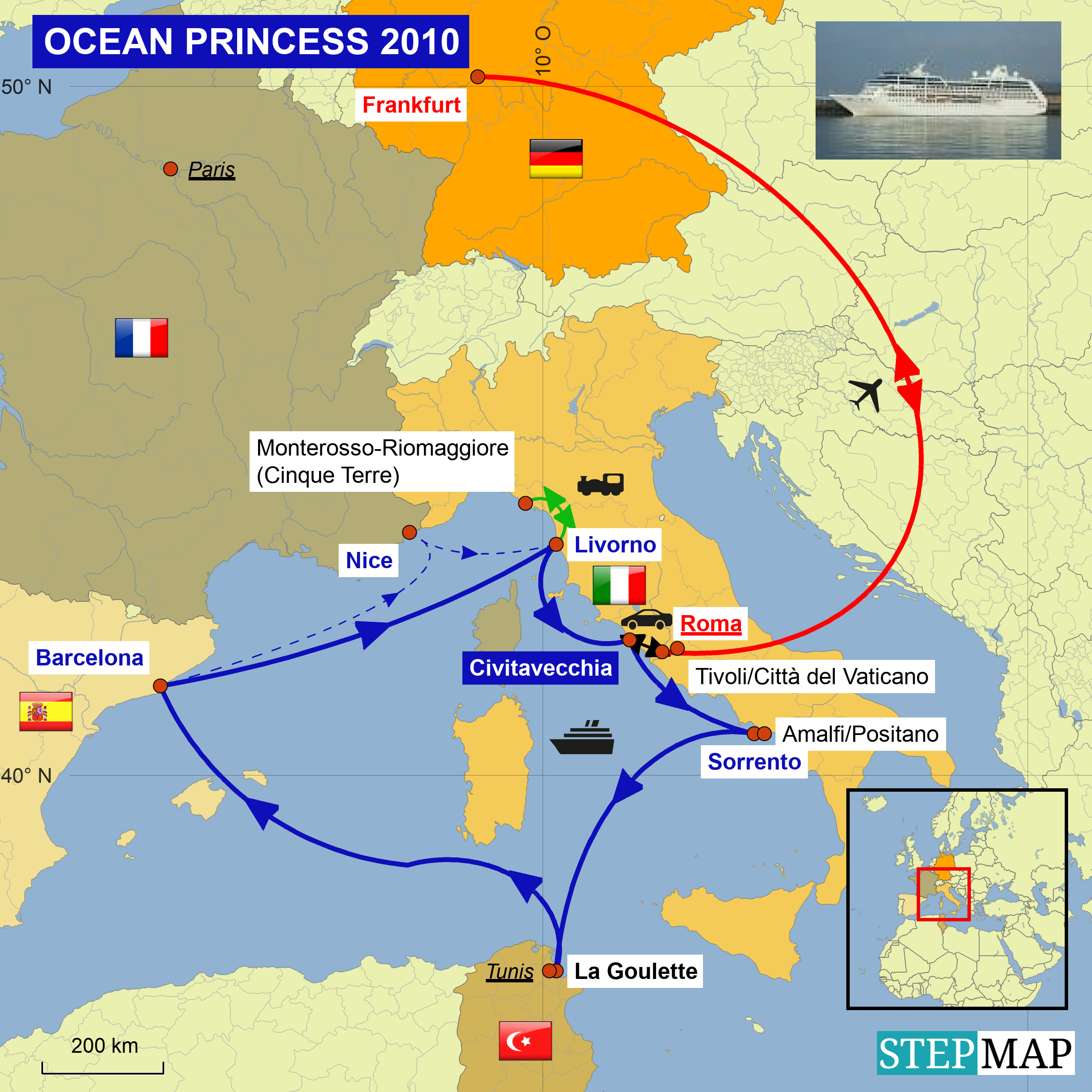 In Sorrent wird getendert.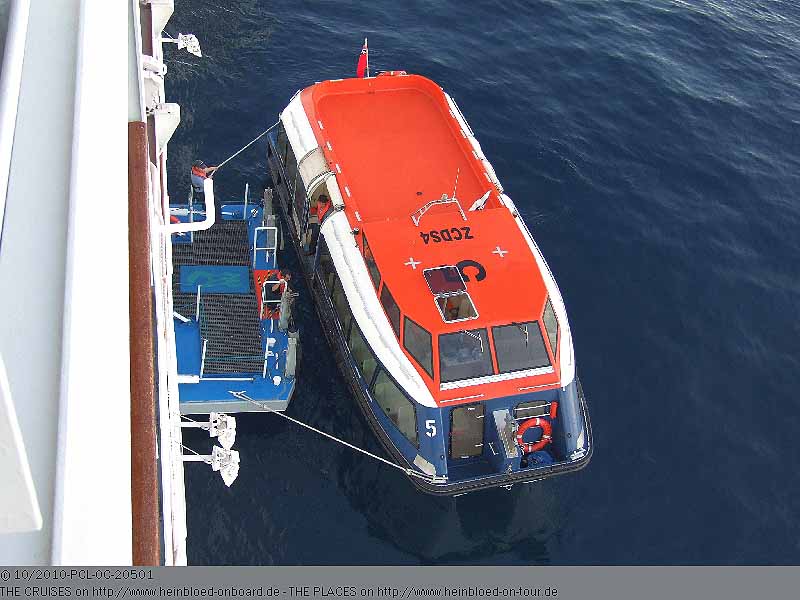 You need to tender in Sorrento.

No need to be before 09.00 hrs ashore, so we enjoyed the life from our balcony.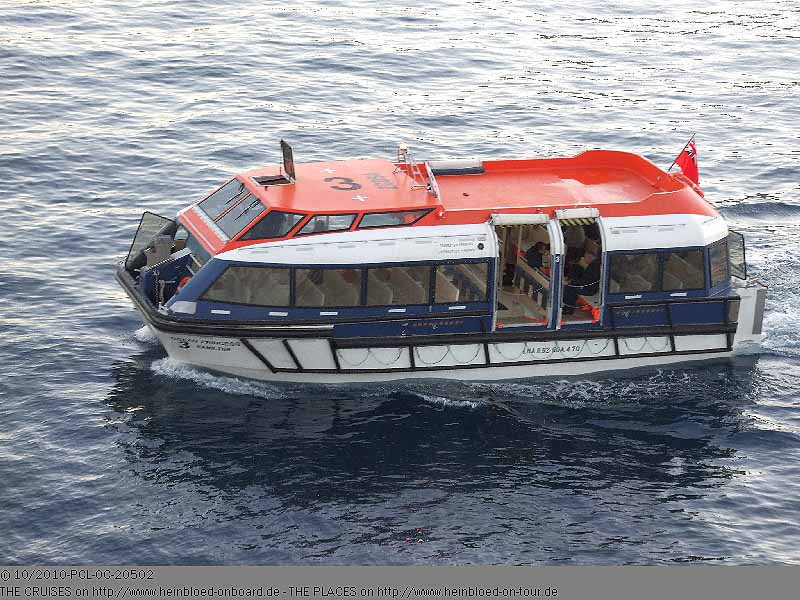 Wir wollen erst gegen 09.00 Uhr an Land sein, so genießen wir das Treiben vom Balkon aus.
In der Casino Lounge sollen sich diejenigen einfinden, die unabhängige Besichtigungen geplant haben und tendern wollen. Erst kommen, wenn man bereit ist, an Land zu gehen.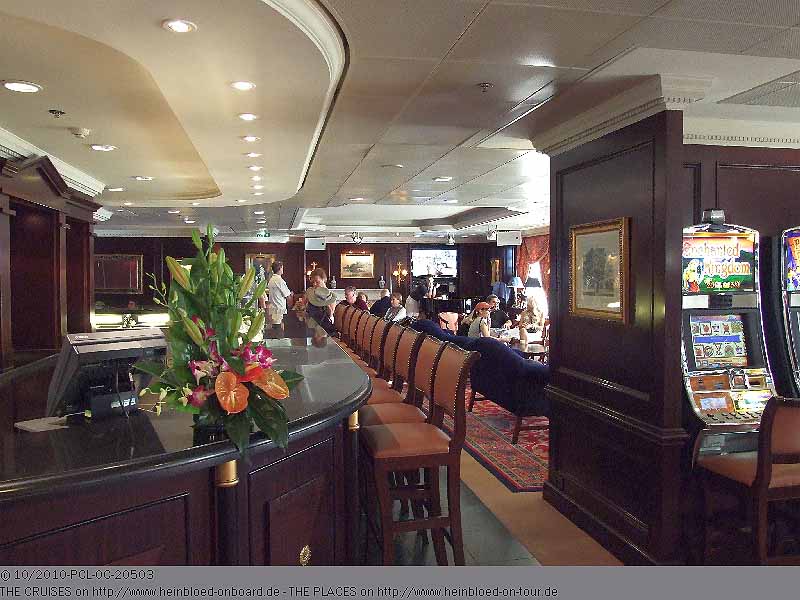 You should be in the Casino Lounge once you are ready to go and plan to go ashore individually.

Around 08.30 hrs it was very calm. Time for a chat, because nobody was there. Without asking we learn about internals which I would not allow my employees to tell our business partners.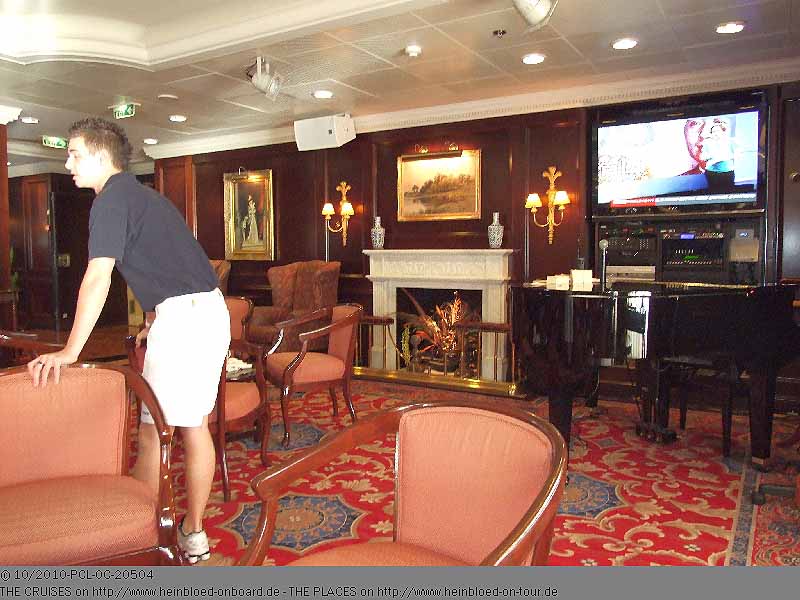 Gegen 08.30 Uhr ist nichts los. Zeit für Schwätzchen, weil sonst niemand da ist. Ohne dass wir fragen, erfahren wir Interna, die ich meinen Mitarbeitern nicht erlauben würde, es Geschäftspartnern zu erzählen.
Wir bekommen Tendertickets 113 und 114. Es dauert aber ziemlich lange. Als wir nachfragen, heißt es, dass alle Tourgäste Vorrang haben und man Individualgäste erst dann mitnimmt, wenn die Tourgäste abgefahren sind und man Platz hat. Man soll ihn jedoch nicht erschlagen, weil er persönlich nichts dafür könnte, sondern es das Geschäft von Princess sei, von dem man lebt. Er setzt sein Schwätzchen mit anderen Gästen fort. Dadurch die Reihenfolge der Gäste, die zwischenzeitlich Tendertickets wollen, nicht eingehalten. Irgendwann kommt jemand von unten hoch und fragt nach, warum er nicht endlich die Gäste runterschickt und dass man warten würde. Ärgerlich, wenn jemand so beschäftigt ist, dass man den Sprechfunk nicht mehr mitbekommt.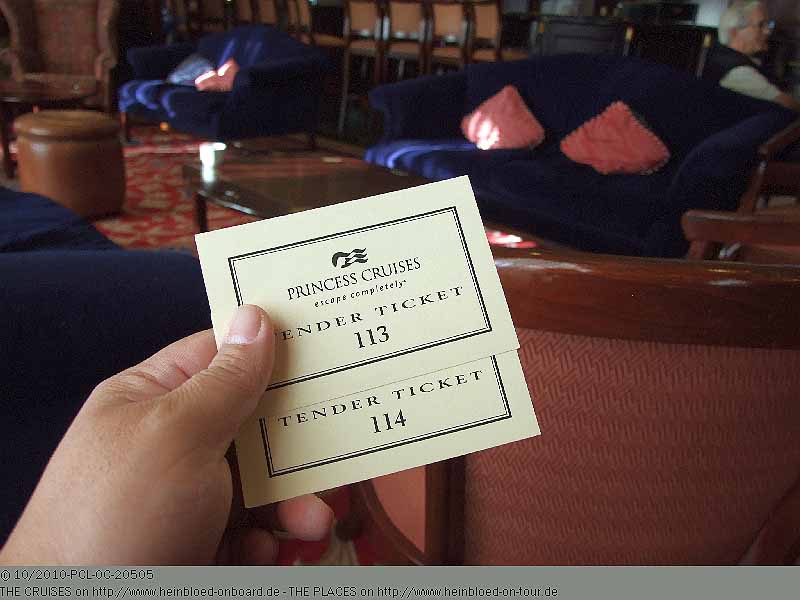 We got tender tickets 113 and 114. It took very long. When we asked we were told that tour guests had priority and individual guests will be only used to fill up the tender boats and space available. We should not beat him because it was not his responsibility - just Princess' policy to make money. He continued his chat with other guests. So he did not see that more guests, and he did not release the tender tickets in the order of appearance. Someone came to the lounge and asked why no guests were coming down, and they waited to leave. Somehow it was very angry if someone was busy to talk that he did not pay any attention anymore to the radio.

17.30 hrs the last tender should return.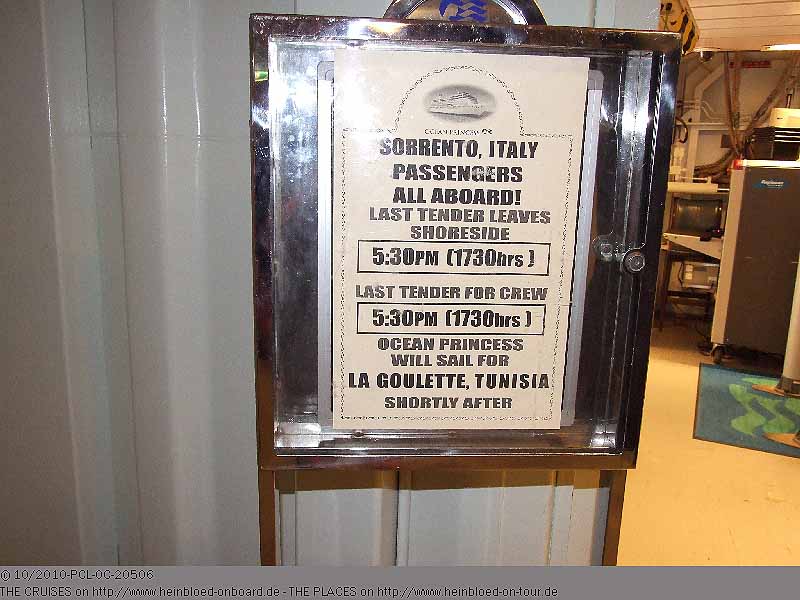 17.30 Uhr geht der letzte Tender zurück.
Wir sitzen in der ersten Reihe und die Luke nach vorne ist auf. So bekommen wir noch die Einfahrt in den kleinen Hafen mit. Ein schöner Platz zum Fotografieren und wir werden kaum nass.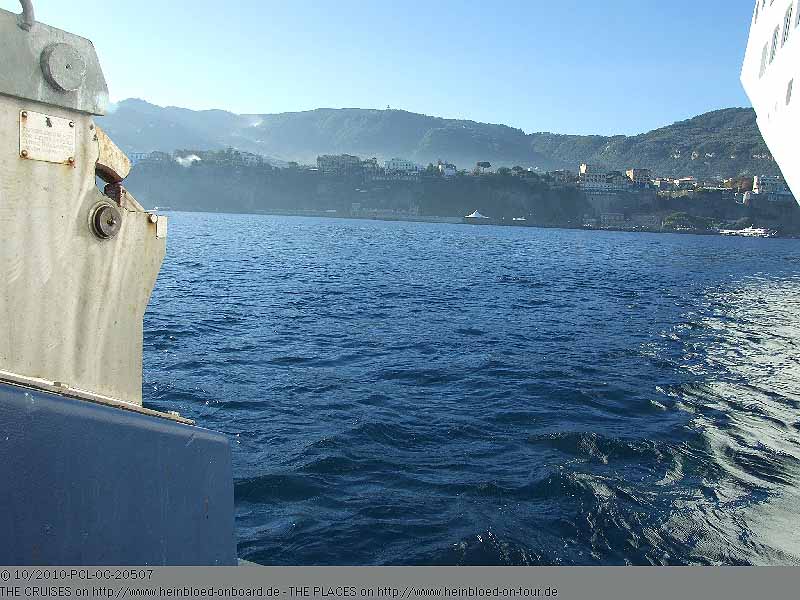 We sat in the first row and the door to the front was open. So we can see the entry to the little port. A nice place to take pictures and you did not get wet.

So we read the checklist which needs to be filled out before every tender operation. It was good to know that security was taken here very seriously and recorded all activities.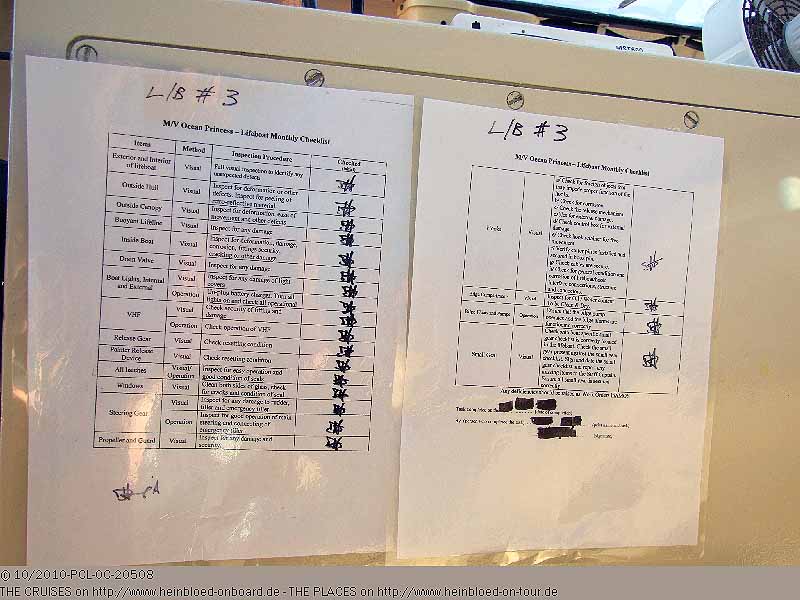 Bei der Gelegenheit lesen wir uns die Checkliste durch, die vor jeder Tenderoperation notwendig ist. Gut zu wissen, dass Sicherheit hier so ernst genommen wird und alles protokolliert wird.
Hinter der Mole ist die Marina Piccolo. Hier starten die Fähren und die Tenderboote legen hier ab.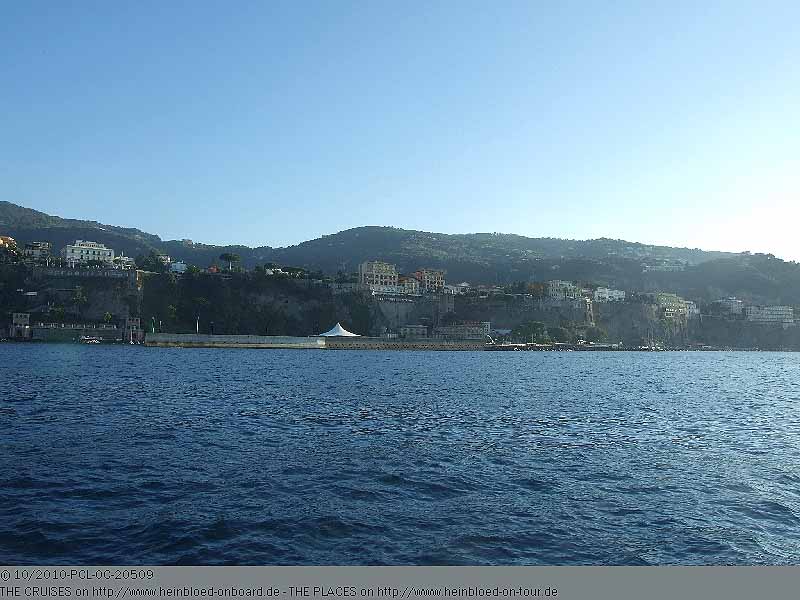 Behind the breakwater it is the Marina Piccolo. Here you find the ferries and tender boats.

Next, to each other, they set up the tender stations of Silversea and Princess.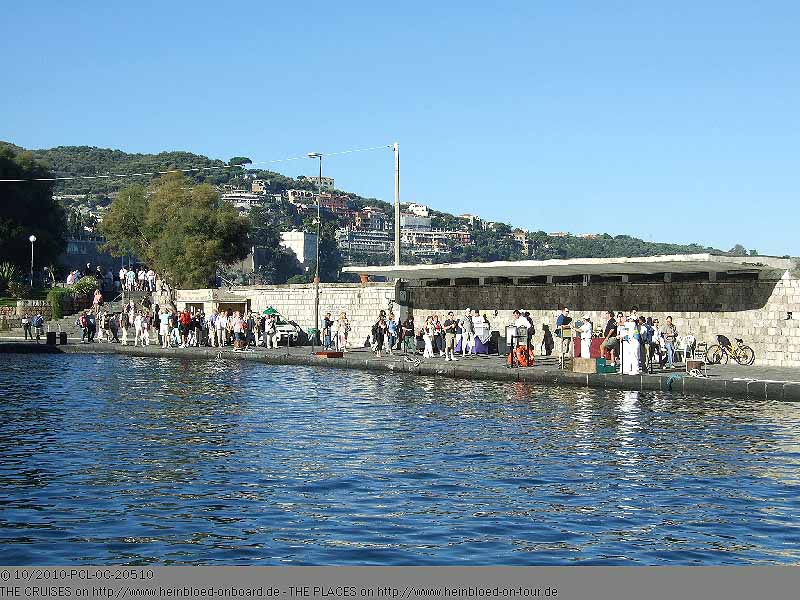 Nebeneinander sind die Tenderstationen von Silversea und Princess aufgebaut.
Die Polizei ist dort mit einem Stand vertreten... Ist Sorrent ein gefährliches Pflaster???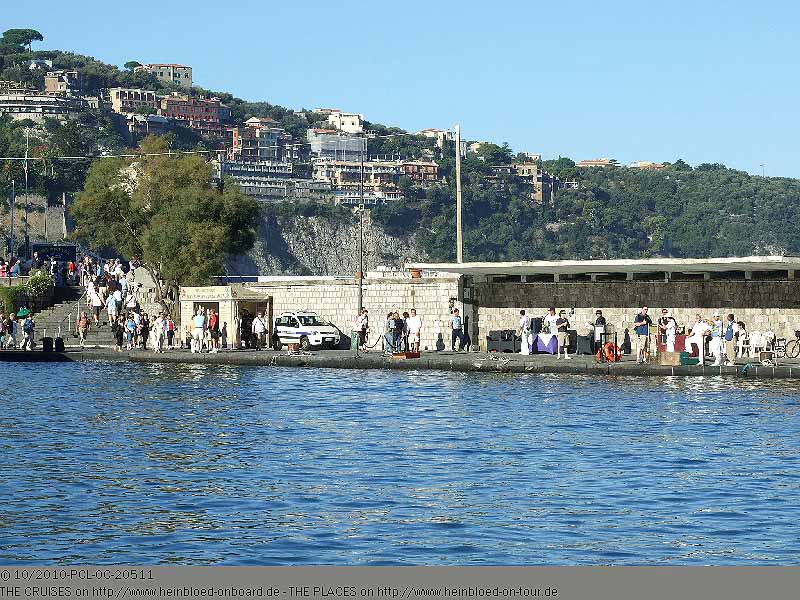 The police was present with a stand... Is Sorrento a dangerous place???

Before everybody gets off the lector got in and explained how to get around and told everyone again: last tender 17.30 hrs.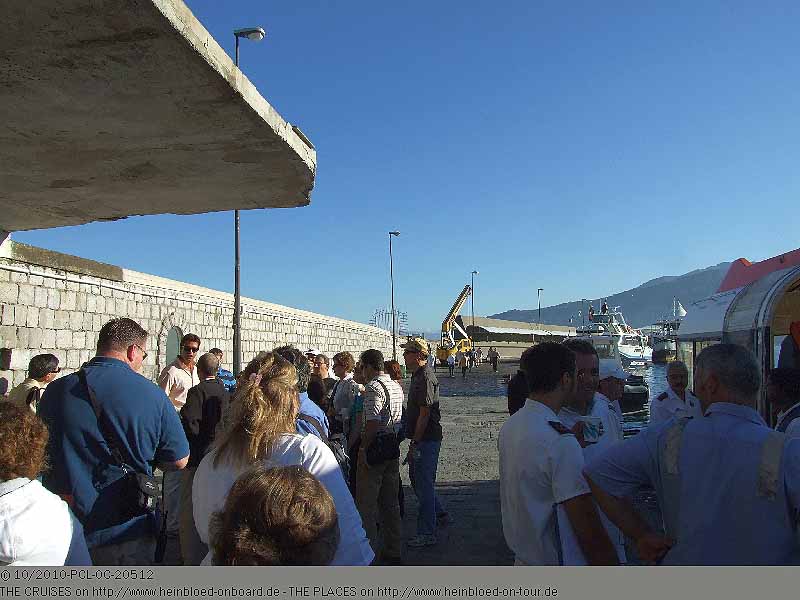 Bevor alle aussteigen, steigt der Lektor zu und erklärt kurz, wie man weiterkommt und weist alle nochmals hin: Letzter Tender 17.30 Uhr.
Sessel für die Gäste von Silversea... Wer mehr zahlt bekomt auch mehr...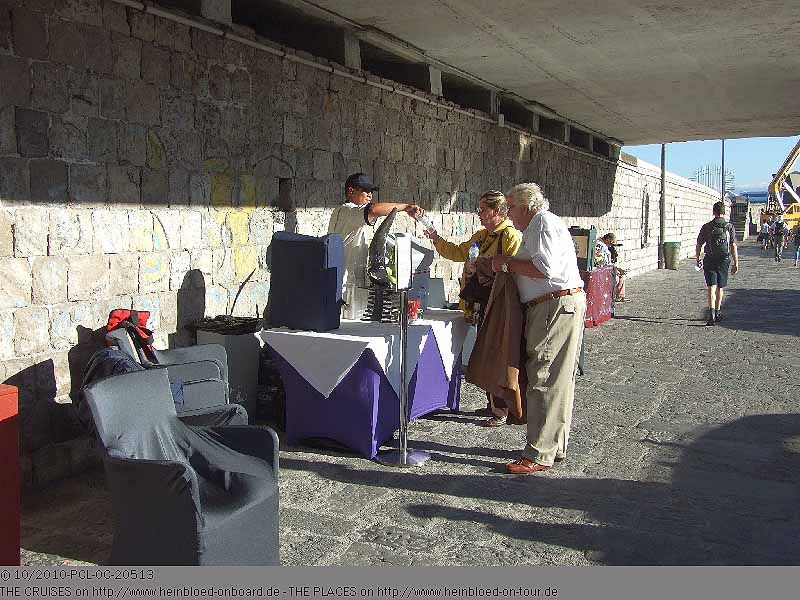 Chairs for guests of Siversea... Who pays more get more...

At the end of the breakwater, the ferries depart for Amalfi, Capri, Neapel, etc.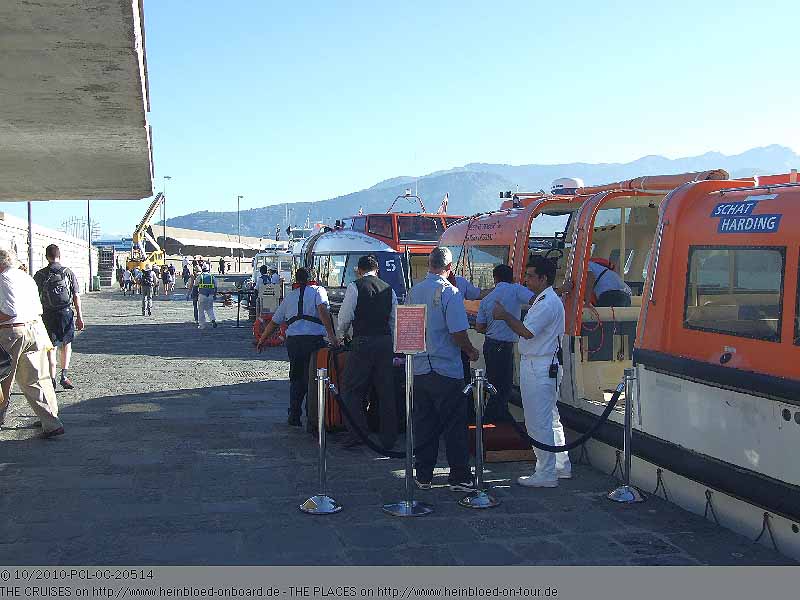 Hinten am Ende der Mole fahren die Fähren Richtung Amalfi, Capri, Neapel usw. ab.
Es gab wohl noch nützliche Hinweise, aber nicht für alle Gäste... Sie wurden leider nicht mit den Tagesprogrammen verteilt. Uns fällt erst eines in die Hand, als wir später wieder an Bord sind.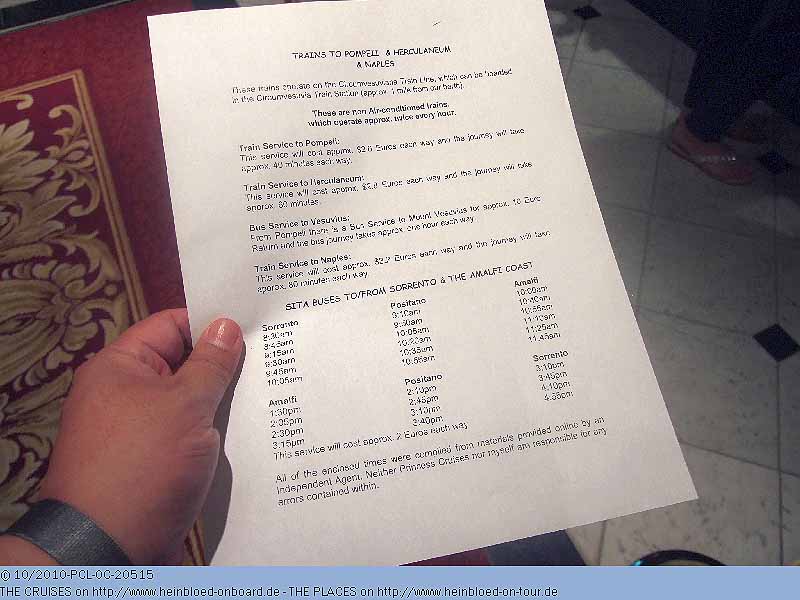 There some useful information available but not for all guests... they did not distribute it with the daily programme. We got one copy once we returned on board.

Sorrento woke up.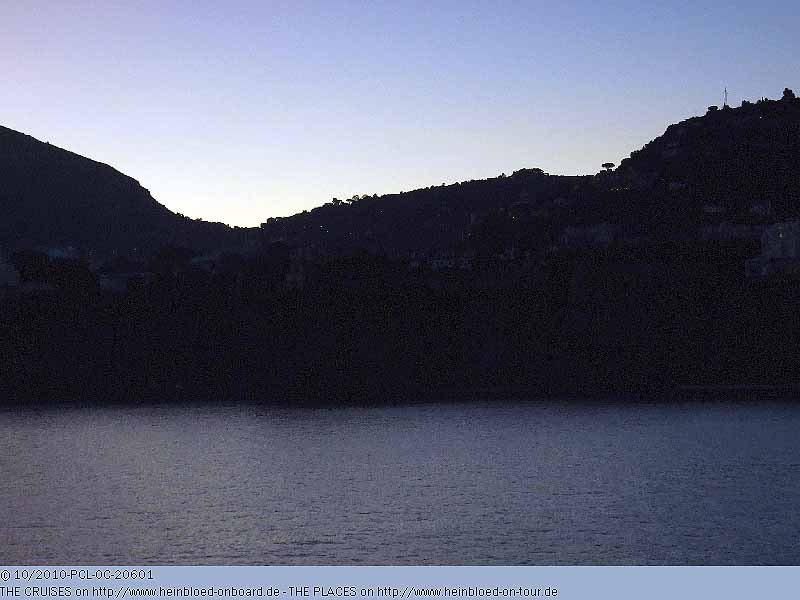 Sorrent wacht auf.
Wir wollen uns später noch in Sorrent umsehen, wenn wir wieder kommen.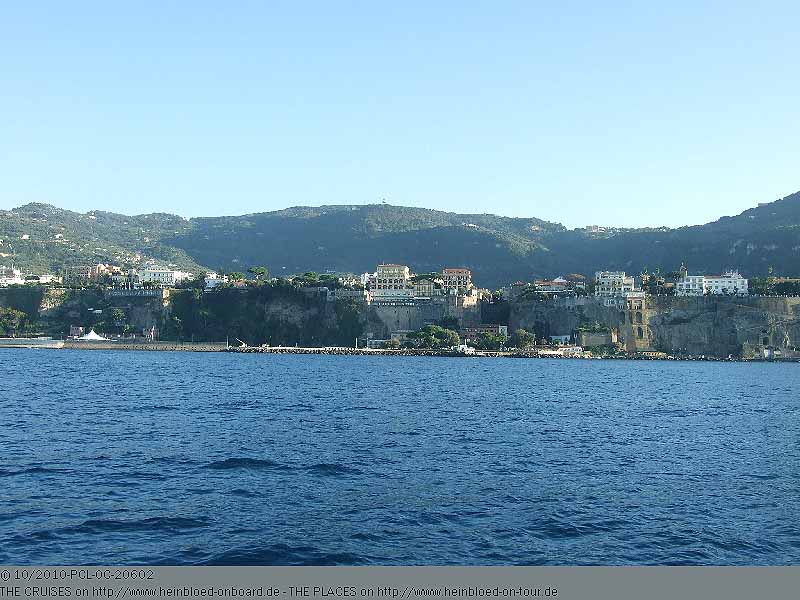 We wanted to have look around once we returned.

You need to get to the upper town. We have not enough time for that. We planned later to arrive at the bus terminal so we can easily walk down from there.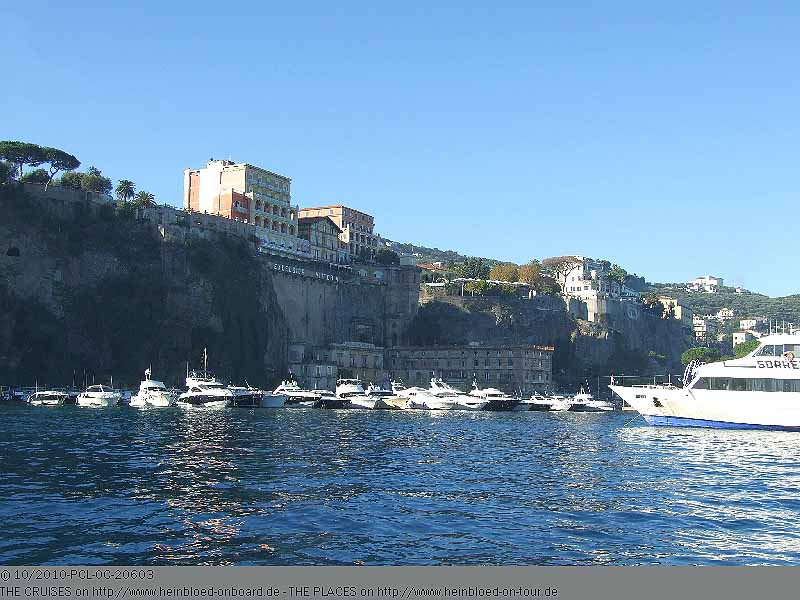 Man muss erst in die Oberstadt kommen. Dafür reicht die Zeit nicht. So wie wir geplant haben, brauchen wir später nur vom Busbahnhof runterzulaufen.
Shuttle-Busse??? Wohin, wieviel kosten, wie häufig fahren sie... Im Tagesprogramm steht nichts.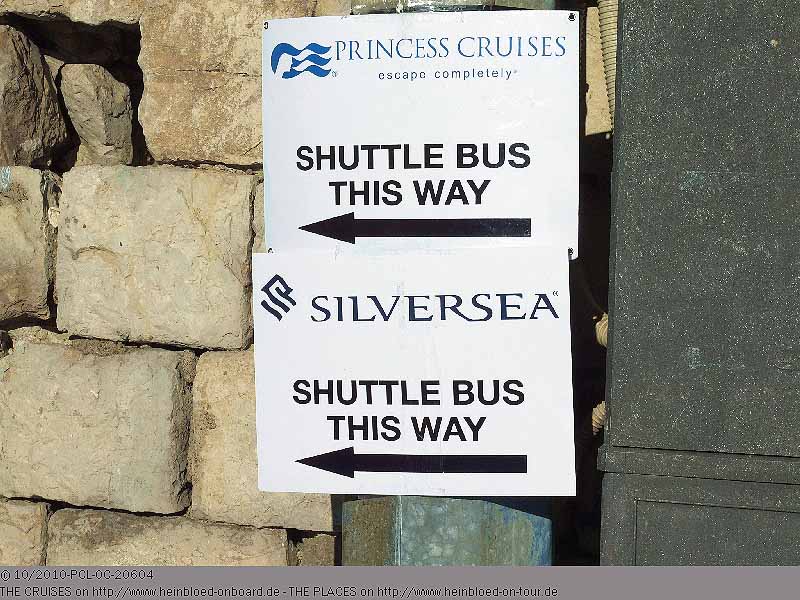 Shuttle-Buses??? Where do they go, how much are tickets, how is the frequency... You do not find anything in the daily programme.

We walked up because everyone walked up.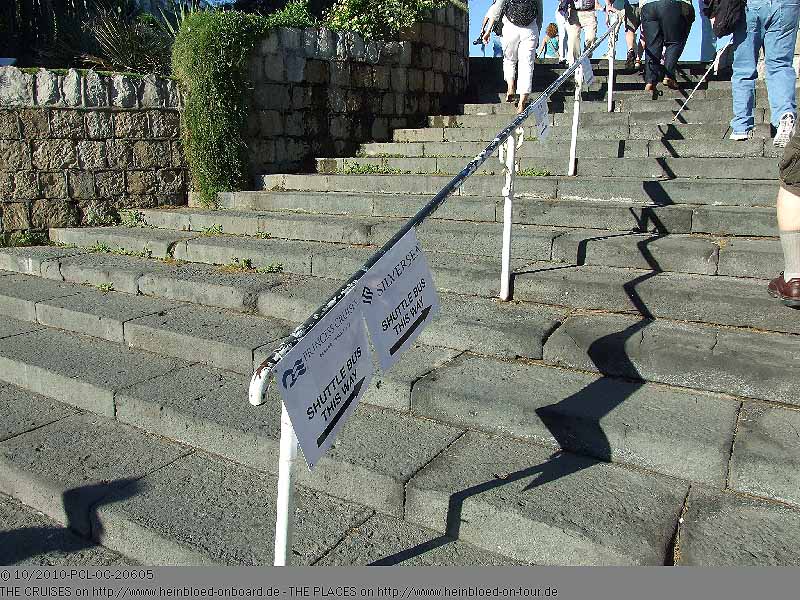 Wir laufen mal hoch, weil alle hochlaufen.
Heute ist 08.10.2010. Morgen endet der Herbstfahrplan und im Winter werden viele Fahrten nicht angeboten. So wollen wir um 09.30 Uhr mit
Metro del Mare
nach Amalfi.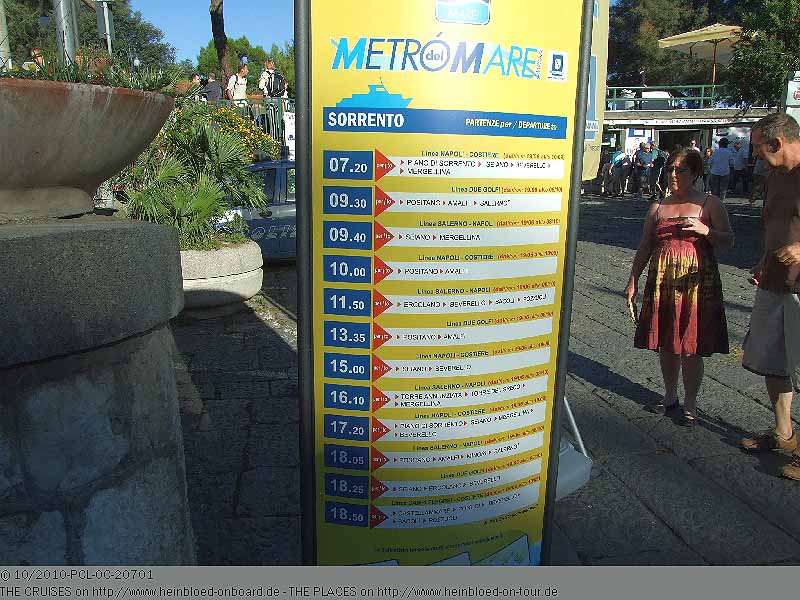 This was October 8, 2010. Tomorrow the fall schedule ends and there will not be so much traffic in the winter. So we wanted to get at 09.30 hrs to Amalfi by Metro del Mare.

Opposite the general ticket offices, you find a kiosk where it was very calm.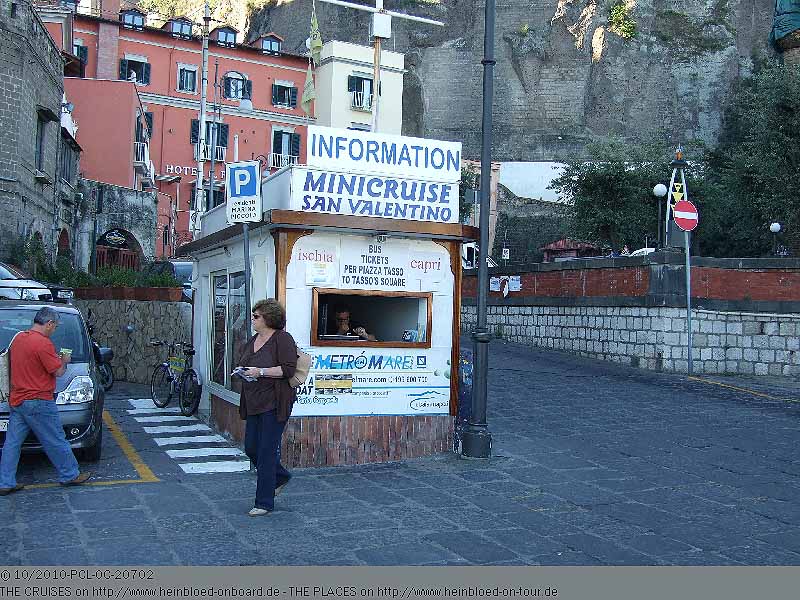 Gegenüber von der allgemeinen Fahrkartenausgabe, gibt es einen Kiosk, an dem nichts los ist.
Hier kaufen wir für 11,00 EUR (2010) Tickets für die 09.30 Uhr-Abfahrt nach Amalfi.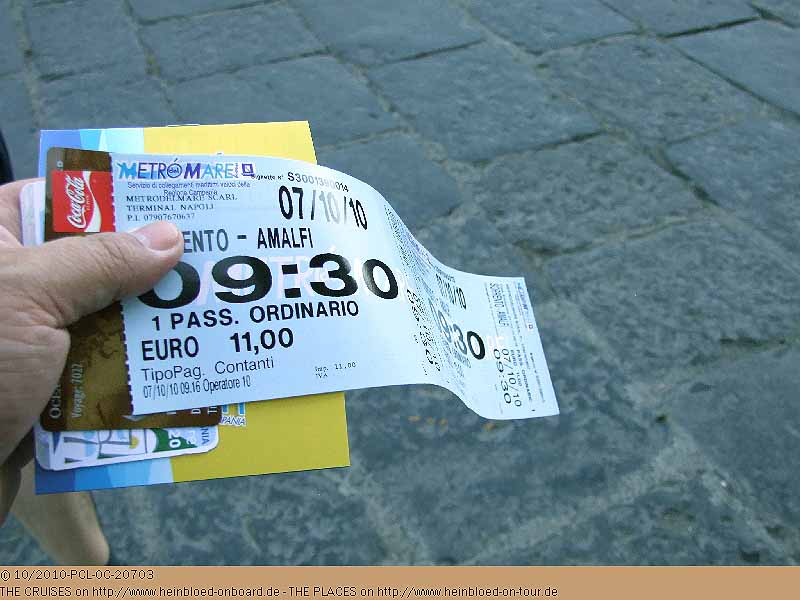 Here we bought for 11.00 EUR (2010) ticke.ts for the 09.30 hrs-departure to Amalfi.

On the way to the pier, we saw the general ticket counter area which was totally overcrowded.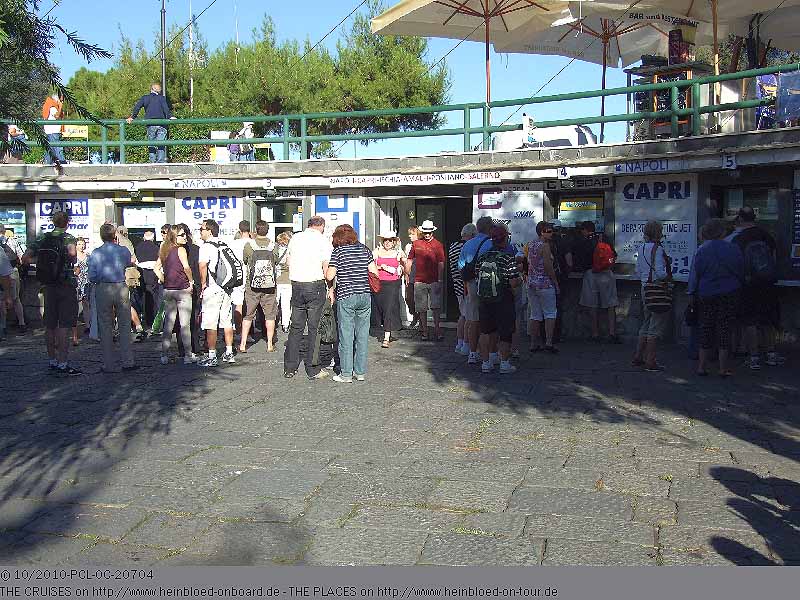 Auf dem Weg zur Anlegestelle sehen wir den allgemeinen Fahrkartenausgabenbereich, der komplett überlaufen ist.
Hier kommt unser Jetfoil... Erinnerungen an Cozumel werden wach...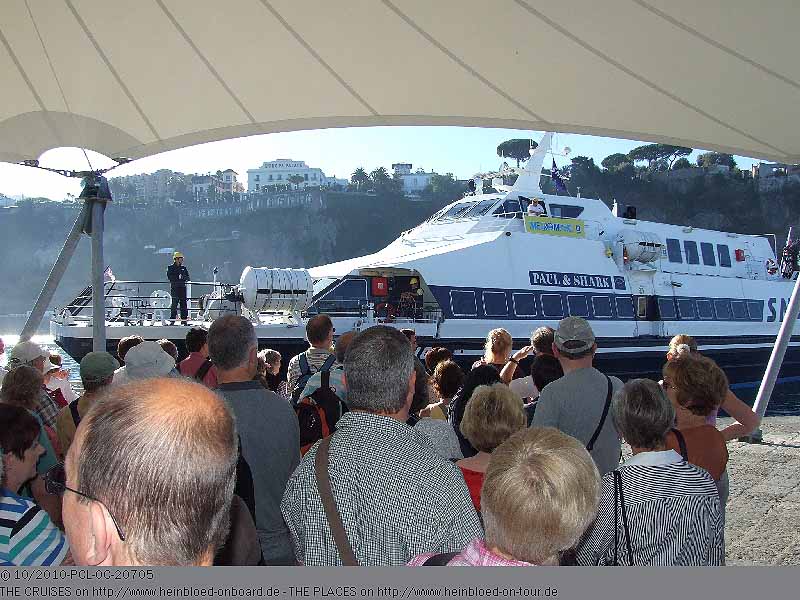 Our Jetfoil came... Memories to Cozumel came...

It was like flying with easyJet... Why do not they just offer standing instead of seating???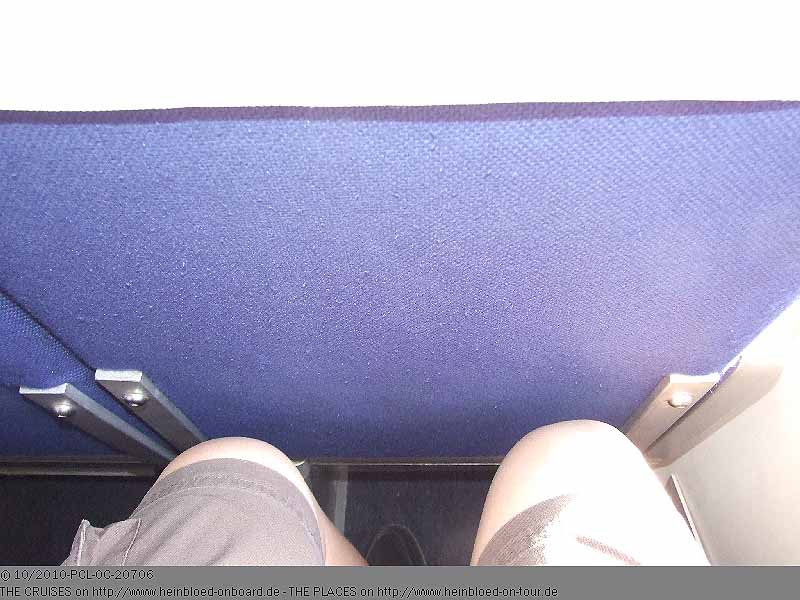 Das wirkt ja wie bei easyJet... Warum führen sie nicht gleich Stehplätze ein???
Da keine Saison mehr ist, ist es nicht besonders voll.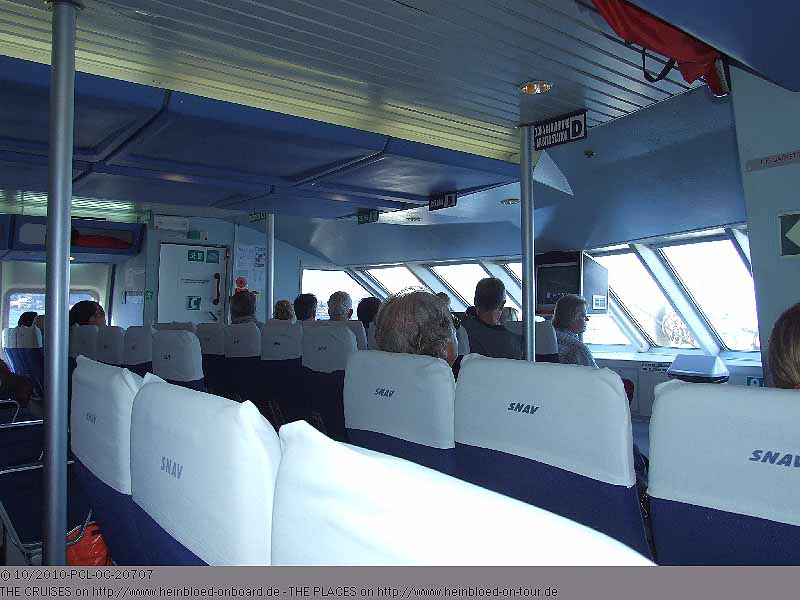 As it is no more season it was not very full.

We passed Capri.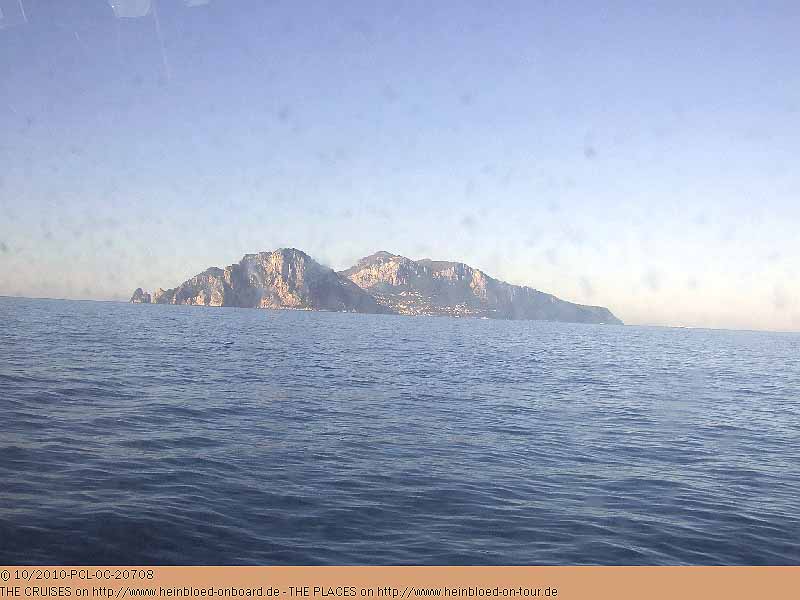 Wir kommen an Capri vorbei.
Die Fahrt ist nicht besonders angenehm, weil die Klimaanlage nicht läuft.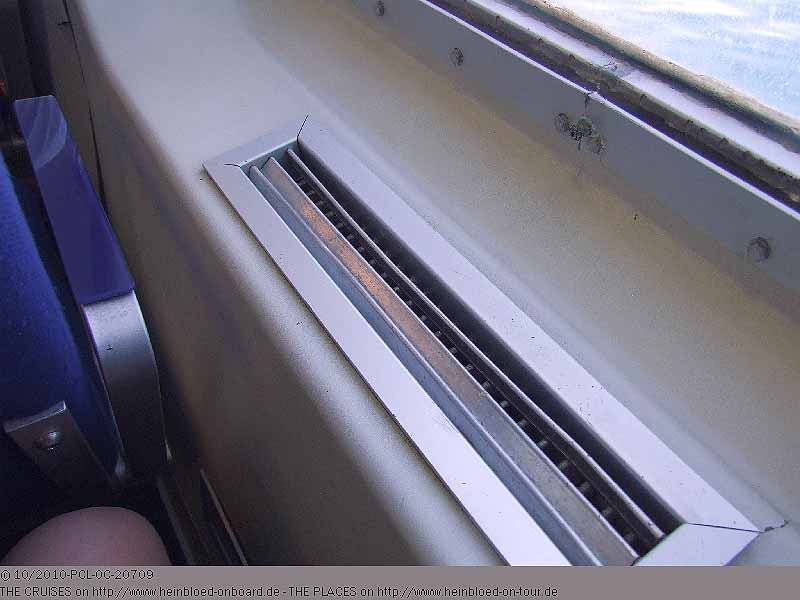 The journey was not very pleasant because the air condition did not work.

Maybe to have more revenue with beverages with these temperatures we had.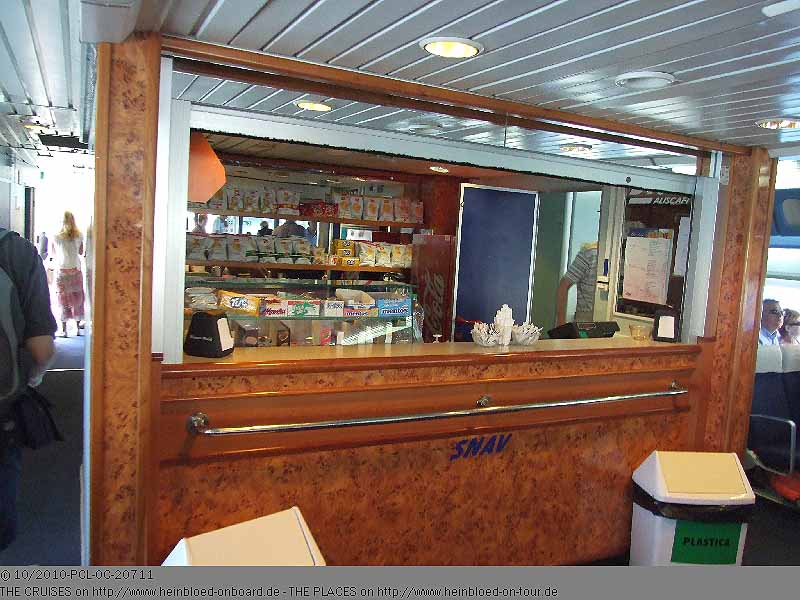 Vermutlich um den Getränkeumsatz bei den Temperaturen zu steigern.
Viele sind enttäuscht, weil man vom Boot aus nicht fotografieren kann und es kein offenes Deck gibt.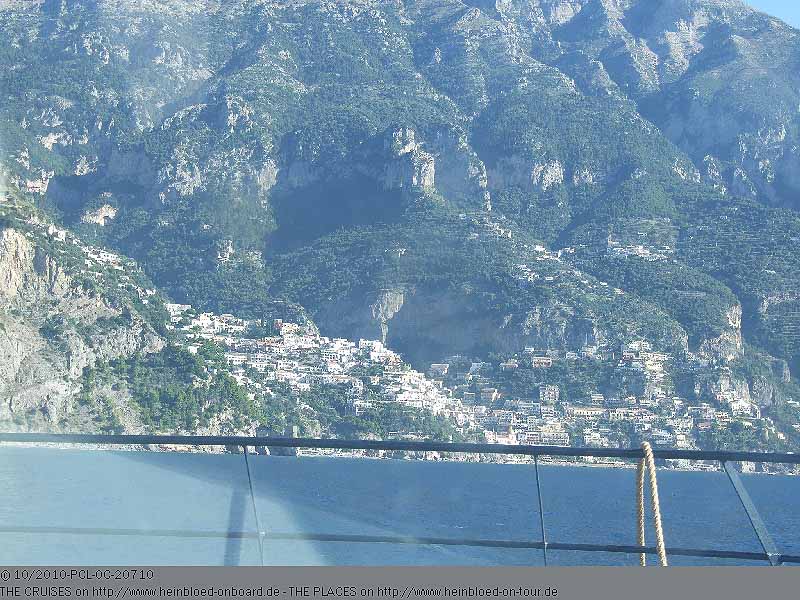 Many were disappointed because you cannot take any pictures from an open deck which was not available.

When the boat slowed down, and we should exit on the aft we were allowed to get out before approaching.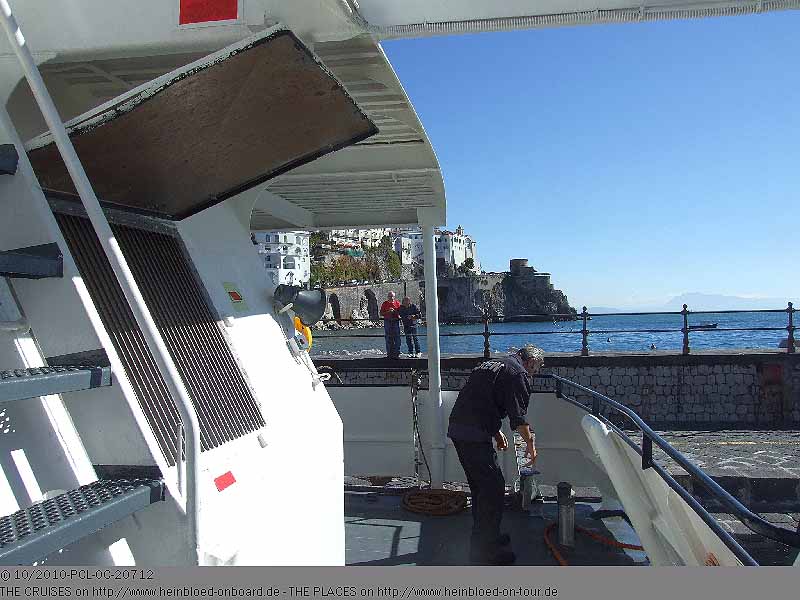 Als sich die Fahrt verlangsamt und der Ausstieg über das Heck erfolgt, dürfen wir kurz vor der Ankunft doch raus.
Ganz schön steil. So sieht ein perfekter 45°-Winkel aus...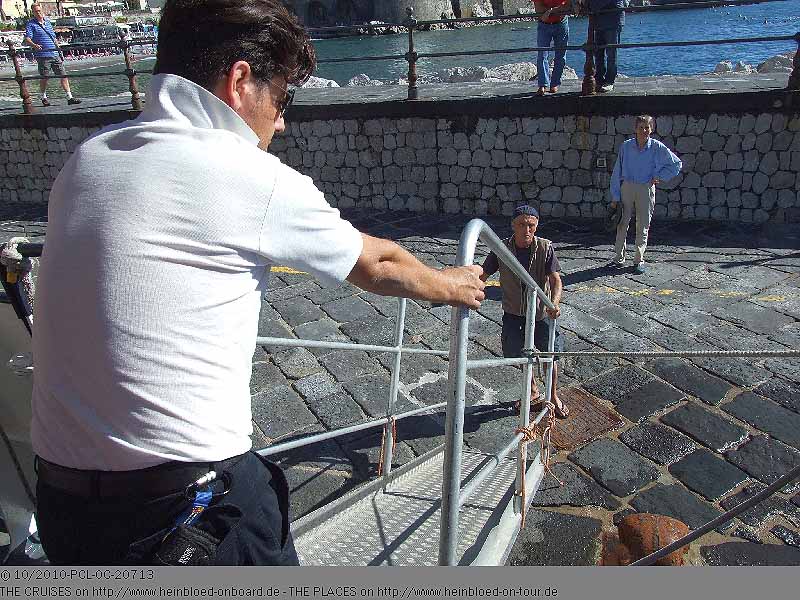 Very steep. Looks like a perfect angle of 45°...

The boat was moving, and only someone on board and someone ashore holds the bridge. I really need to use the handrails but how should someone with baggage manage this situation.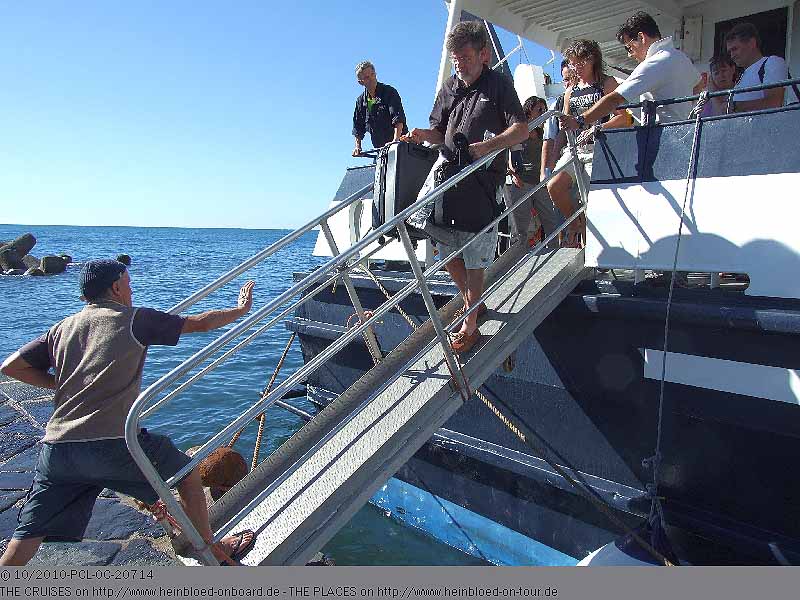 Das Boot bewegt sich und der Steg wird nur von jemandem an Land und an Bord festgehalten. Ich musste mich festhalten, aber wie macht es jemand, der noch Gepäck hat.
Die anderen Reisen in diesem Blog/
The other voyages in this blog: