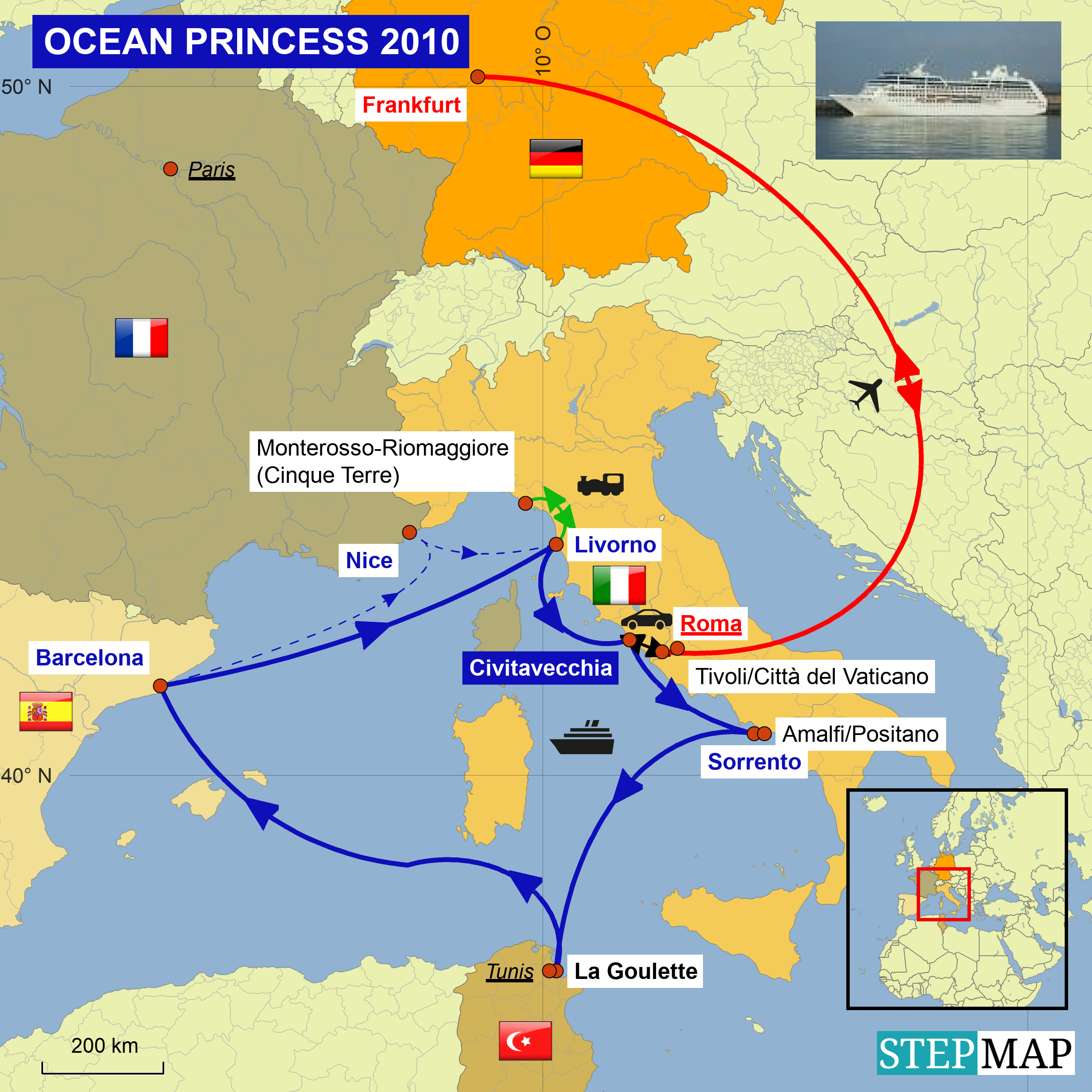 Als das Schiff kommt gibt es ein paar Irritationen: Sonnenliegen auf dem offenen Deck??? Das muss doch die Mini-Cruise von Sorrent nach Amalfi nach Positano und zurück nach Sorrent von Gescab sein. Einige Tage zuvor wollte ich Tickets kaufen und hätte sie online bestellen können. Nur bekam ich nicht heraus, wann überhaupt die Tour entdet. Also schrieb ich sie an. E-Mail zurück, dass ich die Fahrkartenausgabe in Sorrent anrufen soll. Ich rufe dort an: Der Betrieb der Mini-Cruise endet am Monatsende (September). Ich eine Mail an die Geschäftsleitung, dass man doch die Online-Buchungsmöglichkeiten für den 07.10.2010 rausnehmen sollte, weil es zu Irritationen führt, wenn man buchen kann. Rückantwort auf Italienisch: Vielen Dank, dass sie uns auf den Fehler in unserem Online-Buchungssystem aufmerksam machen. In der Tat fahren wir im Oktober nicht mehr und wir haben die Fahrten im Oktober aus dem Online-Buchungssystem herausgenommen. Und in der Tat waren die Fahrten nicht mehr buchbar und daher aus meinen Augen und meinen Sinn... aber das gute Wetter vermutlich.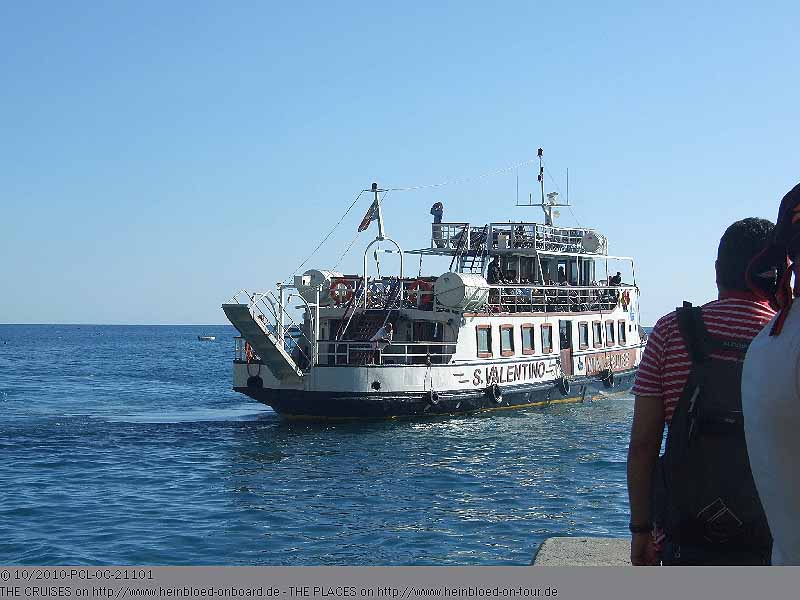 When the ship arrived there were few irritations: sunbeds on an open deck??? It must be the Gescab-mini-cruise from Sorrento to Amalfi and Positano and back to Sorrento. A few days ago I wanted to buy tickets, and it was possible to buy them online. But you could not find out when the mini-cruise supposed to terminate. So I wrote an e-mail, and I got a reply to call the Sorrento ticket-office. I called: the mini-cruises should run by the end of the month (September). I mailed the general manager and let him know that they should take out the online-booking options for October 7, 2010, because this occurred the irritation if you should be able to book. Reply on Italian: Thanks for bringing us the attention to our error in the online booking system. Indeed they should not run in October anymore, and therefore they should not appear in the online-booking-system. I lost this trip totally out of my mind... but maybe because of the excellent weather.

So we sailed very close to the coastline what we were not allowed to do this morning.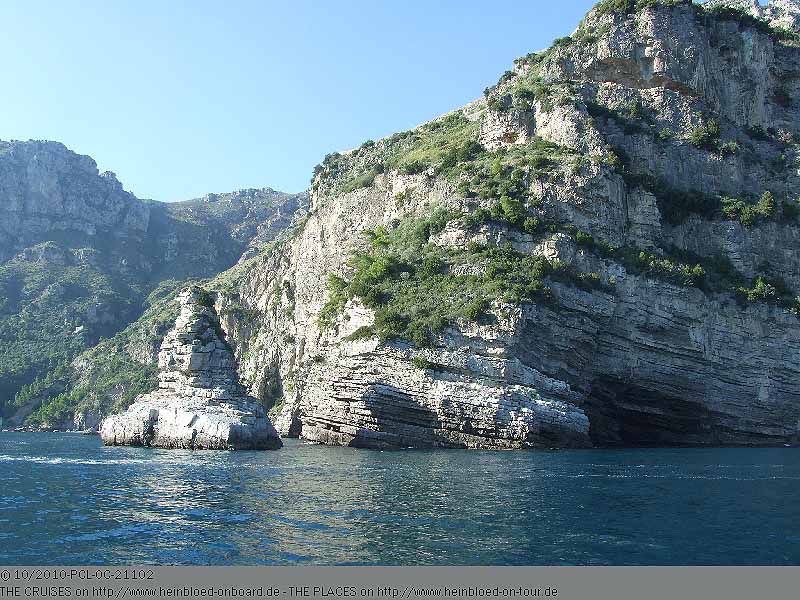 Wir fahren sehr nahe der Küstenlinie, was wir morgens ja nicht durften.
Vor allem fahren wir mit offenem Fenstern, was uns diese Aufnahmen ermöglicht.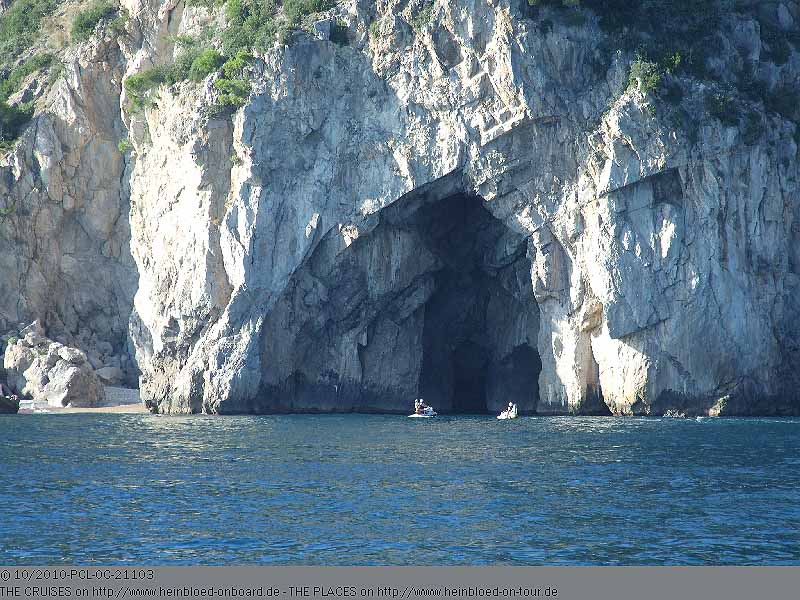 Especially we sailed with open windows which allowed us to take these shots.

Somewhen we asked when we supposed to arrive in Sorrento: 17.20 hrs... Remember: the last tender was scheduled for 17.30 hrs... and 17.30 hrs we booked the balcony dining and Italian time indication...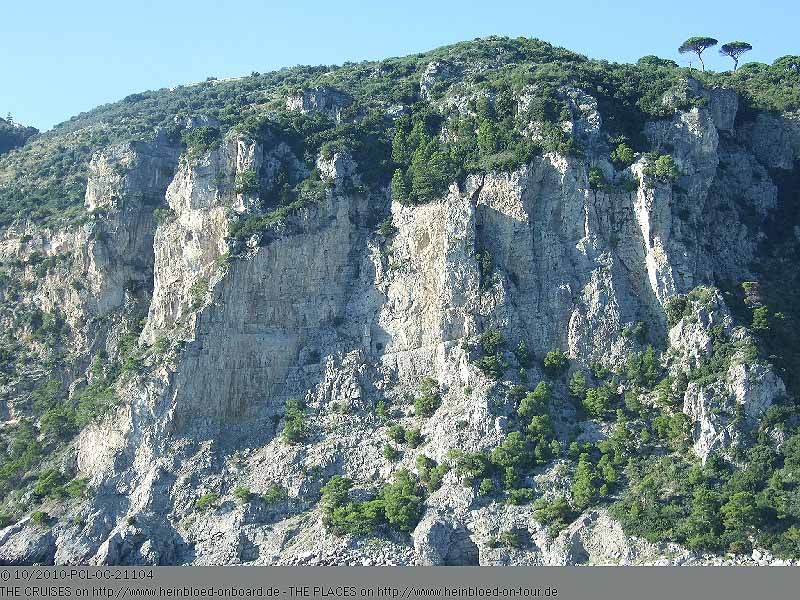 Irgendwann fragen wir doch mal nach, wann wir eigentlich in Sorrent ankommen: 17.20 Uhr... Man erinnere sich 17.30 Uhr geht das letzte Tenderboot, 17.30 Uhr haben wir das Balkon-Dinner und italienische Zeitangaben...
Der Kapitän meint nur "Non problemo!".

The Captain just said "Non problemo!".

There was no scheduled stop in between. I should convince the captain to give us a lift directly to our OCEAN PRINCESS.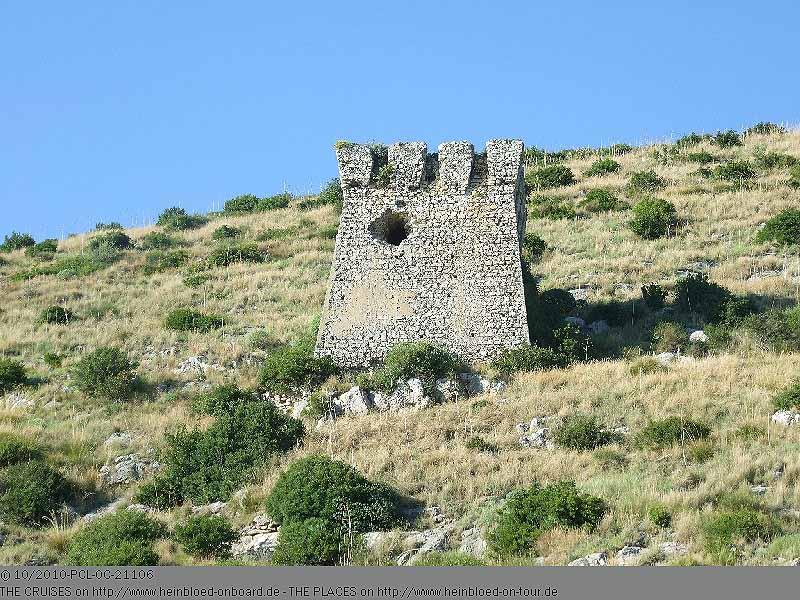 Einen Zwischenstopp gibt es nicht mehr. Ich könnte höchstens versuchen, den Kapitän zu überreden, dass er uns direkt an der OCEAN PRINCESS absetzt.
Was soll es - wir können eh nichts ändern, also genießen wir die Landschaft. Ich überlege mir schon, wie wir nach Tunis kommen... die Reisepässe sind in unserem Safe... Gibt es in Neapel überhaupt ein deutsches Konsulat, das in der Lage wäre uns innerhalb einer Stunde einen vorläufigen Reisepass auszustellen???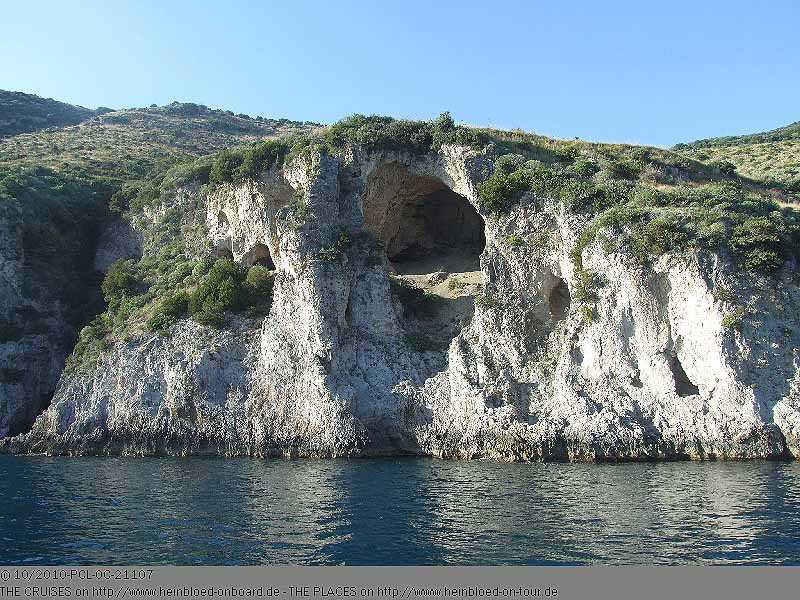 Who cares - there was nothing we can do but just enjoying the landscape. I started to think about how to get to Tunis... the passports are in our safe... Is there a German consulate in Naples which will be able to release a temporary passport within an hour???

The clock shows closer and closer to 17.00 hrs, and we were still not "around the corner". So I started to panic.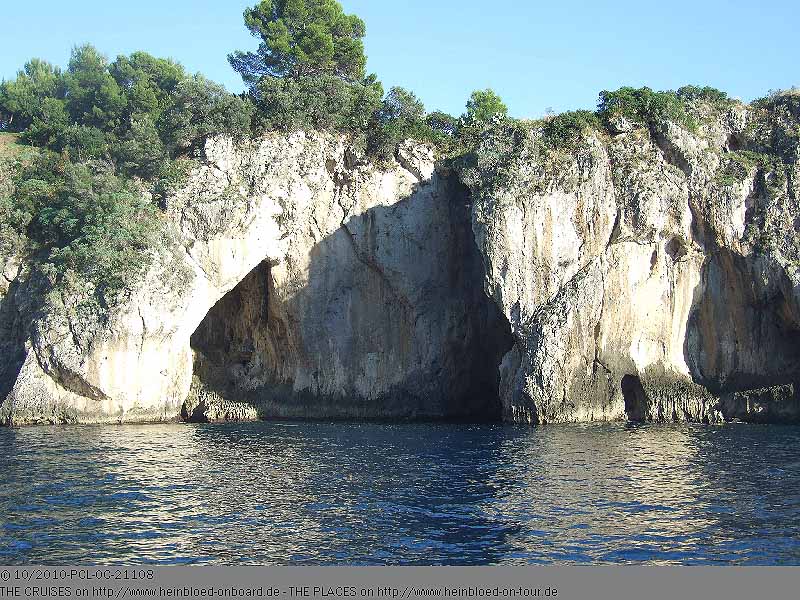 Als es immer näher gegen 17.00 Uhr geht und wir noch nicht mal "um die Ecke" sind, ergreift uns doch die Panik.
Wir können ja immer noch nichts tun: Ein Hubschrauber könnte ja auf dem Boot nicht landen und mit dem Abseilen am Haken entspricht nicht meinem Reisestil...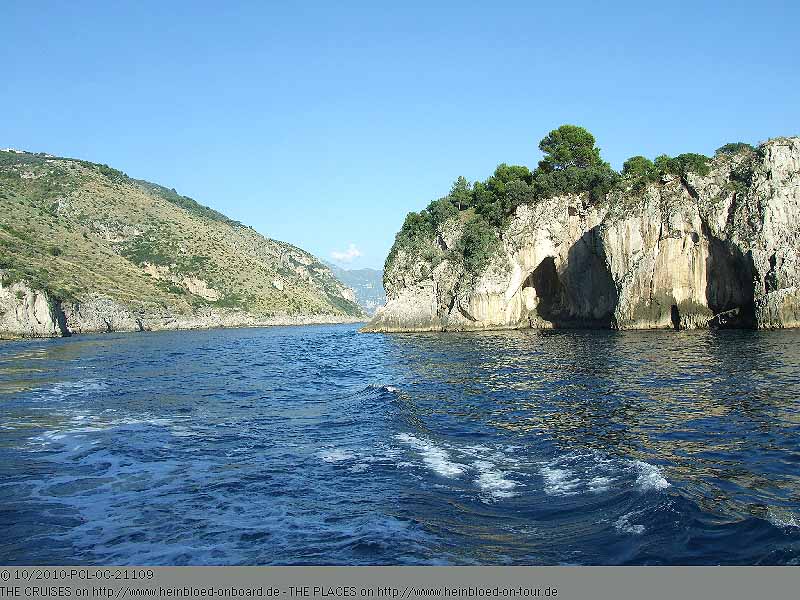 What would be our options: A helicopter would not be able to land on our boat and to rap off at a hook would not my travel style...

And the mafia in the pirates' nests might be against any helicopters around and could start a fight with their firearms... My phantasy began to become weird...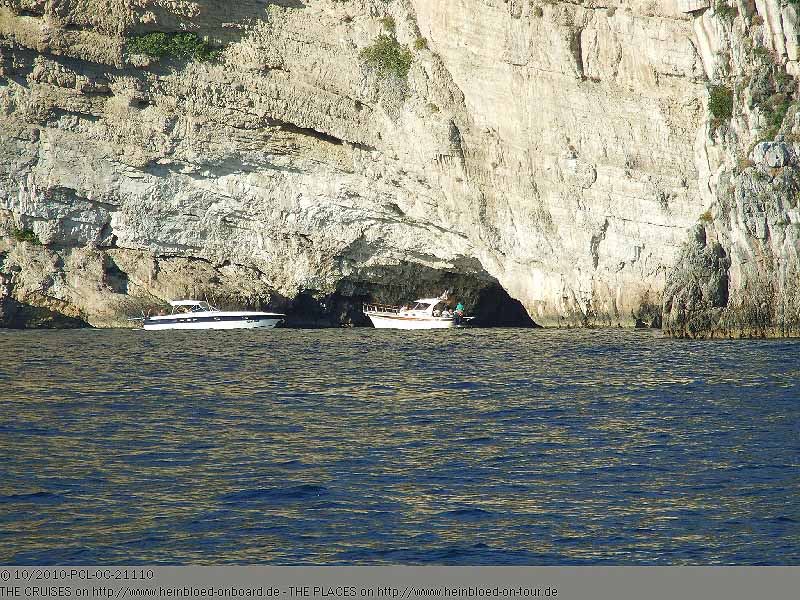 Und die Mafia in den Piratennestern könnte ja etwas gegen Küstenwache in Hubschraubern herum haben und eine Schießerei könnte entstehen... Mein Phantasie geht langsam mit mir durch.
Ich versuche mich wieder auf die Landschaft zu konzentrieren. Morgen ist ja ein halber Seetag... Hat eigentlich unser Schiff eine Hubschrauberlandemöglichkeit???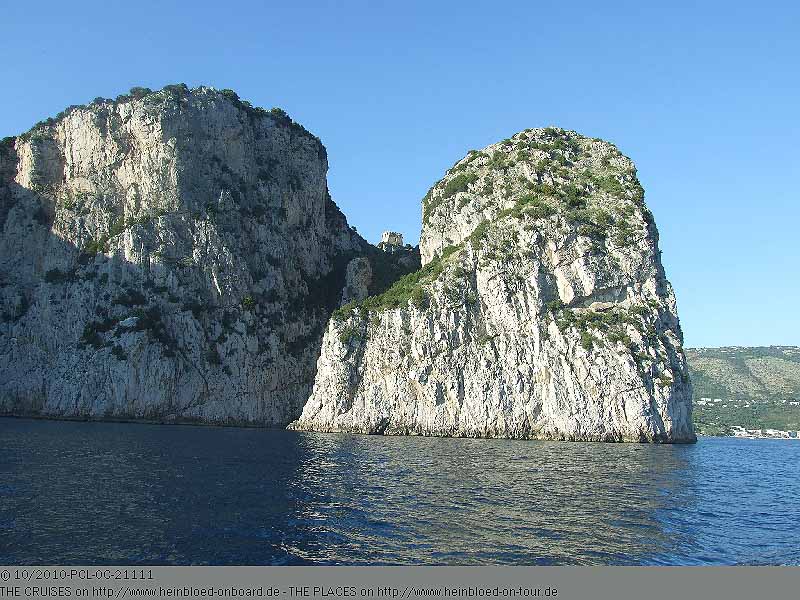 I tried to concentrate for the landscape. Tomorrow is a half day on sea... Does our ship have a platform to land???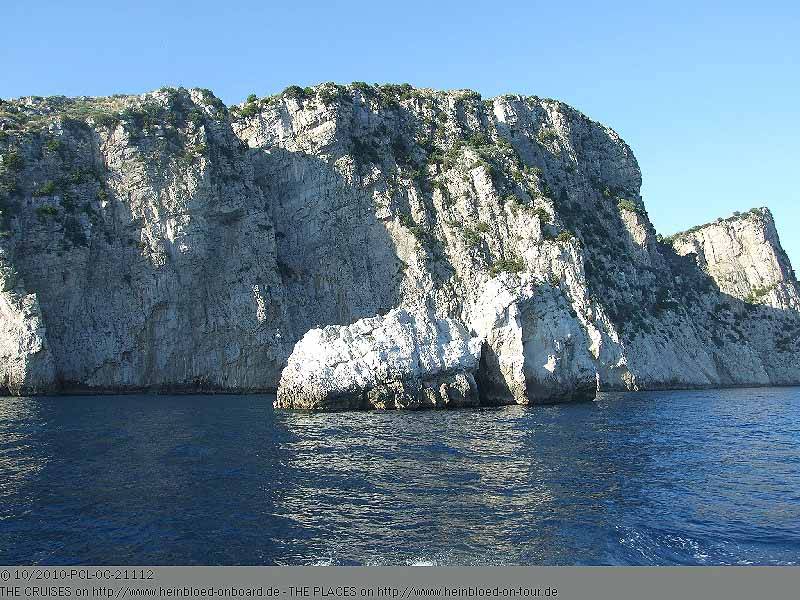 Endlich "um die Ecke". Nun müsste ja zumindest gleich Sorrent zu sehen sein... aber liegt ja nochmals "um die Ecke"...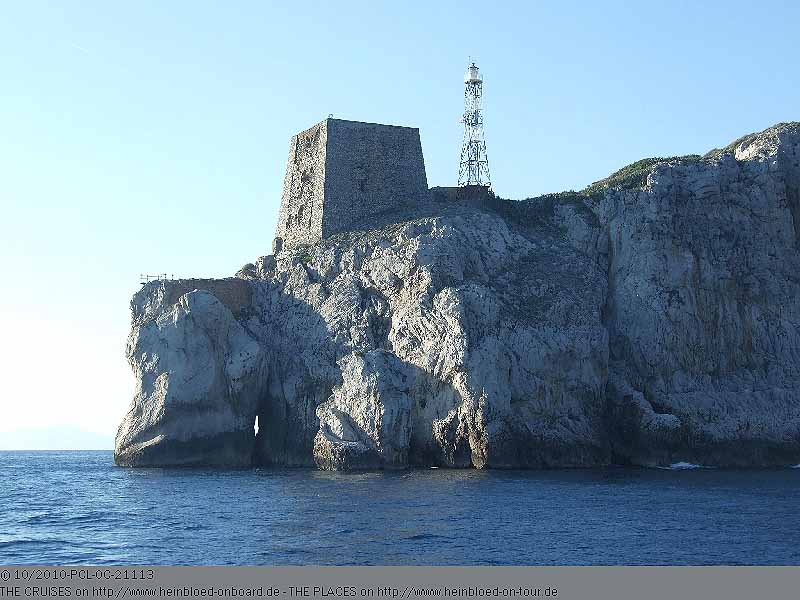 Finally "around the corner". But Sorrento need to be seen soon... but this is again "around another corner".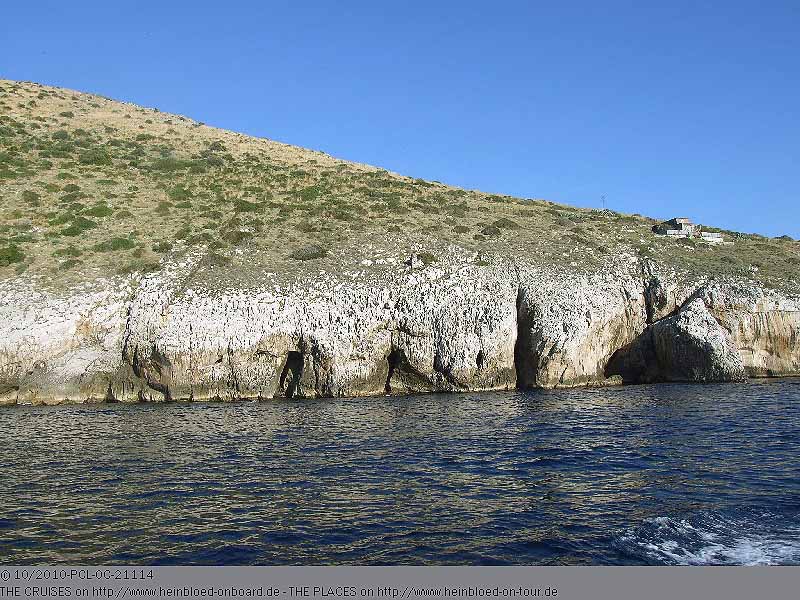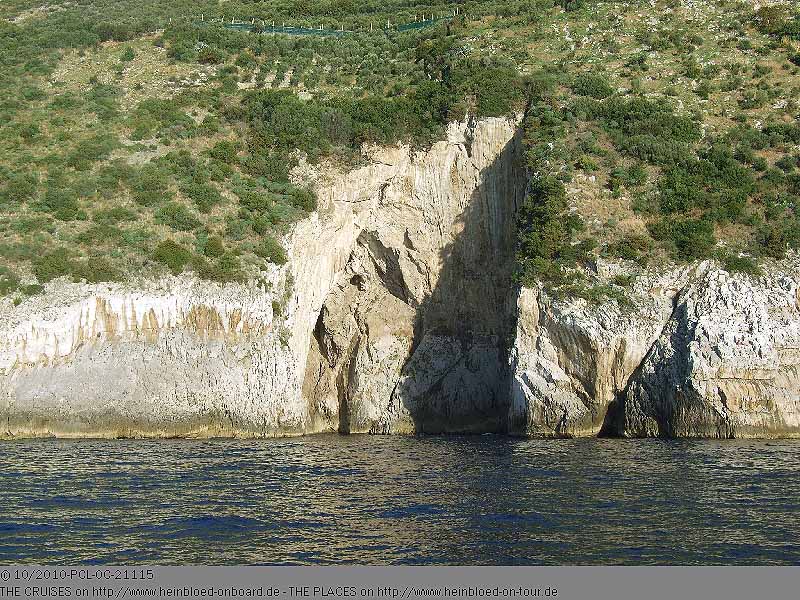 Around 17.15 hrs I got panic and I checked for the phone number of the agent. It was an office number in Naples. I hoped that they were still working. I hoped that they will speak English. Someone pick-up the phone and I was transferred directly to the cell phone of the port agent.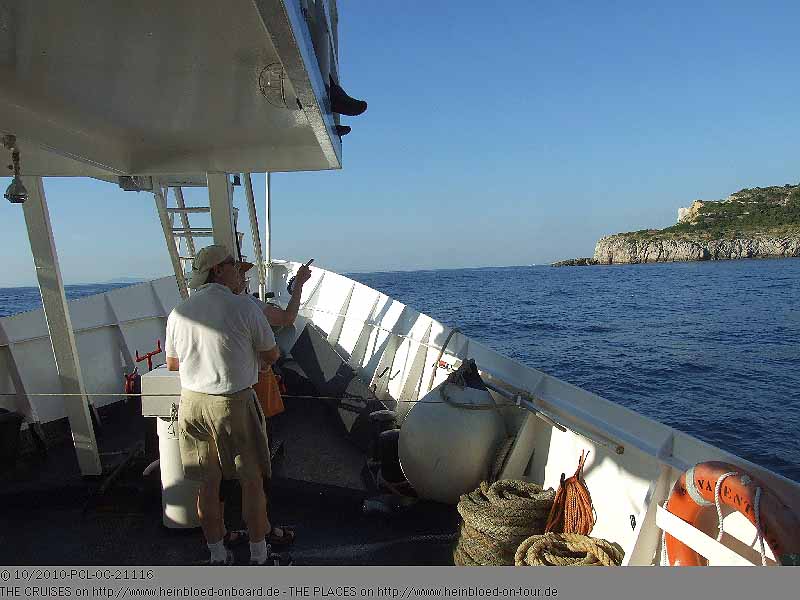 Gegen 17.15 Uhr ergreift meine Panik und ich suche die Telefonnummer vom Agenten heraus. Es ist eine Büronummer in Neapel. Hoffentlich arbeiten sie noch. Hoffentlich sprechen sie Englisch. Es meldet sich jemand und ich werde direkt auf das Handy des Hafenagenten verbunden.
Ich habe jedoch nicht den Eindruck, dass er mich versteht und mich für einen Busfahrer hält, der auf dem Weg zurück zum Schiff ist und ihm ein Problem meldet. Also gebe ich ihn weiter an ein Besatzungsmitglied, das ihm unsere Situation in Italienisch erklären soll. Zwei max. drei Sätze fallen. Und das Besatzungsmitglied gibt mir mein Telefon zurück und sagt, dass er mir vom Hafenagenten ausrichten soll: "Non Problemo".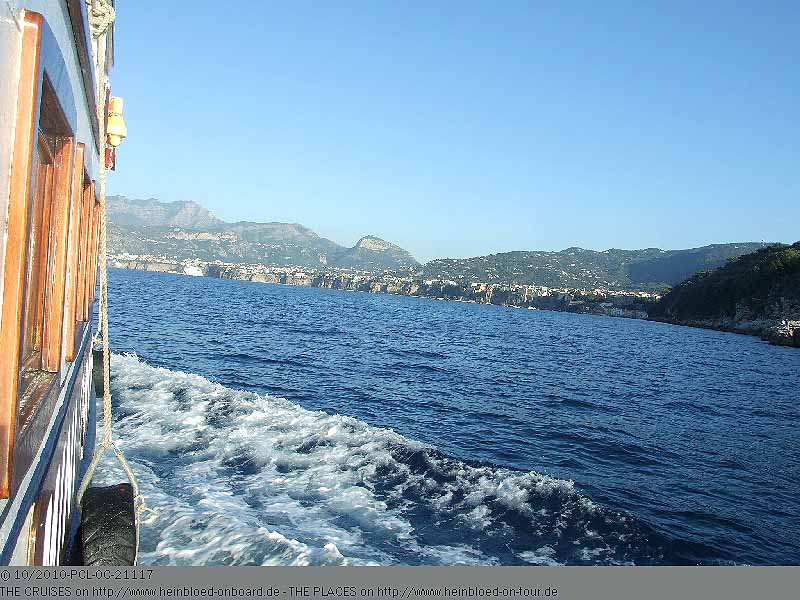 I did not have the impression that I was properly understood and he might think that I was the bus driver who was on the way back to the ship and wanted to report a problem. So I handed over my cell to a crew member who should explain our situation in Italian. Two or max. three phrases were exchanged. And the crew member returned my phone and told me from the port agent: "Non problemo!!!".

Finally, we could see Sorrento. To calm us down one crew member told us where we should leave the ship and should prepare in a few minutes to be the first from the ship.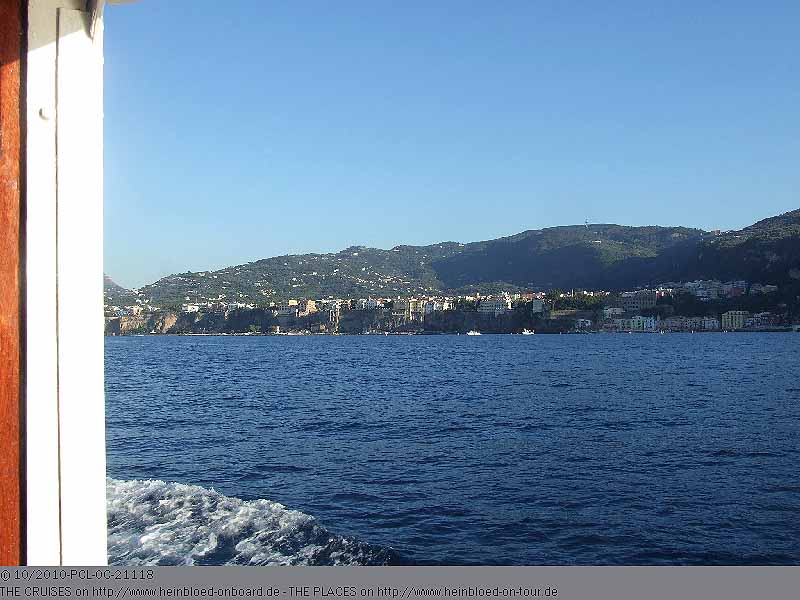 Endlich ist Sorrent zu sehen. Um uns zu beruhigen, sagt uns ein Besatzungsmitglied schon mal, wo wir aussteigen, und wir uns in ein paar Minuten bereitmachen sollen, um als erste bereit zu sein.
Wir sehen unser Schiff... Würden 20,00 EUR Trinkgeld für den Kapitän reichen, damit er uns doch direkt an der OCEAN PRINCESS absetzt oder hinterher nochmals hinfährt, wenn alle anderen Gäste abgesetzt sind??? Ich riskiere die Frage nicht, um nicht noch so kurz vor Sorrent in einem Rettungsboot ausgesetzt zu werden...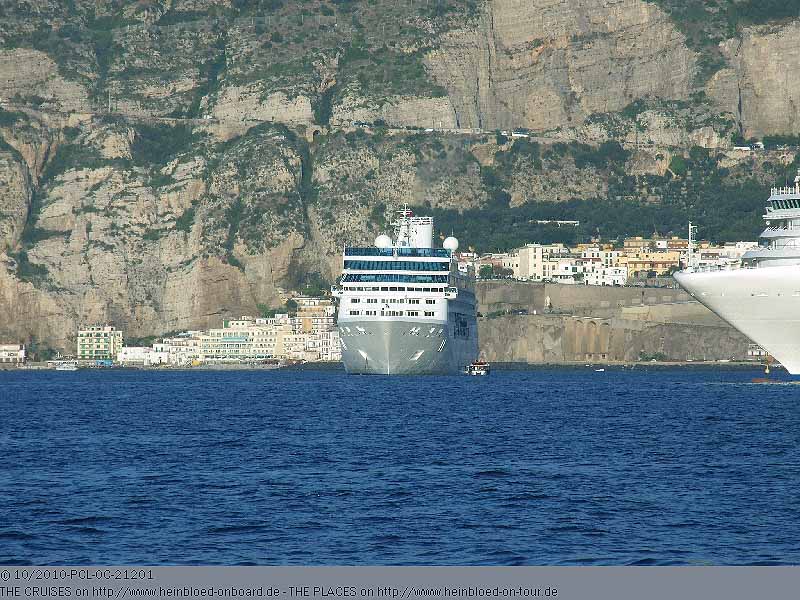 We saw now our ship... Would be 20.00 EUR tipping for the Captain enough to make him sailing via our OCEAN PRINCESS to give us a drop-off now or later after all other guests were released??? I did not risk to ask to make sure that he would not release me in a lifeboat before we reached Sorrento...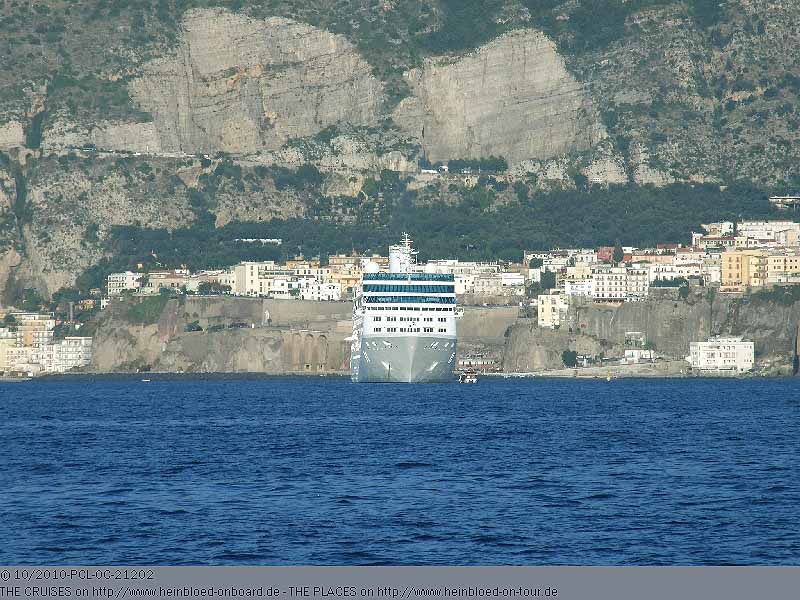 Leider können wir aus der Entfernung keine Aktivitäten auf unserem Balkon erkennen.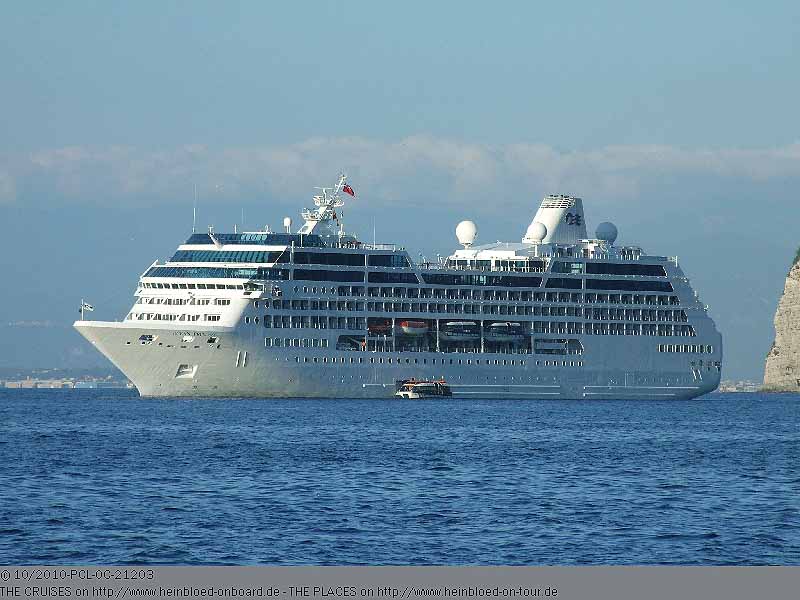 Unfortunately we cannot see any activities on our balcony from the distance.

Maybe SILVER SPIRIT might call La Goulette, and she could take us with her??? She supposed to leave 01.00 hrs in the night...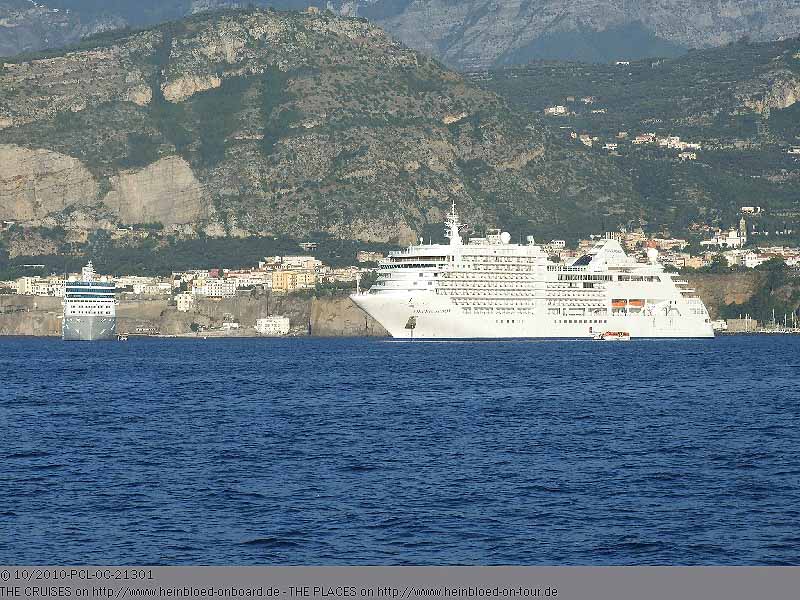 Fährt nicht vielleicht die SILVER SPIRIT zufällig nach La Goulette und könnte uns mitnehmen??? Sie fährt ja erst um 01.00 Uhr nachts los...
Es ist jetzt 17.20 Uhr und wir haben immer noch nicht festgemacht.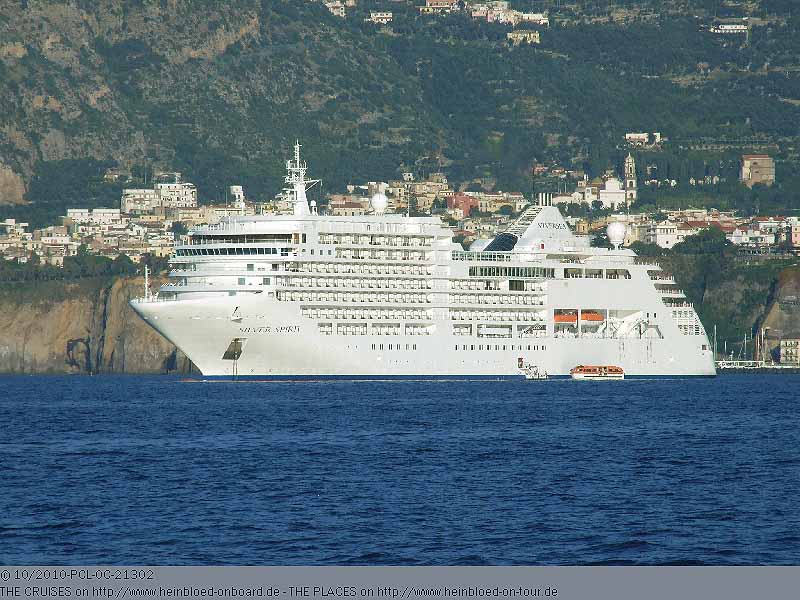 It was 17.20 hrs and we did not berth yet.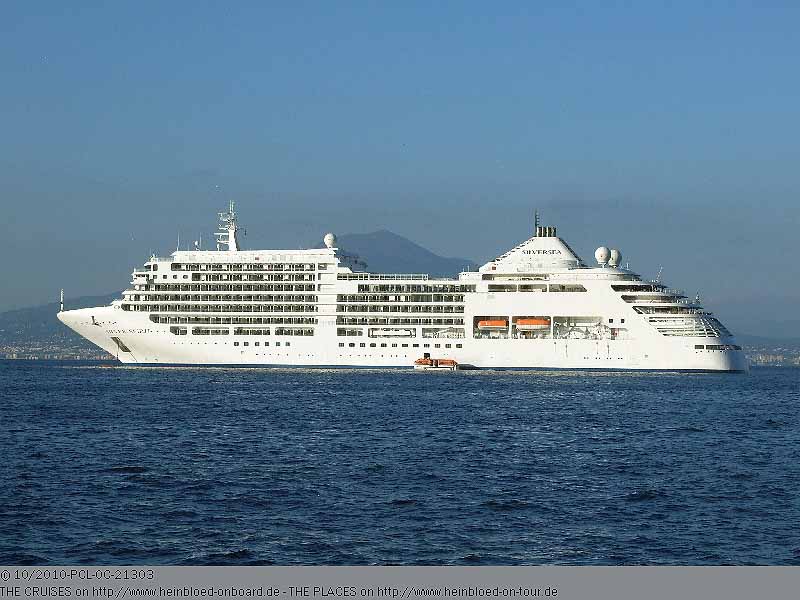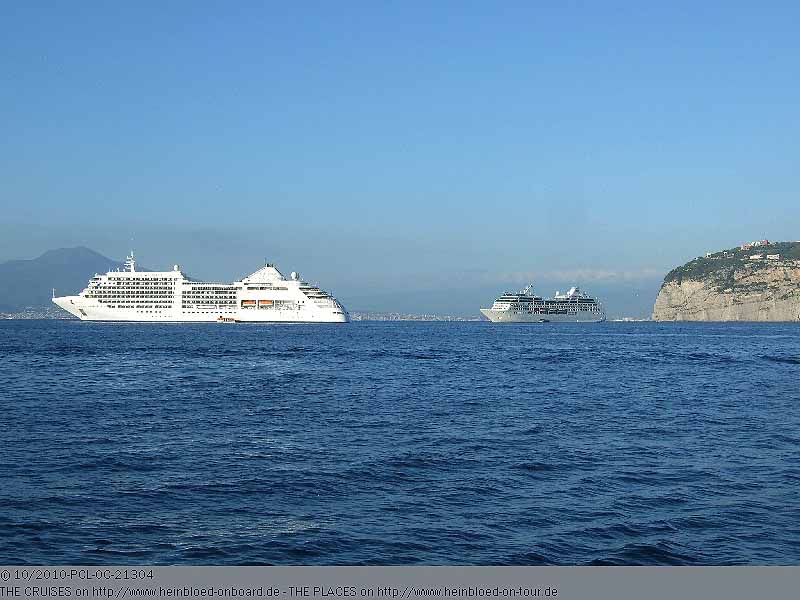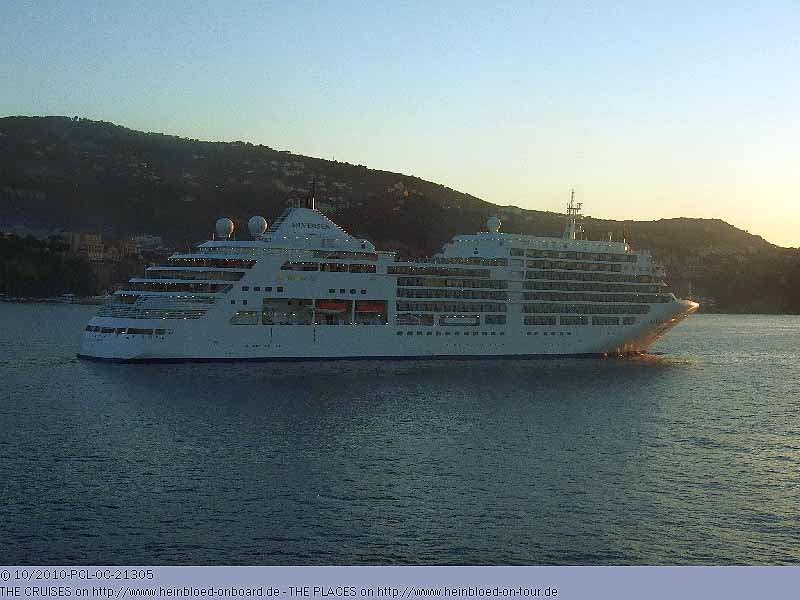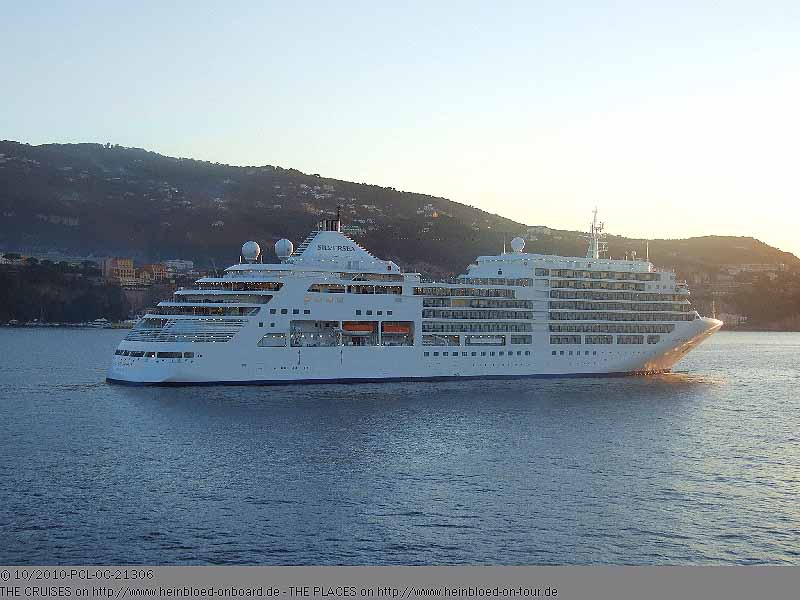 I took it positive: all the pictures in the afternoon would not be taken if we catch a jetfoil. At 17.27 hrs we finally berthed. Just 100 yards away to the tender boat station. We saw that many items of the station were already removed. Although we might jump on the quay, they did not allow it. But we were the first who left the ship. A few seconds later we were at the tender boat. The port agent came to us and only said: "7024??? I told you: Non Problemo!!!". We asked to contact Dean on board to notify him that we should be there with the next tender. The officer on duty at the pier decided that we should sail immediately although there only a few passengers. So he wished us "Bon appetit" and a lot of pleasure with our Ultimate Balcony Dinner Experience. What we did not know: The last tender went 18.15 hrs as several buses were late... the group we met in Amalfi and had the lemon sorbet went to Capri and then to Pompei and then to traffic congestion. Sometimes you have good reasons to book a ship's tour before you miss your ship and had to swim behind your ship.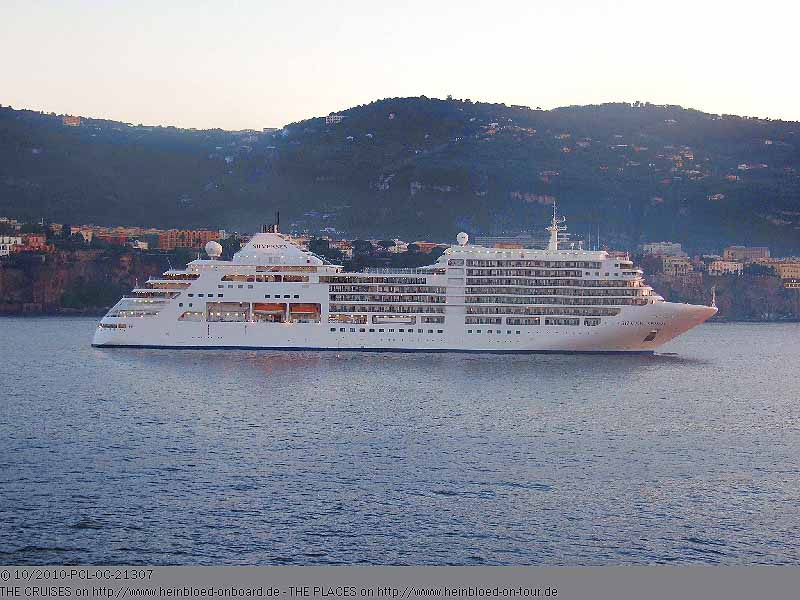 Ich nehme es positiv: diese Bilder am Nachmittag wären nicht entstanden, wenn wir wieder ein Schnellboot erwischt hätten. Um 17.27 Uhr legen wir an. Zum Glück nur 100 m vom Tenderbootstation. Wir sehen, dass vieles von der Station schon abgebaut. Obwohl wir auf die Kaimauer springen könnten, lassen sie es nicht zu. Wir sind aber dann die ersten, die von Bord sind. Wenige Sekunden später sind wir am Tenderboot. Der Hafenagent kommt auf uns zu und meint nur: "7024??? Ich habe ihnen doch gesagt Non Problemo!!!". Wir bitten darum, dass man an Bord Dean Bescheid gibt, dass wir unterwegs sind und mit dem nächsten Tender kommen. Der Offizier am Pier entscheidet, dass wir sofort losfahren, obwohl wir nur sehr wenige sind, damit Dean nicht warten muss und wünscht uns "Guten Appetit" und viel Spaß mit unserem Balkon-Dinner. Was wir nicht wissen: Erst gegen 18.15 Uhr wird zum letzten Mal übergesetzt, da mehrere Busse sich verspätet haben... ausgerechnet die Gruppe, die wir zuvor in Amalfi getroffen haben und mit uns zusammen Zitronensorbet gegessen hat, ist anschließend nach Capri gefahren, dann weiter nach Pompei und dann im Stau hängengeblieben. Es gibt für die Befürchtungen, dass man einem Schiff hinterherschwimmen muss und daher eine Schiffstour buchen sollte, gelegentlich doch mal gute Argumente.
Die anderen Reisen in diesem Blog/
The other voyages in this blog: