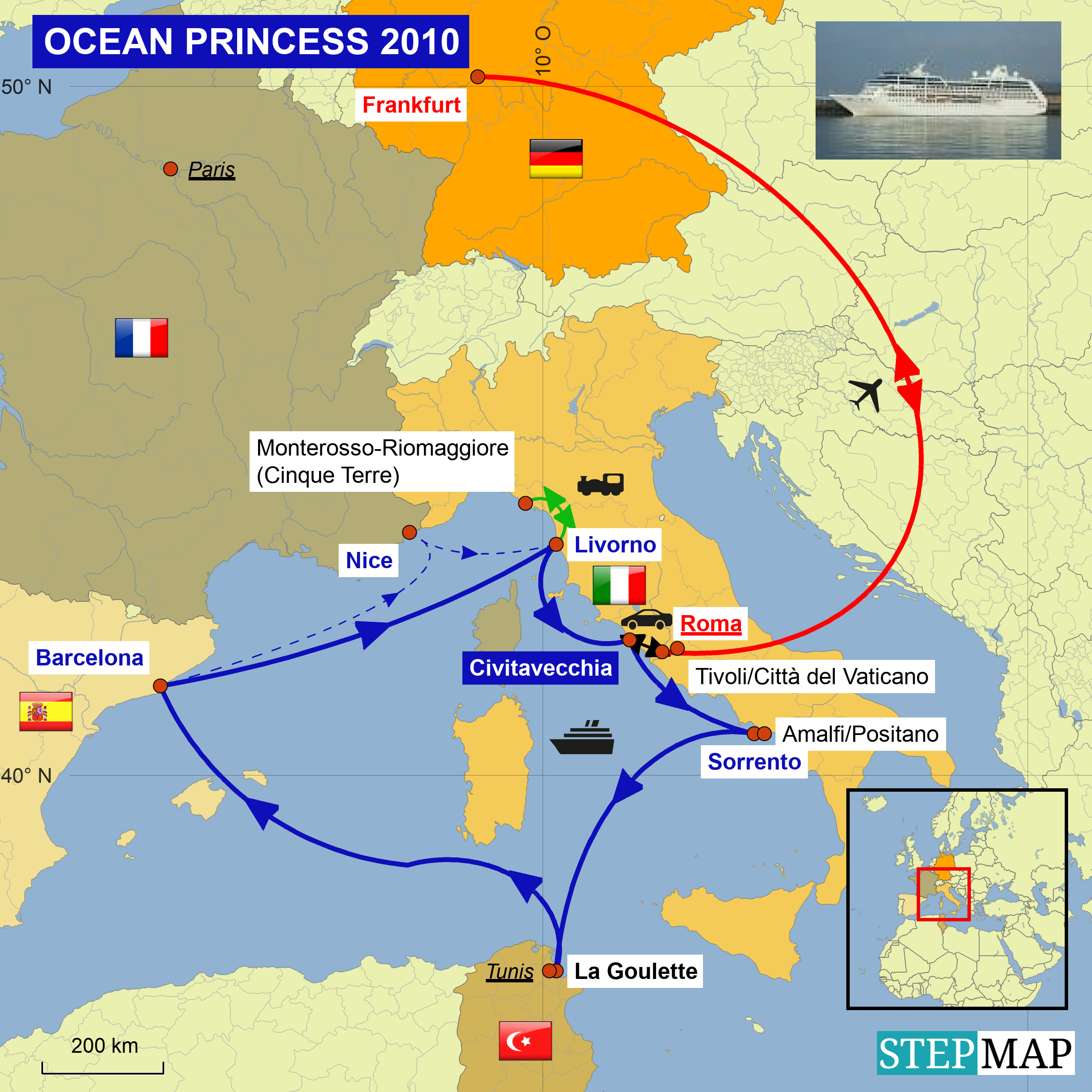 Als wir der OCEAN PRINCESS näher kommen, sehen wir jemandem im Smoking auf unserem Balkon... Müssen wir uns erst mal umziehen???

When we came closer to OCEAN PRINCESS we could see someone with a tuxedo on our balcony... Do we need to change the clothes too???

We sat in the 1st row in the tender boat and could see that it was Dean.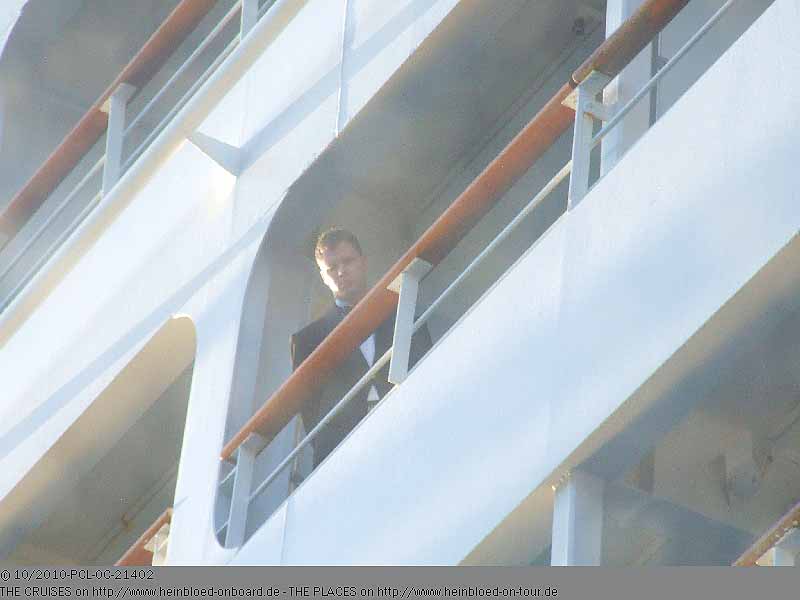 Wir sitzen in der 1. Reihe im Tenderboot und können erkennen, dass es Dean ist.
Vor unserer Kabine steht ein Container. Unsere Zusage, dass wir vor 17:30 Uhr nicht in der Kabine auftauchen, haben wir ja nun mehr als eingehalten.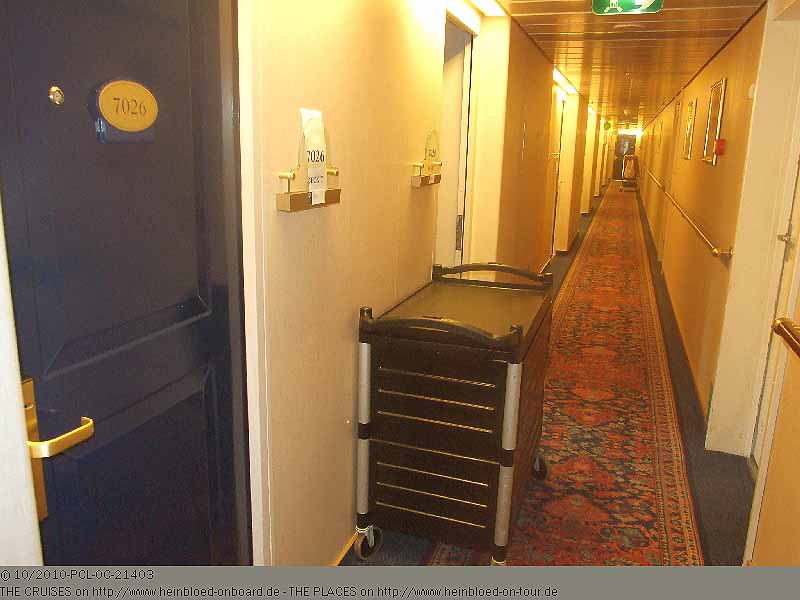 In front of our cabin there was a container. We really did keeping our promise not to return to our cabin before 17:30 hrs.

Wow... when we wanted to apologize for our delay Dean only said: "Sir: this is your vacation!!! You say when we should start!!! I will leave you for a moment alone so you can freshen up a little and when you would like me to start you just find me somewhere close by. Just open the door, and we start immediately."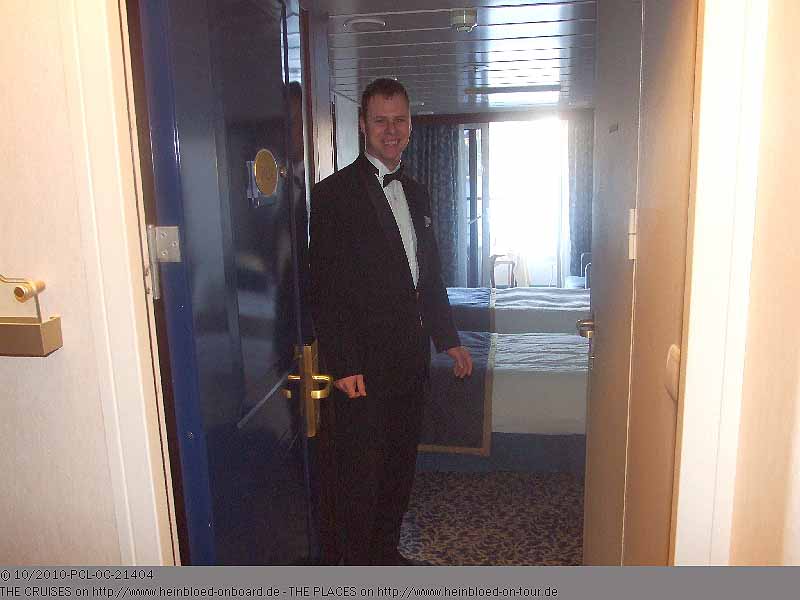 Wow... als wir uns entschuldigen wollen, meint nur Dean: "Sir: das ist Ihr Urlaub! Sie bestimmen, wann wir anfangen!!! Ich lasse Sie jetzt für einen Moment alleine, damit sie sich etwas frisch machen können und wenn Sie anfangen möchten, dann bin ich hier irgendwo in der Nähe und Sie müssen nur die Tür öffnen und wir können sofort loslegen."
Es ist nämlich der letzte Tag, an dem das möglich ist. In La Goulette legen wir spät ab. In Nizza auch. In Livorno auch. Wenn wir dann abfahren ist es bereits kalt und dunkel. Und in Barcelona haben wir unser Chef's Table. Am Seetag ist Gala-Abend. Aber Dean erklärt uns, dass wir das Wort Balkon nicht zu wörtlich nehmen sollen. Sie würden dann auch den Sessel rausstellen und dann in unserer Kabine etwas machen. Daher könnten es auch Gäste ohne Balkon buchen, wenn sie einfach mal Spaß daran hätten, so verwöhnt zu werden, wie wir verwöhnt wurden.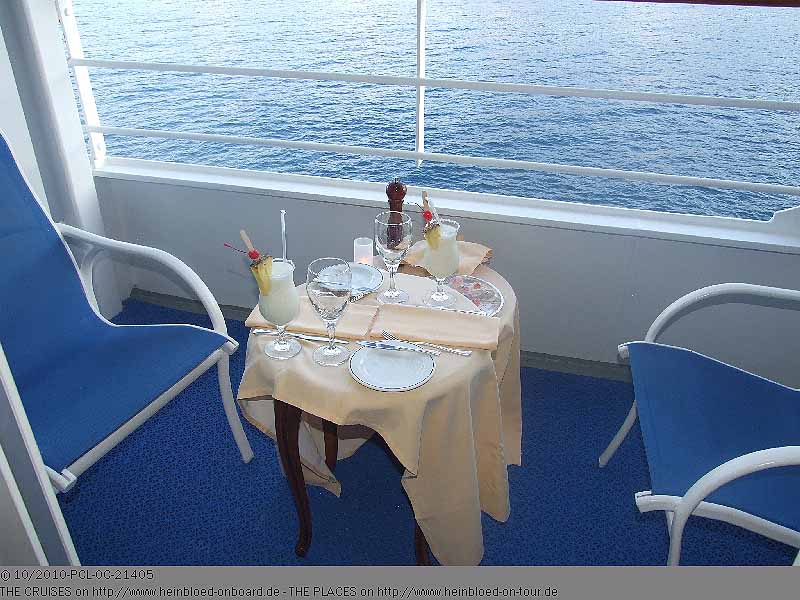 It was the very last day it was possible. In La Goulette, we will set sail very late. Same in Nice. Same in Livorno. When we sail away, it might be cold and dark. And in Barcelona, we should have our Chef's Table. On the day at sea, we supposed to have gala-dinner. But Dean explained that we should not take the word balcony too literally. They would take out the armchair and arrange something special in your cabin. So guests without balcony can request this arrangement too if they would like to be indulged like we were indulged.

Dean promised that we should have caviar... I should have fixed him to Beluga-caviar.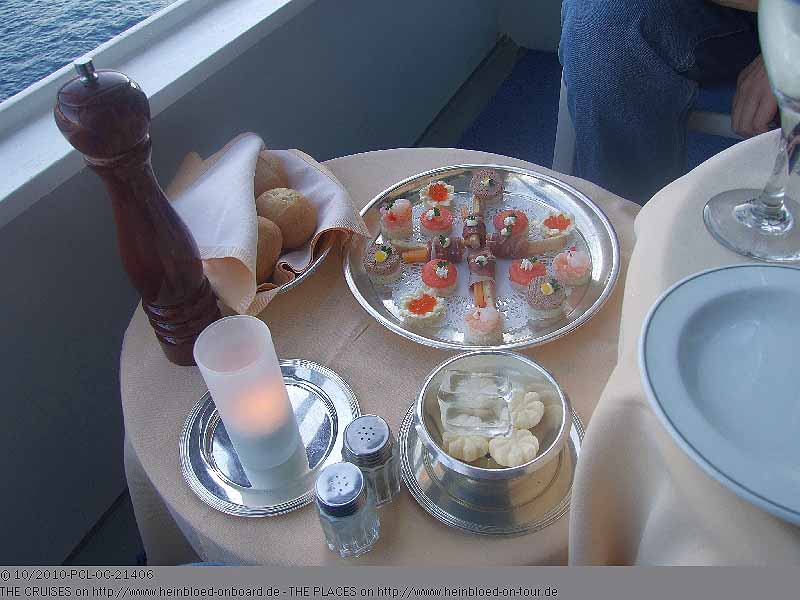 Dean hatte versprochen, dass es Kaviar gibt... ich hätte ihn wohl auf Beluga-Kaviar festhalten sollen.
Ist das nicht fantastisch: Sorrent im Hintergrund (Albatros (Uwe) aus kreuzfahrten-treff.de möge bitte an der Stelle verzeihen, dass wir unter diesen Umständen nicht mehr geschafft haben, eine Pizza in Sorrent zu probieren. Wir hatten die Anschrift mit und hatten es eingeplant). Und noch Tenderboote, die hin und her fahren.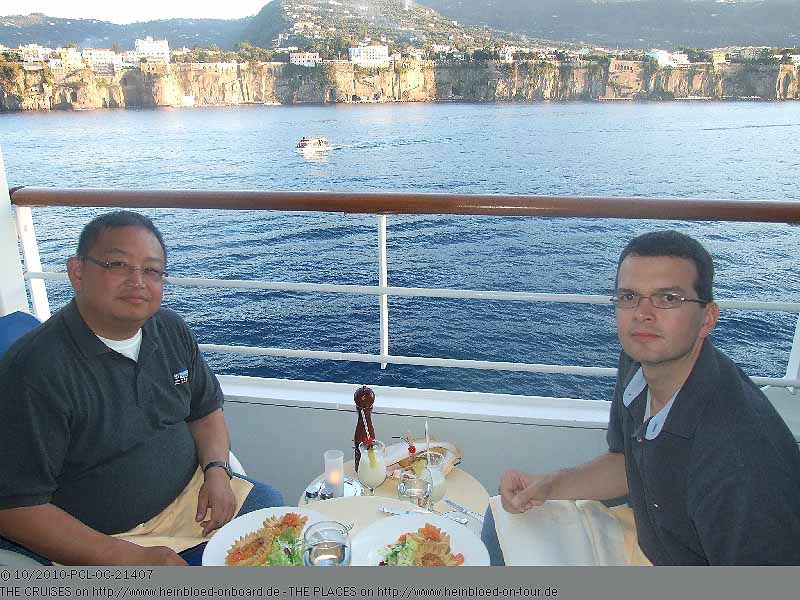 Is not it fantastic: Sorrento in the background. And still tenderboats going back and forth.

Bulks... just the half would be fine enough...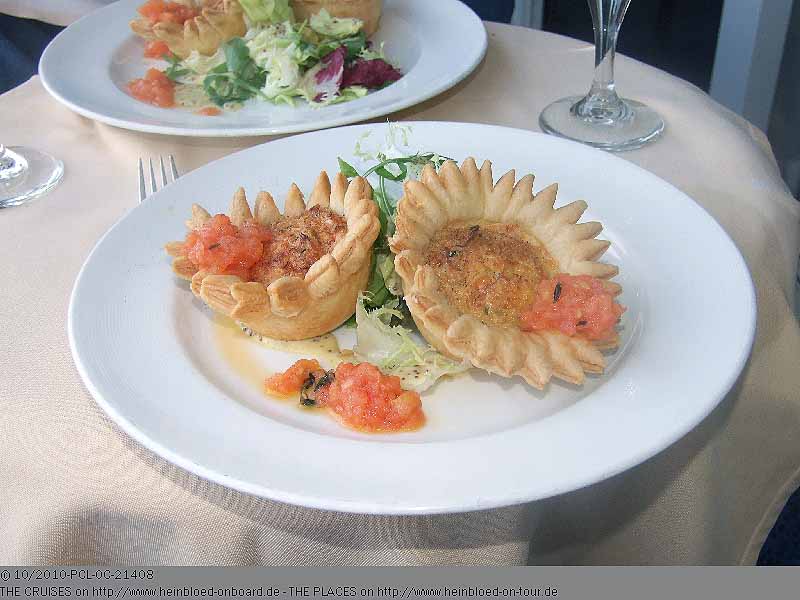 Mengen... die Hälfte hätte es auch getan...
Meinen geliebten Pfefferservice beim Salat. Dean sagte, dass wir die einzigen sind, die diesen Salat auf dem Schiff bekommen. Im Preis ist übrigens auch ein Foto und Champagner inbegriffen. Den Champagner haben wir wieder im Verhältnis 1:3 in stilles Mineralwasser getauscht...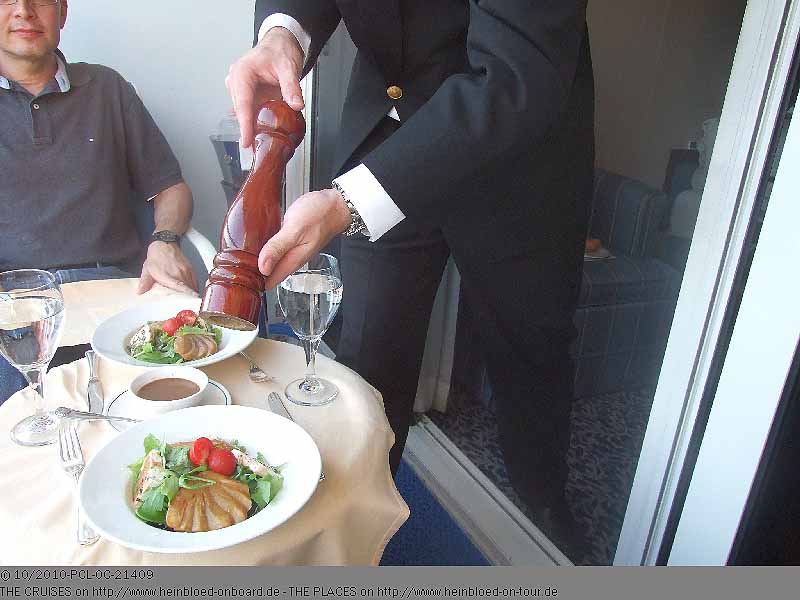 My beloved pepper service with the salad. Dean said that we were the only onboard who got this salad. Included in the price were a picture and Champagne. We asked to arrange an exchange of still water for champagne at a quota of 3:1...

Just with the sunset Surf and Turf was served.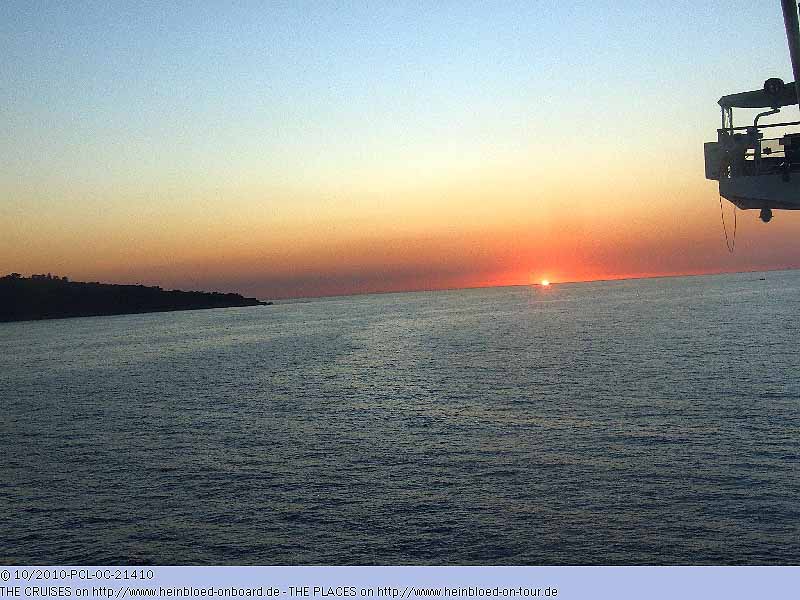 Pünktlich zum Sonnenuntergang gibt es Surf und Turf.
Übrigens der zarteste und saftigste Hummer, den wir bislang auf allen Kreuzfahrten gegessen haben.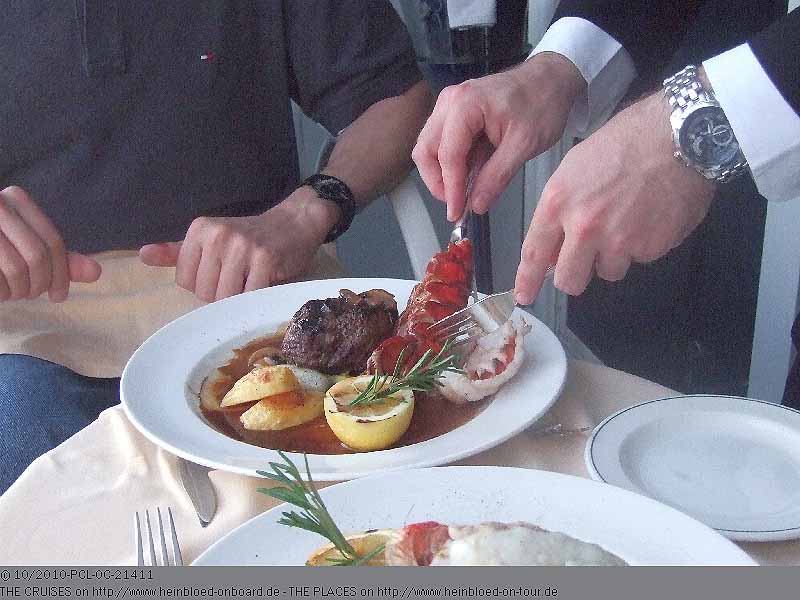 By the way it was most tender and juicy lobster we ever had on all our cruises.

When it became dark, it grew slowly cooler.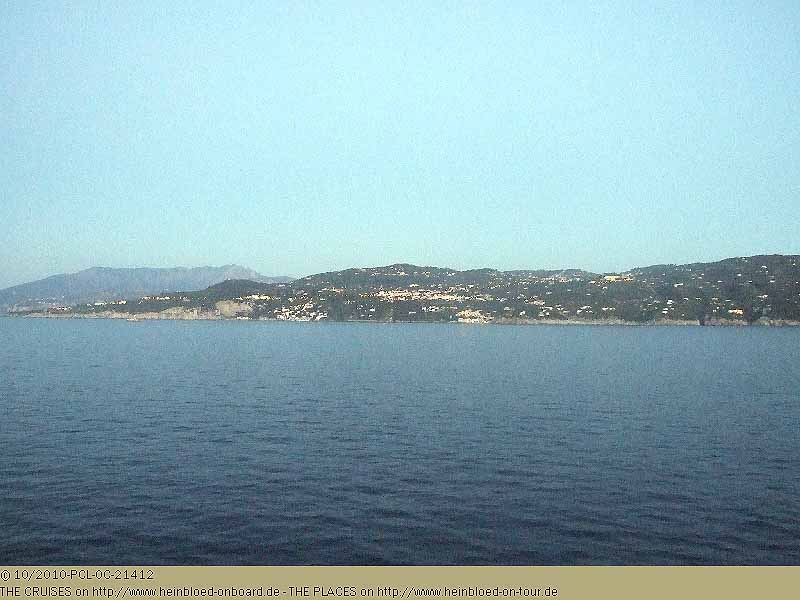 Mit einsetzender Dunkelheit wird es langsam kühler.
So passt es, dass jetzt der Kaffee serviert wird.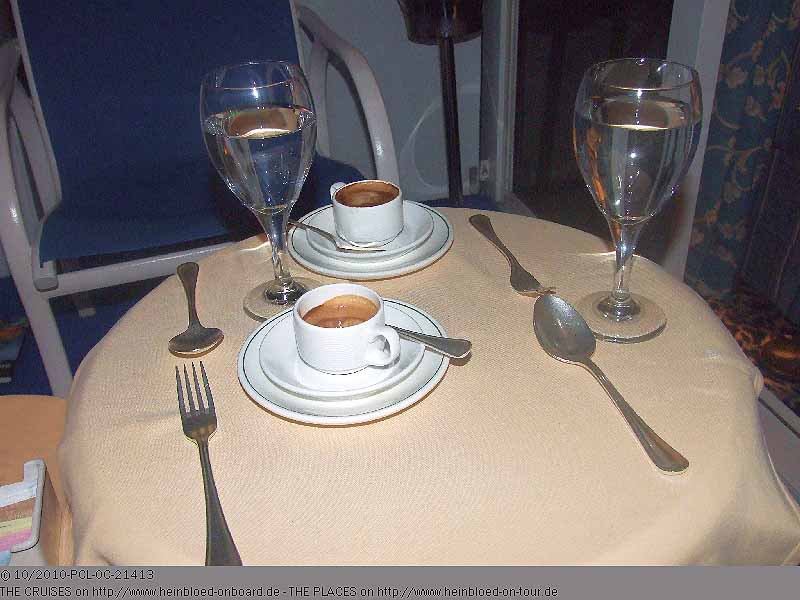 So we liked it that the coffee came.

Four different chocolate-mousse.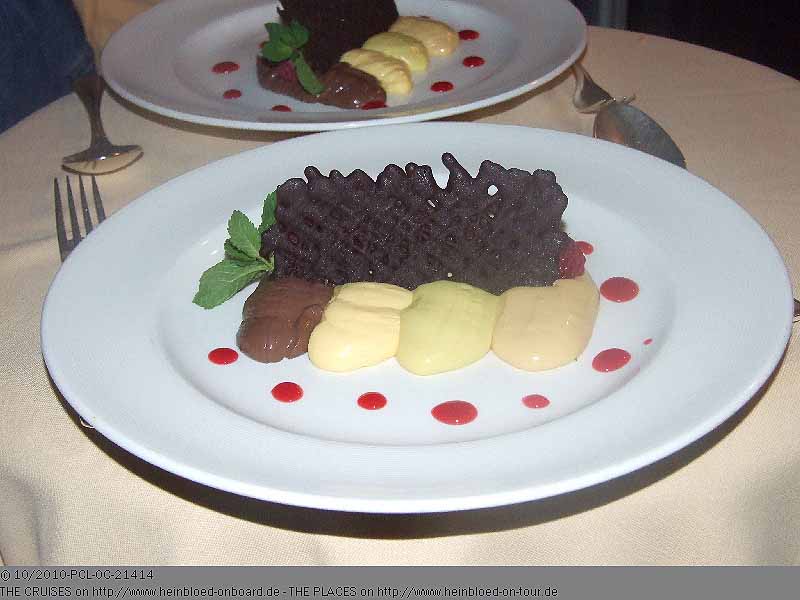 Vier verschiede Schokoladen-Mousse.
Das beste ist das grüne: After Eight. Und an dieser Stelle hätten wir den wunderbaren Abend beenden sollen... Denn eine Steigerung am heutigen Abend war ausgeschlossen. Dean ist an allem Schuld: Er hat uns so einen Höhepunkt verschafft. Jetzt konnten wir nur noch fallen. Die 50,00 USD pro Person sind bestens angelegtes Geld. Das Erlebnis ist einmalig und ich kann nur jedem den Tipp geben, es einmal pro Kreuzfahrt mal zu probieren, auch wenn man keine Balkonkabine hat. Mit der Einstellung wie die von Dean, bin ich mir sicher, dass selbst jeder Gast in der preiswertesten Innenkabine das Gefühl bekommt, als ob er in einer Queens Grill-Suite auf der QUEEN MARY 2 mitfahren würde.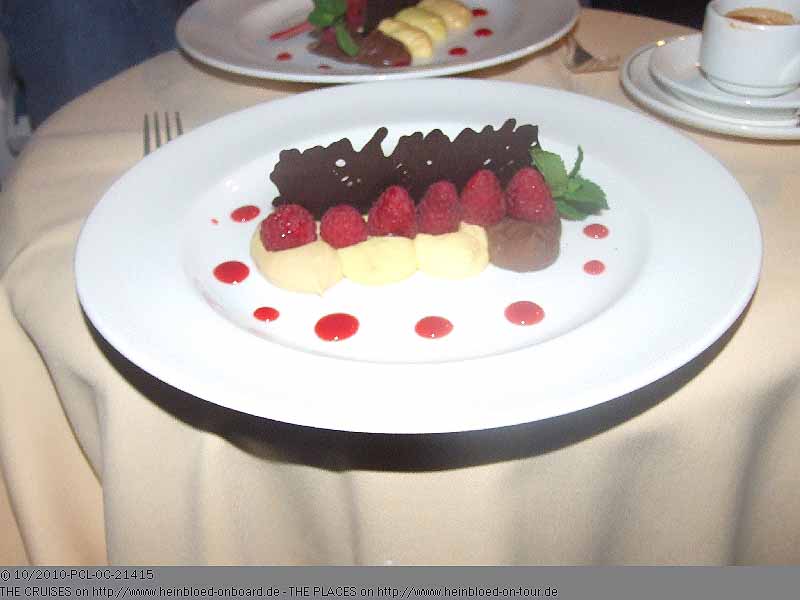 The best was the green: After Eight (Mint chocolate). We better should terminate the wonderful evening... Any raise tonight was not possible... It was Deans fault: He celebrated the true climax. Now we were at a point you could only fall down. The 50.00 USD per person is a great investment. The experience is unique, and we can only recommend trying this once on your cruise - even you have no balcony cabin. I liked the Dean's philosophy: With the treatment, we experienced with Dean I am sure that even every guest in the cheapest inside cabin category can get the feeling like to be in a Queens Grill-Suite like on QUEEN MARY 2.

The anger started when we need to queue up. All guests were requested to collect the passports until 23.00 hrs because we need it for the next day in La Goulette. So we should form one line for one counter for Elite-guests, but Elite-guests got still a priority. I do not think that you should ask all guests to come and occupy the front just with one agent.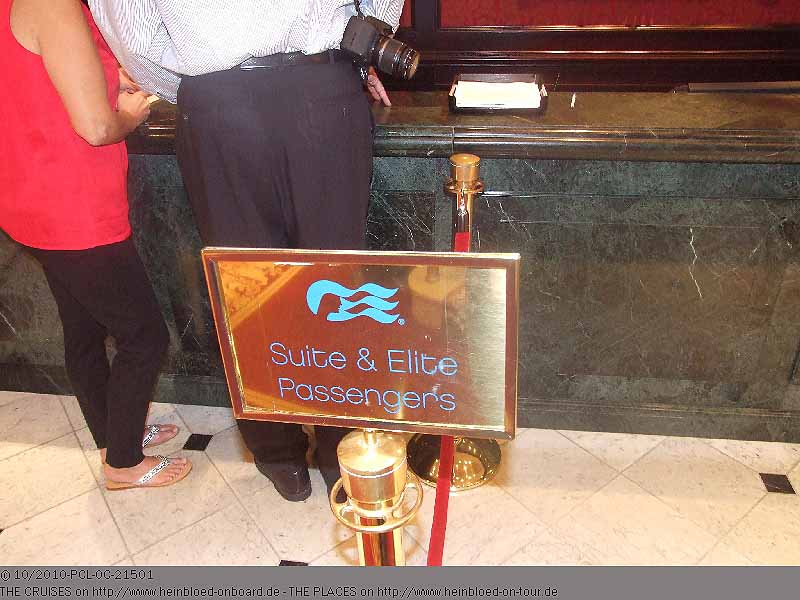 Der Ärger fing an, als wir anstehen mussten. Alle Gäste sind aufgefordert ihre Pässe bis 23.00 Uhr abzuholen, weil wir sie morgen in La Goulette benötigen. Aber nur ein Schalter hat auf, so dass alle Gäste in der Elite-Reihe sich einordnen sollen, aber die Elite-Gäste sofort drankommen. Ich denke nicht, dass man alle Gäste auffordern sollte zu kommen, und dann die Rezeption nur mit einer Person zu besetzen.
Als wir unsere Pässe wiederbekommen sind alle Formalitäten bereits erledigt. Sogar das Einreiseformular müssen wir nicht ein mal mehr ausfüllen.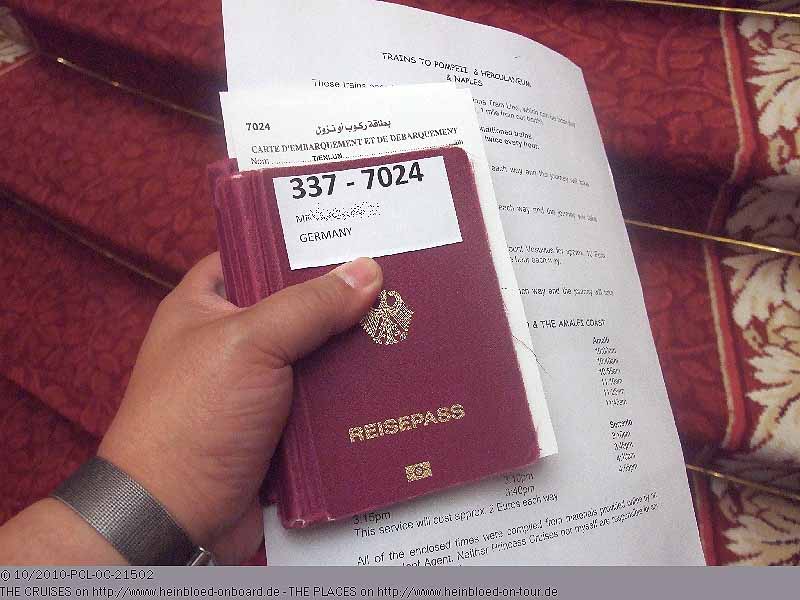 When we got back the passports all forms were done. There was no need for us to fill anything out ourselves..

The same night I got back my Douglas Ward-Cruise guide signed by the Captain. I was very impressed with the front desk. But a few hours later my pleasure terminated.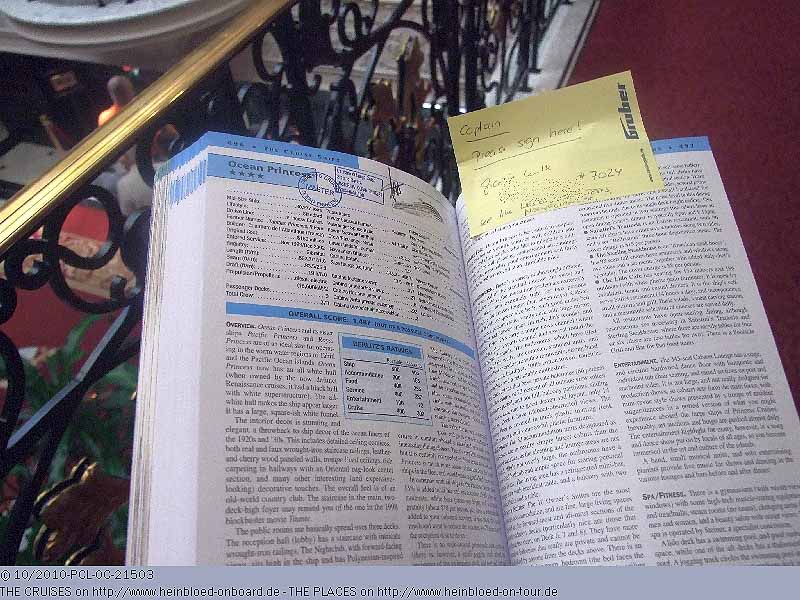 Am gleichen Abend bekomme ich sogar meinen Douglas Ward unterschrieben vom Kapitän zurück. Ich bin von der Rezeption begeistert. Nur leider endet meine Begeisterung in wenigen Stunden.
Heute abend ist Production Show, so dass wir in die Cabaret Lounge gehen. Beim Wertaufhalt in Singapur Anfang des Jahres haben sie ja alle Polster neu bezogen. Irgendwie haben sie bloß vergessen, die Polster wieder zu fixieren. Wir rutschen ständig nach links, rechts, vorne, hinten weg, während wir saßen.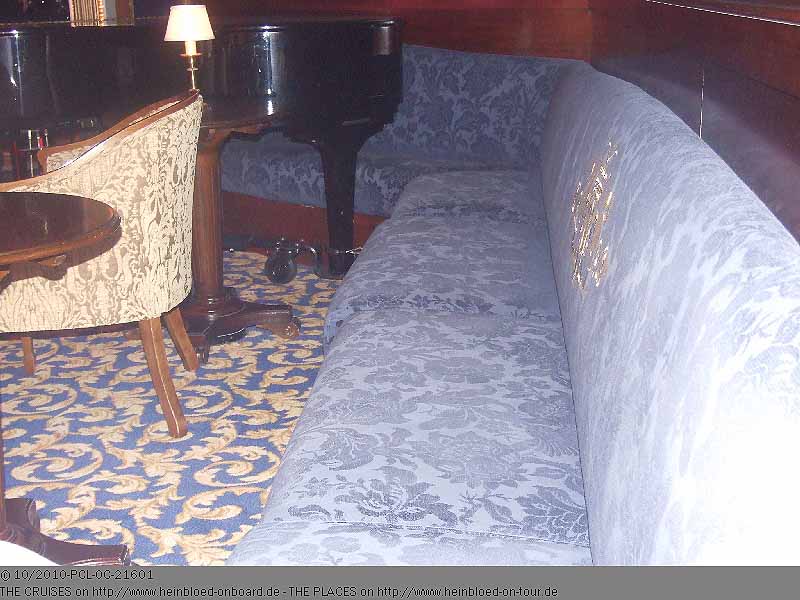 This night was a production show so we went to the Cabaret Lounge. During the drydock-stay in Singapore early this year they upholster all seats. Somehow they forgot to fix the seats. We slid all the time to the left, right, forward, backward while we were sitting.

The band were just of four members... we were already on smaller ships like BLACK PRINCE 2007 or 2008, but even there I have no memories of such a small orchestra. I need to double check my pictures when I am home. (Just the result of my investigation: 11,209 t (BLACK PRINCE) vs. 30,277 t (OCEAN PRINCESS), 439 Passengers vs. 668 Passengers, 2*+ vs. 4* but 6 members in the orchestra!!!)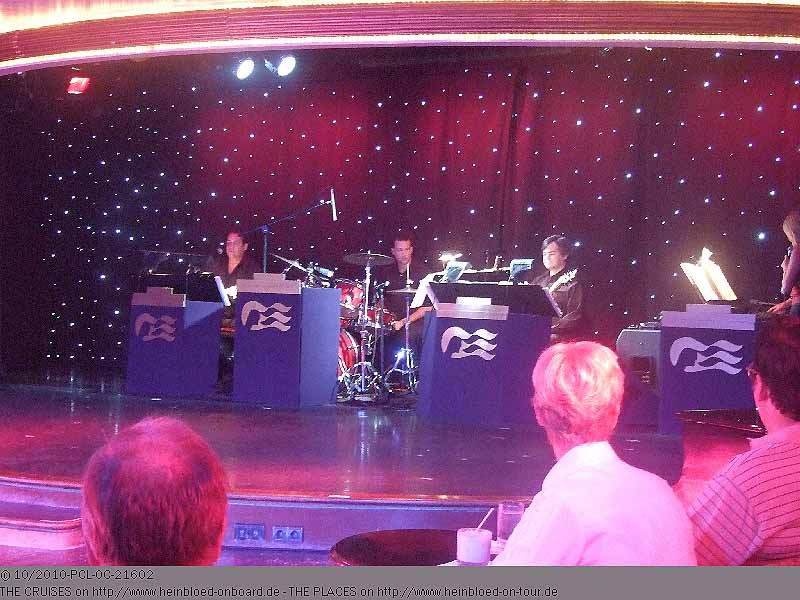 Die Band besteht aus vier Mitgliedern... nun waren wir ja schon auf kleineren Schiffen wie der
BLACK PRINCE 2007
oder
2008
, aber selbst dort hatte ich das Orchester nicht so klein in Erinnerung. Ich muss mir mal zu Hause die Bilder ansehen. (Das Ergebnis der Nachforschung: 11.209 t (BLACK PRINCE) zu 30.277 t (OCEAN PRINCESS), 439 Passagiere zu 668 Passagiere, 2*+ zu 4* aber 6 Mitglieder im Orchester!!!)
Was kommt ist eine echte Eigenproduktion. Alles selbstkomponiert. Als ich bei Stück drei nicht in der Lage bin, mich mitreißen zu lassen, weil ich nichts kenne, dass mich in Stimmung bin, gehe ich doch lieber ins Bett. Wir hatten ja schon unsere Highlights heute: unser Balkon-Dinner und Amalfi. Aufregung hatten wir ja auch genug auf dem Weg zurück aus Positano. Also gehen wir lieber ins Bett. Es soll ja noch eine Production-Show geben. Die Shows Smokey Robinson oder Equinox haben uns ja auch nicht gefallen. Aber trotzdem war es eine schöne Reise auf der
NORWEGIAN JADE 2009
bzw.
CELEBRITY EQUINOX 2010
. Warum sollte es auf der OCEAN PRINCESS anders sein? Jeder hat nun mal einen unterschiedlichen Geschmack und Vorstellungen, wie eine tolle Show sein soll.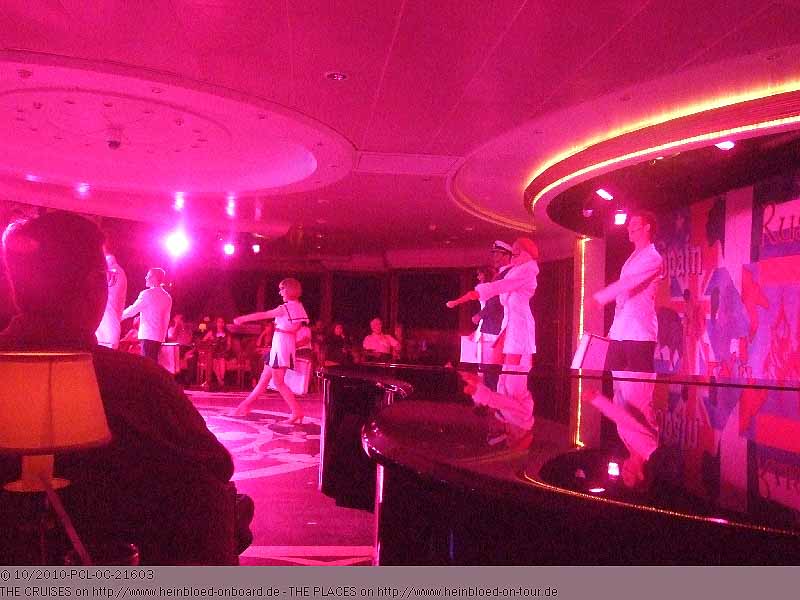 It was a true own-production show which followed. All composed by their own. When we came to track no. 3 and they could not make me excited because I did not know any song which gave me a good feeling, so I preferred to go to bed. We had already our highlights: our balcony-dinner and Amalfi. We had enough agitation on our way back from Positano. So we better should have our sleep. There should be another production show. We did not like Smokey Robinson, or Equinox shows either although we had a great cruise on NORWEGIAN JADE 2009 or CELEBRITY EQUINOX 2010. So why should it be different on OCEAN PRINCESS? Each of us has a different taste and expectations how a great show should be.
Die anderen Reisen in diesem Blog/
The other voyages in this blog: