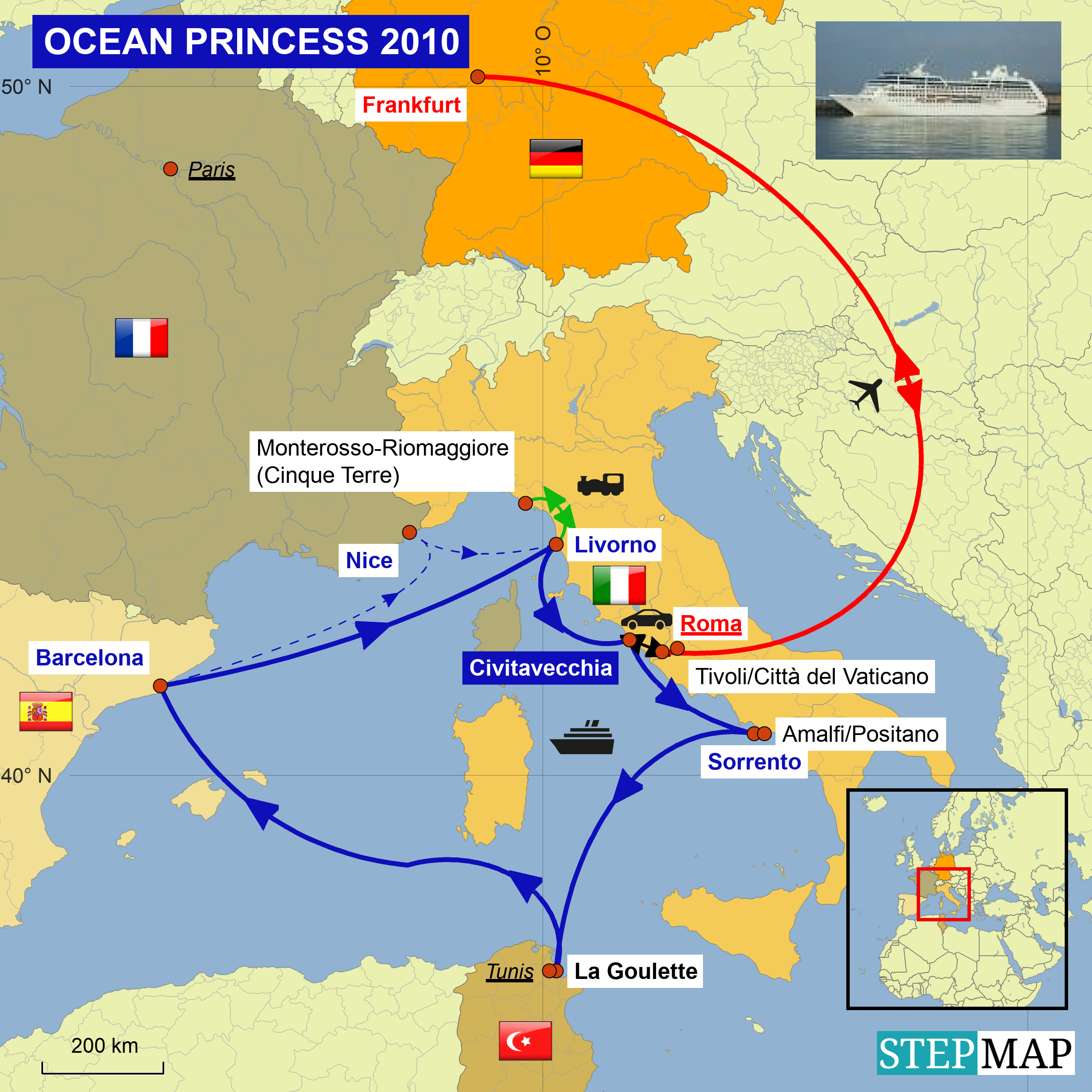 Wir suchen jedoch die U-Bahn. Also rauf auf den Platz.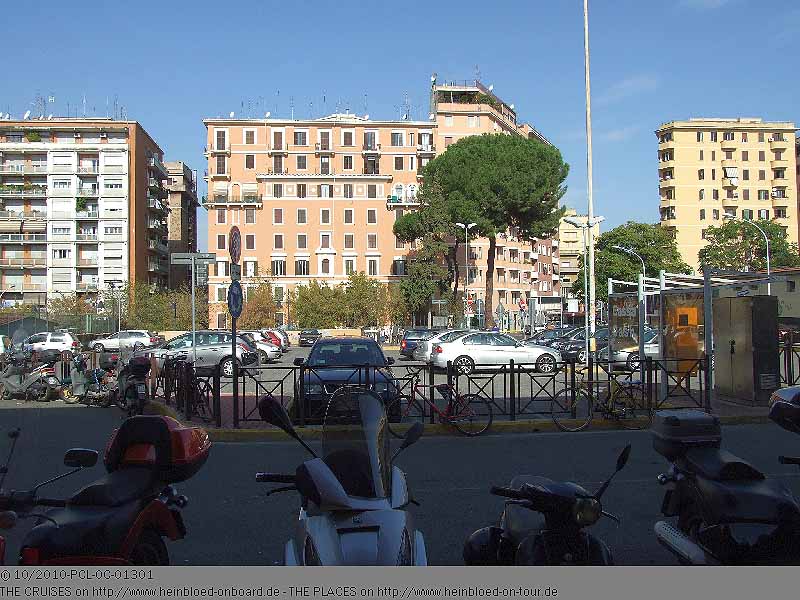 We were looking for the subway. So let's get on the square.

Left turn and about 300 yards up the street... Rome was built on seven hills.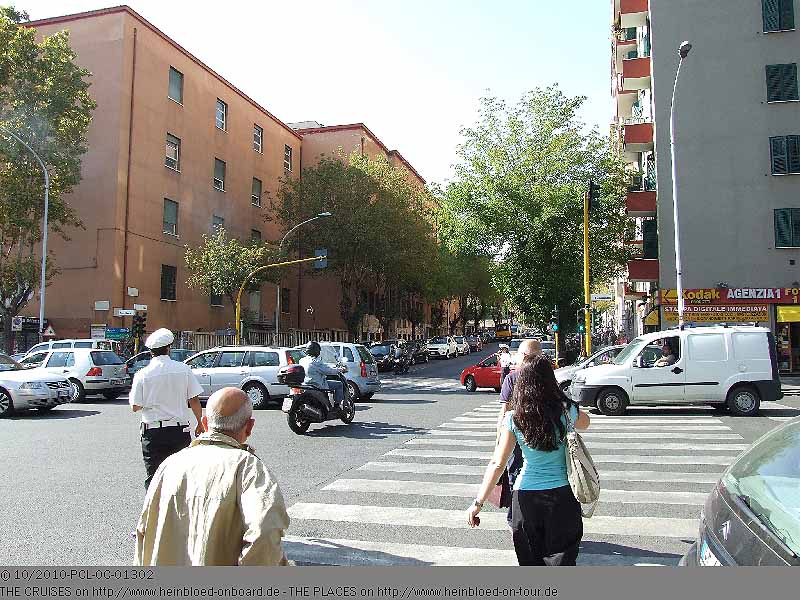 Nach links und dann ca. 300 m hoch... Rom ist nun mal auf sieben Hügeln erbaut.
Nicht besonders einladend.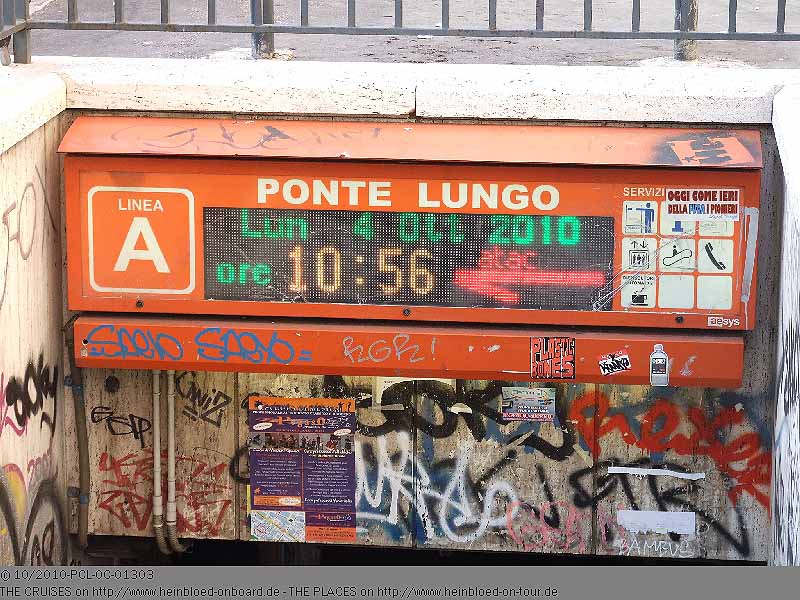 Not very inviting.

An endless long escalator... who is afraid of it should stay away.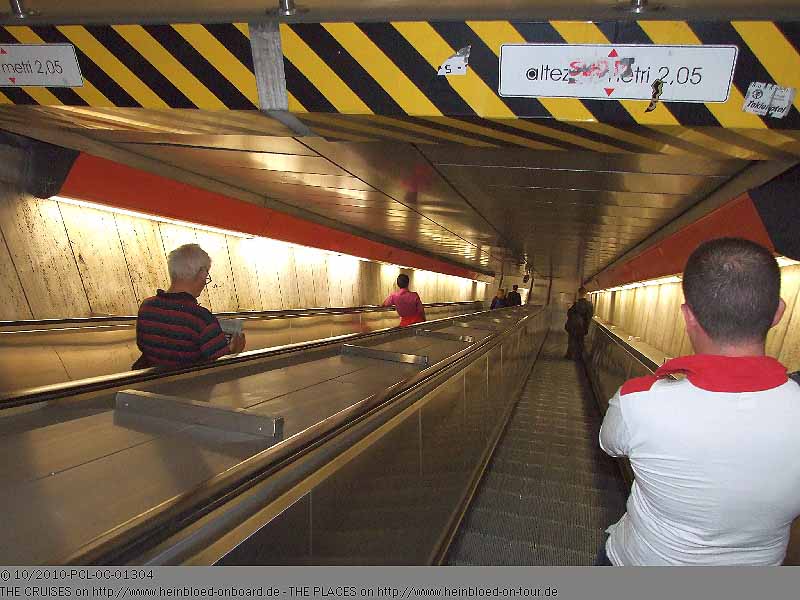 Eine endlos lange Rolltreppe... wer also Angstzustände dabei bekommt... wegbleiben...
Zum Glück müssen wir nur bis Termini (Hauptbahnhof).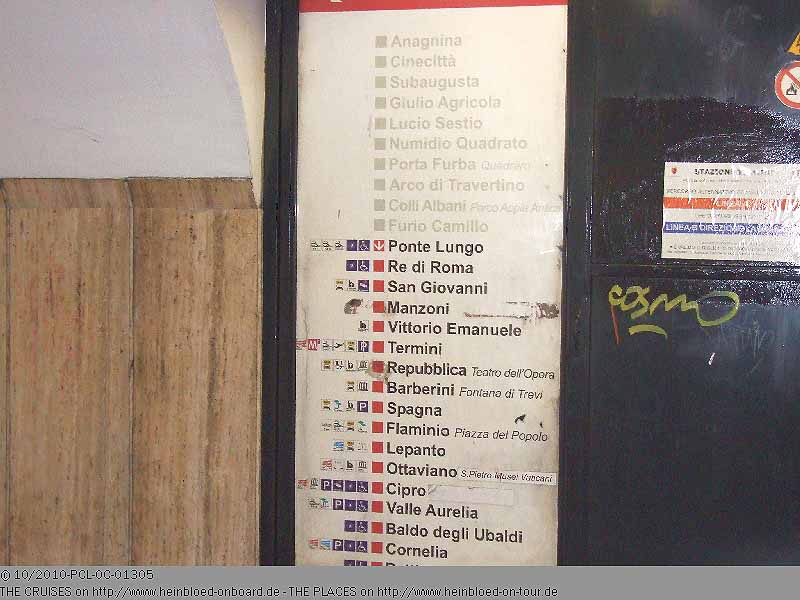 Luckily we need to get to Termini (Central Station).

At Central Station, there was chaos because they just have construction work at the subway. Due to the deviations, I had the feeling to need 30 minutes before I made it to the surface. Occasionally without escalator. So nothing with a lot of bags.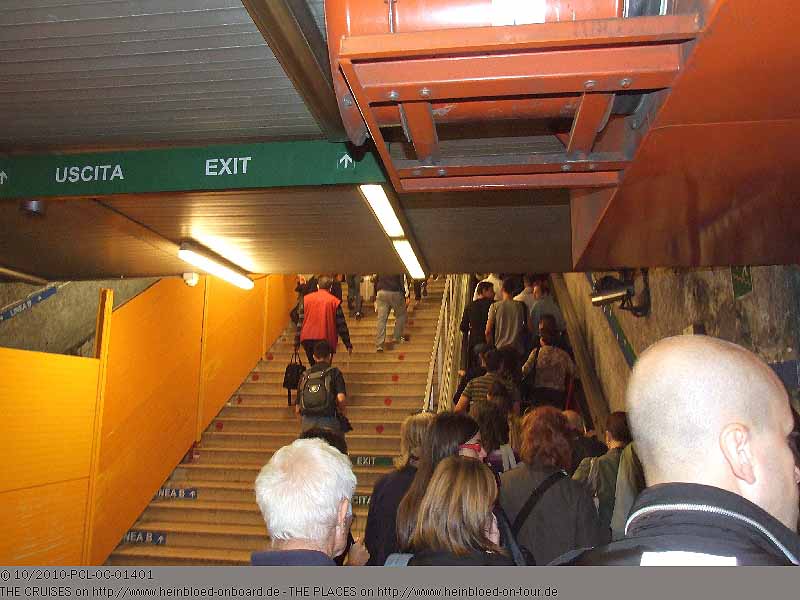 Im Hauptbahnhof ein Chaos, weil gerade an der U-Bahn gebaut wird. Durch die Umleitungen sind es gefühlte 30 Minuten, bis dass ich wieder an der Oberfläche bin. Auch mal ohne Rolltreppen. Also nichts mit viel Gepäck.
Wir nutzen die Gelegenheit und gucken uns ein wenig mal um. Zumindest sind mal die Züge zum Flughafen (Leonardo-Express) gut ausgeschildert.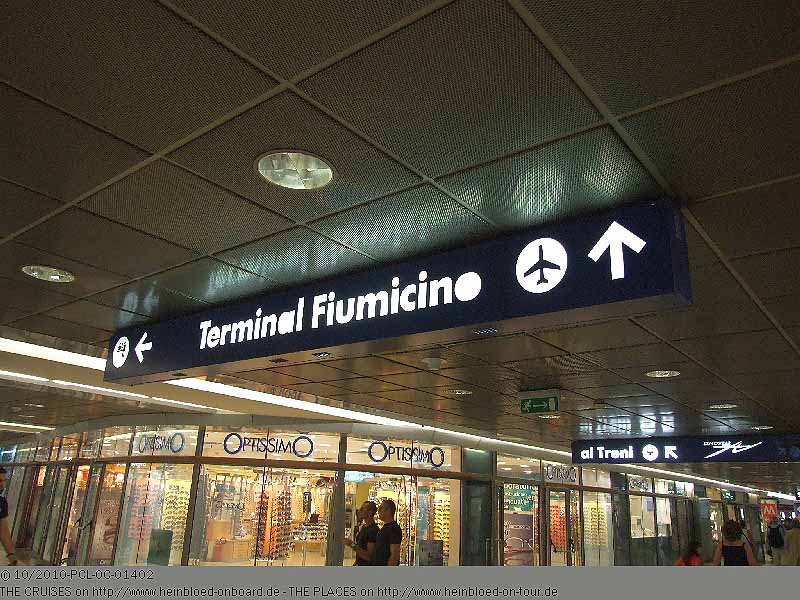 We used the chance and looked a little around. The airport-bound trains (Leonardo-Express) were well signposted.

And also in the shopping arcade in the basement, you find departure boards. But you need to know the final destination of your train. Otherwise, it would not be beneficial.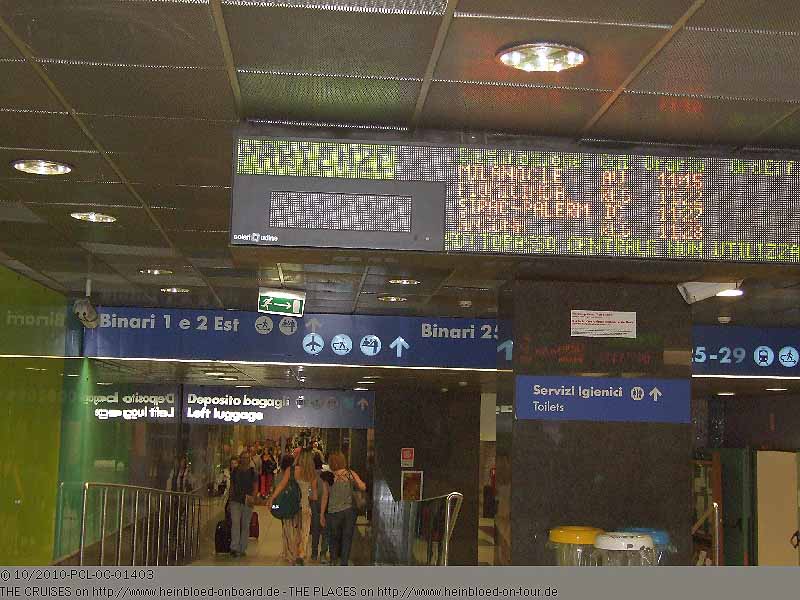 Auch unten in der Ladenpassage gibt es Abfahrtstafeln. Nur muss man immer wissen, wie der Endbahnhof heißt, sonst nützen sie einem nichts.
Hier unten geht es also auch zur Gepäckaufbewahrung.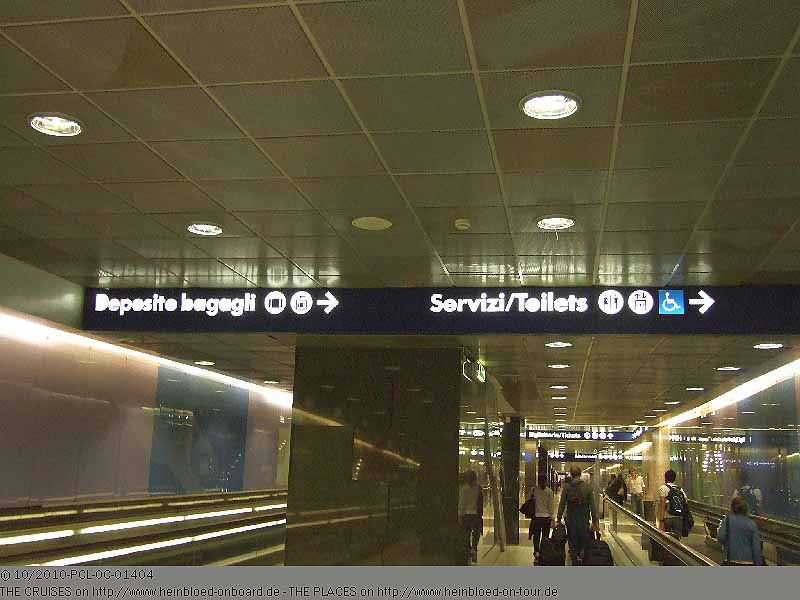 Here in the basement you find the baggage storage as well.

Here was the entrance and you see a long queue... so have some time when you come...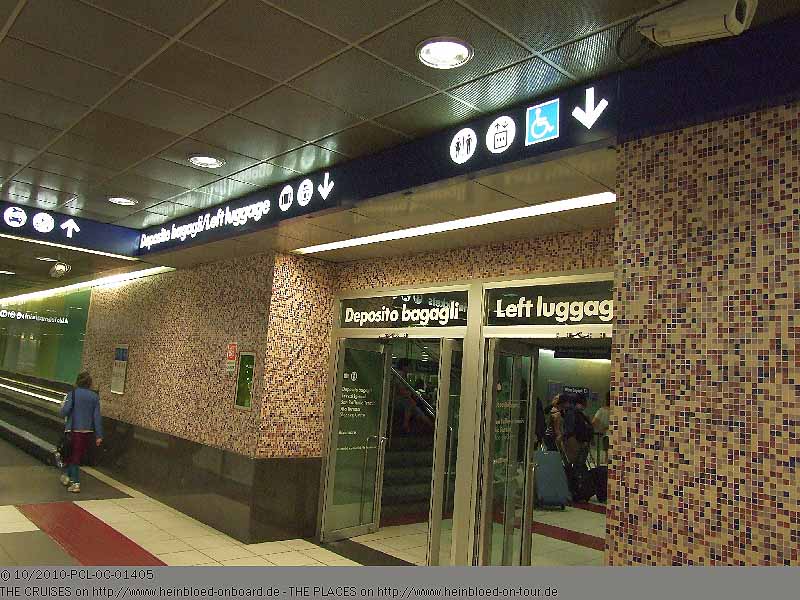 Hier geht es hinein und wie man sieht eine größere Schlange... also Zeit mitbringen...
Und der aktuelle Preis (2010): 4,00 EUR für die ersten fünf Stunden. 0,60 EUR für die 6. bis 12. Stunde und 0,20 EUR für jede weitere Stunde. D. h. 24 Stunden = 4,00 EUR + 7 x 0,60 EUR + 12 x 0,20 EUR = 4,00 EUR + 4,20 EUR + 2,40 EUR = 10,60 EUR für die ersten 24 Stunden und jede weitere 24 Stunden: 4,80 EUR...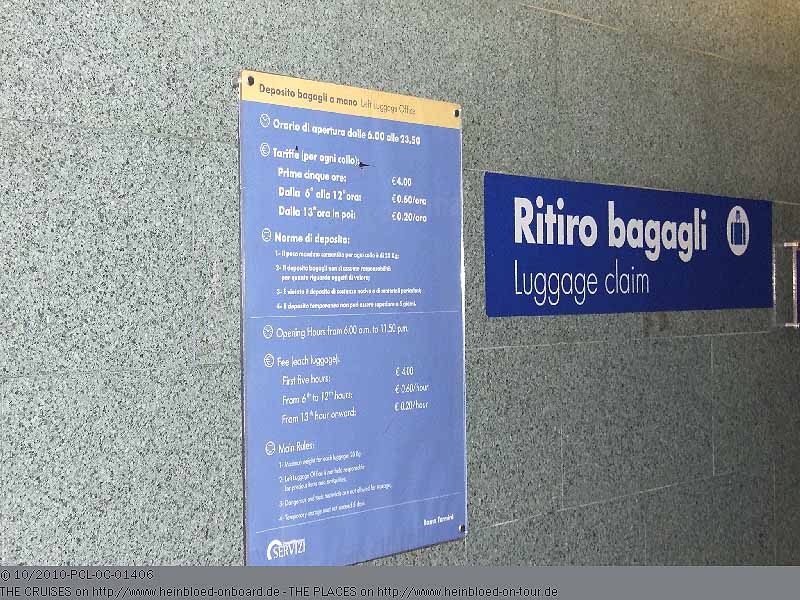 The actual price (2010): 4.00 EUR for the first five hours. 0.60 EUR for the 6th to 12th hour and 0.20 EUR for every hour onward. I.e. for 24 hours = 4.00 EUR + 7 x 0.60 EUR + 12 x 0.20 EUR = 4.00 EUR + 4.20 EUR + 2.40 EUR = 10.60 EUR for the first 24 hours and each additional: 4.80 EUR.

Opposite you find a good general map of the train station.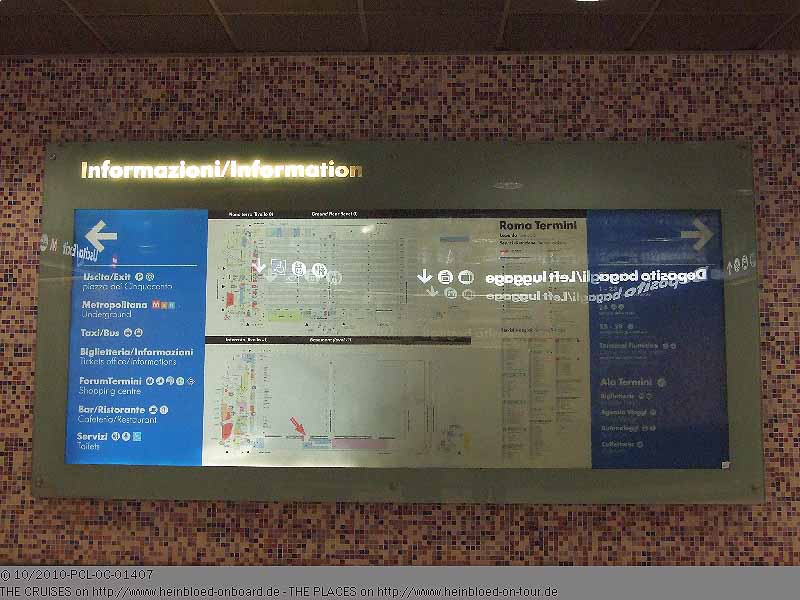 Zumindest findet man direkt gegenüber sehr schön einen Übersichtsplan.
Zum Glück haben wir unsere Roma Pässe schon am Flughafen geholt. Hier ist doch einiges mehr los, dass sie schon mitten im Gang anstehen.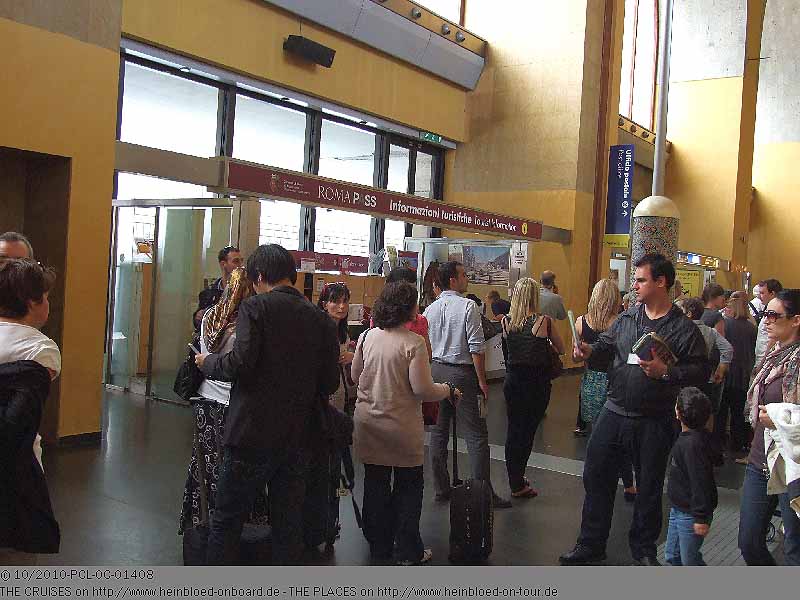 We were lucky that we collected our Roma Passes already at the airport. Here it was much more busy as the queue up from the center of the hallway.

A EurostarCity train to Genoa which also stopped in Civitavecchia. BIRG-tickets were not valid as it was a long-distance train.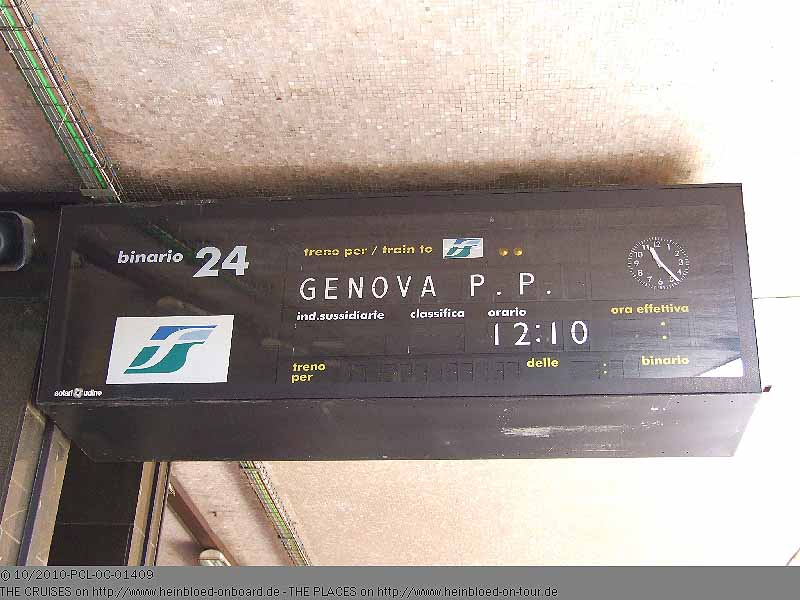 Ein EurostarCity nach Genua, der auch in Civitavecchia hält. Die BIRG-Karten gelten nicht.
Dafür gibt es Klimaanlage und reservierte Plätze. Und der Zug hält in der Haupthalle... (dazu später mehr...)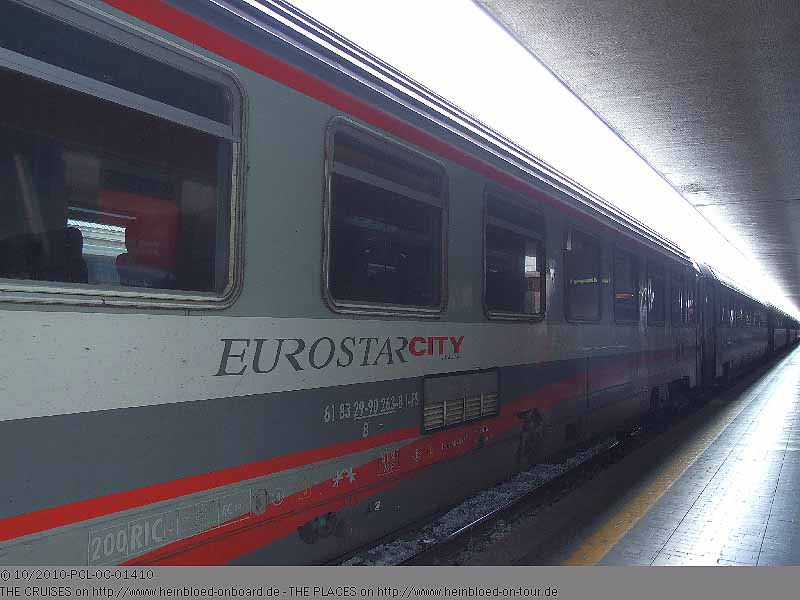 But you have air condition and assigned seats. And the train departs in the main hall... (later...).

We wanted to buy an Italian SIM-card for using the Internet. We went first to Smartphone who sold "neutral" and offered multiple operators. But they sent us directly to TIM. There you get 100 hours for 19.00 EUR within 6 months plus 5.00 EUR activation and 10.00 EUR for the SIM-card: 0.06 EUR/Min. - cheaper than of the ship and we would also call Sorrento and Livorno. In the City of Rome, the network was very slow: Too many users for a limited network and customers with subscriptions have priority.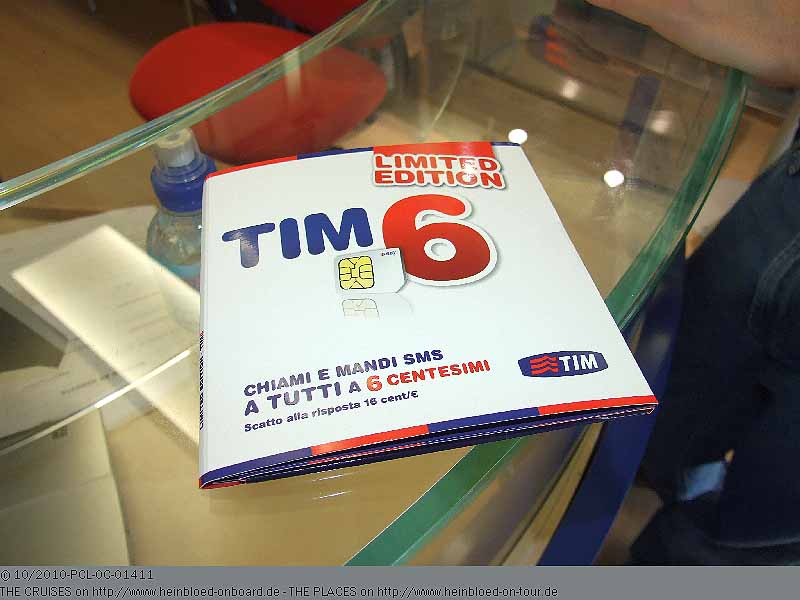 Wir wollen ja noch einen italienischen SIM für das Internet kaufen. Zunächst waren wir im Smartphone, die "neutral" beraten und mehrere Anbieter haben. Aber sie schicken uns direkt zu TIM. Dort gibt es für
19,00 EUR 100 Stunden
innerhalb von 6 Monaten zzgl. 5,00 EUR Aktivierung und 10,00 EUR für die SIM-Karte: 0,06 EUR/Min. - billiger als auf dem Schiff und wir sind ja noch in Sorrent und Livorno. In Rom selbst war allerdings das Netz ziemlich lahm, da nur ein begrenztes Netzwerk zur Verfügung steht. Und Vertragskunden haben Vorrang.
Da es viele Essmöglichkeiten im Bahnhof gibt, nehmen wir noch ein Brote zu uns. In Italien einfach klasse. Nicht so billig wie in Lido, aber in Ordnung.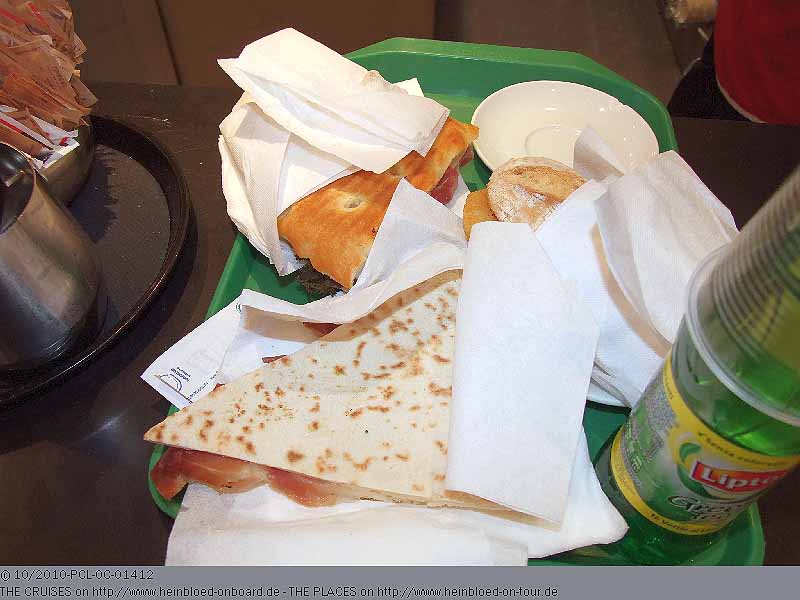 As there were many food outlets in the station we got some sandwiches. In Italy just great. Not as cheap as in Lido but acceptable.

When we watched out from the upper level, we saw that the square in front of the station building is a construction site for the subway. But the buses still stopped behind the site.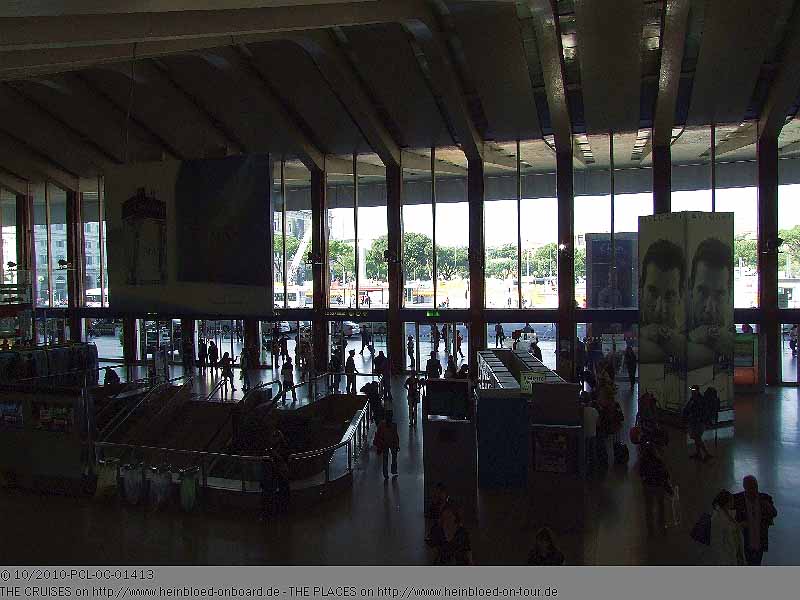 Also wir von oben rausgucken, sehen wir, dass der gesamte Bahnhofsvorplatz für die U-Bahn eine Großbaustelle ist. Die Busse halten aber immer noch alle da hinter der Baustelle.
Unten in der U-Bahn sehen wir auch das Chaos, als wir später weiter zum Colosseum fahren.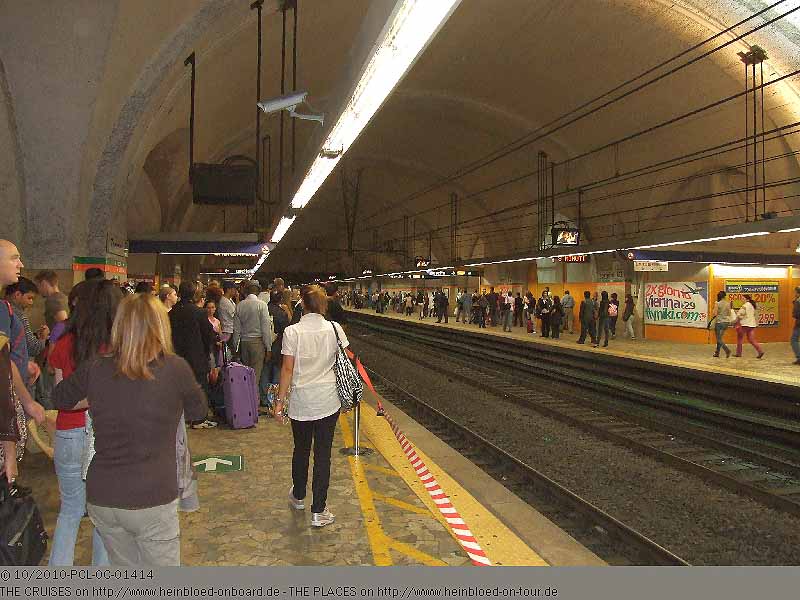 But you still saw down in the subway the chaos when we later continued to the Colosseum.

Later the day we returned to Tuscolana. The Civitavecchia-bound trains also stop there. But you need to know: if you stand in front of the board and only 6-8 minutes are left before departure I would check for the next train.

Später fahren wir nach Tuscolana zurück. Die Züge nach Civitavecchia halten dort auch. Nur was man unbedingt wissen sollte: Wenn man hier an der Tafel vorsteht, und nur noch weniger als 6-8 Minuten bis zur Abfahrt bleiben, würde ich direkt nach dem nächsten Zug danach Ausschau halten.
Die Züge nach Civitavecchia (außer die Fernzüge) halten außerhalb der Bahnhofshalle im Gleisbereich 25-29 (ca. 400 m). Hier hält übrigens auch der Leonardo-Express. Die sechs Minuten reichen jedoch nicht, wenn gerade ein Zug vom Flughafen angekommen ist und alles einem mit Koffern entgegenkommt.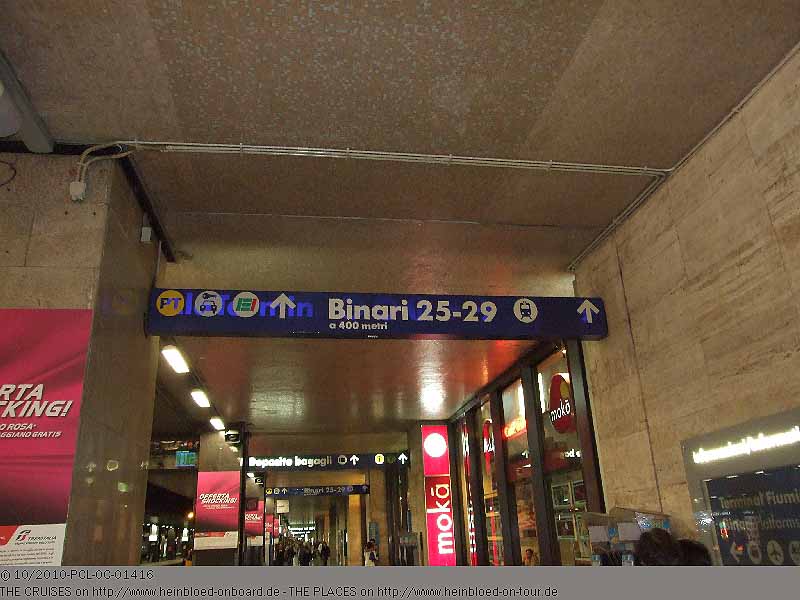 Civitavecchia-bound trains (except Long-Distance-Services) stops outside the main station station in the platform area 25-29 (about 400 yards). Here the Leonardo-Express starts as well. Six minutes would not be enough if a train from the airport arrives and everyone comes alongside the train to the main hall with all their baggage.

Not the best appearance in the train to Civitavecchia...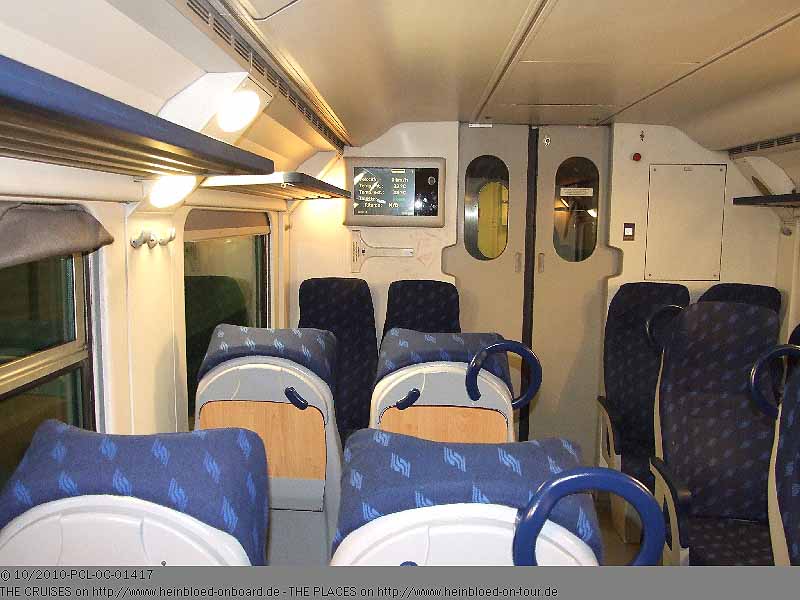 Doch schon alles ganz schön ramponiert im Zug nach Civitavecchia...
Die anderen Reisen in diesem Blog/
The other voyages in this blog: