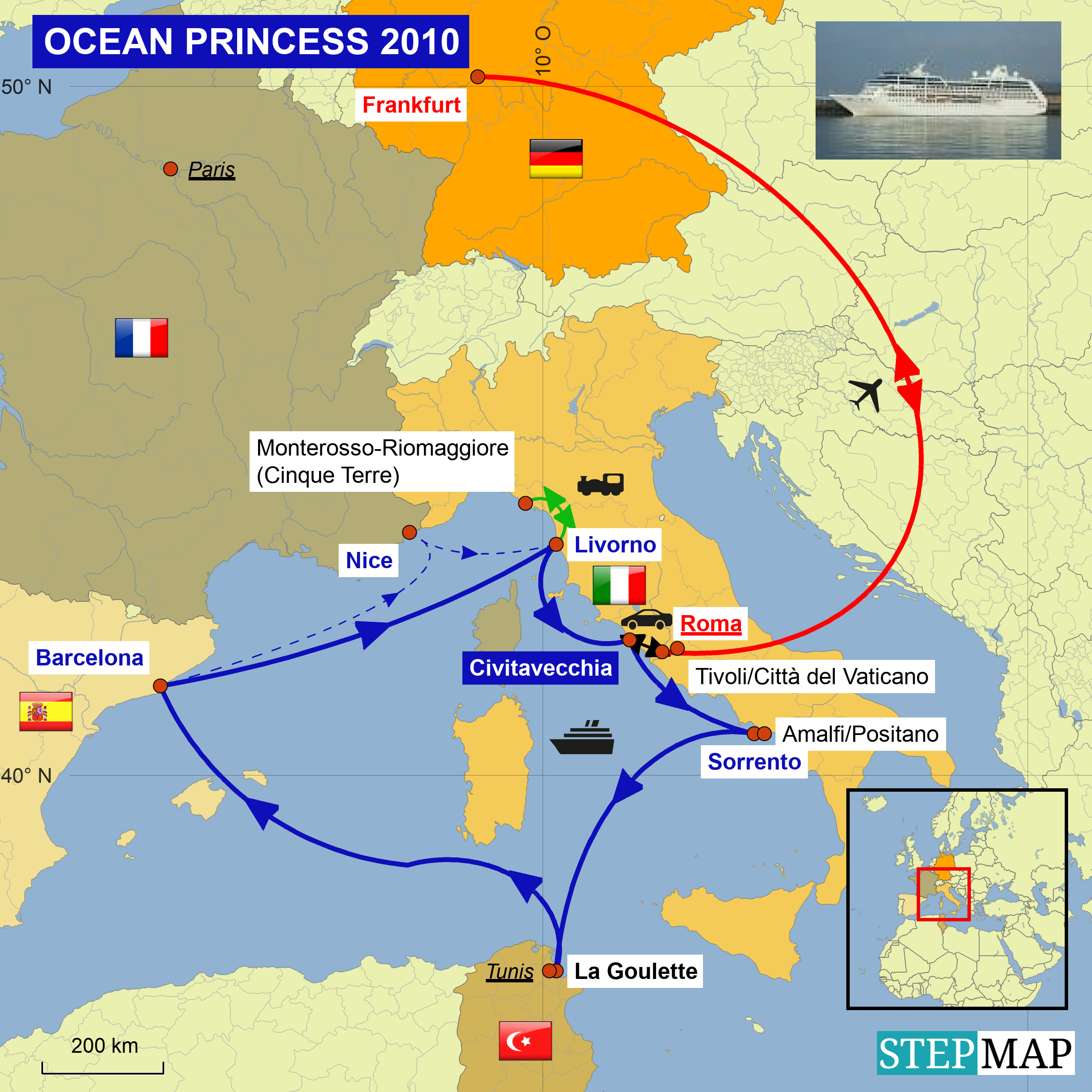 Von Riomaggiore geht es zurück. Wir wollen lieber schnell zurück nach den letzten Abenteuern mit der italienischen Eisenbahn.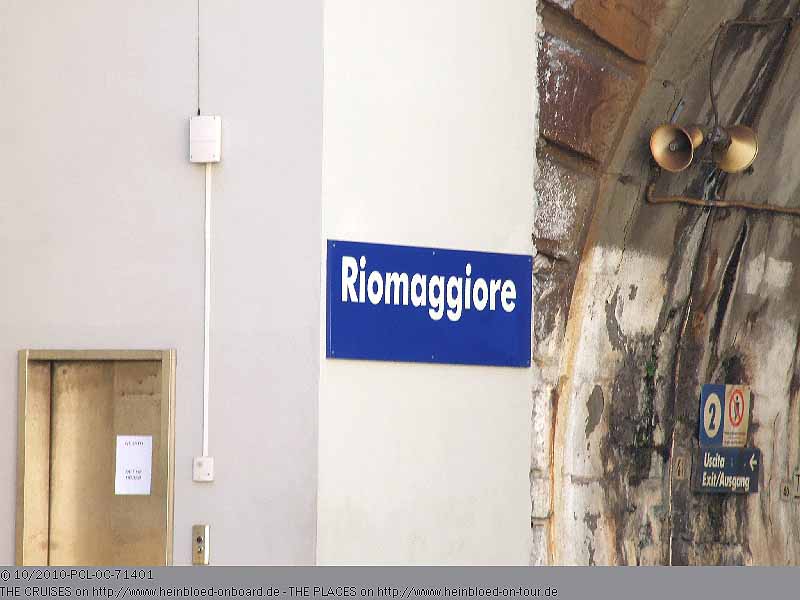 From Riomaggiore we got back. After our last adventures with Italian Railways, we wanted to back quickly.

Again the time did not go by: the same in Riomaggiore.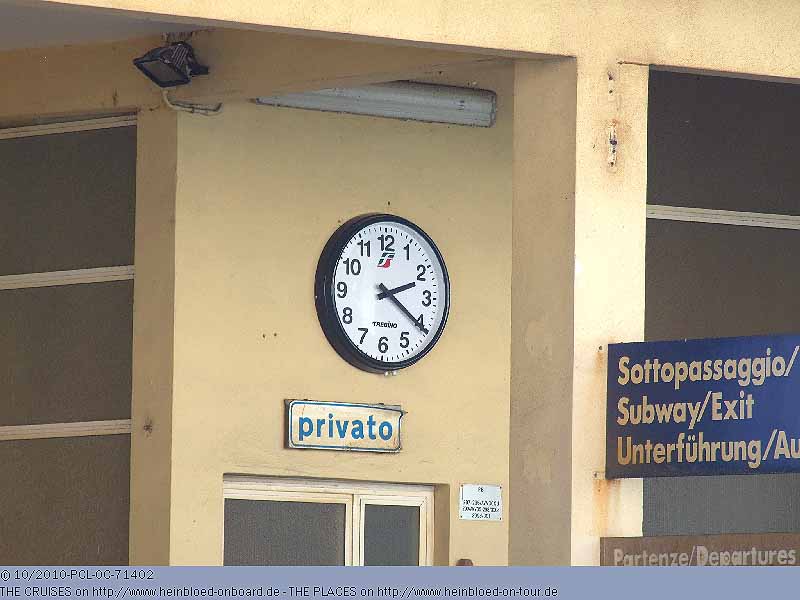 Auch in Riomaggiore ist die Zeit stehen geblieben.
Unser Zug hat zehn Minuten Verspätung. Damit kann ich leben.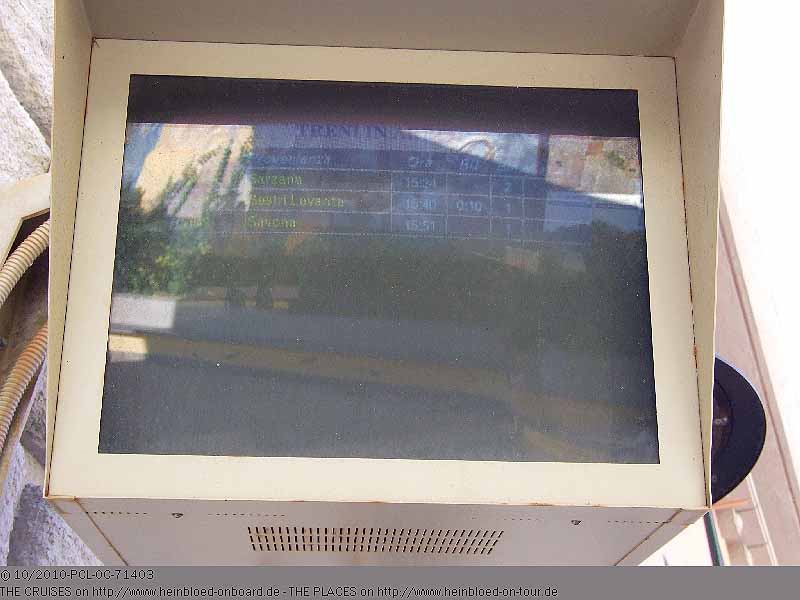 Our train was late for about 10 minutes. I can live with it.

But I nearly forgot to cancel/validate/punch our ticket.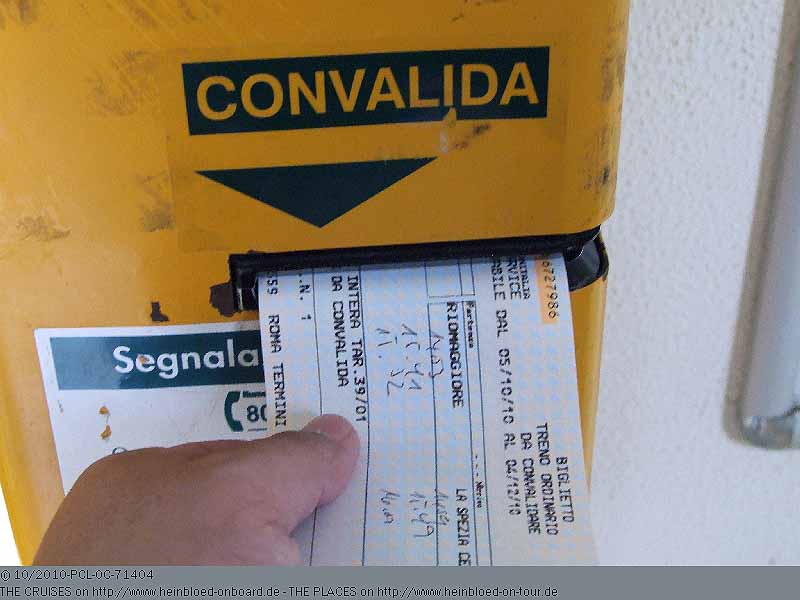 Beinahe vergesse ich die Fahrkarte zu entwerten.
Aber alles gut... von jetzt an ist die Fahrkarte sechs Stunden gültig.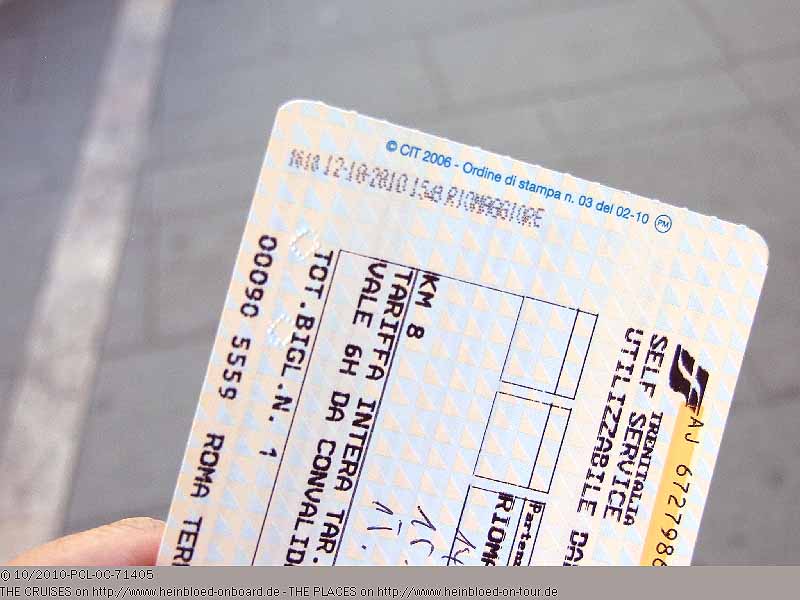 Everything was fine... from now on our ticket was six hours valid.

Our train arrived. It was the most extended seven minutes of my life. I was afraid that may on the very few last yards before reaching in La Spezia our train would pass.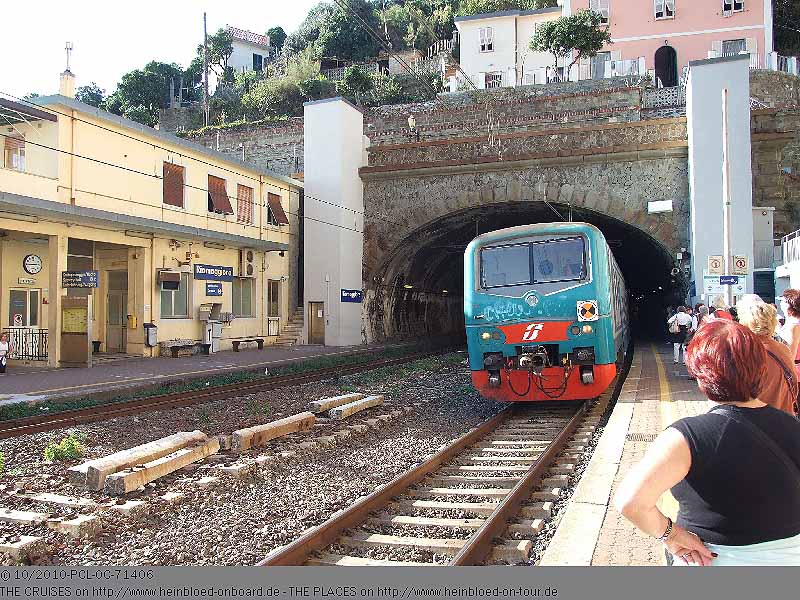 Da kommt der Zug. Es werden die längsten sieben Minuten in meinem Leben. Ich habe doch die Befürchtung, dass wir auf den letzten Metern vor der Einfahrt in La Spezia von unserem Zug überholt werden.
Aber unser Zug ist noch nicht da. Der nächste wäre schon zu spät. Aber ich habe mich sicherheitshalber schon erkundigt, wo die Europcar-Vermietstation wäre.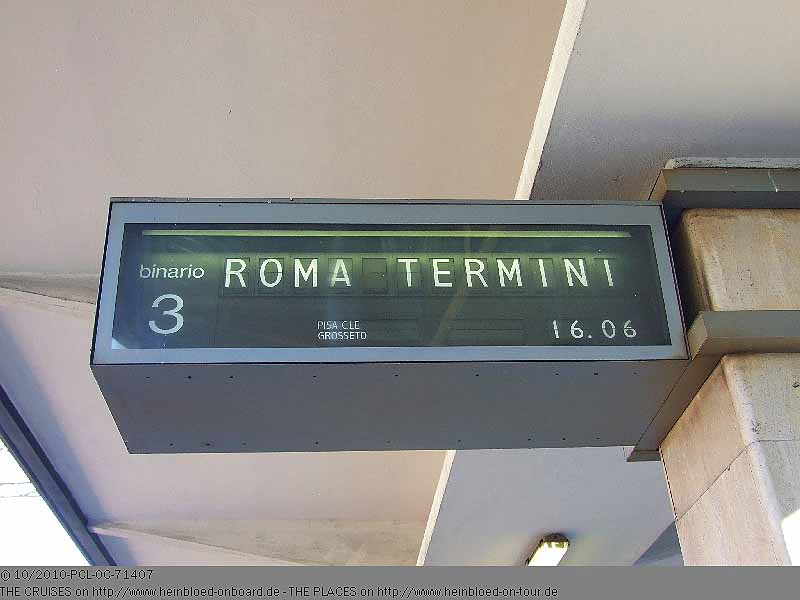 But our train was not there. The next would be too late. But I checked already for the next Europcar-Car rental location.

But the train came.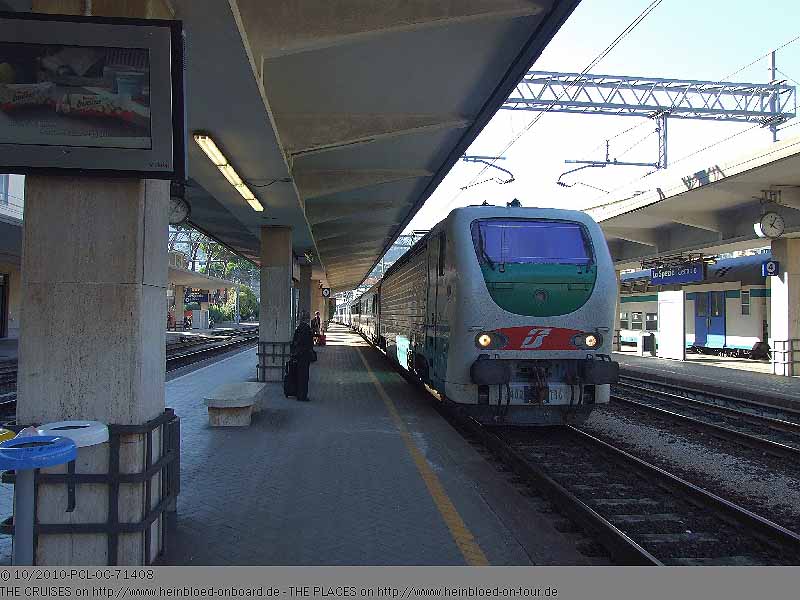 Und da kommt er schon.
Nun haben wir die gleichen Plätze - nur in Wagen 1.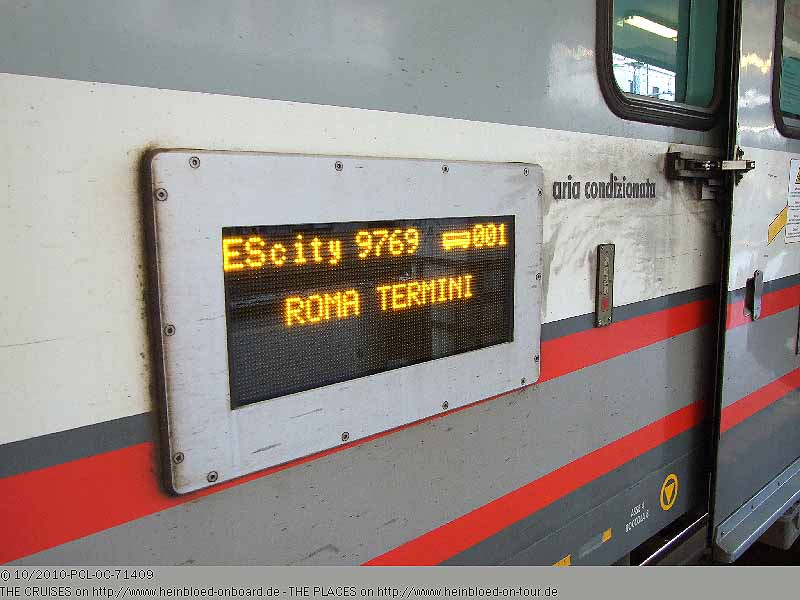 We got the same seats but in car no. 1.

As we had no time to buy something to drink I used the mini-bar.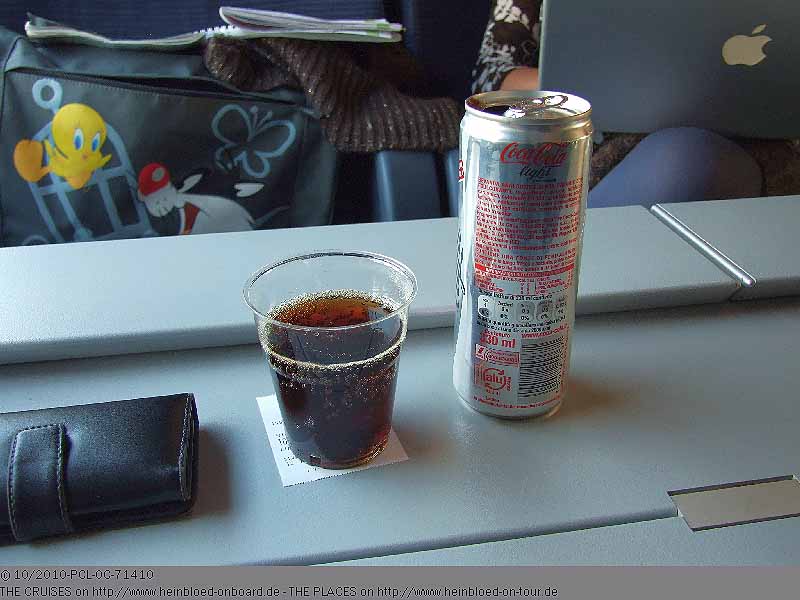 Da wir keine Zeit hatten, uns noch etwas zu trinken zu holen, nehme ich die Mini-Bar in Anspruch.
Wir gucken mal nach, wie wir zeitlich liegen. Dabei stelle ich fest. Eine einfache Fahrkarte 1. Klasse von La Spezia nach Livorno kostet 18,00 EUR pro Person.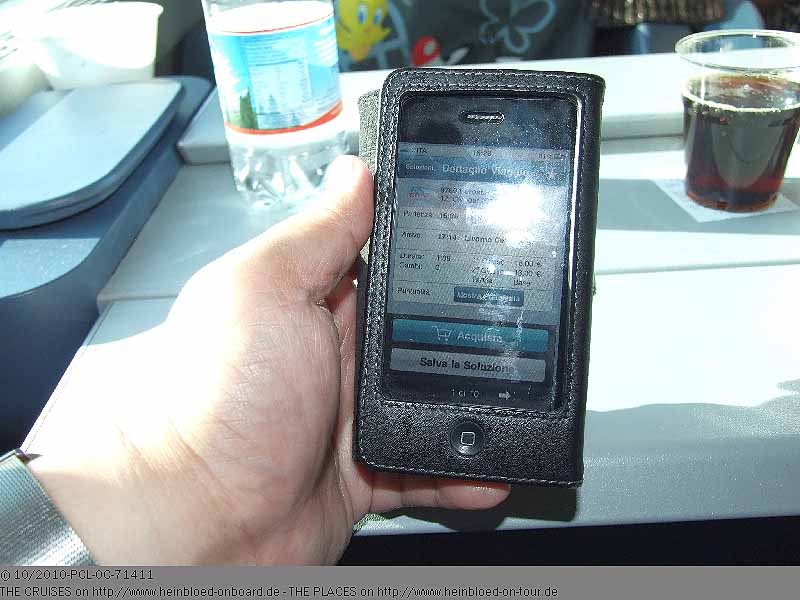 We checked for our current schedule. There I found out that a full-fare flexible ticket 1st class from La Spezia to Livorno would be 18.00 EUR for one person.

We paid on the internet as advance discount meno 30 tariff just 13.00 EUR.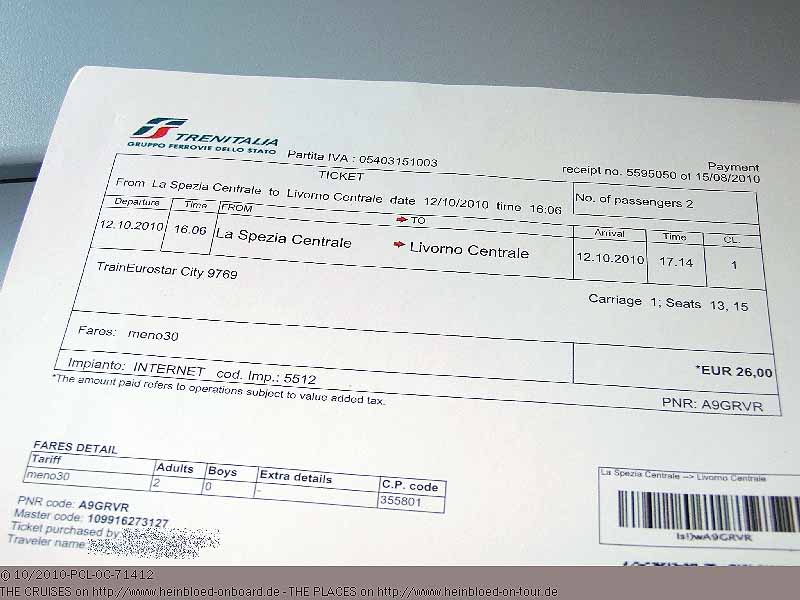 Wir haben im Internet mit dem Vorausbuchungstarif meno 30 für 13,00 EUR gebucht.
Endlich in Livorno.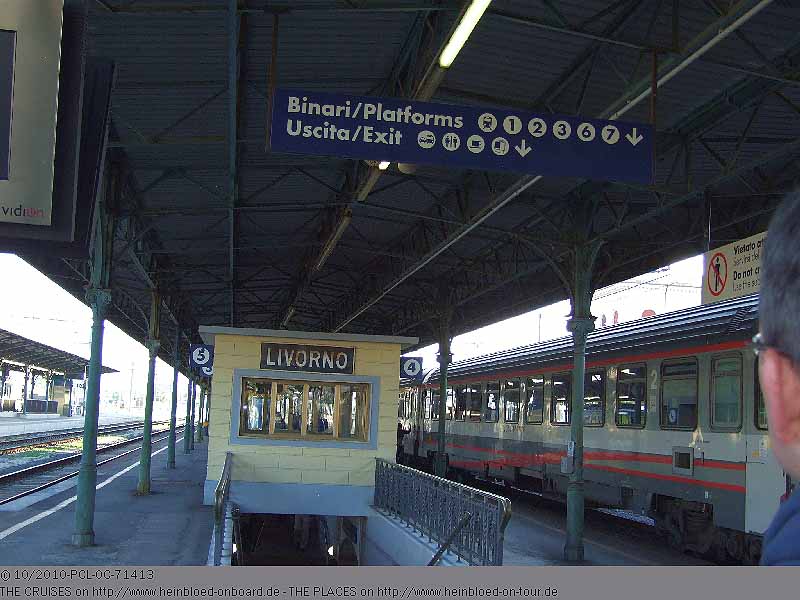 Finally in Livorno.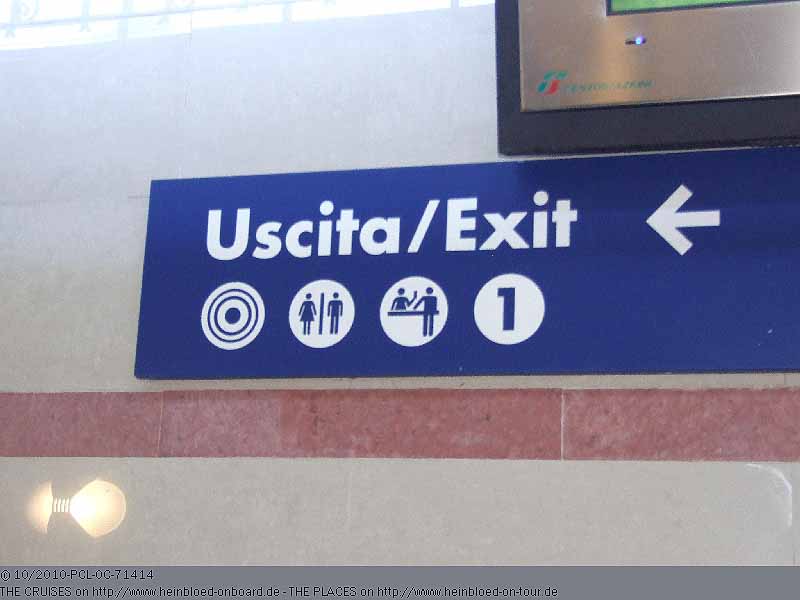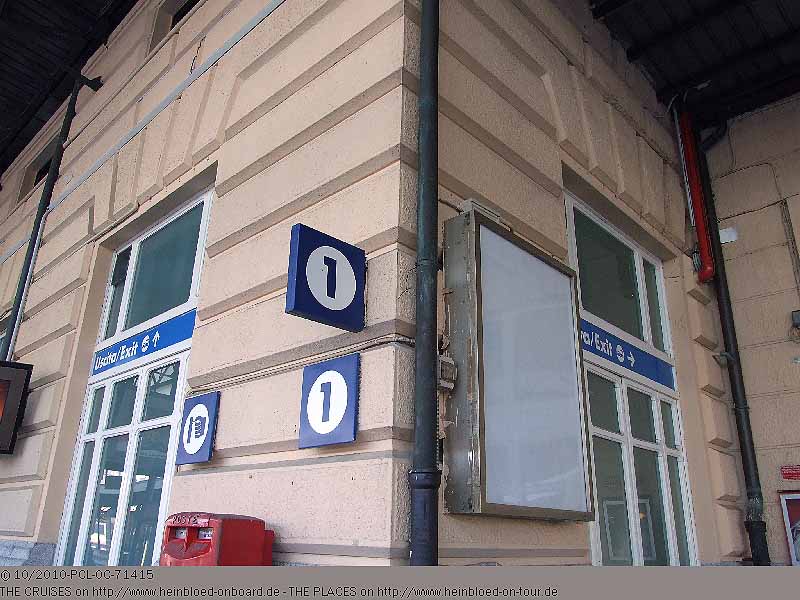 There was a Bus 1. But signposted just to Piazza Grande.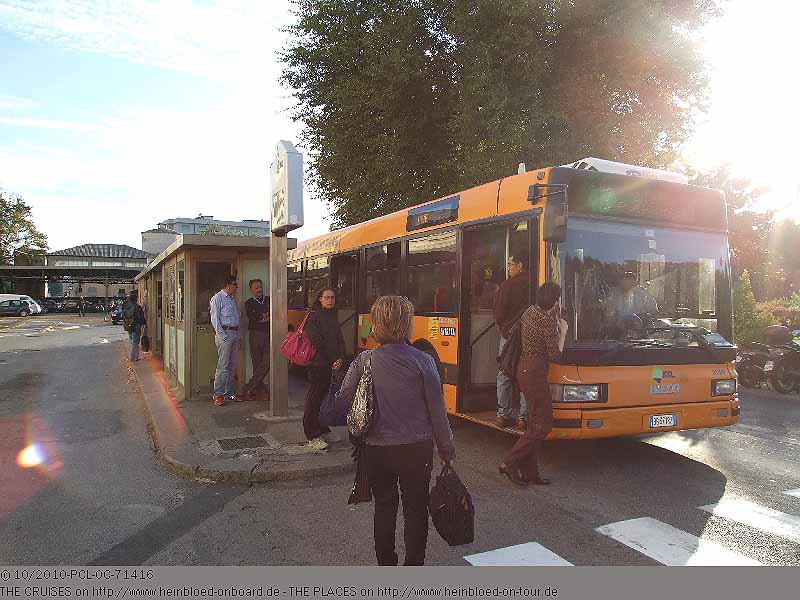 Da wartet schon eine Linie 1. Allerdings nur bis Piazza Grande ausgeschildert.
Hier steigen fast alle aus, insbesondere diejenigen, die zum Shuttle zu den großen Schiffen müssen.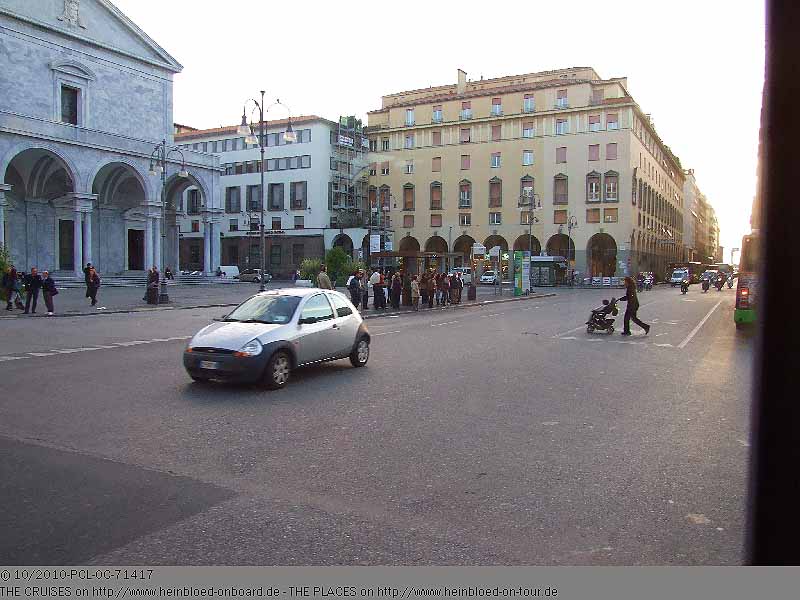 But everyone get off especially those who need to return to the big ships by shuttle.

We remembered the name of the bus stop we got on this morning.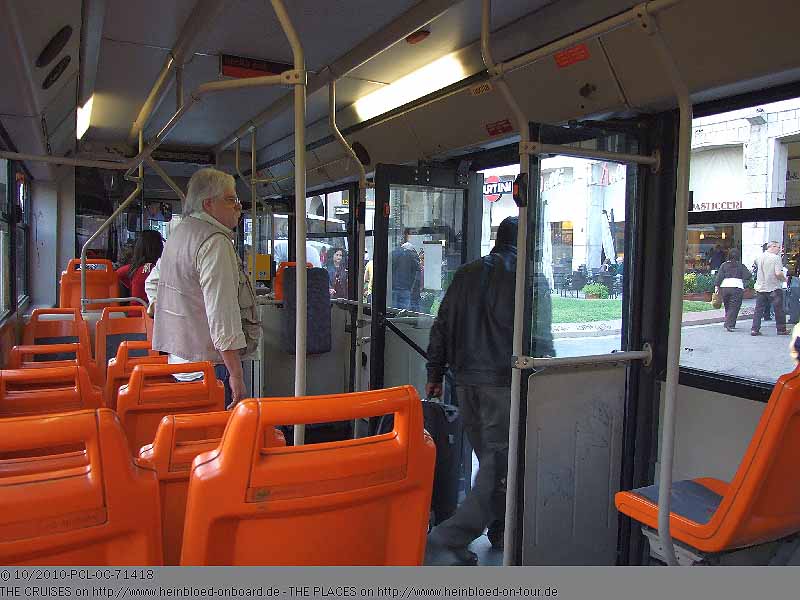 Wir haben uns jedoch die Haltestelle gemerkt, an der wir heute Morgen eingestiegen ist.
So lässt uns der Fahrer noch ein wenig mitfahren und lässt uns am Porto Mediceo raus. Alle anderen, die nicht gefragt haben, müssen laufen. Ist aber nicht so schlimm, da man es zu Fuß erschließen kann.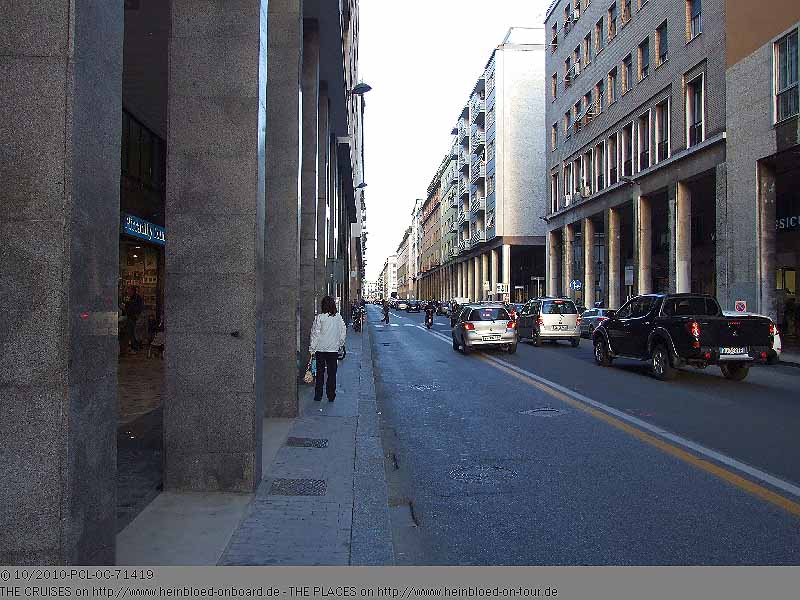 So the bus driver was so kind to let us stay and released us at Porto Mediceo. All others who did not ask need to walk. But that was fine as it was within walking distance.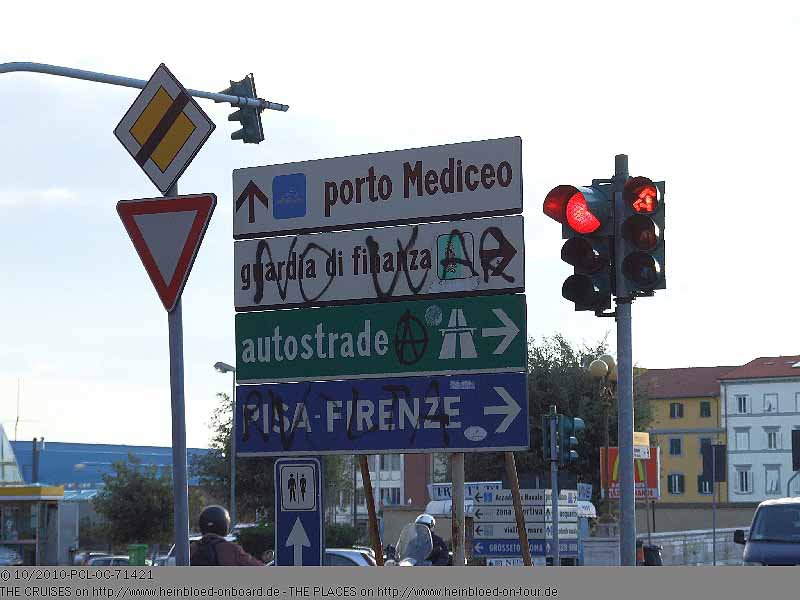 The bis ships were still there.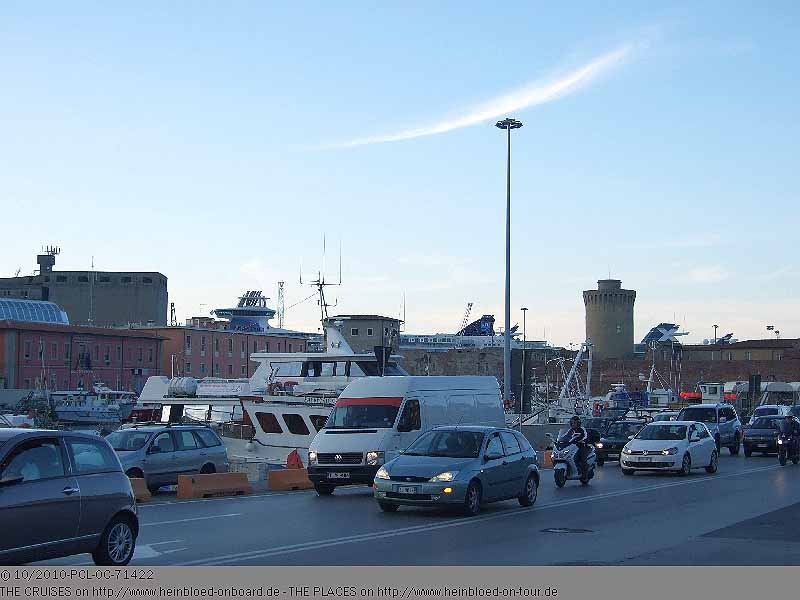 Die großen sind noch alle da.
Wir laufen nochmals zur LE DIAMANT rüber.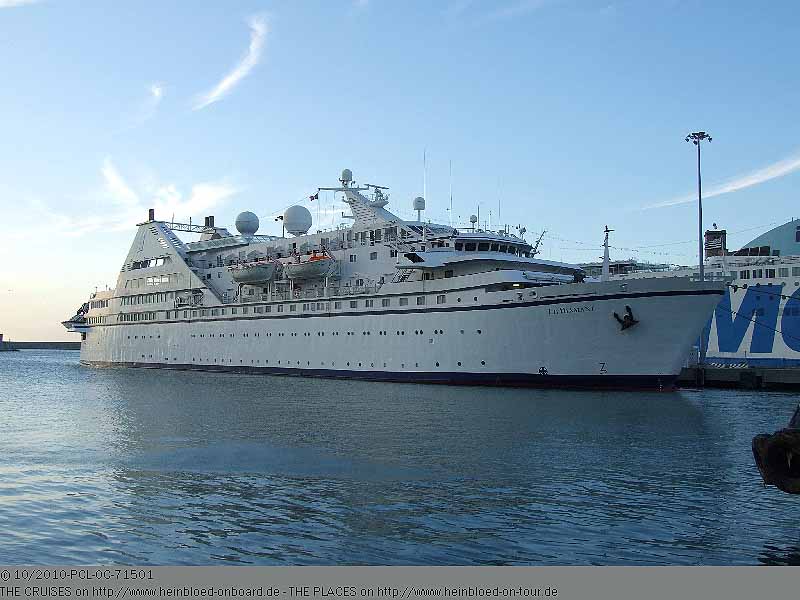 We went to LE DIAMANT.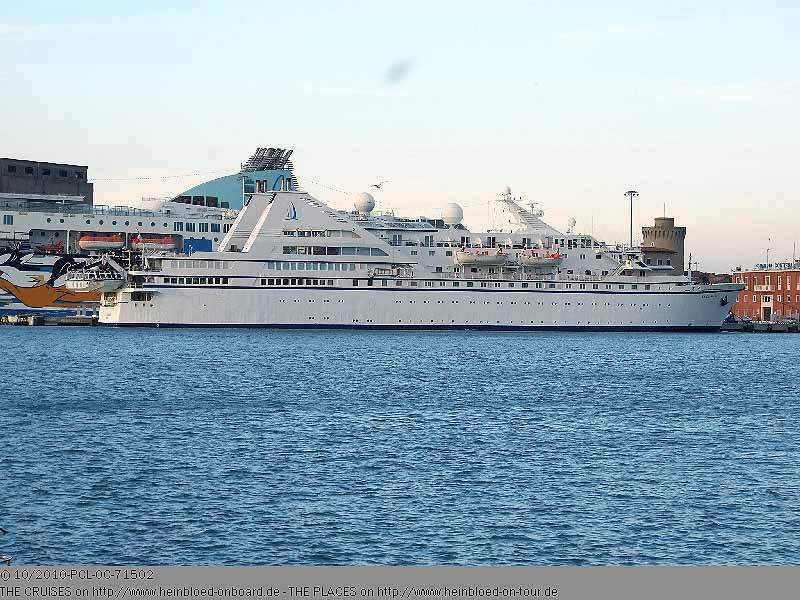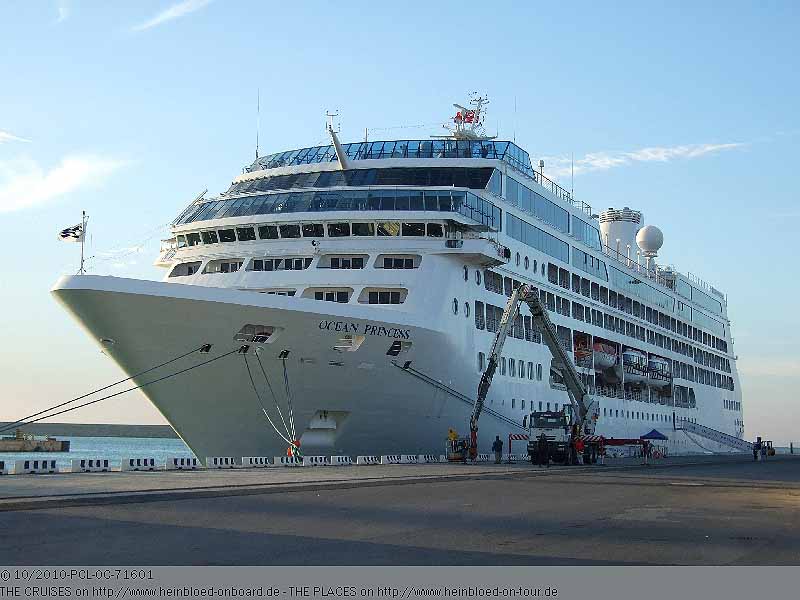 Schon wieder Post: privat und vertraulich... also belassen wir es auch dabei... nur soviel: das waren keine 08/15-Textbausteine, sondern ein Schreiben, über das ich mich sehr freue. Ich wünschte andere würden genauso professionell Probleme an Bord lösen. Zu einem guten Abschluss gehört auch eine persönliche Verabschiedung. Man bittet mich daher mich nochmals an der Rezeption zu melden.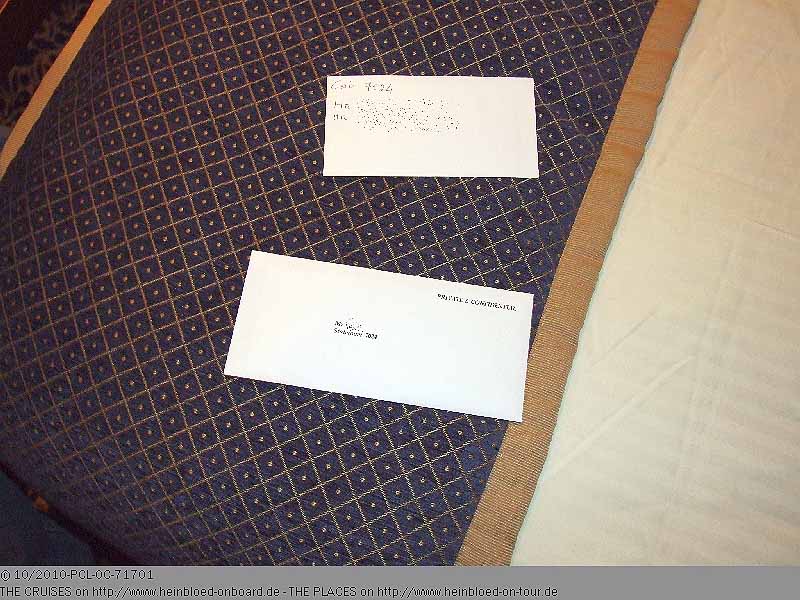 Nice to have mail again: private and confidential... so we leave it like it is... but so much: that were no standard text modules but a letter I was very much impressed and nicely surprised. I would wish other would also treat our problems in a professional way like they did. For a right end, you also need a personal farewell. Therefore I was asked to see the front desk again.

The second letter is to thank us for a visit yesterday at Sabatini.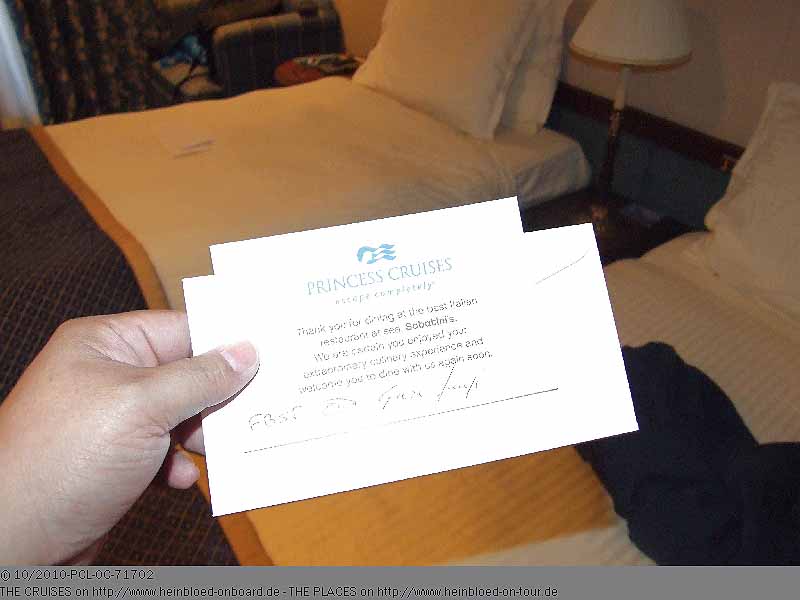 Das zweite Schreiben ist das Dankschreiben, dass wir gestern im Sabatinis waren.
Unsere Schublade ist zurück.

They returned our drawer.

By the way, a fascinating publication because you had extracted from the log book. So we learned about the weather condition etc. during our voyage.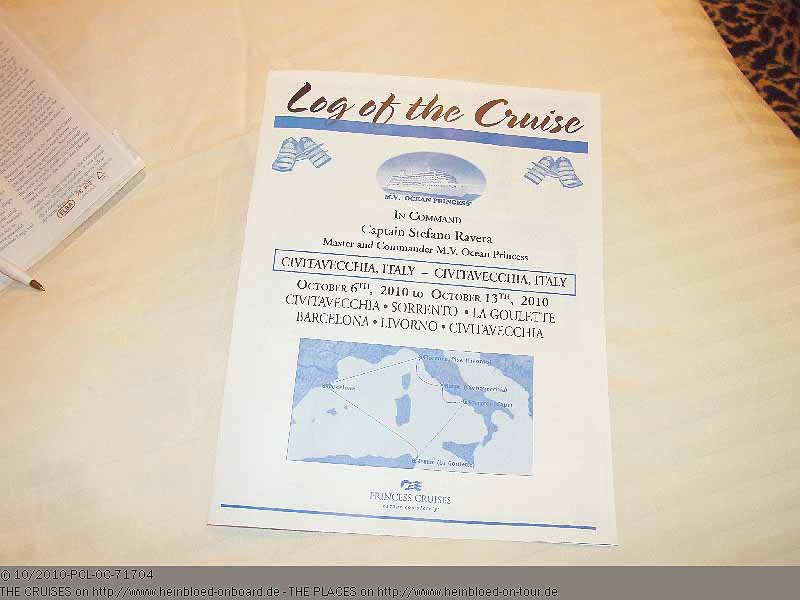 Das ist übrigens ein sehr interessantes Blättchen, weil es Auszüge aus dem Logbuch beinhaltet. So erfahren wir die Wetterkonditionen usw. während der Reise.
Es gab mal wieder auf Anfrage ein paar mehr Informationen als in der Kabine über die Transportmöglichkeiten in Livorno.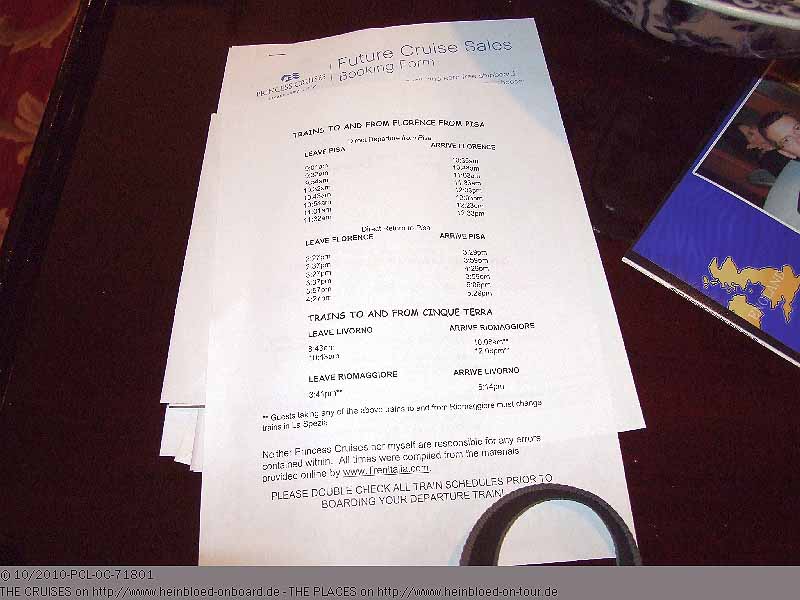 You got again on request more information about information in Livorno than you got in your cabin.

Meanwhile, we check the pictures on the very last day and then decide. Indeed we found two pictures we liked very much.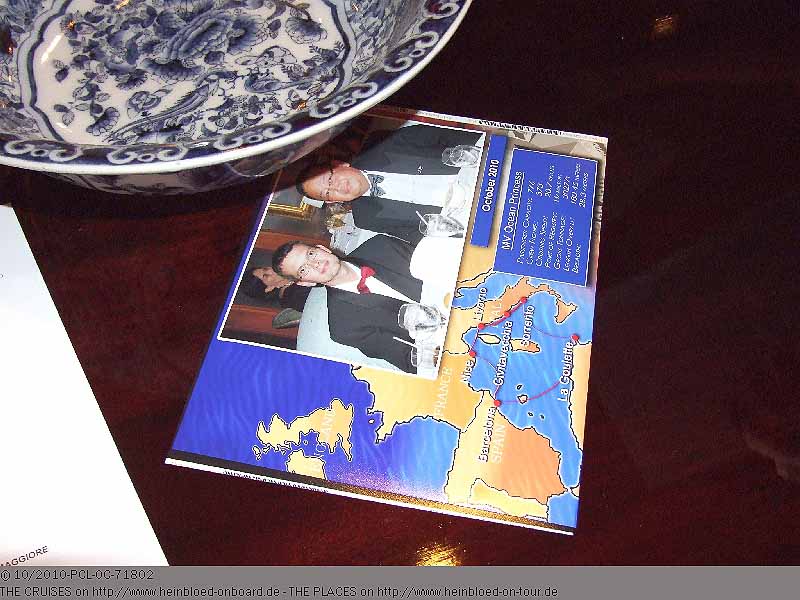 Mitlerweile haben wir uns angewöhnt erst am letzten Tag alle Bilder zu sichten und dann zu entscheiden. In der Tat finden wir zwei Bilder, die uns gut gefallen.
Da wir auf der WESTERDAM unser Fernglas verloren haben, nutzen wir die Gelegenheit uns ein neues an Bord zu beschaffen.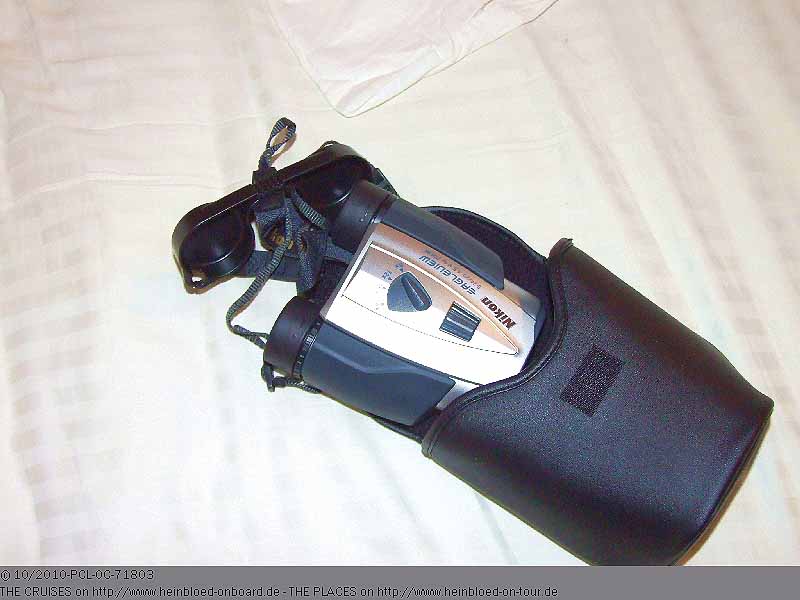 As we lost our binoculur on WESTERDAM we used the opportunity to get a new one while we are on board.

CELEBRITY CONSTELLATION was the first who left. You see the funnel behind the funnel of NORWEGIAN JADE.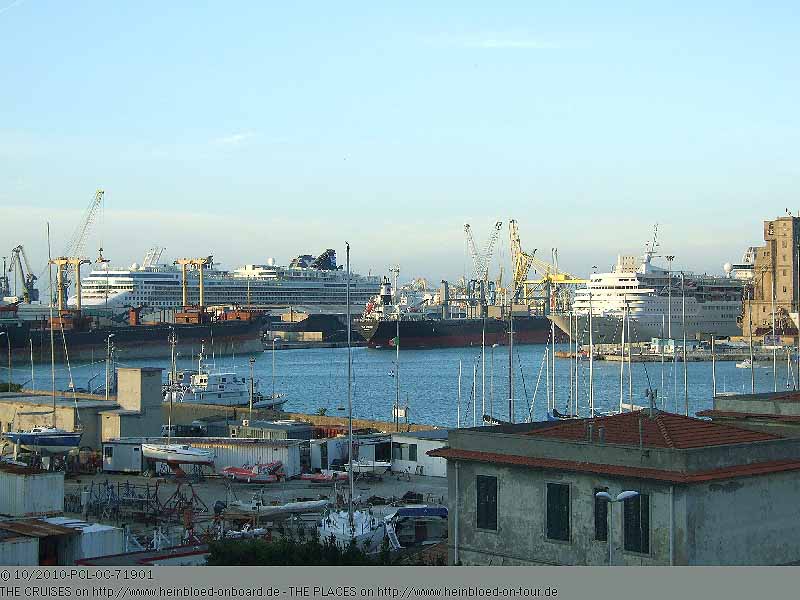 Die CELEBRITY CONSTELLATION hat als erste abgelegt. Man sieht den Schornstein hinter dem Schornstein der NORWEGIAN JADE.
Als nächste folgt THOMSON DESTINY.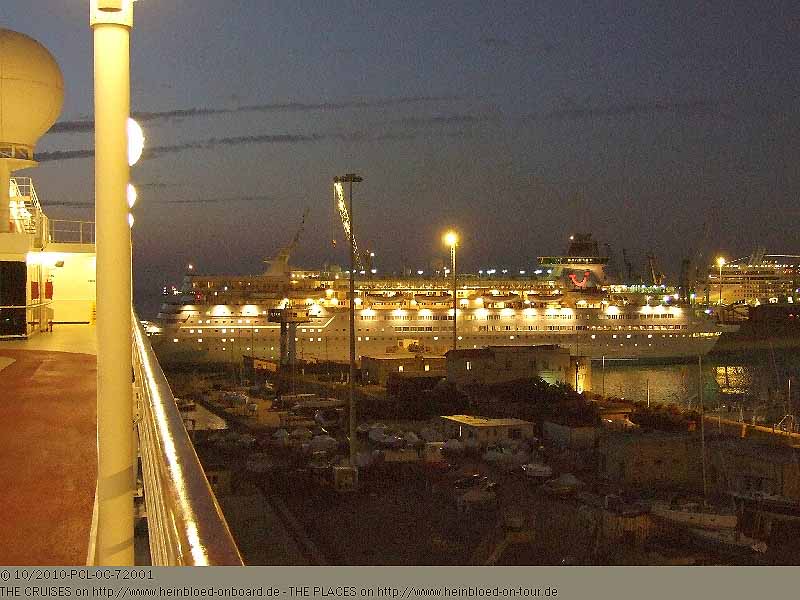 Next was THOMSON DESTINY.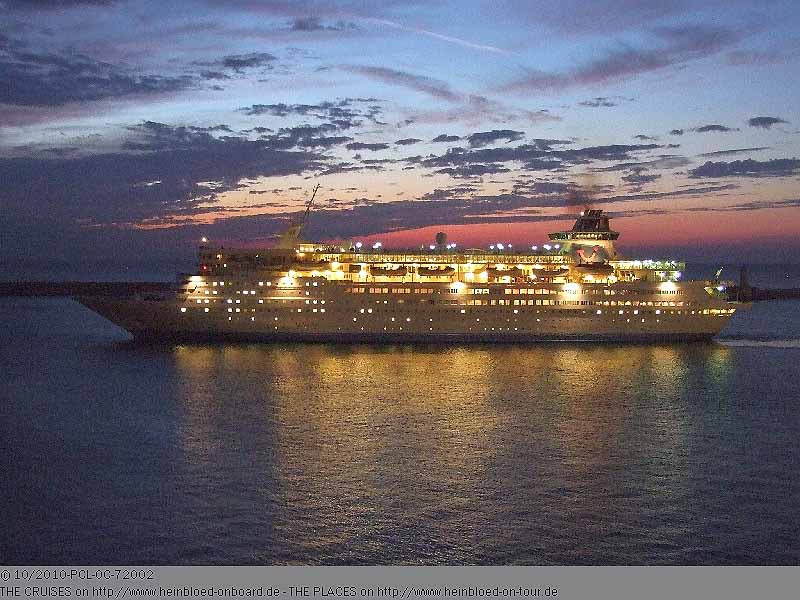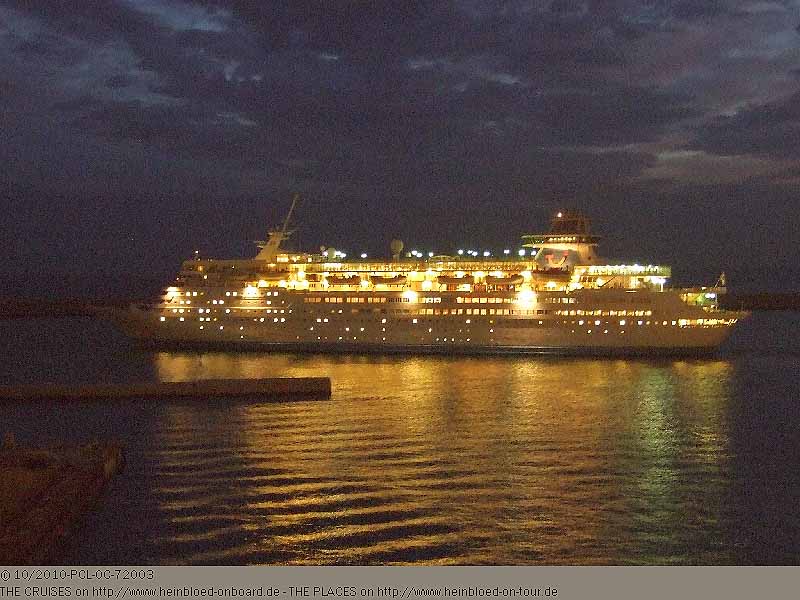 It was really a shame that we had not time to say farewell to Livorno. With Princess, you need to place your bags between 18:00 hrs and 22:00 hrs on the hallway. Only turbulent if the departure was 19:00 hrs and 20:15 hrs was our dinner time and 22:15 hrs the second show. When should you pack??? No idea if the responsible persons with Princess ever did a cruise in their life before but I would like to put the clothes I wore the night for dinner and show into my bags as well.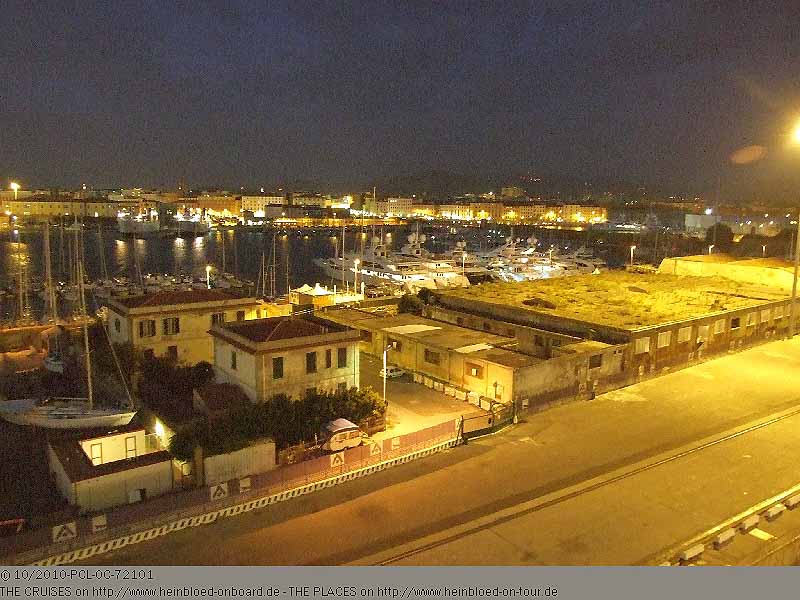 Schade, dass wir uns nicht in Ruhe von Livorno verabschieden können. Bei Princess muss man die Koffer zwischen 18:00 Uhr und 22:00 Uhr auf den Flur stellen. Ärgerlich, wenn die Abfahrt um 19:00 Uhr ist, um 20:15 Uhr das Abendessen ist und um 22:15 Uhr die Show. Wann soll man eigentlich packen??? Ich weiss zwar nicht, ob die Verantwortlichen von Princess schon selbst auf Kreuzfahrt waren, aber ich würde gerne die Klamotten von heute Abend, die ich noch zum Abendessen und zur Show anhabe, gerne noch einpacken.
Die anderen Reisen in diesem Blog/
The other voyages in this blog: