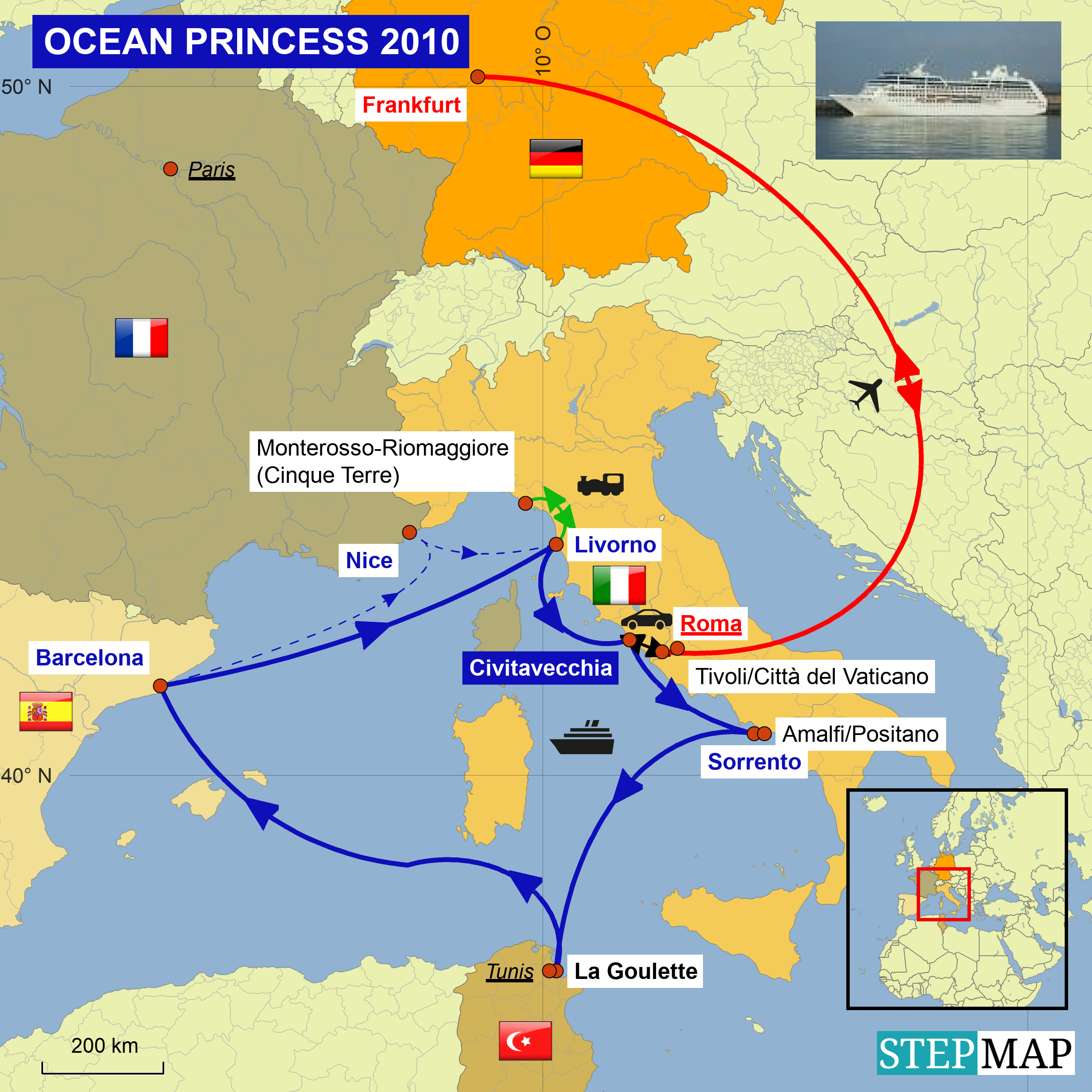 Das Terminal hat eine Brücke, aber unser Promenadendeck reicht nicht bis dahin, um die Brücke zu nutzen.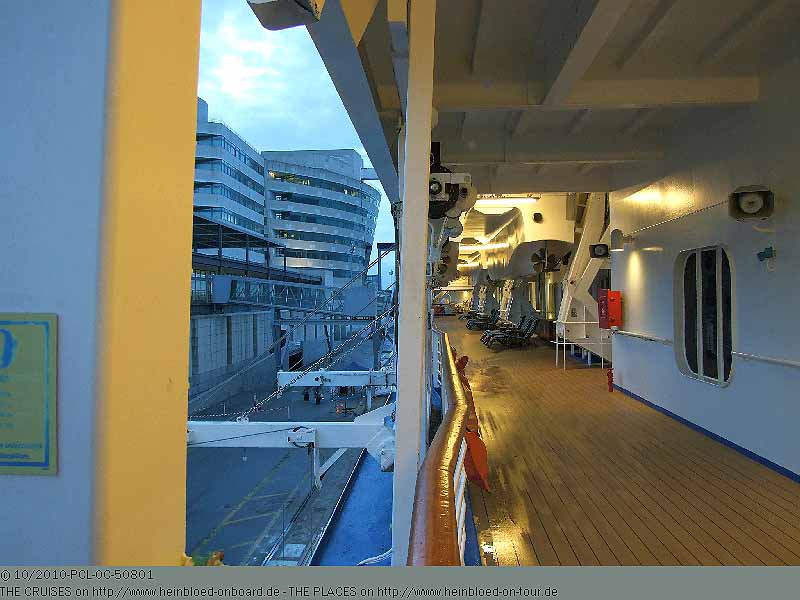 The terminal has a bridge but our promenade deck is too short to use the bridge.

It was too bad that we need to be back at 15.30 hrs. It was Sunday. The public life will not start before 10.00 hrs, and there is so much to see.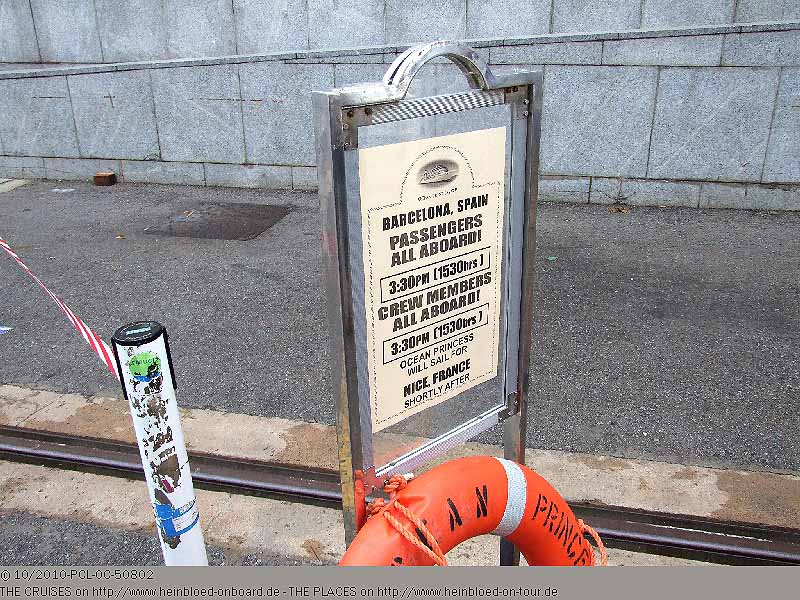 Dass wir hier um 15.30 Uhr zurück sein müssen, ist echt schade. Heute ist Sonntag. Das Leben beginnt hier ja nicht vor 10.00 Uhr und es gibt so viel zu sehen.
Im World Trade Center müssen wir durch die leere Gepäckhalle.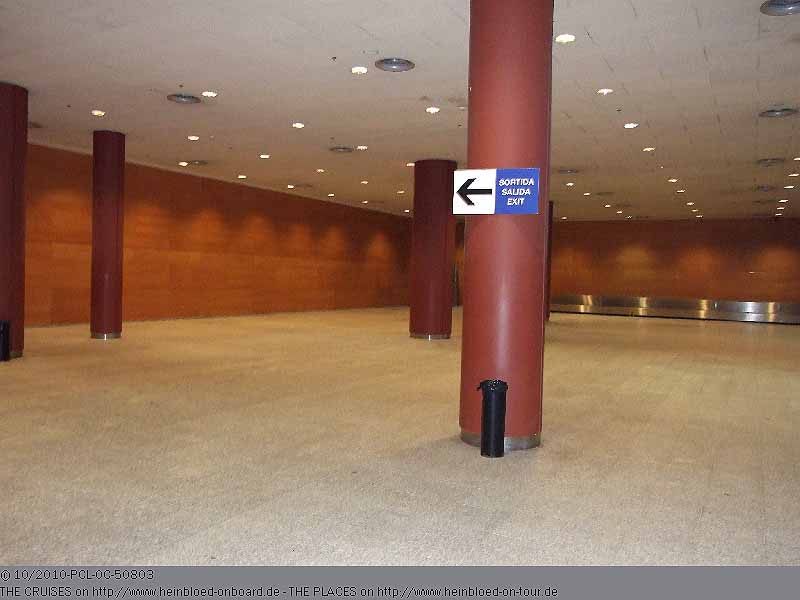 In the World Trade Center we need to walk through the empty baggage hall.

A little stand from the Tourist Information was set up for us.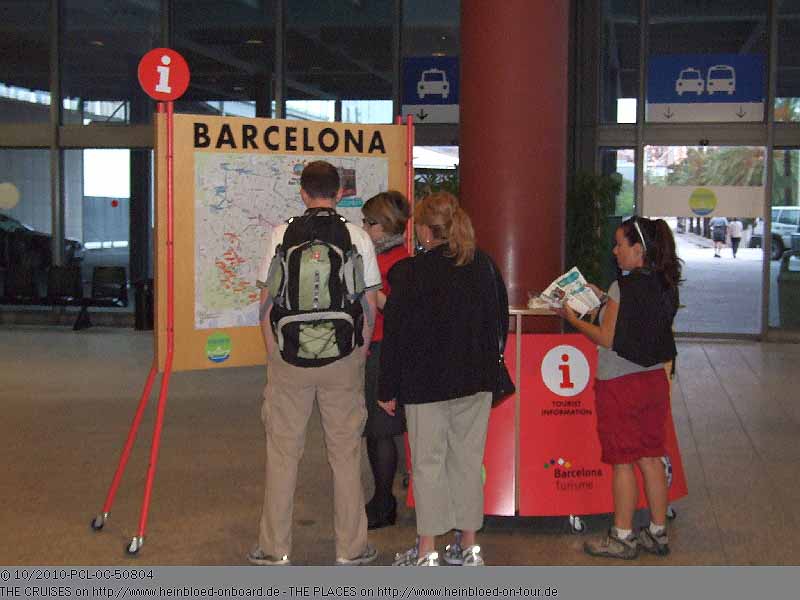 Ein kleiner Stand von der Touristen-Information ist für uns extra aufgebaut.
Das ist so eine fantastische Lage am World Trade Center und ein echter Vorteil der OCEAN PRINCESS, dass wir hier anlegen können. Alles kann man zu Fuß erreichen und muss nicht mit dem Hafenbus fahren.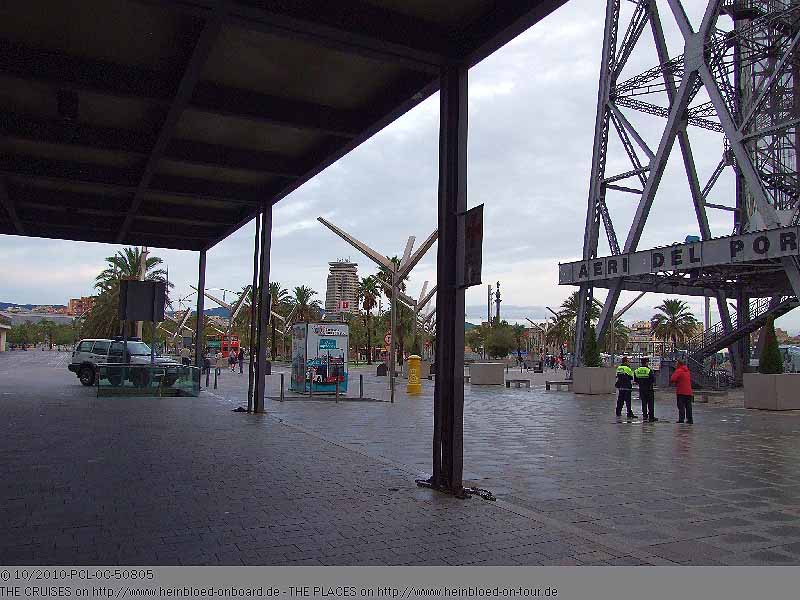 It is such a fantastic location at World Trade Center and a real advantage of OCEAN PRINCESS that she can berth here. You can reach everything by walking, and you must not use the port bus.

Later we can return by aerial tram and when you leave at Jaume I (name of the station in front of the World Trade Center) you can stay on the platform and take pictures. The last time we were not allowed because we did not arrive but depart.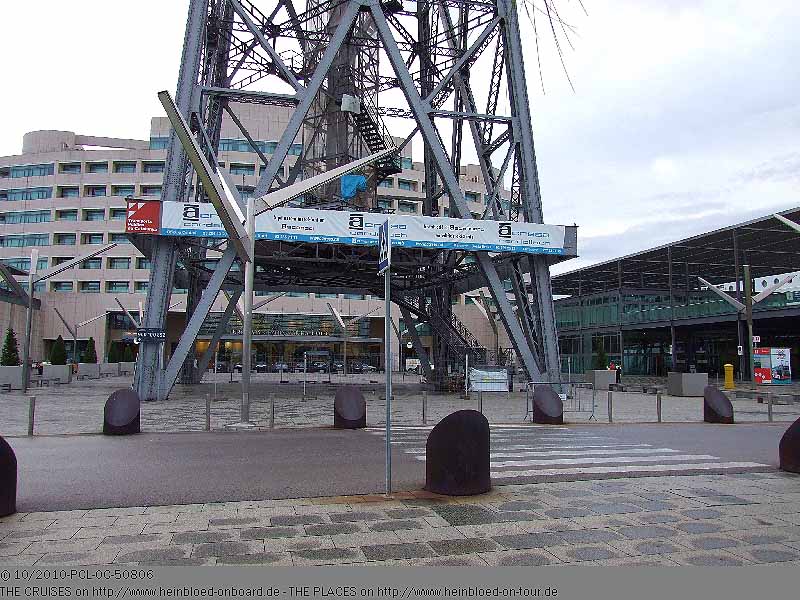 Später können wir dann mit der Seilbahn zurück und wenn man hier in Jaume I (Name der Station vor dem World Trade Center) aussteigt, kann nämlich oben auf der Plattform bleiben und von oben runter fotografieren. Letztens durften wir das nicht, weil man das nur darf, wenn man hier aussteigt und wir sind zugestiegen.
Wenn wir nachher zurückwollen:
Bus 20
fährt uns direkt vor das Terminal. Gut schon mal zu wissen.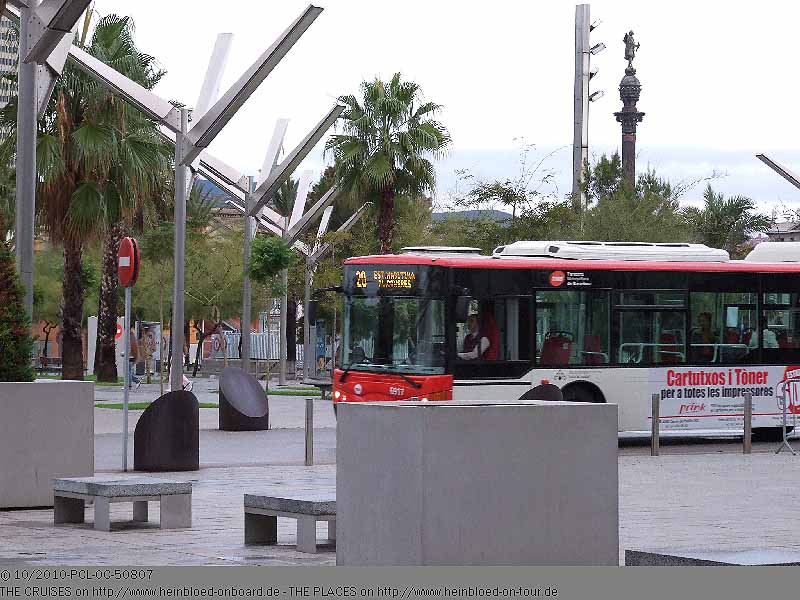 For our return we should also remember Bus 20 which stops directly in front of the terminal. Good to know.

They usually start around 09:00 hrs with the HoHo-Bus-service. But for us from OCEAN PRINCESS and GOLDEN IRIS they were already available at 08.30 hrs.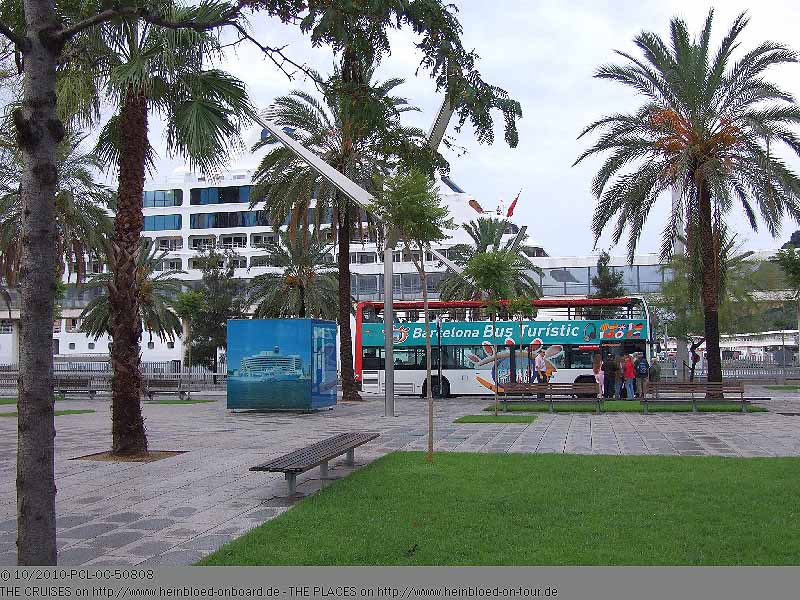 Eigentlich fangen sie erst gegen 09:00 Uhr mit dem HoHo-Bus-Betrieb an. Aber für uns von der OCEAN PRINCESS und von der GOLDEN IRIS stehen sie schon gegen 08.30 Uhr bereit.
Die lassen sich von uns nicht aus der Ruhe bringen, als wir an ihnen vorbei gehen.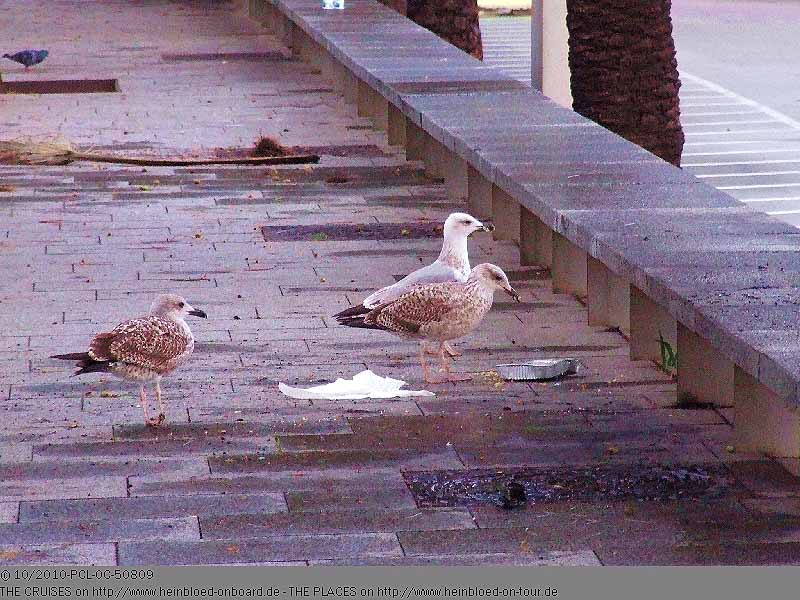 No chance to unsettle them when we passed.

Then when we were the very first time in Barcelona. Our very first hostel. Great location: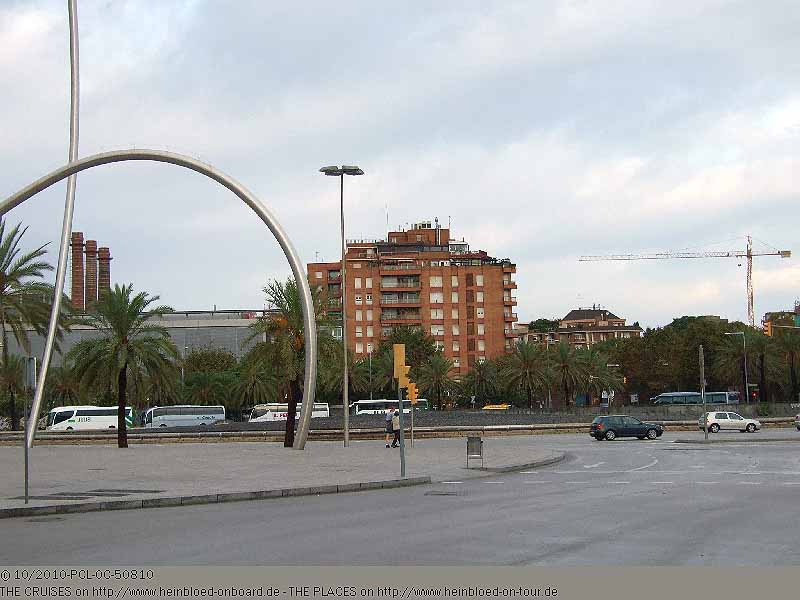 Damals noch beim 1. Mal, als wir in Barcelona waren. Unsere allererste Hostel. Klasse Lage:
Hostal BCN Port
. Das nächste Mal sind wir
Best Western Barcelonata 54
an der Marina mit Balkon, weil es Silvester ist und ich dann das Feuerwerk von da aus sehen will. Aber wenn wir mal wieder kommen, kommen wir gerne wieder hierher. Alle Umbauarbeiten sind abgeschlossen und die Plane ist weg. Vielleicht gibt es dann auch wieder Zimmer mit Blick auf das World Trade Center und die Schiffe, die dort liegen.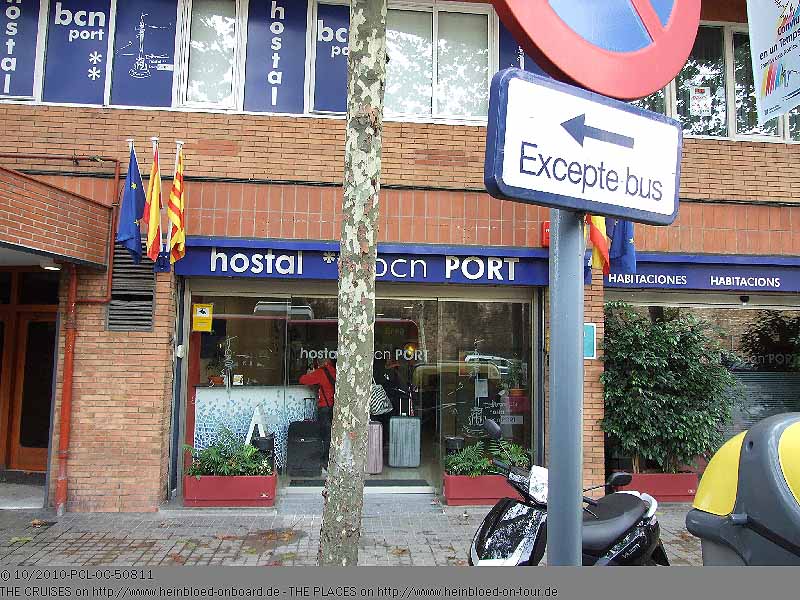 Hostal BCN Port. The next time we are at Best Western Barcelonata 54 at the marina with a balcony because it will be New Year's Eve and we want to see the firework from there. But when we return one day, we can come back here again. All renovation works were completed, and the hull has been removed. Maybe we could get then a room facing to the World Trade Center and the ships alongside the terminal.

We need to walk to the right alongside the water to get to the Columbus column. That is a private road only for the port bus.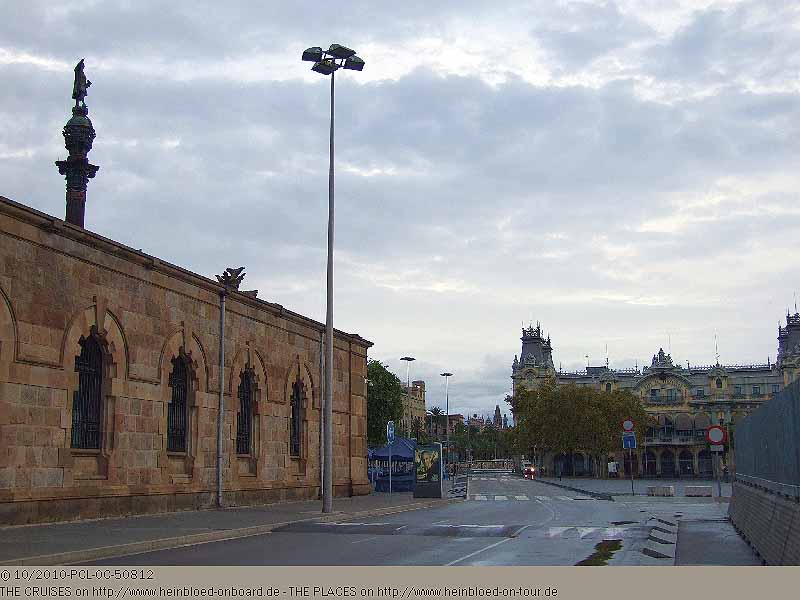 Wir müssen dann rechts abbiegen um entlang des Wassers zur Columbussäule zu kommen. Das ist übrigens die Privatstraße, auf dem der Hafenbus fährt.
Columbus: was war er eigentlich nun??? Die Spanier nehmen ihn für sich in Anspruch, die Italiener und die Portugiesen.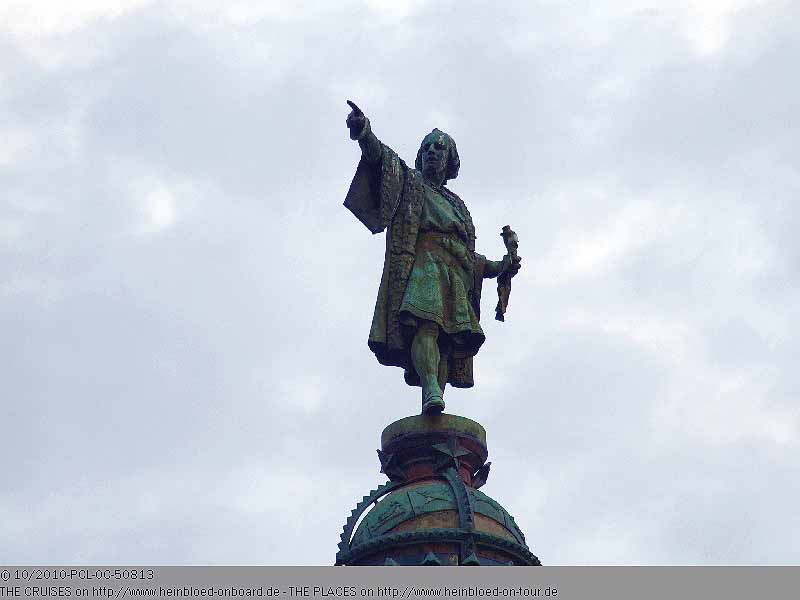 Columbus: what nationality he had??? The Spanish occupied them, the Italians and the Portuguese as well.

At the square harbor cruise boats of Las Golondrinas depart. Bruno knew that what he should expect for this afternoon.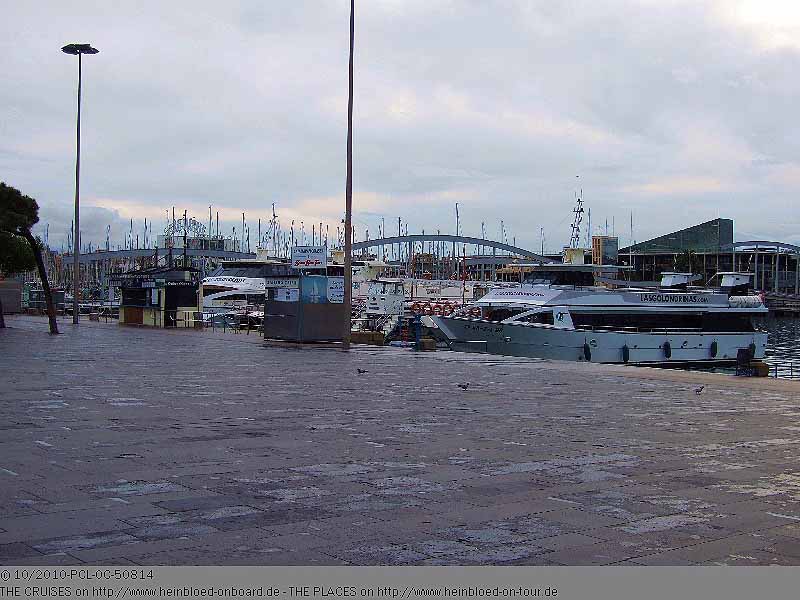 Am Platz fahren die Hafenrundfahrtboote von
Las Golondrinas
. Bruno weiss schon, was ihm heute Nachmittag blüht.
Rechts zwischen den Bäumen fährt der
T3 Hafenbus
zum Mol Adossat ab.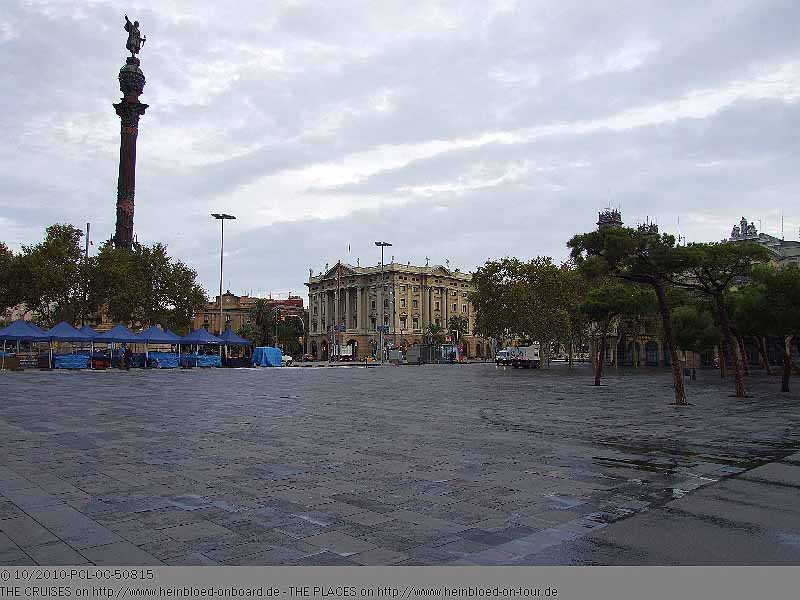 Right between the trees the T3 port buses depart to Mol Adossat.

At this time it was very calm. Even the tourist information was not open at this time.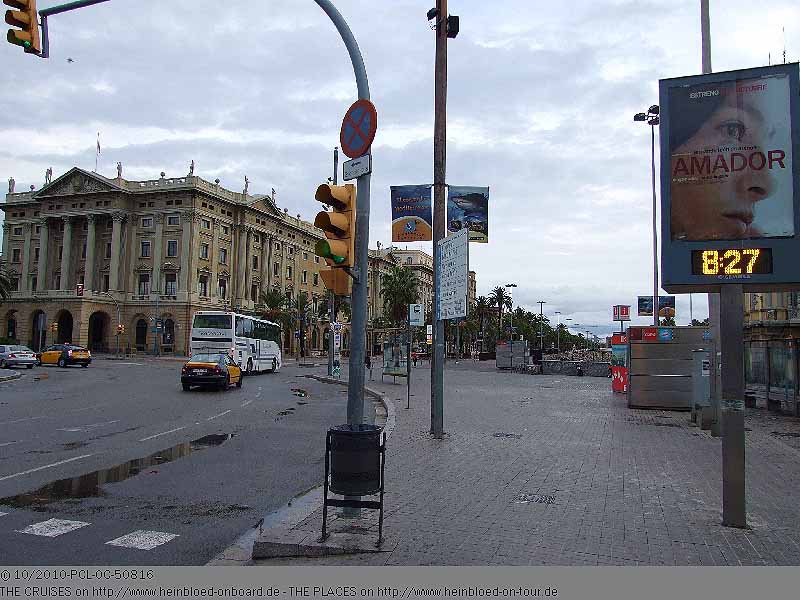 So früh ist hier noch gar nichts los. Nicht mal die Touristeninformation hat um die Zeit geöffnet.
In dieser Richtung geht es zum Bahnhof Franca. Falls jemand mal mit dem
Elipsos-Nachtzug nach Zürich oder Paris
fahren will...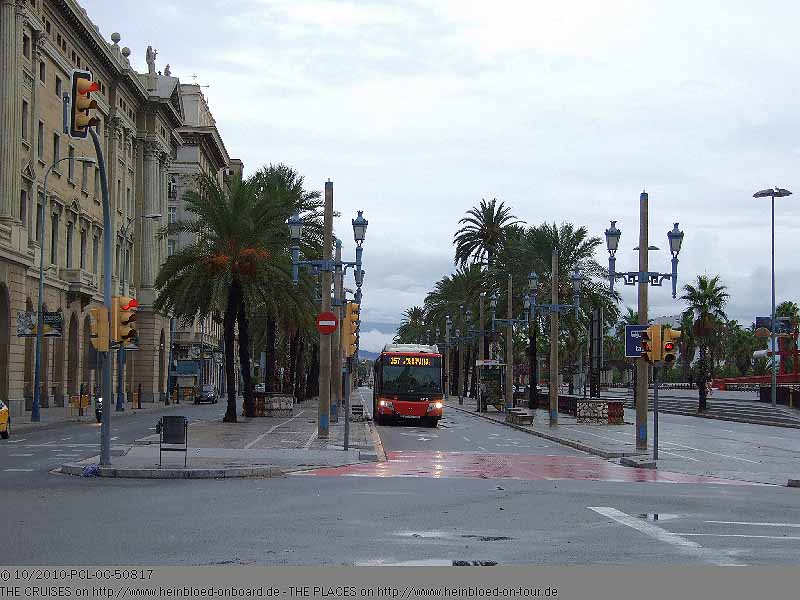 In this direction you can get to Franca train station. In case someone want to go by Elipsos-night train to Zurich or Paris.

There are also HoHo-Buses which do not depart at the waterfront but closer to La Rambla.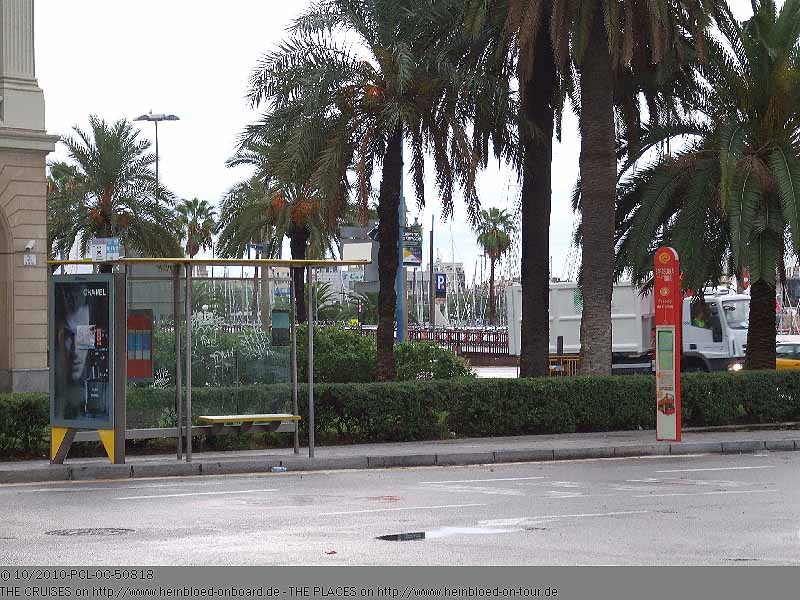 Es gibt auch HoHo-Busse, die nicht direkt an der Wasserseite abfahren, sondern eher hier, bei La Rambla.
La Rambla, wenn sie noch schläft. So können wir nicht ausgeraubt werden... Aber wenn es schläft, hat sie eh keinen Reiz. Aber wenn es dunkel und voller ist, dann alle Sicherheitsmaßnahmen ergreifen und durchlaufen... von oben nach unten wäre es jedoch einfacher...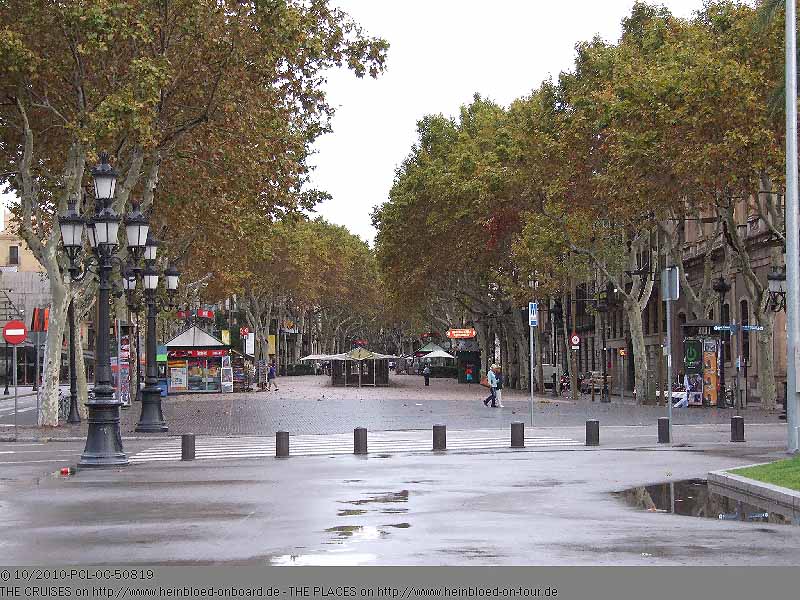 La Rambla while she is sleeping. So nobody there to rob us... But while she is sleeping, there is no reason to see. But once it is dark and full then you should take all safety measurements and walk through... but from top to bottom: it is easier.

We wanted to get to the Subway-Stop Drassenes.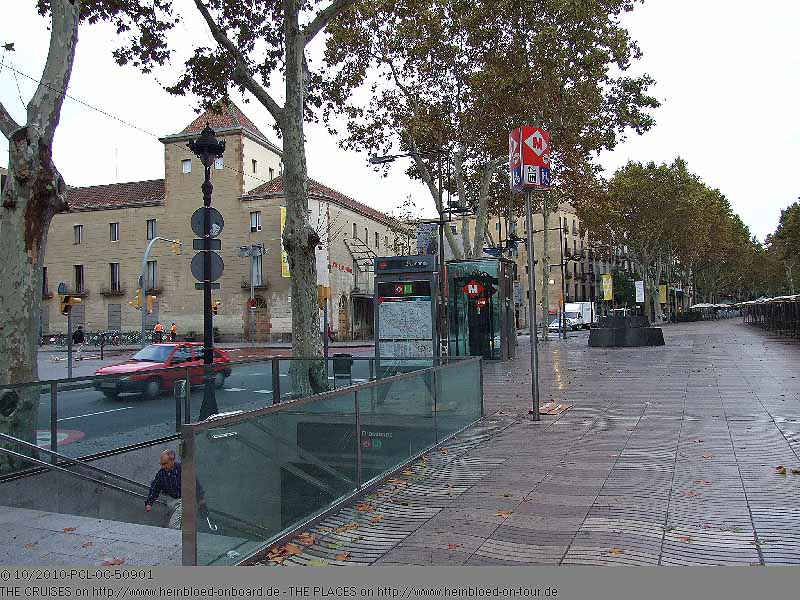 Wir wollen jedoch nur zum U-Bahnhof
Drassenes
.
Das wäre der Weg vom Ausgang bis zur Columbus-Säule.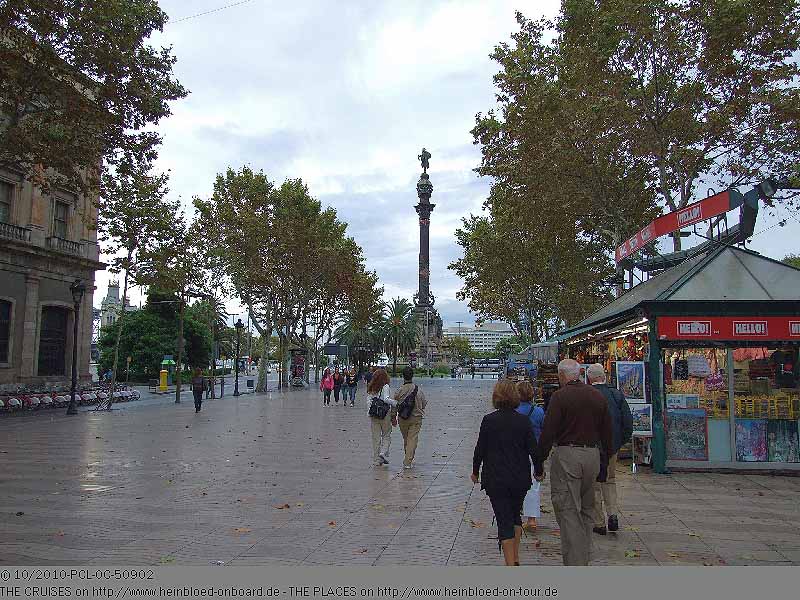 That would be the way from the exit to the Columbus Column.

Here the trains of Line 3 will stop.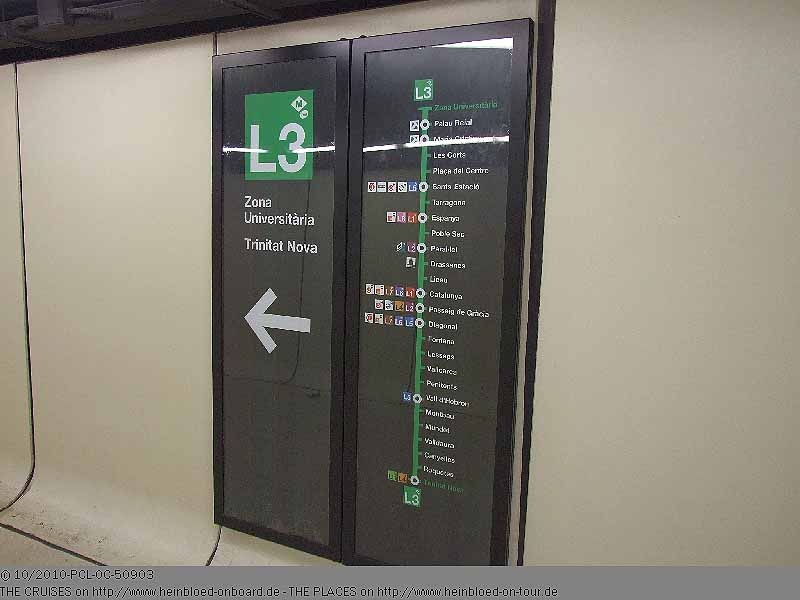 Hier halten die Züge der
Linie 3
.

Wir wollen zu den Gaudi-Häusern entlang der Passeig de Gràcia. Am
Liceu
kommt man zu der Markthalle
La Boqueria
. Bei
Catalunya
kann man die
Flughafen-Busse
erreichen.
Passeig de Gràcia
wäre der Umsteigepunkt zur
S-Bahn zum Flughafen
und wenn man zum
Casa Batlló
will und
Diagonal
, wenn man zur
Sagrada Familia
will und dort in die
Linie 5
umsteigt (
Linie 2
am Passeig de Gràcia geht auch... das war bloß ein endlos langer Tunnel) und wenn man zu
La Pradrera
will. Und last not least
Lesseps
bzw.
Vallcarca
, wenn man zum
Park Güell
will. Nicht auf dem Bild: Interessante Stationen in die andere Richtungen:
Paral-lel
, wenn mit der
Standseilbahn zum Montjuic
will oder auch sehr gut zur Linie 2,
Espanya
zur
FGC-Bahn Richtung Montserrat
und zum
magischen Brunnen
sowie
Sants Estatió
, wenn man sein
Gepäck aufbewahren
will, zum
Fernverkehr der RENFE
umsteigen möchte. Zur Flughafen-S-Bahn ist der Umstieg hier etwas mühselig. Hier findet man die
Schnellbahn-Gesamtübersicht
.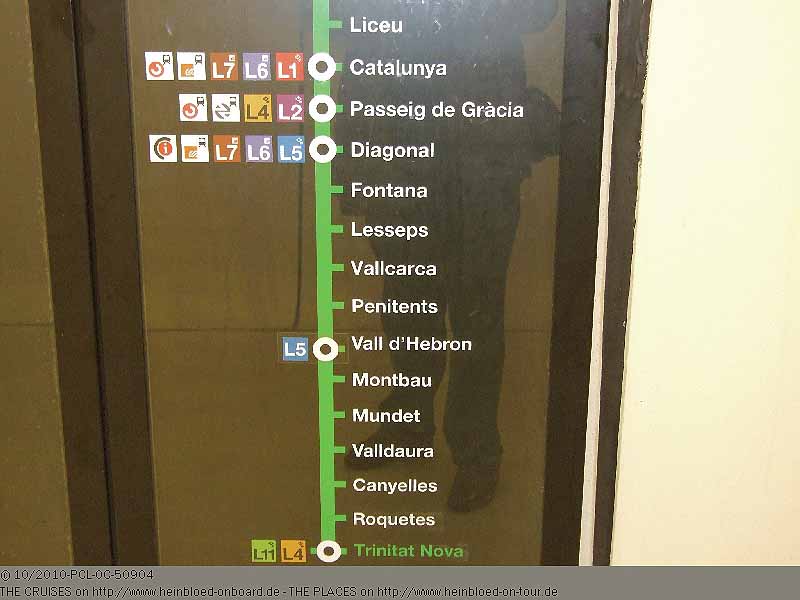 We wanted to the to the houses of Gaudi along the Passeig de Grácia. At Liceu you can get to the market hall La Boqueria. At Catalunya you can transfer to the Airport-Buses. Passeig de Gràcia would be the transfer point for the Airport-bound commuter trains and if you would like to see Casa Batlló and Diagonal if want to get to Sagrada Familia and change for Line 5 (Lini 2 atPasseig de Gràcia works too but there is an endless tunnel to walk) and for a visit of La Pradrera. Last not least Lesseps or Vallcarca if want to see Park Güell. Not on the pictures: Interesting stops in the opposite direction: Paral-lel if you want to continue on the Funicular to Montjuic or to Line 2 as well. Espanya you need to get off for the FGC-Railways toward Montserrat and for the Magic Fountain and finally Sants Estatió to store your bags and transfer to RENFE's long-distance-services. For a transfer to the commuter train for the airport it would be a long walk. Here you find the general overview of Rapid Transit Service.

We would like to buy a ticket for ten journeys (T-10). This ticket includes transfers within the regional train, subway, tram, and bus-network.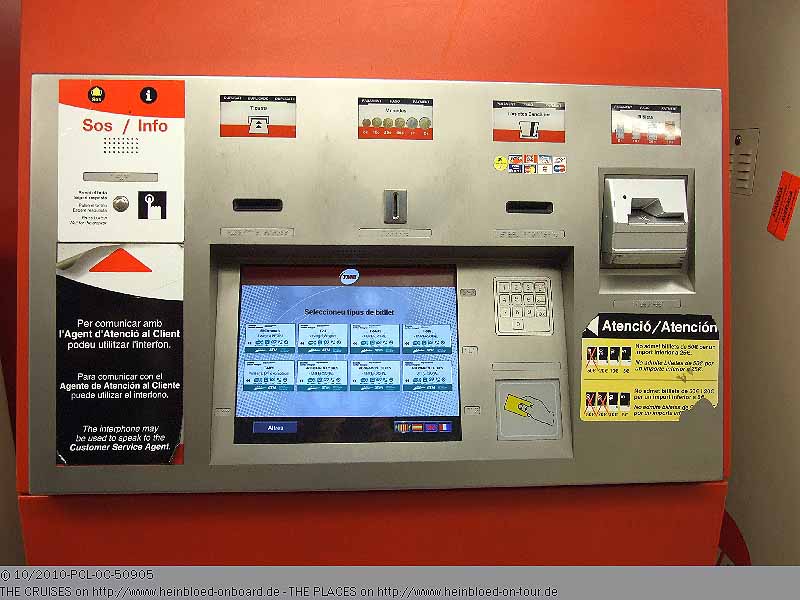 Wir wollen eine 10-Fahrten-Karte
(T-10)
haben. Dieses Ticket schließt Umstiege zwischen S-Bahnen, U-Bahnen, Straßenbahnen und Bussen mit ein.
Zunächst stellen wir auf Englisch um (Englische Flagge Union Jack berühren) und auf T-10 klicken.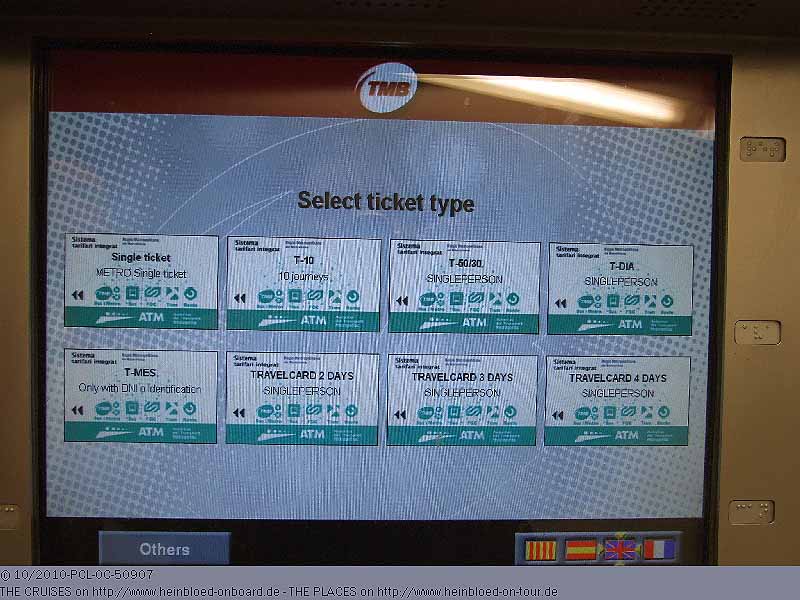 First we changed the language by touching the Union Jack and T-10.

All destinations in Barcelona (incl. airport but not Montserrat) are in the 1st zone and as we only need one T-10 because we returned on January 1, 2011, and they might not be valid anymore. 7.95 EUR (2010) for journeys incl. transfers within 75 minutes. If you change the direction or suspend your ride, the ticket knows it.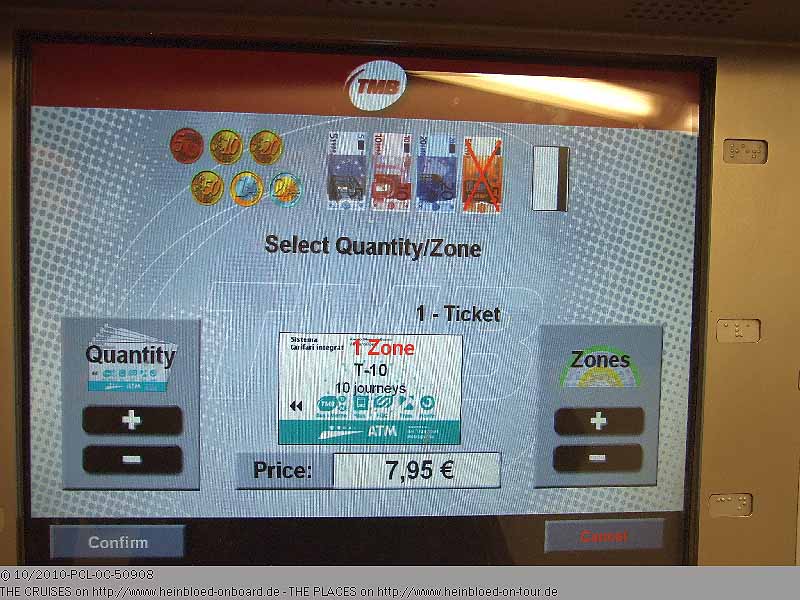 Die Ziele in Barcelona (inkl. Flughafen aber nicht Montserrat) liegen der 1. Zone und da wir nur eine T-10 wollen, weil wir erst am 01.01.2011 wieder kommen und sie dann u. U. nicht mehr gültig sind. 7,95 EUR (2010) für Fahrten innerhalb Umsteigens innerhalb von 75 Minuten. Aber nicht für Fahrtunterbrechungen oder Richtungsänderungen. Das merkt sich die Karte.
Ich nutze meine maestro-Karte zum Bezahlen und muss die PIN eingeben.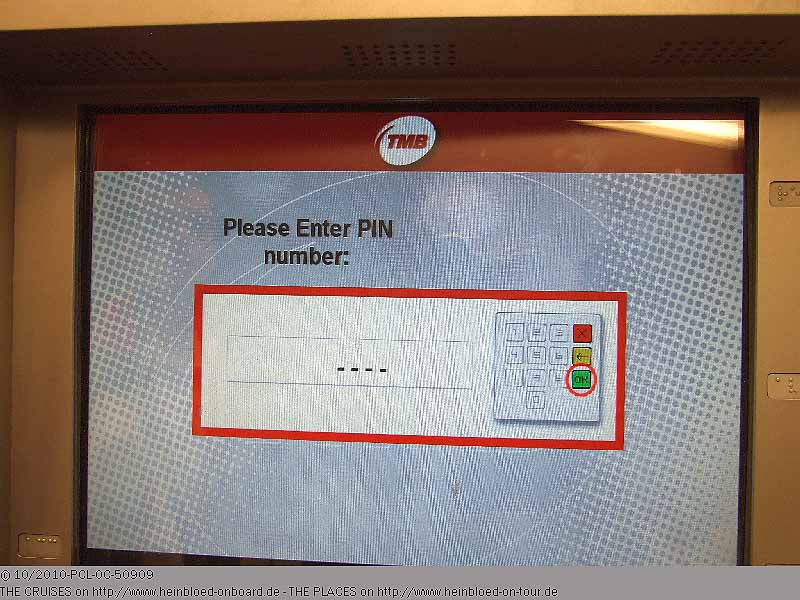 I used my bank card to pay and need to enter my PIN.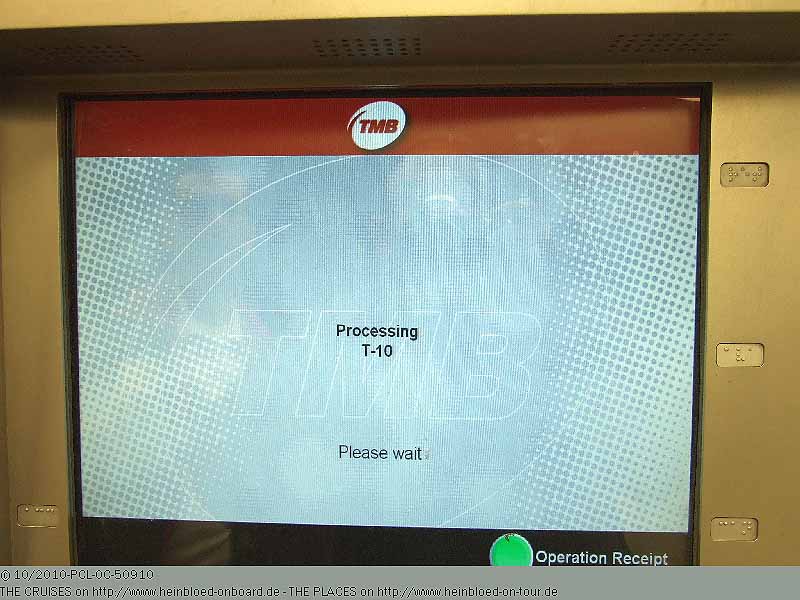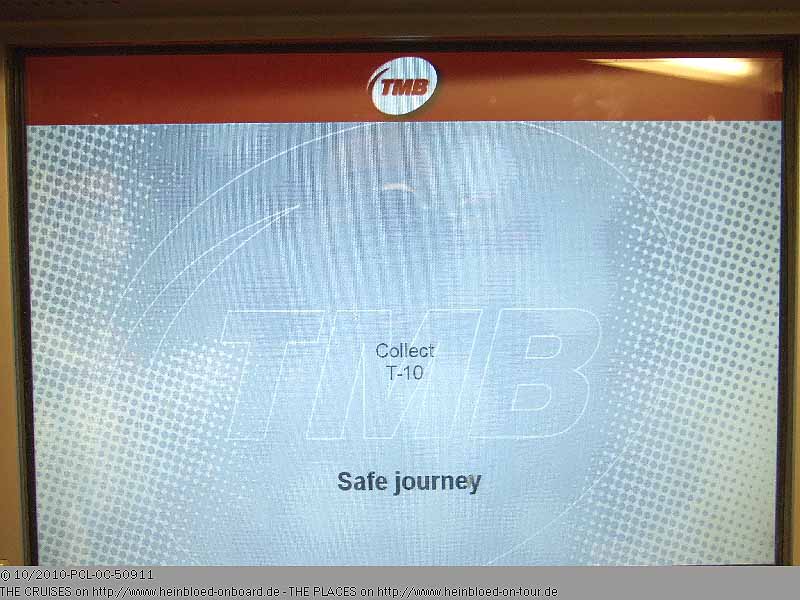 If you go in a group you need to send the first without a ticket to the gate and insert the card and wait until he passed the gate.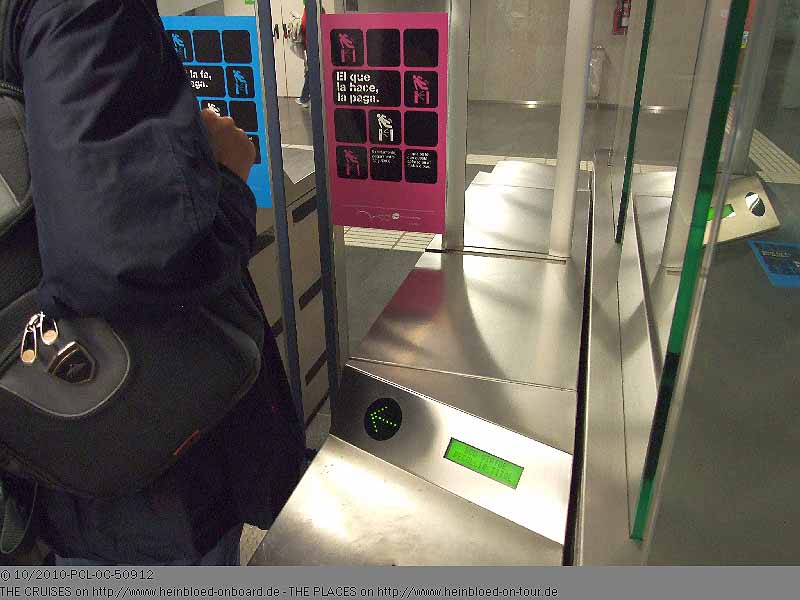 Wenn man mit mehreren fährt, muss man einen ohne Karte ans Tor schicken und die Karte reinschieben und warten, bis dass er durch ist.
Als letzter geht man selbst mit der Karte.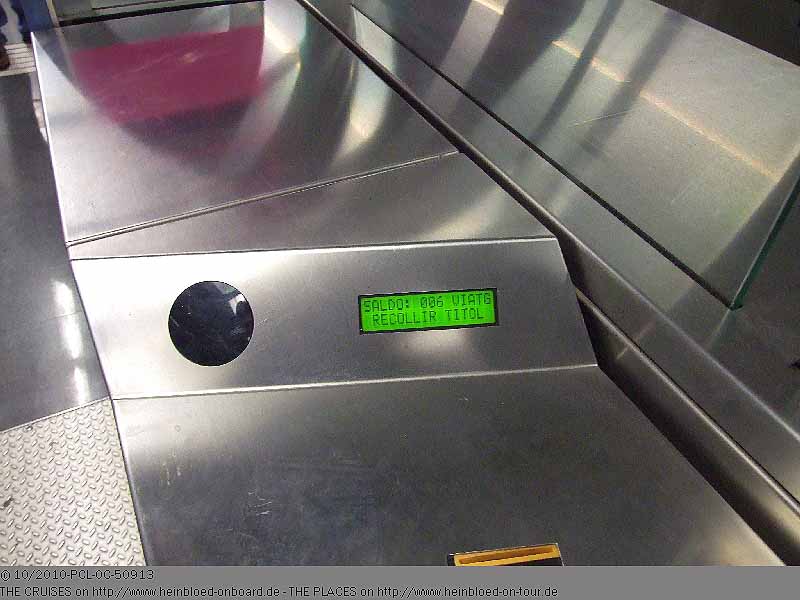 You are the last to go with the ticket.

What a difference to Rome: well signposted and so clean.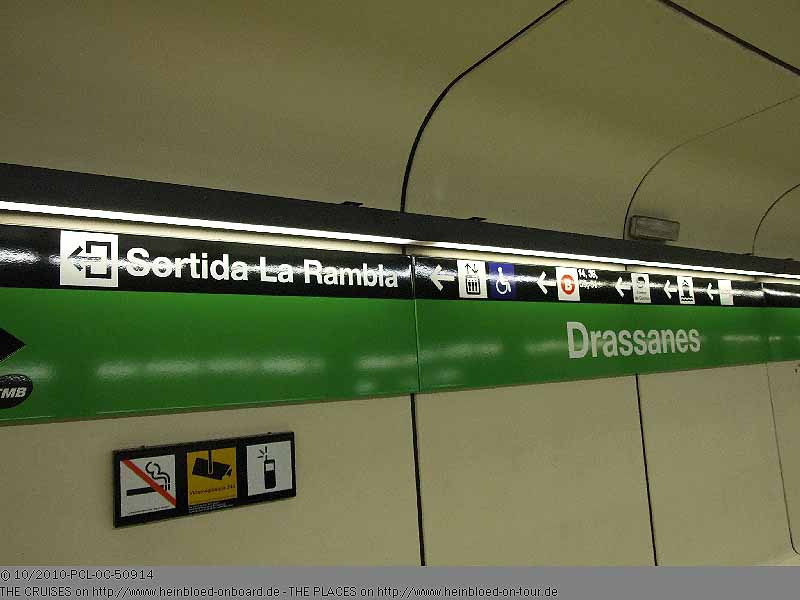 Was für ein Unterschied zu Rom: alles gut ausgeschildert und alles sehr schön sauber.
Kein Vergleich zu Rom.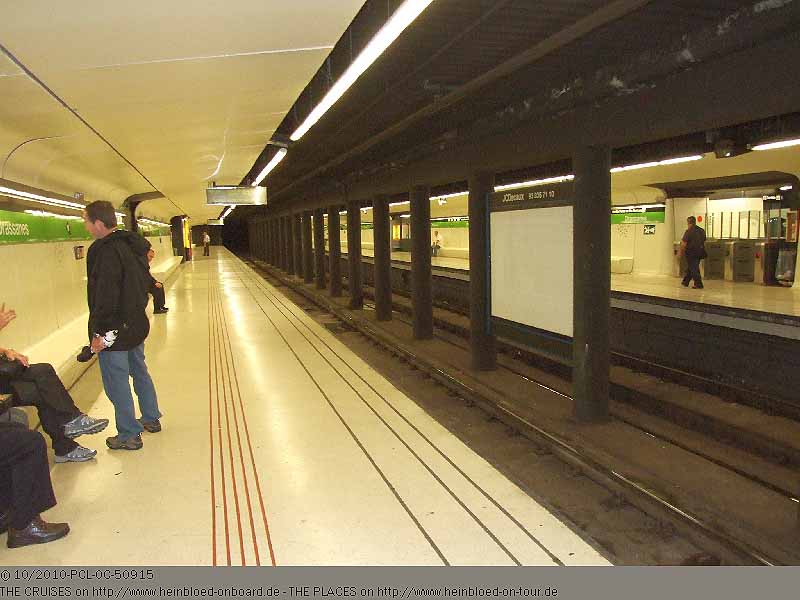 Nothing compared to Rome.

They display the next train and update all the information.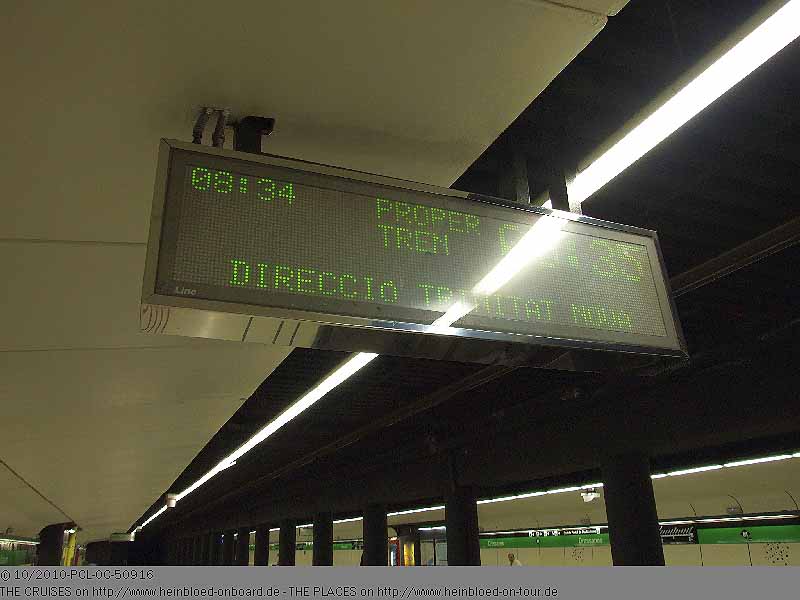 Hier wird immer die nächste Bahn angezeigt und auch aktualisiert.
Das macht doch einen tollen Eindruck.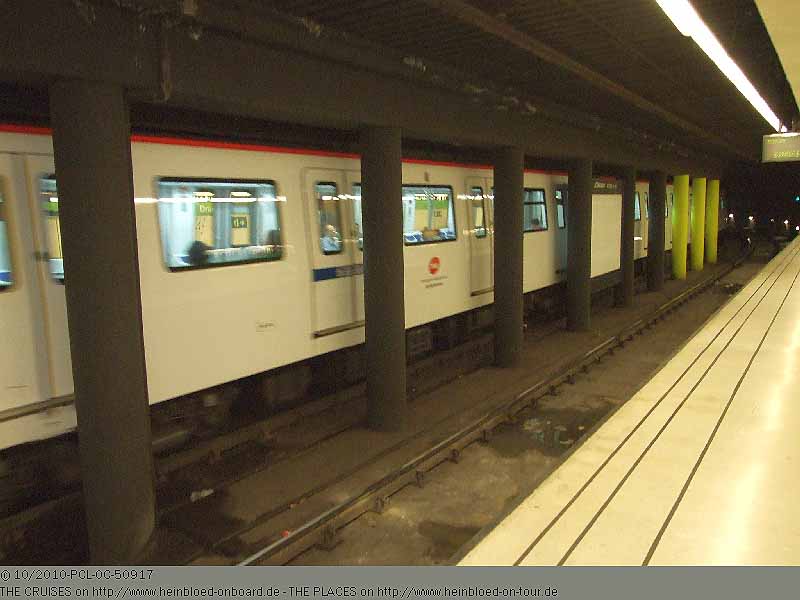 This made a very good appearance to us.

Above the doors, you find displays that you know where you are.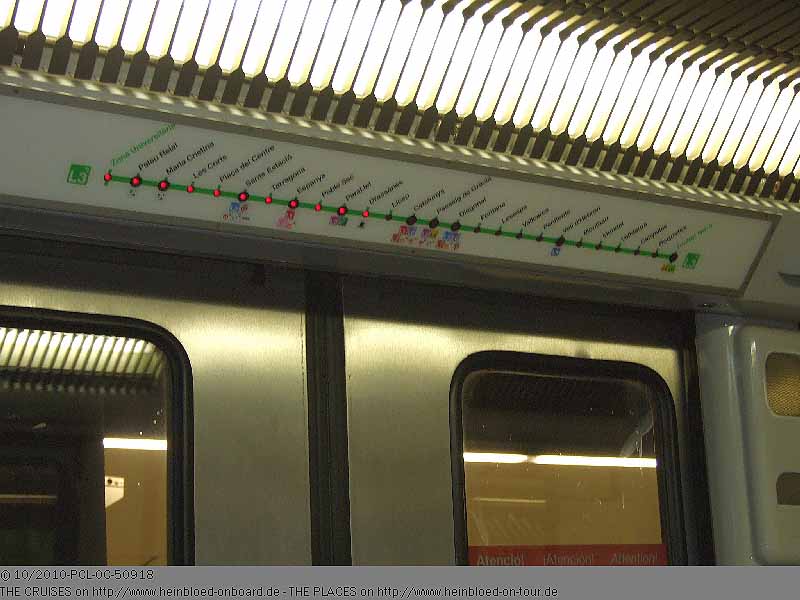 Über den Türen gibt es Leuchtanzeigen, damit man weiss, wo man ist.
Liceu für all diejenigen, die zu
La Boqueria (auf jeden Fall einen Besuch wert)
wollen.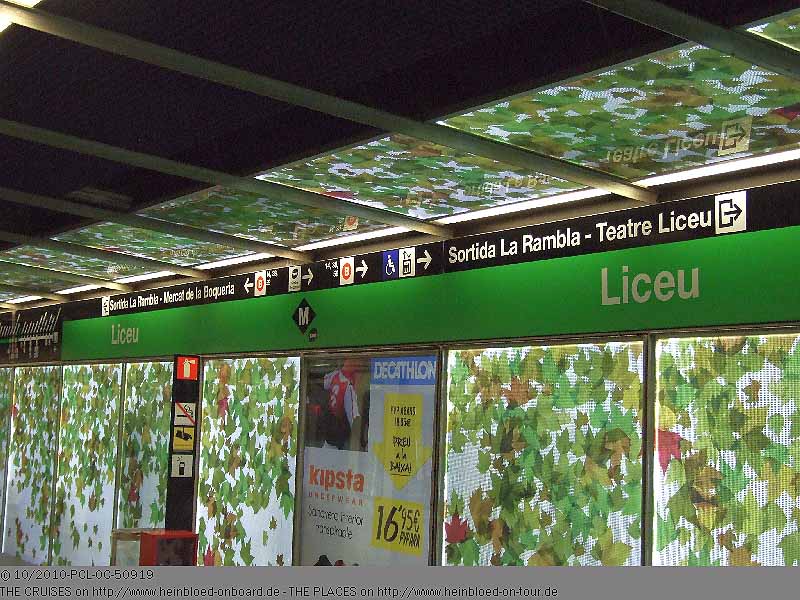 Liceu for all of you who wants to go to La Boqueria (only in German - worth to visit).

Still a little time left so we get off already at Passeig de Gràcia. For La Padrera it would be easier to get off at Diagonal, but so we can walk a little and watch the buildings.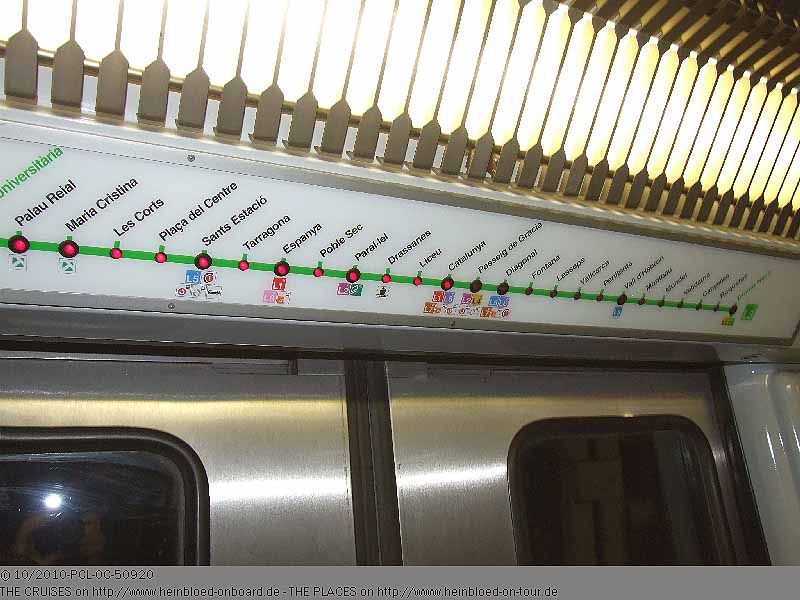 Es ist noch ein bisschen Zeit, also steigen wir schon am Passeig de Grácia aus. Für La Padrera wäre Diagonal günstiger, aber so können wir noch ein paar Meter laufen und Häuser gucken.
TMB hat doch mal geschafft die
Pläne
zu aktualisieren. Endlich fährt die S-Bahn-Linie 2 zum Flughafen.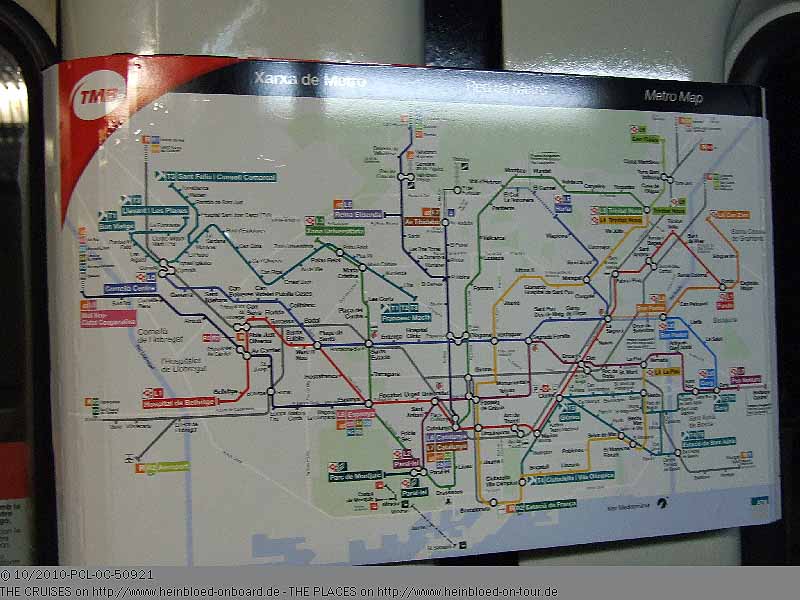 TMB updated the maps finally. Now Commuter Train Line 2 goes to the airport.

Line 3 stops a little away from Lines 2 and 4. That is why I would not transfer here for Sagrada Familia. It would be better to change at Paral-lel.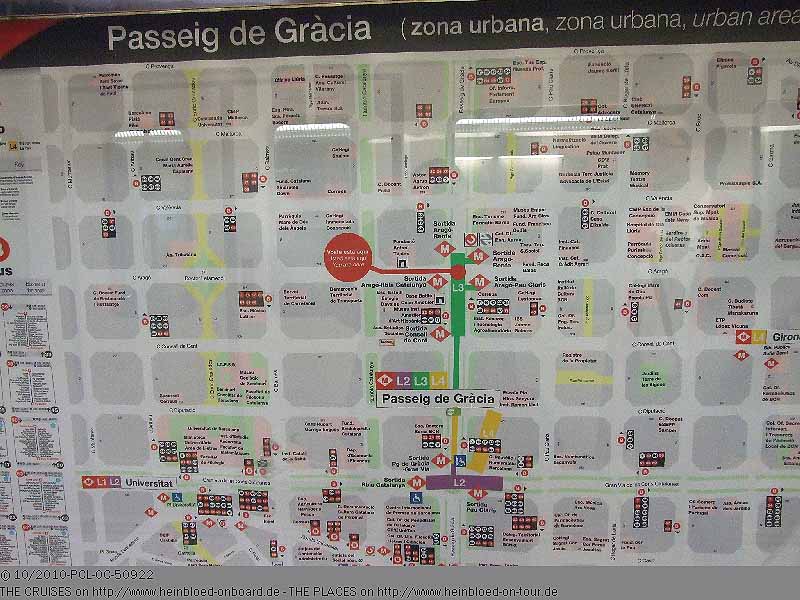 Linie 3 liegt einfach etwas abseits von den Linien 2 und 4. Deswegen würde ich hier nicht umsteigen, wenn ich zur Sagrada Familie will. Besser wäre es nach Paral-lel zu fahren und dort umzusteigen.
Wir gehen mal raus gucken.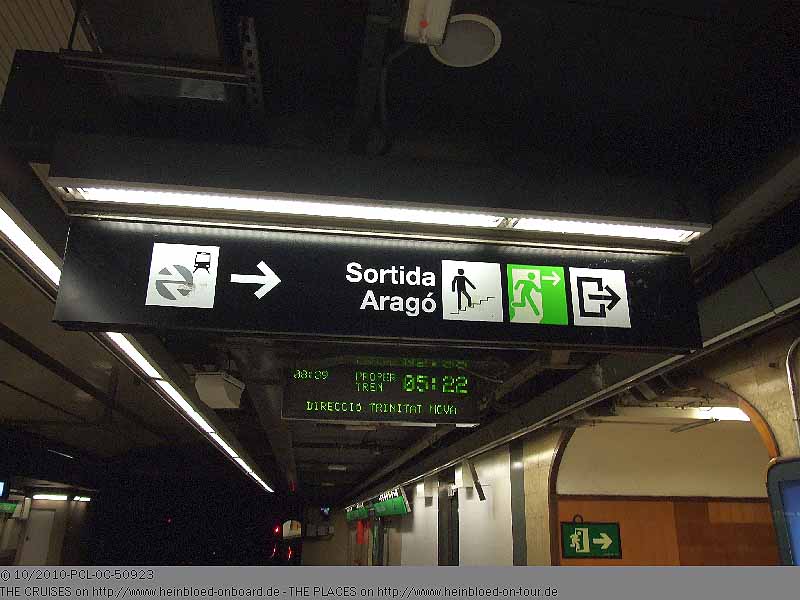 We want to see what is outside.

Let's take the exit to Aragó - Pau Claris.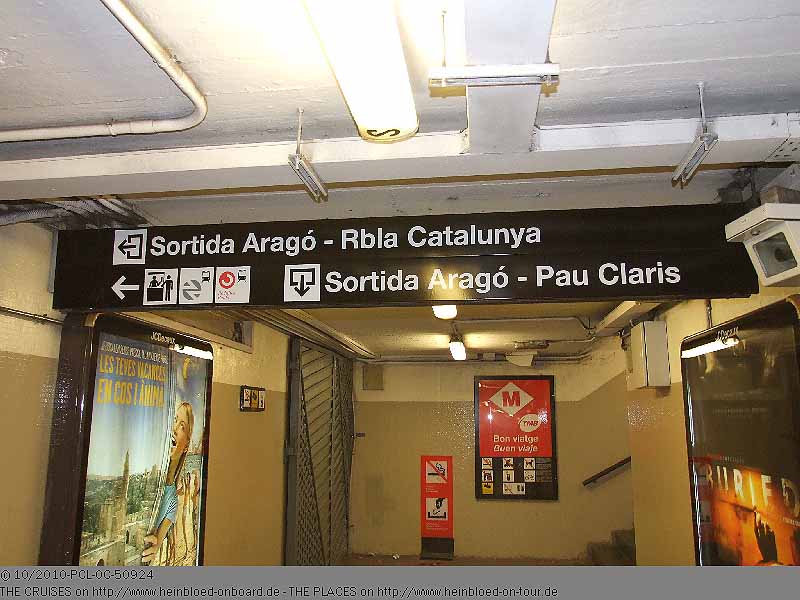 Wir gehen mal Richtung Aragó - Pau Claris raus.
Und schon sind wir gegenüber bei
Casa Batlló
, das wir im November 2009 besichtigt haben.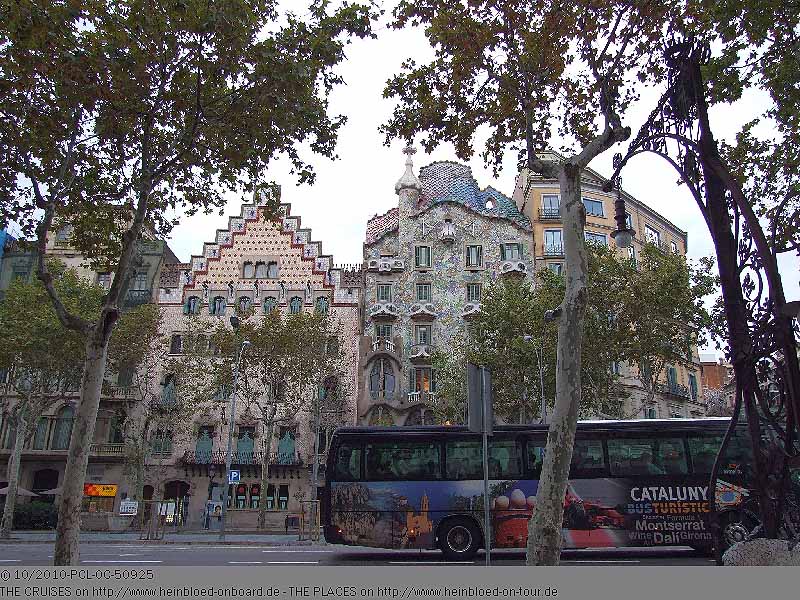 And so we are opposite of Casa Batlló which we visited in November 2009.

But we continued to La Pedrera, and so we saw on the way further lovely Gaudi-style buildings.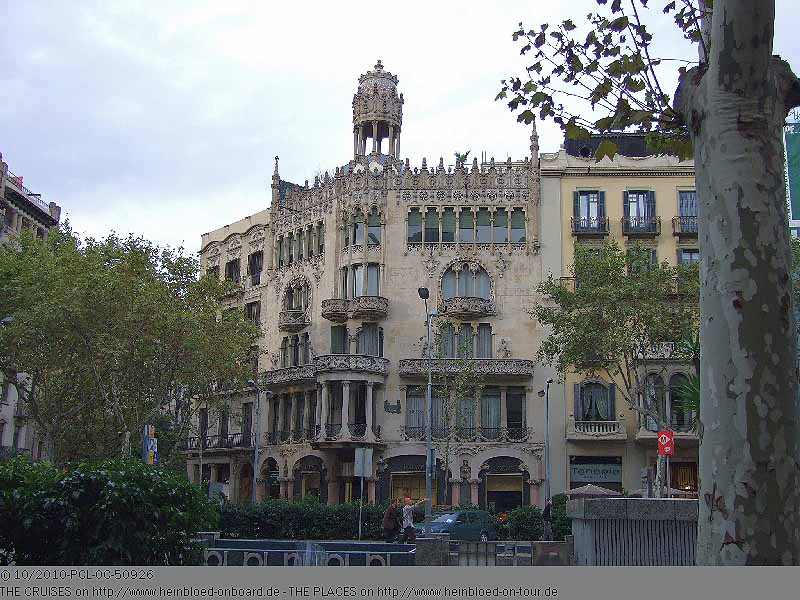 Wir laufen weiter zu La Pedrera und so sehen wir unterwegs weitere schöne Bauten im Gaudi-Stil.
Die anderen Reisen in diesem Blog/
The other voyages in this blog: