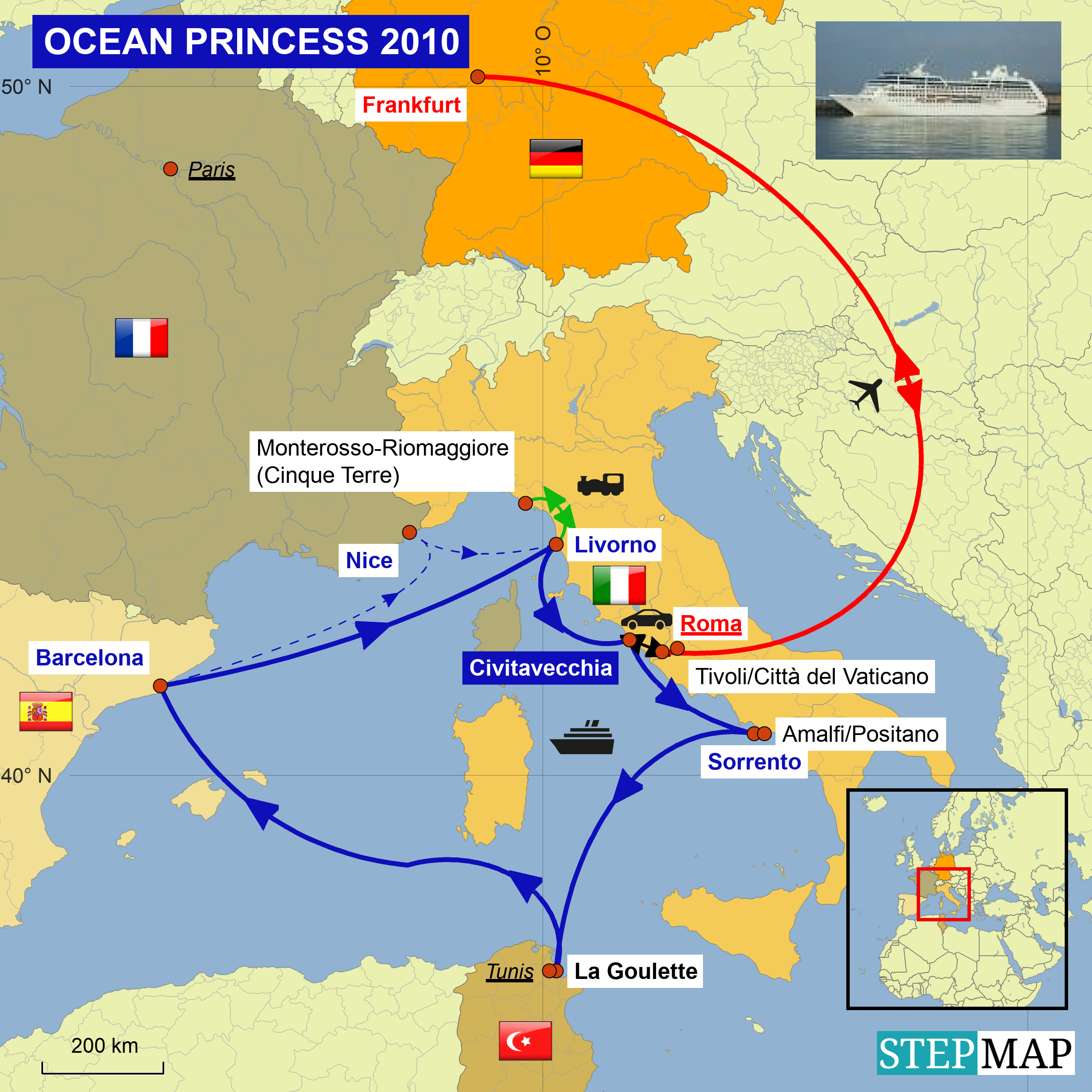 Die Stadt Rom bewirbt noch den
Touristenhafen in Lido
als Attraktion zum Essen, zum Einkaufen, zum Relaxen. So fahren wir mit Bus 01 ab Lido Centro dahin. Mangels Fahrplan, wird nach dem alten römischen Kalender gefahren.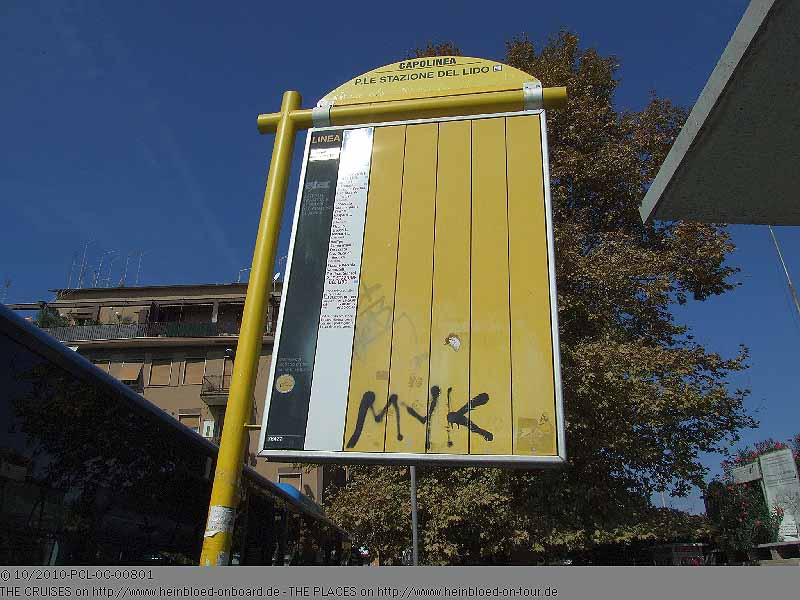 The City of Rome advertised the Touristic Port as an attraction to have food, to shop and to relax. So we took bus 01 from Lido Centro to this place. Due to a missing calendar, they departed according to the ancient Roman calendar.

You need to get off at Picchio at the end of the loop. Later we waited with the locals an eternal life because the driver was not willing to use the schedule. Instead of the Sunday 30/30-minutes interval, it was a 10/50-minutes interval they offered. But the driver did not take too much care as long as he had his breaks.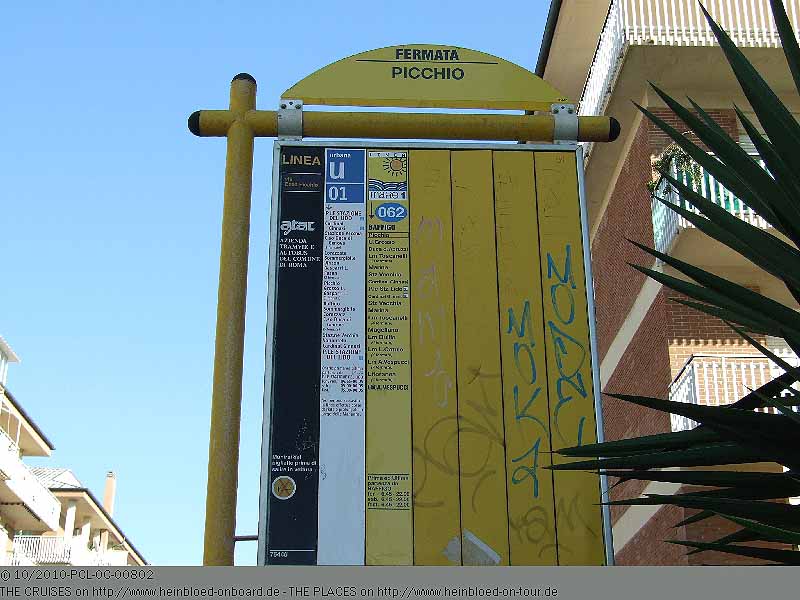 Am Ende der Schleife in Picchio muss man aussteigen. Später warten wir mit anderen Einheimischen Ewigkeiten, weil der Busfahrer wohl keine Lust hat, nach Plan zu fahren. Dass dabei sonntags ein 10/50-Minuten-Takt rauskommt statt 30/30, ist ihm egal. Hauptsache er hat seine Pausen.
Wir waren gerade doch erst in einem ähnlichen Theater. Aber das sieht doch viel moderner aus... Spätrömisch eben. Am Theater haben wir zunächst einen Cappucino getrunken. Dort wurden wir sehr nett durch einen Kroaten bedient, der etwas Deutsch sprach.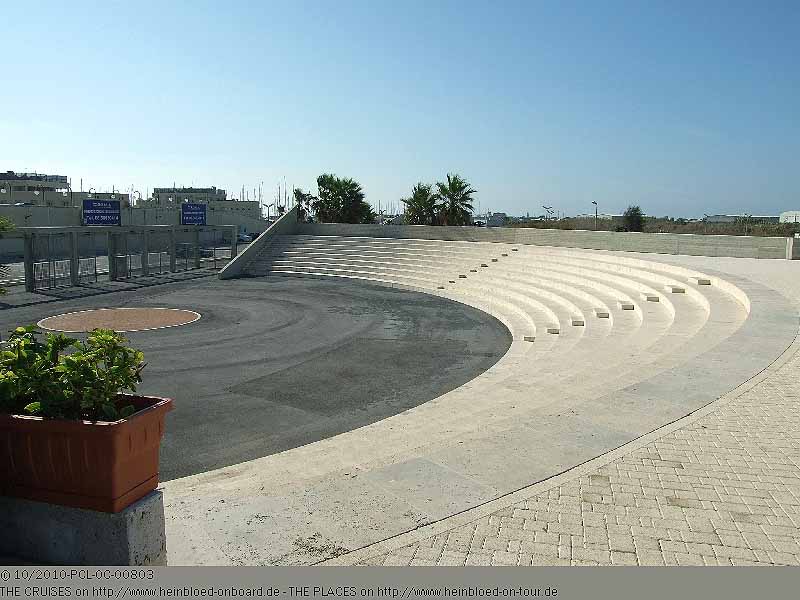 Did we were just in a theater like this. But it looked much more modern... Late Roman style. We had a Cappucino at the theatre. A Croatian who spoke some German served us.

Not all the shops were open... but you walk all the 2/3 miles just to see and to be seen...

Nicht alle Geschäfte haben auf... aber man läuft sie alle auf ca. 1 km ab... und sieht und gesehen zu werden...
Guckt sich die Yachten an...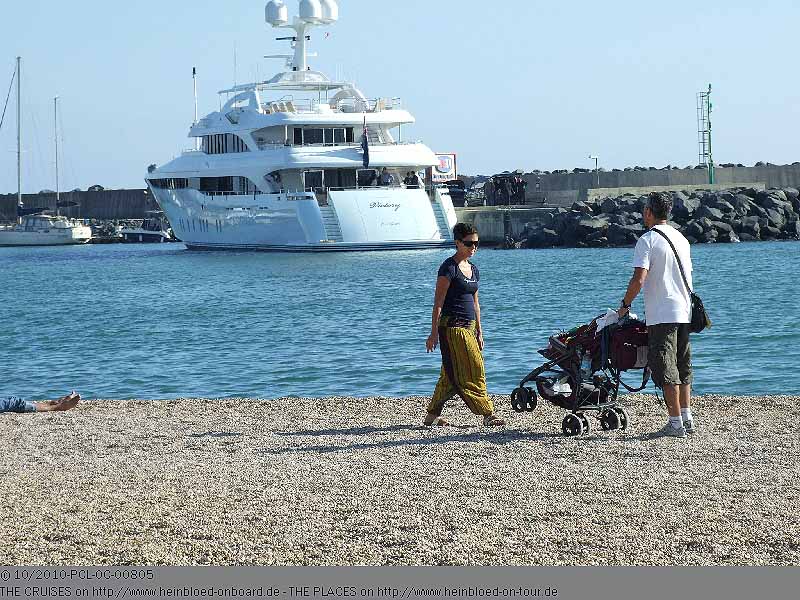 ... Look for the yachts...

... Look for the street artists...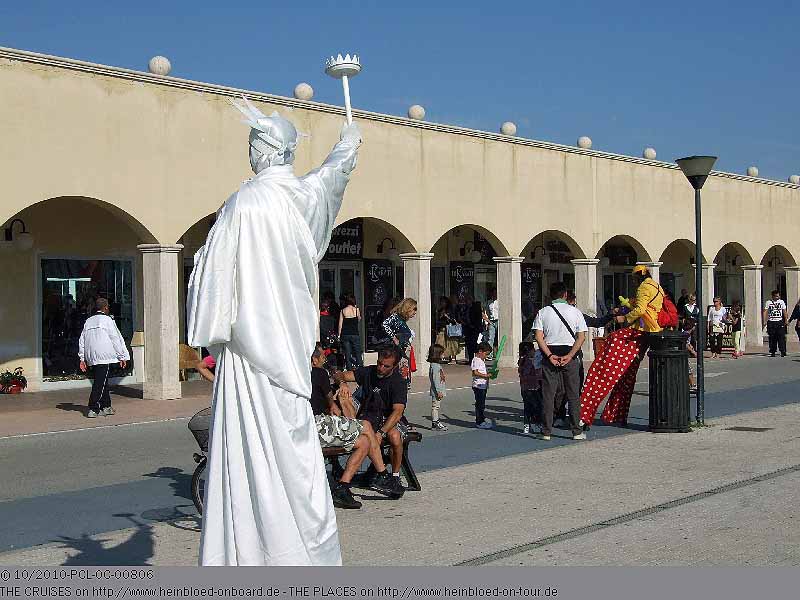 Guckt den Straßenkünstlern zu...
Vergnügt sich am Strand...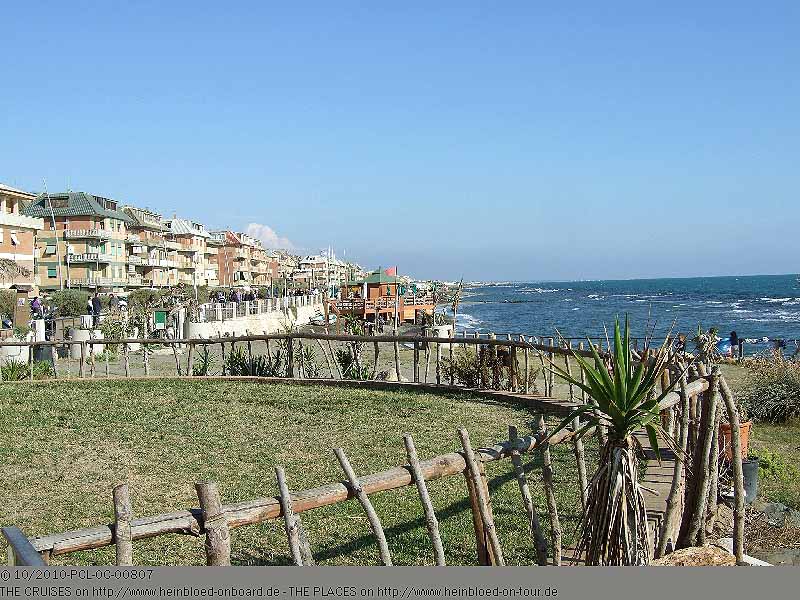 Have some amusement at the beach...

And overpay for food which was for those who came anyway by yacht...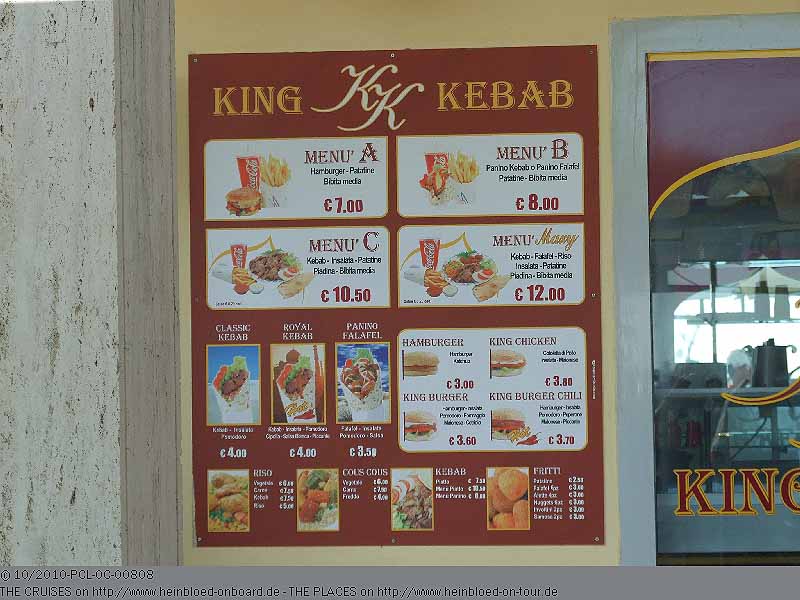 Und zahlt die etwas überzogenen Preise, die ja in erster Linie an die richten, die eh mit ihrer Yacht anreisen...
Da wir ziemlich müde sind, bleiben wir nicht lange dort und fahren zurück nach Fiumicino.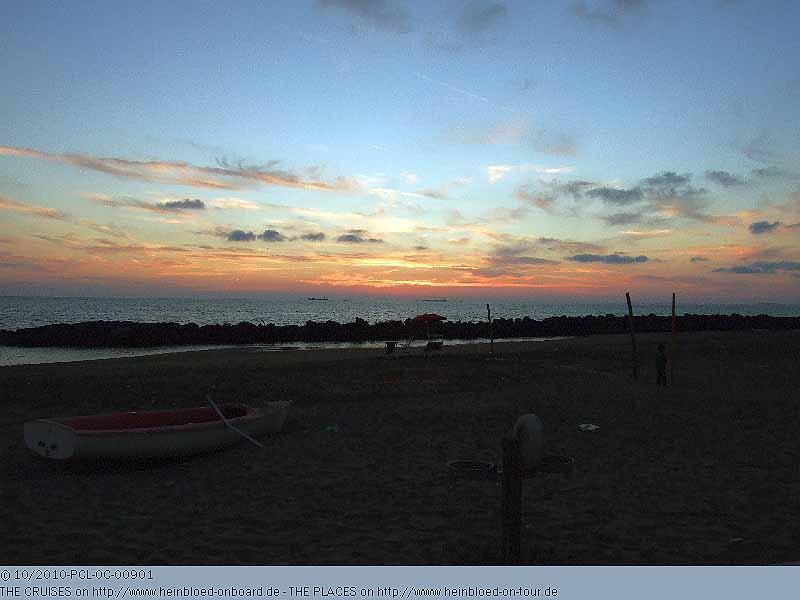 As we were quite tired we did not stay there too long and returned to Fiumicino.

Around 19:00 hrs we had already the sunset. Many attractions close one hour ahead of the sunset so we should learn that most closure of the sites will be 18:00 hrs and the closing of the ticket office will be 17:00 hrs.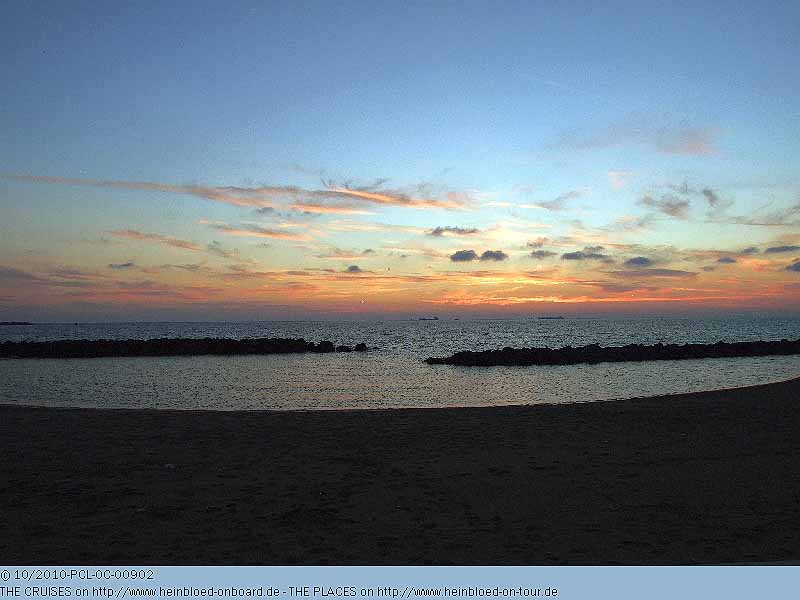 Bereits gegen 19:00 Uhr erleben wir den Sonnenuntergang. Viele Attraktionen schließen eine Stunde vor dem Sonnenuntergang, also ist es gut, dass wir uns mit 18:00 Uhr orientieren und um 17:00 Uhr Kassenschluss.
Der Strand von Fiumicino gibt nicht so viel her. Weniger Restaurants als ich dachte.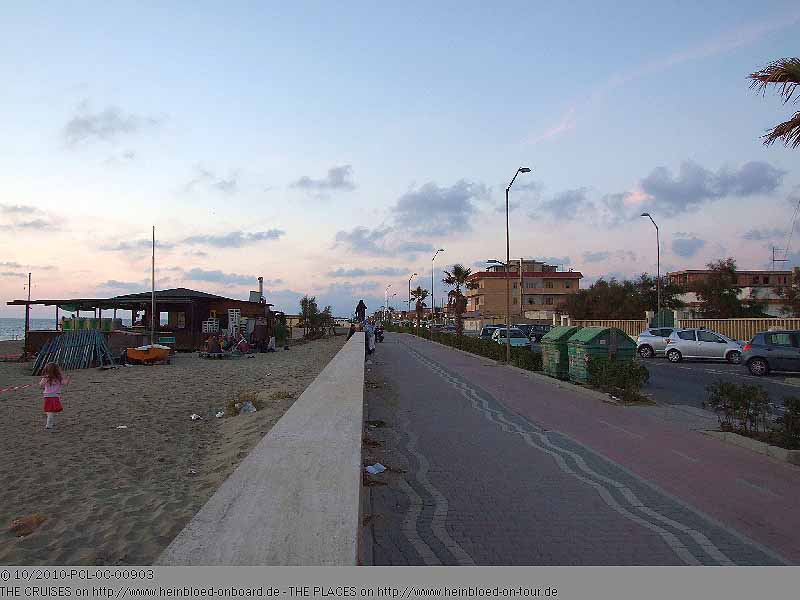 There was not much around the beaches in Fiumicino. Less restaurants than I expected.

So we went to Il Delfino which was recommended by our hotel. Officially they open for Italians at 20.00 hrs. For hungry tourists they open already at 19.00 hrs.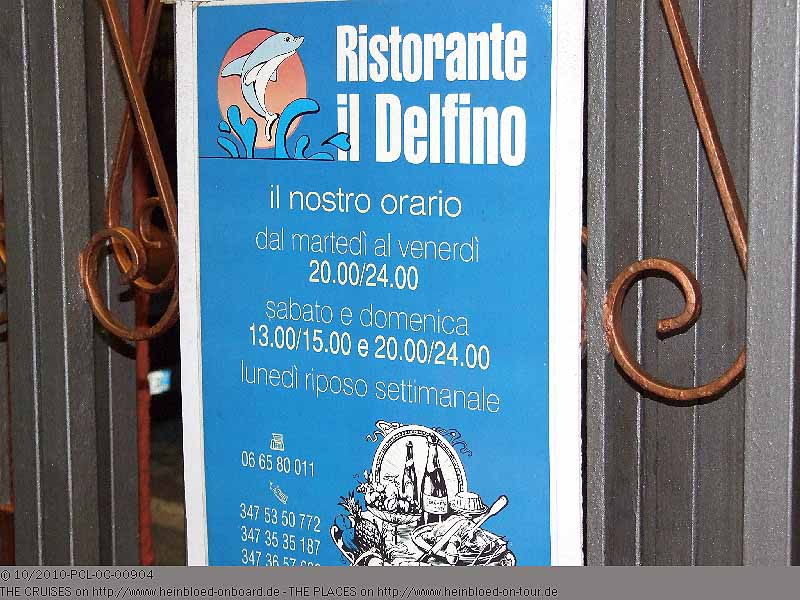 So besuchen wir das
Il Delfino
, das uns das Hotel empfohlen hat. Offiziell öffnet es erst für Italiener um 20.00 Uhr. Für verhungerte Touristen bereits um 19.00 Uhr.
Uns war es zu frisch, um im Innenhof zu sitzen.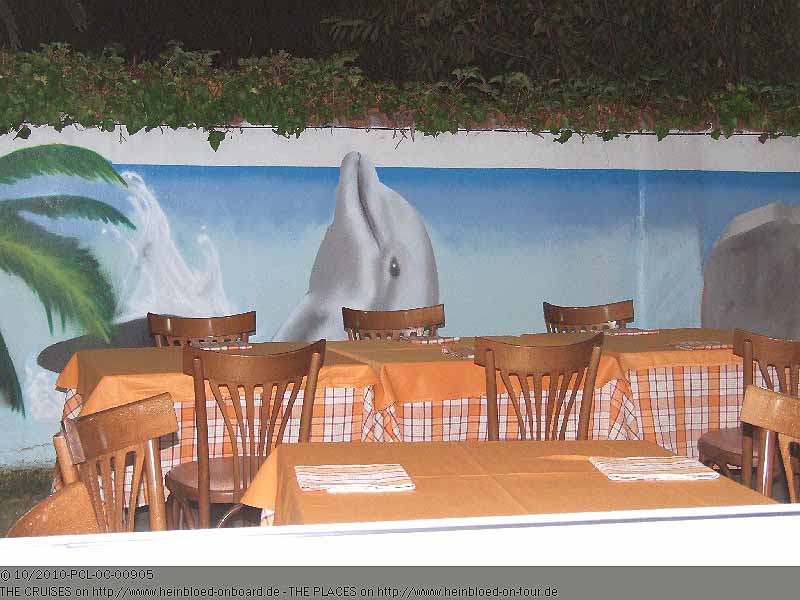 It was too chilly to sit in the court.

Inside everything was charming beside the extreme loud TV-set showing "Who wants to be a millionaire" in Italian.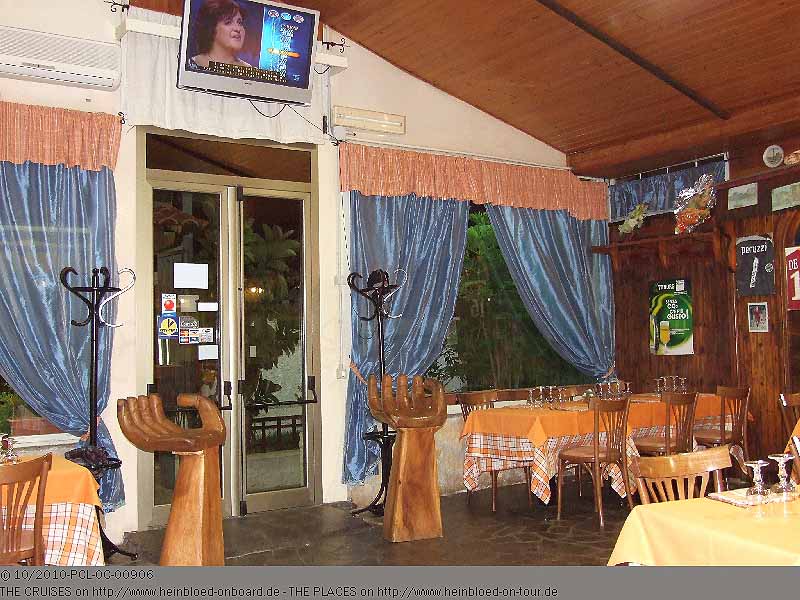 Drinnen allerdings alles ganz nett, wenn nicht so laut im Hintergrund "Wer wird Millionär?" auf Italienisch laufen würde.
Bislang dachte ich dass Pizza Biancho ohne Tomatensauce bedeutet. Ich war neugierig, was hinter Pizza Wiener Art stecken würde. Was man hier nicht sieht: Wiener Würstchen... Nie wieder!!! Bruno hat eine Marinara und fand sie sehr gut... Für den 1. Tag reicht es. Ich will nur noch ins Bett.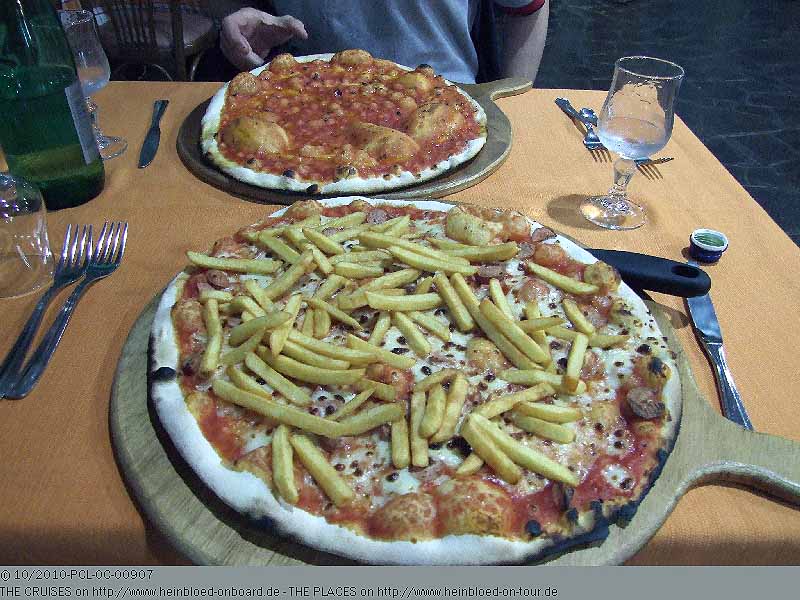 I always thought that Pizza Biancho means without tomato sauce. I was very curious to learn what was behind Pizza Viennese Style. What you might not see: Viennese Sausages... Never ever again!!! Bruno had a Marinara and liked it very much. For the 1st day, it was enough. Just want to get to my bed.
Die anderen Reisen in diesem Blog/
The other voyages in this blog: