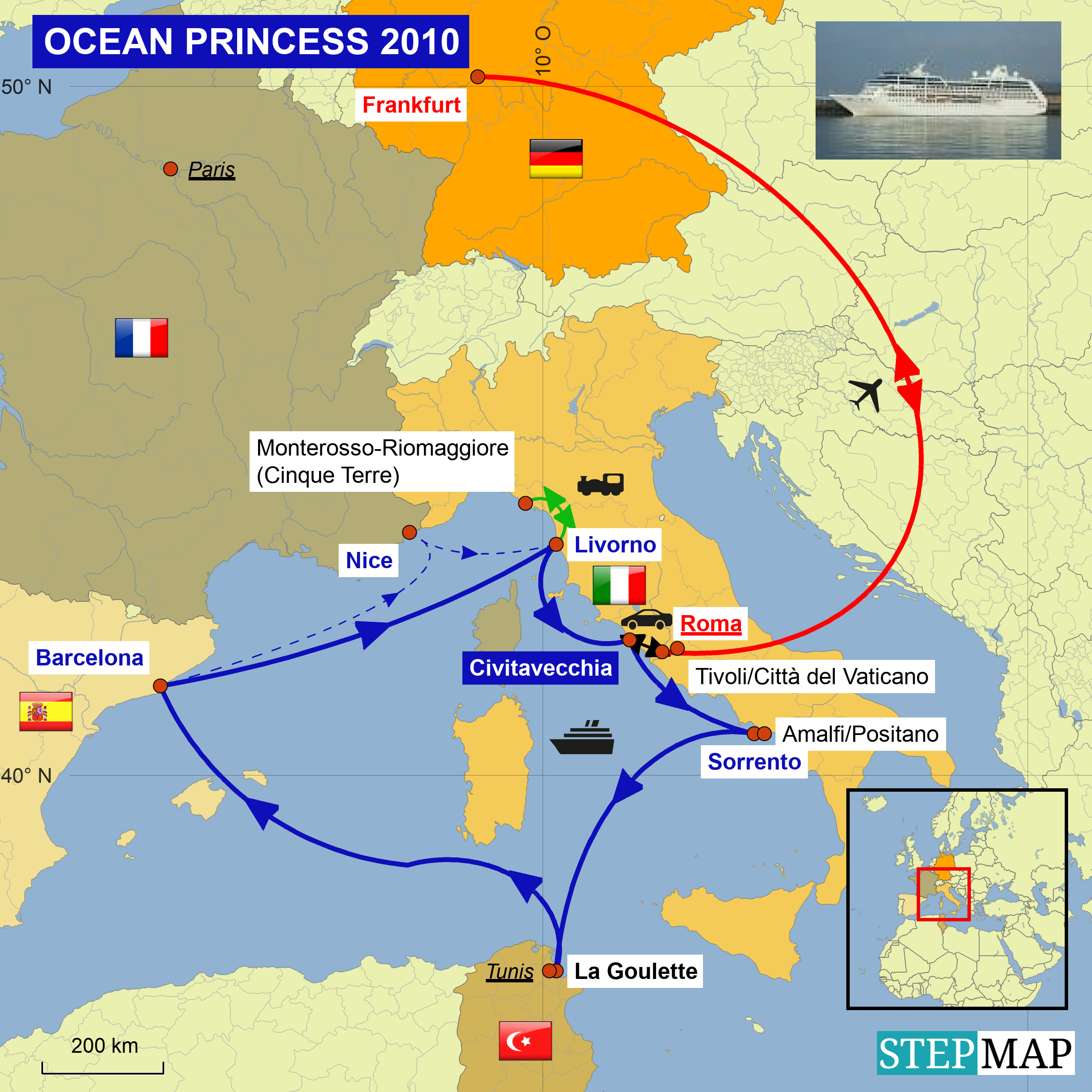 Manchmal gucke ich zuviele Filme... "Nur für dich" mit Marisa Tomei und Robert Downey jr. und "Unter der Sonne der Toskana" mit Diane Lane haben mich dazu gebracht, dass ich immer mal Positano sehen wollte. Unsere 1. Berührung war auf dem Weg nach Amalfi.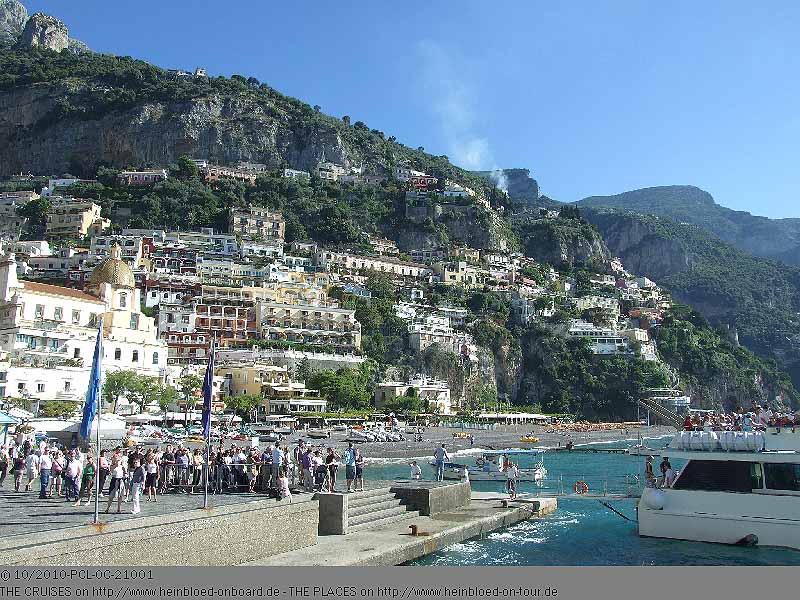 Sometimes I just watched too many movies... "Only you" with Marisa Tomei and Robert Downey Jr. and "Under the Tuscan Sun" with Diane Lane inspired me to see Positano. Our first touch was already on the way to Amalfi.

Bruno jumped behind a crew member on the boat from Sorrento to Amalfi and was able to take these shots from the seaside before he was sent back to the passenger lounge. But at this time we did not know that we will have many many occasions more to do such pictures and more than we truly wanted.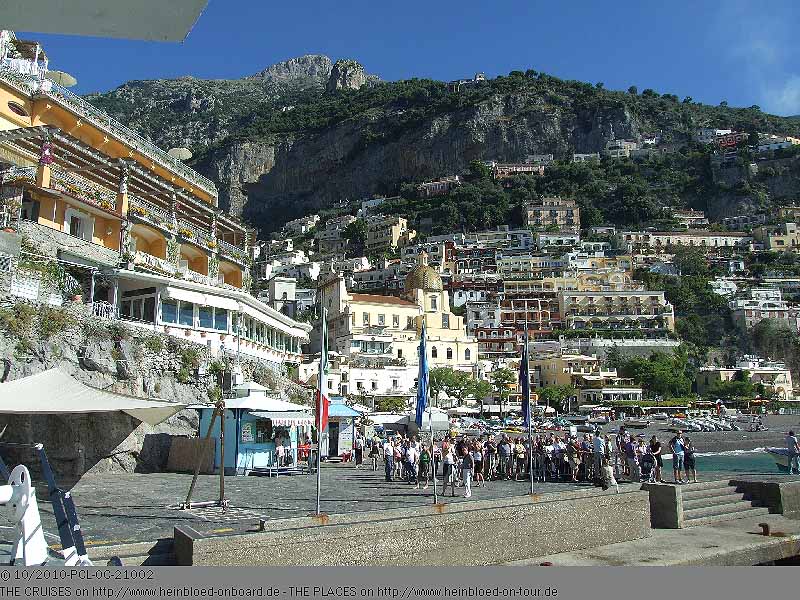 Bruno ist es gelungen hinter einem Crewmitglied auf dem Schiff von Sorrent nach Amalfi hinterher zu springen und bevor er wieder in den Fahrgastraum geschickt wurde, hat er noch ein paar Aufnahmen von der Seeseite gemacht. An dieser Stelle wussten wir jedoch nicht, dass wir nochmals dazu Gelegenheit haben würden. Und mehr als uns lieb war.
An die Stelle, an der Bus nach Sorrent bzw. Amalfi fährt, kann man auch mit dem kleinen
öffentlichen Stadtbus
(nicht wundern, aber der Dienst wird vom lokalen Taxiunternehmen organisiert) erreichen, wenn man nicht laufen mag, da der Stadtkern selbst nicht von den großen SITA-Bussen befahren werden darf.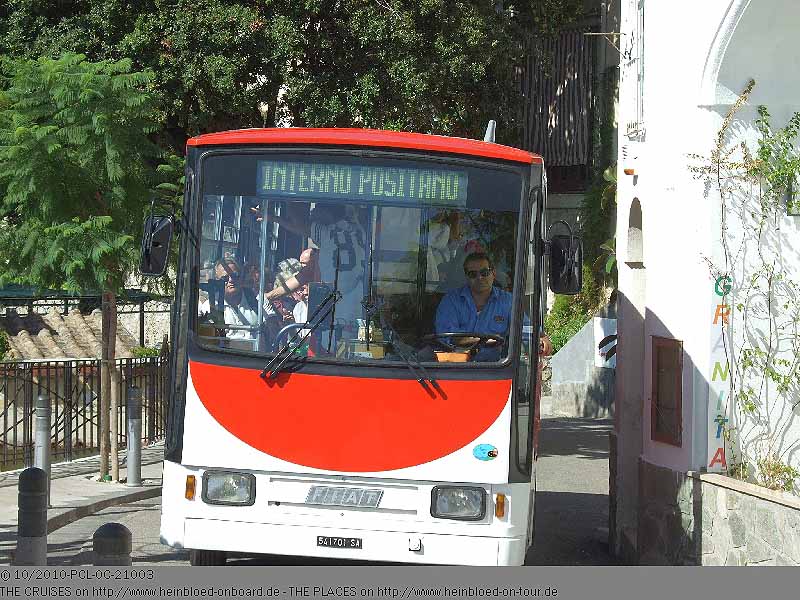 The place to get on the bus to Sorrento or Amalfi you can also reach with the little public city buses (which is managed by the local taxi company) if you dislike to walk. The large SITA-buses cannot go to the real city center itself.

You arrive at an upper part of the town.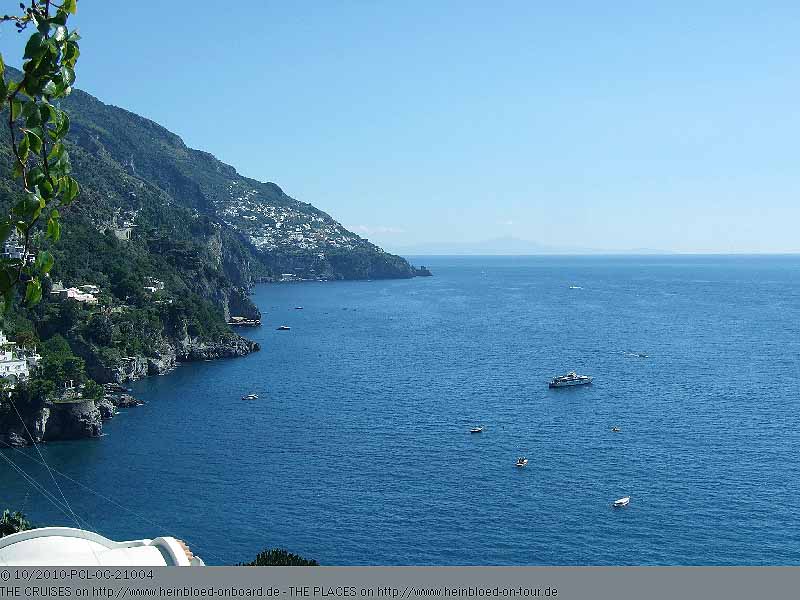 Man kommt daher oberhalb des Ortes am Stadtrand an.
Und kann dann einfach die Straße herunterlaufen.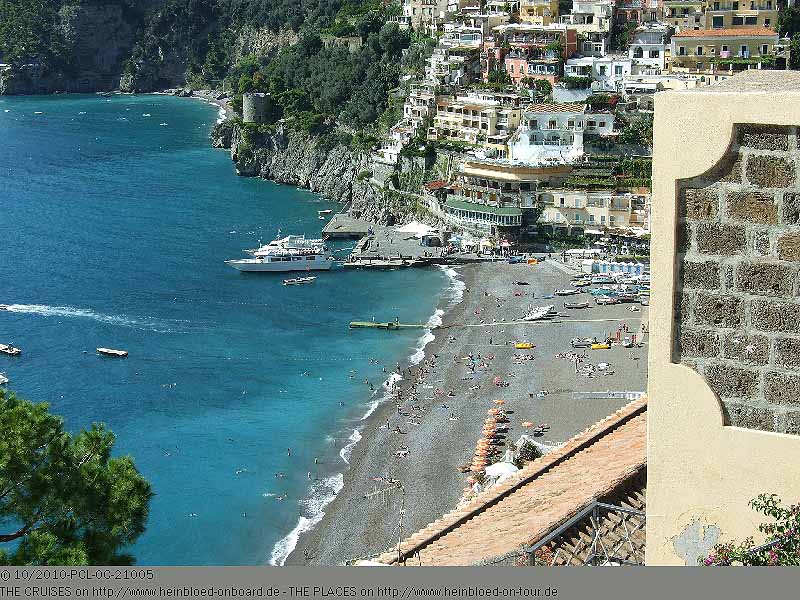 And you just walk down the street.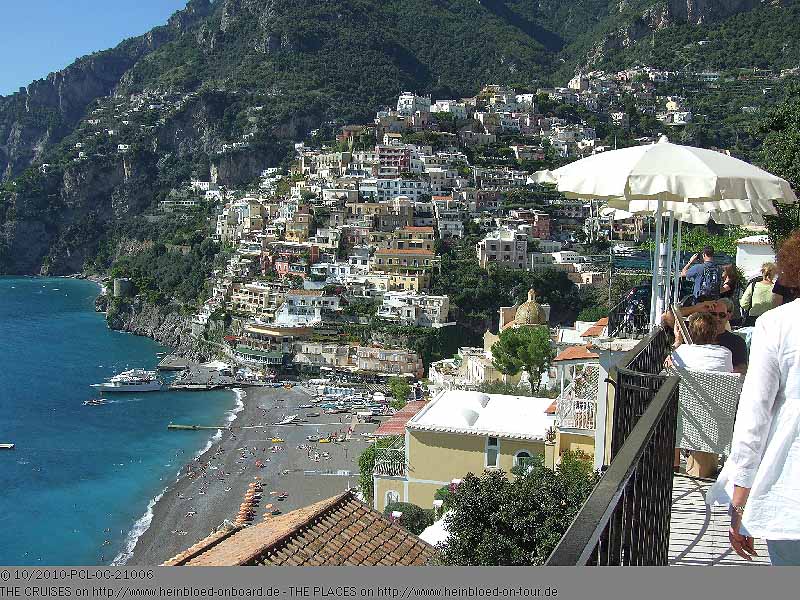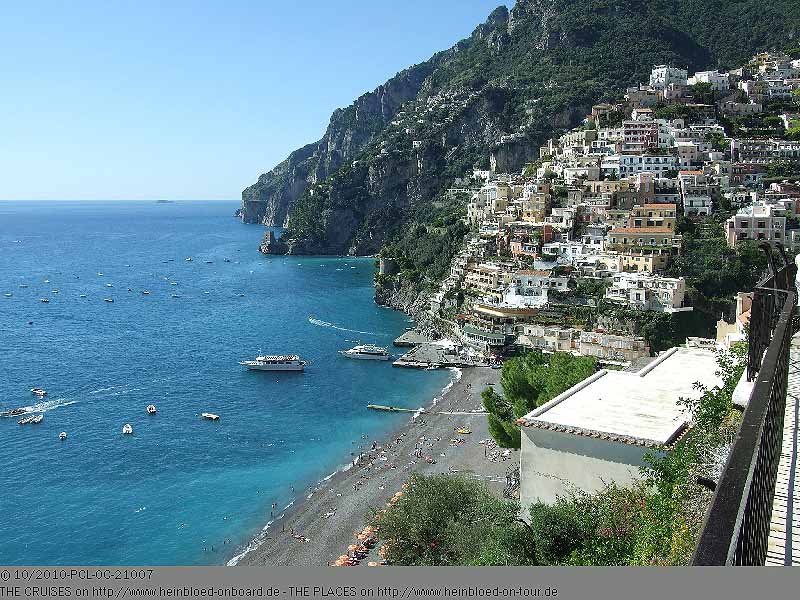 As it was lunch time I knew that we should one pass one special restaurant.

Da jetzt Mittagszeit war, wusste ich, dass wir einem bestimmten Restaurant vorbeikommen...
Bruno und ich gehen zu Bruno.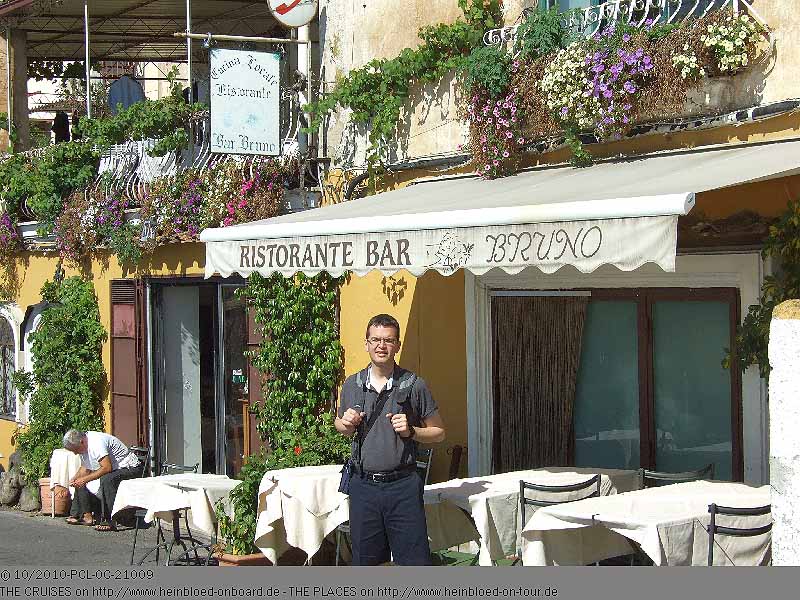 Bruno and I went to Bruno.

How beautiful it would be to get such a lighter...

Wie gerne hätten wir einen Leuchter mitgehen lassen...
Aber man merkt, dass wir in Positano sind und da sind die Preise doch für die Reichen und Schönen gemacht... So bleibt es bei Pasta...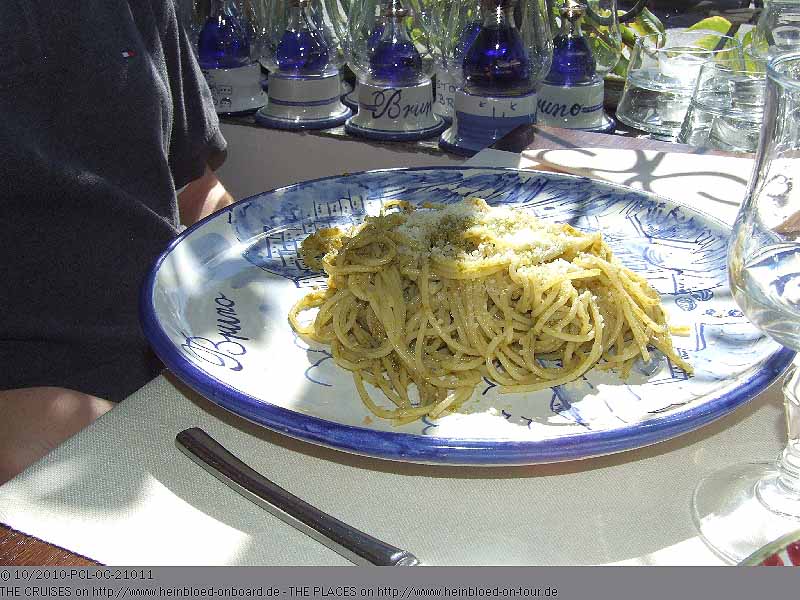 But you see that you are in Positano. Prices are made for the rich and beauties... So we stayed with Pasta.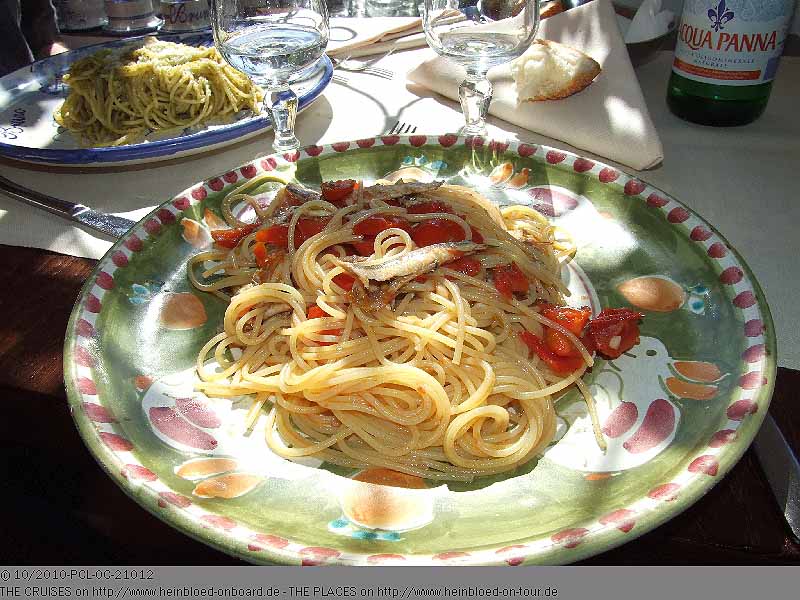 Nach dem Essen gehen wir weiter in den Ort.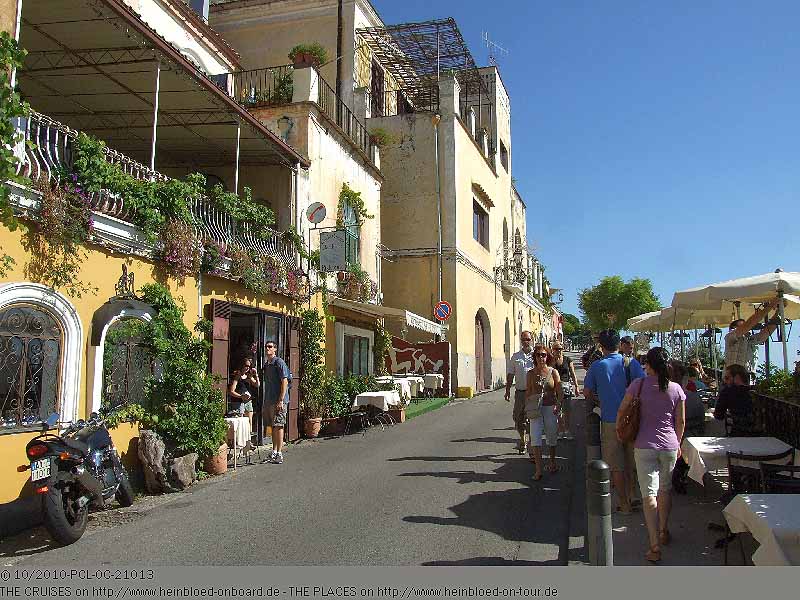 After the lunch we continued for the town.

Looked very nice and if you like to shop you are at the right place in Positano.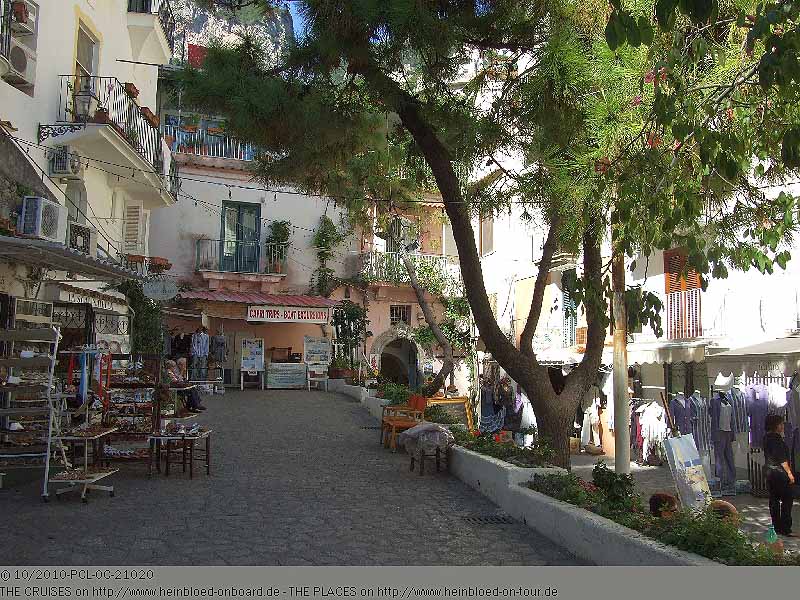 Sieht ja alles ganz nett aus und wenn man gerne shopt, ist man bestimmt richtig in Positano.
Da oben müssten wir also wieder zurück, früh da sein, um noch einen Platz im Bus zu bekommen und dann evtl. bis Sorrent eine Stunde im Bus stehen??? Selbst mit Stadtbus müssten wir die ganzen Treppen wieder hoch...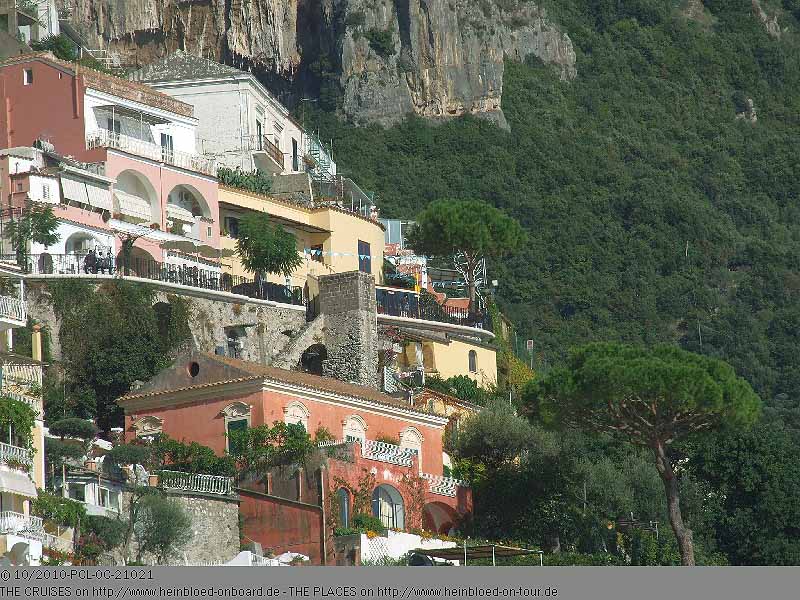 We need to return to the place much early to make sure to get taken by the bus and then maybe need to stand in the bus an hour to Sorrento??? Even we would take the city bus we need to walk all the stairs back...

Meanwhile, we were in the port and saw how MSC LIRICA left Salerno. Who wants to be back at 13.00 hrs to sail away???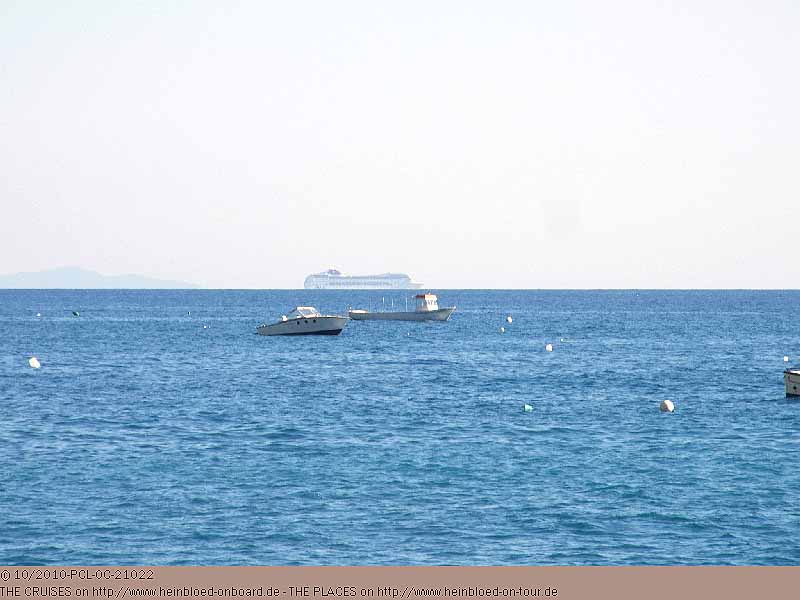 Mitlerweile sind wir im Hafen sehen wir die MSC LIRICA aus Salerno abfahren. Wer will eigentlich schon um 13.00 Uhr irgendwo wieder an Bord sein und abfahren???
Zufällig sehen wir dann, dass es um 15.40 Uhr ein Schiff nach Sorrent zurück gibt. Hin haben wir ca. 40 Minuten gebraucht, also müssten wir gegen 16.20 Uhr wieder in Sorrent sein, um rechtzeitig wieder an Bord zu kommen.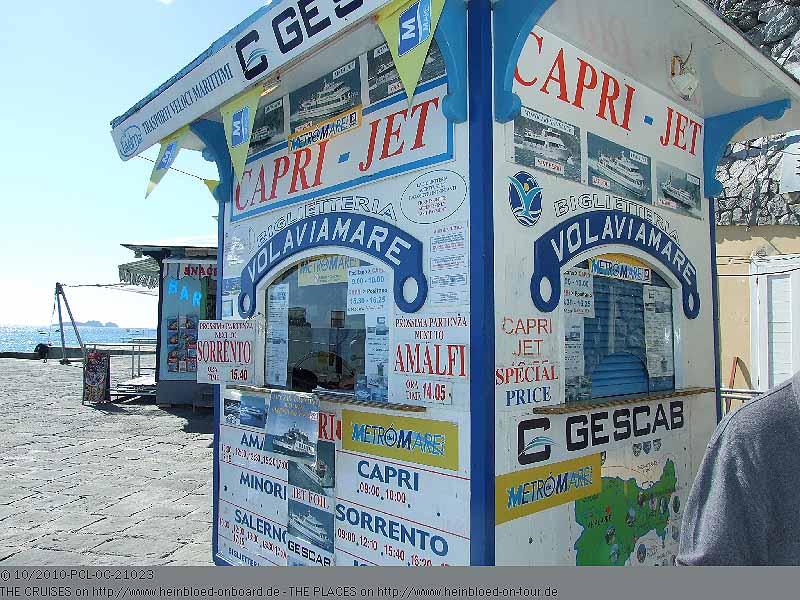 By coincident we saw that there will a 15.40 hrs sailing back for Sorrento. We need for the outward journey this morning 40 minutes, and we should be back 15.20 hrs back in Sorrento to be right on time on our ship.

Now we knew why we could not find the sailing in Metro del Mare's schedule: It's the competitor: Gescab. Just 8.50 EUR (2010) it was a little cheaper than Metro del Mare.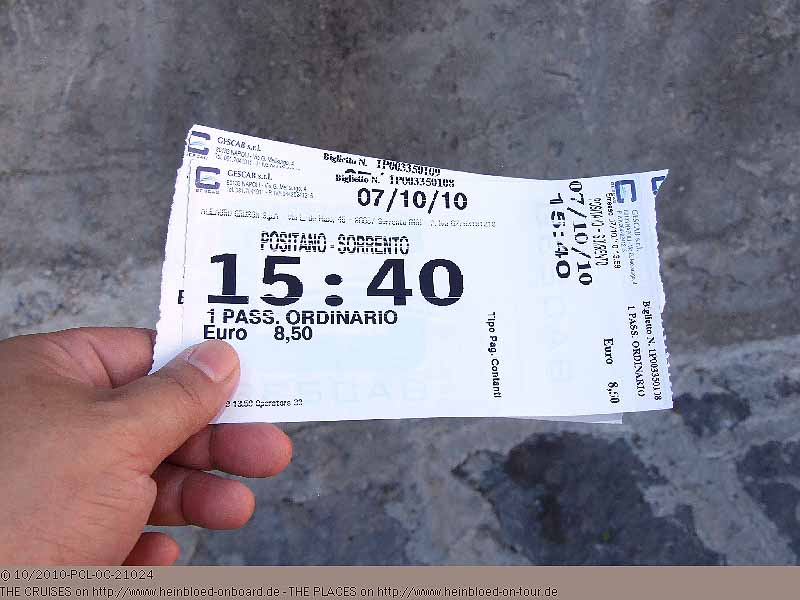 Nun wissen wir auch, warum wir die Abfahrt nicht im Fahrplan von Metro del Mare gefunden haben: Es ist die Konkurrenz:
Gescab
. Und mit 8,50 EUR billiger als mit Metro del Mare.
Da wir noch ein wenig warten müssen, genießen wir die Sonne und lernen dabei, was wir in Positano alles nicht dürfen...

As we had to wait for a little we just enjoyed the sun and learned what we were not allowed to do here in Positano...

Just sitting at the promenade was impossible.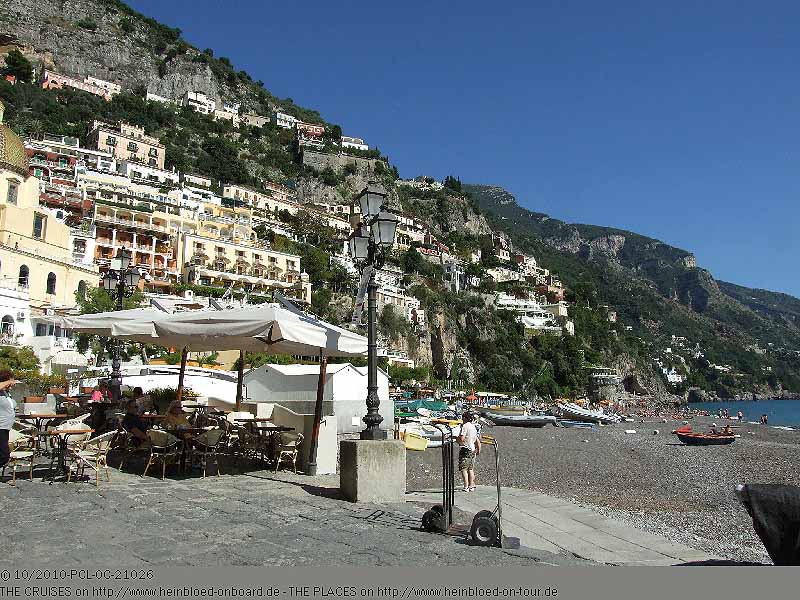 Einfach an der Promenade sitzen ist leider nicht.
Selbst für die Fährgäste gibt es kaum Schutz vor der Sonne und Sitzmöglichkeiten. Eigentlich sind wir noch ganz traurig, dass wir weg sind. Für meinen Geschmack wird Positano etwas überbewertet. Ich fand jetzt Amalfi schöner und authentischer, weil es nicht "nur" an einen Touristenort erinnert.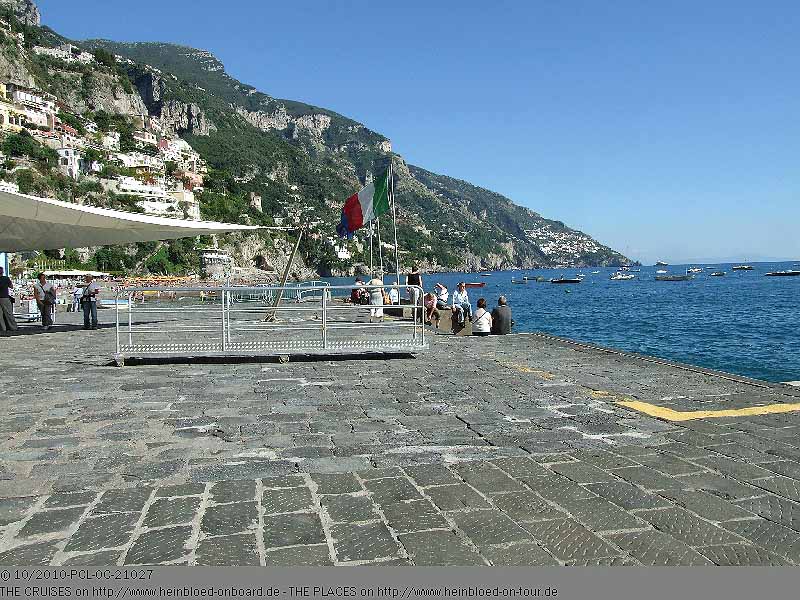 Even for the passengers there were more or less no protection against the sun and no seatings. We were not so sad to leave. For my taste, Positano is a little be too over-rated. I like Amalfi more as it was more authentic and not "just" a tourist village.
Die anderen Reisen in diesem Blog/
The other voyages in this blog: