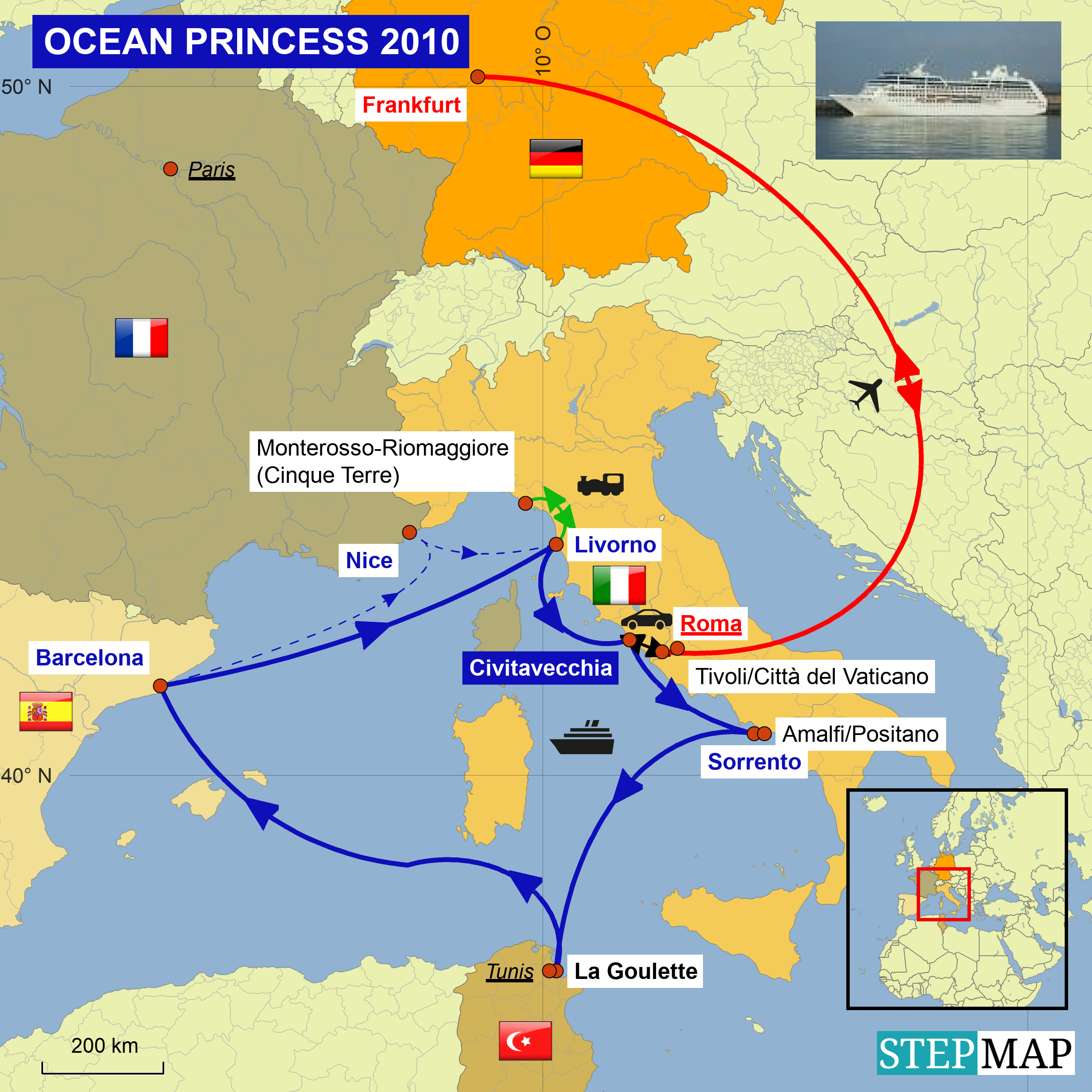 Willkommen im Park Güell. Endlich haben wir es geschafft. So oft schon in Barcelona, aber bislang noch nie geschafft. Und ausgerechnet heute sieht es nach Regen aus. Aber wir sind ja im Januar ja wieder da.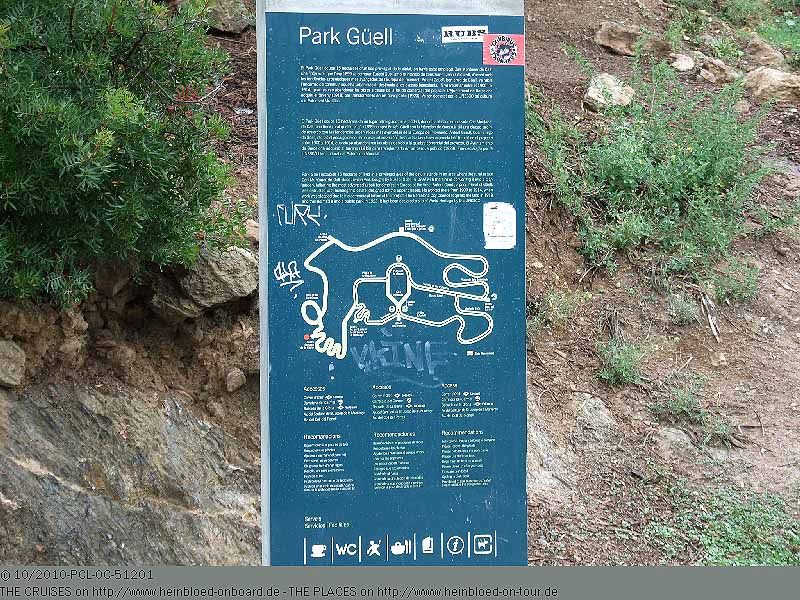 Welcome to Park Güell. Finally, we made it. So many times in Barcelona but never made it before. But today it looked like rain. But we will be back in January.

From the side entrance, you have a great view.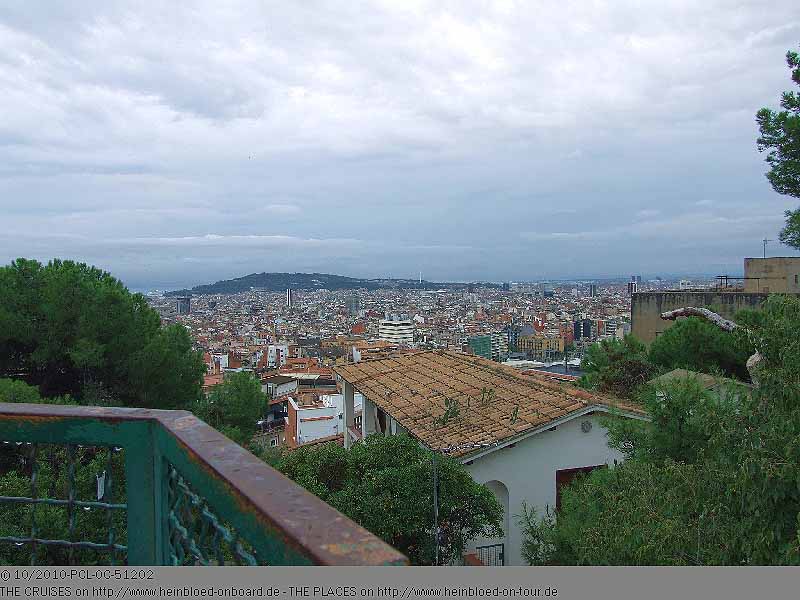 Von hier oben am Seitenausgang hat man schon einen schönen Ausblick.
Wie man sieht: keine Busgruppen... Wirklich ein Ort der Ruhe und Entspannung auf dieser Höhe.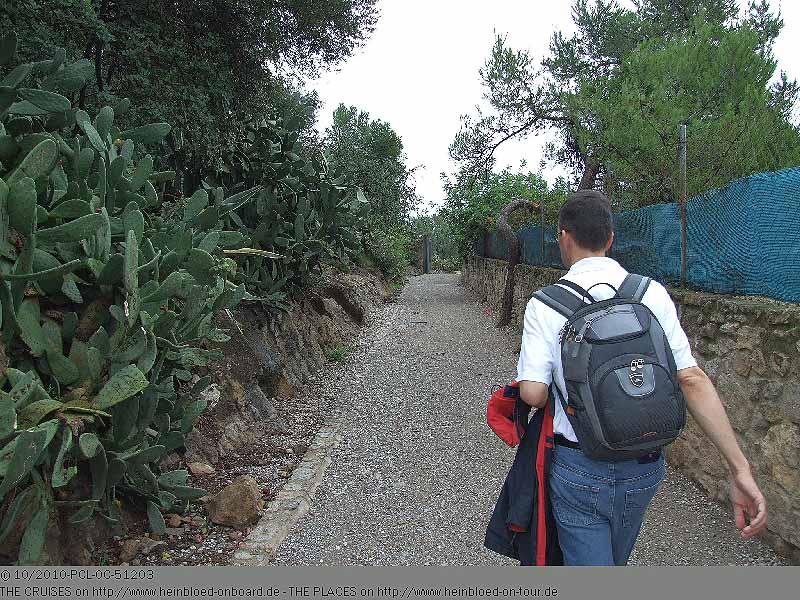 As you can see: no bus groups... really a place of silence and relaxion on this level.

Only a few (incl. Bruno) took the effort to walk up to the three crosses.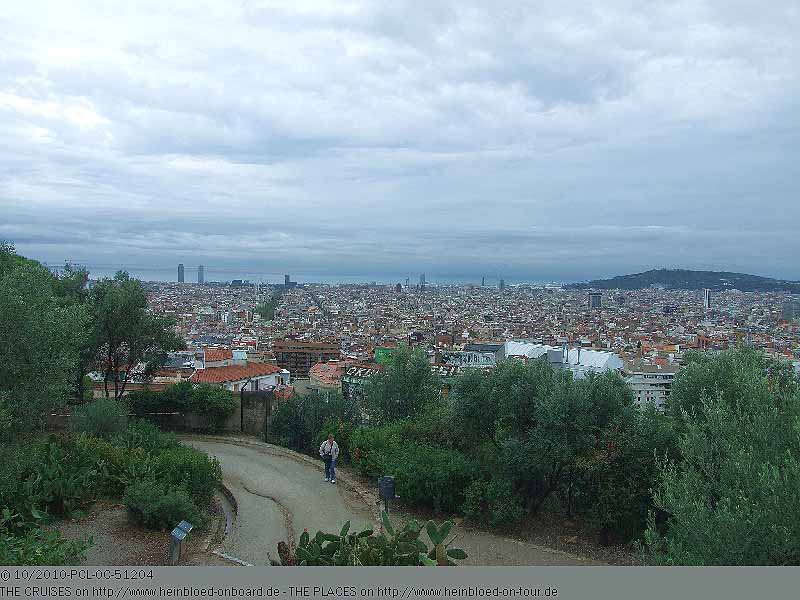 Nur wenige (inkl. Bruno) machen sich die Mühe bis zu den drei Kreuzen hochzuklettern.
Man verpasst dann diesen Ausblick, wenn man es nicht macht.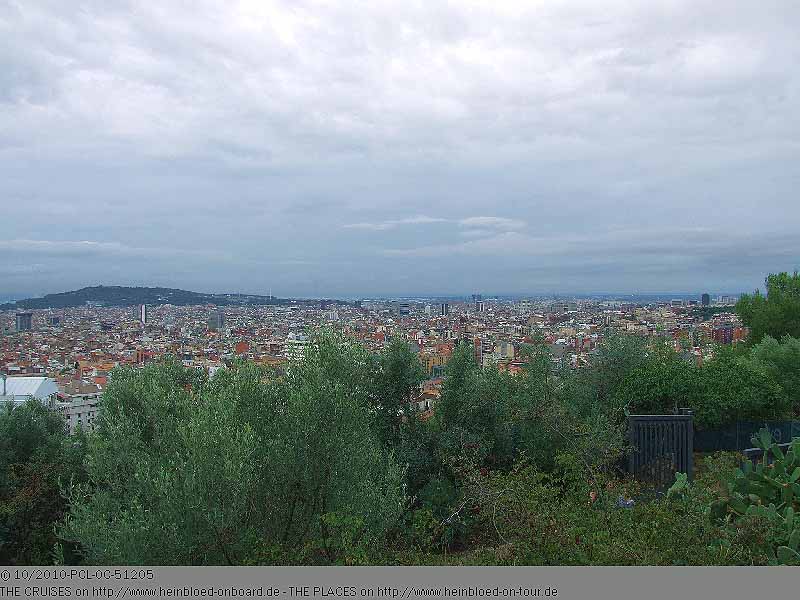 If you do not do it you will miss this view.

One day we need to get to Tibidabo Amusement Park. It will be closed on January 1, 2011, but open on January 2, 2011, from 12:00 hrs to 17:00 hrs. As NORWEGIAN JADE will leave at 19:00 hrs maybe there is a chance. But you can discover so much in Barcelona. You can stay here for weeks and still will not have seen all.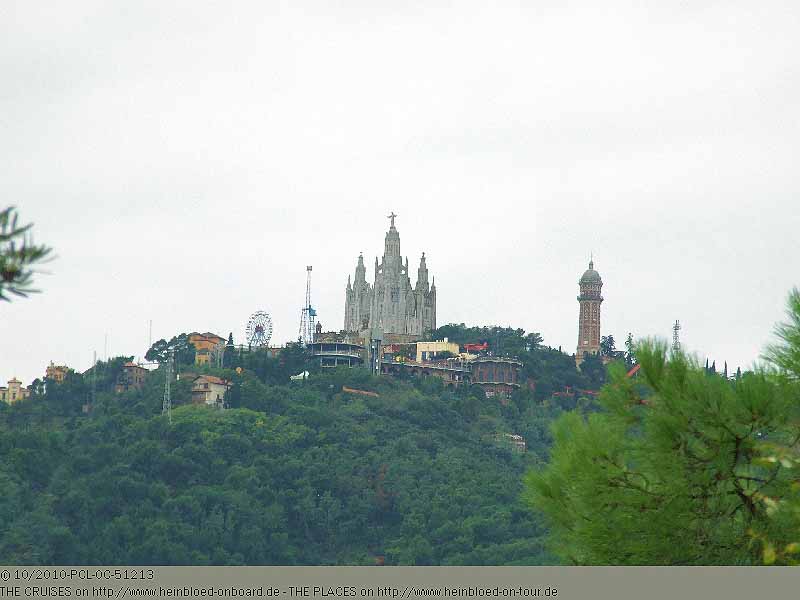 Wir müssen irgendwann mal auch in den
Tibidabo Vergnügungspark
. Am 01.01.2011 leider geschlossen, aber vielleicht schaffen wir es am 02.01.2011. Dann ist es von 12:00 Uhr bis 17:00 Uhr geöffnet. NORWEGIAN JADE legt erst um 19:00 Uhr ab. Aber in Barcelona kann man immer so viel entdecken. Mann kann hier Wochen bleiben und immer hat man noch nicht alles gesehen.
Ist das links auch ein Gaudi-Bau???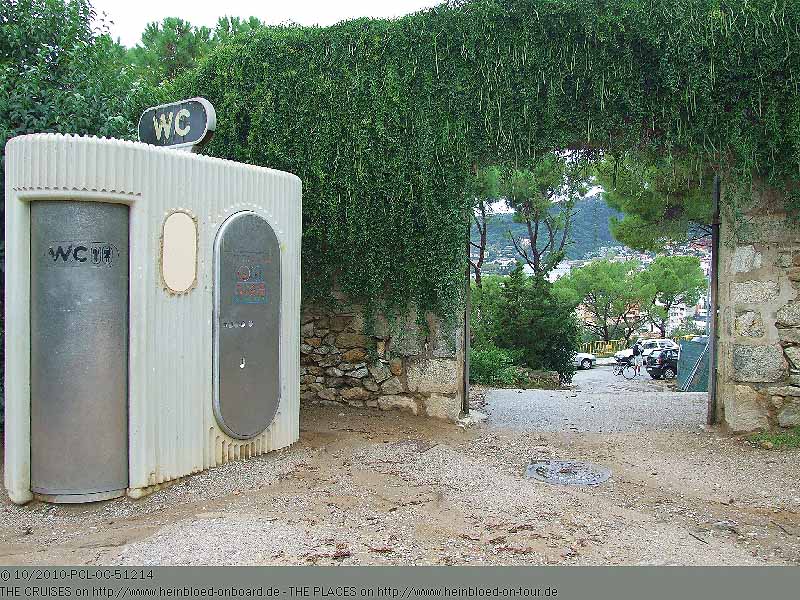 Is that on the left also a building from Gaudi???

There is a third entrance, but we did not investigate so far how good you can reach it with public transport. But Olot is the main entrance with all the bus groups.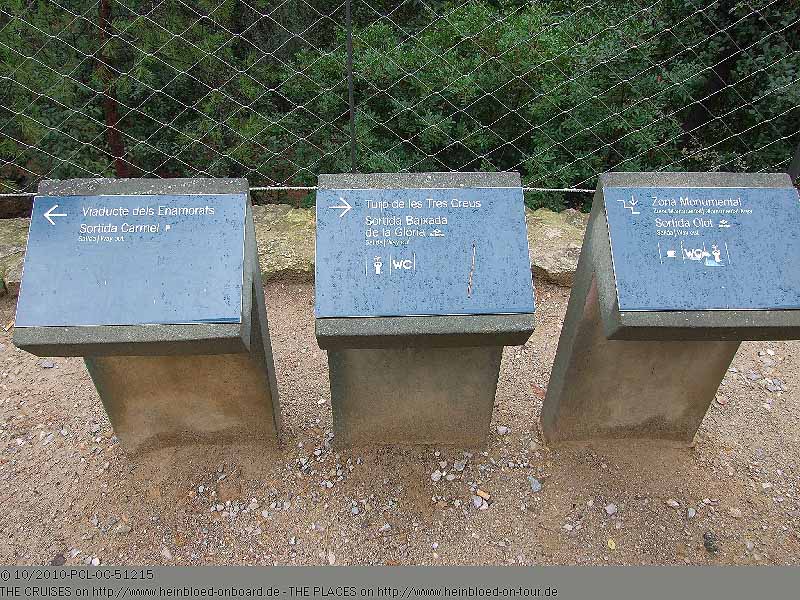 Es gibt einen weiteren Zugang, den wir noch nicht erkundet haben, wie gut er mit öffentlichen Verkehrsmitteln zu erreichen ist. Aber Olot ist der Haupteingang mit den Busgruppen.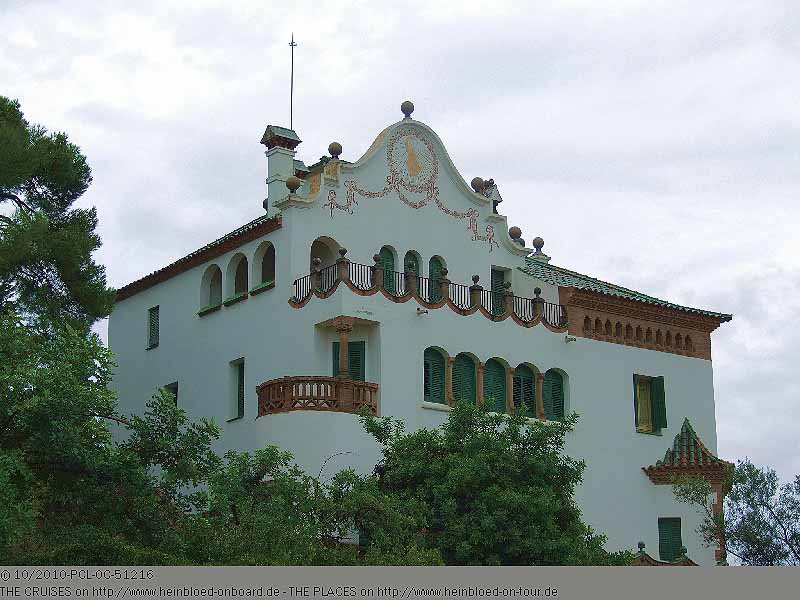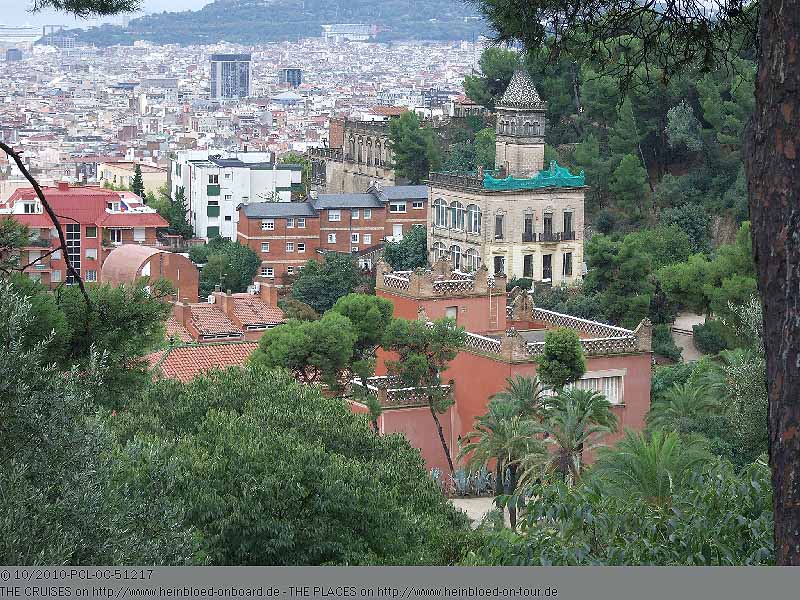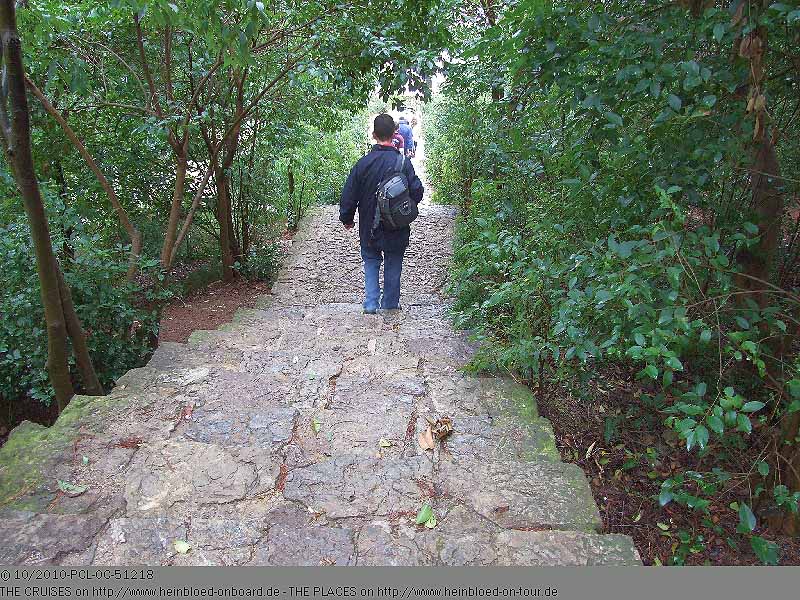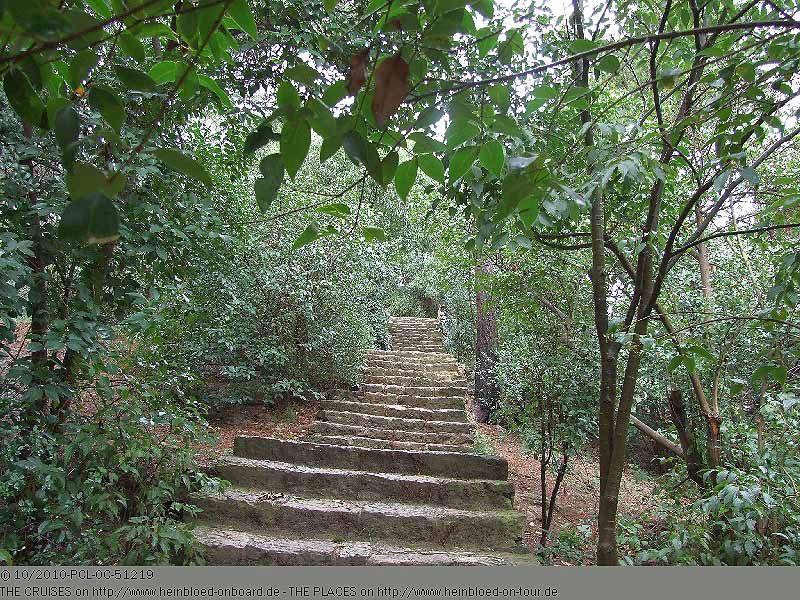 Die Busse sind da.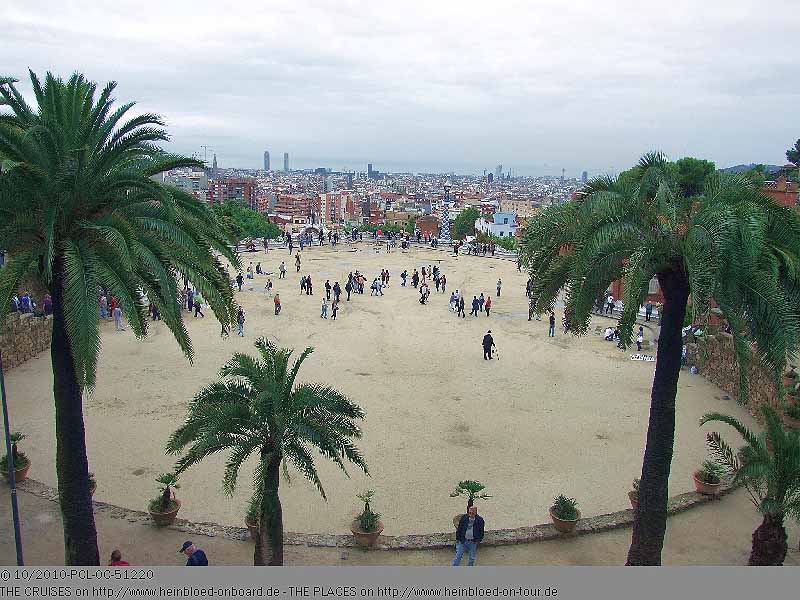 The buses arrived.

Even on Sunday, they worked: Street cleaning and street dealers.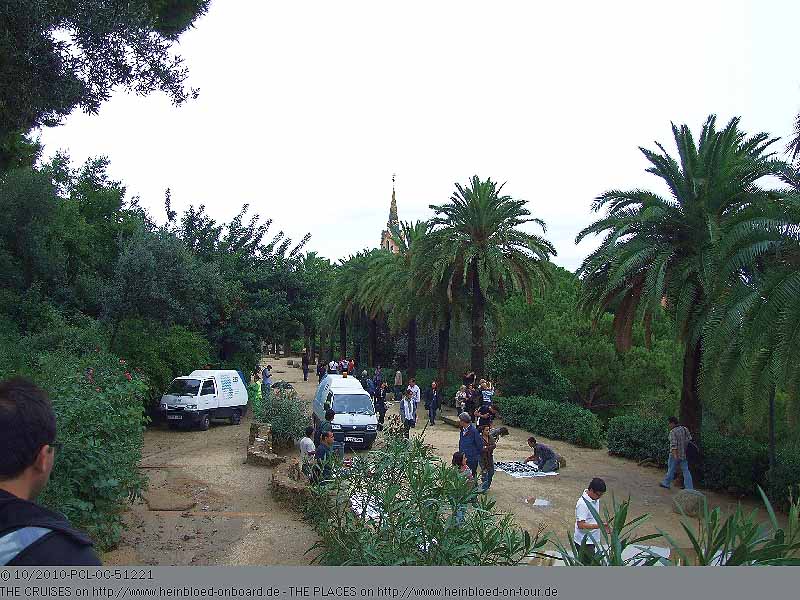 Auch sonntags wird gearbeitet: Müllabfuhr/Straßenreinigung und Straßenhändler.
Es wird leider immer ungemütlicher, weil der Regen stärker einsetzt.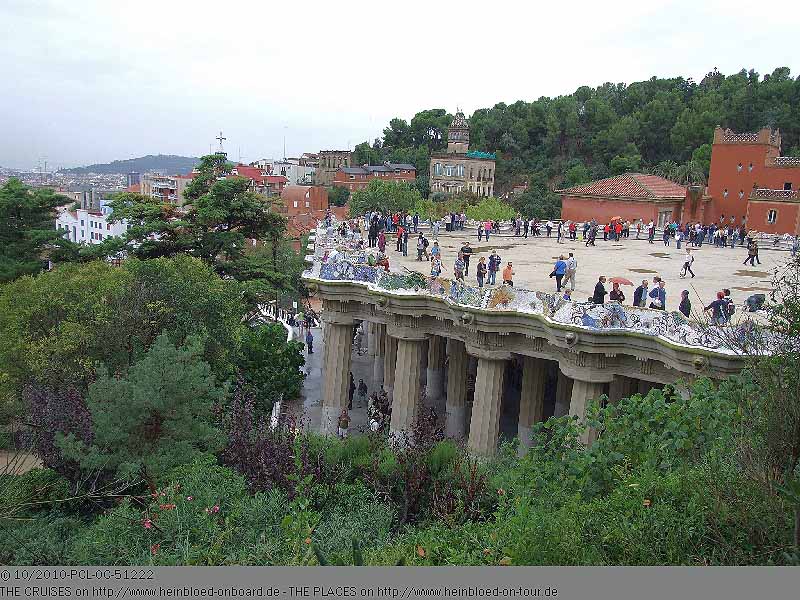 It became more and more unpleasant as it was raining more and more.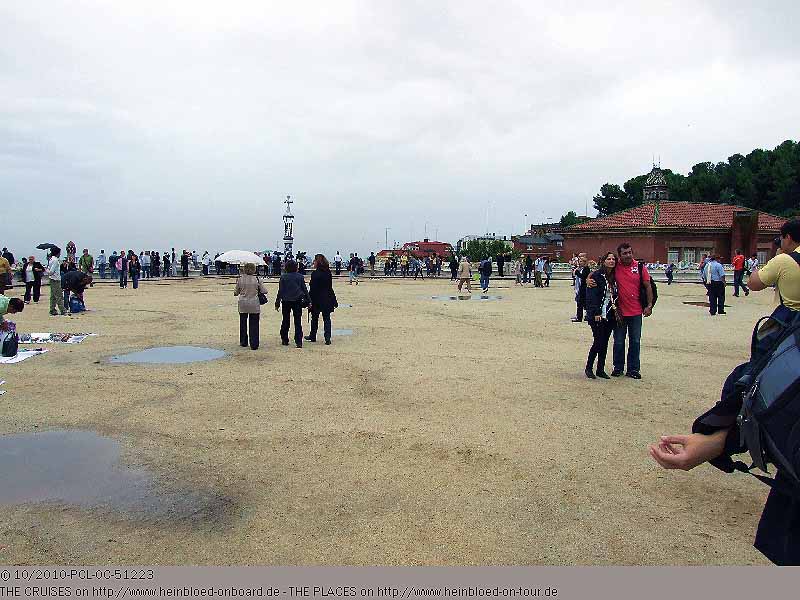 In the front you had no chance to make any nice pictures because most stayed there to take their pictures and turned around immediately.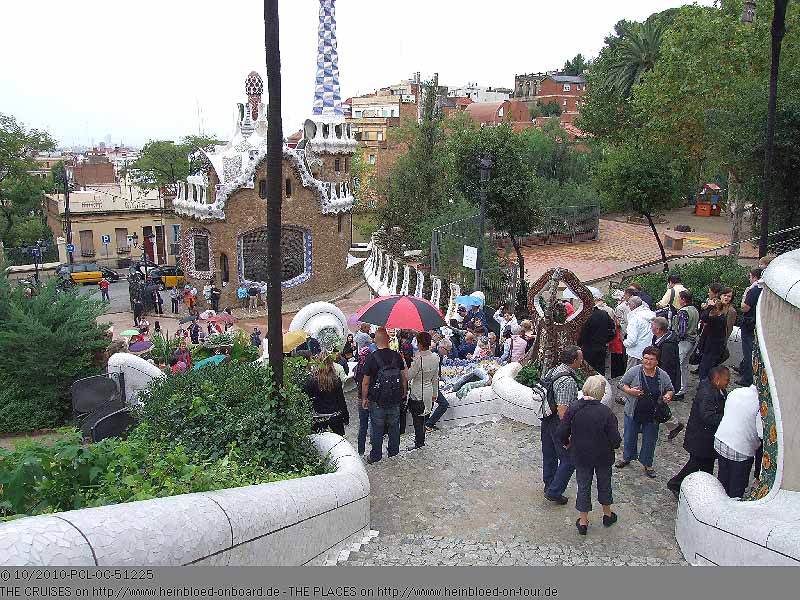 Vorne hat man gar keine Chance, irgendwelche schönen Fotos mehr zu machen, weil die meisten sich hier aufhalten um schnell ein paar Bilder zu machen und sich sofort wieder umdrehen.
Was für ein Glück, dass wir von oben gekommen sind.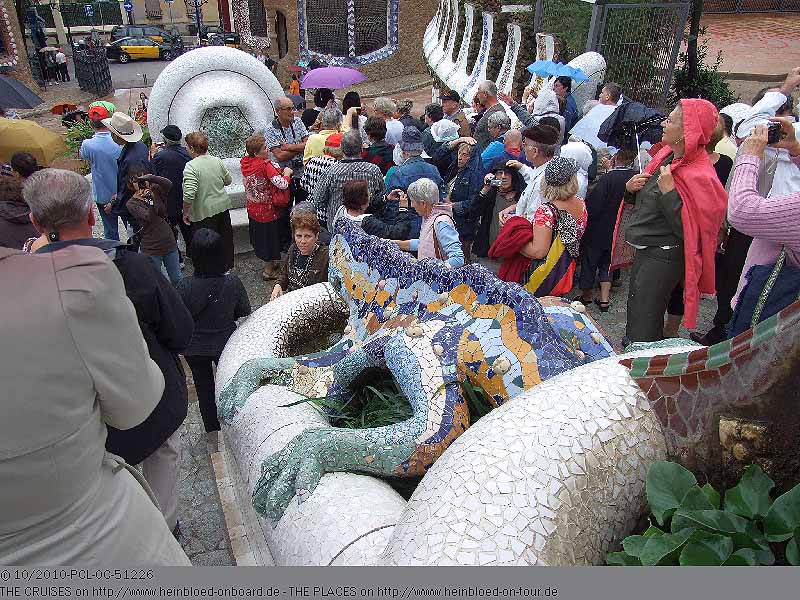 We were lucky that we came from the top.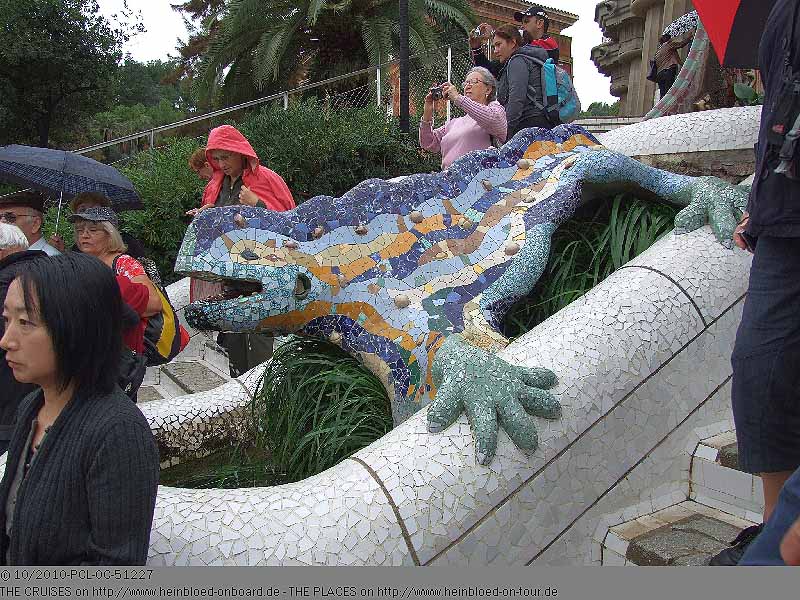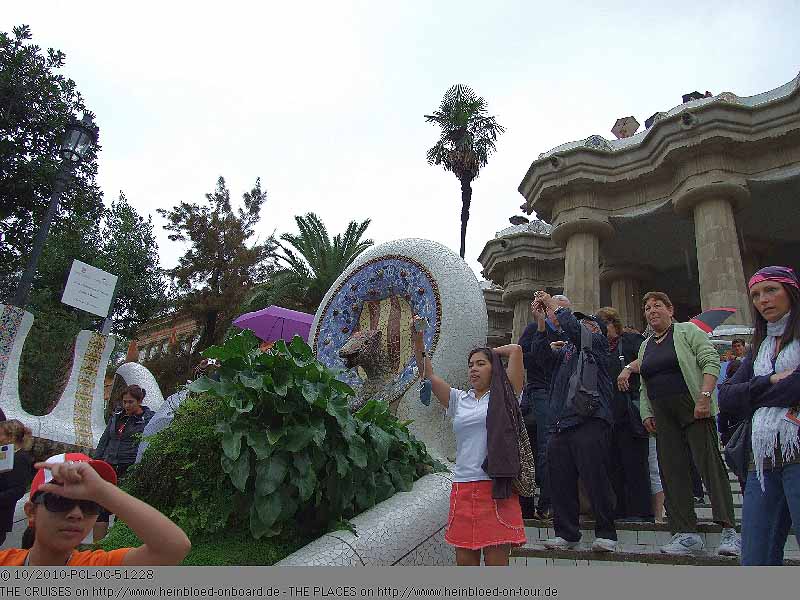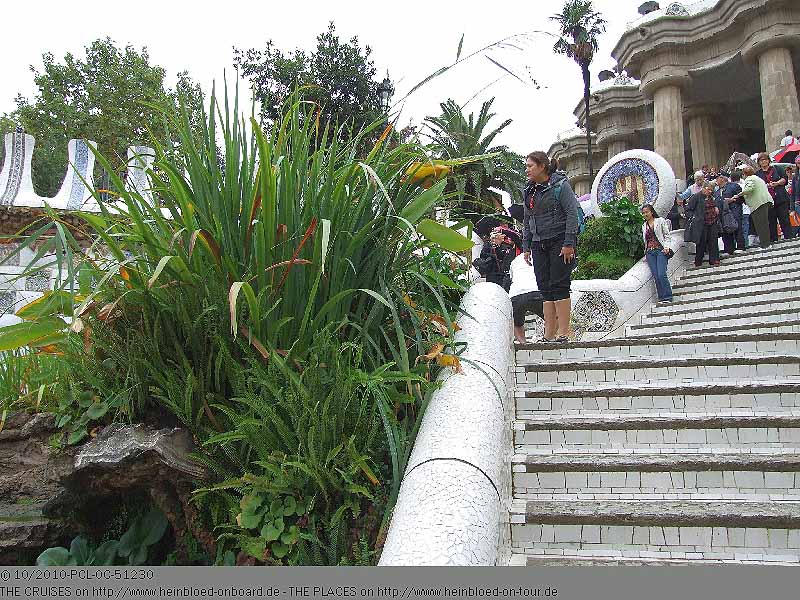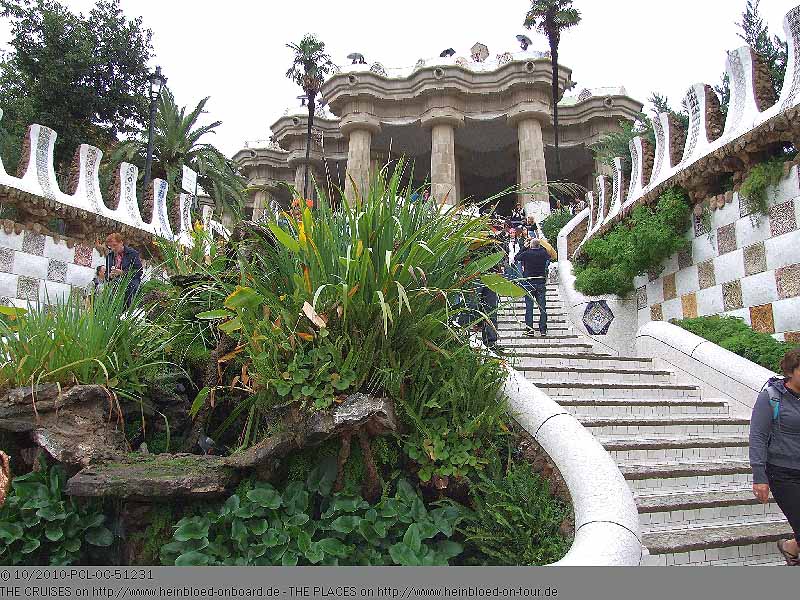 At the entrance many taxis were waiting... maybe we should also take one...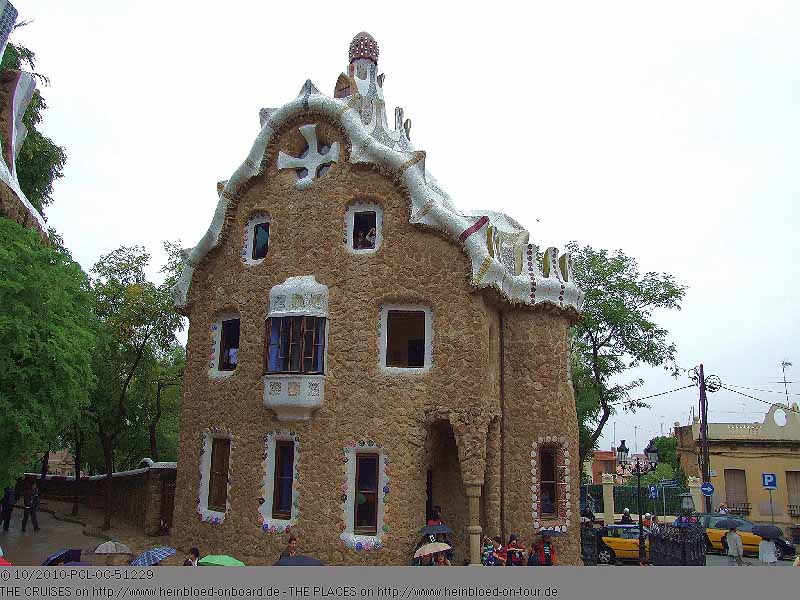 Vor dem Eingang warten schon Taxis... vielleicht sollten wir ja auch eines nehmen...
Die anderen Reisen in diesem Blog/
The other voyages in this blog: